While there are features contributing to cozy kitchens that feel warm and welcoming that we can't easily add (think: natural light, historic architecture, shape), there remain plenty of ways to creatively get there. So if you feel as though your kitchen lacks cozy, we'll devote a bit of thoughtful consideration exploring common and even uncommon ideas. (Designing a kitchen from scratch or renovating? Make sure to peek at my Pinterest Kitchens Board.)
Cozy Kitchens: 9 Ideas Inspired by Lovely Designs
What Makes a Kitchen Feel Cozy?
There's just something about feeling welcome, at ease, and at home in a cozy kitchen. Quite often, they aren't those large luxurious designs with soaring ceilings and commercial grade appliances. And cozy and modern style frequently seem to be at odds. But there are oodles of exceptions, and no one design genre can claim to be queen of cozy. (Except those Cotswold cottage kitchens! They are always cooooozzzzy!)
I cozied up our former kitchen when I created a work cart with a vintage steel cart and white quartz. In addition to the addition of much needed work space, it provided character, age, and an unfitted element.
American kitchens are famous for wall to wall cabinets–uppers and lowers–with built-in appliances and seamless everything. Part of cozy factor is a more relaxed approach. Vintage or antique pieces in the mix add a layer of authenticity and originality in addition to a more laid back mood.
When we renovated our current kitchen, I shifted existing cabinetry around and only kept one upper. (The rest of the upper cabinets moved into an adjacent laundry room.) Everything feels so much less formal and uptight now!
Here's my idea of a super cozy timeless kitchen that I would want to LIVE in:
And now we'll explore a few specific decorating ideas that may resonate with you if you're collecting cozy kitchen inspo.
1. Turn Down the Formality With Two-tone Cabinets
Even when you choose colors with low-contrast for your kitchen cabinets…for example, in this Lisa Furey kitchen, the island is BM Pashmina and the cabinets are BM White OC-151, it's a soothing subtle contrast rather than a jolt to the eye.
Here's another example of a low contrast accent for the island:
Light wood on an island with white cabinets is another way to cozy things up, not to mention wood on the ceiling!
2. Warm it Up With Natural Wood
There's something about the combination of a beautiful, natural, character-rich wood with painted cabinets in a kitchen. Wood floors, cutting boards, butcherblock countertops, floating shelves, and wood work tables or islands can warm an otherwise sterile environment.
This breathtaking kitchen design below proves wood pocket doors and a knotty hardwood floor can bring.
Here is another example of how the simplicity of natural wood open shelves can relax the mood and offer surface area to decorate for even more cozy factor.
Here's another cozy kitchen (designed by Leanne Ford) with cozy wood shelves, wood floors, and wood countertops:
3. Add Pattern for Interest & Warmth
Bet you've noticed that checkered patterns and gingham are enjoying wild appeal these days. And why shouldn't these classics?
They cozy things up like nobody's business. Did you see my post on checkered floors?
As you can see above and below, there isn't a particular color story for "cozy!"
4: Add Warm Natural Textures
This isn't one of those earth shattering innovative ideas; however, think beyond the usual placemats, bamboo blinds, and market baskets for kitchen accents.
Maybe an assorted basket collection could join the pots on your pot rack or weathered wood stools could be brought into service even if you don't have an island.
Psst. There's something so cozy about a vintage looking farmhouse stool near the kitchen sink…
or tucked beneath a wee work table (below).
One of my favorite kitchens of all time, this Provence custom masterpiece of a design (below) includes copper pans that increase the warm and cozy meter!
The gorgeous European country inspired kitchen design, and the English Country beauty below it include woven shades on the island pendants.
Seating can also be a way to bring natural woven materials into the mix.
5. Comfy Cozy Kitchen Floors
In my neck of the woods, it seems every homeowner was adding white square ceramic tile to their kitchen floor in the 90s, a look that can sometimes be cozied with rugs but not ideal for a cozy kitchen.
Hardwood floors are hard to beat when you're after that homey, timeless, feel-good design that feels great underfoot and has no grout to clean.
If the expense or trouble of installing hardwoods is not an option, there are plenty of lookalike options these days too.
Stone flooring can also be warm and cozy:
6. Add Traditional Style Touches
Whether it's shiplap on the walls, beadboard on a backsplash, or wood planks on a ceiling, adding age, warmth, and texture is a smart way to turn up the casual and cozy factor while dialing down the "precious."
While this is a fantasy level kitchen, it remains an example of incorporating the old in a new space. the modern island is cozied with those old lanterns and ancient wood beams.
It may not be an obvious traditional detail, but the board and batten above the subway tile is a simple stroke of genius in this Leanne Ford cozy kitchen.
Could your kitchen use a pretty crown molding? If your cabinets lack architectural detail or crown, would your kitchen's ceiling height accommodate a riser and crown for a more cozy fit to the ceiling?
7. Include Collections & Personal Touches
Things feel cozy when they feel personal and reflective of the home's inhabitants. If you collect white ironstone, is there a way for you to display and enjoy seeing it every single day?
Have a shelf in the kitchen where a favorite piece of framed art or a photo could rest?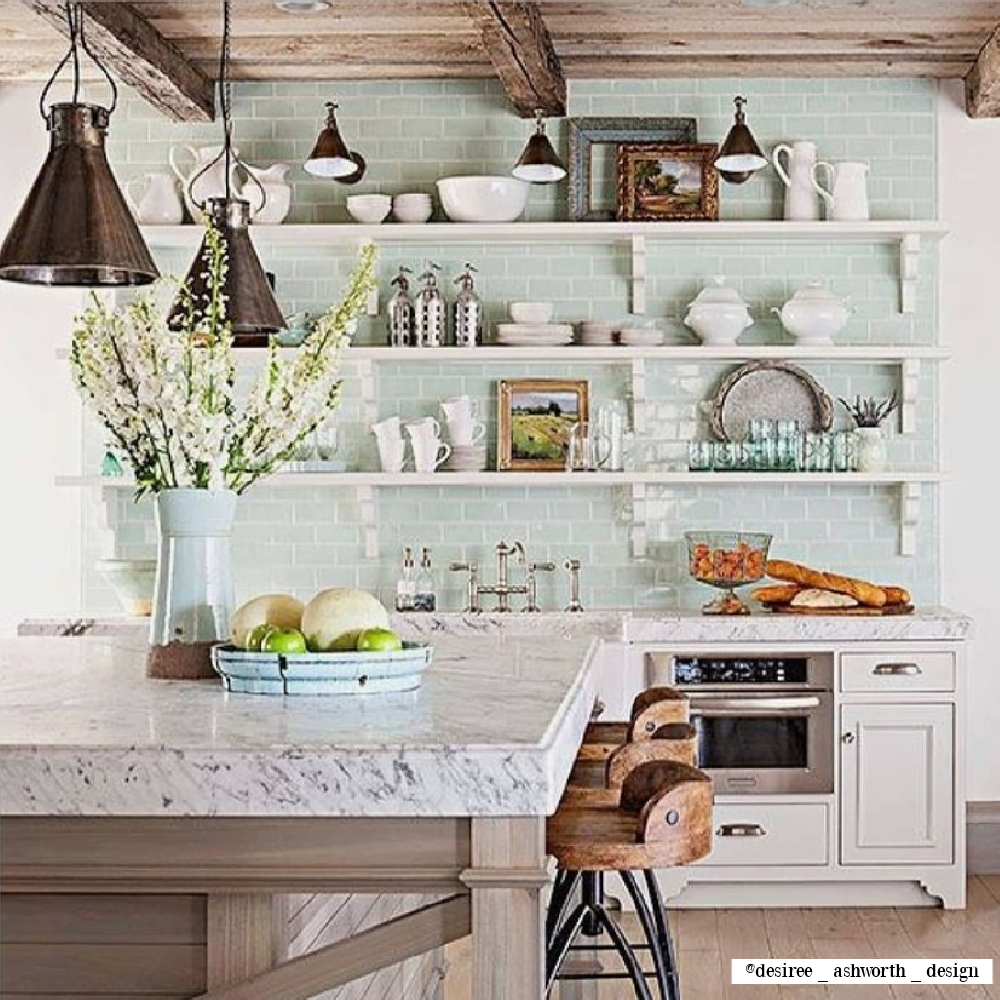 8. Curves Can Soften Hard Edges
So many kitchens are rectangle or square boxes so if there's an opportunity to introduce round, oval, add softened curves, the balance may feel more welcoming to you. In our former kitchen which we gutted and remodeled, oval backed counter stools, a round ceiling medallion, chandelier with scrolls, and a round dining table add gentleness.
Even with the rugged character from the wood ceiling and huge range hood, the curves of the architectural column, counter stools, and lamp cozy this bespoke kitchen.
9. Charming Sinks
There are so many options for kitchen sinks beyond the stainless double bowl, so if you're remodeling or building new, do explore the possibilities since you'll be spending so much time using it.
One of the reasons I love living with a country farm sink is they add so much character with their nod to the past and their inherent informality.
They look great in a variety of kitchen designs beyond modern farmhouse.
And if you have never lived with a deep single bowl kitchen sink, there are all sorts of lovely options with them including space for oversized platters, large pots, infants, and small dog breeds.
I hope this gallery gave you plenty of inspiring ideas beyond those discussed.
So many cozy details to note within this English country kitchen:
Peace to you right where you are.
-michele
Shop for items you already intended to buy on Amazon RIGHT HERE, and also find home decor here to keep decor inspiration flowing on Hello Lovely!
Hello Lovely is a participant in the Amazon Services LLC Associates Program, an affiliate advertising program designed to provide a means for sites to earn fees by linking to Amazon.com and affiliated sites.