Leanne Ford may be slightly apologetic about her recent decision to reimagine the vibes in a carriage house she tweaked just a couple years back, but I'm here for it! Not sorry at all since the beauty of design and homemaking is artistic FREEDOM to move as the spirit moves! Creative types gon' evolve, grow, and change their minds. Changing your mind is…yes, let's spill the tea all over this white decor post…the most powerful force in the universe. There, secret's out. For years, I thought a child of God with a made up mind was the most powerful thing, and then I lived longer to learn…nope. A child of God who changes her mind is more powerful. A spirit of unknowing is a spirit that can be moved, that can flow. Need one more reason to love Leanne? Bloop! Which Leanne Ford Favorite White will you try?
Leanne Ford Picks for White Paint
Behr Natural White
Here's the white paint color Leanne is making famous not long after her love affair with Crisp Linen.
"NATURAL WHITE creates an elegant layer of luxury like the first foam sip on your favorite frothy beverage bringing warmth and comfort."
This new color from Behr called Natural White is the equivalent of Benjamin Moore's Simply White (which has a light reflectance value LRV of 89.52 and is considered a clean, crisp white with a hint of warmth.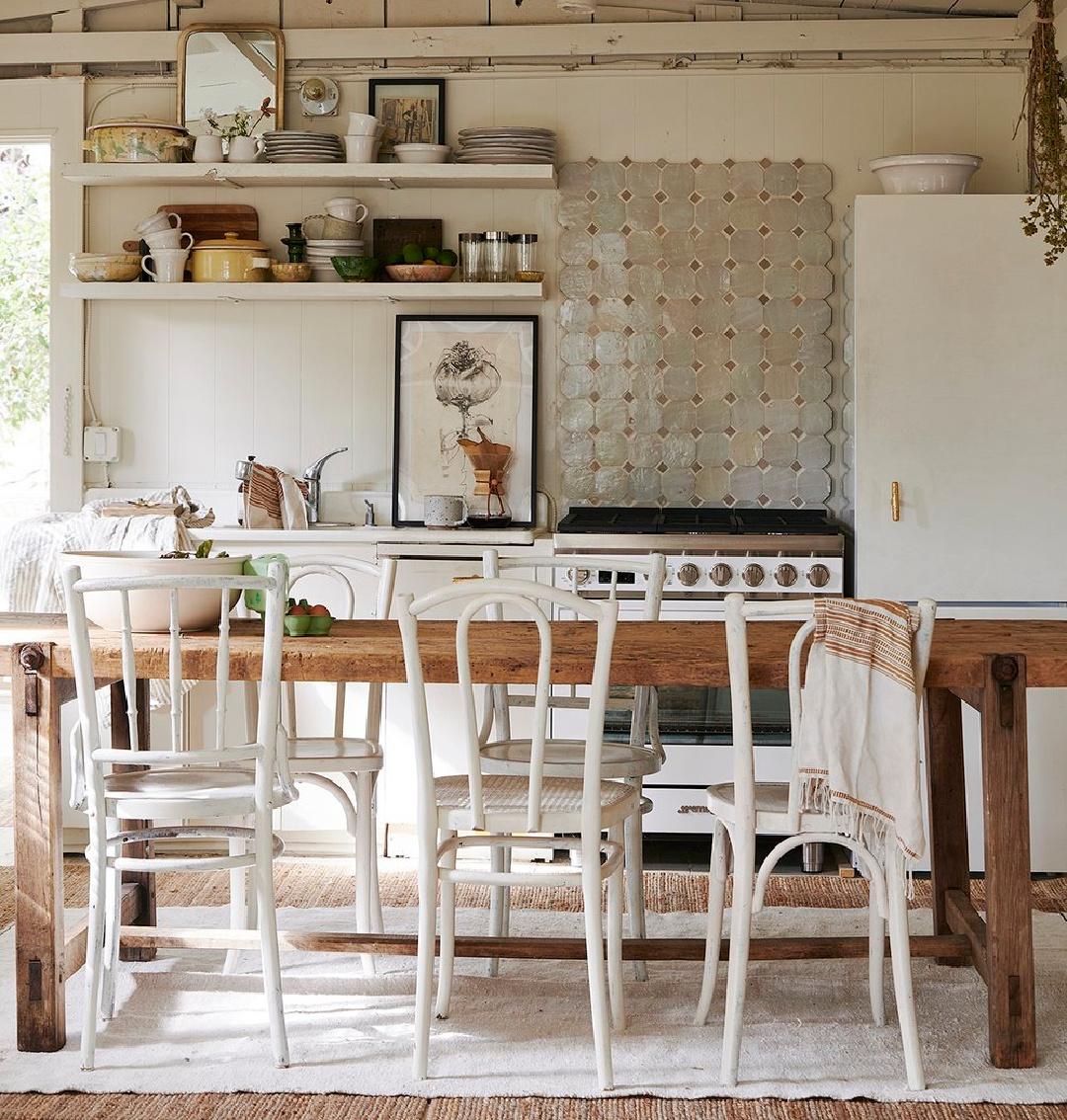 What is Leanne Ford's Pick for a Cool White?
The designer and stylemaker loves this white paint color to create brightness and says it will feel airy. I wholeheartedly agree and love cool white to modernize and freshen a space inside or out.
Don't you feel like Leanne's style is European inspired?
Here's a swatch of Cameo White, and you can see the grey undertones (and maybe green?). I have not found it to be cold or sterile. It reminds me of our kitchen wall paint (Sherwin-Williams Eider White) which is this mysterious greyed-white with fleshy undertones that feel just right with our Calacatta Gold marble backsplash.
Pin this so you can refer to it when you need it:
What is Leanne's Favorite True White Paint Color?
If you're after the brightest white with minimal undertones and a very modern look, try Behr Ultra White. You can see it on brick in this Midcentury space by Leanne Ford:
This color is similar to Benjamin Moore Brilliant White OC-150 which we painted our entire former home.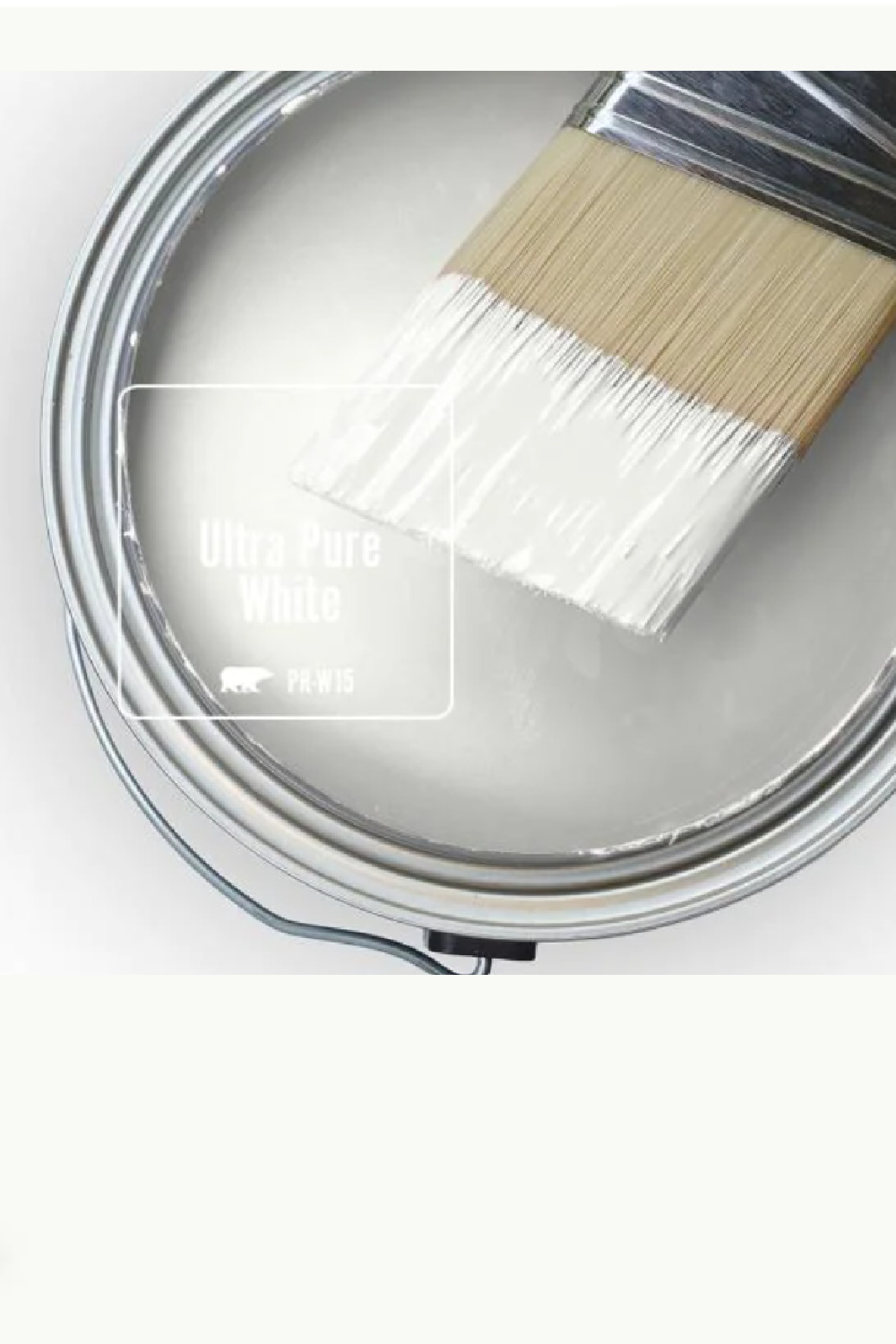 I can't tell you how it transformed that fixer upper and brought it back to life. Lisa Furey also used BM Brilliant White inside and out of her coastal cottage in Palmetto Bluffs here.
What White Paint Color Does Leanne Ford Like for Warm White?
Behr's Crisp Linen is a beautiful warm white paint color that reminds me of the color we painted interiors within a French country house we built: BM White Sand.
Doesn't it remind you of white sand or even pale limestone with its sandy brown undertones?
Easiest way to see if a paint color will work? Order samples with Samplize and have them delivered straight to your door.
Leanne Loves Her Some BEHR
Have you seen Behr's new Designer Collection?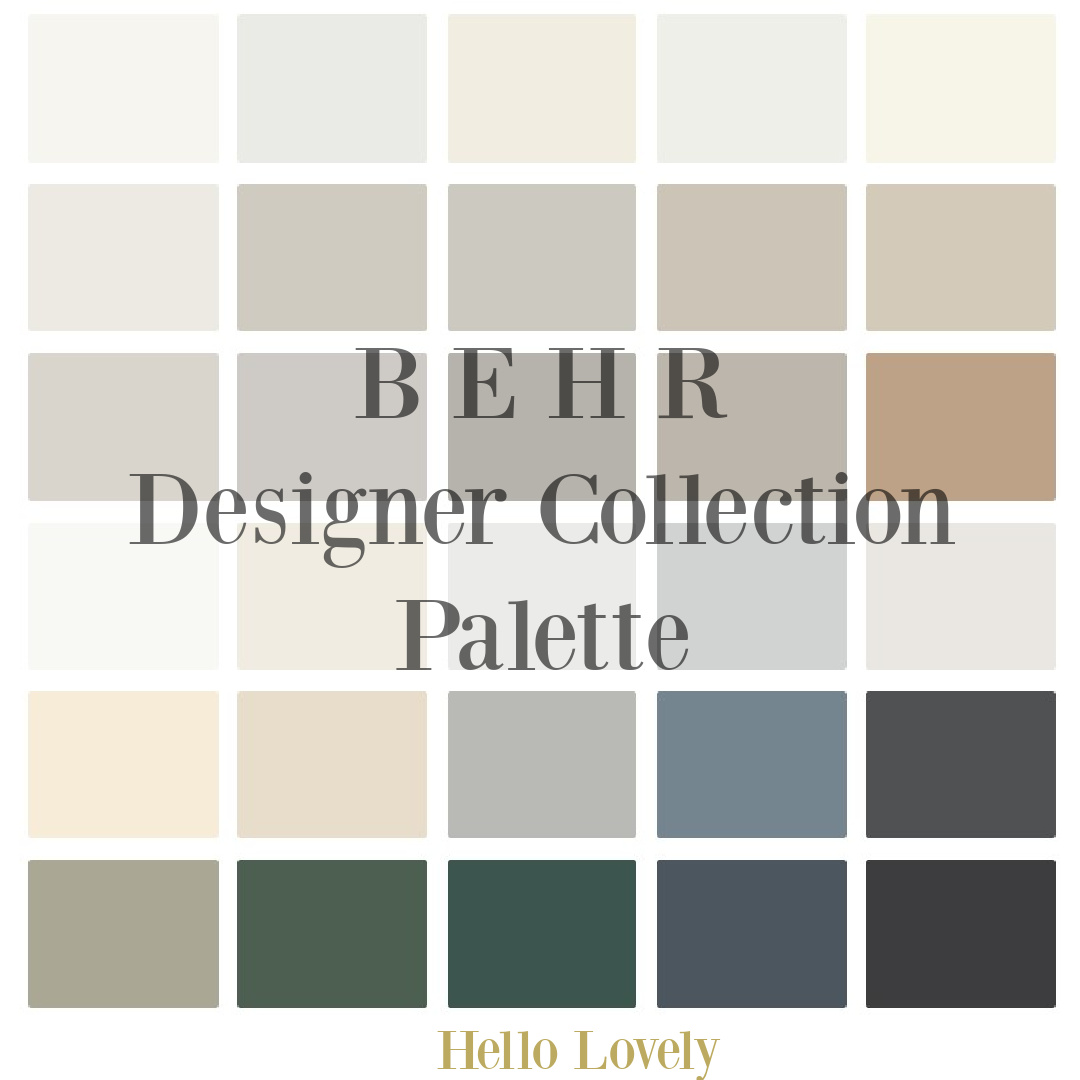 Because I am personally in LOVE. They are making it so much easier to choose lovely combinations! Look at this neutral dining room palette:
And judging from the traffic I get whenever I post about blue and white kitchens, lots of folks are choosing that palette. Here's a trustworthy combo if you too need suggestions for kitchen cabinets and an island base:
More Favorite Whites from Leanne Ford
Here's a beautiful white that feels like a billowy cloud.
Do you love how it is working with all the raw wood?
And wasn't it genius to paint the ceiling rafters for a loftier look and feel?
Oh, white painted beadboard, I can't quit you! In another project, Leanne painted walls Delicate Walls in a dining room:
Doesn't it help to see the same color used in entirely different rooms and lighting conditions? Here it is in Leanne Ford's Kardell project:
But we need just a bit more beaded board…
Here's a warm white that reminds me of BM Linen White and seems best suited for older homes where you want to keep things very traditional and nostalgic.
How do you feel about the age this color lends?
Sugar Soap is a pale, shaded, off-white with a red undertone. It is used quite unconventionally by Leanne who combined it with Delicate White and Black Magic.
What do you think of those stairs!?!
Finds in the Spirit of Leanne Ford's Vibe-loveliness
And here's another object Leanne might love:
I independently selected products in this post—if you buy from one of my links, I may earn a commission.
Peace to you right where you are.
-michele
Shop for items you already intended to buy on Amazon RIGHT HERE, and also find home decor here to keep decor inspiration flowing on Hello Lovely!
Hello Lovely is a participant in the Amazon Services LLC Associates Program, an affiliate advertising program designed to provide a means for sites to earn fees by linking to Amazon.com and affiliated sites.