What are realistic and actionable ways you can bring European country style and sensibilities to your own home? While I have plenty of opinions and years of experience, we'll turn to a photo gallery from a few designers we trust. How to Capture European Country Decorating Style? We'll look to a handful of creatives I admire who master it. The inspiration will feel like a treasure trove of helpful direction for your home if rustic elegance, French farmhouse, modern French, and European influenced interiors charm you.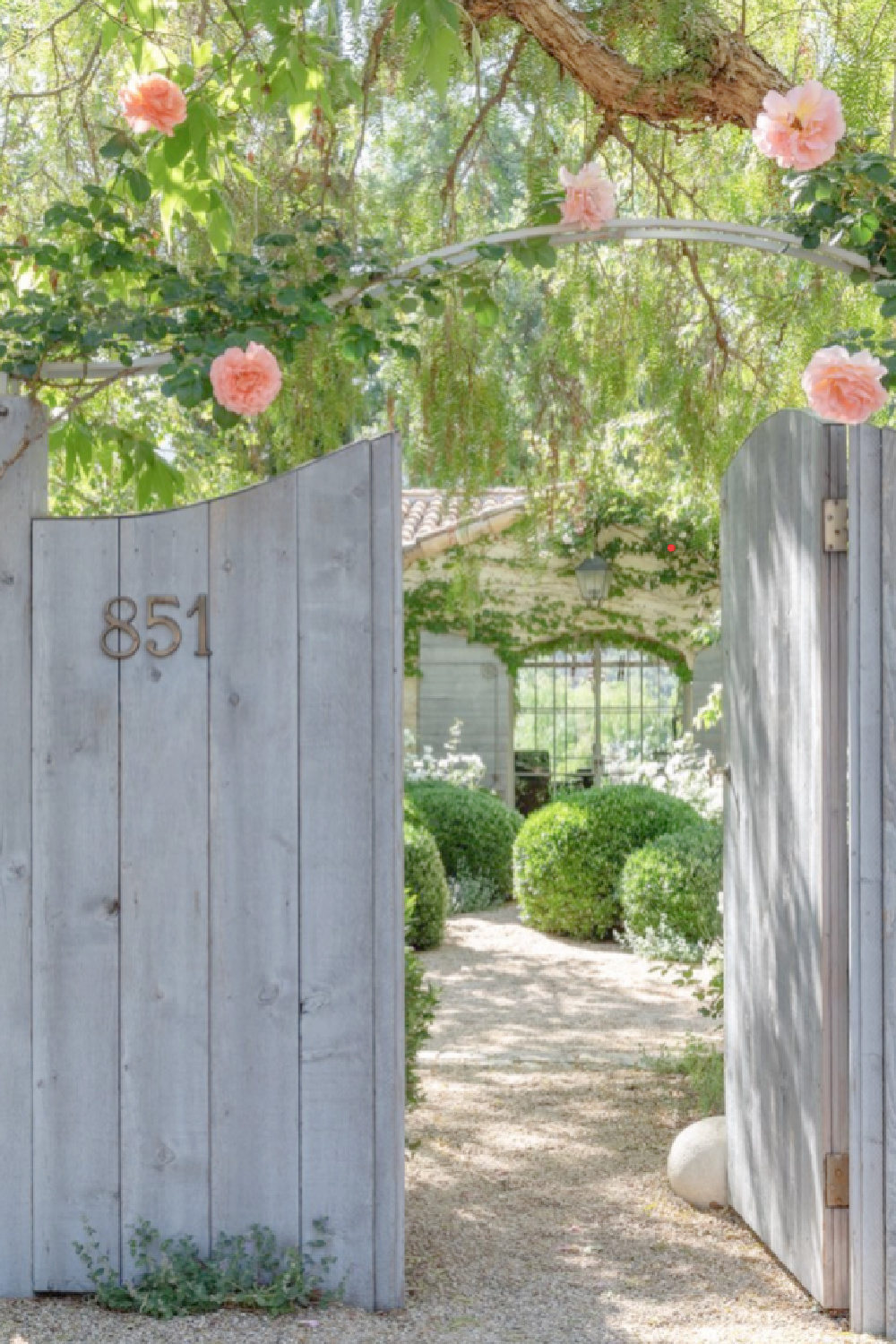 We have followed Pamela Pierce, Steve and Brooke Giannetti, and others for more than a decade! In fact, we have kept tabs on the journey of the Giannettis since before the days of Patina Farm, and they have already moved on to Patina Meadow! Let's look at work from some of my favorite designers who have a way with European Country inspired style. We'll explore how their aesthetic can inspire our own decorating schemes at home.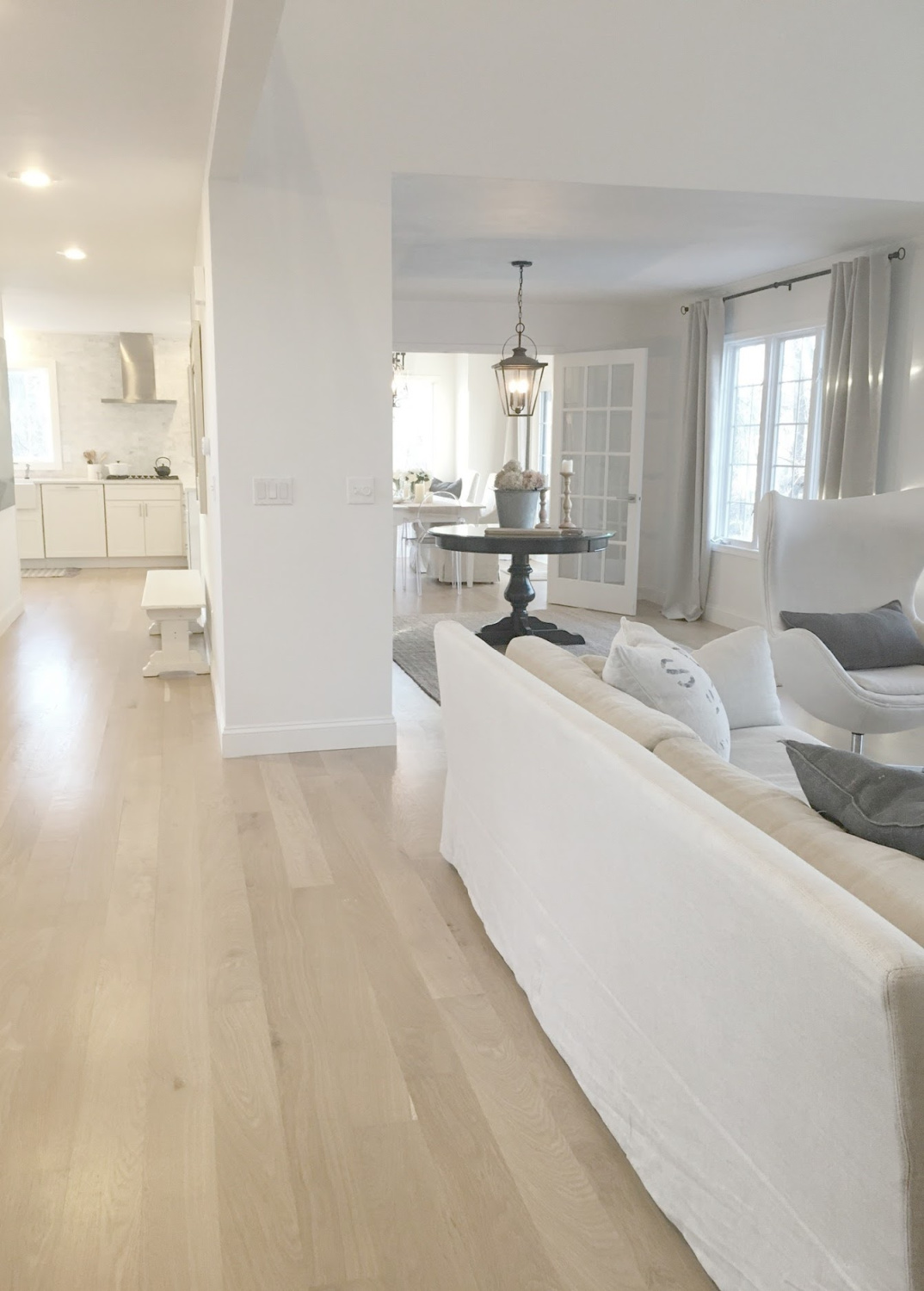 How to Capture European Country Decorating Style?
What is European Country Decorating?
Country houses in France, Belgium, Italy, and European countries have an alluring appeal because they are so livable and unfussy. European country style decor has a sense of usefulness, age, rusticity, and patina (which takes time to develop!). Our attempts to emulate the look outside of Europe? Nobody's perfect, but we can interpret tenets of this design style to arrive at a look created in the same spirit.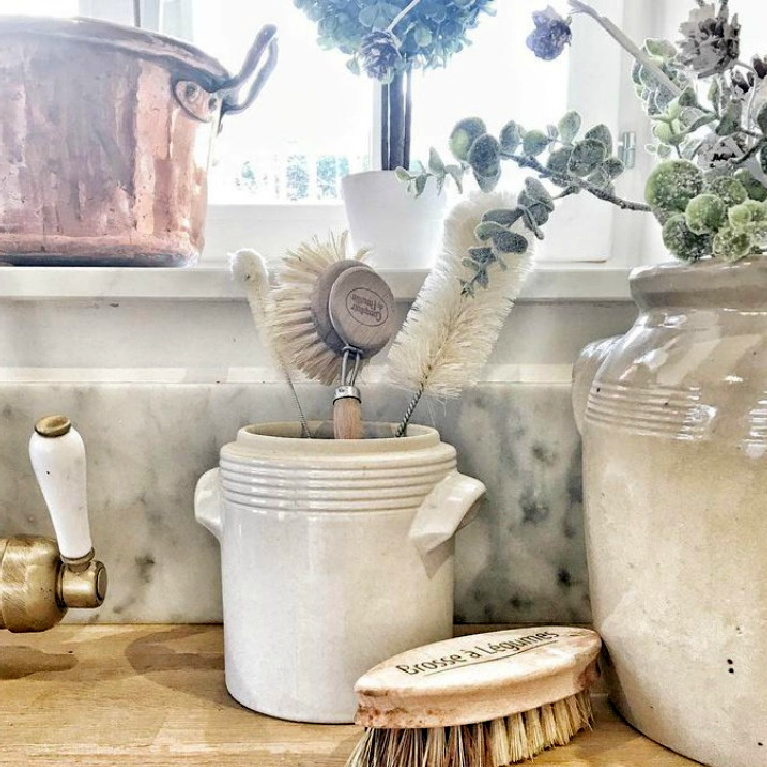 I go into more defining detail in THIS, and the design ingredients often include: antique urns, earthenware, pottery, well constructed objects that stand the test of time, architectural salvage, vintage oil paintings, copper pots, high quality linens, pale paint colors, marble, moldings, timeless not trendy furniture, romantic accessories, and authenticity over mediocrity.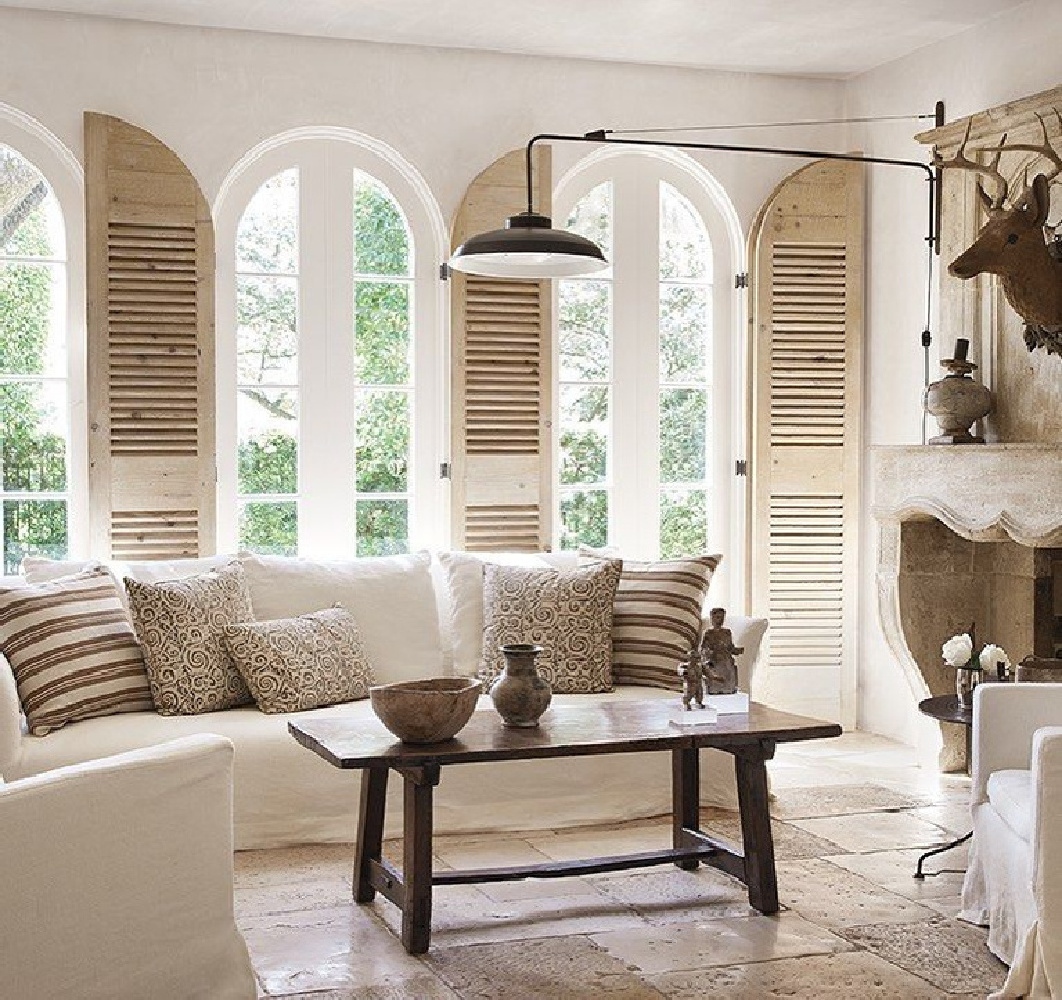 Which Designers Specialize in European Interiors?
Pamela Pierce's inimitable MILIEU will bring you the freshest authentic timeless designs through the seasons. Charlotte Reiss of Vivi et Margot offers French homewares, Tracie of My Petite Maison sells vintage and antiques, Chateau Domingue imports amazing architectural finds from Europe, and Patina Home can dress you AND your home!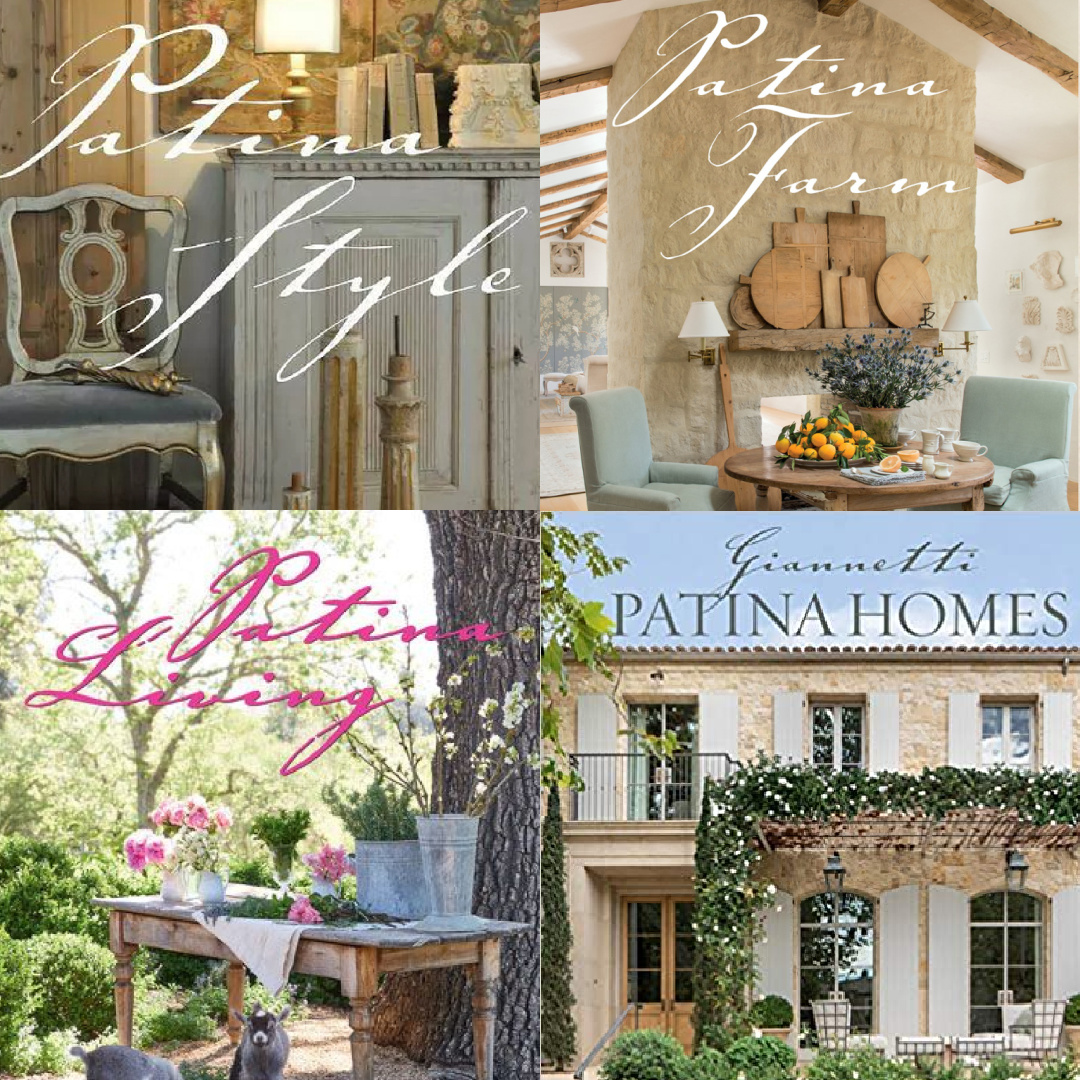 Fortunately, all of these sources of interior design inspiration have books, magazines, or shops to more easily learn the look.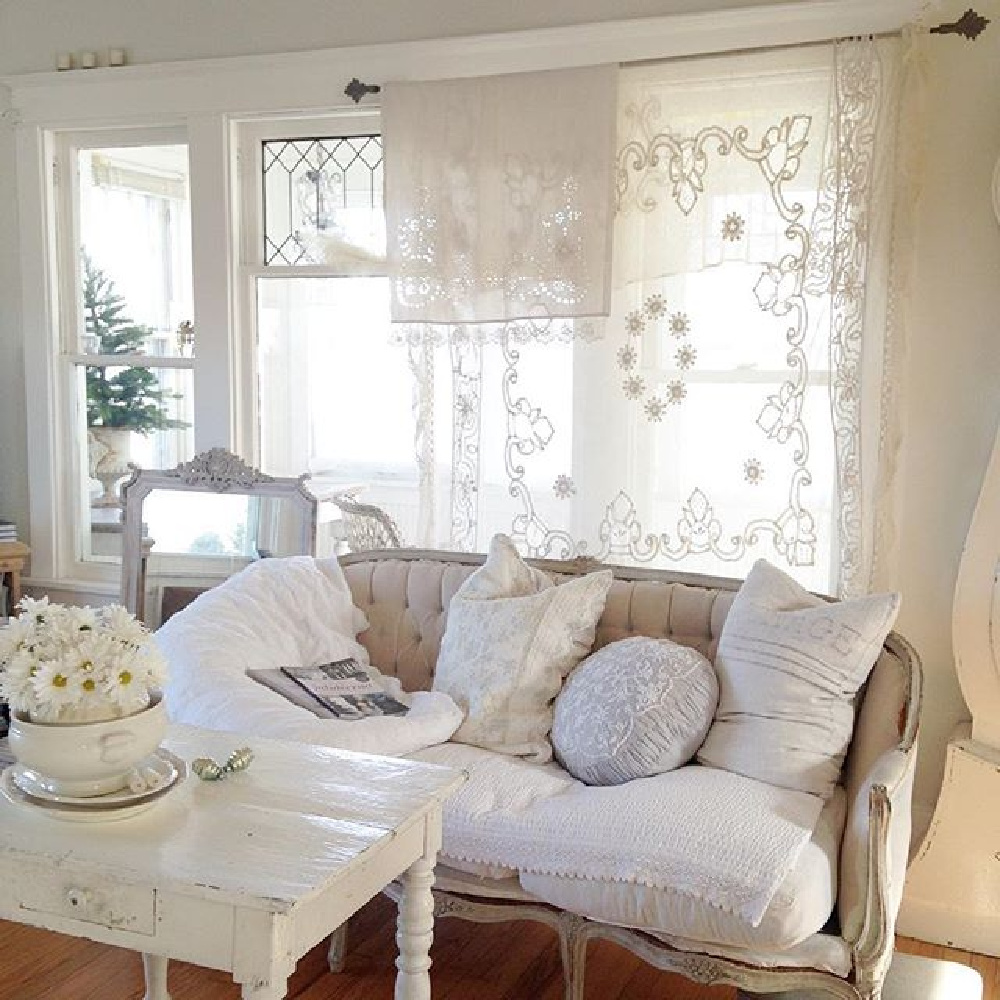 There was a time you would have to travel to Europe or spend years hunting down the perfect pieces to get an authentic look…yet we now have unprecedented access!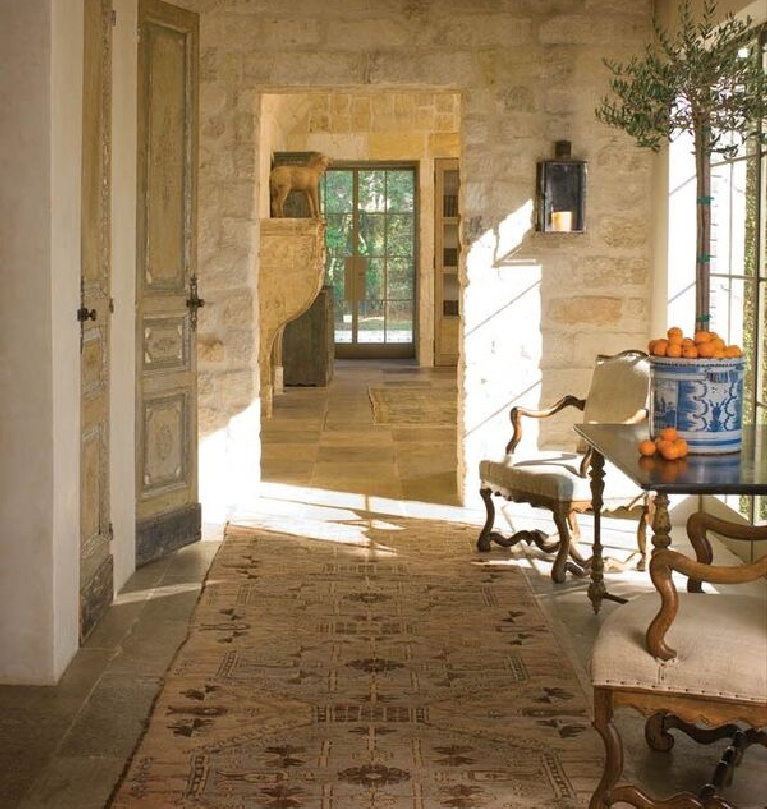 Get a taste from each of these tastemakers by studying these instructive design moments that illumine a European country inspired point of view.
1. Pamela Pierce
Here's an unforgettable bedroom where you can sense the juxtaposition of rusticity with elegance.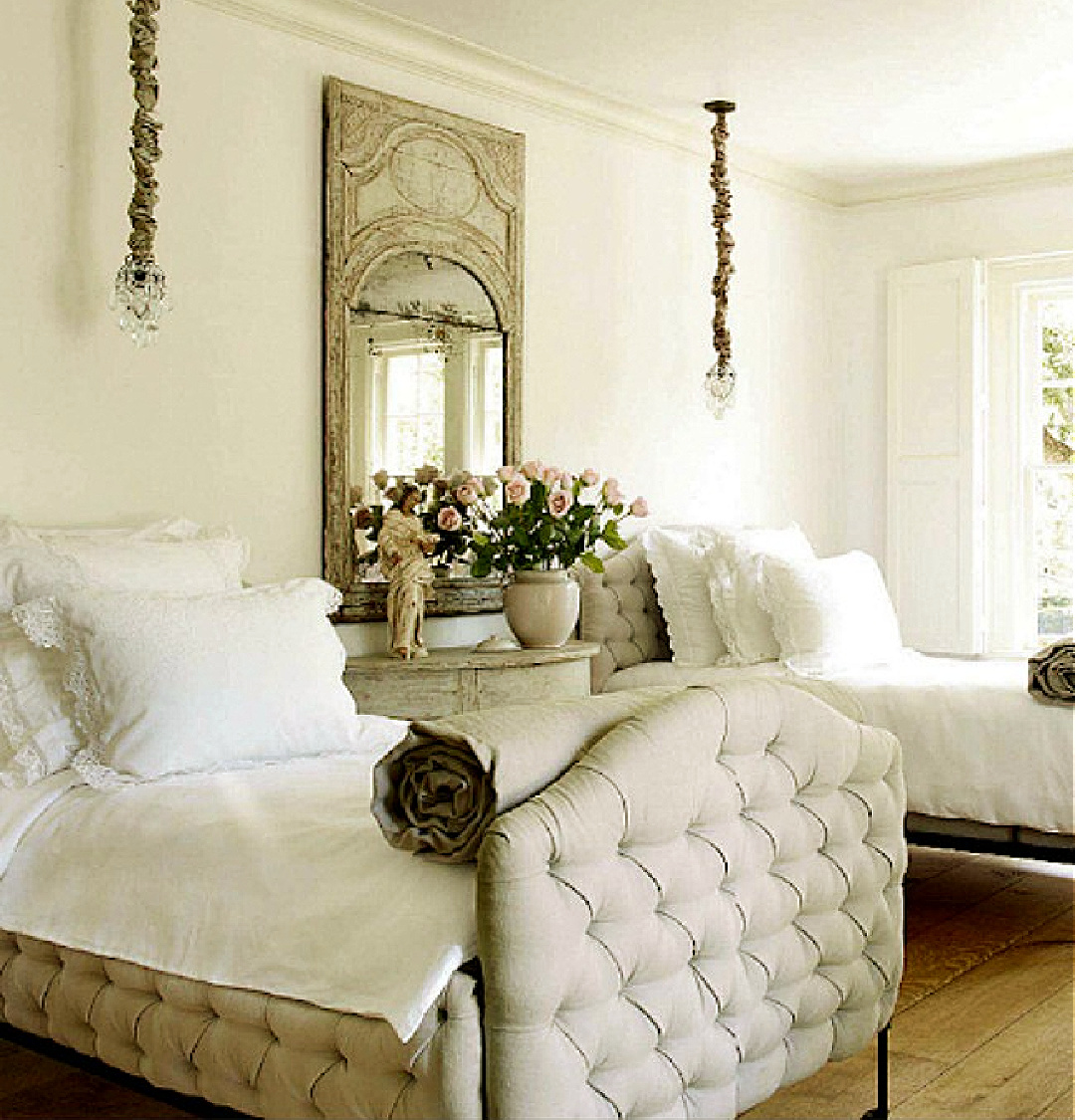 The color story is quiet, subdued, and serene to keep the mood light, dreamy, and tranquil. There's an understated contemplative vibe permeating this kitchen area as well: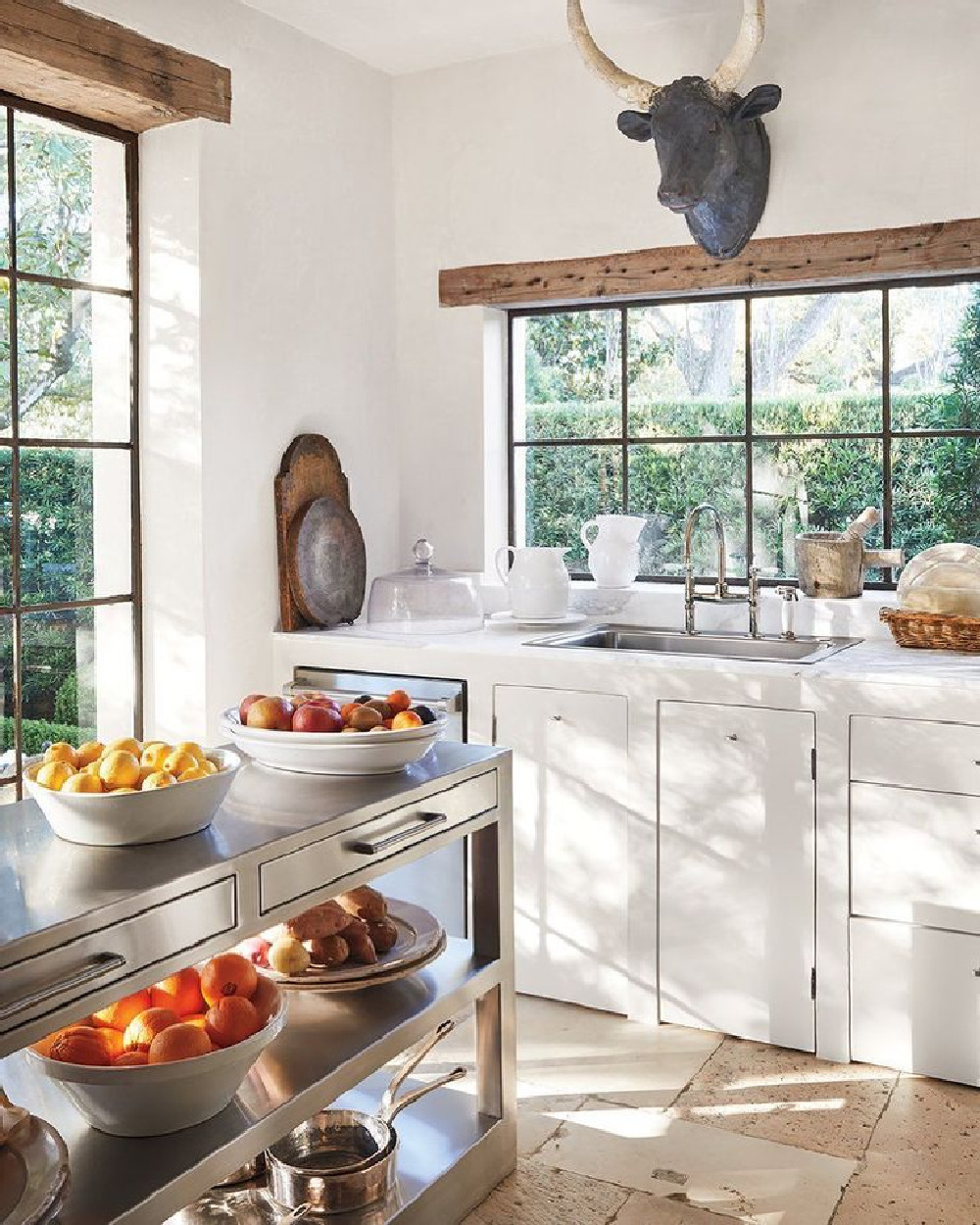 A cozy ceiling height, reclaimed stone on the floor, rugged wood beams, and Old World style mixed with modern (that stainless work console!).
Antiques, vintage objects, and collected treasures become art pieces to use and enjoy everyday.
2. Velvet and Linen
The Giannettis blend the charms of European country living with an organic California wholesomeness that feels at once natural AND fresh.
Here's a short video I created especially for you about a favorite design book!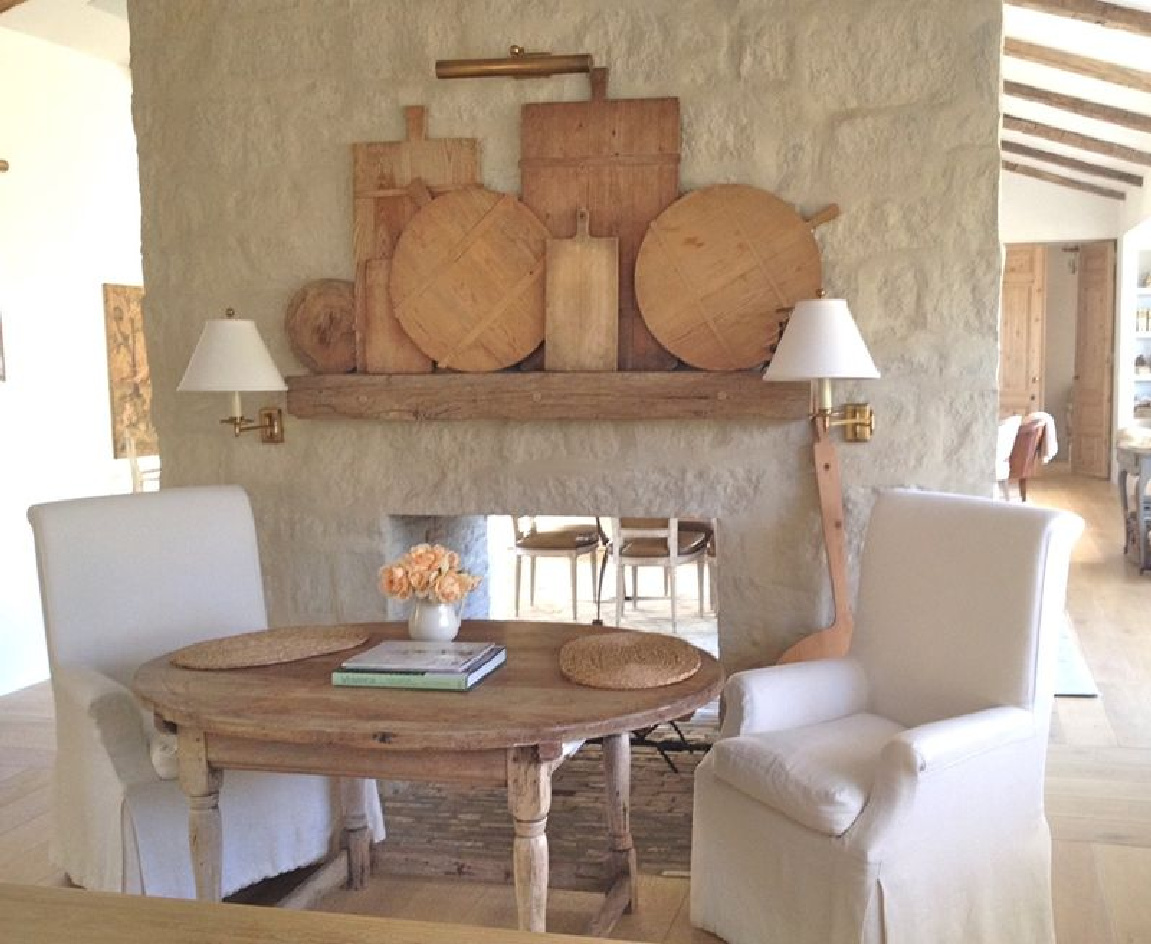 Their interpretation of European country style incorporates a mix of Swedish antique furniture, tapestries, gilded accents, white oak, minimal ornamentation for architecture, sumptuous velvets and linens, and a pared down aesthetic.
European country decorating always involves a strong connection with nature, and this design team truly understand how mutually beneficial such a connection can grow.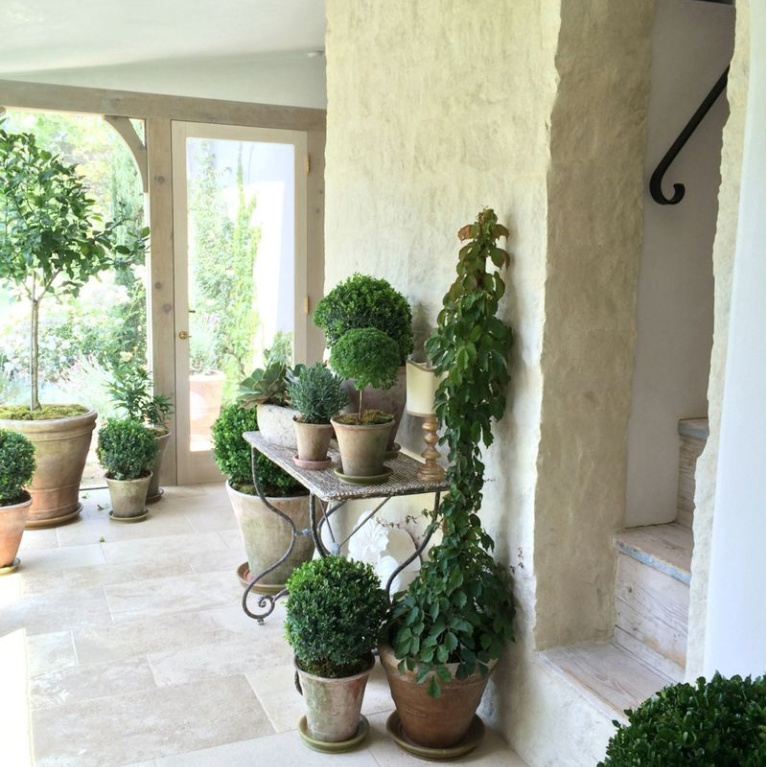 And PATINA? Well, they sort of wrote the book…a few times.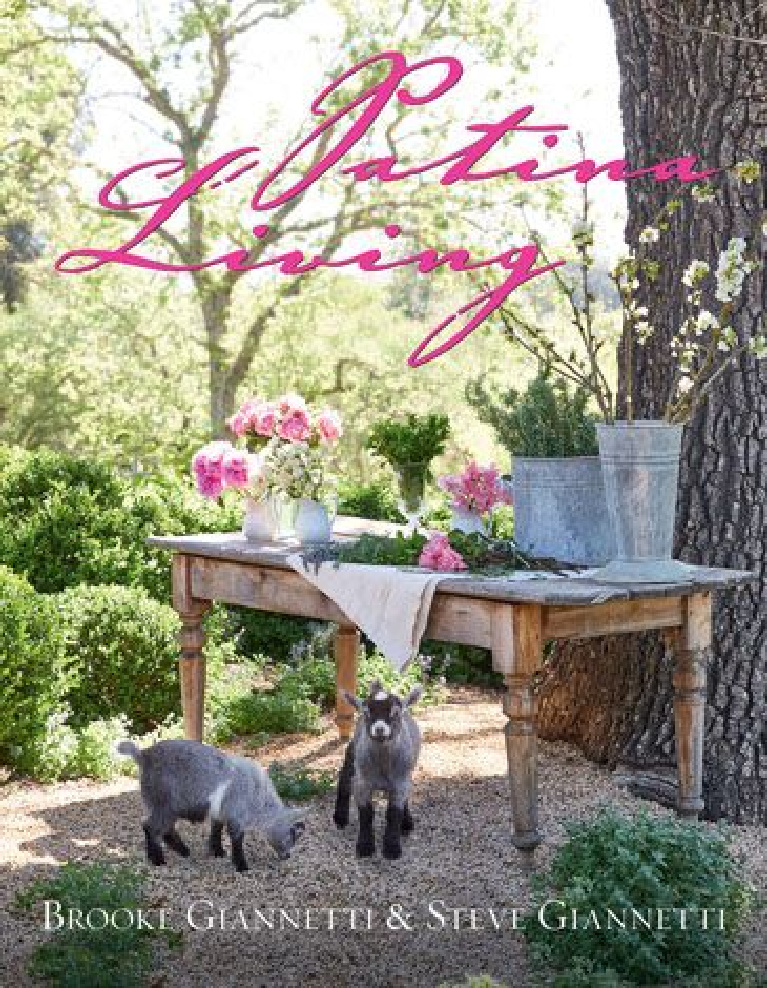 If you gaze at Brooke Giannetti's former sun-filled hall at Patina Farm, you may be inspired to add life to your own pass through:
Charming Patina Farm French Farmhouse Interior Design Ideas
There's something so honorable and attractive about the beauty of everyday objects that aren't simply collected for show but to enhance and support the labors that daily life bring.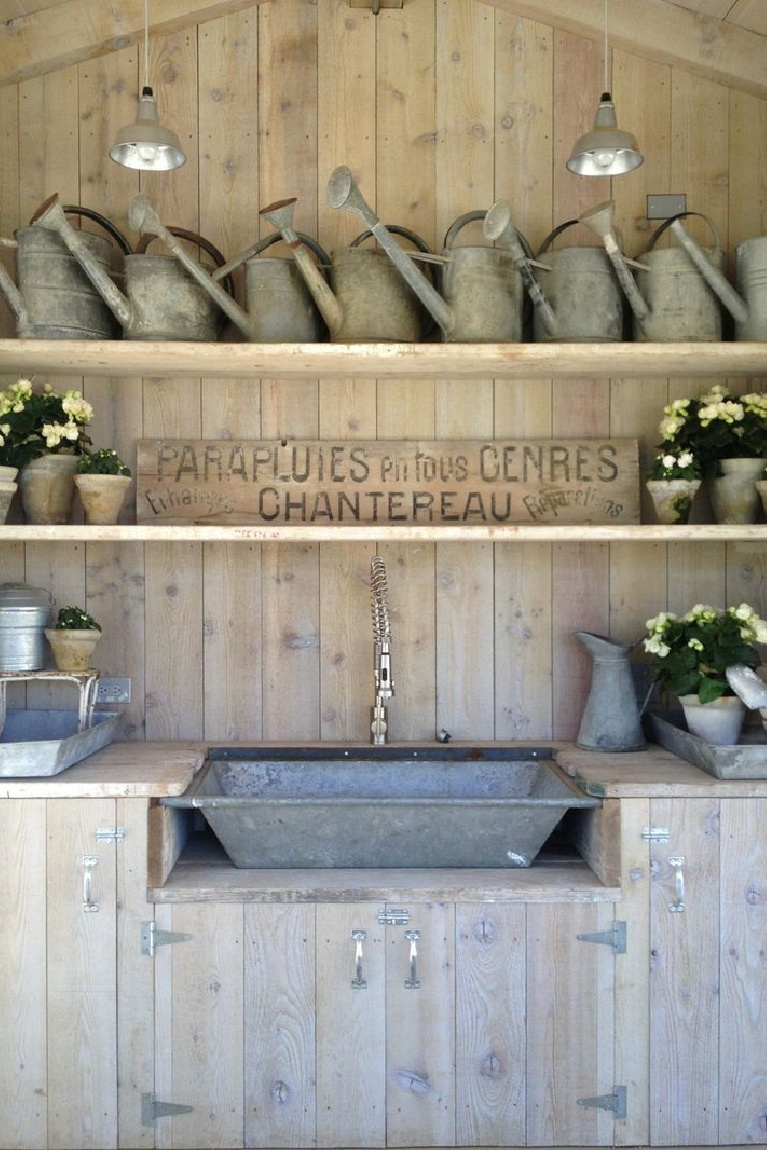 Look at your own daily life and consider what objects you reach for. Is there an opportunity to upgrade or hunt for beautiful examples that will magnify beauty as you work?
Rustic Country Antiques in Patina Farm French Inspired Bath
When it comes to decorating or designing a bath, we often do it mindlessly. Yet there is a way to think beyond American mainstream practices. Could a European country antique (or an American one influenced by Euro style) be repurposed as a vanity?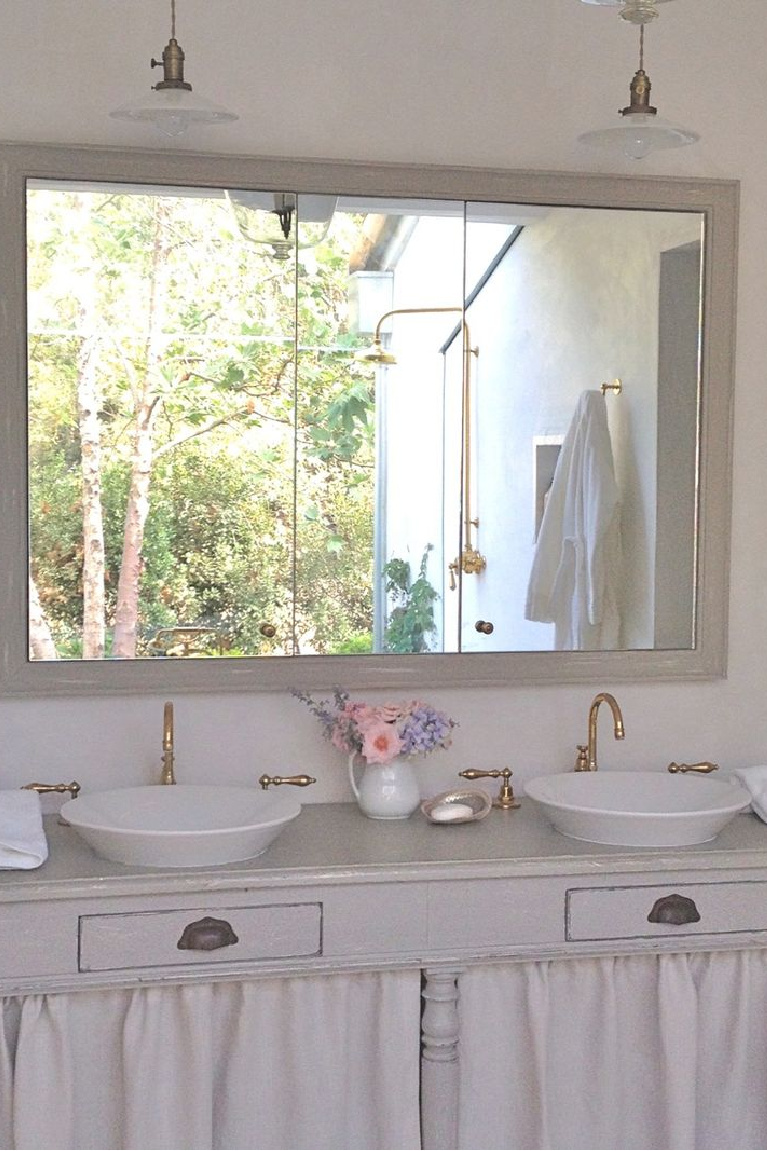 Is there an opportunity to softly and romantically skirt a base cabinet with a natural fabric or linen as opposed to standard cabinet doors?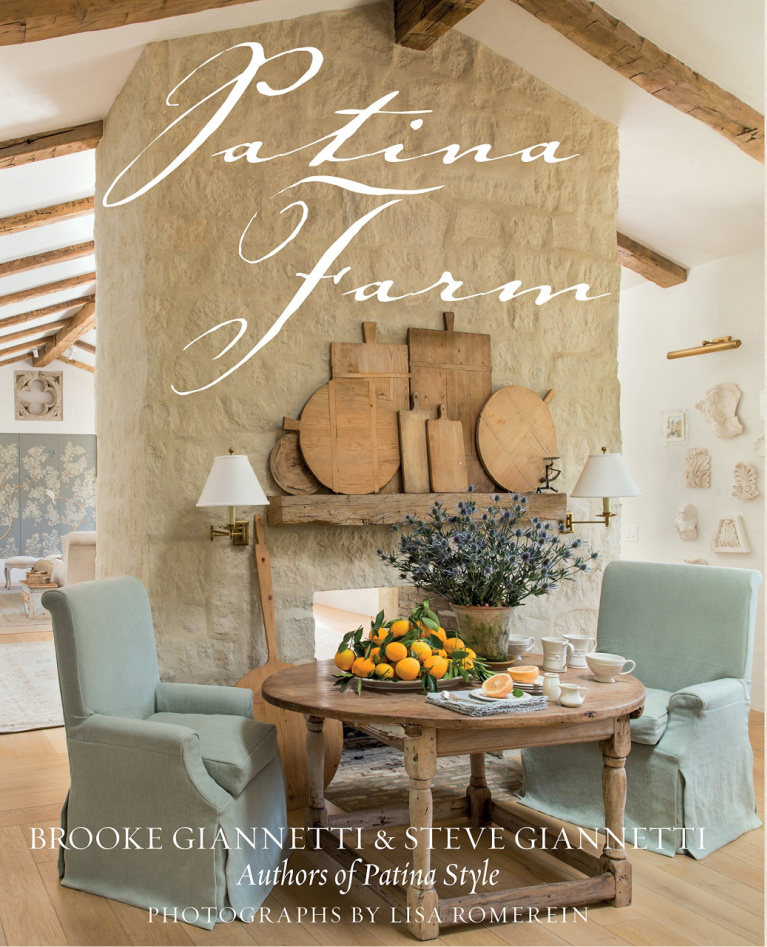 In a dressing room at Patina Farm, the Giannettis chose linen panels with beautiful unlaquered brass rings and rods for their closet storage.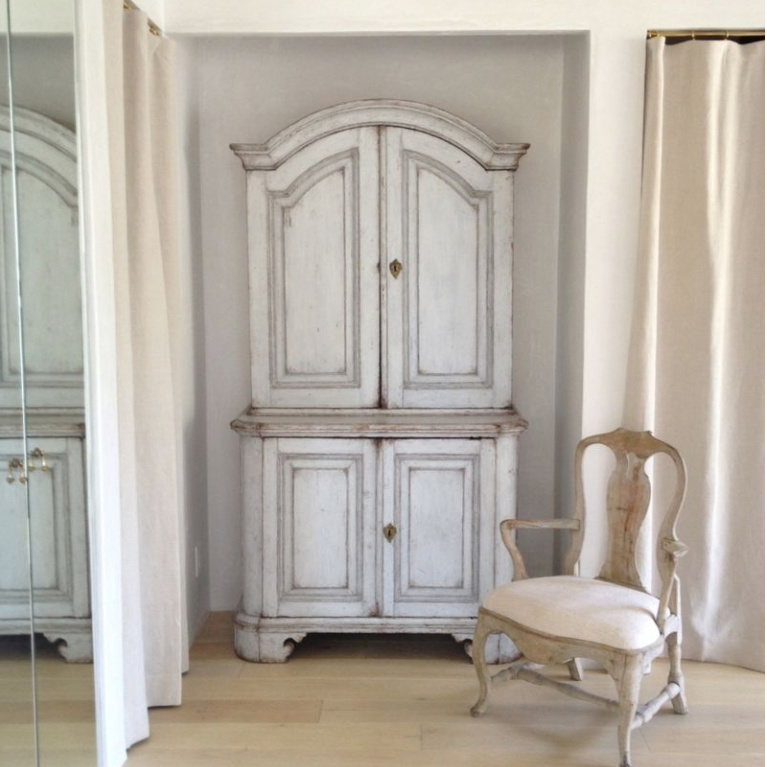 If you have a space where unattractive doors feel clunky, noisy, and awkward, perhaps subtracting them is a possibility.
Rustic Refined French Farmhouse Interior Design: Patina Farm Bedroom Suite
When I interviewed Brooke and Steve years ago, I recall Steve mentioning their bedside tables at Patina Farm.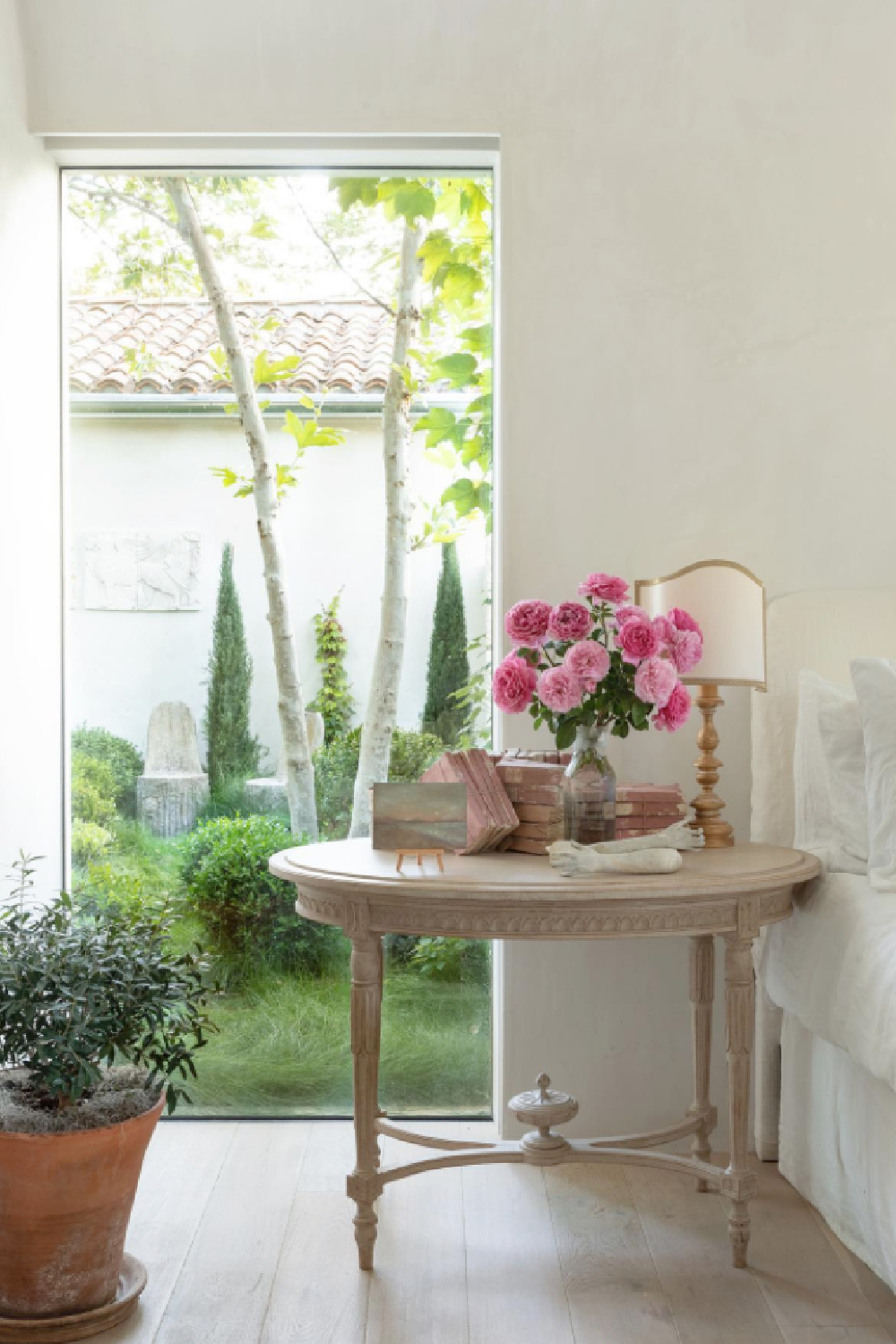 Since they are shop owners, these pieces may change from time to time, but at the time, the mismatched tables in the bedroom were relatively inexpensive ($100-150) finds and not budget breaking rare antiques.
European country style often allows for a relaxed approach to decorating. Nightstands need not match and rustic low cost yard sale finds can look right at home alongside family heirlooms.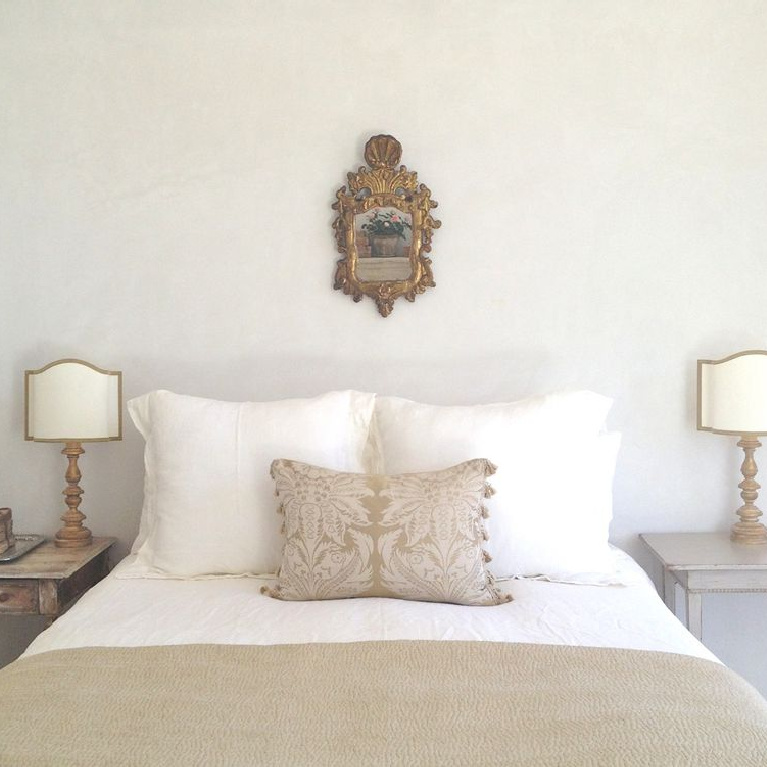 You can also sense the restraint in the decor and interior design choices.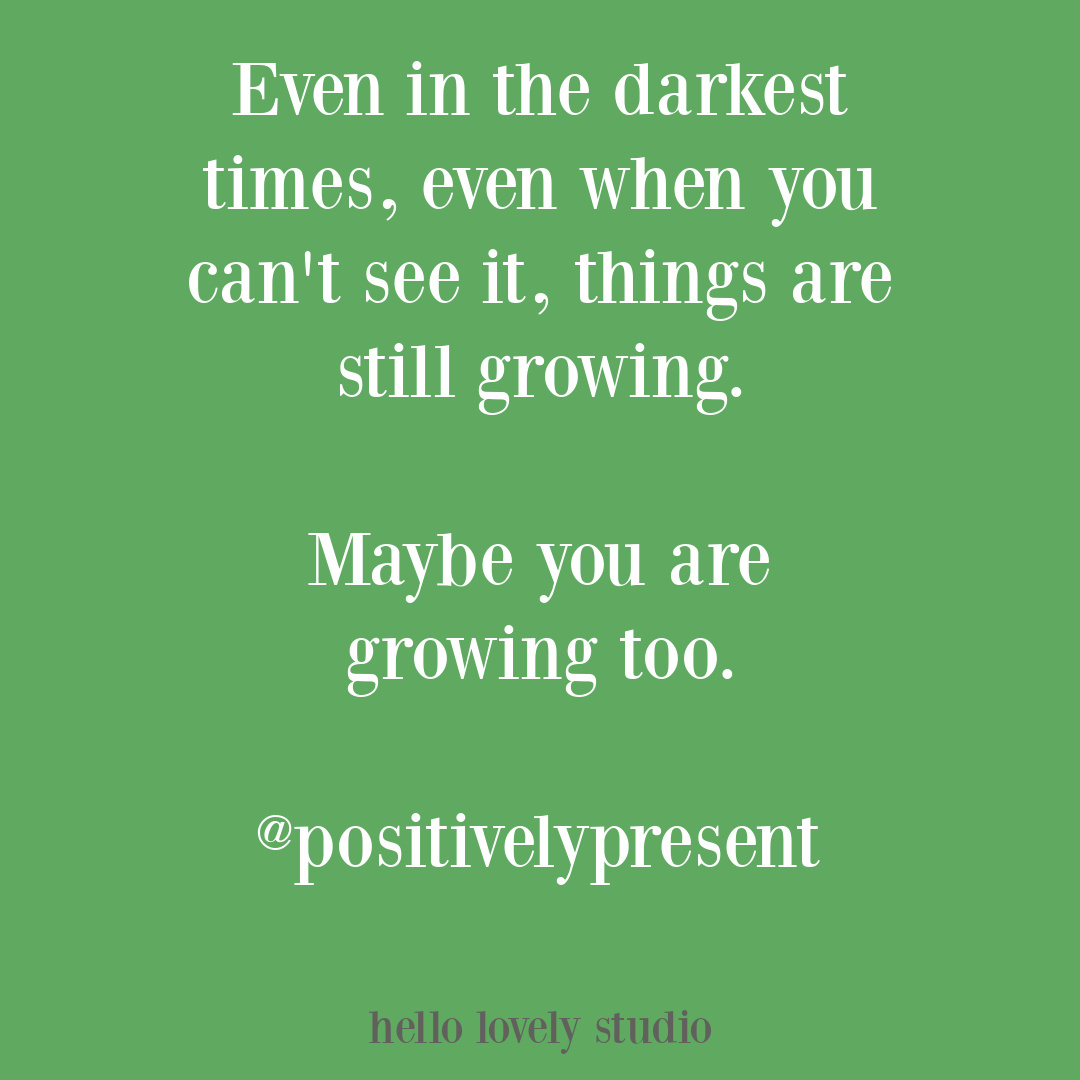 When the bones of the room are beautiful (in the case of Patina Farm, creamy plaster-like walls, timeless rugged iron and glass windows, white oak and limestone floors), less can live large.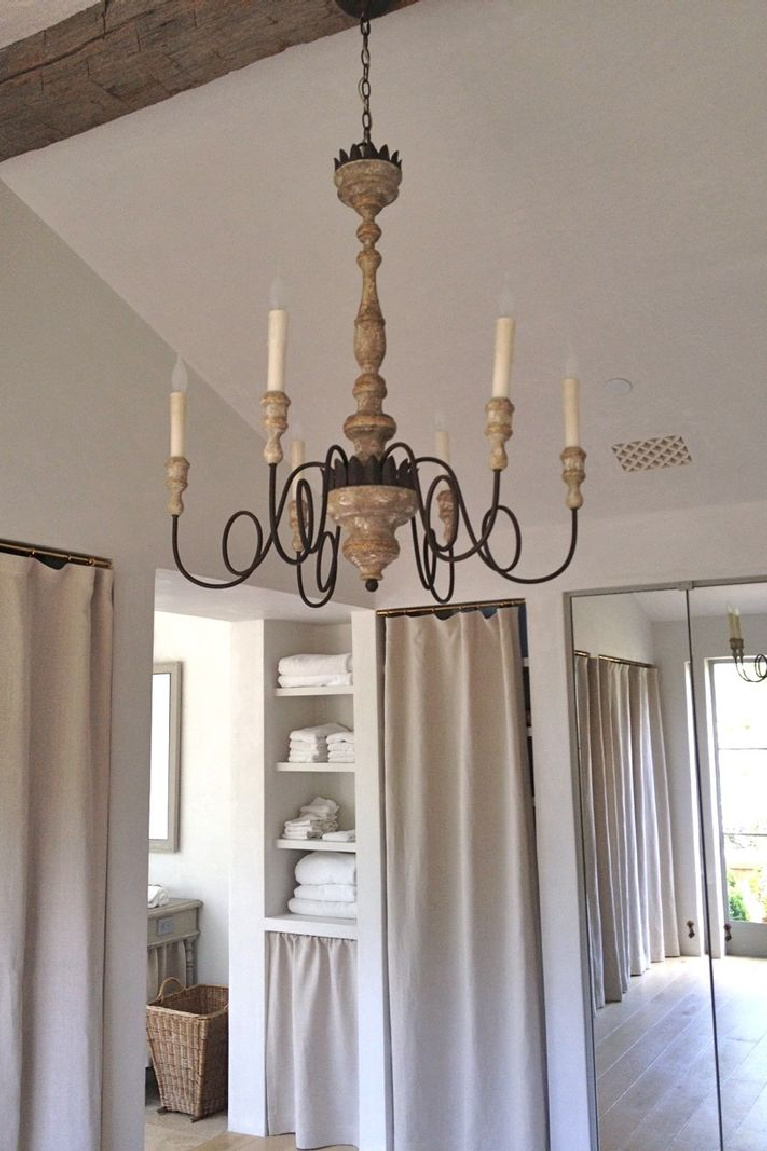 Notice the oval transom above the bathroom doorway and the curve of the ceiling!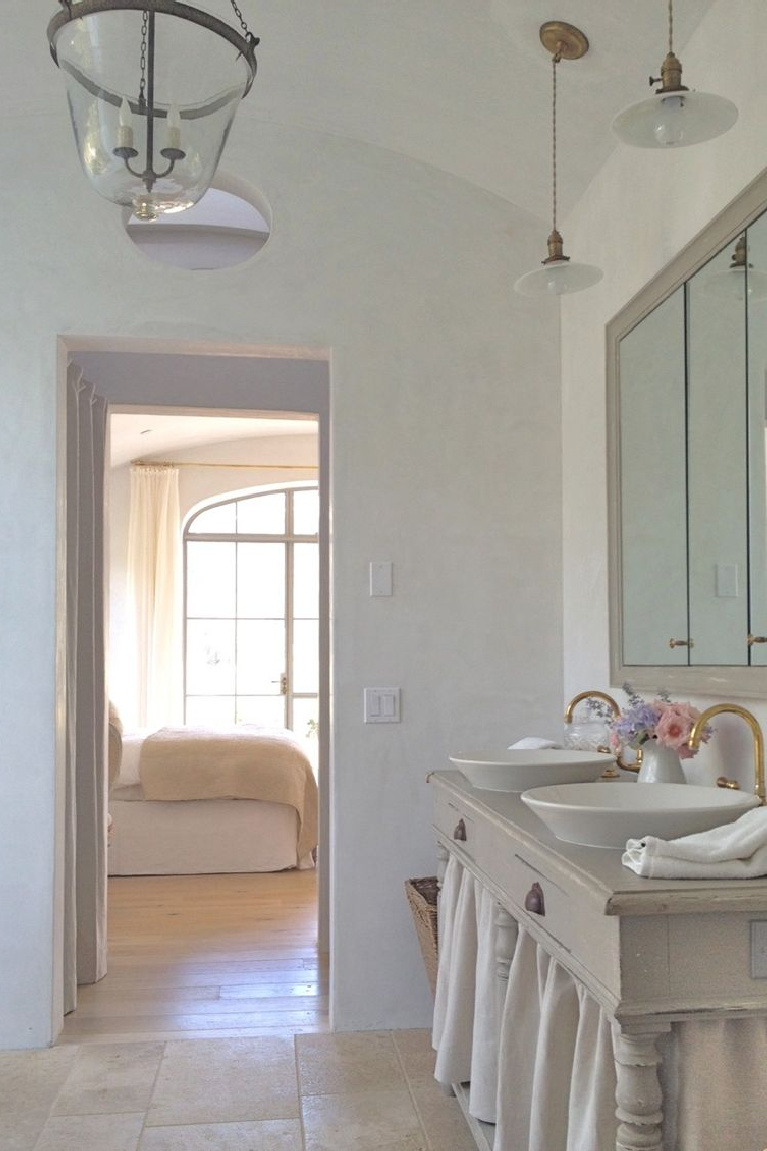 Are you getting a sense of how romantic shapes, flow, and pale color work together to create a sophisticated simplicity?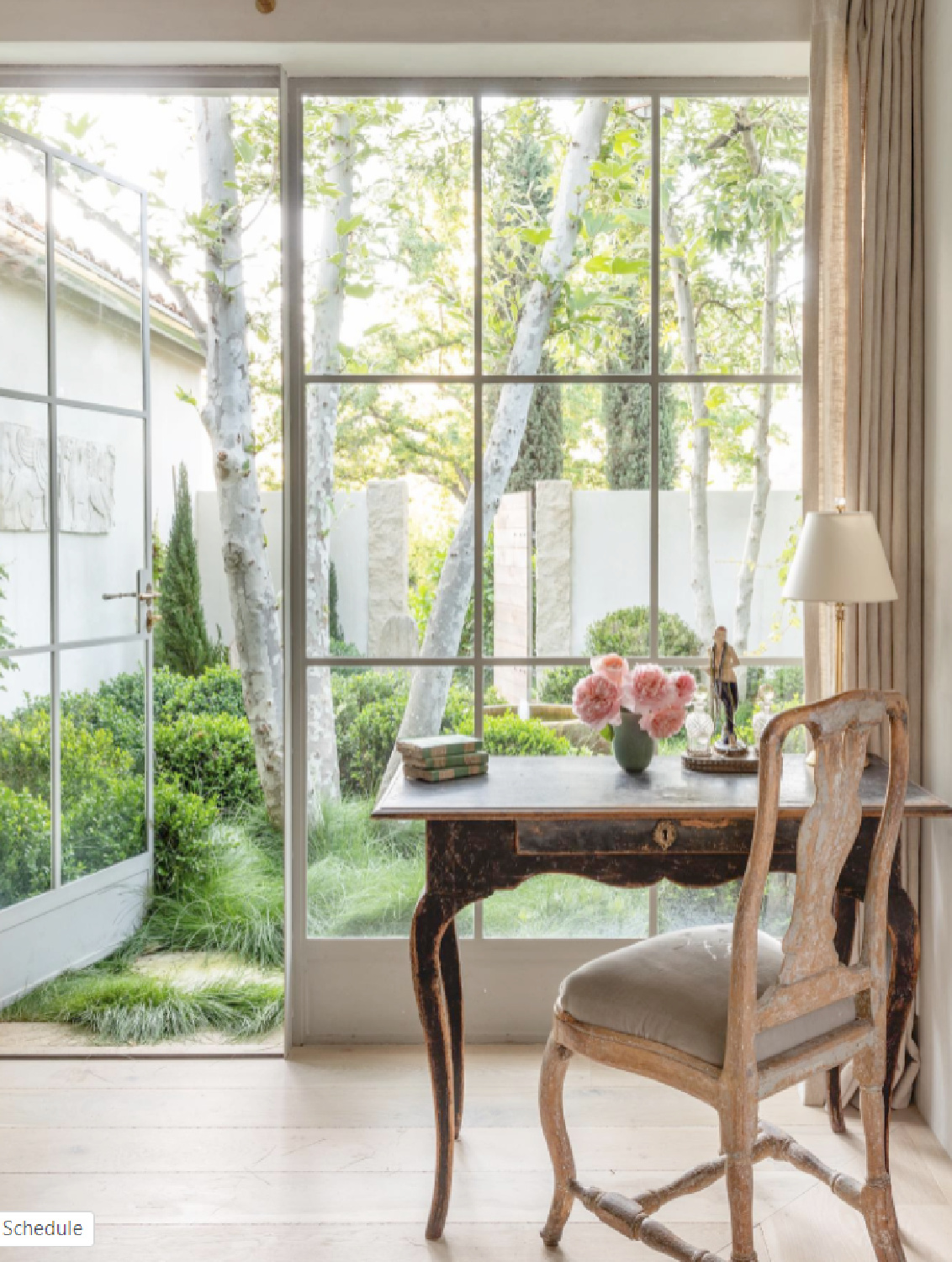 The interiors are not just suggestive of the outdoors, they are welcomed to the very threshold.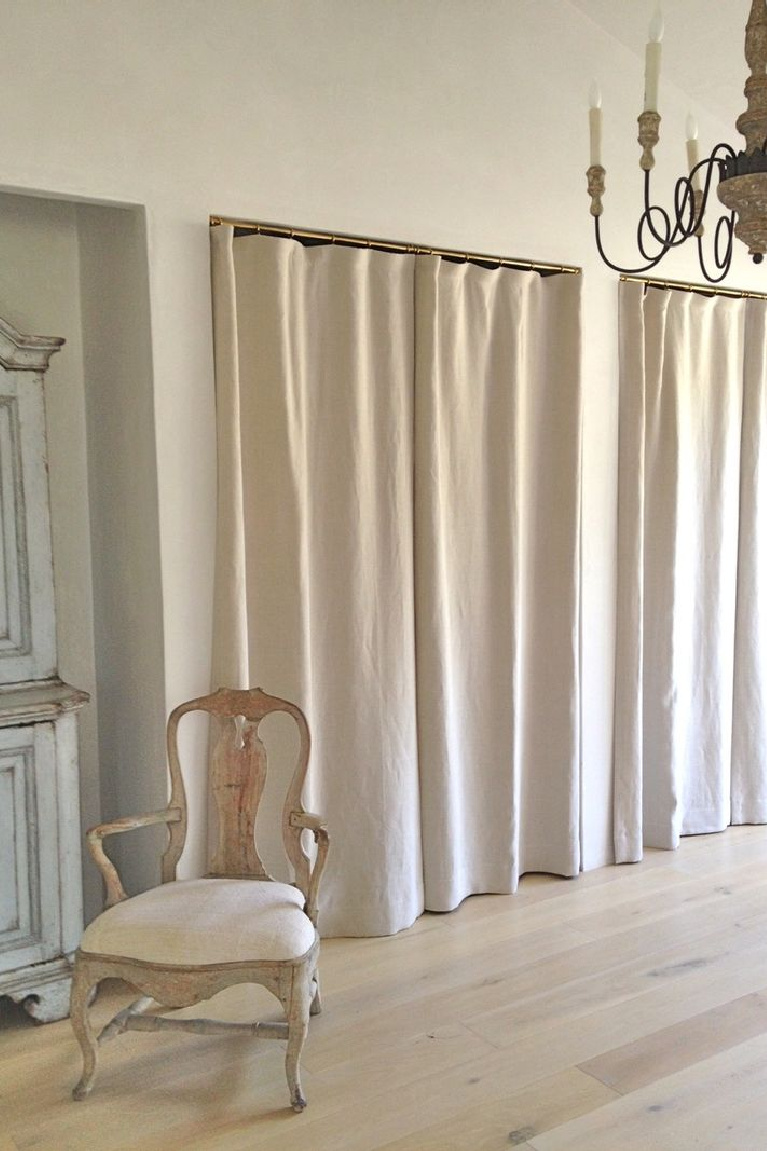 Effortless French Farmhouse Interior Design in a Dining Area
In other Giannetti Home projects beyond their personal home, we can take away design lessons as well.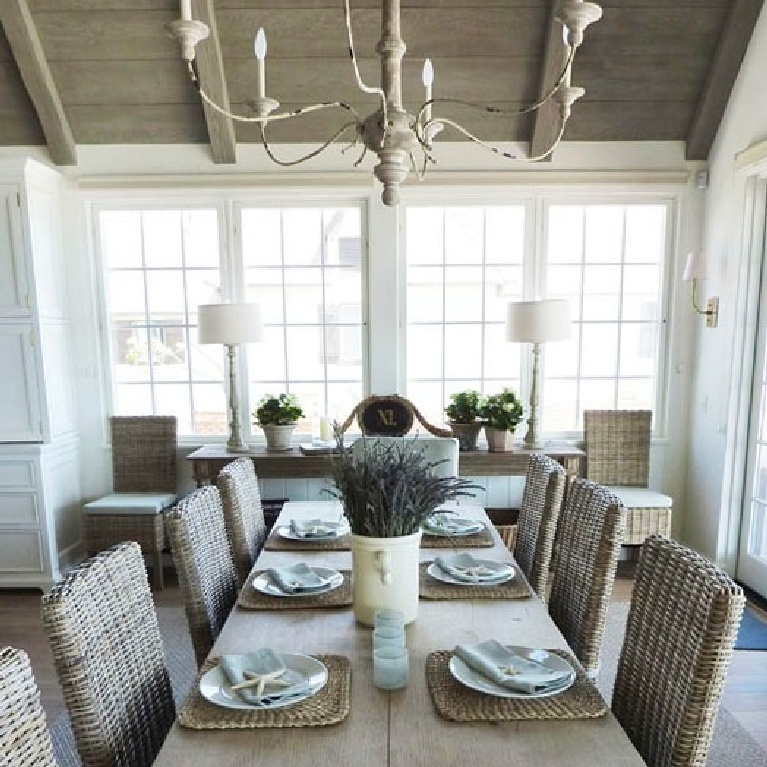 A coastal look works so well with European country rustic elegance!
Coastal French Inspired Style Bath
Once again, the practice of restraint seems to be a powerful guiding principle in the success of their interpretation of European country style.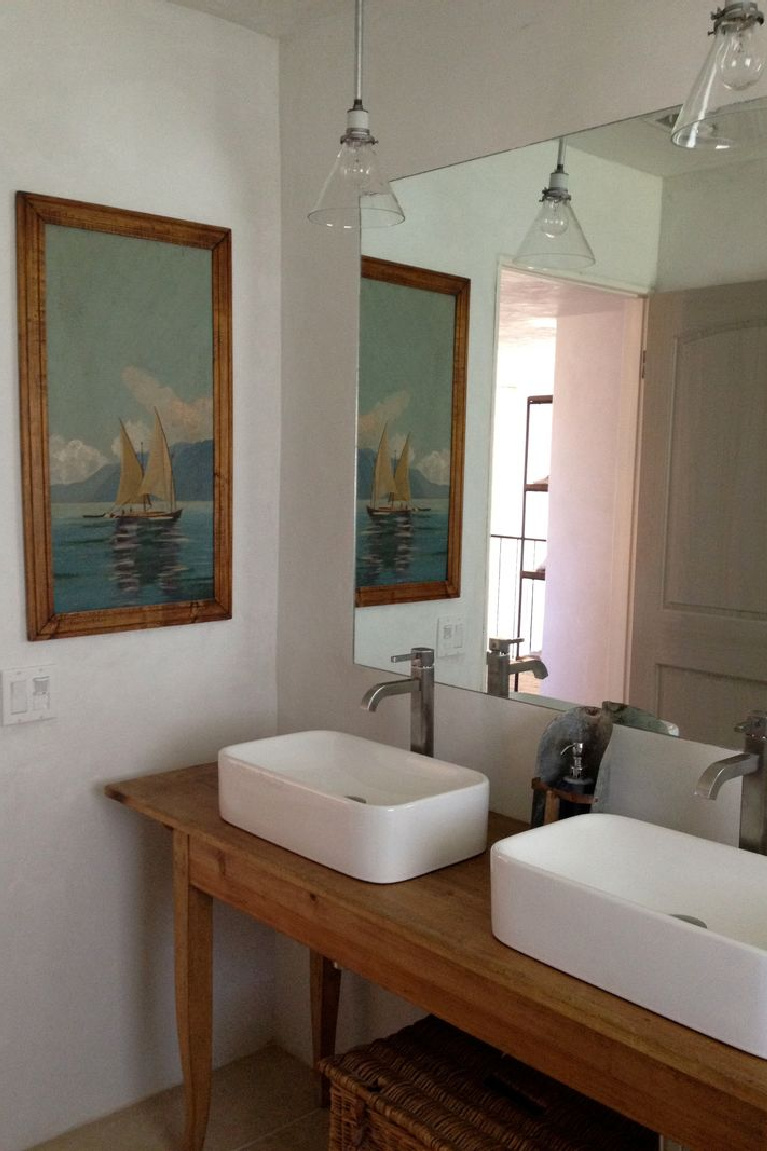 They even skipped the typical wall to wall tile in this bath which is covered in a waterproof pool plaster material.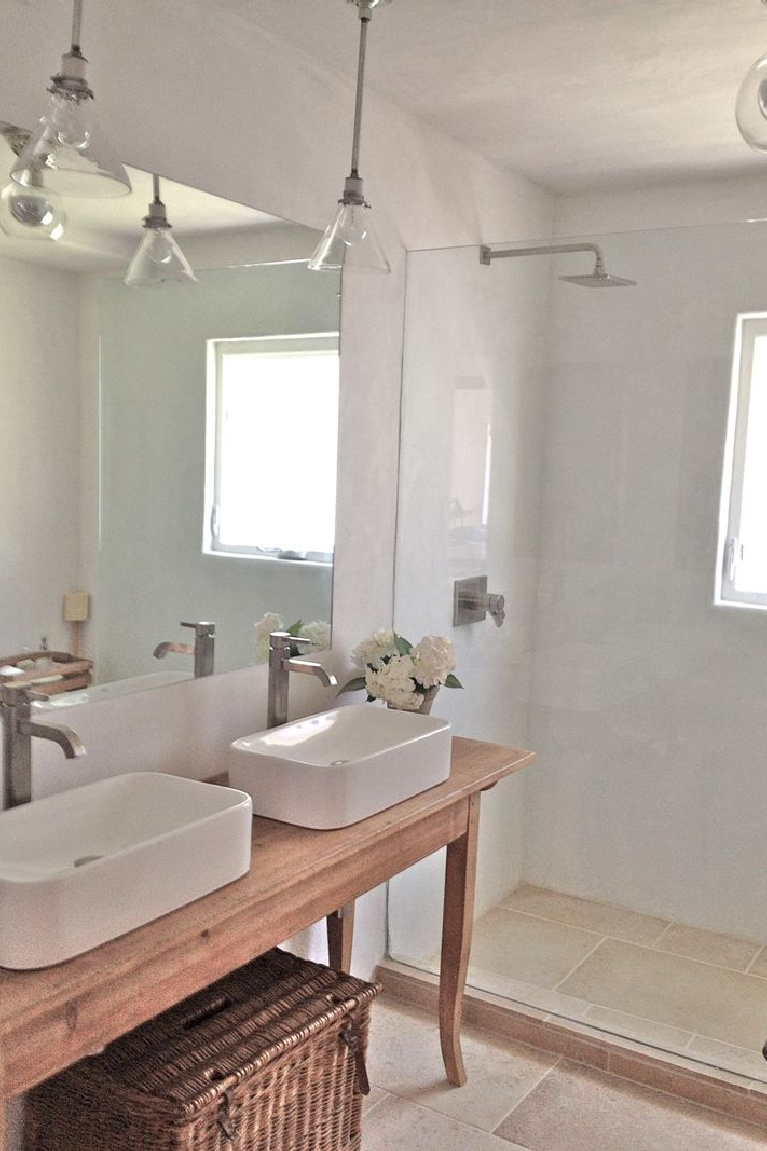 Elegant & Charming European Inspired Bathroom
Elegant European style chandeliers and sconces, natural pale stone, Swedish painted antiques, and warm wood flooring reinforce an Old World feel that works seamlessly for modern living.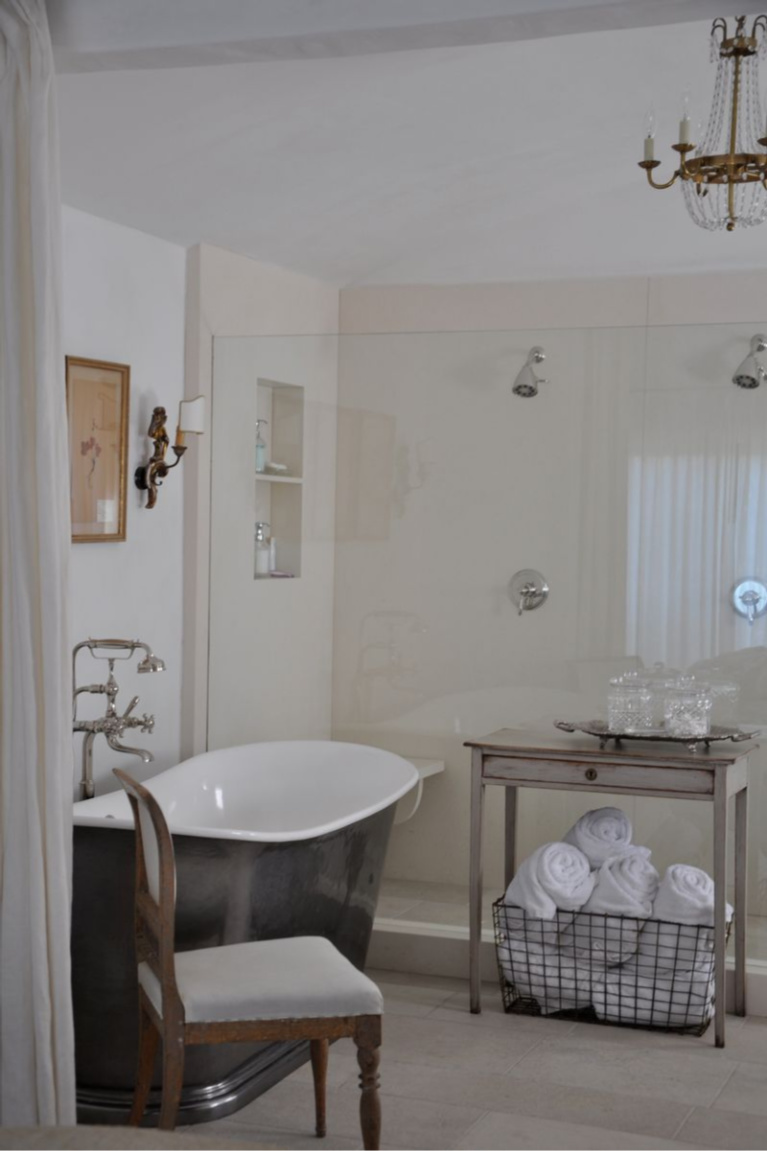 Rustically Charming Patina Farm Breakfast Nook
Sometimes we forget that styled photo shoots of neutral, understated European country homes only reflect a moment and not daily life. And daily life often involves seasonal color and spicy personalities in a given space!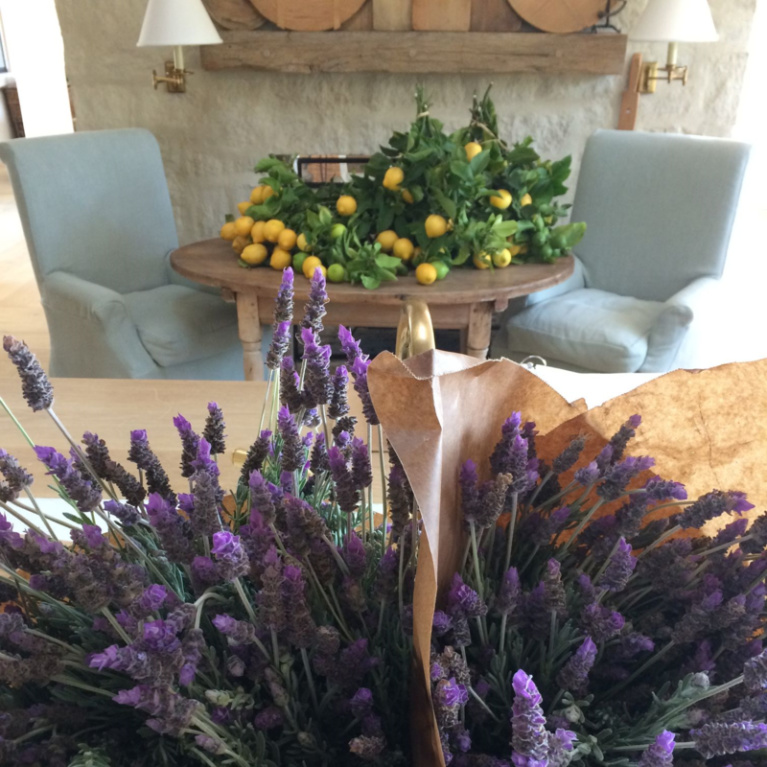 So there's plenty of ripe opportunities if you need your color!
3. Chateau Domingue
Chateau Domingue is a wonderland of curated architectural antiques as well as building materials of European heritage. See how reclaimed materials can be weaved into amazing interior design projects:
While you aren't going to be able to easily create a room this set apart, soak up the cues from color and mood…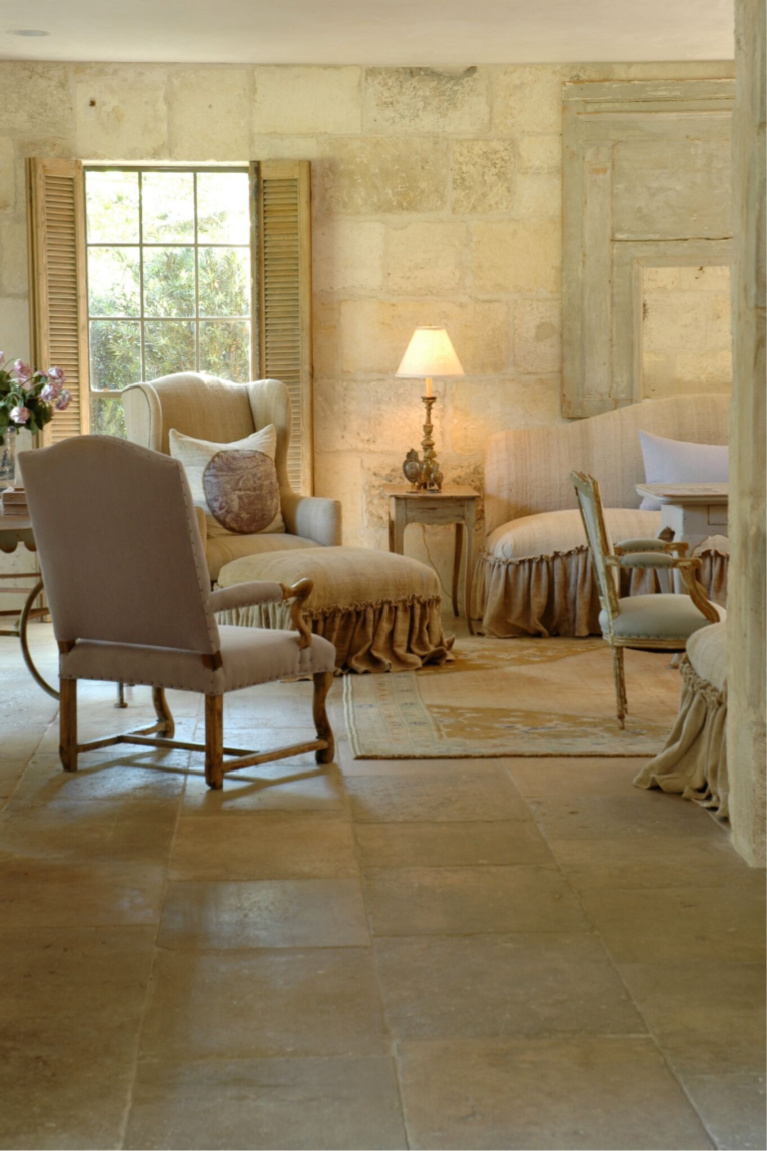 And when you're shopping for pieces to bring a country French or Tuscan or English country look to your home, keep your eyes peeled for similar examples.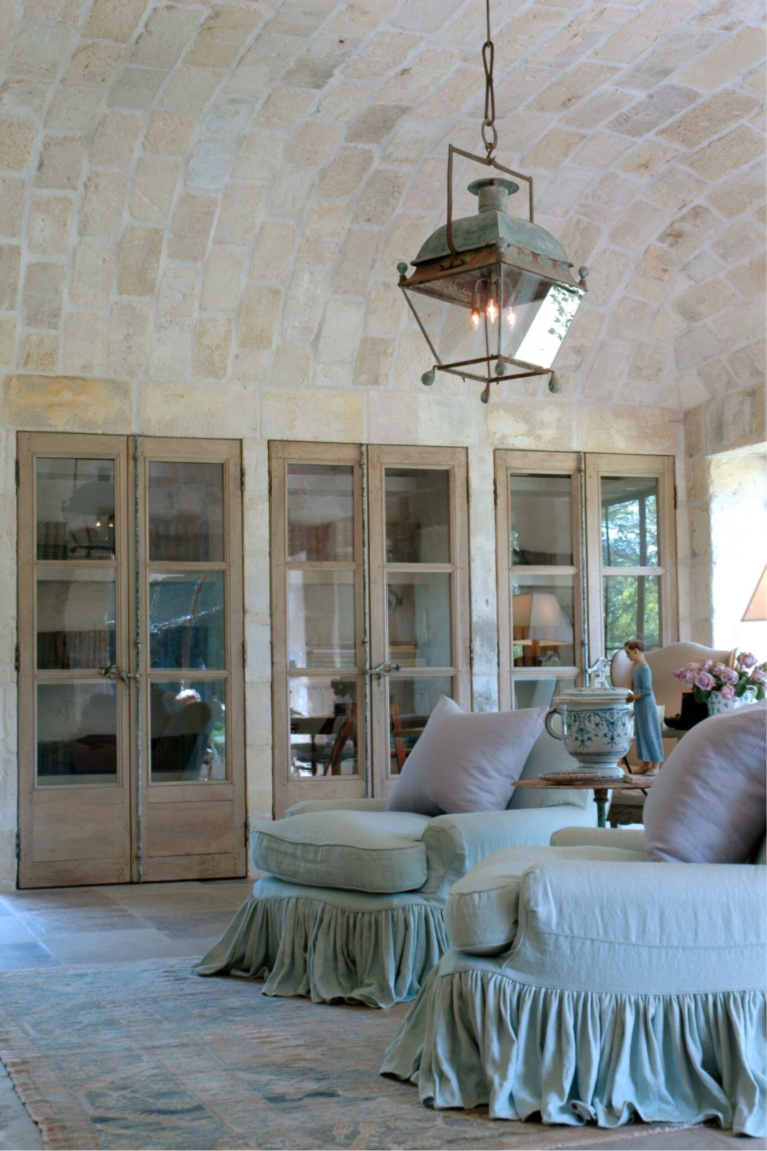 Authentic, Elegant, and Ancient French Country
Ruth Gay's kitchen sink has never been far from my mind, so it's not surprising it influenced my own choices here at the Georgian where we renovated the kitchen ourselves.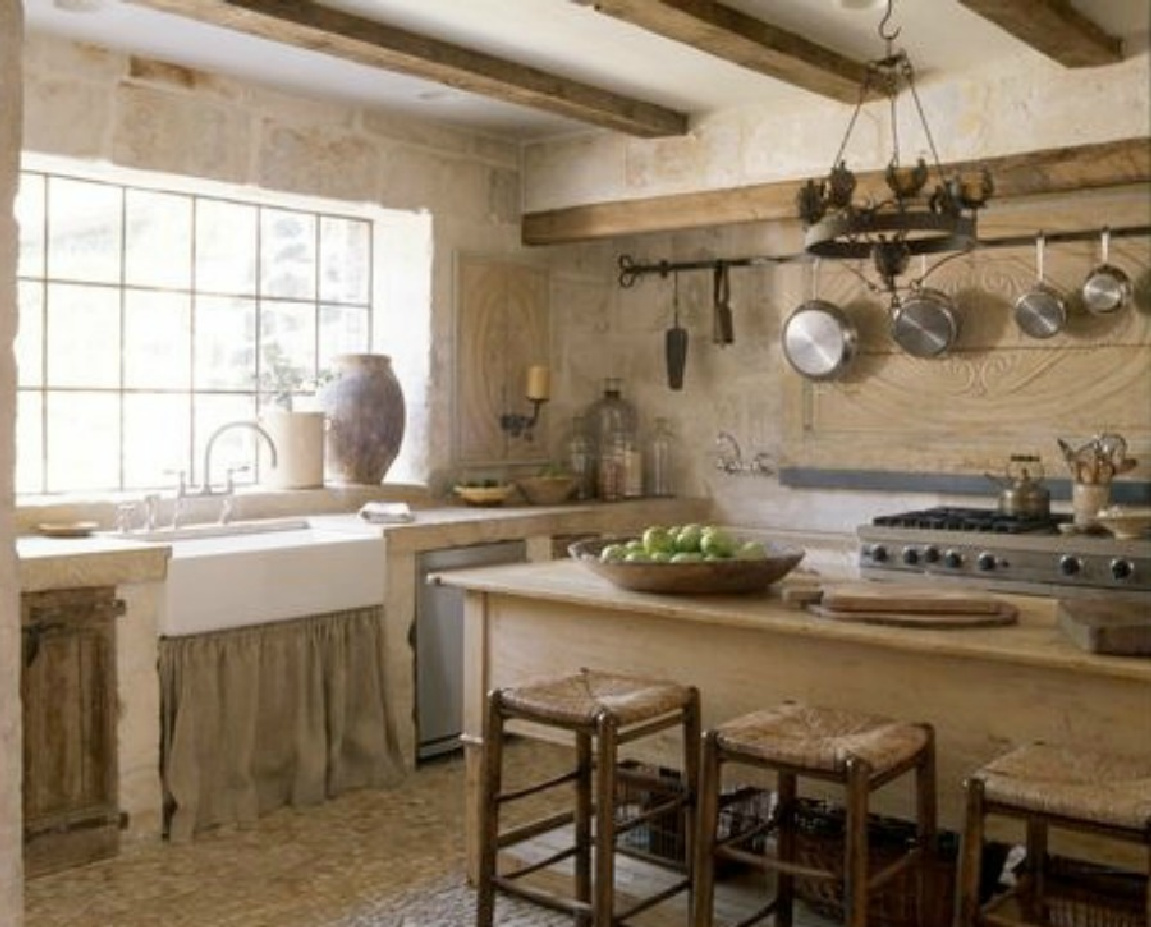 And if you're curious about the practicality of such a choice, I have lived with it for months now and am sold. Cabinet doors (even quiet ones) have a clunky character to them while billowy linen is gentle and fluid.
French Elegance Outdoors As Well
If you're a garden enthusiast then you'll appreciate this: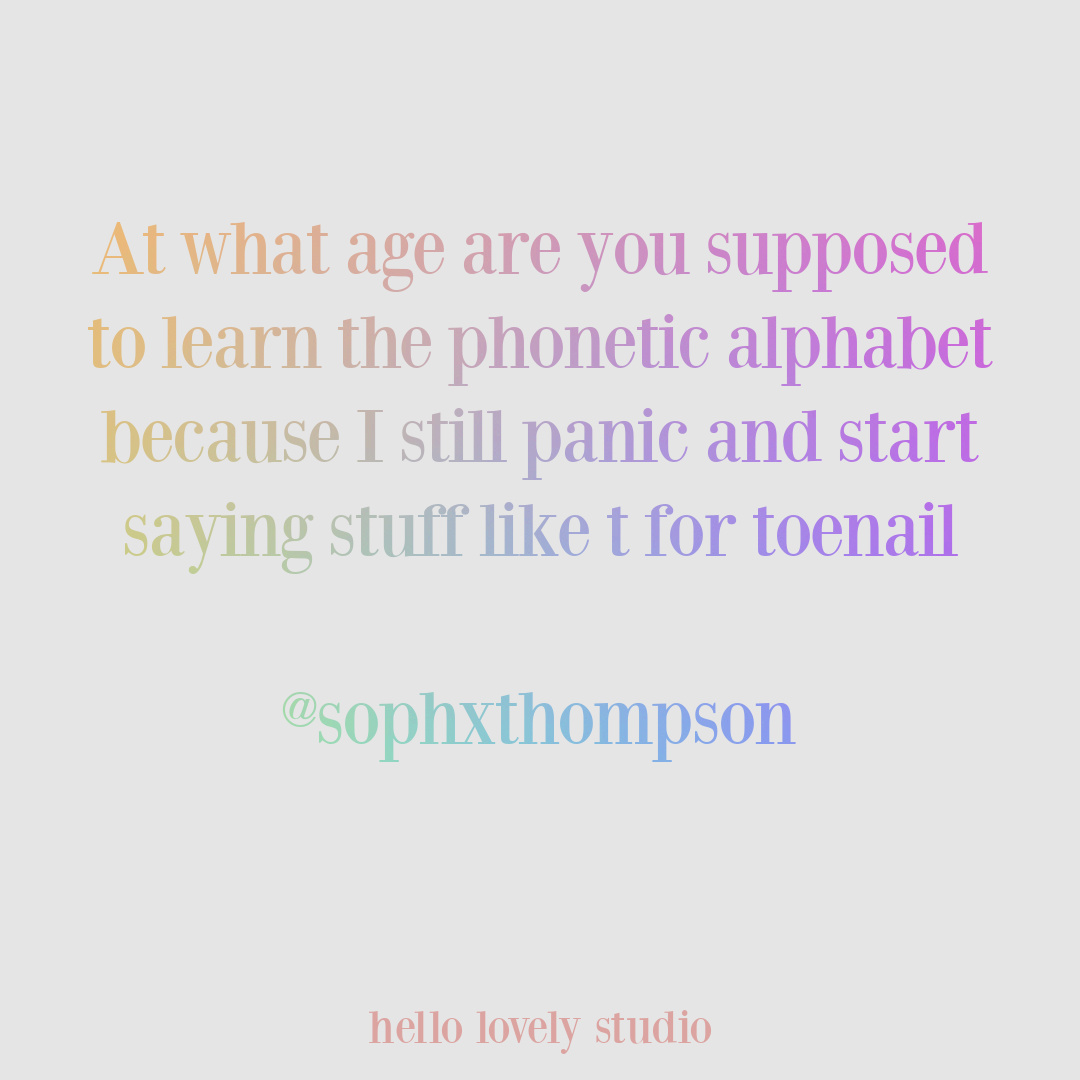 Weathered Finishes, Reclaimed Material & Timeless Style
A fantasy dream home (remember, this is a new build, not an ancient chateau!) may be out of reach, but it won't stop us from collecting decorating ideas.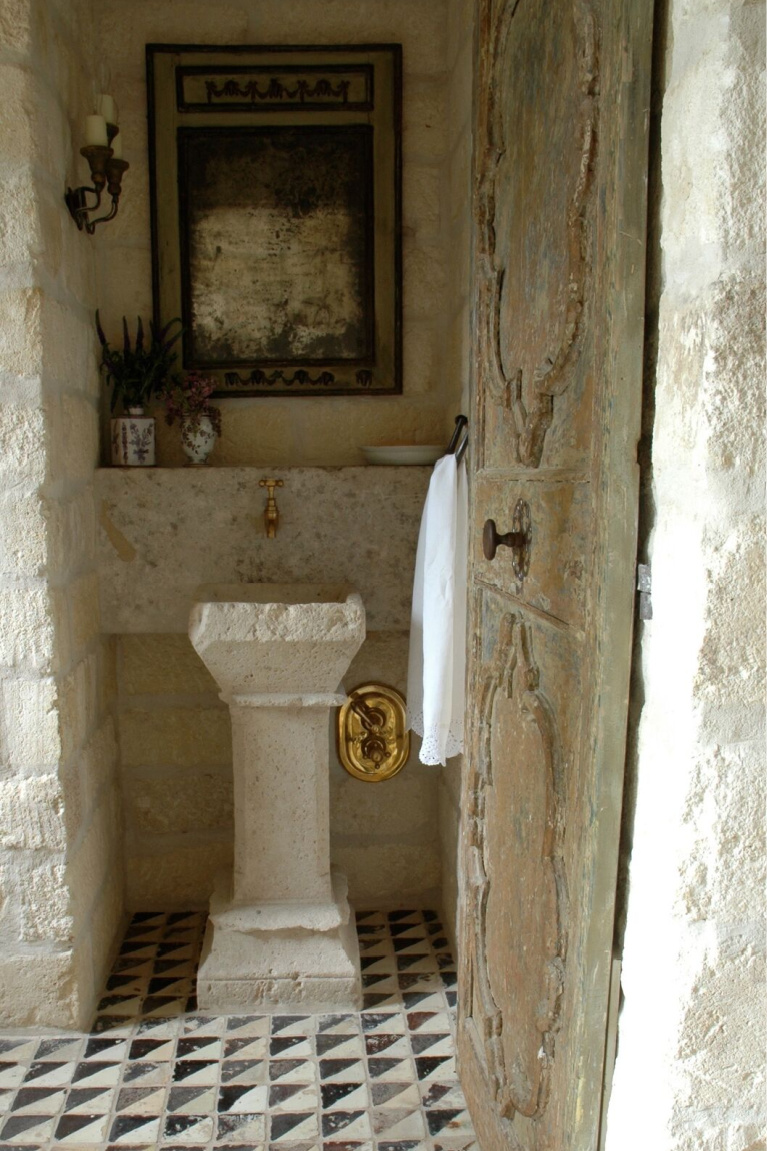 Tone on tone, distressed finishes, marble and stone everywhere, and gentle curves work magically together.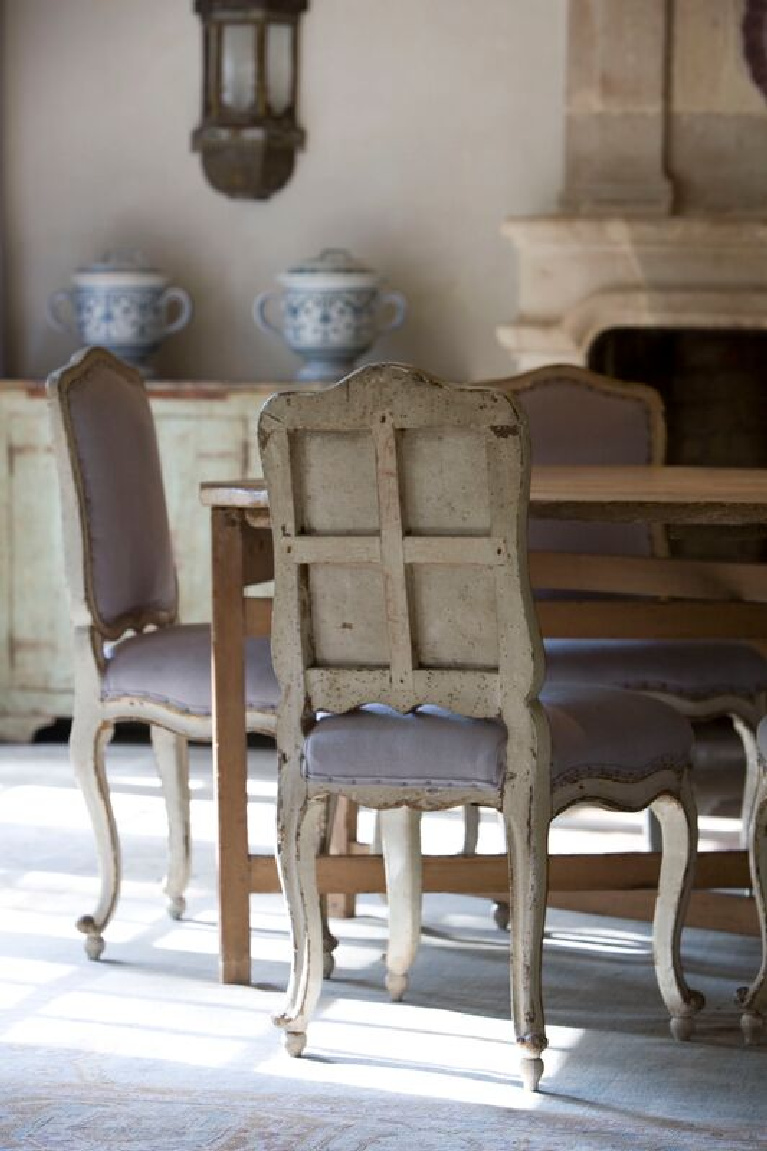 A stone sink may not be a realistic feature for us to add, but a terracotta pot near the sink? A potted olive tree? An overgrouted backsplash? They are.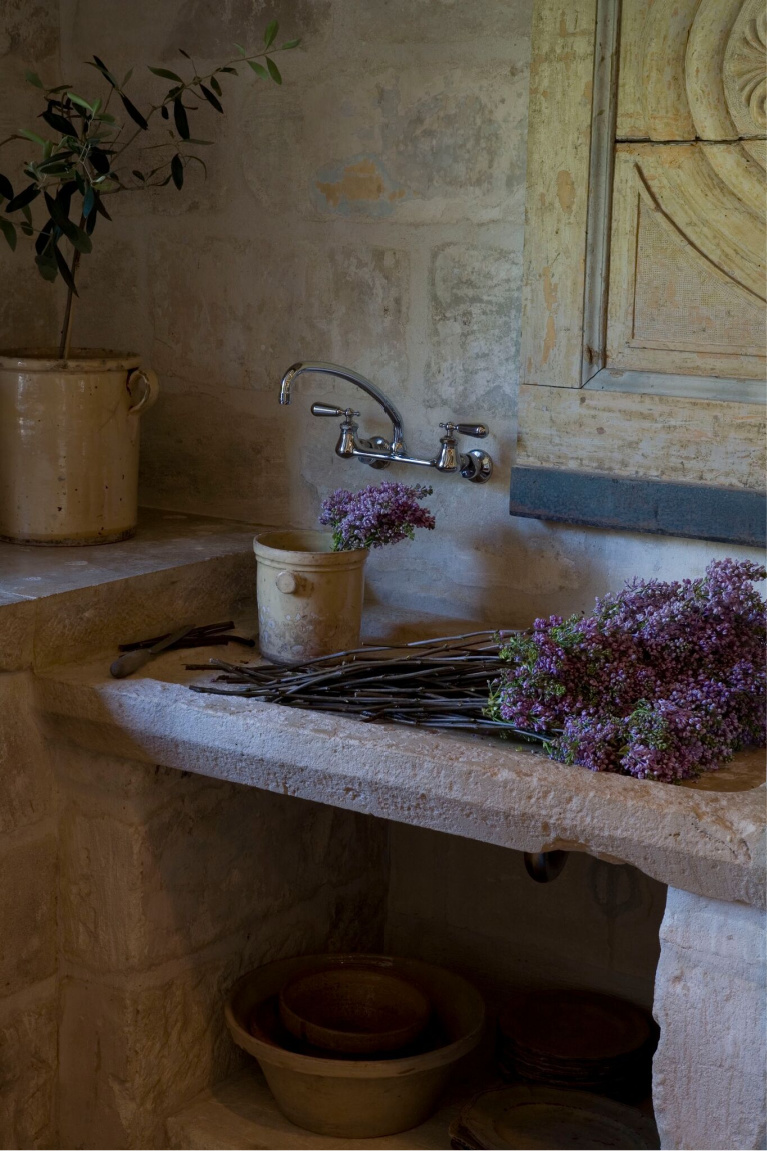 Fine Antiques & Reclaimed Materials from Europe
There are beautiful vintage art prints available everywhere now with a quick online search.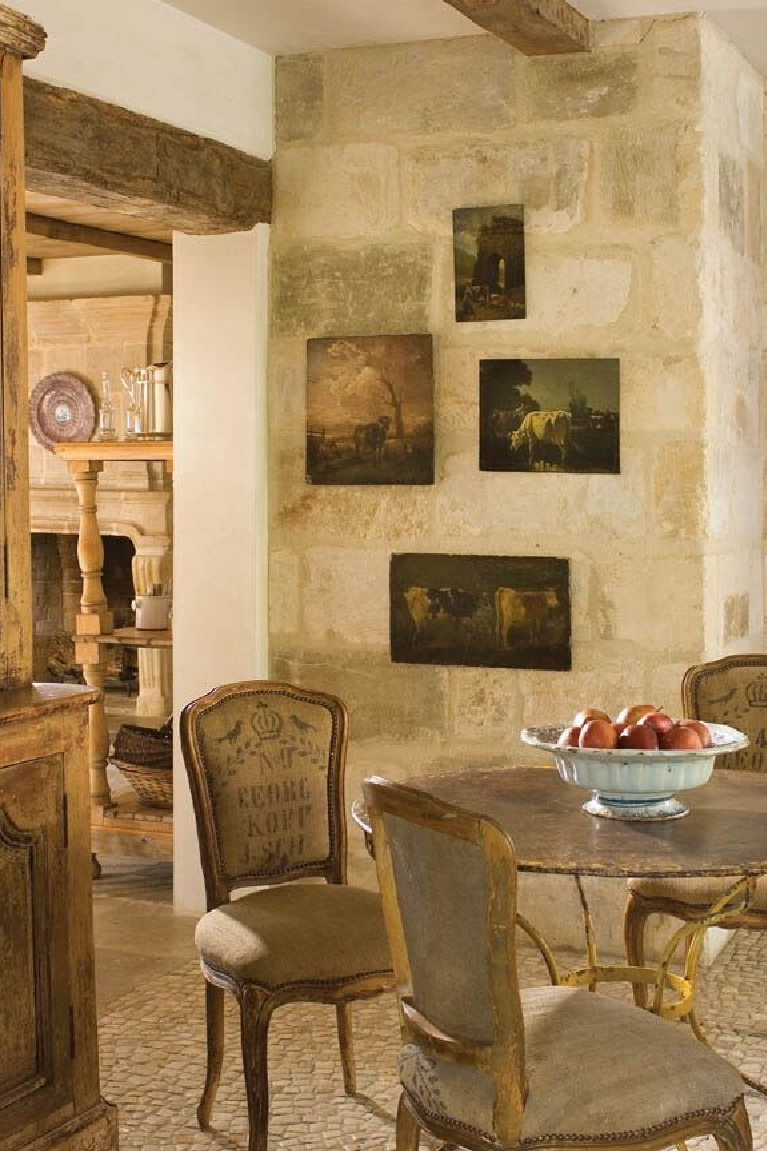 And I bet if you have been to the flea market, you have seen rustic shutters which can add wonderful texture even if they are purely decorative.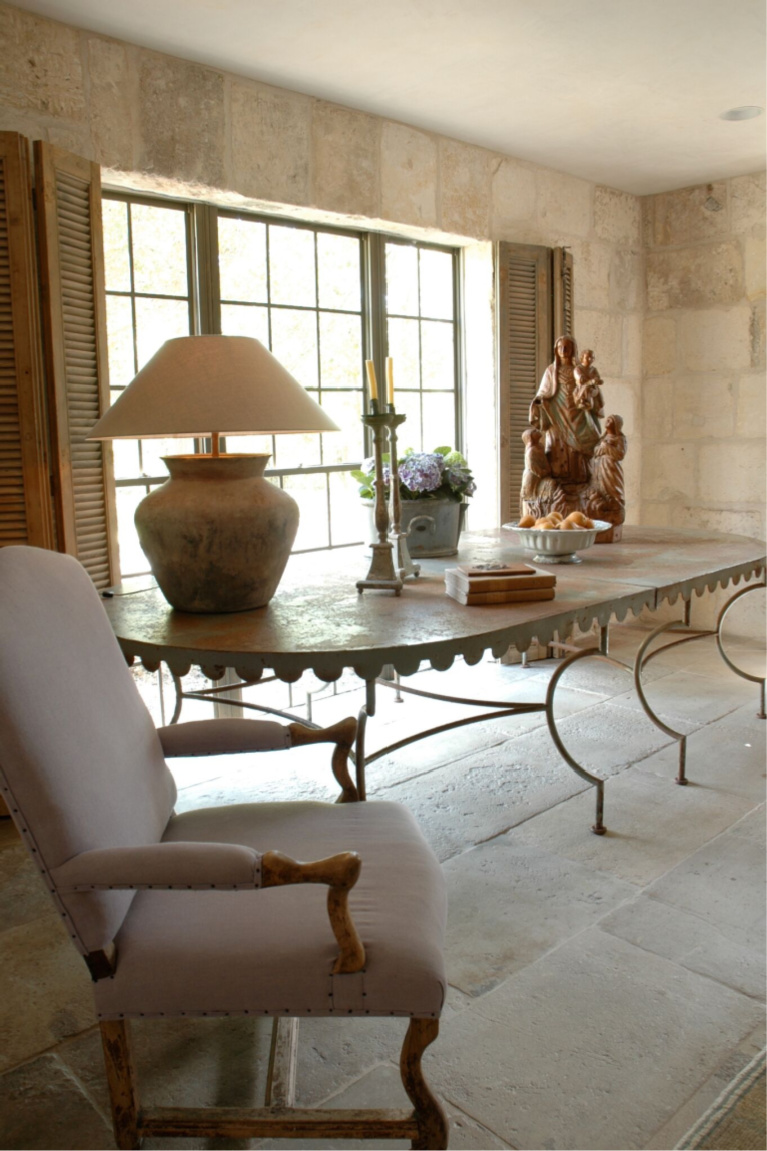 There are also a slew of chalk paint and antiquing products out there if you're in the mood for a project where you transform a hohum or ugly door into something more like: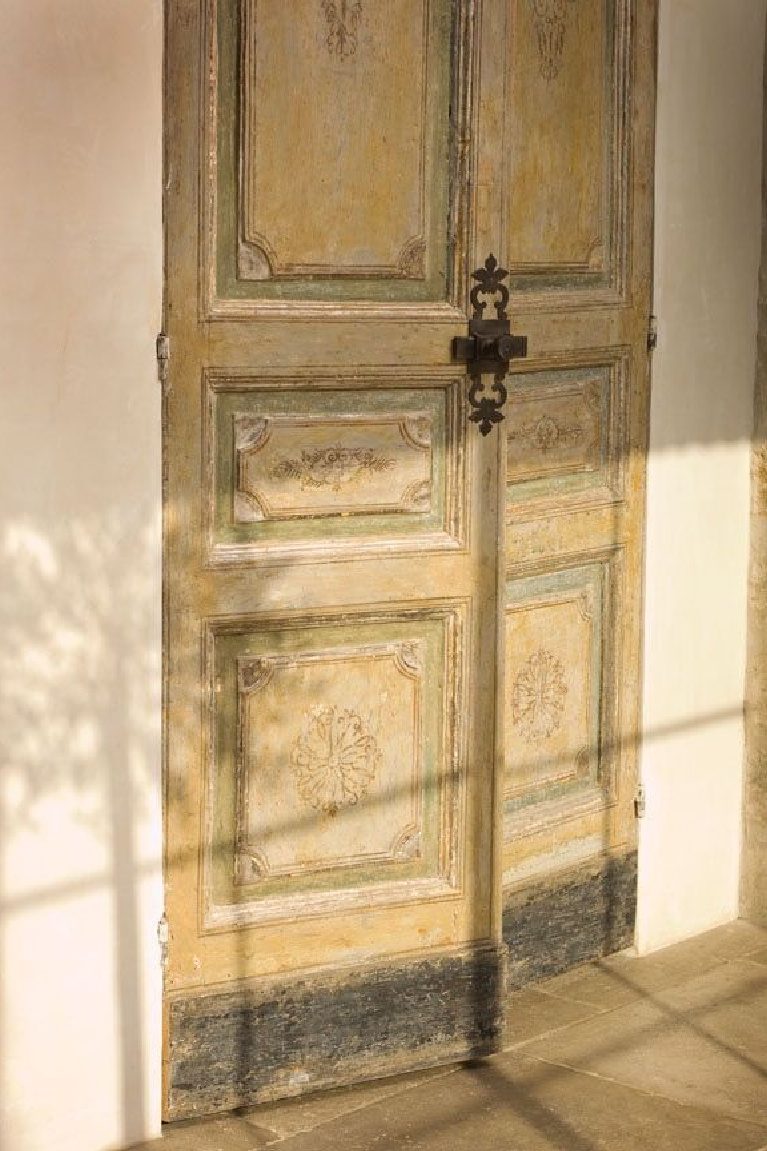 Gaze at your spaces with a fresh eye and consider ways in which you might introduce a mix of rich textures.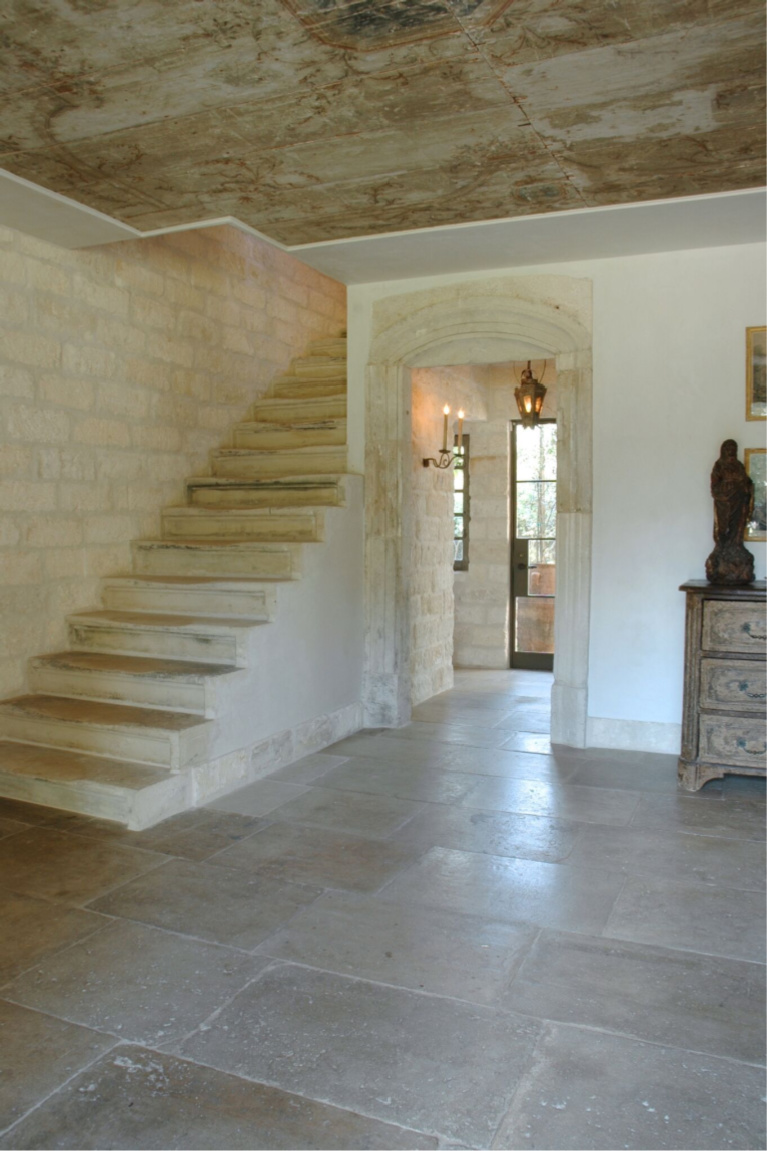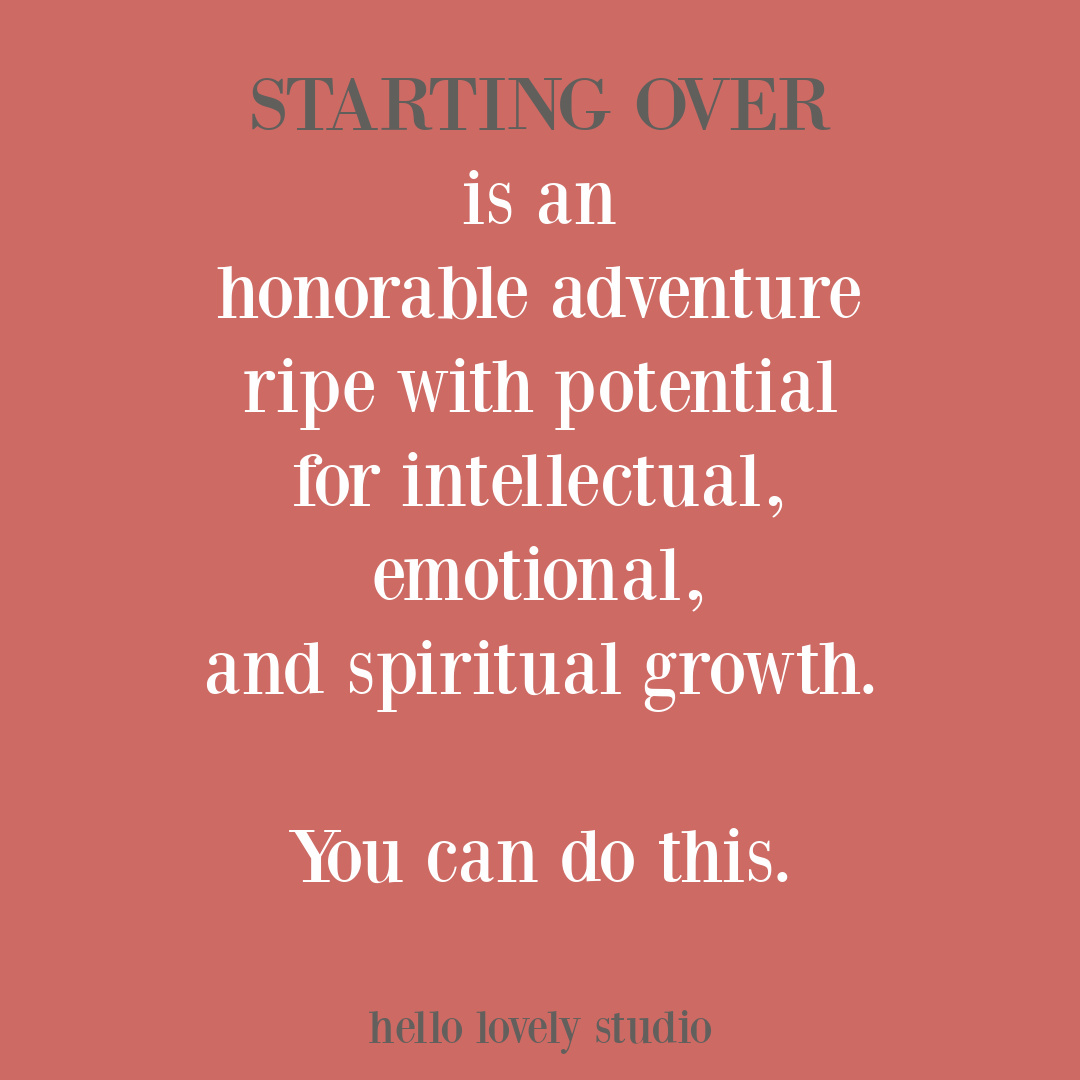 4. My Petite Maison
Her charming Swedish immigrant cottage with its pale interiors is indeed inspiration enough, yet My Petite Maison often offers unique wares you see in photos for sale!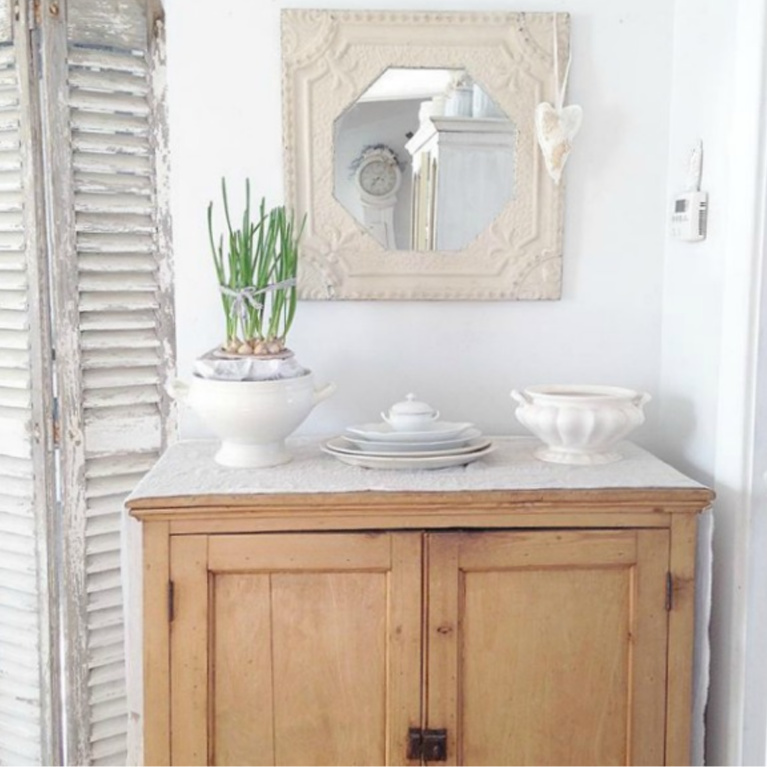 It's so helpful to see such objects styled beautifully so we can more easily emulate her ethereal effortless French Nordic look at home.
Pale, Lovely, Serene French Nordic Interiors
An all white palette can be a superb backdrop to unite design elements.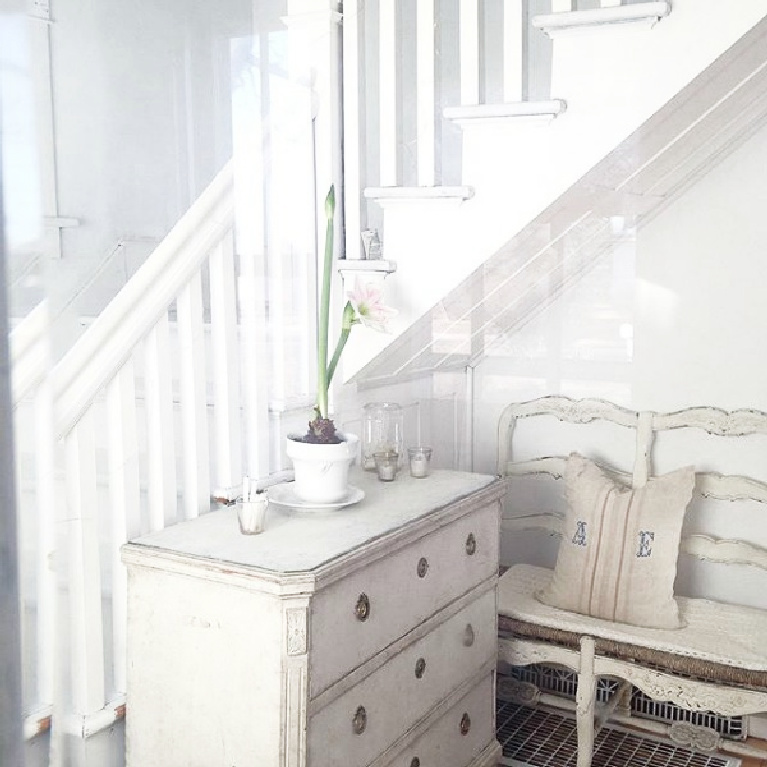 It's not about choosing one shade of white paint and having a paint party though. Mix the white tones, add as much texture as possible, vary the shapes of furniture and decor, and train your eye by studying images online and in books.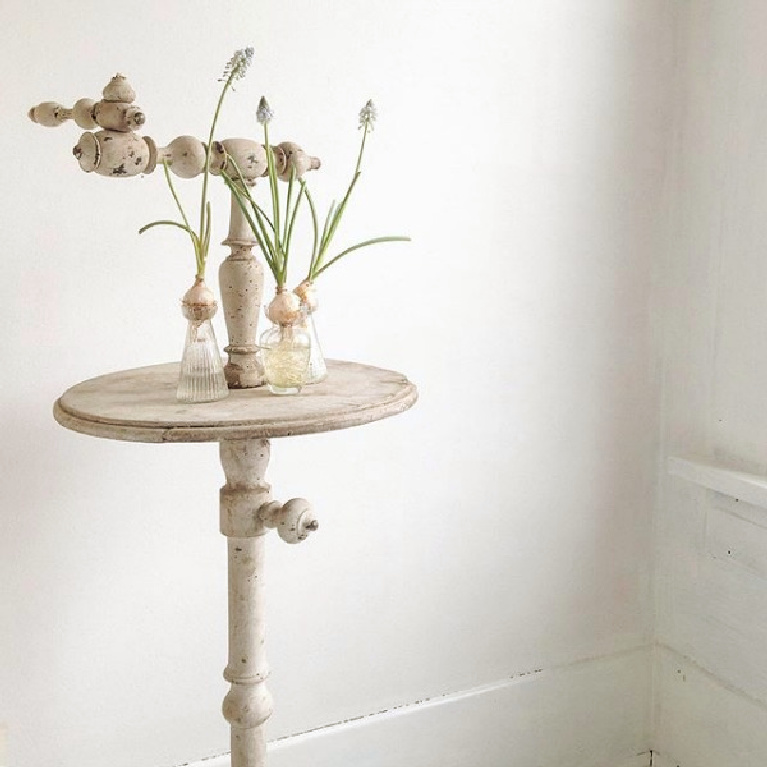 Chippy paint can be another clever way to introduce texture and age.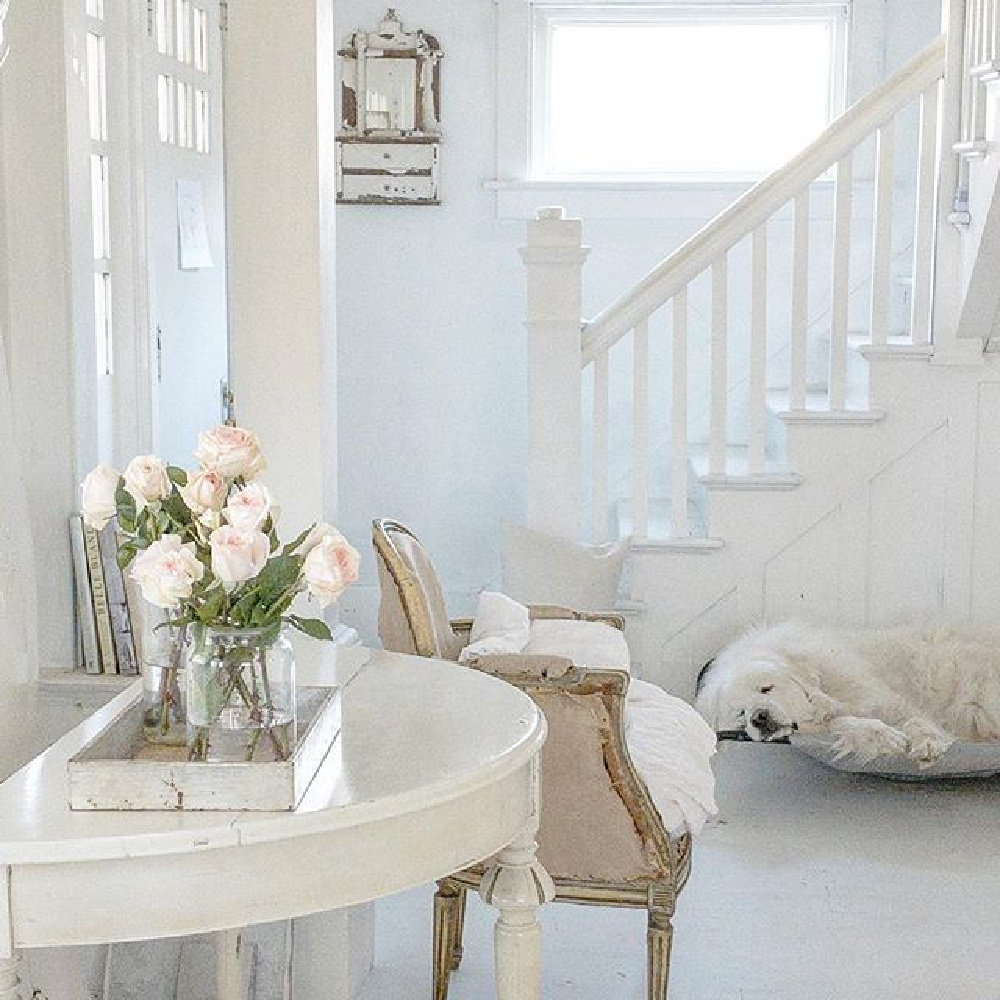 And this designer has a love for beautiful garden roses – showcasing them in various vessels and elevating their status in the cloud-like sanctuary.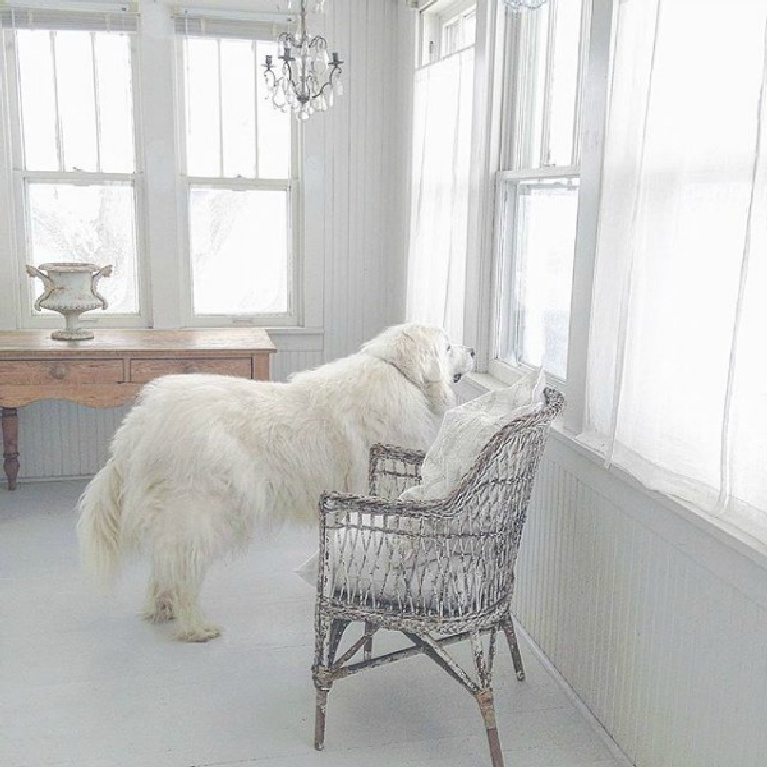 White painted wood floors may come with their share of maintenance, but plenty of us long to be slaves to them!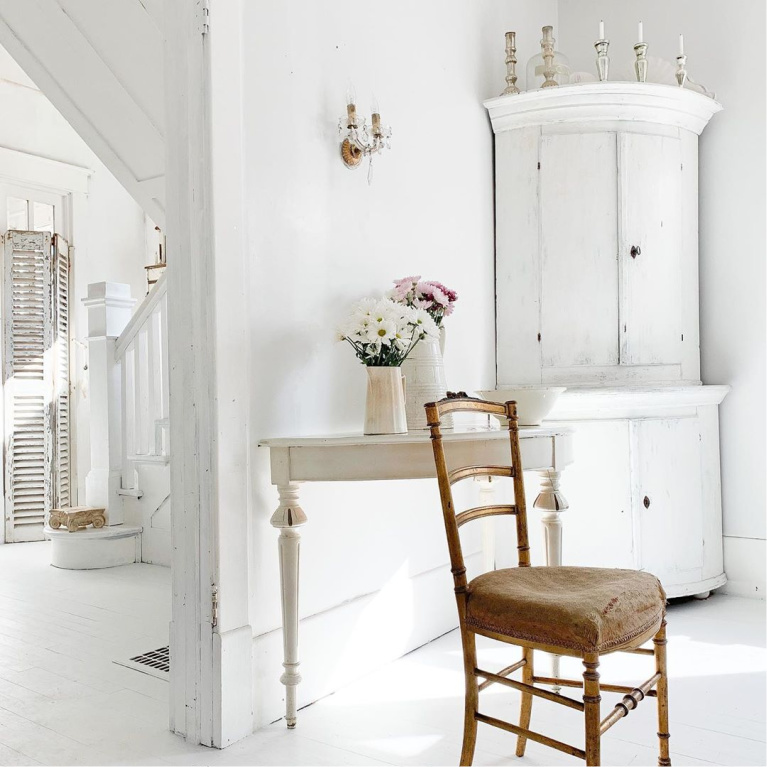 Notice how salvaged shutters are used casually for privacy above!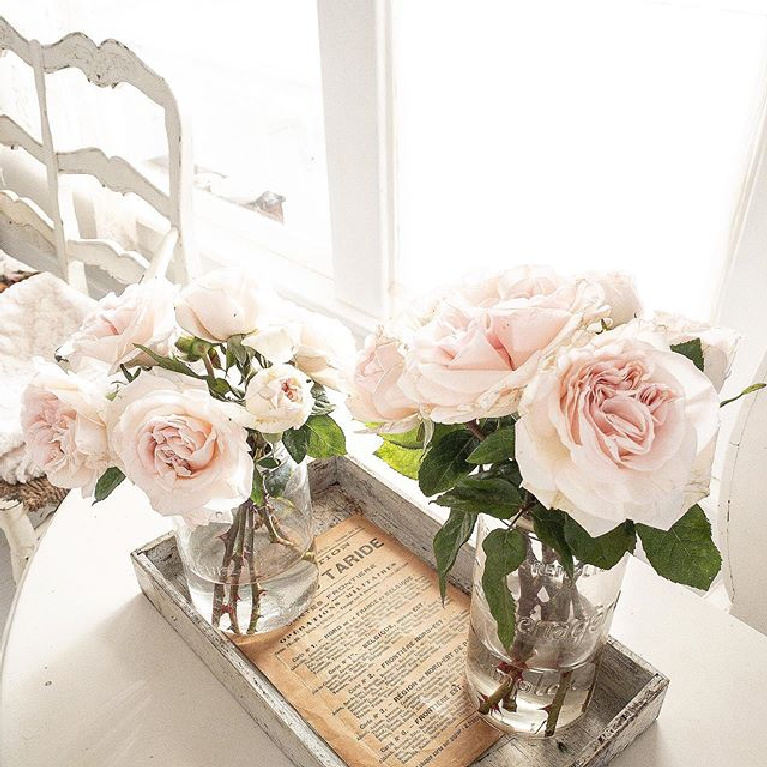 Corral treasures in a tray and watch them instantly become more important!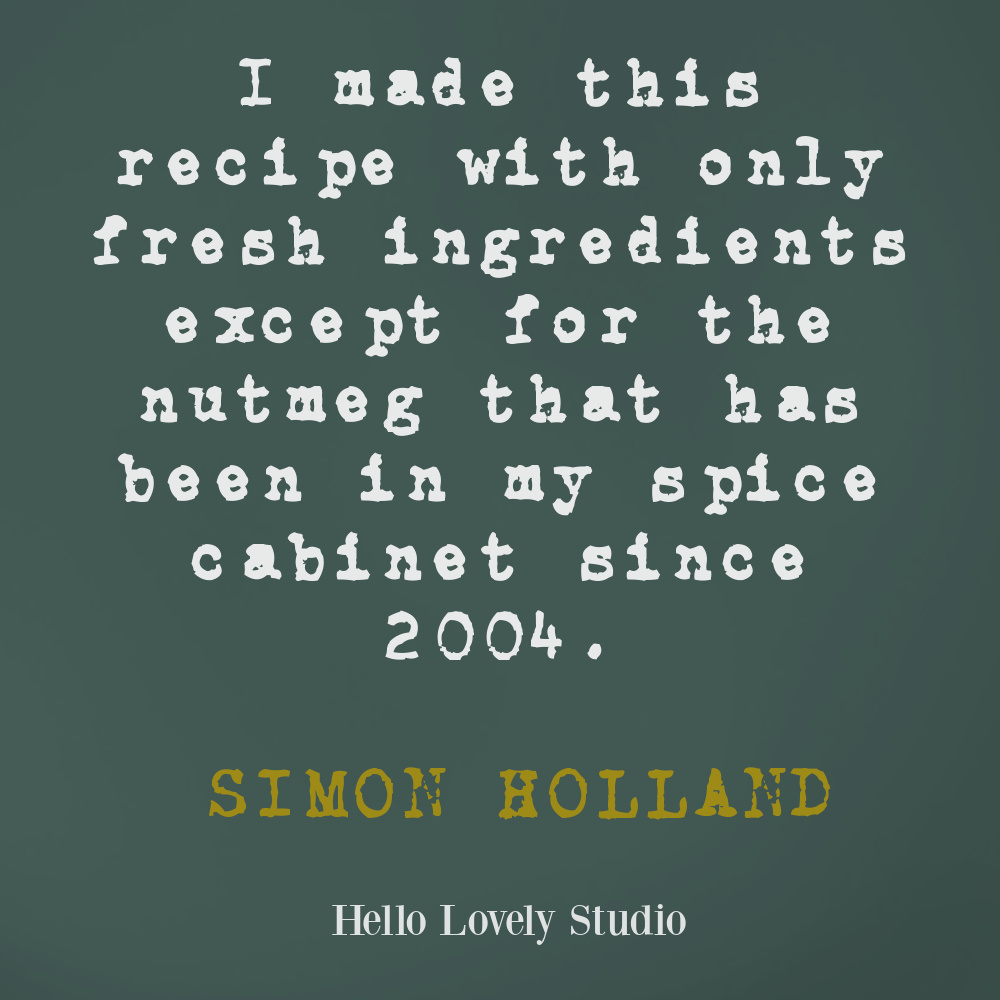 And don't forget to create wee moments of joy.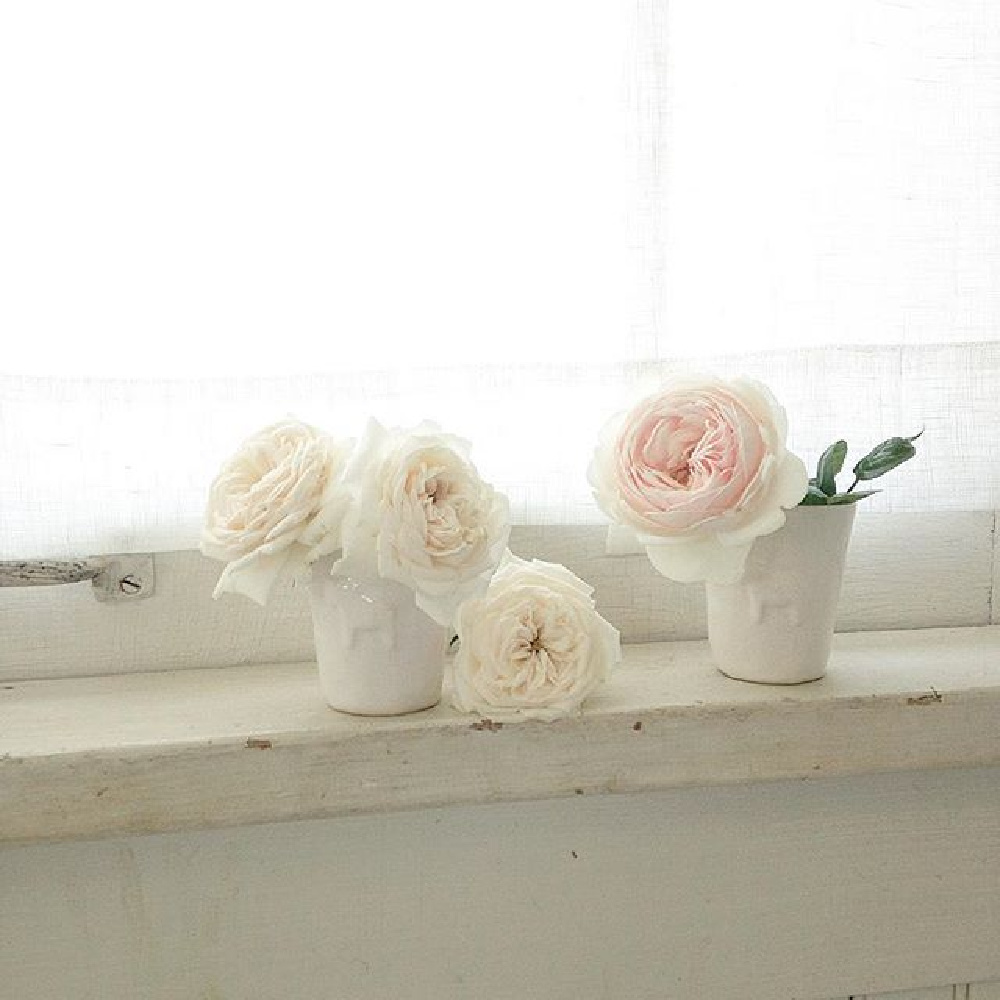 5. Vivi et Margot
We have choices. We can feast upon the deliciousness she created in her family's French farmhouse near Bordeaux, shop for Frenchwares in her online store (the MOST charming market baskets), or stalk her IG feed to learn what is coming next (a new house in Provence!)!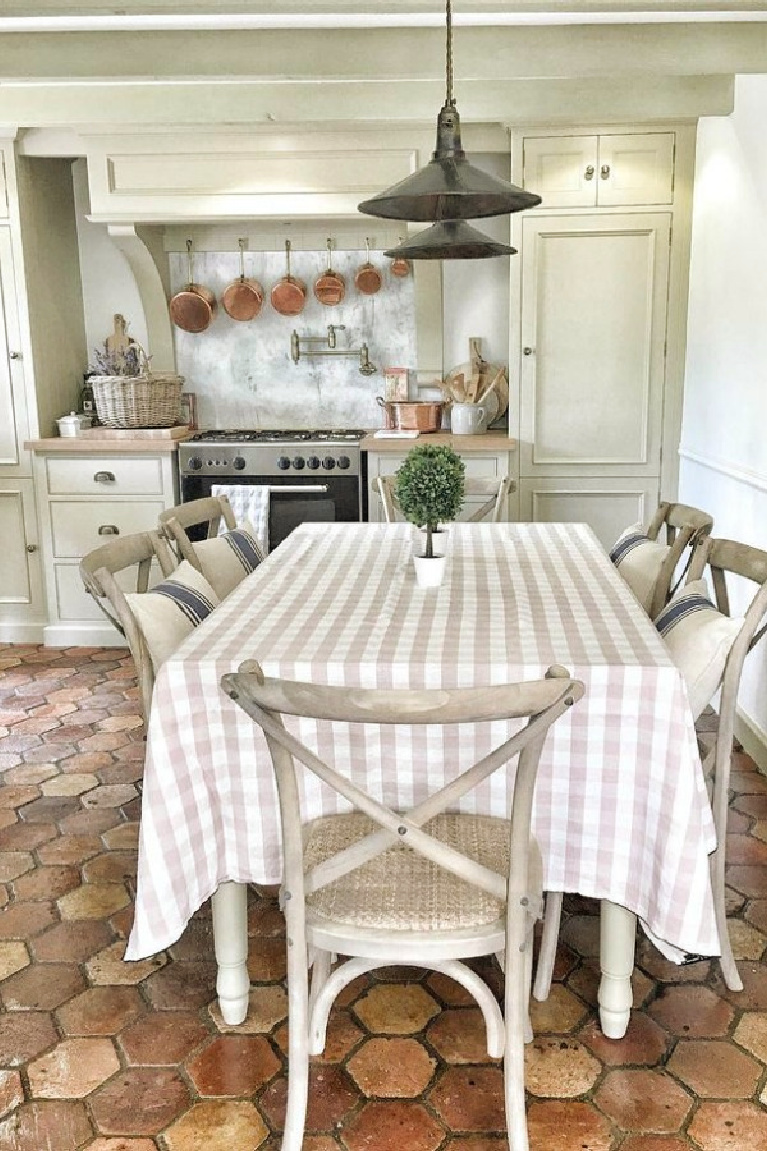 What a bonus that Charlotte shares the names of paint colors and particular sources for her finds!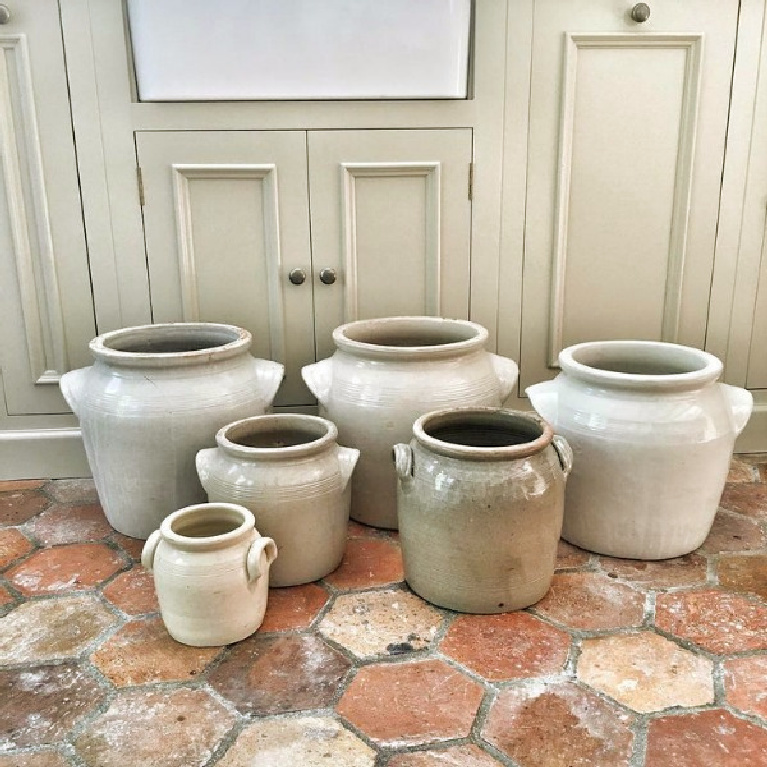 Lovely Mix of Vintage French Kitchenware
Now that the designer lives in France full-time, we will surely see more vintage items stocked in at Vivi et Margot.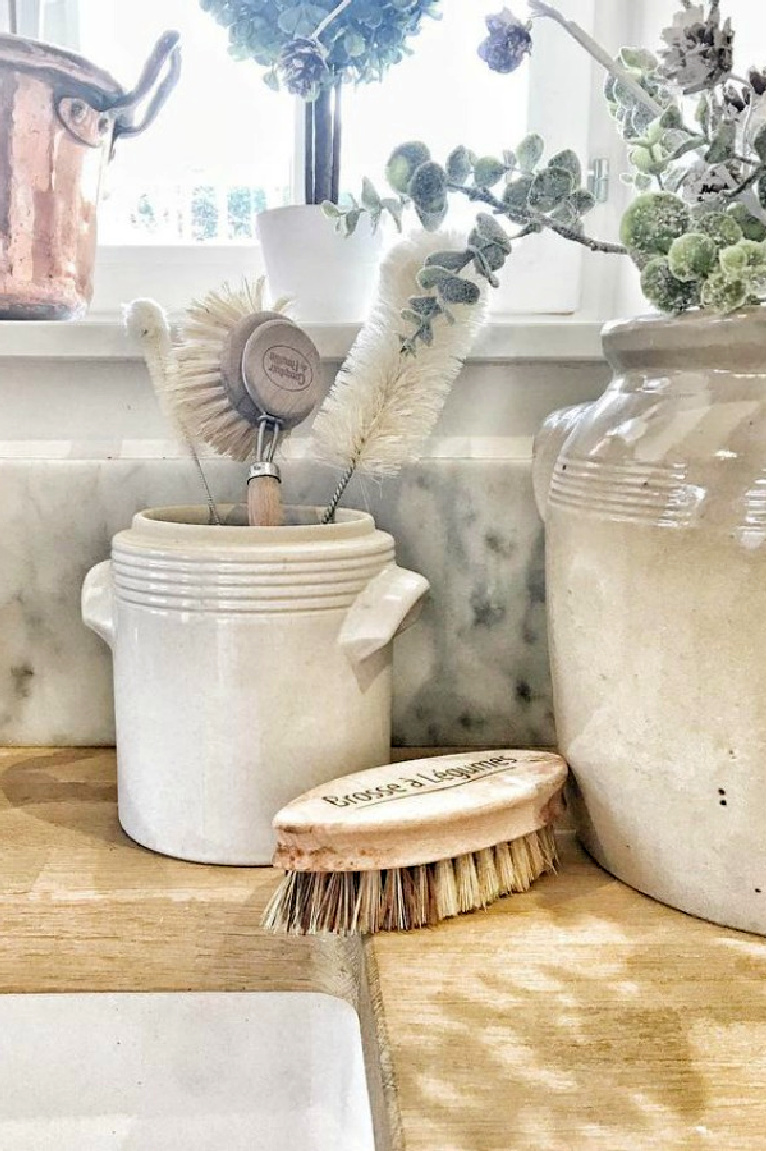 Timeless & Tranquil French Farmhouse Bedroom
And now that there will be a new house to decorate in Provence, just imagine the journey ahead!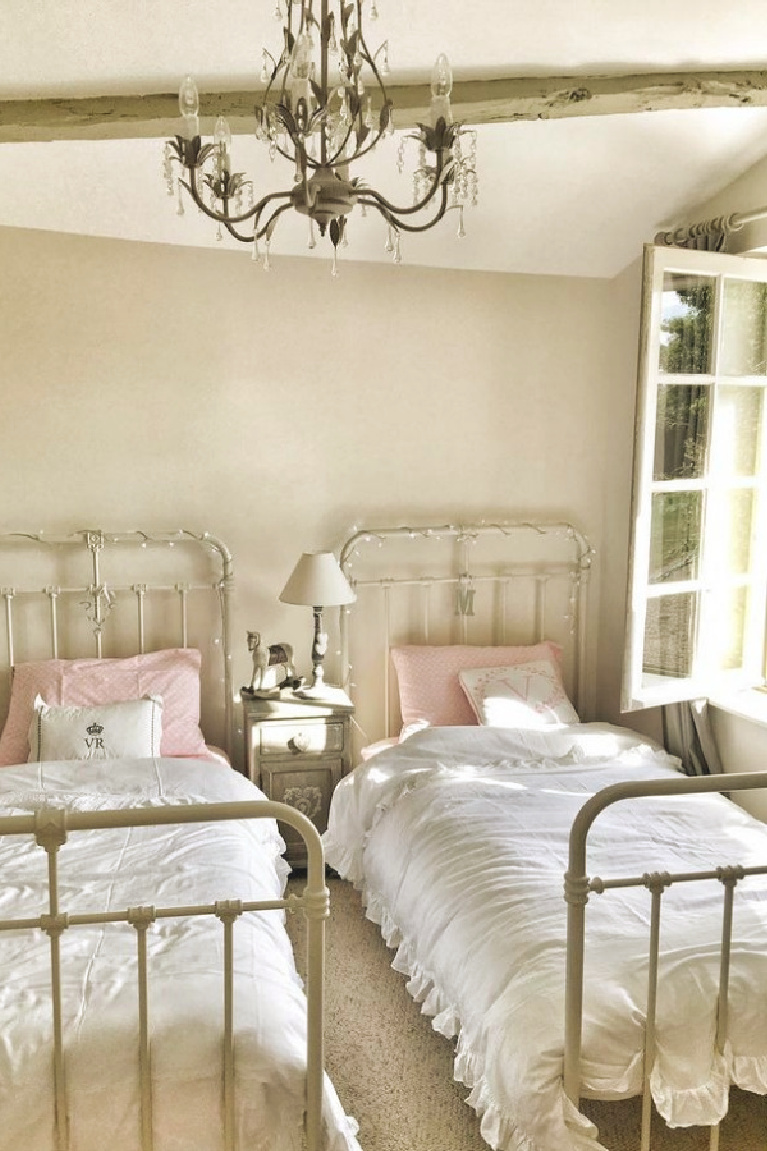 French Farmhouse With Reclaimed Terracotta Tile
Wonder what original features will stay the same and what may change?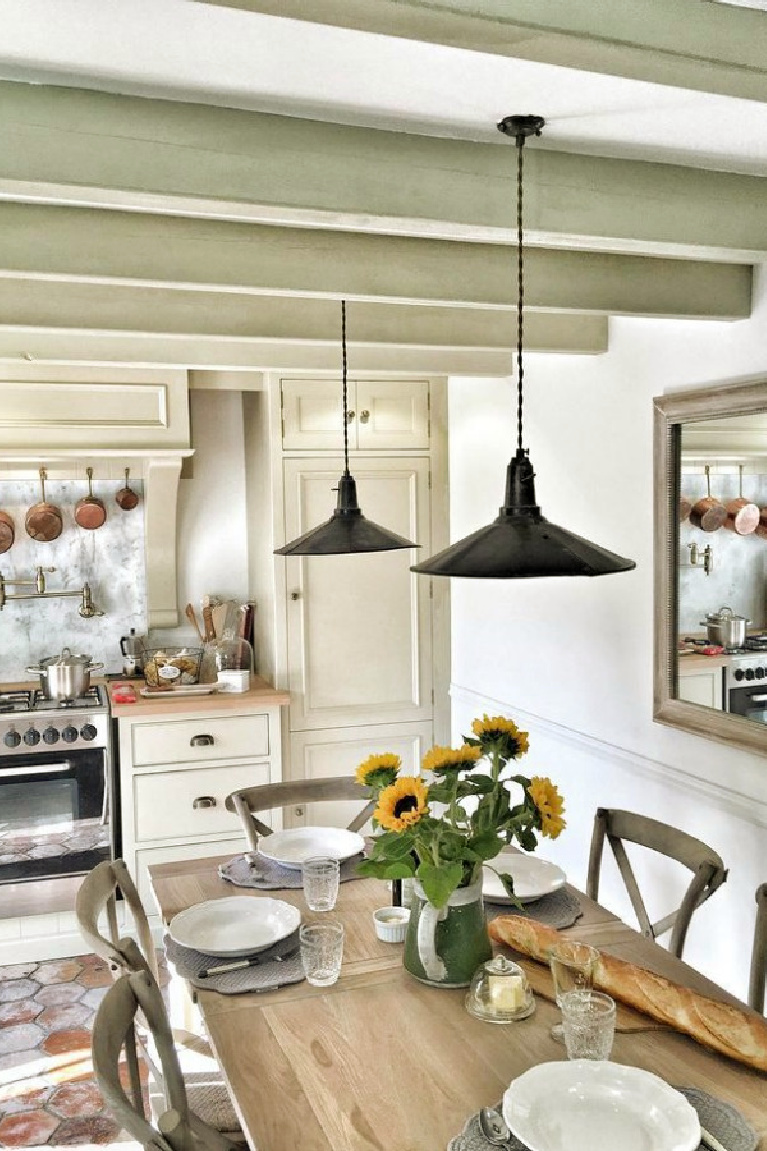 Meet Charlotte Reiss of Vivi et Margot
Visit this post where I interview the multitalented aesthete and entrepreneur.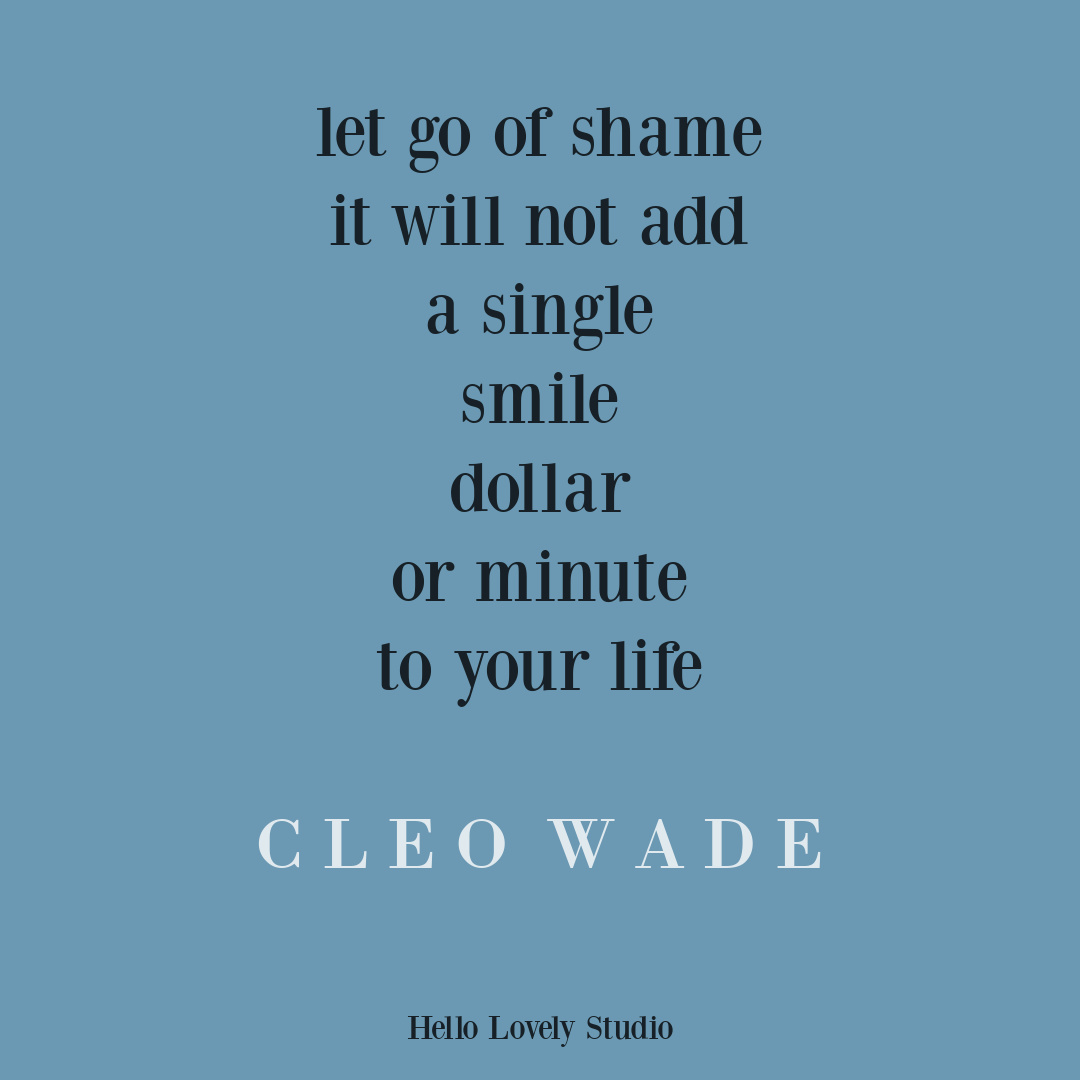 For more beautiful French inspired beautiful inspiration for interiors, also see THIS and THIS.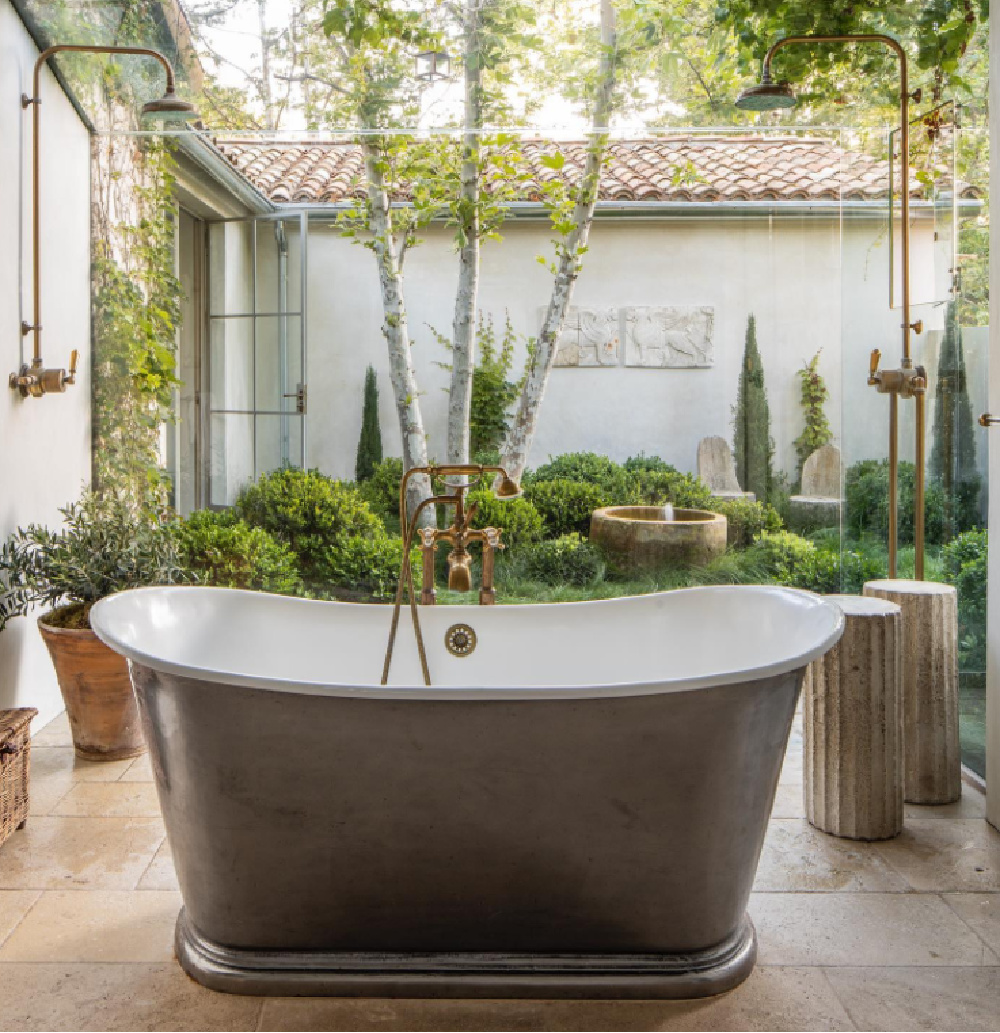 I independently selected products in this post—if you buy from one of my links, I may earn a commission.
Peace to you right where you are.
-michele
Shop for items you already intended to buy on Amazon RIGHT HERE, and also find home decor here to keep decor inspiration flowing on Hello Lovely!
Hello Lovely is a participant in the Amazon Services LLC Associates Program, an affiliate advertising program designed to provide a means for sites to earn fees by linking to Amazon.com and affiliated sites.