Sharing a bunch of photos of progress at our Georgian renovation in late Fall today! So glad I snapped these before the leaves fell because the color story outside is always so important with all of the neutral territory inside. What a relief to finally find the right console table for the entry after living with two other antiques that were placeholders! I also added candle sconces I have had forever in the entry, and they totally set an Old World tone straight away. Let's peek!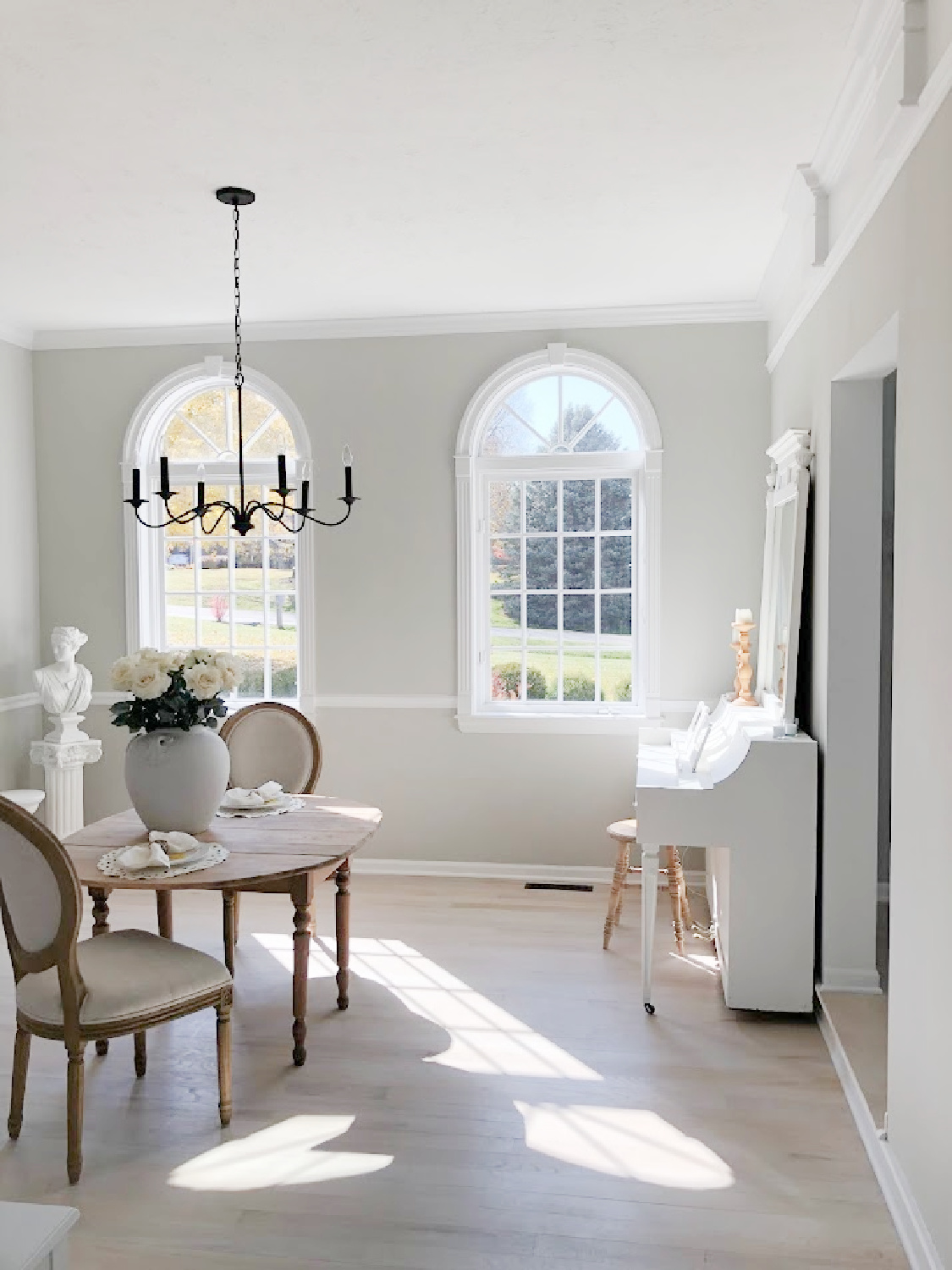 I independently selected products in this post—if you buy from one of my links, I may earn a commission.
Renovation Progress at Georgian Renovation in Late Fall
Dining Room Renovation Photos
I have shared the dining room in the past, but I will start sharing details such as paint colors and sources for materials just in case it helps.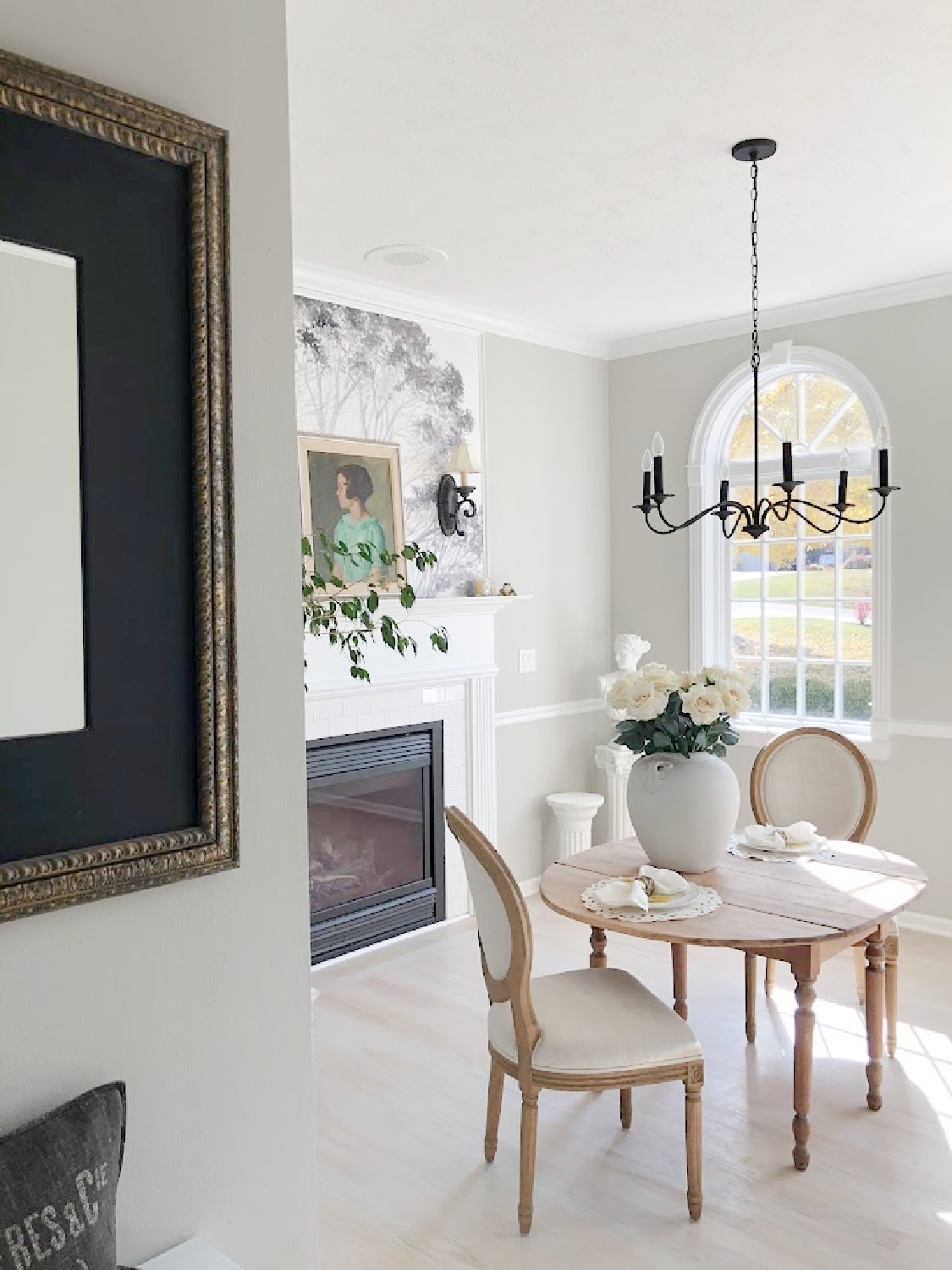 Paint color in here: Sherwin Williams Repose Gray, and the stain on red oak hardwood flooring we refinished is HERE. The table is an antique, the chairs are RH and HERE. Black chandelier is simple enough to look good anywhere and inexpensive HERE. The sconces are vintage Feiss.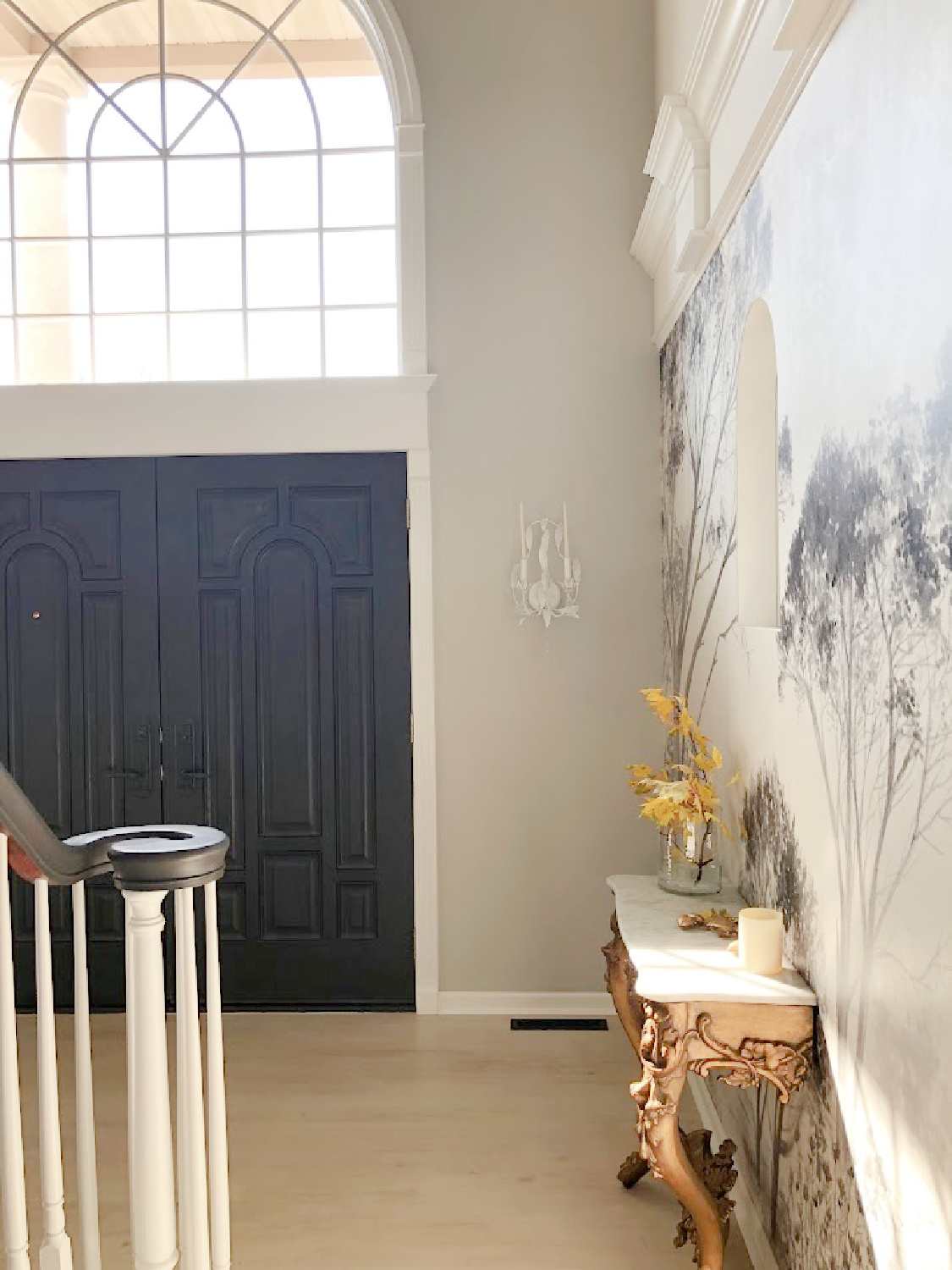 Entry Progress in Georgian House Renovation
The front doors are fiberglass with a faux woodgrain, and I knew they would look richer if they were darkened so I painted them Sherwin Williams Carbonized. The candle sconces are something I bought for the French country home we built. They were supposed to flank the sink, but the builder didn't leave enough space. So I'm using them with candles and without wiring them.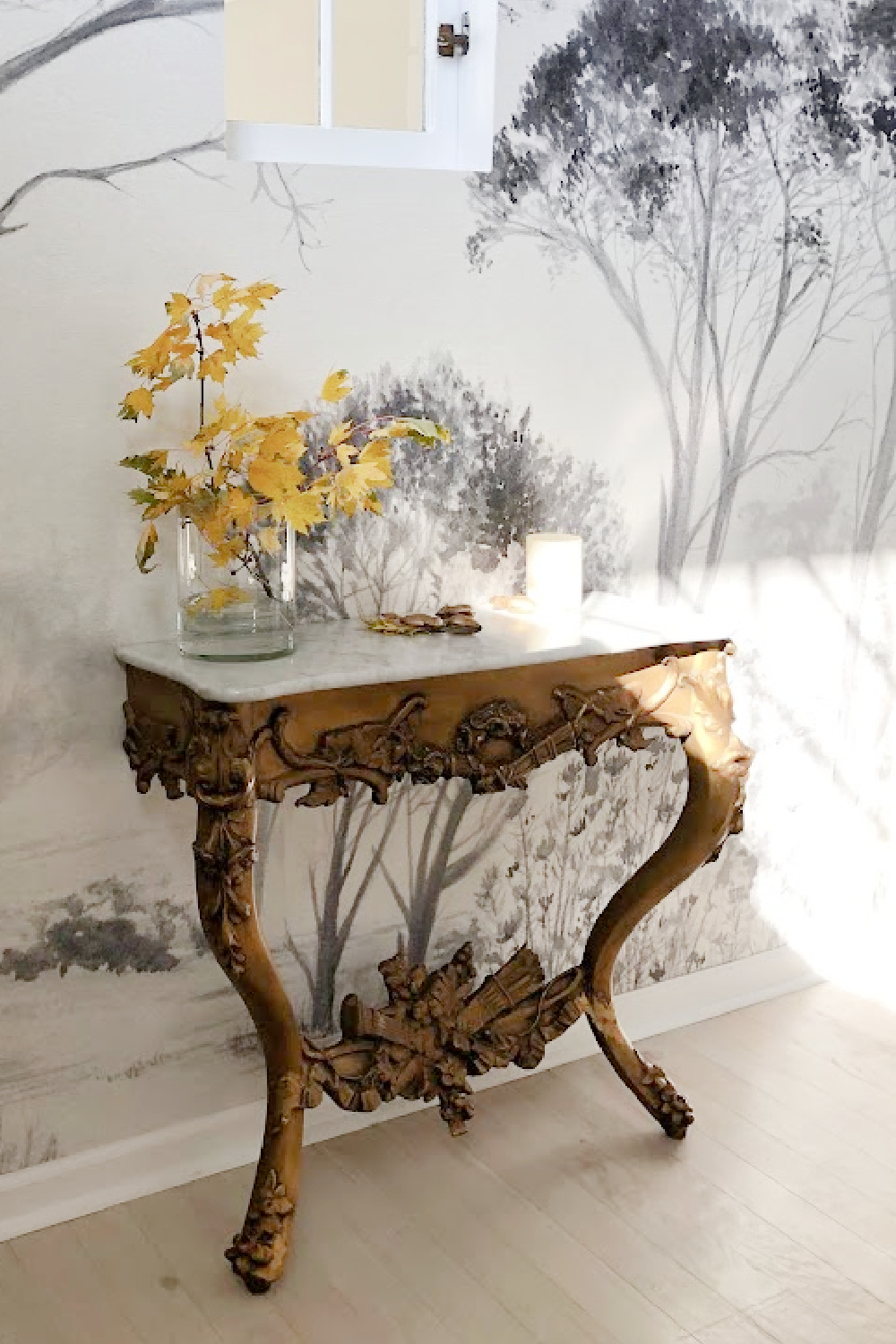 The console table with marble top is from France and has a gilt finish which I like with all the gray. The marble top is my favorite because it has a very patina-ed aged look.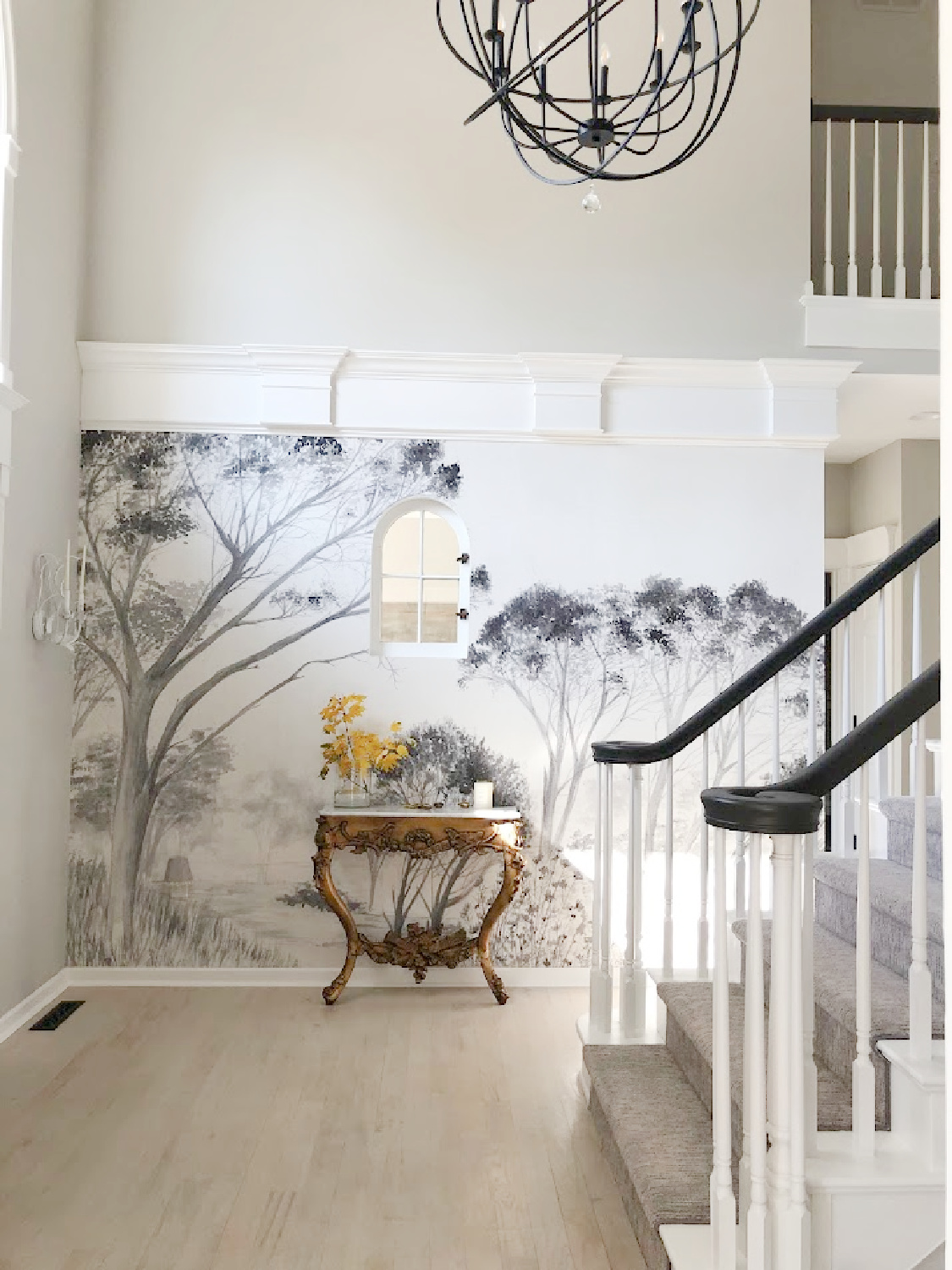 Lighting & Flooring in Entry
The globe chandelier really helps with its shape to soften this space, and this light fixture is nearly identical. You can also see how the floor looks distressed and not solid. I really wanted the hardwoods to be light (and not orange, amber or pink!) yet easy to live with. So we intentionally beat them up and wanted the stain to sink in more deeply in some places to get that variation. It's the aged look and variation that give it an imperfect, easier to live with look.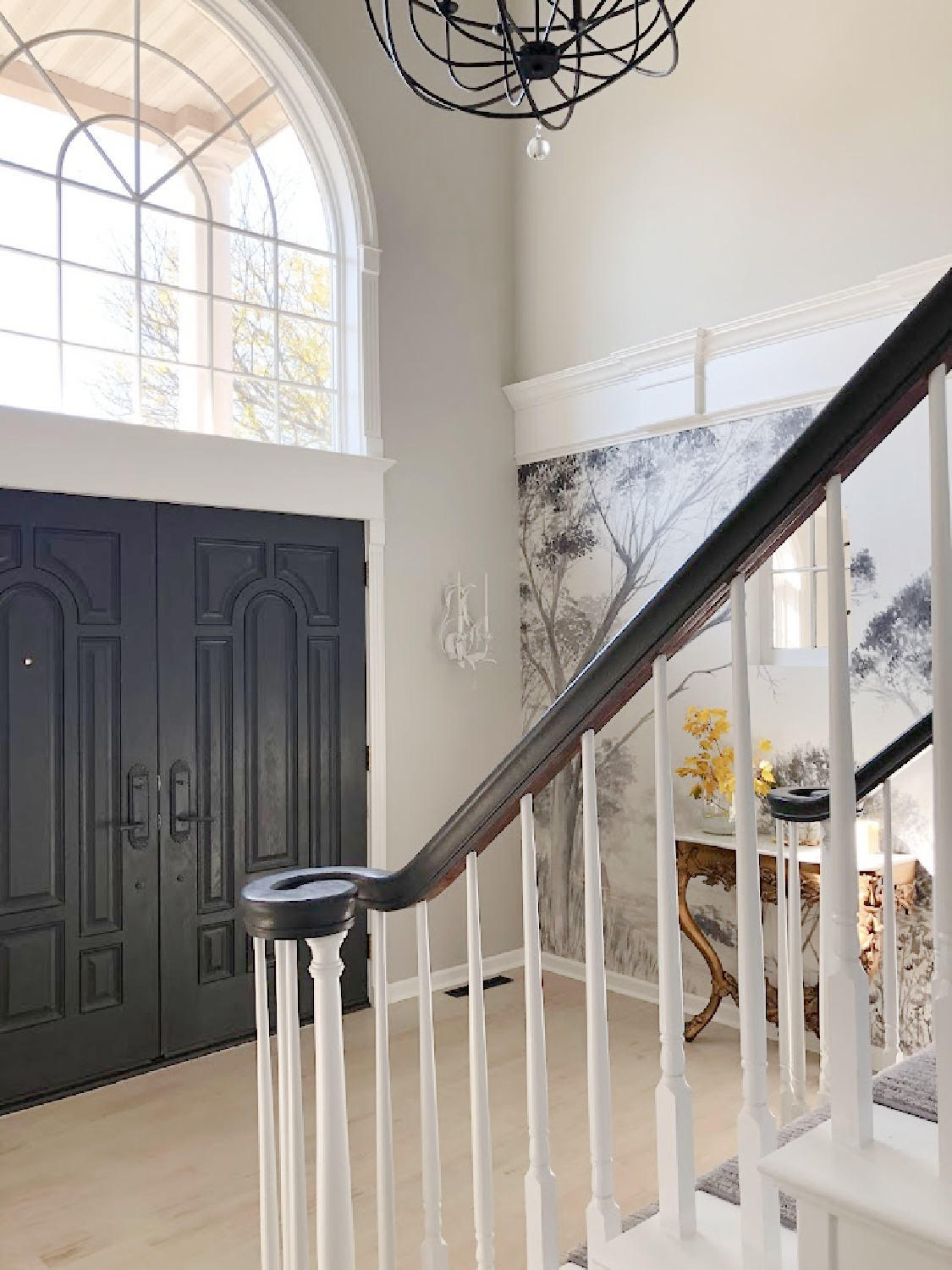 Wallpaper Mural in Foyer
I highly recommend this wallpaper mural which is custom made in Sweden and not too pricey. Even with the premium paper upgrade I ordered, it is about $3 a square foot. You simply input the height and width you need, and you can specify the precise part of the mural you want.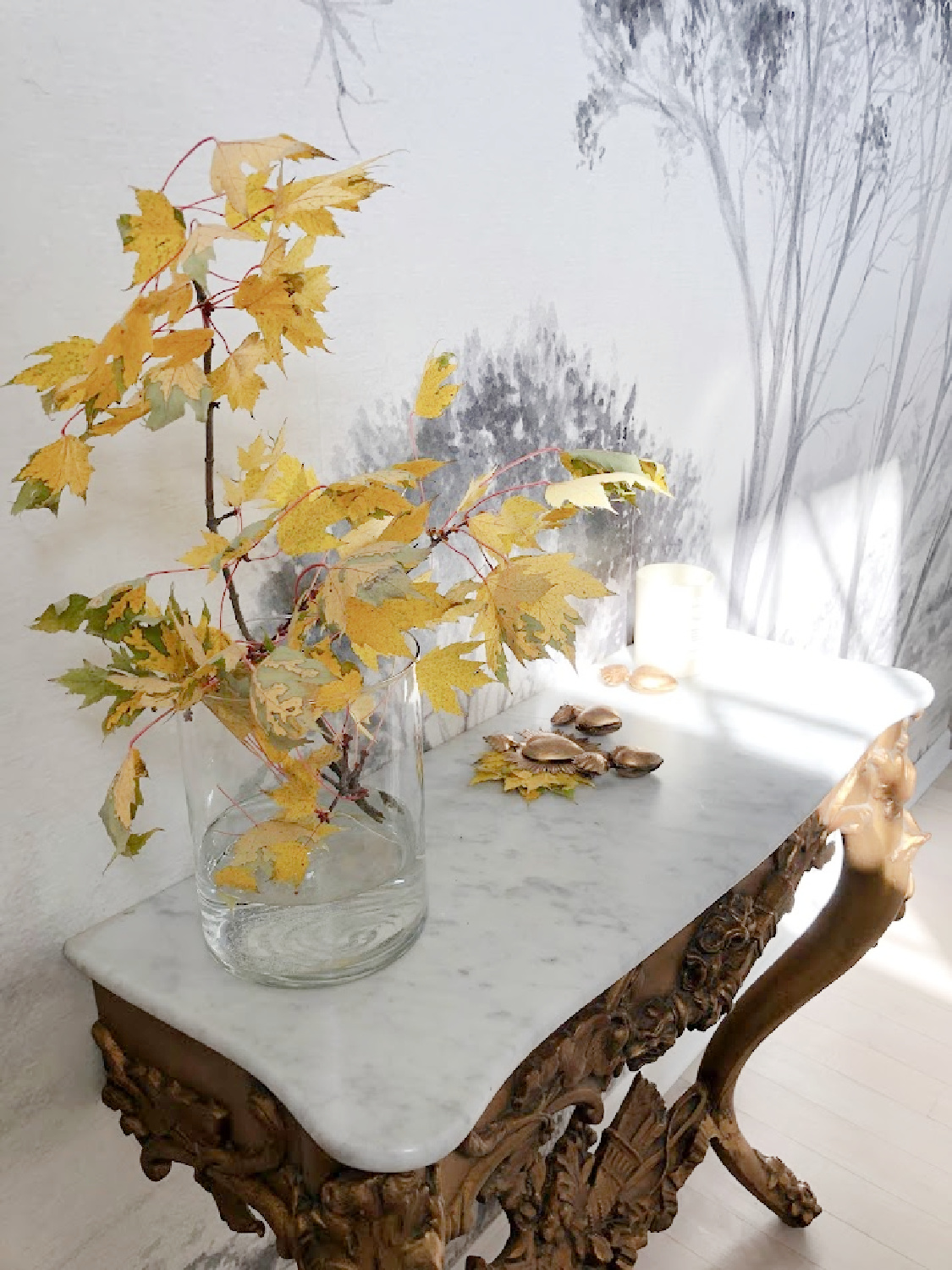 The installation is orderly and easy as you paint the paste on the wall, not the paper. Anyone else remember wallpapering by cutting then placing sheets of it in the water filled bathtub? That's how we did it back in the day! Find TREES WHITE wallpaper mural from Photowall HERE.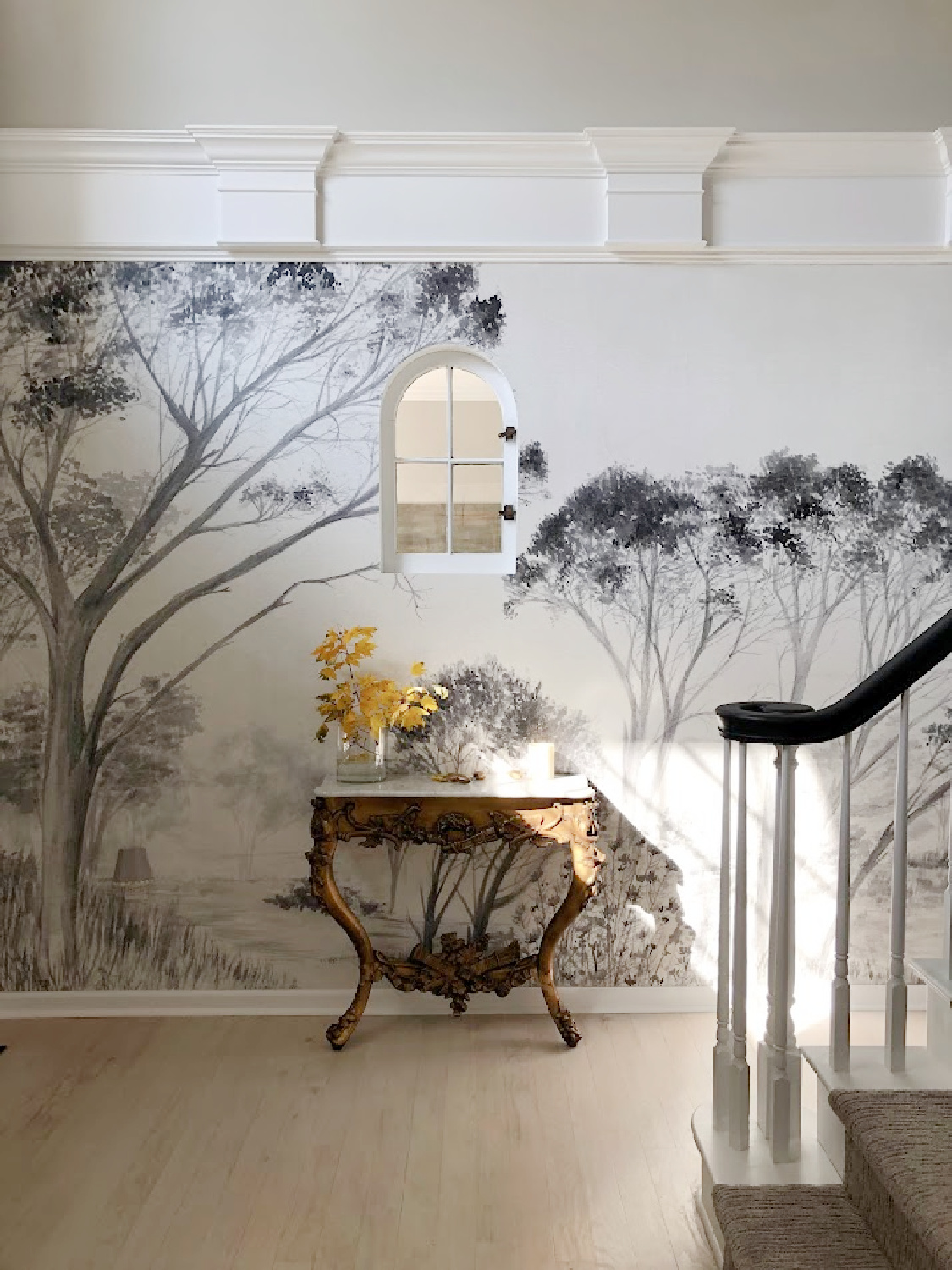 Did you see my post where we installed another neutral, grisaille style wallpaper in a bedroom HERE? Hard to imagine that this entry was wide open a year ago!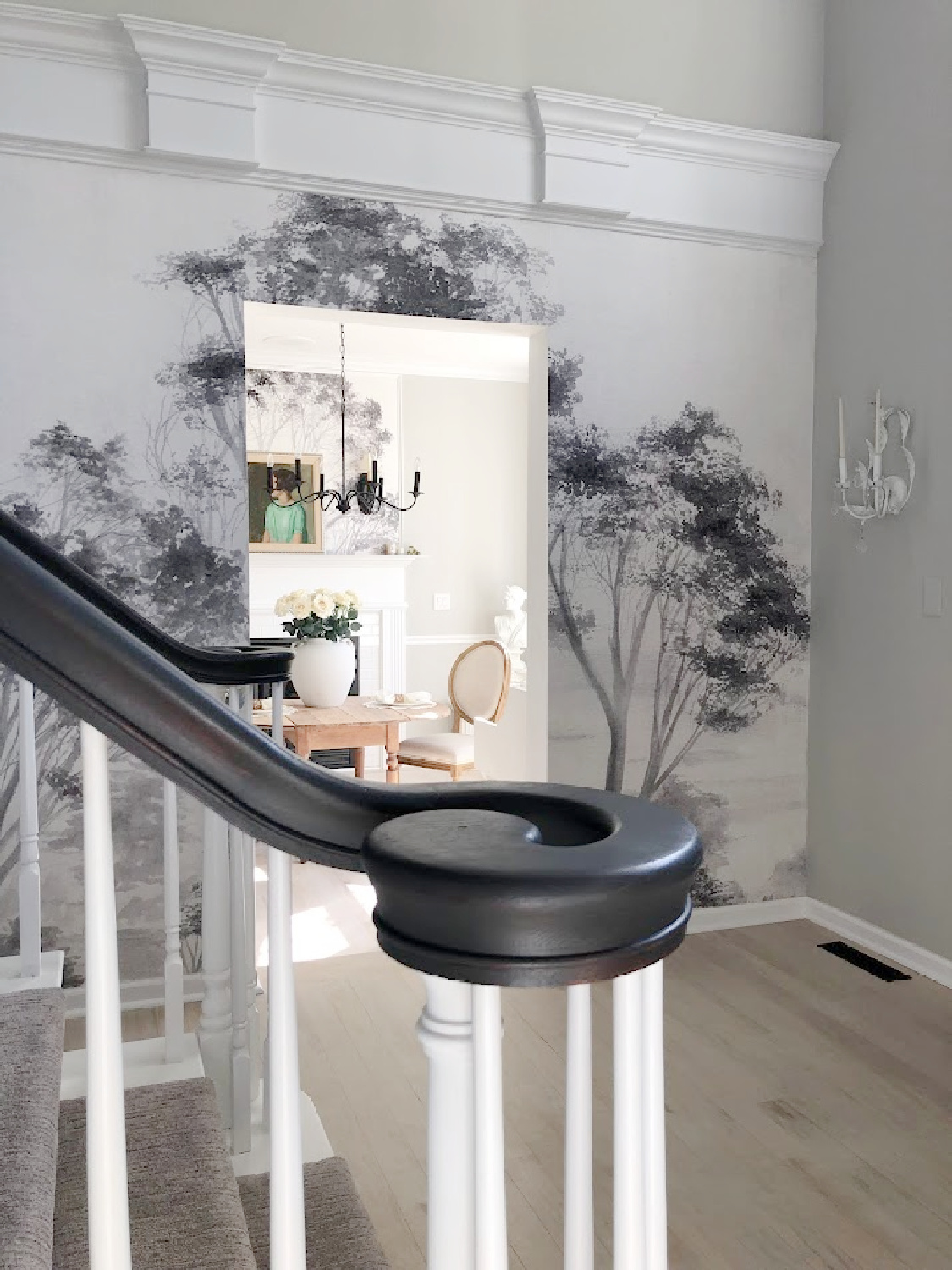 I glazed the cherry-stained hand rail with SW Carbonized as well, but I didn't touch the underside of it. This is an example of what I mean when I say we are treading lightly and thinking about renovation 2.0 for us or someone else. In the future, the whole hand rail can be removed and refinished if desired.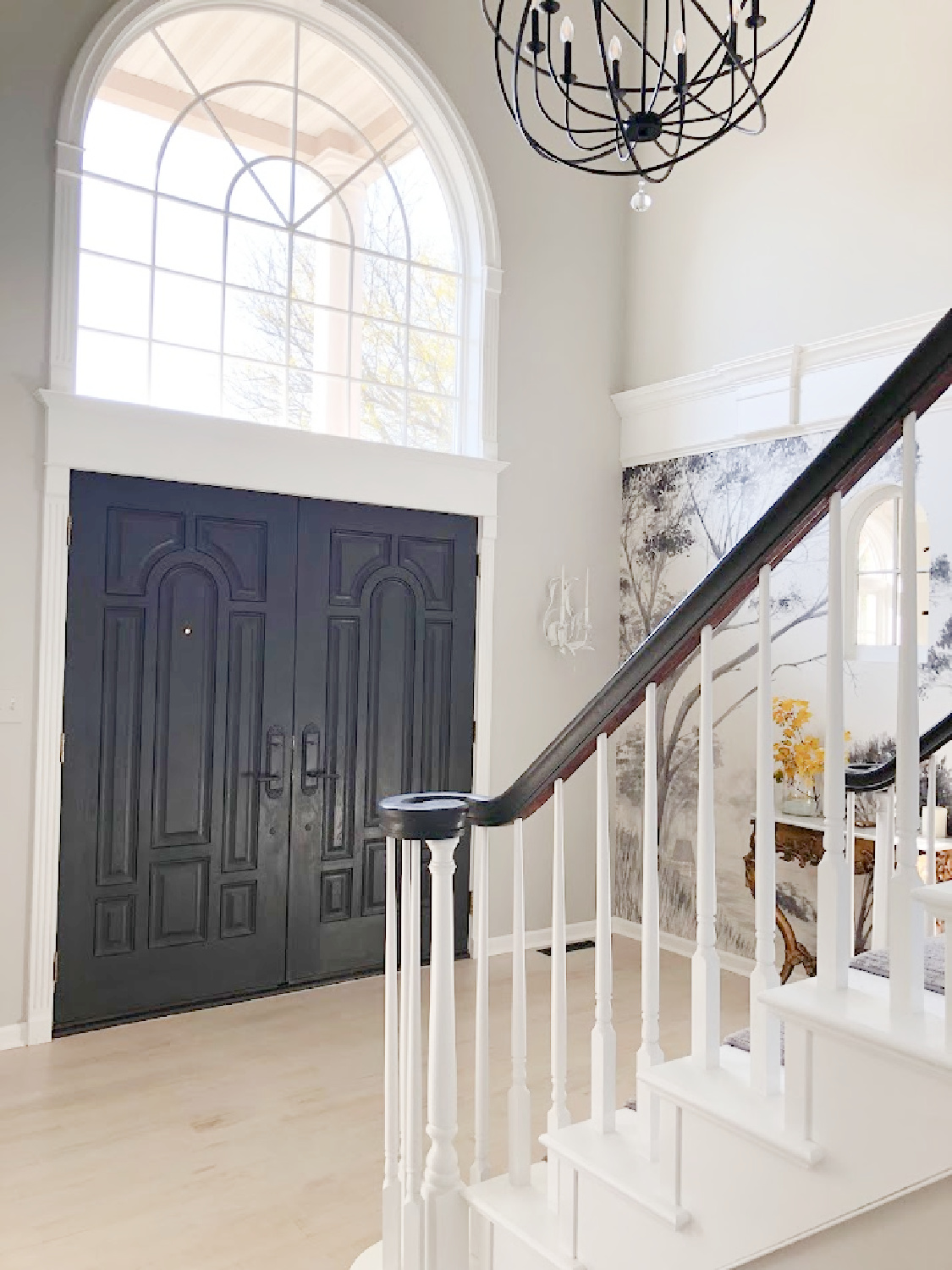 The western light we get above the front doors is wonderful, and the prettiest sunsets can be enjoyed from the upper stairs. There is a LOT happening right when you open the front door, and it's hard for me to show you in a single photo so I snapped several.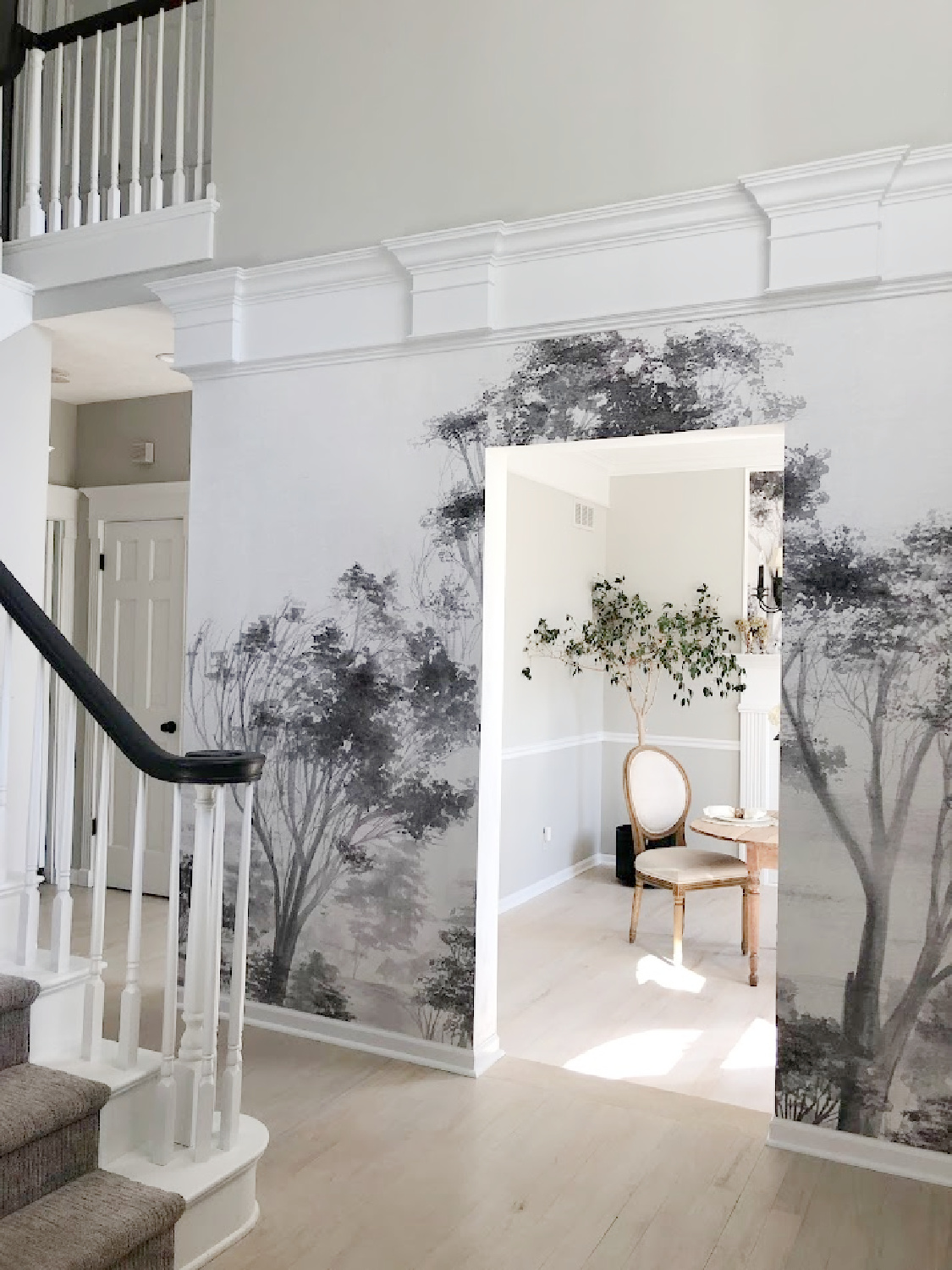 This is to the right of the door where you enter the dining room or take the hall to the kitchen.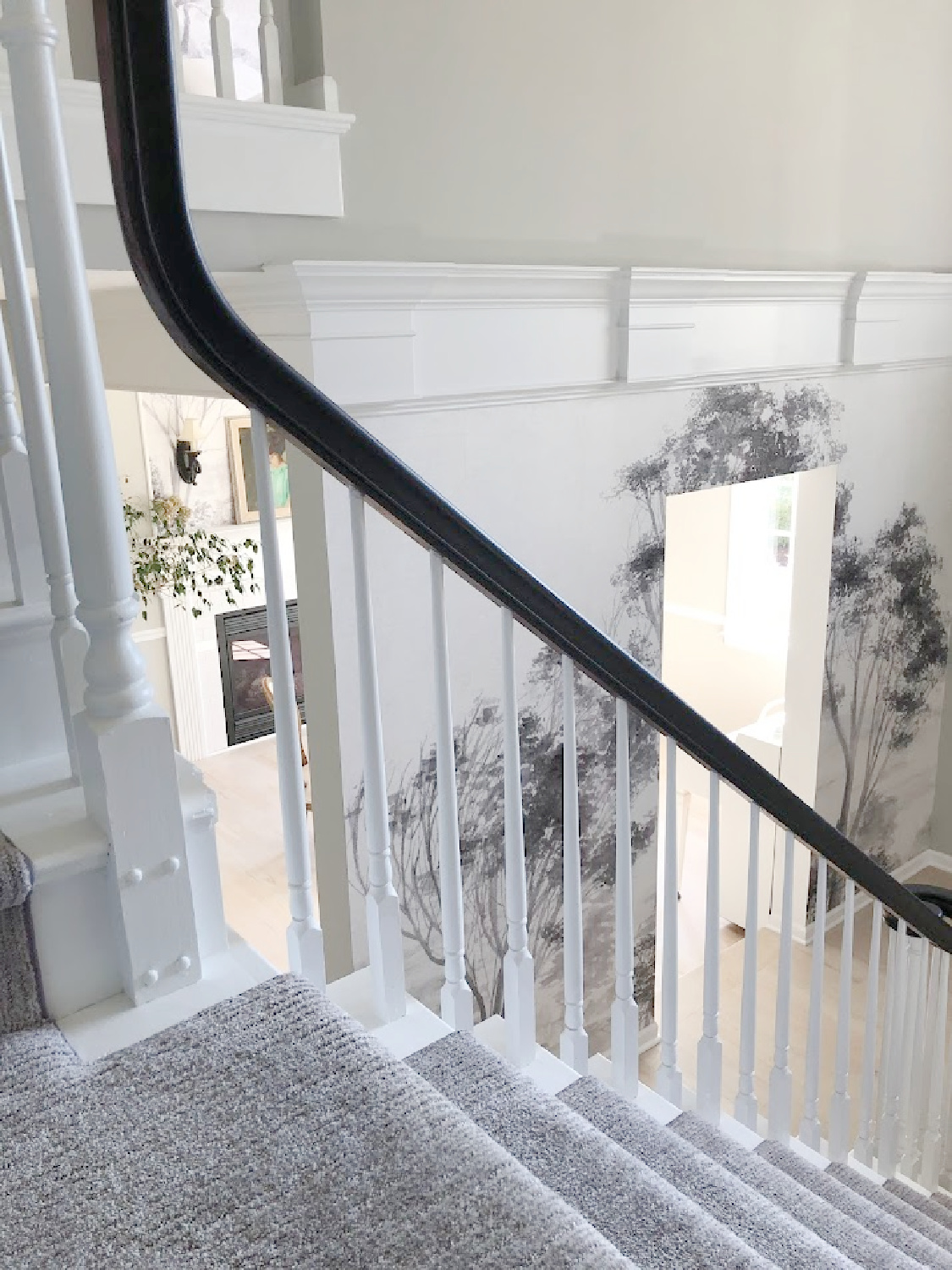 Photos from Staircase
This is on the stair landing, and as you can see, we didn't close up the end of the dining room since it leads to the kitchen.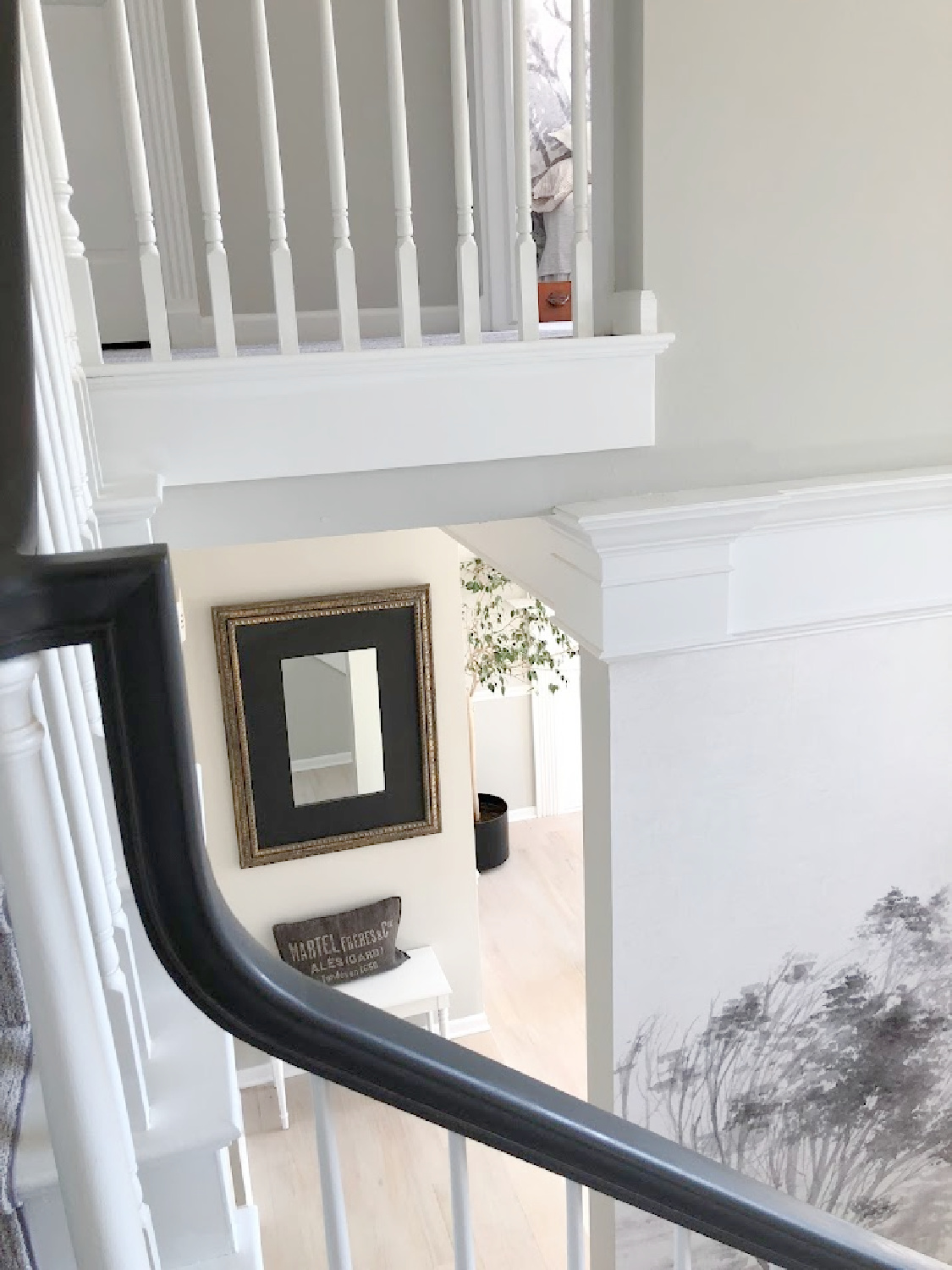 From this perspective you can see the stairs divide at the top and on each wing is two bedrooms.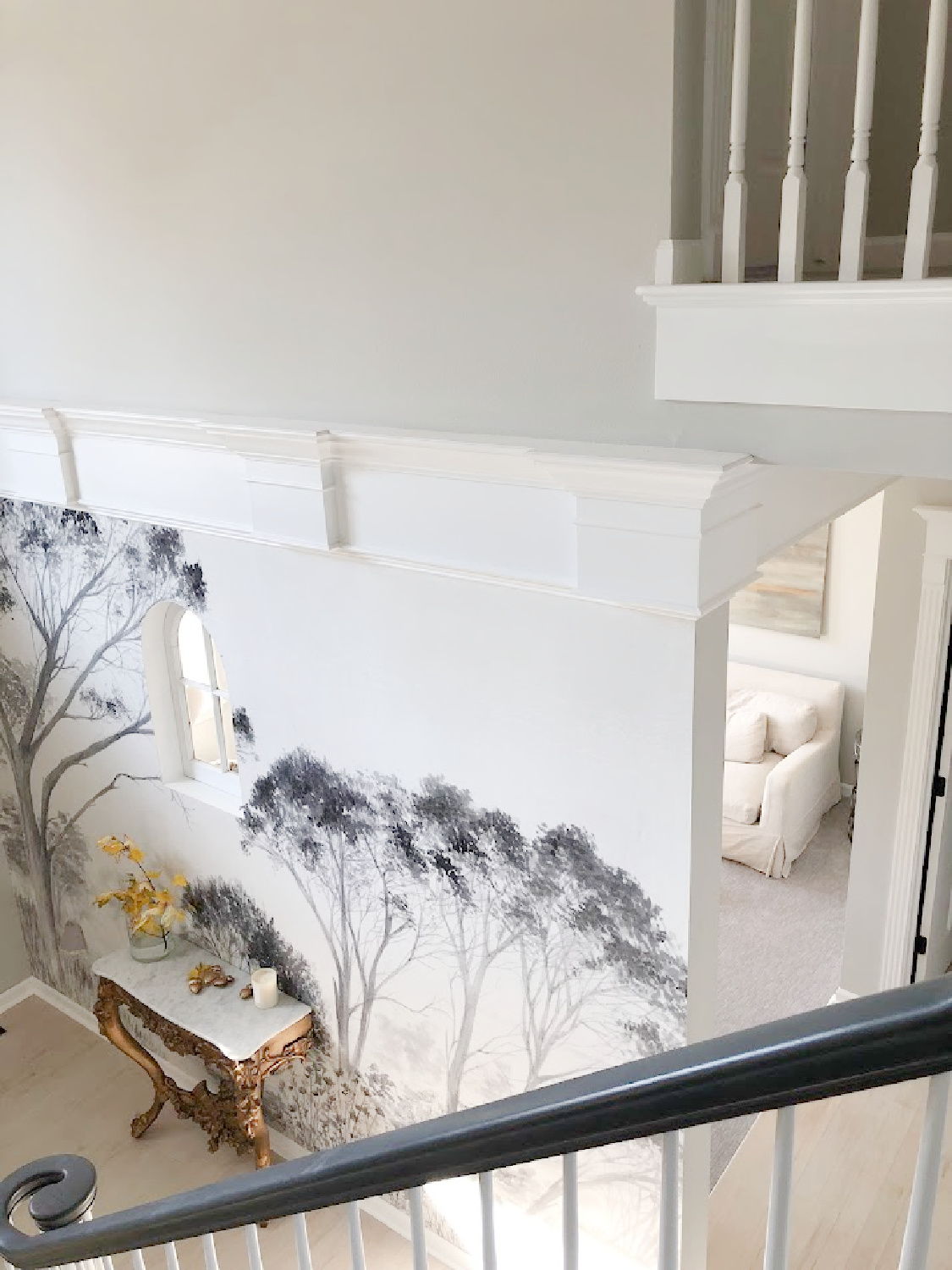 Above is the perspective from the stairs looking into the sunken living room. The doorway you see on the right is the powder bath.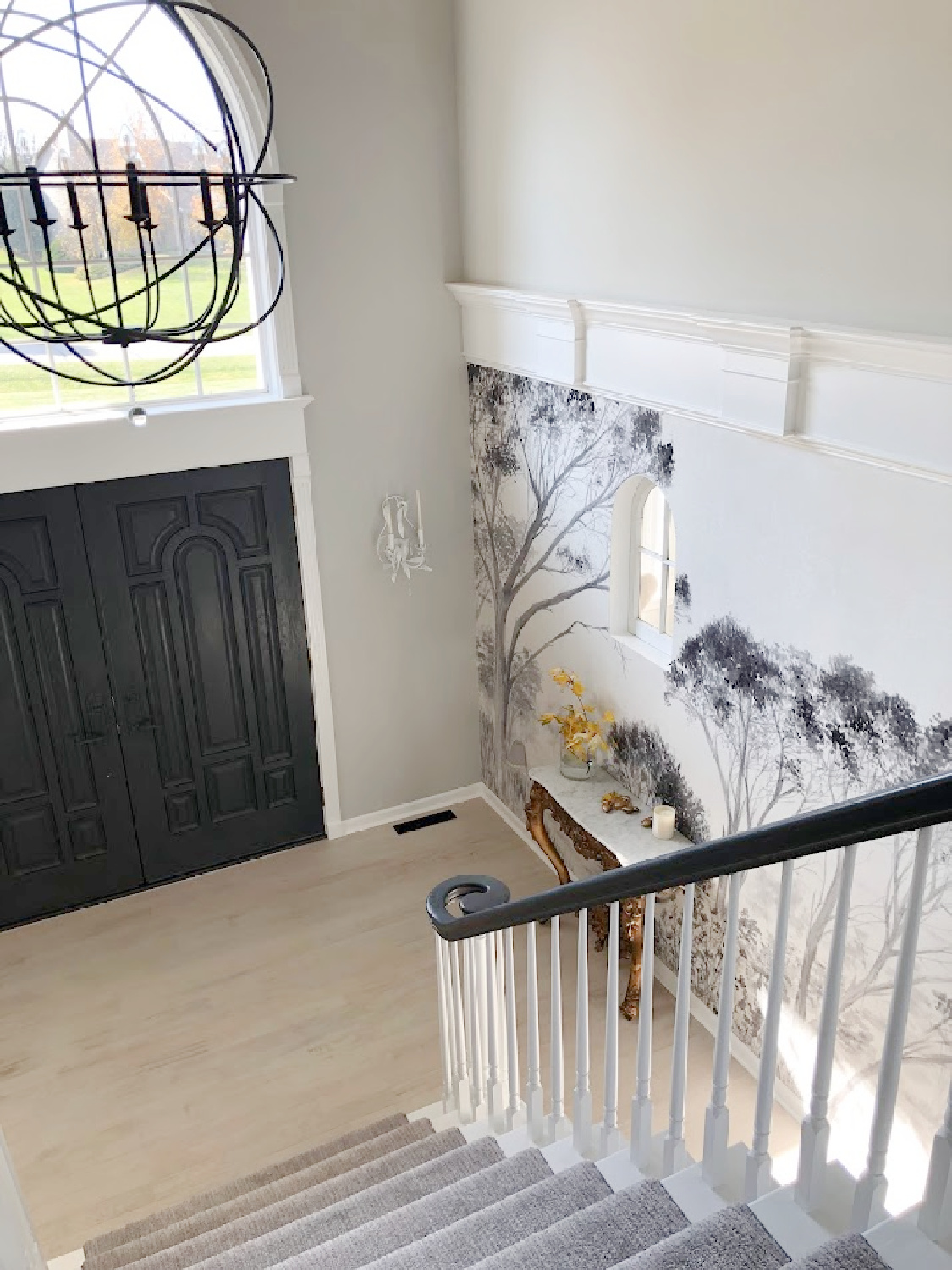 I could have designed a plan for the entry that was symmetrical with doorways to the dining and living rooms. However, I wanted to start with function and furniture placement, and it made no sense for the living room which is already small to have a wide opening to it plus another doorway from the entry. This makes it more private and separate, and the broken symmetry is an example of ridding of some of the formality.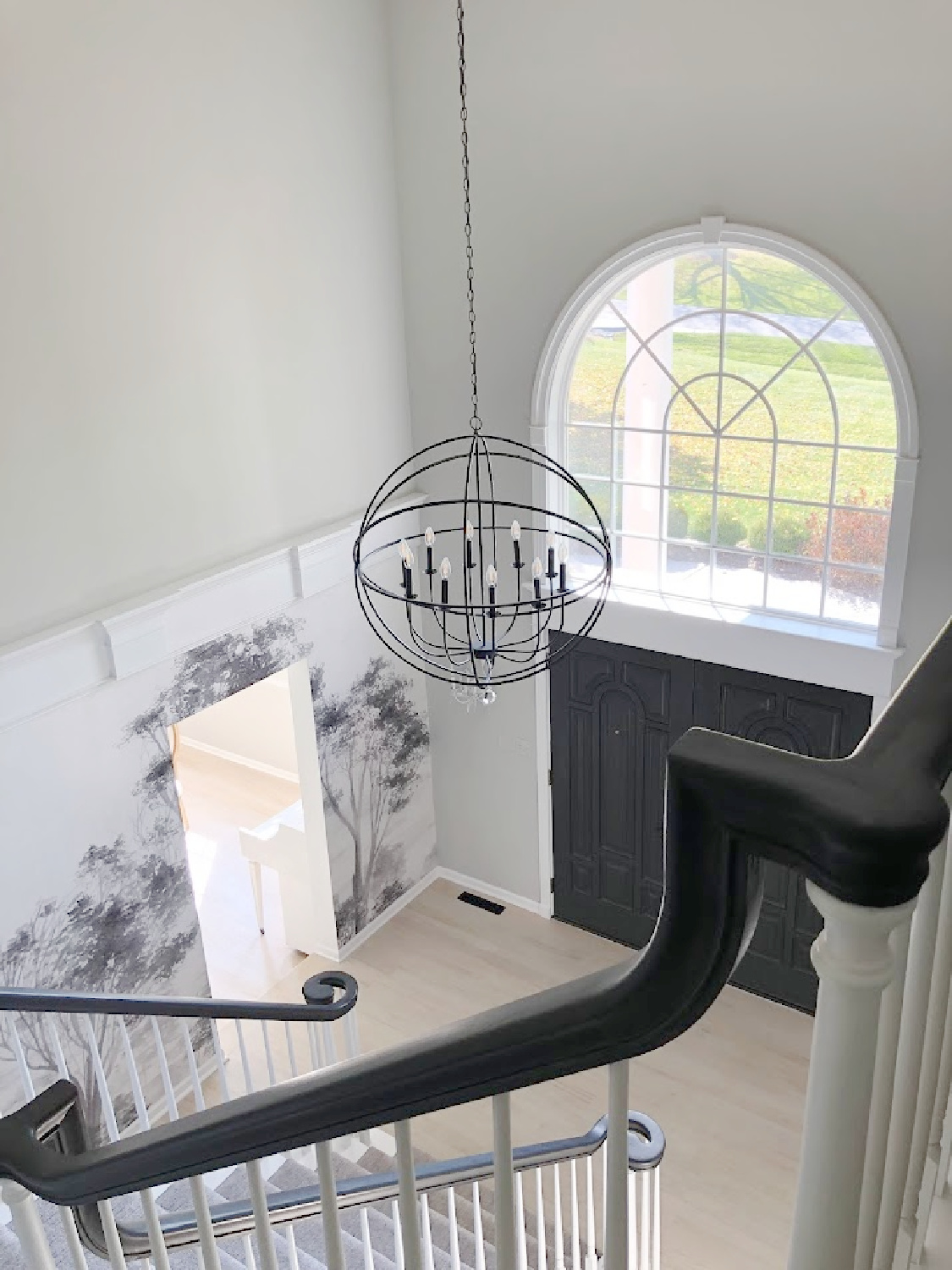 Let's face it. There's enough busyness going on with the fancy staircase!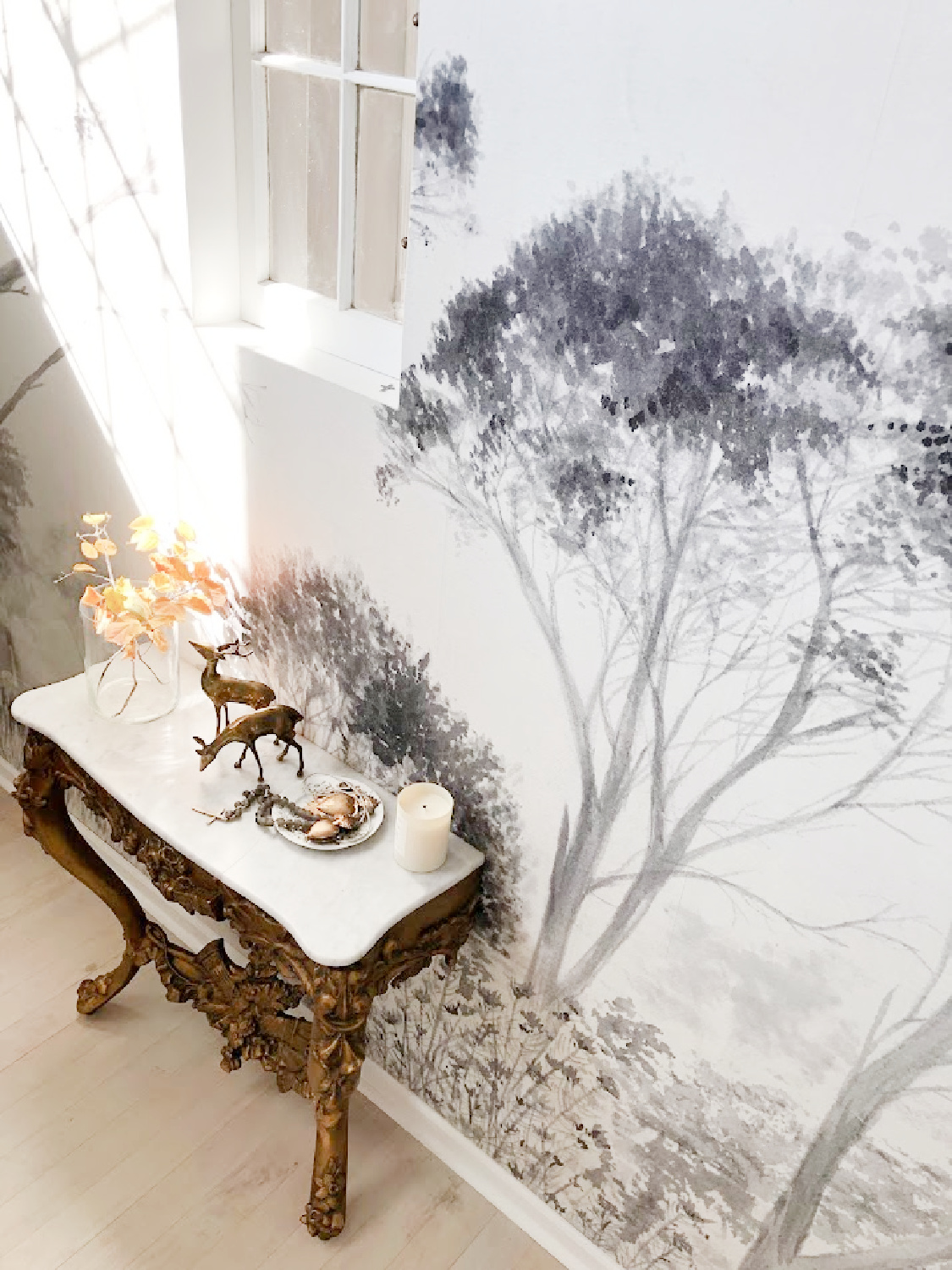 I have always loved interior windows, and we have added them to every project.
Renovated Powder Bath at the Georgian
The powder bath was not something we changed drastically, but there was still a lot of work entailed.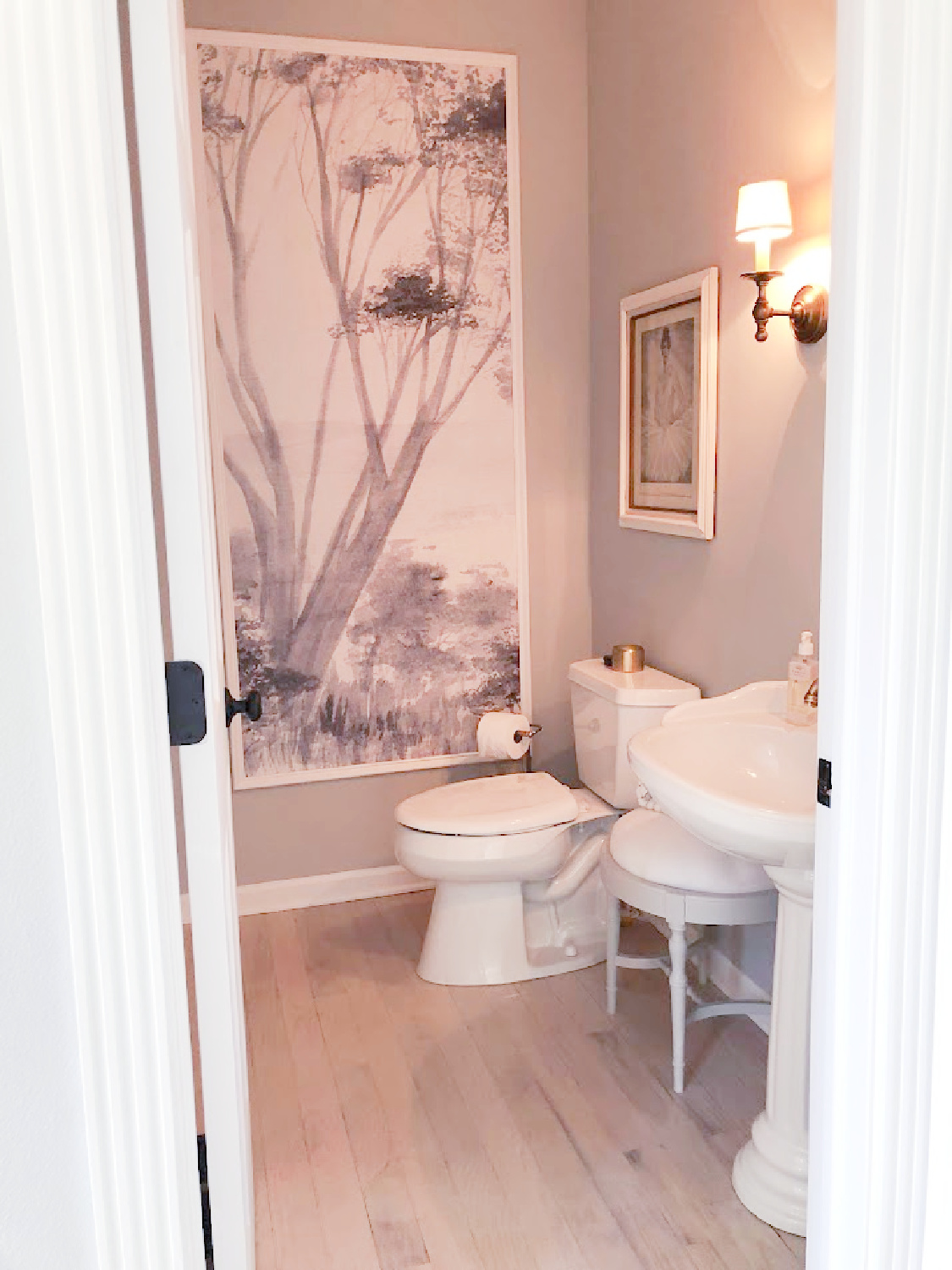 We left the original paint color (SW Repose Gray) and refinished the dark stained wood floor. You can see the contrast if you notice the edges yet to be sanded below: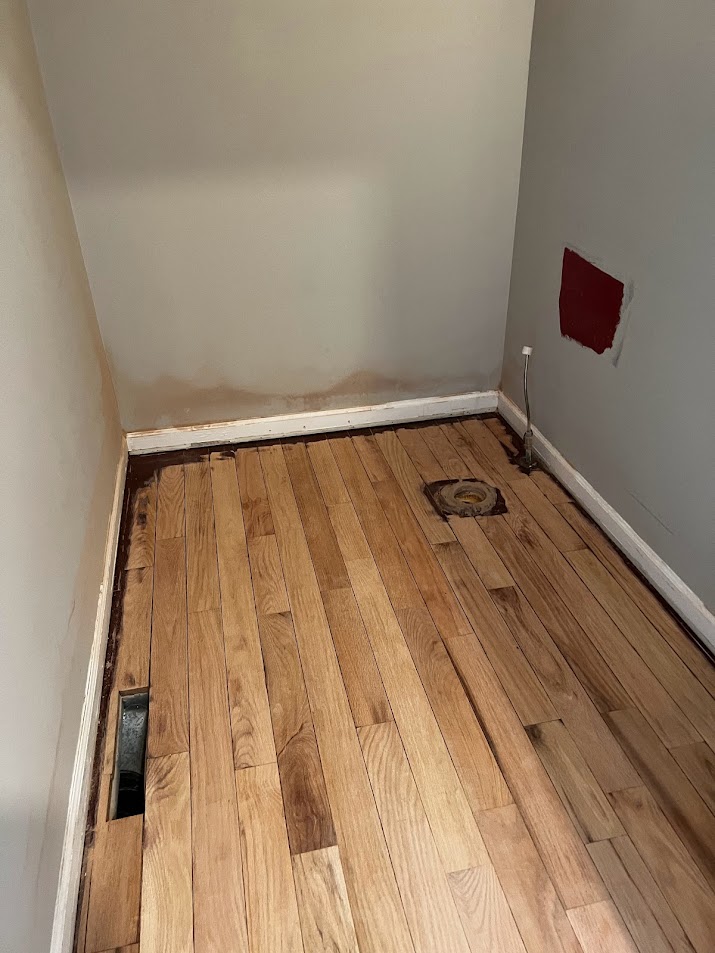 We had to remove all of the fixtures to refinish the floors! Another huge improvement to this bath? Adding the wall on the living room side obscures the bath from the hall. I hated walking in the front door and seeing the toilet if that door was left open!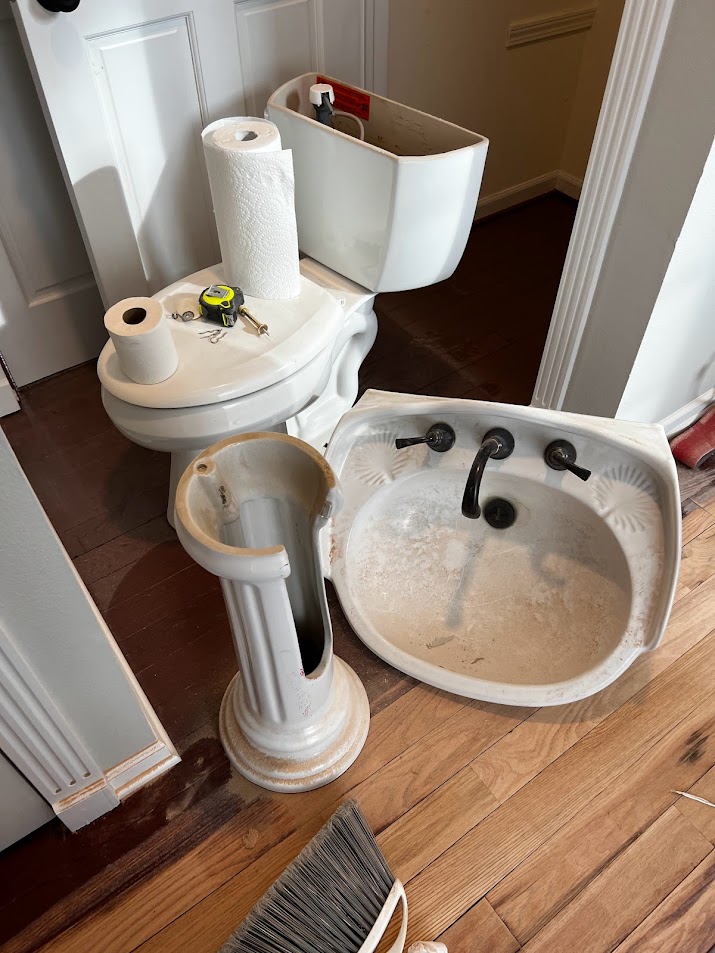 Here's a before to get an idea of what I mean when the living room was open with columns and the bathroom visible from everywhere. (BTW, we didn't demo those columns, but we sandwiched them in the walls. Future renovators can have at it if they care to raise floors and knock down walls for an open plan!)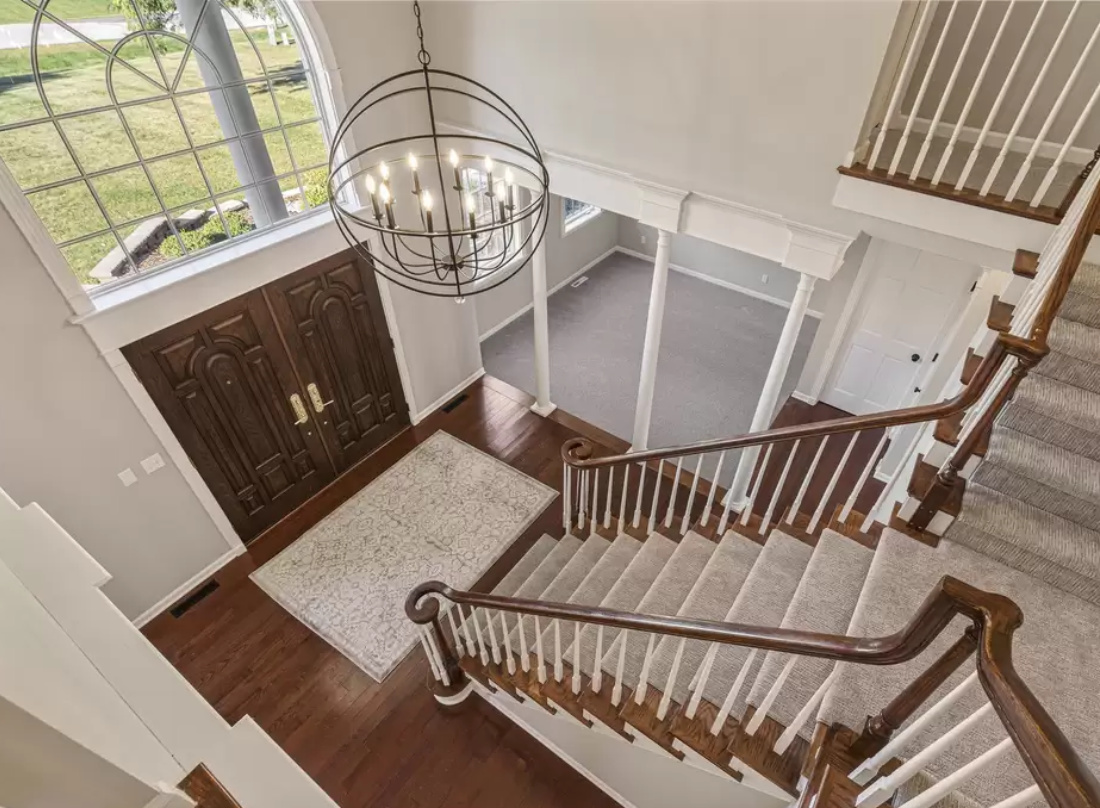 I upgraded the mirror, sconces, and sink faucet, but I didn't see a reason to change out the existing pedestal sink at this juncture. It feels just right in the space.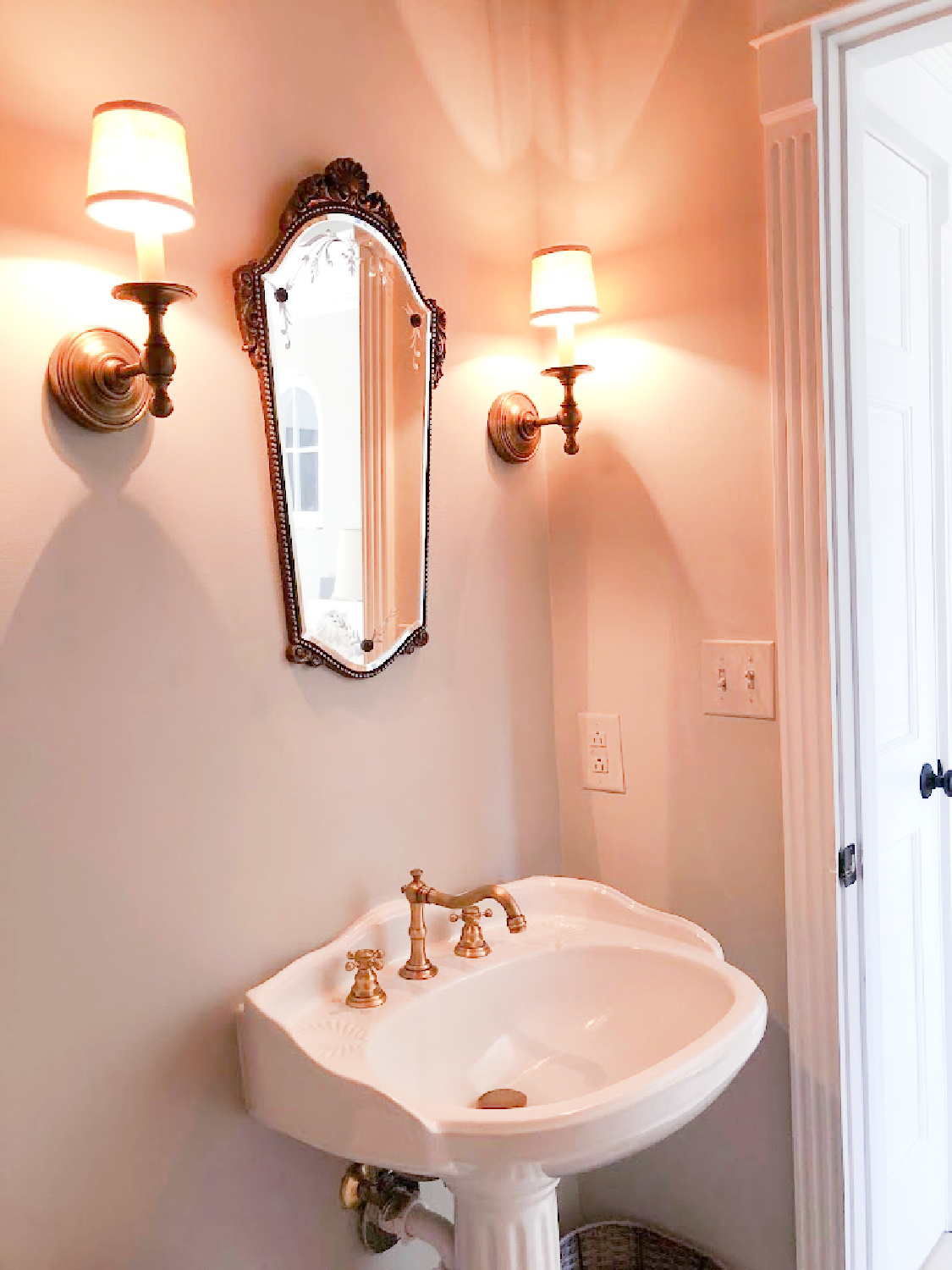 The existing faucet was fine, but I wanted to add something with warmth to work with the sconces. Find the exact faucet HERE. I bought the mirror from an older gent, and it belonged to his mother. It's heartwarming to furnish your home this way, meeting kind locals and hearing stories about the antiques. What a blessing to save these treasures.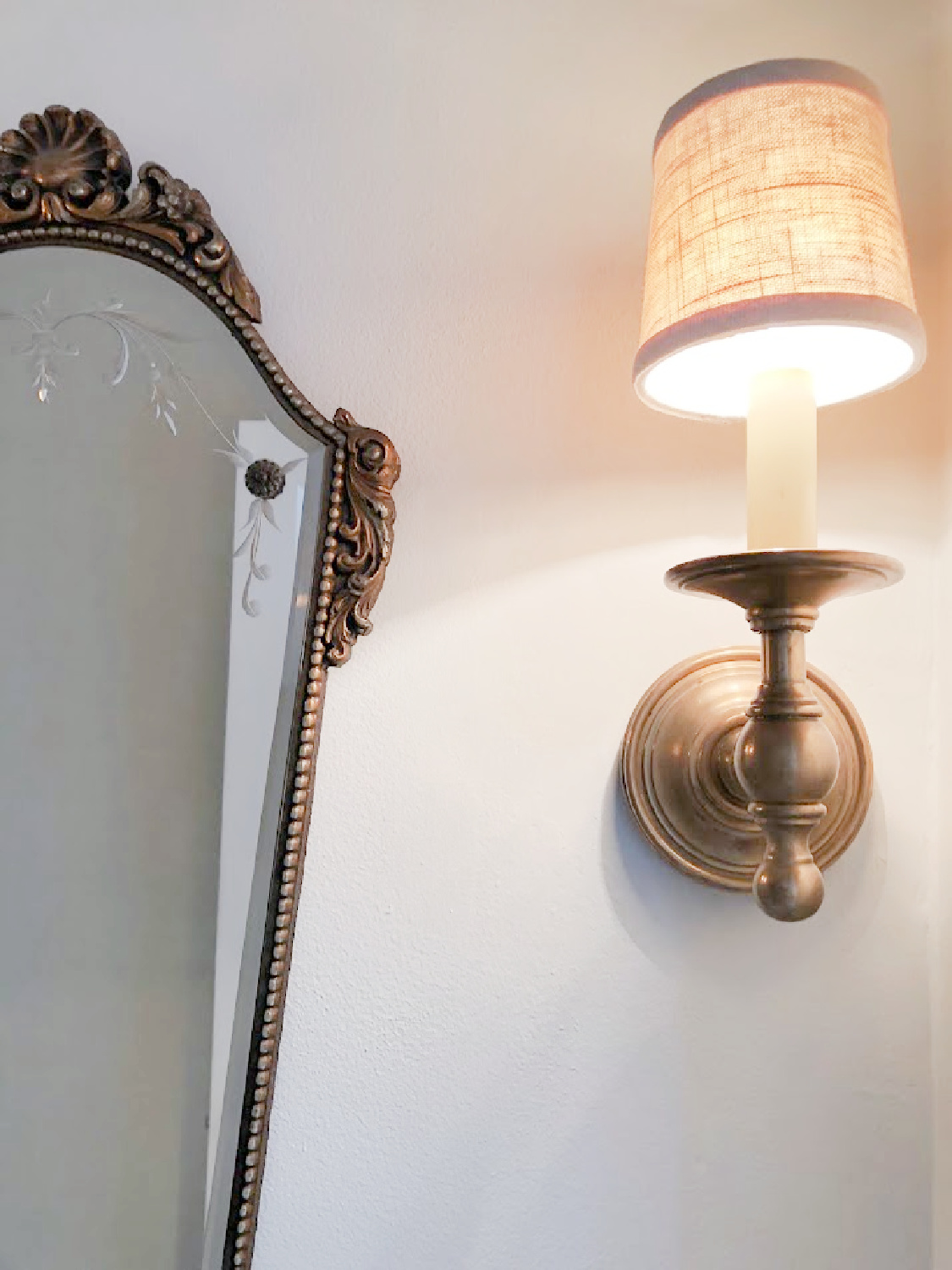 The sconces are classic, heavy, and ooh la la. Find the Chapman & Myers classic sconce HERE.
We created a custom framed section of the wallpaper mural in entry to create a little interest in here. I may try to add another sconce, but running the electrical for it is going to be a nightmare so we'll wait a bit.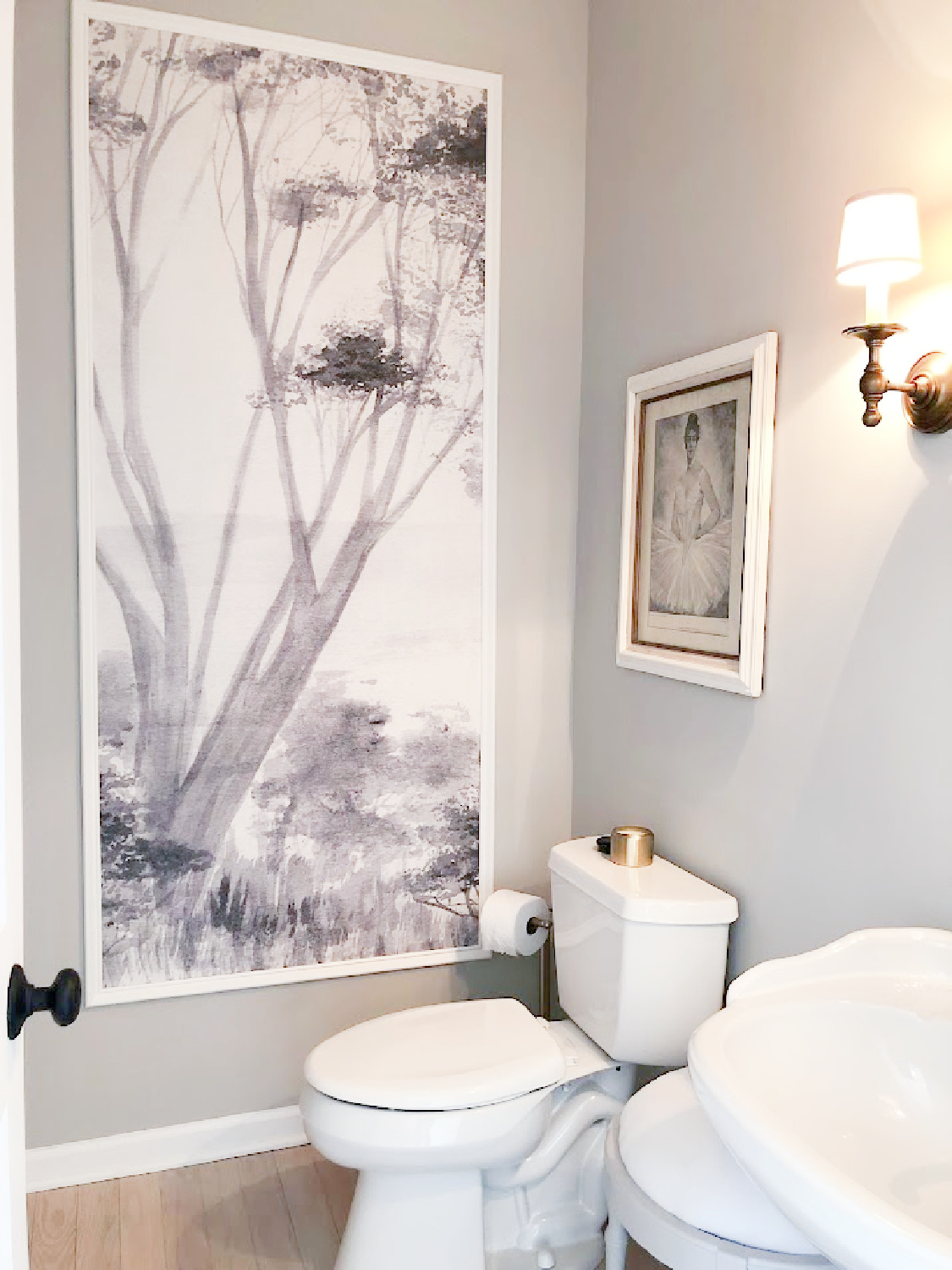 No rug yet – I am still shopping and taking my time. The only photo I snapped of the living room was apparently this one: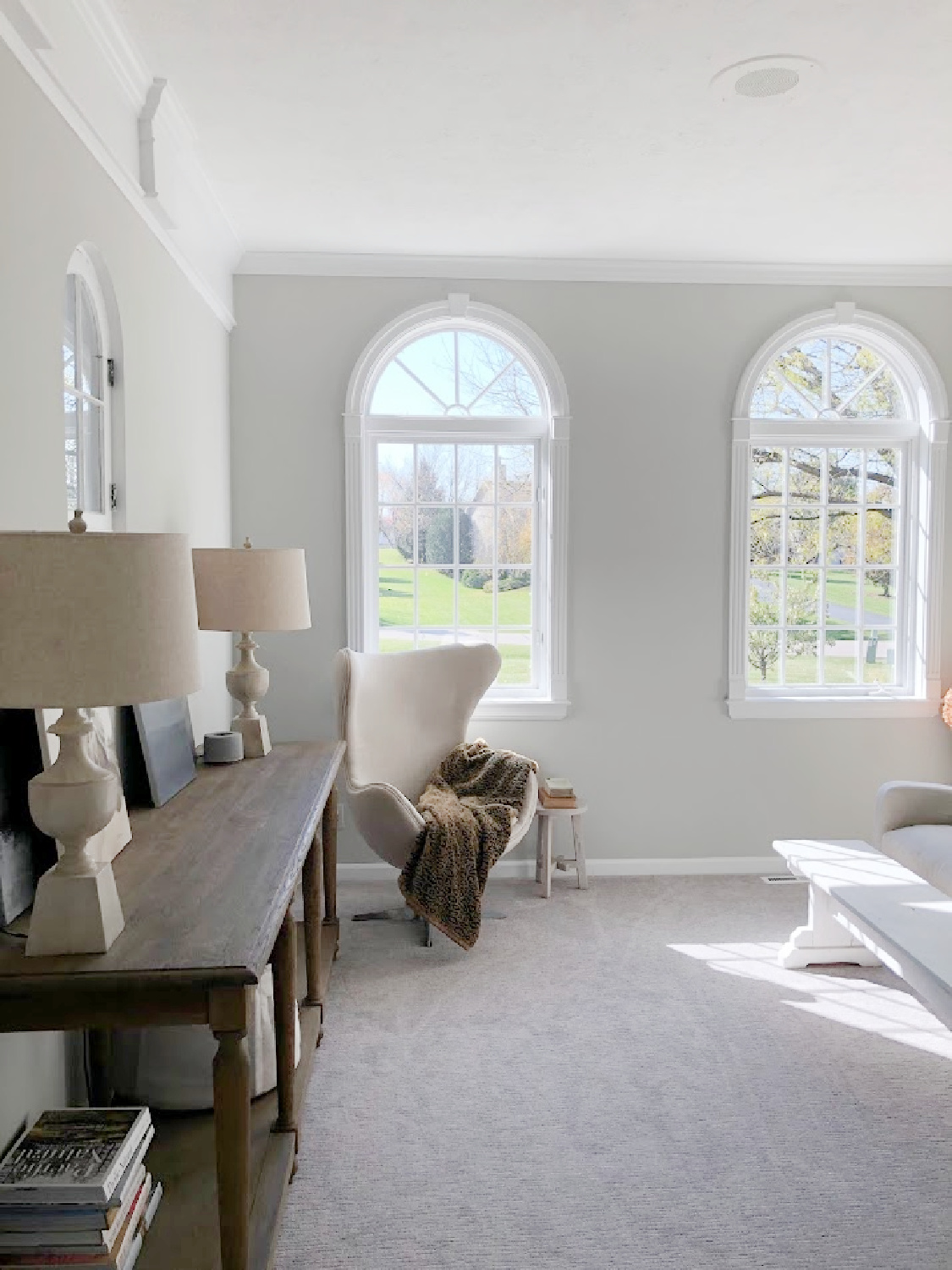 Just as well since I have work to do in there. It's a sunny sitting room where you can kick your feet up or twirl in the egg chair.
Our Kitchen Renovation & Resources to Get the Look
Look at the gold fall goodness coming through my undressed windows in the breakfast room: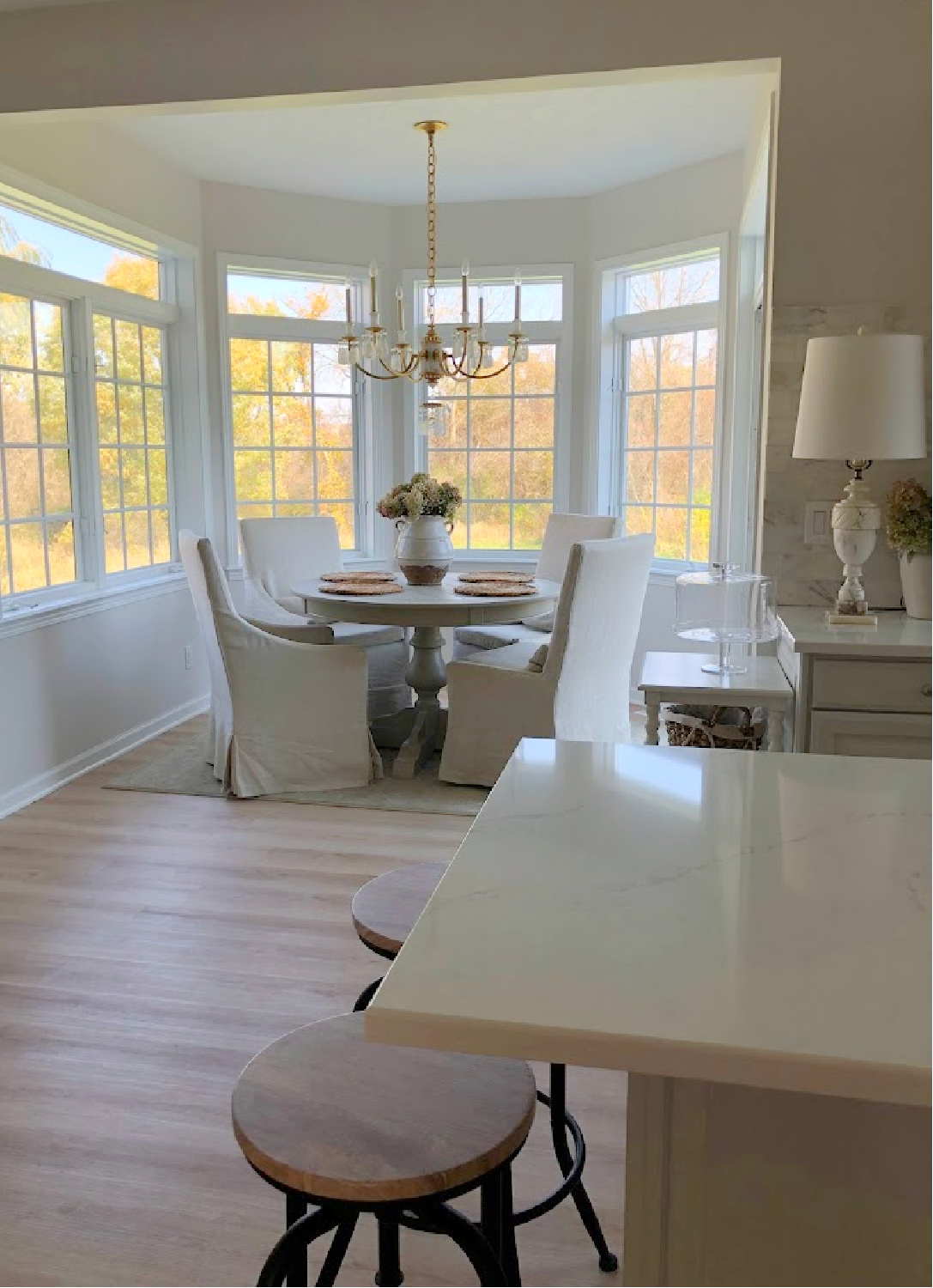 I thought I would have window treatments in there by now, but the Roman shades I planned to hang may not be the right treatment. Taking a little more time to decide, and we're enjoying the change of seasons and all the light anyway.
The star of the breakfast room is a Thomas O'Brien designed gilded iron Elizabeth chandelier with natural quartz, and to see it in person is to loooooove it! Thankfully I bought it with a discount since it costs as much as the quartz countertops!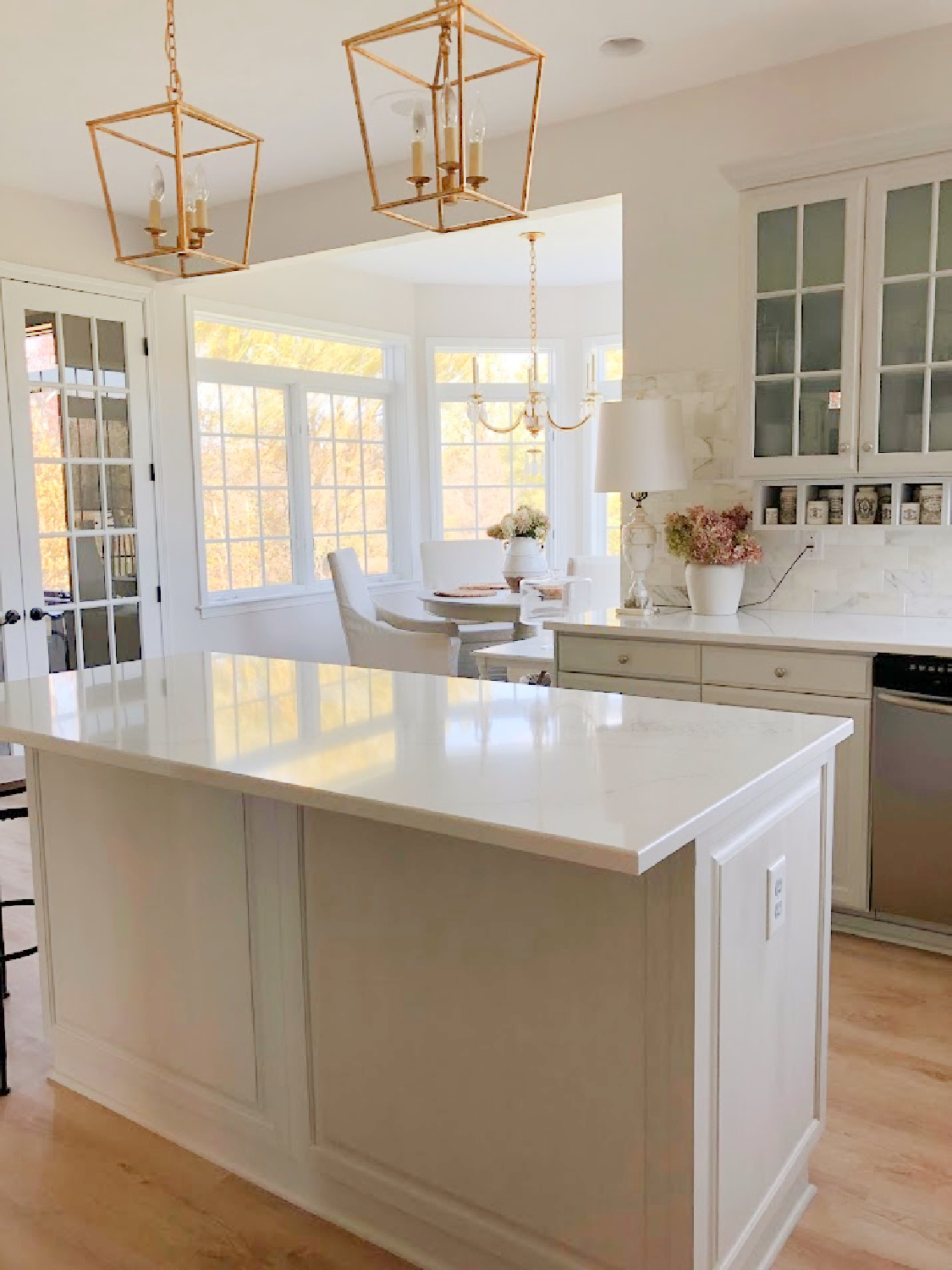 Once I had the chandelier, I was spoiled forever for gilded iron and knew I could not skimp on the lighting above the island. I bought these Darlana mini lantern pendants also from Chapman & Myers (Visual Comfort) in the same gilded iron finish. I love them so much, and it wasn't hard to get used to gold at all!
There is nothing like mixing cooler greys with warm gold. If you haven't lived with high end lighting, this 3-light mini lantern is a good place to start. It could go in a bathroom, hallway, utility room, pantry or kitchen. The size is darling!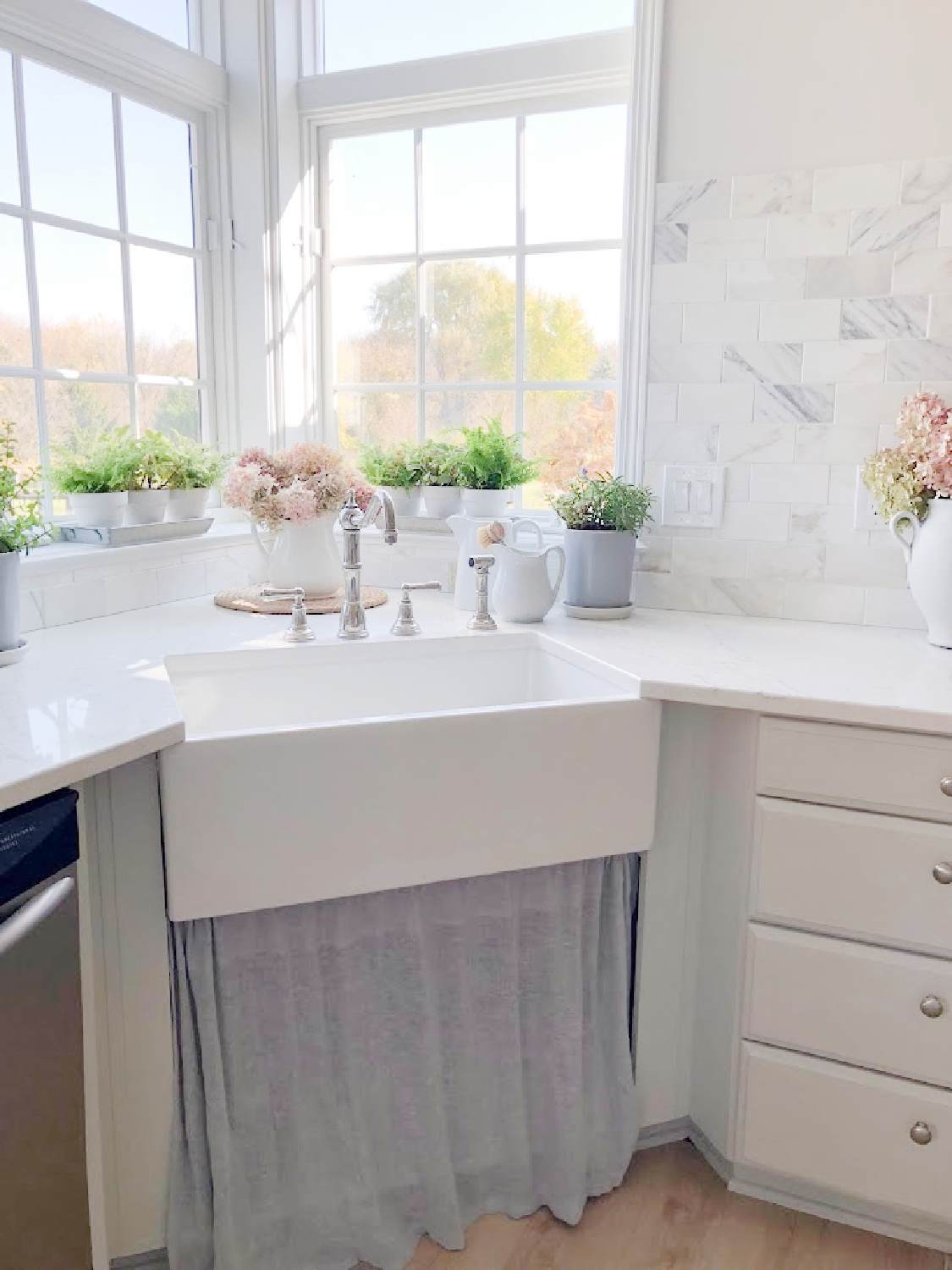 Our kitchen faucet is also very special, and I have never owned such a fine one! It is a Perrin & Rowe Edwardian Double Handle Kitchen Faucet and sprayer, and the finish is polished nickel. Such a timeless look with the Nantucket Hyannis farm sink. Here's my EXACT SINK.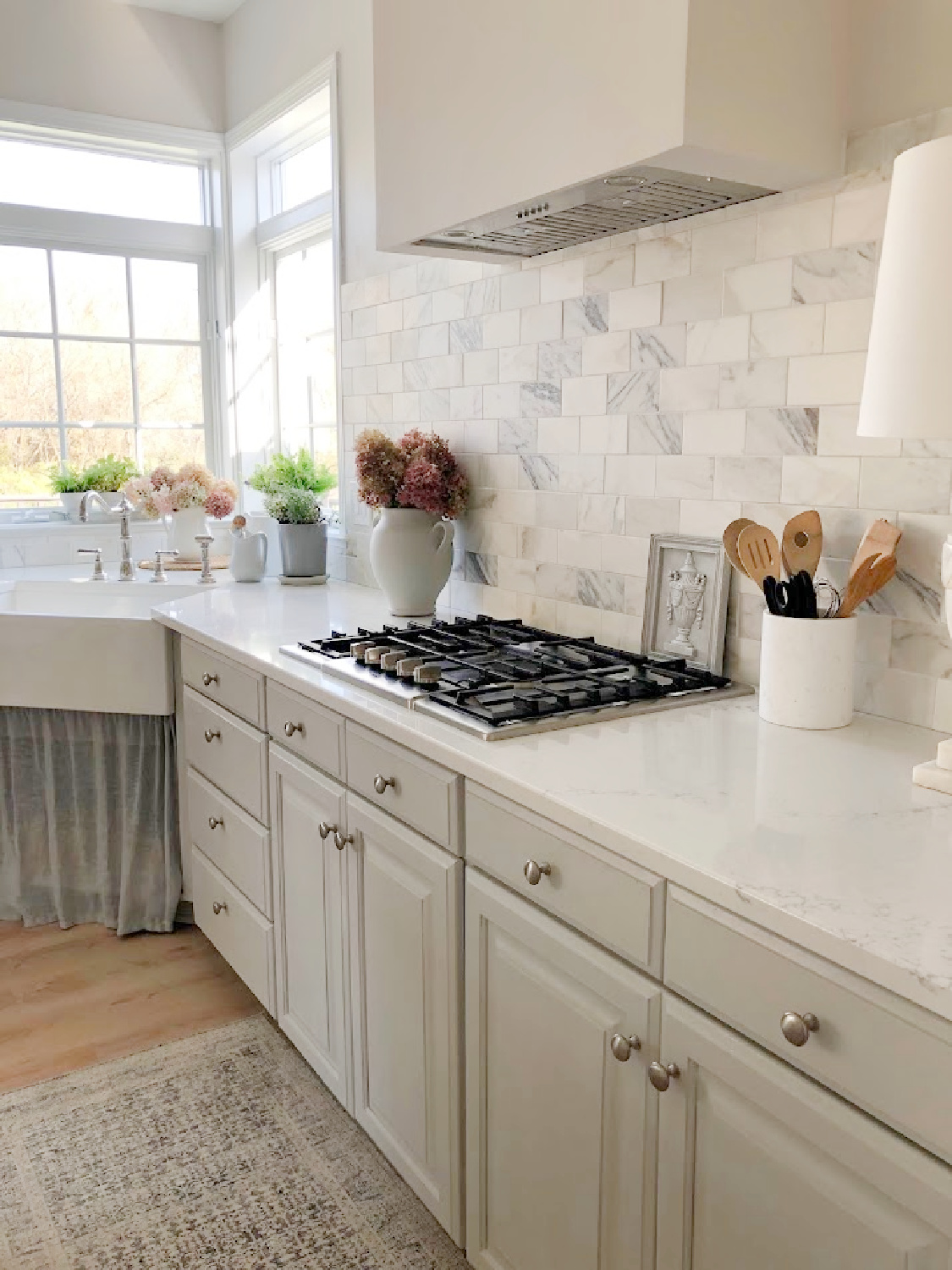 My rug (I love it!) is RIGHT HERE. Just to remind us how this sink area looked for a time: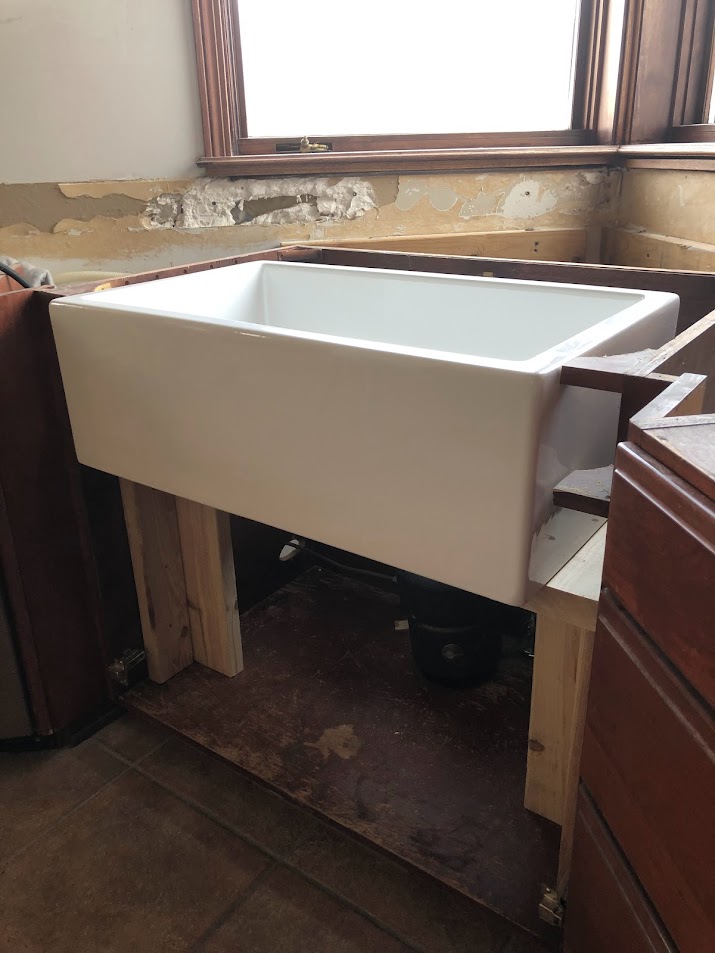 Taking my time on finishing touches in the kitchen. Do we add finishing trim to the range hood? Valances to the windows at the sink?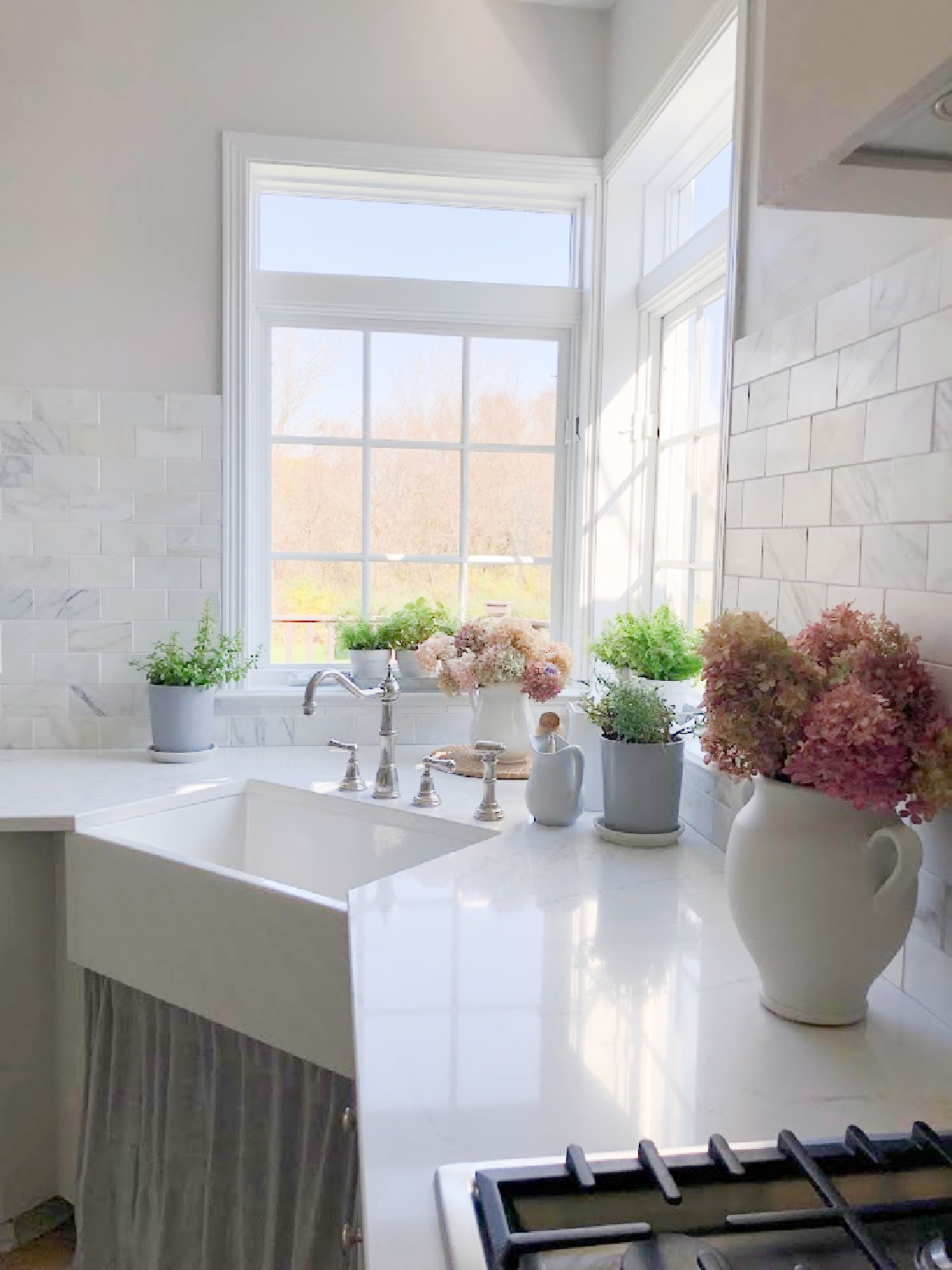 The counters are Viatera quartz in the color MUSE.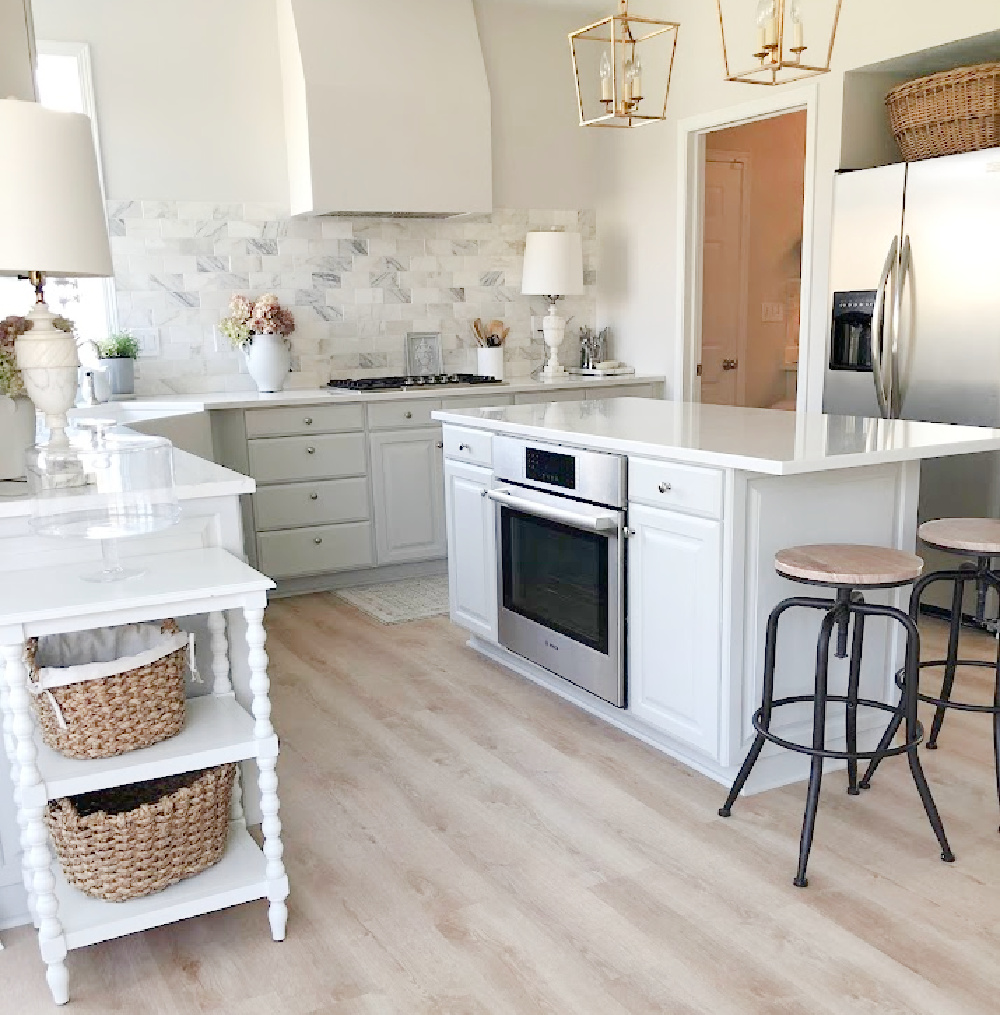 The paint color on walls is Sherwin Williams Eider White, and the cabinets are 50% Farrow & Ball Pavilion Gray. I hand mixed half Pavilion Gray with half BM Chantilly Lace (satin) and then handpainted them with a brush after priming them. The backsplash is calacatta gold marble subway tile…this marble tile is very similar to it.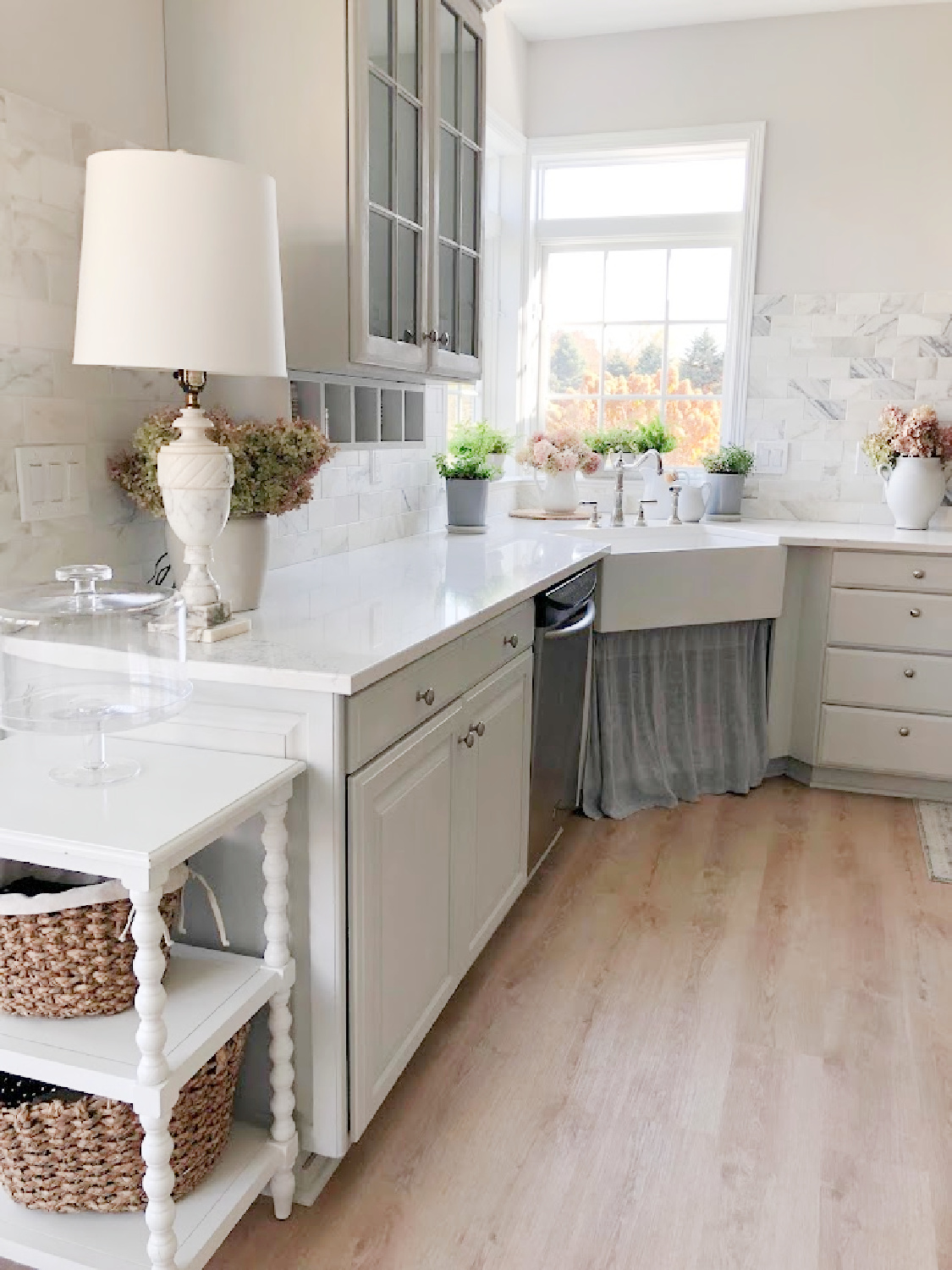 The LVP flooring is discontinued but is nearly identical to Lifeproof Dusk Cherry which I sampled with this one and almost bought! Remember when there was tile and a desk near the pantry?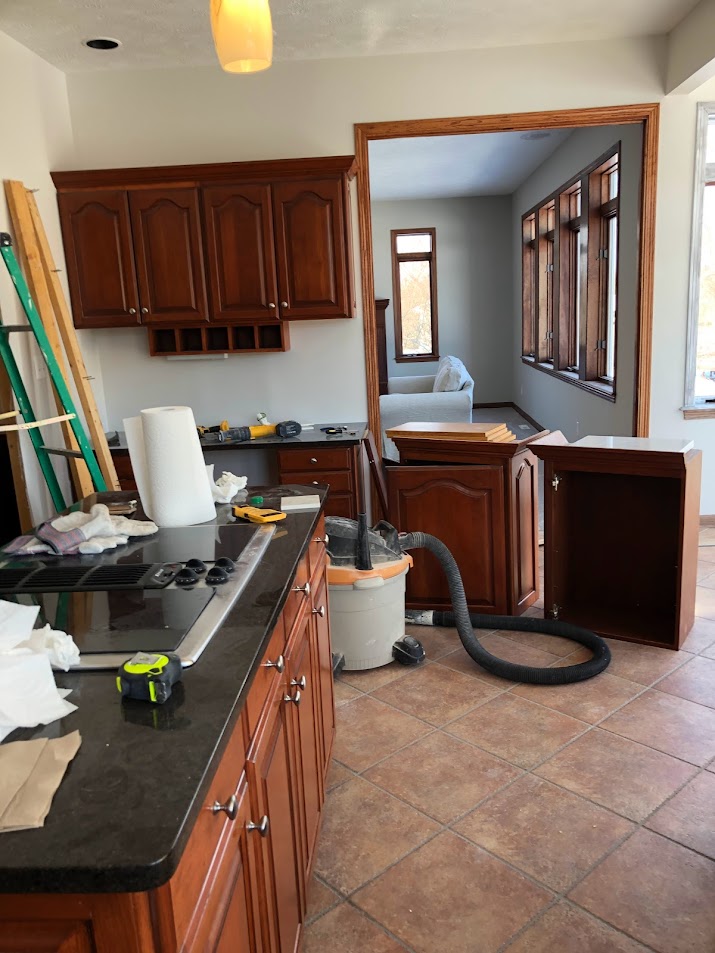 Kitchen Pantry Complete Renovation
We removed the door to the pantry for ease and installed the built-in china cabinet from the dining room in here. The large quality crafted wardrobe was just what I wanted to make the kitchen feel more like a relaxed living space. It hides my TV and entertaining supplies and has all these nifty slide out drawers inside.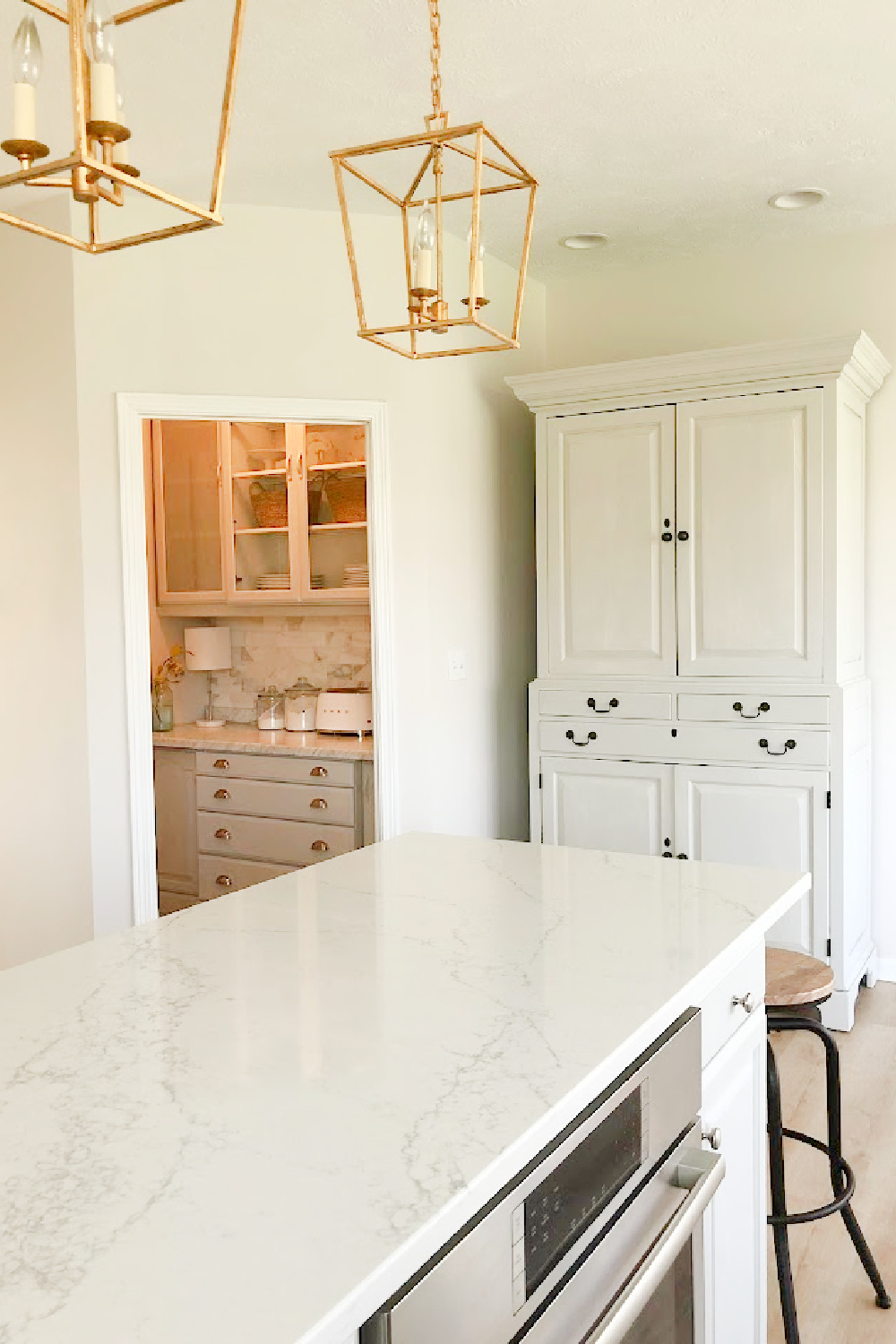 The Bosch wall oven installed in the island is working out great. Here's the view from inside the pantry which is no longer a dark closet with canned goods on wire shelving: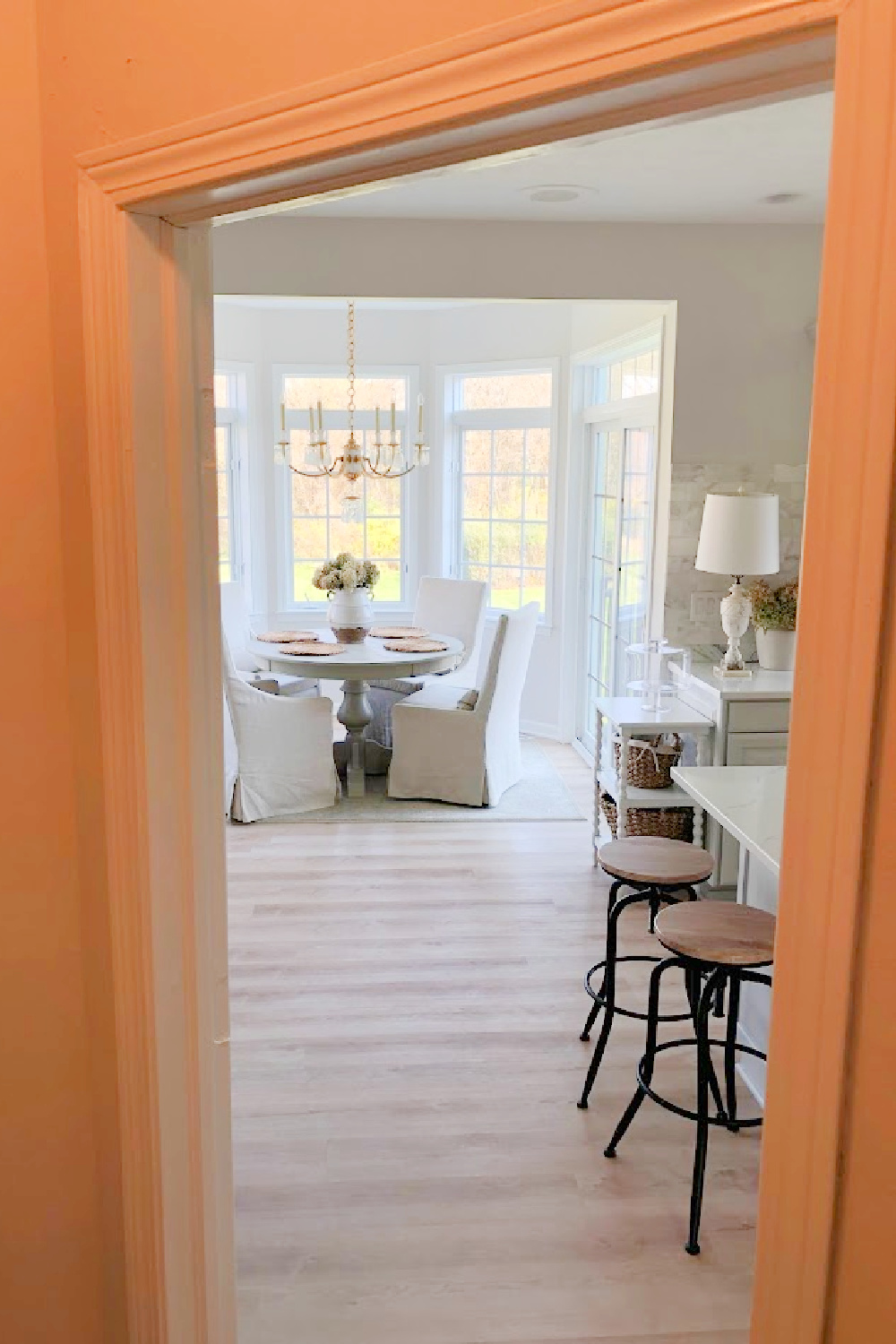 I painted the cabinetry, my husband tiled the backsplash with marble, and I changed the hardware for a whole new look.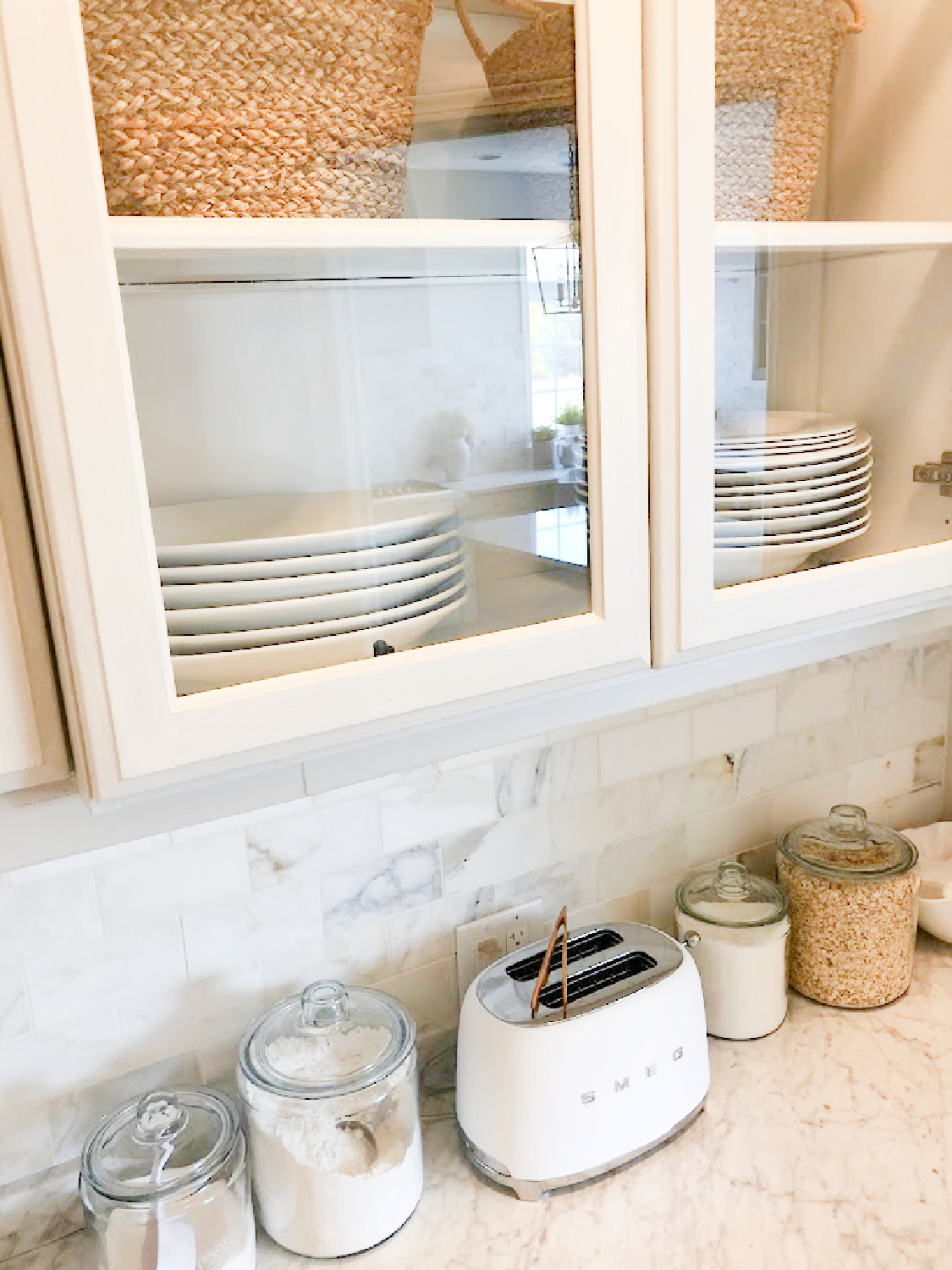 I store food in the base cabinets and kitchenware items in the uppers. The painting is an abstract I created in the days after our dog passed.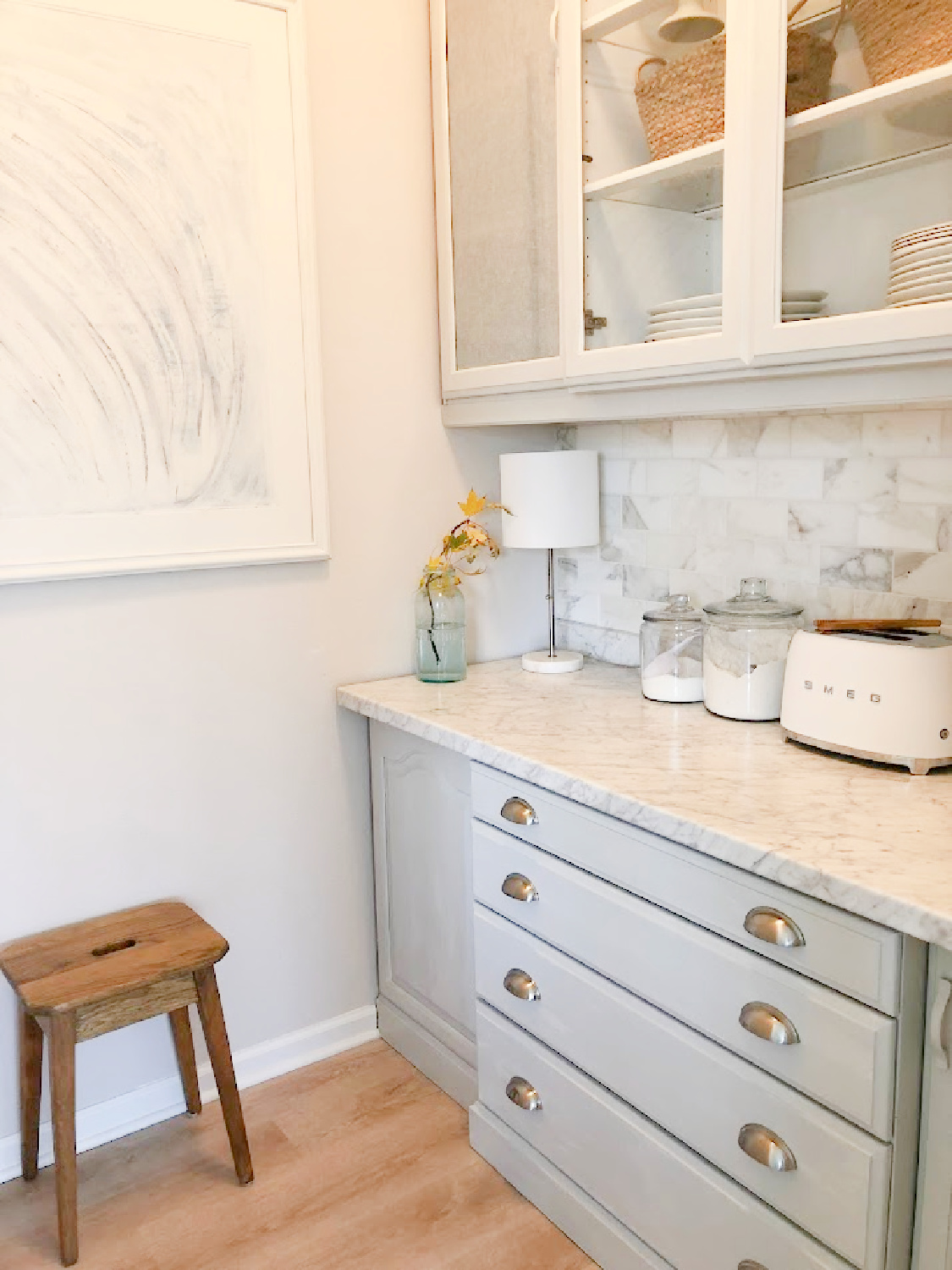 To keep the clutter a little less busy looking, we added light grey sheer Belgian linen (same fabric as sink skirt) behind the glass upper cabinets on each end.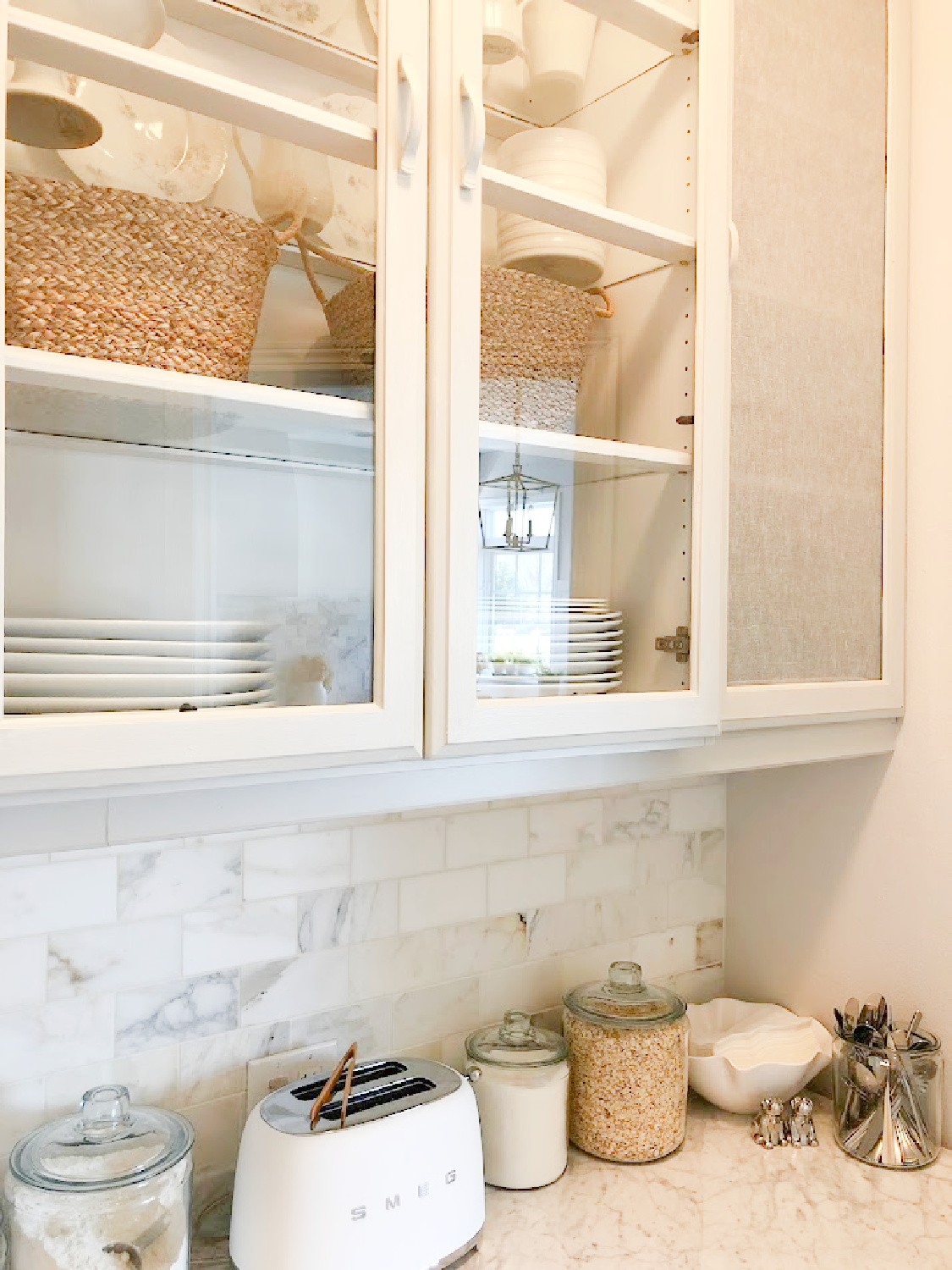 Oh – don't forget how it looked at an earlier stage when we removed wire shelves and began moving in the china cabinet…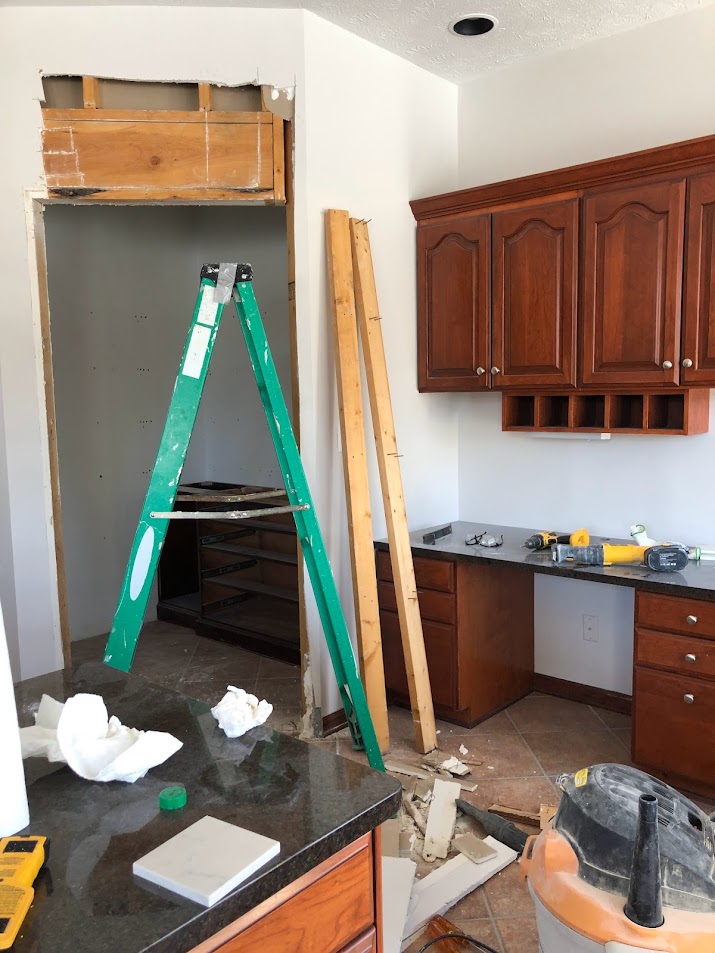 The SMEG toaster in white is new, and we love it so much because it works like a dream and doesn't need to be hidden away! Does Santa need to bring you one?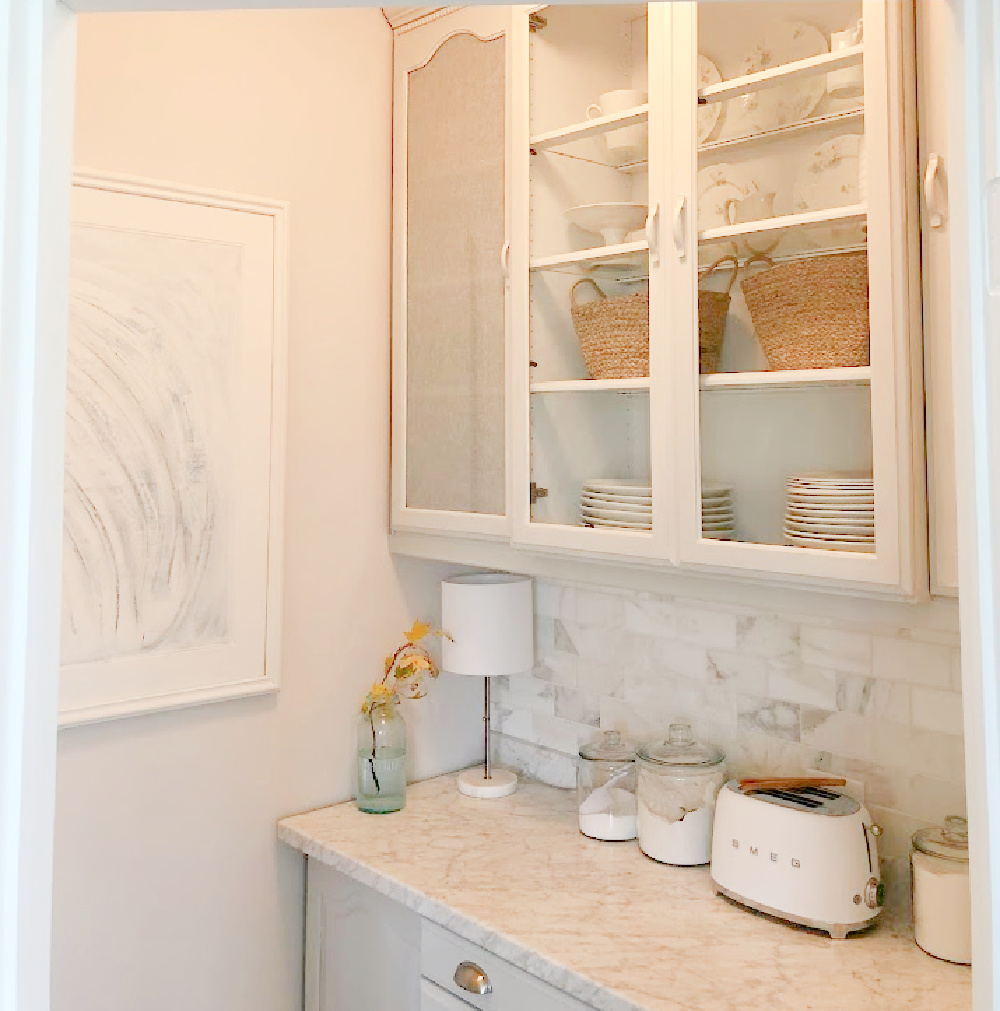 What's Next at the Renovation?
If you are still with me, bless you! Bless you, friend who is willing to overlook ads and nonsense to support this small business run by a real life renovator who loves to dream with you. Did you read my post with our Christmas card?
What are the real life renovators up to this very moment? We're working on our bedroom – oh good gracious, it's the challenge of challenges, and there may be no reveal photos! There are issues with keeping it warm in winter so it is under construction. To give you a sense of the challenge, there are 11 windows and 5 doors in our master suite. Seriously. Yes, you should pity the painter (me) who will start priming all the wood trim and doors soon.
I think we're going to give the closet a makeover like my cloffice, and then we will decorate.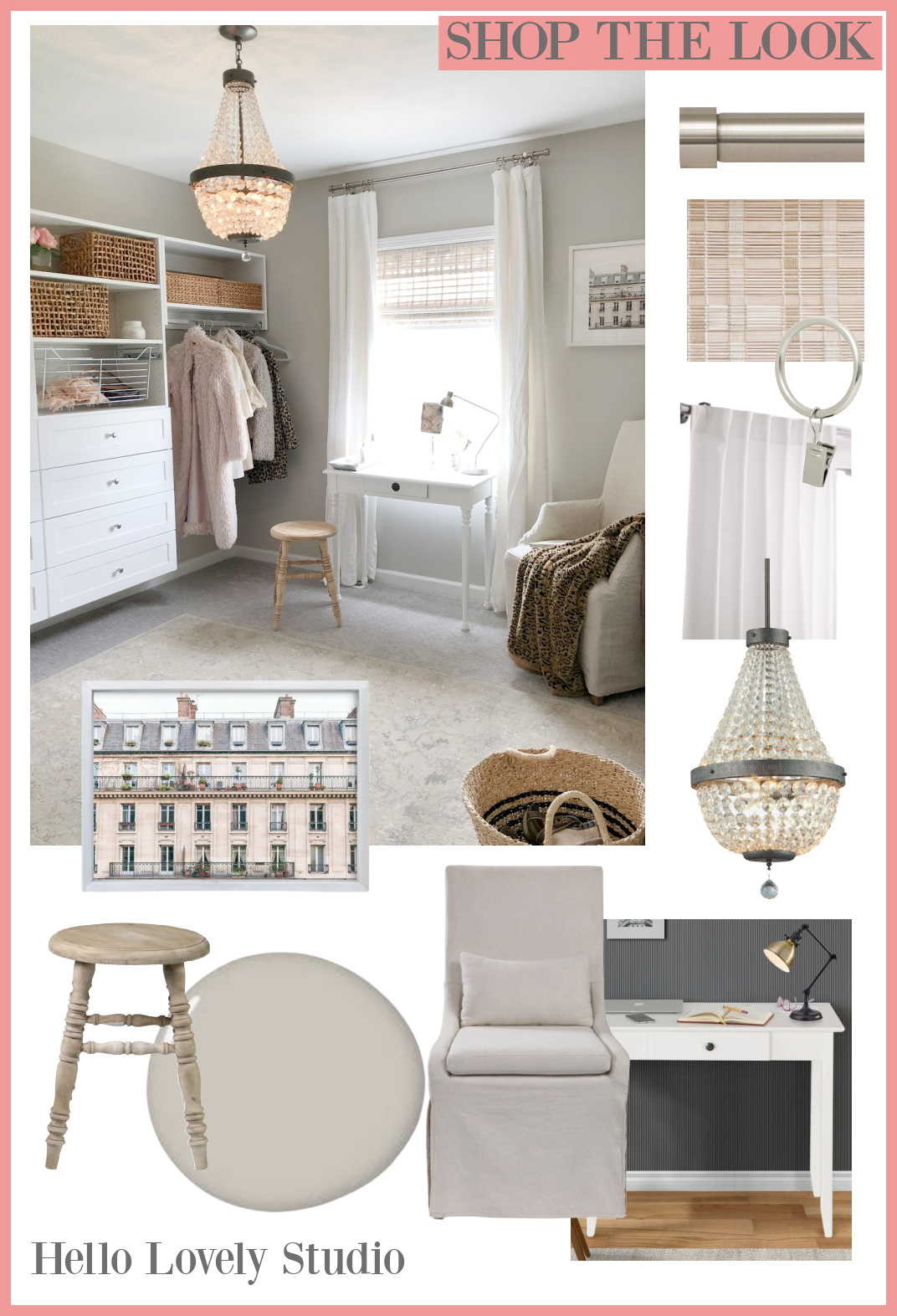 After that, our bathroom will be gutted and re-imagined, and that will be our big winter project. I bought a 1920s cast iron claw foot tub, and we'll probably stick with that classic 20's feel. When the second floor is done, we will turn our attention to the family room.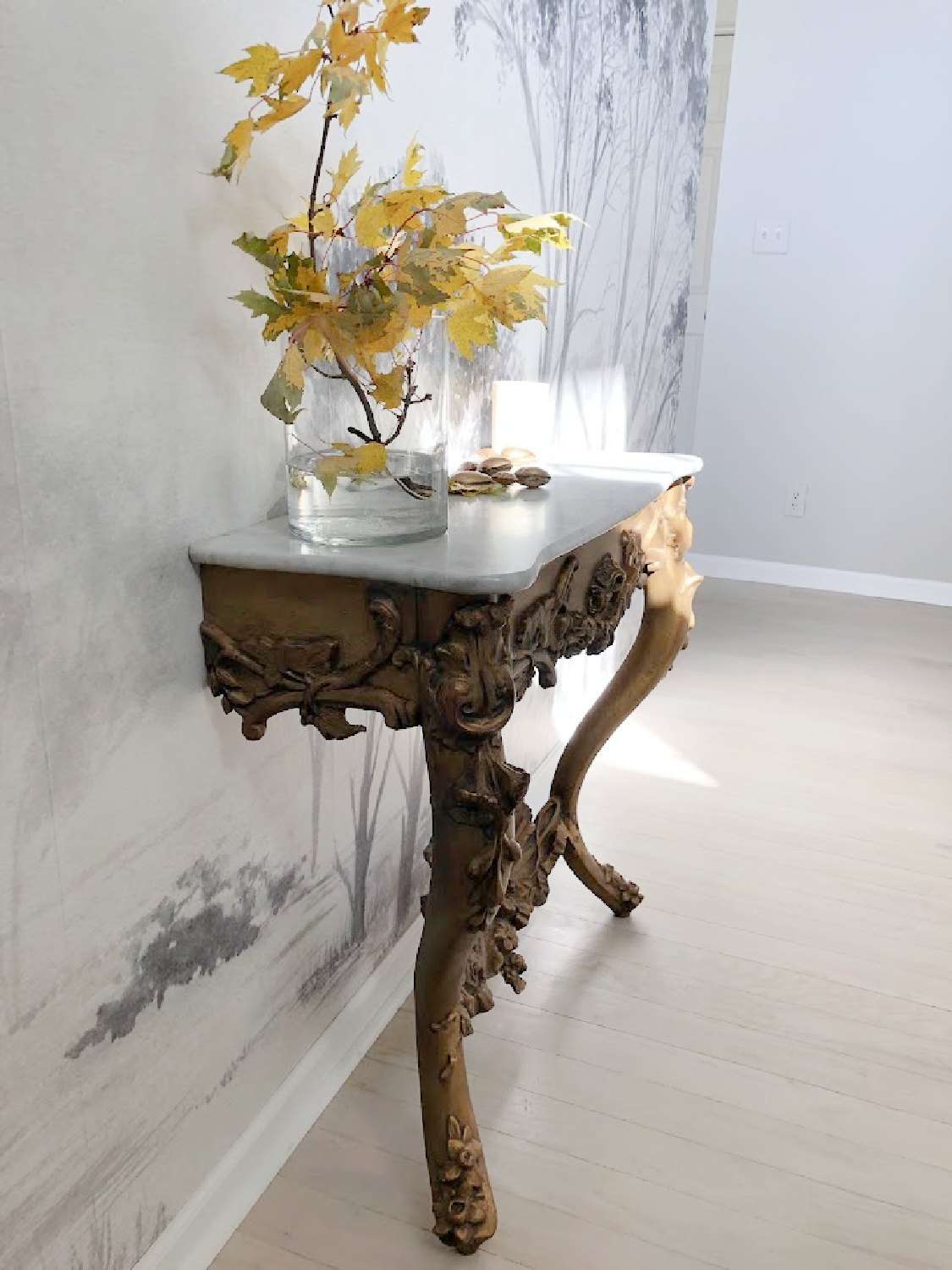 Oh, and we actually hung a wreath on the wall today! Yay! I don't foresee a ton of Christmas decorating happening, but one festive touch is up, and it took so many months of work to get to this point! Thanks for reading!
Peace to you right where you are.
-michele
Shop for items you already intended to buy on Amazon RIGHT HERE, and also find home decor here to keep decor inspiration flowing on Hello Lovely!
Hello Lovely is a participant in the Amazon Services LLC Associates Program, an affiliate advertising program designed to provide a means for sites to earn fees by linking to Amazon.com and affiliated sites.