We're revisiting an unforgettable Provençal gem–a restored 19th century Avignon château just steps from the Palais des Papes. This French Château Tour: Provocative Provence Interiors is all about l'art dramatique (ooooh, le drame!), fantasy, and deep sighs for sure. Yet this mansion, Avignon Hôtel Particulier, is a property which may also be experienced in person! What?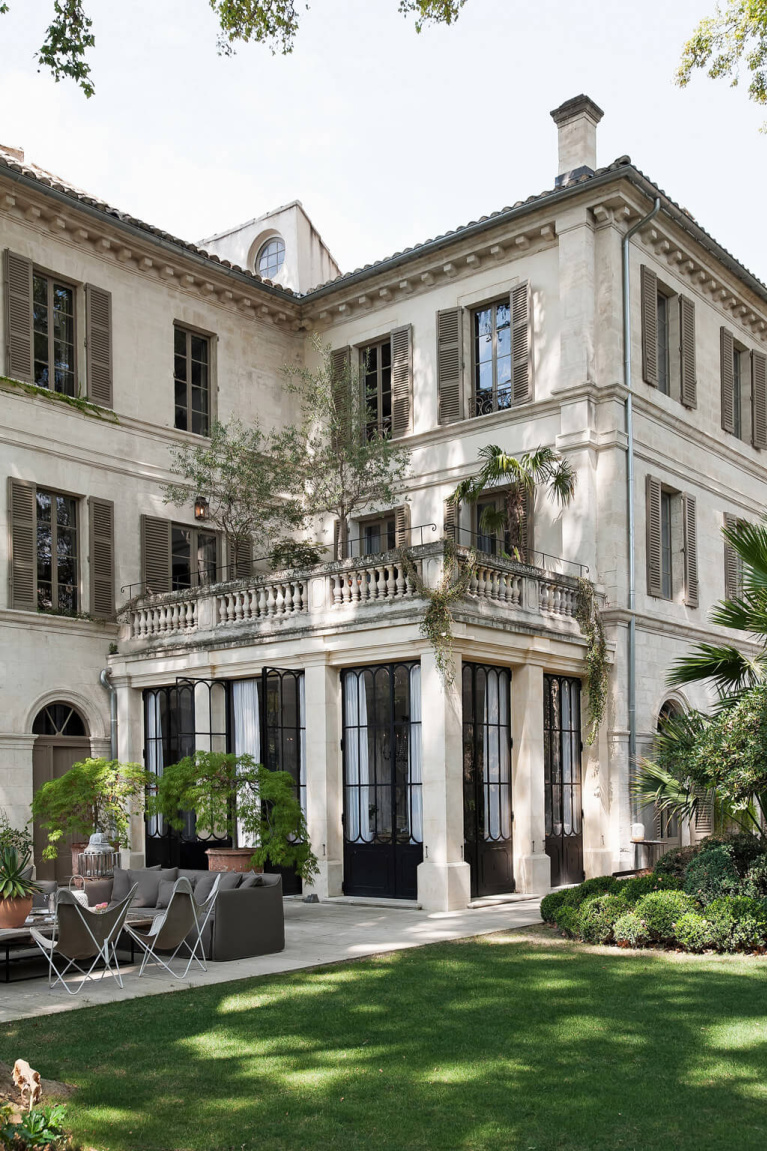 Breathtaking French Château Tour: Dramatic Eclectic Provence Interiors
Oui…the magnificent château is also open to guests as a South of France vacation getaway where the "Serenity Suite" is offered by Haven In.
Images: Courtesy of Haven In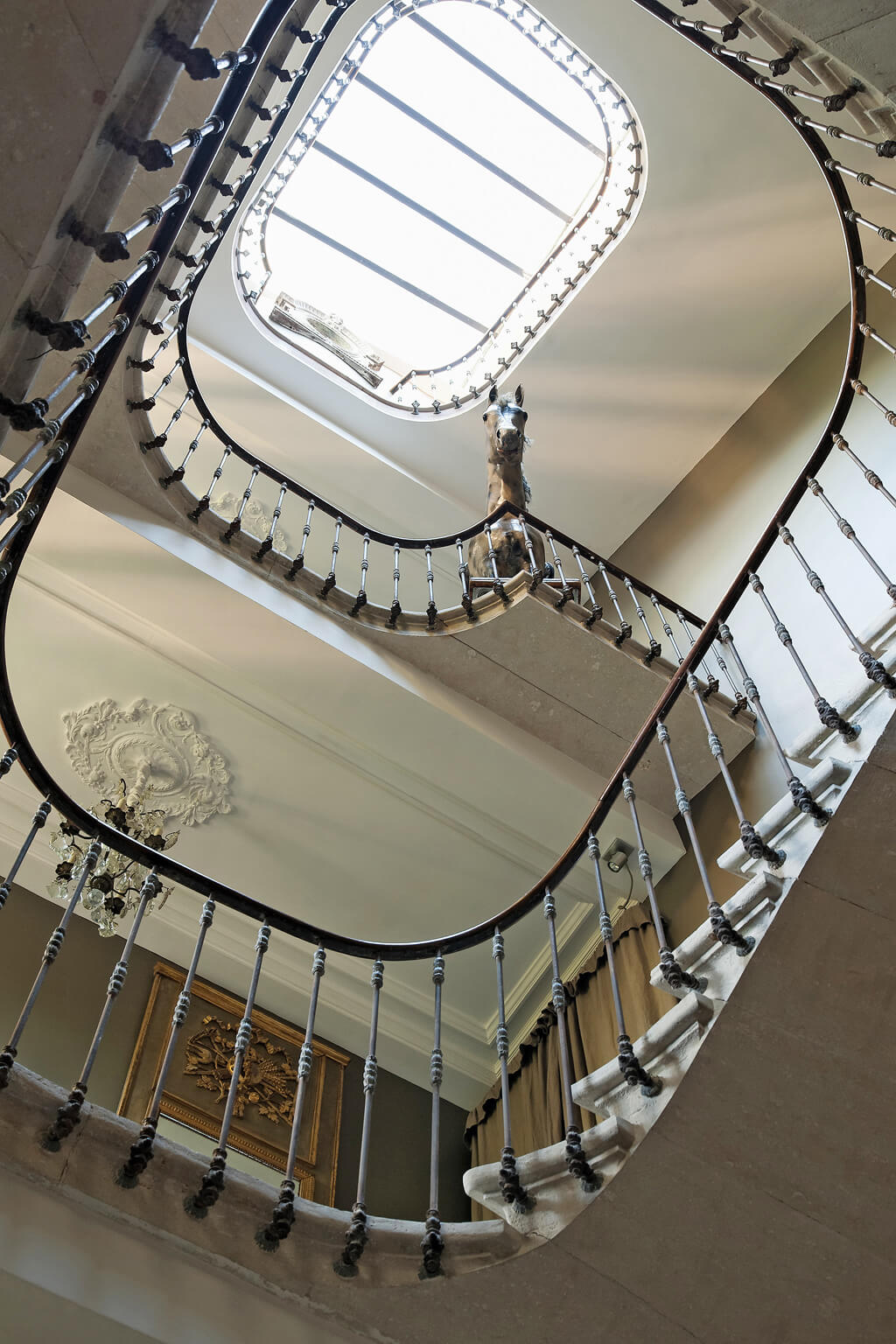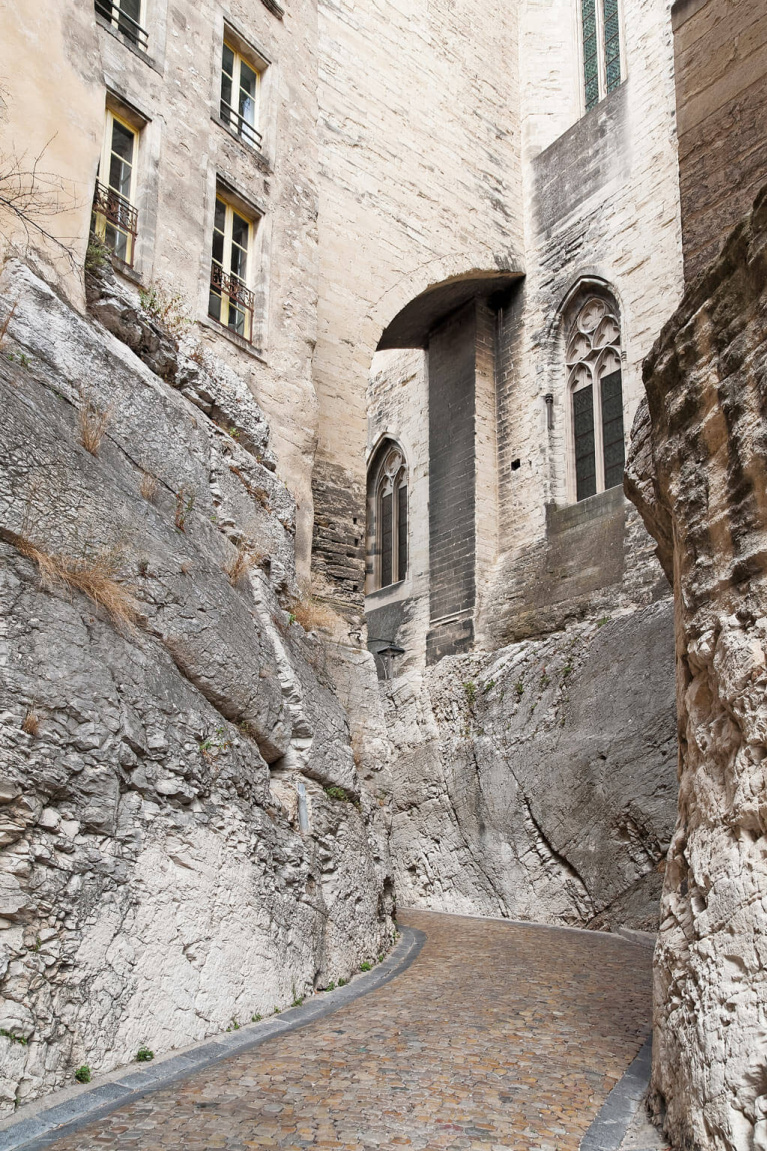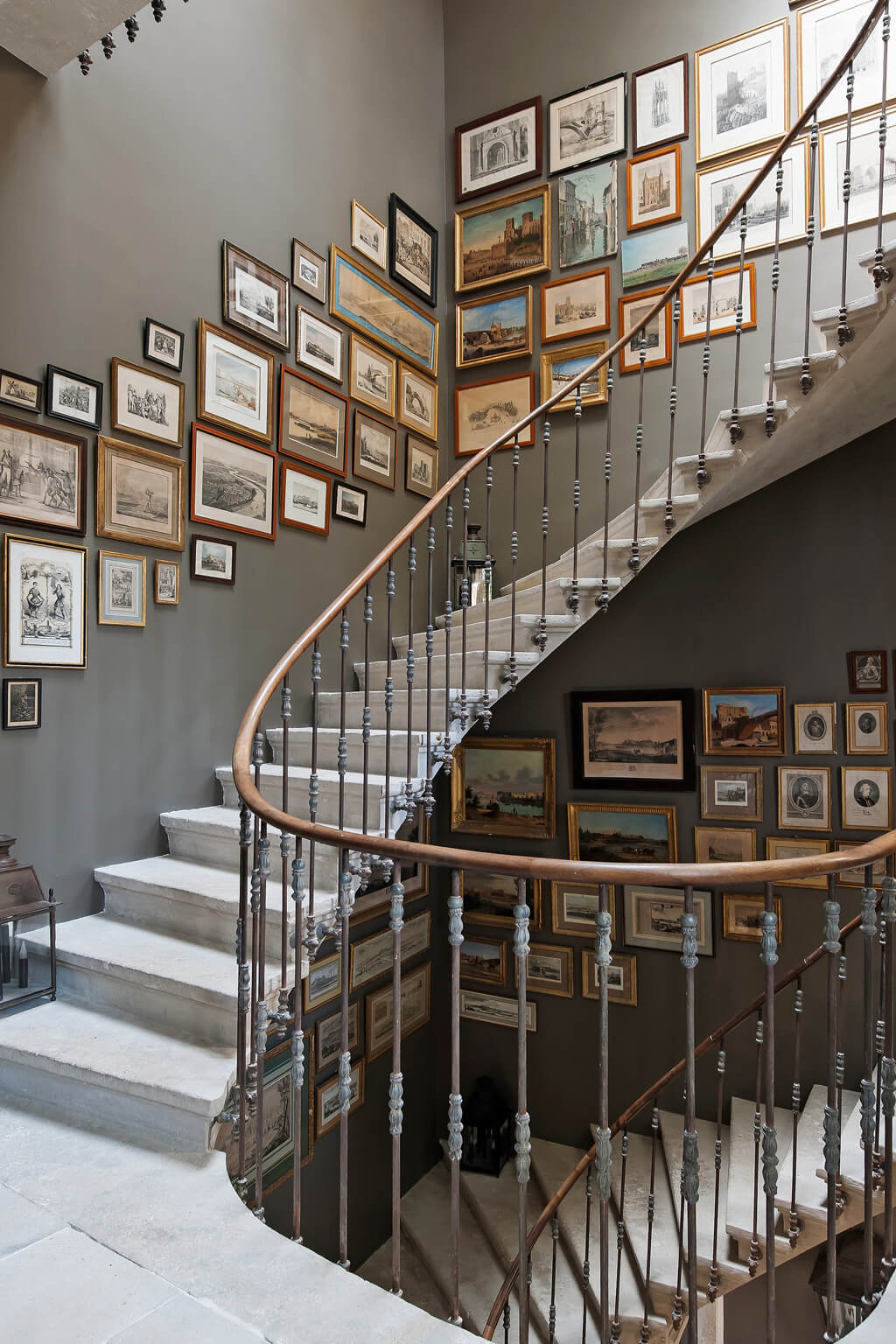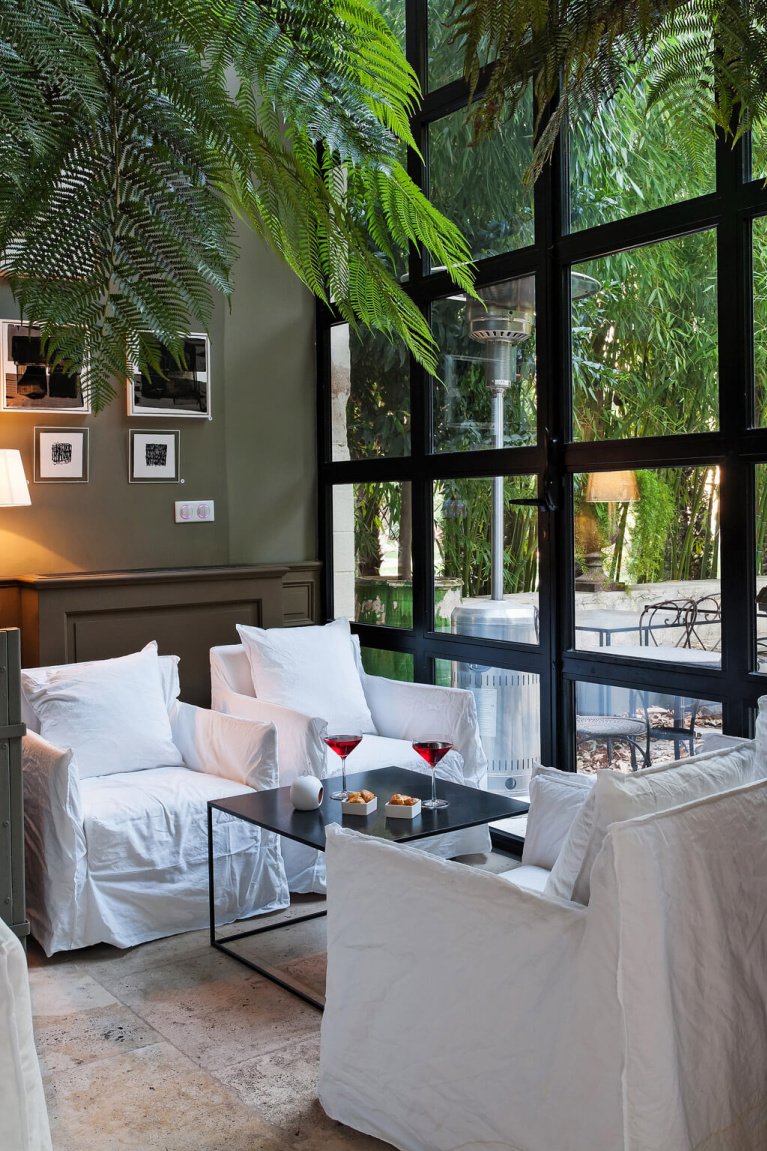 The Serenity Suite at Avignon Hôtel Particulier is a luxury getaway offered by Haven In, a wonderful firm with which I am personally familiar since we booked a Paris apartment with them.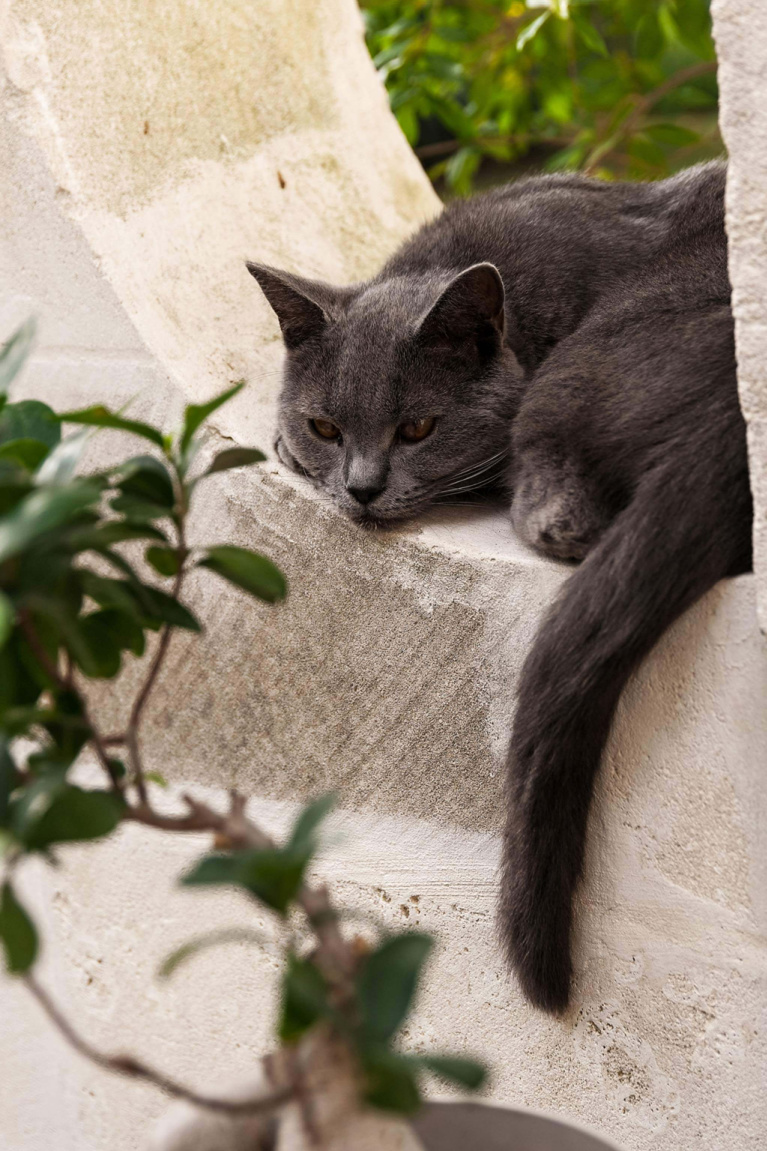 And I didn't partner with them or get any special perks – madame is motivated entirely by her pleasant experience (and no sponsored post here).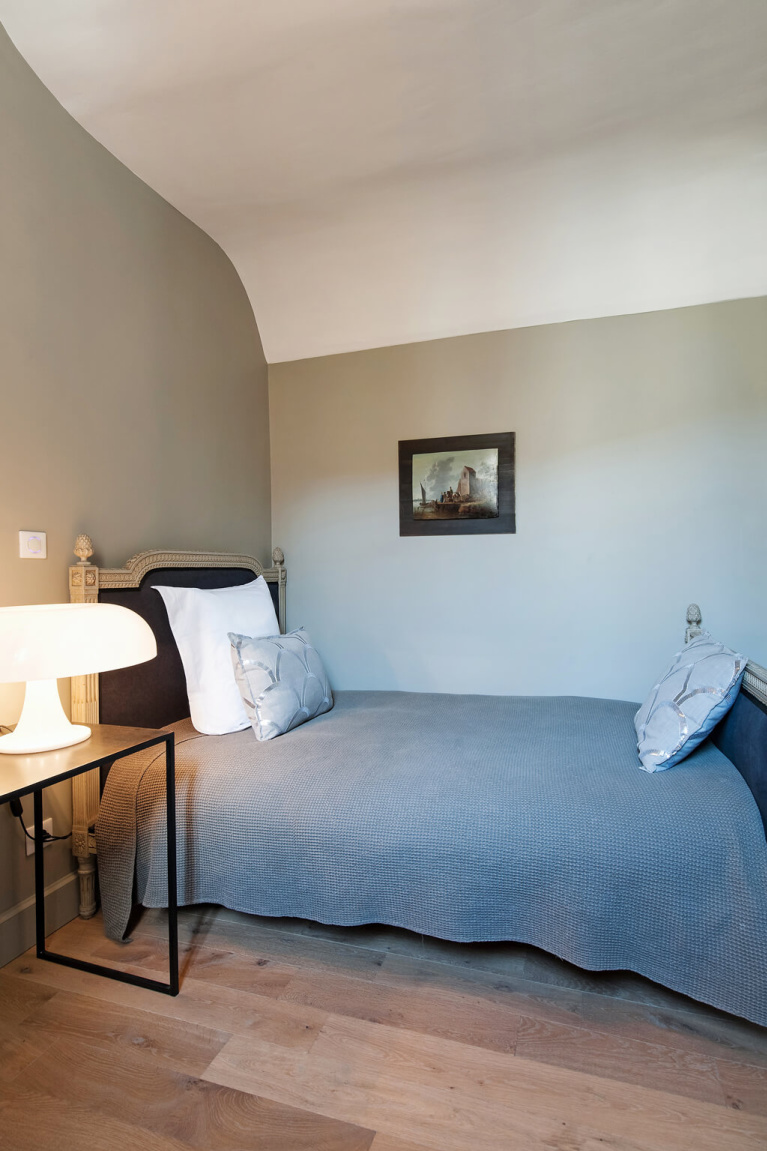 Remember It's Not a Family Home
LET US BEAR IN MIND: This mansion's interiors are designed for hotel guests…so we need not criticize a particular accent table for its bougie factor since clearly vacationers will be setting down their drinks and actually USING the furniture.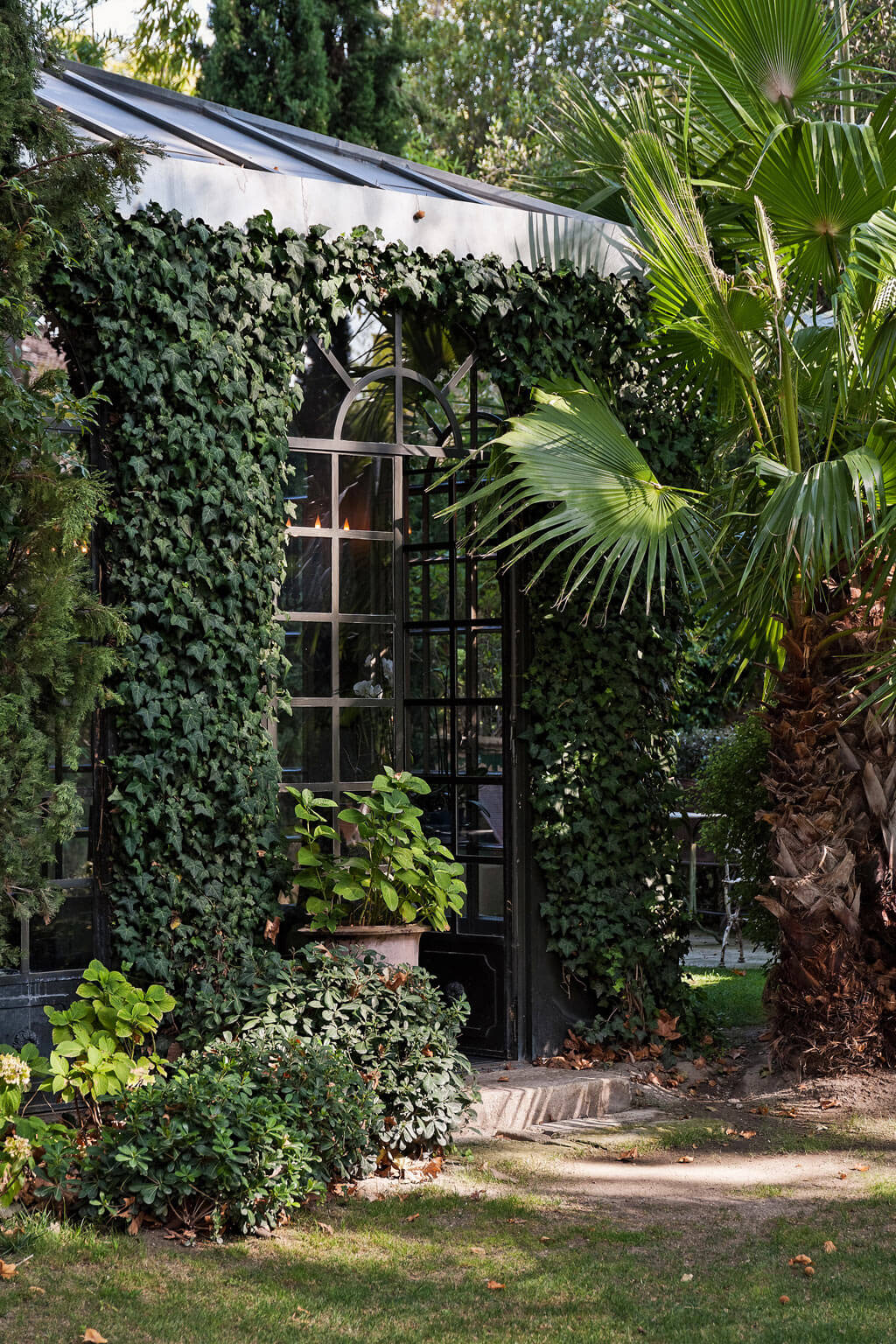 In Defense of Fantasy Home Tours
Here's the thing. House tours with design ideas we instantly recognize as applicable to our own feathered nests are certainly practical and lovely indeed.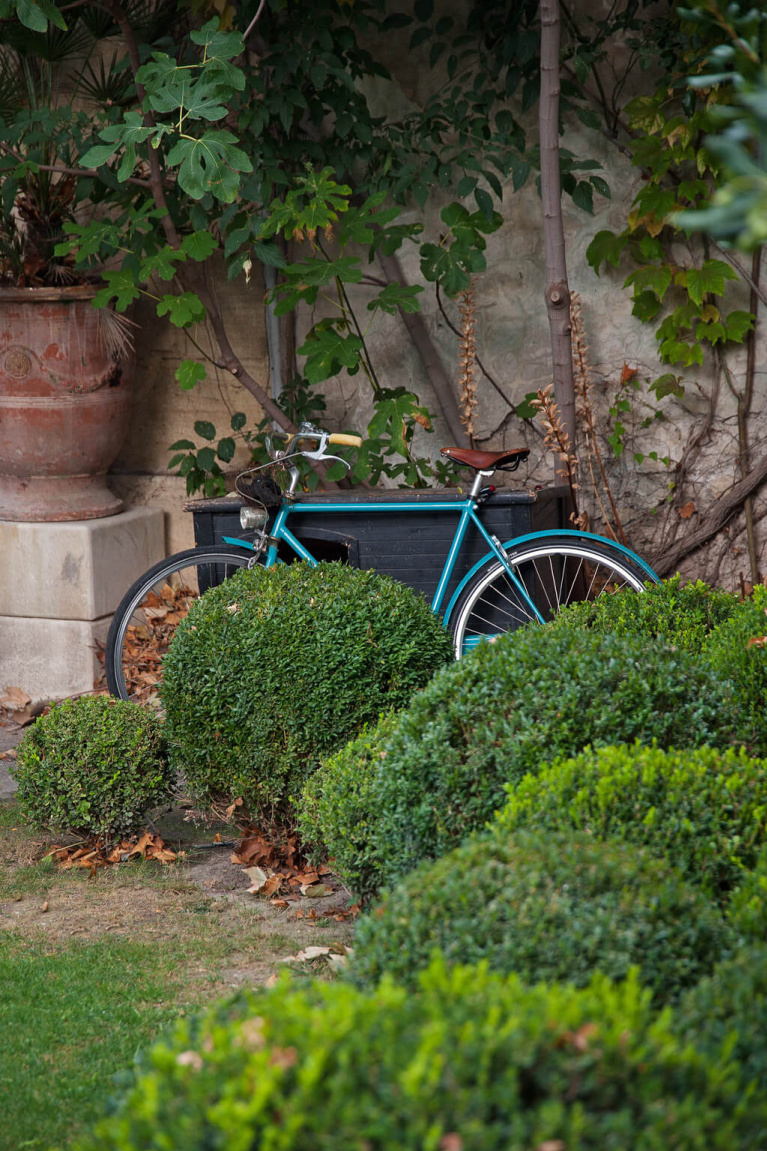 But fantasy tours have always appealed to me as well since these projects are more often executed in a spirit of imagination and eccentricity.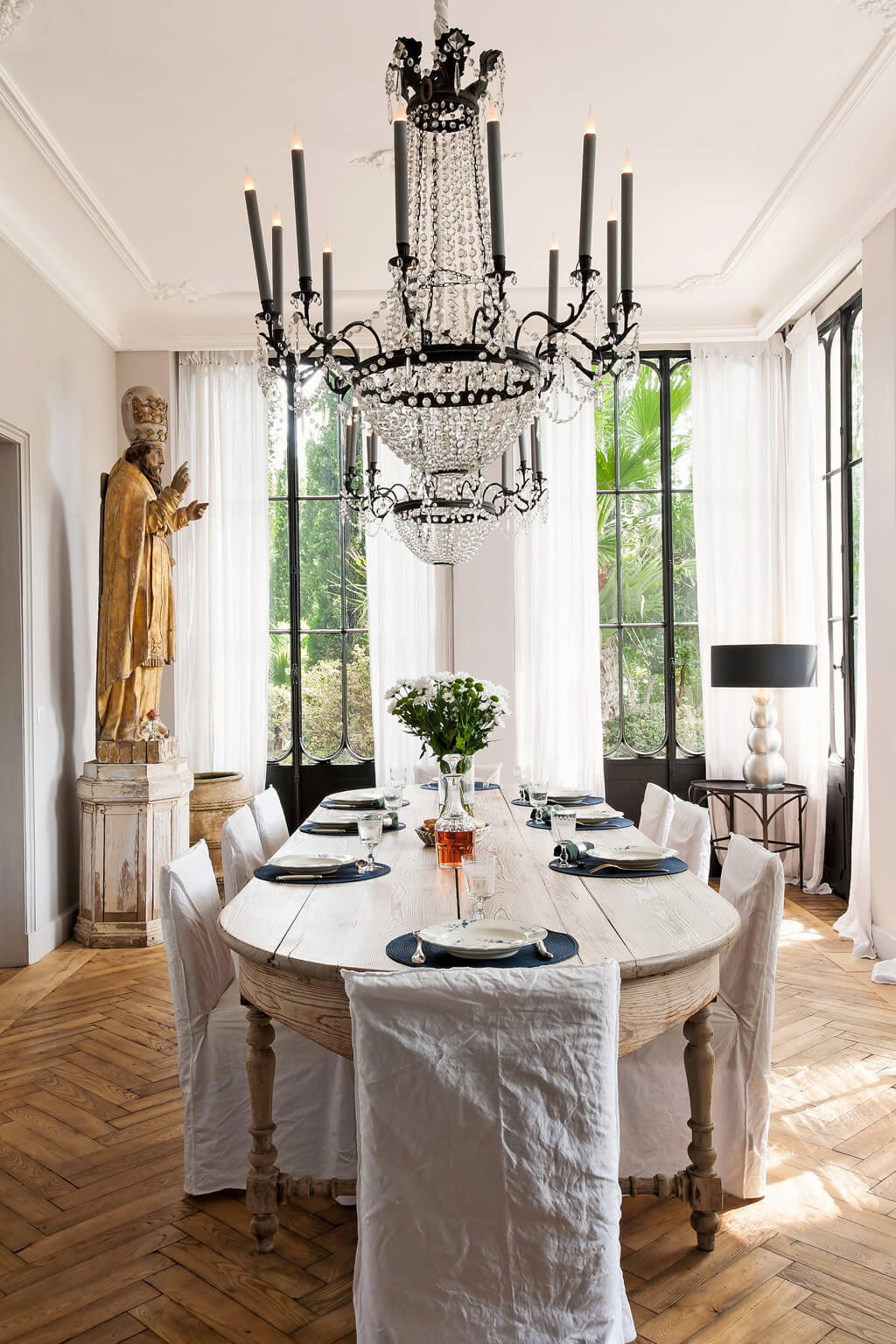 When budget is no object, the design plans and finishes as well as the most intricate decor details are typically bespoke. But consider the flipside.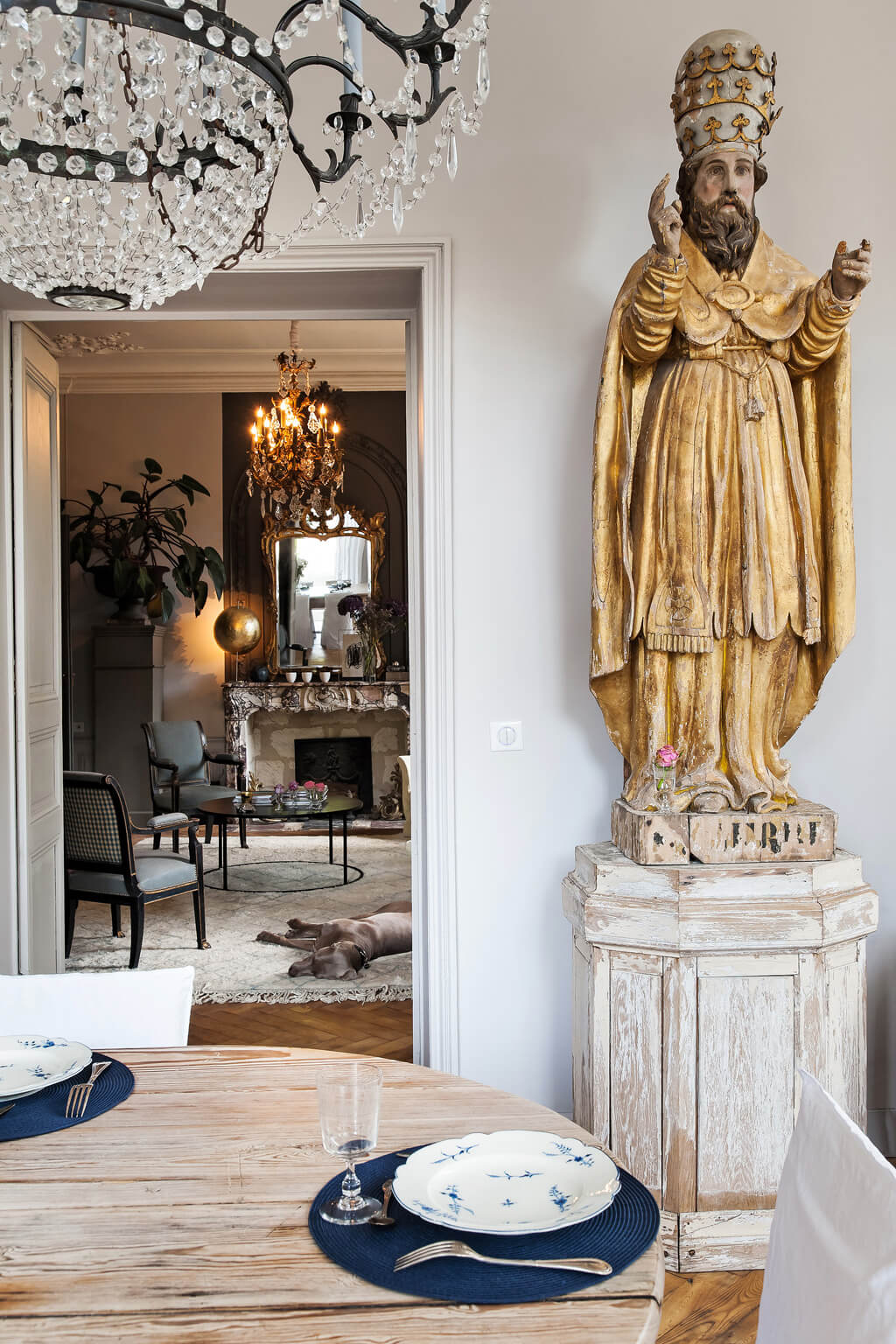 That same spirit of creativity and innovation is also at work with a shoestring budget where so many elements must be handmade or saved from the dumpster out of necessity!!!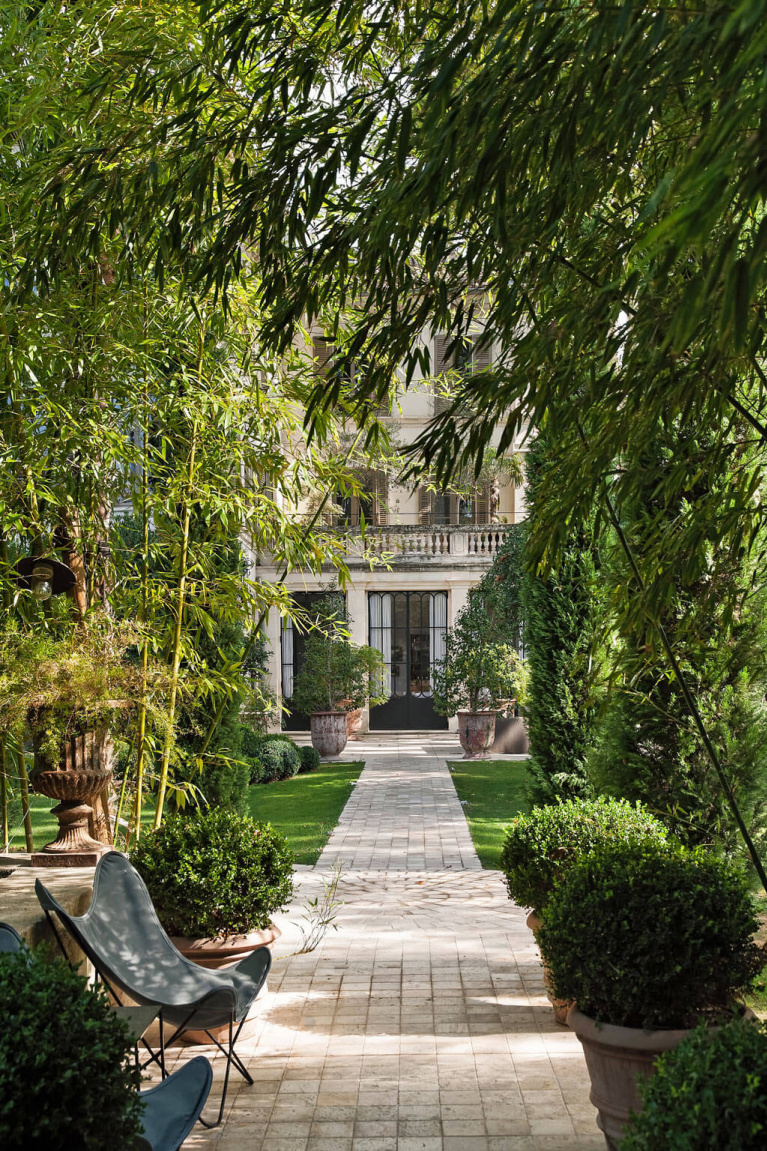 More Than Just Pretty Pictures
It's why I think fantasy tours are more than simply eye candy! While I may never have the chance to restore a French chateau, hire craftspeople to recreate moldings, or employ artisans to hand-apply plaster finishes, I can indeed study the mix.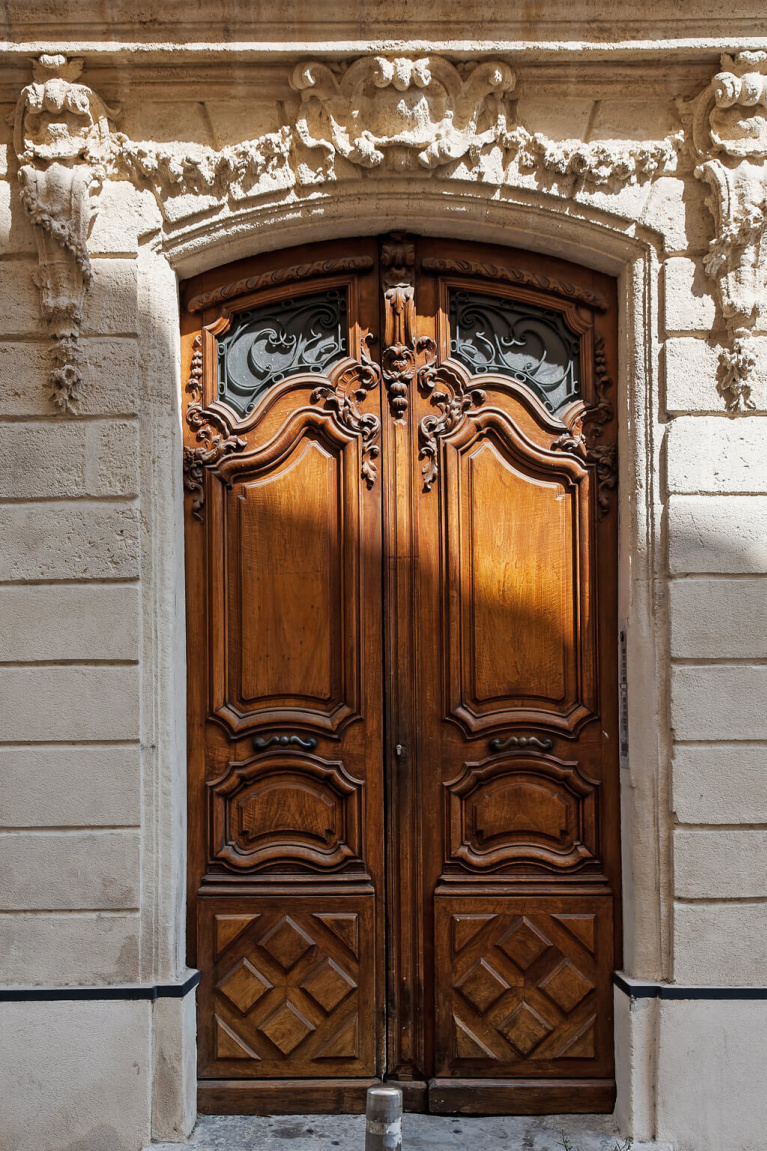 I can collect ideas about architectural elements and glean details from the oh-so-not-builder-grade interiors. Also, I can learn about how introducing juxtaposition and the unexpected infuses a space with unique charm.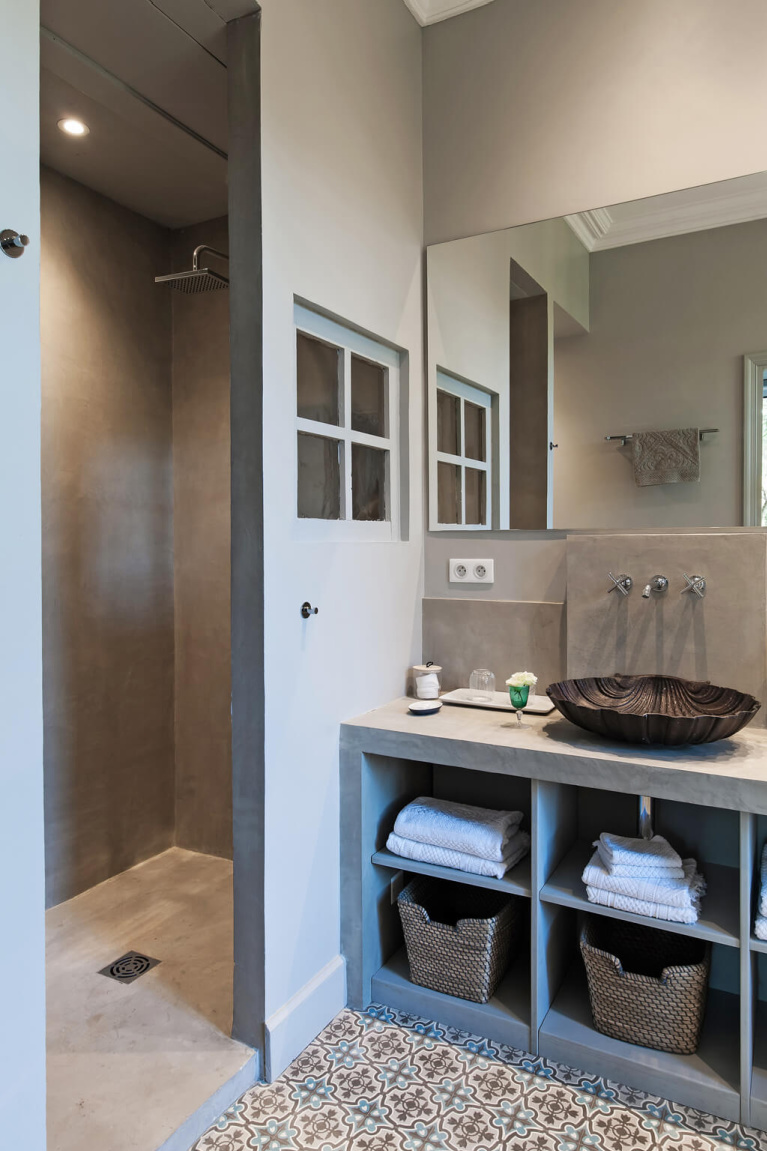 Billowy white curtains play off black French doors in the decidedly ethereal Avignon Hôtel Particulier dining room.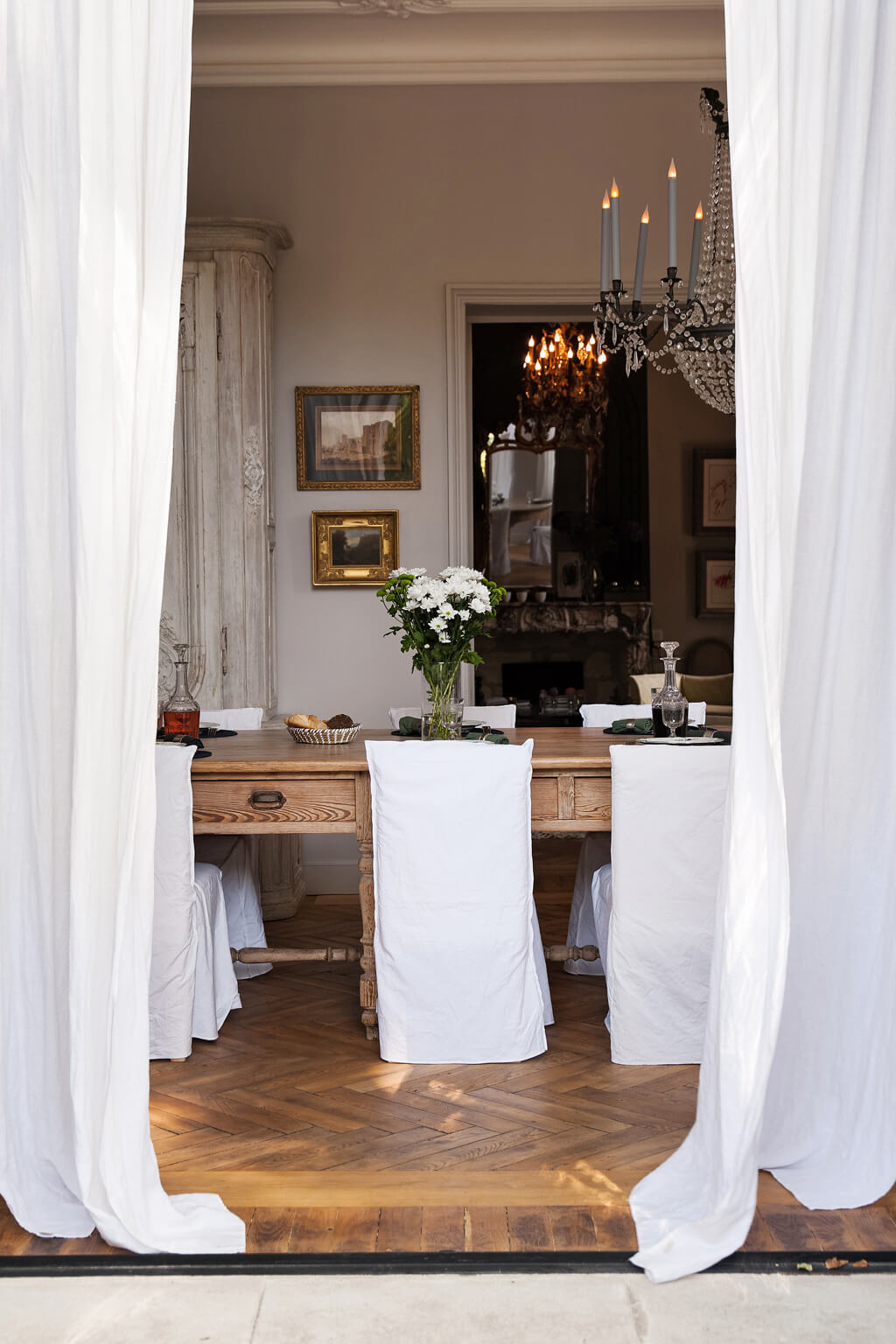 Beyond All the Price Tags
Regardless of budget or resources, there is always a color story to inspire us.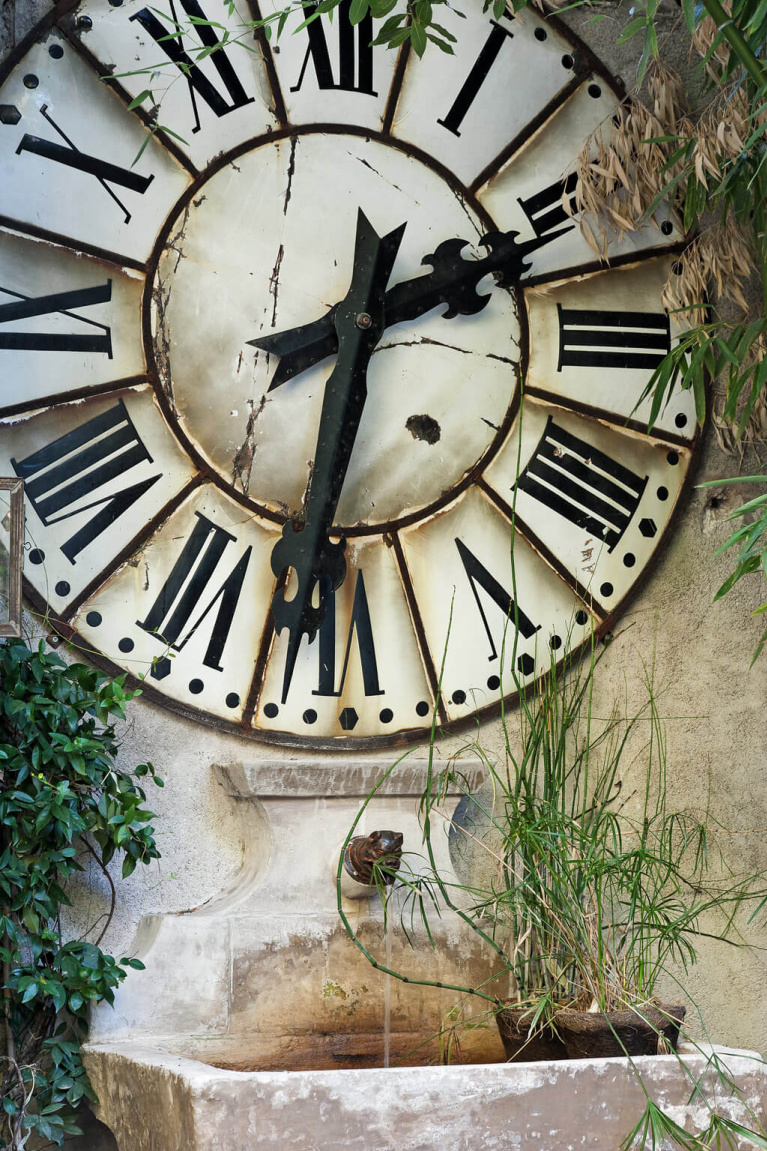 There is certainly a mood and spirit captured with such fantasy transformations which transcend the actual expense of the restoration or design.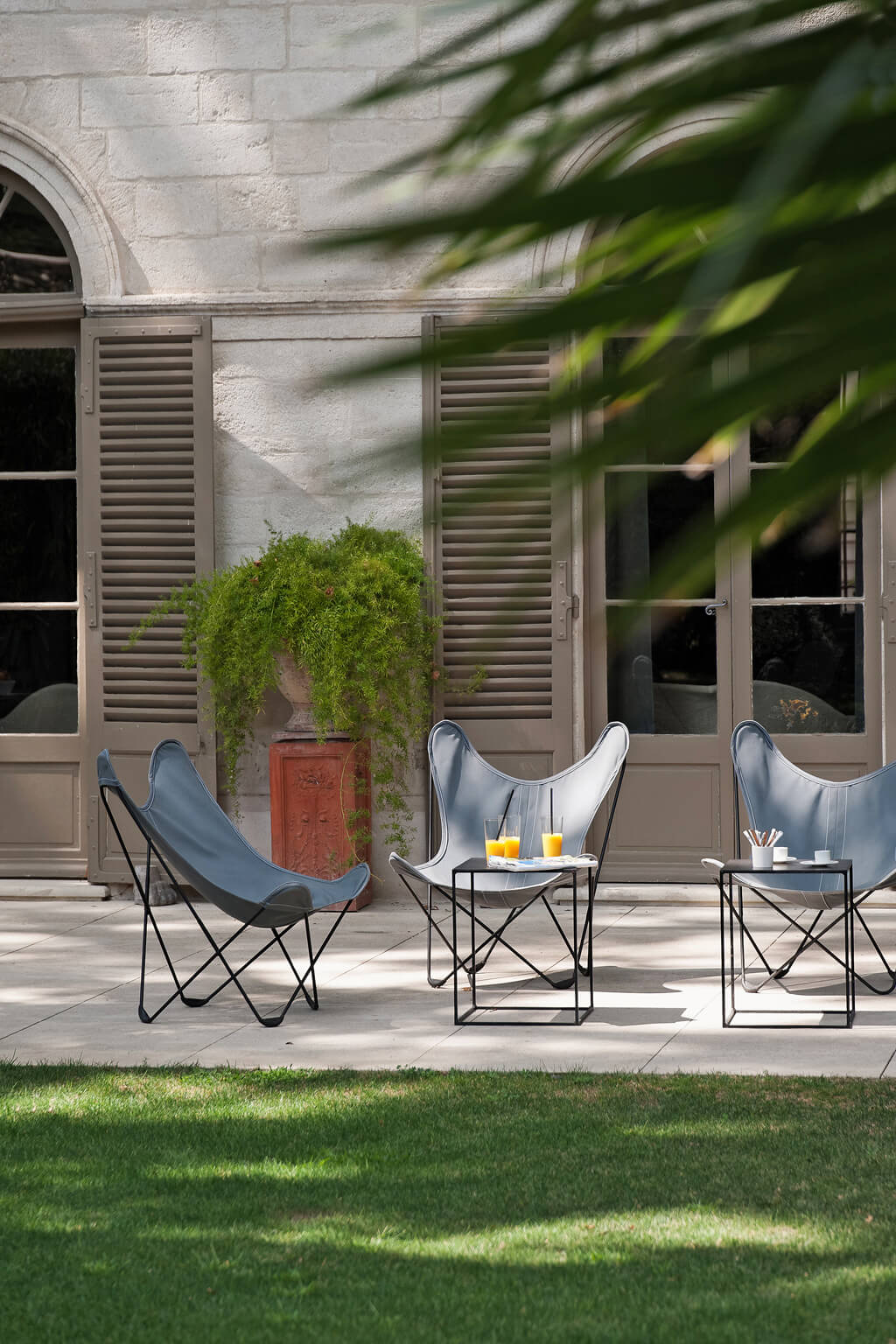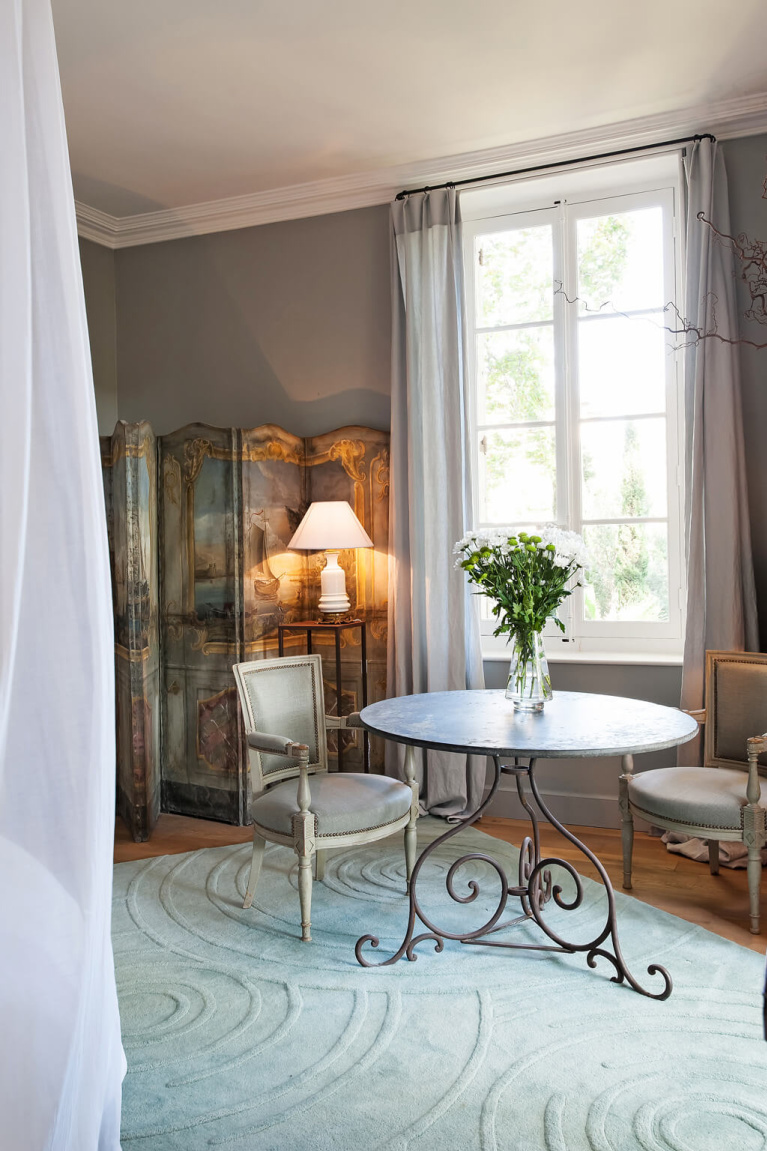 I know better than to introduce such a Provençal gem without highlighting the enchanting gardens…view their lovely details HERE!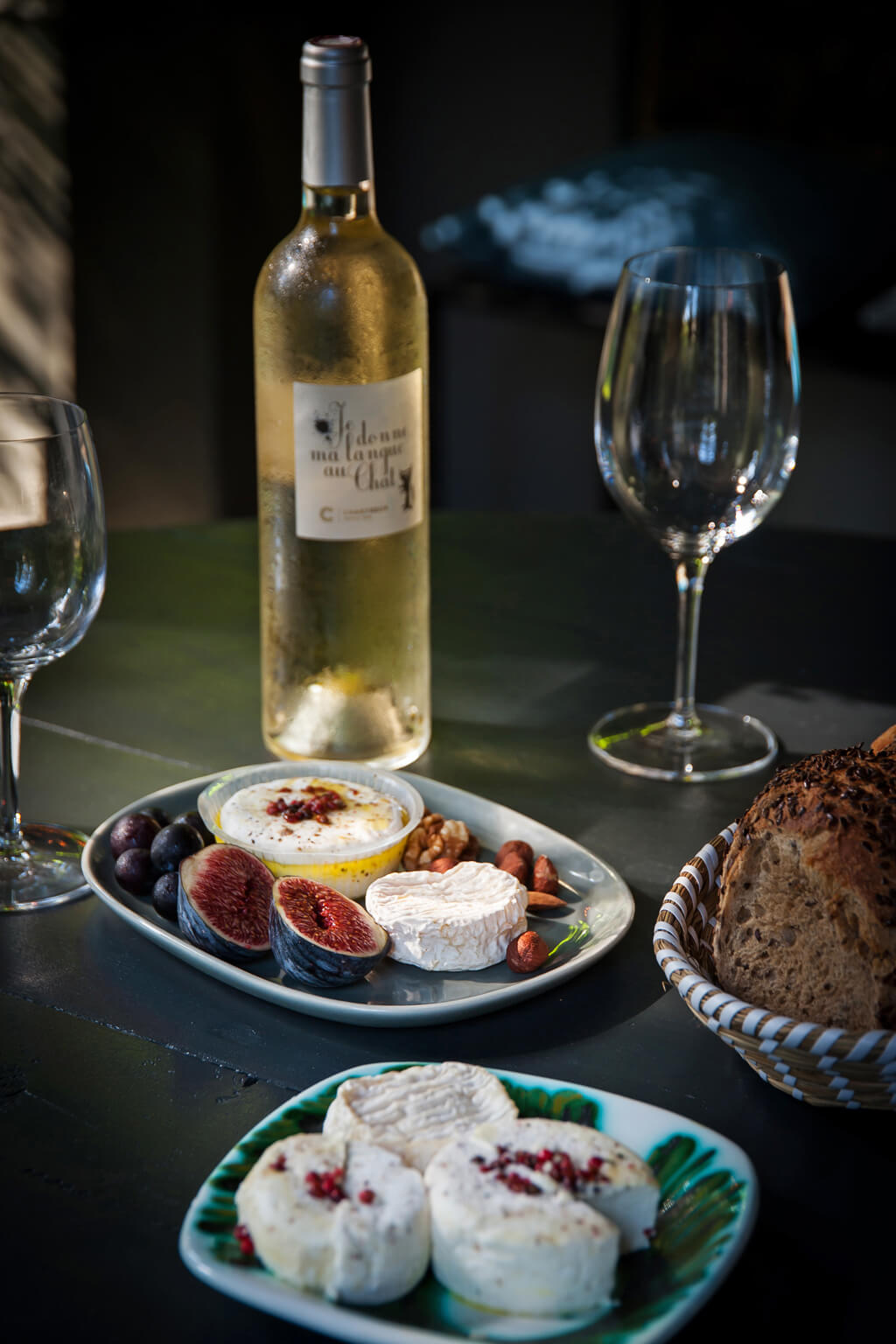 South of France French Mansion Fantasy Tour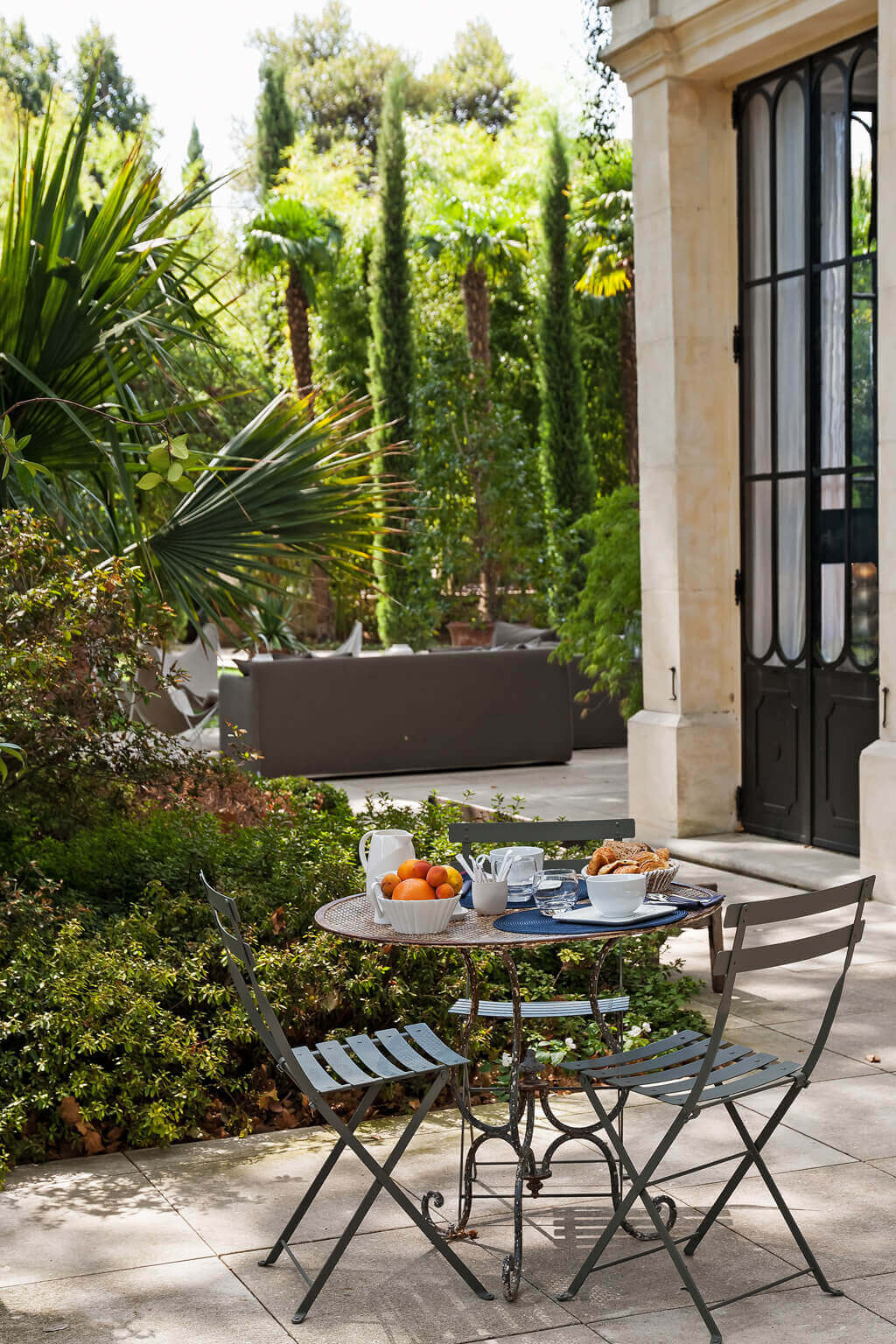 The Serenity Suite is one of five suites at the property, located in the heart of the medieval city center.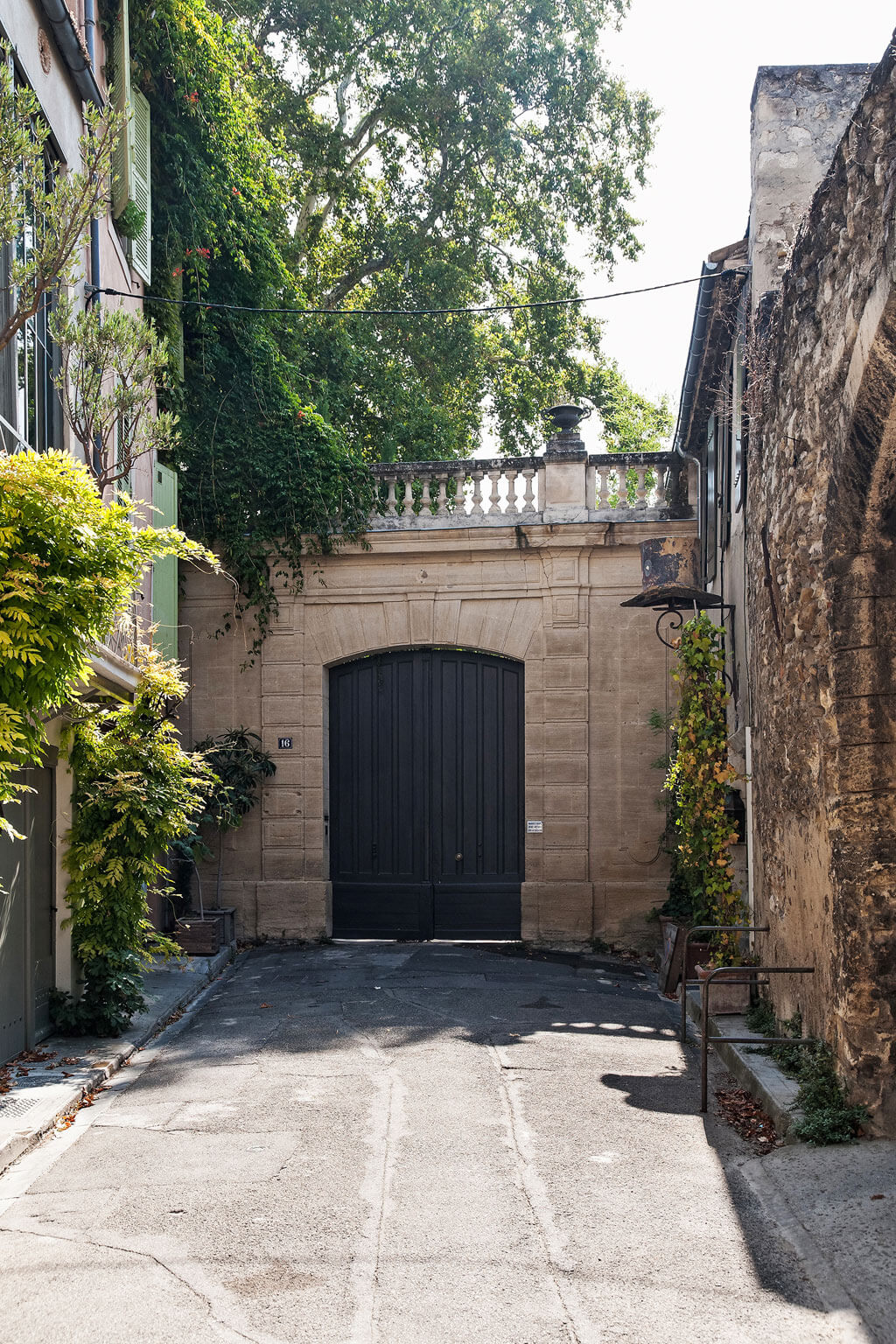 Here you will find a spa and the largest private garden in Avignon.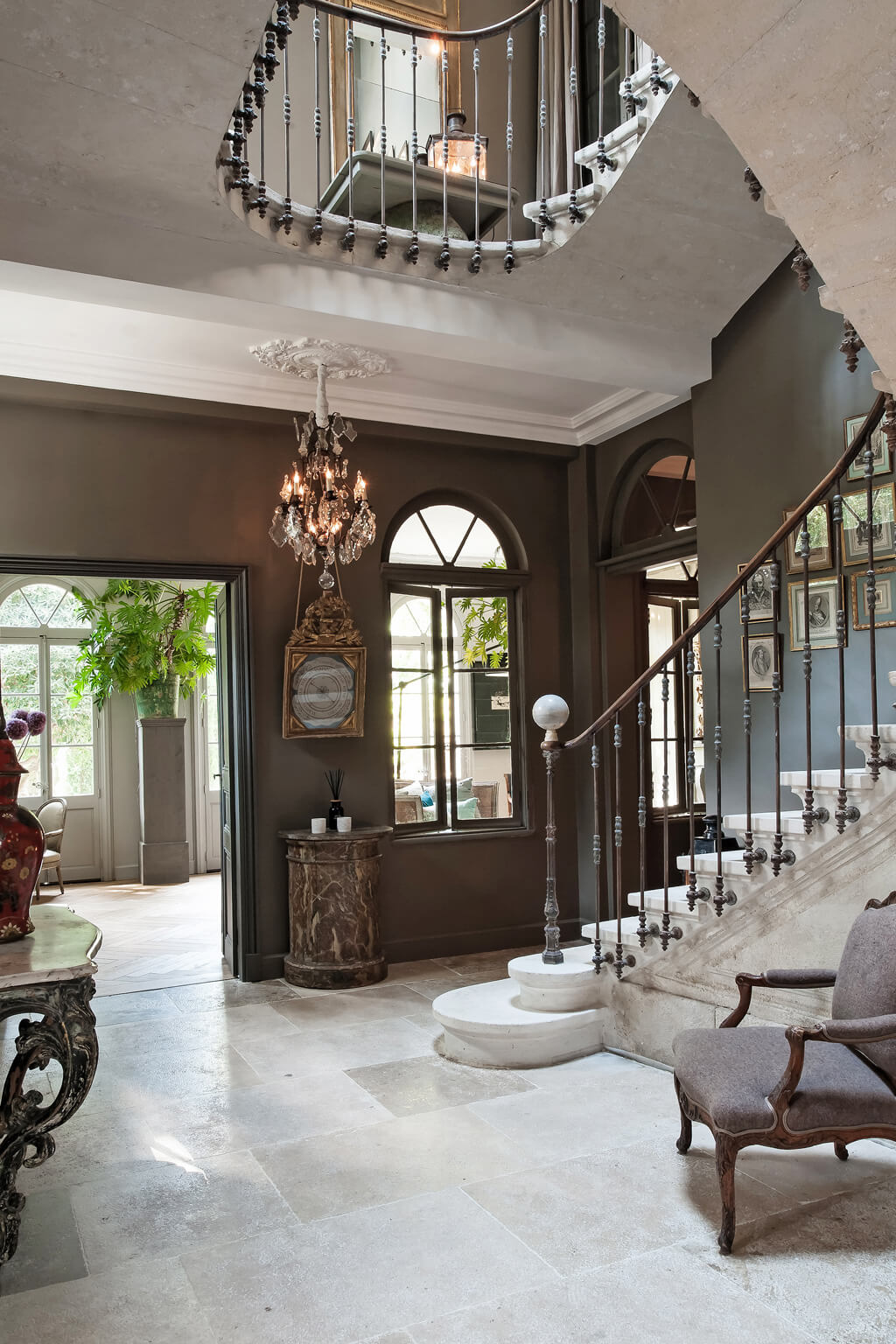 Art Collection in an Avignon Mansion
You'll also be welcomed into interiors boasting more than two hundred original 17th-19th century aquarelle paintings and gravures, formerly exhibited in the Palais des Papes!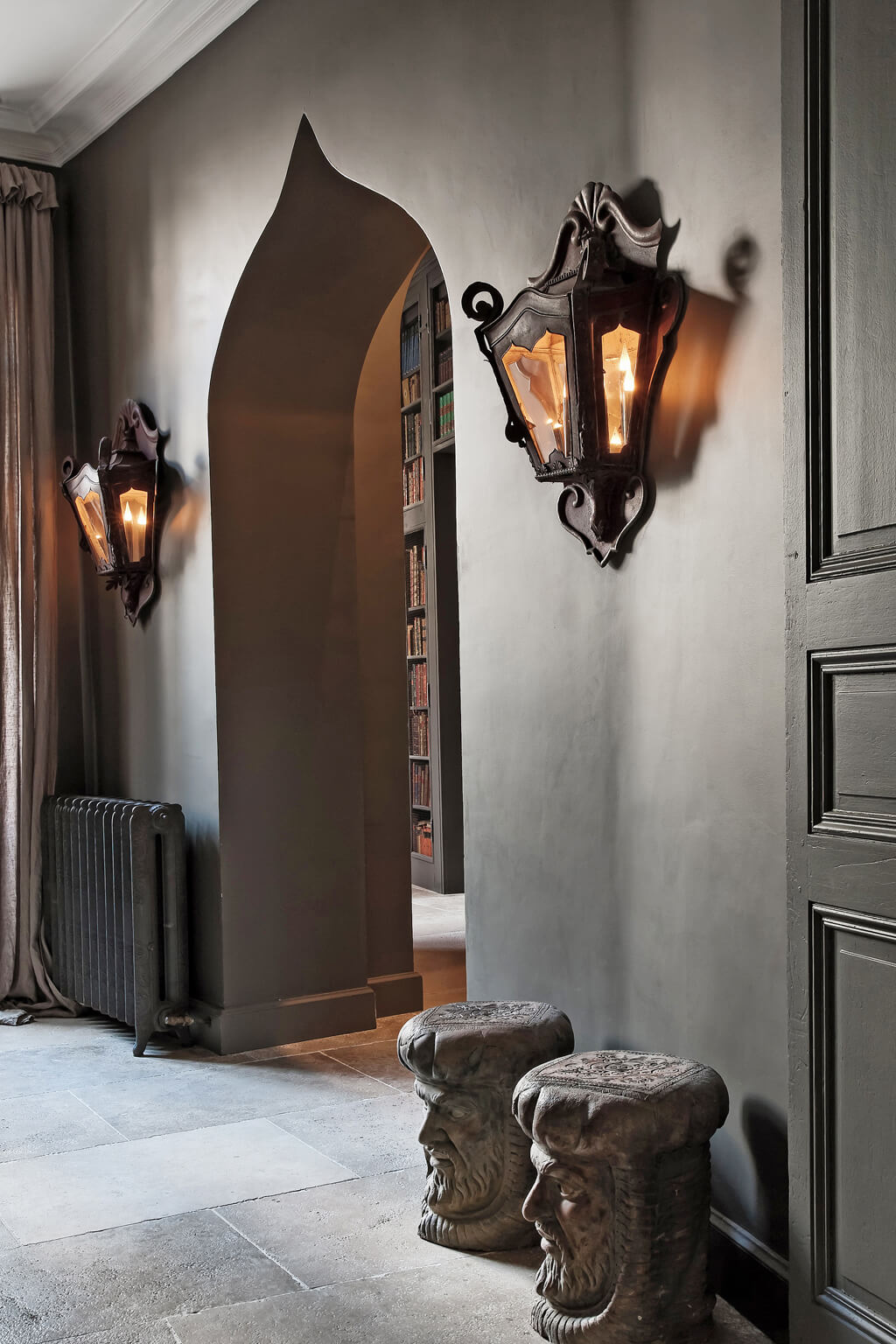 The interior design incorporates outlandish oddities and whimsy…this is not your granny's French mansion, kittycats.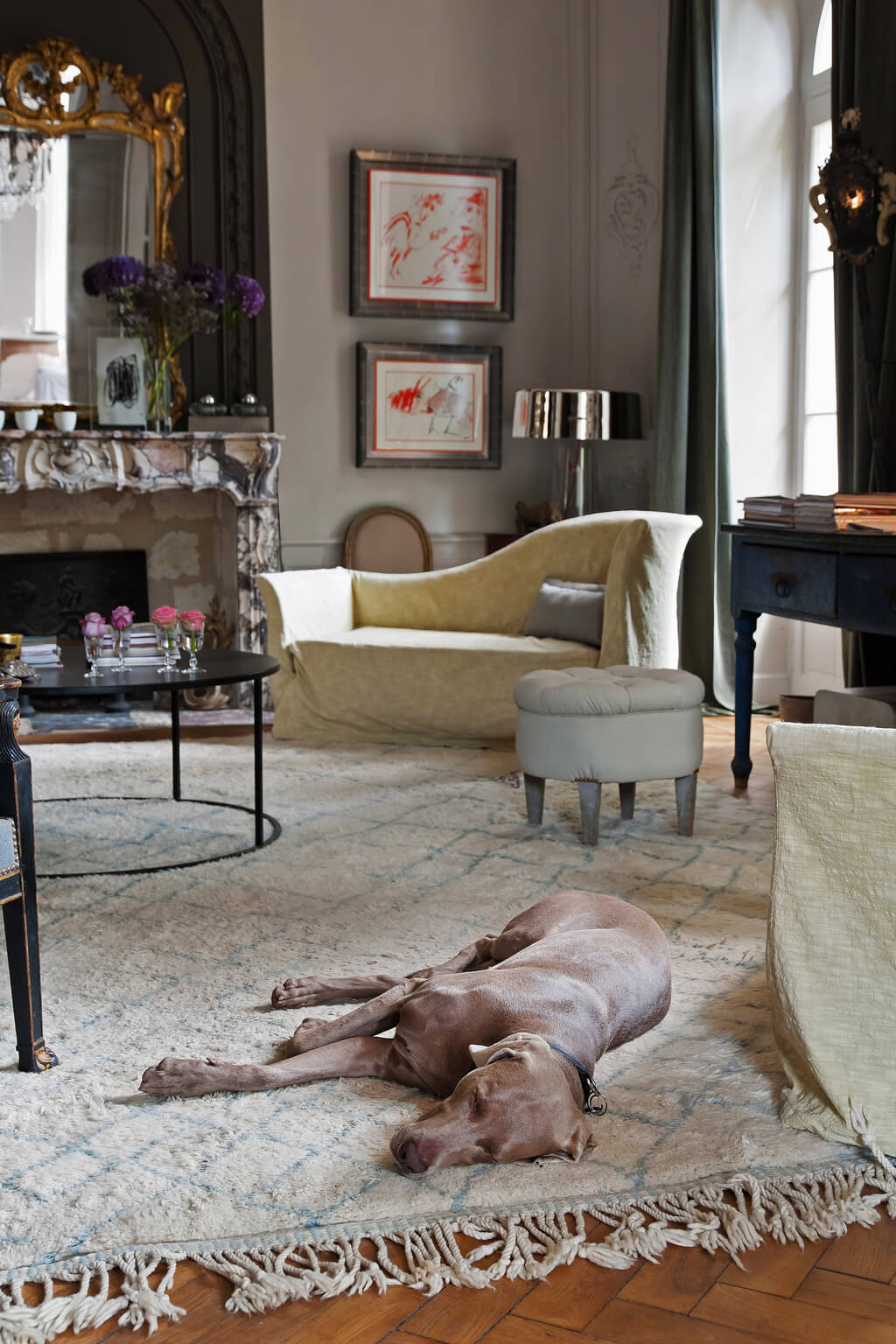 Let's Tour the Château!
And here's the part of the post where I hush. After all, these interiors are destined to leave us all speechless!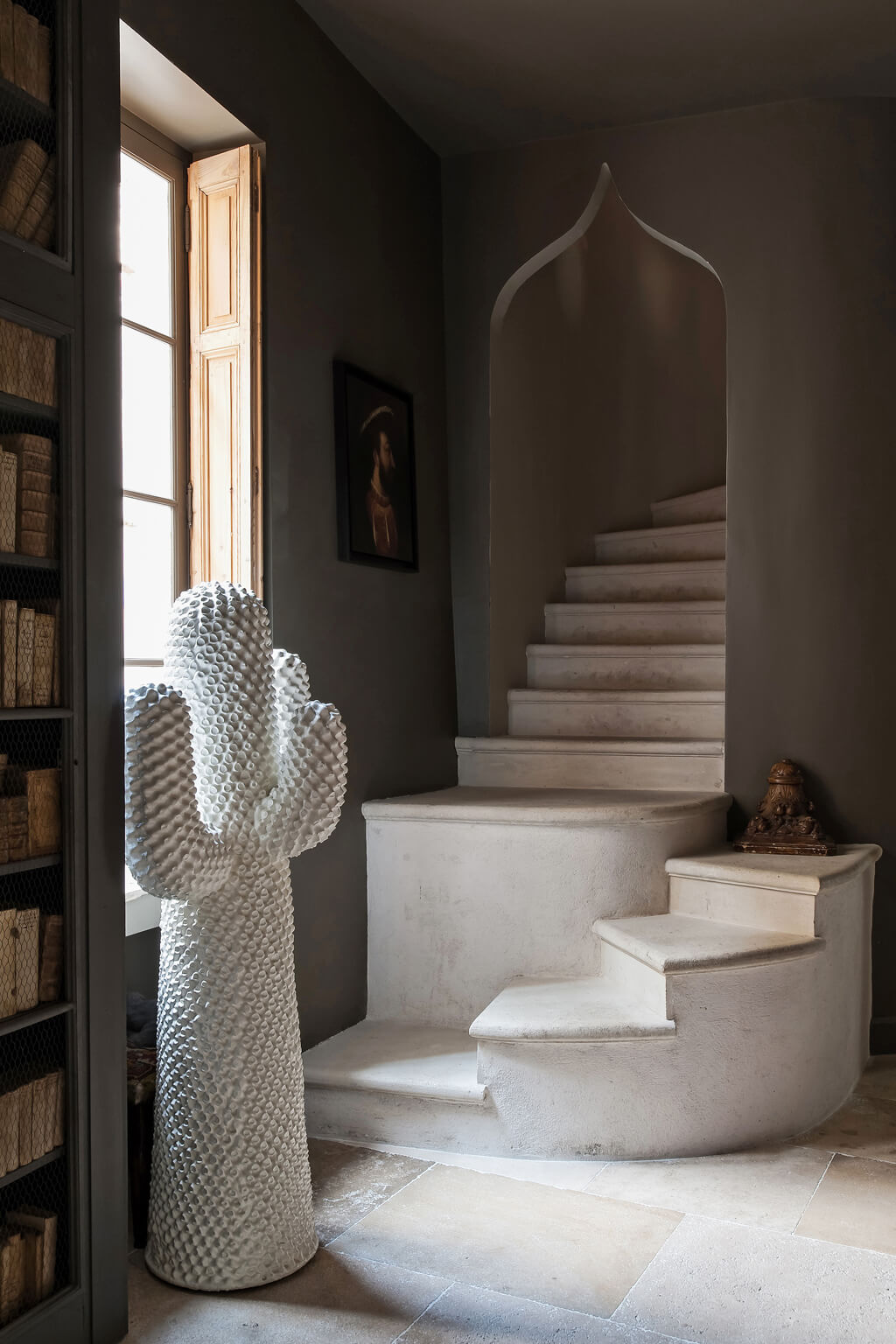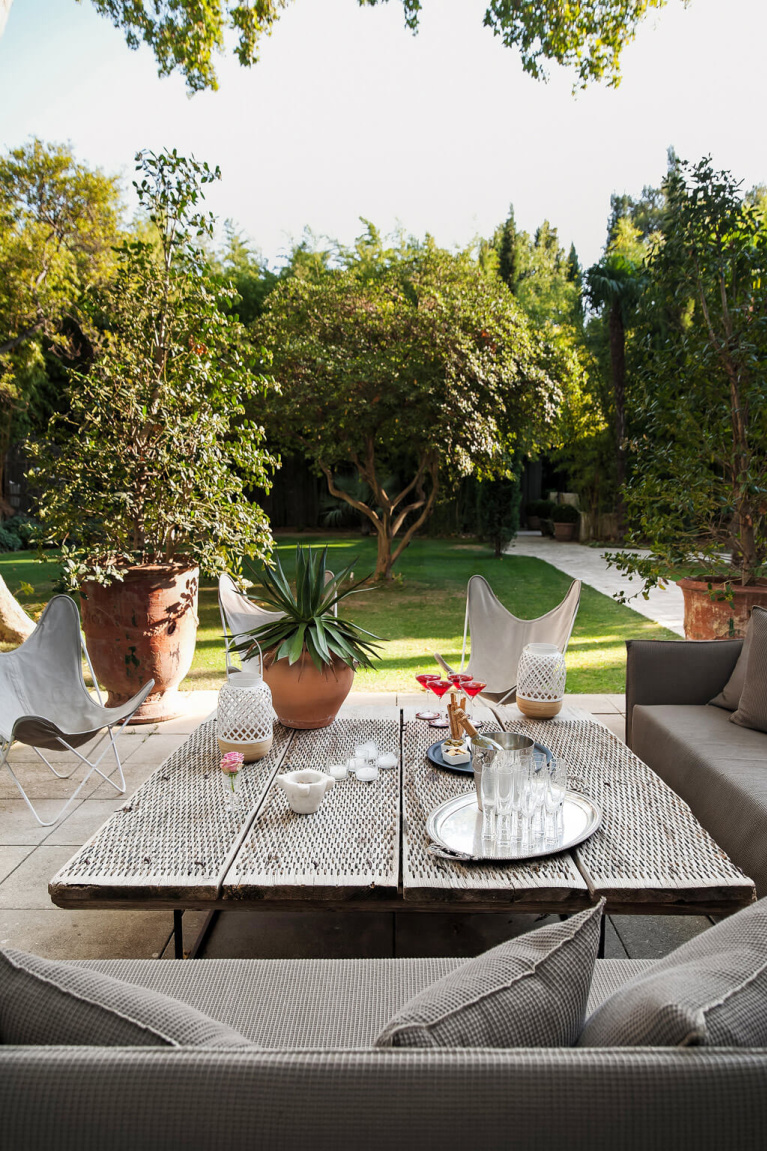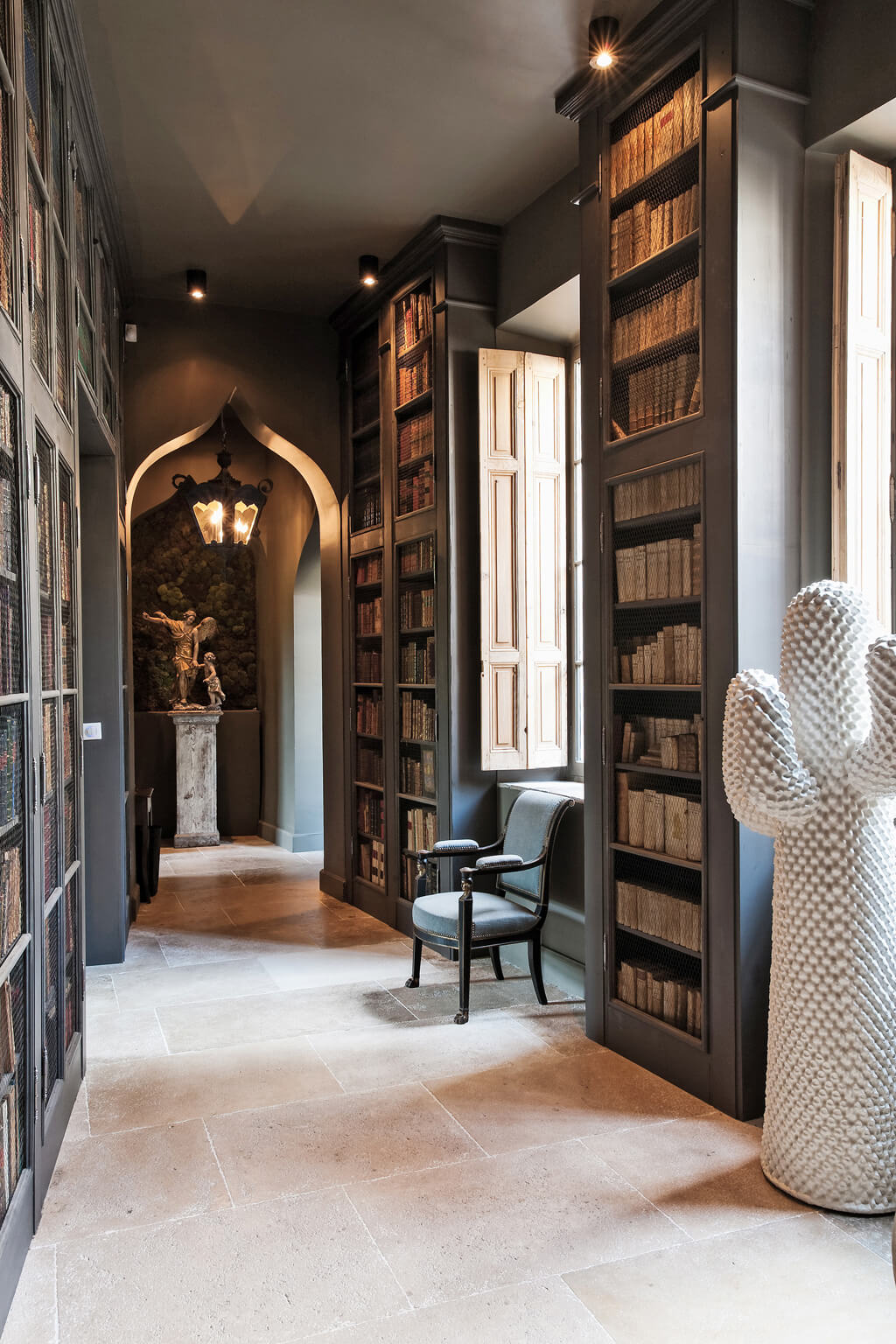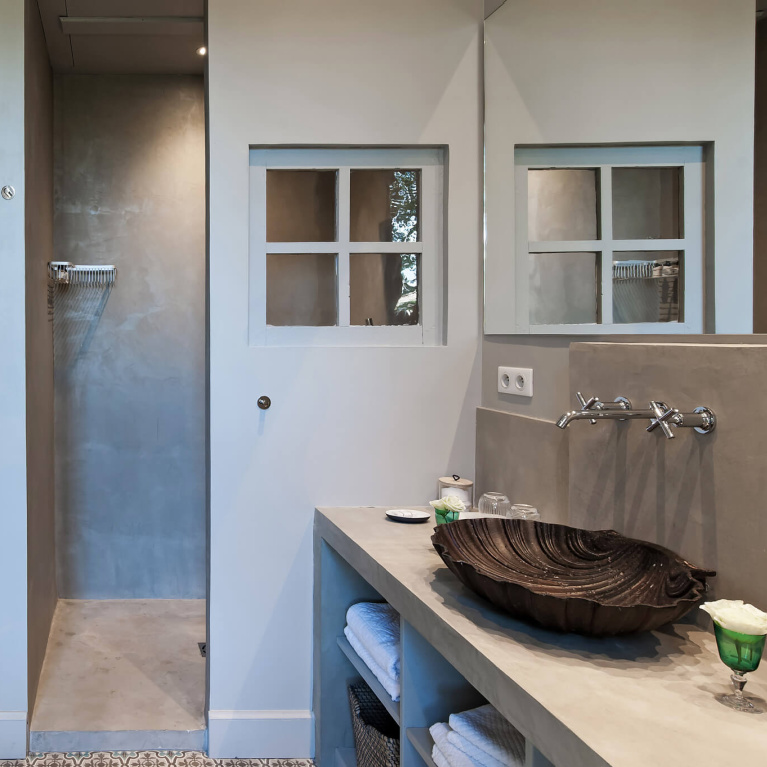 Playing With Scale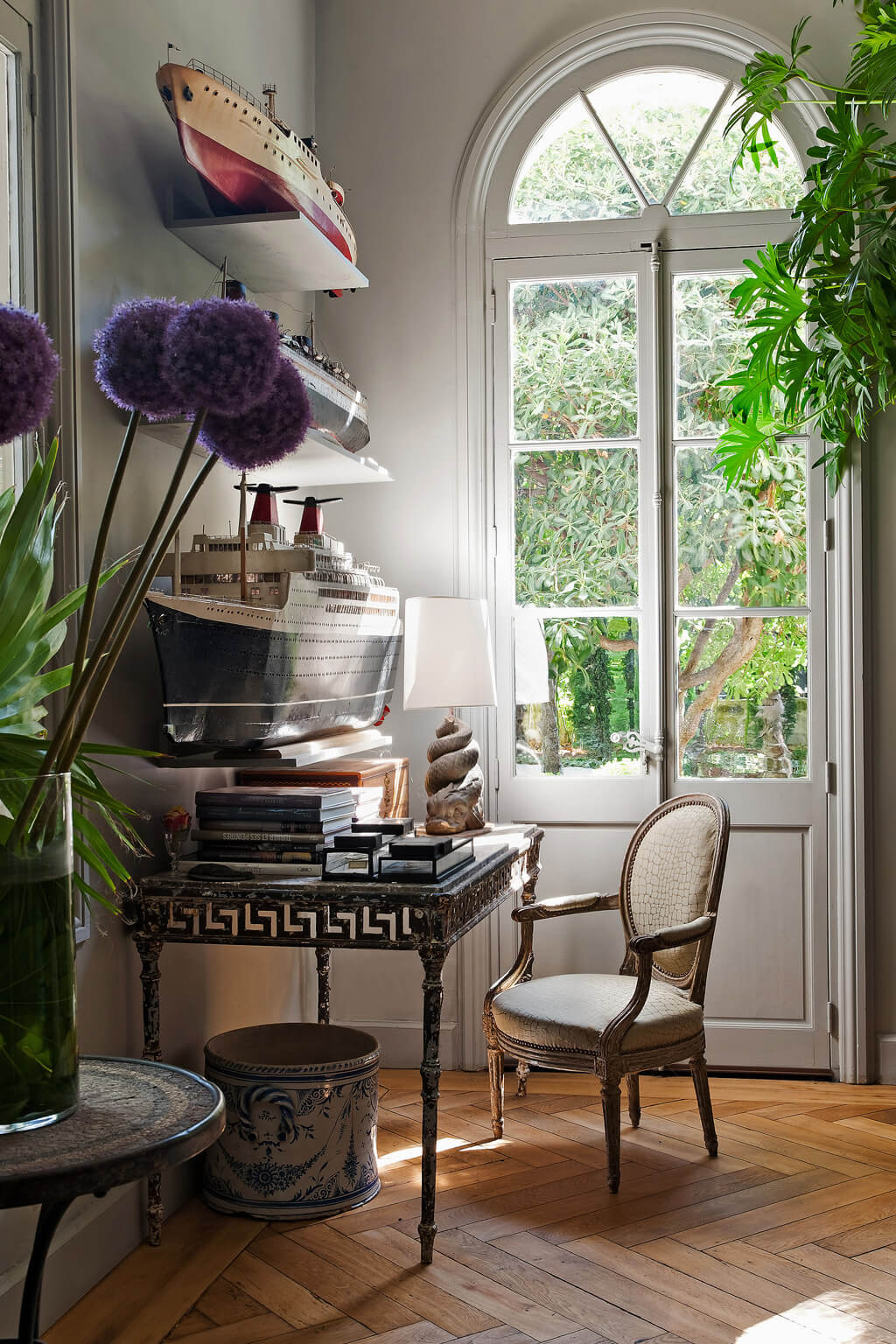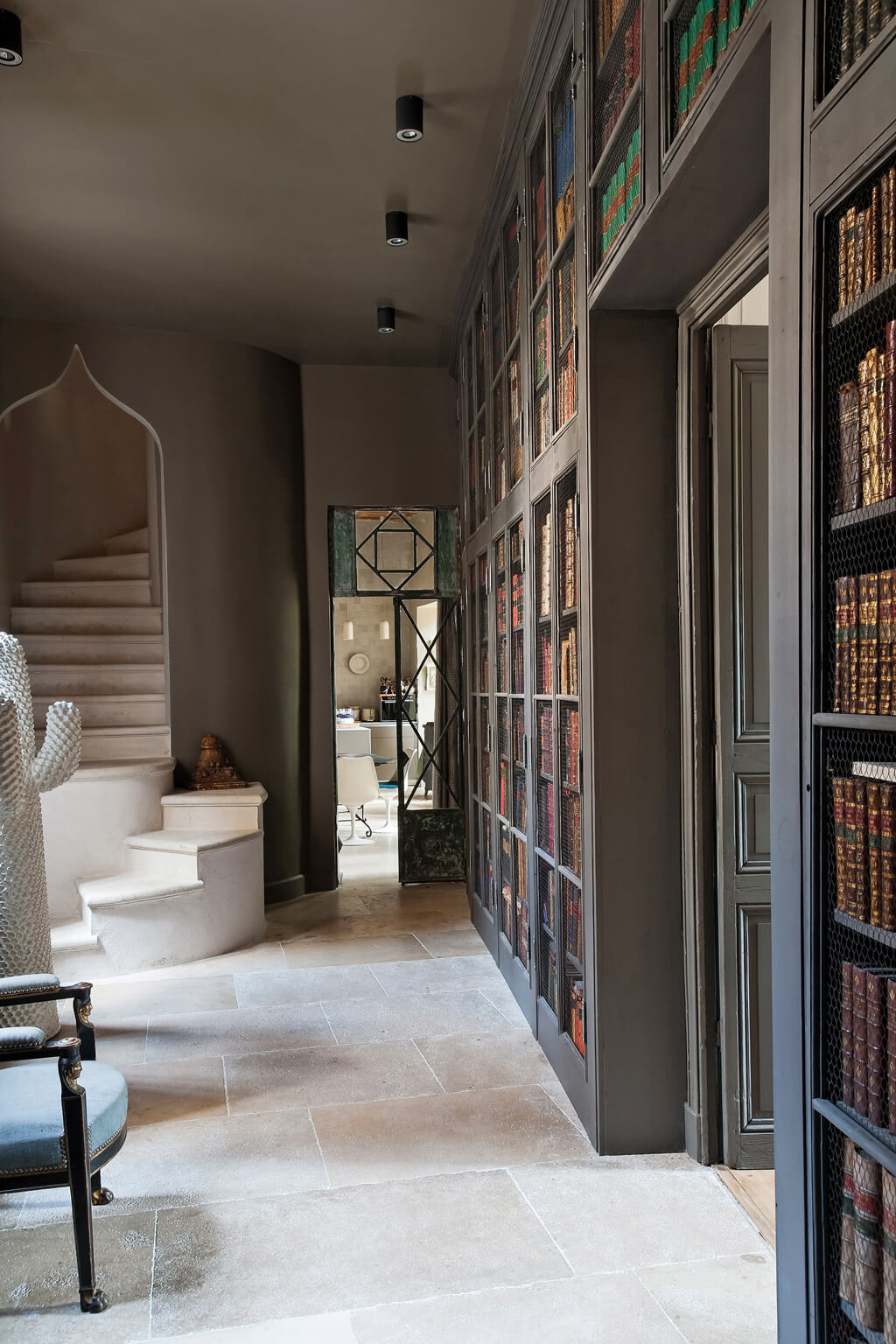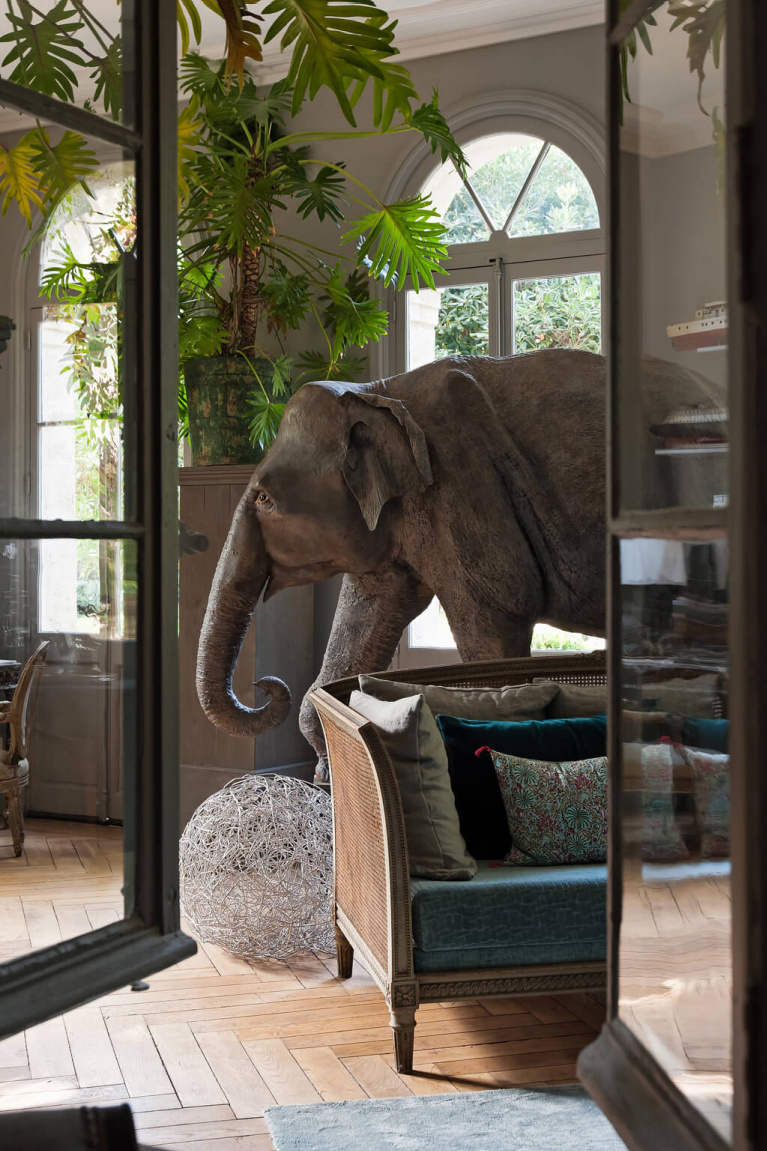 Deeply Rich French Gray Walls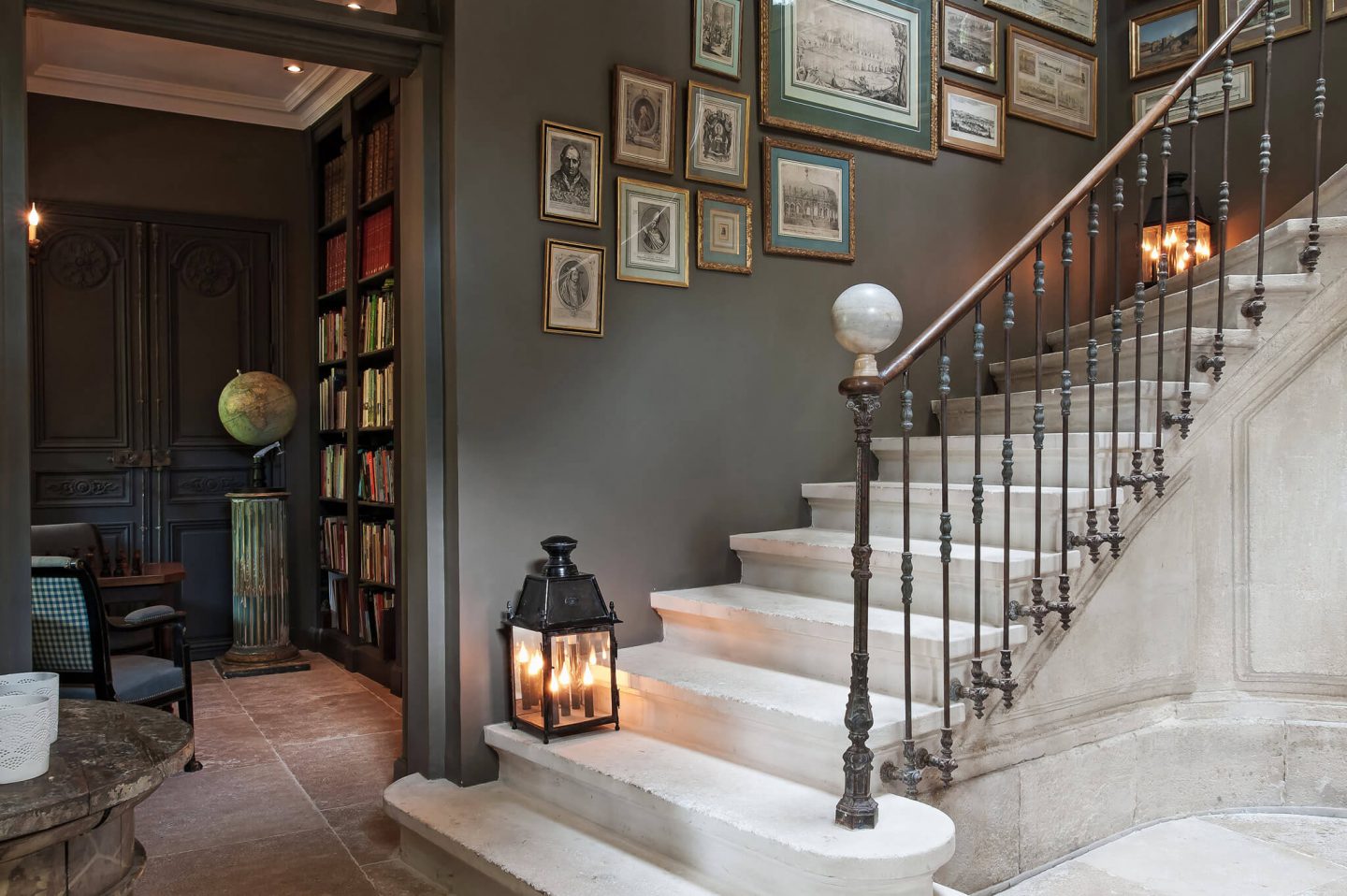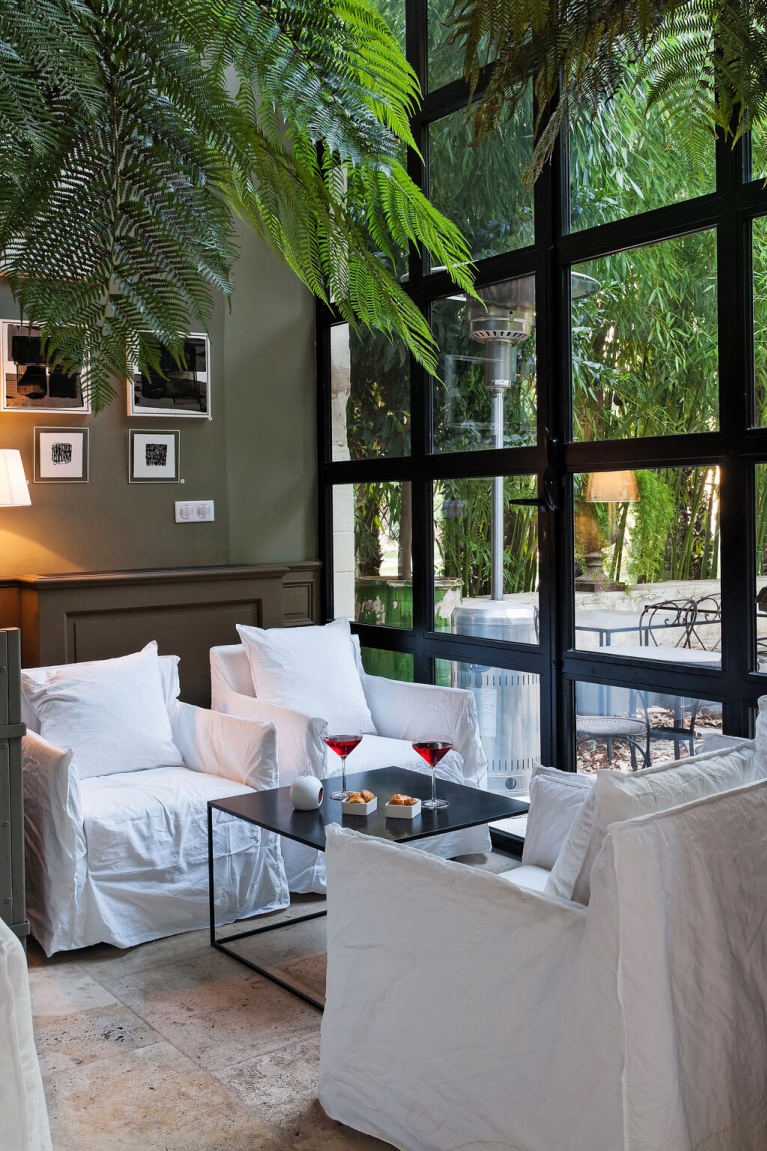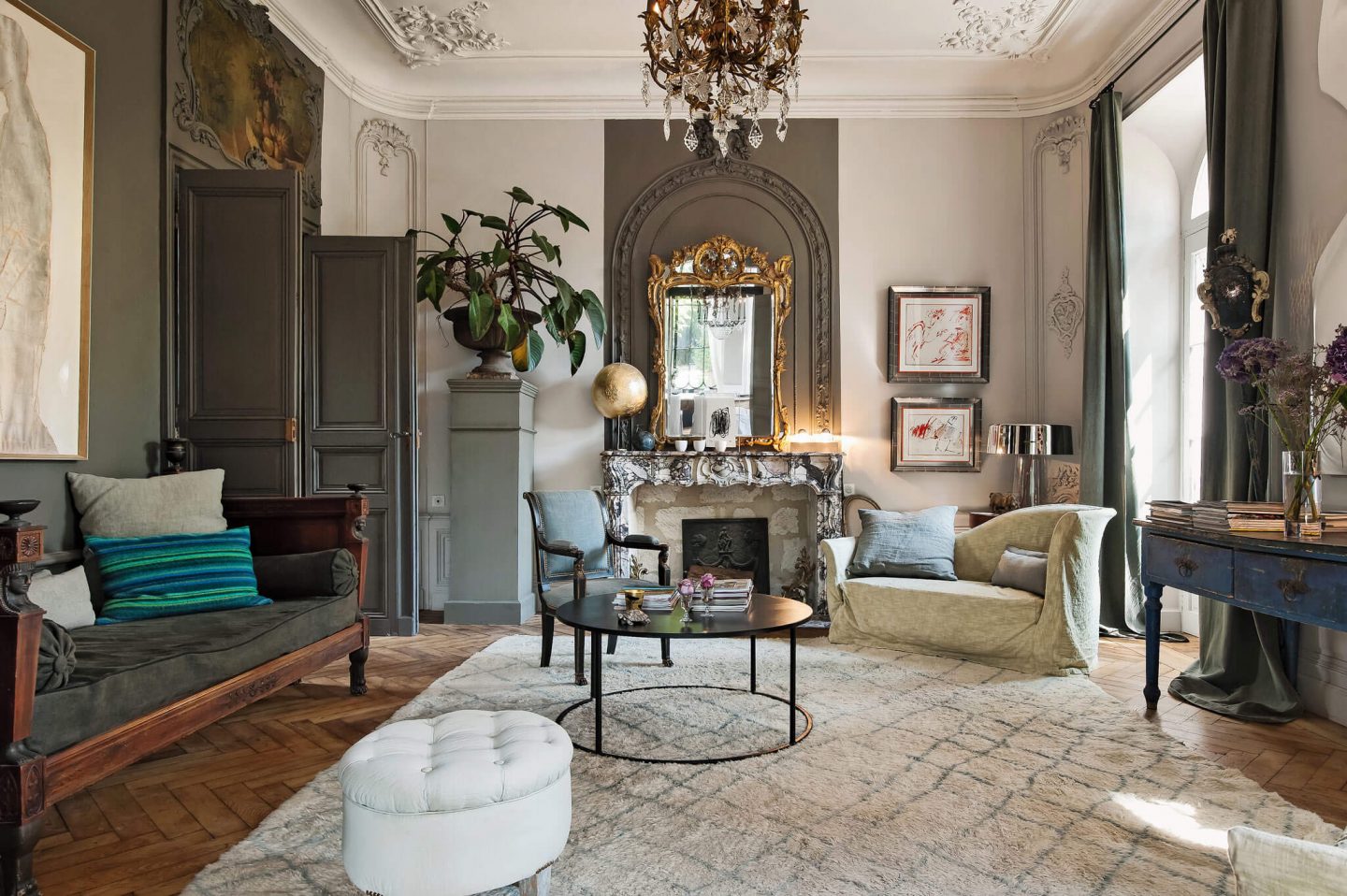 Traditional Architecture in a French Mansion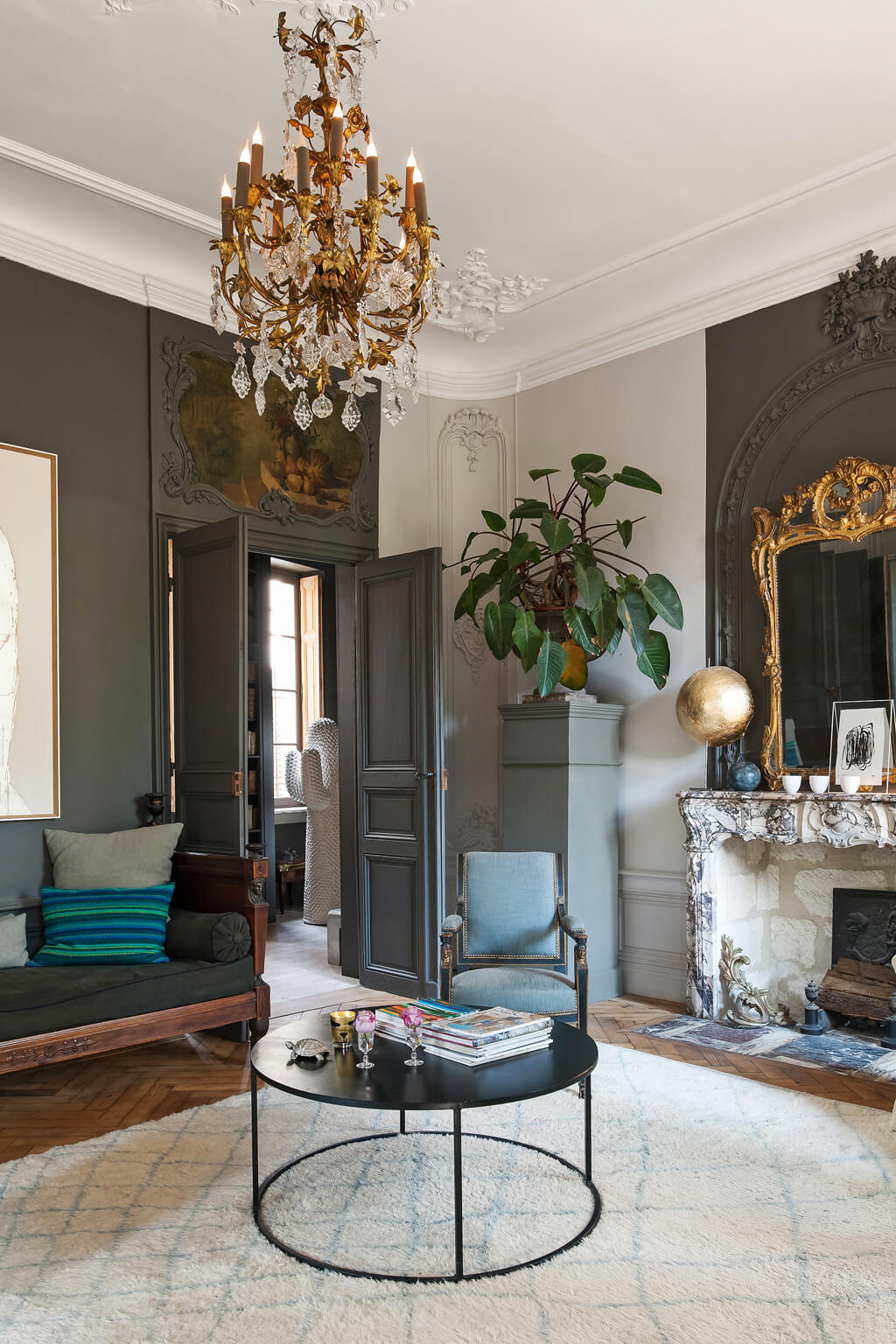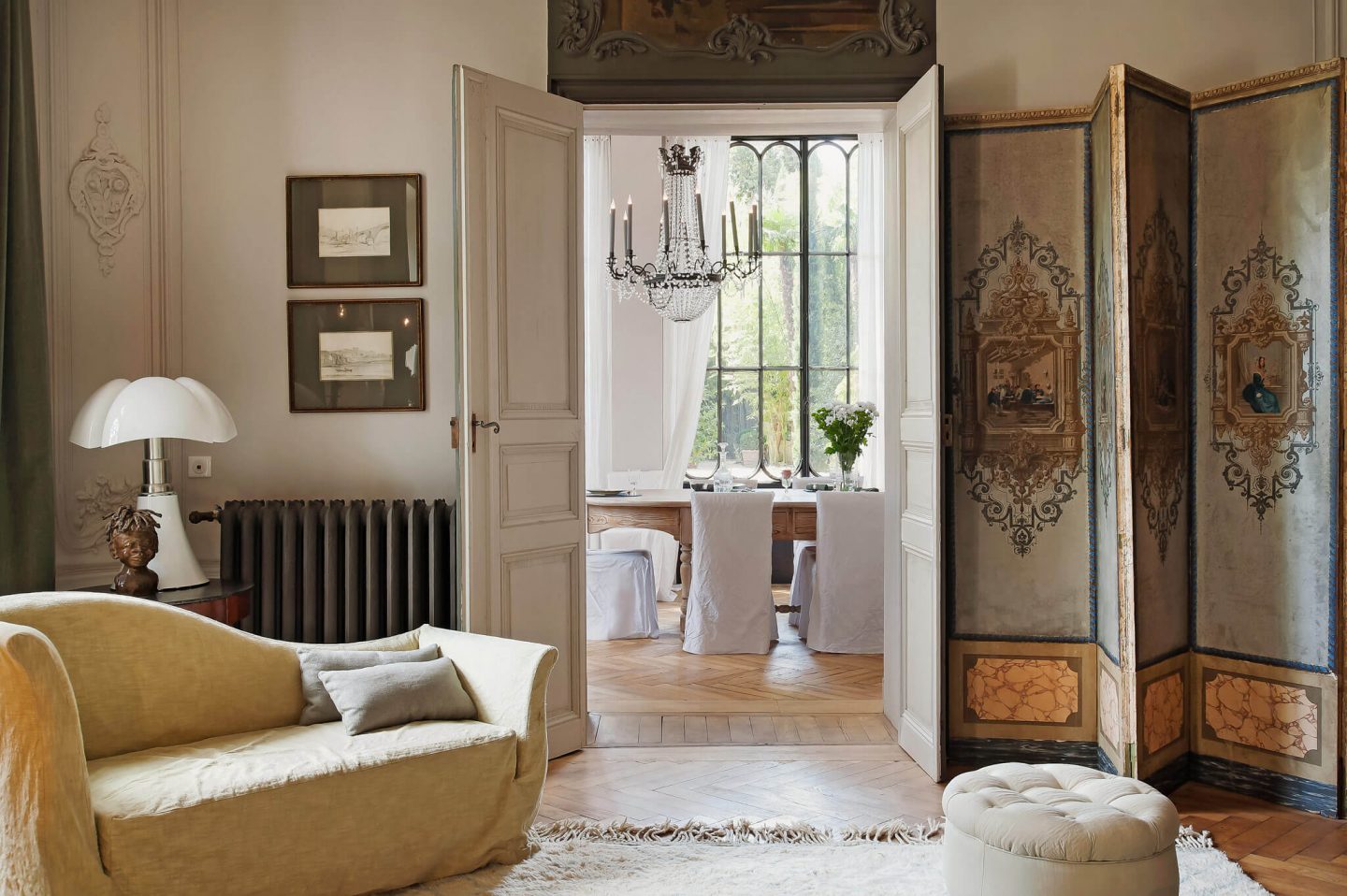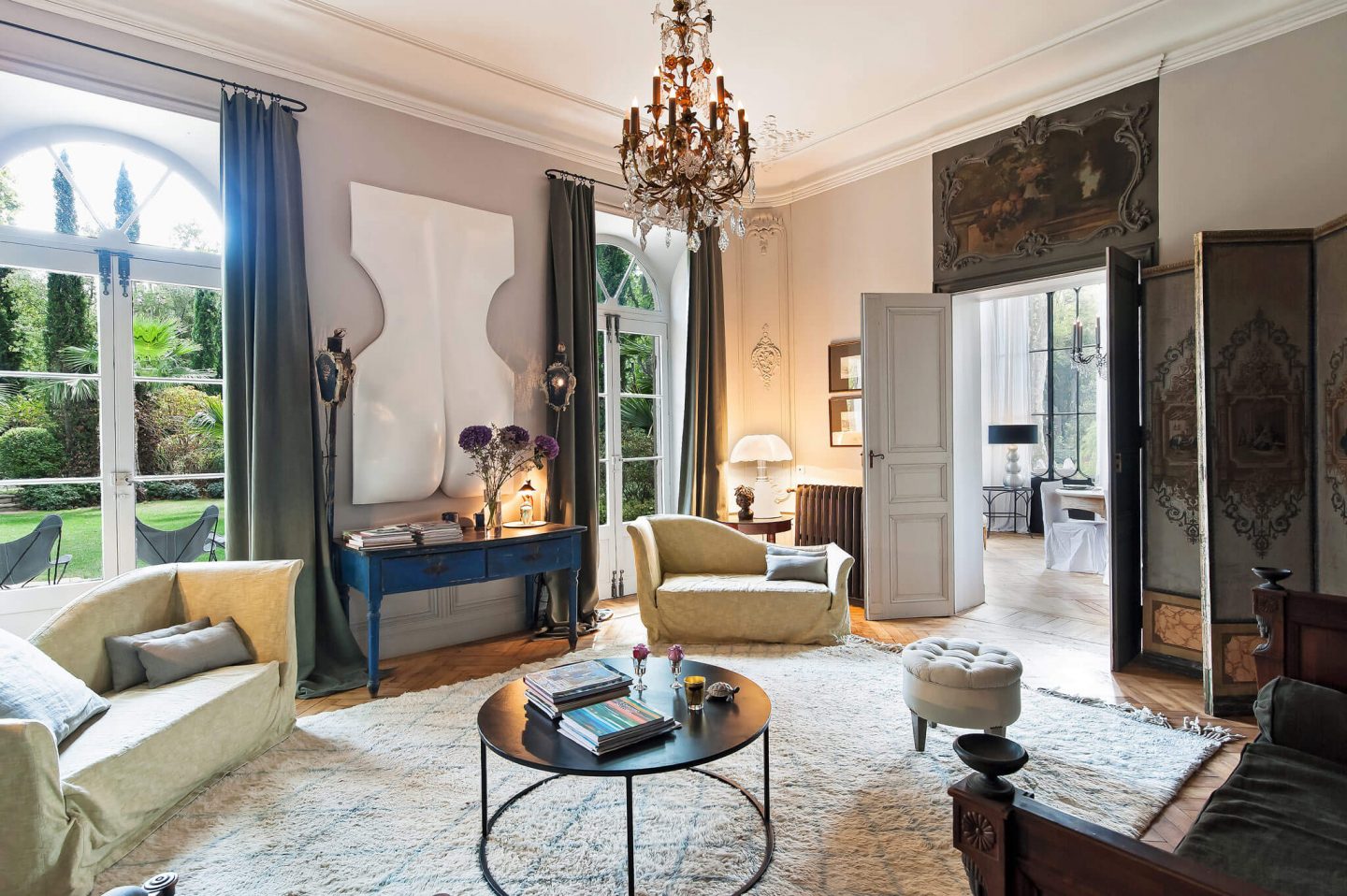 Artful Drama, History, and Luxury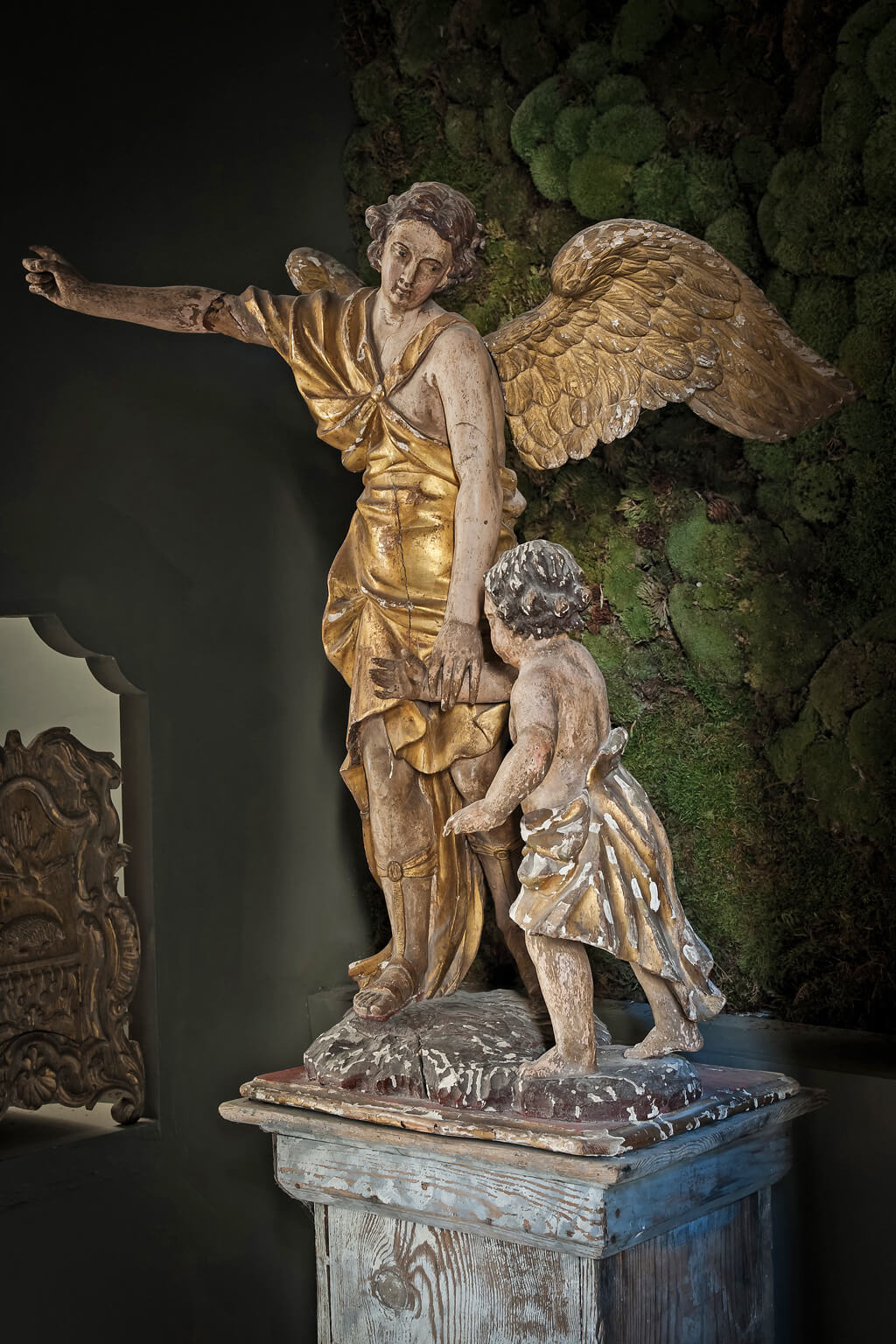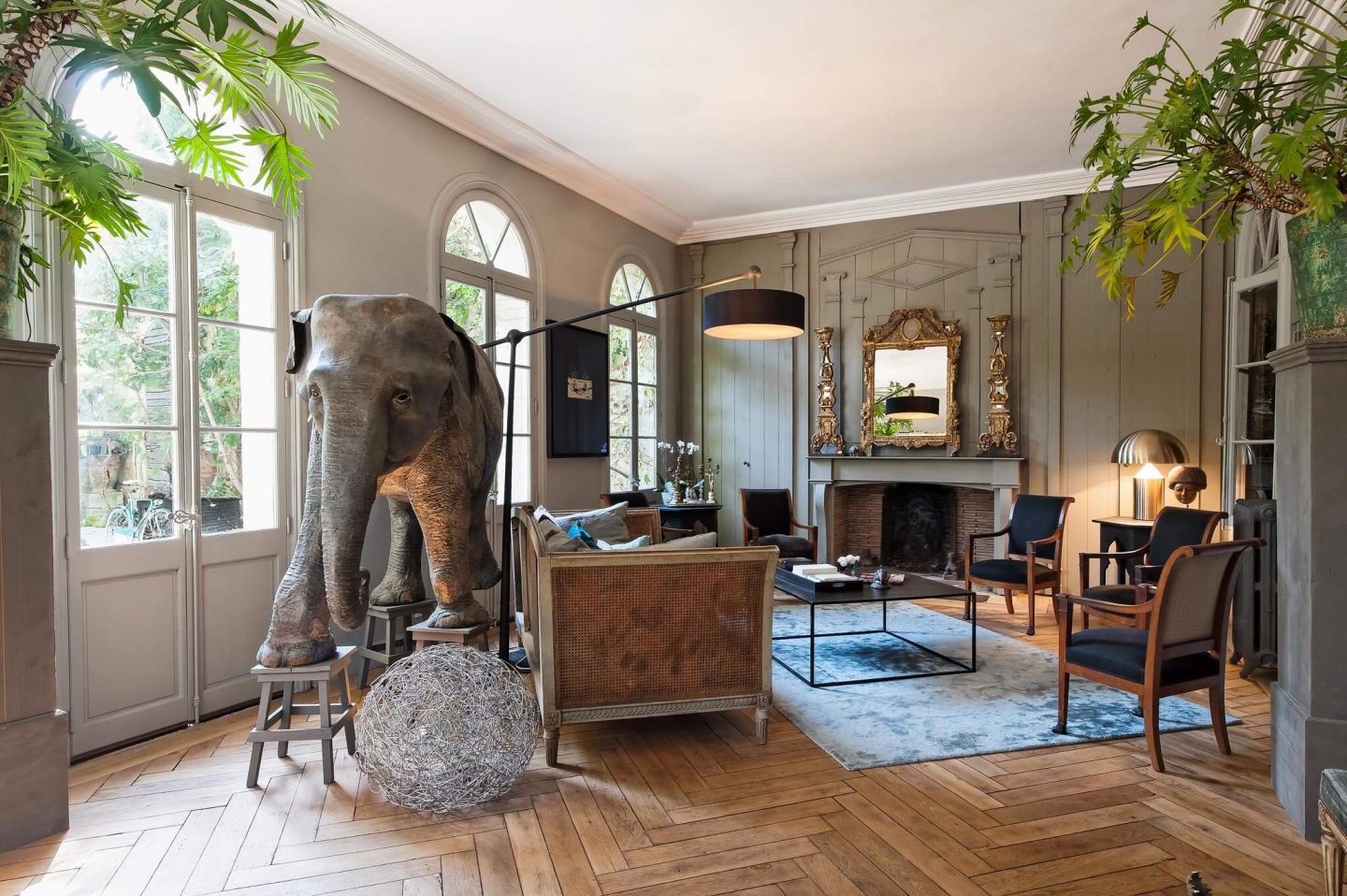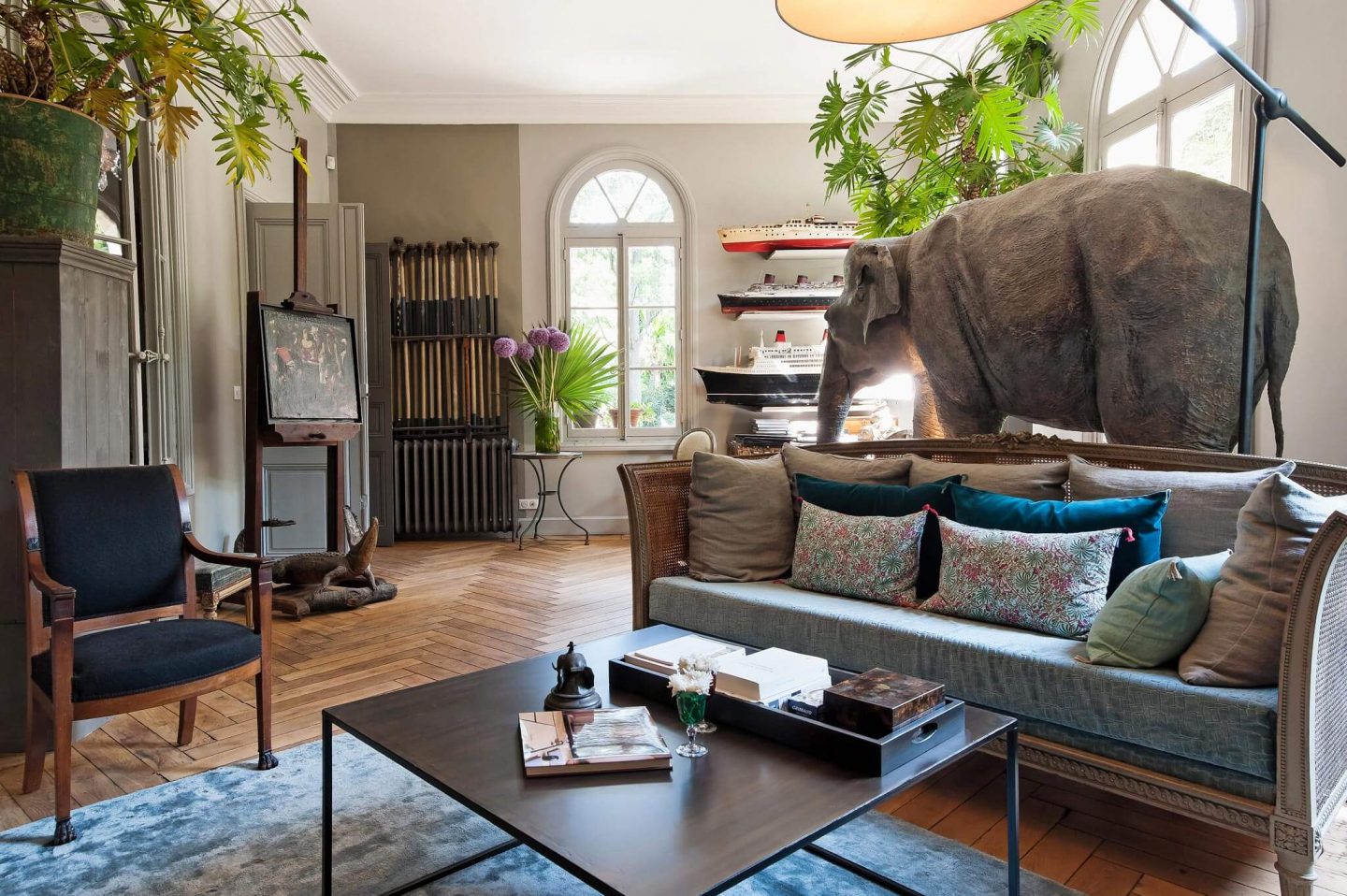 Ethereal French Dining Room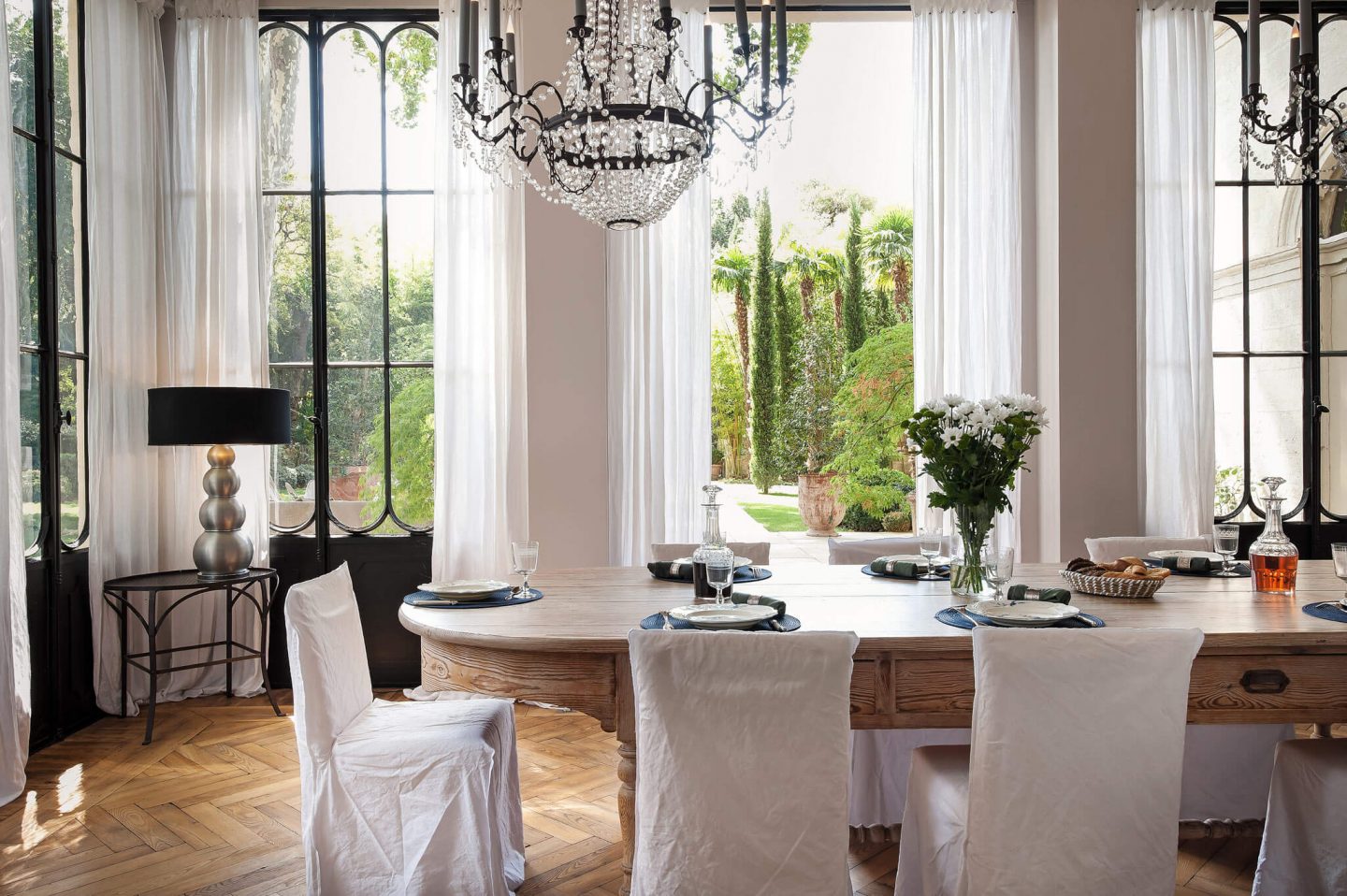 Modern and Old World Style in a Lounge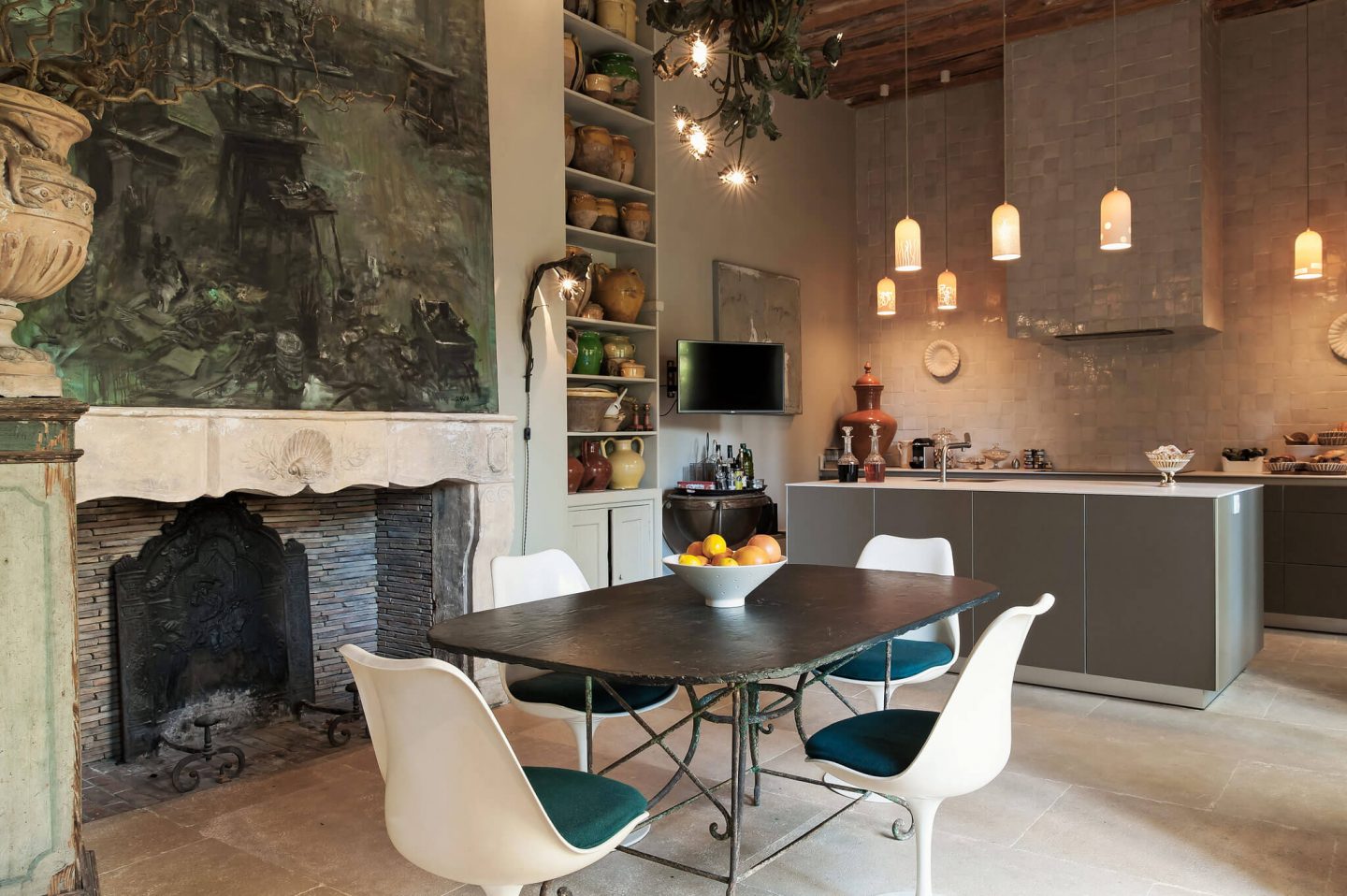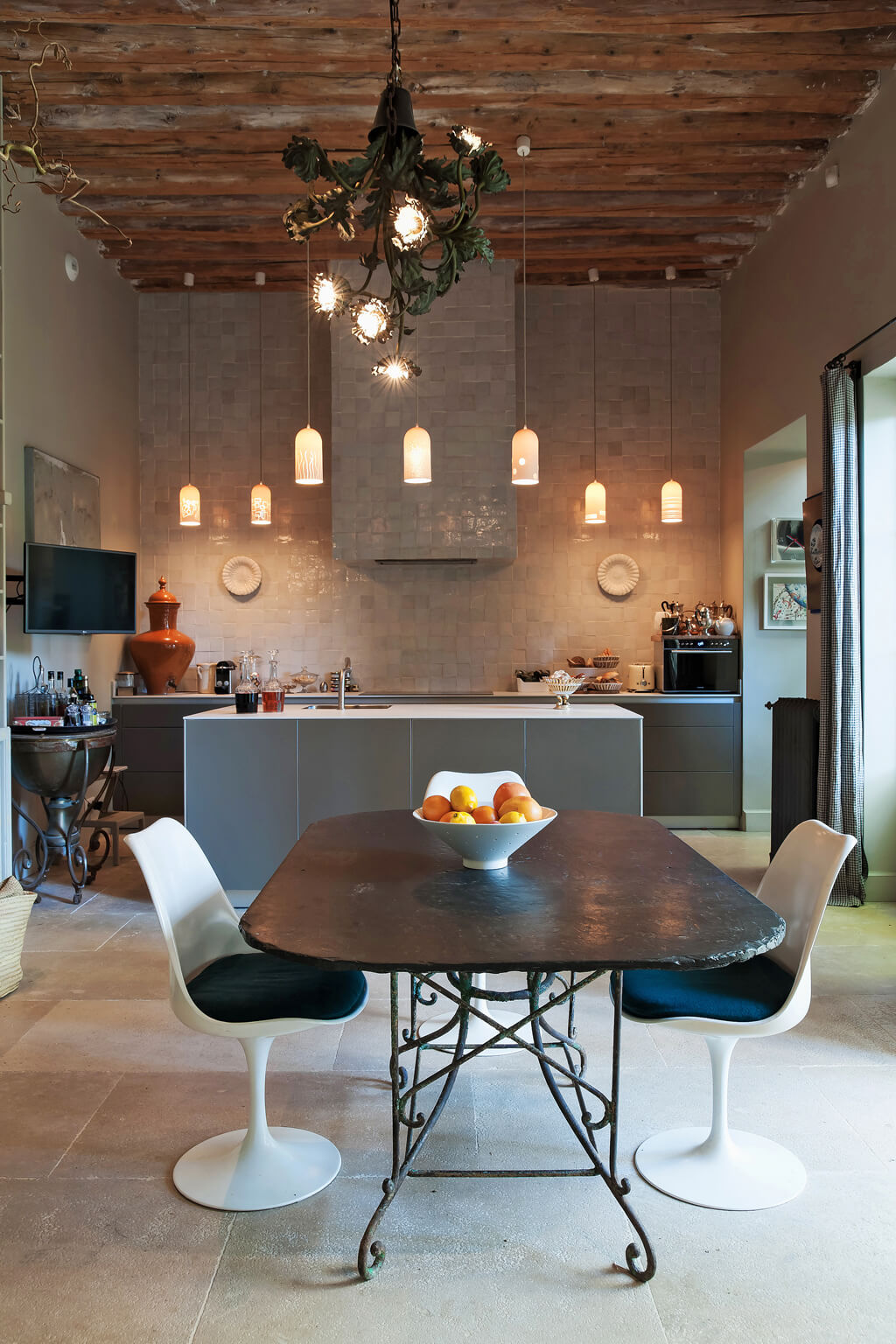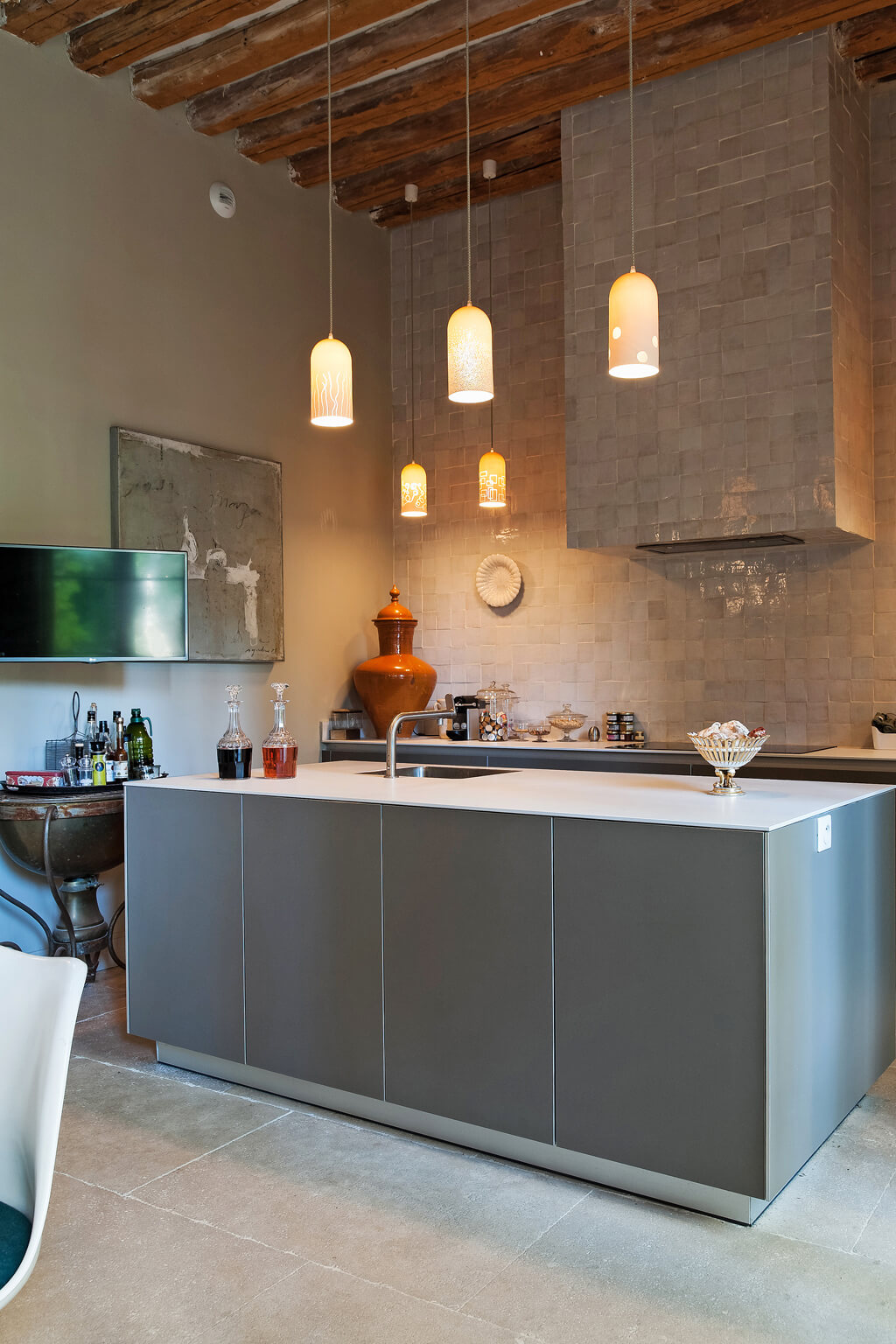 Blue Color Story in an Orangerie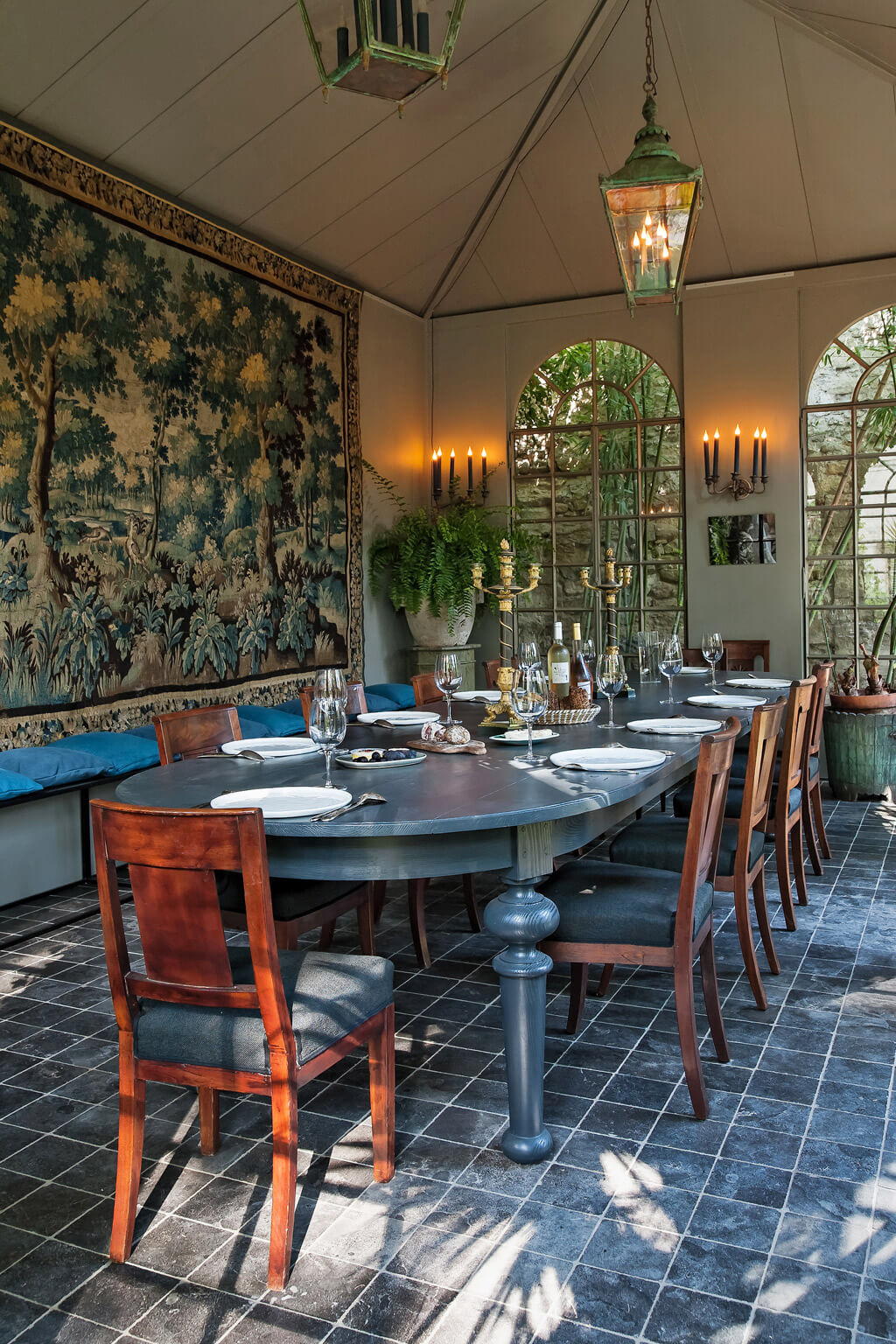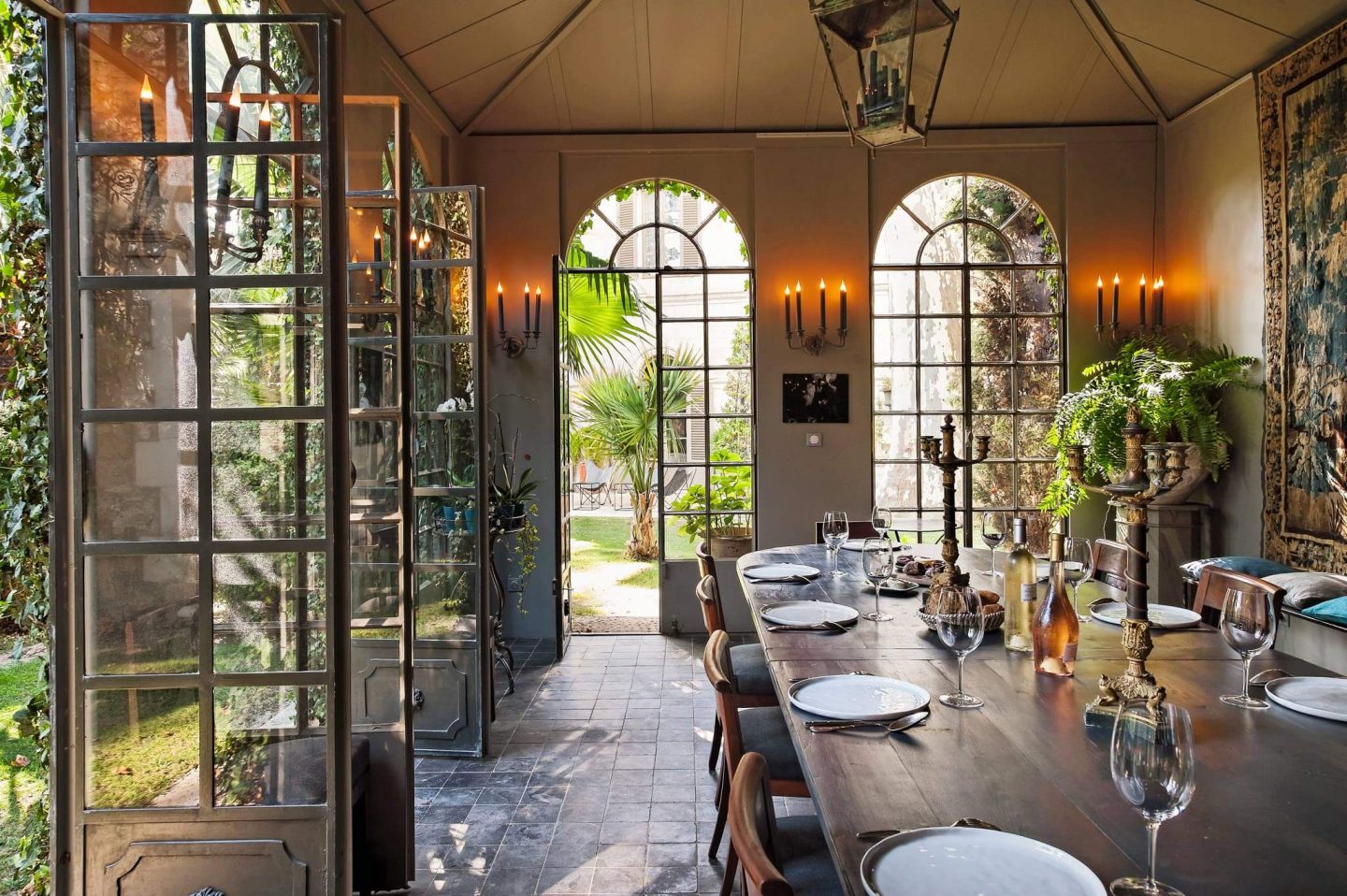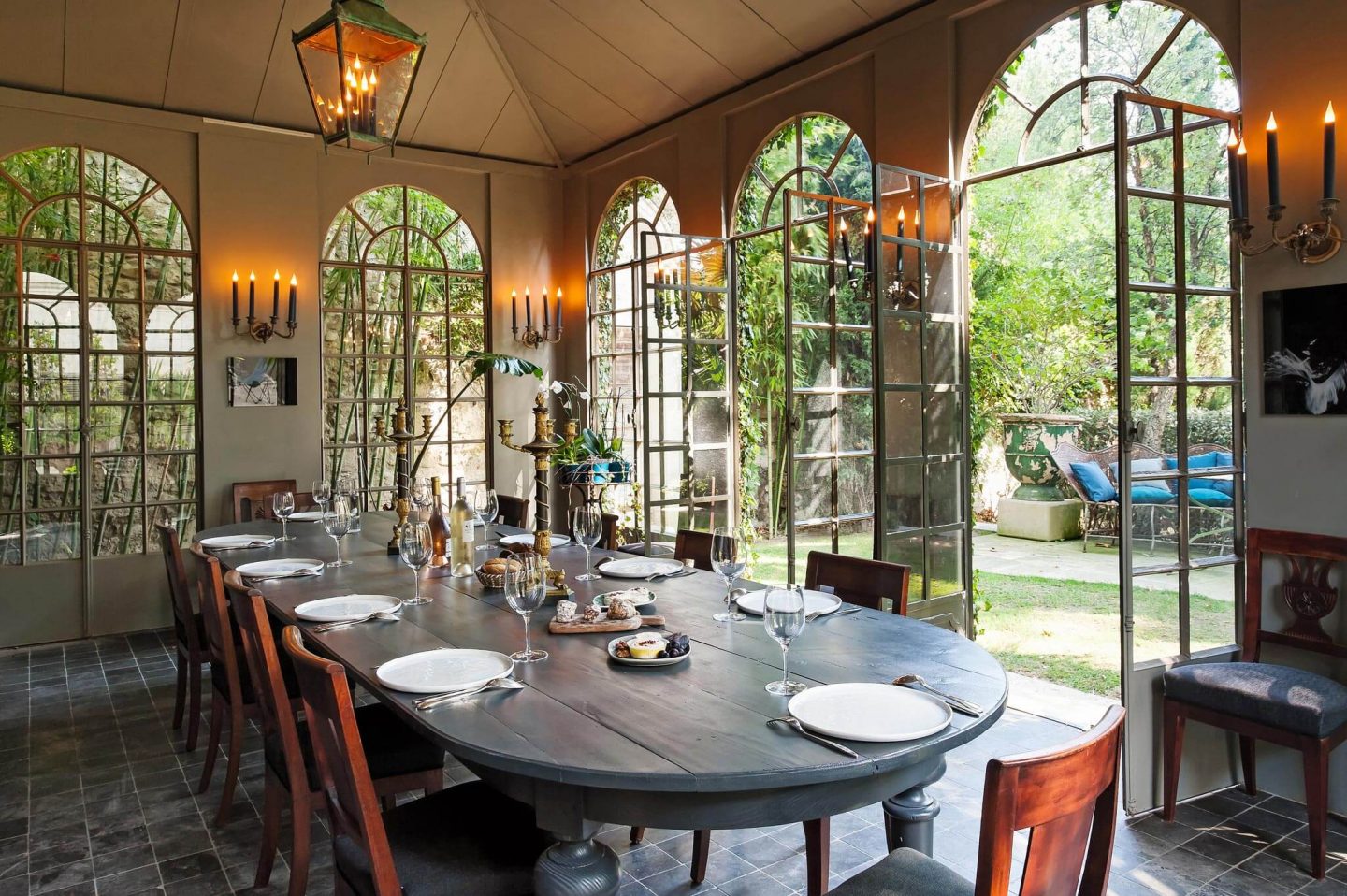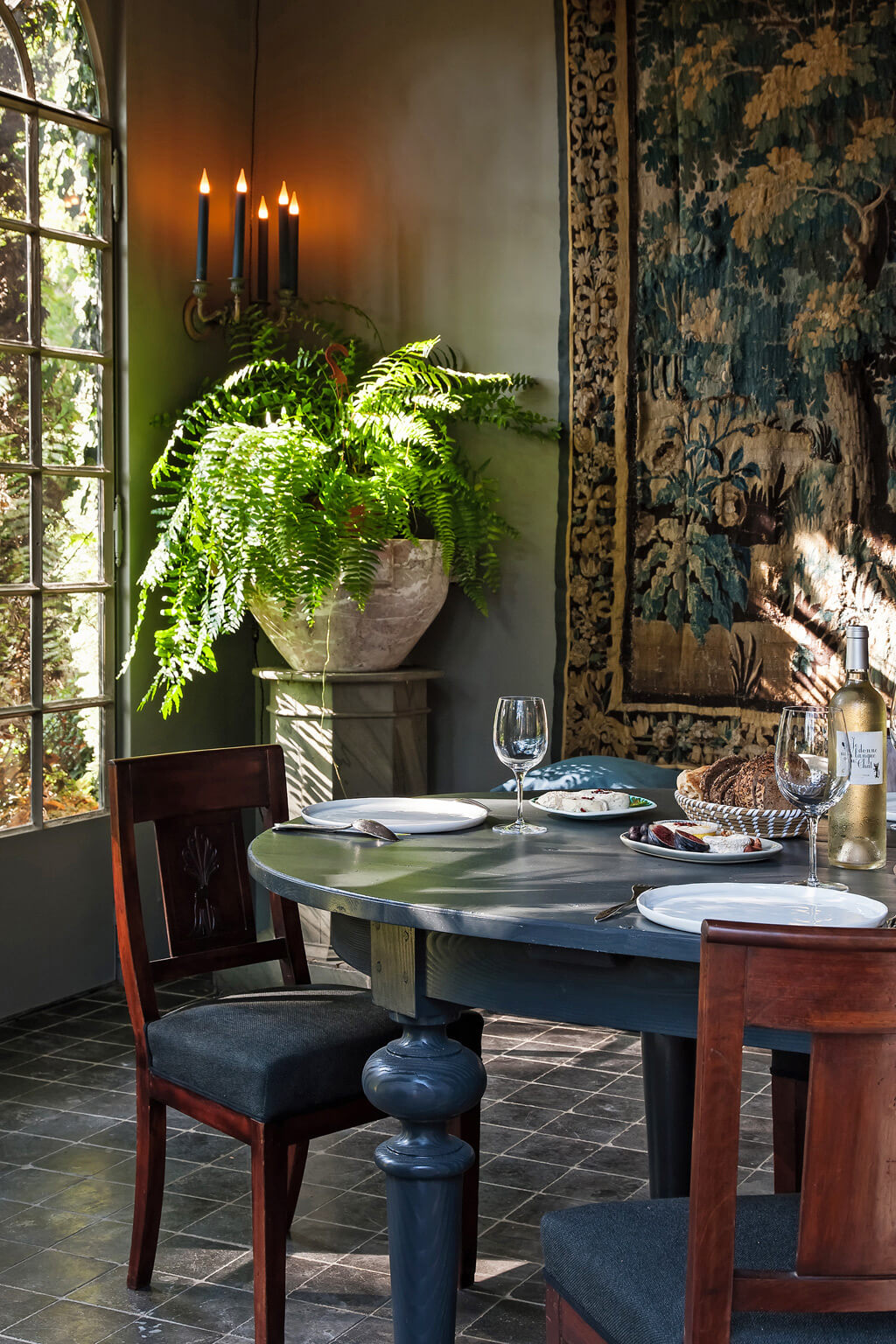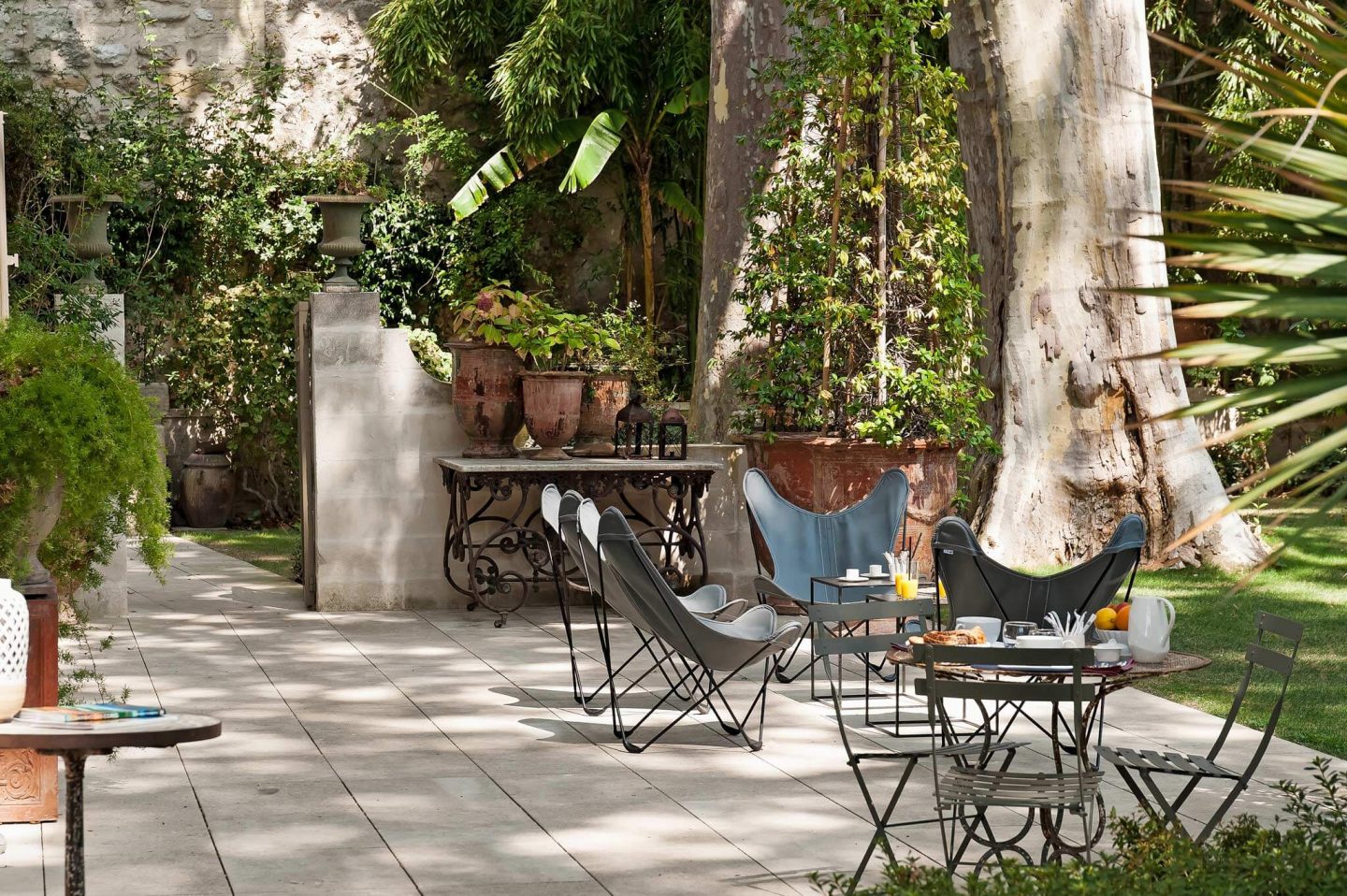 If you're sufficiently primed, step inside this mansion's Serenity Suite with inspiring French country decor ideas… RIGHT HERE.
More French Inspired Goodness
Are you more of a traditionalist when it comes to your French fantasy eye candy? Bet you'll love Timothy Corrigan's Château du Grand-Lucé or Château de Gudanes!!!
For more traditional French design expressions, see:
French Farmhouse Near Bordeaux
Chateau Domingue – A Texas House Tour
I independently selected products in this post—if you buy from one of my links, I may earn a commission.
Peace to you right where you are.
-michele
Shop for items you already intended to buy on Amazon RIGHT HERE, and also find home decor here to keep decor inspiration flowing on Hello Lovely!
Hello Lovely is a participant in the Amazon Services LLC Associates Program, an affiliate advertising program designed to provide a means for sites to earn fees by linking to Amazon.com and affiliated sites.