Interior designer and founding editor of Milieu, Pamela Pierce simply has a way with white. Her French country holiday décor sensibilities provide much needed calm in these hectic times! In her own elegant Houston home, the Christmas color story is fresh green and white in harmony with natural European antiques and accessories. LEARN FROM THE LOOK: Understated, Natural & White Holiday Home spotlights timeless design elements shared within MILIEU. Ready to learn from the look, class?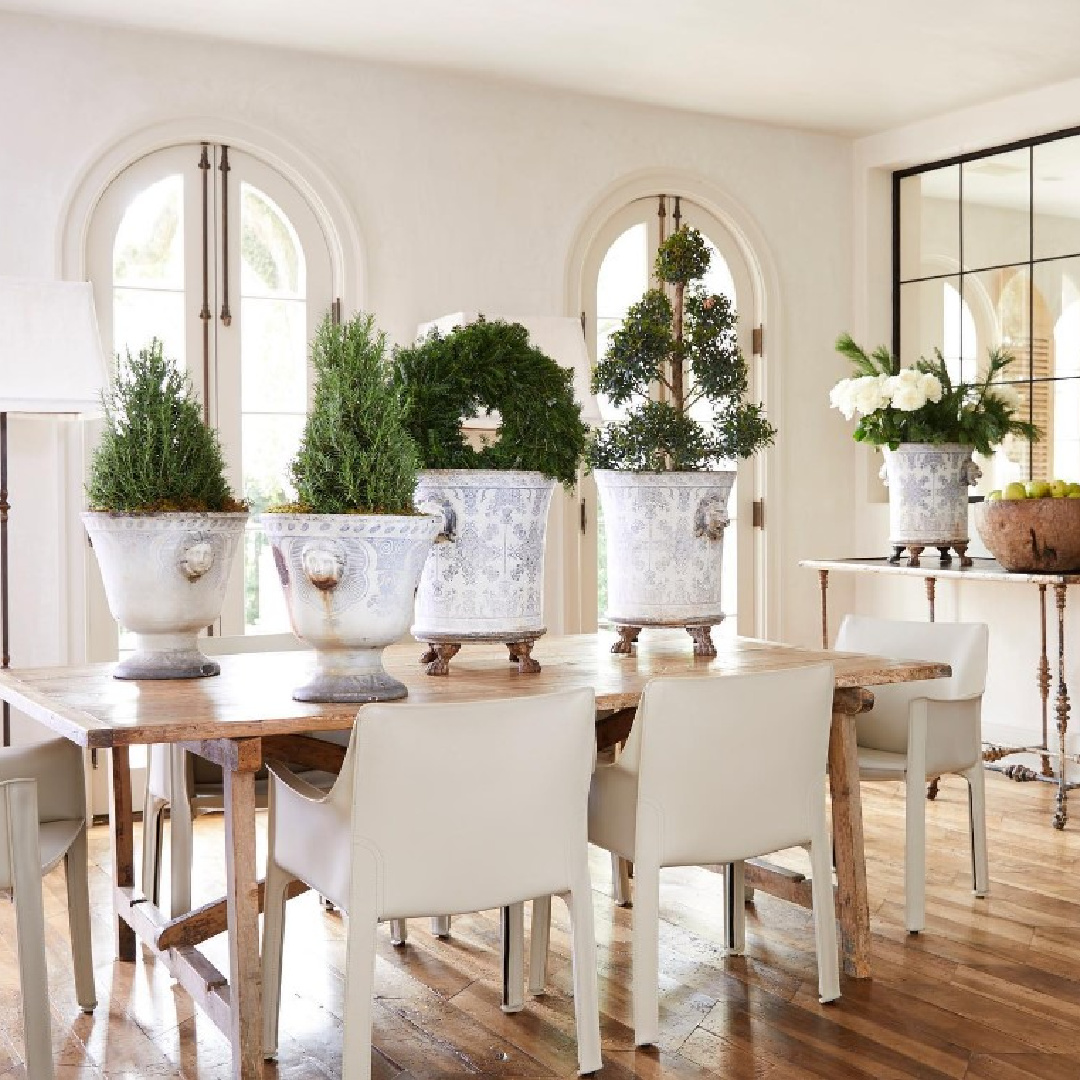 Primary photography: Peter Vitale for Milieu magazine
Pamela Pierce's Understated, Natural & White Holiday Home
Let's dispel any notion straight away that I'm a credentialed Christmas decorating expert poised to demonstrate how to master it. Nope. I'm a student too and need all the help I can get from seasoned design professionals who strike the right balance and create spaces that evoke wonder.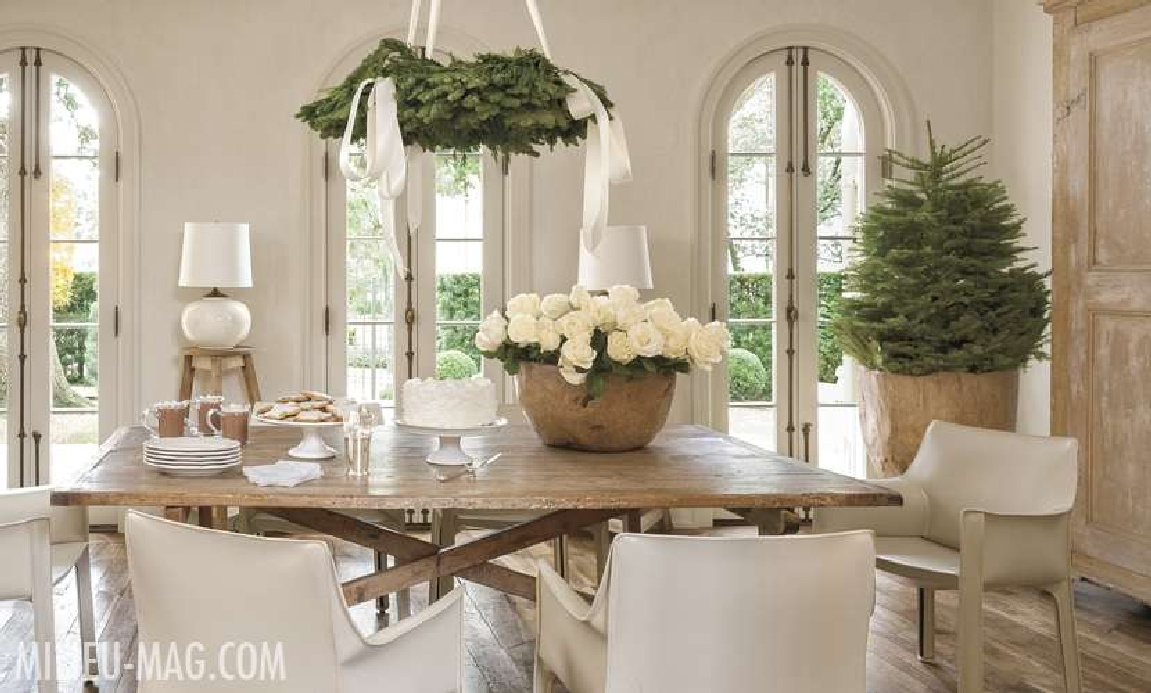 What I can offer? Sensitivity to beauty with a keenly creative eye for details.
Learn from the Look: DARE TO BE SPARE
It's probably a more natural inclination to add MORE of everything around the holidays: more pillows, more color, more stimulation.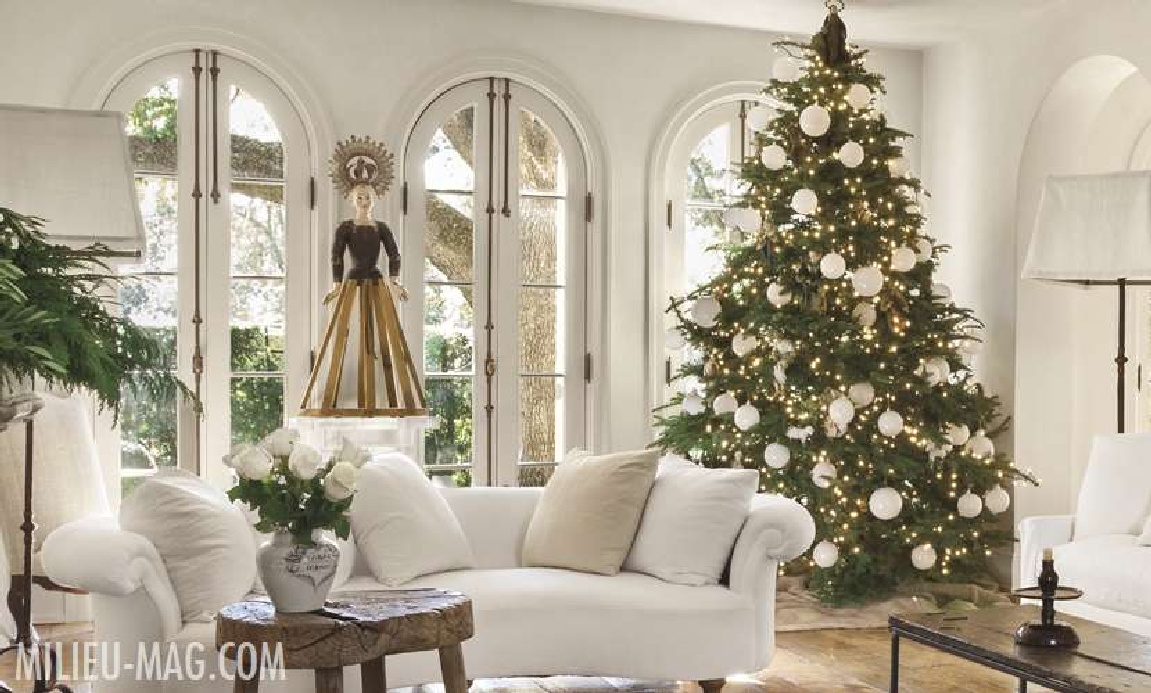 But there are tranquil possibilities if you are after a calm look with less. Notice in the living space above, there aren't colorful plaid pillows with reindeer or festive sayings upon the sofa. The tables are not cluttered with sparkly ornaments or candlesticks. A pared down look exudes a sense of spaciousness and order–qualities I am ever seeking to elevate at home.
Learn from the Look: GARLAND ON STAIRCASE
One glance at the decked stairs, and I bet you'll guess what I'm about to suggest!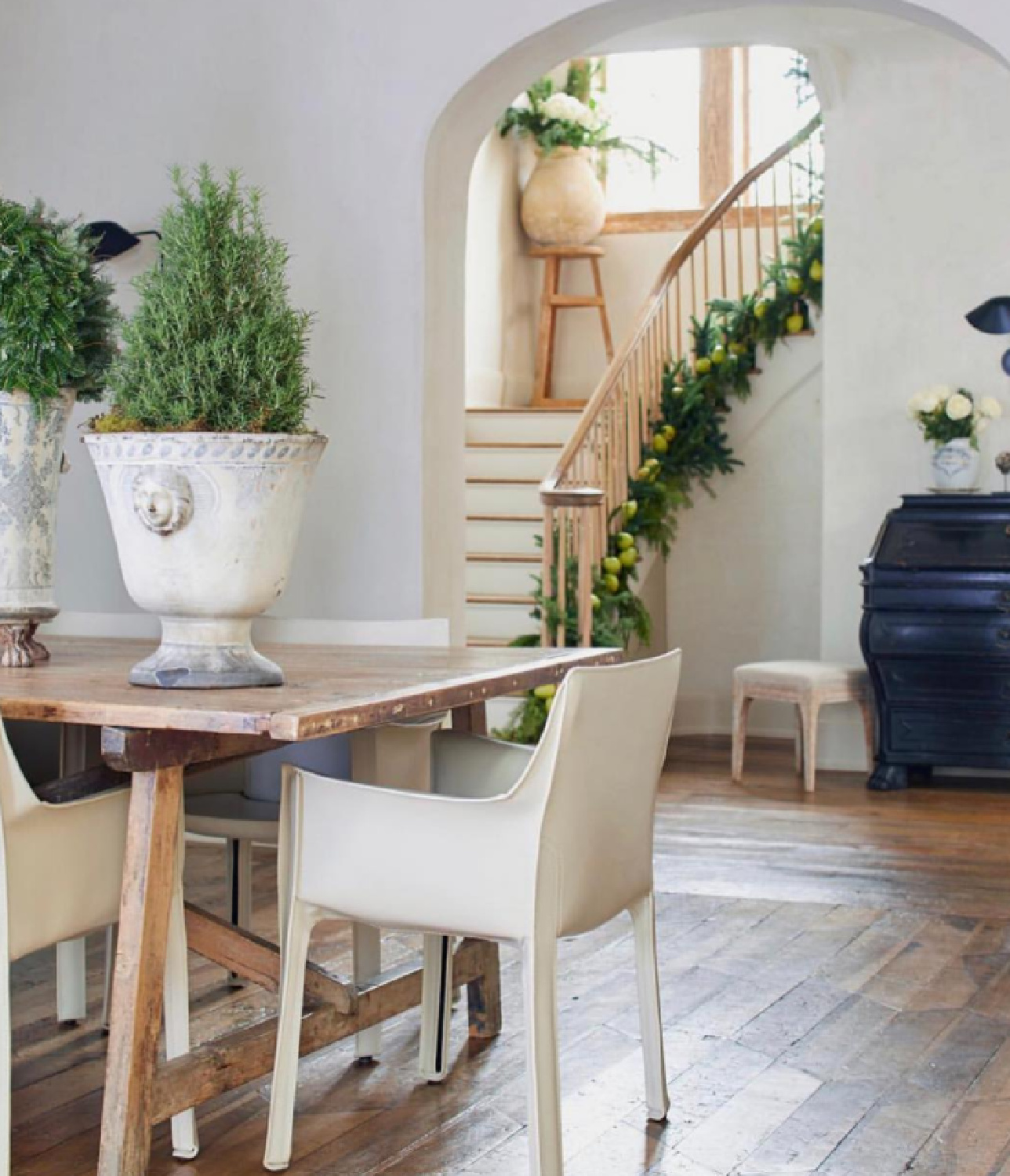 Decorate at the base of the railings rather than on top of the handrail! And what could be more French than embellishing your fresh greenery with pears or green apples!
Not that there's anything wrong with swagging your garland gracefully…Pierce shows us how to keep the look airy: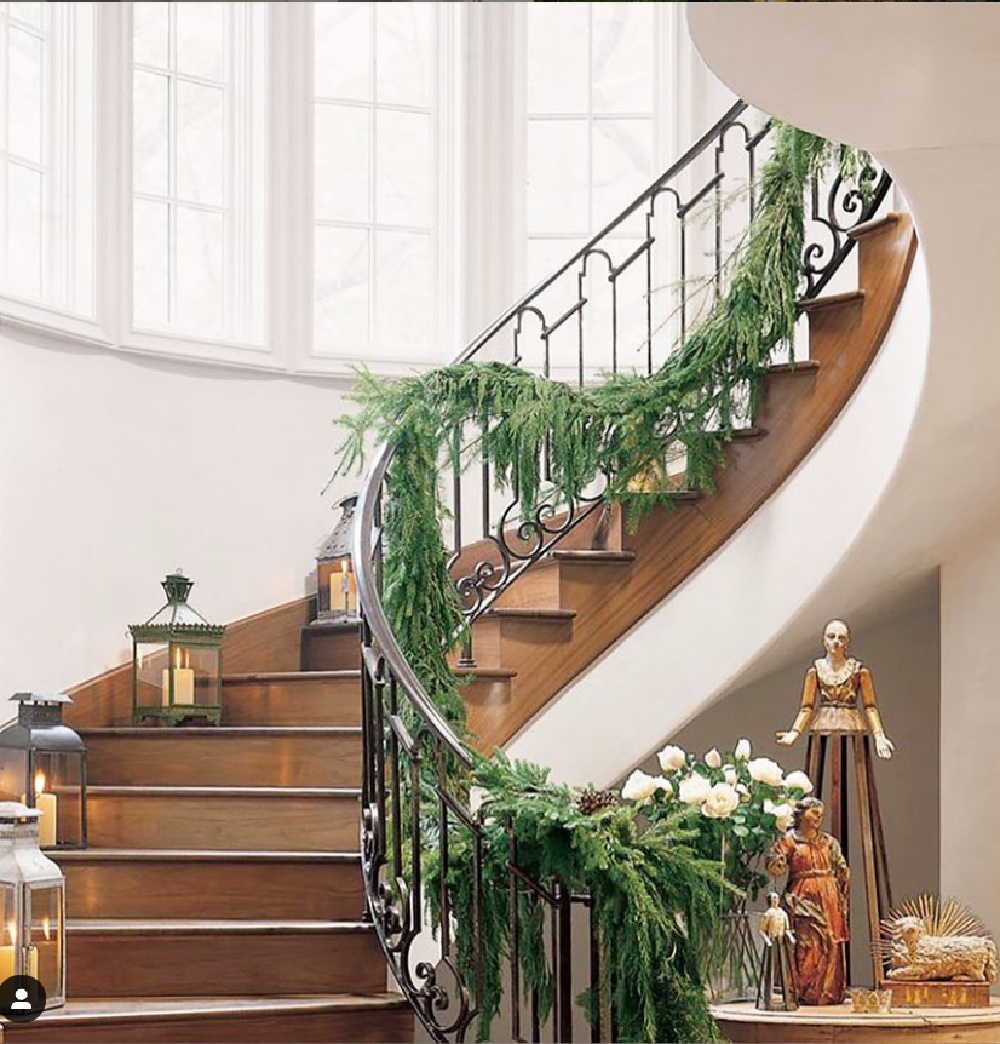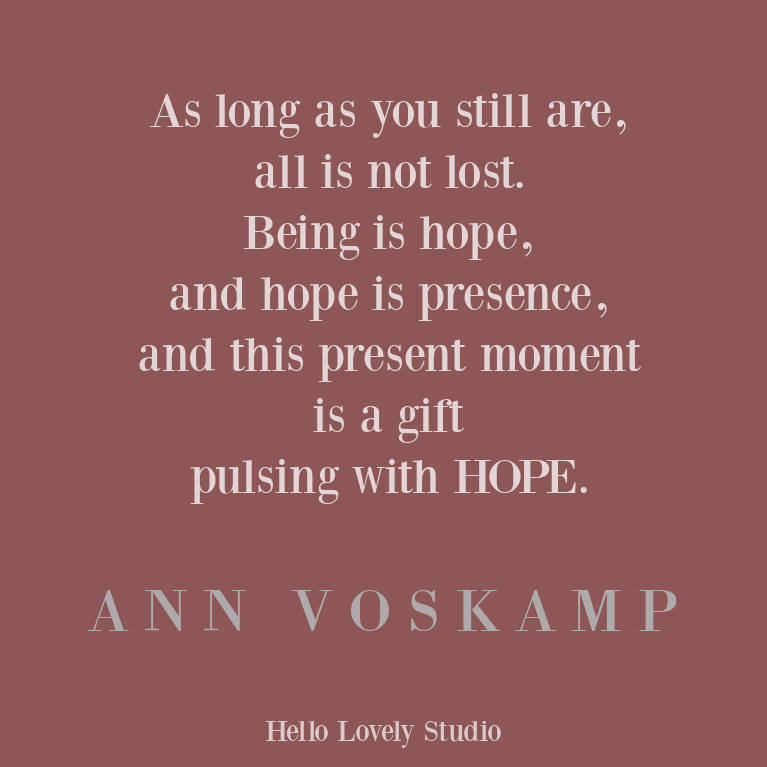 Learn from the Look: CUSTOMIZE CHRISTMAS TREE ORNAMENTS
Sometimes you can find the proper scaled ornaments, and sometimes you can find them in a color that is just right. If you can't, customize them with paint. For the tree below, Pierce spray painted mercury glass ornaments white.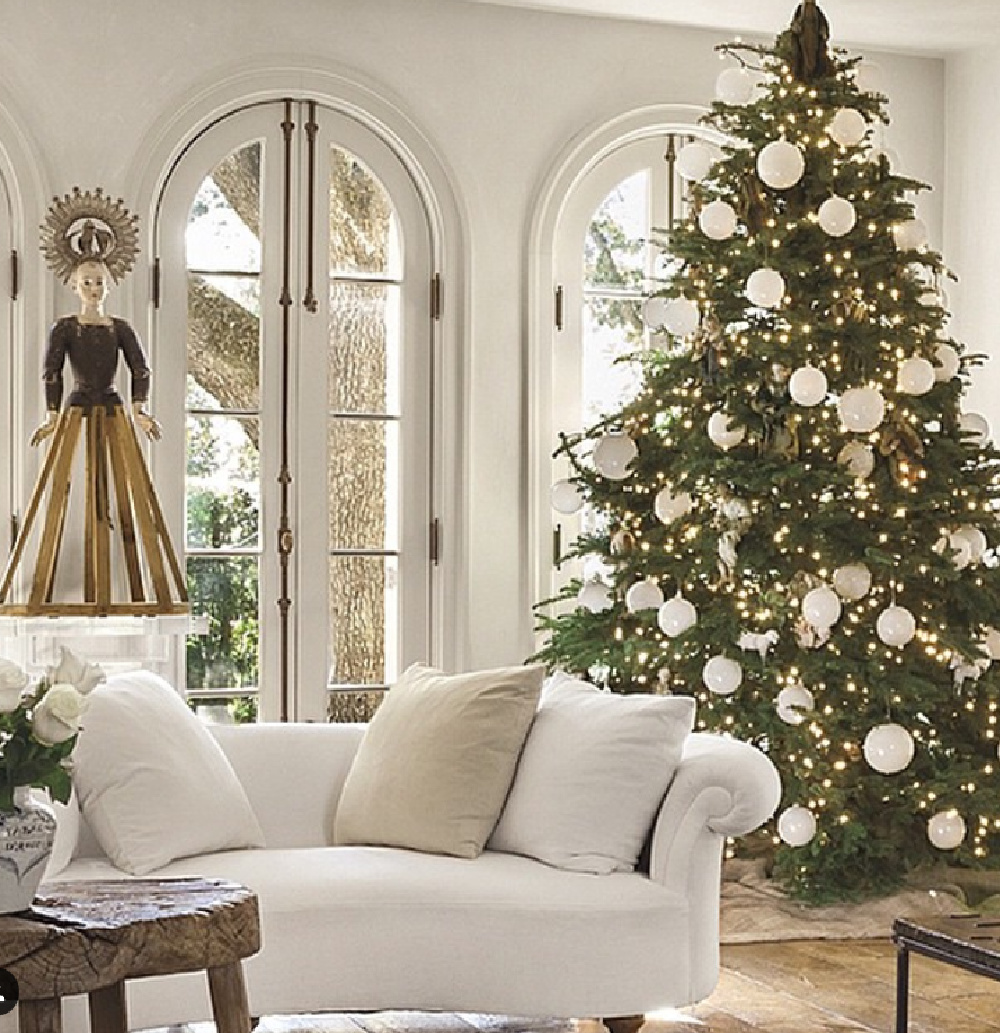 Is there anything so understated and charming as white lights strung in deep green boughs?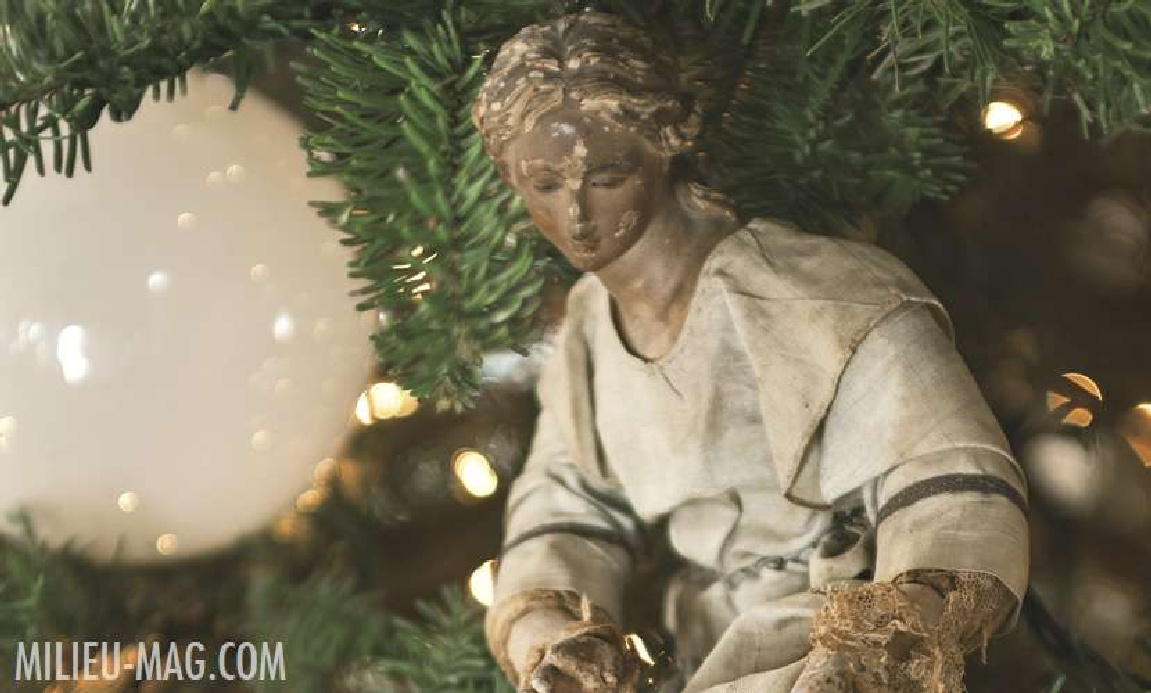 Colorful lights often feel more at home in modern style rooms.
LEARN FROM THE LOOK: White Roses at Christmas
The designer's fondness for white roses is apparent the whole year through, but don't underestimate the power of them during the holidays.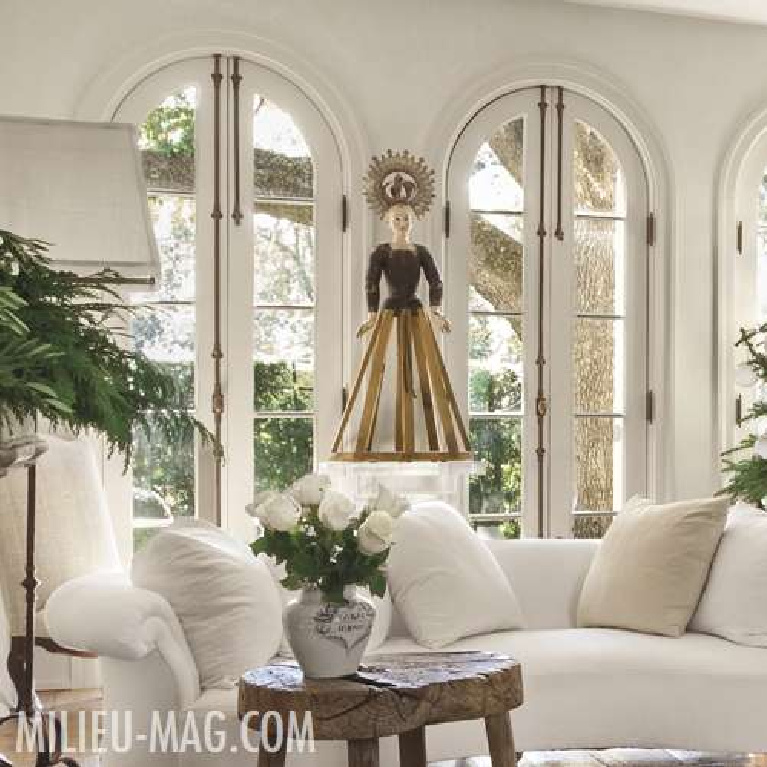 Hunt for vintage or antique earthenware to hold the roses. The bonus is you can live with the look all winter!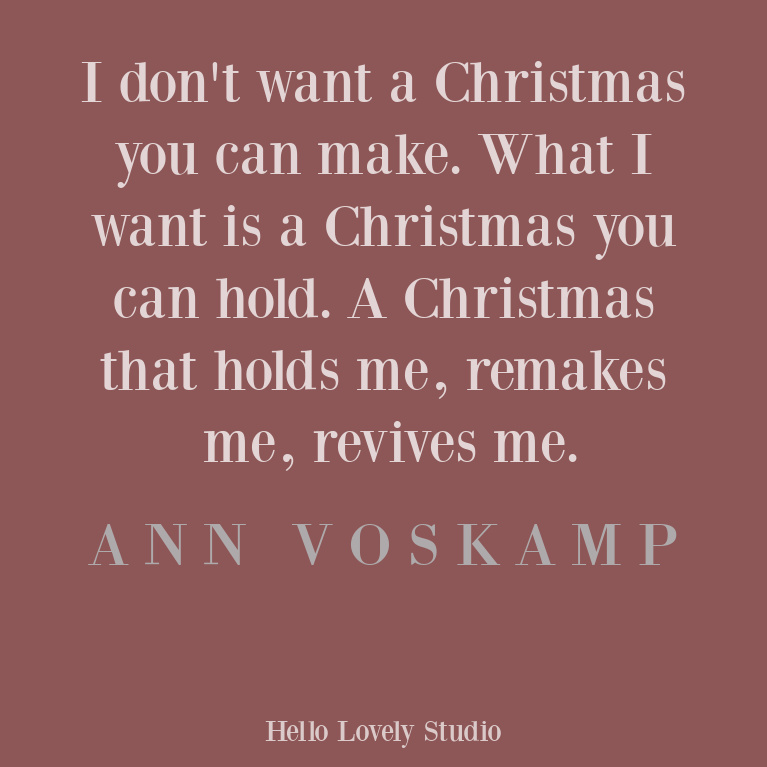 LEARN FROM THE LOOK: White Silk Ribbon
What a layer of luxury white silk adds to a variety of decorations!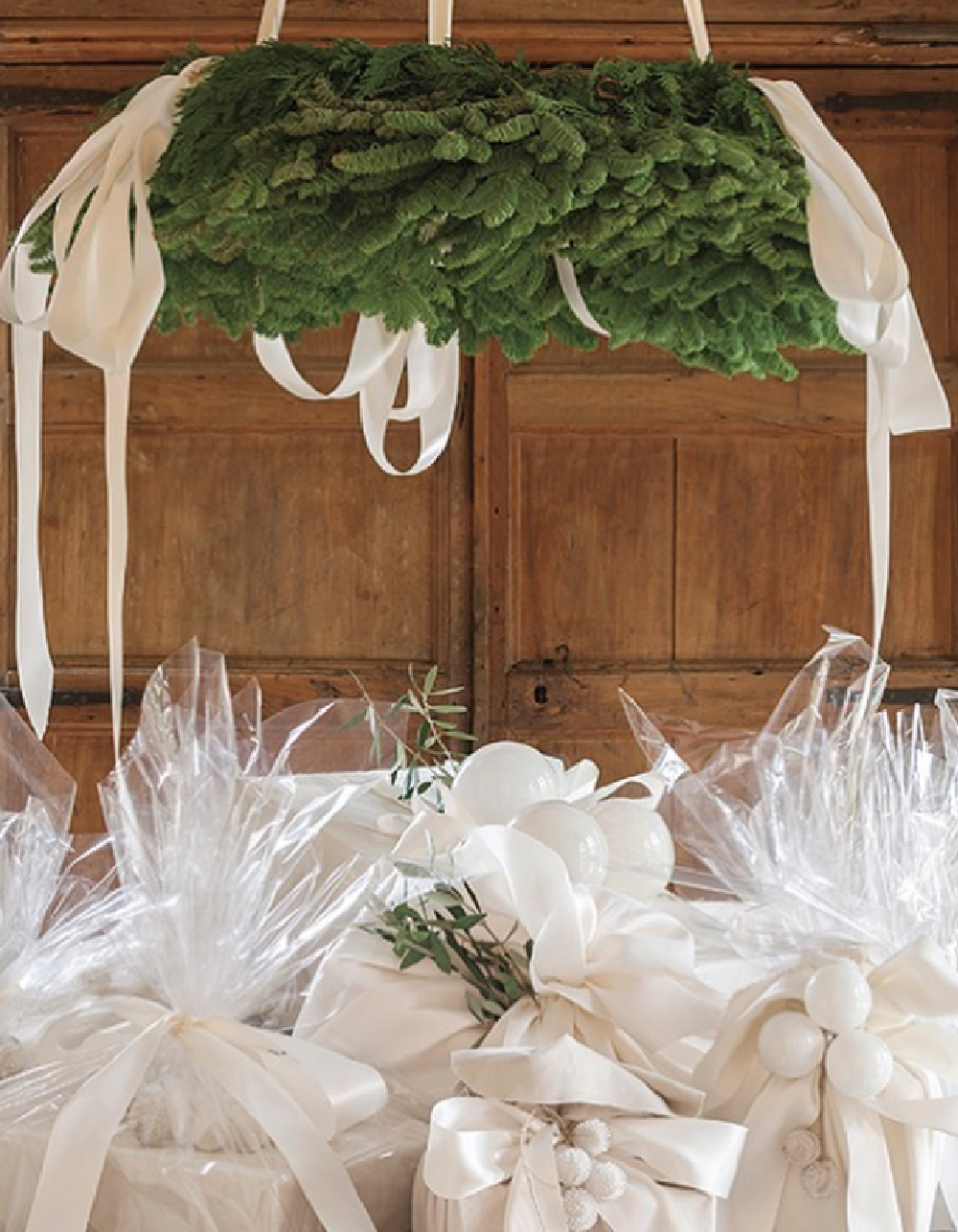 Gifts wrapped in silk, ribbon, and cellophane qualify as part of the lovely decor as well!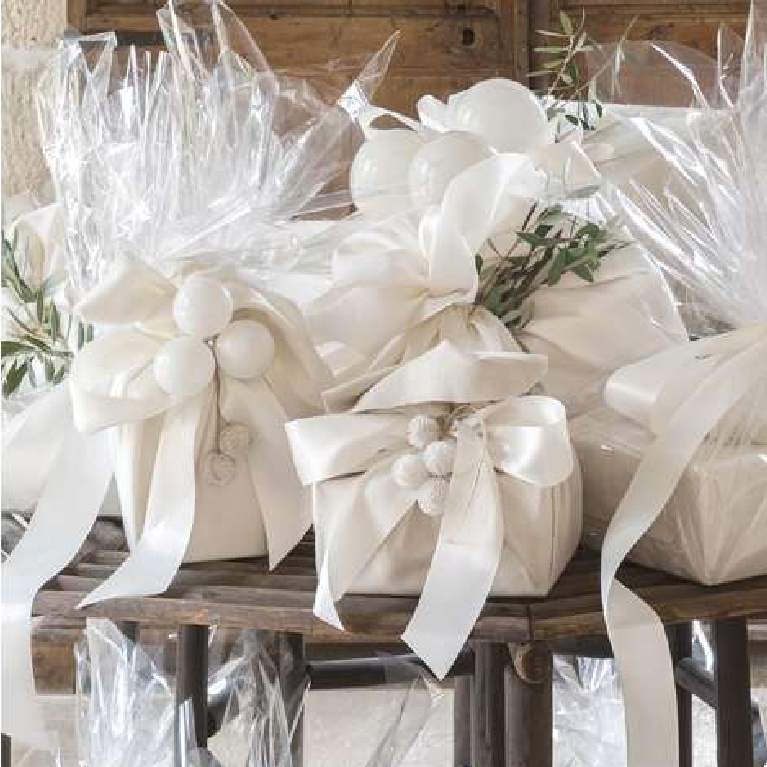 LEARN FROM THE LOOK: Floating Evergreens
This is a look that feels as fresh and timeless as ever. What I love about this idea of suspending fresh evergreens with ribbon is that you need not have a chandelier!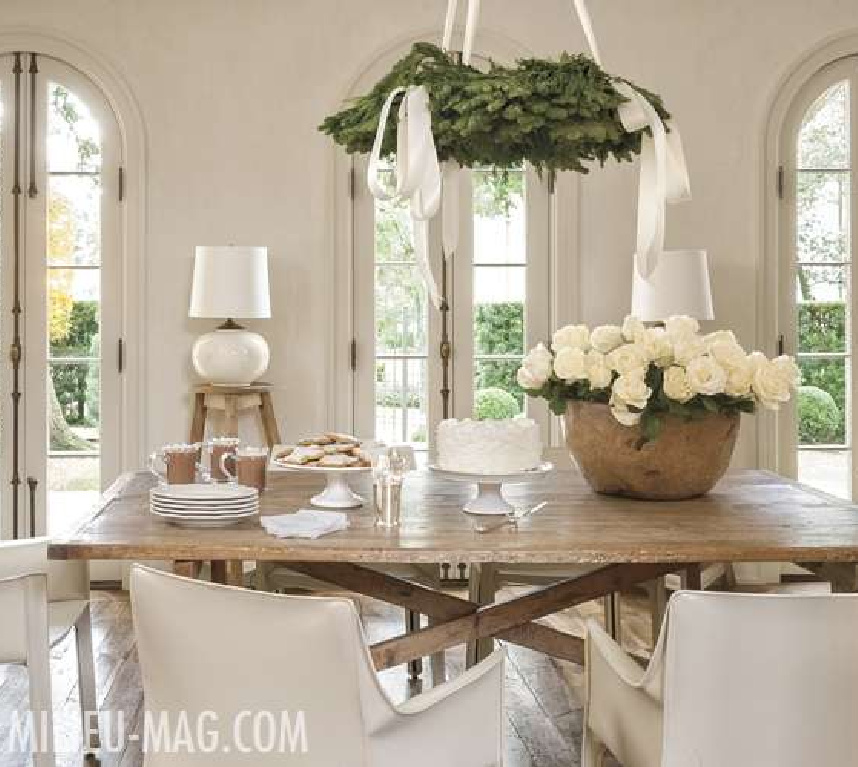 Isn't it a magical effect!?!
Psst. If you are new to Milieu magazine…ooh lala…indeed you will want to subscribe! (Also, it makes a perfect gift!)
LEARN FROM THE LOOK: Create a Nest on the Mantel
Just look at how evergreen branches form a snug nest for antique jars and pears on the fireplace. The fullness of the greenery softens the whole composition almost like a cloud!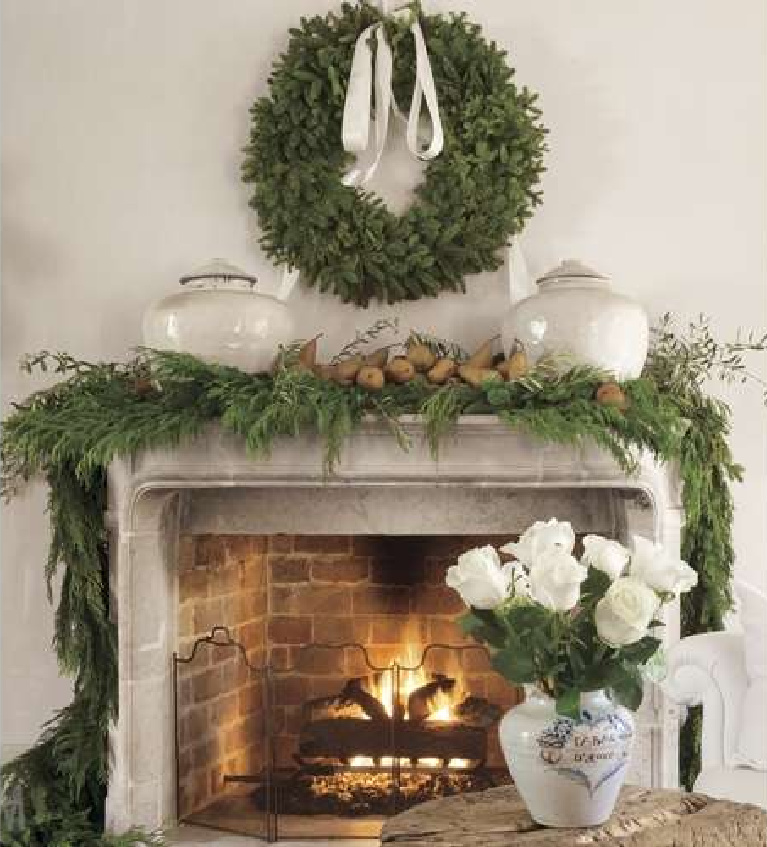 LEARN FROM THE LOOK: Angel Cookies
Is it truly as simple as baking or buying simply iced angel cookies and placing them on a white pedestal?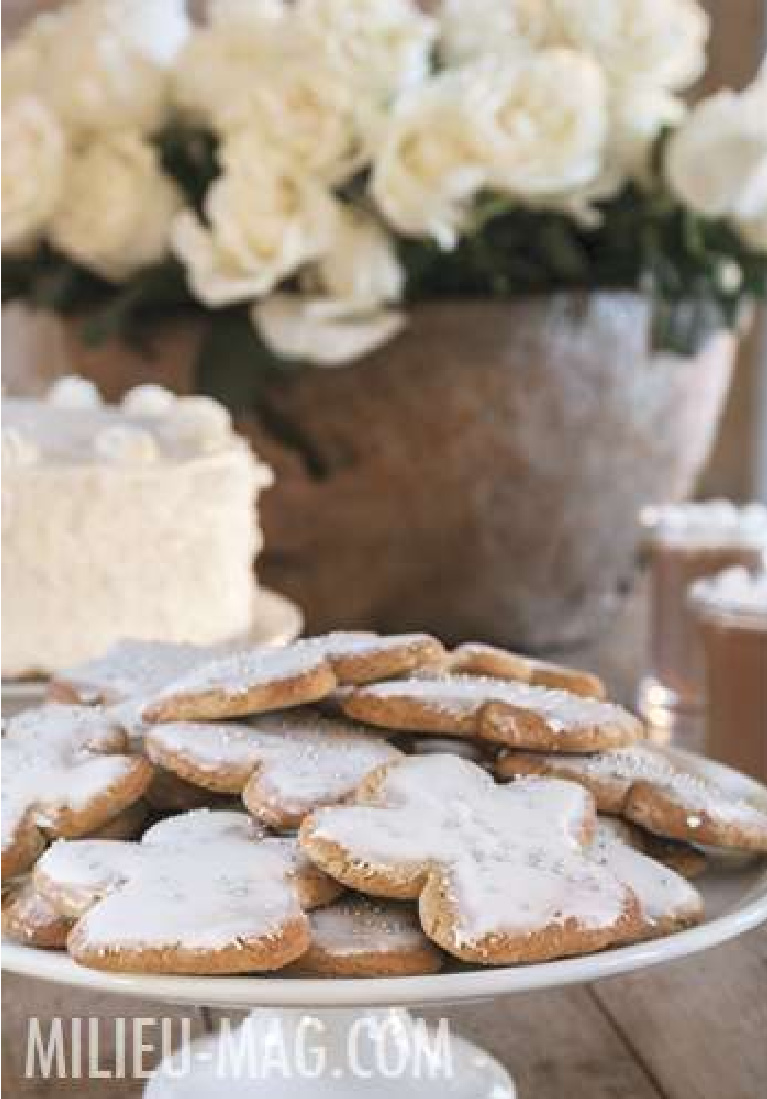 Give it a whirl and see for yourself! I found this cookie cutter collection in case you need it.
Also, for a beautiful scalloped bowl that I use for salads, baked goods, and everything under the sun…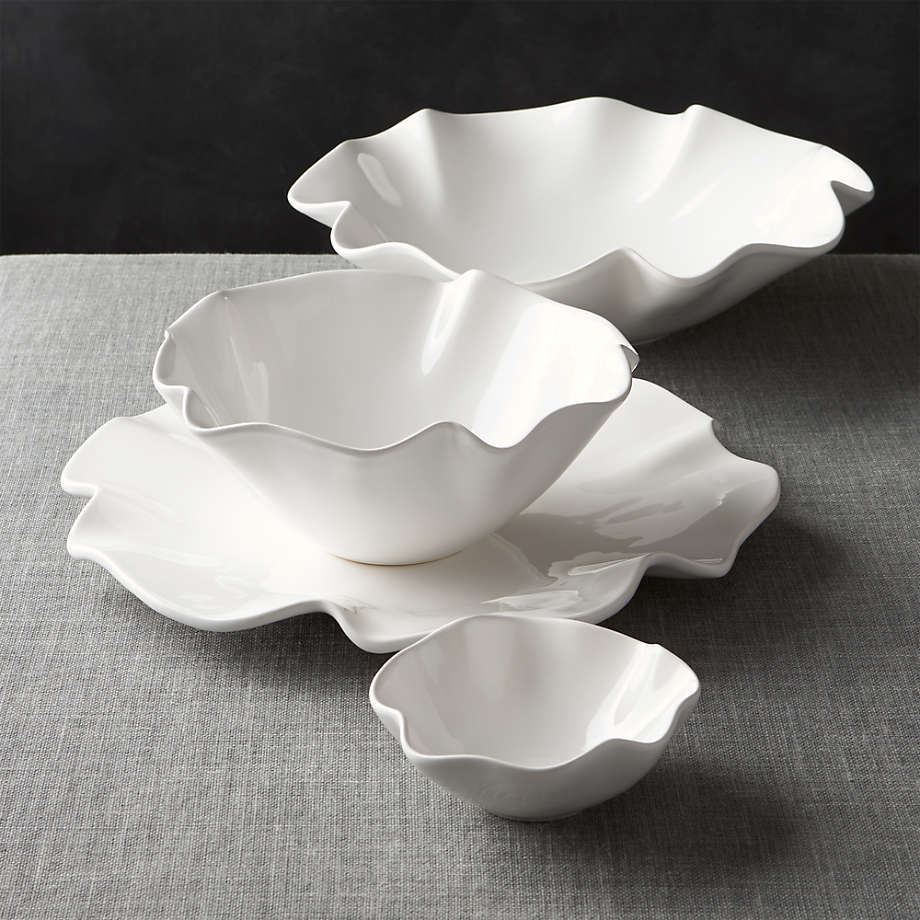 If you have been following along, you may know my inner sugar plum fairy delights in pinning holiday decor you can peek at HERE.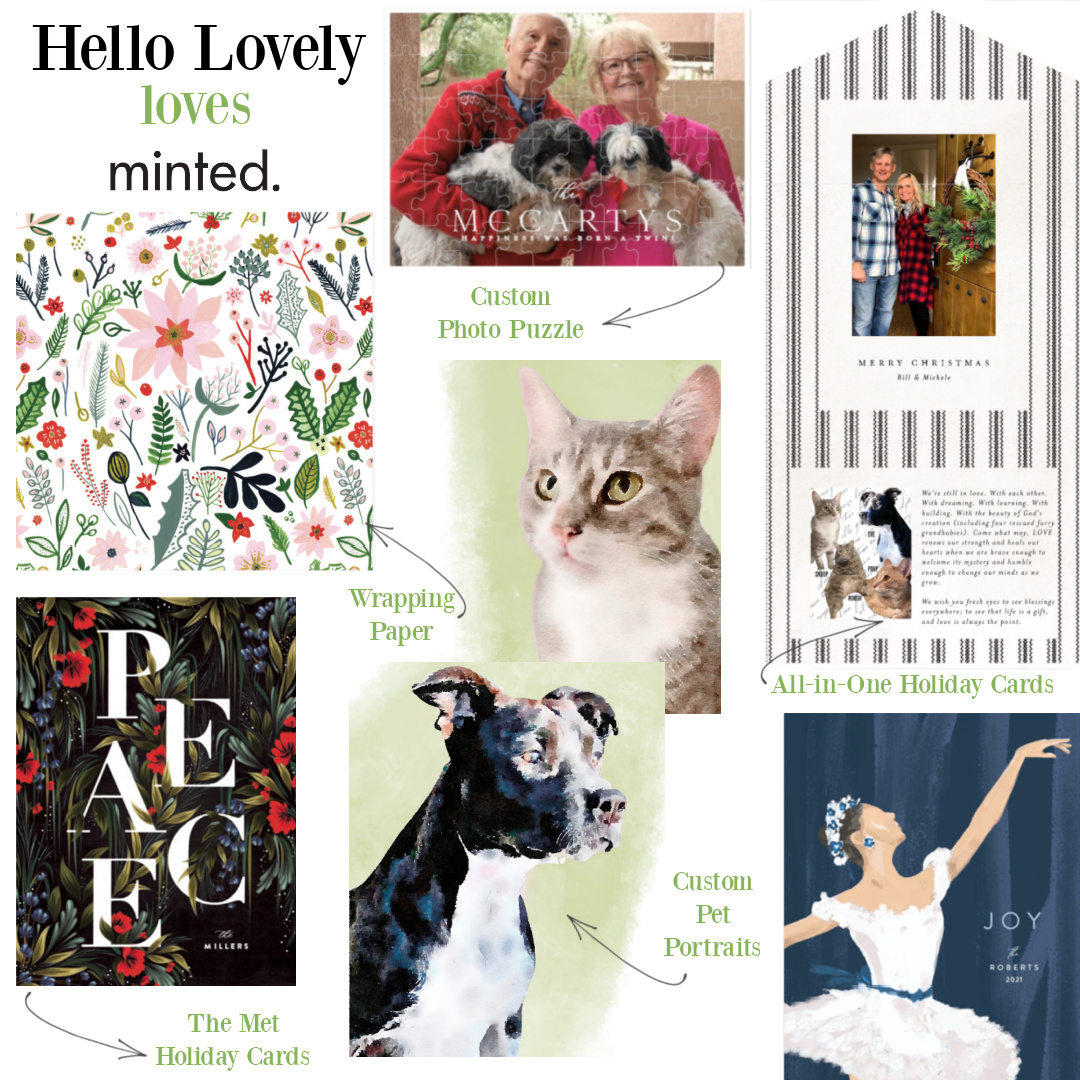 Thanks so much for re-pinning to spread the magic…you truly know how to make this bloggerina twirl...oh, and she is still dancing a happy dance about making the short list for Amara's Interior Blog Awards! Please vote Hello Lovely RIGHT HERE.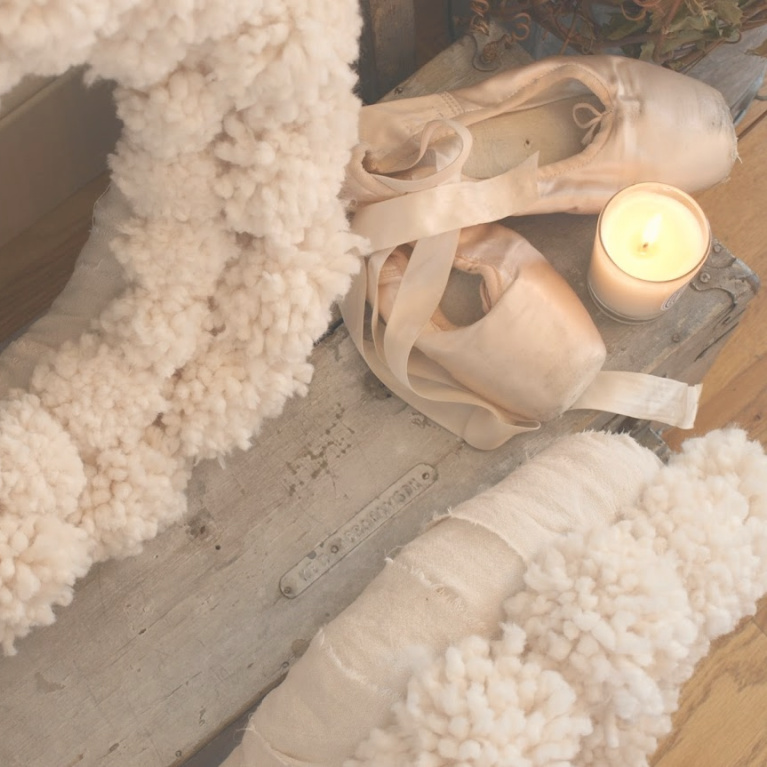 ABOVE: Hello Lovely's pom pom wreaths…in case you enjoy retro cozy.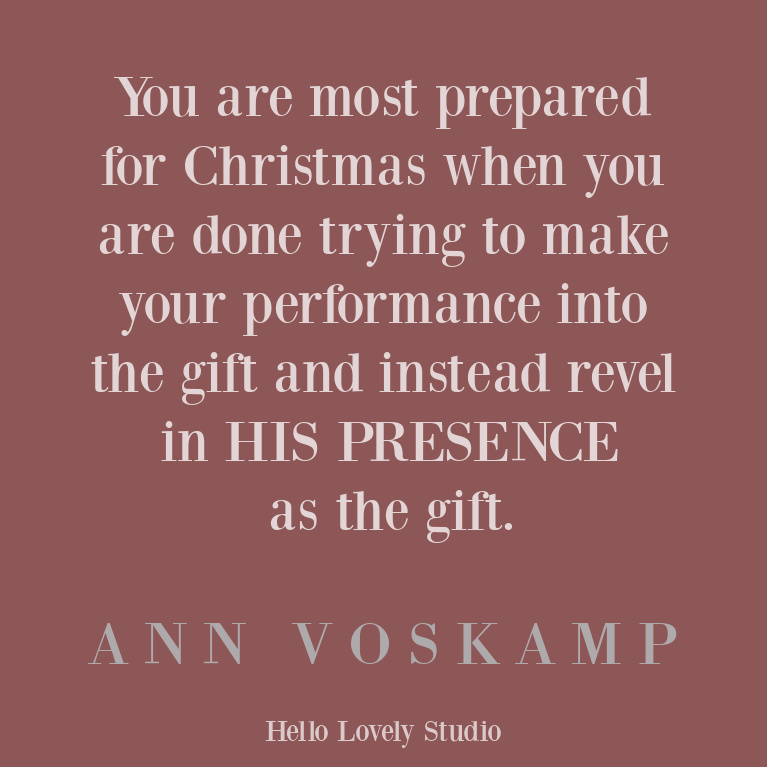 It seems this bloggerina must be reminded repeatedly with messages like the one above that productivity and performance are never the point.
Thank you, Pam. For sharing your personal home to bless our hearts, so very hungry for beauty.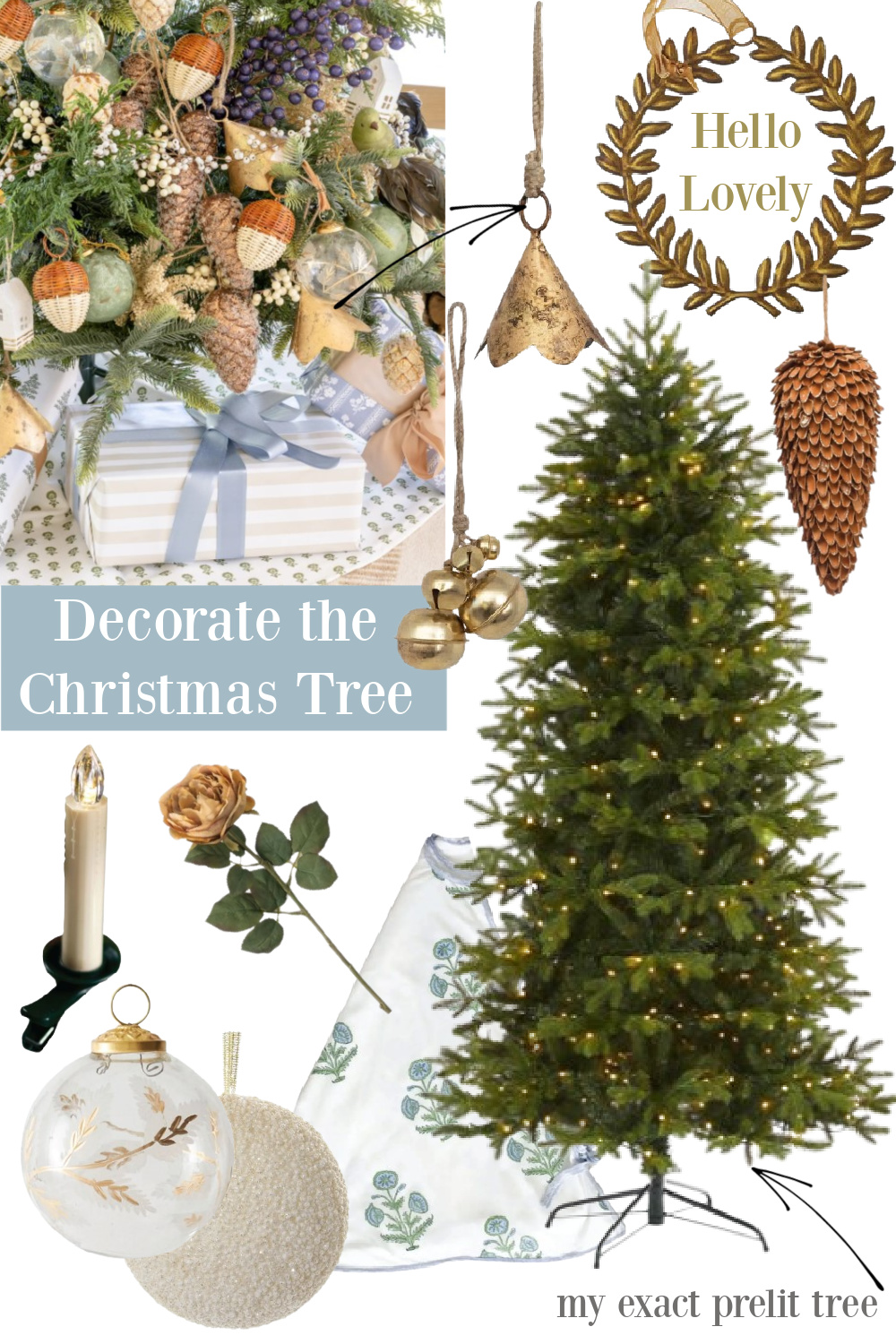 Pin this post to save for future reference, and if you enjoy wisdom from author Ann Voskamp, find this and also other titles RIGHT HERE.
Have an extra moment for a timeless house tour?
Peace to you right where you are.
-michele
I independently selected products in this post—if you buy from one of my links, I may earn a commission.
Shop for items you already intended to buy on Amazon RIGHT HERE, and also find home decor here to keep decor inspiration flowing on Hello Lovely!
Hello Lovely is a participant in the Amazon Services LLC Associates Program, an affiliate advertising program designed to provide a means for sites to earn fees by linking to Amazon.com and affiliated sites.