Vivi et Margot's Charming Farmhouse in France: Photos, Paint Colors & Design Resources is truly a treasury of helpful resources. Enjoy learning which paint colors, design elements, and shopping resources were involved in the interior design while relishing one joy ride of house tour inspiration! Admirers of rustic lovely French country style homes in France are about to be swept off their Francophile tootsies…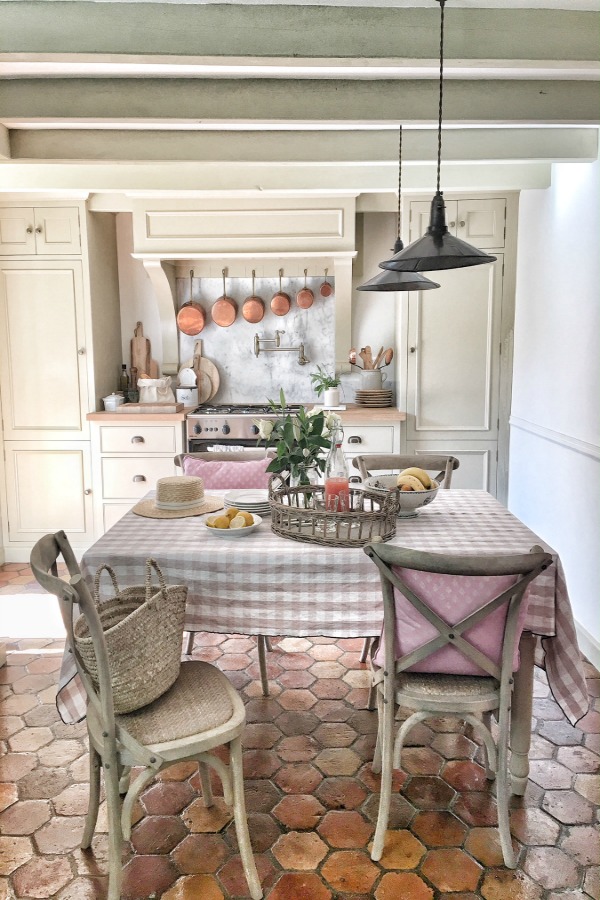 Vivi et Margot's Charming Farmhouse in France: Photos, Paint Colors & Design Resources
Last summer, it was a delightful treat to connect with Vivi et Margot's founder, designer, stylist and all around timeless style guru, Charlotte Reiss.
Photography and styling: Charlotte Reiss for Vivi et Margot and Evgenia.Prinsloo (courtesy of Vivi et Margot)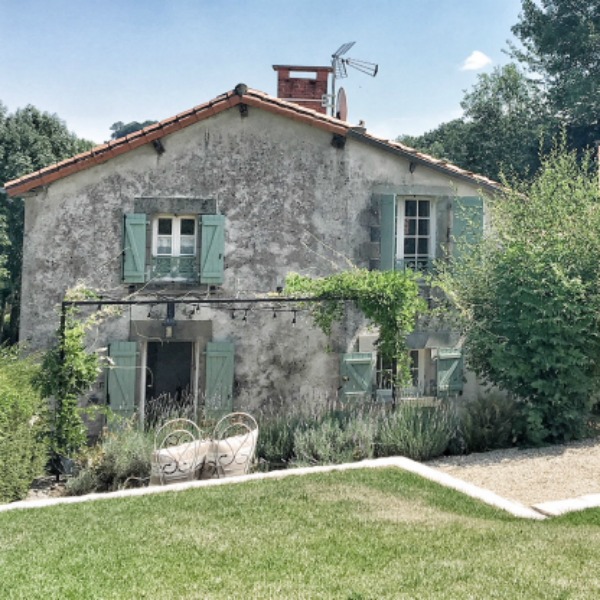 Some of the links to follow are for independently selected products—if you buy from one of my links, I may earn a commission.
In addition to exclusive photos just for us of her charmingly renovated French farmhouse in Deux-Sèvres (near Bordeaux), we learned her secret shopping resources!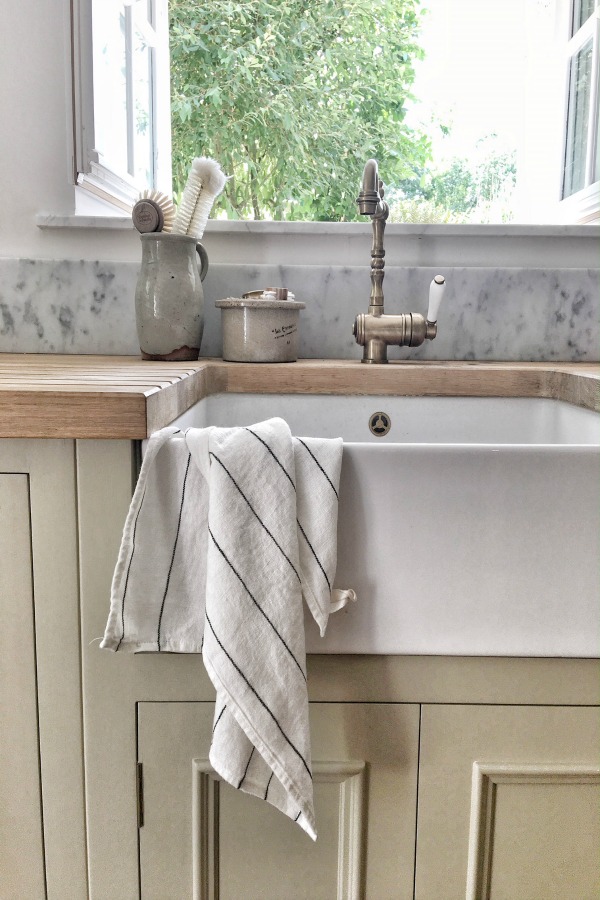 "The home is such a passion project for me. We bought it years ago and have never looked back."

Charlotte Reiss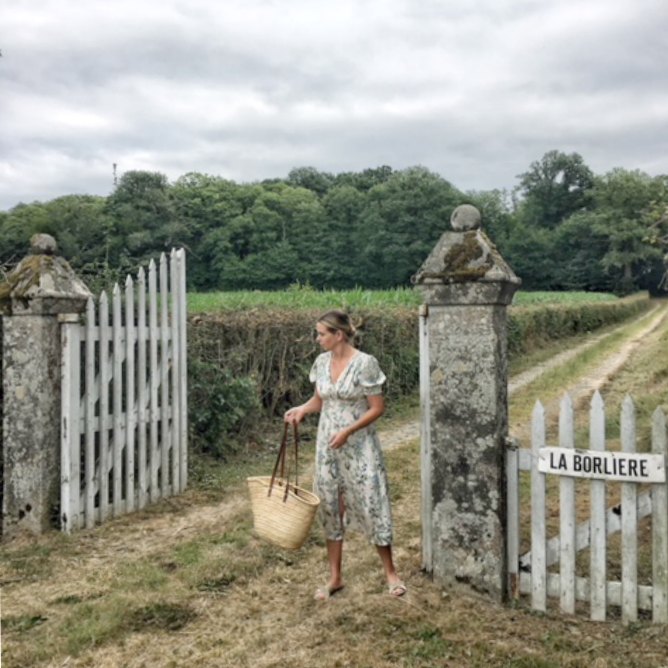 Charming Farmhouse in France by Vivi et Margot
Of course, it's her charming shop Vivi et Margot (where the amazing array of French market baskets is only the beginning!) that remains the shining jewel among those sources for French homewares.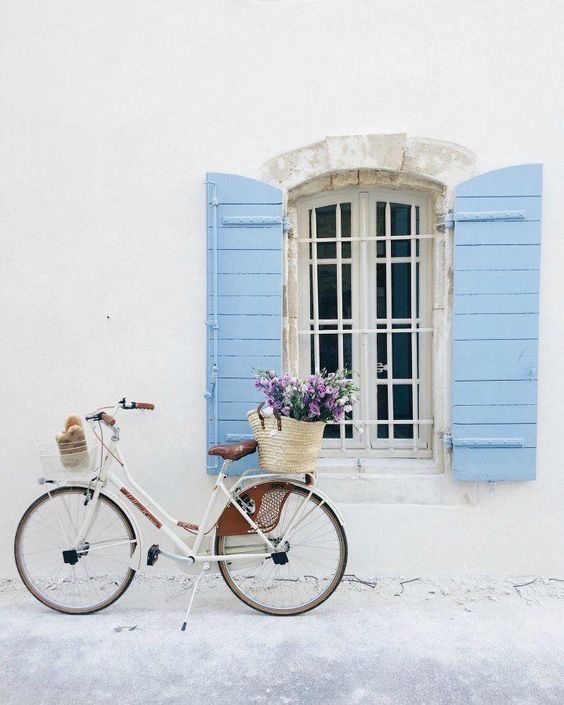 Charlotte even shared the Farrow & Ball paint colors she chose in the renovation of her French farmhouse, and I'm so glad we have these images since she has begun refreshing, redesigning, and re-painting some of the spaces you'll see here.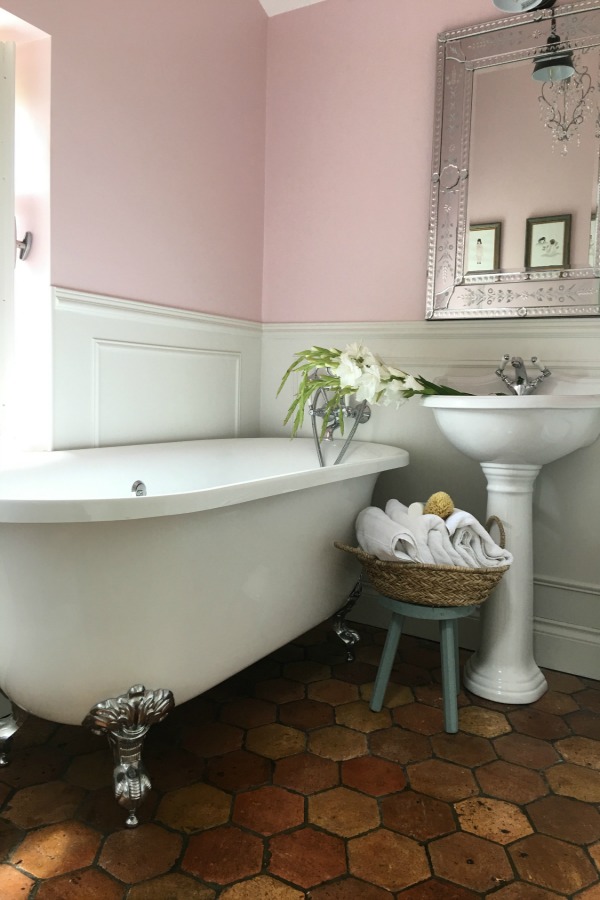 Since 2015, Vivi et Margot has blossomed from an online marketplace to brick and mortar pop ups across the USA to interior design services and even prop sourcing. I cannot wait to see what the future holds!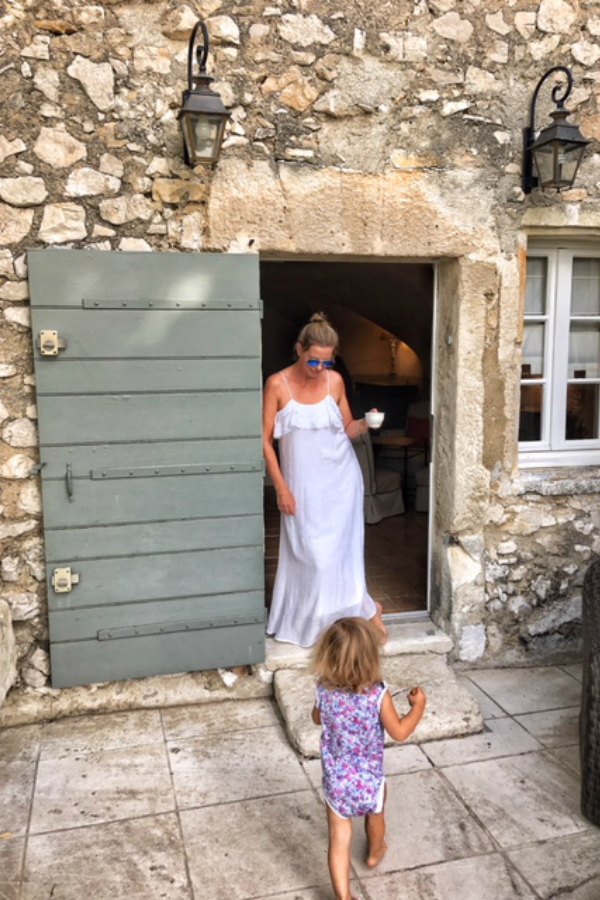 Fall in Love With French Farmhouse Lifestyle
Vivi et Margot is named for Charlotte's daughters, and if you have had the pleasure of enjoying the brand's instagram feed, then you know she graciously shares the most lifestyle inspiration, inviting us along on this lovely journey.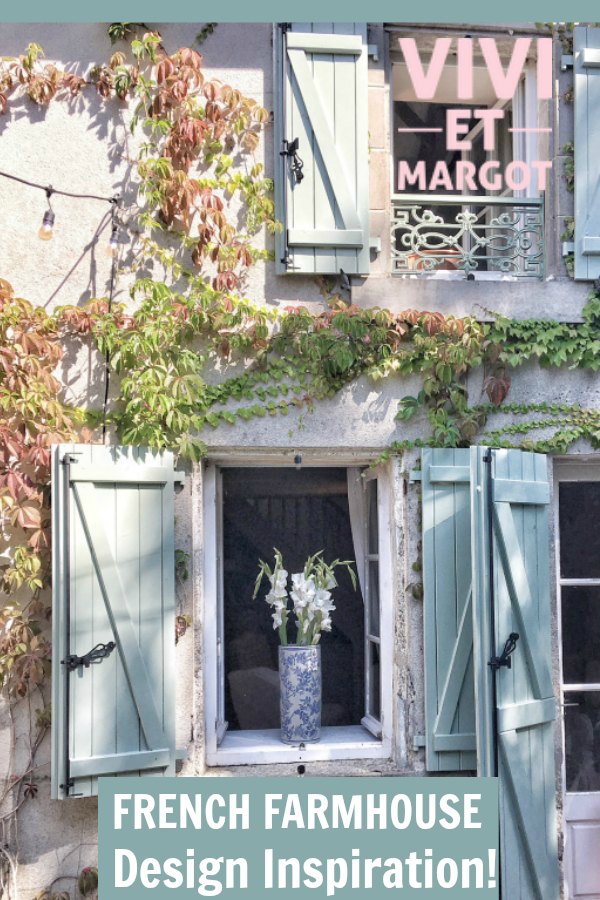 Enjoy this interview with this talented entrepreneur, and if Vivi et Margot is news to you, prepare to fall deeply in love.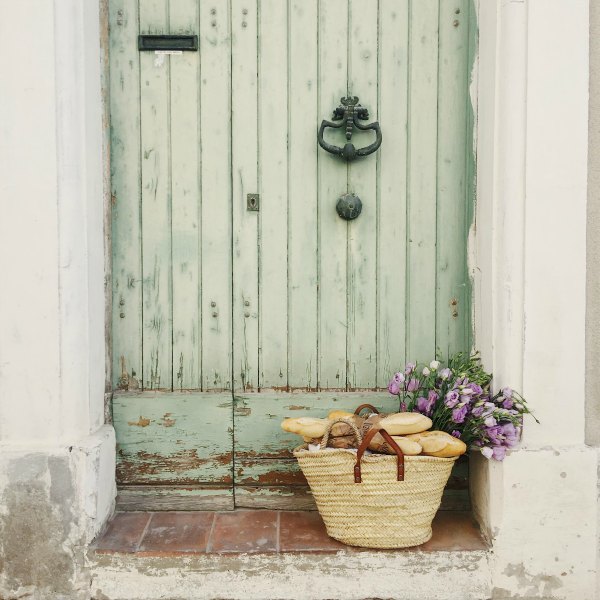 How did the farmhouse in France come into your possession?
"While watching HGTV's House Hunters International, we looked at each other and said 'We want to do that!' and promptly started our search online."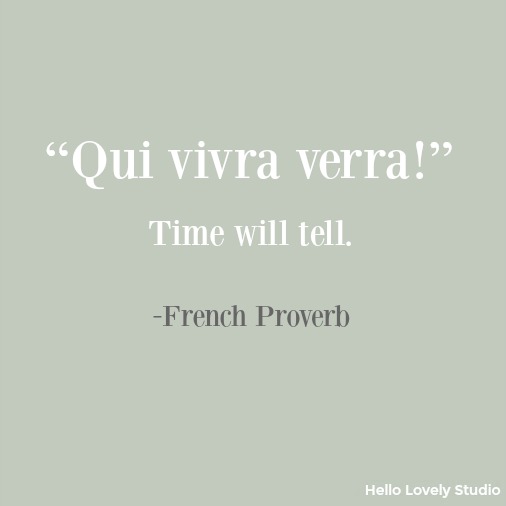 Beyond Provence for a Dreamy Holiday Home
Wow! And then you found your amazing vacation home in Deux-Sèvres. My imagination always goes to the South of France and Provence when I think of as dreamy French country locales…what led you to Western France?
"The South was out of the question for us financially. Rather than seek a particular region, we looked mainly at houses with 'good bones.' We explored possibilities all over France within our price range, which was under 100,000€. "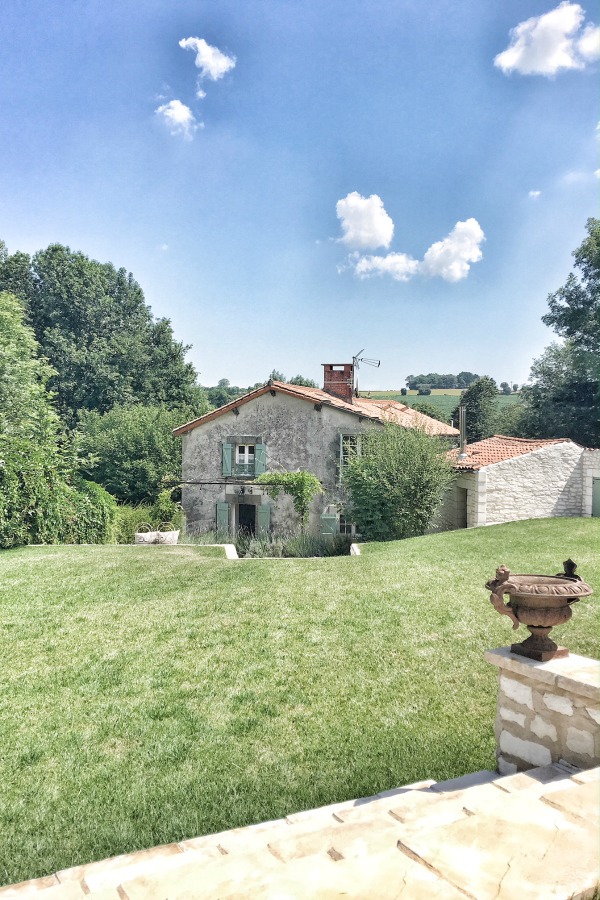 How practical and inspiring! That will give a lot of folks some hope. But did you truly buy your dream house in France sight unseen?
"Yes, we did! We are two hours from Bordeaux and 80 minutes from Ile de Re, which is my favorite place to visit."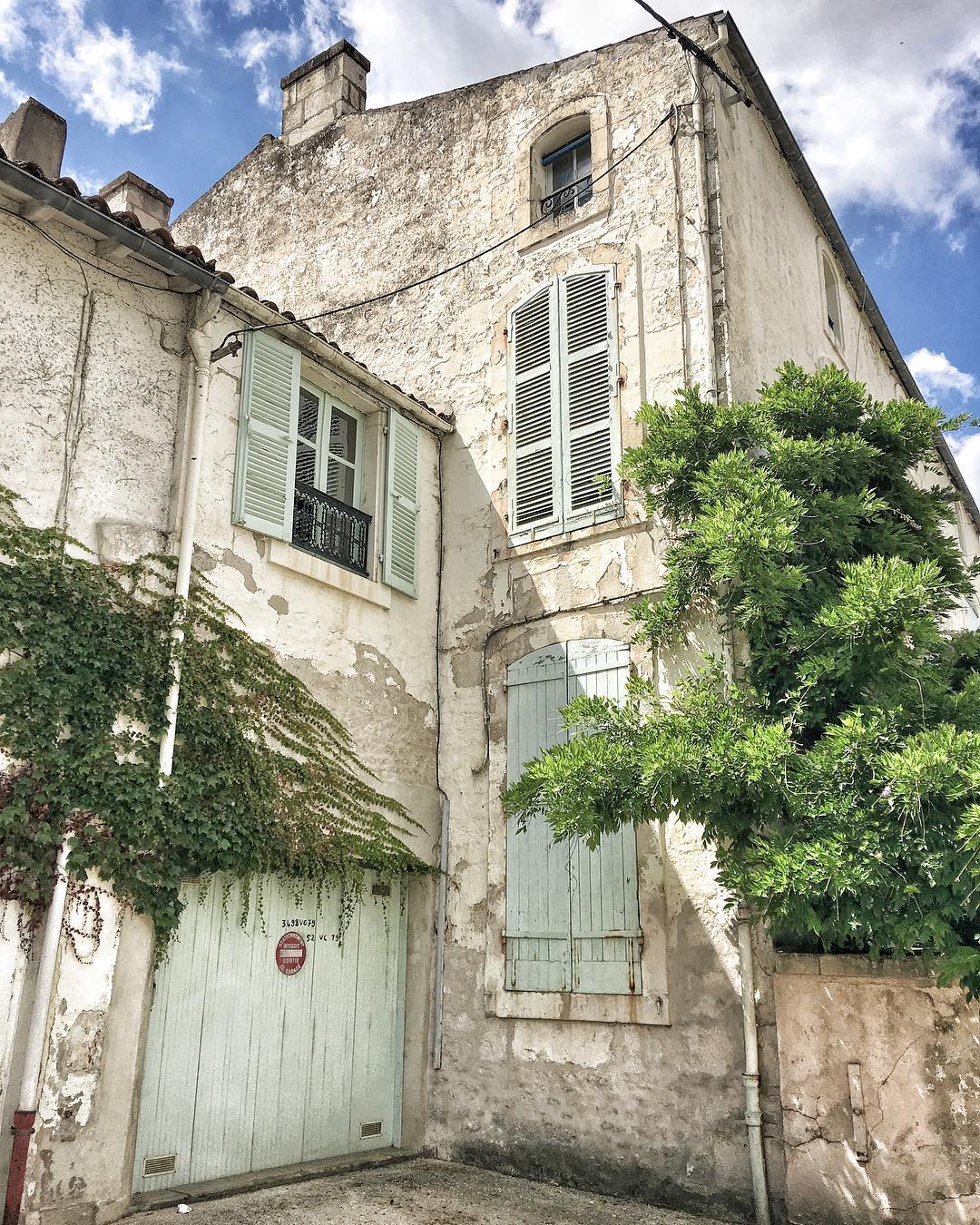 Rustic Exterior Inspiration from Western France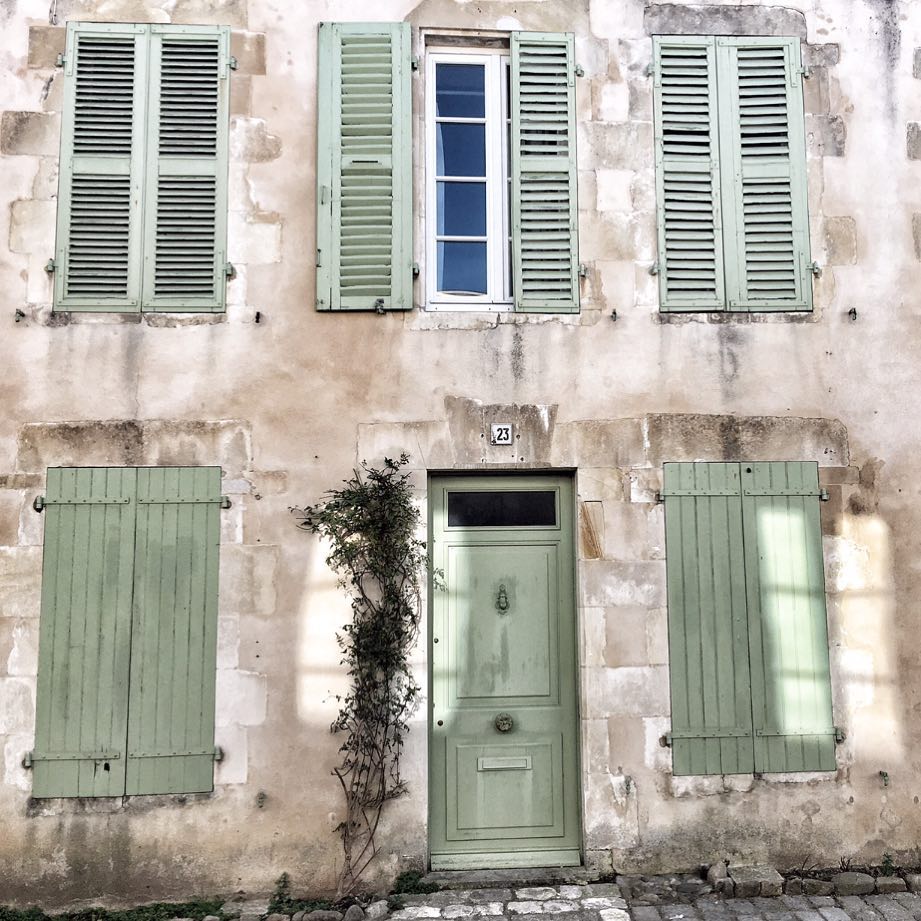 Ile de Re sounds like a magical place I would love to discover! Where would we stay if we want to explore this gem in Western France?
"Hotel Toiras is my number one recommendation…it is truly spectacular. We fly into Paris and either drive five hours south or take a two and a half hour train ride to Poitiers."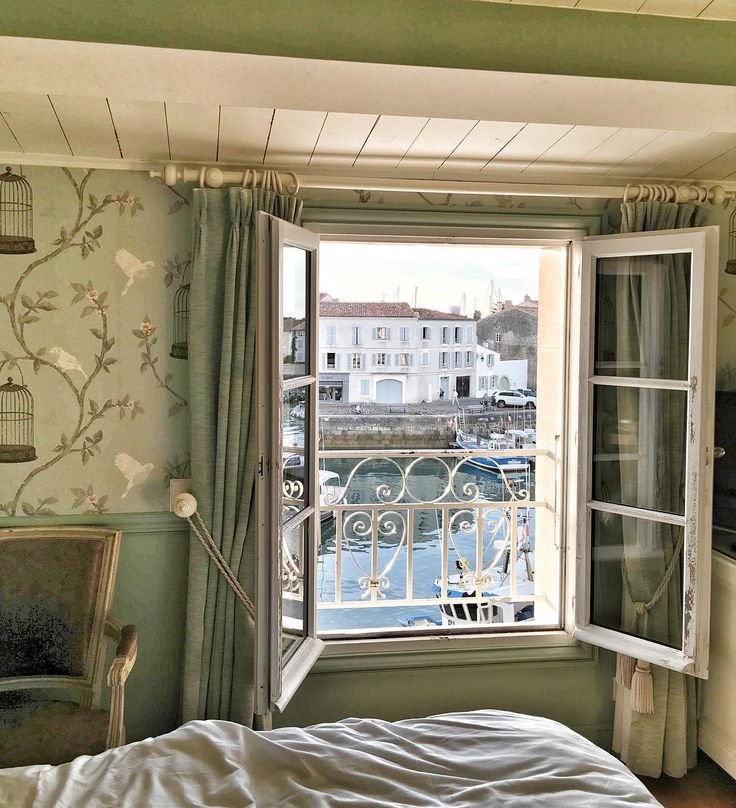 In Case You Need a Taste of Ile de Re (I do!)
Inspiration from 'Summers in France'
You mentioned that epic designer Kathryn Ireland's gorgeous book SUMMERS IN FRANCE also made an impression on you. Like Ireland, you are a Brit residing in Los Angeles!
"Her beautiful book inspired me greatly! I admired her down to earth approach to the renovation of an old farmhouse in rural France while living in America and raising her children.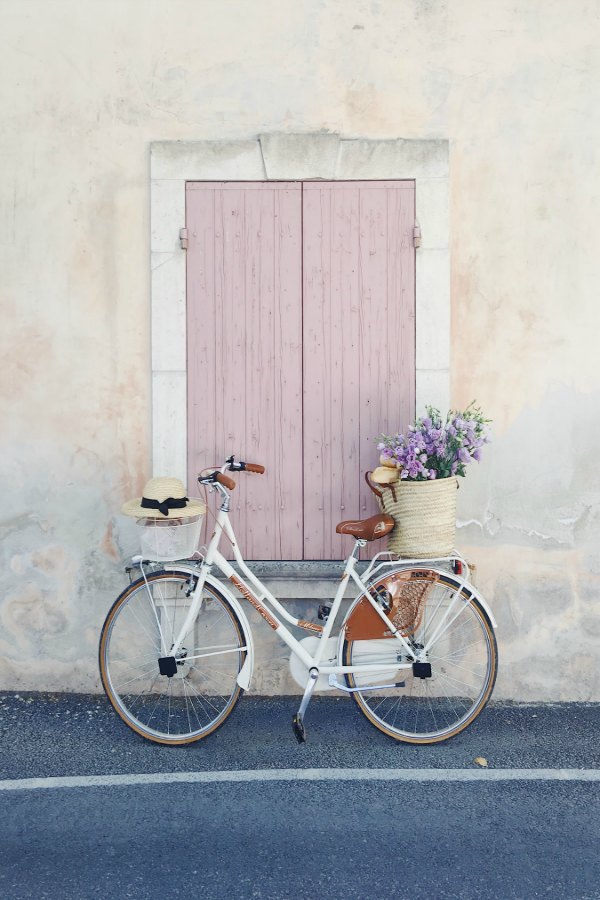 We're on a similar journey, and I have come to realize it takes time and much patience to create a home we will love spending summers in for years to come."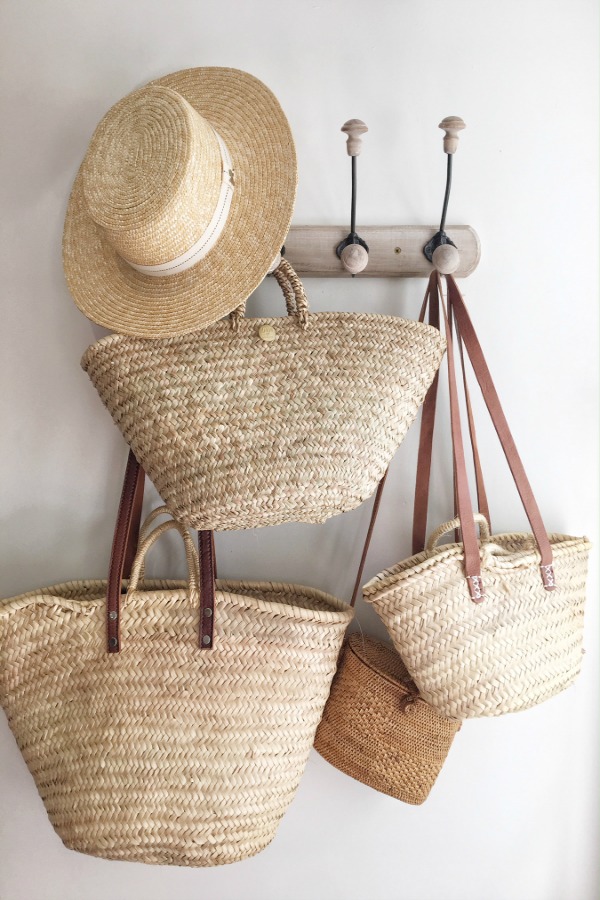 I'm crazy about her approach to design and the clear sensibility she has about creating LIVABLE places, not showrooms.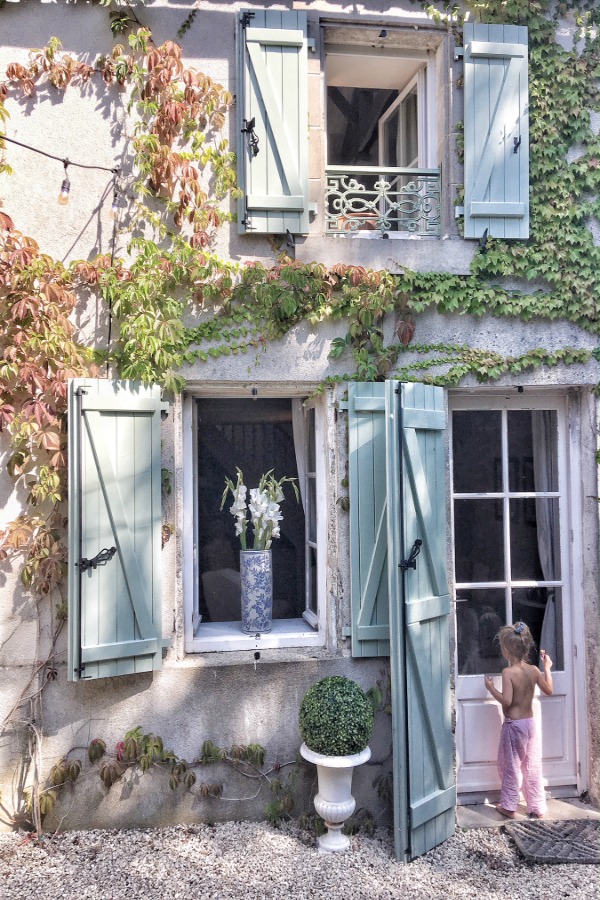 Unfussy & Rustic Yet Elegant French Style
It's what I love about unfussy old farmhouses like yours…it's not about impressing the neighbors as much as it is about a comfortable backdrop for family holidays and memory making.
Let's talk about your kitchen which I am absolutely in love with! What was it like when you took possession of the home and are those terracotta floors original?
"We field so many questions about the tile! No, they are 200 year old reclaimed tiles we found in Angers So much work to make them happen, but we adore them!"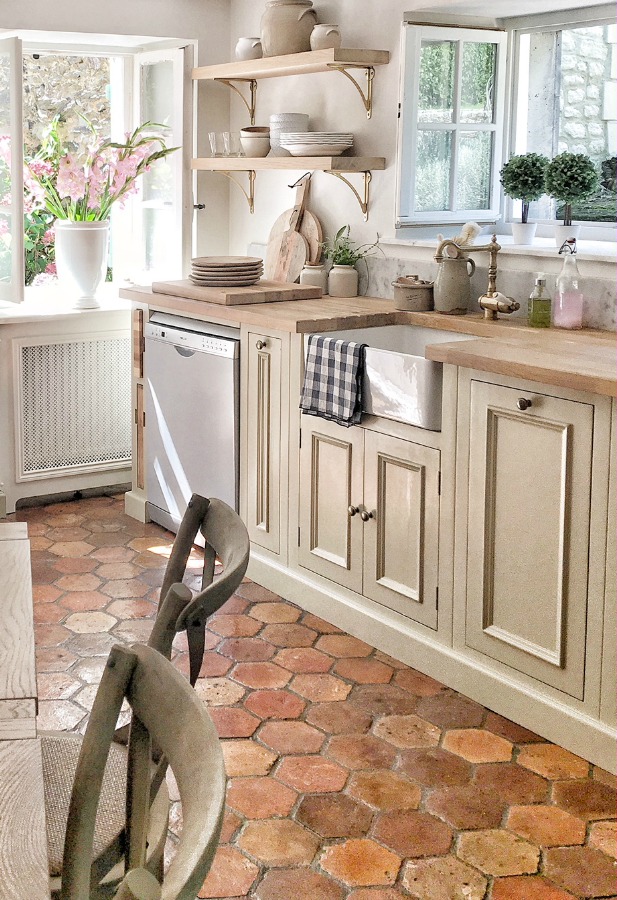 French Farmhouse Kitchen Renovation
Was the kitchen a gut job?
"The kitchen was a mess! Linoleum floors and cabinets! Also, the main stairs were initially located within the kitchen. My husband moved the stairs to the living room which opened up the kitchen."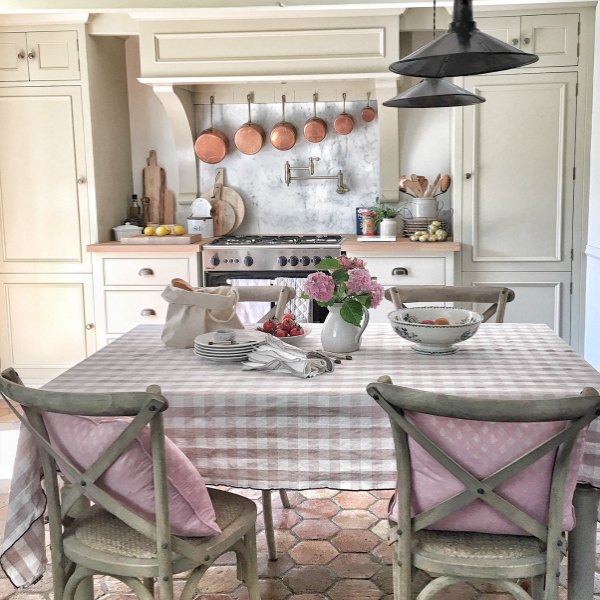 Holy cow! Moving stairs is for fearless renovators! Did you tackle the renovation work on the kitchen yourselves?
"We worked with Neptune kitchens (a UK company with branches in France) to create my dream kitchen."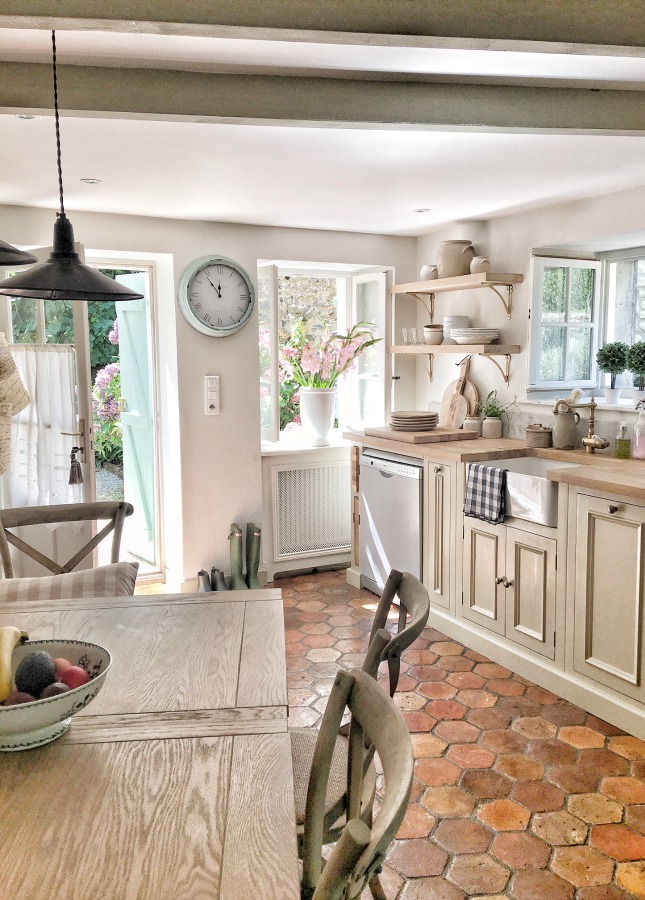 A Favorite Space in the Farmhouse
It's my dream kitchen too, Charlotte! Is it your favorite room in the farmhouse?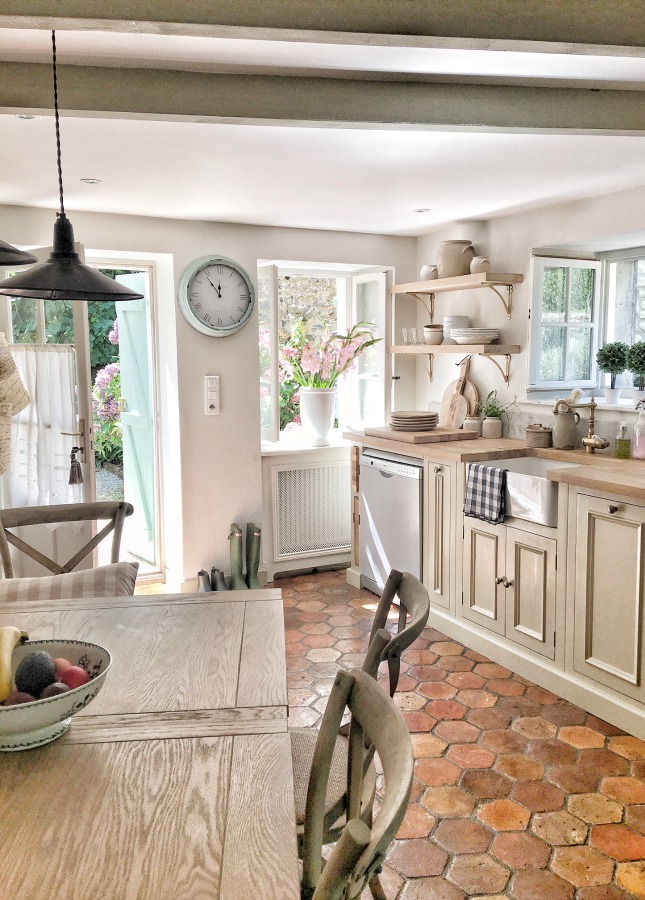 "It's one of my favorite rooms. My absolute favorite is our master bedroom. We converted the entire top floor attic to create an open concept bedroom, bathroom and dressing area.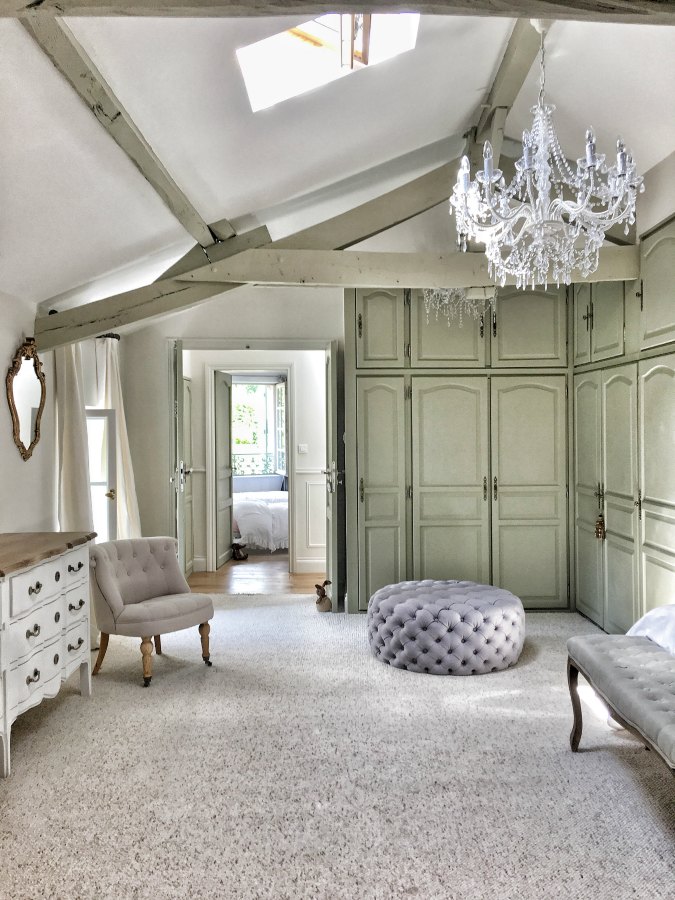 Blissful Master Suite Design
There are no walls dividing up the space except for the loo.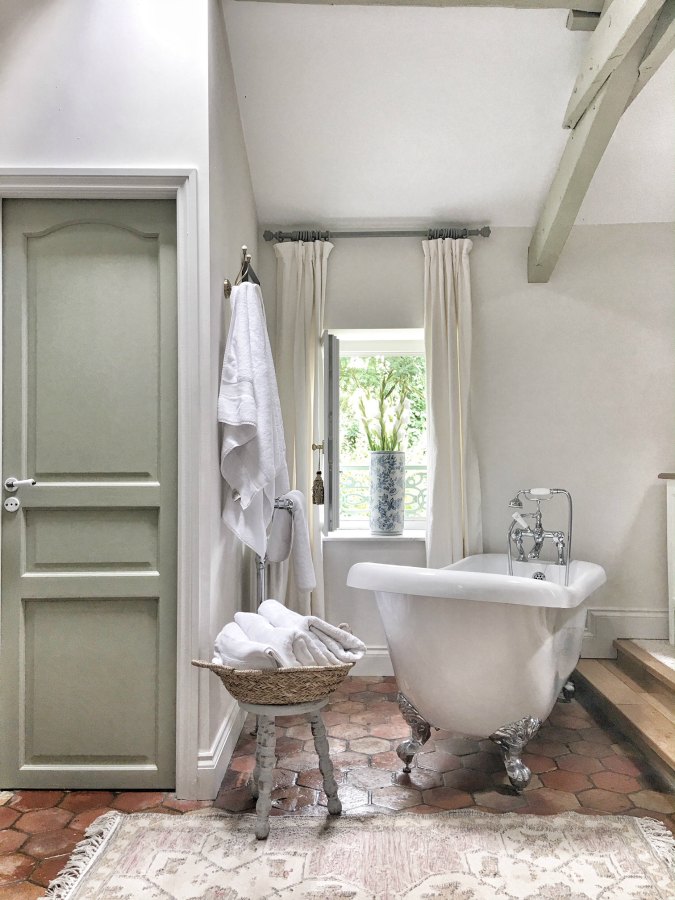 The claw foot tub is at the end of the bed, in effect, with a window overlooking the fields.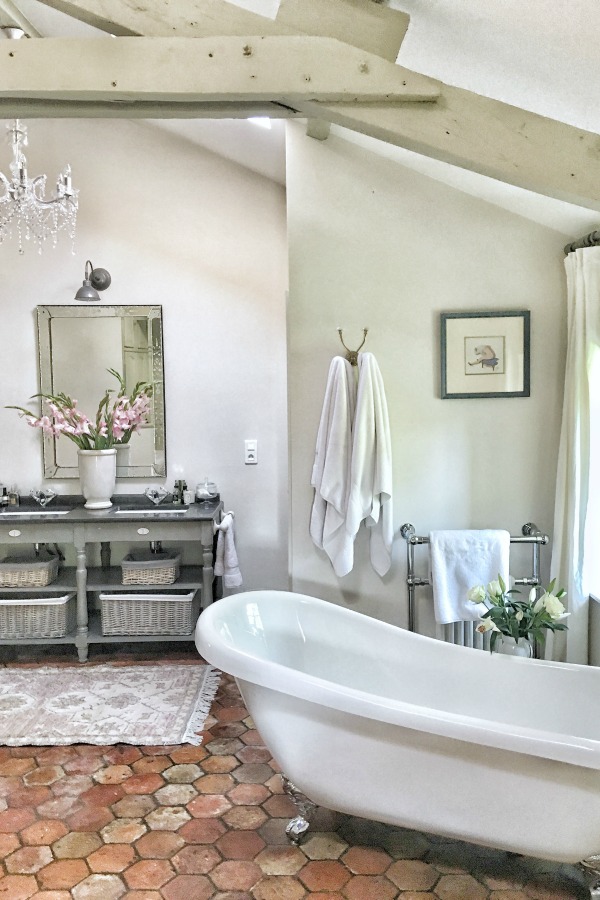 Old World Style & Classic Construction Materials
It's such a roomy open space with high ceilings and exposed beams. It's my favorite spot for sure!"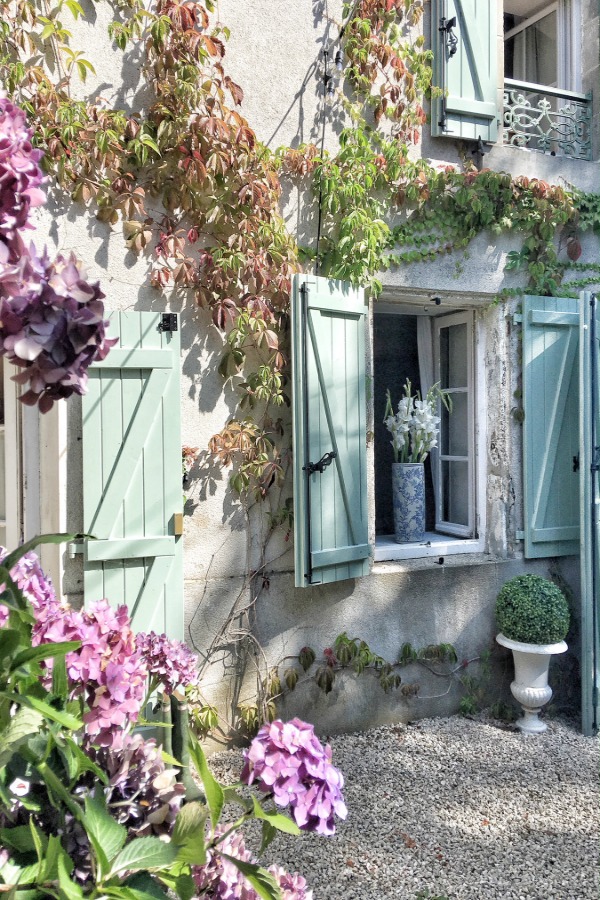 Did you furnish and decorate your home in France with local finds?
"Many items in the home were purchased from France or UK, but I actually incorporated a lot of items from Pottery Barn and Rejuvenation as well as paint from Farrow & Ball."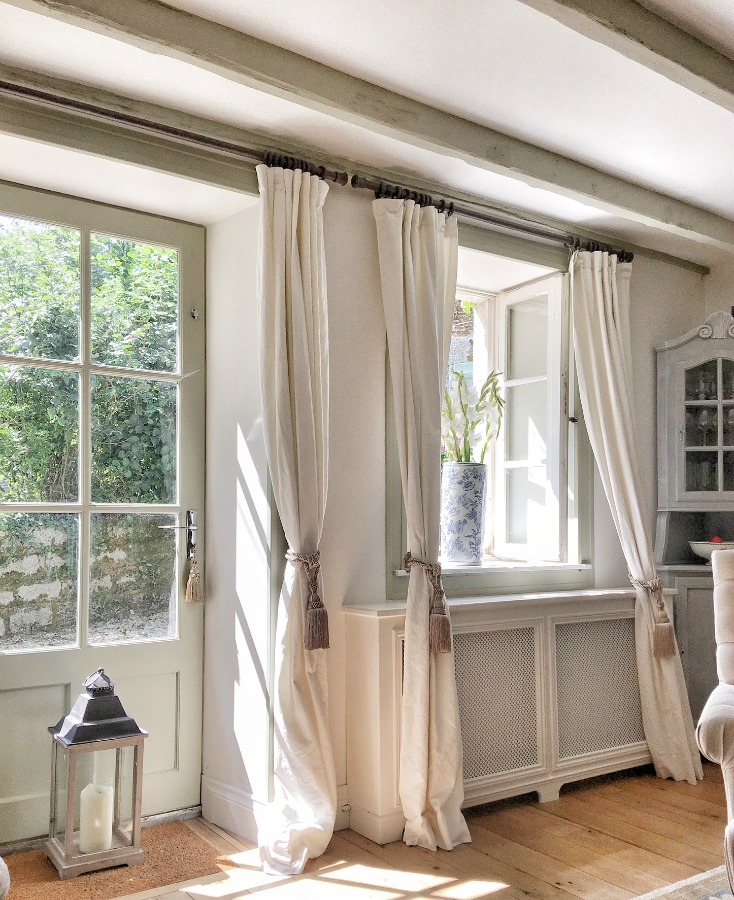 Merci Beaucoup!
Thank you so much, Charlotte!! I feel so encouraged and empowered by your approach to finding a fixer to renovate and the relaxed manner in which you designed the interiors!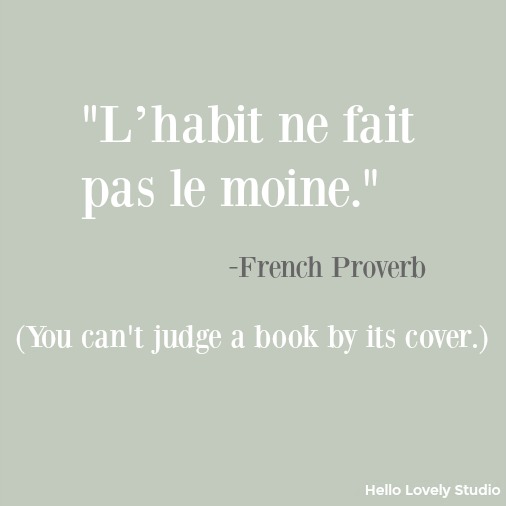 Stay tuned for a helpful Shopping & Resource Guide below (courtesy of Charlotte Reiss) for sources of the furniture, decor, paint colors, and more.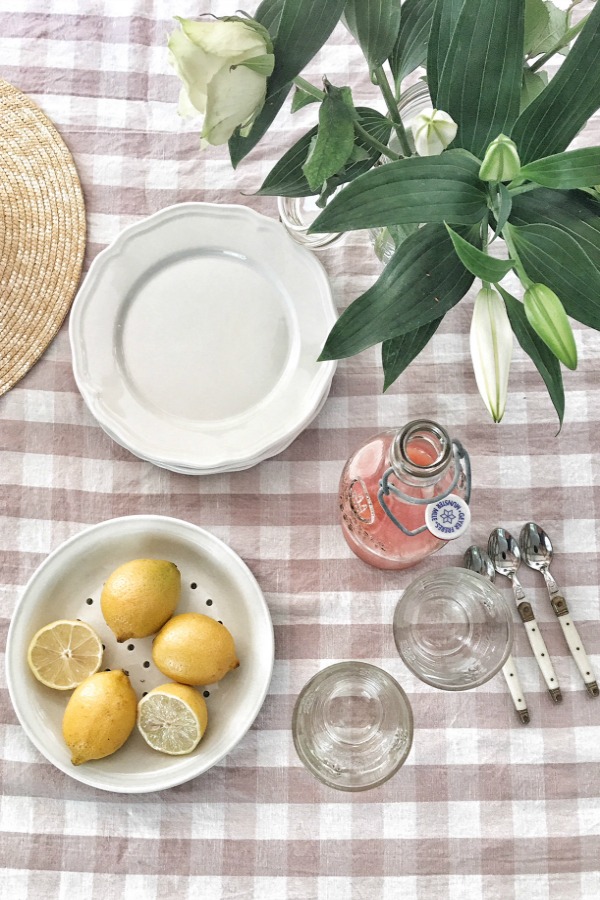 House Tour of Charming Farmhouse in France by Vivi et Margot
But first let's continue our tour of Vivi et Margot's French farmhouse!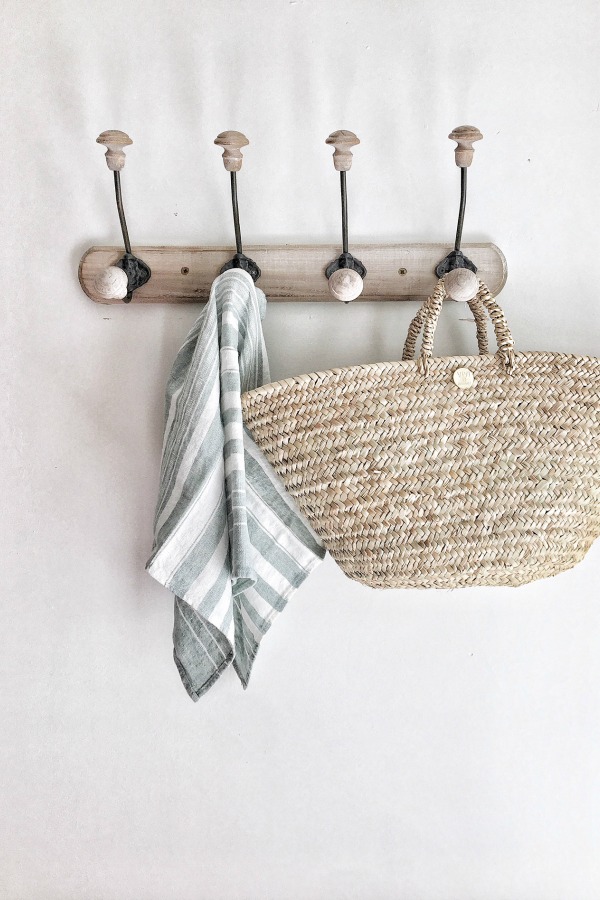 Climbing Vines on a Country House Exterior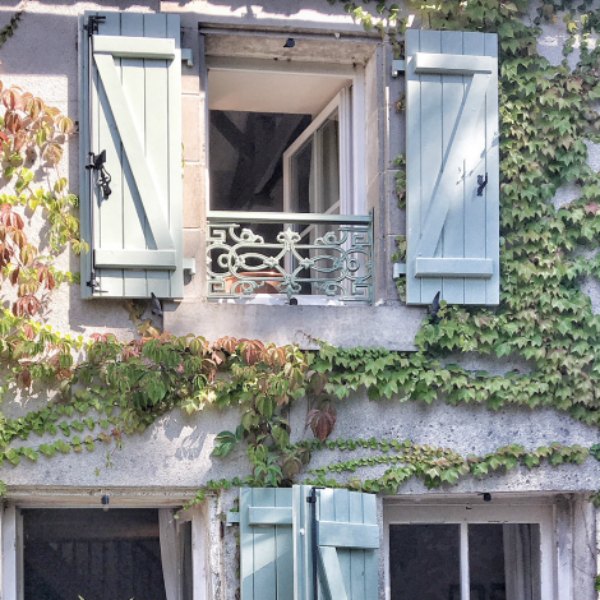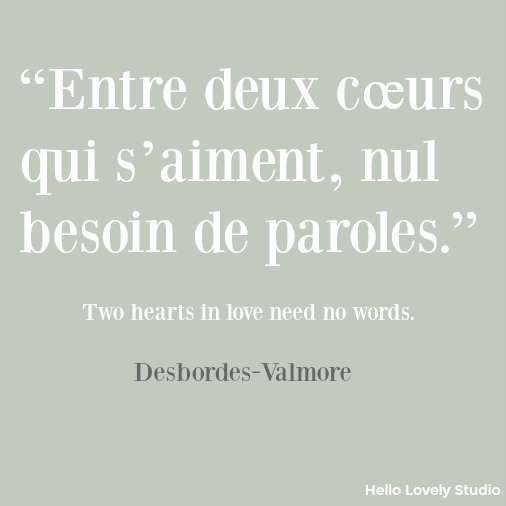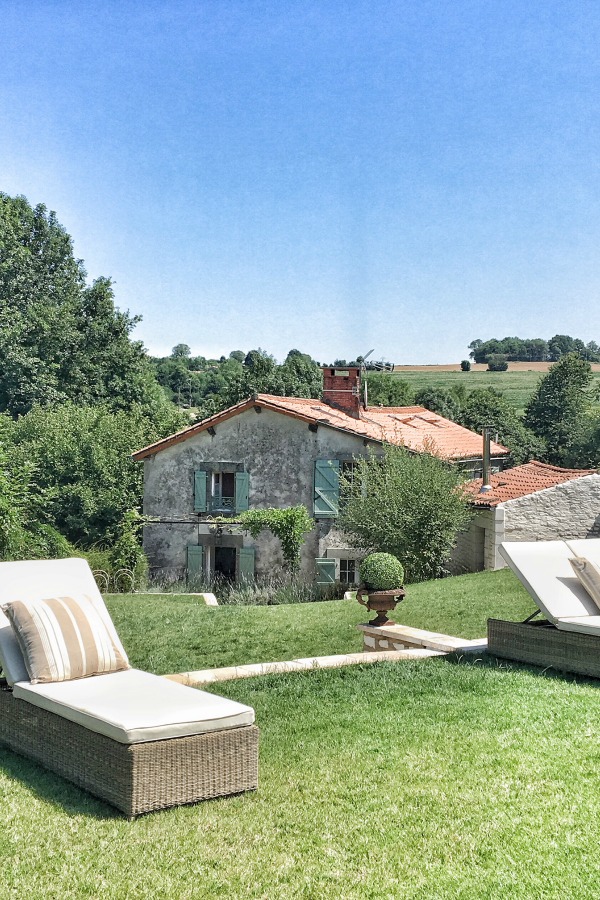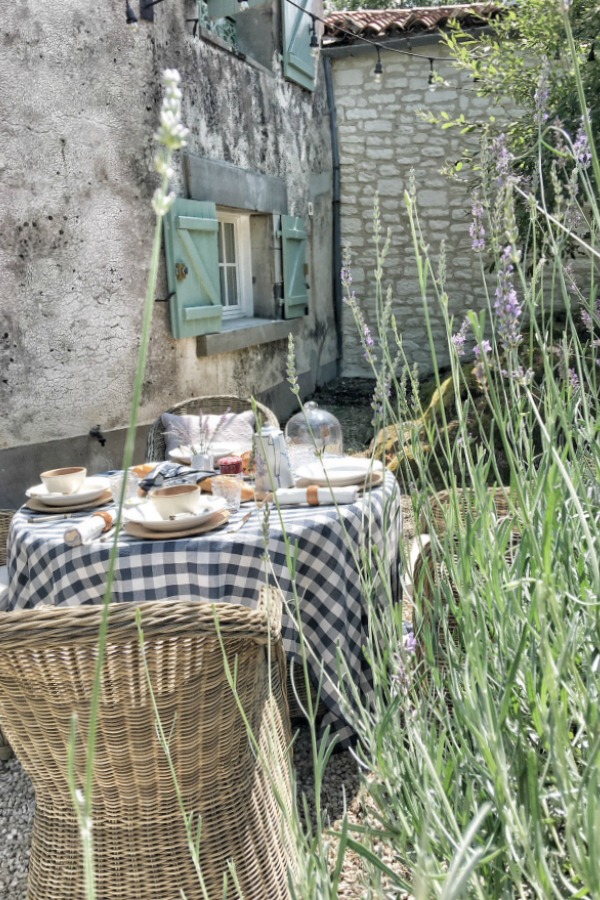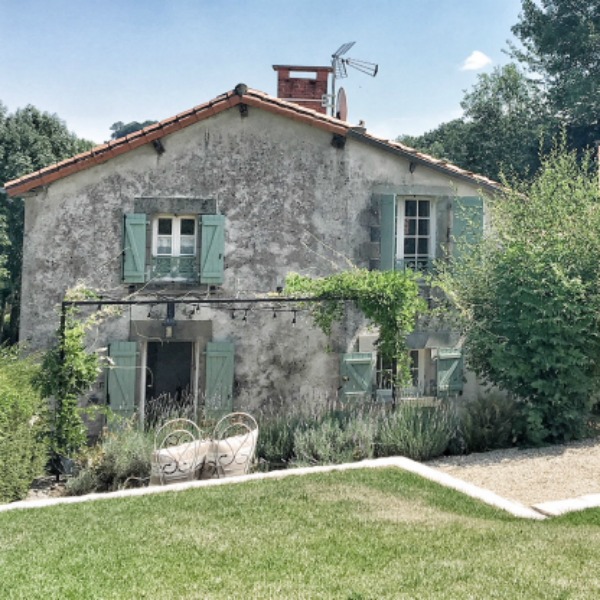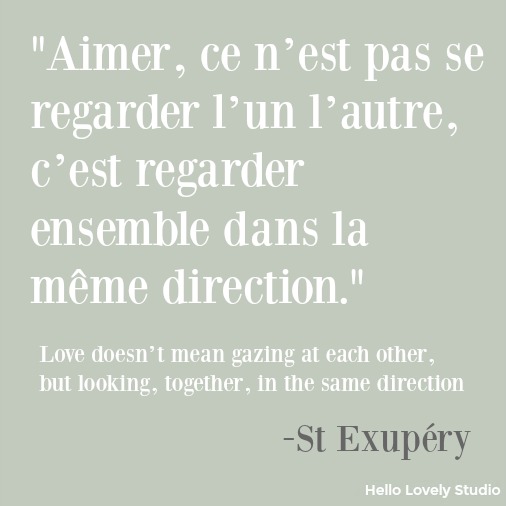 Romantic French Home & Lifestyle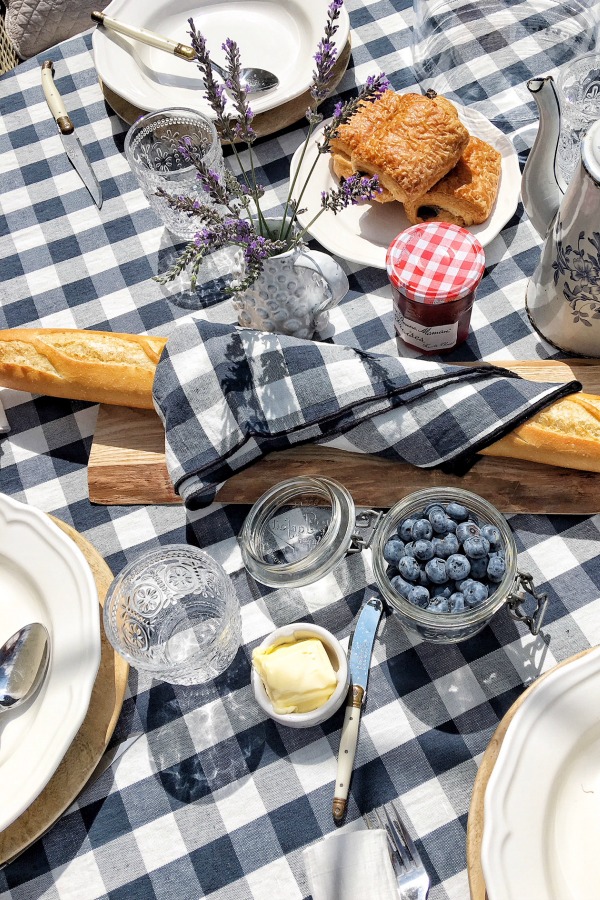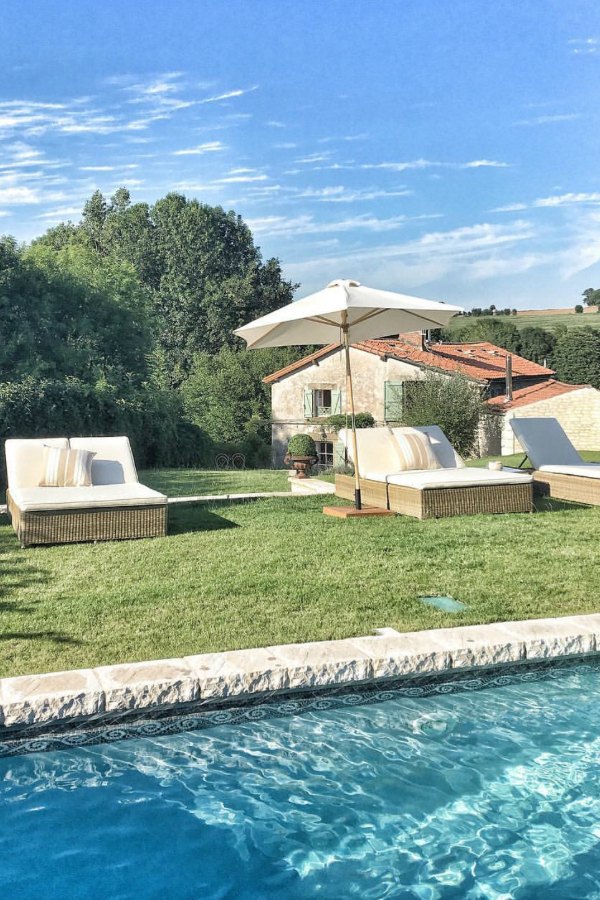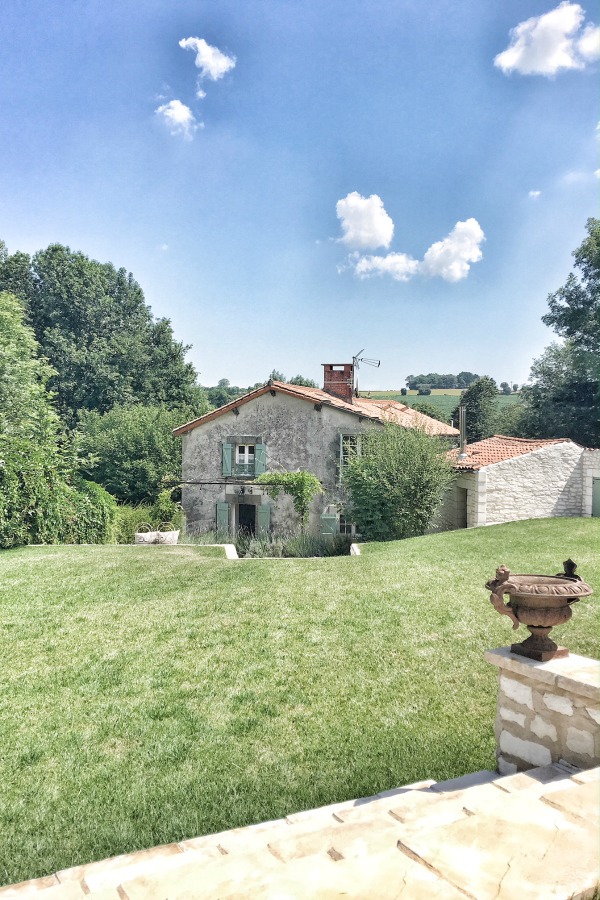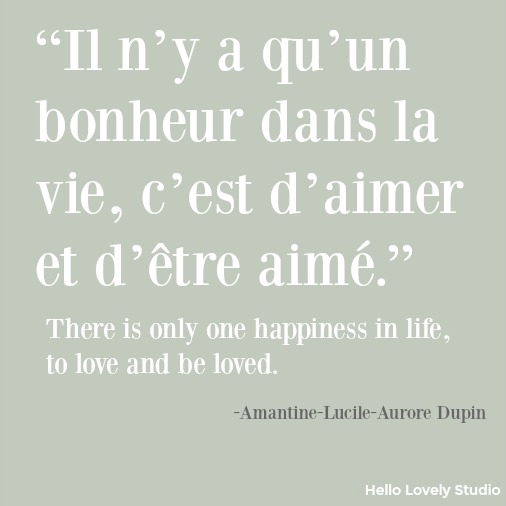 Timeless Home Tour & Tranquil French Countryside Setting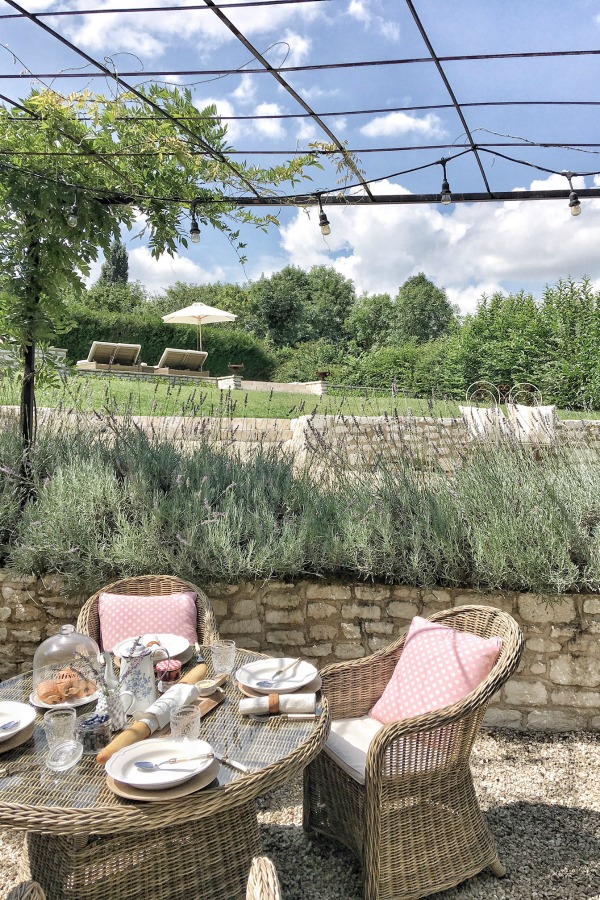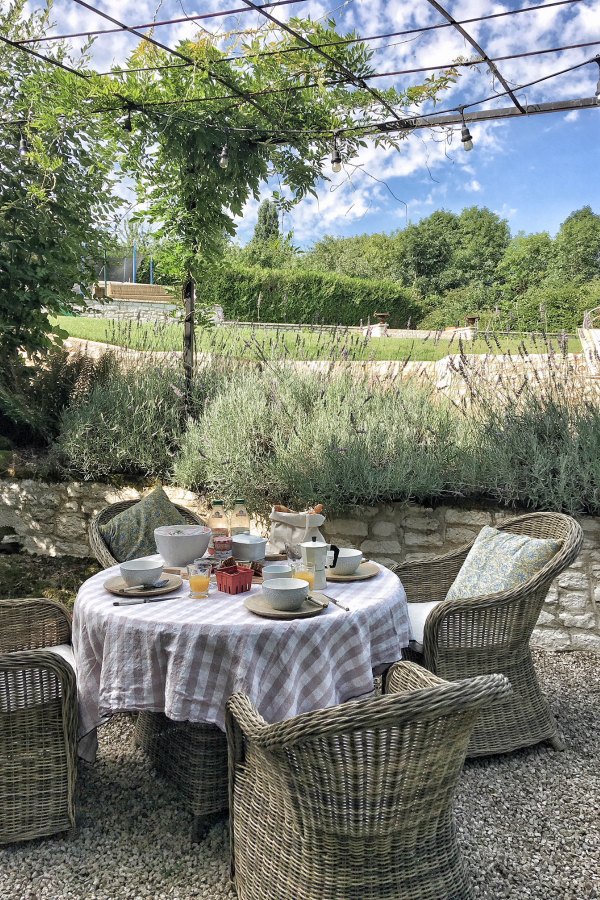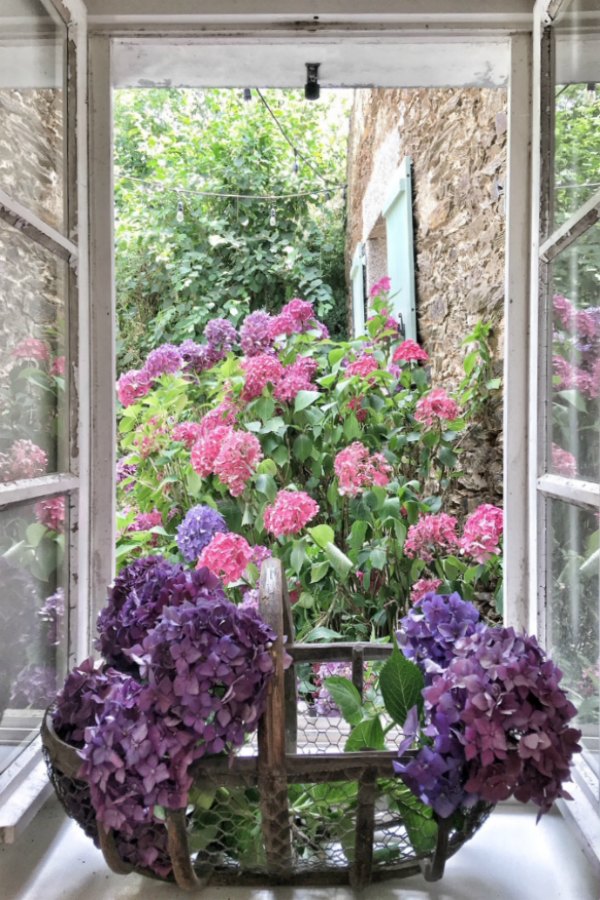 Vivi et Margot French Farmhouse Kitchen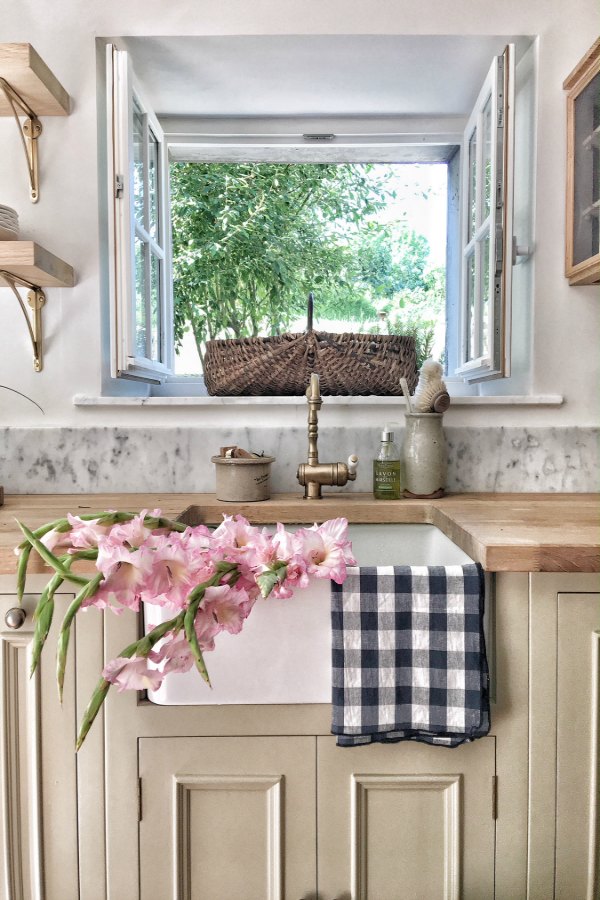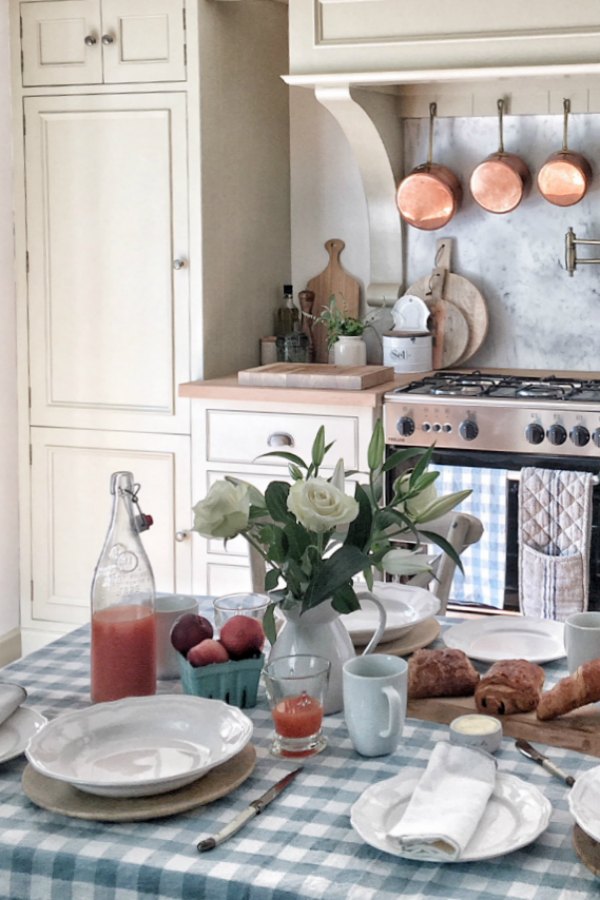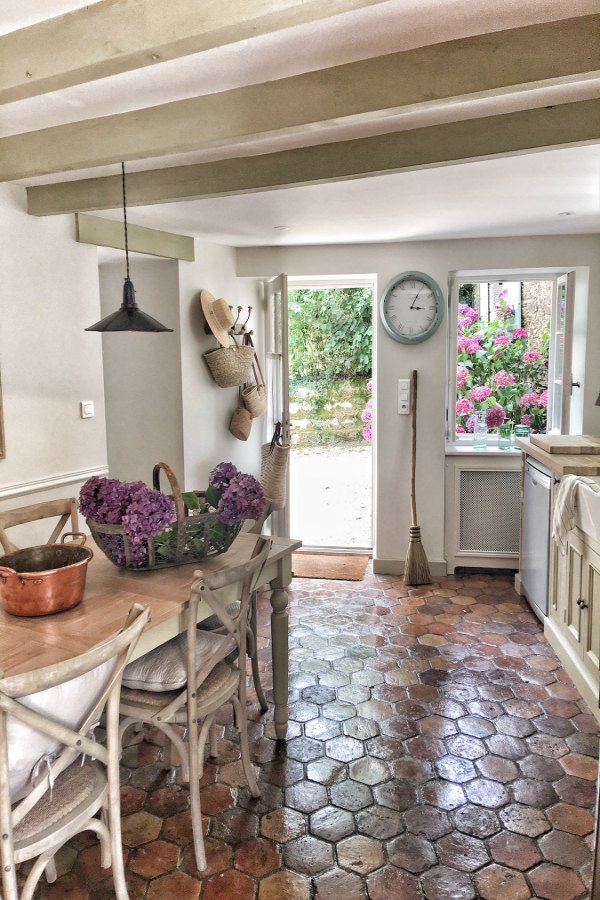 Copper Accents in a Charming French Kitchen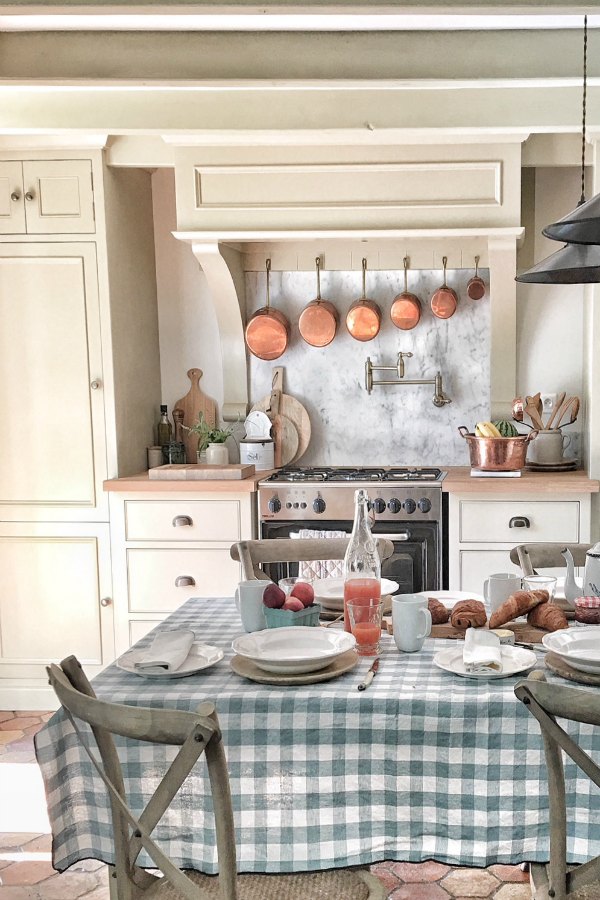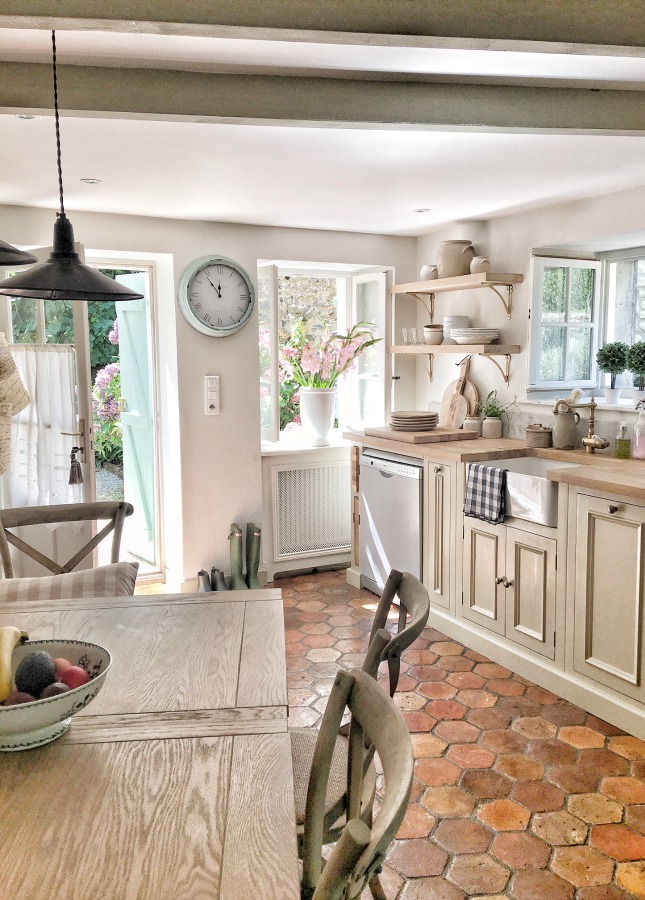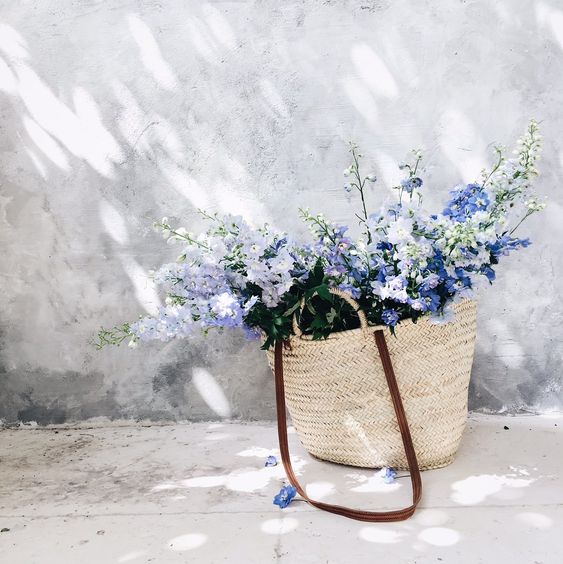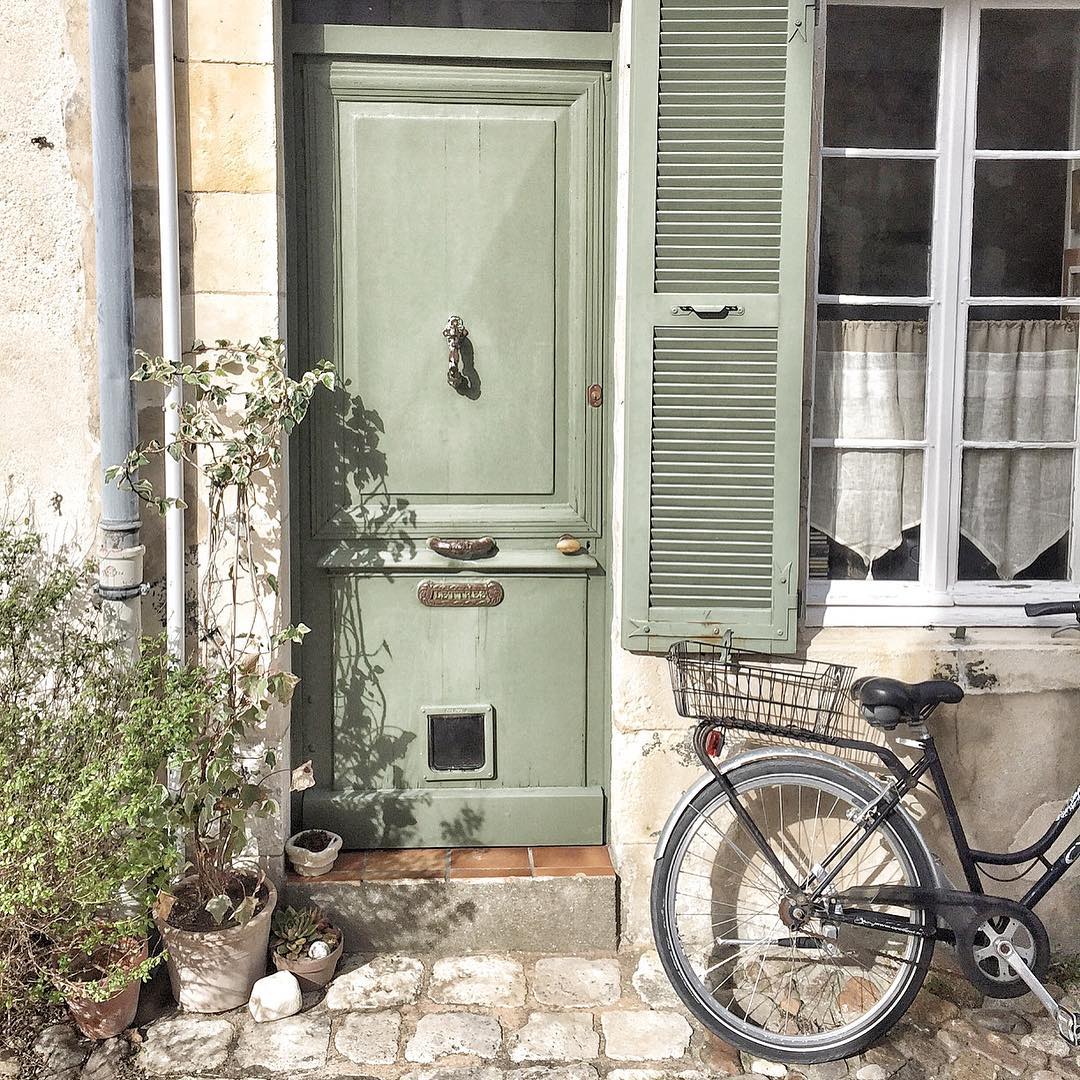 Paint Colors Used in a Charming Farmhouse in France
Paint Color on Shutters
TOLLENS Vert Olivier (satin): Castorama.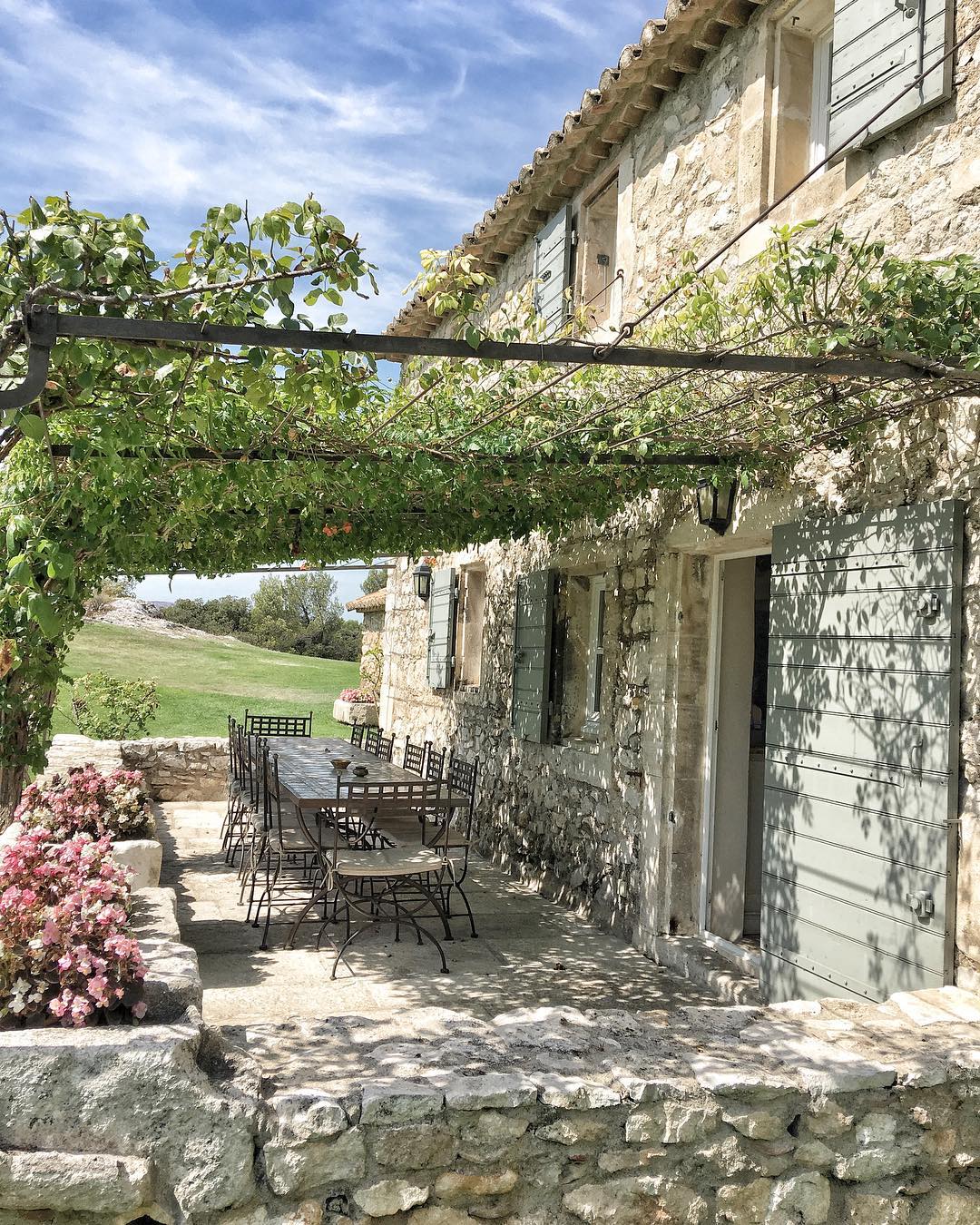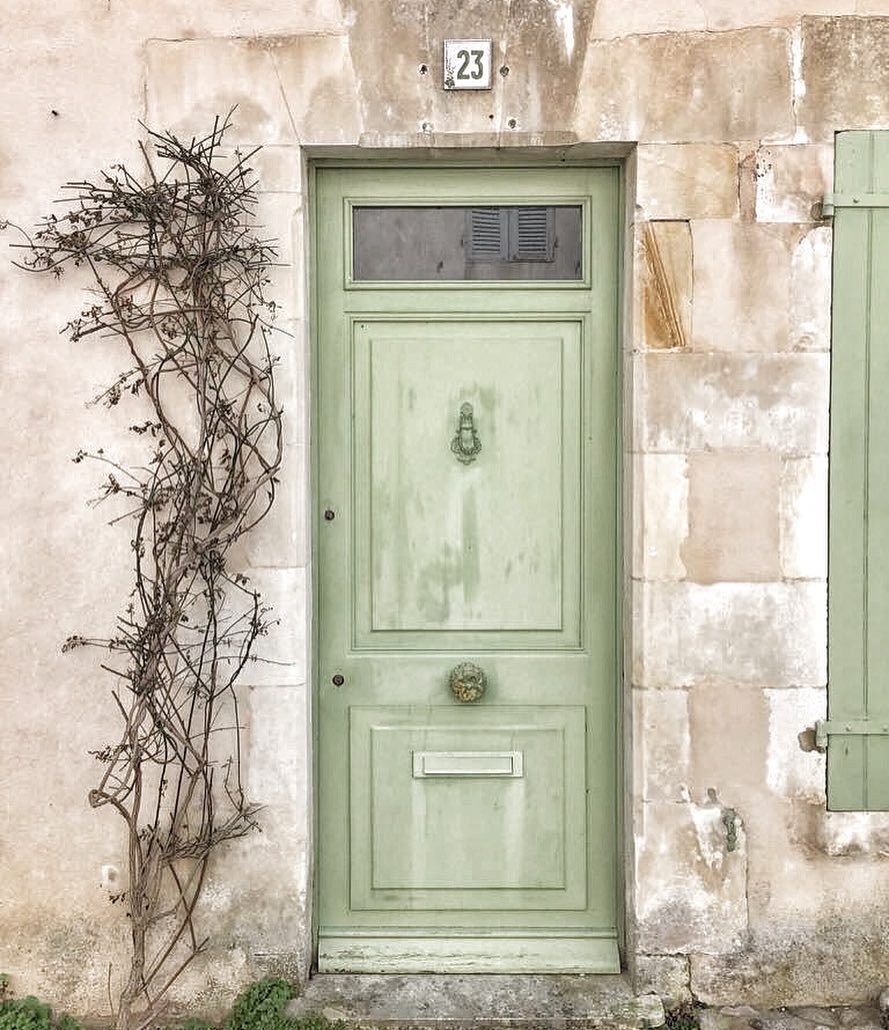 Charlotte says this beautiful Vert Olivier green is a traditional French exterior paint color very popular in France.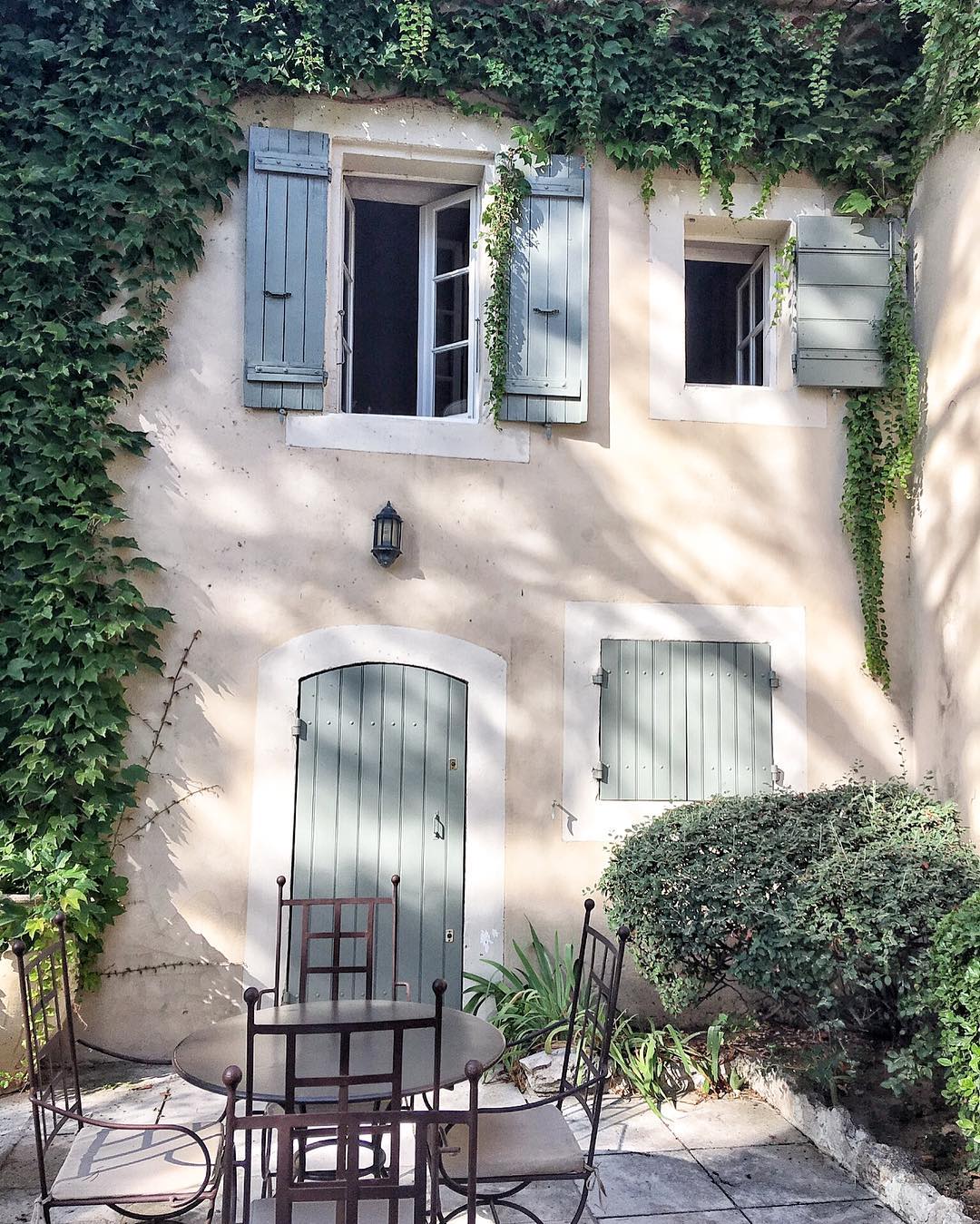 Paint Color: Interior Walls
FARROW & BALL Strong White 2001.
Paint Color: Trim, Doors, and Beams
FARROW & BALL French Gray.
Paint Color for Ceilings
FARROW & BALL All White. No. 2005.
Paint Color: Kitchen Cabinets
NEPTUNE Limestone.
Paint Color in Girls' Bathroom
FARROW & BALL Middleton Pink No. 245.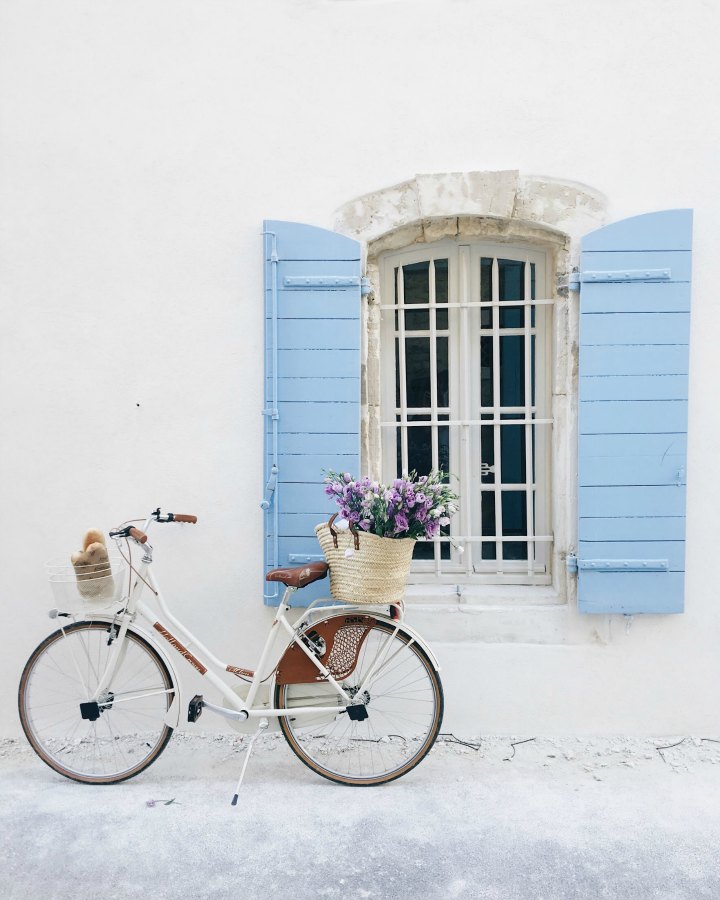 French Farmhouse Design Resources
Shutters: Custom-made and new, made locally.
All Drapery: Pottery Barn (Beligan Flax Linen drapes).
Clawfoot bathtubs and faucets: Hudson Reed – find more LOVELY TUB OPTIONS RIGHT HERE.
Master Bedroom Rug: Rejuvenation.
Bed in Master: Maisons du Monde.
Chandelier in Master: Maisons du Monde.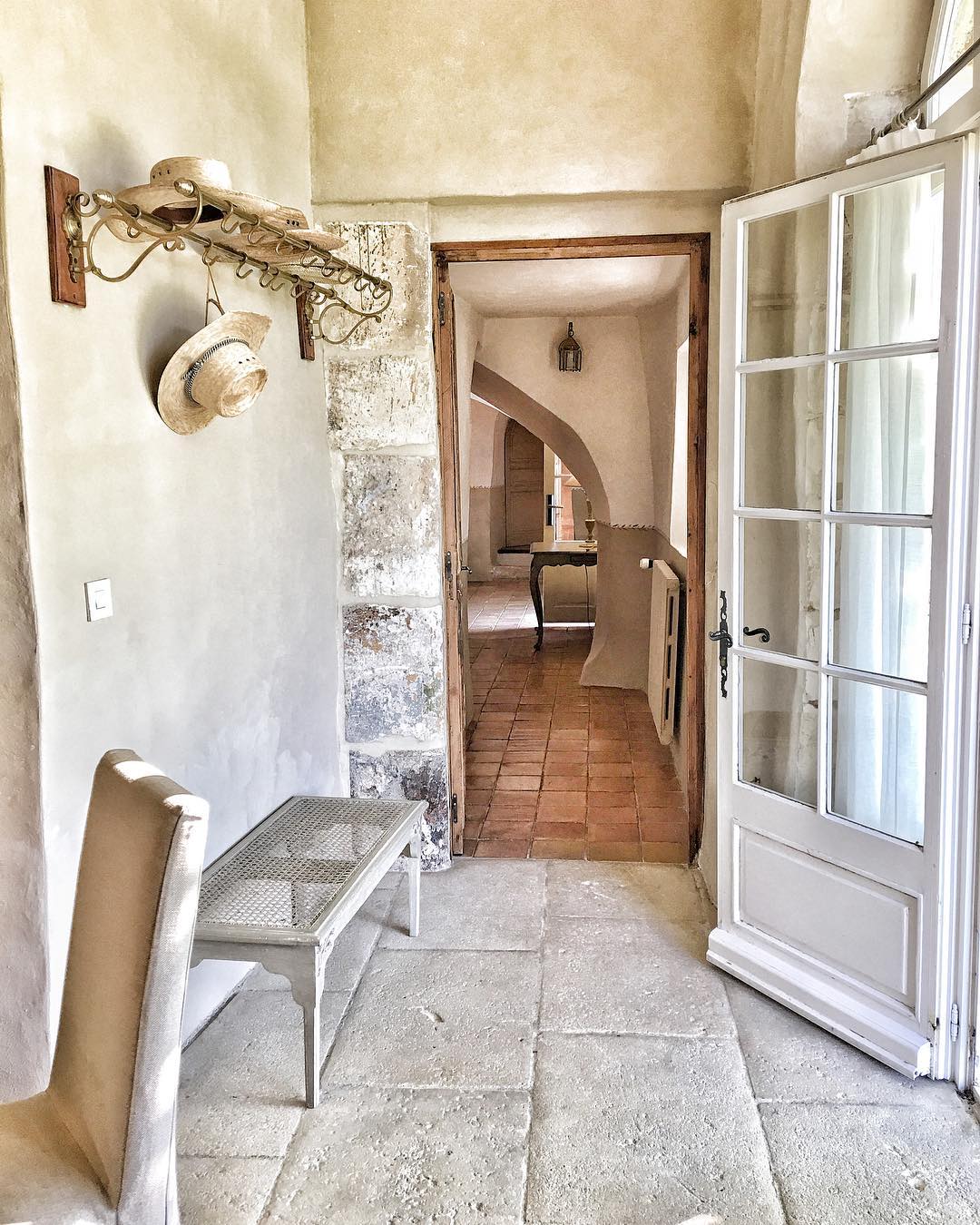 Towels, Soaps, Accessories: Vivi et Margot.
Cremone Bolt on Door: Signature Hardware…FIND HERE
Skylight: Velux…Find Here.
Patio Furniture: Maisons du Monde (France). Find similar rattan dining chairs RIGHT HERE.
Artisan Pendant Lighting in Kitchen: Vivi et Margot
Tablecloth in Kitchen: Maison de Vacances Blush Check, Vivi et Margot
French Market Basket in Kitchen: Vivi et Margot
Terracotta Hex Tile Flooring: reclaimed tile from France
Kitchen Dining Chairs: Maisons du Monde – find similar wood farmhouse dining chairs
Kitchen Table: find similar farmhouse dining tables here
Apron Front Farm Sink: find sink options here
Kitchen faucet: Cuissimo find similar…RIGHT HERE.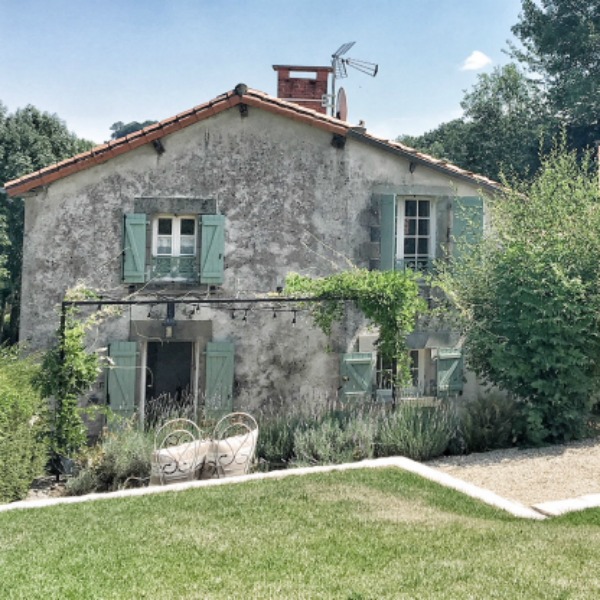 If you find yourself suddenly inspired to collect more FRENCH FARMHOUSE INTERIOR DESIGN INSPIRATION…run don't walk to my board HERE overflowing with gorgeous examples and decorating ideas!!!!
Do visit Vivi et Margot on instagram RIGHT HERE.
Thanks so very much if you have a moment to vote, and do find the nomination of Hello Lovely for Best Written Blog RIGHT HERE!
Peace to you right where you are.
-michele
Shopping for items you already intended to buy on Amazon RIGHT HERE (not just items mentioned in posts) keeps decor inspiration flowing on Hello Lovely!
Hello Lovely is a participant in the Amazon Services LLC Associates Program, an affiliate advertising program designed to provide a means for sites to earn fees by linking to Amazon.com and affiliated sites.
Click HERE to also discover lovely cost conscious furniture and home decor!