In yesterday's timeless decor roundup, I promised you an epic house tour, and Chateau Domingue Timeless European Elegance has arrived. Today's fantasy lesson for students of timeless European country style shall not disappoint!
(I just used "shall," y'all. That means things are about to get fancy up in here!)
Years ago, proprietor Ruth Gay of Houston-based Chateau Domingue was challenged when she and her husband were building their Old World style home. After struggling to locate the precise construction materials they desired for the residence, she discovered two things: a gap in the market and a personal passion for sourcing one of a kind architectural elements and monumental antiques from Europe.
And that's how her business Chateau Domingue was born.
I first learned of Chateau Domingue as a follower of Velvet and Linen when the Giannettis were sourcing materials for their own timeless home…Patina Farm. Then I discovered the glory of the home you see here when Milieu magazine launched and rustically elegant interiors by Pamela Pierce exploded on my radar.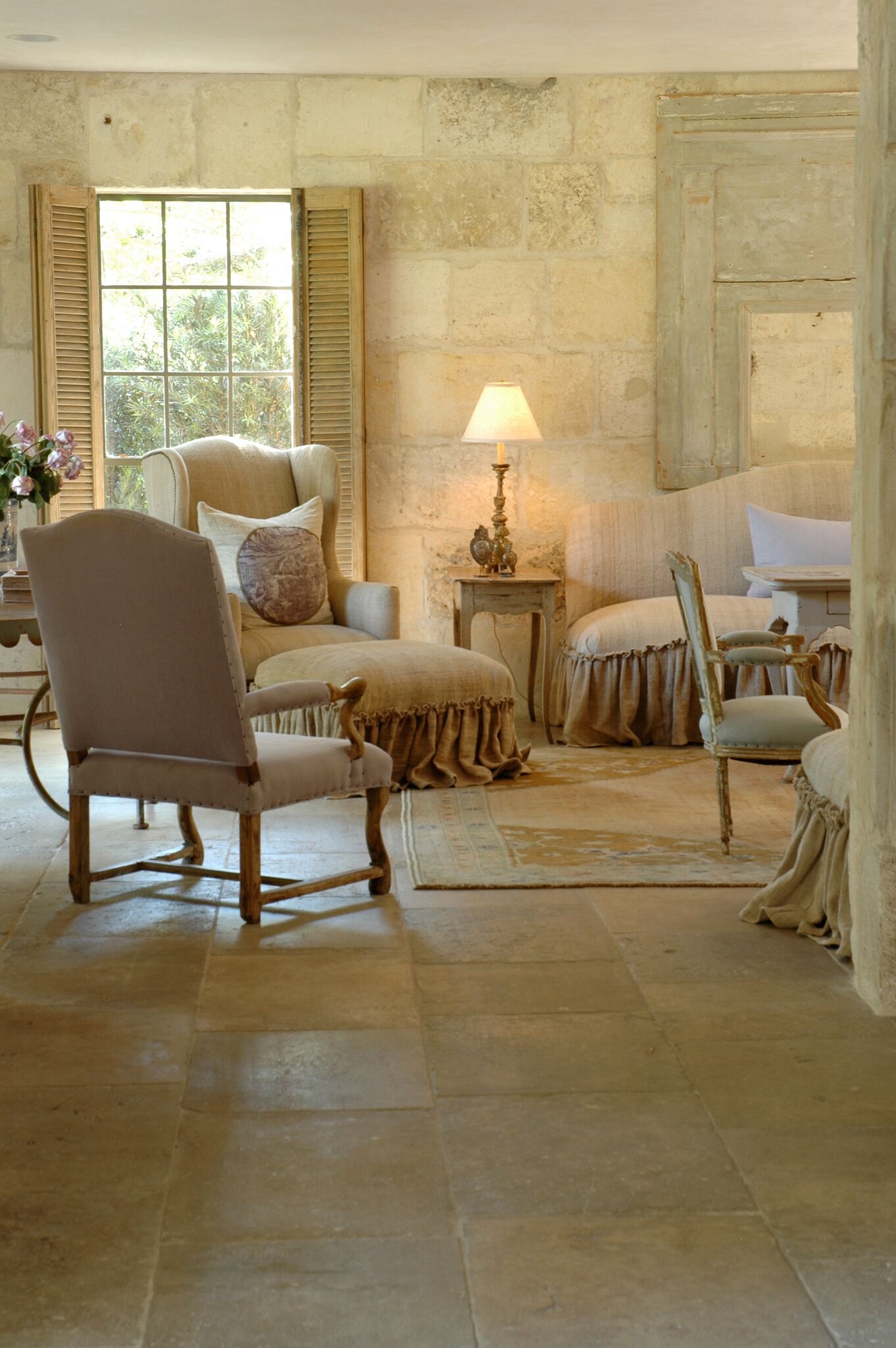 "Exploded" may be too mild an adjective. Vaporized. Yes. Poof. It vaporized my radar and spoiled me forever more (and probably you too) for bespoke, impossibly sophisticated, and authentically superior country interiors.
You will learn more about Chateau Domingue as the house tour progresses, and I can think of no better introduction to the firm than viewing its founder's own use of reclaimed architectural elements and antiques from Europe.
Let's tour the unforgettable home of Ruth Gay!
Design: Pamela Pierce Source: Chateau Domingue Photos: courtesy of Chateau Domingue
Chateau Domingue Timeless European Elegance
Timeless European Country Dining Inspiration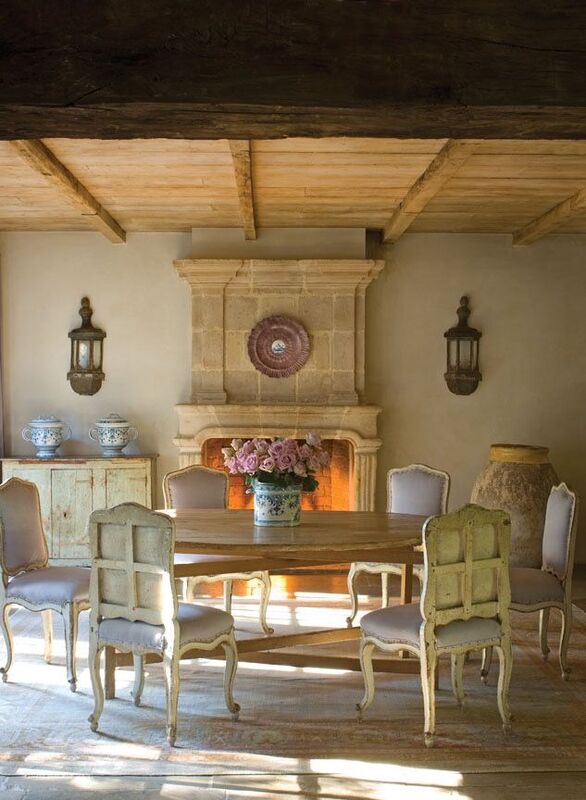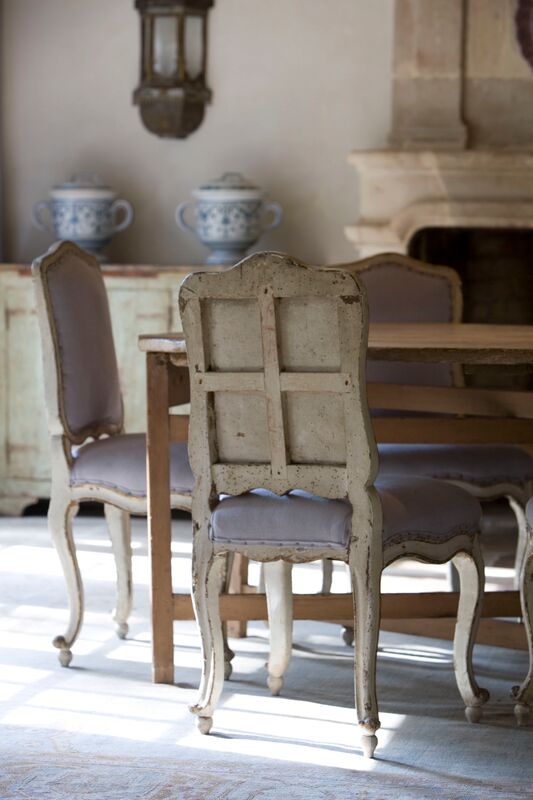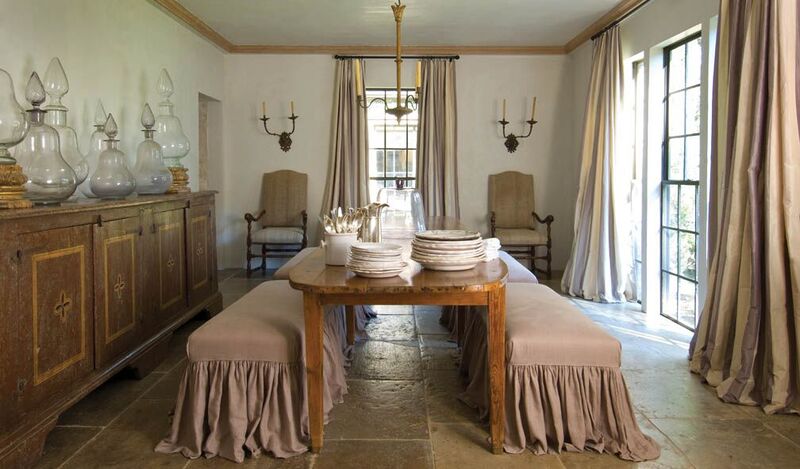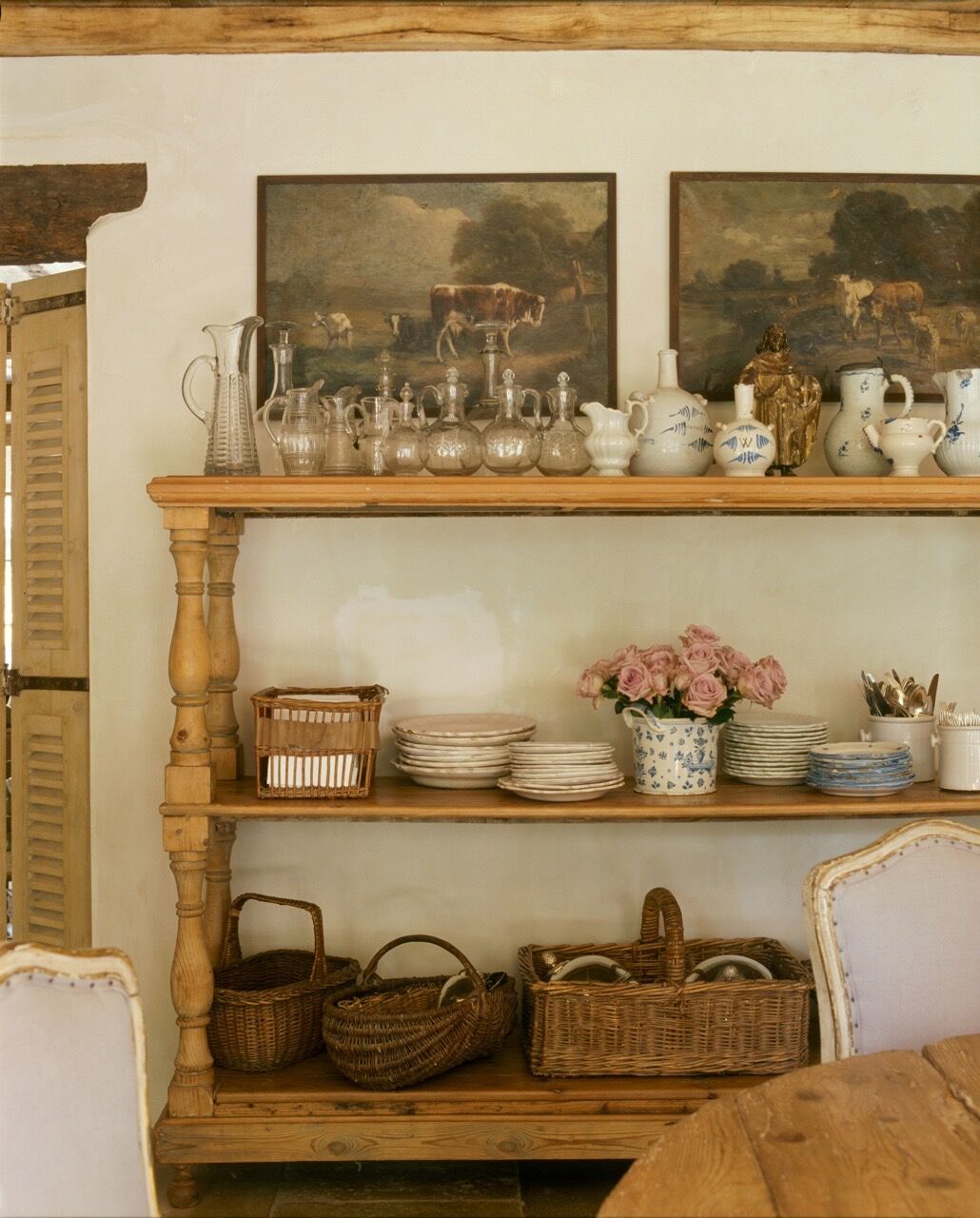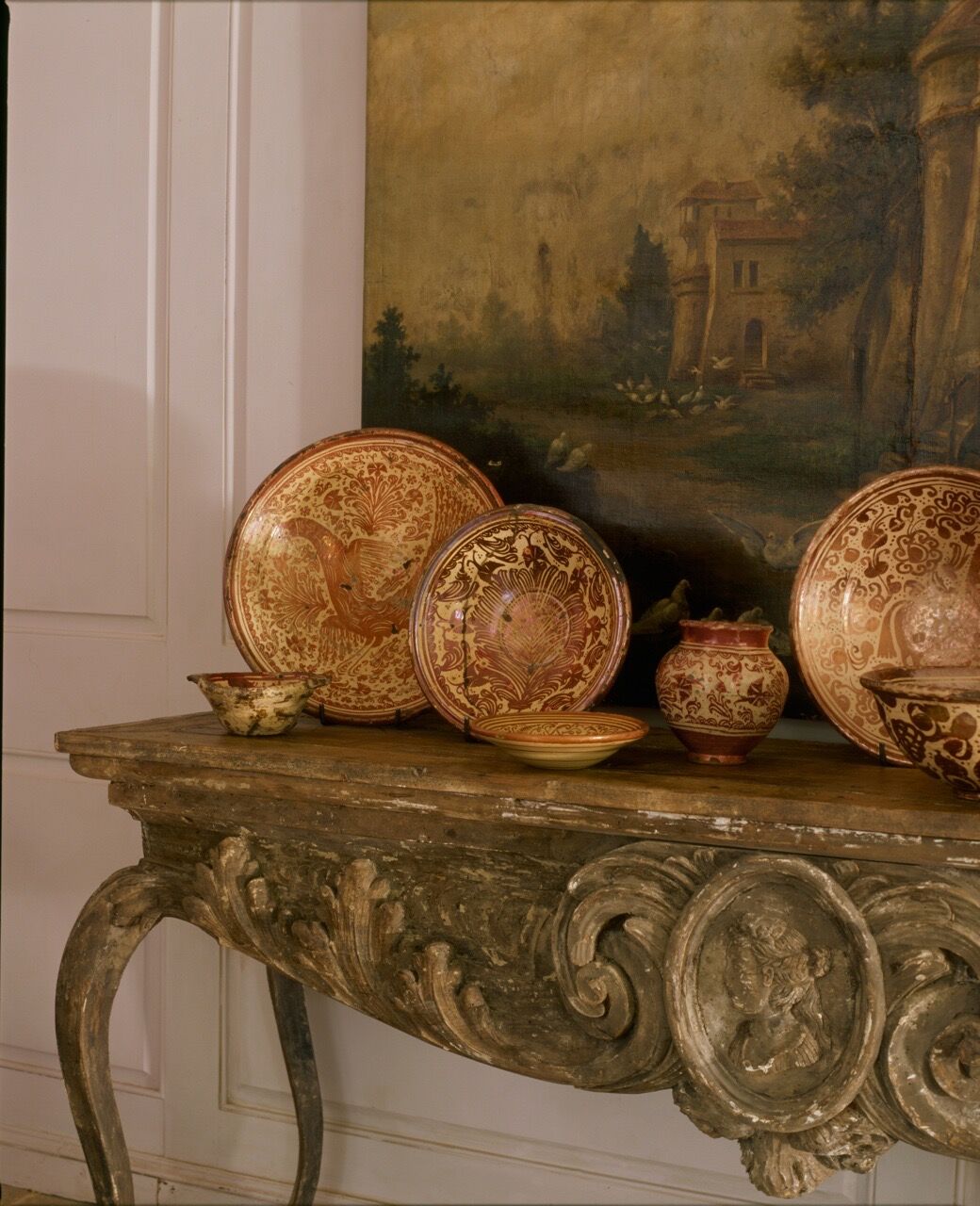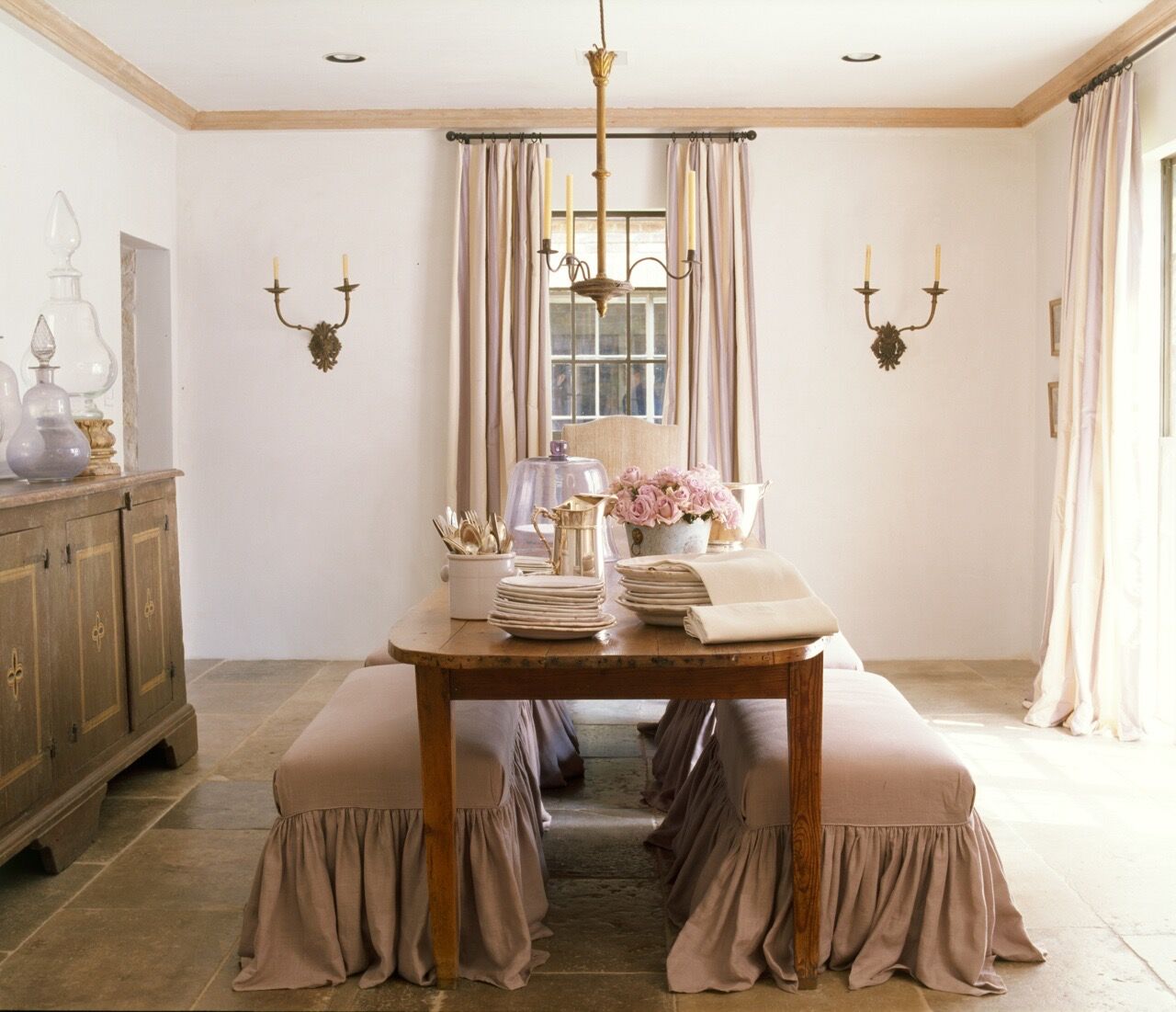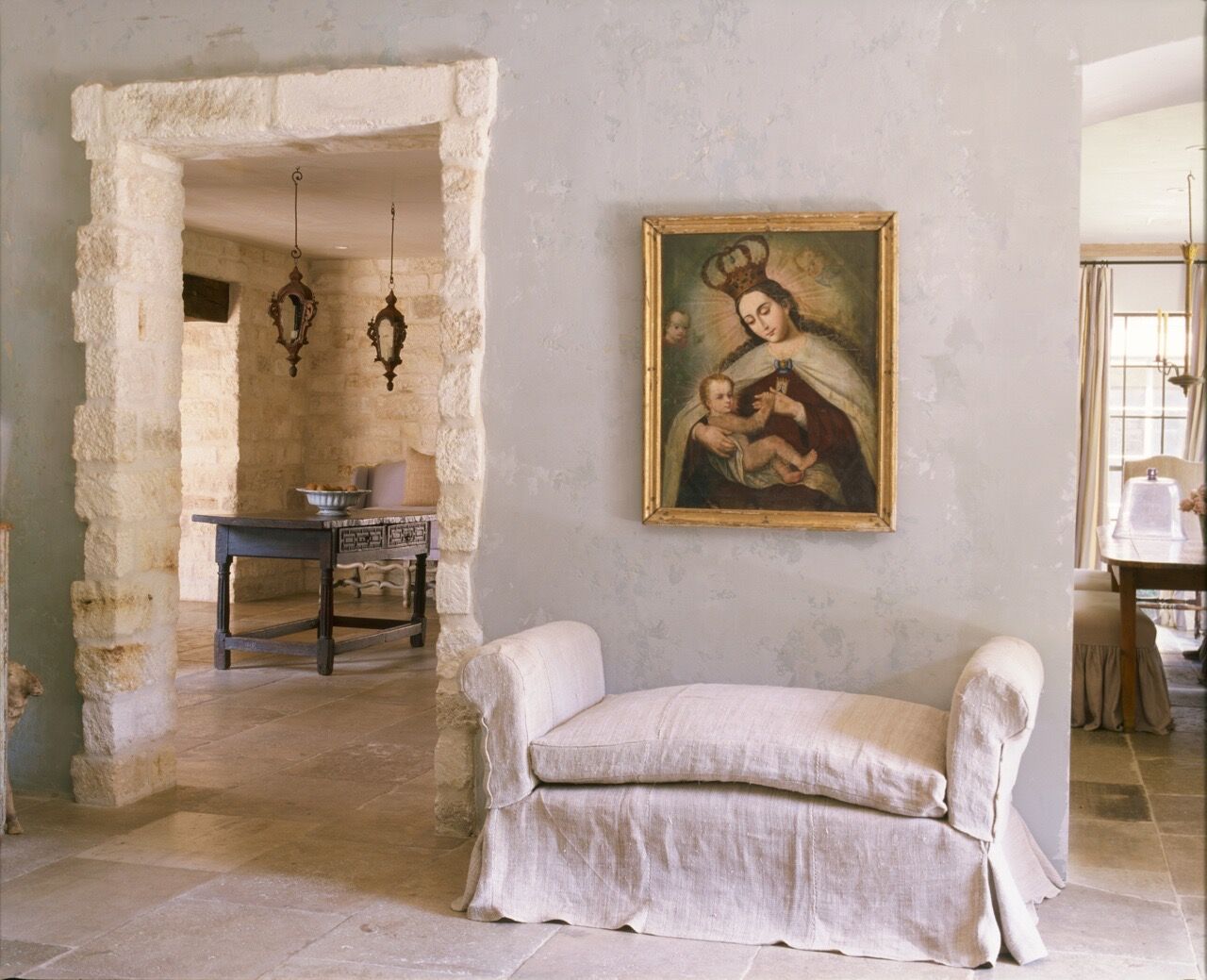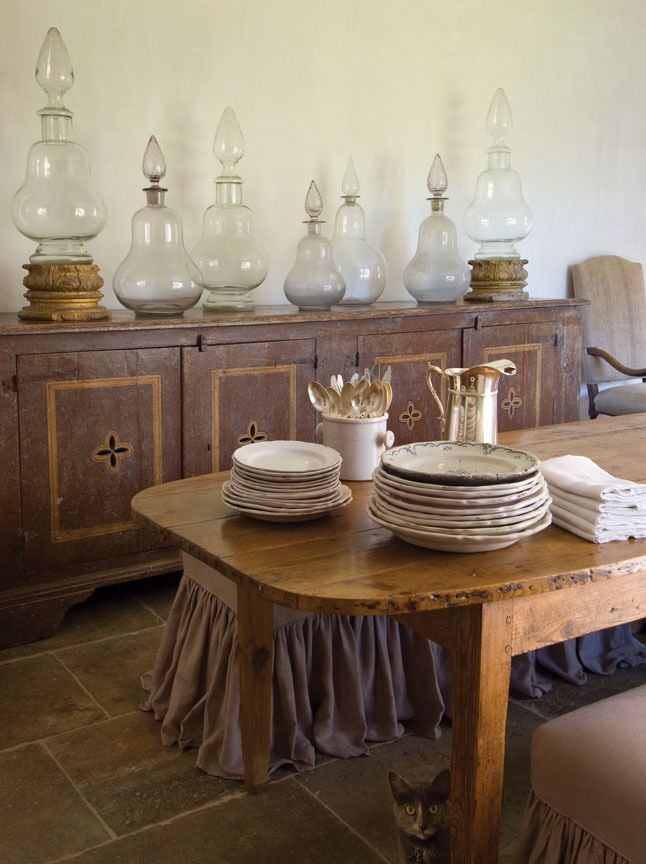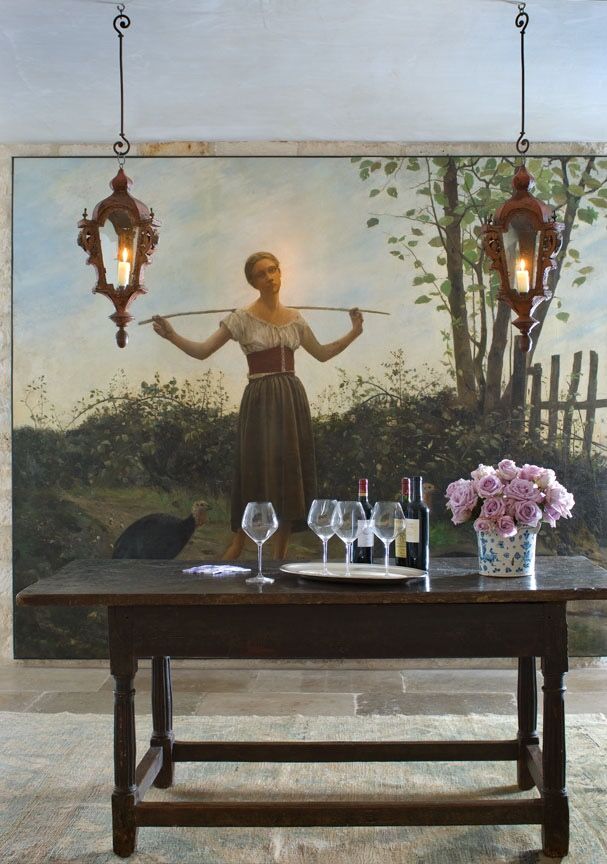 Chateau Domingue Timeless European Elegance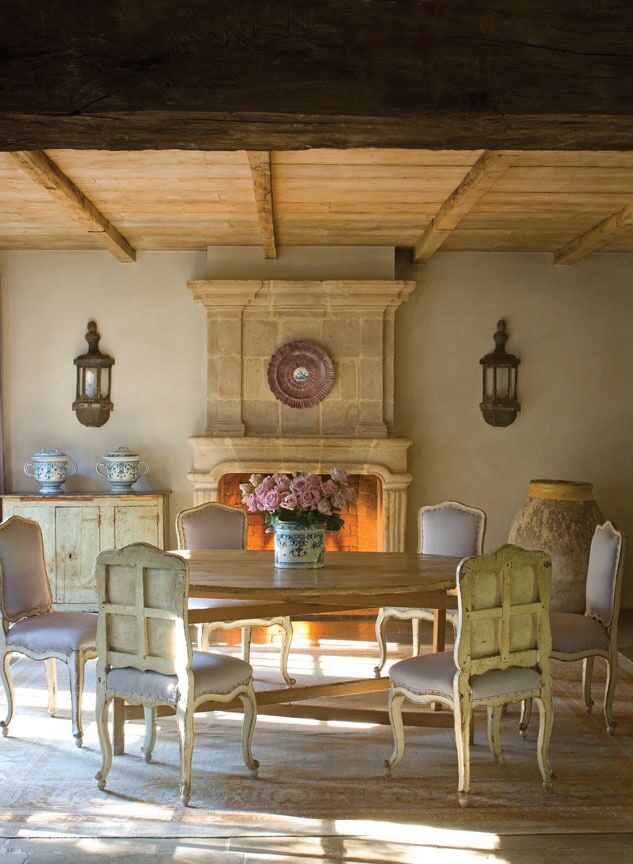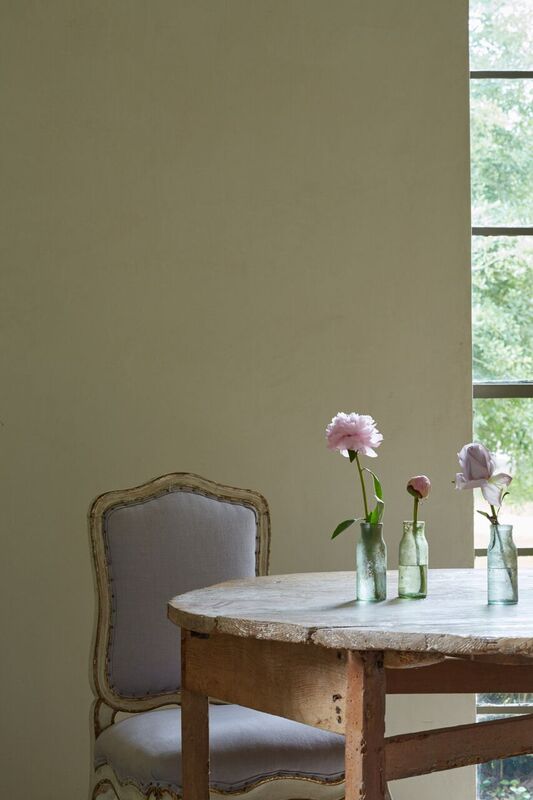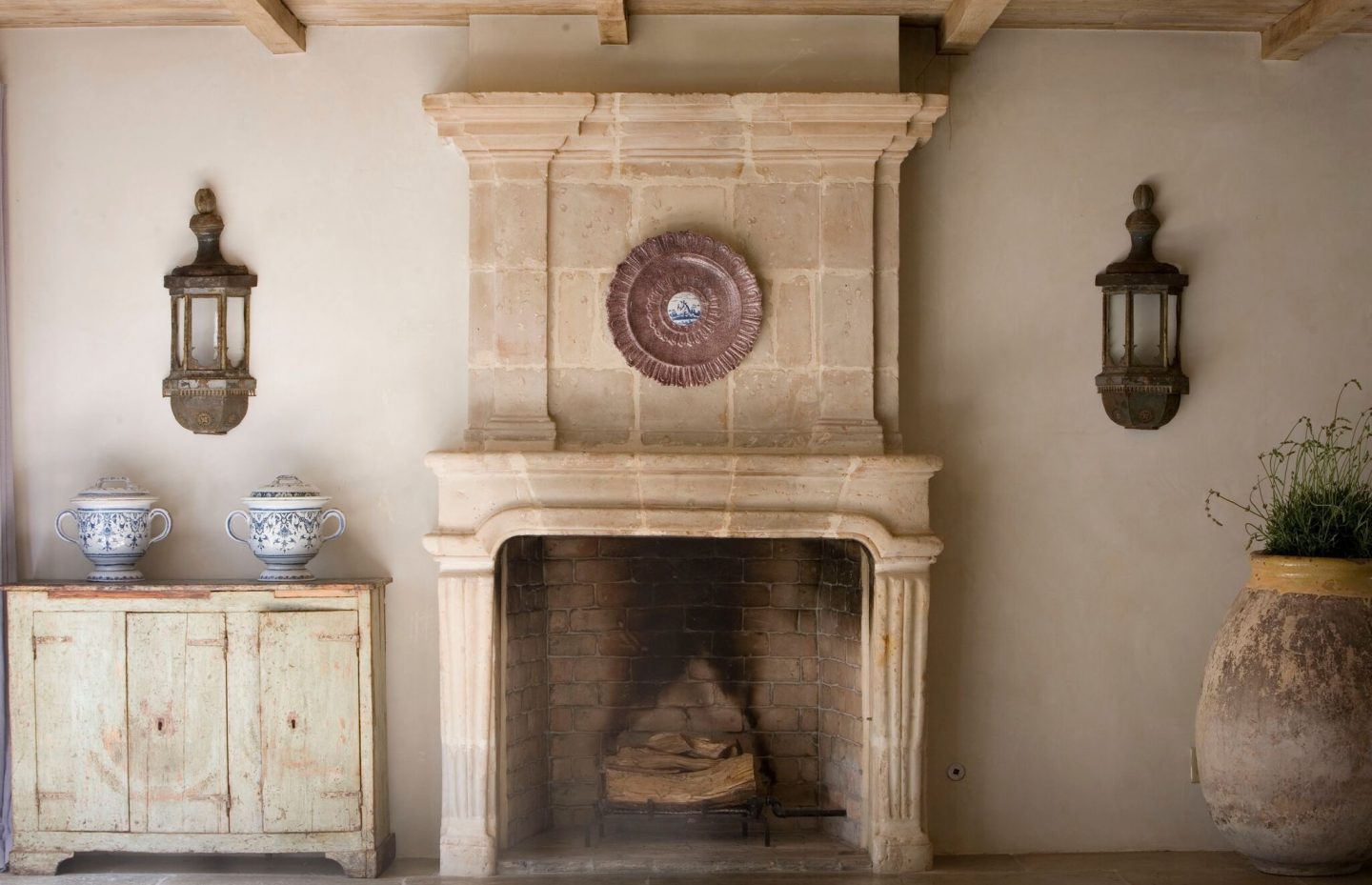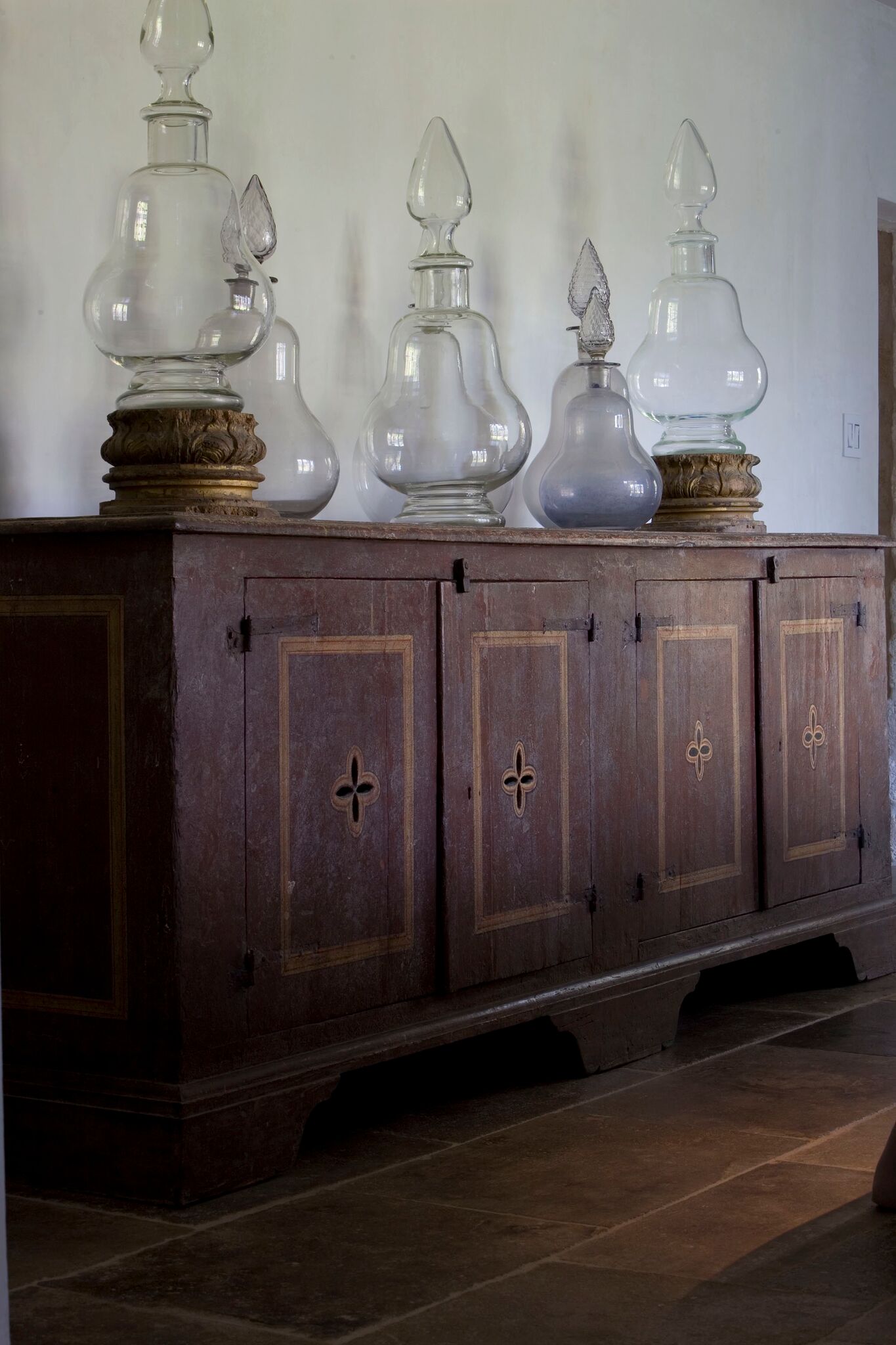 European Country Decorating Sensibilities
Authentique
How is this European country and French inspired home accessorized? One can certainly spy the authenticity of antiques, old stone, and French influence, but note also the feather-light airiness of the interiors. The natural atmosphere and ethereal mood created by Pierce and Gay is a triumph. Here are a few ideas gleaned from studying this and other lovely French country interiors.
Purposeful Accessorizing
While we Americans often choose to accessorize in the name of "decorating," a more European country approach reveres function and purpose. Is the accessory useful? Can it be pulled into service? Is it able to store essentials? Will it stand the test of time? Is it high quality and multi-functional?
Did you note the open shelves in the dining room and the objects placed upon them? Purposeful baskets, dishes, receptacles for flowers, and pitchers. Such practicality may be Old World indeed, but it is a breath of fresh air to see it applied to modern day life in Texas.
Avoidance of Filler
Many a home decorator feels compelled to cover walls with "interest" and fill shelves with dust-gathering pottery or decorative urns which may never see use. Such an approach may result in a watered-down, mediocre effect lacking character. Massed collections can be powerful sources of beauty in a room. They may even be displayed as successfully as an engaging art installation. Yet accessorizing can be disastrous and vignettes criminally over-styled. (Criminally? Fine. There is probably no danger of a sting operation by the design police in one's living room for over-styling.)
Of course exceptions must be made. Pretty objects mindlessly placed upon shelves for the eye to behold are common in the U.S. of A. since roomy American homes tend to present empty spaces and shelves to fill. However, a European Country or French approach to accessorizing can still be a guide.
The approach seems less concerned with providing the eye with candy and more inspired by nourishing the soul with thoughtful, grand, and authentic gestures with purpose.
Hall & European Antique Doors from Chateau Domingue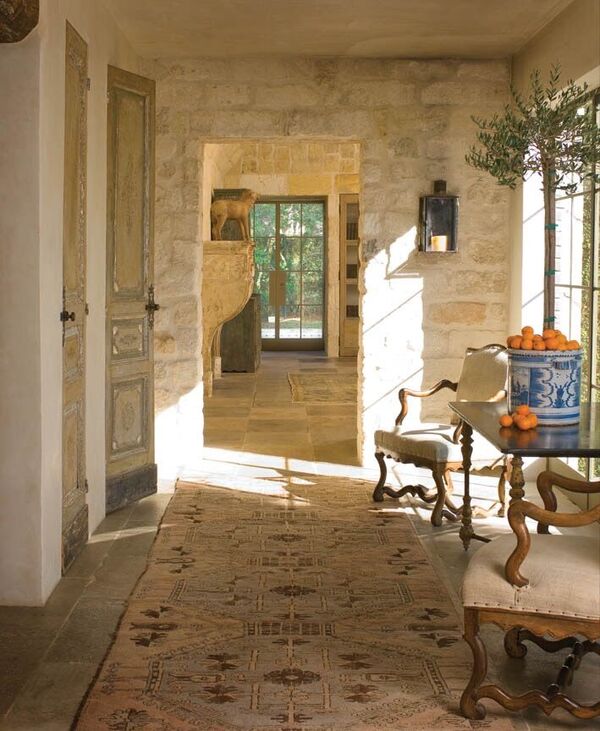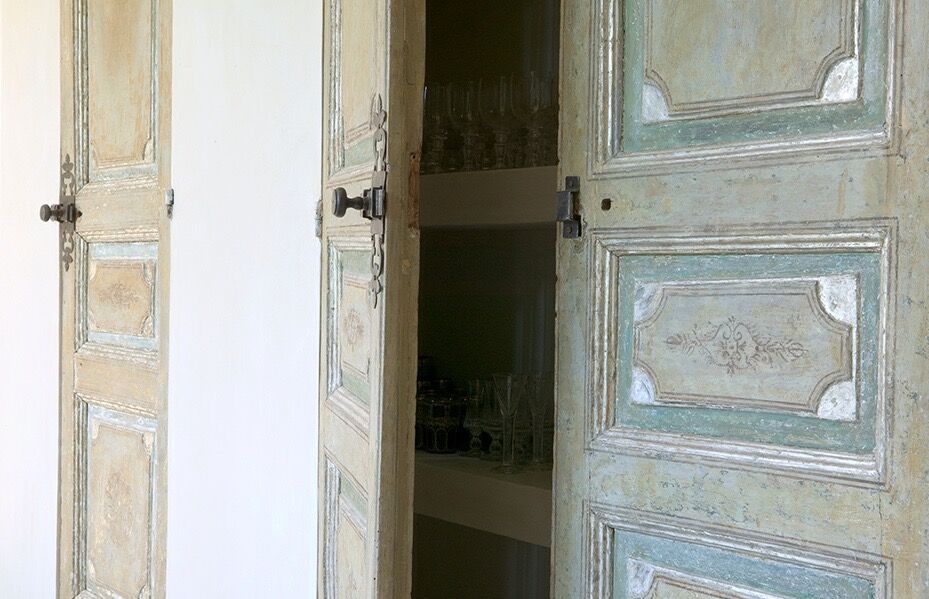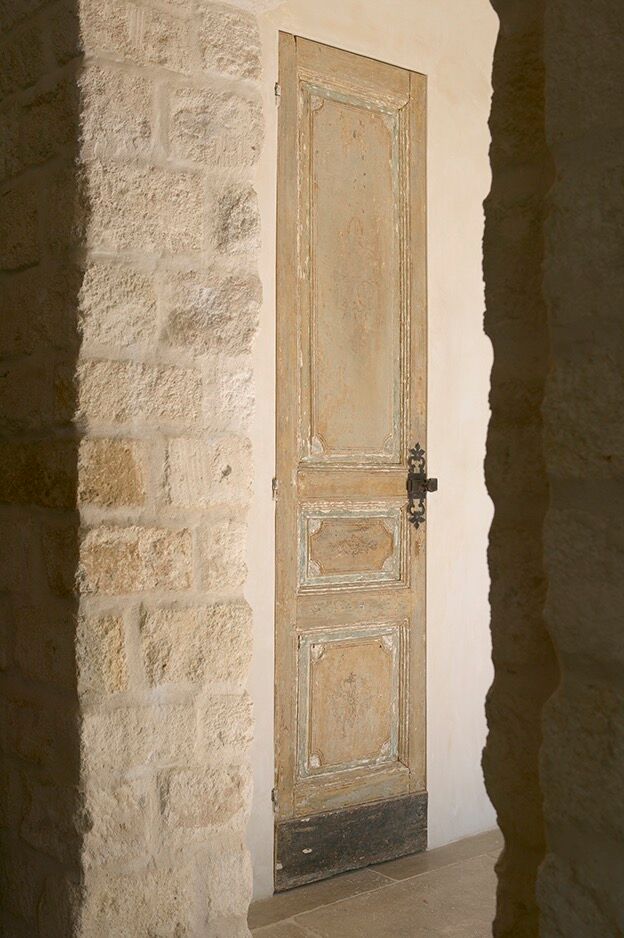 Timeless European Country Bathroom Inspiration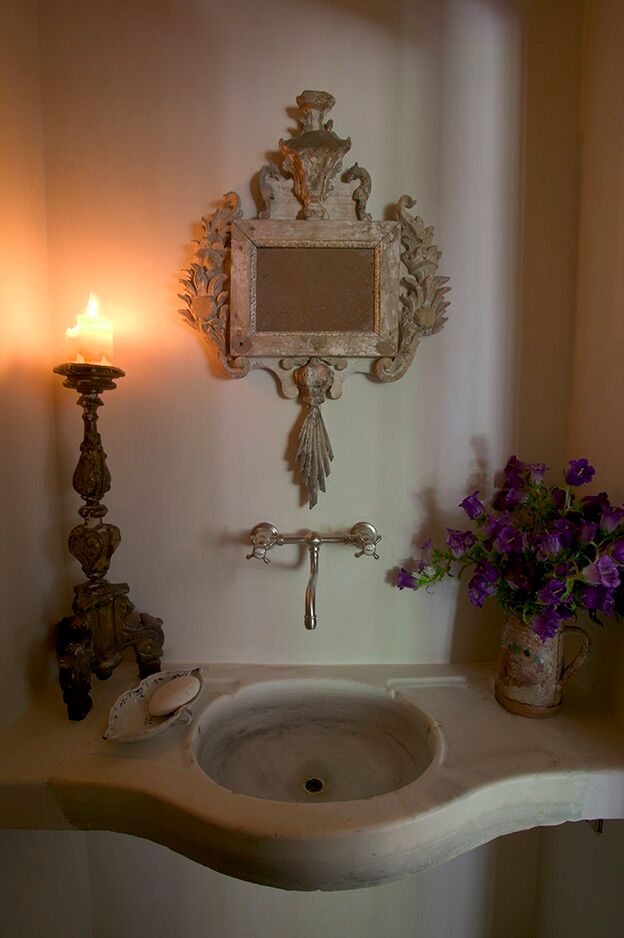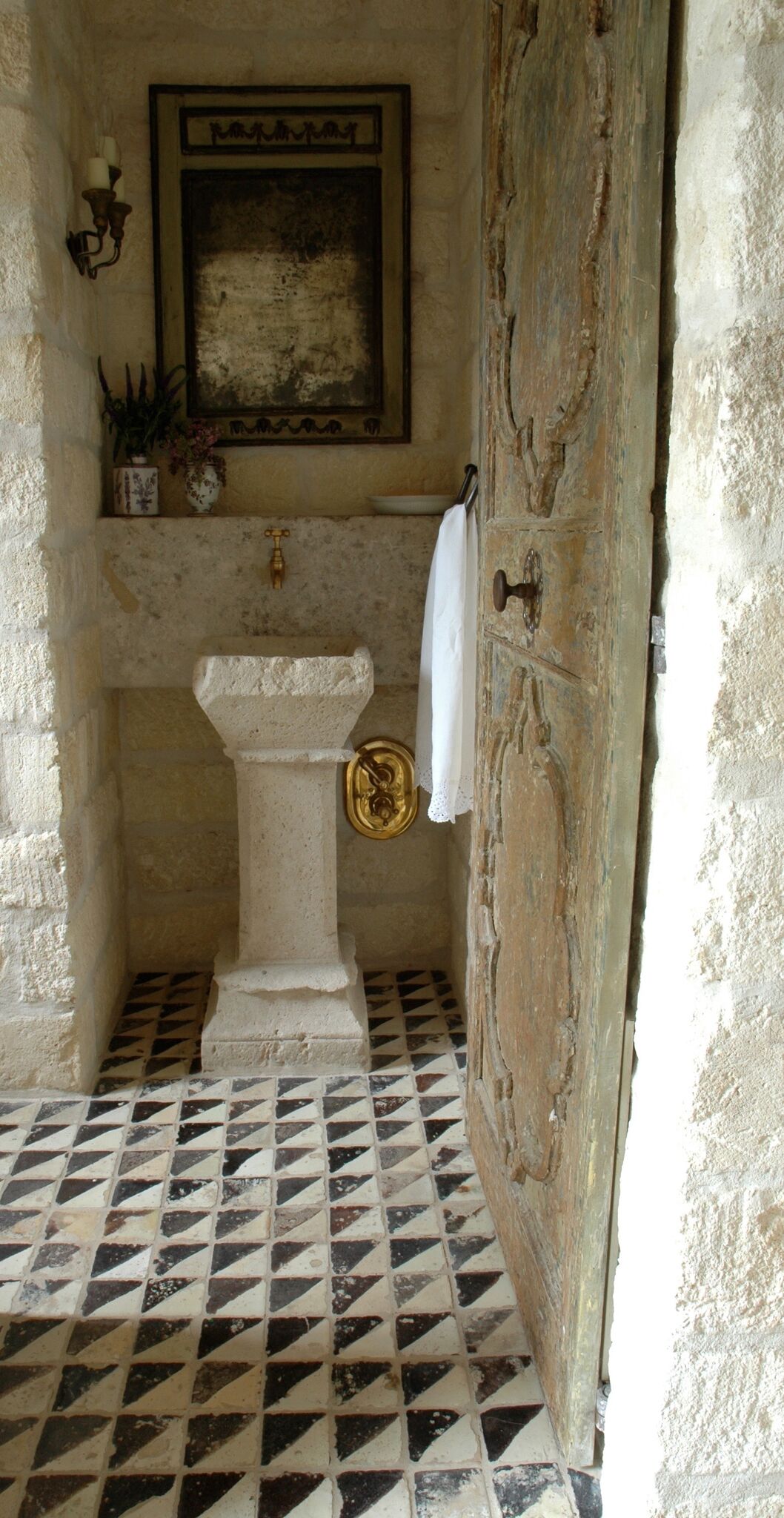 One of a Kind Reclaimed Stone Imported by Chateau Domingue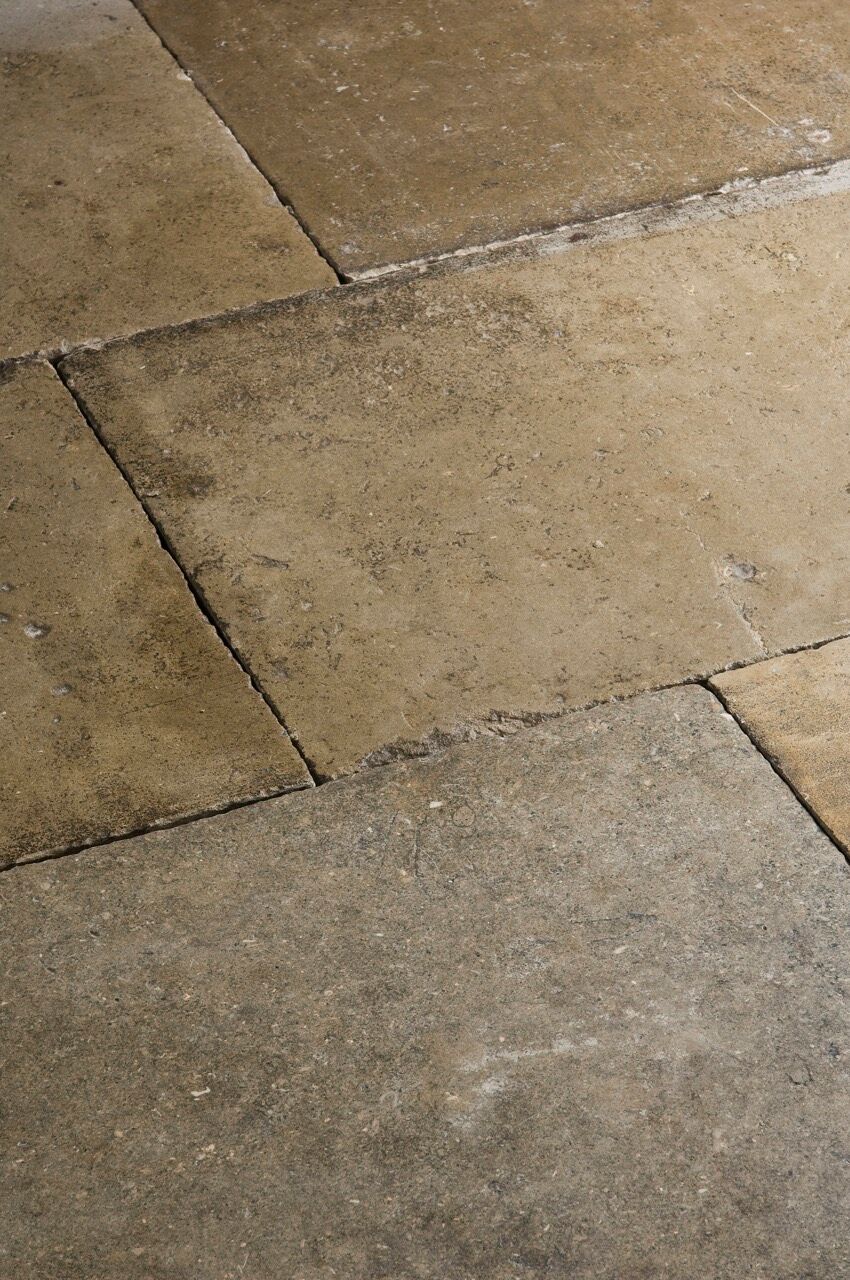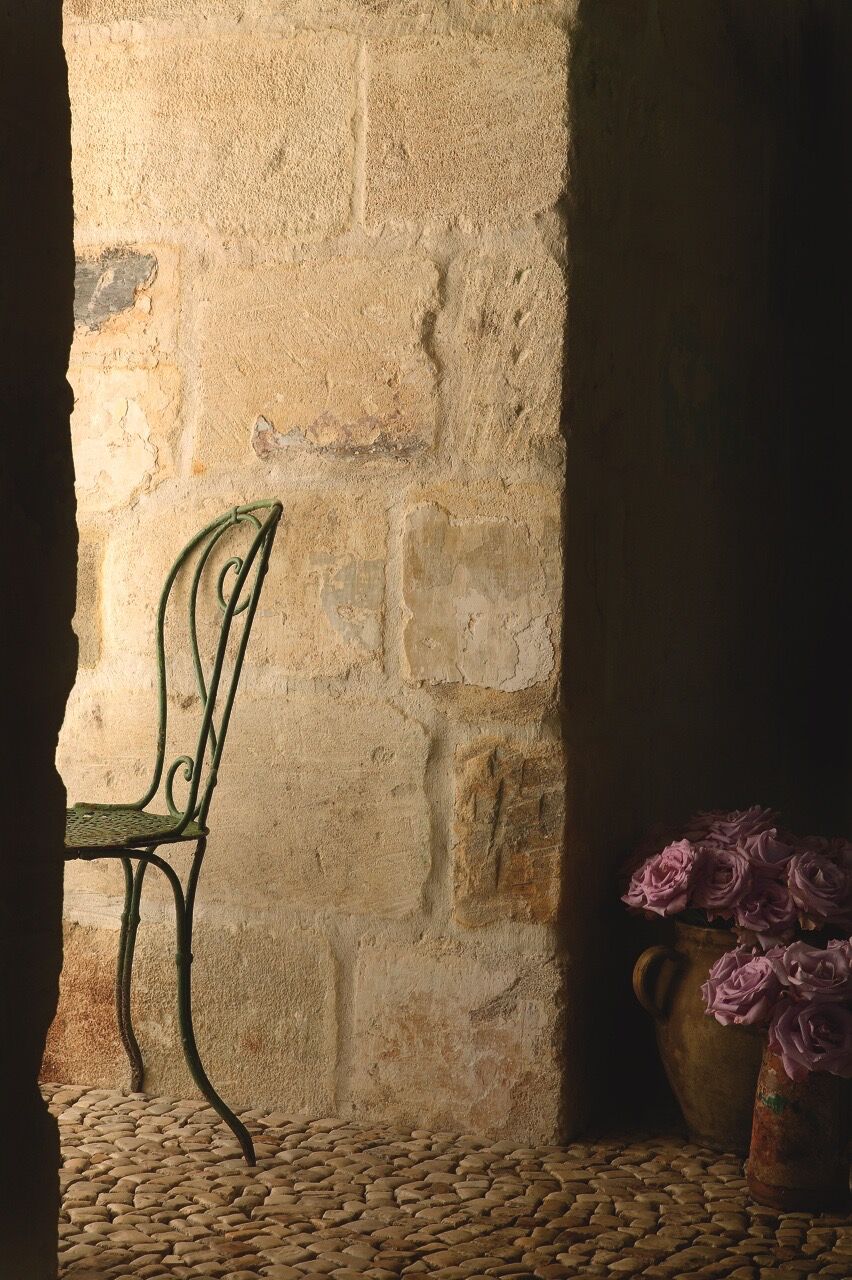 Timeless European Country Kitchen Inspiration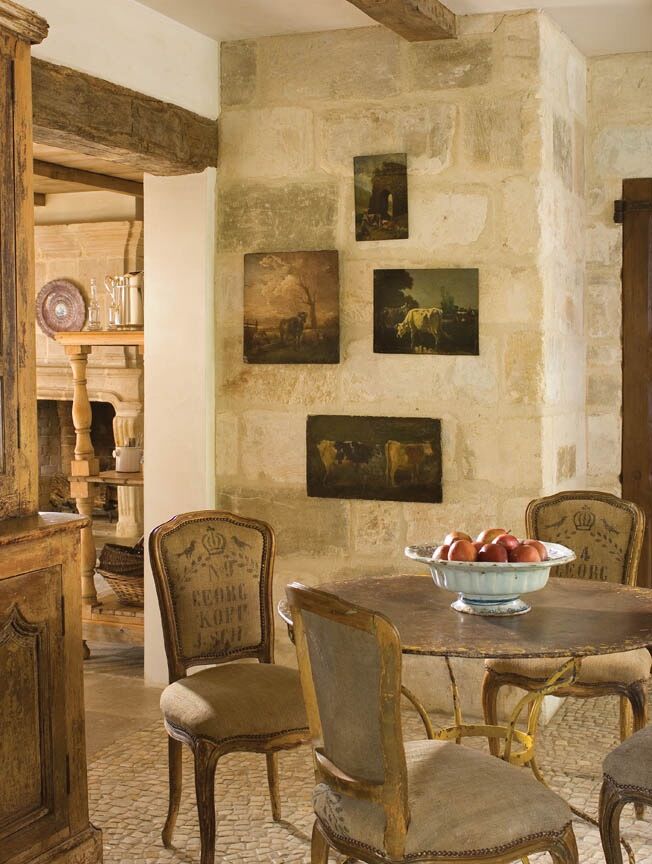 Chateau Domingue's Mission: Grandness + Simplicity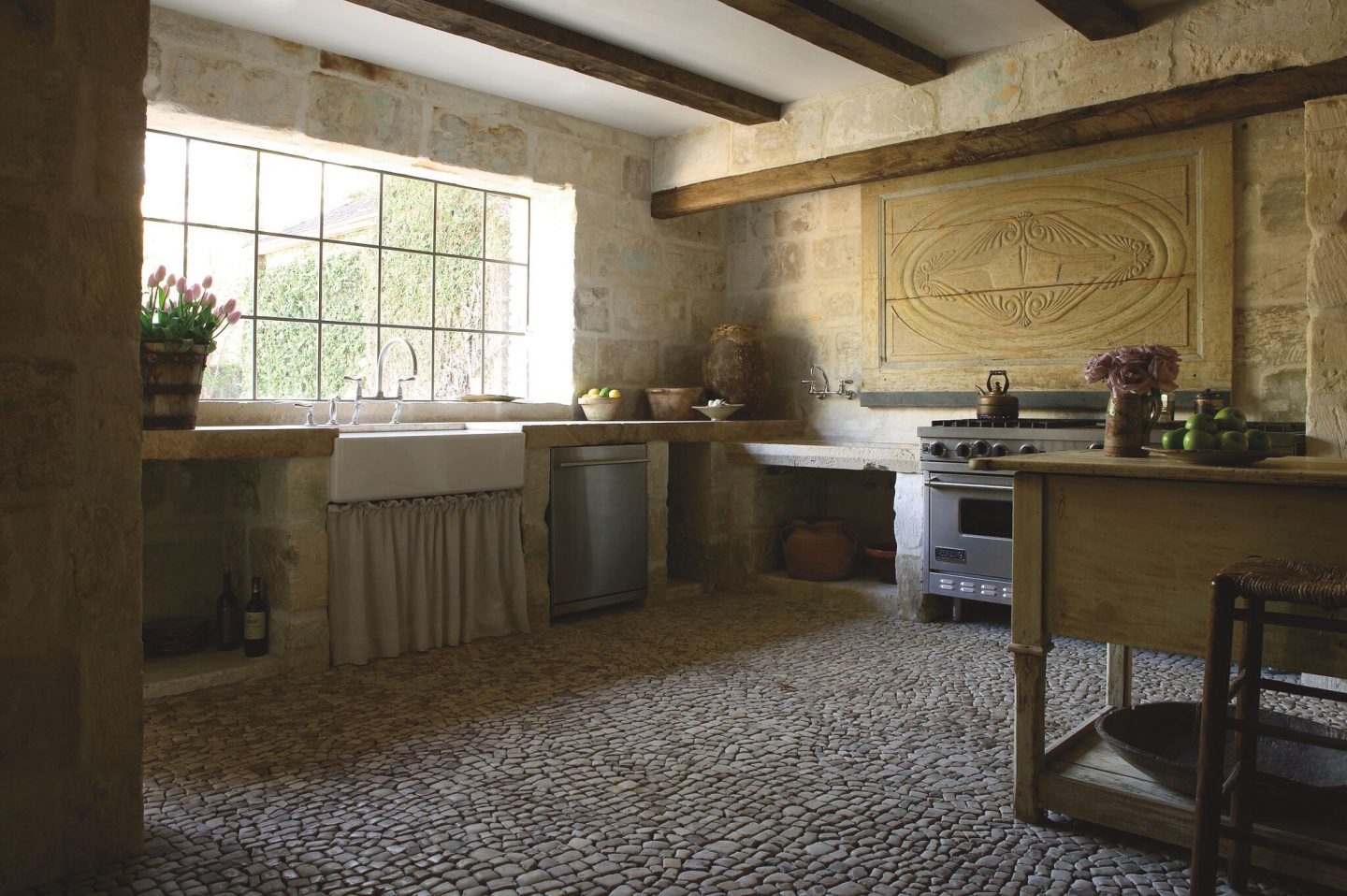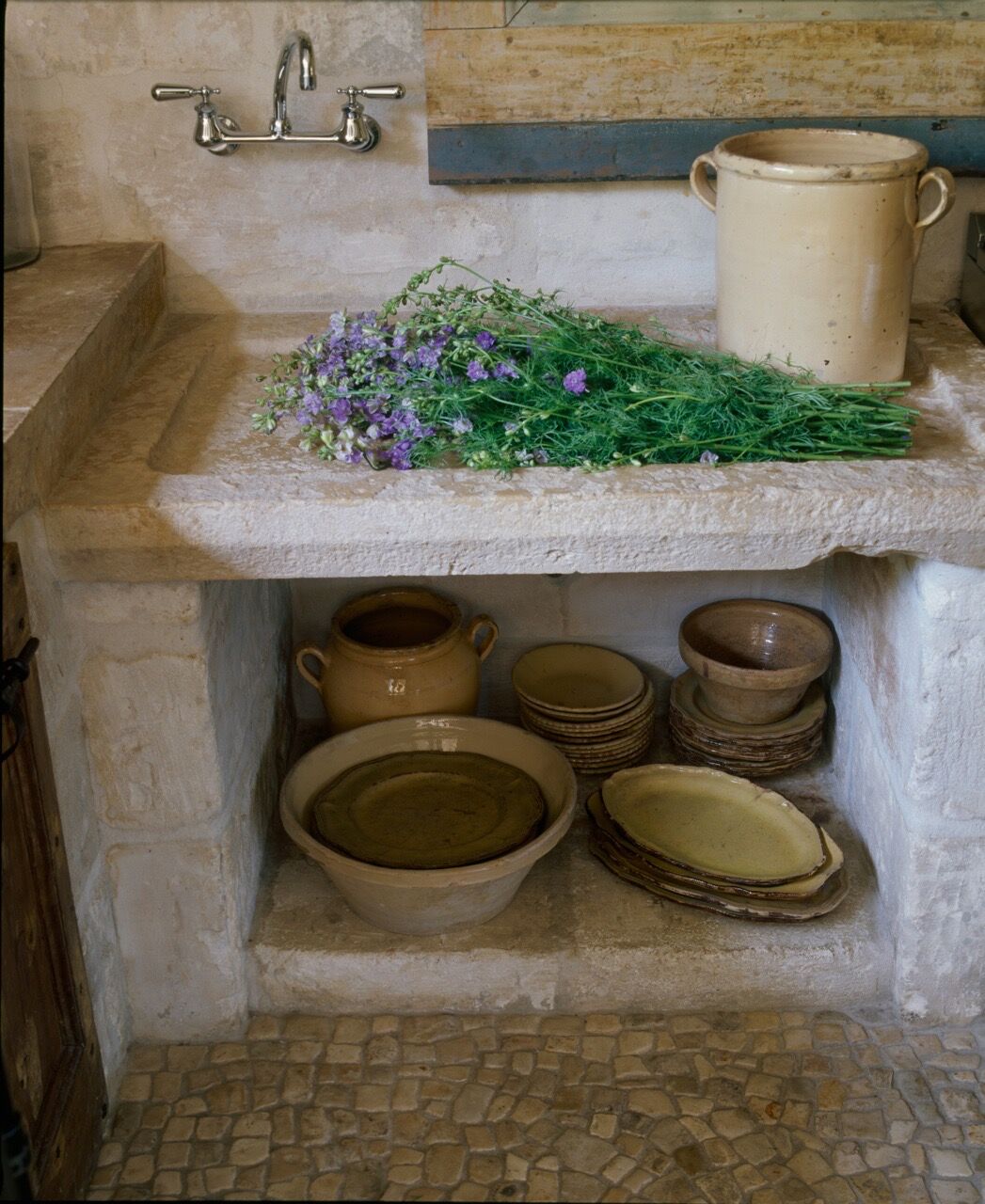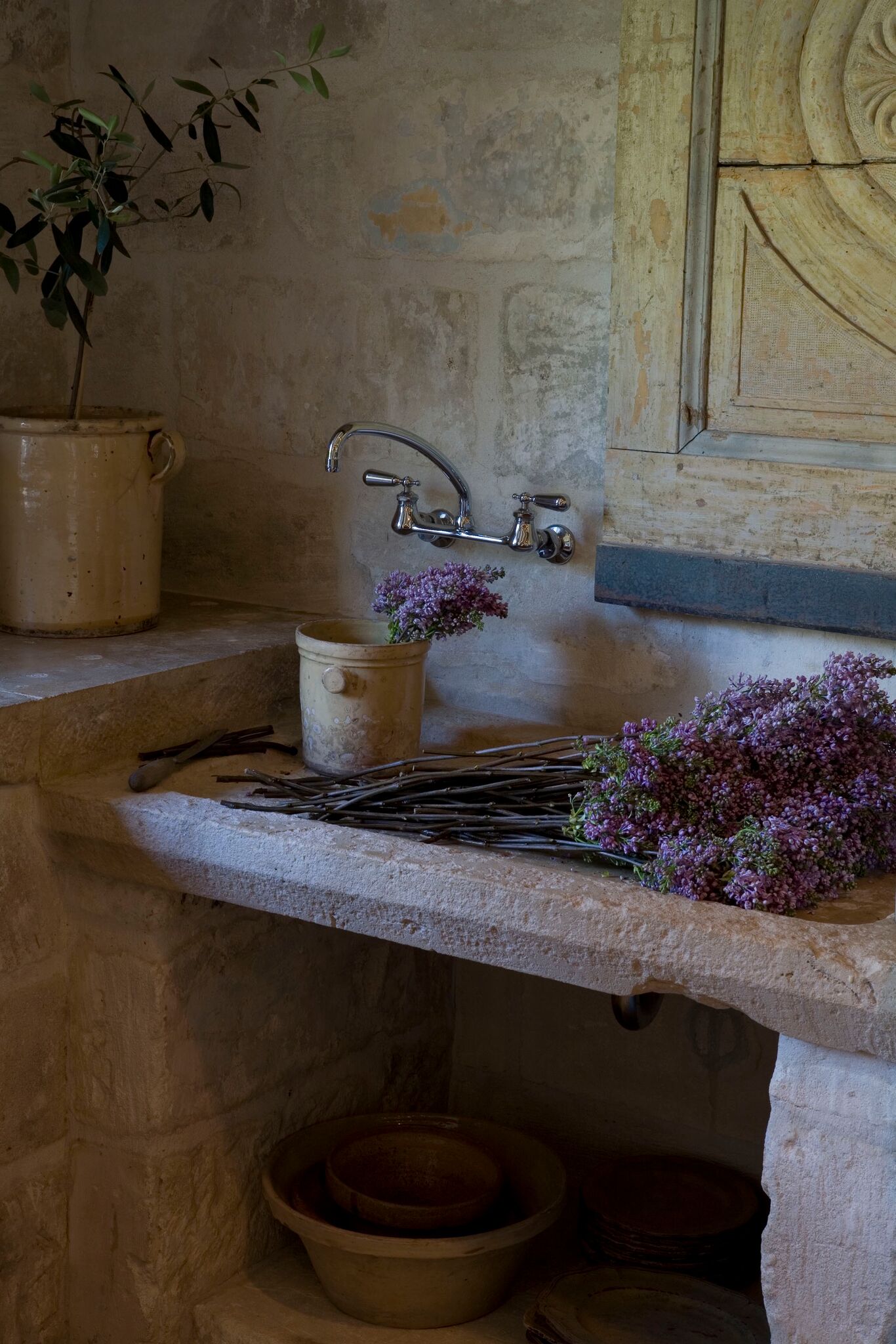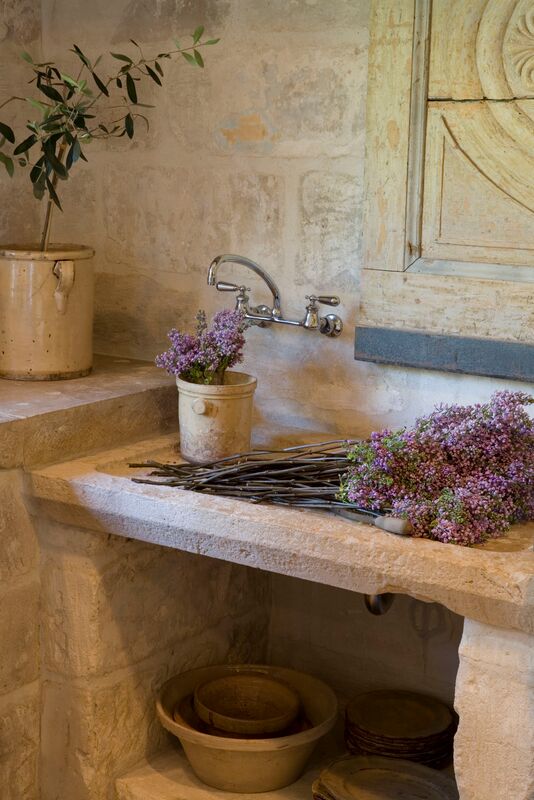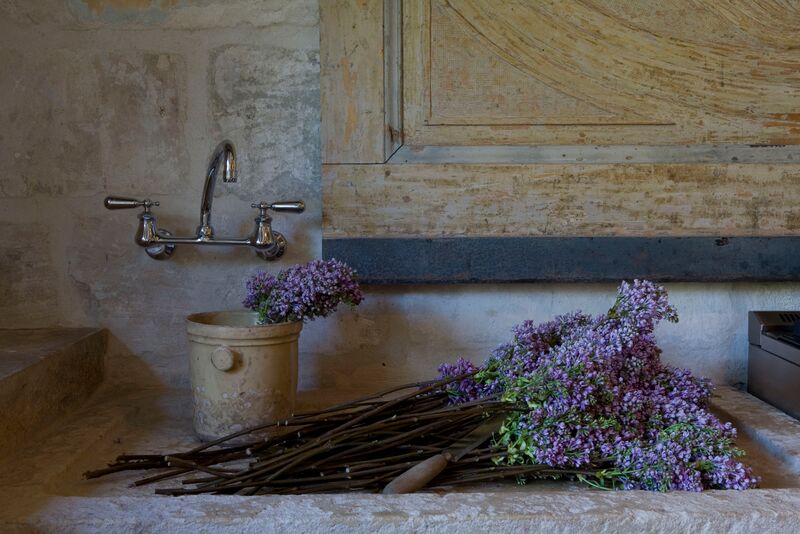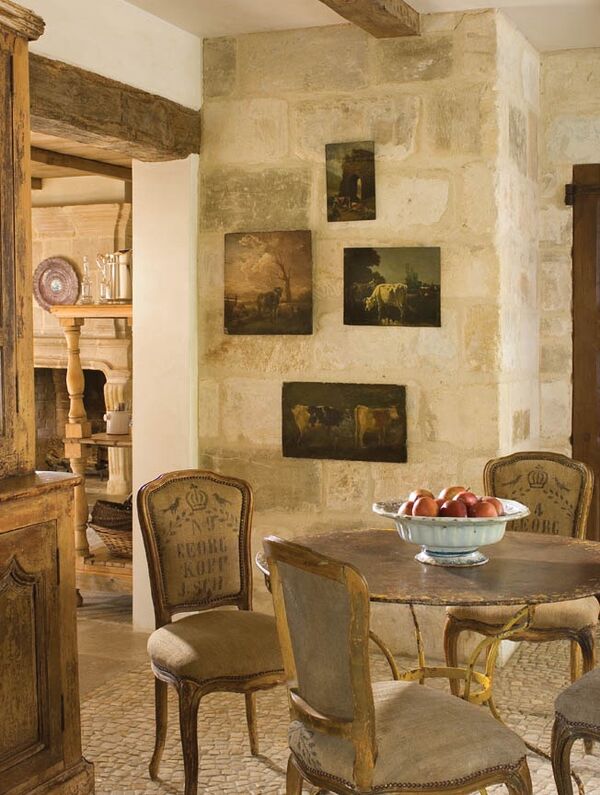 Timeless, European Country Inspired Decor Ideas
Guiding Principles…Not Secrets
Are there secrets to achieving a timeless, European country (including French Farmhouse and French Country) inspired decor look in your home?
Far too many articles online reduce a complex and multifaceted design style to a handful of steps or secrets. As a decor blogger, it is easy to fall into the habit. Timeless design is a broad category, as is European country so there is need for shorthand and summarizing.
Yet I think many of us have grown weary of those filler pieces promising "designer secrets." I have certainly used "secrets" in post titles because folks click over when they see the word. But I do aspire to transcend for the sake of design-hungry guests appreciative of a delicious entrée.
Timeless European Country Entry & Stair Inspiration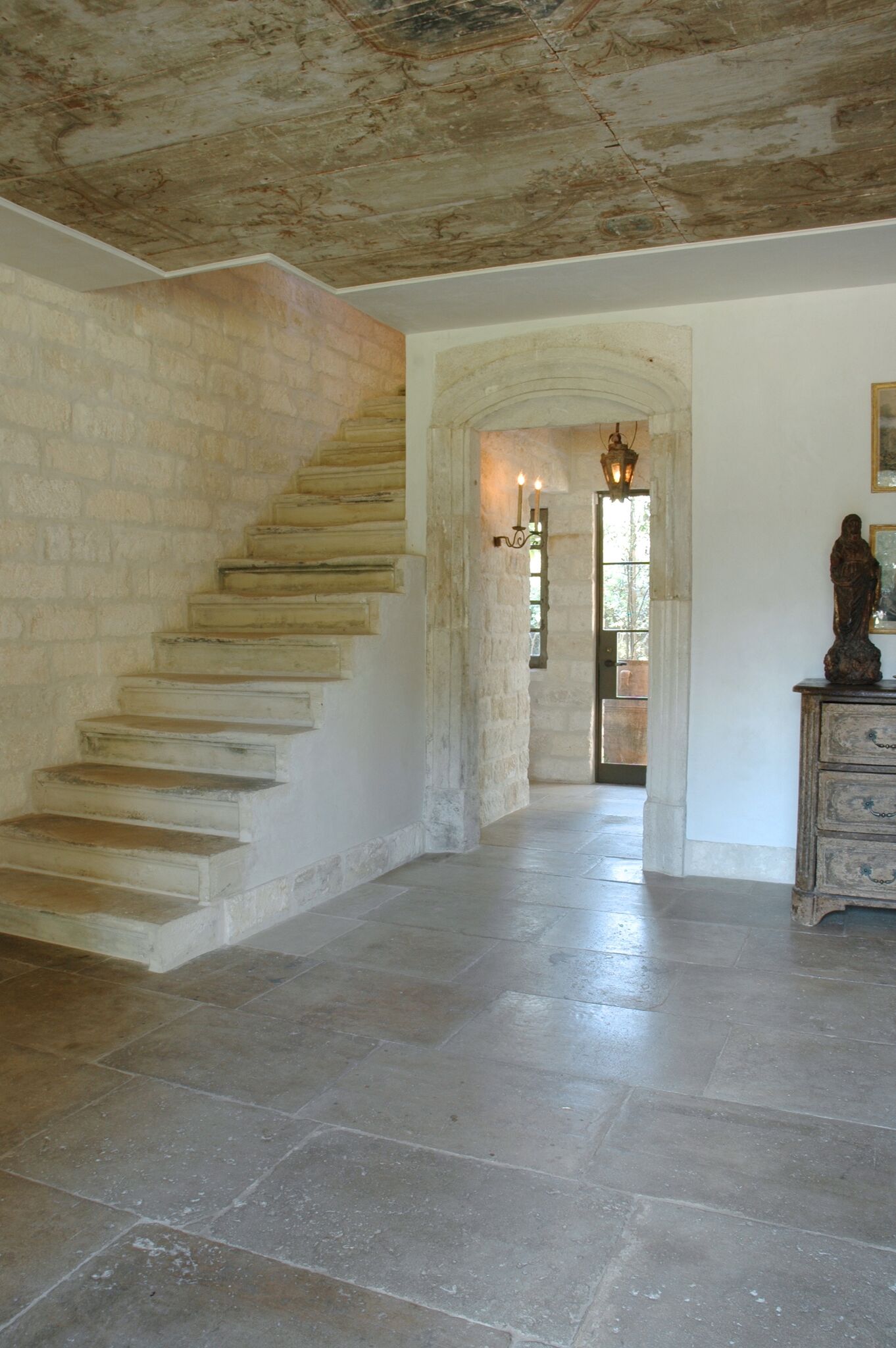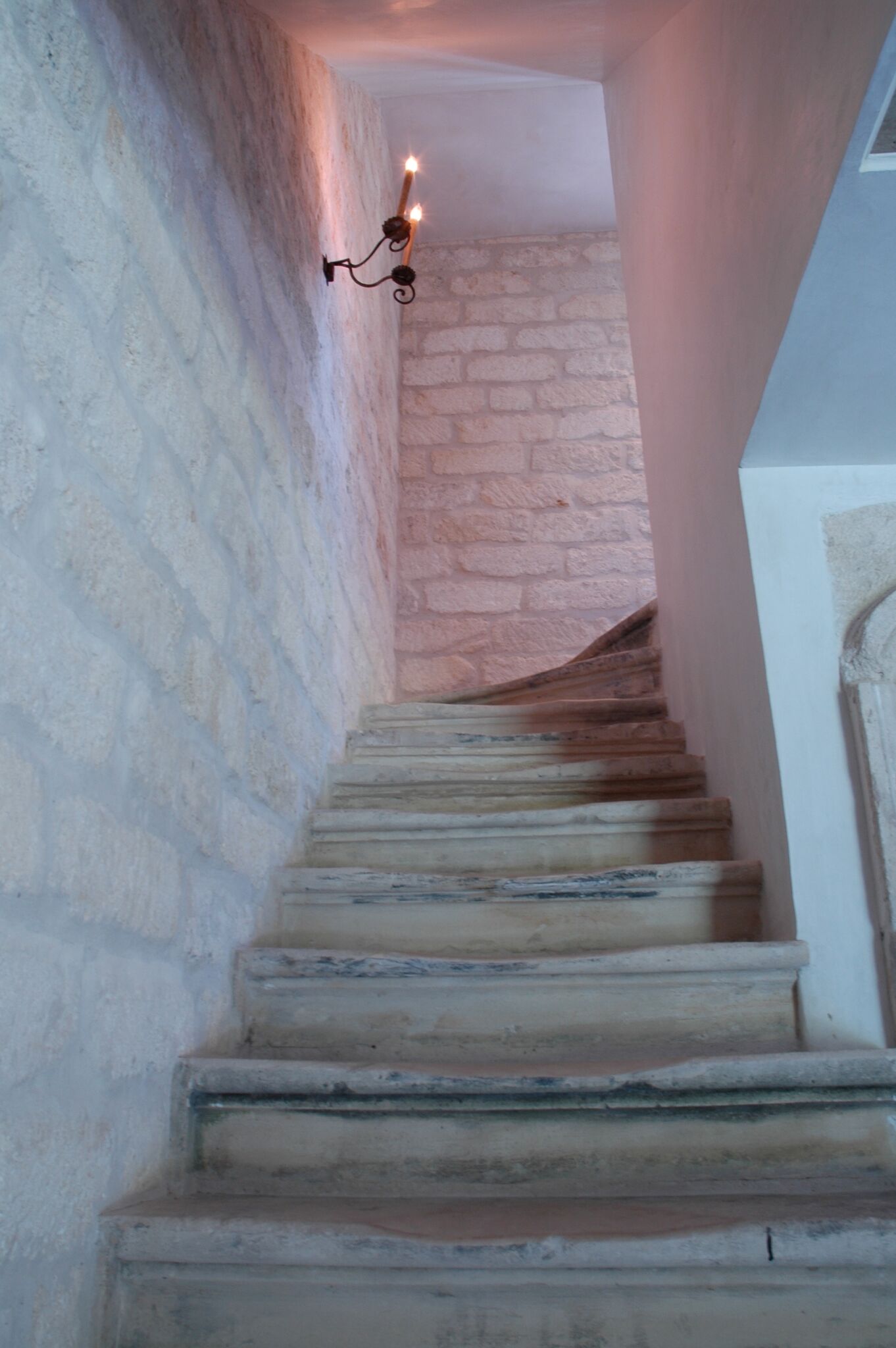 Chateau Domingue's Mission: Rustic Elegance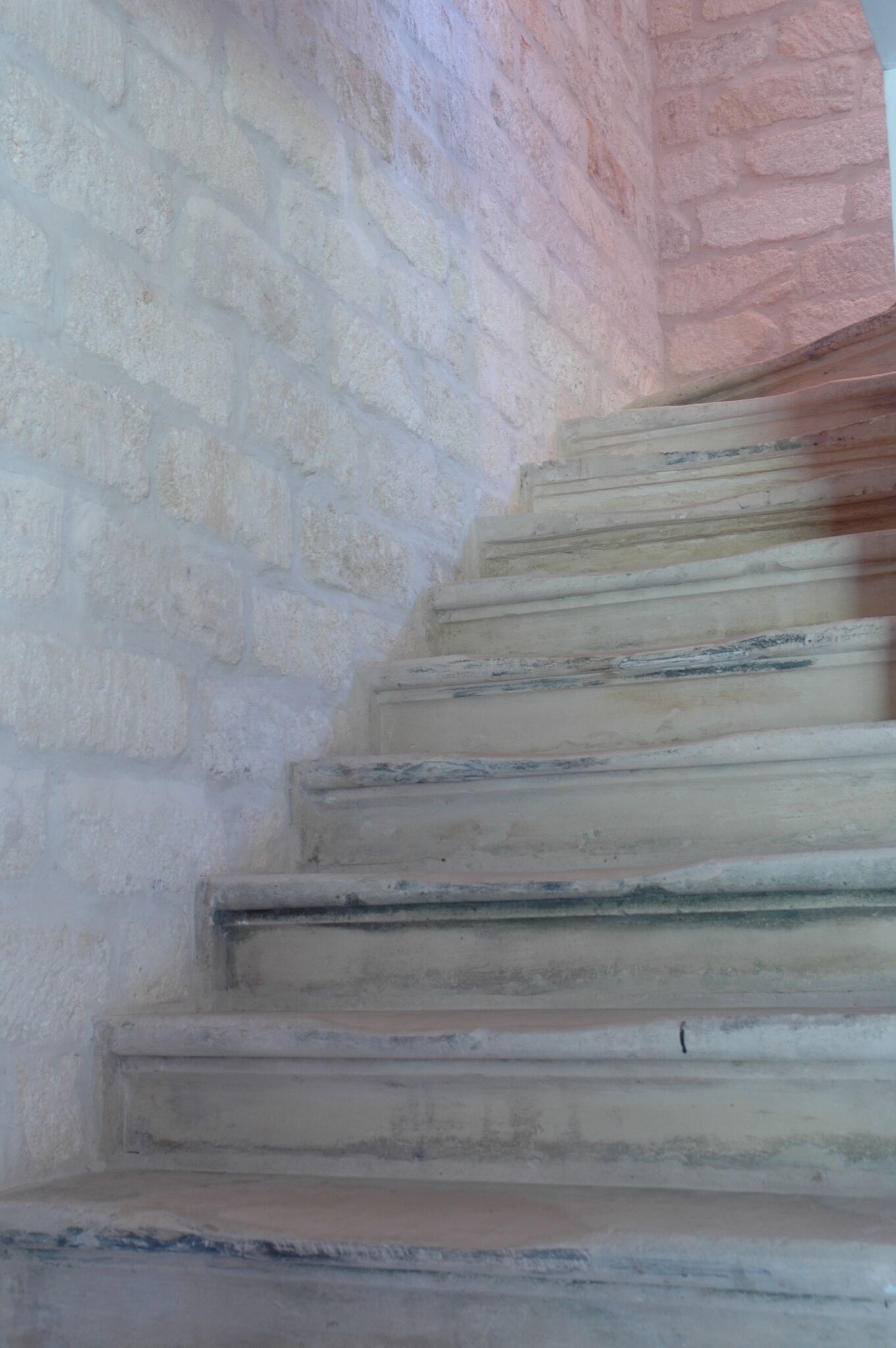 A few guiding principles to consider…
1, START WITH BEAUTIFUL BONES AND ARCHITECTURE…We certainly must save our pennies, for this principle, Francophiles! Beautiful bones and architecture may be the steepest challenge depending upon your home's age and style (unless you are a billionaire, building new, or are lucky enough to live in a farmhouse in Provence). Beautiful bones are definitely a tall order, yet partnering with experts at Houston-based Chateau Domingue can make them a reality.
Timeless European Country Living Room Inspiration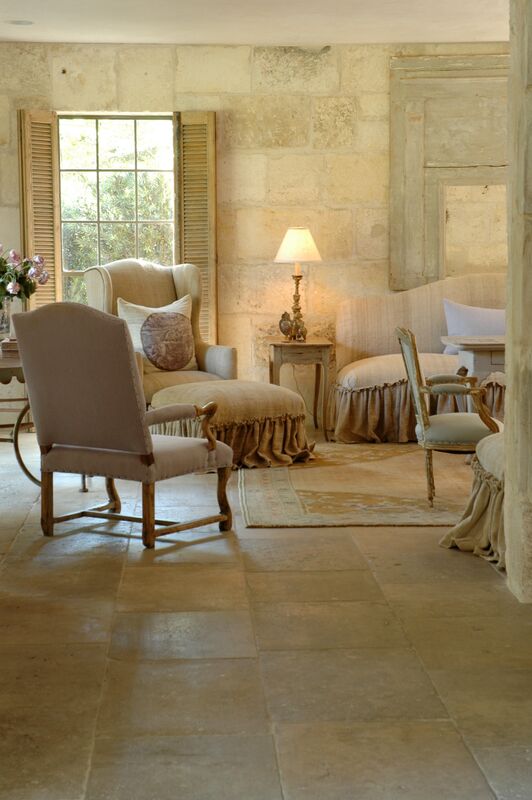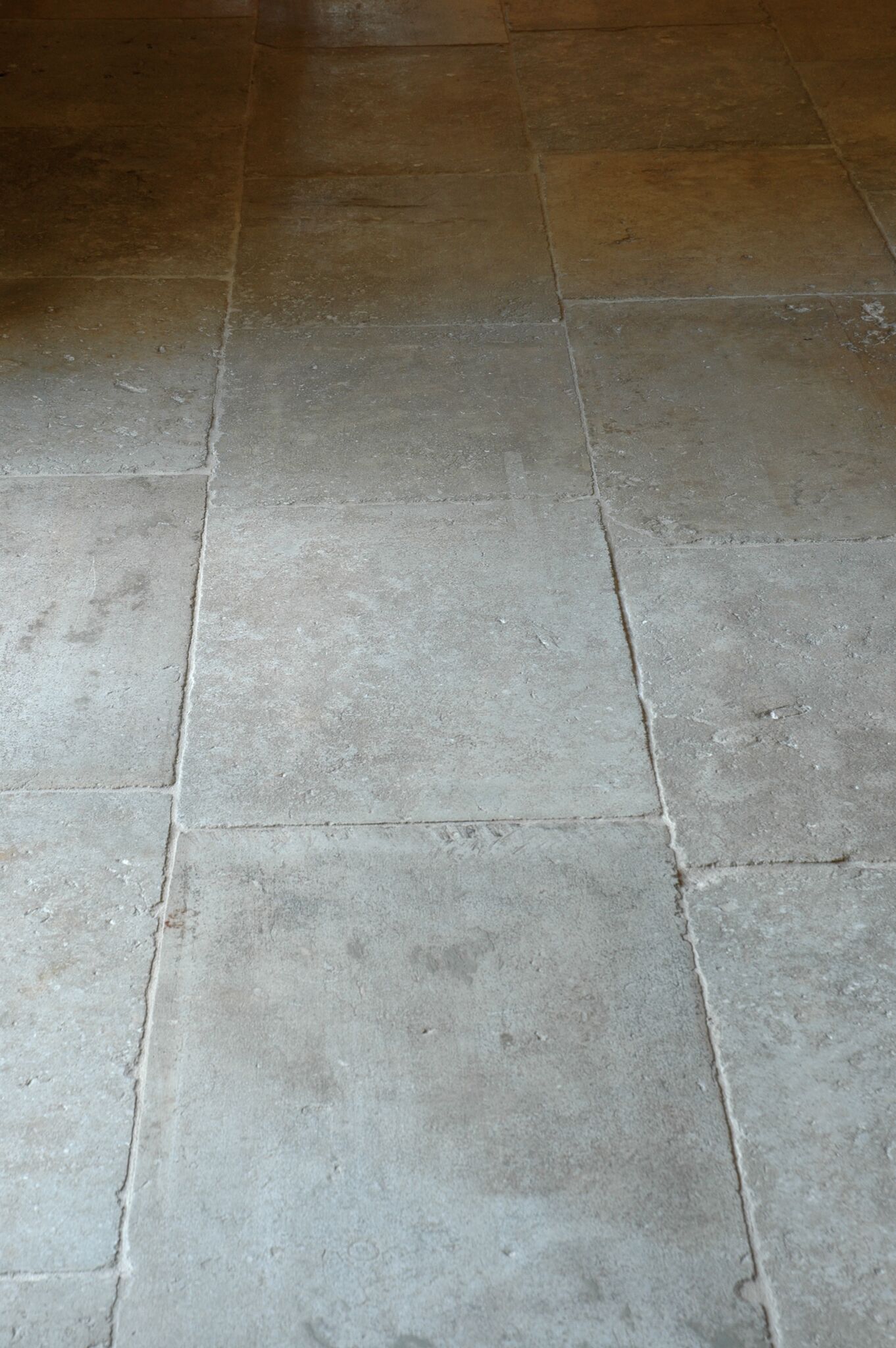 2. INVEST IN BEAUTIFUL EUROPEAN ANTIQUES AND FIXTURES…The acquisition of beautiful furniture and materials should not be done begrudgingly or in haste. It can and should happen over time as you enjoy the design process entailing travel, collaboration with seasoned professionals, brocante goodness, auctions, and antique shopping!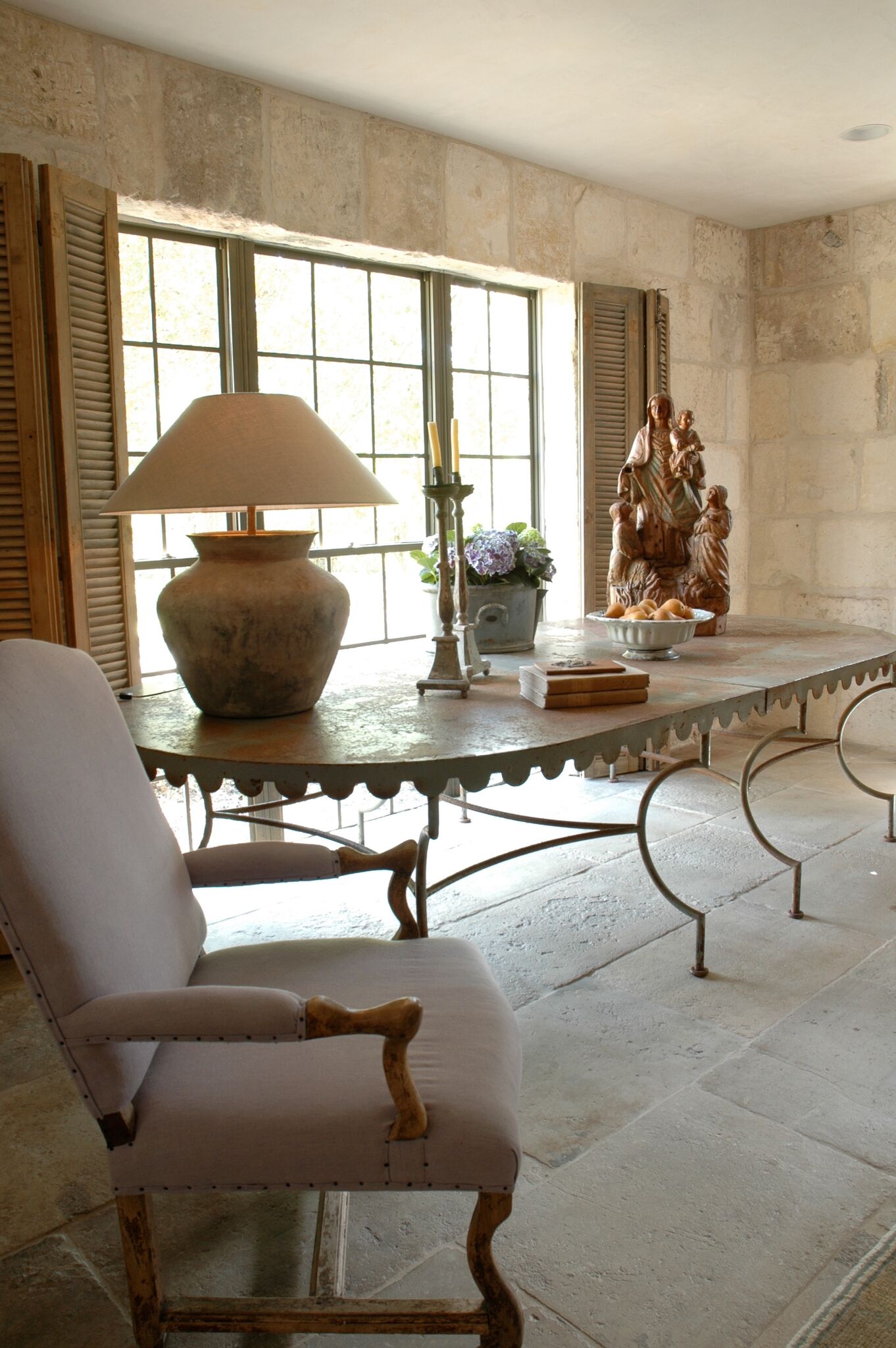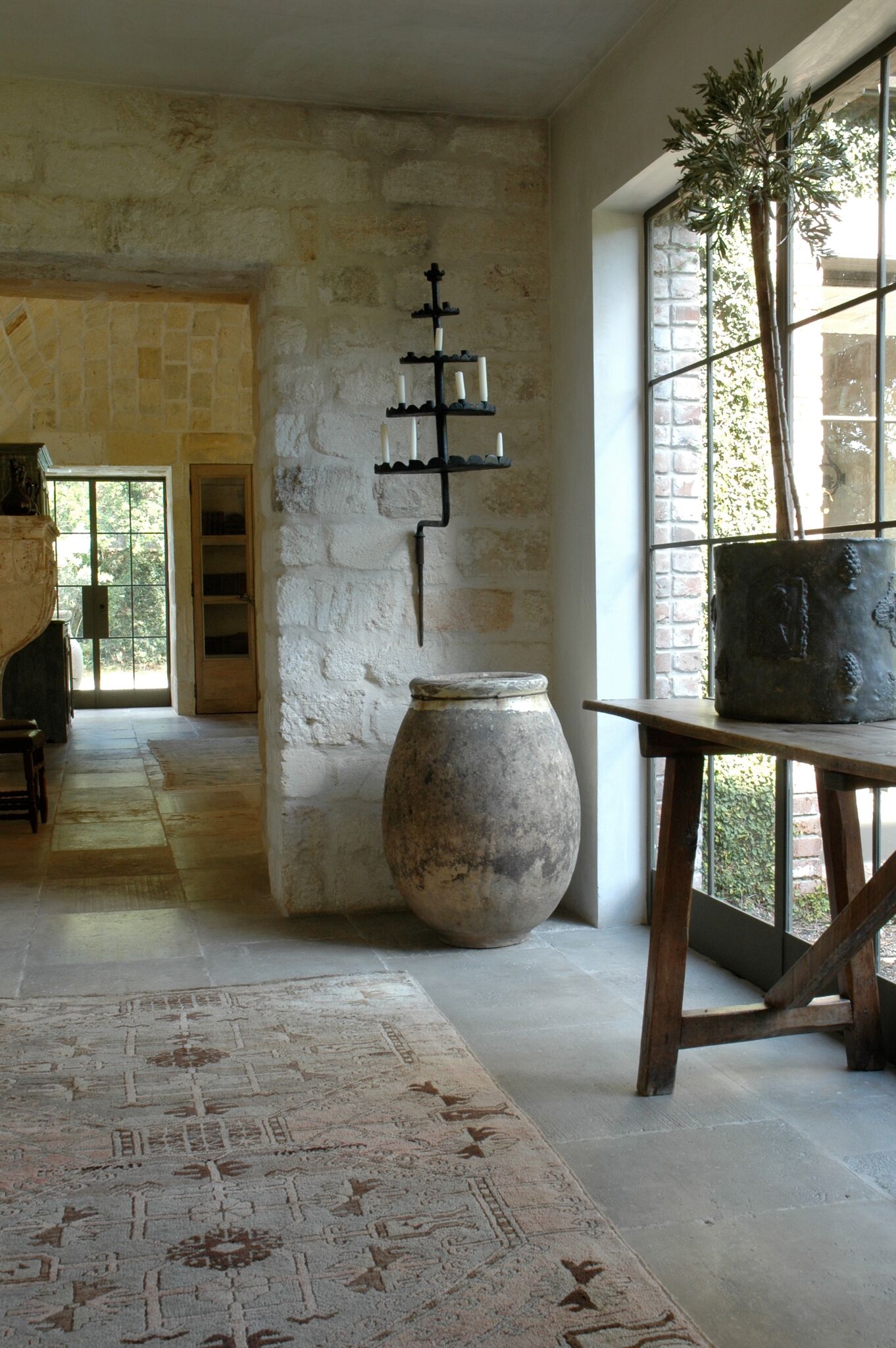 Ruth Gay's Masterpiece of a Home Office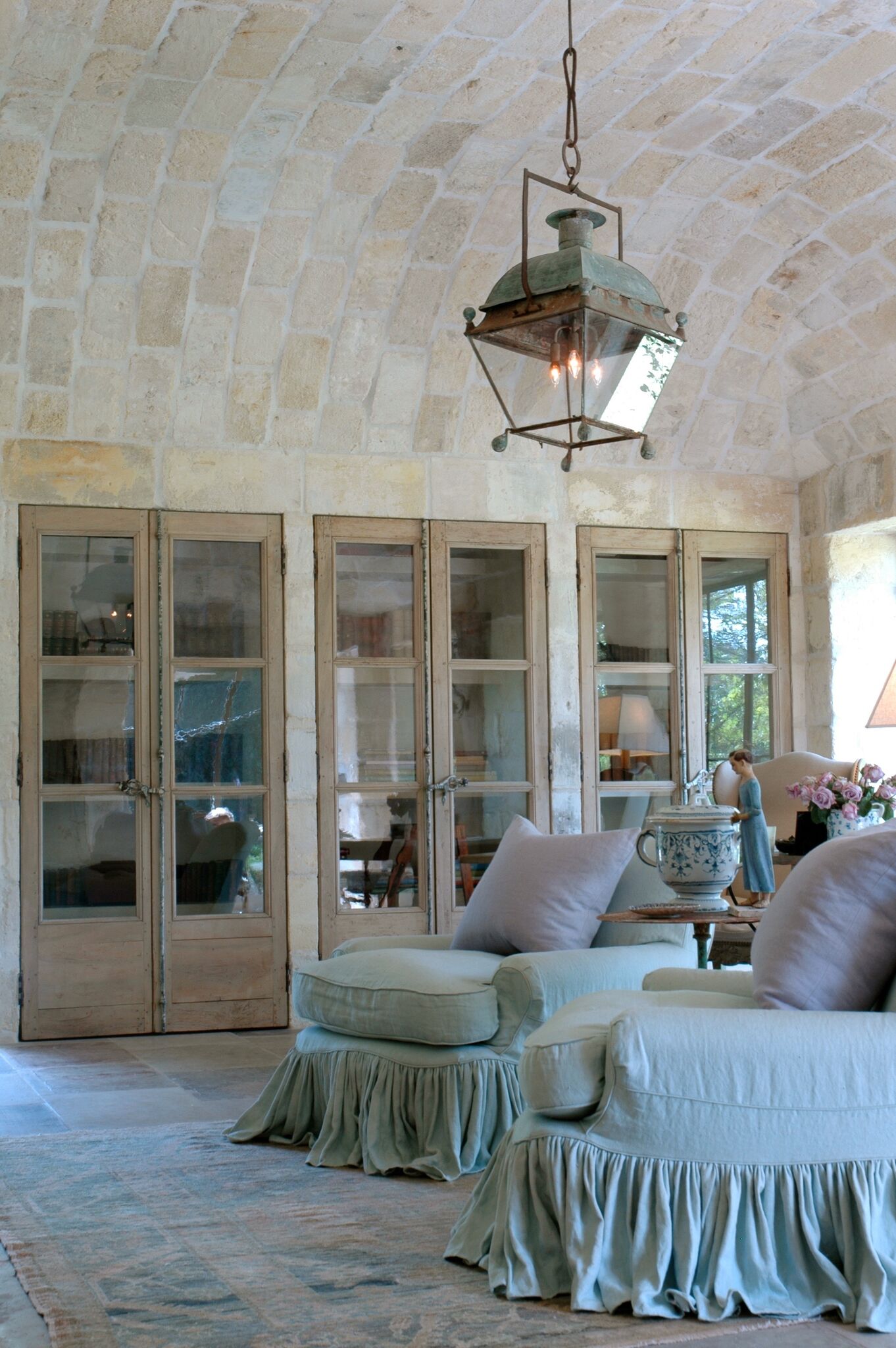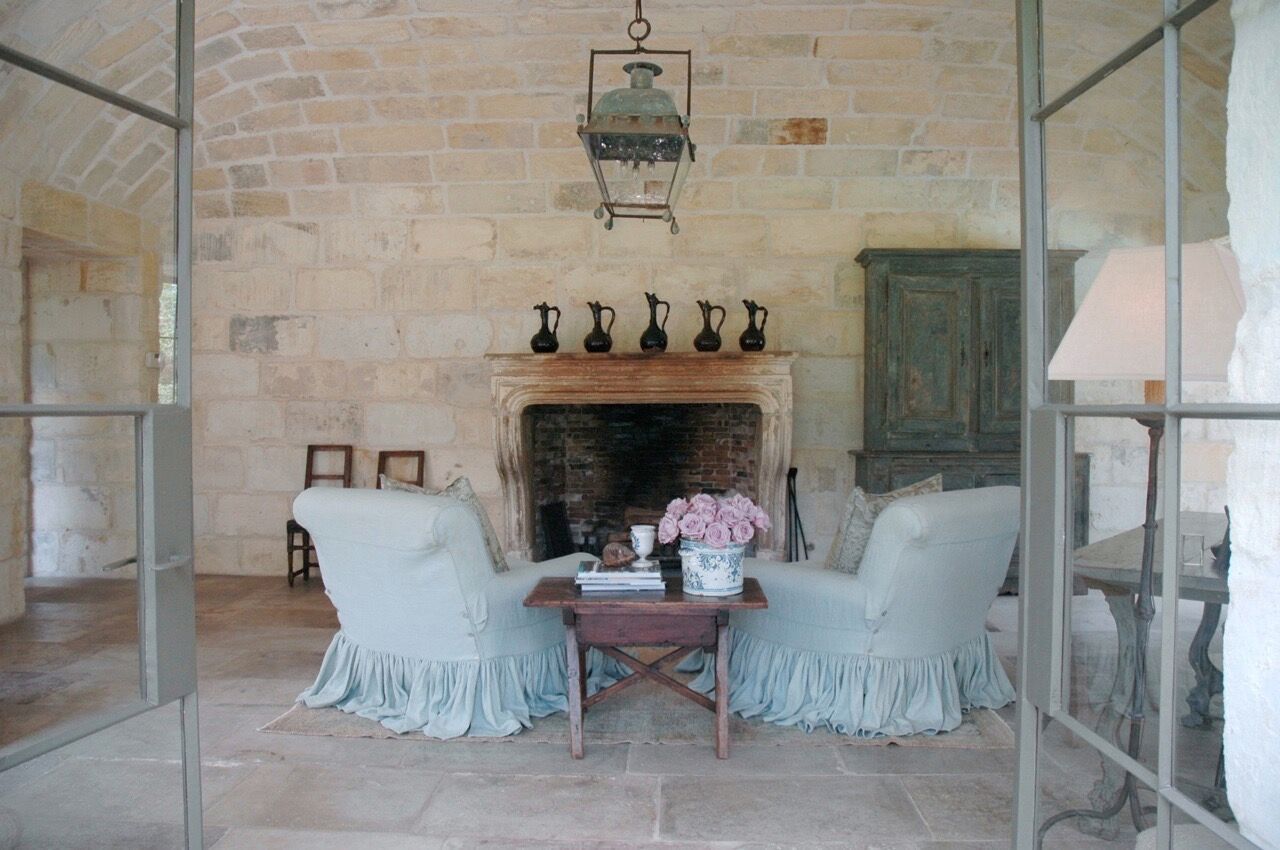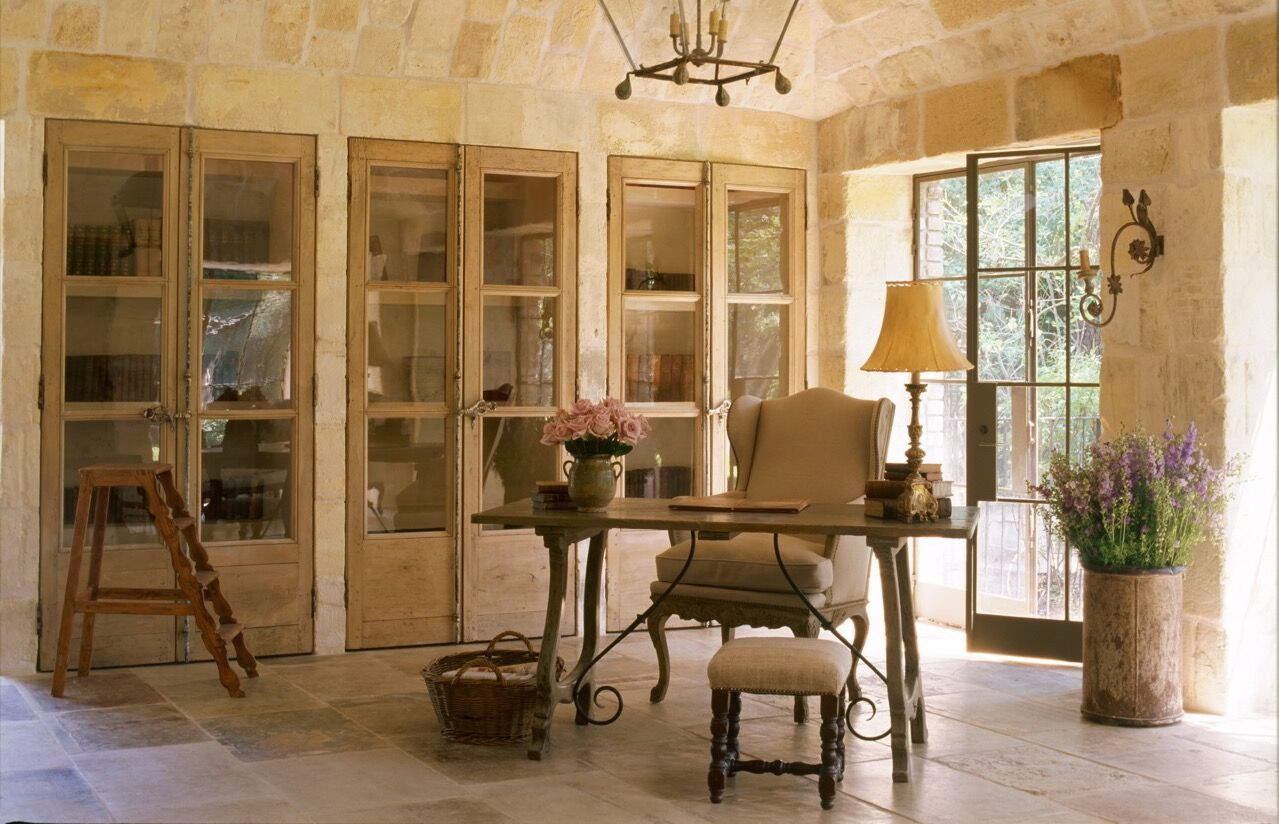 3. DO NOT RUSH WHAT CANNOT BE RUSHED. A timeless, authentically layered, quality interior design plan takes time and quite often necessitates help from experts and designers. We Americans rush everything these days. It must all be done…yesterday. We multitask and plow speedily through our days yet wonder why time seems to pass so quickly. There is much to learn from European and French culture and practices. We may prosper from incorporating more of those European daily rhythms into our daily lives to savor the present in a fuller sense and thereby LIVE more abundantly.
Timeless Garden & Greenhouse Inspiration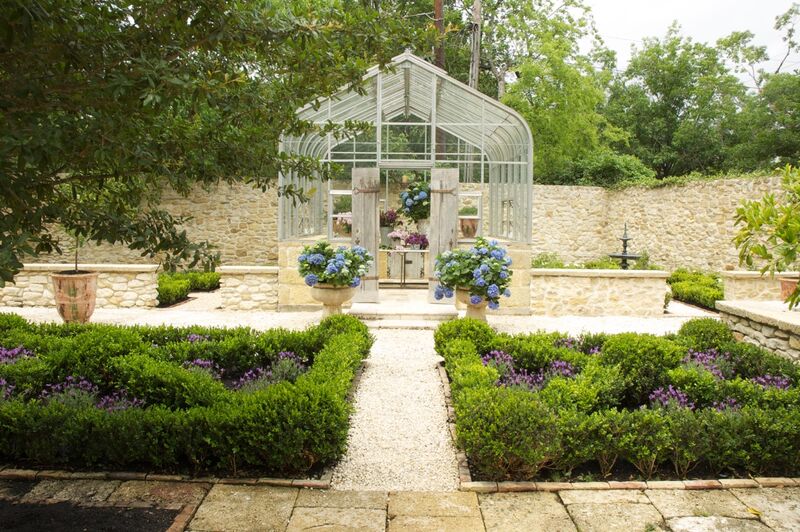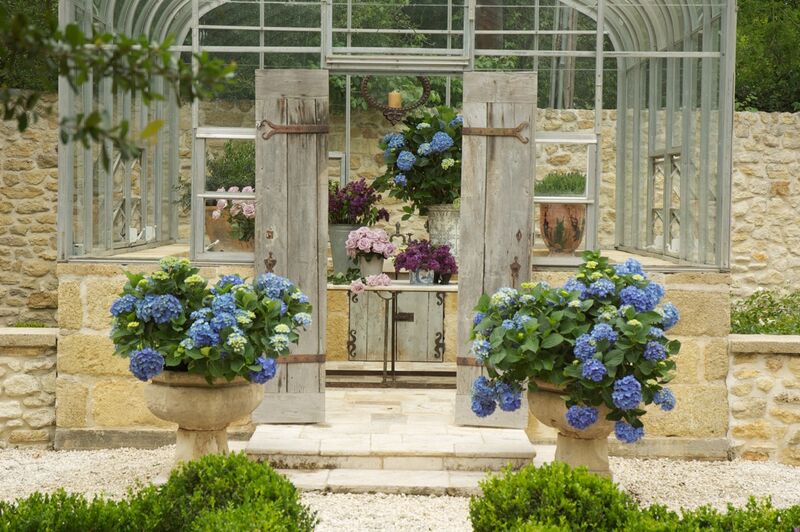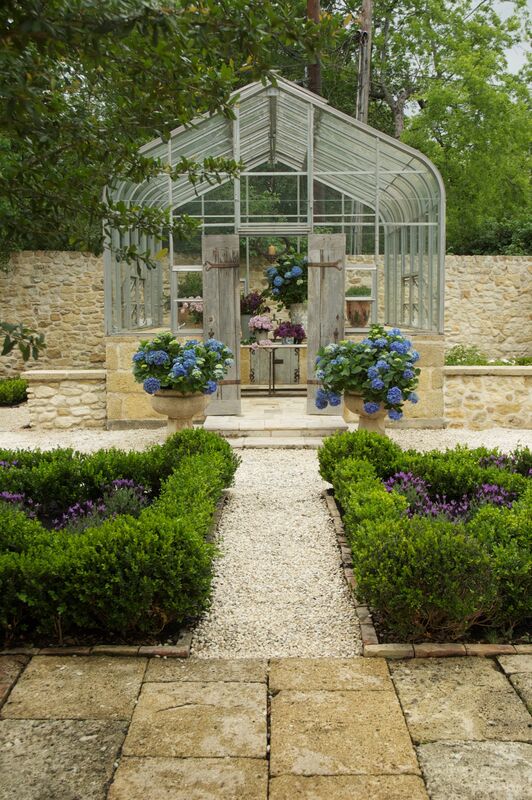 Lovely & Timeless European Country Garden Elements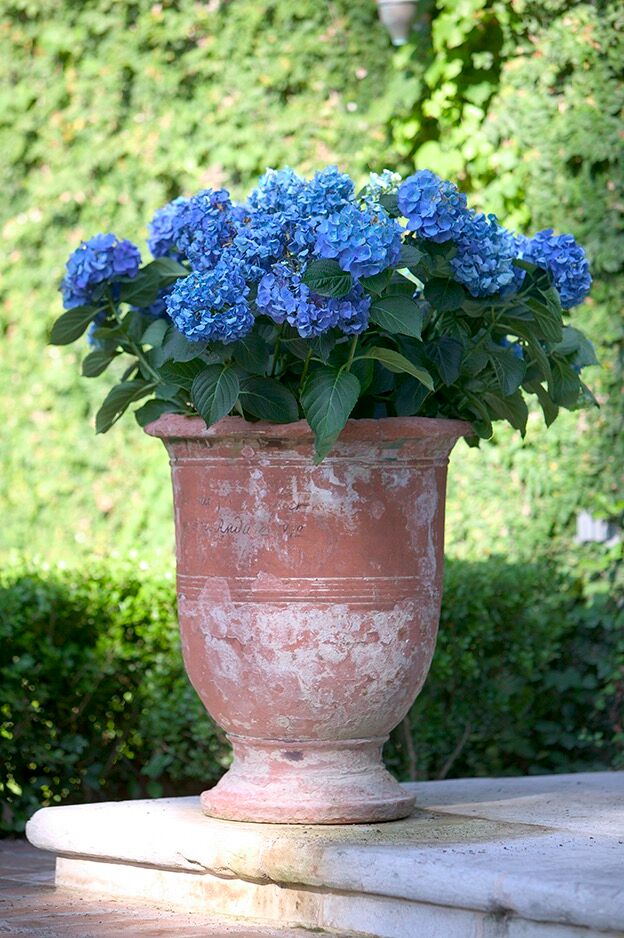 Chateau Domingue's Mission: Unimpeachable Quality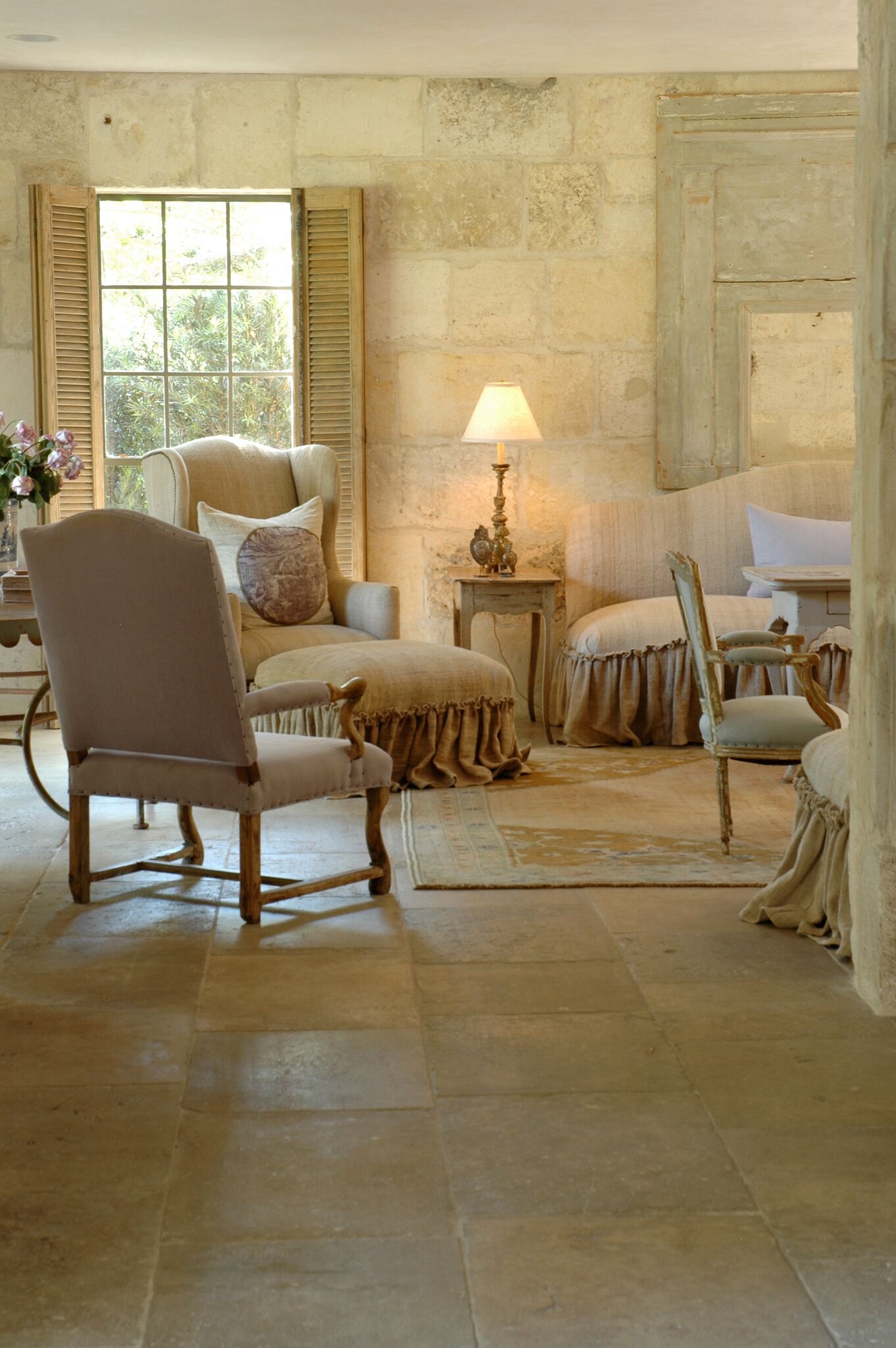 Chateau Domingue's Mission: Noble Heritage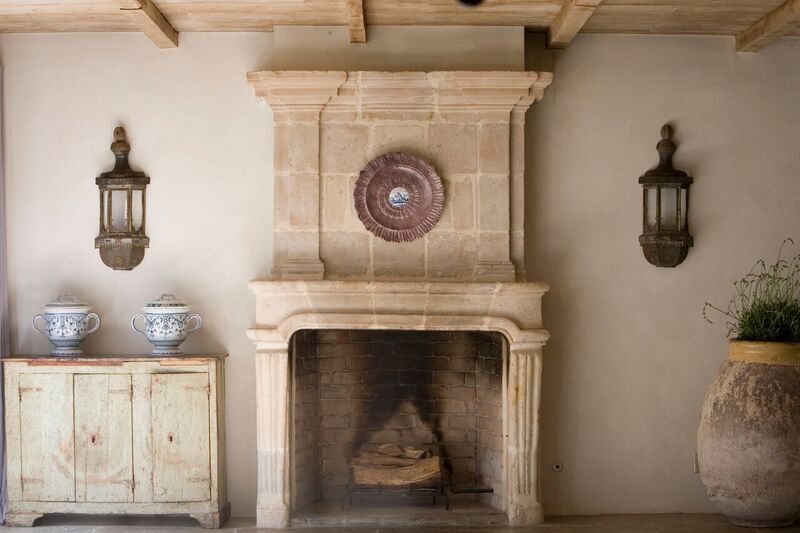 Chateau Domingue's Mission: Timelessness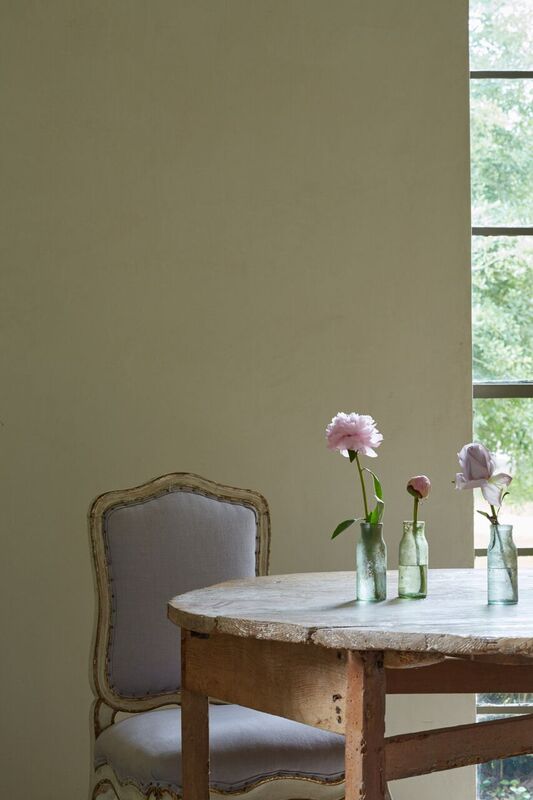 Authenticity & Context
As voiced earlier, let's avoid reducing a design style as exquisite as is seen here, to a few steps for "scoring the look" or "capturing the flavor." There are HUNDREDS of steps (I'll ask Ruth and Pam for the exact number…Ha!). Instead, let's highlight a few key points which will likely generate more questions and become a springboard for discussion rather than a summary.
First of all, if we desire authenticity, we must firmly become anchored in the origin of European country and French farmhouse style. We should become familiar with the lovely landscape of rural France with its hills and valleys, of Tuscany and Umbria. It isn't about the work of this famous designer or that famous design house; but a journey into the history, fruits, and magic of the European countryside.
A Country French look, for example, has long established its enduring appeal. Its beauty and timelessness derive from its natural connection to the culture and character of the region. No wonder it is not so easily emulated, "scored," or created outside of France. Most of us haven't the patience, ma cherie!
Secondly, a European country inspired or Country French approach to home decor (which is often effortless, unhurried, and nostalgic) echoes a body of cultural ideals and values. To understand the "why" of this approach remaining popular in America, we must delve deeper into European culture and history and then discern why it attracts a following.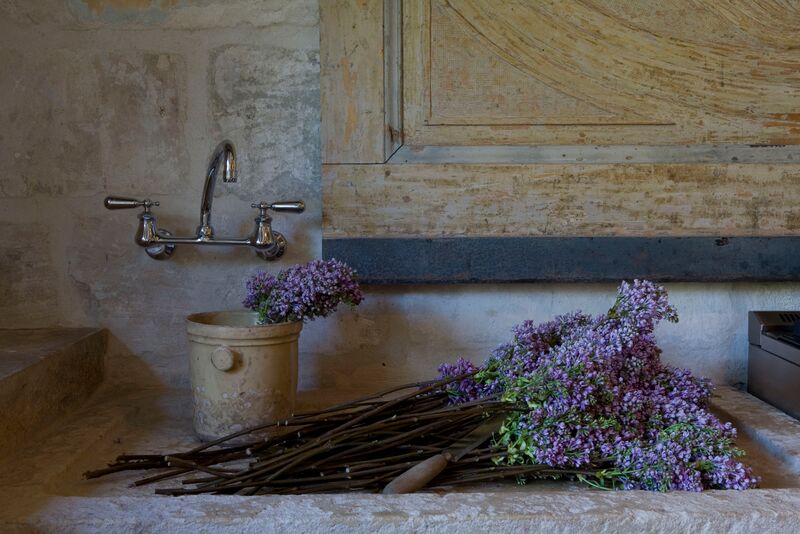 Timeless Over Trendy
Thirdly, instead of following trends and redecorating every decade (or season if you glance at influencers on Instagram!) as Americans often do, traditionalists in the French countryside favor a timeworn look. When you are after a similar look at home, antiques and reclaimed authentic materials are your friend! High quality and long lasting pieces which increase in value over time can become heirlooms. Buy better and buy less applies. The look is rustic, elegant, simple, sophisticated, timeless, and never contrived or overwrought.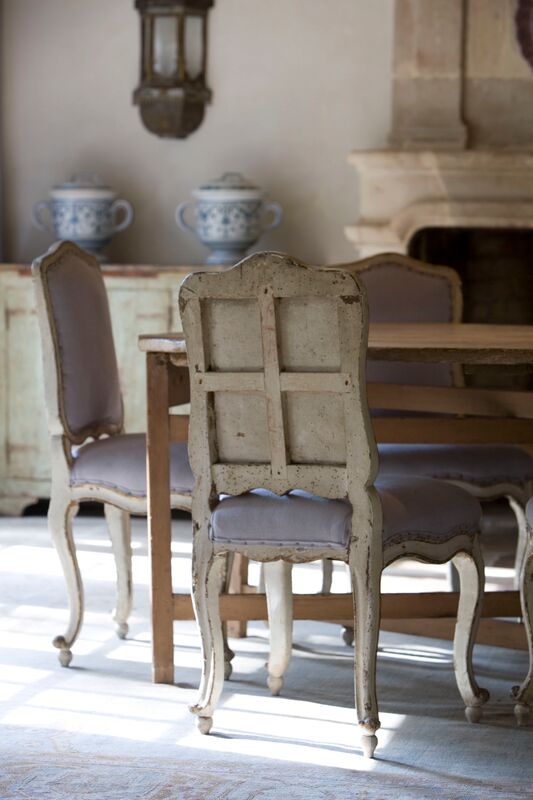 Charm & Mixology
Fourthly, there is often a sense of refinement in traditional European country or French Country homes where a masterful mix of old with contemporary results in cohesive and sensible interiors which also feel soulful and interesting. Contemporary sculpture or a modern lamp may be paired with an ancient carved chest or clay pot. Slim steel windows complement age-old rustic design elements. The pleasing combination packs sophisticated charm. Additionally, collected antiques and heirlooms impart a sense of rich historical character which simply cannot be purchased in a few clicks shopping online.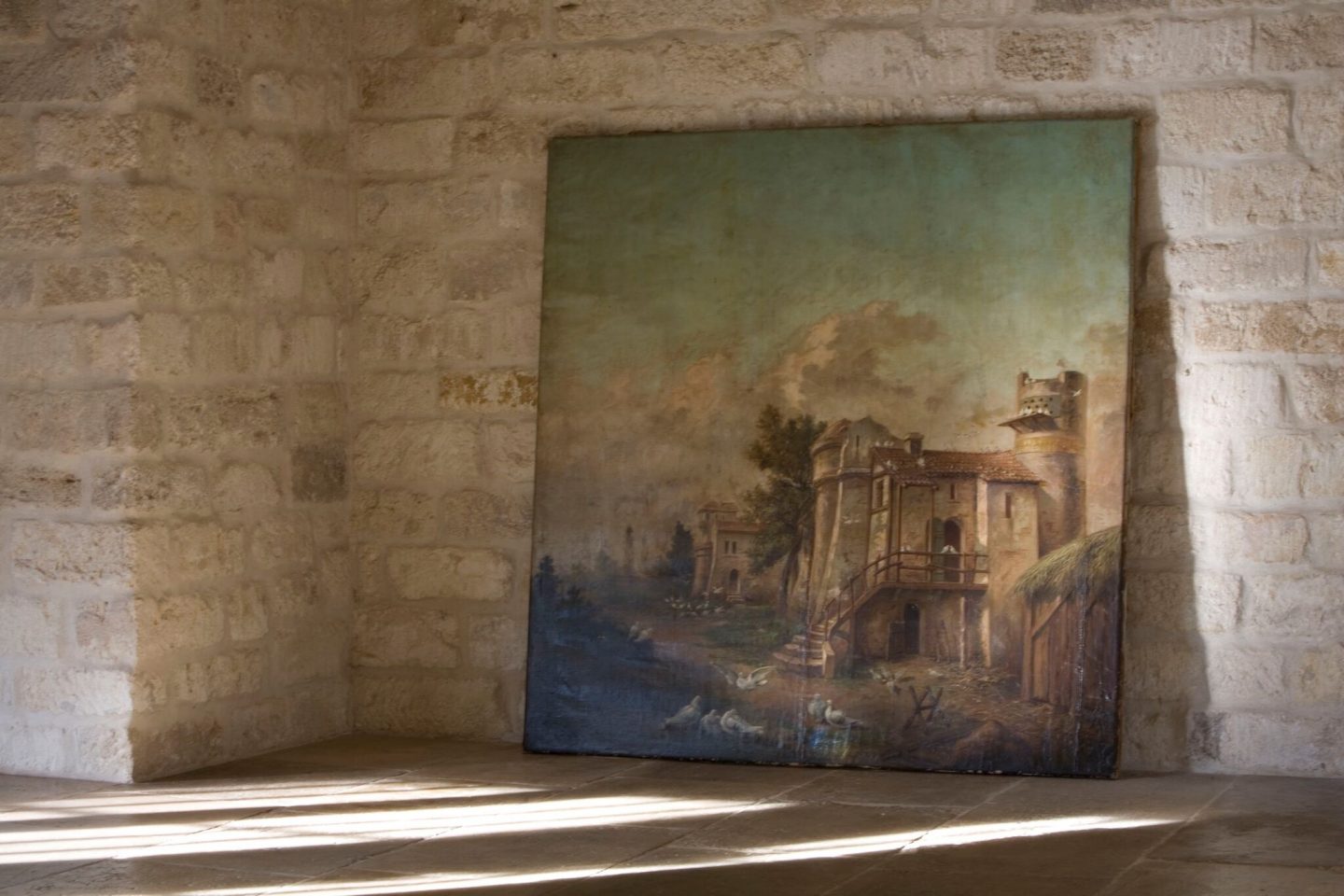 Timeless European Country Essentials
An Evolved Elegance
Firstly, many Americans still opt for matching furniture sets which may fall from favor in style after only a few years. We're often in a rush, and many shoppers are eager to cross objects off the list by visiting a showroom or two then calling it a day. Such a strategy is contrary to seeking "an evolved European Country look" which demands restraint and patience.
Matchy-matchy is not ideal for a French farmhouse or Tuscan villa. Evolution takes time. Patina takes time. Collecting takes time. And certainly inheriting treasures takes time. Hunting down the just right piece is easier now thanks to the internet, but choosing the proper mix of pieces to create a cohesive, timeless design STILL takes time.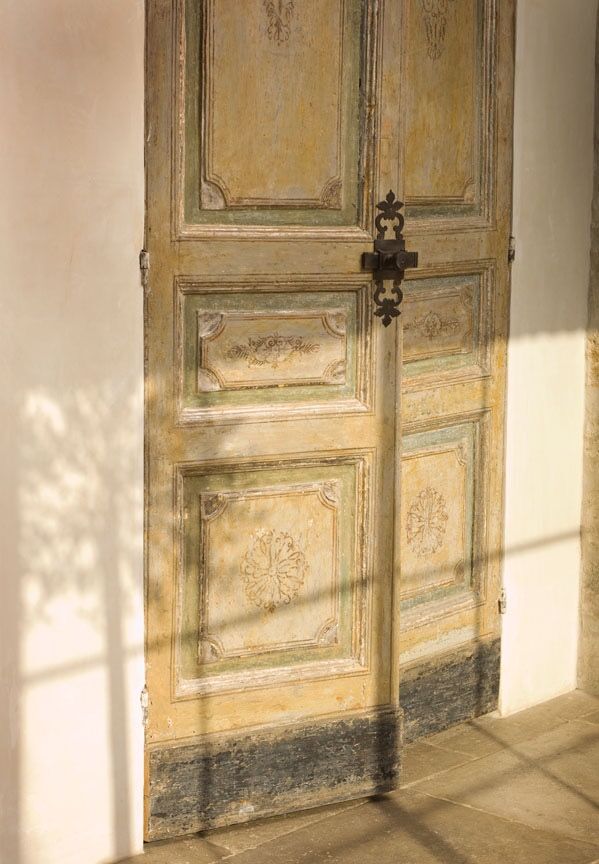 European country and French country approaches to furnishing a home often appear intuitive, relaxed, and flexible; yet the care devoted to thoughtfully determining what stays and what goes comes from experience and seasoned design intelligence. A simple yet refined elegance requires expert knowledge and a keen artful eye. Ruth Gay and Pamela Pierce are blessed with such a trained eye. Patiently getting it right the first time saves time and stress in the long run.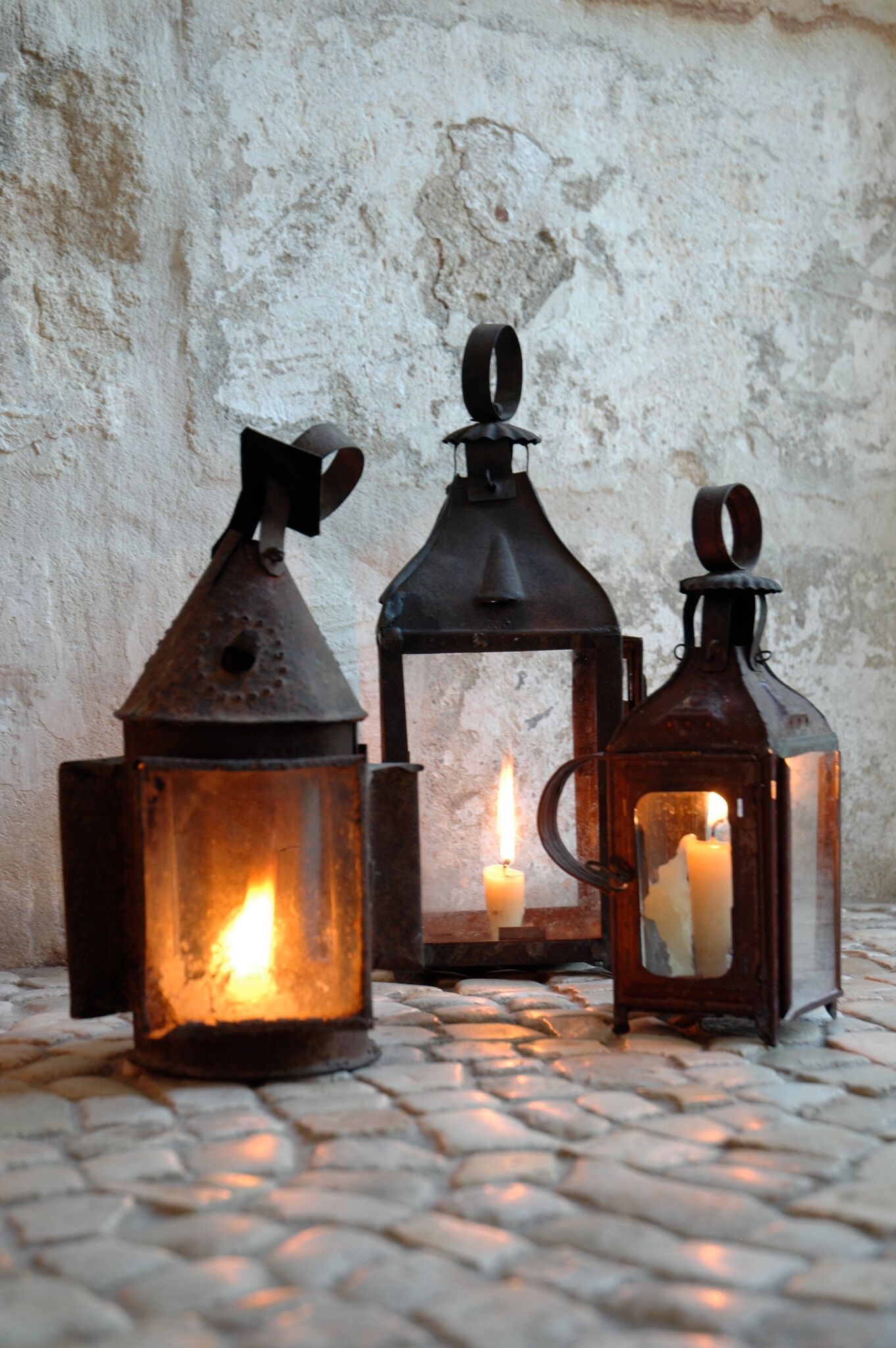 Rooms can develop character over time as an owner progressively collects and thoughtfully edits. Do you suppose most traditional European country home owners think much about "ultimate goals" for their country interiors? Think they pay attention to mood boards or paint color of the year? Ha! It seems more likely that once the architecture is complete, even with loose design plans, the rooms become what they should become! Evolution can lead to beautiful, functional, harmonious, timelessly elegant spaces appearing un-decorated, un-done, and uninterested in trends.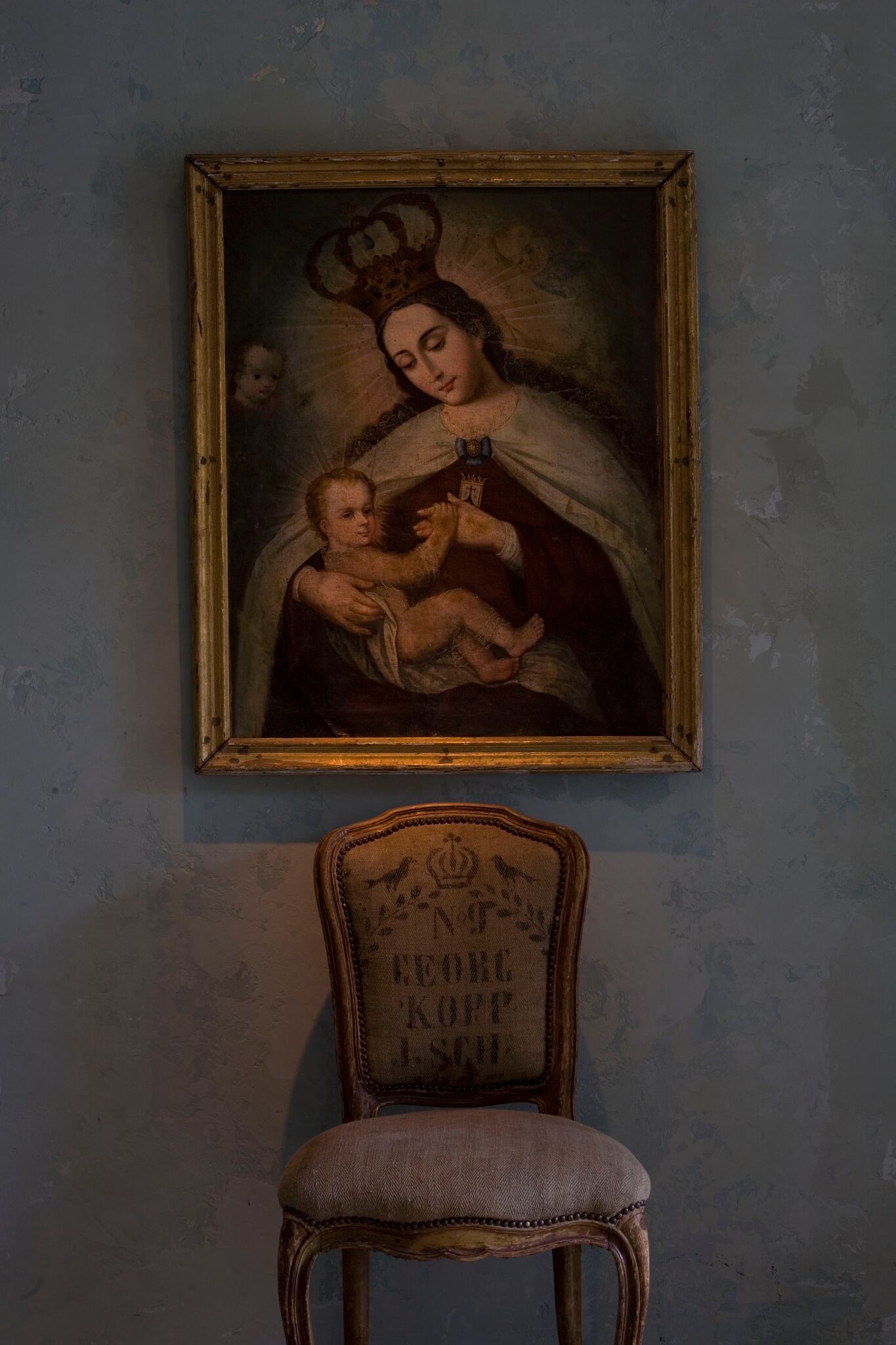 Purposeful & Flexible
Secondly, since many European country homes and French farmhouses are smallish and cozy, traditional and timeless country style leans more toward practicality. Without walk-in closets and spacious pantries, home decor pieces must work in a variety of rooms. Out of necessity, they may be moved around to function in various spaces. Since many French farmhouse furniture pieces are rugged, weathered, chunky, and indelicate, they age gracefully with time and use.
It's easy to see the beauty of investing in fewer yet higher quality pieces which will work hard no matter the room in which they live.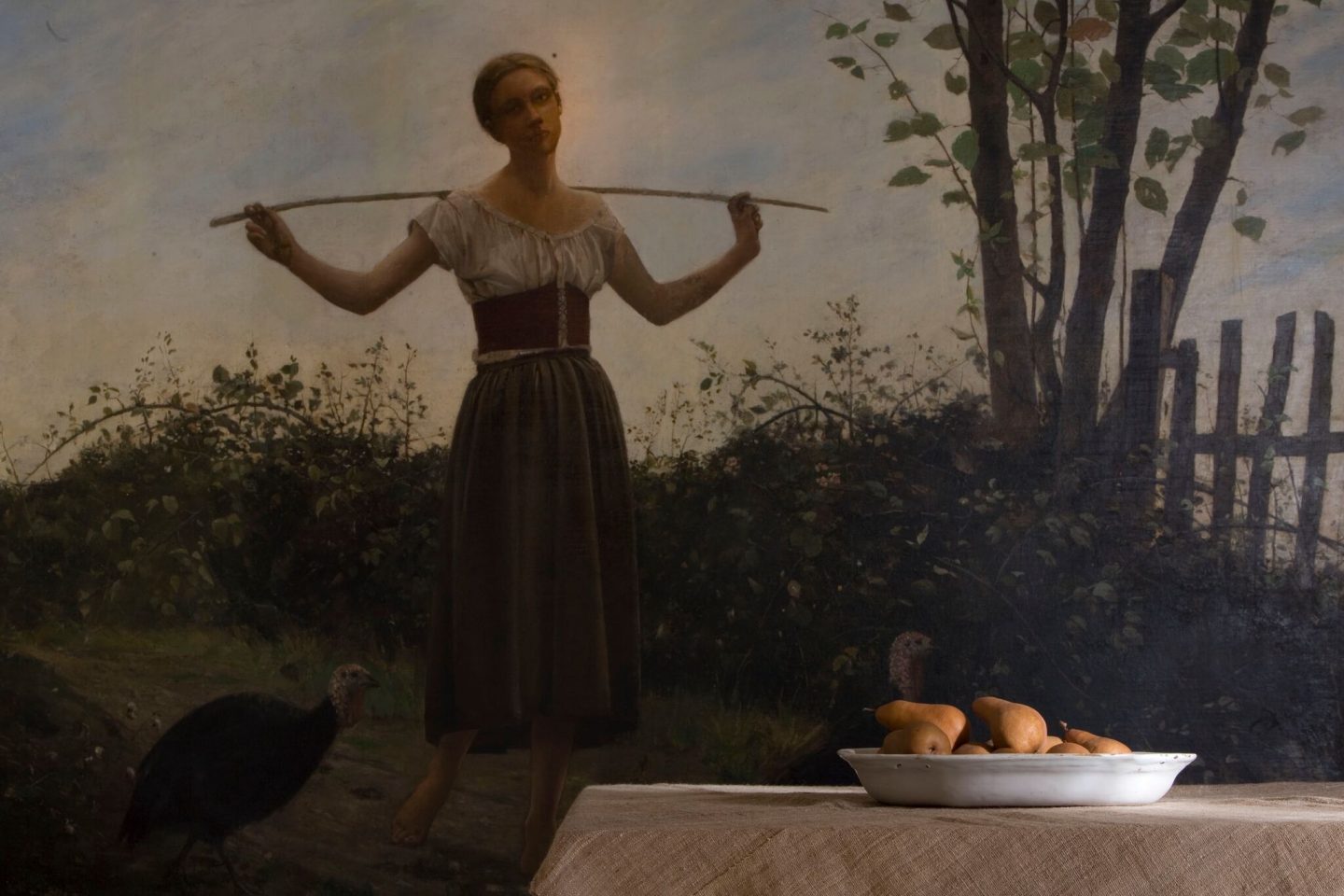 Naturally Nature Honoring
Thirdly, the French love their gardens and bringing fresh flowers inside to decorate the home, arranging blooms quite casually. Just like fresh ingredients for cooking and tasteful decor, fresh flowers have a way of elevating the "everyday." The French are so inspirational with regard to their approach to beautiful daily living, love of food, and regard for fine art. Depending on the region, sunflowers, irises, and poppies are common flowers which flourish in the French countryside.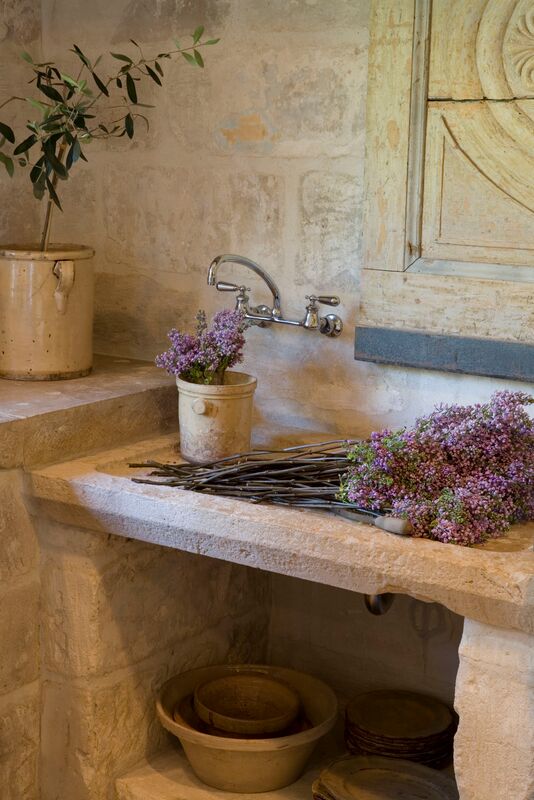 Timeless & Weathered to Perfection
Fourthly, since European country is a style which celebrates age and tradition, scratches, rust, and signs of wear are welcome. Shiny new, stained, or lacquered finishes frequently fall flat when paired with antiques and vintage pieces which have patina-ed beautifully. Even aged rugs work better in such settings.
The French don't shop for a new rug simply because it has faded or frayed. Nearly threadbare is fine until it is no longer useful. What a contrast to a very suburban American habit of growing "bored" with this rug, that accent chair, or that vase and replacing it with another from the strip mall before any wear has accumulated!
Choosing beautiful, high quality pieces (made from natural materials) which only grow better with age is a smart strategy when putting together a room with the same timeless spirit.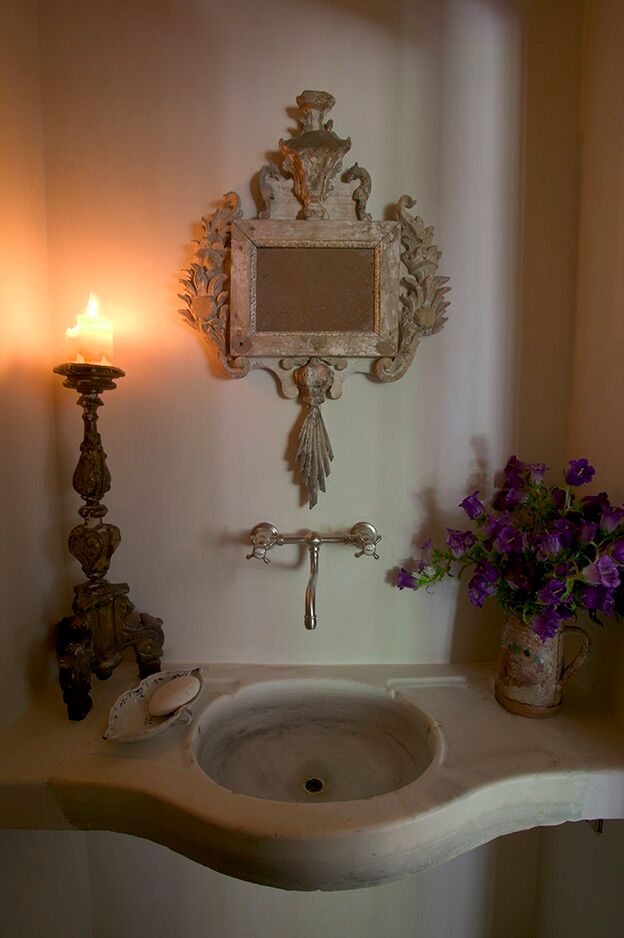 Romantic Lighting
The French country chandelier is one of the hallmarks of this beautiful design style, and twinkly lights add such a rich romantic layer to interior design. The finishes of these lighting sources tend to be weathered wood or aged metals so antiques always look more beautiful than new examples. The sparkle of crystal from a chandelier can juxtapose beautifully with more rustic and rugged furnishings in a Country French space.
A perfectly patina-ed lantern is no less charming!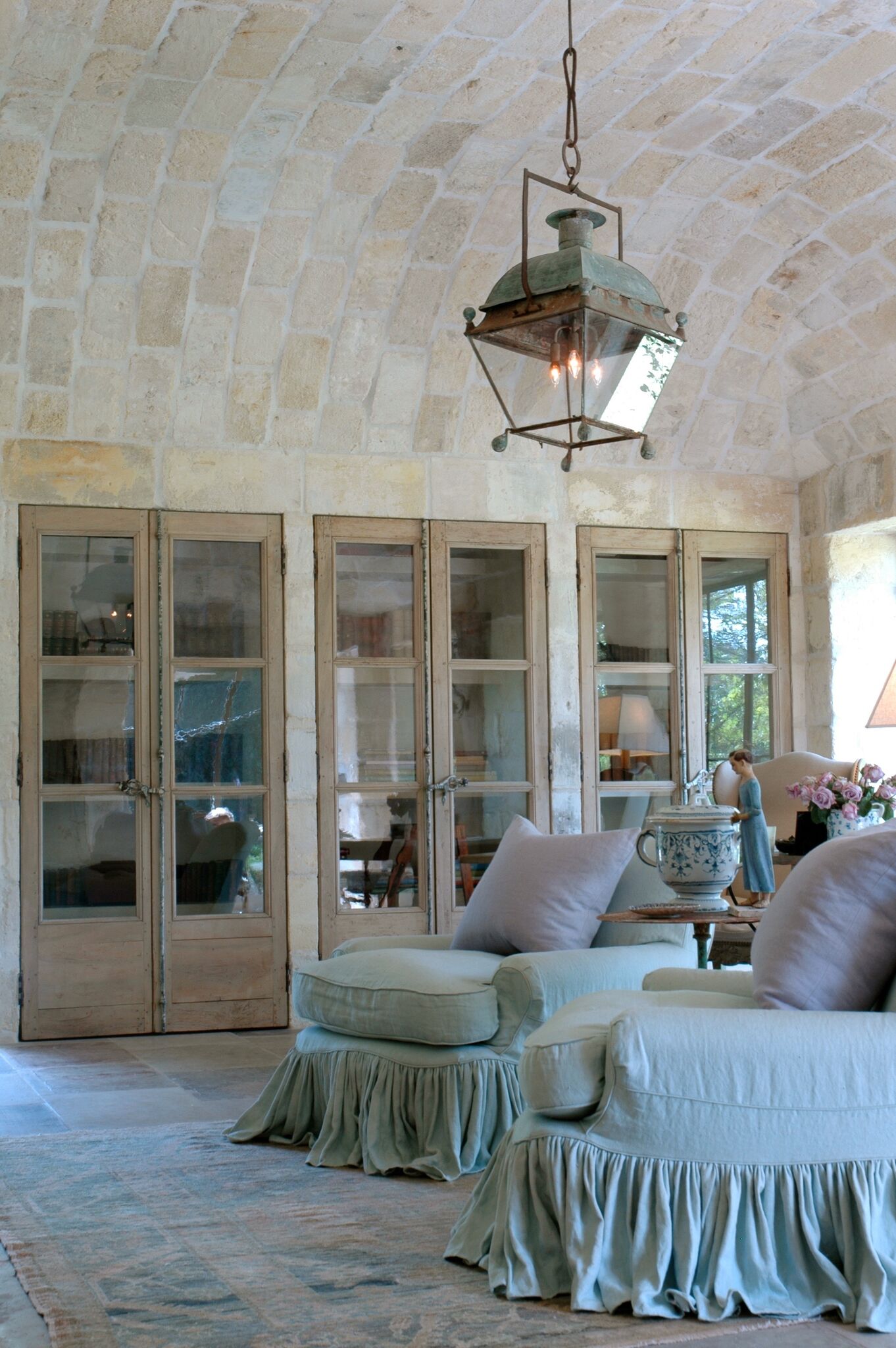 Natural Colors & Styling Restraint
I love the pale palette often employed in European country and especially French country homes. Those faded creams, greys, blues, reds, and golds tell a story about: the countryside, the passage of time, natural light, understated beauty, and tranquility. What does it mean to style effortlessly or with a light hand? I have already discussed over-cluttering shelves with filler, but there is certainly more to it.
The Country French way is more tolerant of wrinkles in fabrics, flaws in objects of all varieties, and imperfections related to furniture and finishes. A country house lends itself to more casual living than a house in the city where fancy dinner parties occur.
Once again, in terms of styling, function appears as a priority. A French country farmhouse is not a Parisian apartment or a Versailles-styled chateau.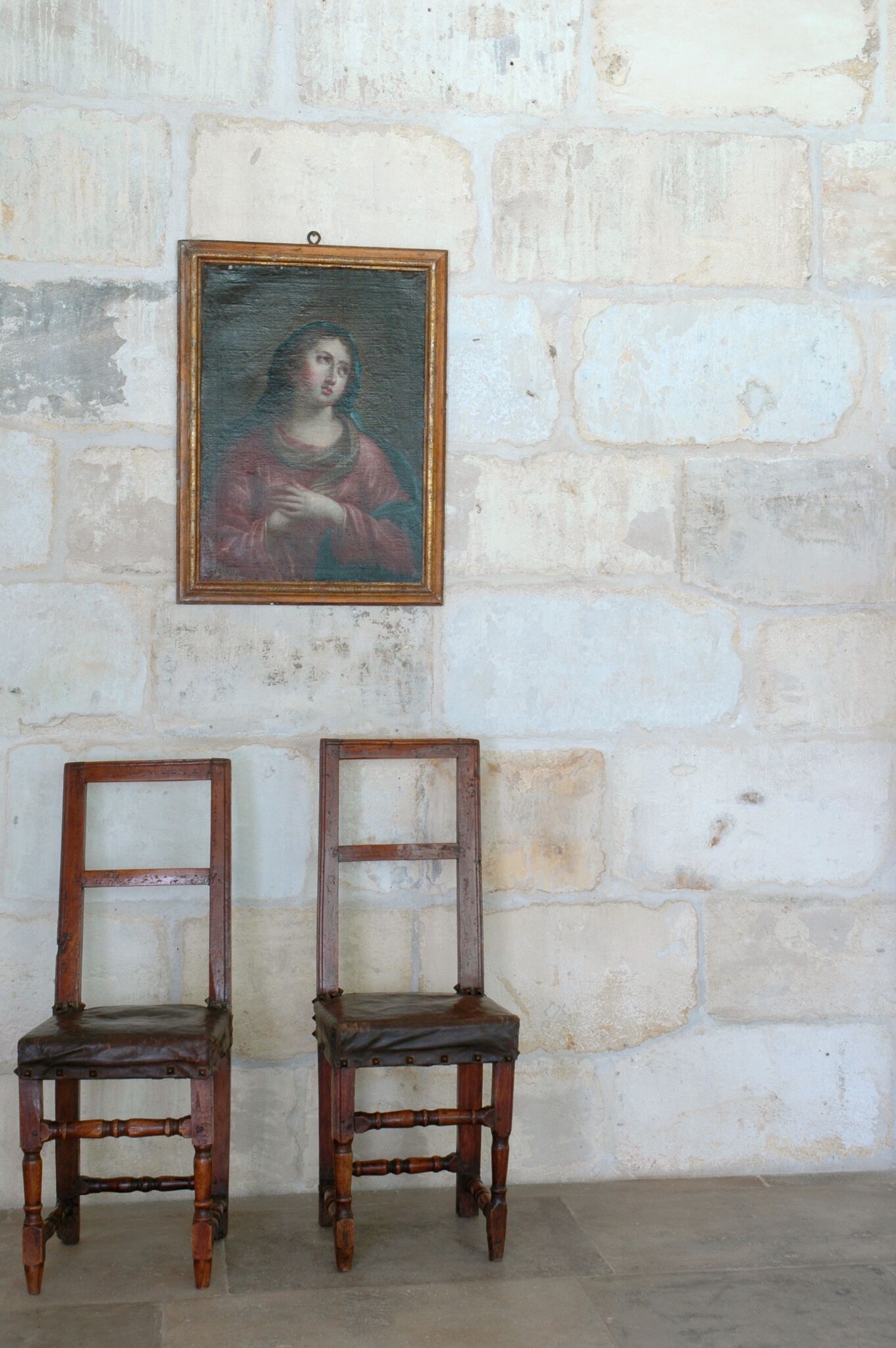 Say Hello to Treasures from Roads Less Traveled…
Say Bonjour to Chateau Domingue
Chateau Domingue is an invaluable source for the ingredients one needs to create timelessly authentic, European country inspired interiors. Ruth Gay sources the following 15th to 19th century architectural elements and monumental antiques from Europe:
Antique Furniture
Stone surrounds
Mantels
Gates
Fountains
Garden Decor
Doors & Windows
Hardware
Wood Flooring
Tiles
Stone Flooring
Lighting
and the unexpected
Unexpected? Let's say you always dreamed of owning an authentic, French stone petite 15th century chapel…well, I'd bring you good tidings of great joy and say: YES, VIRGINIA, THERE IS A SANTA CLAUS CHATEAU DOMINGUE! This remarkable one was in stock a few seasons ago…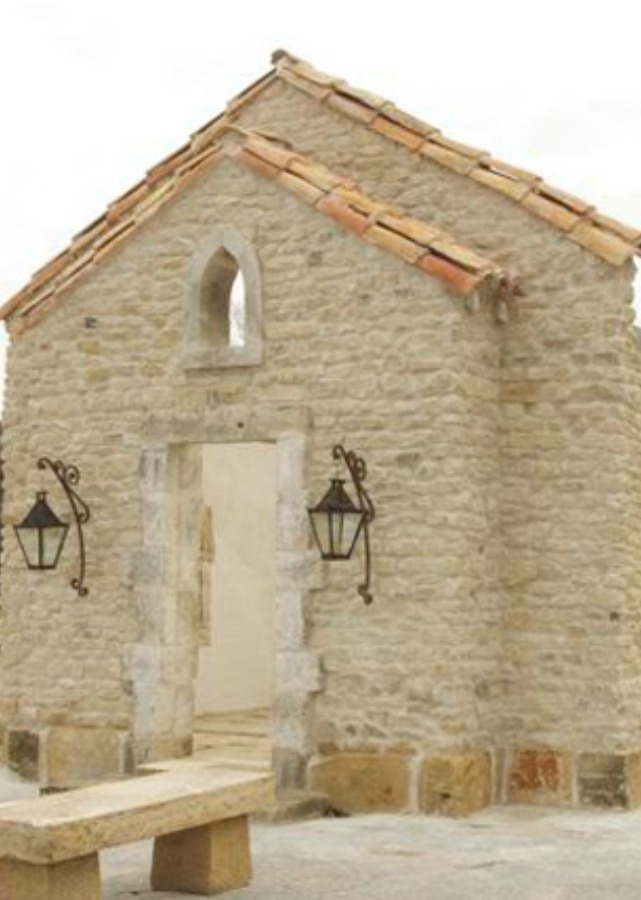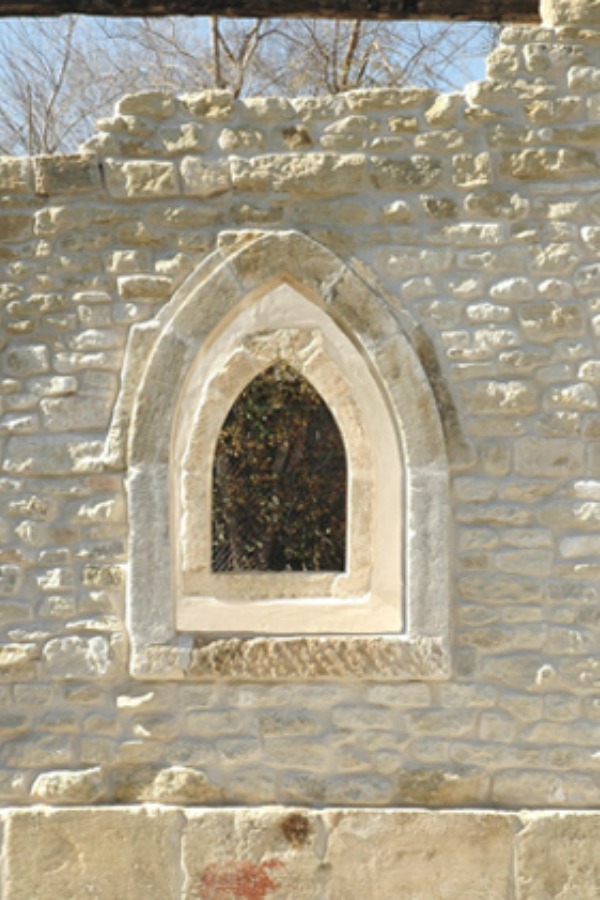 Domingue Architectural Finishes
Creating a timeless look for interiors can often be achieved with beautiful plaster and wall finishes, and Chateau Domingue also offers Domingue Architectural Finishes. With 140 colors (developed by Eve Ashcraft) for lime wash and mineral paint and 12 shades for plaster, the options for executing a "just right" finish are vast.
Chateau Domingue Steel Windows & Doors
I know you have seen custom steel windows and doors in some amazing homes, both modern and country, but where can you find such bespoke treasures? Boom. Enter: Chateau Domingue.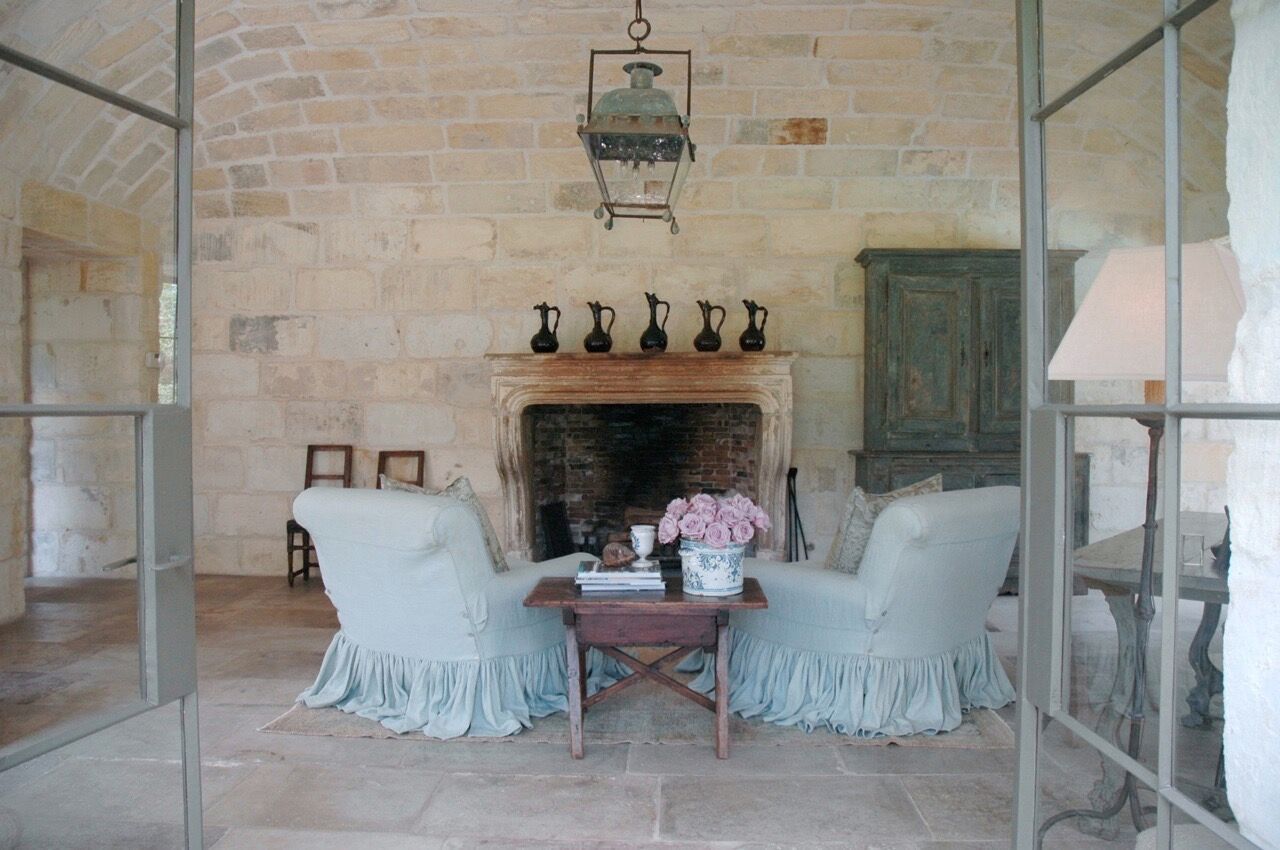 Chateau Domingue Wood Doors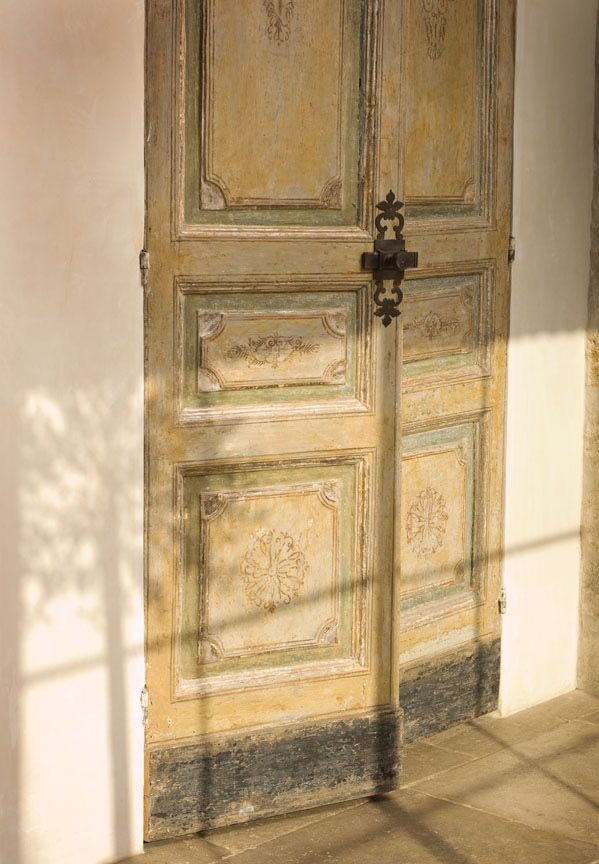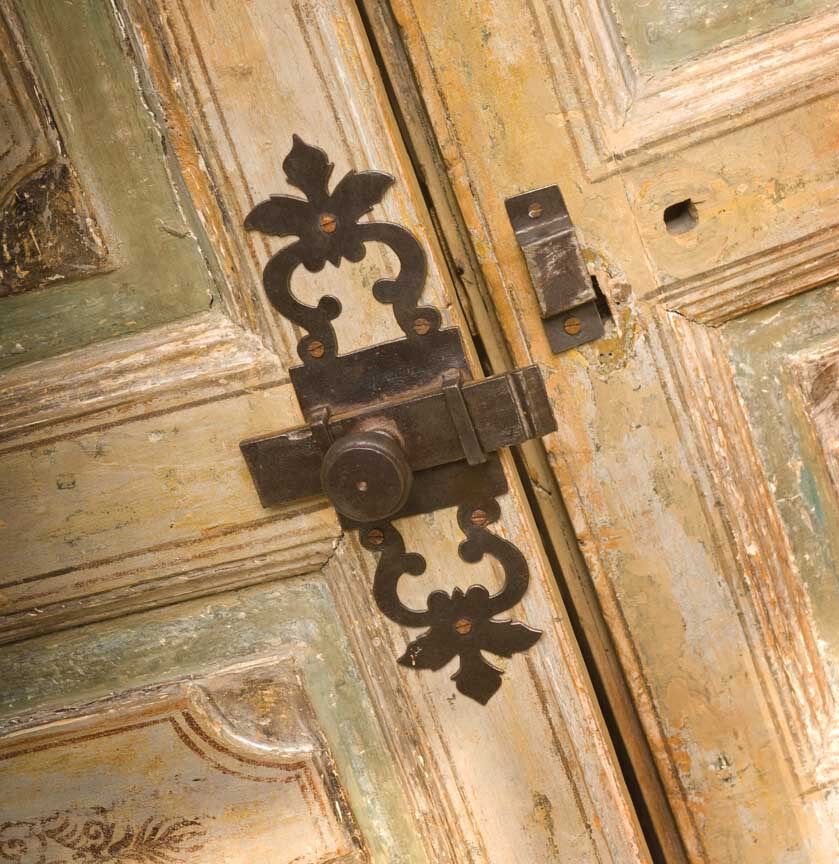 I am grateful to Chateau Domingue and its lovely curator, Ruth Gay, for sharing this magnificent family home tour with us, and I hope you will pay them a visit:
IN PERSON: 3560 W 12th Street, Houston, Texas 77008 or online RIGHT HERE.
Peace to you right where you are.
-michele
Support Hello Lovely by shopping Amazon RIGHT HERE for anything (not just products mentioned here) to keep the inspiration flowing!
I'm a participant in the Amazon Services LLC Associates Program, an affiliate advertising program designed to provide a means for me to earn fees by linking to Amazon.com and affiliated sites.
Click HERE to find cost conscious furniture and decor for your home too!