How to Freshen Interiors With Modern French Country Charm brings ideas for admirers of Country French rooms that aren't stuck in the past or a particular era. It's one thing to fill a space with vintage pieces and furniture marketed as "French country" and quite another to assemble a mix that feels fresh and interesting. There are plenty of creative options to freshen the mix including lighting, paint colors, art, and accessories. Let's dig in.
I'd appreciate if you PIN THIS POST to save it for future reference and share it with more design fans!
I independently selected products in this post—if you buy from one of my links, I may earn a commission.
Freshen Interiors With Modern French Country Charm
Distinguishing Modern French Country from Traditional
The addition and distinction of "modern" is highly subjective! Modern often connotes a lighter hand, an airier look, a more restrained color palette, and the addition of modern lighting, art, and accents. A quick way to learn more about how traditional country French interiors vary from more modern ones is to simply view photos. Dig into my archives and peek inside Pinterest using those keywords.
Here's a French country moment in our former home that I would consider more traditional than modern:
In our current home, we renovated the kitchen (with breakfast nook) in a manner more consistent with Modern French country. The lantern pendants and chandelier are traditional in the sense both are candle-style, but they are modern designs.
The countertops are a modern quartz with veining that feels less traditional. Even the slipcovered slope arm Belgian style dining chairs are more modern than antique wood French country ladder back chairs you might expect in a traditional plan.
How to Help Modern French Country Rooms Feel Timeless?
I think the secret to getting ideal balance of modern and traditional is to think TIMELESS. So many timeless interiors have been shared here in this my 14th year of HELLO LOVELY! A favorite style of followers here is French-inspired timeless and tranquil, and if you study these spaces, common ground begins to emerge.
Creating a timeless look almost always includes incorporating collected pieces from the past in your design. The French have a reverence for patina and "benign neglect" so pieces showing their age are revered.
Incorporate TRADTIONAL Design Elements
Traditionally, country French interiors adopt pale color stories, light wood tones, rustic elements (aged stone, wood floors, rugged wood beams), antiques, pretty patterned geometric and floral fabrics, and cozy informal lighting.
If you consider longstanding French country sensibilities, you'll discover an emphasis on USEFUL objects which are also beautiful and thus appear decorative. Pretty objects are not just there for filler, they are serving a purpose, telling a story, or reflecting an owner's heart or lifestyle.
If the once vibrant rug is now threadbare and faded from the years? Lucky! Reverence for distressed objects and aged beauty is a traditional more conservative sensibility. The bonus of such design ingredients which feel at home in traditional environments is that they boast patina, rusticity, and texture.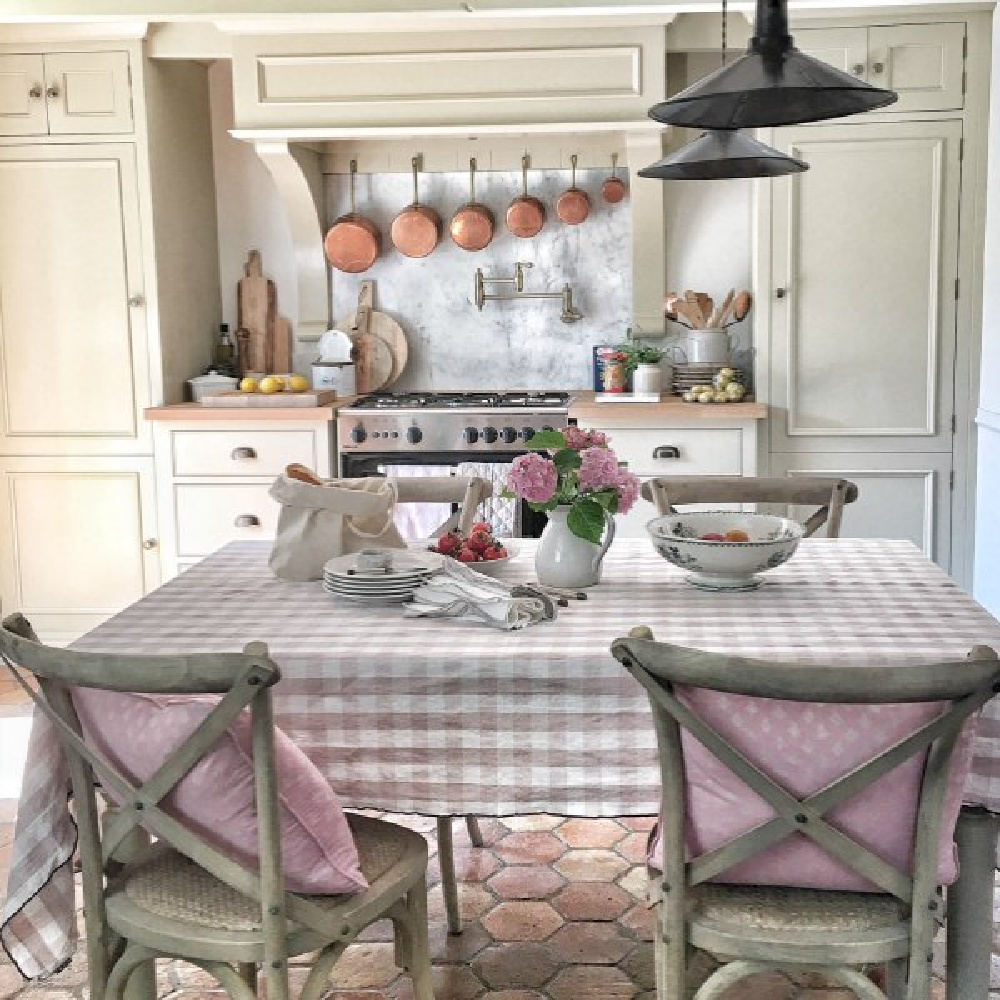 Sometimes reproduction pieces can fake such signs of age, but there's nothing like authentic patina.
Allow INTUITION and Your Own Biases Uncover Whimsy
Sometimes the "modern" in modern French country is a reflection of the decorator's unique collections, values, and passions. Think feely and unhook from what the masses are buying or subscribing to. What have you collected over the years? Can the collection be displayed in an unexpected way?
Such assemblage can create whimsy and a unique spin on a traditional decorating style. What colors feel intuitively comforting to you? Even if they aren't traditionally French-inspired or country-inspired, those selections may infuse a sense of modernity and whimsy into the design.
MIX elements to Create Character
When rooms feel full of character, they tend to feel timeless more than trendy. Layering personality and rich character in rooms result in spaces in which we want to linger.
Modern lighting, contemporary fabrics or patterns, antiques, vintage pieces, and even not-quite-vintage objects which have perfectly weathered and appear to have developed natural patina, look right at home in a timeless mix.
But you don't want your room to look like an antique furniture showroom. Think about relationships, contrast, and whimsical ways to play with modern and traditional. Rustic with refined. Antiques with contemporary. High end mixed with thrift. Masterful juxtapositions.
Thoughtful EVOCATIVE Gestures Stir the Senses
Appeal to all of the senses to create a space that will truly bring comfort and feel welcoming. The visual is just one layer to address with art, color, and objects. White is a popular choice with modern French country design fans because it can evoke feelings of calm and hopefulness.
For a tranquil mood, think about fragrance and calming influences such as flowers, plants, and ambient lighting.
Even selections for furniture legs or window treatments can play a part in the sensuality of the room. How will you filter the light in a space to feel pleasant? How do the refined lines of a chair's legs contribute to a sense of elegance?
LUMINOUS is a Buzz Word
Back in the 1980s when I fell in love with French country style, sunny yellows seemed to play an important role for wall colors, fabric, and accessories. The light in the South of France is uniquely special so design moves to emulate a luminous, sunny look make sense. For a modern French take on luminous, yellow is optional.
Luminosity can be created by playing with light creatively. As you study images of interiors that inspire you, notice how the room is being lit, how the colors in the space make you feel, and the sources of light, both natural and artificial.
Add Organic EARTHY Moments
Plants and flowers are always at home! Natural materials are also important to add to country style rooms that feel modern, French, and balanced. Cotton, linen, silk, and velvet fabrics for upholstery and windows are always lovely choices. A beautiful silk or wool patterned area rug layered over a larger simple jute woven rug can feel earthier than the patterned rug alone.
Even landscape paintings or sculptures with organic shapes can bring a sense of organic warmth.
If you're lucky enough to have a beautiful view or lovely nature just outside the windows, uncovering them to allow nature to be another layer of the design can be powerful.
Understated SUBTLE Interiors
Subtlety is underrated, and I can tell you it is not always easily conveyed with interior photography. When you decorate minimally to soothe the senses rather than make a dramatic statement to create an imaginative or energetic mood, the result may appear unimpressive in photos. But styled photos are styled photos and not always practical rooms for living.
I find tone-on-tone color stories subtle and suggestive of simple elegance. Bold color pops can feel modern, but they won't necessarily feel subtle. A spare look is often an effective start to a scheme that is more understated, ethereal, and subtle.
Traditional French country rooms can sometimes feel a bit cluttered. Clutter can be charming! But it can also feel excessive. Simply removing some of the "extra" may instantly shift the mood to a more modern subtle one.
SOULFUL Qualities Elevate
Soulful rooms are not formulaic, and you're certainly not going to be able to order the ingredients for one online in one fell swoop. The obvious way to bring a sense of soul into the design is with antiques and pieces that have withstood time and the elements.
The flow of soulfulness can begin within the spirit of the decorator! Sure, the history, provenance and integrity of collected furniture and objects can play a huge part. The architecture and bones of the home are significant factors as well.
Energies in a space which can be tempered by art and light may contribute a sense of spirit. But what is maybe often under-emphasized is the soulfulness of the human bringing all of the various layers into the mix.
To overthink the scheme is to create a contrived look that seems to be missing heartfulness.
Decorating from the heart is a different approach than staging a room with furniture and decor. Sure, one can study rooms that appear uncontrived and copy them, but they may likely feel less soulful and perhaps unnatural simply because of the artificial way they come together.
Rustic, White, and French Inspired Decor Ideas
I think white for me is the quickest path to tranquil, and I do love a white rustic yet elegant interior at home!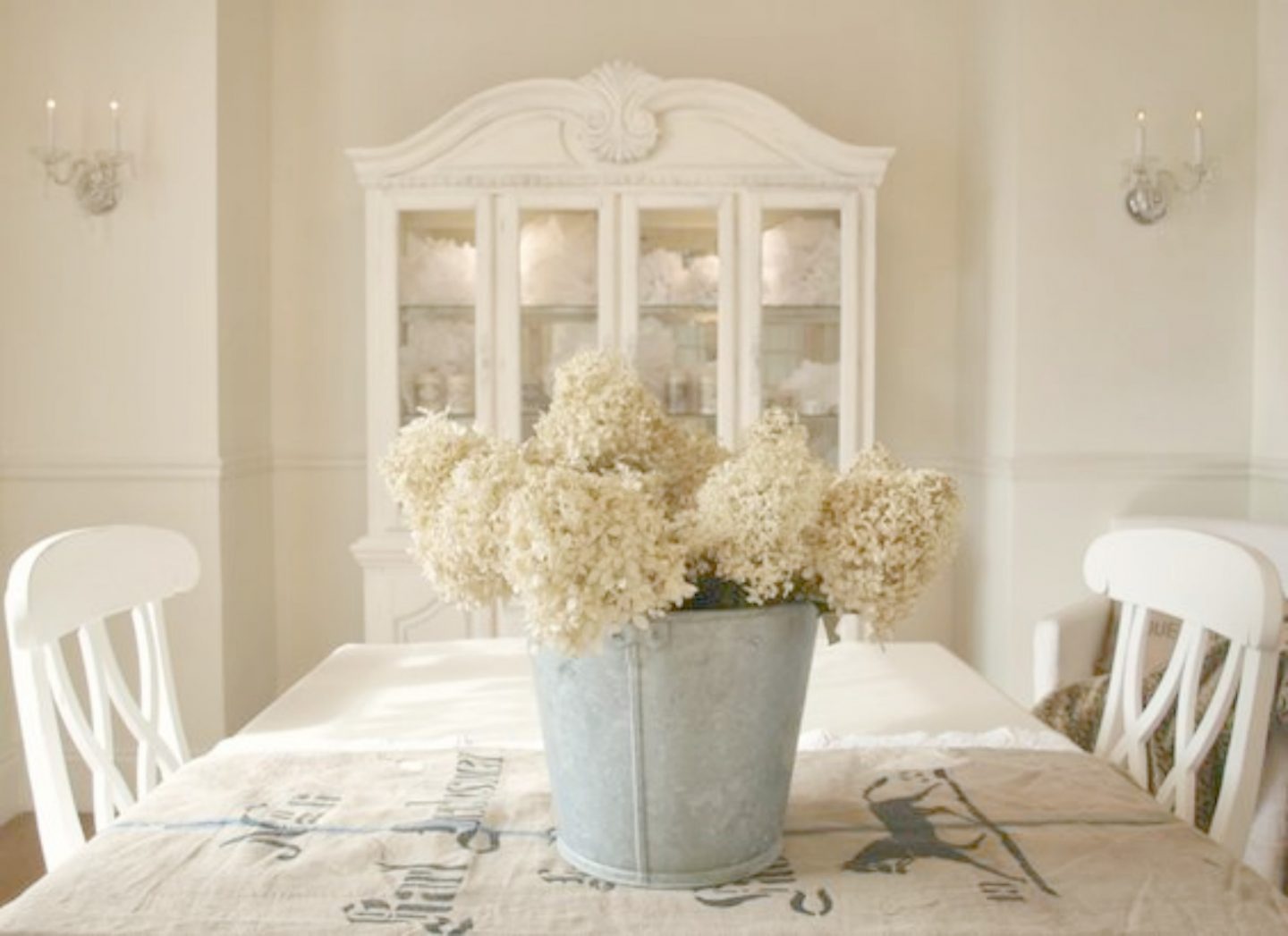 Peek Inside a Beautiful Home With Timeless Details
Accessories With Modern Rustic French Flair
The perfect combination of modern and French:
Perfect for over a bed or on a gallery wall:
For a low cost candle holder for the mantel or table:
Old World Inspired Lighting
Rugged French Inspired Accents
You may want to consider galvanized accessories in this post as well.
Ever incorporated encaustic tiles into a design project? So charming for a farmhouse style mudroom or laundry room!
Romantic French Country Mirrors
I modified a plain old salvaged bathroom vanity mirror with a little latex paint and this Springtime in Paris stencil.
Rustic French Inspired Benches
Here's a rustic unfinished bench you can customize to your liking:
Slipcovered Dining & Accent Chairs
In another post, we considered a host of decidedly lovely linen seating so do see that too.
Chic & Unfussy Side Tables
Shop the Look
Peace to you right where you are.
-michele
Thanks for shopping RIGHT HERE to keep decor inspiration flowing on Hello Lovely!
Hello Lovely is a participant in the Amazon Services LLC Associates Program, an affiliate advertising program designed to provide a means for sites to earn fees by linking to Amazon.com and affiliated sites.