We're revisiting Beautiful French Farmhouse Decor Images (Part 2) with European country, Old World, rustically elegant decorating inspiration and ideas! I'm a huge admirer of how the French conceive of effortless, no fuss, non-contrived country French interiors. Spaces reflect an honoring of function and timelessness, with minimal regard for design trends, formulas, or showing off. Can comfort and soul also pack style? I say oui.
Be sure to see the lovely Part 1 of this post so you don't miss a single moment of French Farmhouse Decor Inspiration!
Beautiful French Farmhouse Decor Images to Inspire
French Country and French Farmhouse inspired home decor and furnishings are also included toward the end for your convenience.
Meet me at the finish line after all the visual inspiration to discover a few secrets and ideas to guide your own French farmhouse decor dreams.
Charming French Farmhouse in Western France
Rustic Yet Elegant Interiors & Exteriors in France
Simple Elegance & French Sophistication
See the full house tour of Chateau Domingue's founder RIGHT HERE.
8 Secrets to Authentic French Farmhouse Decor
"Why are they secrets, and what makes you an expert?" Maybe they aren't secrets outside of mainstream America, but if Pinterest is any indication, more than a few inauthentic attempts at the look fall flat!
These tips may be a helpful guide to achieving greater authenticity.
1. Understand the Origin of French Farmhouse Style
French farmhouse style originates from the lovely landscape of rural France with its hills and valleys. If you are unable to travel to the South of France, do spend time studying the region to better understand its romance and allure.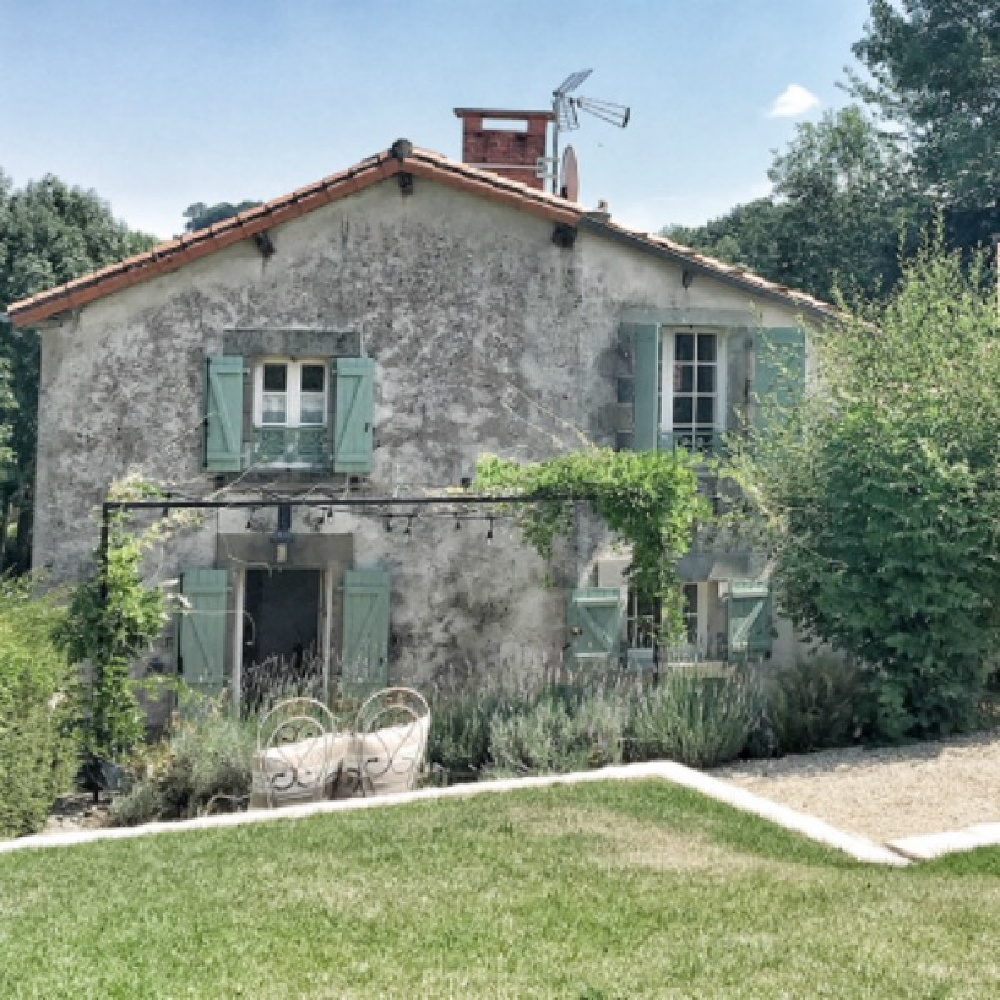 2. Learn the Art of French Mixing
You can't miss the sense of refined elegance in French Country homes. A mix of old with new feels balanced and sensible, yet soulful and interesting.
Old World charm as well as collected antiques and family treasures impart a sense of rich character.
3. Mismatching is Magnifique
Many Americans continue to shop for matching furniture in styles and sets falling from favor in a few years. This would never do for a French farmhouse.
The French country approach to furnishing a home is much more fluid. The goal is a customized harmonious and non-homogenized look that appears un-decorated and never overwrought.
4. Refreshingly Frugal and Functional Authenticity
French farmhouse style leans toward practicality. Home decor pieces tend to work in a variety of rooms so they may be moved around to function flexibly.
Since many furniture pieces are weathered, chunky, and not terribly delicate, they age well.
5. Nature Honoring Character
The French love their gardens and bringing flowers inside the home to arrange casually.
Depending on the region, sunflowers, irises, and poppies are common flowers which flourish in the French countryside.
6. Distressed is Anything But Distressing
Since French Country style imparts a sense of age and tradition, scratches, rust, and signs of wear are celebrated.
Perfectly new, glossy finishes are not likely to blend as well as antiques and vintage pieces with lovely patina.
The French don't shop for new rugs because of fading or fraying since this look is deemed attractive. A common practice is to live with them until they are threadbare and no longer useful. Distress and wear from use are honored and exalted in French Country design.
7. Patience, Mes Amis
The French seem to take a decidedly patient, unhurried, and thoughtful approach to home decorating. The look unfolds over time as family heirlooms are handed down through generations.
8. Trends? Look the other way!
In lieu of following trends or redecorating every decade, the French understand the beauty of timeless decor.
Timeworn finishes, patina, and character from age and wear are preferred. The look is elegant and sophisticated, neither contrived nor overthought.
This post contains affiliate links which I hope you will use since they won't cost you a penny extra yet may earn this blog a small commission.
Timeless & Tranquil Decor & Furniture Ideas
My Belgian Style Chairs With Timeless Appeal
Frenchy Bench
Euro Country Inspired Cabinets
Side & Accent Tables With Pleasing Shapes
The tray table below has the same style in a different shape:
Classic Upholstered Headboards
Bedroom Furniture: Euro Country Inspired
Romantic Chandeliers
Beautiful Beds With Timeless Style
Accessories for a Euro Country Lover
More Euro Inspired Country Decorating Tips
Take Your Time
We are so often in a rush to finish our interiors so we can begin to "live." But it's all about perspective. If you are after a timeless look which will have staying power, allow yourself the luxury of slowing down. Collect, hunt, research, travel, contemplate, educate yourself and know that it will never truly be "finished."
Here's a perfect example of taking your time and an approach that isn't quick, but is deeply rewarding…
Don't Underestimate the Power of Pale Color
You don't have to use strong color for drama or to tell a design story. Pale colors in varying textures bring an understated, interesting, layered sort of ethereal romance. Whether it's gentle warmth or breathtaking presence, faded washed out chalky colors can deliver.
Live With What You Love
You've heard this advice in every shelter magazine and from every designer on the internet, and yet I'm not sure folks truly take it to heart.
Here's what I mean. Before one can put this tip into practice, one must know what brings joy. In my experience, a lot of us look to others to decide what should make the cut and what shouldn't instead of becoming introspective.
Take time to excavate your soul and heart to discover what objects, scents, words, and sensibilities resonate with you.
Begin to let go of that which doesn't belong and keep an eye out for what does.
There were a few too many to include so visit Part 1 for gorgeous French Country goodness.
I independently selected products in this post—if you buy from one of my links, I may earn a commission.
Peace to you right where you are.
-michele
Shop for items you already intended to buy on Amazon RIGHT HERE, and also find home decor here to keep decor inspiration flowing on Hello Lovely!
Hello Lovely is a participant in the Amazon Services LLC Associates Program, an affiliate advertising program designed to provide a means for sites to earn fees by linking to Amazon.com and affiliated sites.