This time last year we were returning from a trip to Franklin, TN. If you're a fan of the Giannettis like us, you may recall they have a wonderful shop in nearby Leiper's Fork called PATINA Home & Garden. A huge bonus of visiting the shop? You can view their collected Swedish antiques in person! Those pieces are a little like celebrities to peasants like me who ogled them online and in their beautiful books. Don't you love an aged painted finish or what's left after scraping the paint? The inspiring looks below sing with pale modern Gustavian French allure. Modern means different things to different people. At least for me, that description signals less fuss, less accessories and cleaner lines. Serene yet cozy, spare yet interesting, and elegant if only in a sophisticated simplistic way. Modern Gustavian French Mood is a tranquil tribute to a few of our favs.
I independently selected products in this post—if you buy from one of my links, I may earn a commission.
Spotlight on Modern Gustavian French Interiors
What is it specifically that engages you? Interesting architecture? Pale tone-on-tone plaster and paint colors?
Are you smitten with how antiques, vintage, and contemporary art is layered with a mix of furnishings?
Or is it the sophistication of the restrained palette? Are you a fan of the level of restraint Rose Uniacke subscribes to?
Modern Gustavian French, Swedish Nooks & Neutrals
It seems Americans rarely give small bedrooms a chance to live large.
In other parts of the globe, serious creativity with space and organization yields lovely results!
Are you more of a black, white, and natural decorator?
Because it does appear to work across a range of contexts…
Ready for an out of this world palette inspiration image? Check out this Stockholm winter cityscape:
See a Pro Who Uses Texture as a Color
You'll love how designer Beth Webb mixes neutrals and texture:
When You Love Pale Blues & Greys With a European Look
I'll never tire of those gorgeous faded and soft gray-blue tones that often are seen in Scandinavian spaces. They can be so pretty in a kitchen.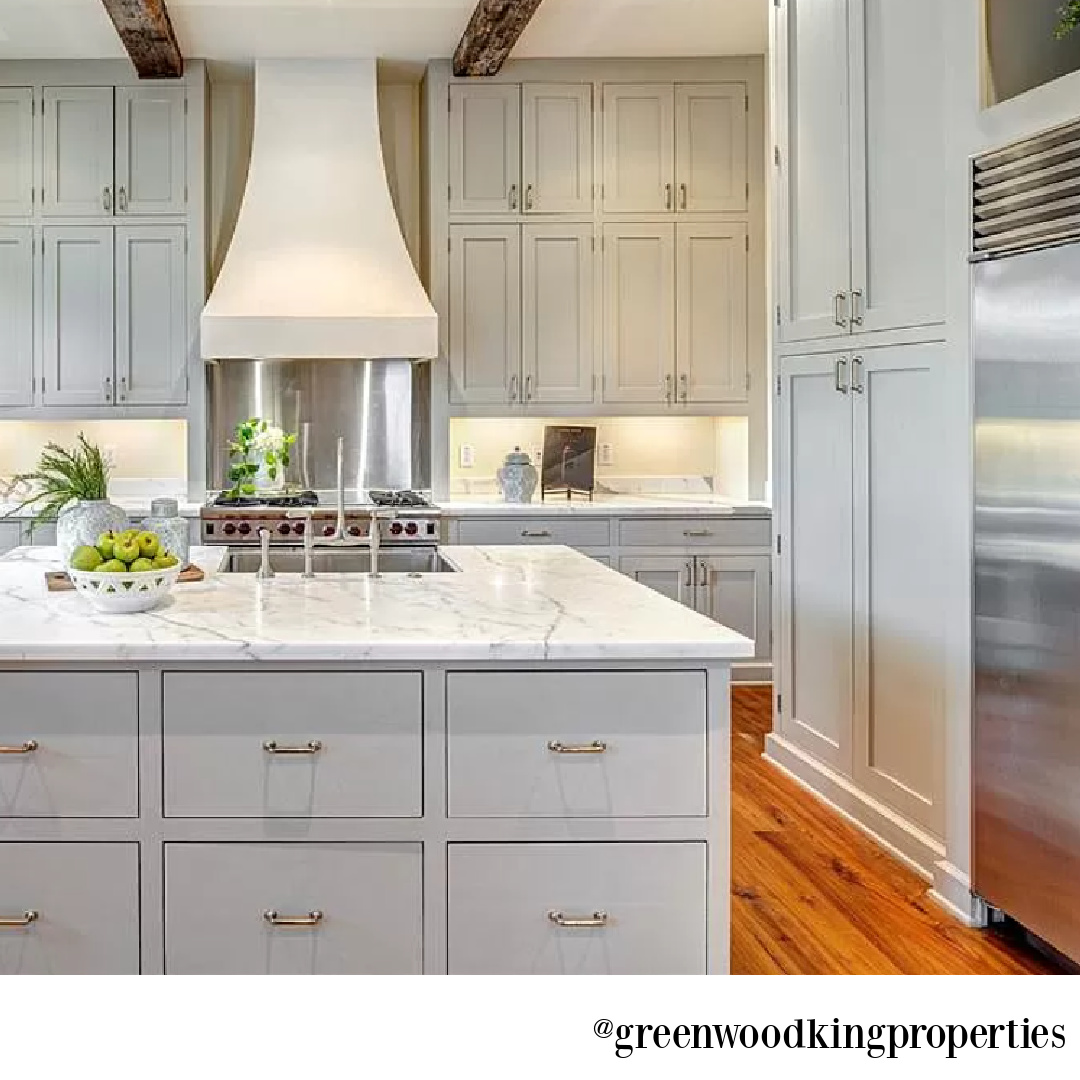 To accent with the tone, you could always shop for a backsplash with hints of it.
Here's a pretty Swedish blue wallpaper if you love a folksy look. Wouldn't it be precious in a laundry room or even a pantry?
It also comes in a green colorway:
Who could forget Lambert's kitchen in Victoria in 2015?
and the balance of that unforgettable French Nordic home: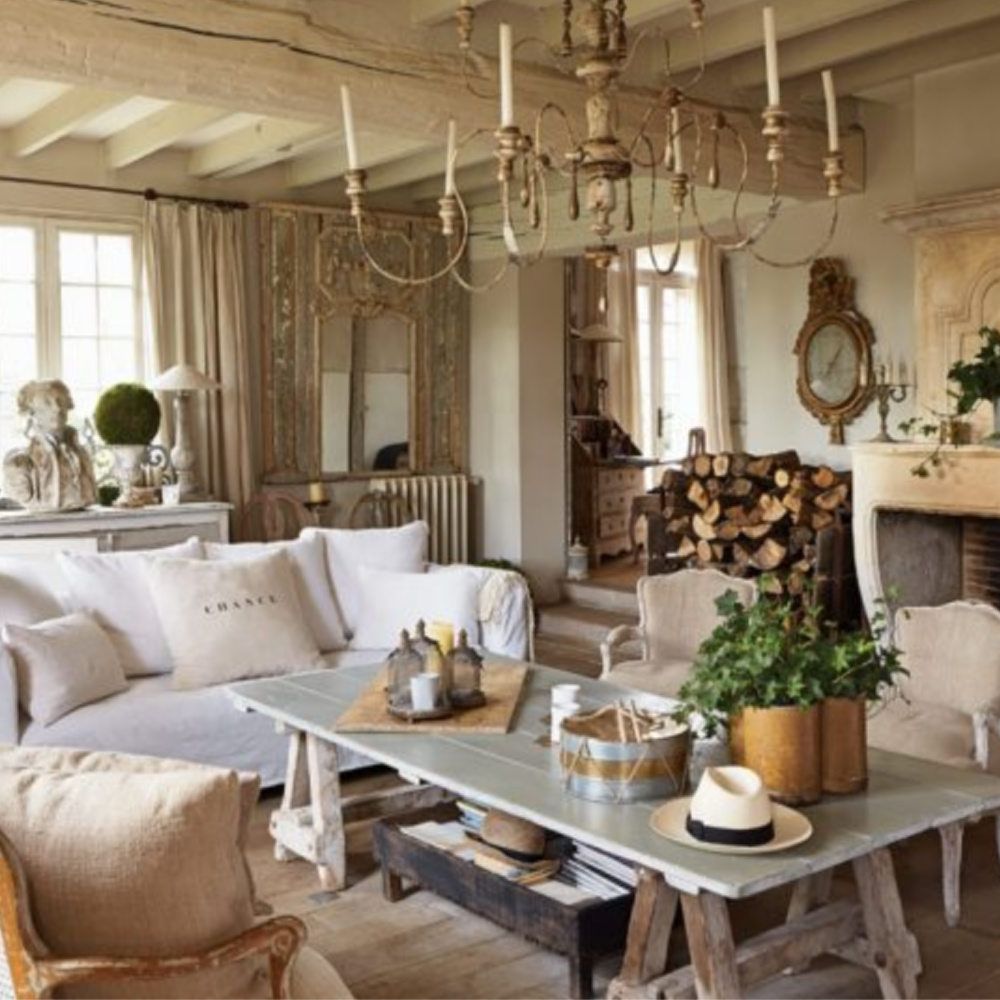 See more ideas for this mood here. This faded aqua gray painted finish on an antique cupboard is the stuff of my dreams still after spying it years ago in Milieu.
By now, maybe you have noticed how Modern Gustavian French moods need not be limited to all white or even dictated by cool colors…
Checkered Fabrics & Floors
Not that there's anything wrong with cool blues and greens! Will checkered patterns and ginghams fall from favor anytime soon?
Doubt it! Still going strong for centuries!
My mama has this fabric on her Swedish dining chairs, and it just never loses its fresh appeal…sort of storybook Carl Larsson kind of mood.
Resources for Modern Gustavian French Inspired Pieces
Oh this sweet accent chest! The hardware!
I showed you a pretty Amber Lewis x Loloi rug in our kitchen…and this herringbone pattern could be sweet in any number of spaces:
What sort of lamp gets your heart racing? Slightly fancy formal? Or unfussy and sculptural?
From a friend's beautiful Swedish line:
This desk! Who says they don't make 'em like they used to?
Gold Warmth With Cool Swedish Color
A continuing design trend for kitchens is larger pendant lighting instead of multiple itty bitty shades hanging over monstrous islands.
I have always admired this:
And here's another sunburst mirror:
Wouldn't it be gorgeous with this?
You may be surprised what you can find on Amazon these days…
I independently selected products in this post—if you buy from one of my links, I may earn a commission.
Peace to you right where you are.
-michele
Thanks for shopping RIGHT HERE to keep decor inspiration flowing on Hello Lovely!
Hello Lovely is a participant in the Amazon Services LLC Associates Program, an affiliate advertising program designed to provide a means for sites to earn fees by linking to Amazon.com and affiliated sites.