Come stroll with me in the UK as we consider photos I captured of Bold Paint Color Ideas on London Front Doors. You'll see glimpses of Notting Hill and the Holland Park neighborhood where we rented a flat on trip a couple of years back.
Bold Paint Color Ideas Inspired by London Front Doors
Oh the thought of being a flaneur again on vacation! Exploring little hamlets with wide eyes, no plans, and no purpose at all is such a luxury, yes?
Such wandering seems more precious now given so many travel obstacles.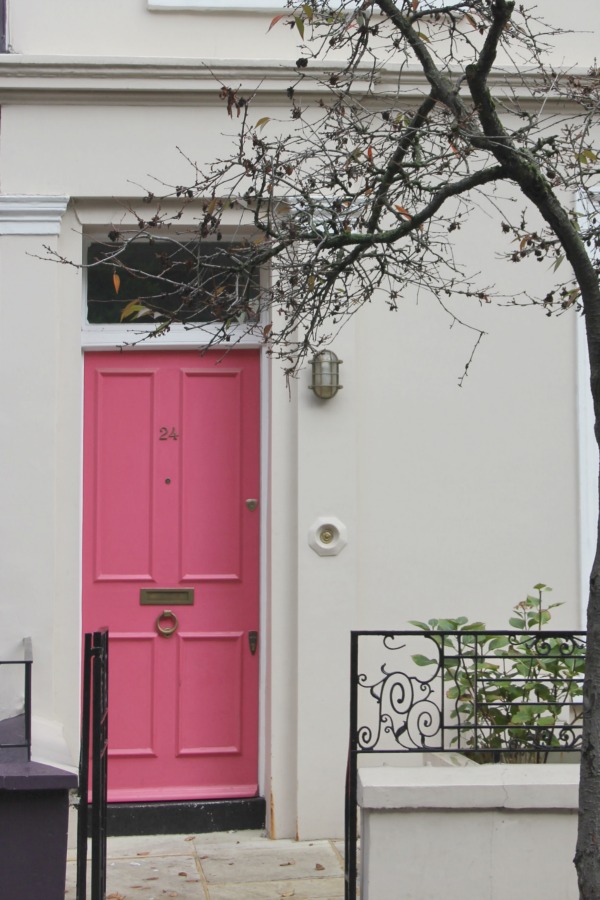 If you find you have more time these days for home improvement or decorating, maybe these paint color ideas will inspire.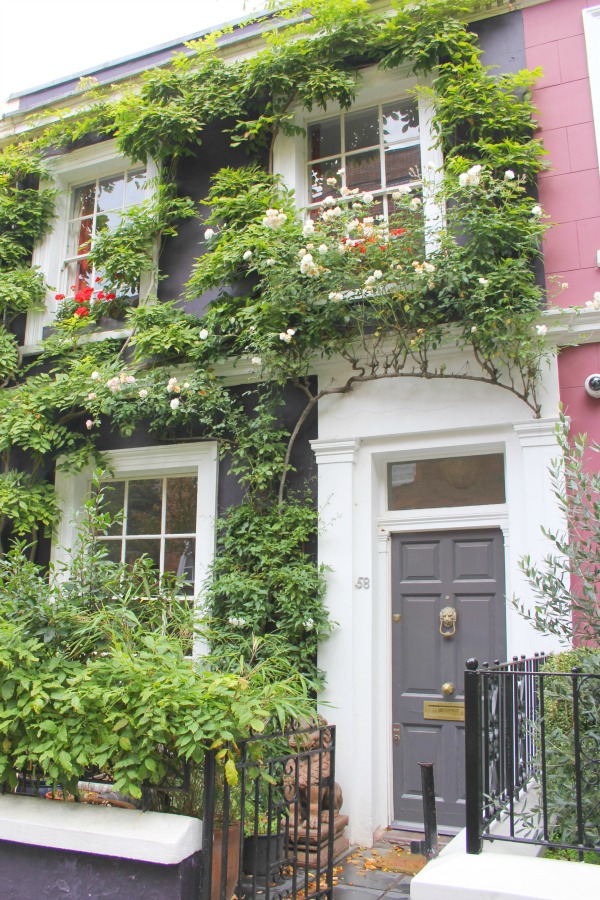 You could paint your front door, back door, or any number of things.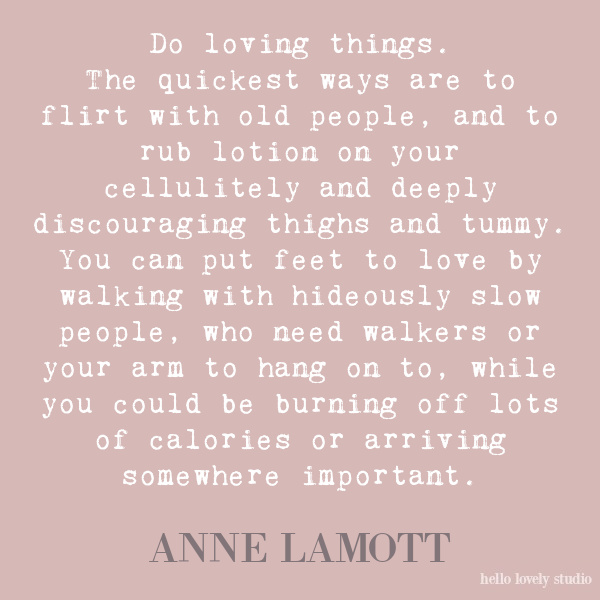 For example, sometimes just changing the color of the inside of a cupboard you use often makes a difference.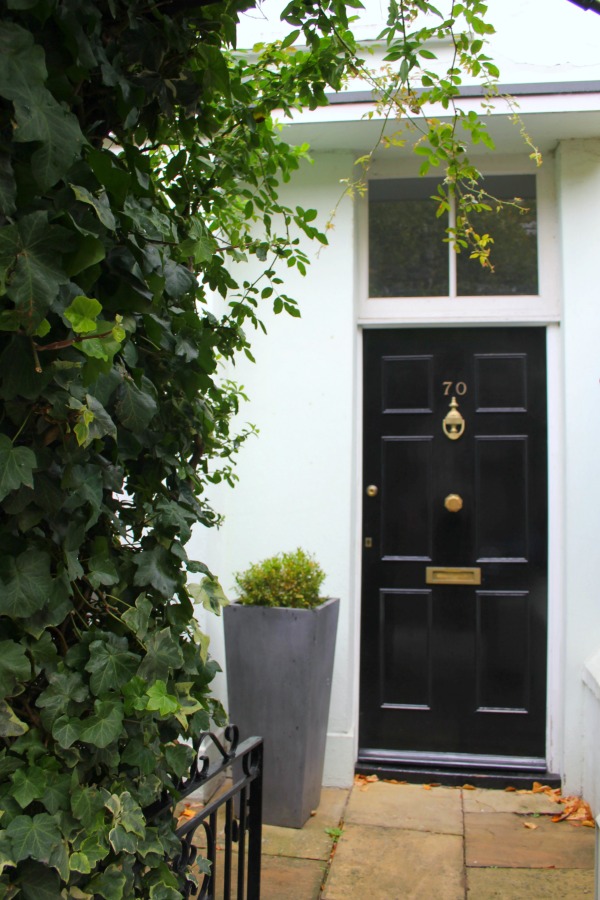 I recently covered a boring white shelf under my bathroom sink with a bright cheerful green Chinoiserie wallpaper, and I can't tell you what a mood boost it is in winter to see it!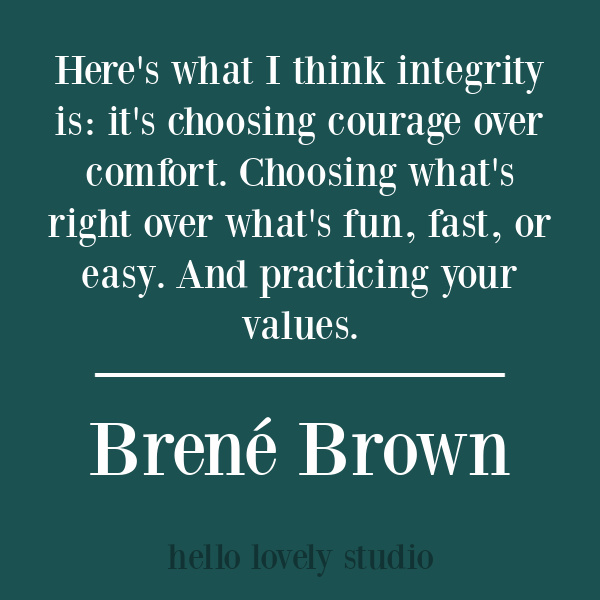 Today I painted the front doors (the inside of 'em…it's like zero degrees outside!) at the new house a bold color (wellllllll, bold for me!): Sherwin-Williams Carbonized.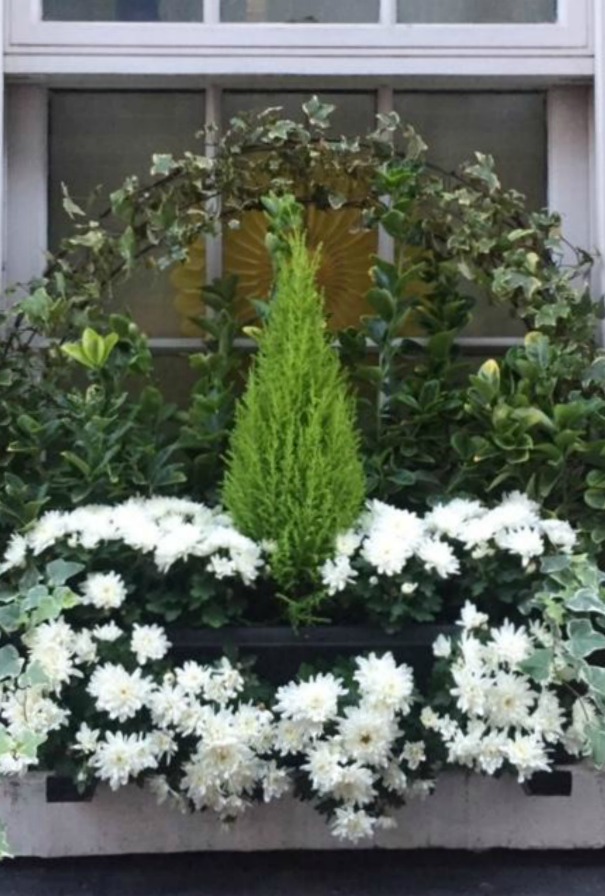 Deciding on black for doors is one thing, but choosing the best shade of black paint can be daunting! Carbonized is a deep dark charcoal similar to this: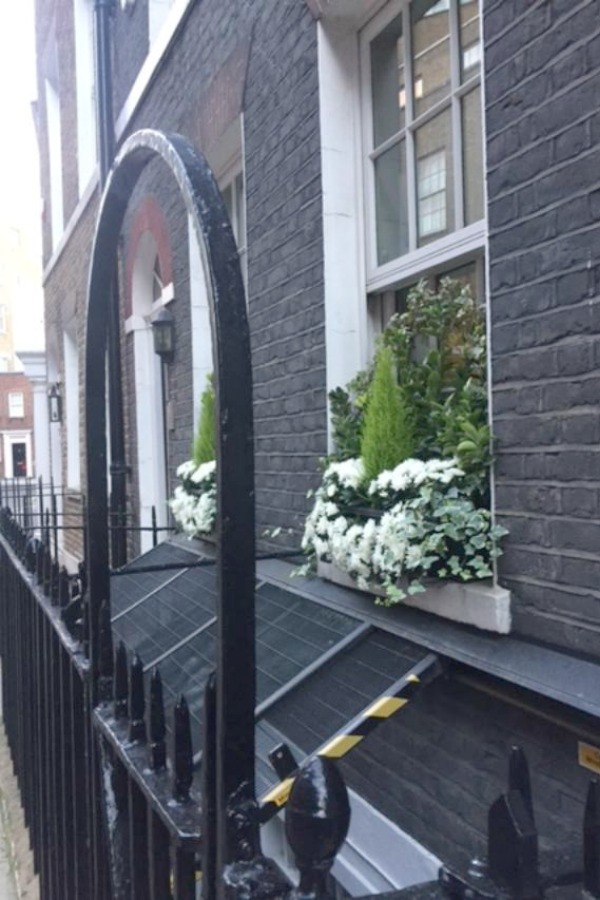 There are off-blacks, midnight blacks, blue-blacks, and bronzy blacks. So definitely sample before buying a whole quart! I'll share photos eventually, but right now I am in the thick of things and way too tired to create pin-worthy images.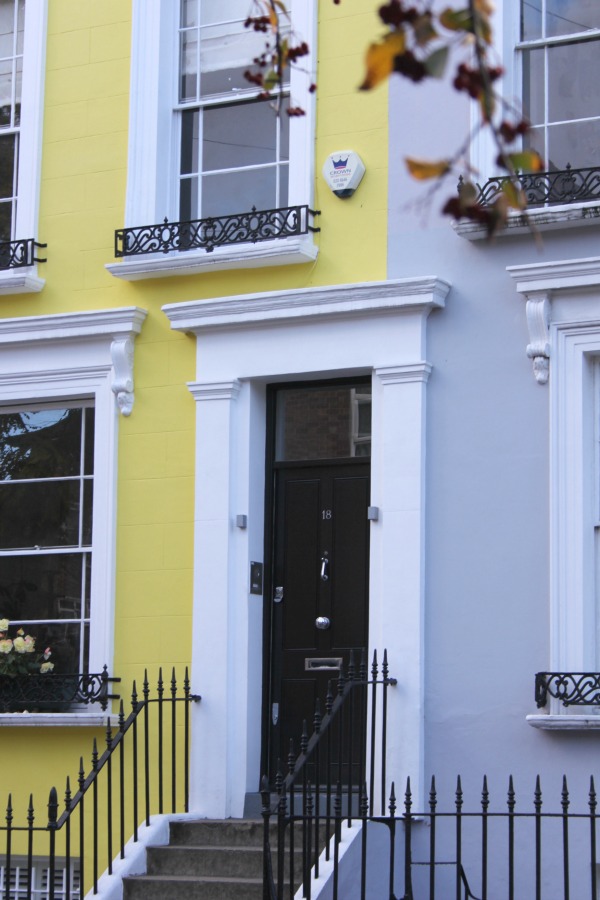 Do PIN there paint colors to YOUR HEART'S DESIRE. (Have a Pinterest board reserved for PRETTY PAINT COLORS? You can always create one!)
Affiliate links follow and won't cost you extra yet may earn this blog a small commission.
Easiest way to see if a paint color will work? Order samples with Samplize and have them delivered straight to your door.
Paint Color Ideas Inspired by London
I hope you'll discover a paint color or color combination to use at home! (And if you're after less bold inspiration, keep reading, because I have suggestions ahead for those too!)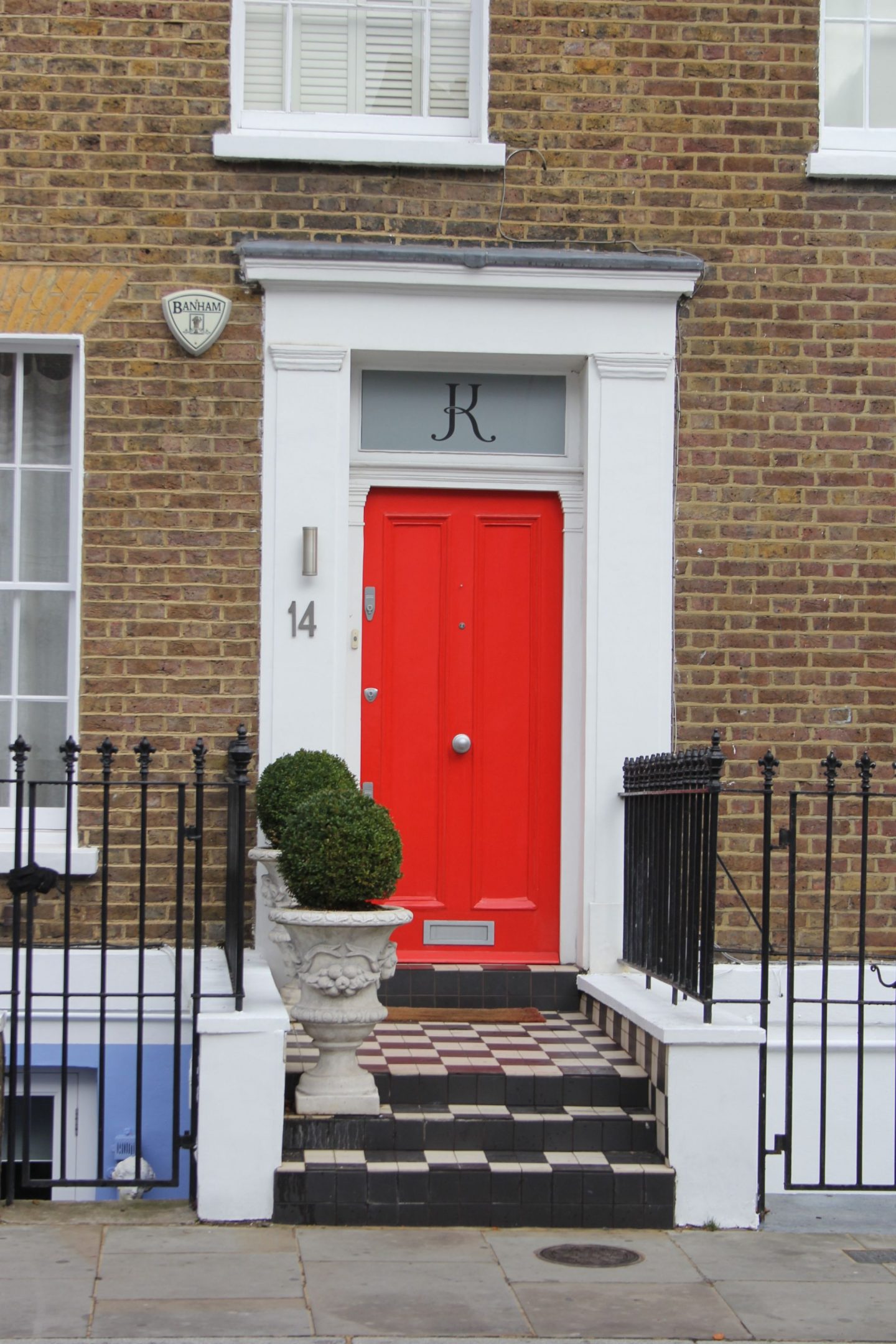 Shocking Red-Orange Front Door
Aren't the surrounding design details at this entrance above fabulous?
Remember – these colorful doors are simply inspiration for paint colors to use on any number of things beyond doors. I can imagine this shocking red on a vintage chair or a picture frame hung on a white wall.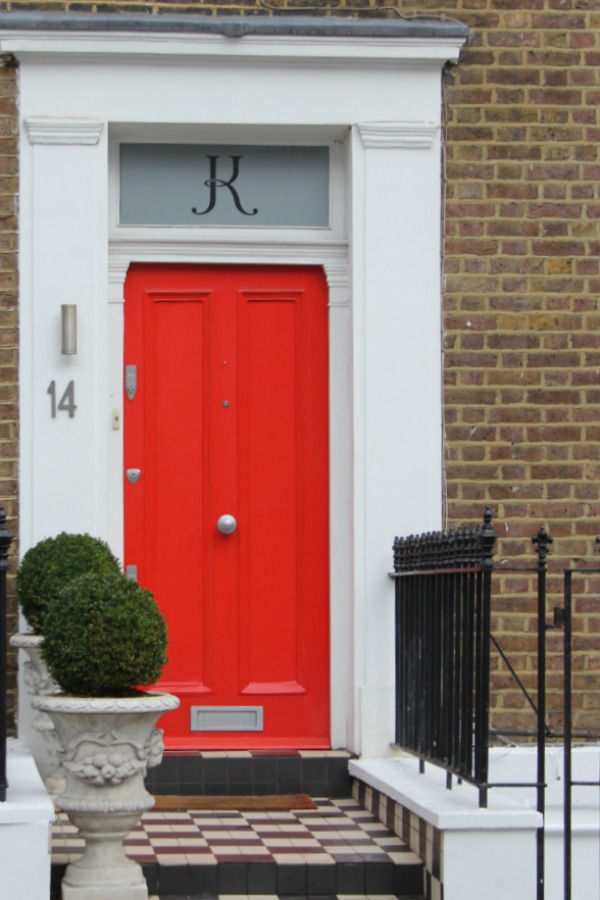 Sky Blue Front Door in Notting Hill
While this vivid sky blue is not the sort of color to which I'm drawn – it's one of those hues recalling spring skies or even summer flowers.
On a grey day, I'm sure the owner smiles returning home to it.
Pink London Front Door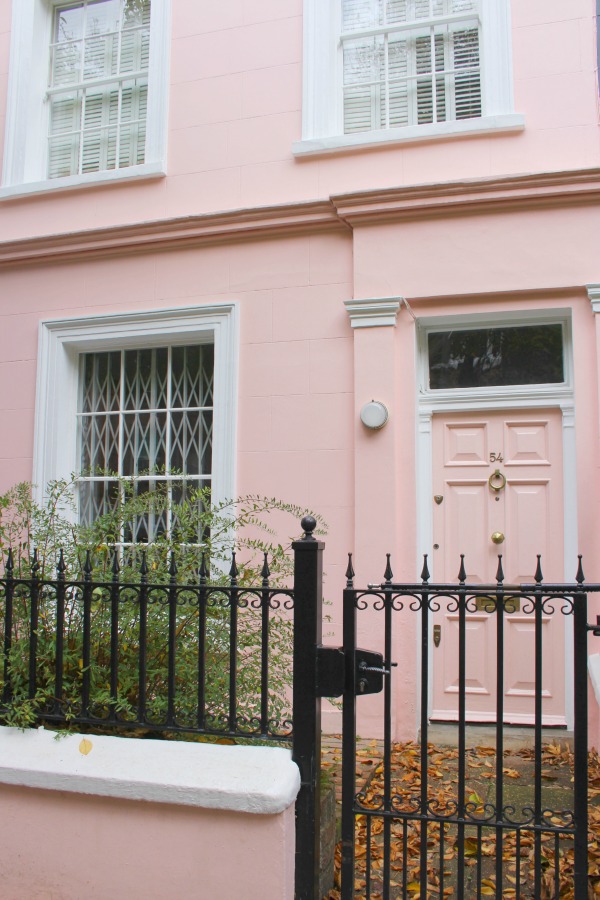 This pretty pink home exterior is reminiscent of FARROW & BALL Middleton Pink, yes? Find more ideas for pink paint colors here.
I spied a fabulous pale pink in a girl's bedroom I recently toured, and I know you know how tricky pinks can be to get right.
Also see this for pink inspiration.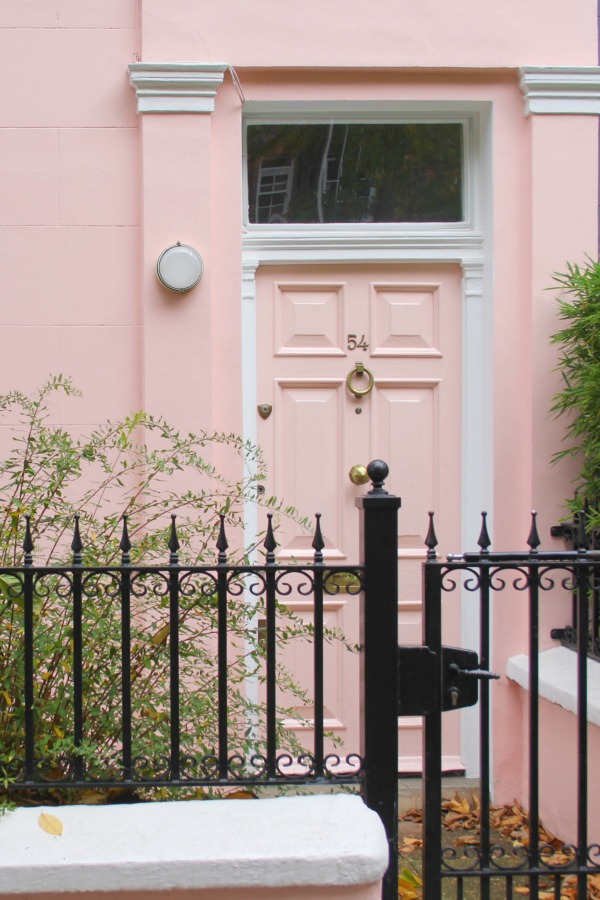 For more inspiration for Middleton Pink paint color, see this French farmhouse with a kids bathroom painted in the hue.
Doctor, Doctor, Give Me the Mews!
(Mews are stables along an alley or homes converted from former stables.)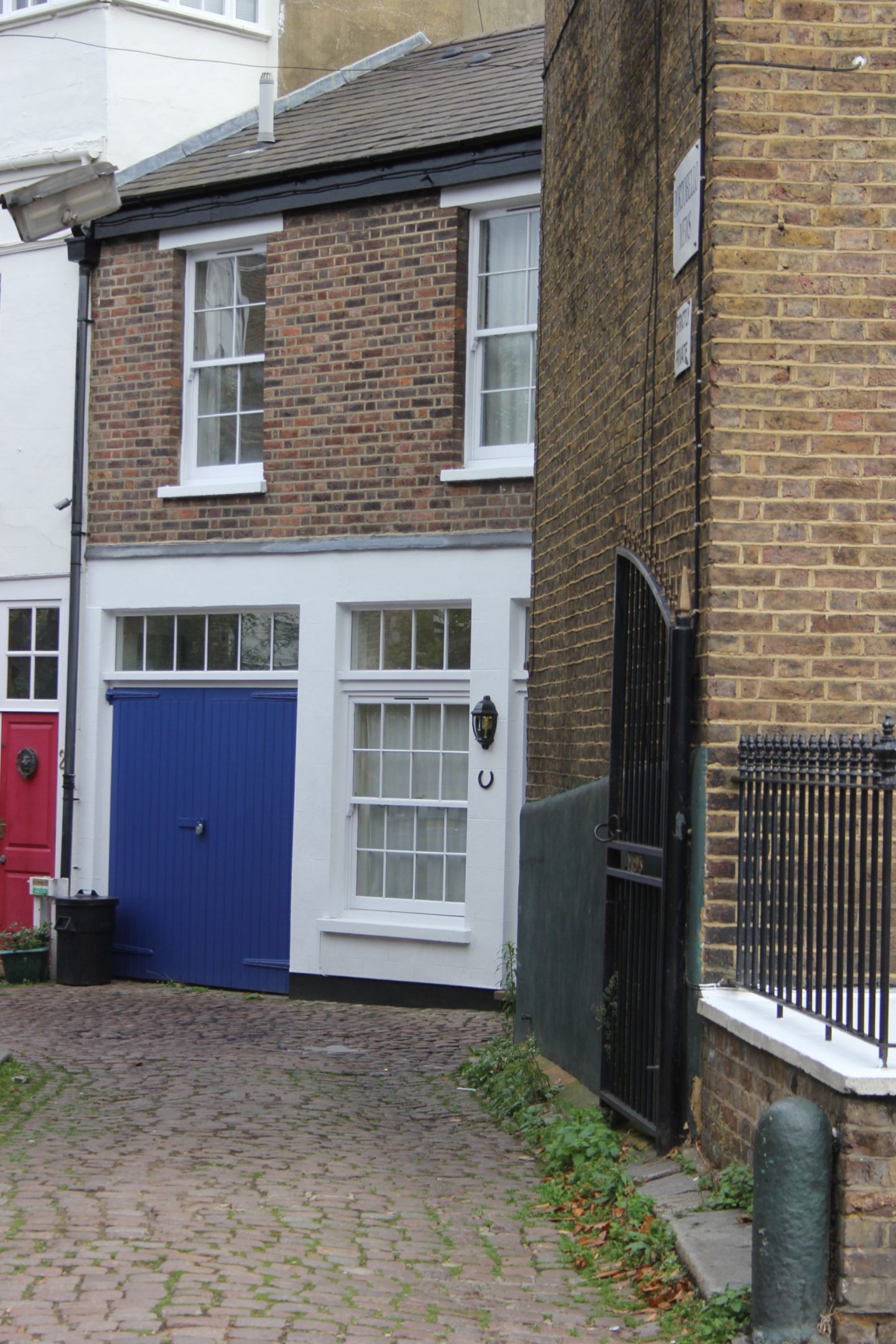 What a treat strolling past all of these colorful entrances!
Peacock & Royal Blue Wonder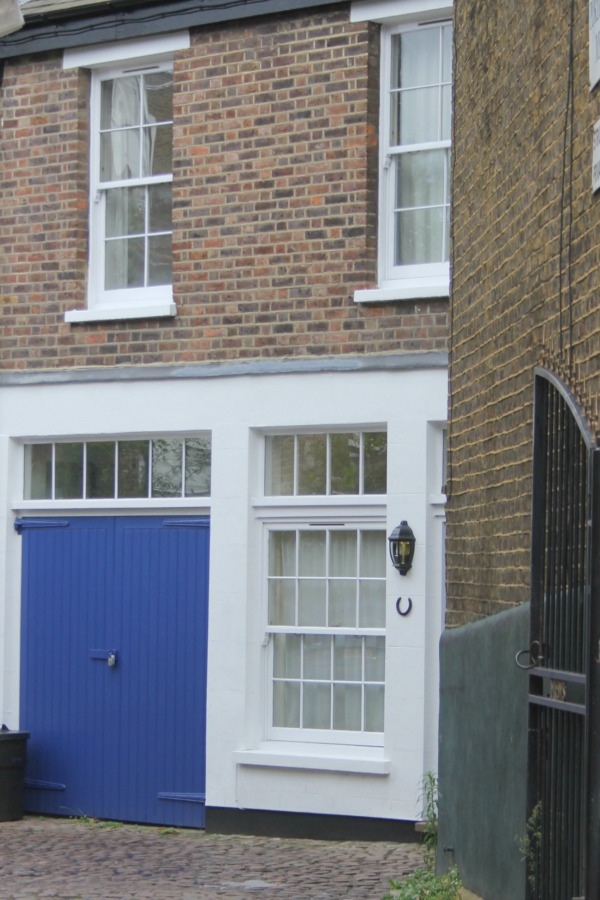 Meandering down charming little alleyways is my idea of an awesome workout.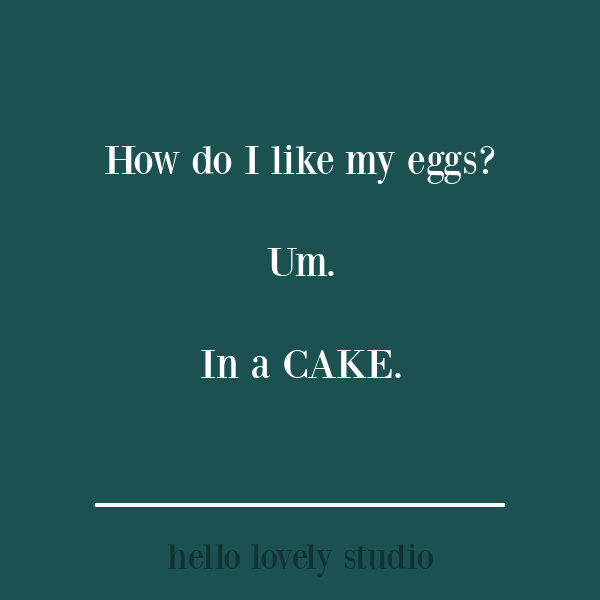 Rosy Pink Painted Door
How chic is this pink!?!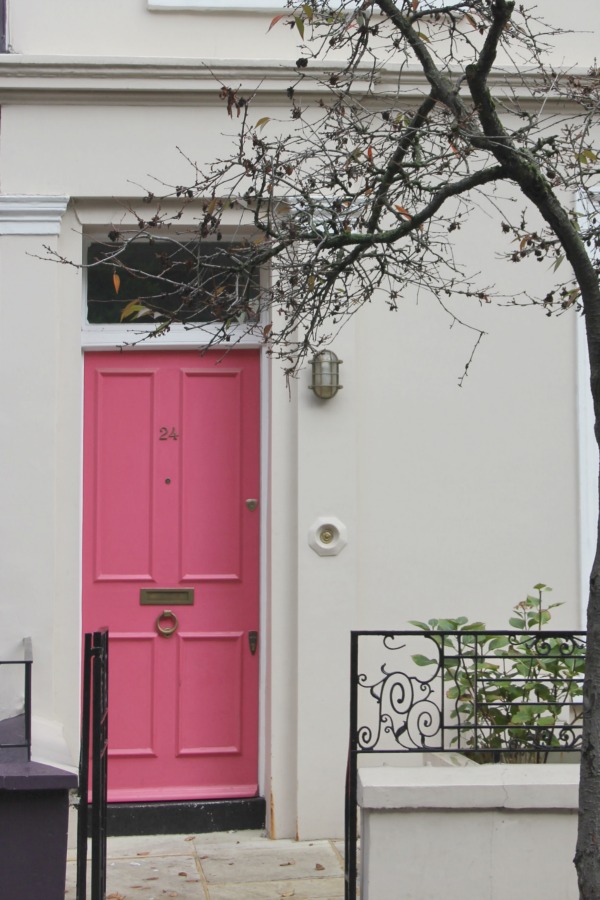 Lipstick pinks are uncommon to see on front doors in my neck of the woods.
Brings to mind pretty lip color! (My lips get so dry in winter, and the only way I know to keep them hydrated is by layering a lip stain that will last 10 hours with a hydrating lipstick.)
I also layer a lip stain with this which smells amazing:
This is still my favorite cream blush and can be used as sheer lip color as well.
French & Swedish Blues
Is it Aubusson or a Scandi blue?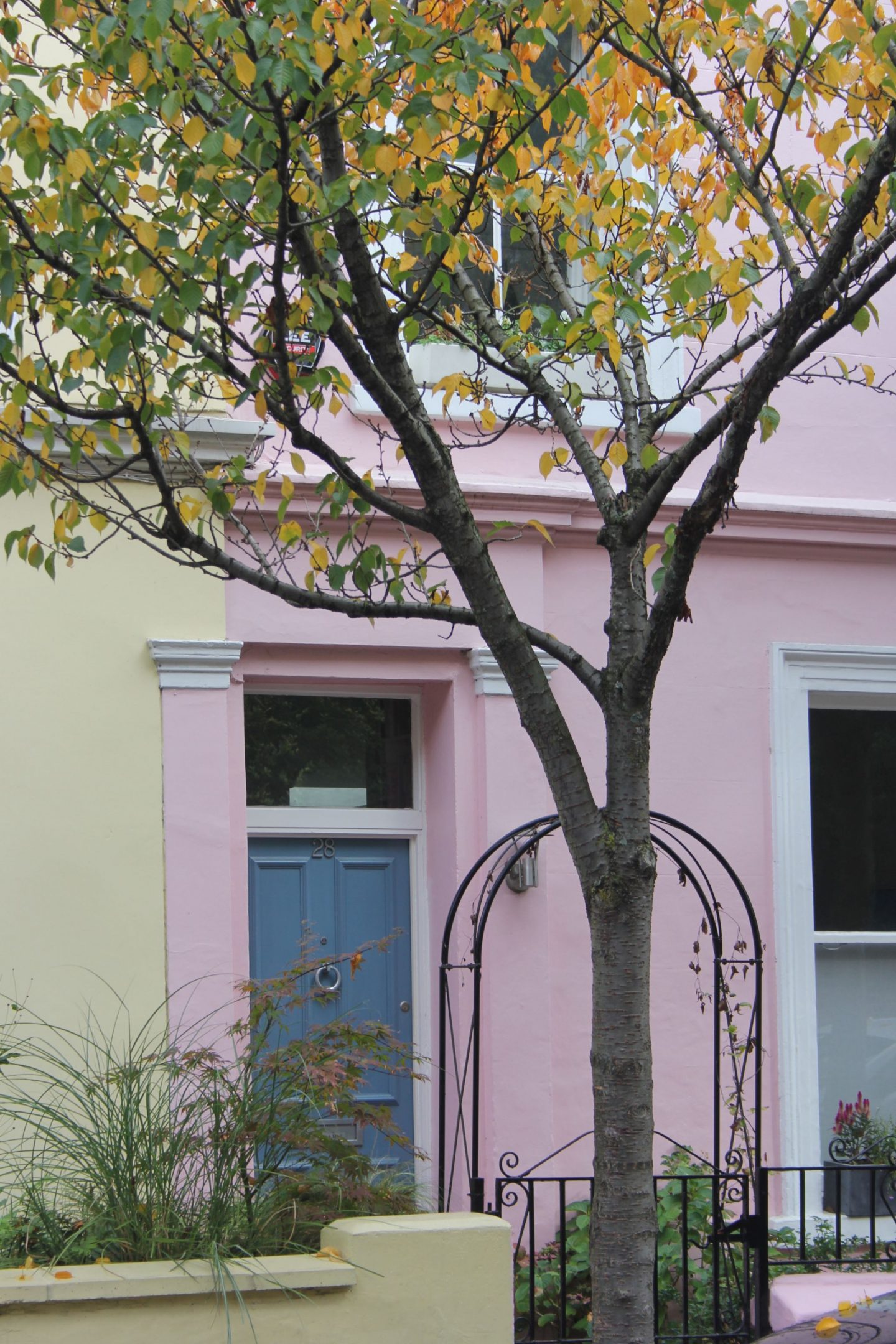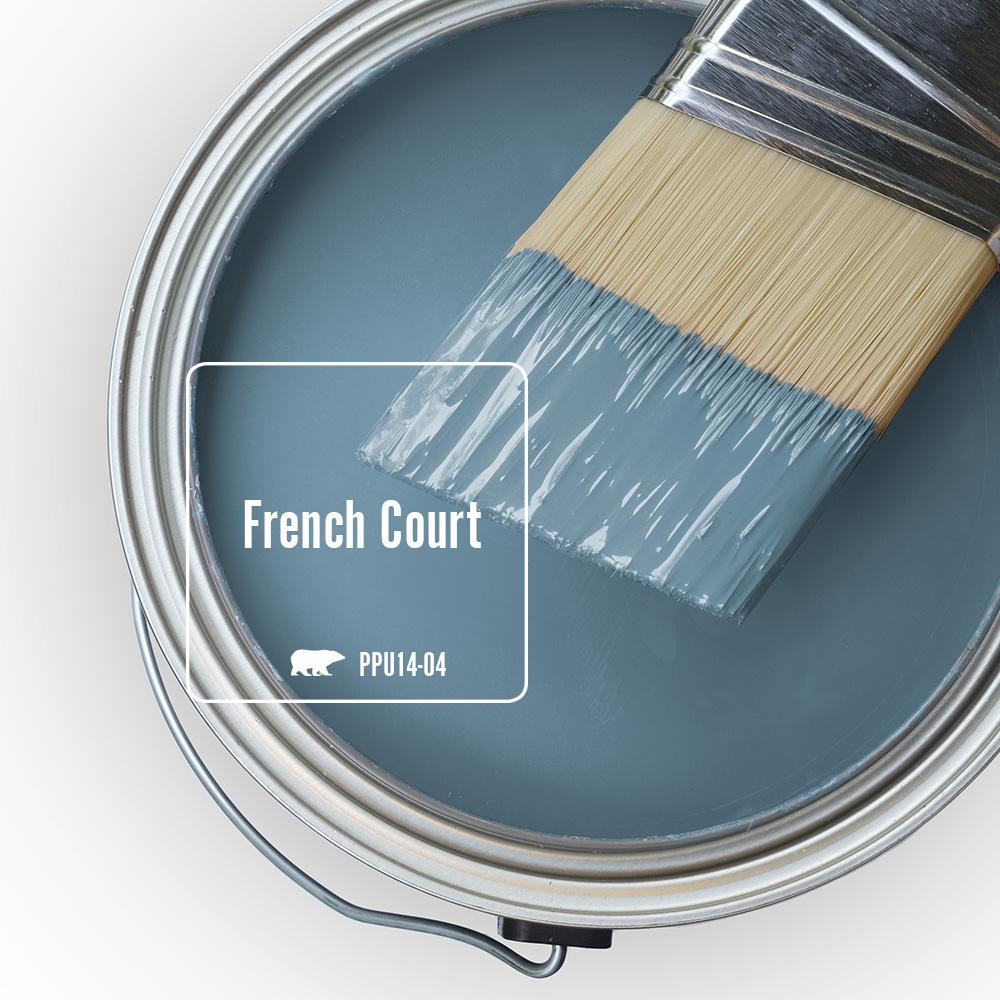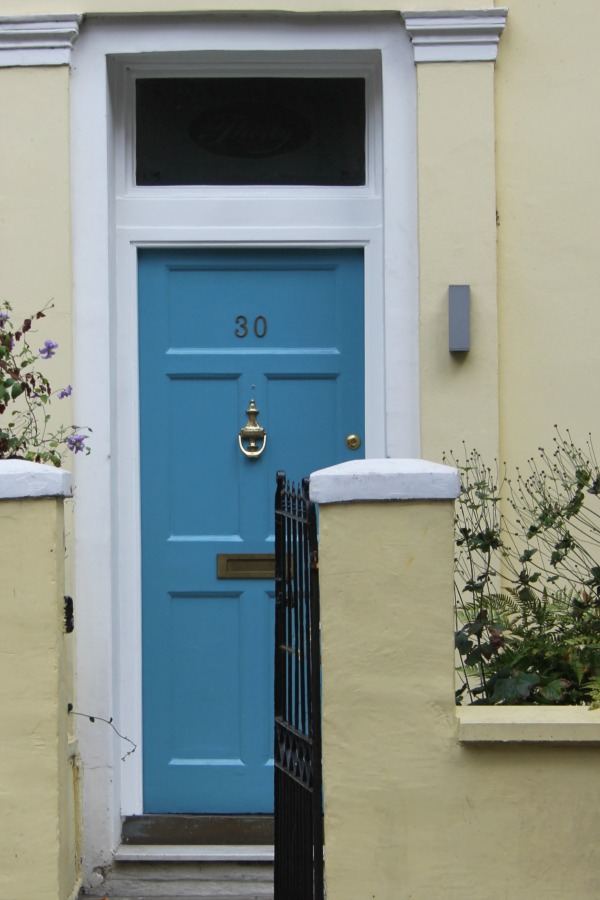 Periwinkle Paint Color
If a less muddy blue is more your style, here is a little bright blue inspo…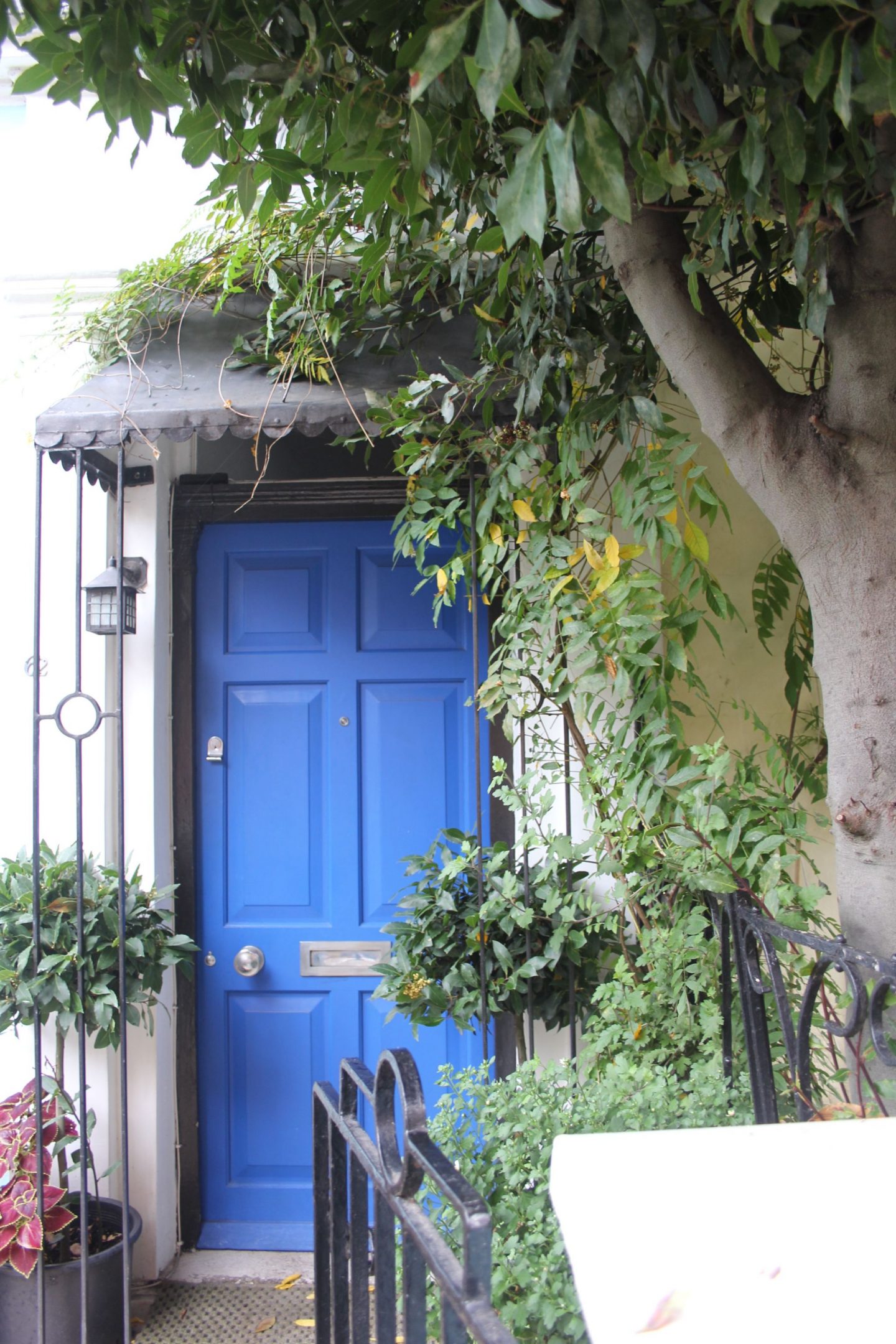 Medium Grey Painted London Door
While it is safer than bold, this grey still makes a powerful statement.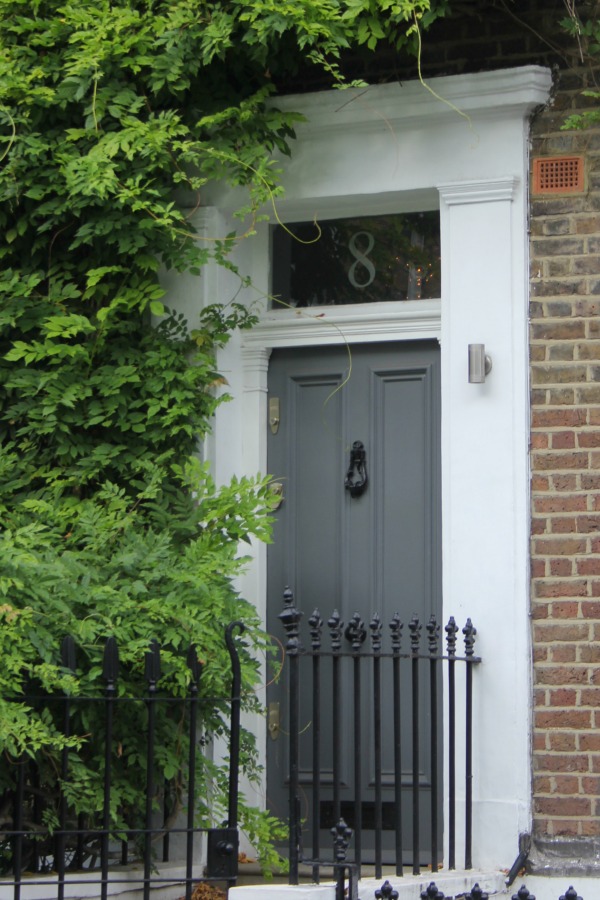 I just love the classic charm of grey with the white moldings and warm brick.
Searching for medium grey paint color ideas? SEE THESE.
Less Bold Options
As promised, here are some ideas for paint colors to try when you're after less energetic color to soothe and uplift.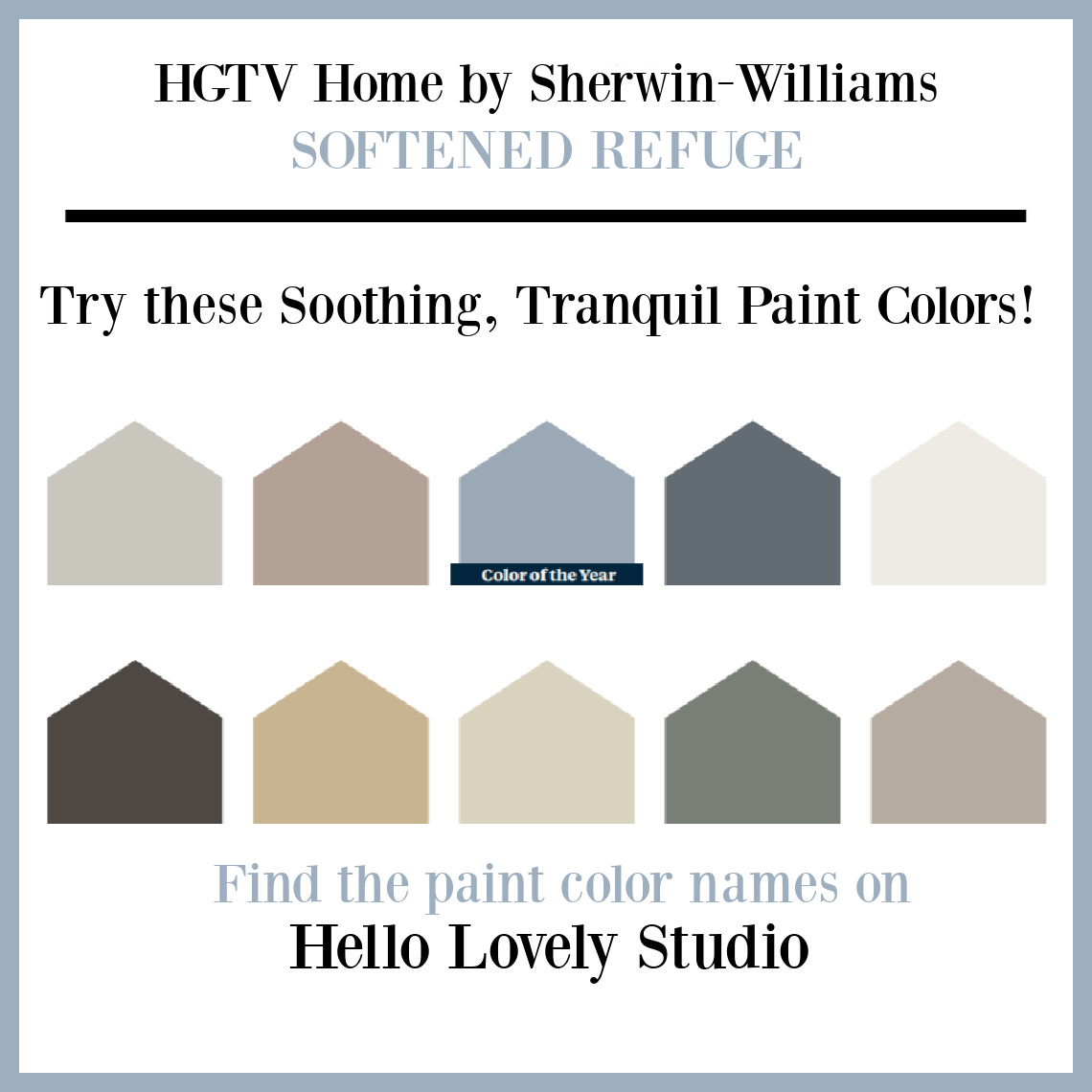 Merci for sharing images and posts to Pinterest, and do pin this post by TAPPING HERE!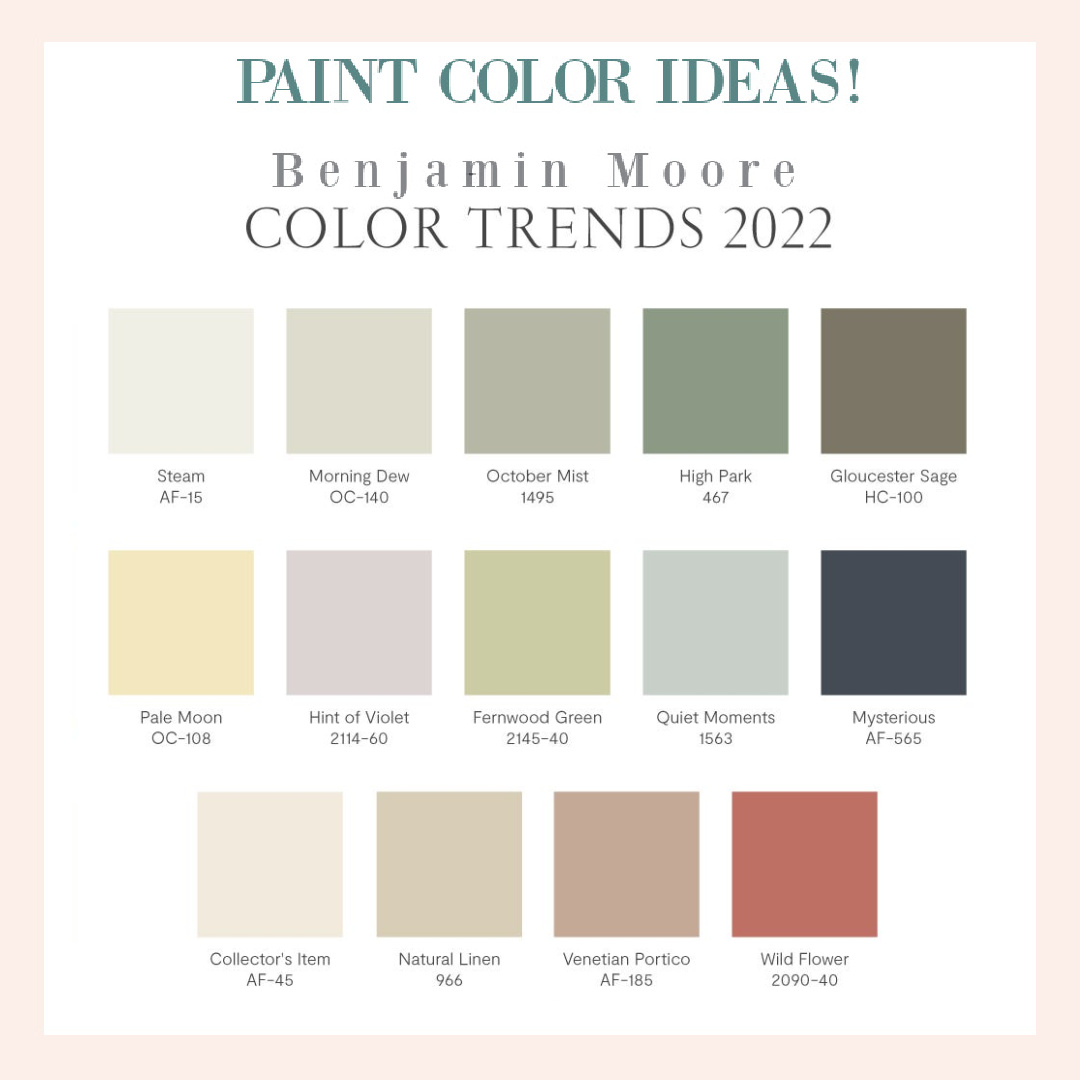 Still with me? Let's keep walking!
Notting Hill Walking Tour
Enjoy this walking tour, and watch for the very doors and homes you'll see in my photos here!
So much classic architecture to take in!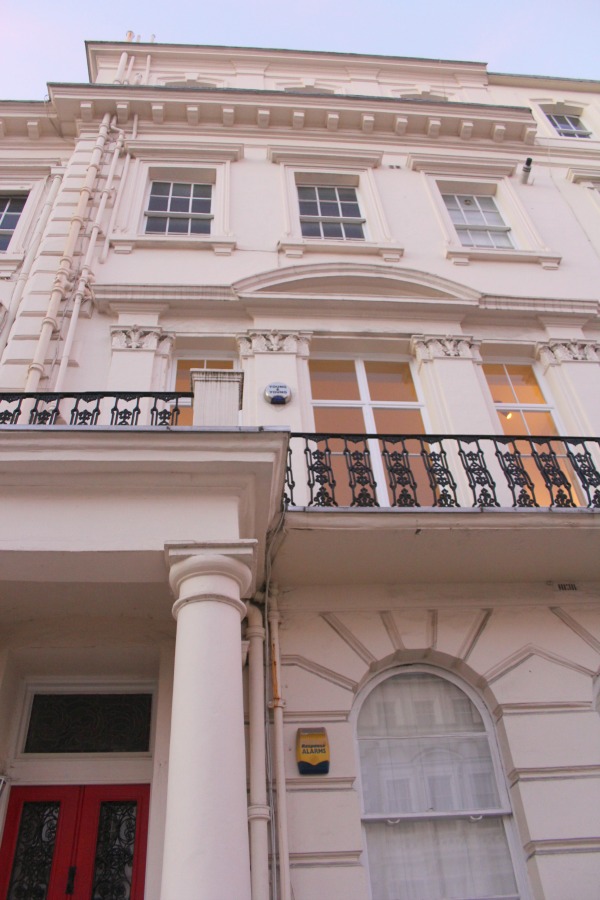 I loved all of the wrought iron.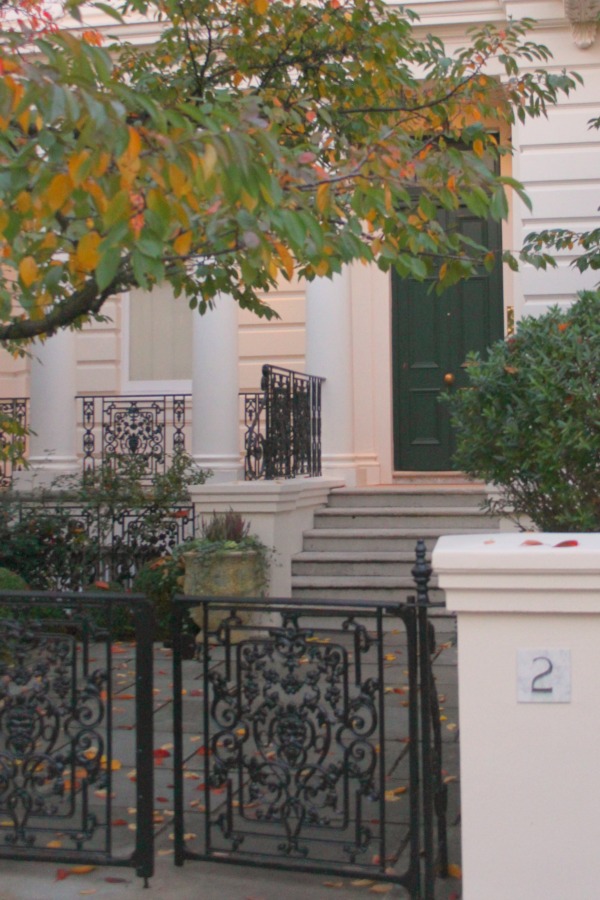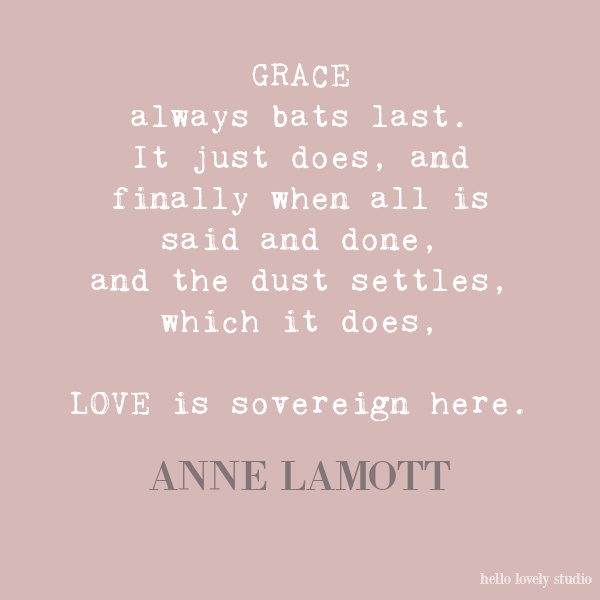 Notting Hill at Dusk
I'll never forget our arrival that first evening in London. We settled into this quaint Holland Park apartment and strolled to Notting Hill at dusk under glorious pink skies (I didn't edit the photo!)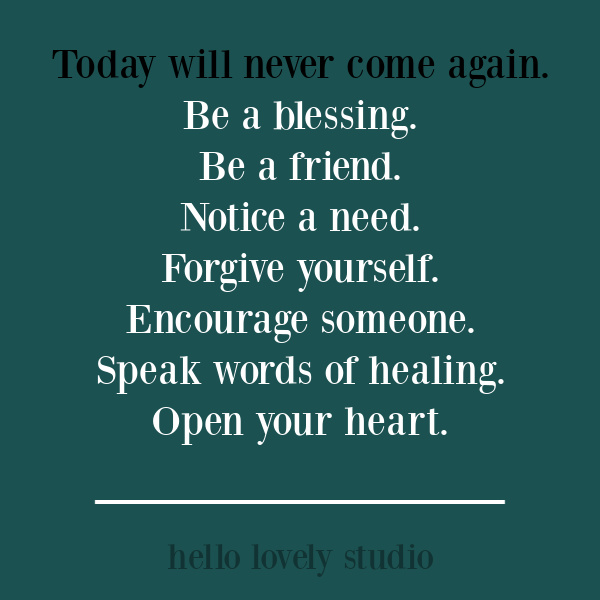 There were plenty of subdued and neutral painted doors I found charming in London as well.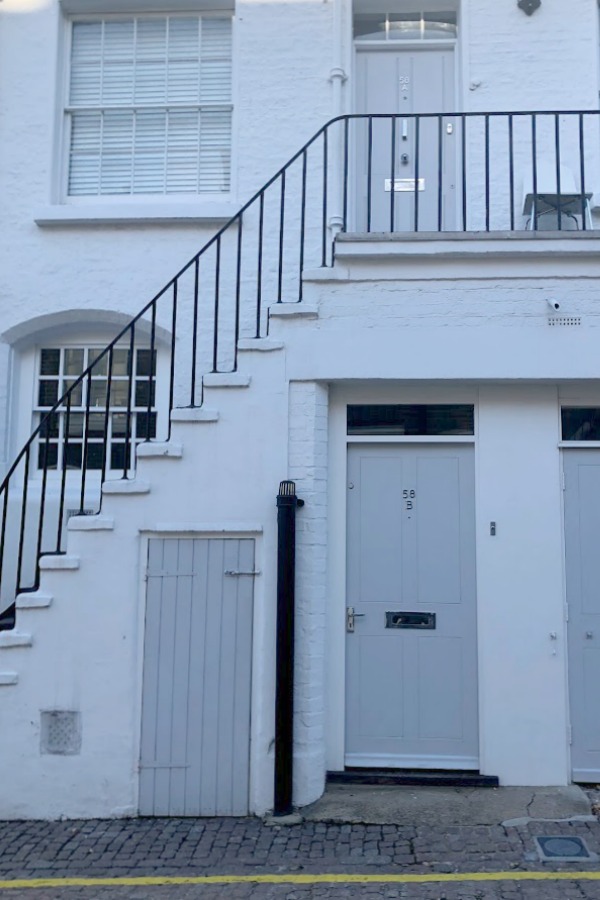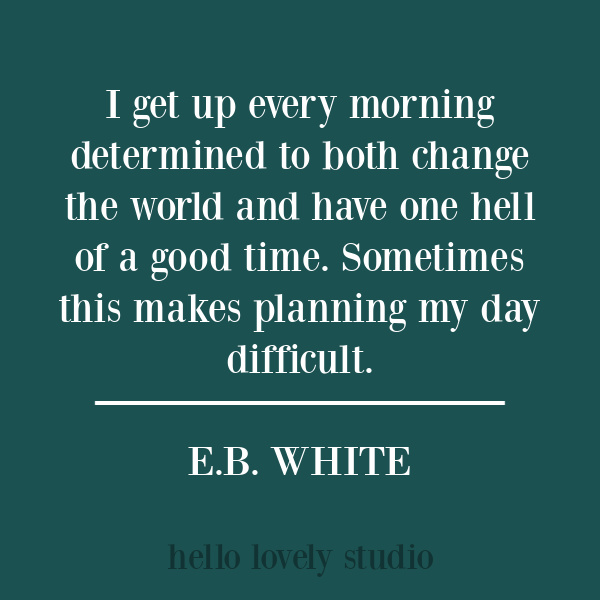 Delicious Color Combinations in London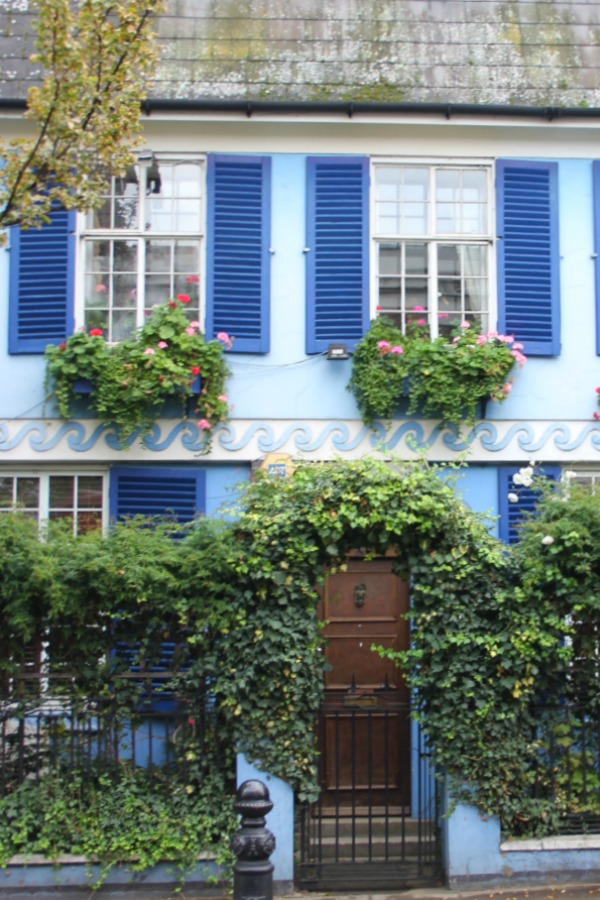 Are we in Notting Hill or Normandy? This charming facade sported a front door that I imagine is delicious chocolate on a beautiful candy house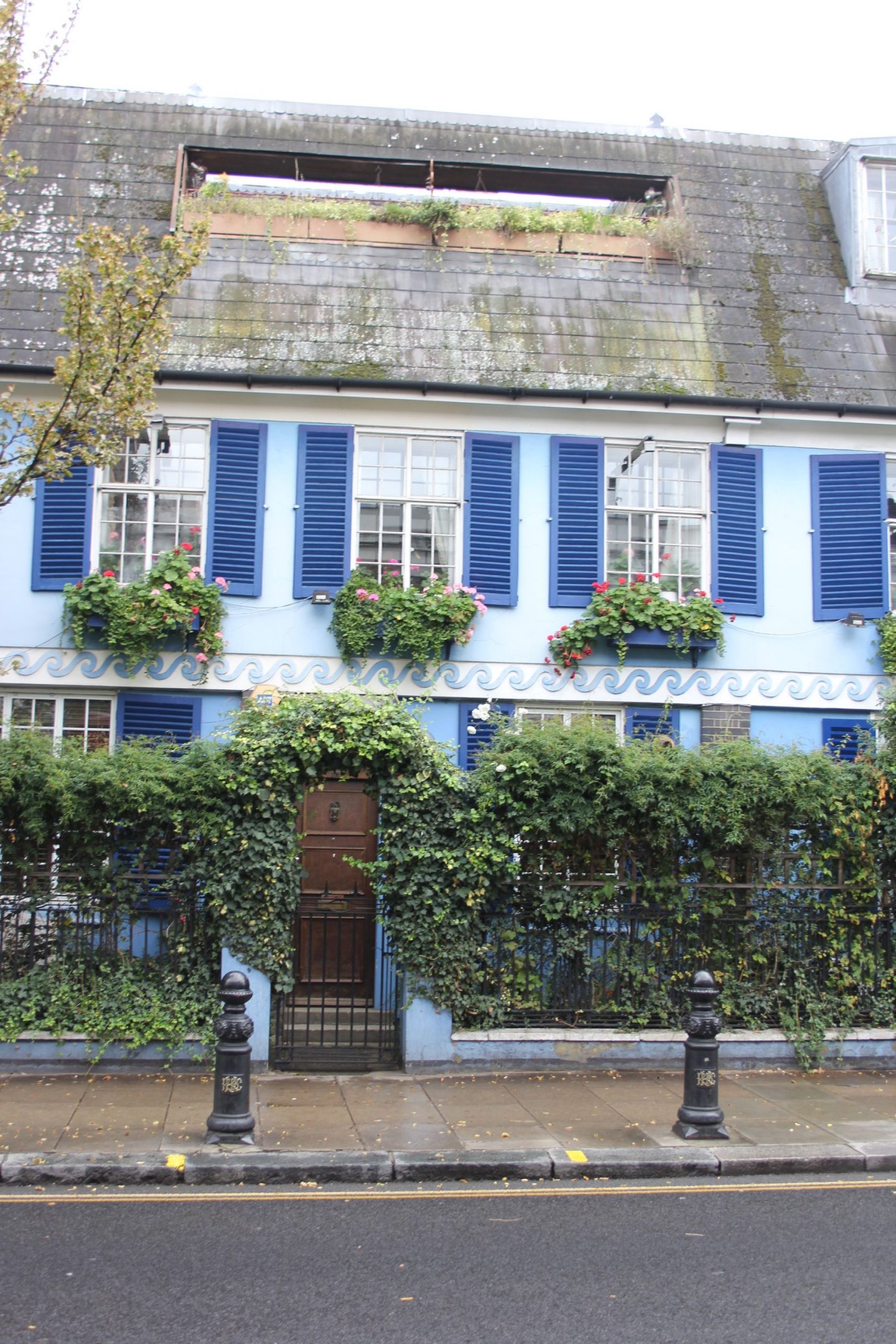 Here's a diversion architecturally speaking with another a chocolate brown door. This home likely belongs to a dignitary (or a famous rapper).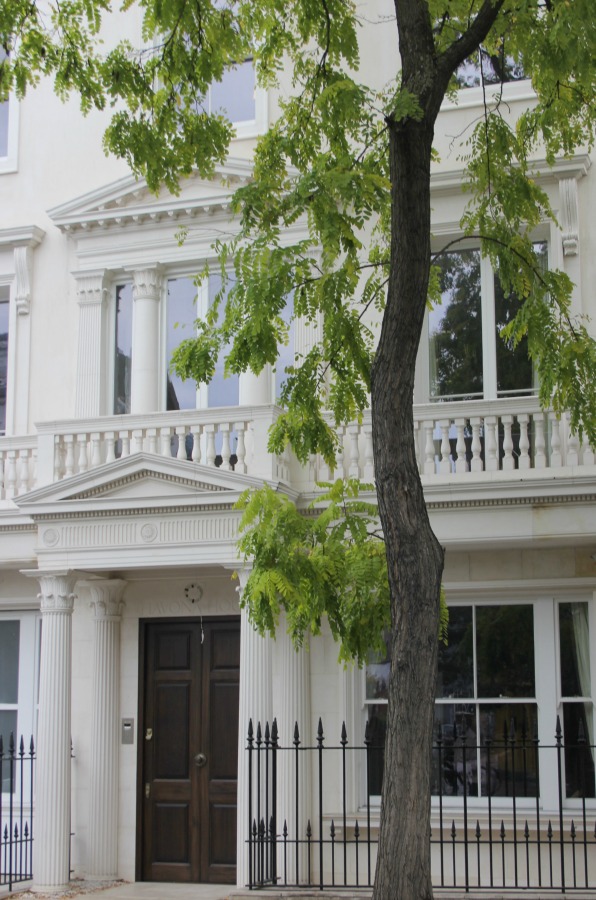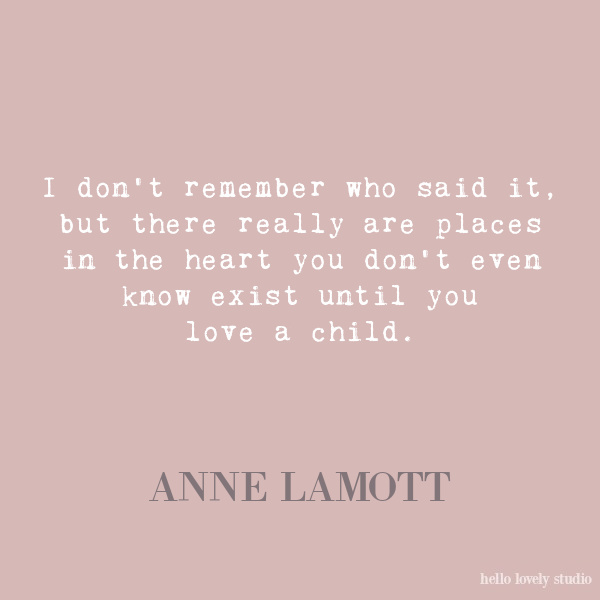 Speaking of chocolate…every year around Valentine's Day, I think about making one of these edible boxes filled with yum: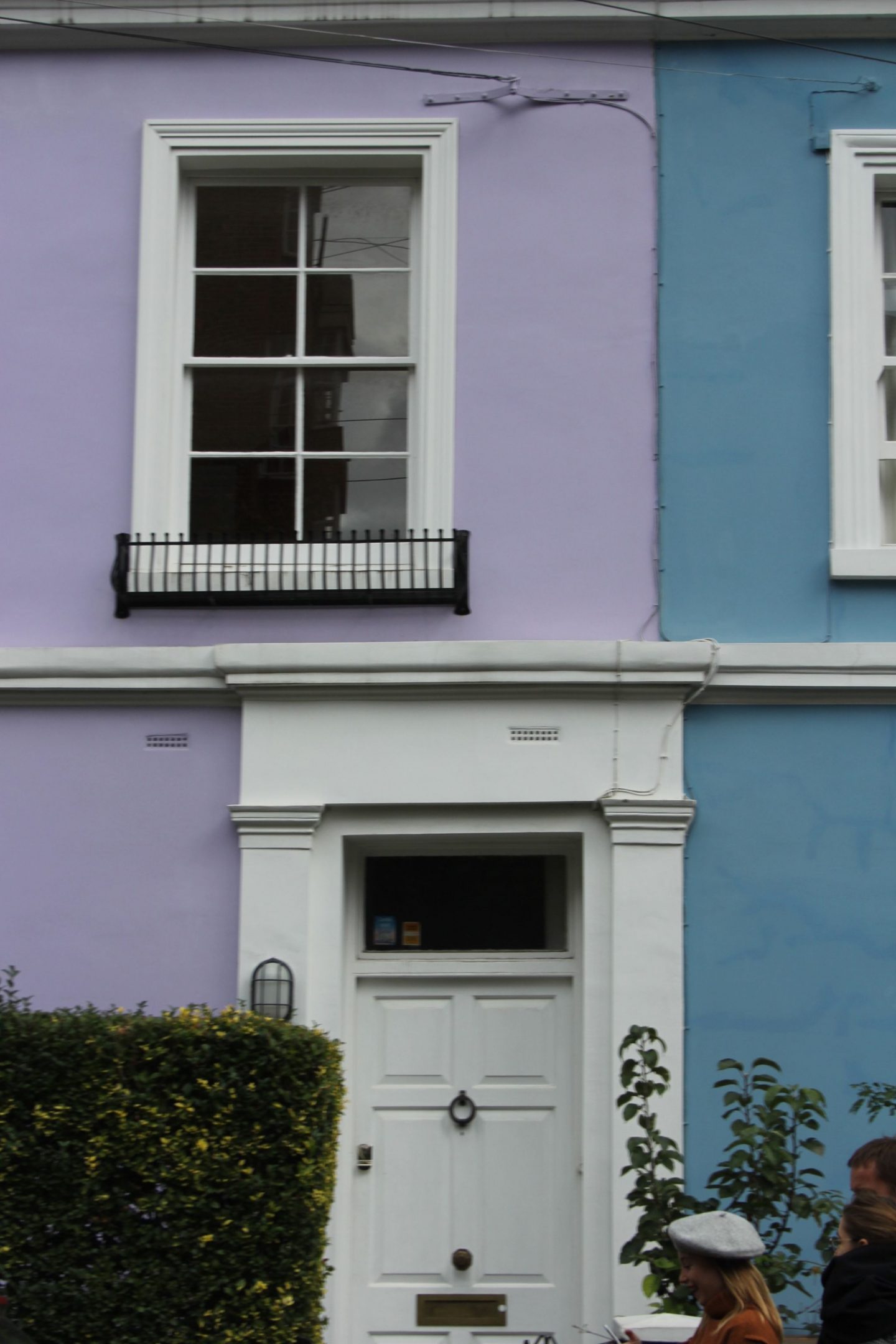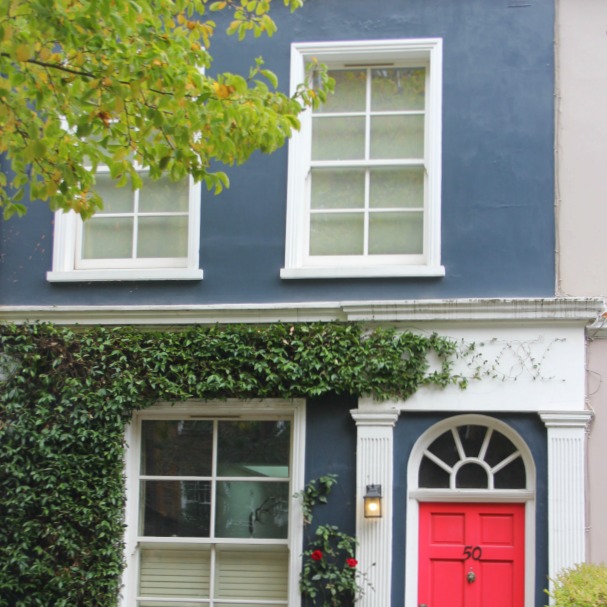 Baby Pink Paint Color Ideas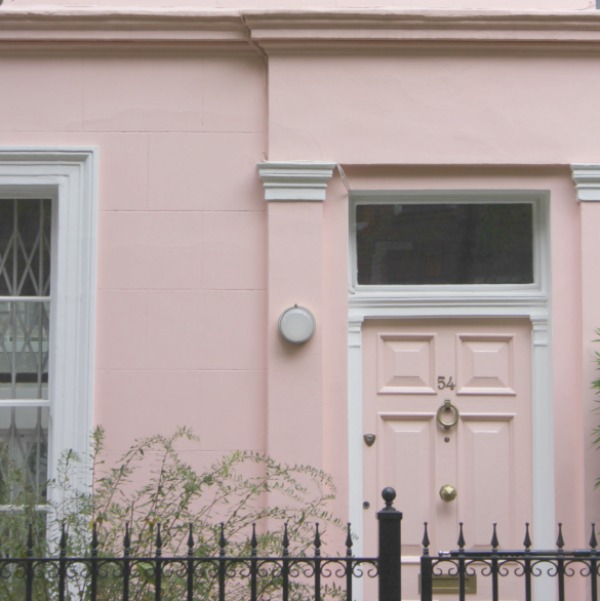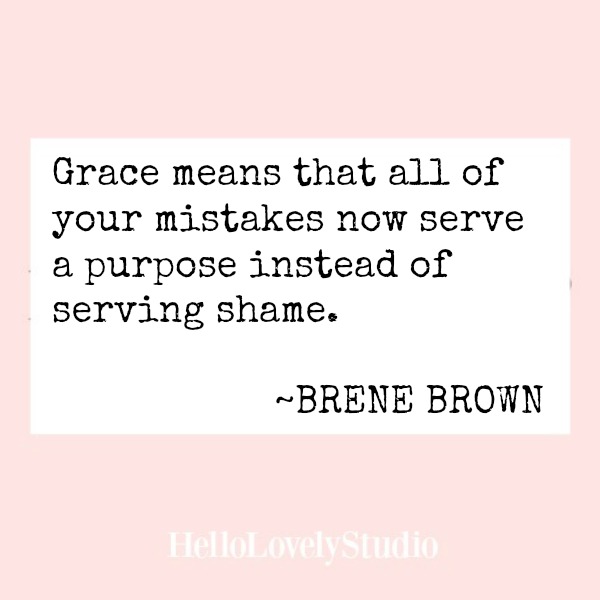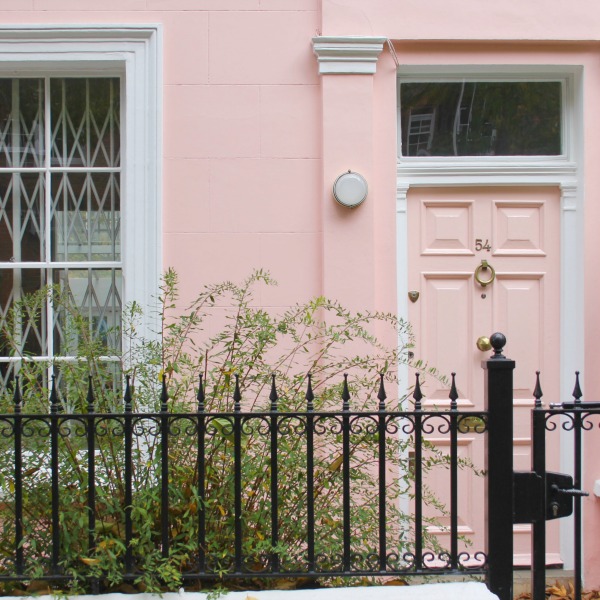 Climbing Blooms in London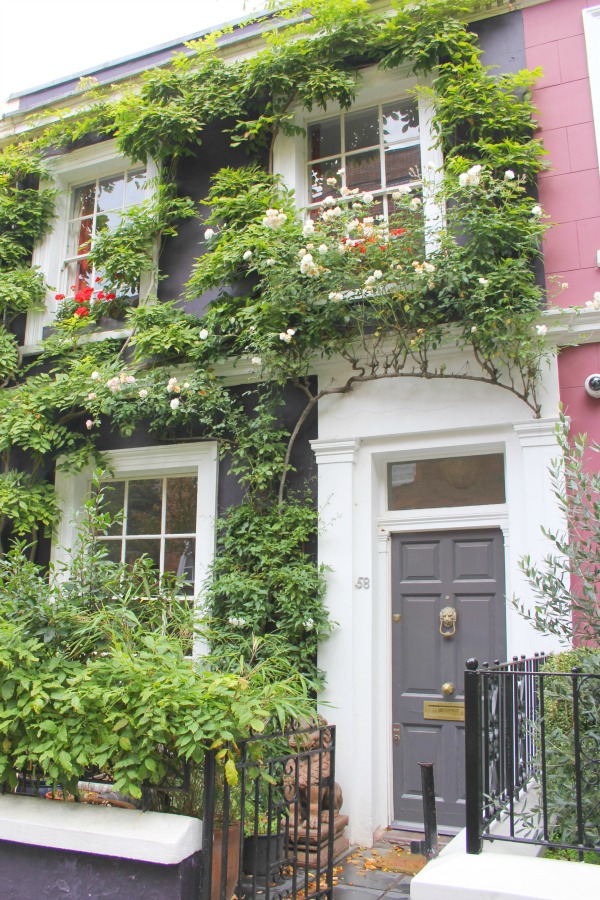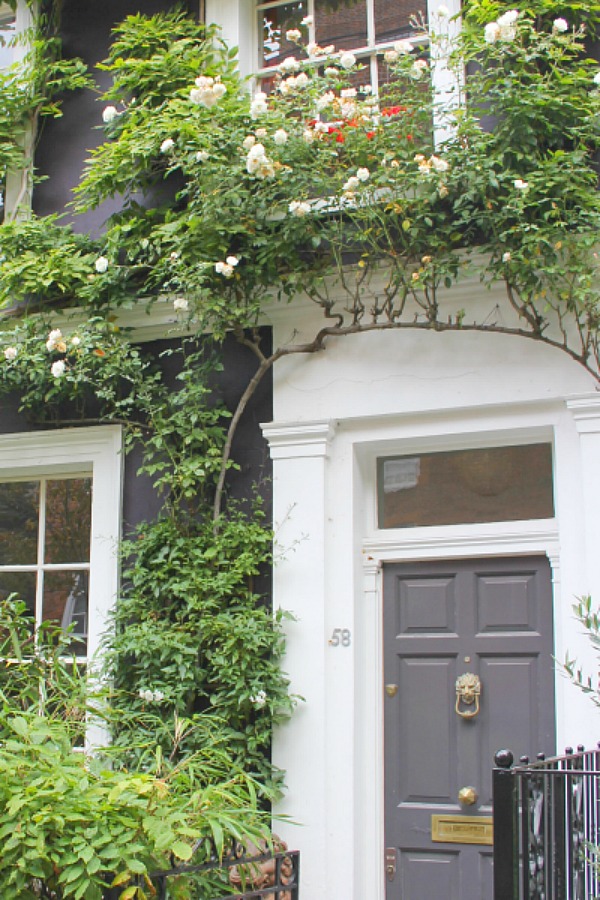 Grey Paint Color Ideas
The door above looks similar to BENJAMIN MOORE Trout Gray. Here are a few other keepers too.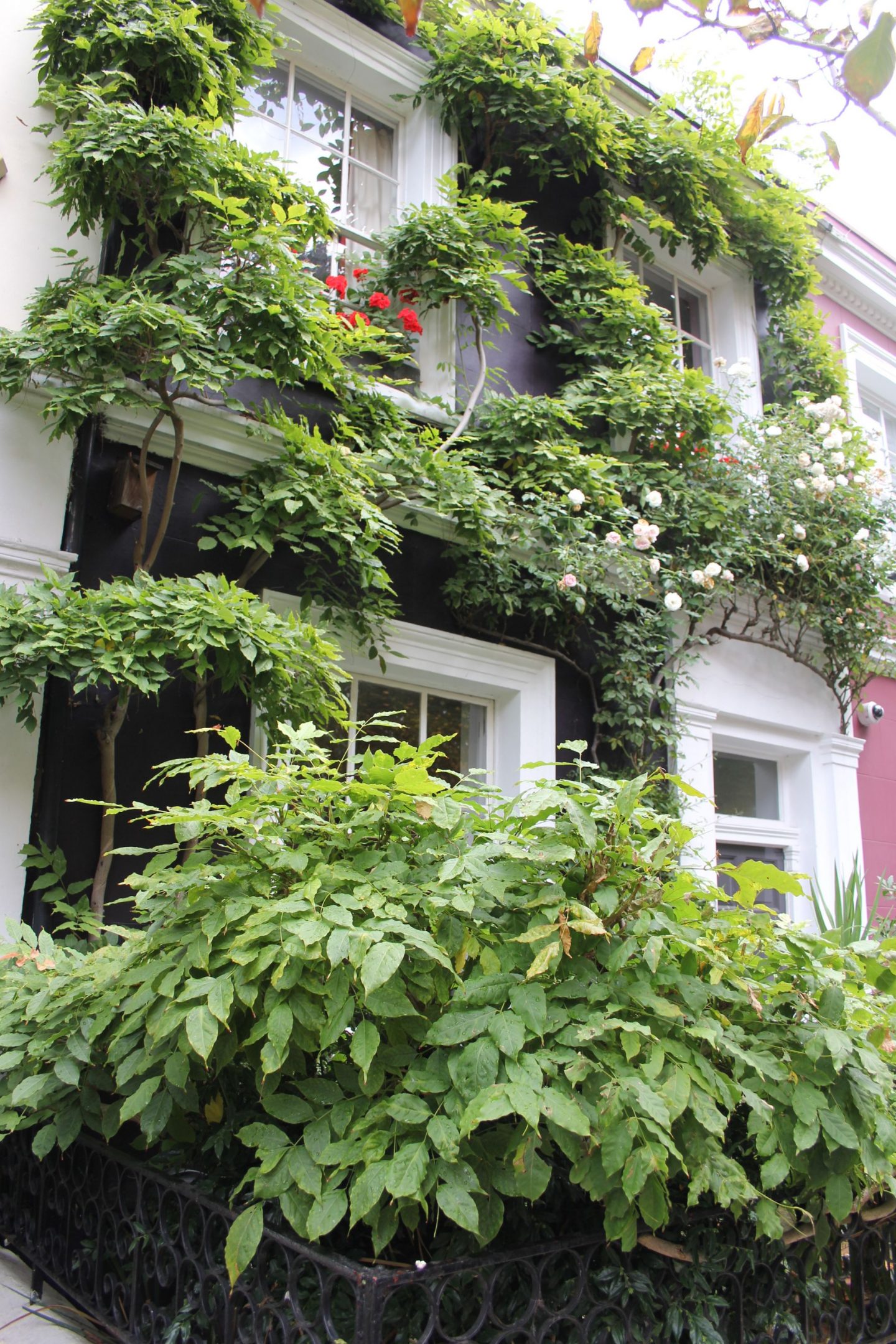 Sophisticated Cashmere-Like Grey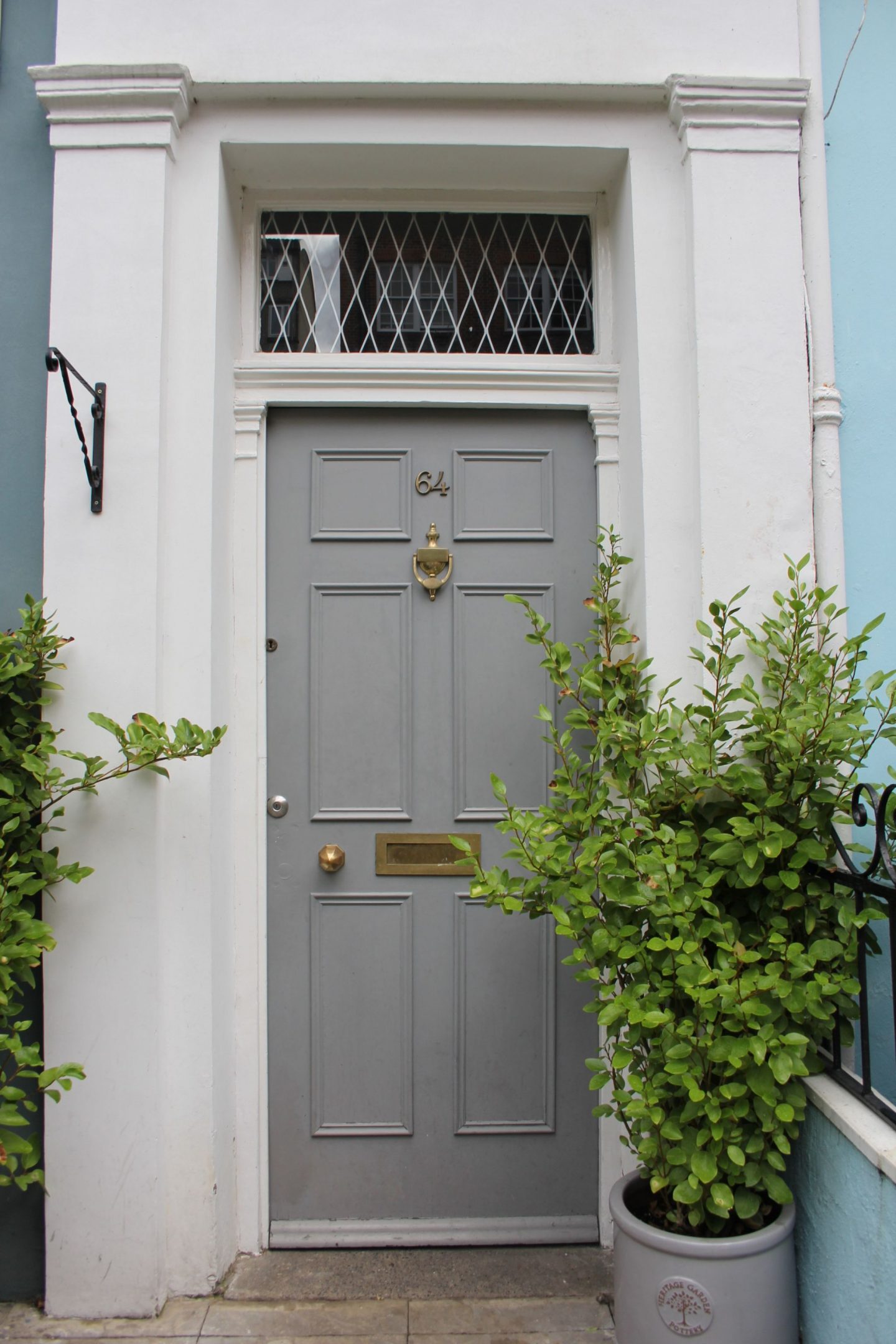 Ebony Against Crisp White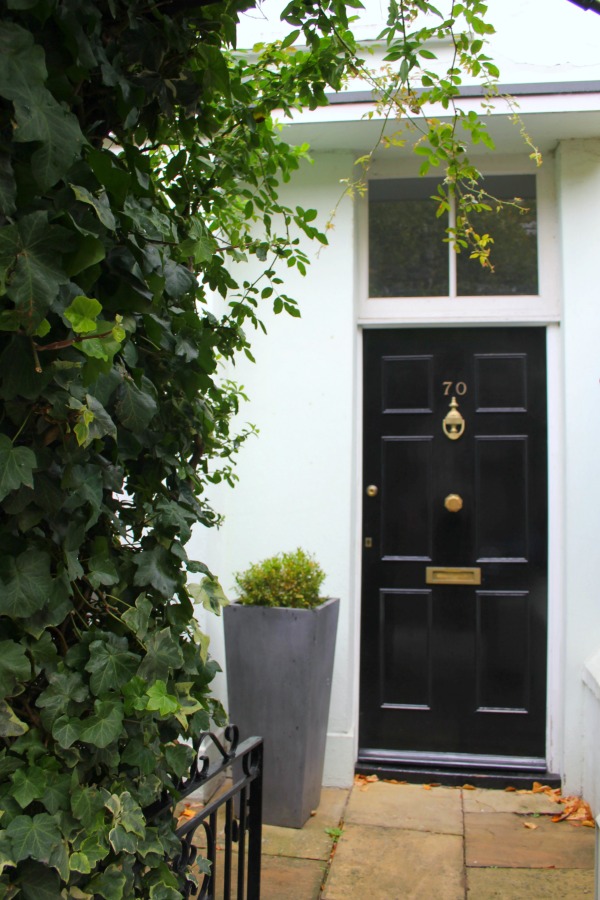 Black Paint Color Pick from Designers
Perfection With Green Front Door & Black Window Mullions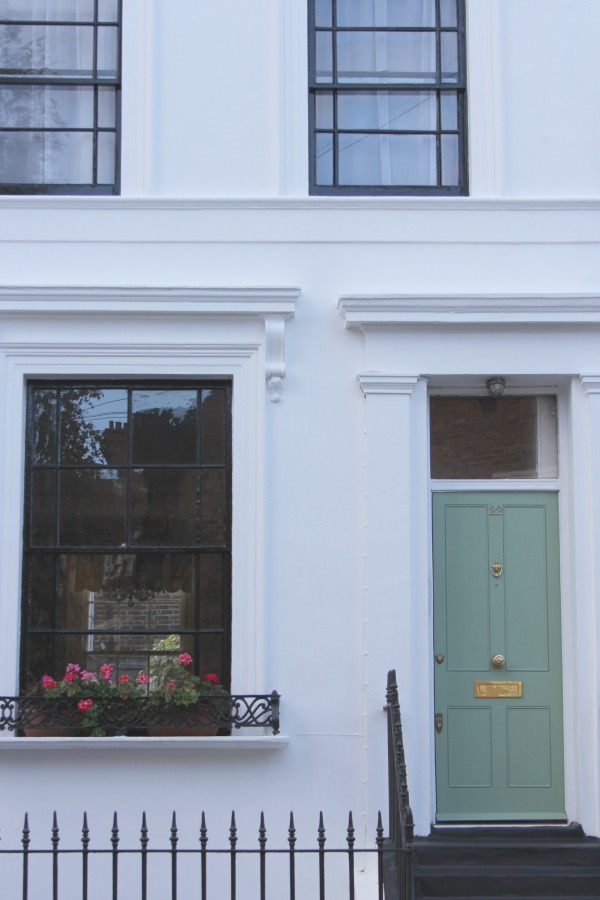 Chalky Sophisticated Green Paint Color Ideas
If you love that green hue you see on so many French farmhouse shutters, you'll definitely want to check out THIS STORY!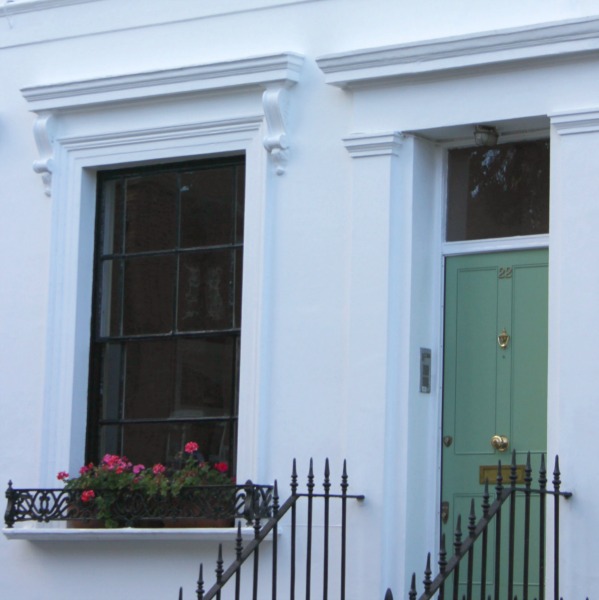 Bold and Striking Black London Door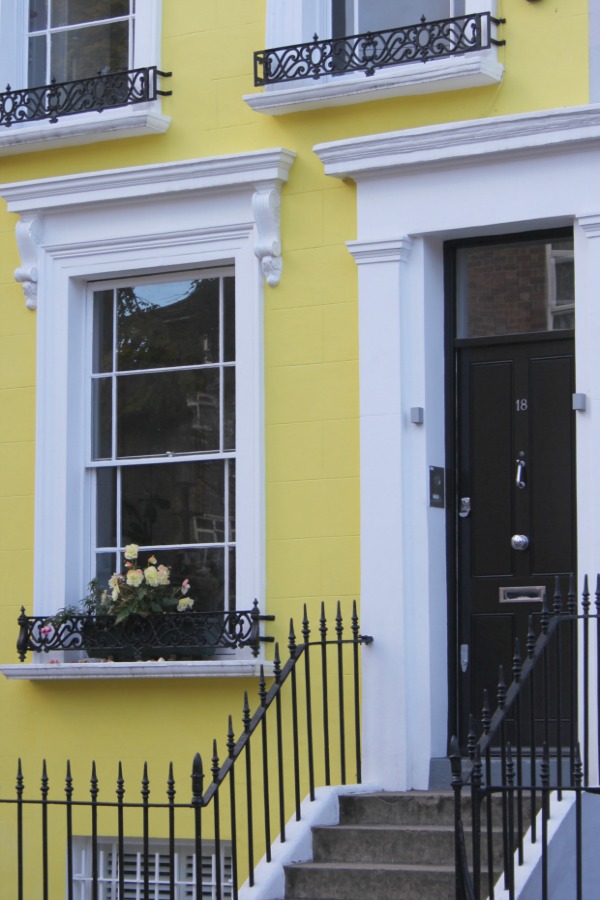 Bright Blue Notting Hill Movie Front Door
Of course we had to stop at 280 Westbourne St. in Notting Hill to pose with this famous front door.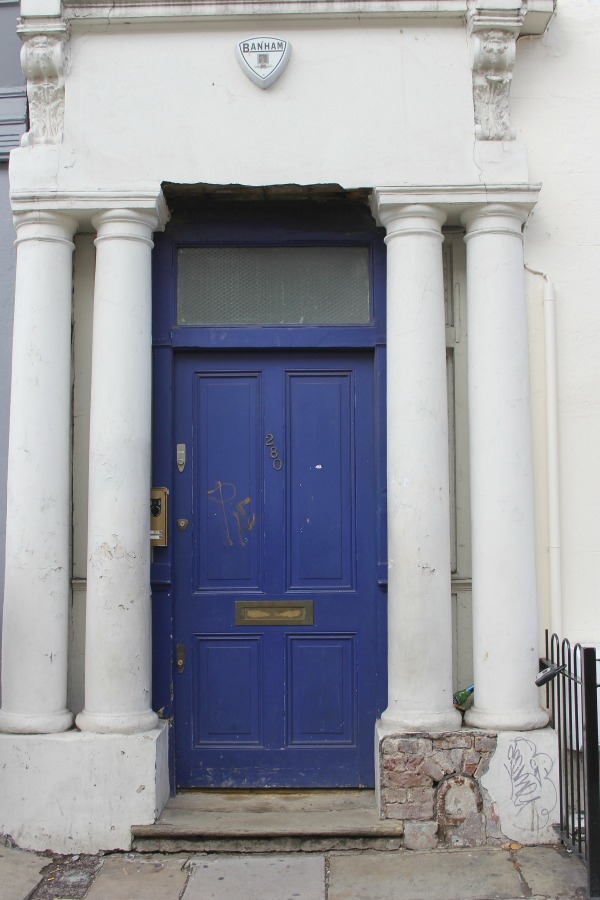 Remember "Notting Hill?"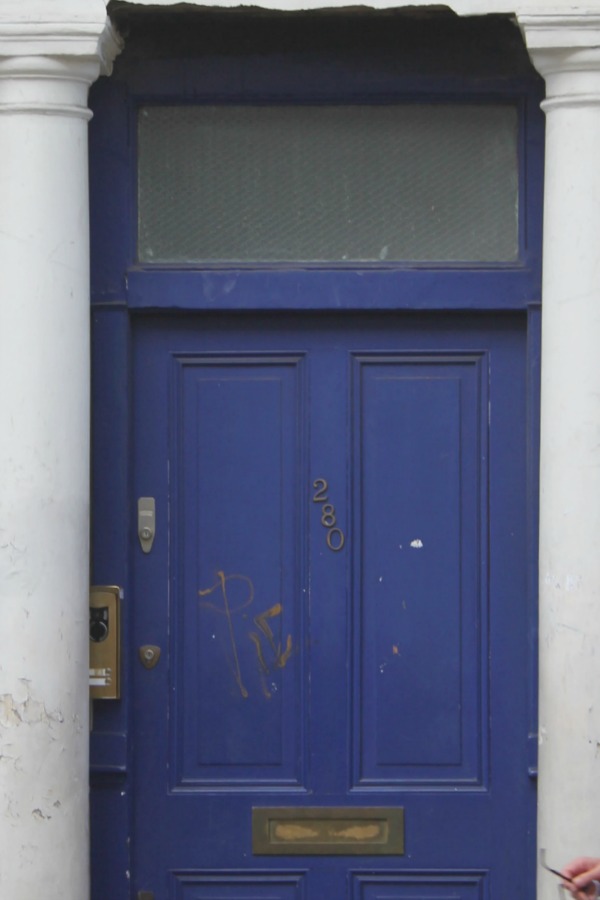 Who can focus on the front door when a pub is blooming with pink?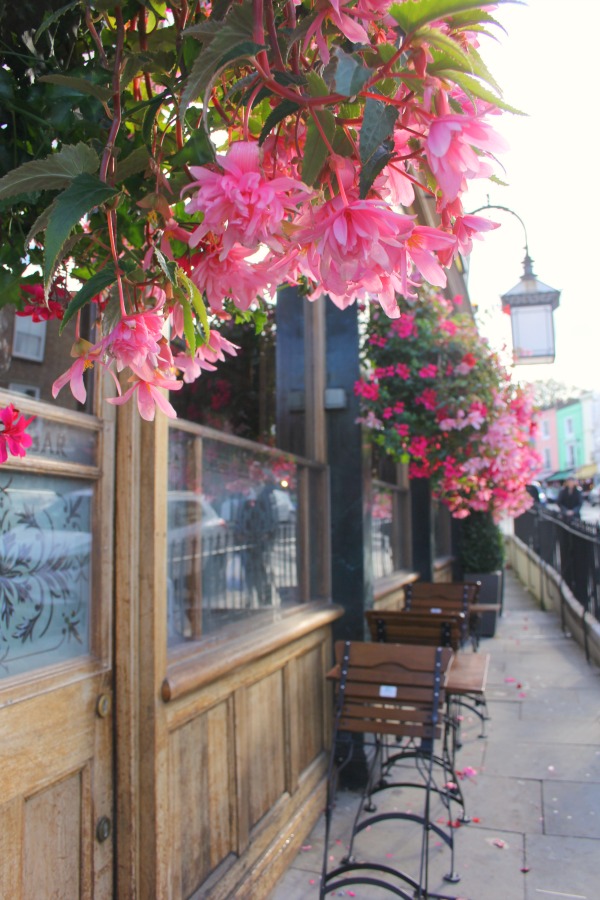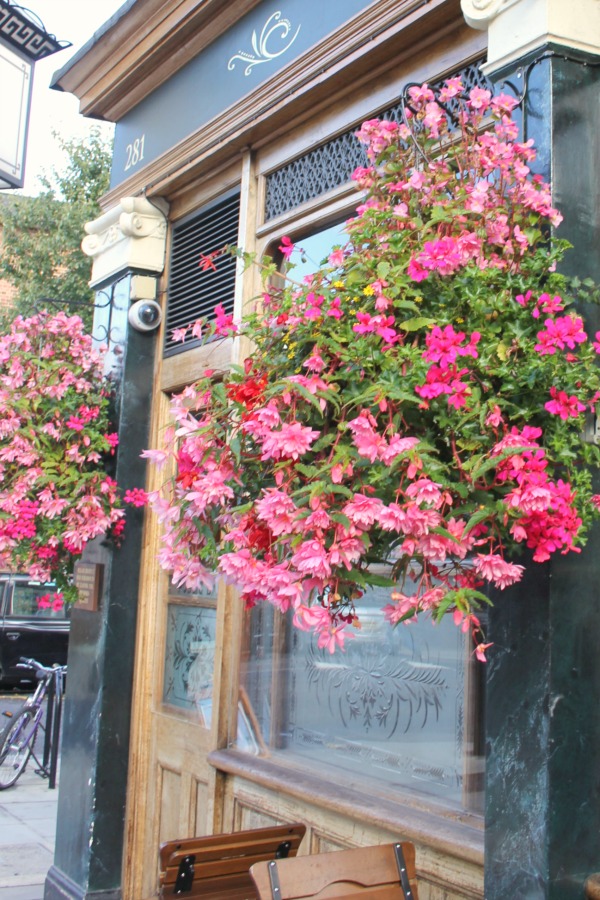 The weather was fabulous on our visit to London!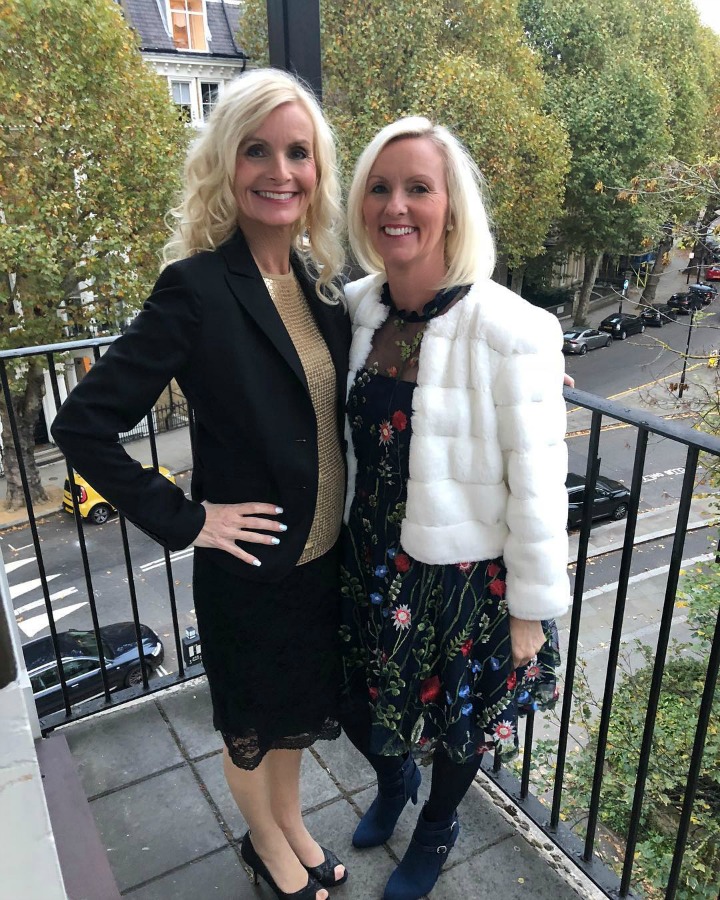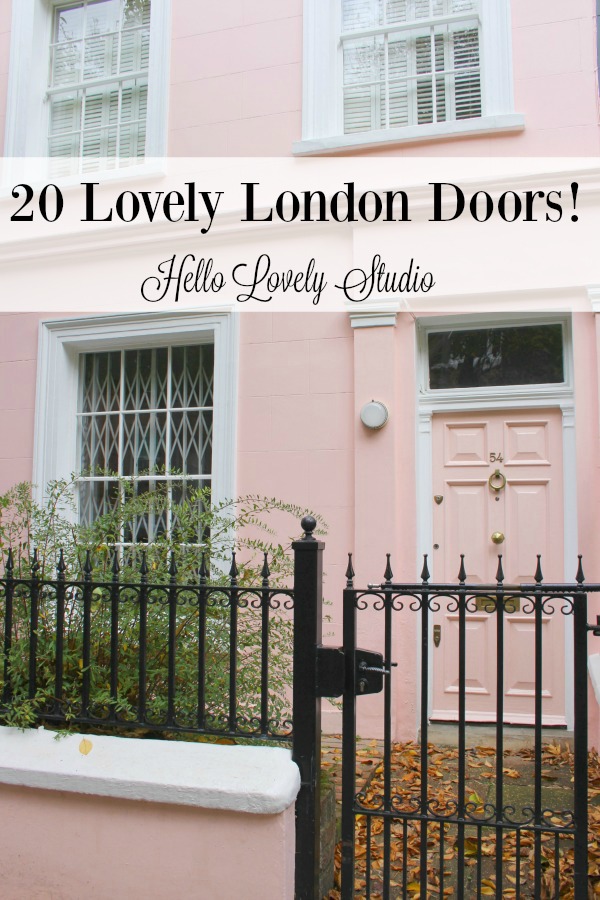 I independently selected products in this post—if you buy from one of my links, I may earn a commission.
Peace to you right where you are.
-michele
Shop for items you already intended to buy on Amazon RIGHT HERE, and also find home decor here to keep decor inspiration flowing on Hello Lovely!
Hello Lovely is a participant in the Amazon Services LLC Associates Program, an affiliate advertising program designed to provide a means for sites to earn fees by linking to Amazon.com and affiliated sites.