We're revisiting an historical 1875 restored and renovated farmhouse near my home in Northern Illinois within Medium Grey Paint Colors, Industrial Farmhouse Interior Design Ideas. If you admire neutral palettes beyond white and beige, this may float your modern farmhouse boat. (Wait…are modern farmhouse boats a thing? Cool beans.)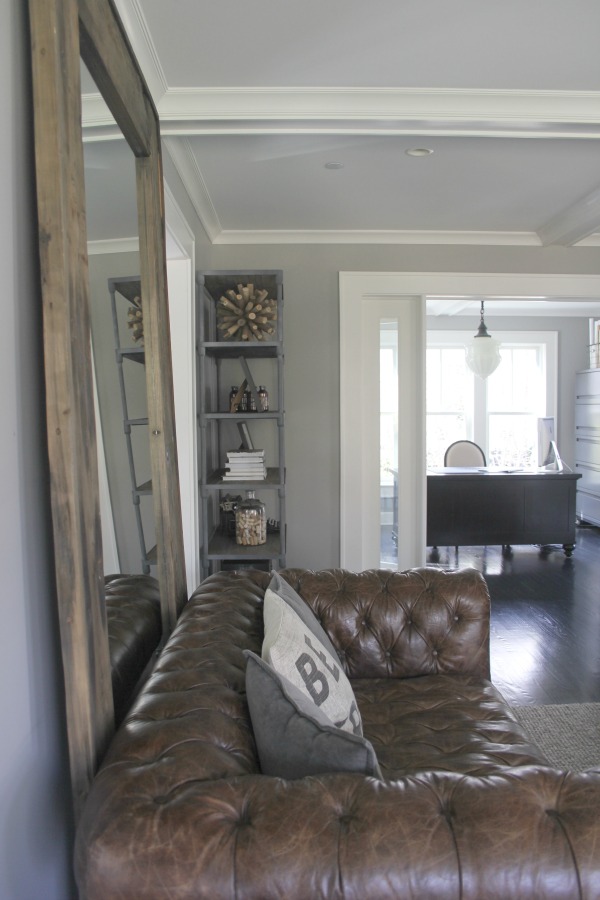 You'll discover smart grey paint colors for walls and get a glimpse of how they pair with ebony floors as well as see architecturally lovely design details to inspire.
At the finish line, we'll also chat about paying it forward, and by "it" I mean compassion, kindness, and mercy.
I can't resist sharing the exterior!
Medium Grey Paint Colors, Industrial Farmhouse Interior Design Ideas + Paying it Forward
All photos: Hello Lovely Studio
Grey Paint Colors from BM
The homeowners chose to paint the interior walls medium gray, and depending on the amount of natural light a room received, it was painted one of these two hues.
Exact color used: BENJAMIN MOORE Stonington Gray
Exact color used: BENJAMIN MOORE Platinum Gray
Easiest way to see if a color is right? Order samples to be delivered to your door with Samplize (a peel and stick sheet of "paint" to stick on your wall and easily move around to other walls!).
Another Medium Gray Paint Color to Sample
While this gray color was not used by the homeowners in their farmhouse, it is one you can easily sample with free shipping. Not a bad deal to spend 3 bucks with a click at Home Depot and also save a trip to the store!
Idea No. 1: Family Photos in the Stairway
It's such a nostalgic gesture, and to modernize a very traditional home decor practice, consider calming the mood with black and white photos to unify the mix as well as reflect a modern design aesthetic.
Idea No. 2: Naked Windows
This row of windows in an upstairs hall adds architectural interest, natural light, and beauty to enhance everyday living.
Idea No. 3: Black Painted or Stained Stairs
All of the black flooring in this modern farmhouse also contributes to its more contemporary style.
Idea No. 4: Vintage or Deconstructed Furniture
So many pleasing room designs reflect a mix of old and new, and sometimes it is simply the suggestion of old which does the trick. Ever dragged home a vintage chair and removed upholstery for a similar look? I have always wanted to try that!
Idea No. 5: Window in the Stairway
Oh my, light is a necessity for function and architecture!
Idea No. 6: Masculine Furniture
It is common in modern farmhouse living rooms to see white upholstered sofas with colorful pillows and feminine touches. This farmhouse living room's masculine leather tufted Chesterfield sofa exudes traditional style and a rugged handsomeness to stand up to years of use.
Idea No. 7: Historically Significant Colors
The light green custom pistachio paint color chosen for some of the kitchen and pantry cabinets is one which may have been found in an old Vermont farmhouse from another century.
Idea No. 8: Bold Color Pops
In an otherwise neutral space, a colorful stained glass window in the mud room serves as a work of art and a happy focal point.
Idea No. 9: Schoolhouse Style Lighting
For schoolhouse style lighting ideas, see THESE OPTIONS.
Idea No. 10: Gallery Architecture
This home's renovation features a dramatically long hallway. Upon entering the front door, one can see straight through to the backyard.
For more lantern style lighting and inspiration, see THESE OPTIONS.
Idea No. 11: Traditional Exterior Details
The authenticity of real painted cedar siding (as opposed to a cement board or vinyl lookalike) exudes a high-end, built to last, aged appearance which is sure to age beautifully.
Idea No. 12: Beefy Trim
A lot of modern farmhouse architecture these days opts for minimal trim, but this house celebrates hefty custom woodwork.
Idea No. 13: Tranquil Palette
The homeowners used two different grays from Benjamin Moore for the first floor. In rooms where there is less natural light or no natural light, it is often preferable to use a lighter shade.
Idea No. 14: Transoms
I love the architecture and added light these transoms over the doors leading to the deck add.
Resource Guide: Modern Farmhouse Decor & Furniture
I independently selected products in this post—if you buy from one of my links, I may earn a commission.
Thoughts on Paying It Forward
This morning, I am moved to pay it forward. I read a moving sort of 'everyday story' on a blog that softened my heart. With so much division, fear, and despair in modern culture and broadcast on the news and social media, we need nudges and beauty to open our hearts. We also need REMINDERS how humans are wonderful and how kindnesses truly HEAL THE WORLD.
Do not think for a moment little acts of love and peace from you in your everyday life do not impact the world. They change the very atmosphere of our planet, they change you, and they change others too. I could write for hours on how I think the mechanics may work from a metaphysical perspective as a mystical contemplative, but I'll spare you!
Kindness, Compassion & Connection
Here's what Marilyn reported this morning, and if you're also touched, visit her, let her know, and let your heart lead you to someone in need:
"A few days ago my husband and I went out to lunch after a Dr visit…The neighborhood is comprised of older seniors and some down on their luck. Many have been out of work for a long time due to the area losing main businesses. This restaurant allows Veterans and neighborhood regulars to eat all they want for a much lower price. And some are allowed to pay as they can. The relationship between the owner and the neighborhood is one you don't see anymore...
Noticing the Neighbor
As we got out of the car and started toward the door we saw an elderly gentleman walking slowly toward us.
As we made our way closer to the cashier we noticed he would have liked to choose more items but refrained…Jim told the cashier to put the man's meal on our bill. And then he told her to pack up a large to-go package for him with a variety of all types of dishes as well as some pies.
When the man, Bob, got closer to pay he realized what we had done and started to cry softly. He asked if we minded him joining us.
Over the next 45 minutes we found he had lost his wife a few months ago. They had no close relatives to help. He was still paying Dr bills but so far was able to keep his home. He couldn't give up the house they lived in for over 60 years. We offered to drive him home but he refused. And with that, he took his package of food and left. I haven't been able to forget the man and his story…I challenge you all to Pay it Forward this week."
Marilyn, thank you for sharing this story, for being such a lovely instrument of mercy and peace, and for inspiring us to do likewise.
Peace to you right where you are.
-michele
Shopping for items you already intended to buy on Amazon RIGHT HERE (not just items mentioned in posts) or home decor keeps decor inspiration flowing on Hello Lovely!
Hello Lovely is a participant in the Amazon Services LLC Associates Program, an affiliate advertising program designed to provide a means for sites to earn fees by linking to Amazon.com and affiliated sites.