Glimpses of lovely White Country French Farmhouse Interior Decorating Inspiration are destined to leave an impression if you admire timeless and tranquil design photos and serenely sophisticated possibilities. Fans of French country, French farmhouse, Tuscan, Scandinavian, Nordic French, and Belgian style will surely find decor elements to love!
White Country French Farmhouse Interior Decorating Inspiration
Plaster or Plaster-Like Walls
French antiques, plaster, and Old World style sing in this showstopping modern functioning kitchen with finishes by Segreto.
To achieve the look of Venetian plaster with an alternative material, the Giannettis coated walls of Patina Farm interiors with a thin layer of Cal-Kote. No painting over it was required.
Reclaimed Stone & Ancient Authenticity
Proprietor Ruth Gay's quiet Tuscan country manor style kitchen (below) with its character-rich treasures and texture appears to be an authentic French chateau's kitchen. Oh my, if those reclaimed cobblestone floors and walls of French Limestone Bugets could talk!
Humble & Serene French Nordic Style
My own kitchen is my own interpretation of Modern French serene simplicity.
If you love marble subway tile, here's another favorite kitchen with it:
And who can forget Desiree Ashworth's glorious subway tiled backsplash!?!
Reclaimed Stone from France
Something magic happens when neutrals combine for a low contrast color story…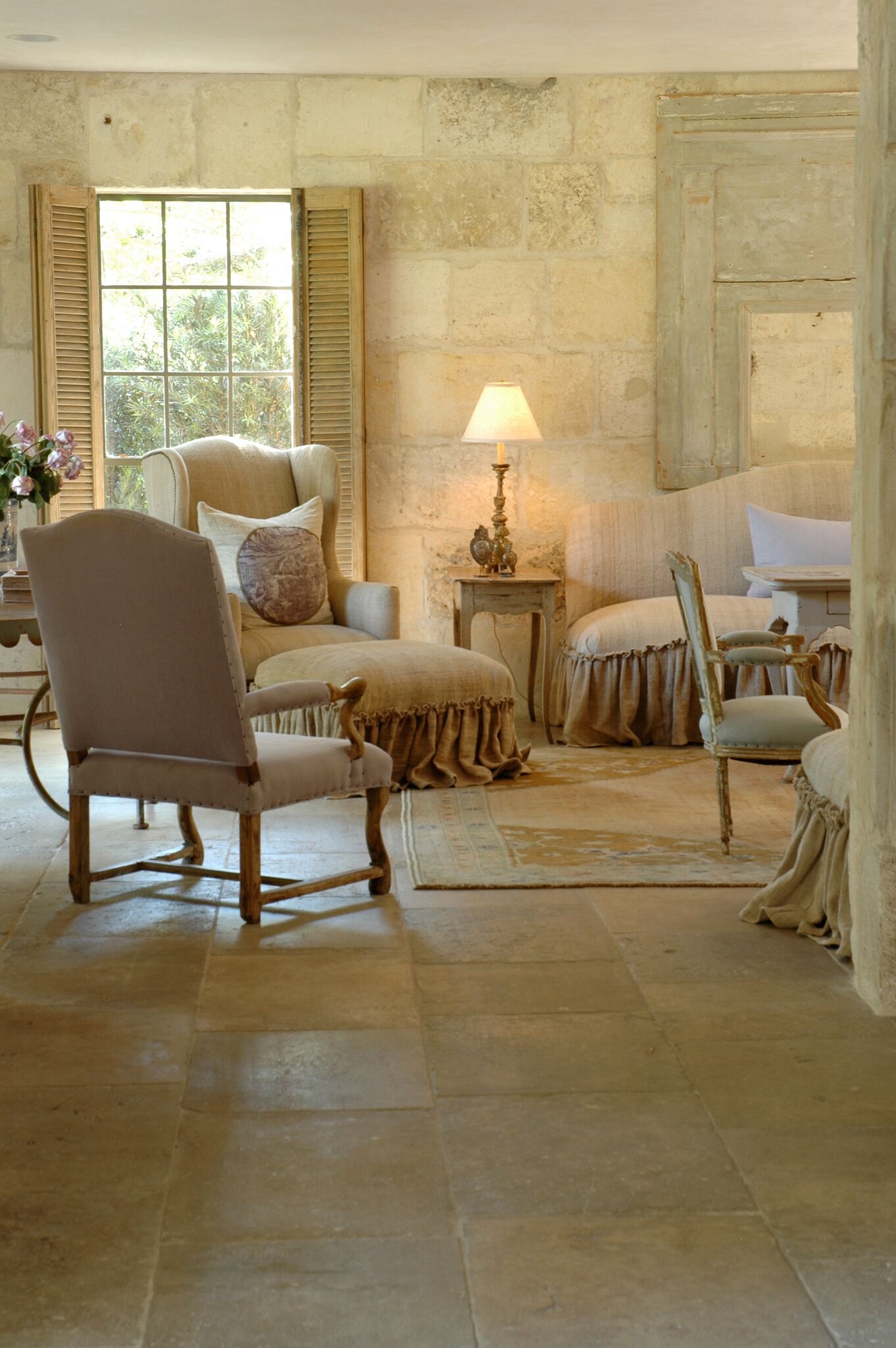 Repurposed European Country Antiques
At Patina Farm, a European antique reimagined as a vanity can be enjoyed and used every single day.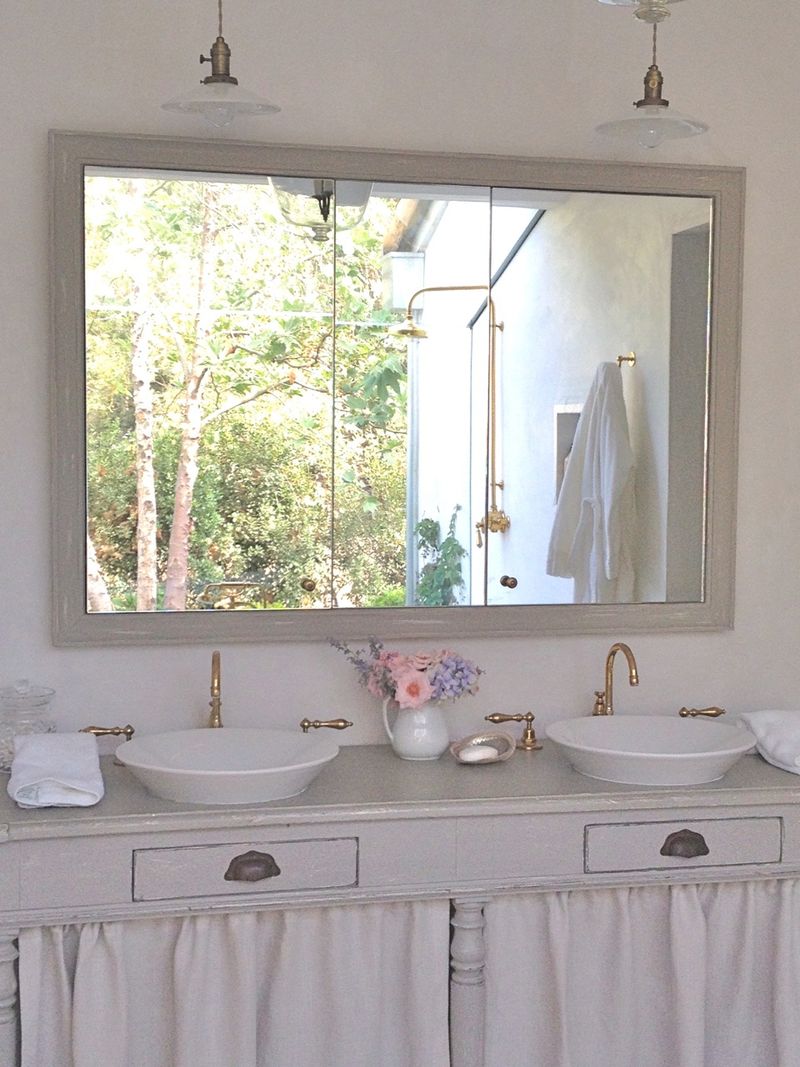 When a staircase becomes a work of art…
and a dressing room feels like your own exclusive boutique…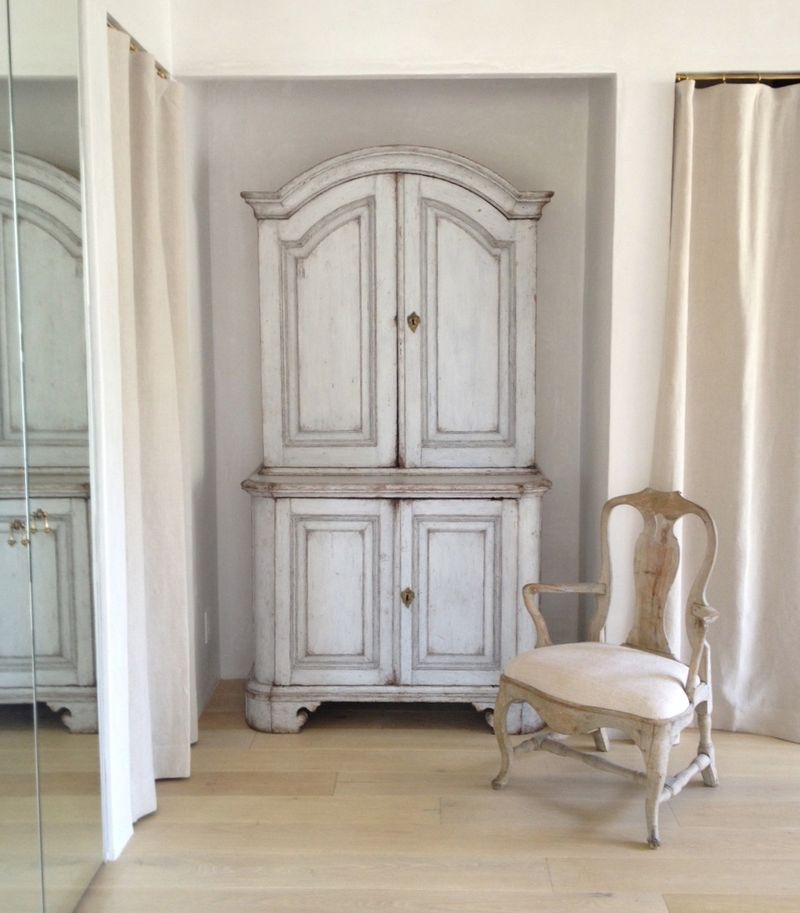 Confit Jars and Earthenware from Europe
Don't you love seeing trim stained something other than brown or white!?!
In case you consider 150-year old terracotta tile flooring and French pots eye candy:
Even utilitarian items in Vivi et Margot's kitchen radiate loveliness.
Luxurious French Range
Are you fixated on the beautiful range or the gorgeous antique work table?
Because my eye immediately gets drawn to the table!
And who says a kitchen must have a giant island in the middle? The wee butcher block above has character for miles!
Belgian Elegance
My designer friend, Greet Lefèvre's elegant, muted, and sophisticated sitting area (below) ticks all the right pale and lovely boxes for me!
Isn't the paneling beyond beautiful? My own love for Belgian style is apparent in our living room: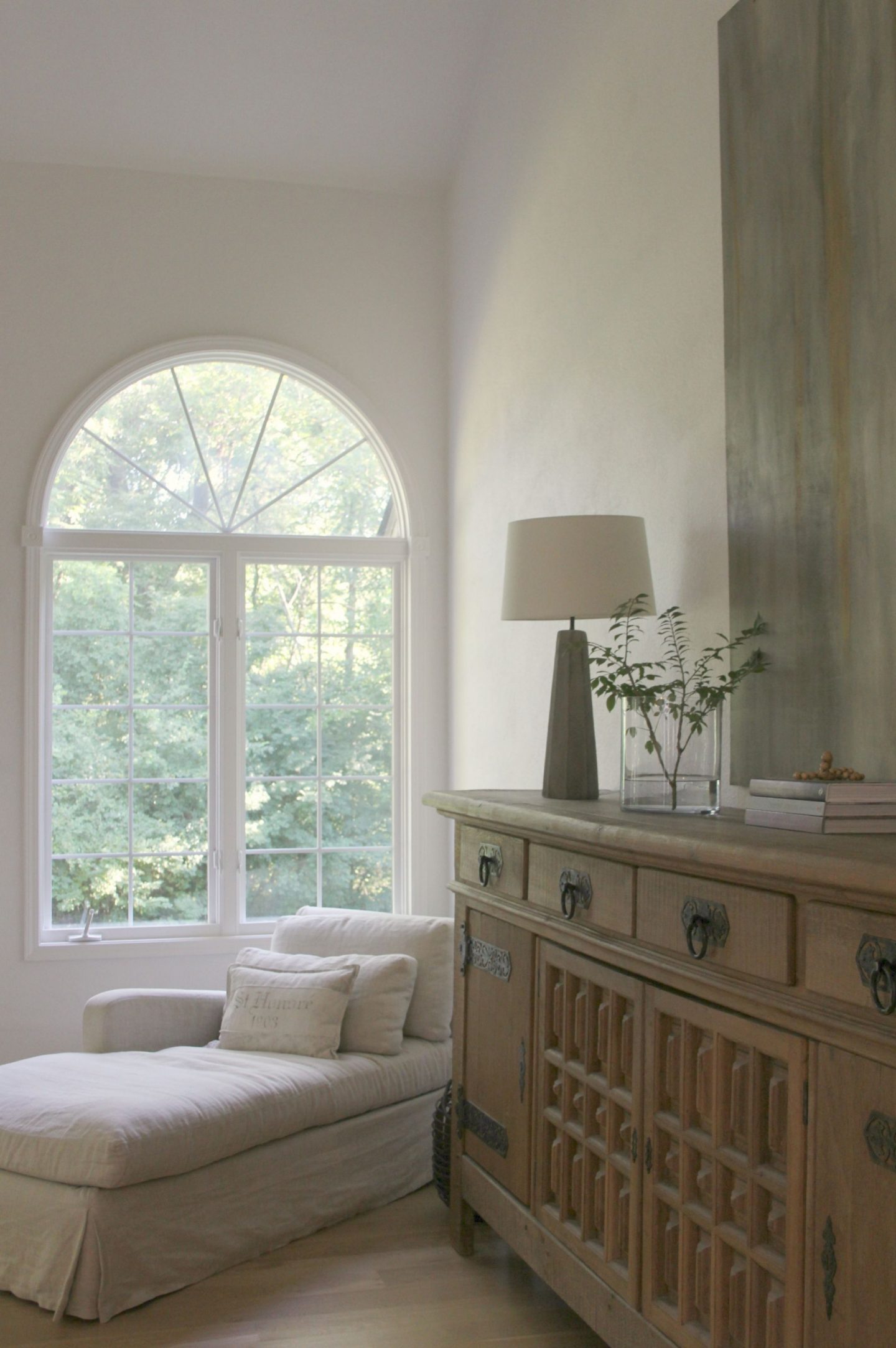 Quiet French Color Palette
This dining room inspires with its whispery pale color and happy glimpses of blue.
Subtle color combined with a dramatic wall treatment (I stenciled that illegible French script wall slowly with a small paintbrush rather than a roller in order to get an inconsistent, faded and imperfect handpainted look.)
Tracie of My Petite Maison finds the best vintage and antiques to stock her online shop!
What a joy to collect useful, beautiful objects and enjoy them every single day.
Open shelving is still growing in popularity as more folks ditch upper cabinets.
Architectural interest, anyone?
If you love the look of French limestone, then you may also admire cabinets painted in a color called Limestone (by Neptune Kitchens).
Tiny Farmhouse Kitchen
If this next kitchen does not make you want to go tiny, I'm not sure what will.
White Country French Design Bath
Are powder rooms the most fun interior to decorate?
Signs are pointing to yes: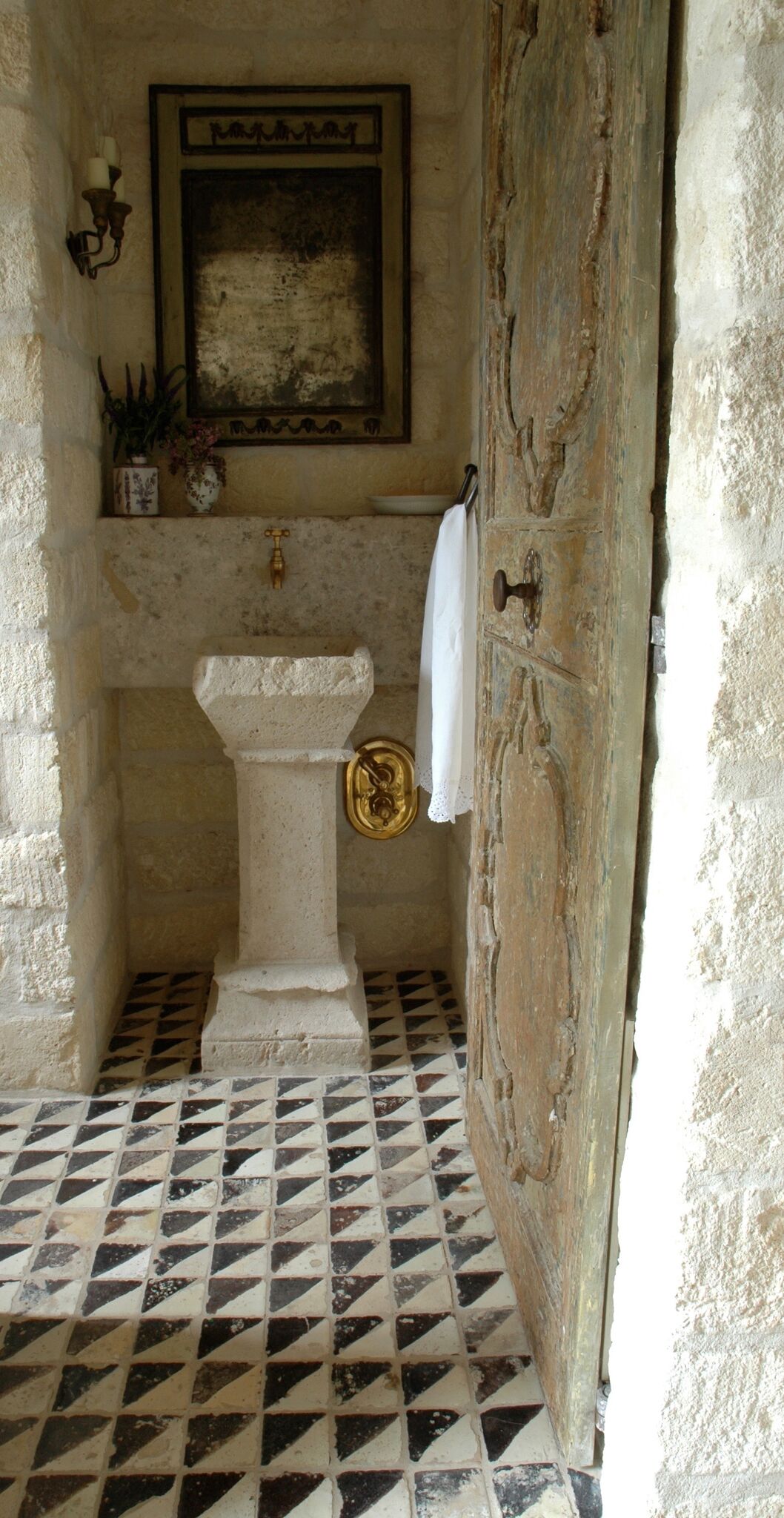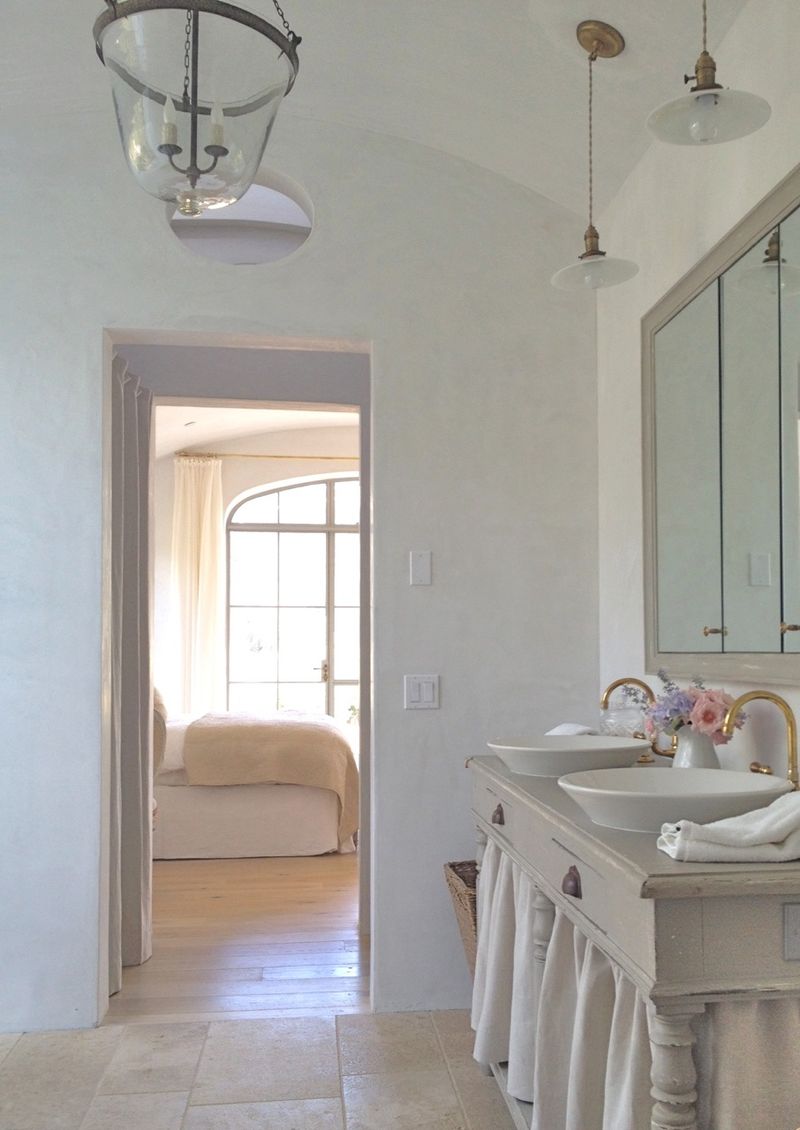 Nordic & European Country Design Simplicity
Where's my can of white paint and paintbrush?
Because this lovely cottage always inspires me to create a calm, cohesive look white.
What to do with those gorgeous tablecloths you find at brocantes or Granny's attic?
Putty, Stone, and Chalky Hues
What works for me about this adorable kitchen is how effortless it all seems. There's no contrived matching of metal finishes, no showing off, and no showroom feel.
And it's even more impressive that it was newly remodeled!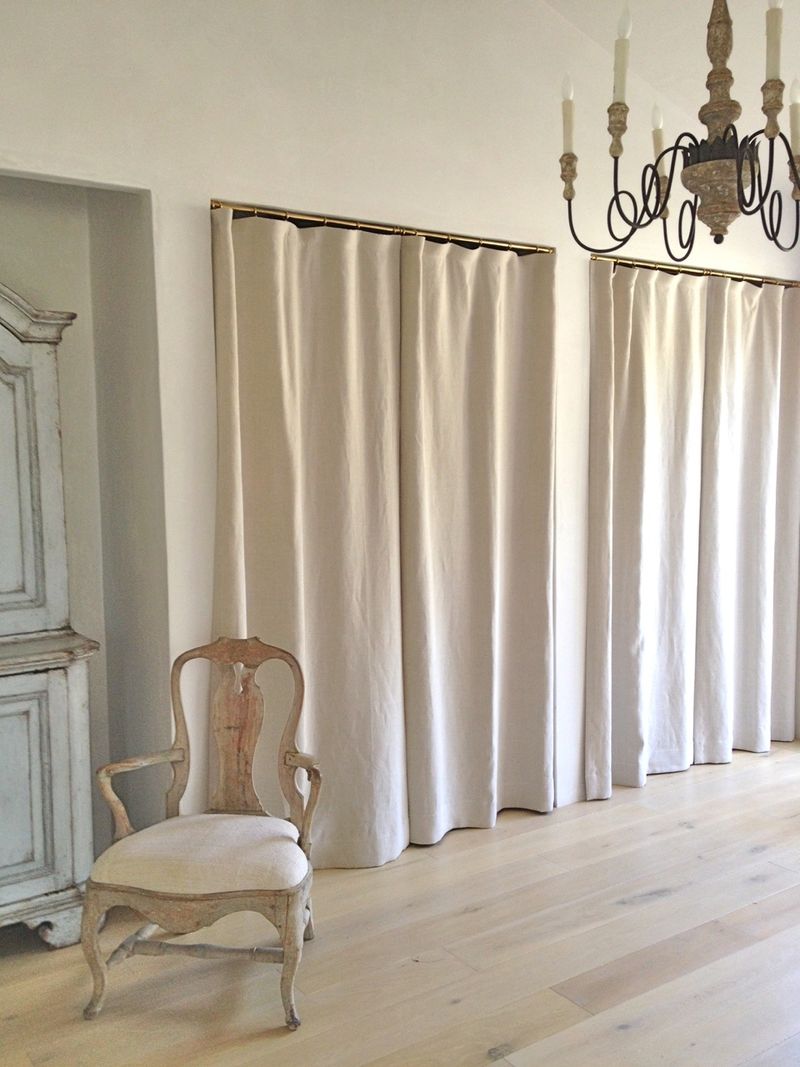 Warm Stone from France
While I don't have the budget to incorporate reclaimed stone into a kitchen design, I can train my eye by studying these magnificent examples.
Weathered Wood & Sparkling Crystal
Marrying the old with the new is such an art form, and the Giannettis understand the balance so well.
Fresh Garden Goodness
Living with plants adds a layer of well-being that is hard to beat.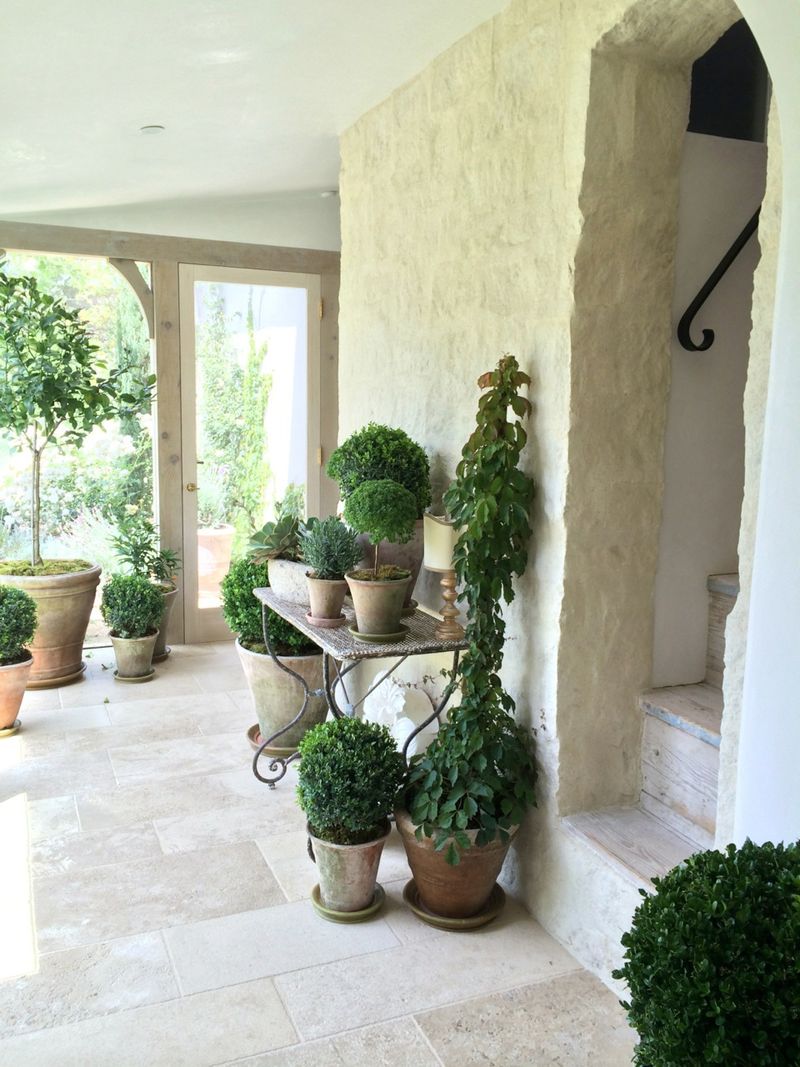 Refined Living With Rustic Shutters
Would you, could you, embrace Old World shutters inside?
Sumptuous French Bedroom
A muted duck egg blue-green sings on a custom door in a bedroom with a feminine mood.
The greens and blues of Country French interiors lift the mood and encourage relaxation.
The Beauty of Old in a New House
Oh the irresistible textures happening in here!
And here too!
Be still my heart…
Ideas for Capturing the Look
Tap here for a primer for creating a rustic white European inspired look.
For an incredible gallery of sophisticated interiors with artful finishes, GO HERE.
Also, don't miss this white paint color idea story and THIS HOME TOUR.
More Pale & Lovely Beauty
Can your heart possibly make room for a wee more beauty?
If so, meet sweet, 80+-years young, Ampan. She has lived 10 years past the typical lifespan for her kind. Blind in one eye and precious little sight remaining in the other, imagine her joy as she is serenaded! Clair de Lune is an all-time favorite composition of mine…enjoy this bit of heaven on earth.
I independently selected products in this post—if you buy from one of my links, I may earn a commission.
Peace to you right where you are.
-michele
Shop for items you already intended to buy on Amazon RIGHT HERE, and also find home decor here to keep decor inspiration flowing on Hello Lovely!
Hello Lovely is a participant in the Amazon Services LLC Associates Program, an affiliate advertising program designed to provide a means for sites to earn fees by linking to Amazon.com and affiliated sites.