Segreto Impressions: Making a Mark With Living Works of Heart is bound to enlighten and awe you with glimpses from the new book by Leslie Sinclair.
Leslie Sinclair's SEGRETO impressions explores stellar design work from Segreto Finishes with colors and innovative finishes in an eclectic mix of sophisticated homes. However, keep in mind gorgeous images in this post are only the beginning of the story. There are so many more moments of timeless beauty inside this book you will treasure!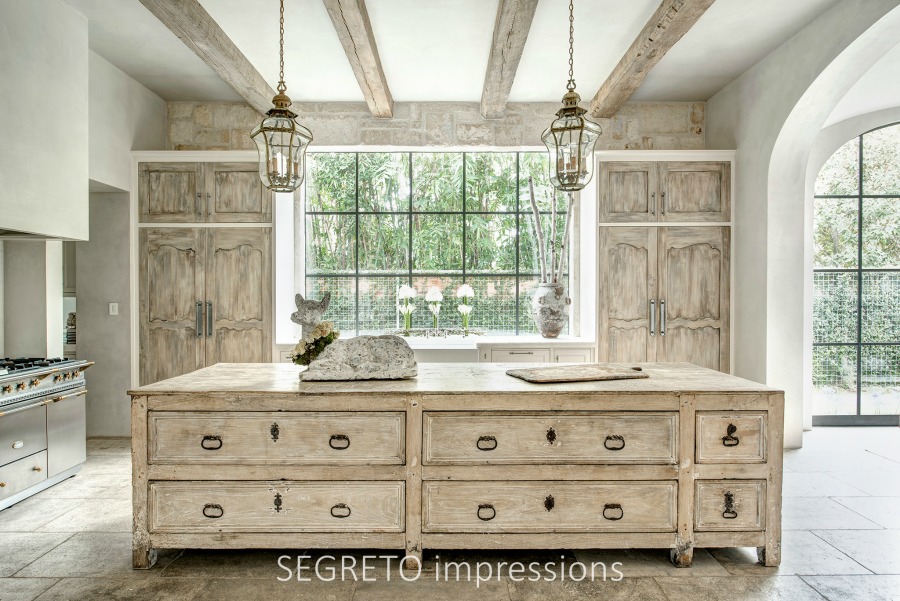 What un privilège rare to share some of my favorite interiors with you today, thanks to the soulful journey of Leslie Sinclair and Segreto Finishes.
SEGRETO impressions: Making a Mark With Living Works of Heart
Few things delight the design freaky me more than a space or home transformed into a living work of art. But when the dream team includes Segreto? Such a transformation surely becomes a living work of heart.
While SEGRETO impressions seems destined to impress with its finish artistry and breathtaking house tours, it also demystifies and inspires our own creative mark making.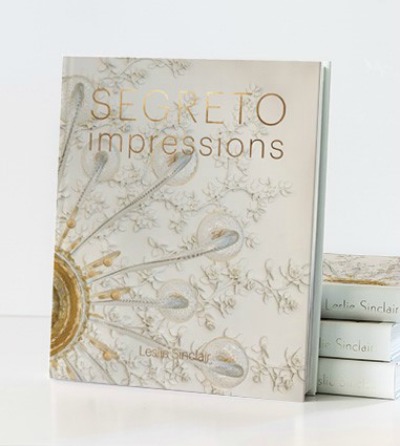 Even though I fully anticipated remarkable intérieurs and interior design inspiration in this book (Leslie is a kindred spirit after all!), it delivers unexpected gifts of loveliness as well. You will discover within these pages much more than a pleasant aesthetic escape or a photographic feast.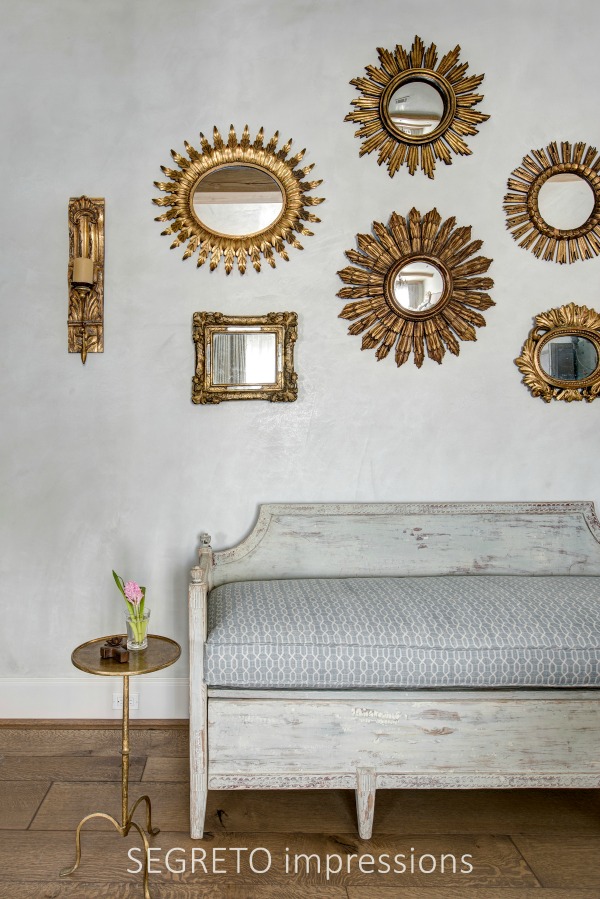 A Feast of Segreto Finishes
While SEGRETO impressions rolls out a delicious feast of finishes, a richly nourishing design education is also on the menu.
Since my appetite for inspiring interiors is fierce and ever present, this week I carved out time each evening for satiating study and communion with this ultimate source for color and finish inspiration.
What an uncommon treat for a hungry creative soul!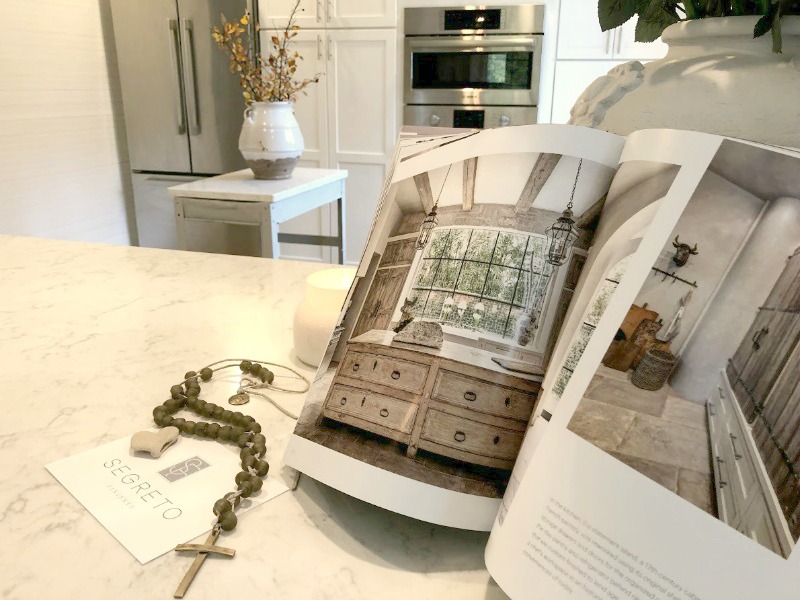 In this fourth installment of her design book series, more than 400 richly photographed pages illustrate how color and finishes enhance a home's overall allure. Finishes from Segreto do not simply grace walls; you'll also discover artful finishes for wood, cabinets, furniture, murals and more.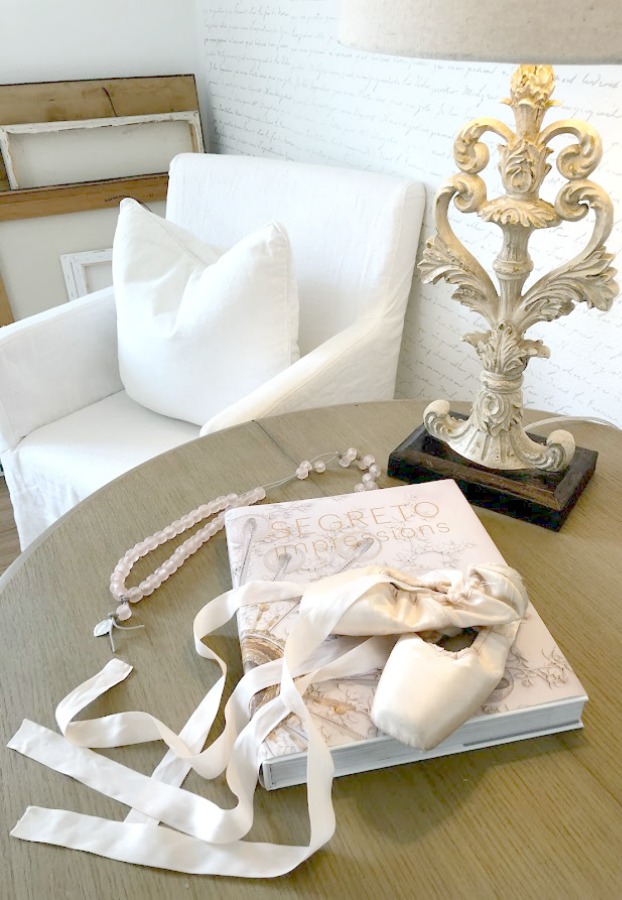 Is the book a reference guide for interior designers? Yes, indeed! A source of inspiration for home decorators, builders, and artists?
And howwwwww…let's count the ways.
Lovely Plaster Walls + French Antiques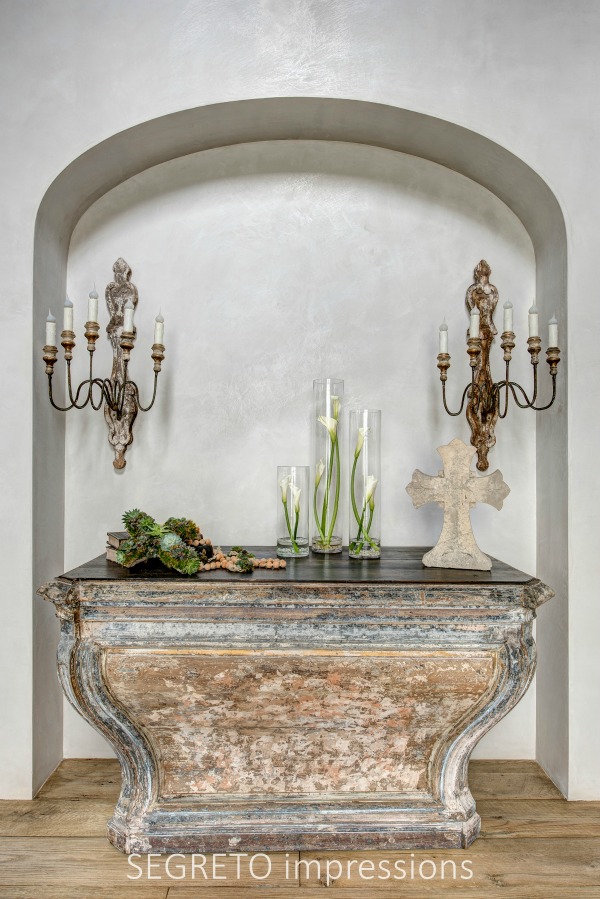 I'm not fibbing about my quality time spent with this quality book..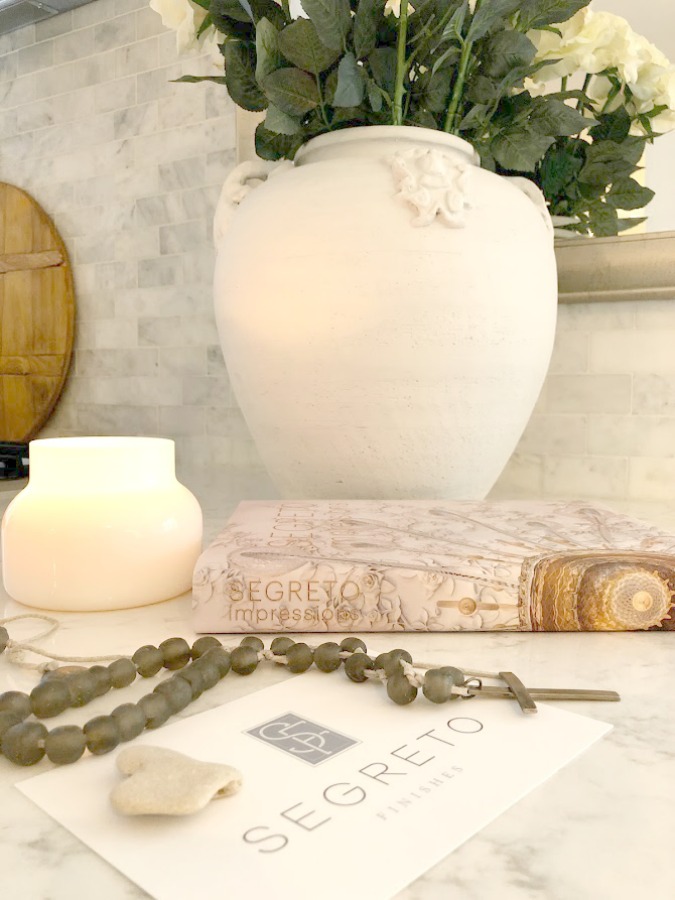 …you can too!
Light a candle and luxuriate in uncommonly beautiful projects within SEGRETO impressions, where thoughtful details, mood, and creative vision were carefully considered indeed.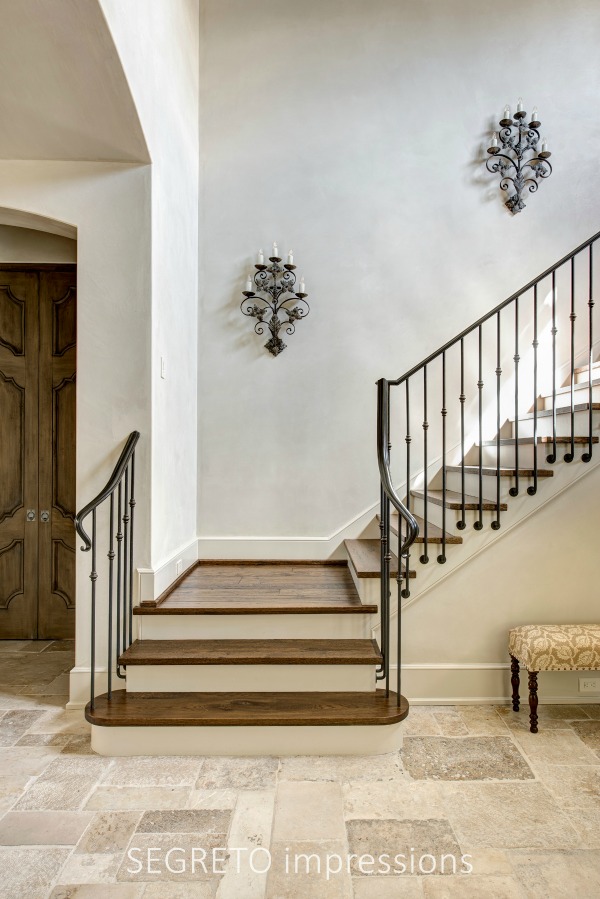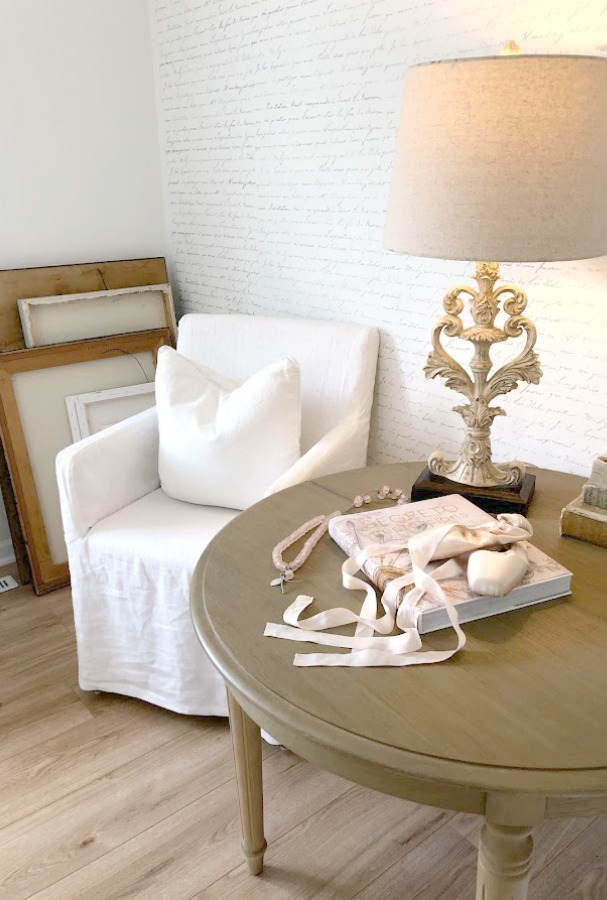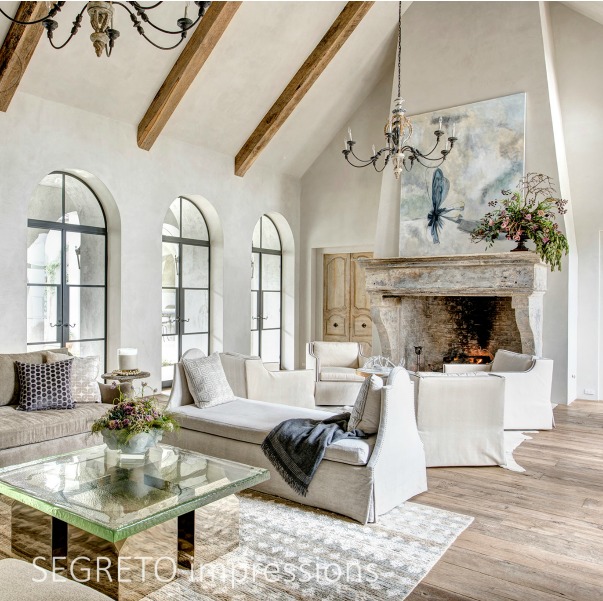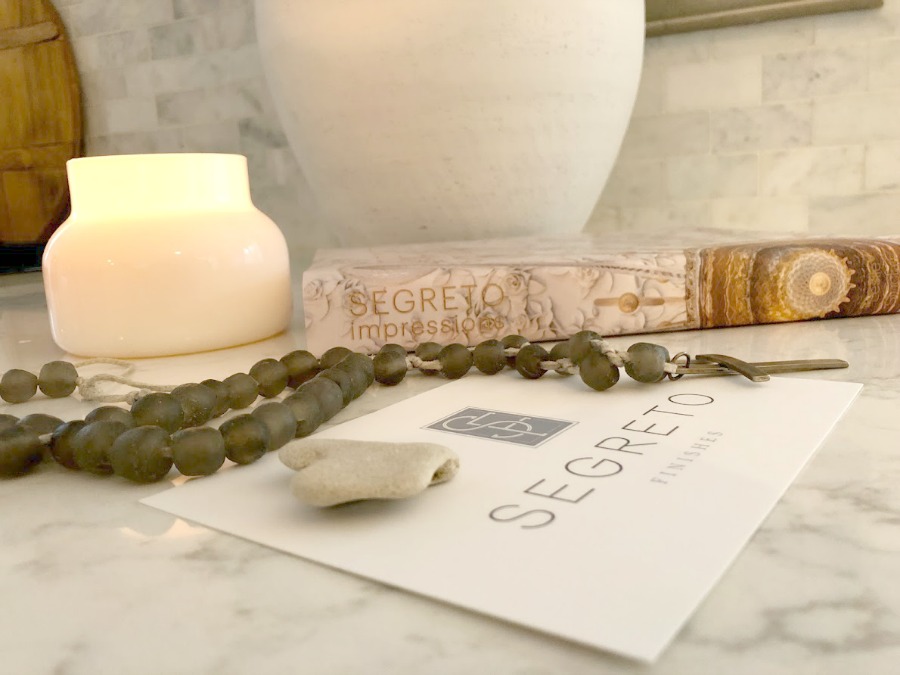 Enchanting, Fresh, and Old World
BEHOLD a breathtaking kitchen in a newly constructed home with 16th-century mantel used for the kitchen hood and French street lamps converted to pendant lighting as well as an Italian console with a SegretoStone integrated sink.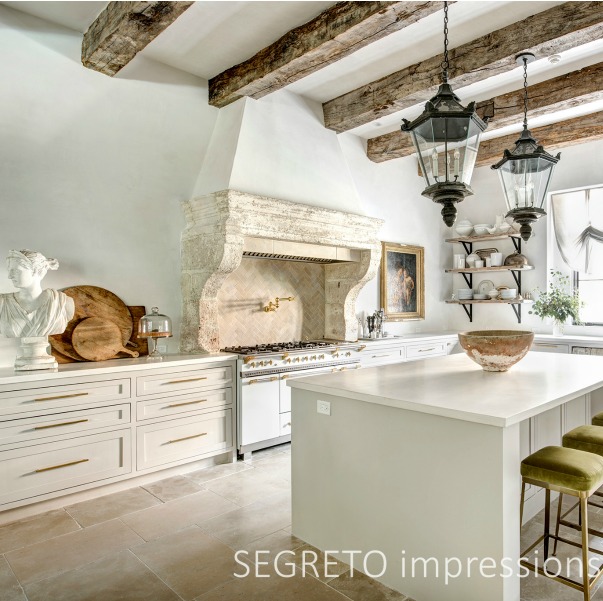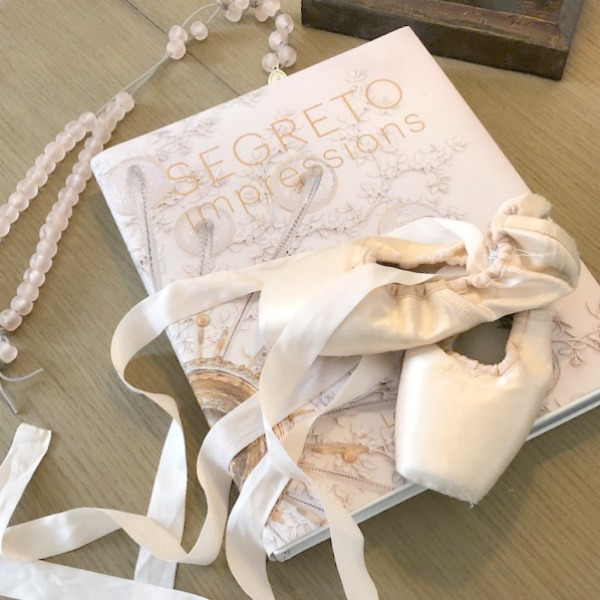 Masterful Finishes Unite Antiques & Reclaimed Materials With New Fixtures
What a statement this kitchen island makes in a newly constructed European country style home! It's a re-worked 17th-century cabinet from a French sacristy which has been modified to work for a modern kitchen.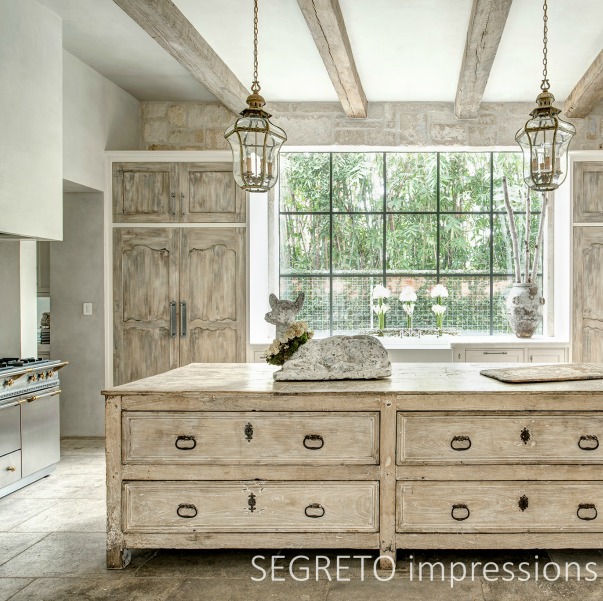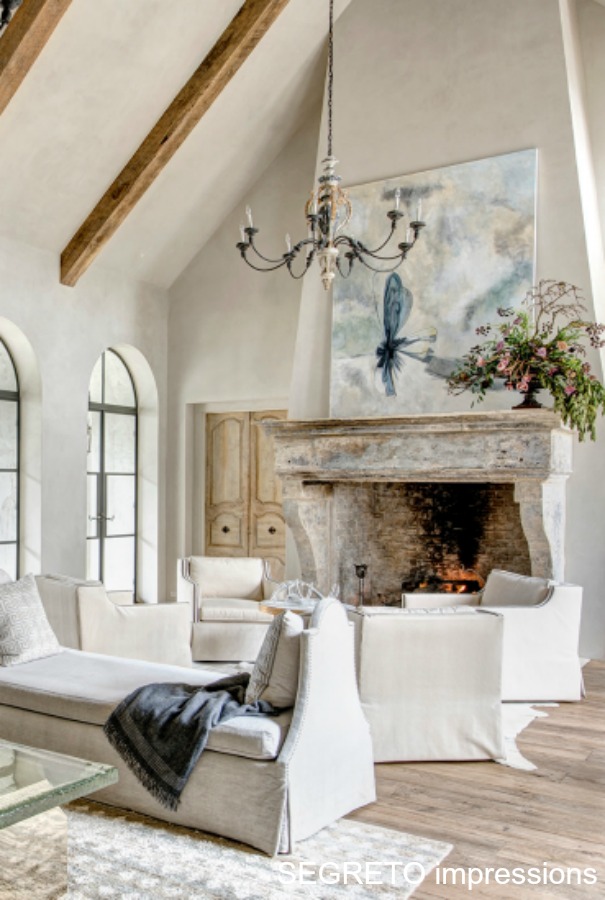 A polished white finish on the walls in this kitchen (below) blends seamlessly with SegretoStone countertop surfaces.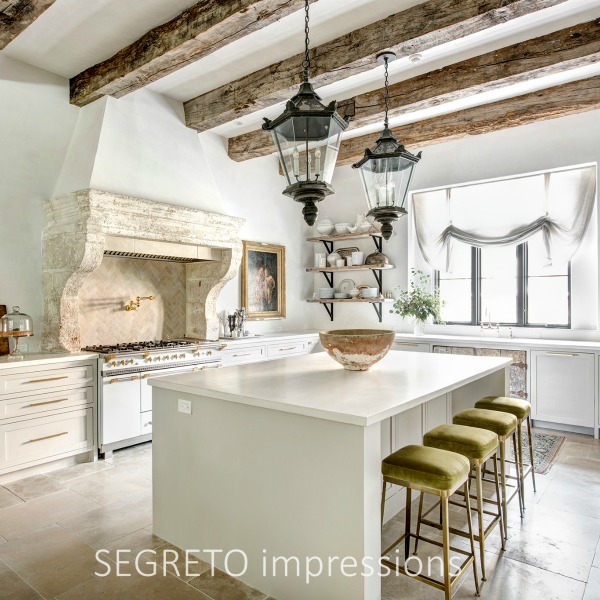 Ethereal Mood With Unexpected Glam
Beautiful plaster walls impart so much character and interest!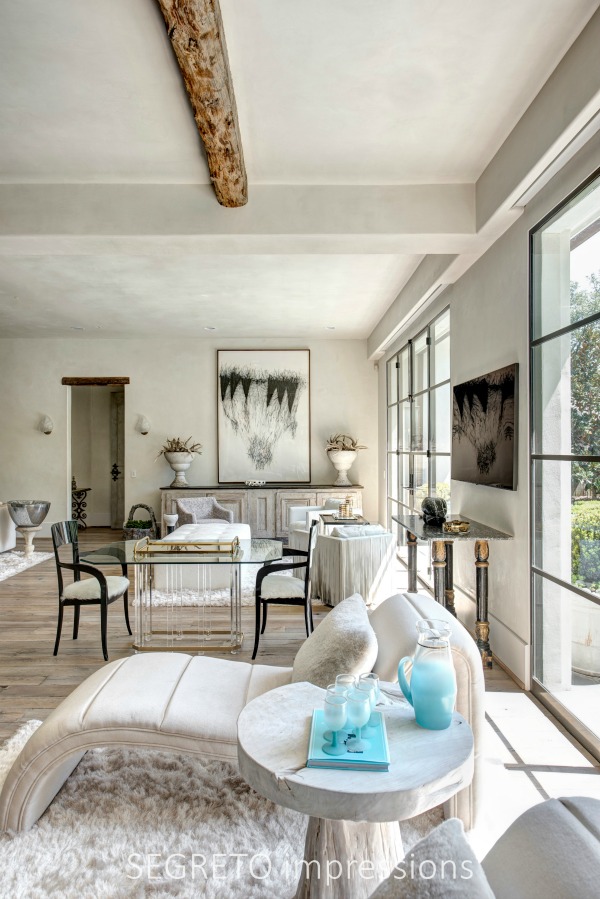 Even the "too new" black staircase railings were intelligently addressed by Segreto. Artisans softly layered the wrought iron with umber and gray glazes, creating a pleasing patina more harmonious with the beautiful reclaimed wood stairs.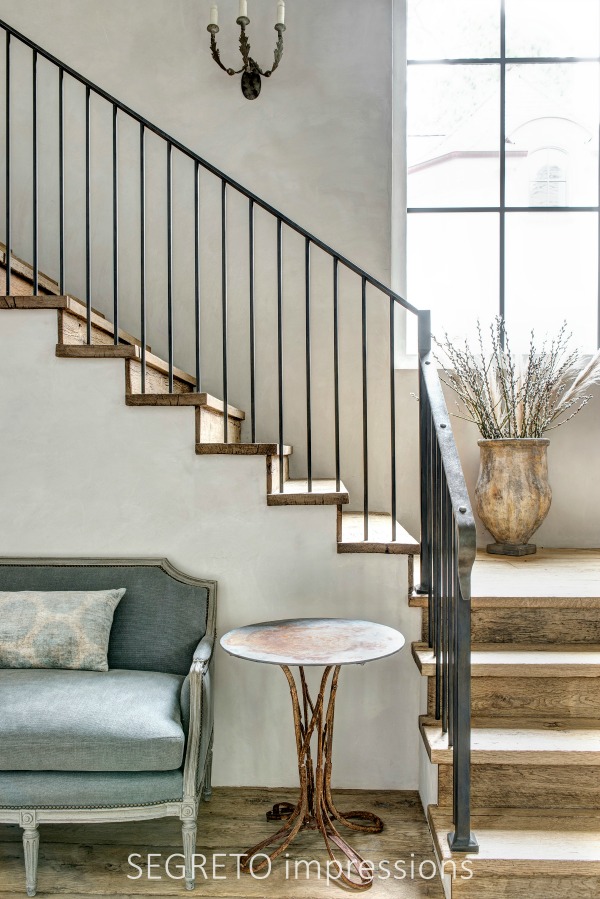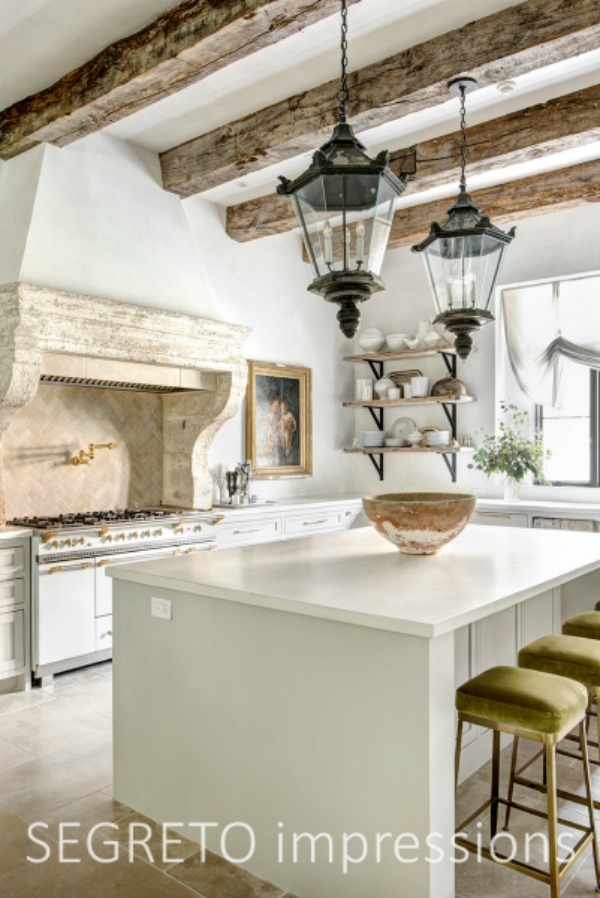 Patina Perfected
The day pantry and refrigerator in this glorious Old World style kitchen are hidden behind newly constructed doors finished exquisitely by Segreto.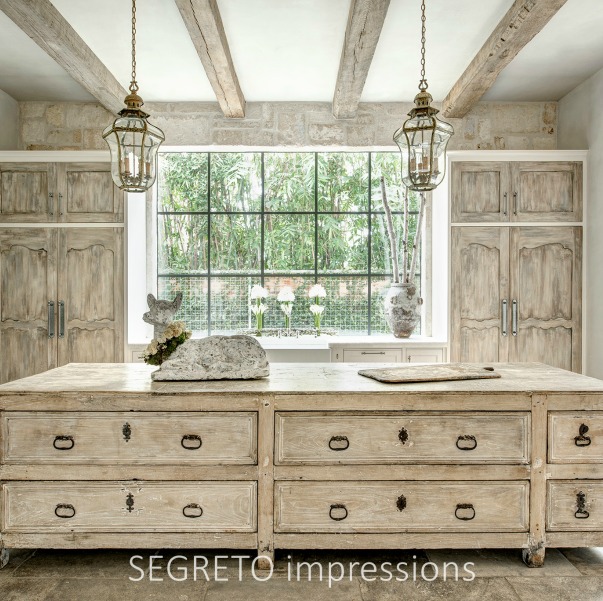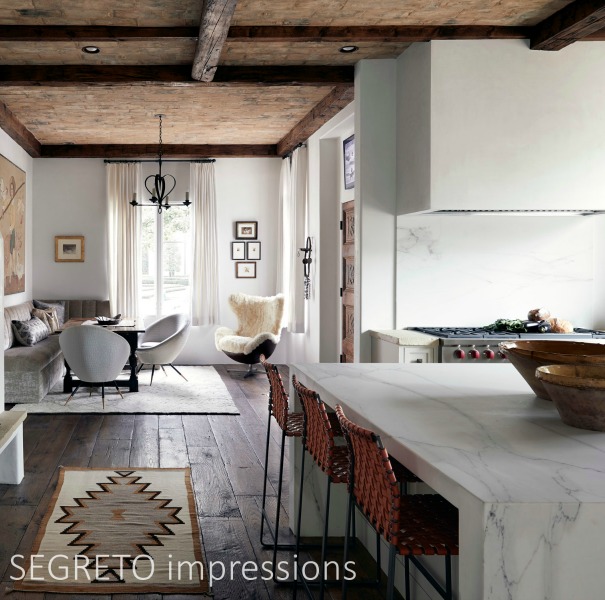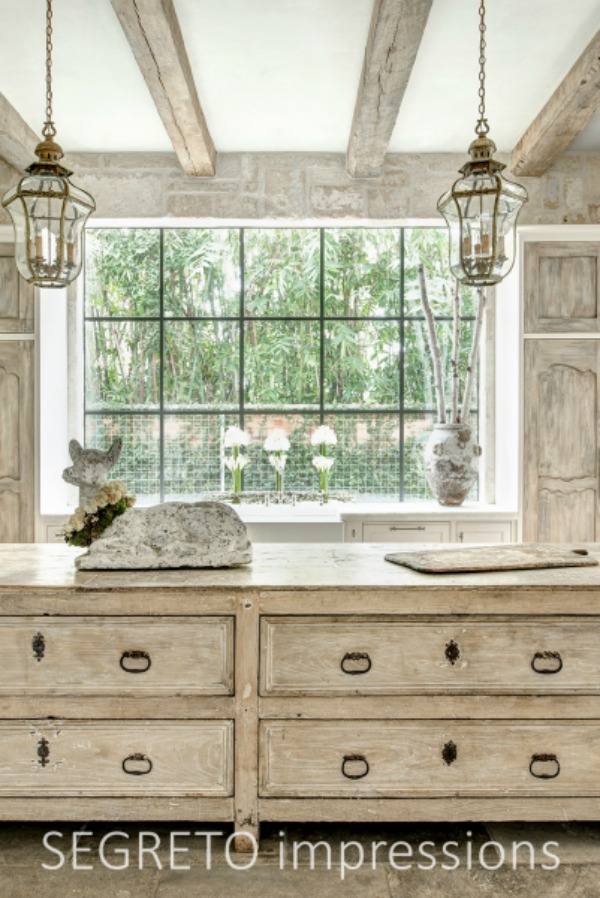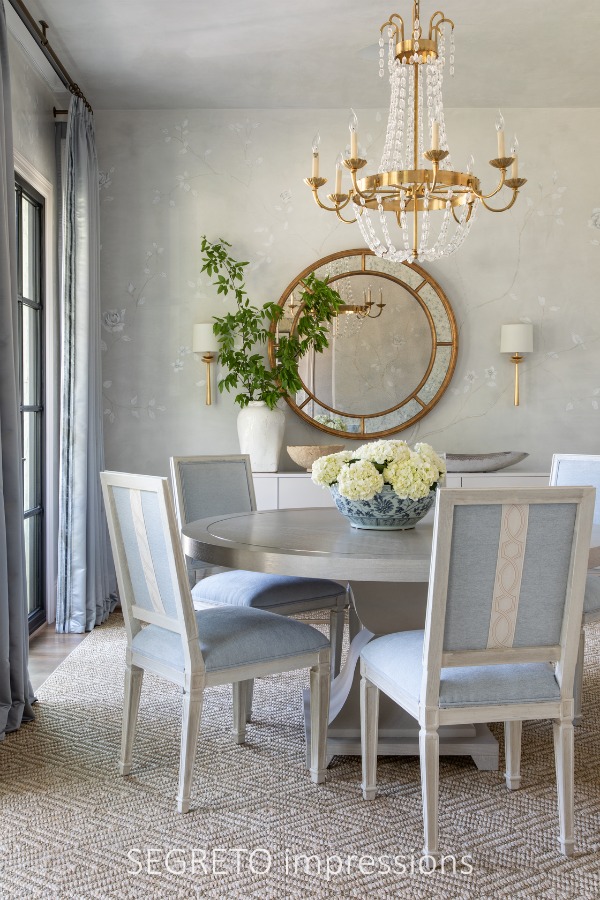 Architectural & Finish Splendor
And here is where (at last!) I'll hush since the loveliness of these interiors needs no further commentary…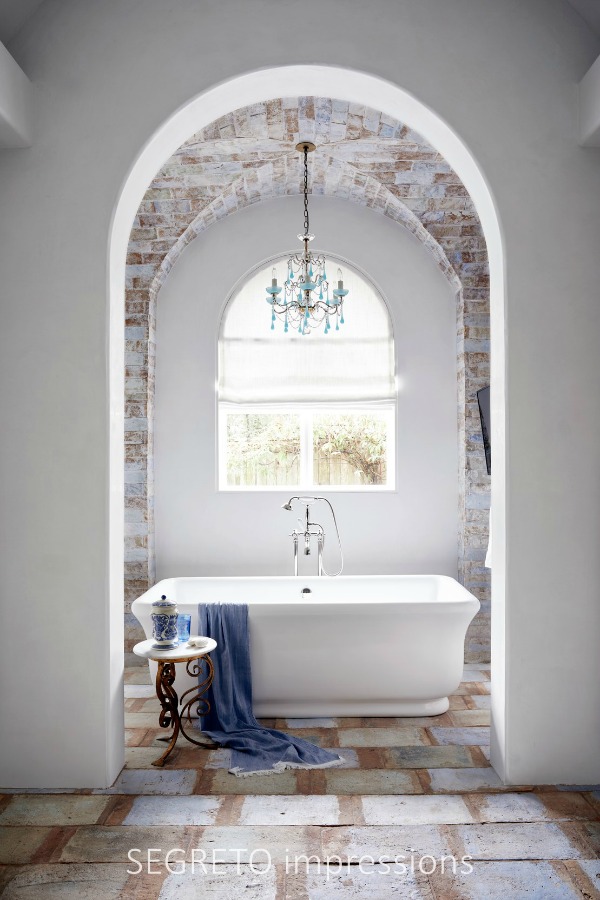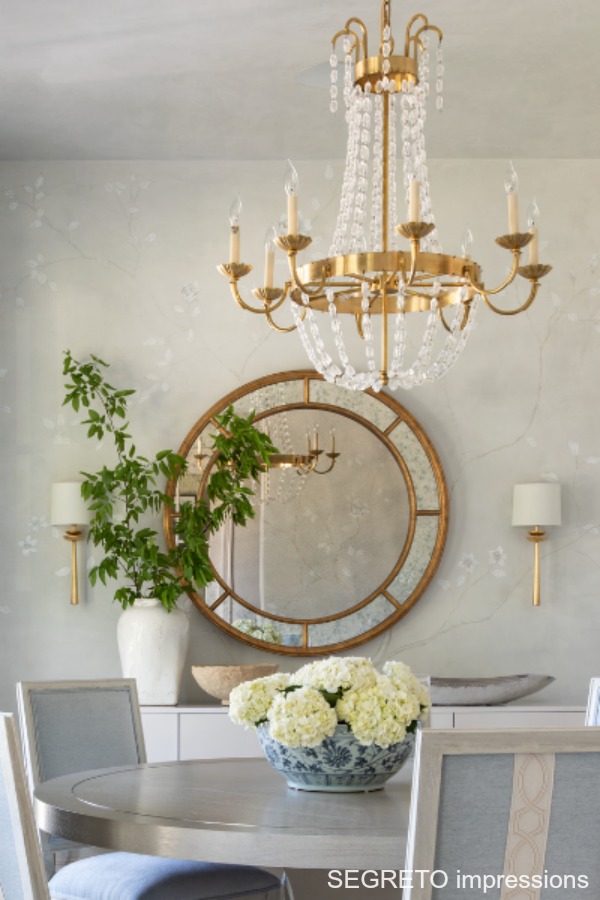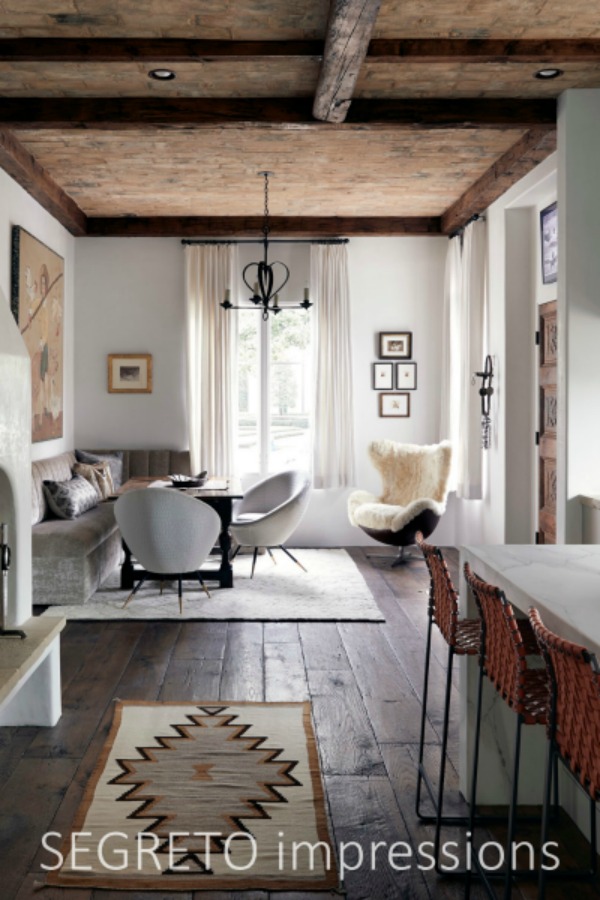 Creating Context for Collected Treasures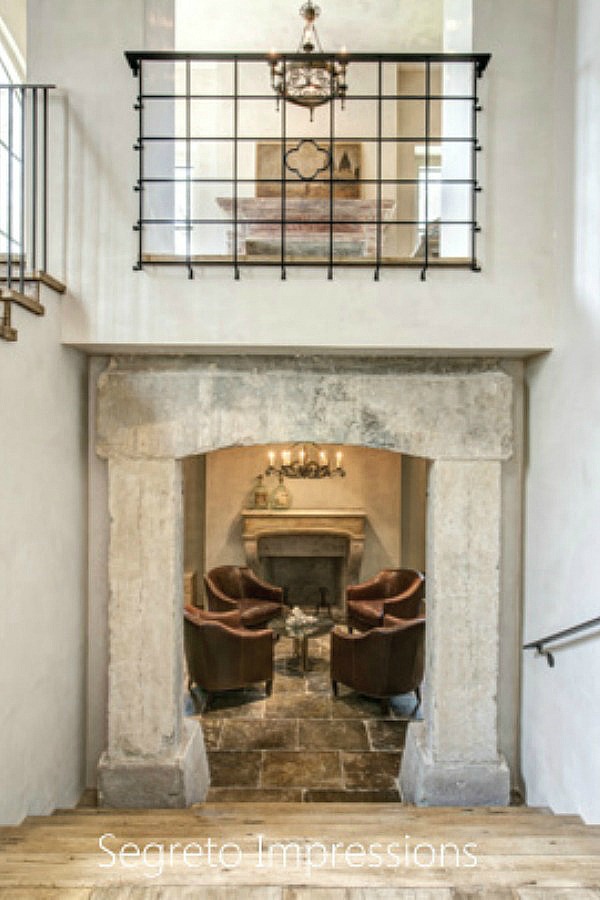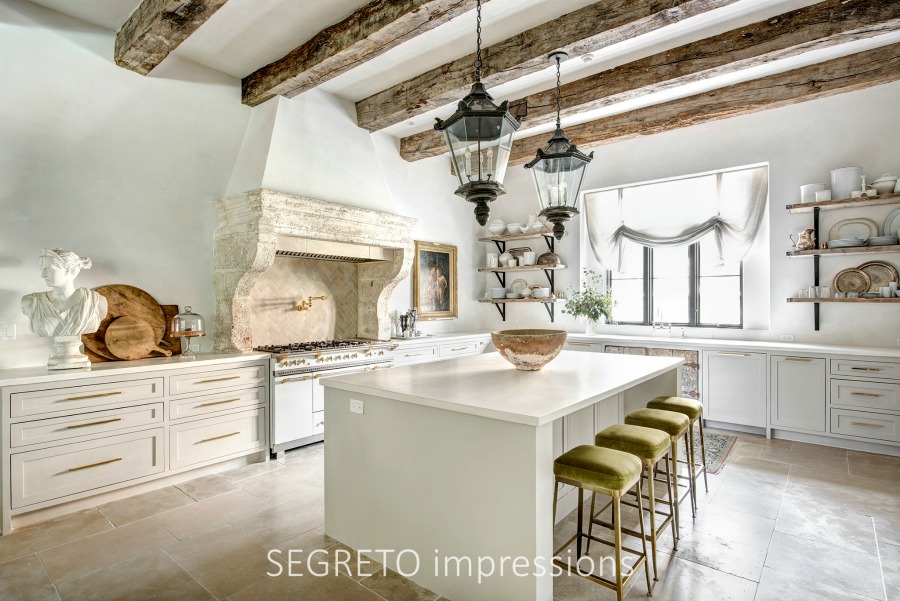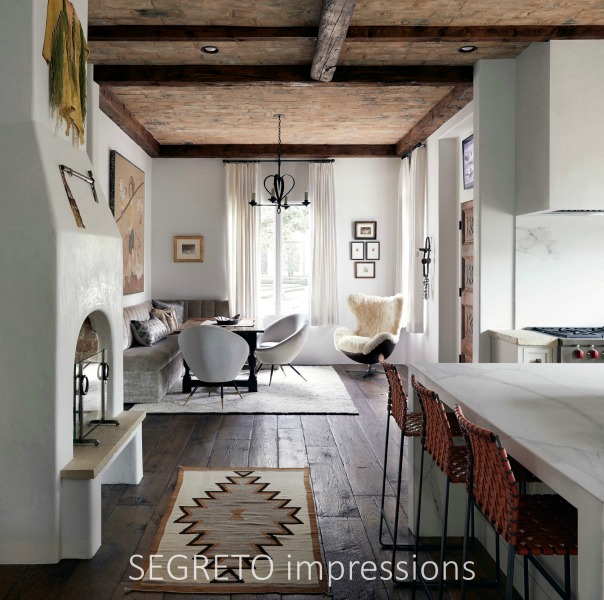 Merci beaucoup, Leslie and Segreto Finishes – for sharing this lovely book introducing us to breathtaking work from exemplary artisans, architects, and designers as well as offering us the inside scoop our curious minds desire! I'm a great admirer of your work and am certainly recommending the new book to everyone!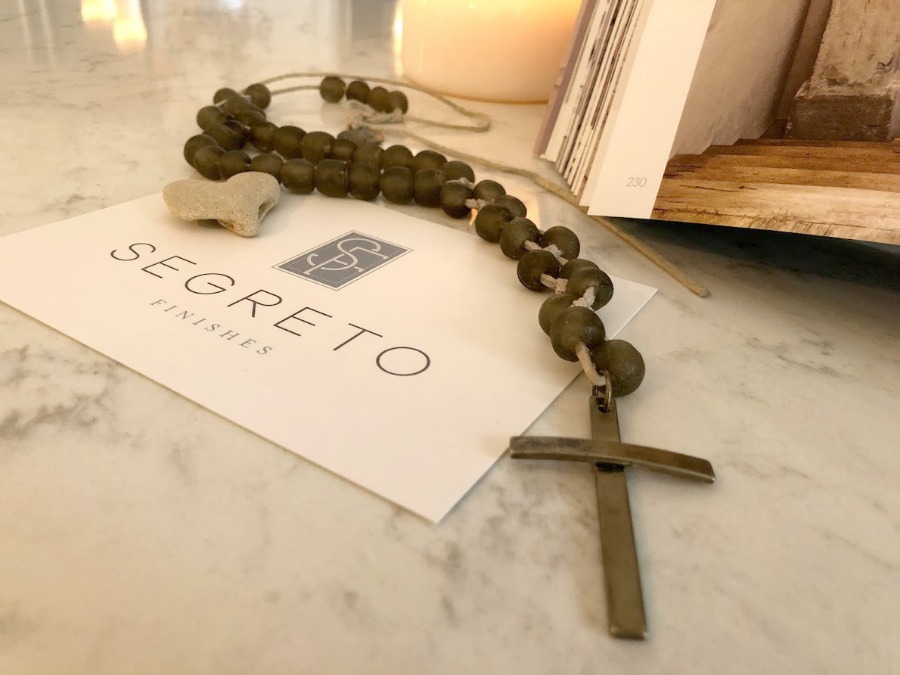 ORDER YOUR COPY OF SEGRETO impressions (mention "Hello Lovely" in the custom message area) and also follow Segreto on IG!
Treat yourself to even more old world style and European country inspiration HERE and also HERE.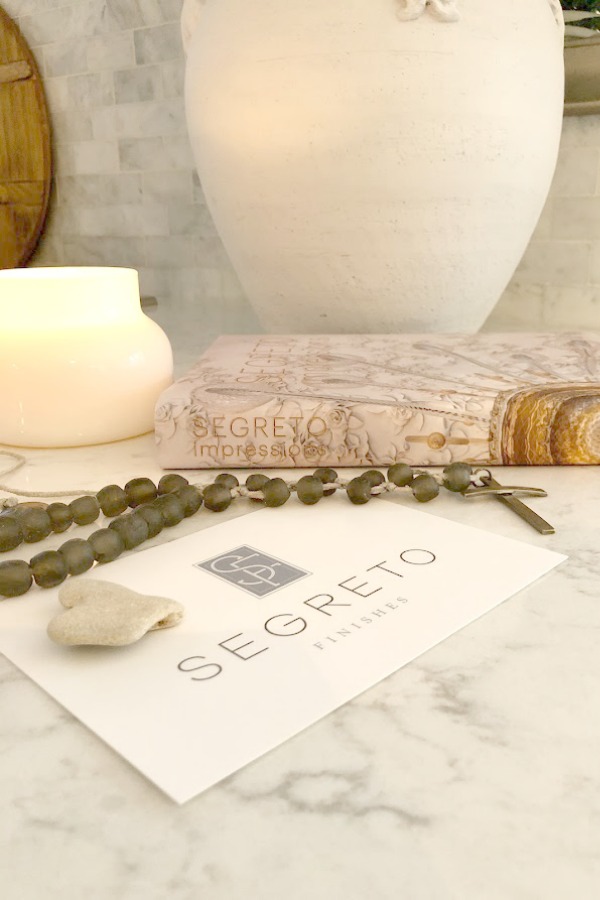 Peace to you right where you are.
-michele
Shopping for items you already intended to buy on Amazon RIGHT HERE (not just items mentioned in posts) or home decor keeps decor inspiration flowing on Hello Lovely!
Hello Lovely is a participant in the Amazon Services LLC Associates Program, an affiliate advertising program designed to provide a means for sites to earn fees by linking to Amazon.com and affiliated sites.