Serene European Country Holiday Treats bring Christmas decorating ideas inspired by beautiful vignettes and softly serene spaces with Nordic French country charm. Paint color ideas included! You need not live in Europe or Scandinavia to indulge in such whimsy and charm. Both of these inspiration homes are located in Spain, and the color stories are all white or warm white with light green and pink. Let's explore the softer, quieter, understated, ethereal romance of European country Christmas flavor.
Serene European Country Holiday: Christmas Tricks & Treats
Photos: El Mueble
Nordic French Christmas Whites
Every year around the holidays, this lovely home returns to my memory of the ideal country French Christmas look with white Nordic touches. And because it's so timeless, it always feels relevant and perfect to share and gaze at in a fresh way.
It is over 160 years old and located on the Maresme coast in Spain. Now that it has been lovingly restored, lightened, brightened, and kissed by angels, it can live another 160 years.
Farrow & Ball Wimborne White 239
Not sure if the walls of this home are plaster or have been painted, but if you're after a similar look, definitely peek at Wimborne White and sample it first.
I like Wimborne White for older properties or interiors where you are not trying to modernize with a bright cool white. It has just the right amount of creaminess and warmth from yellow undertones.
When you study spaces that seem to be decorated in all white, you'll notice there are actually a rainbow of whites in the mix. Pale linen, bright white, tan, and greyed-whites look rich when effortlessly gathered into the serene ethereal realm.
Light toned wood tones and scrubbed or raw wood finishes keep the look feeling soft yet interesting. Soft and rough textures and reflective light from glass and metal bring a layer of romantic glow.
European Country Rustic Baskets & Wood Boxes
With all of the feminine pretty decor and touches in this lovely home decorated for Christmas, there's a balance the homeowner achieved with adding crustier pieces. Unfinished wood crates, woven baskets, and wood boxes can hold all matter of things. Wrapped gifts, books, pet toys, firewood, candles, and other festive objects can be corralled inside.
Those baskets and boxes also can be tucked near a Christmas tree, fireplace, chair, or empty corner.
A few Rustic Crate POSSIBILITIES are HERE.
White Tulle & Stars Repeated in the Christmas Decor Scheme
So often we simply need a direction, however simple, to begin to build on a decor scheme. In this case, white tulle and stars set a dreamy serene romantic tone. We see the tulle used as embellishment on the table, dining chairs, Christmas tree, and beyond. FIND White Tulle POSSIBILITIES HERE. Think about how you might use tulle in place of garland or twine. You could suspend stockings or wreaths from it to weave it into the scheme and repeat it through your home.
And who can resist little white stars? I can't! I have used them as a guiding theme for years and hand-sewed my own little puffy stuffed ones when I couldn't find the number of felted ones I needed. You may find felt stars HERE, if you're strapped for time and don't want to cut them out yourself.
And grapevine stars are a possibility too…paint them white if you are inclined to keep it soft and airy.
There's something timeless and utterly nostalgic about decorating with a form that recalls the Star in the East. Christmas is about childlike wonder, and stars deliver.
PIN this to Save for Later:
Romantic Holiday Candlelight & Baby's Breath
White fairy lights and creamy white candles are never a bad idea in any season. Isn't this a clever design for a candlestick with the vintage book pages?
Use various heights of candle holders for more visual interest.
For candles on the floor, fake the flame with THESE.
Christmas Candelabra
I see vintage candelabra at the market all the time, but I never seem to pull the trigger. Then I see how others use them so beautifully and kick myself. If they're the wrong color but inexpensive? Grab 'em and use Rub'n'Buff or spray paint to modify them.
White Christmas Reindeer
You can't beat white reindeer for a White Christmas plan!
Decorate With Christmas Cakes
You need not spend a day baking layer cakes. Buy a few pedestals and a few cakes and decorate with berries, edible glitter or sugared pearls.
I'm also noticing the carefree way greenery is simply tucked into little places here and there. Imagine the fragrance.
Do you have someone who delivers Christmas cookies to you every year, and they are either not your favorite, too fattening, or contain allergens?
If they are pretty, display them in a clear glass canister or on pretty pedestals.
Tone on Tone White Christmas
Here's proof that white can be cozy, warm, and calm. Should you be lucky enough to find a cast off vintage chair with not-so-pretty upholstery, think about painting it white for fun. Even you only use it seasonally, it's an easy makeover.
You can add fabric medium from the craft store or Amazon to regular paint if you want a soft look and feel. Or just go for it if you'll only be using it as a display.
Tour a European Country Cottage With Pink & Green for Holidays
Oh, this sweet stone cottage in the countryside!
Buttercream & Soft Sage Color Story
I blogged about French country greens here, and we know the exact green paint color used in this home:
Isn't Guildford Green with its yellow undertones yet clean, cool, soft color beautiful?
For the equally sweet warm creamy wall color, peek at Farrow & Ball's White Tie.
Farrow & Ball calls White Tie: "Our prettiest white is named after the old, pre-brightened, starched cotton used for white tie jackets. White Tie brings a gentle warmth to any room and is deepened with a touch of black pigment. Combine with Matchstick, String and New White for a delicate scheme with reassuringly creamy undertones."
You can't miss the pink accents in this cottage. Did someone say pink?
Add Pink Roses to a Simple Wreath
For the softer side of the season, think desaturated reds and pink.
Dress a Buffet Like Shop Windows
Put on Christmas music and channel your inner shop window stylist.
Maybe you'll enjoy it enough to leave it styled all winter.
Celebrate Christmas Green's Softer Side
Something truly magical happens when green and white come together for the holidays, but these quieter hues feel set apart.
We don't often see trim painted in colors other than white so it always helps to see the effect.
And isn't rosy pink a lovely accent with this green?
I think many folks dream about those luxuriously expensive accordion doors that make outdoor living such a pleasure, but give me multiple sets of old French doors like this!
Understated White DIY Reindeer Pillow
While this tutorial is not in English, you'll get the gist.
I independently selected products in this post—if you buy from one of my links, I may earn a commission.
More Pretty Cottage Interiors for Inspiration
So many sweet details in this next room, I don't know where to begin. The pink shade with the fringe! The floral wallpaper that doesn't take over the room since rustic architectural interest is everywhere. And the sweet green table between the beds.
I hope these ideas that feel non-contrived and so natural have soothed you and inspired you to think beyond the glitzy commercial-style decorations.
It certainly is a reminder to me to follow my heart and not try to decorate for observers.
Snow is optional!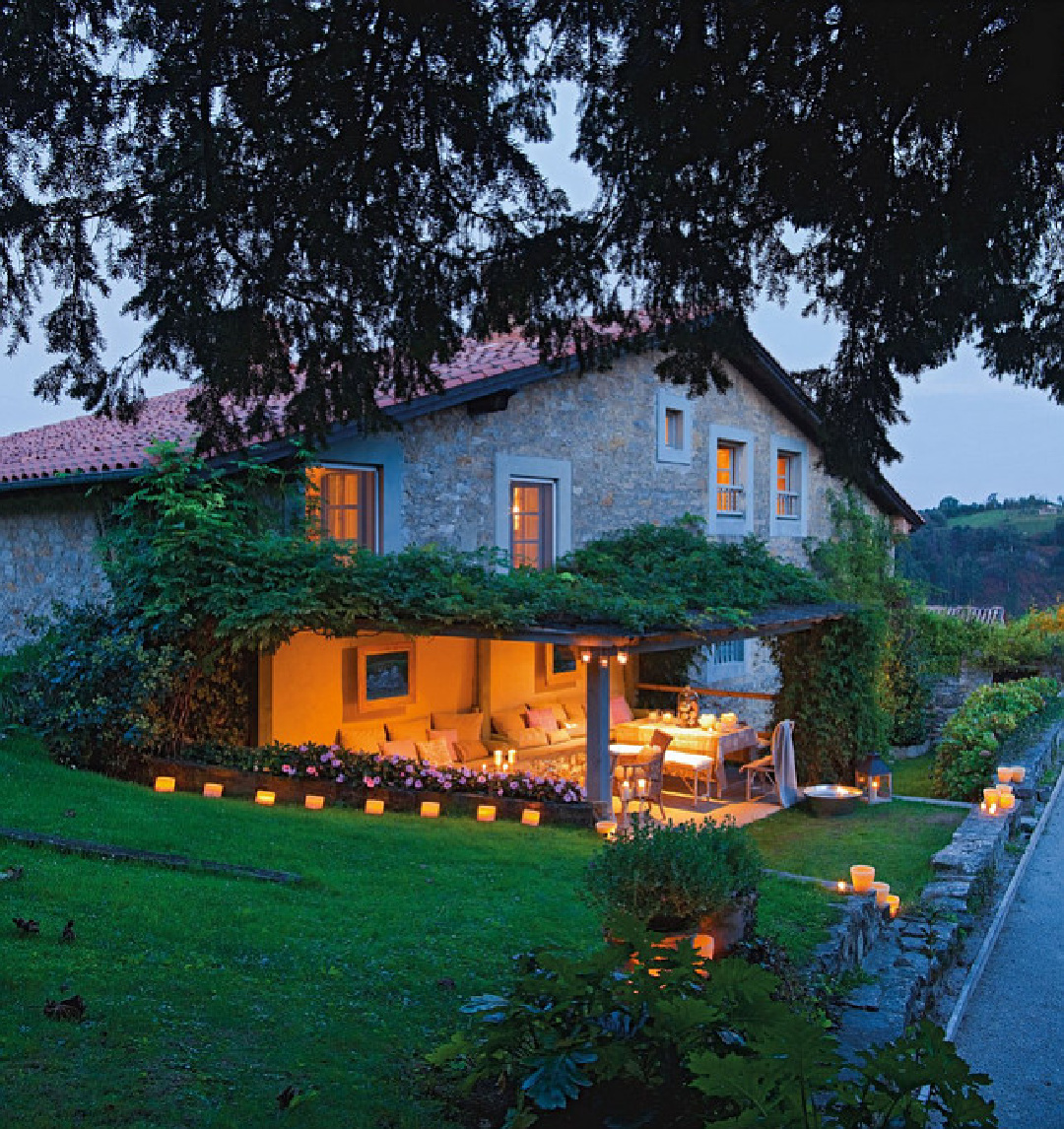 Peace to you right where you are.
-michele
Thanks for shopping RIGHT HERE to keep decor inspiration flowing on Hello Lovely!
Hello Lovely is a participant in the Amazon Services LLC Associates Program, an affiliate advertising program designed to provide a means for sites to earn fees by linking to Amazon.com and affiliated sites.