Today's Green White Gold Christmas Decorating: Nordic & Natural Now picks up where the Scandi holiday liveliness left off…did you see or pin that one? This calm round-up also shares a few glimpses of simple past holiday decorations around my home.
Affiliate links follow and won't cost you extra when you use them while they may earn this blog a small commission.
Too early to think about the holidays before halloween? PLEASE PIN THIS TO SAVE FOR FUTURE REFERENCE and to spread the love to those collecting ideas now. 🙂
Green White Gold Christmas Decorating: Nordic & Natural Now
And just in case the thought occurs: but Michele, I use silvery tones, not gold or brass in our home…no worries. Think of the gold from candlelight or warm twinkly lights. Further, mix those metals and live on the wild side. There are no rules, doncha know.
Simplicity & Creativity When Your Space is On the Cozy Side
You'll notice this is not one of those fantasy Christmas decor tours where more is more, and sparkly bling von bling teleports you to a Vegas disco in a not so natural way.
Instead, the focus is more natural, casual, and humble in its approach to celebrate the season. Think spaces that are warm, cozy, and human-sized.
ASIDE: Do you ever muse, "Girl, my place is way too small to look as pretty as the spaces on Pinterest!" Well, here's a glance back at a 319 square foot Boston condo Nate Berkus transformed. Please ignore the audience's overly dramatic outbursts…if you were ever at an Oprah taping years ago as I was, you understand the director encouraged the obnoxiousness, 🙂
The Emotional Impact of Green
What is it about cool green hues–especially for decorating at Christmas–that evokes feelings of well being and warmth?
Green obviously reflects the beauty and elegant simplicity of the natural world. But it is also a deeply tranquil color associated with health and good fortune.
Doesn't it make sense that GREEN would be having a serious moment now that we are very much health-conscious and doing what we can to boost our immunity?
Find fairy lights and white light strings RIGHT HERE.
For me personally, green takes on star status during the holidays because of how it is symbolic of new life.
Green reminds us of that which is enduring, everlasting, and sometimes even flourishing in the dead of winter.
Green + White = So Dang Fresh!
Above: This box in a London window I snapped in 2018 perfectly celebrates green and white splendor without any red bows or extra adornment.
Simple Holiday Touches Around My House
A Frasier Fir wreath is fragrant at my kitchen sink, and my little star lights have been making me smile for almost 10 holidays now.
Here are some battery operated STAR STRING lights.
Imagine this pom pom wreath below tied with a green silk ribbon for a door or window or bed post or…
Fresh evergreens, wooly white pom poms, and candlelight are a cozy holiday trio in case you're into hygge.
There is definitely a cost to for fresh and free of charge evergreens from the yard. I end up vacuuming fallen spruce needles the whole year through!
Fresh Green Rosemary Mini Wreaths
Nordic French Simplicity
Above: When I organized my studio's closet last year, I tossed my supply of handmade tissue poufs (they took up so much space!) so I'll have to make a bunch this year for my vintage French wire basket.
Fresh Greenery in My Ironstone Pitchers
Above: White ironstone is so simple and elegant with green sprigs.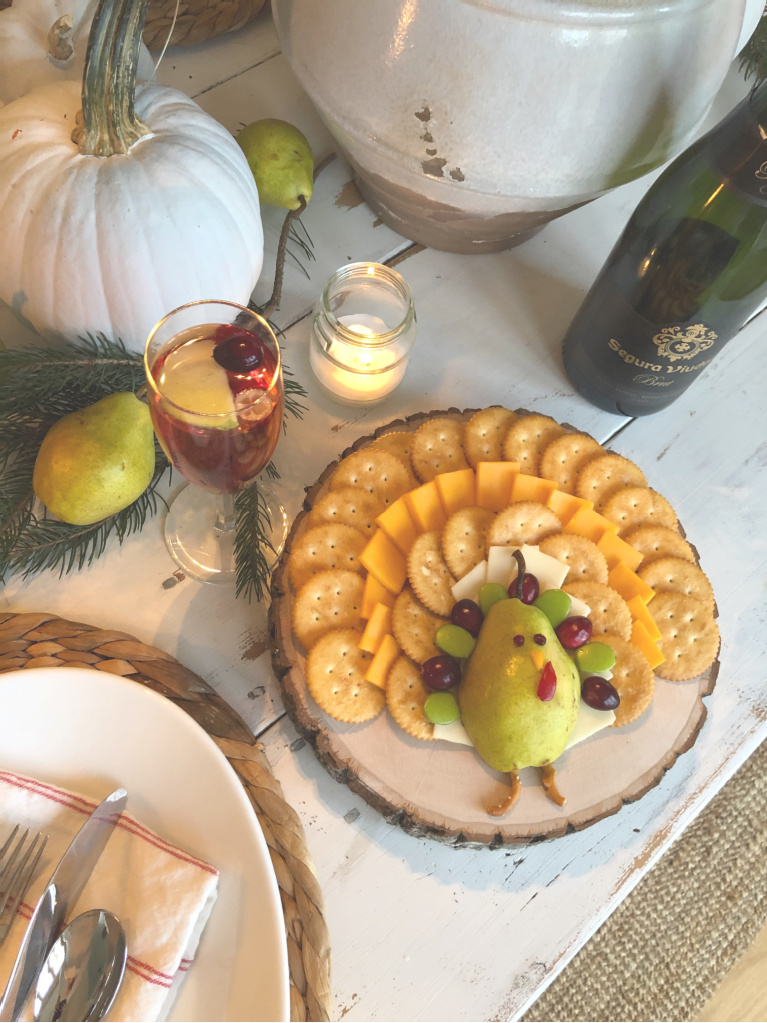 Random: The color green is associated with fertility (anyone else recall adolescent jokes about green M&M's?), and apparently it was THE color to wear on your wedding day in the 1400's.
I always look forward to bringing out the cheerful Lenox china and of course, my Swedish candelabra.
Fresh Greenery Against Pristine White
Green, White and Copper
Suddenly I want to paint an old ladder white…where's my paintbrush!?!
I have a stash of pinecones from the yard to give the ol' flocked treatment to this year.
While I love blush pink roses, white ones charm me more and are always my first choice in any season.
French Country Whites at Christmas
Dreamy Simplicity With Vintage
Nichole of Corner French Cottage knows her way around the dreaminess of white, and her interiors are proof positive you can skip the reds.
Not that there's anything wrong with a sweet teeny pop of red from a fresh berry.
Do you wear green? I especially favor these very wearable neutral muddied greens…find a pair HERE.
However, even springier greens can feel festive and best friends with white.
Beautifully Understated Holiday Decorating Finds
Lovely Magnolia Leaf Wreath
For the Fireplace Mantel?
In the market for a mantel?
For inspiring fireplace ideas, SEE THIS.
A Touch of Green for the Kitchen or Bath
Holiday Sparkle for All Year Round
Pretty Things for Any Side Table
Perfect for Christmas Cookies
Understated and Tonal
Lovely Without Any Other Adornment
Ornaments That Don't Shout
Never Out of Style
Neutral for Any Holiday Pillow
Mercury Glass Finds
Elegant Green + White Holiday Pretty
So Many Places This Will Look Great
Please visit my PINTEREST BOARDS to re-PIN pretty things to spread the magic – I am saving Christmas decorating ideas at the moment!
Lovely Gift Ideas All Under $25!
A couple gifts on this board went up a few bucks since last year, but nothing over $30…the trick is getting it here without delays and if it's in stock, lucky you!
1. Box // 2. Almonds // 3. Mug // 4. Cookbook // 5. Stationery // 6. Sports Bottle //7. Hand Cream // 8. French Soap // 9. Tiara // 10. Pet Pouch Hoodie // 11. Blocks // 12. Caramels // 13. Personalized Spreader // 14. Provence Towel // 15. Organic Candy Tins
I independently selected products in this post—if you buy from one of my links, I may earn a commission.
Peace to you right where you are.
-michele
Shop for items you already intended to buy on Amazon RIGHT HERE, and also find home decor here to keep decor inspiration flowing on Hello Lovely!
Hello Lovely is a participant in the Amazon Services LLC Associates Program, an affiliate advertising program designed to provide a means for sites to earn fees by linking to Amazon.com and affiliated sites.