I didn't always live with a tone on tone palette celebrating a rainbow of whites at home. As newlyweds living in our first home (a Chicagoland condo), I was crazy for all things French country and colorful. Teal floral wallpapered bedroom walls, blue stripes in the bath, mauve floral in the kitchen, and more pink flowers in the dining room. As parents raising young children in a suburban Chicago bungalow, we enjoyed bold periwinkle, sunny yellow, Swedish red, and RH silver sage. I didn't discover the beauty of mixing whites until the boys entered adolescence. (Is there a relationship between the chaos of parenting teens and the tender solace of white?) Let's discuss.
This post contains affiliate links which if used for purchases may earn me a small commission and won't cost you extra.
When You Love a Rainbow of Whites
There's no doubt that if my tastes leaned more toward bold color, high contrasts, and frequent refreshes, blog traffic and business would be more profitable. But when you grow fond of a particular look that can withstand time and aren't overly attached to profits, it is deeply satisfying.
Here at the Georgian, the walls are varying shades of greige while trims are bright white. When we moved in, I wasn't sure how long the grey would stay. Will the walls be turning white like our previous home?
Maybe. After all, white is perfect for creating an ethereal, spacious, quiet mood!
But which white is the right white?
I field questions like this every single day…and it depends on a variety of factors. Pssst. If you SUBSCRIBE, you'll have access to my library of experience and help. Simply hit "reply" to the email with your daily blog post and ask your design questions!
The Rainbow of White Paint Colors
If you have read this blog for long, you know this topic is common. You may be thinking we've exhausted it by now, but…nope. You don't realize the challenge of selecting the proper whites for your project until you're in the throes.
A white that works in my house could be all wrong for yours. In fact, before I painted our new walls in the entry Repose Gray, I tried the white from our previous home:
It felt too bright and rather institutional. In fact, I decided we would need the pattern of a wallpaper to enliven the space. But in our prior home, OC-151 opened up those rooms and made the existing architecture feel fresh and new.
Whites are affected by the quality of light entering a room and also the geographic region where you live. To land on the proper white paint color, it is imperative to sample several contenders.
It is also important to remember that the ideal white for your space may not have "white" in the color name.
Agreeable Gray may sound like a boring muddy bestseller from Sherwin-Williams, yet it is popular for good reason. It can read warm, moody or atmospheric depending on the environment. Certain colors are chameleon-like and can become a neutral backdrop for a variety of furniture and decorations.
See this for more advice choosing white paint colors.
When Texture Becomes Your Color
I get annoyed when I see commenters on social media dismiss white decor as safe. Getting white right is not as simple as those folks imagine. To get it right, there's always a lot of thoughtfulness involved. Layering neutrals, mixing warm and cool whites, and adding texture requires skill.
Texture can even be introduced by uncovering the windows and allowing the outdoors to be a feature.
(If you admire the siding color above, mix 50% of Cornforth White No. 228 with 50% of Hardwick White No. 5 for a custom Hello Lovely creamy neutral!)
Add Texture in a Low Contrast White Palette
In our former bedroom, an accent wall with Stikwood (Hamptons White) introduced texture to a Northern exposure white bedroom. Even though I was concerned about not wanting something trendy like shiplap or something too rustic, I had nothing to fear.
It served all sorts of purposes including becoming a source of tension with more refined elements. When things feel too frou frou or precious, they just don't feel as welcoming to me. The rough texture with all of the sumptuous white bedding felt just right.
Even antique linens and vintage grainsack can create such tension. If it is livable luxe and an unfussy white look you are after, it helps to add old and weathered things.
You can always look outdoors for inspiration since nature is hard to beat as a mix master of textures and preciousness.
Quiet Tones for Outdoors
For me, something magic happens when the palette outdoors is also more restrained.
In our former courtyard, greige furniture on pale pea gravel with concrete pavers felt like a welcoming oasis.
Ivory white cushions and mist grey linen pillows on patio chairs extend the calm from inside.
Living with tranquility both indoors and outdoors creates a cohesive sense of refuge. Is that not why we devote energy to homemaking in the first place? When you know yourself and are in touch with your desires, you can make choices rooted in such knowing.
What tones relax you?
A rainbow of whites includes linen, putty, stone, oak, greige, ivory, and more. It need not feel like a cold blizzard.
When White is Sanctuary-Like
Leaving the hustle and chaos of modern life behind in order to recharge and rest is within reach with a quiet color palette. Maybe it is because my own inner life is fiery with colors and passion that I need my environment to soothe and whisper.
Whatever the case may be, retreating to a sanctuary seems more essential than ever.
Our homes have to work harder for us now in post-pandemic times.
Tone on Tone Lovely Finds
Someone with a different point of view might find all of the cool whites and silvery tones far too sedative. Knowing your needs is everything.
But images only tell a part of the story. For example, the long painted bench above is one we commissioned a quarter of a century ago along with a harvest table. Made from the sides of a local 1800s barn, it is where our sons sat for meals, homework, and games. There is nothing flat or lifeless about it in person when you see its scars, age, square nails, and texture in person. It serves now as a shallow table in our living room.
Colorful pops of color feel right at home to certain folks and downright violent to others like me!
White roses are a simple way to enjoy white at home and look good everywhere.
Shop my Home!
White's Magic in Bathrooms
Is there anyone who objects to the clean white of a bath?
They feel timelessly pristine, and bright. I was reminded of just how valuable a "clean feel" is since the bath we inherited here at the Georgian was enveloped in milk chocolate brown.
It wasn't simply oppressive and dark, it always felt soiled…not the vibe I ever vibe to.
These white marble trays can tidy up any number of things in a bath or beyond.
A recent guest who toured our home asked if we brought our clawfoot tub along from our former home. I would have loved to since it was the sweetest fun-sized maid's tub:
But nope. We hunted down another vintage tub from a 1920s bungalow up North where the owners were happy for us to repurpose it as they remodeled.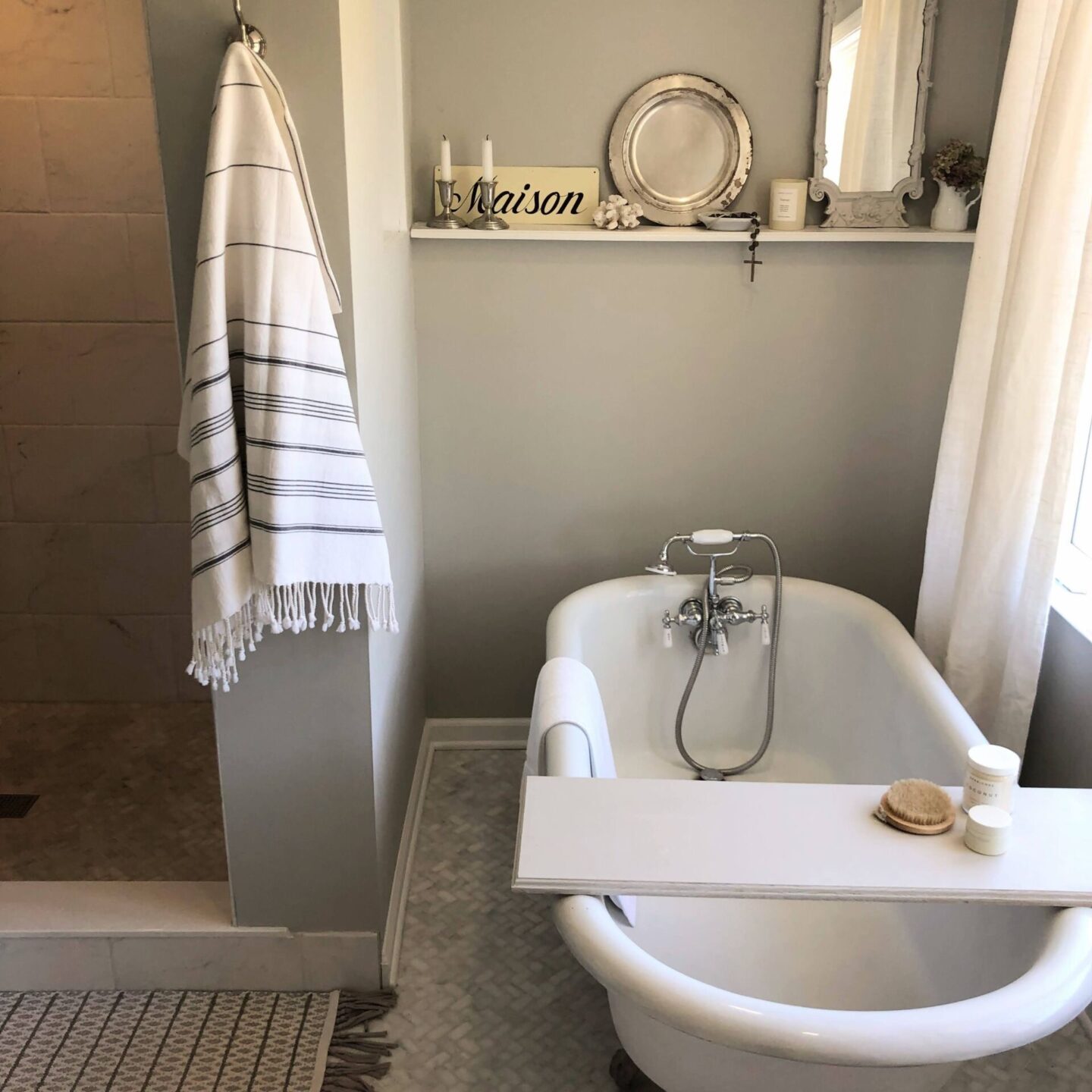 Psst. I'm still working on the finishing touches in our bath (above).
White Trim & Natural Wood Tones
Even though the popularity of modern farmhouse style often embraces black and white, I'm still not sold on high contrasts for my own home.
I favor softer transitions and the mix of naturally subtle tones.
When I decided to add natural knotty wood doors with white trim back in 2015, there weren't many homeowners or designers going for that look.
Now it is common to see white trim with wood toned doors.
Is It More Difficult to Keep White Interiors Clean?
Here's a topic that is easy for me to address since I have lived with white for decades and also raised messy kids.
Additionally, two years ago, we inherited a home peppered with dark brown finishes everywhere. Dark brown granite, dark brown trim, tiles and doors and cabinets with chocolate brown. Was day to day living easier or at least more forgiving with deep dark colors?
Heavens no! The dust! The fingerprints, crumbs and smudges on glossy brown! I hated it and learned firsthand how oppressive color can be to the mood.
Does that sound like "easy living?"
If you have a minute to share your own thoughts about living with a rainbow of white at home, please do make your voice heard!
Glimpses of 2013 Me & Warm Whites Shortly After My Prophylactic Surgeries
Shop my Home!
Inside the Blogger
In my personal life, grief has been a recent companion with the passing of humans and pets dear. My heart is more tender than normal, and I am always hoping to allow what is flowing through me to somehow become healing energy.
Right where you are, I wish you wide open access to beauty flowing from realms unseen.
I wish you sweeter air to breathe, this very moment, to cleanse and clear any bitterness arising.
I wish you a gentle breeze as relief from all harsh weather weakening your resolve.
I wish you a flow of loving kindness, carrying you across stretches of earth when your strength is gone.
You are not alone on this strange journey, friend. If loss and despair are yours, I am with you. If the Grief House is also your home, I am there. And if tears dampen your cheeks, I can only imagine the beauty radiating from your glistening eyes.
If there's warmth expanding in your chest just now as warmth expands in mine, then you'll know we're together. It's the same holy warmth and the same holy light burning through and through. Because I am right here with you in the Mystery, and beauty is building us a bridge.
Peace to you right where you are.
-michele
Thanks for shopping RIGHT HERE to keep decor inspiration flowing on Hello Lovely!
Hello Lovely is a participant in the Amazon Services LLC Associates Program, an affiliate advertising program designed to provide a means for sites to earn fees by linking to Amazon.com and affiliated sites.