I'm always keeping an eye out for beautiful, understated, timeless design projects I think you'll love. Sometimes those projects are fantasy properties, sometimes they inspire actionable ideas to apply to our own homes, and once in a blue moon? They are both. It's why I admire this lovely 1941 home near the sea with timeless English cottage elements so much! Let's peek inside and consider a paint color that plays a starring role: Farrow & Ball All White.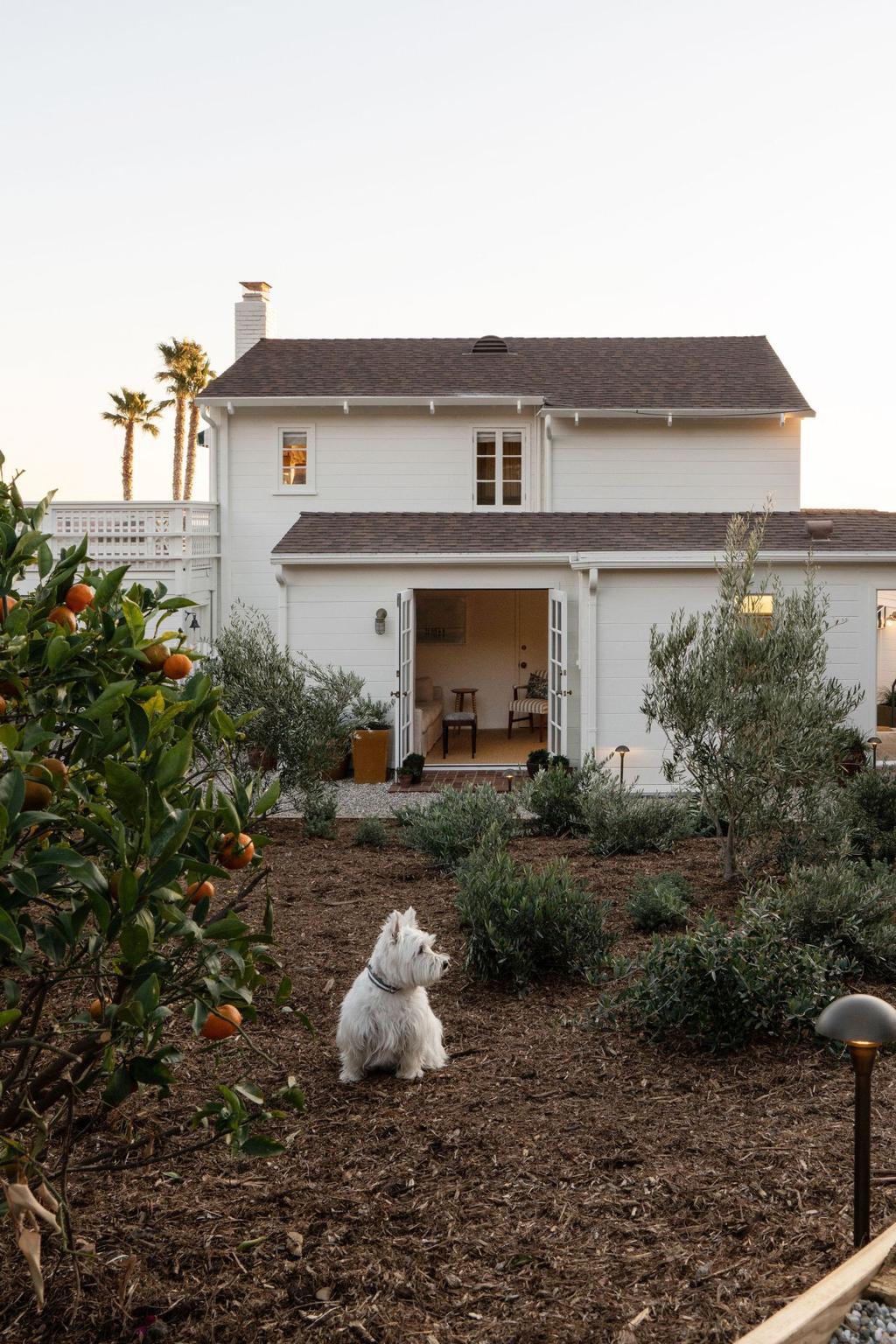 Timeless English Cottage Aesthetic in Malibu
Vogue Living Australia/Photography: Caylon Hackwith; Styling: Avi Brosh and Kirsten Leigh Pratt of Palisociety
Malibu Cottage Overview
The seaside setting for "Sea Level House" is quite dreamy…near Lechuza Beach.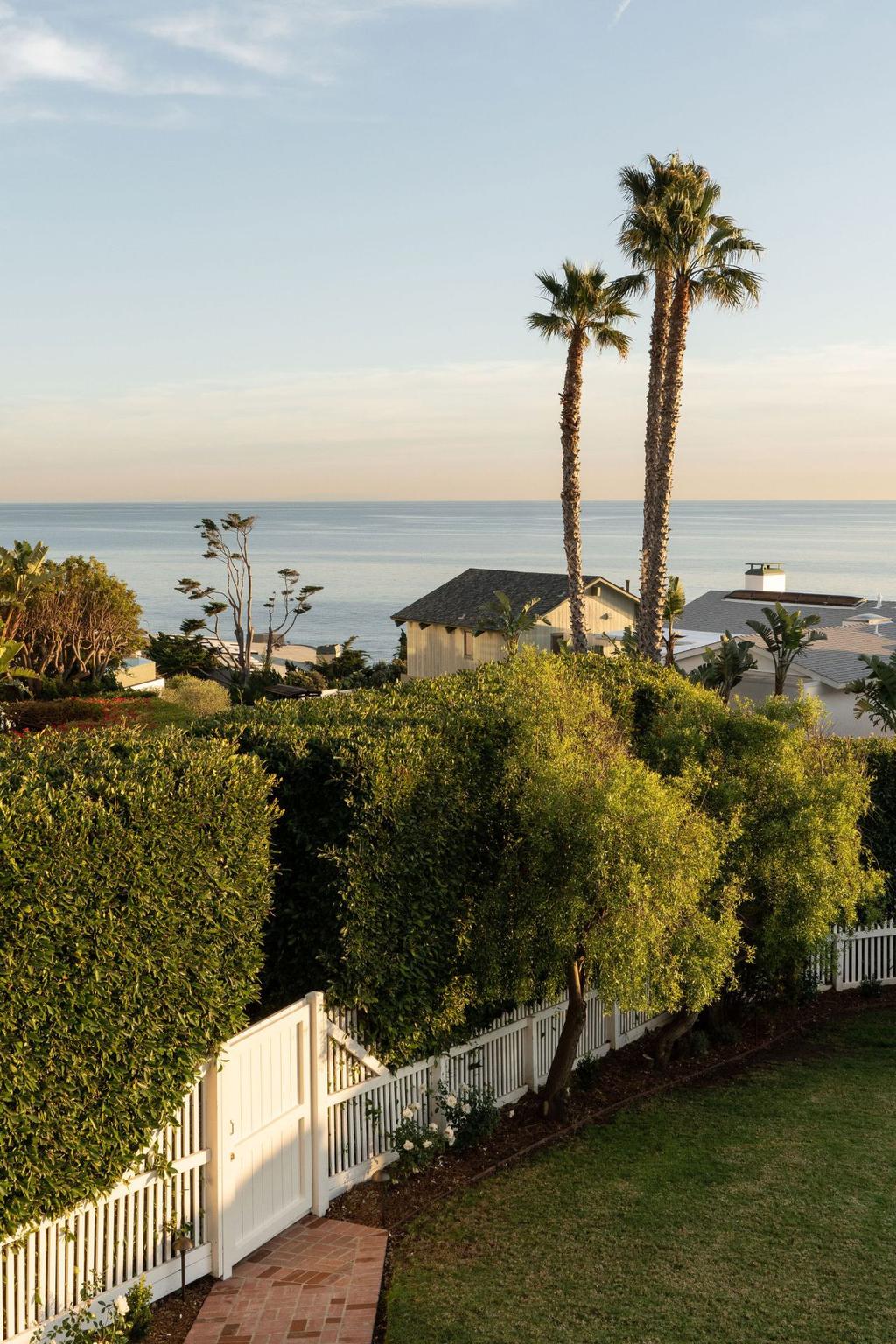 And how wonderful that the original Cape Cod style property remains and was not leveled for a fancy mansion! The property includes a two story main house and one-bedroom detached guest house (3,000 square feet total).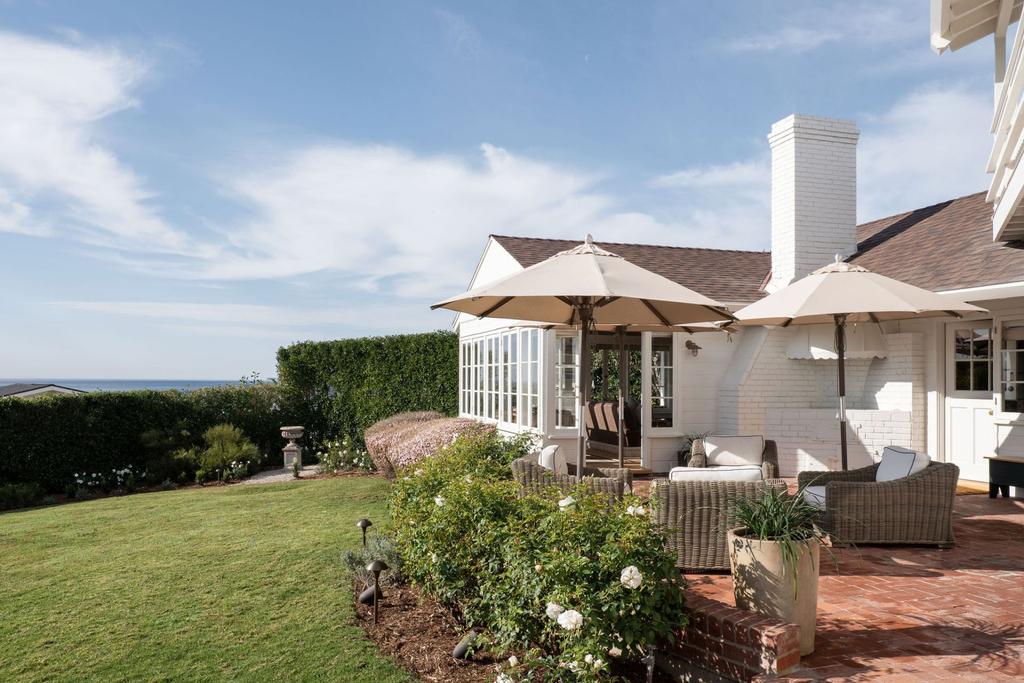 You won't be surprised to hear I'm crazy about the white painted exterior, and the white continues inside too. But which white?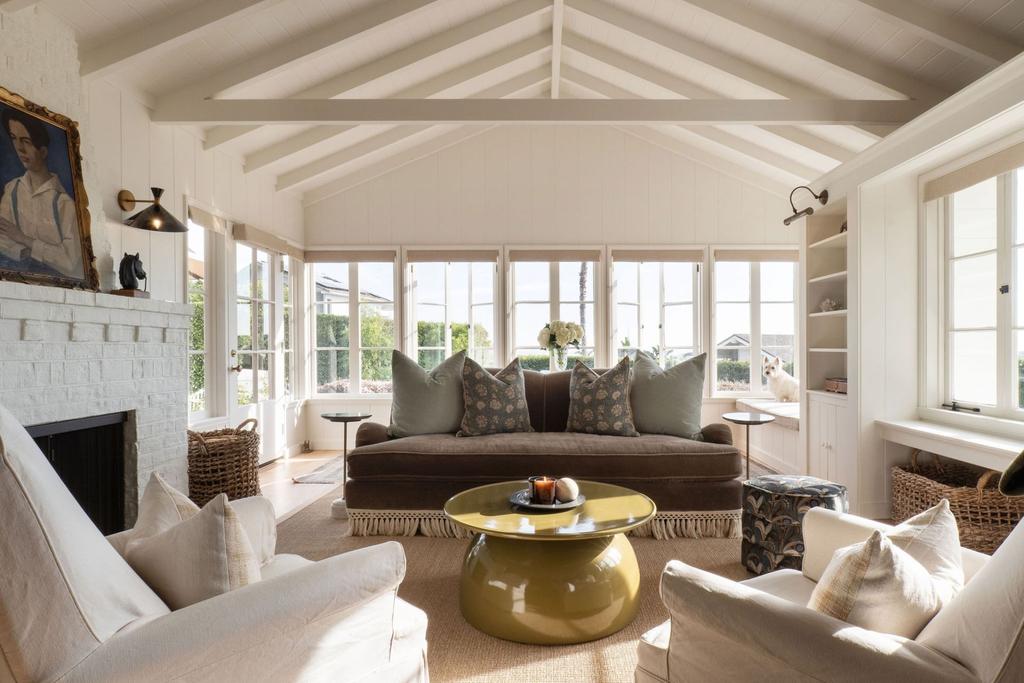 Paint Color in This Seaside English Country Style Cottage
We recently took a deep dive into Farrow & Ball colors including this pale and lovely gem:
It's a perfect choice when you want to keep the mood very coastal chic yet tempered with English country sensibility.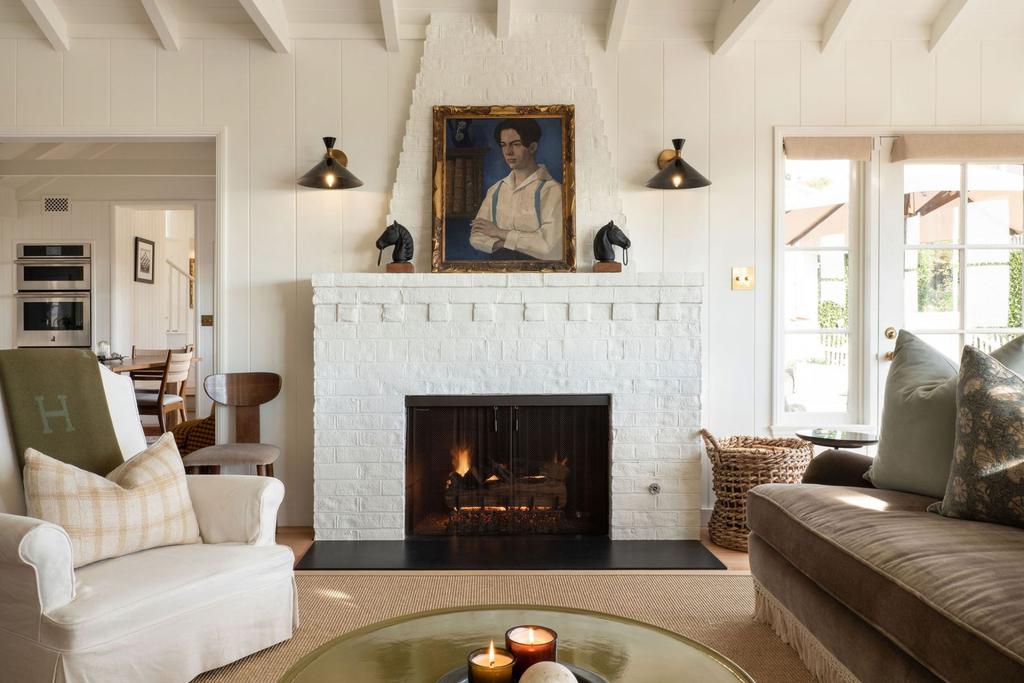 The living room is a stunning example of how texture becomes "the color" in a room. From the brick, to the wood on the ceiling and walls, to the nubby upholstery and woven accents, English cottage cozy style feels so comforting.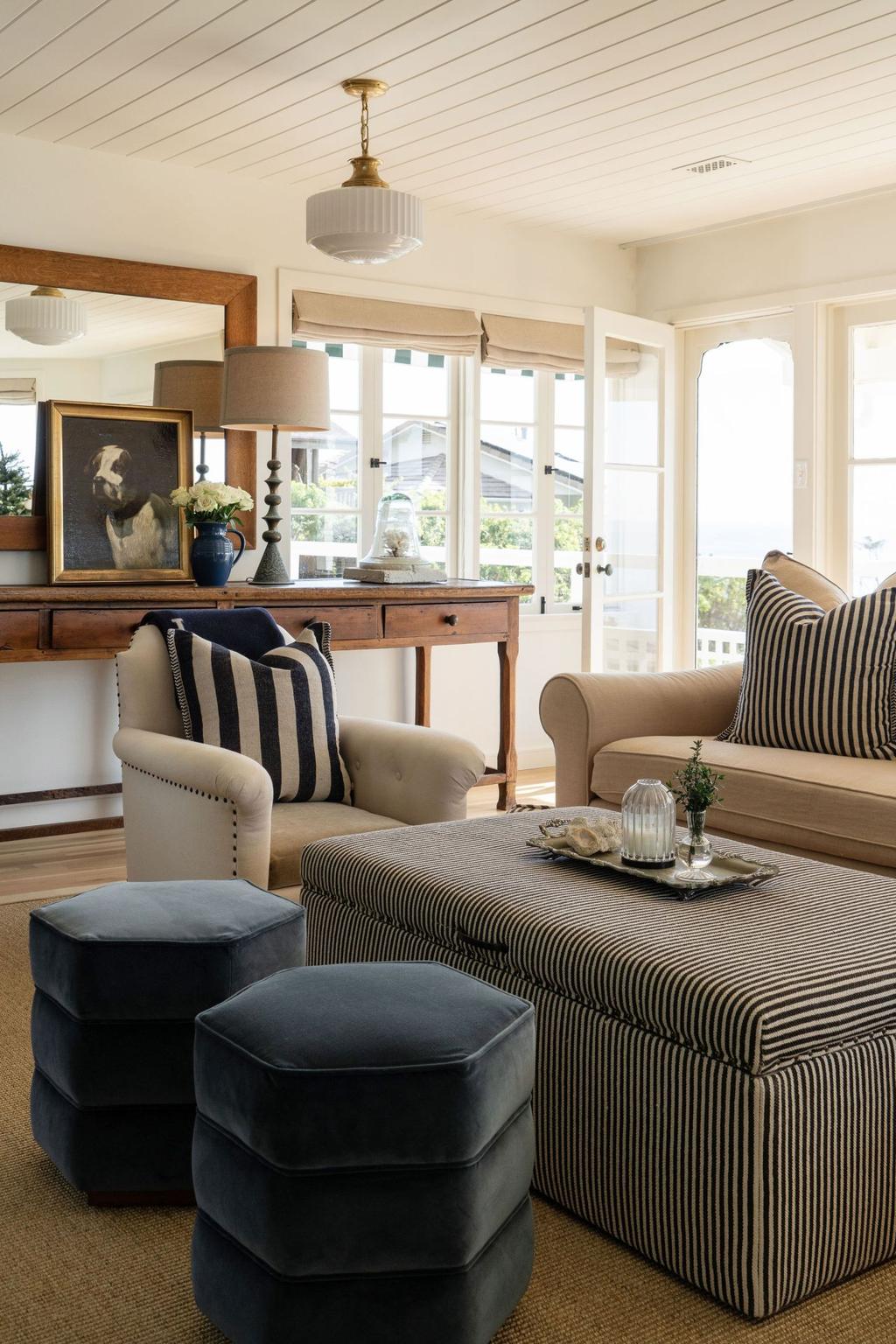 The beauty of beholding a space like this? We can begin to appreciate the layering and composition. Maybe you also have a console table at home to style. Notice the mix of vintage and new, the casual leaning dog painting, and how pops of navy appear.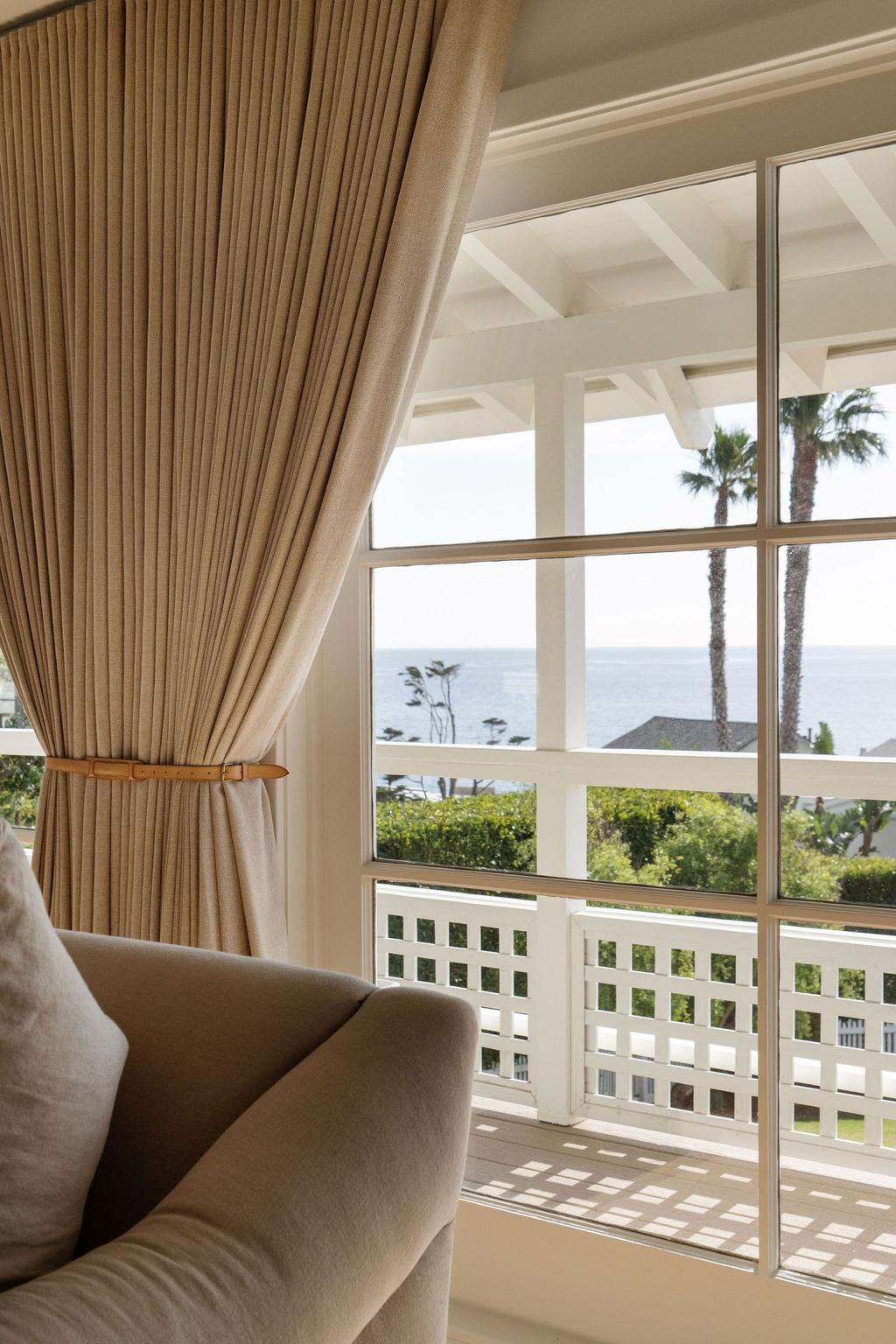 What views!
Inspiring Elements from an English Country Kitchen
The soft sage green on the kitchen cabinetry has such an organic, earthy, nurturant vibe and is so perfect for a cottage.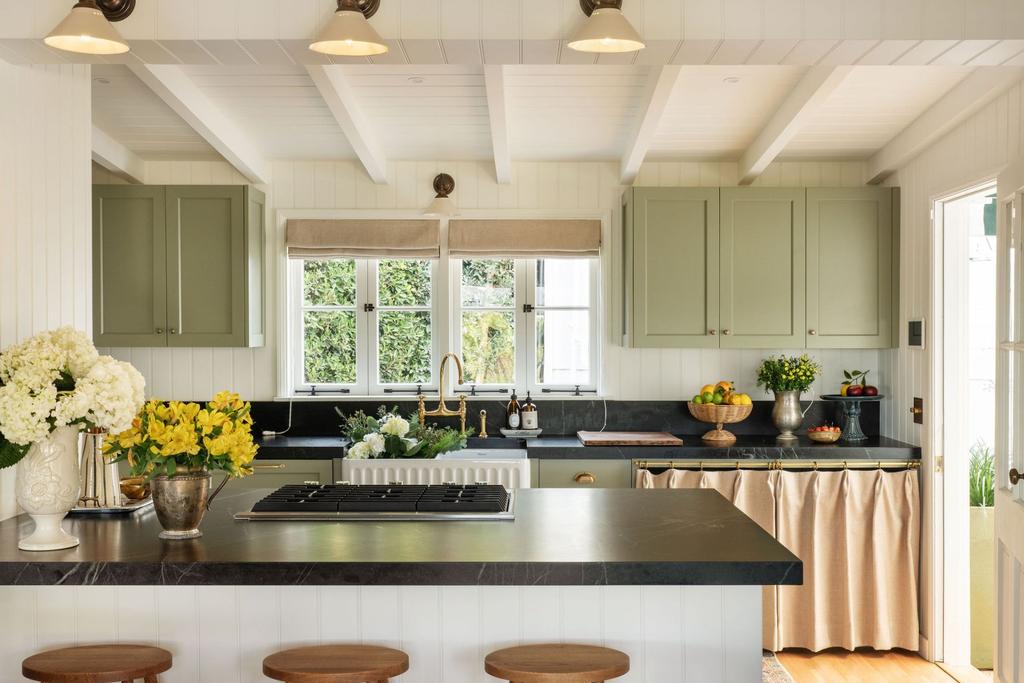 All white kitchens (a la Something's Gotta Give) are popular and easy to love, but the addition of green introduces a lifegiving sort of layer of lovely presence. Do you love the skirting as much as I do? What do you suppose hides behind the curtain? It's a wonderful idea to break up a line of cabinets, to keep shelves less dusty, and to introduce another texture. While the windows and doors here appear to be original, imagine adding old hardware to new ones!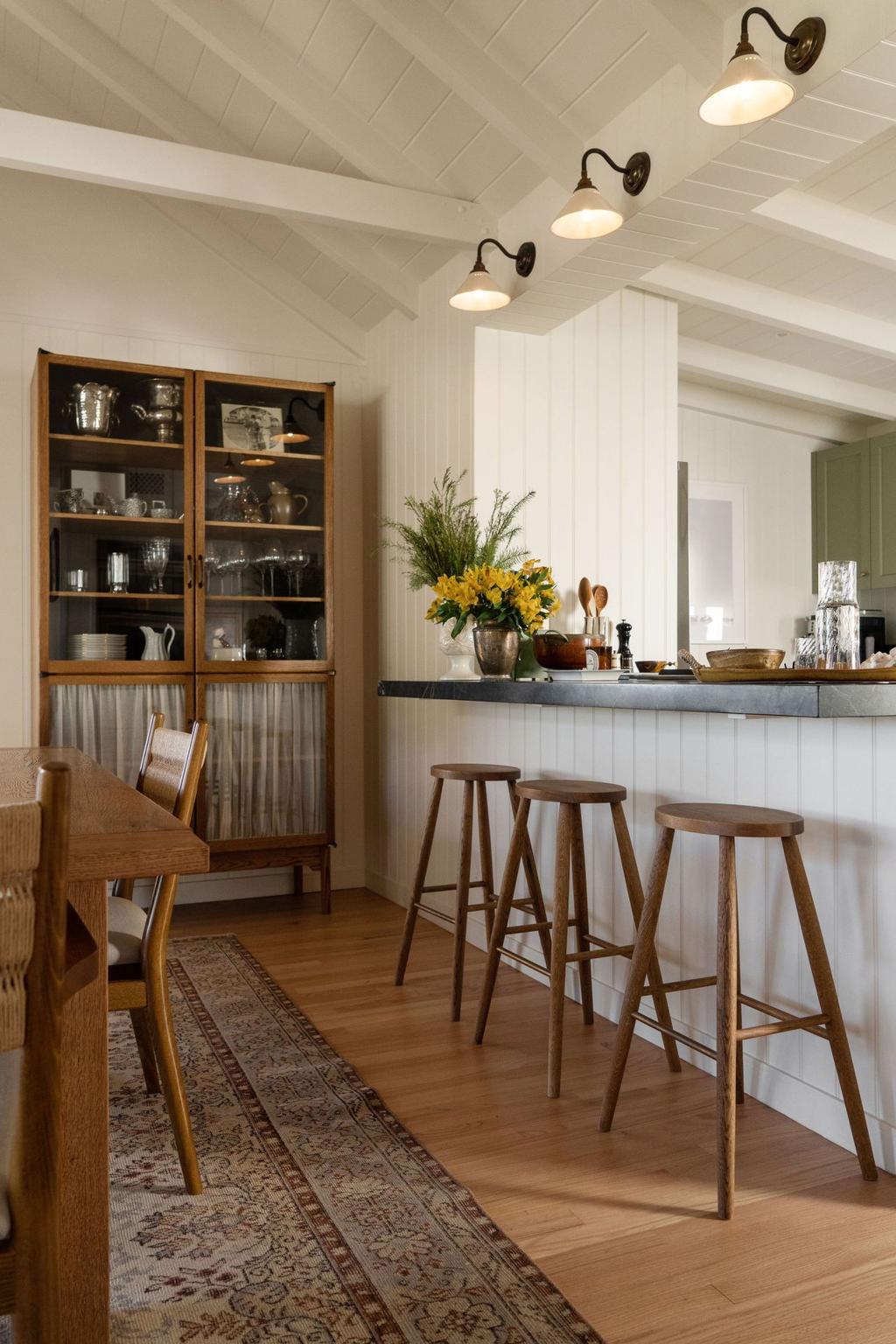 I also think it's worth noting that there isn't a sprawling center island. Instead, a sensibly-sized peninsula provides seating and workspace without showing off.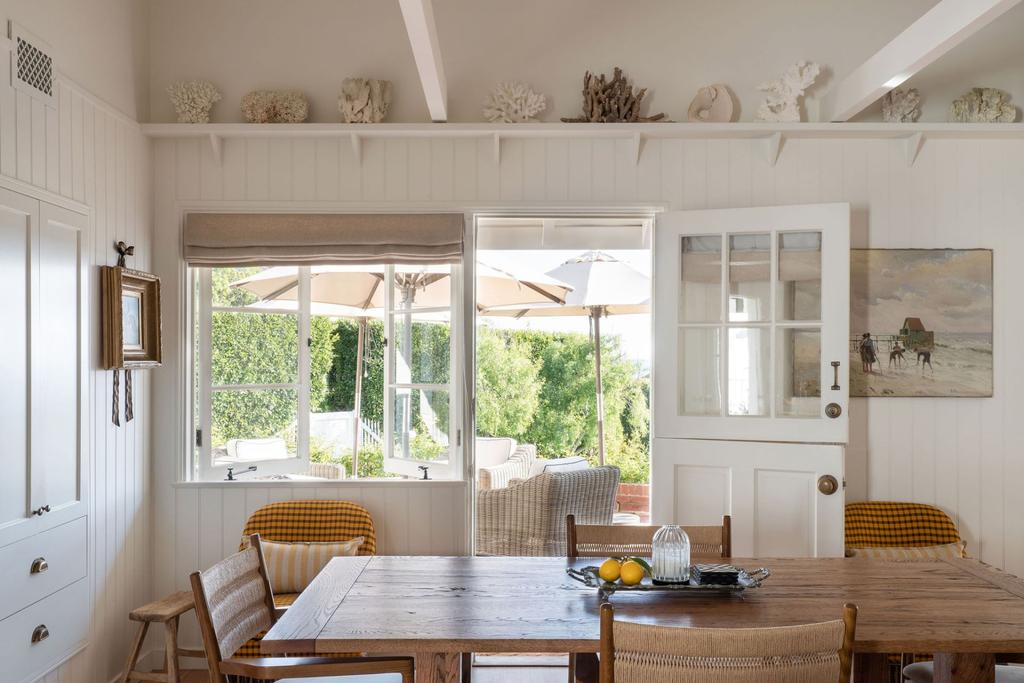 In fact, this entire home refuses to take itself too seriously. There's so much for us to gather from that discussion alone when it comes to addressing our own interiors. When we're decorating and designing rooms to comfort ourselves at the start and end of the workday, is there even a place for the sort of formality and fussy fervor that impresses a certain segment of society? Give me glorious, understated unfussy quietude allllll day.
Cottage Dining Room With Built-ins
Unpretentious and understated style often entails SERIOUS design savvy to arrive at such sophisticated simplicity!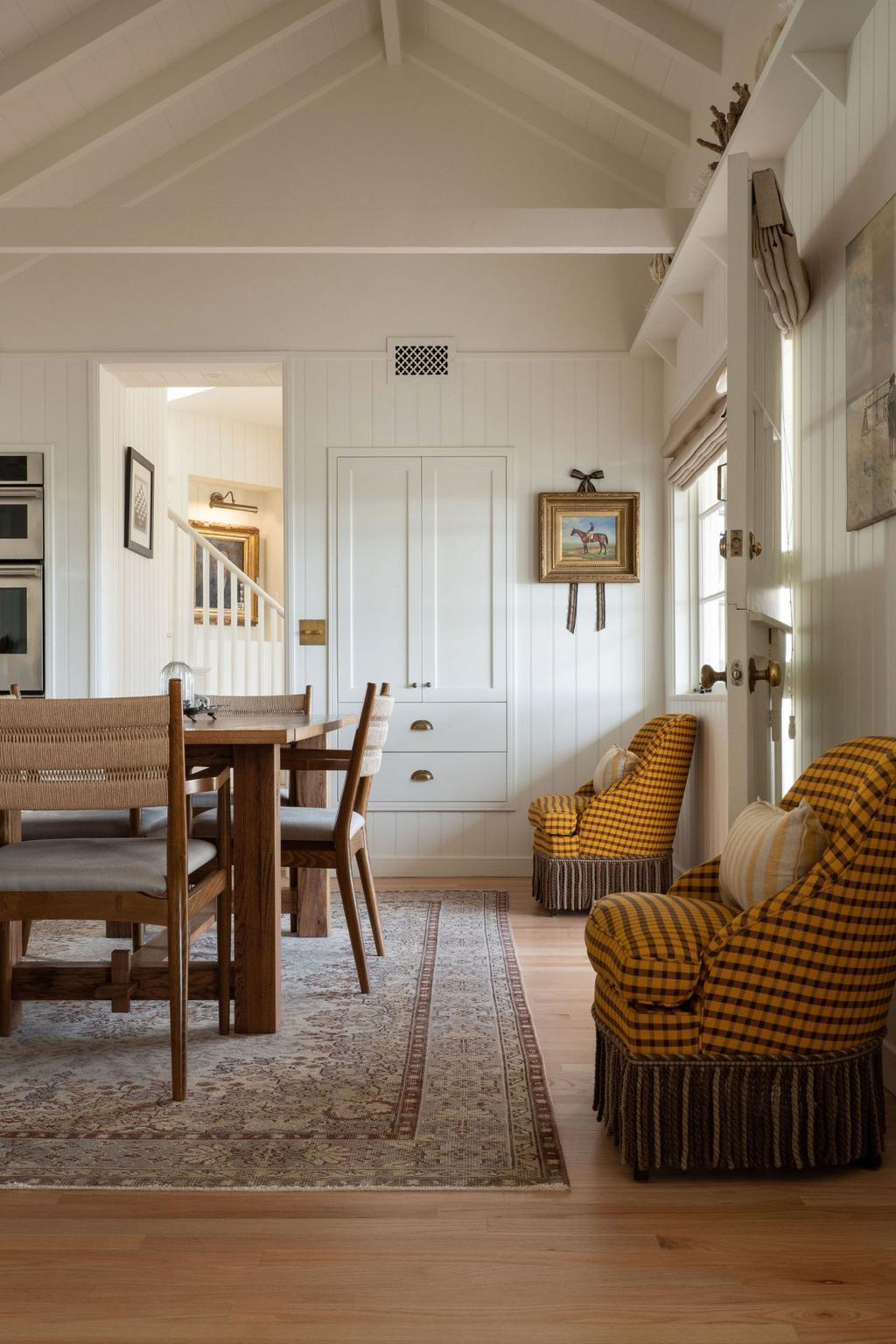 You can see how each layer of the design (millwork, upholstery, furnishings, art) is thoughtful and so very timeless.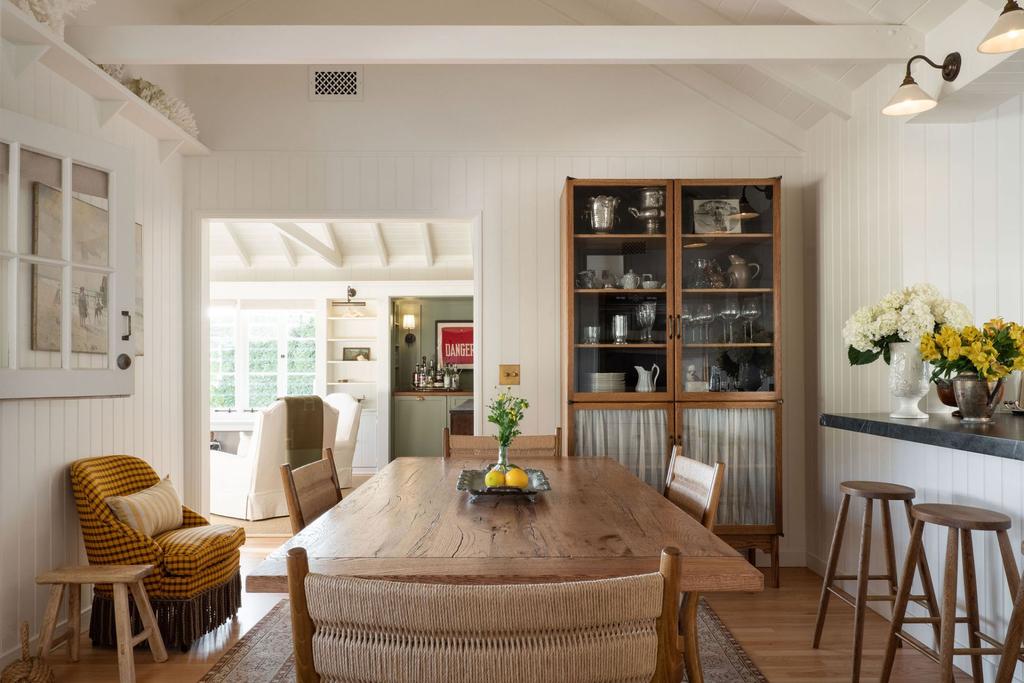 Isn't the relationship of the dining room, kitchen, and living area lovely?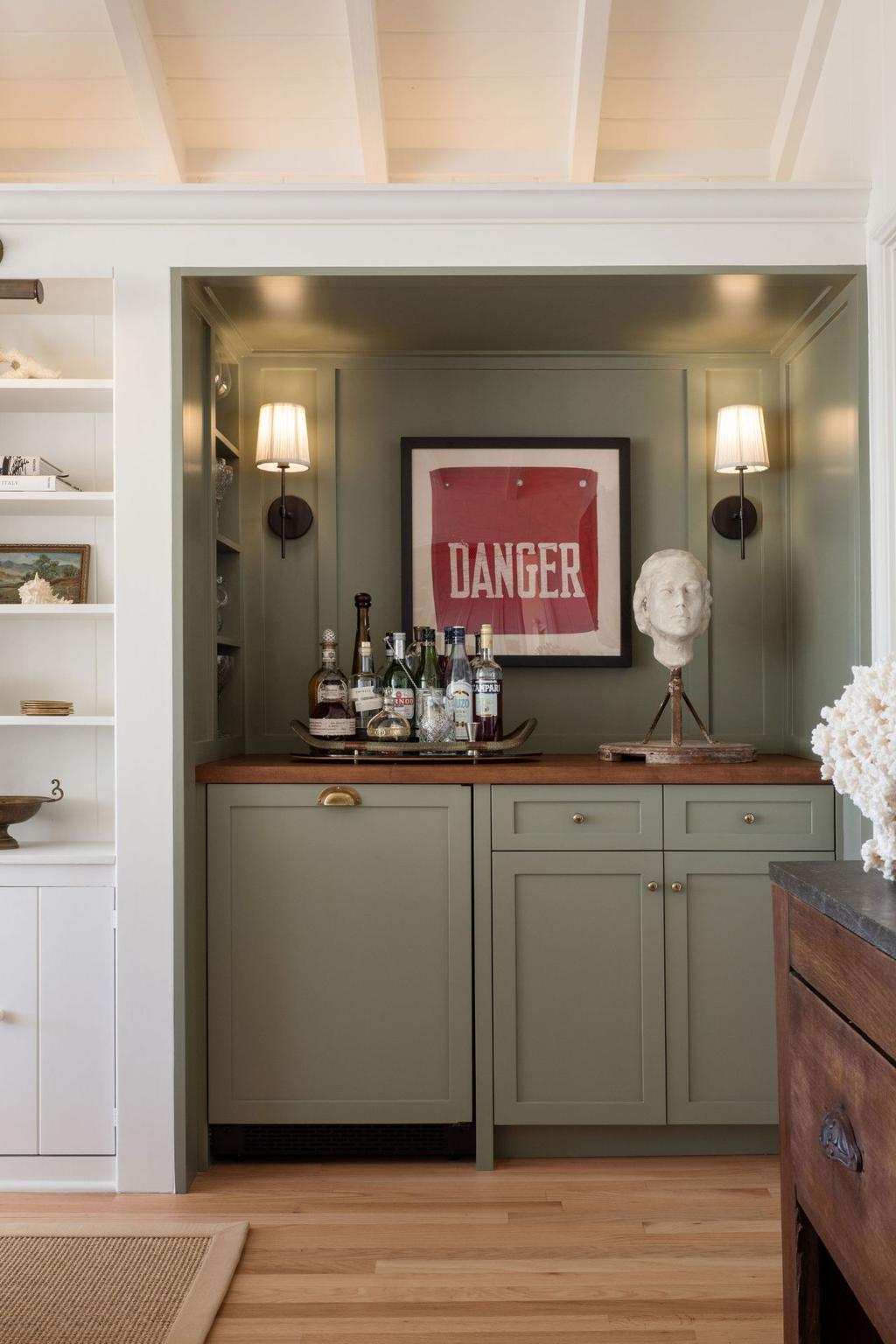 That beautiful green shows up again, and should we take a guess at the paint color? It reminds me of Lichen:
But it could be Vert De Terre:
Always a wise idea to sample a few colors in your unique space with its unique lighting conditions.
Beautiful Millwork & Paneling for Cozy Cottage Charm
This home's beautiful painted wood and doors is a reminder to us of how important it is to get the envelope right.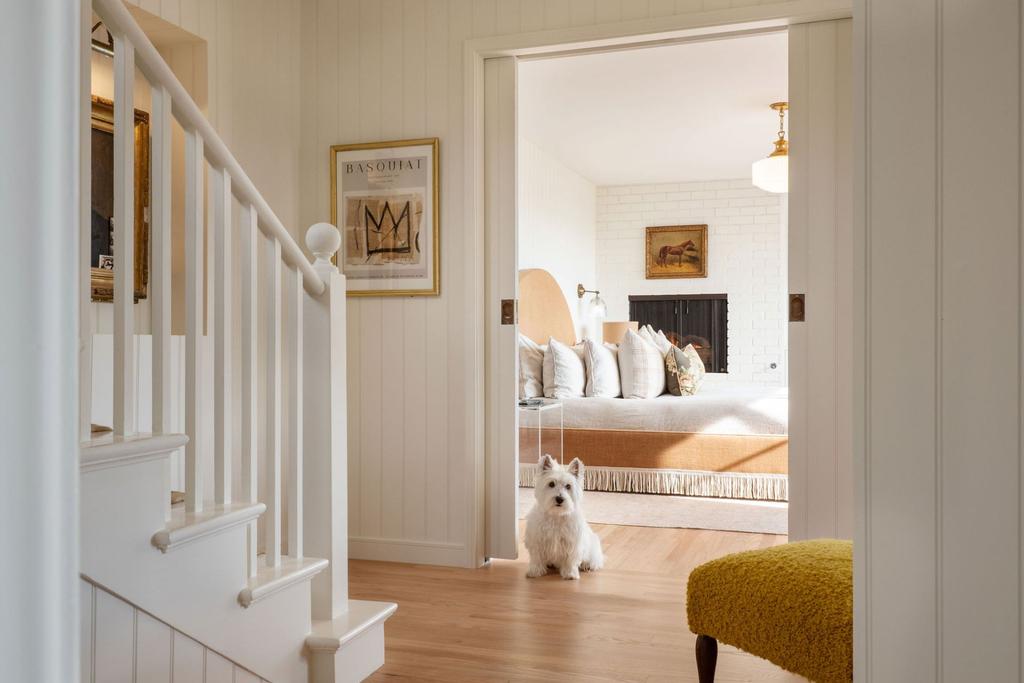 Most of us are starting with drywall (or if we're lucky, plaster!) on the walls and ceilings.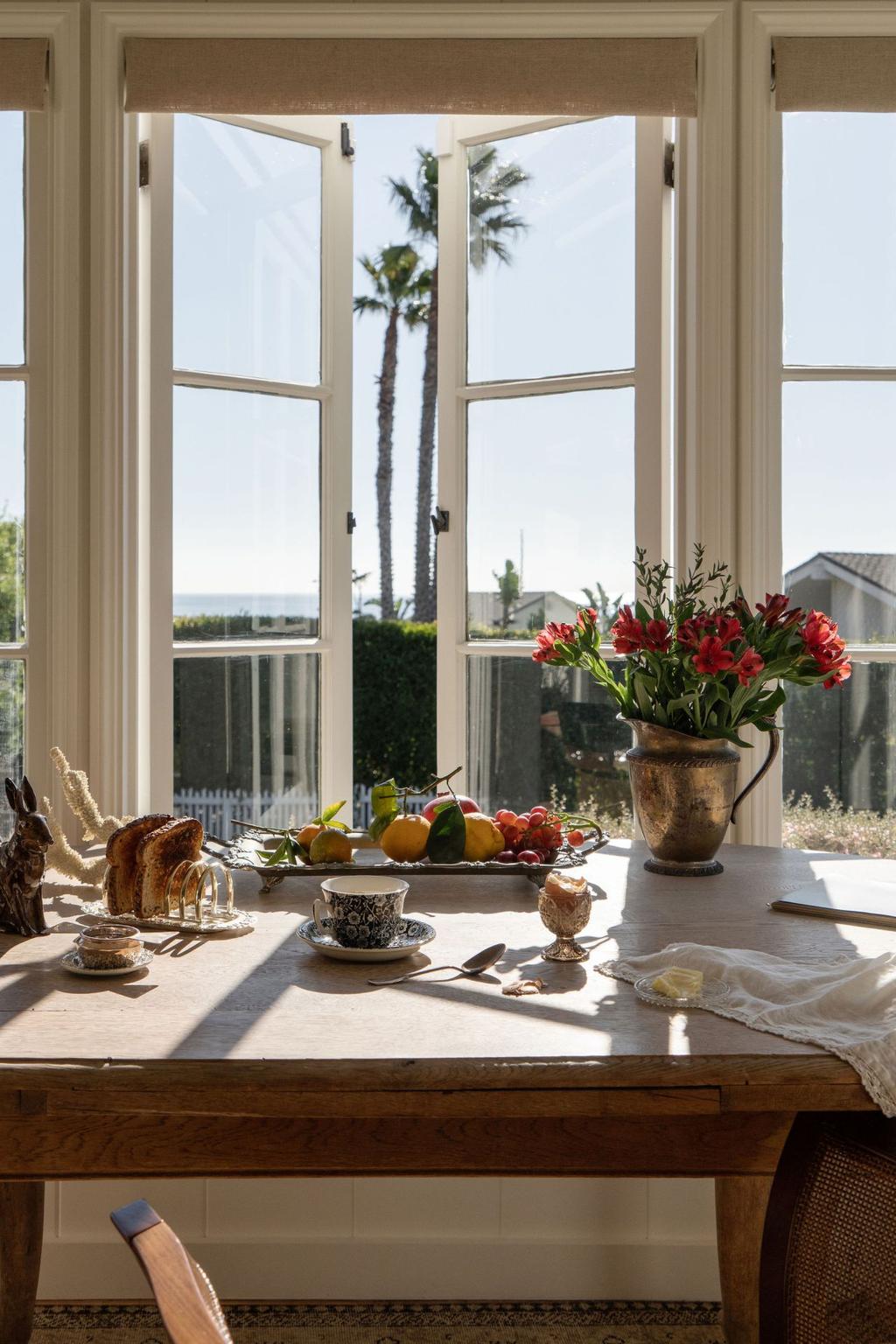 The addition of tongue and groove, beaded board, and wood paneling sets a comforting, casual, historic tone that is not easily achieved in another way.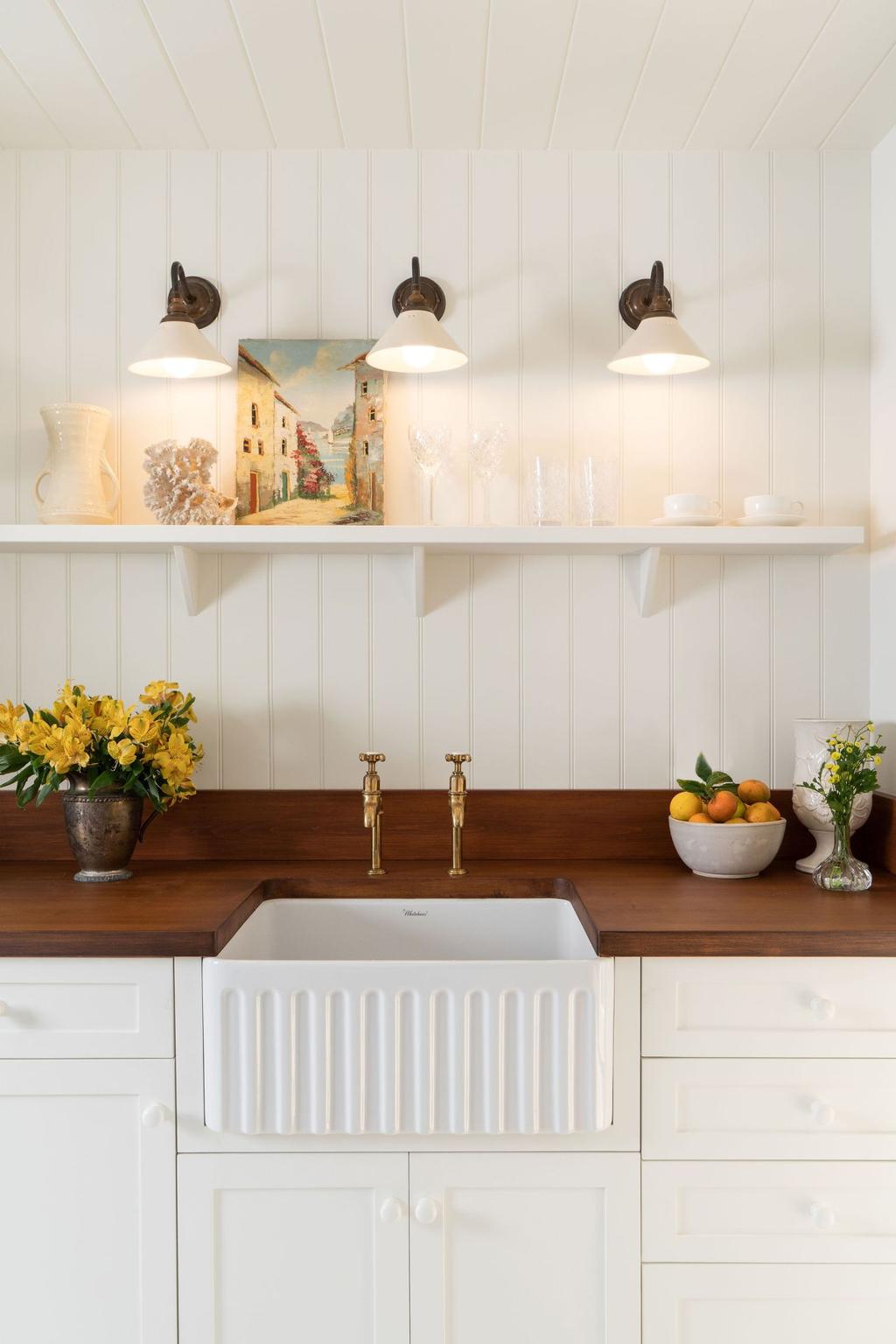 If you haven't lived with such texture before, and your home lends itself to the addition, perhaps start with one accent wall.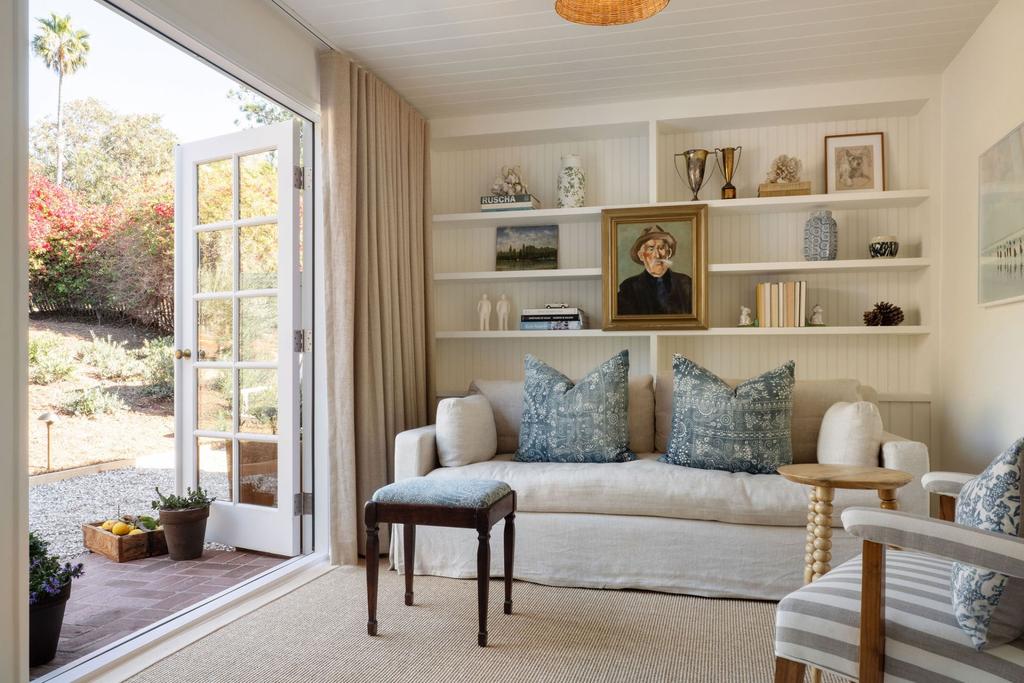 A powder bath or spare bedroom may be a smart place to begin. From there, you'll be able to live with it and know whether to keep going.
In the bedroom above, we see texture on the wood ceiling and adjoining bath, while the walls remain smooth. It's also a restful look, and I'm reminded of how often we neglect ceilings in American homes. When you consider a ceiling's importance within a bedroom, it's a shame! Additionally, ceiling heights are typically lower in bedrooms. Addressing the surface of that fifth wall makes great design sense.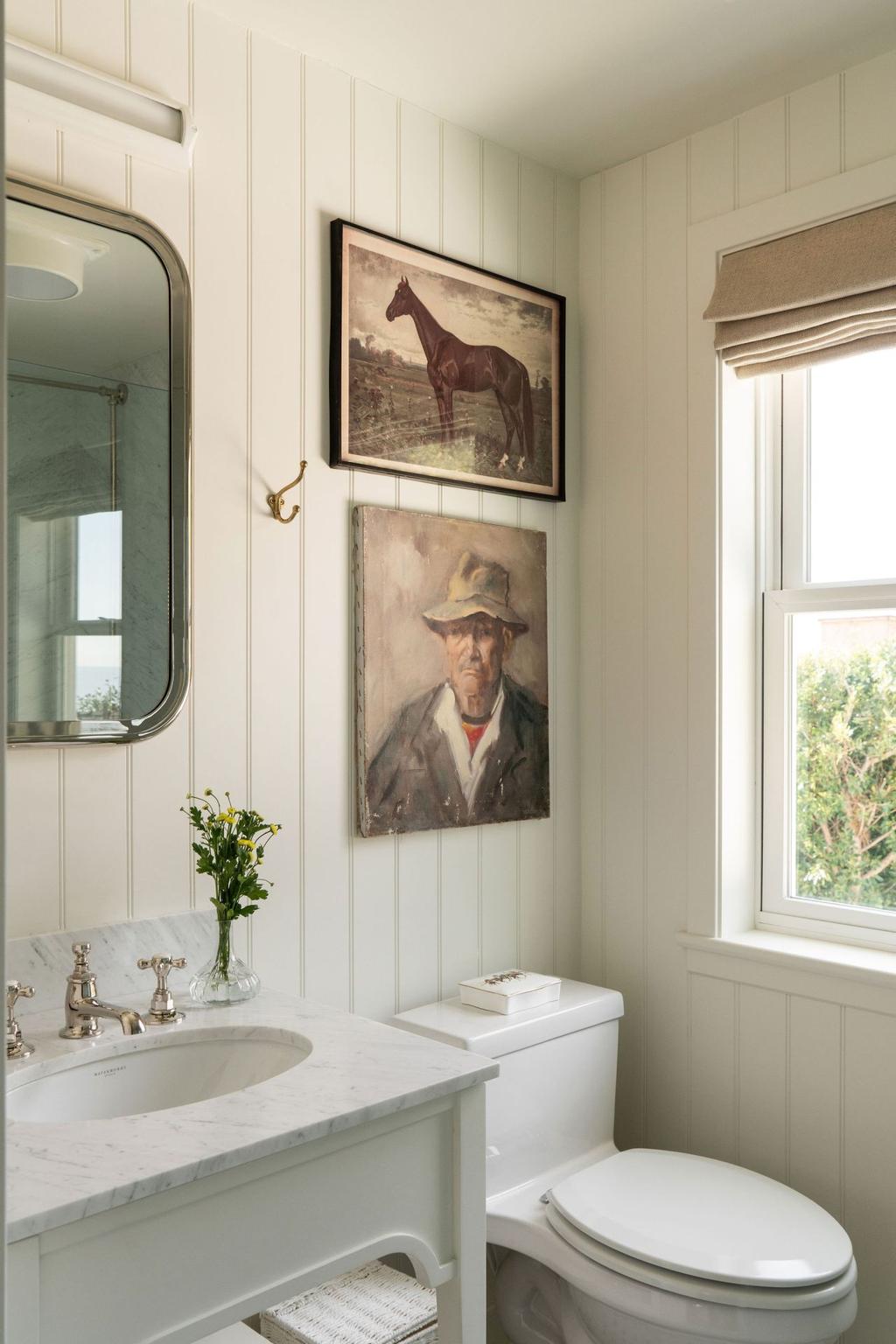 In spite of the tone on tone, I could stare at the bath above forever. Classic, traditional, timeless, serene, luxurious, and lovely. I just want my whole home to feel like that loo.
Modern Amenities With 1940s Architecture
This home was renovated to be suitable for modern living, and quite often this means stealing space from small extra rooms in order to expand a bath.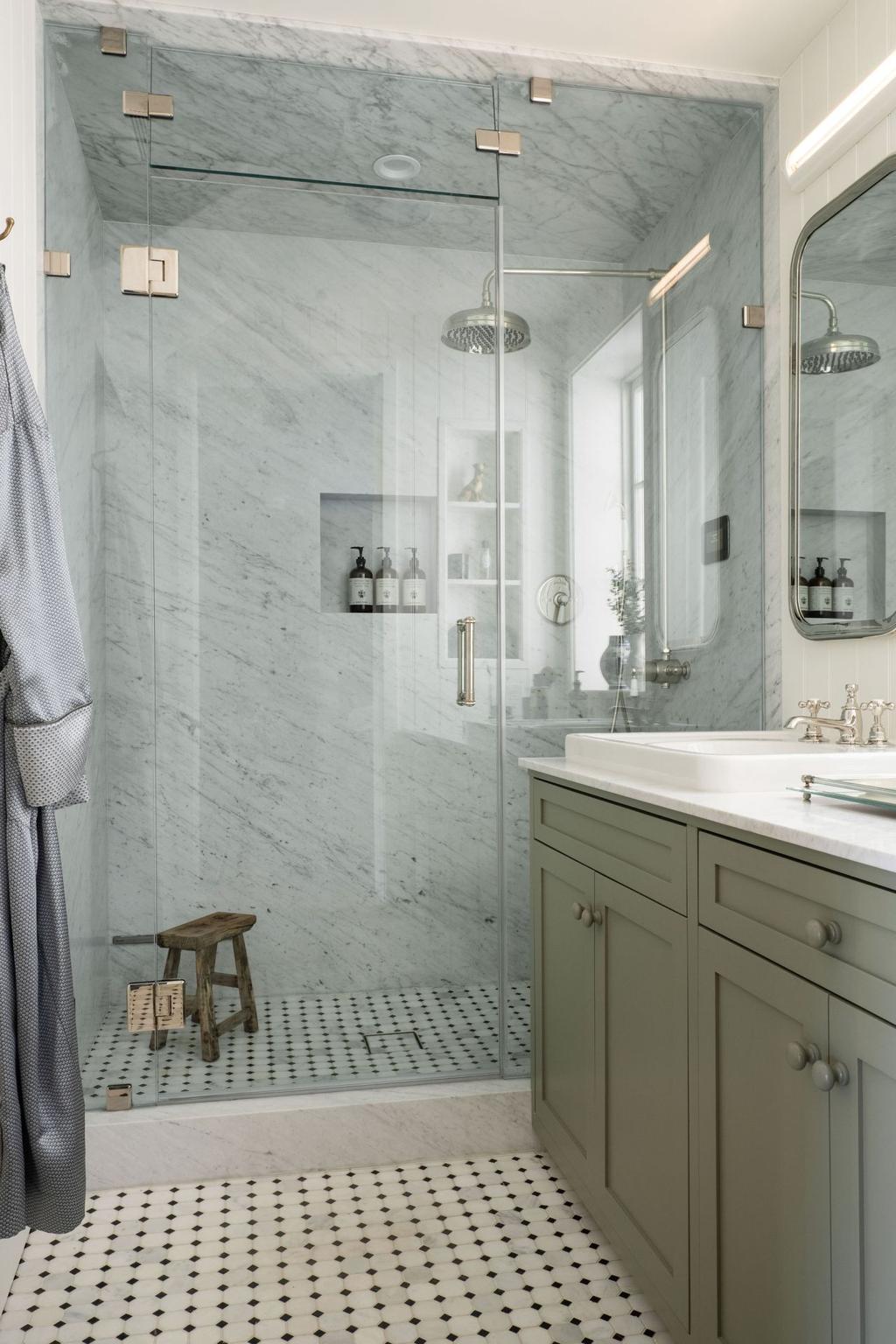 The materials for all that is new can be classic and suggestive of days gone by though!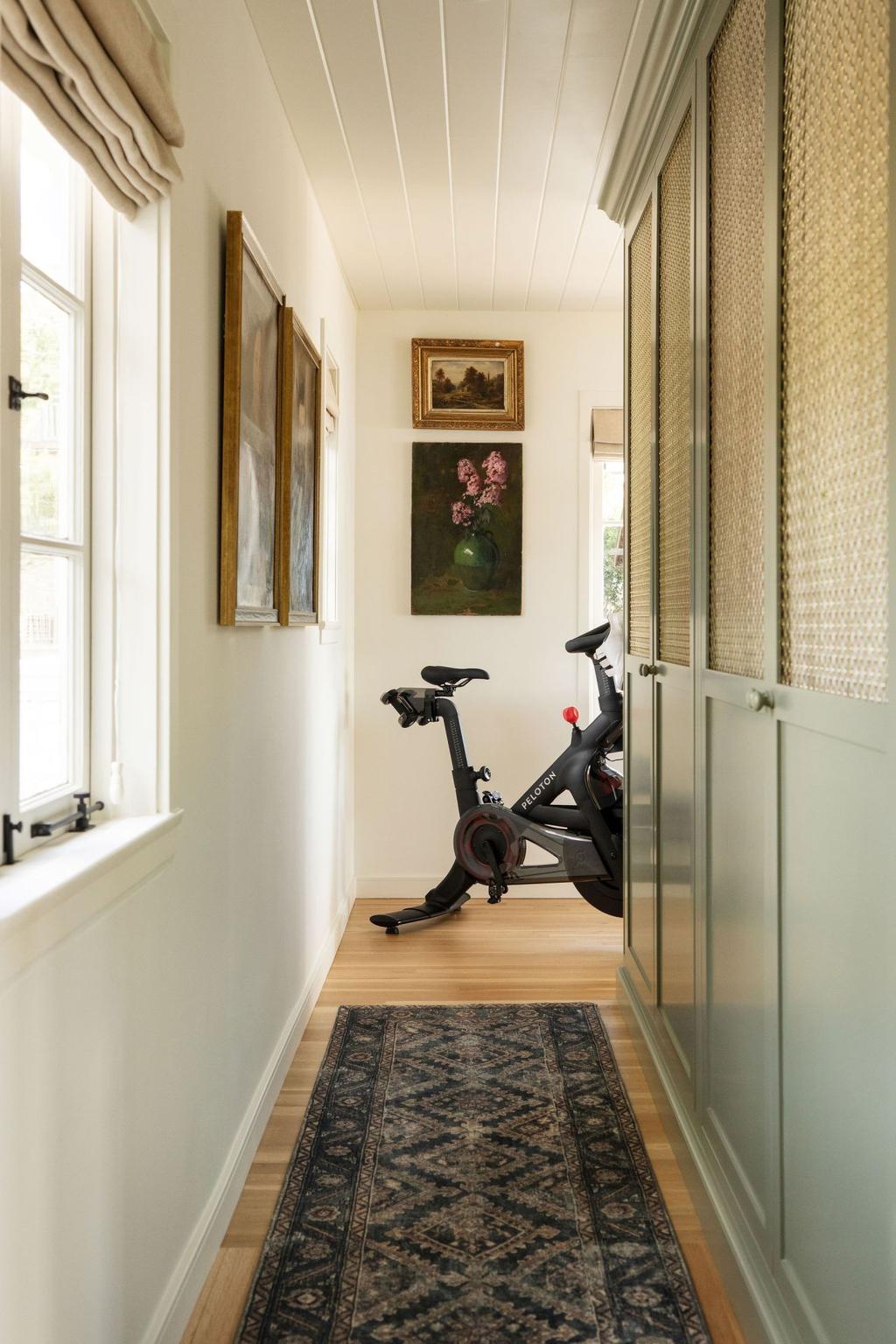 I think the common mistake is renovating a new bath with trendy tiles and modern lines that don't relate to the rest of the home. What a coup when there is harmony among rooms and with the outdoors.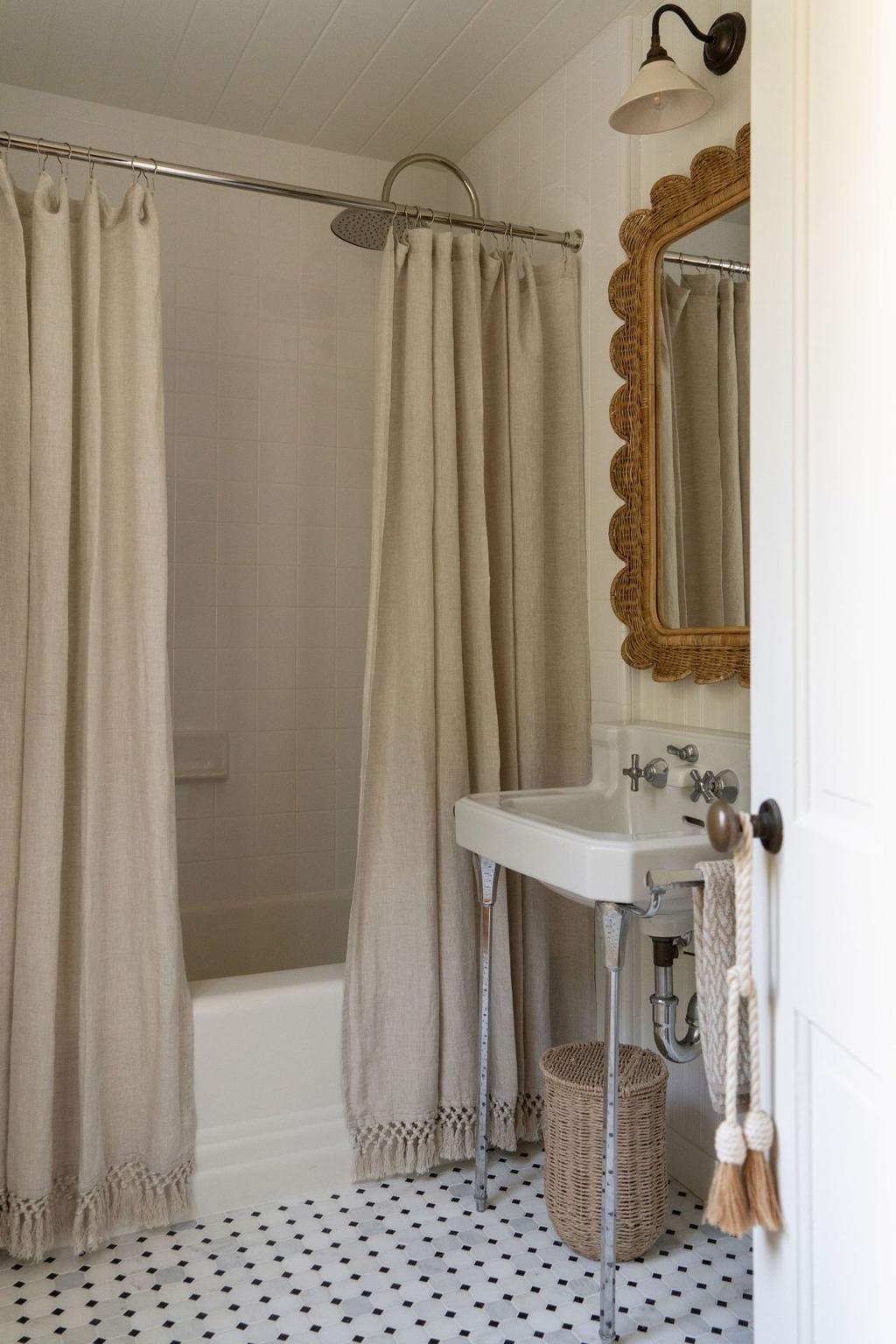 The simplicity of the bath above is so perfect for how we live today and yet it will serve needs for decades to come.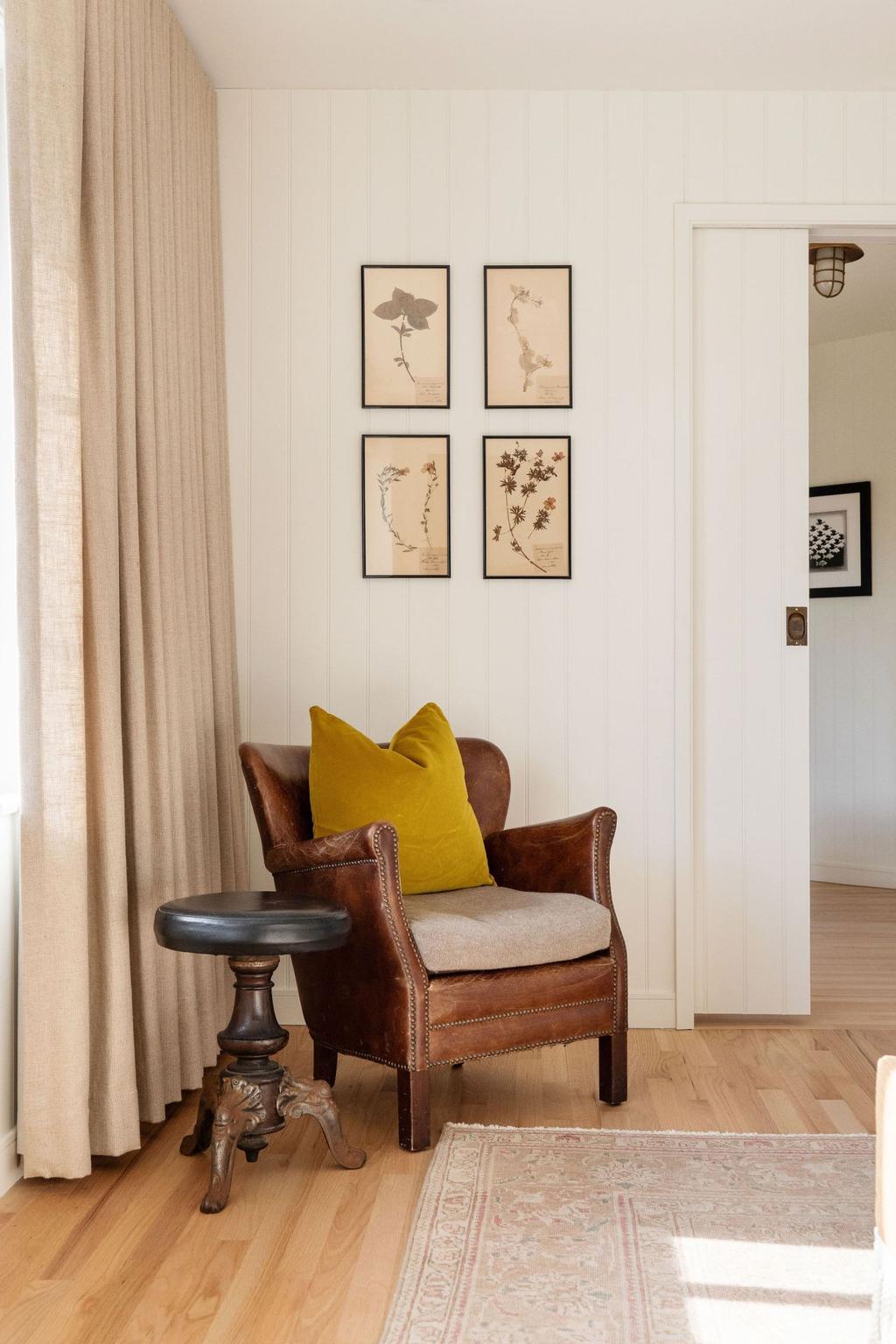 Personal Touches & Accessorizing
The art and decorations are so beautifully displayed, and there's much we can take away from the curation and styling.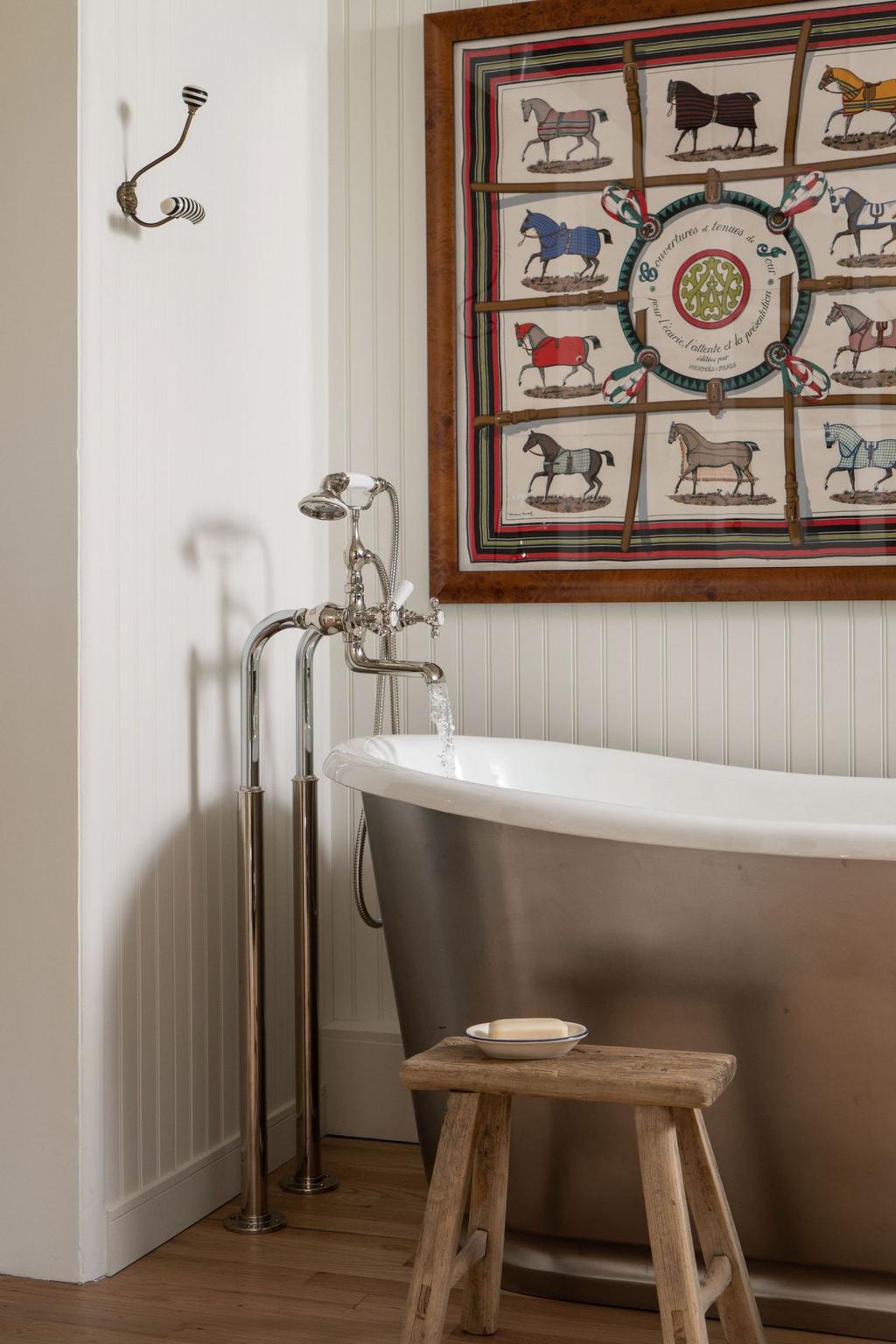 Whether it's a framed vintage scarf, a tassel or an old cast iron doorstop, such touches make a house a home.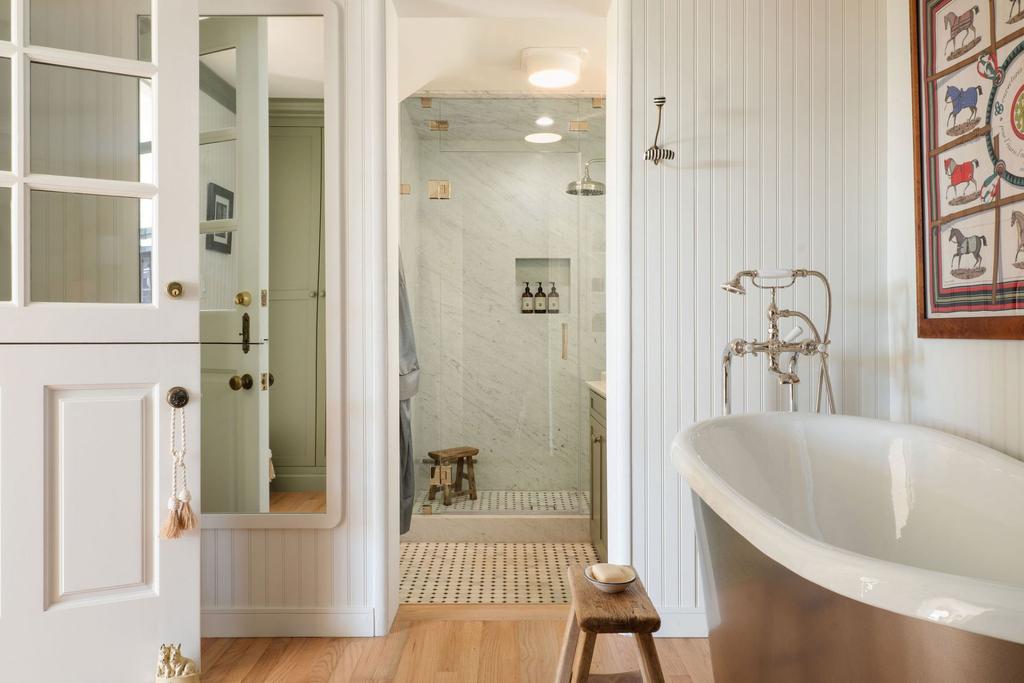 Colors and scale matter, but their personality and subject matter needn't make sense to anyone but you.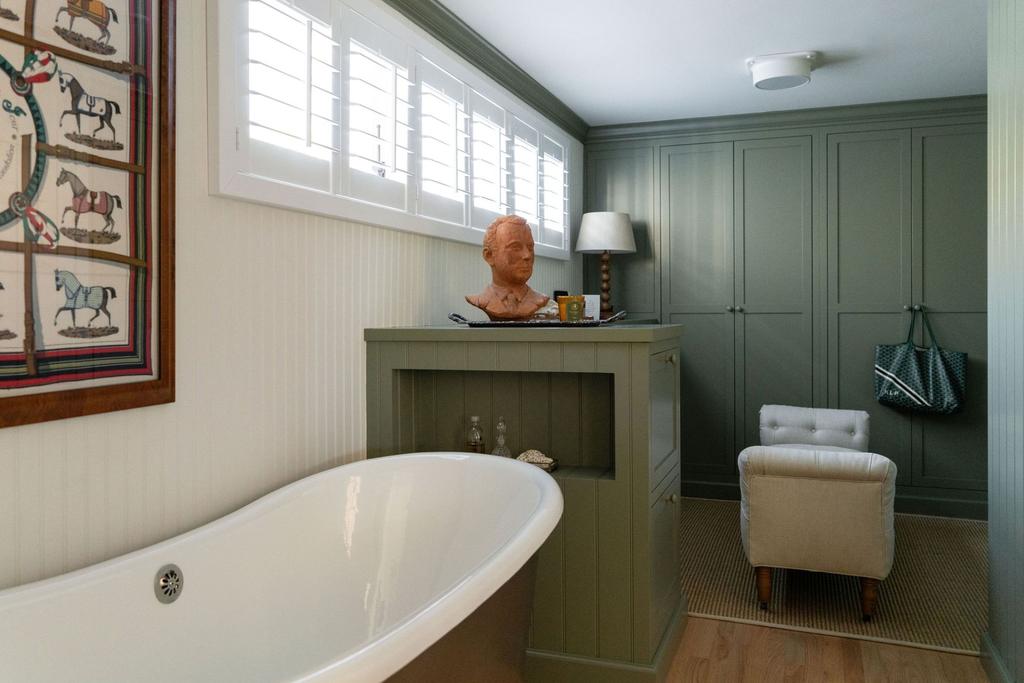 While we cannot move into this Malibu beauty, we can be guests at similar properties imagined by these homeowners since they are the aesthetes behind bespoke hotel brand Palisociety, specializing in one-of-a-kind accommodation on the West Coast.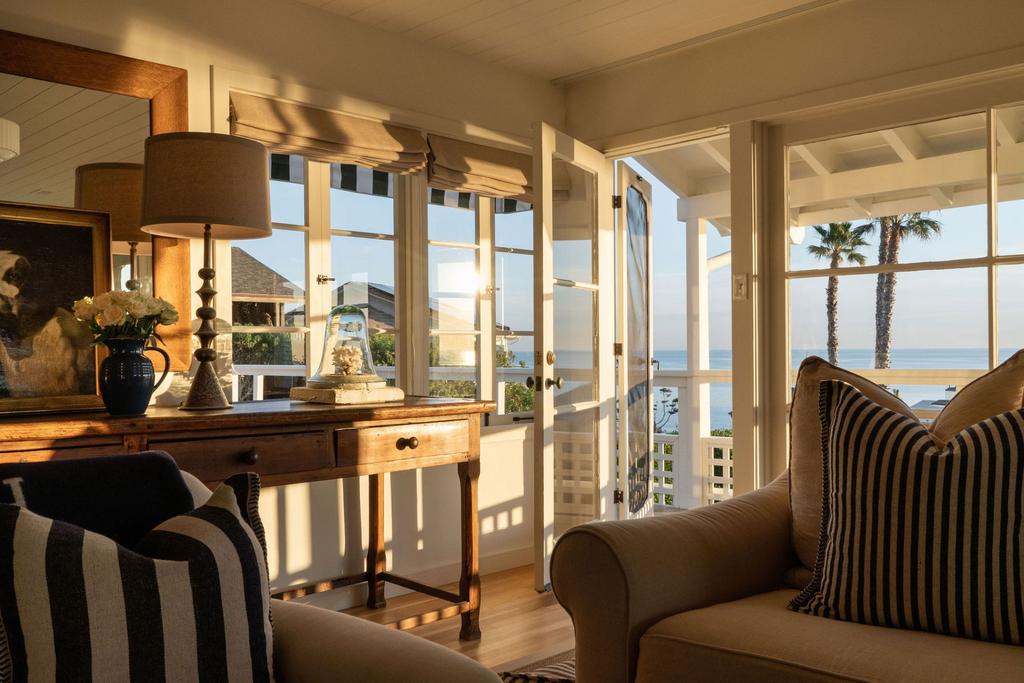 Isn't that amazing? You can stay at one of their boutique hotels to soak up all this English country cottage cozy energy.
I independently selected products in this post—if you buy from one of my links, I may earn a commission.
Peace to you right where you are.
-michele
Thanks for shopping RIGHT HERE to keep decor inspiration flowing on Hello Lovely!
Hello Lovely is a participant in the Amazon Services LLC Associates Program, an affiliate advertising program designed to provide a means for sites to earn fees by linking to Amazon.com and affiliated sites.