Part 2 of European Country Kitchen Ideas shares a wealth of creative inspiration to help with kitchen renovations, refreshes, and even new builds. What may surprise you is the wide variety of kitchen styles you'll see that glow under this "European country" umbrella. Whether it is Cotswold cottage style you love or modern French, you'll find design details to admire here (and pin to Pinterest for future reference!).
European Country Kitchen Ideas – Part 2
I independently selected products in this post—if you buy from one of my links, I may earn a commission.
Unlacquered Brass
I didn't know anyone using unlacquered brass in their kitchen 20 years ago, but it's so common these days around the globe.
Although there is nothing "common" about the beauty of this rich material! The beauty develops as the live finish ages gracefully and patinates with use.
The Giannetti's Patina Farm kitchen incorporated unlacquered brass and influenced throngs of people who admire that European inspired richness.
While I have yet to live with an unlacquered brass faucet, I absolutely adore the look of the hardware on objects I own. Such a no-fuss, weathered to perfection quality that shiny, new, showoffy things just can't achieve.
Smart Way to Experience An Unlacquered Finish for Kitchen
What if you were to start small and test out this material in not-so-huge ways…for shelves or cabinetry hardware?
You don't even have to spring for a whole kitchen full of cabinet pulls…think about a piece of furniture that could use a refresh with new hardware. An old desk? Cupboards in the laundry room? Bifold closet doors?
Just think of the satisfaction of watching a brass sconce like this age and evolve…
There's just something glorious about a finish that is truly alive. Alive and interacting with elements in its orbit, with the oils of fingertips, with time.
Apron Front Sink
I know, I know. You have no plans to rip out your existing and beloved stainless kitchen sink to swap it for fireclay. But if you're planning to build or redesign, it's a wonderful feature if you're looking for a country feel.
What is all the fuss about a fireclay farmhouse sink? If you don't have babies or puppies to bathe in it is it even a smart investment?
Here's my current apron front sink: 30″ farmhouse sink.
It definitely sets a tone and somehow elevates the whole dishwashing enterprise. I have already owned three (different homes!), and there are destined to be more in my future.
And have you seen more designers opting for marble apron front sinks?
I am often asked about water dripping over the side, and I must admit I don't understand how this could happen. The sinks I have owned have a design where this never happened.
As I was considering what I love about the the function and look of a farm sink, I realized the softness of the glaze and its reflective quality appeal to me. I love how it feels less so much less clinical than stainless.
A sink made from stone! Just the most timeless look!
How to Add a Bit of Character Without Changing the Sink?
An old worn out sink and laminate counters are not at all hopeless, and there are plenty of creative ways to counter utilitarian/mediocre factor in a kitchen. For example, you could add a natural stone tray near the sink. For about twenty-five bucks, you'll be able to corral a scrub brush, dish soap, etc. while adding the richness of natural stone. Bloop!
Warm Coppery Tones
Full disclosure: I lack copper tones in the kitchen beyond the terracotta floor tiles visible from the adjacent laundry area. I just can't live with red tones, but I admire coppery kitchens and folks who embrace red.
The warmth of copper cookware, tiles, and accents feels so natural and homey in a European or French farmhouse kitchen.
The coppery tones of Chicago brick installed in a herringbone pattern are unforgettable and feel richly Old World luxurious yet quite livable.
If you have a copper cookware collection…oh la la.
Easy Kitchen Essential to Add a Touch of Copper
So many of us have old copper tea kettles – dig in your basement or attic and dust it off! I spied at least three at the antique mall today. Leave the tarnish. Another possibility is this sweet girl:
Stoneware, Earthenware & Crocks
How fun is it to hunt for treasures like old stoneware, vases, urns, and jars?
I have been collecting pieces forever and am still not tired of the hunt.
I like pale colored terracotta urns and crocks, and you can do your hunting online too:
Or plan a trip to Europe to bring back as much as you can stuff in a carryon!
Vintage & Artisan Pendant Lighting
There are multiple ways to bring rusticity to a country kitchen, and lighting is one way that most of us shy away from.
Whether it is repurposing vintage lights (the pendants in the kitchen designed by the Giannettis above were once a part of Elizabeth Taylor's property) or installing handcrafted ones that only appear old…
It is truly possible to create a WOW moment that ushers in age and bespoke quality.
Where Can You Find a Unique Pendant?
There are so many wonderful makers on Etsy who can create the pendant of your dreams. Also, don't forget about old exterior lanterns you can find locally at antique malls or on eBay. Finally, consider ordering a light from a bespoke firm such as deVOL. Just look at their sweet frilly cranberry mini pendant:
Soft Pastel Color Story
If you're drawn to the softer, romantic, coastal feel of breezy pale colors, there are plenty of ways to enjoy this color story.
Pretty greens, blues, and aquas can be so mood lifting!
And just imagine a pale pink arrangement of garden roses or peonies in such a sea of blue-green!
Simple Pastel Touches
If green tile is too much of a commitment, there are so many lovely accents to consider.
Did you collect jadeite in the 90s as I did? Such a cheerful color.
Also, don't forget about the impact paint color can make! See THESE STORIES for ideas.
Woven Baskets
They are endlessly useful, fun to collect, and so simple to find.
But they are often under-appreciated as an essential to achieving a casual, no fuss look that feels comforting and approachable.
My favorite ones are handmade antique baskets (I have three that I cherish!), but the problem is I hesitate to use them since they are so old and valuable! I have a huge one full of dried pink hydrangea from my yard, and it sits upon a big painted wardrobe. Another holds baking supplies used only during the holidays, and it rests in that awkward space above my frig.
Don't you love the look of baskets on wood shelves? Such a tidy look. While it's not a kitchen or European Country style, baskets soften modular units in my dressing room closet:
And market baskets! Such a European look when they are lying around.
Invest in Good Looking Baskets for Storage
They are hard to beat since they work so hard keeping you organized and also looking beautiful.
Belgian Linen
I have devoted entire posts to it because I hold Belgian linen so dear.
This material is so easy to live with and so easy to layer with other decorative items since it plays nicely with everything in the mix. There's nothing trendy about it – it's hardworking and understated.
If you love the look of these chairs but aren't crazy about the price tag, I saw these: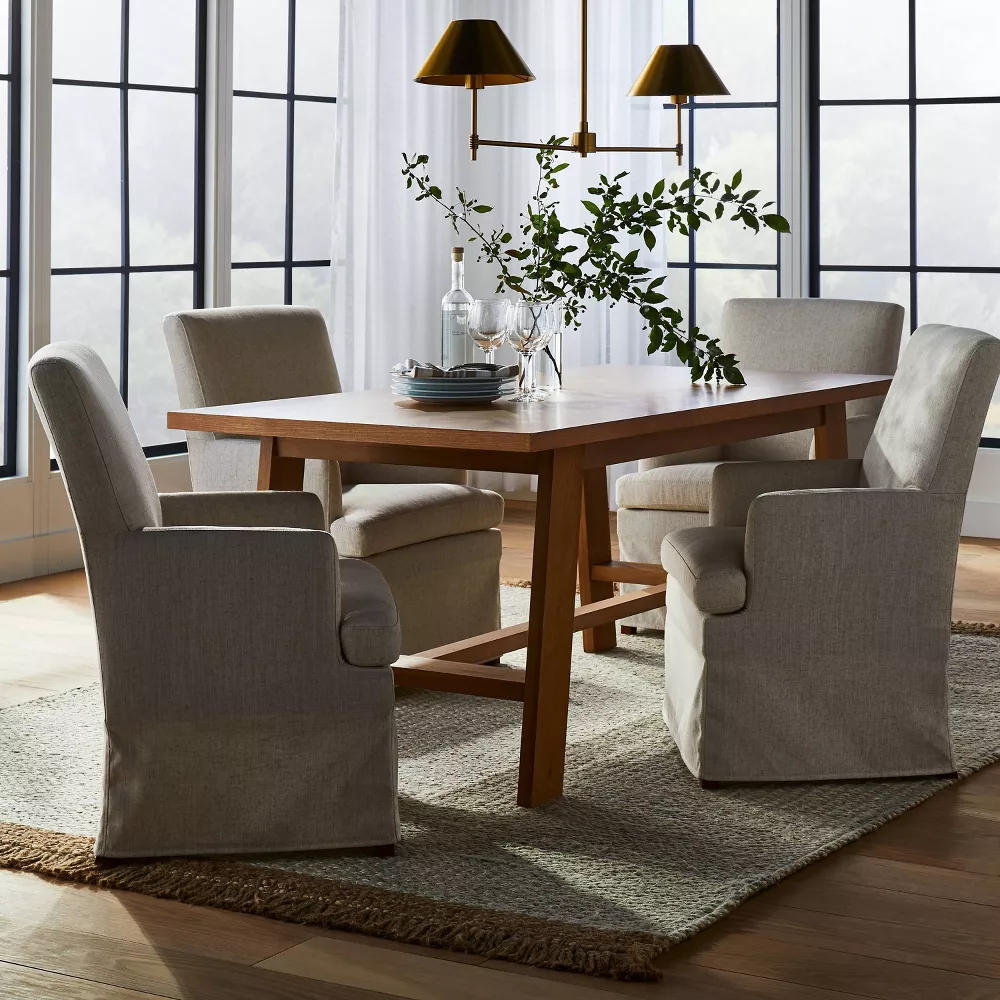 While the slipcover upholstery is not Belgian linen, it is 100% cotton, and aren't they good looking for the price?
If you haven't lived with this fabric, you could always start small with placemats or a pillow cover.
Have a Moment for a Fantasy Tour?
Nothing rustic or country here, but there are European design elements to delight. Treat yourself to a lovely house tour from legendary designer Suzanne Kasler, and if you need a gorgeous white paint color recommendation, she mentions her favorite.
Make sure you check out PART 1, and find more kitchen inspiration HERE.
Peace to you right where you are.
-michele
Thanks for shopping RIGHT HERE to keep decor inspiration flowing on Hello Lovely!
Hello Lovely is a participant in the Amazon Services LLC Associates Program, an affiliate advertising program designed to provide a means for sites to earn fees by linking to Amazon.com and affiliated sites.