Bet you had no idea just how many options exist for a bright white with minimal undertones until it was time to buy paint! I hope this roundup will help you decide on a few samples so you'll arrive at the best white color for your project. Best and Brightest White Paints to Try narrows the wide range of possibilities with a photo gallery of inspiration and an exploration of each option.
6 Best and Brightest White Paints to Try
For more help choosing the perfect white, SEE THIS. Thanks so much!
Benjamin Moore White Dove OC-17
When you have no idea where to start in your quest for the best white, start with a sample of WHITE DOVE.
White Dove is clean, classic, and versatile whether it is a ceiling, wall, trim, door, or exterior siding, and will reflect a good amount of light since the LRV is 83.16.
Chantilly Lace – Benjamin Moore OC-65 or 2121-70
Find a sample of BM Chantilly Lace here to see how it looks in your unique space.
Benjamin Moore calls this white their classic go-to white that elicits images of fresh cotton and pure silk.
And I think that's why this particular white is considered one of the best whites and is so wildly popular. It has a more natural character to it. Other neutrals this white matches well with? BM OC-151 (one of my favorites I go into detail about HERE), BM Horizon, BM Seapearl, and BM Edgecomb Gray.
How bright of a white is Chantilly Lace?
It has a light reflectance value (LRV) of 90.04.
The LRV number signifies the percentage of light this hue will reflect back. In this case, more than 90%!
That's a lot of light and why this neutral color is popular in a lot of modern or modern farmhouse interiors.
Extra White – Sherwin-Williams 7006
Find a sample of SW Extra White right here to compare it with other whites in your quest to land on the perfect white for your particular room or exterior.
Extra White also has a high light reflectance value (LRV) of 86. So a little less reflective than Chantilly Lace, but still a bright white.
You can see how brilliant the white is on the exterior above, and it's an off white that feels clean and vibrant.
Notice how it is an off white, not a warm white like the white bunks above. This room is an example of how it's a more interesting mix when different whites are mixed rather than all matched.
Looking for a white to paint shiplap or tongue and groove paneling? These examples may help you decide if Extra White is worth sampling.
Another important tip is to not allow yourself to get attached to a particular paint color just because of the name. Extra White sounds like it could be the whitest of all the whites, yes?
But it isn't. That's why it's good to notice LRV and to sample at least three different white colors (live with them, watch them change throughout the day as the light changes, notices the undertones between the samples).
China White – Benjamin Moore OC-141
Sample China White by ordering a paint sample HERE.
The brand says "Cool gray undertones freshen up this shade of white," and it's worth noting that when you're after a bright white, you should definitely be aware of what color undertones are present and will influence the perception of the color.
A bright white with blue undertones may actually appear light icy blue in your space, to your eye. Since China White is a grey undertoned white, if your room lacks natural light, it may appear greyed to you. Which can be great! Grays are wonderfully neutral and easy to live with when you love cool tones.
With a LRV of 76.43, it is not going to be one of those blinding whites for an exterior if you're seeking the perfect white paint color for your home.
That said, make sure you take a lot of time with white paint samples for an exterior. Even light grey colors get warmed and washed out in the sunlight.
You need to watch how the sample changes from morning to night.
China White is a color that works great with these other Benjamin Moore colors:
Collingwood, Vintage Vogue, Chantilly Lace, Guest House
Chances are, China White is going to be perfect for your china cabinet!
Pure White – Sherwin-Williams 7005
Be careful when you're reviewing details for SW Pure White since Benjamin Moore also has a color called Pure White.
Try a sample of SW Pure White HERE.
Sherwin Williams says this bright white has the slightest yellow undertone that keeps it from appearing too stark. Use on trim for the perfect complement.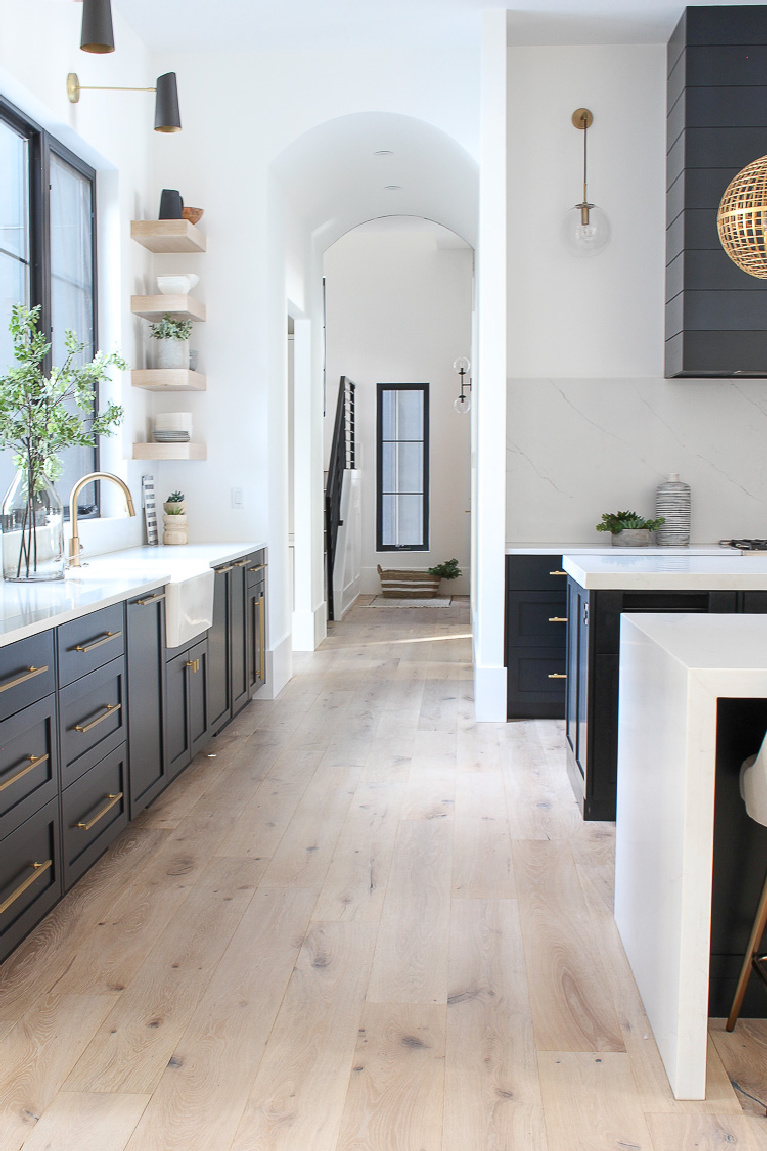 Easiest way to see if a paint color will work? Order peel and stick samples with Samplize and have them delivered straight to your door.
It's interesting to note that the yellow undertones aren't easy to see from photos posted online of Pure White. The LRV is 84 so it's going to reflect more light than China White.
Decorator's White – Benjamin Moore CC-20
Find a sample of Decorator's White HERE.
The brand says "A touch of cool gray gives this go-to white sleek, stylish appeal," and because of its grey undertones, it's going to be cooler than say Pure White.
Decorator's White LRV (light reflectance value) is 82.68, and maybe that's why so many designers and homeowners choose this bright white. When you want a clear, clean, cool, gallery like white that stays cool but isn't blinding like a white primer, this may be your pick.
This white is going to look great with Oxford White, Raindance, Chantilly Lace, and Blue Note from Benjamin Moore.
Isn't it amazing with the cheerful blue in the kitchen above?
White OC-151 – Benjamin Moore
I have a long history with OC-151 known simply as WHITE. Sample it HERE.
I loved it so much that I painted all of our interiors this hue in our former home.
Interior designer Lisa Furey loved it so much that she painted all of the interiors AND exteriors (three buildings at a coastal compound) BM White OC-151!
It definitely has blue undertones so if you don't have great natural light, you might notice the blue. Not a bad thing unless you hate cool blues.
If you are also seeking a neutral paint for your exterior, check out ideas in THIS.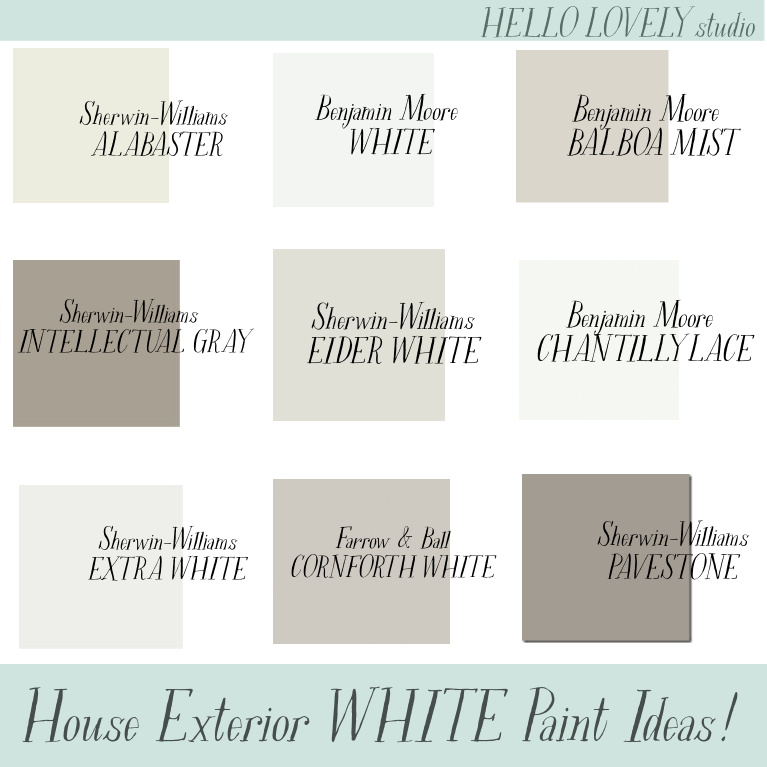 While I'm not certain of the white paint color used in this $14M New York apartment, Decorator's White would be a good guess. It is cool and seems to have grey undertones.
I independently selected products in this post—if you buy from one of my links, I may earn a commission.
Peace to you right where you are.
-michele
Shop for items you already intended to buy on Amazon RIGHT HERE, and also find home decor here to keep decor inspiration flowing on Hello Lovely!
Hello Lovely is a participant in the Amazon Services LLC Associates Program, an affiliate advertising program designed to provide a means for sites to earn fees by linking to Amazon.com and affiliated sites.