Get ready, design detectives. Luxurious Touches in European Country Interiors will explore the mystique of unfussy luxurious touches that aren't always obvious. You already know it's all about layering and the mix. And I certainly don't need to explain to ye sophisticated brethren how the humble and the haute indeed BELONG together. Contrast, tension, and dynamic relationships deepen a room's character. Studying well-designed rooms help us gather intel to emulate the look. Yet sometimes the luxurious touches are subtle and not immediately obvious.
This post contains affiliate links which I hope you will use since they won't cost you a penny extra yet may earn this blog a small commission.
Luxurious Touches in European Country Interiors
Today's interior design inspiration features a mix of beautiful interiors that capture the essence of rustic, European country inspired, approachable designs yet also feel luxurious.
How do designers create such living spaces that reflect a striking level of luxury?
Luxury is often communicated through
rare antiquity,
uttermost quality,
and high end finishes.
But is it possible to create a livable luxe mood without access to an experienced designer or piles of cash?
Are there subtle underpinnings, relationships, inclusions and exclusions we may not readily notice that are actually quite achievable without a royal budget?
Hmmmm. I think so.
Yet this quest demands more than a quick Pinterest search.
The Luxury of Rustic Authentic Natural Materials
It's much easier to truly "sense" the luxurious layer of an interior when it is experienced IN PERSON. So for example, photos of a kitchen with white oak thermofoil cabinet doors (a vinyl wrapped MDF front) may read ultra-luxurious, while in person, less so.
White Oak Patina Farm's Timeless Kitchen
While it isn't fancy or fussy, the repetition of natural white oak for flooring, custom cabinets, and kitchen island adds an everyday, livable luxe to this glorious space by the Giannettis.
But isn't it just a matter of budget available to invest in the design?
No. Here are some options to achieve a luxurious feel with a limited budget: (1) wait and save until you can afford authentic materials (like solid white oak rather than vinyl doors in this case) or (2) realize bigger is not necessarily better…get creative with the layout (in this case, one could opt for less cabinetry in the kitchen design so the expense of natural material is within reach).
Natural Marble in an LA Beach House Bath
I'm crazy about the elegant simplicity in this bathroom design. While luxurious, it has a modern English country vibe happening that feels so welcoming. And that gorgeous green-gray wainscot! (Keep reading for the paint color.)
The natural marble must have cost a pretty penny, yet it won't fall from favor so there's longevity and the assurance that it will probably just get better with age.
Could you get this same level of English country elegance with a marble-like porcelain tile? Probably. In our former home, I was going for a European country inspired calacatta marble look for the primary bath:
See what I mean about how photos only tell part of the story? Using marble-look materials makes sense for all sorts of projects.
However, the overall design and the actual daily experience of using a space created with machine made, man-made materials rather than nature-made or handmade may fall short in terms of character and timelessness.
Curated, Edited Restraint & Minimal Aesthetic
Cluttered tabletops, shelves, and walls make sense for a wide range of design styles and lifestyle preferences. However, a rustic European country interior can begin to feel like a stall at the local antique mall when there is too much to see.
What feels luxurious about the open concept kitchen below is the magic happening between the natural woven texture and all the white.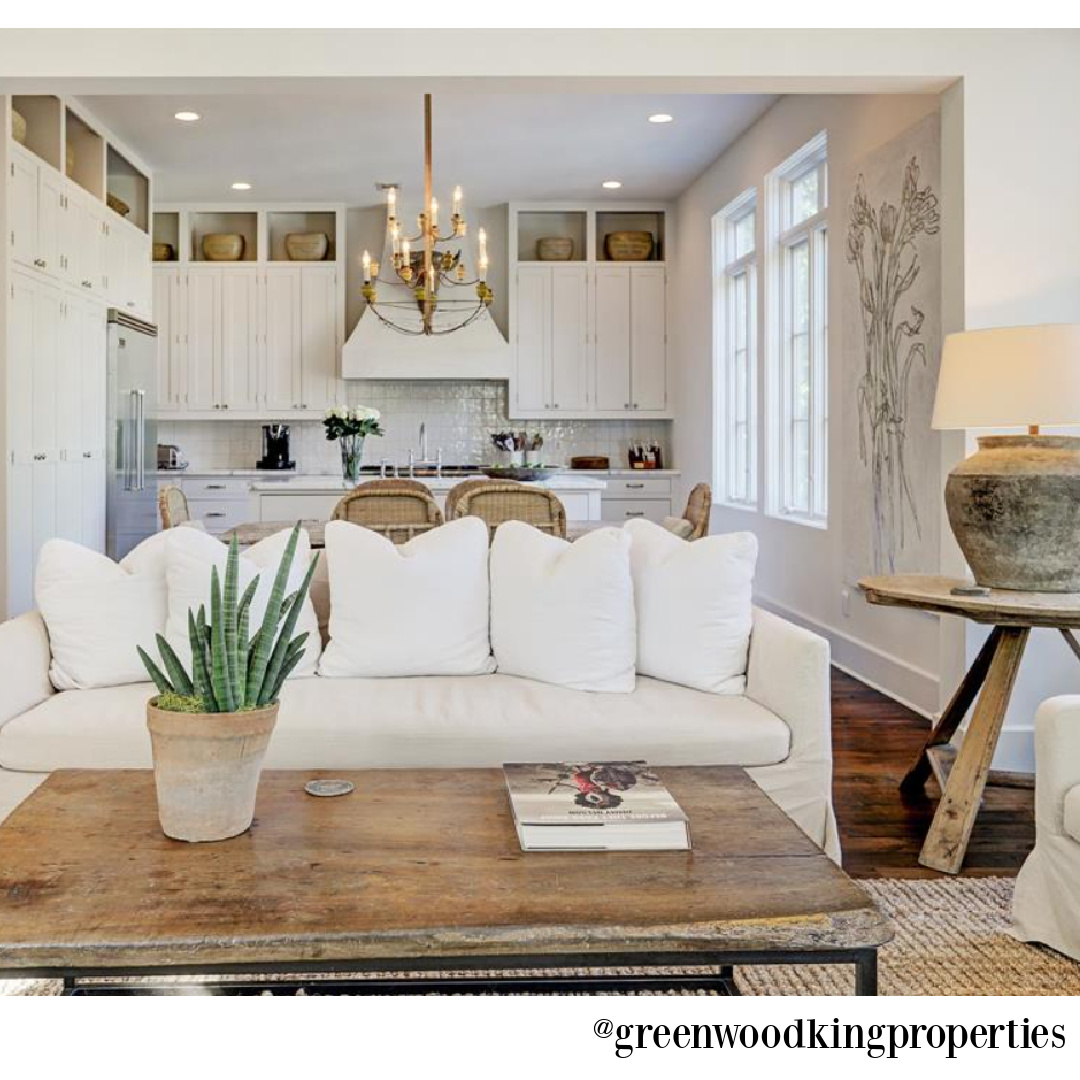 Less material and distraction in the space adds a luxurious, contemplative, airy quality to the design. Let's face it. In the 2020s, CALM is the new luxury.
One of my favorite stylists models such restraint in her rustically elegant home so well.
White on White & Curated
Since Tracie is a shop owner, there is always a rotation of Swedish and French antiques decking her Swedish immigrant cottage halls. But the look is kept luxuriously light rather than over-collected or over-baked.
While the cottage itself may be humble, there is a luxe feel to the way she edits and lives with less.
"Luxurious living" is certainly a subjective matter…especially when it comes to country living!
Kitchens seem especially vulnerable to becoming cluttered and over-run with stuff…that look is less elegant and more chaotic.
It always helps me personally to periodically take the time for a clear out.
Rustic, Industrial & Minimal
Just getting into all the corners for a thorough cleaning before bringing back things sparingly will make a significant difference.
Restraint doesn't have to result in a sterile environment.
Warm, Edited Laid Back Luxury
Hunting for the right pieces is great fun, and those pieces can be brought out seasonally or when you're in the mood.
Not sure if you're striking the right balance? Subtract and then study! For example, take photos and critique your own work…it really makes a difference.
Custom Strokes of Luxury in a Rustic Mix
Plaster Shelves in a Laid Back Cottage
Some daydream about diamonds and pearls, and some European country design freaks like us dream of owning a tower of plaster shelves.
What makes it luxurious is the fact it is one of those artisan things requiring an Old World skill set.
This is what rustic elegant dressing room dreams are made of if you ask me!
Maybe you're noticing the common thread running through these rustic yet luxe interiors: the luxurious elements are largely personal, everyday elegant, purposeful features.
They aren't show-offy, blingy, look-how-much-I-spent-here gestures.
Custom Millwork & Bespoke Colors
Desiree Ashworth's (Beljar Home) former Utah homes come to mind when I reflect on the luxury of fine craftsmanship.
While traditional, Gustavian-inspired, and Old World, the trim around doors and throughout this cottage feels luxe and fresh. The blue-grey-green stain was custom, and I can't imagine how many of her admirers have asked for the formula (which doesn't exist!). 🙂
Playful Scale & Whimsy in Elegant Rustic Country Design
Boldness can be a very luxe move.
Whether it's a giant-sized gate…
or playing with scale on a kitchen shelf…
the idea is to inject more FUN and less seriousness into the mix.
A sense of humor can be scarce in a lot of uptight fancy designs, and adding whimsy or surprises lighten the whole mood.
When Your Budget is Less Than Luxurious
Pick a small area to turn up the luxury since it will cost less to refresh it than tackling a huge great room.
In the mood for something less rustic and more English country cottage chic? You'll love this:
Do visit my archives and these stories for French farmhouse inspiration destined to charm you and ease you into a peaceful state of being.
I independently selected products in this post—if you buy from one of my links, I may earn a commission.
Peace to you right where you are.
-michele
Shop for items you already intended to buy on Amazon RIGHT HERE, and also find home decor here to keep decor inspiration flowing on Hello Lovely!
Hello Lovely is a participant in the Amazon Services LLC Associates Program, an affiliate advertising program designed to provide a means for sites to earn fees by linking to Amazon.com and affiliated sites.