They can inject so much personality, texture, and color into a design whether used on a floor or wall. And so often finding a beautiful tile can inspire a direction or color story for the rest of the space. Make sure to peek at tile ideas on Pinterest (pretty please follow my boards!) to get inspired too. Whimsical Tile, Painted Floors & Stencil Ideas explores a variety of options for tile or a tile look.
Whimsical Tile, Painted Floors & Stenciled Looks to Inspire
Encaustic & Cement-Look Whimsical Tile for Flooring
Bathrooms, laundry rooms, mud rooms, and kitchens are prime places for tile and areas where it is fun to be a little more daring.
The colorful whimsical tile above? Handpainted by the creative homeowner…so custom!
In this bath in our son's condo, we removed vinyl sheet flooring and added these fun encaustic look tiles.
Encaustic (cement) tiles have a different installation process since they are much heavier and different to work with from porcelain or ceramic.
If you're a DIYer, it is likely a safer bet to install an "encaustic look" tile rather than the real thing.
The advantage is not just an easier installation but a much friendlier price tag.
But if your heart is set on cement tiles and you're up for the expense and installation, there are gorgeous examples.
This tile above is still my favorite! What a beautiful light grey tile!
Cement tiles are easy to care for and live with.
The reason encaustic tiles continue to to be popular is because of how durable they are. Additionally, they can add instant age and character to new builds that need soul.
You may find this article from HGTV helpful for the scoop on cement tiles.
Why Do Encaustic Tiles Cost More?
Seeing their creation helps you grasp the full picture.
You may be noticing that checkered floor patterns are wildly popular again. Such a whimsical choice, and if you have the budget for reclaimed tiles (or are lucky enough to score them from someone remodeling!), their patina adds so much character.
This post contains affiliate links which I hope you will use since they won't cost you a penny extra yet may earn this blog a small commission.
Kitchen With Cement Tile Backsplash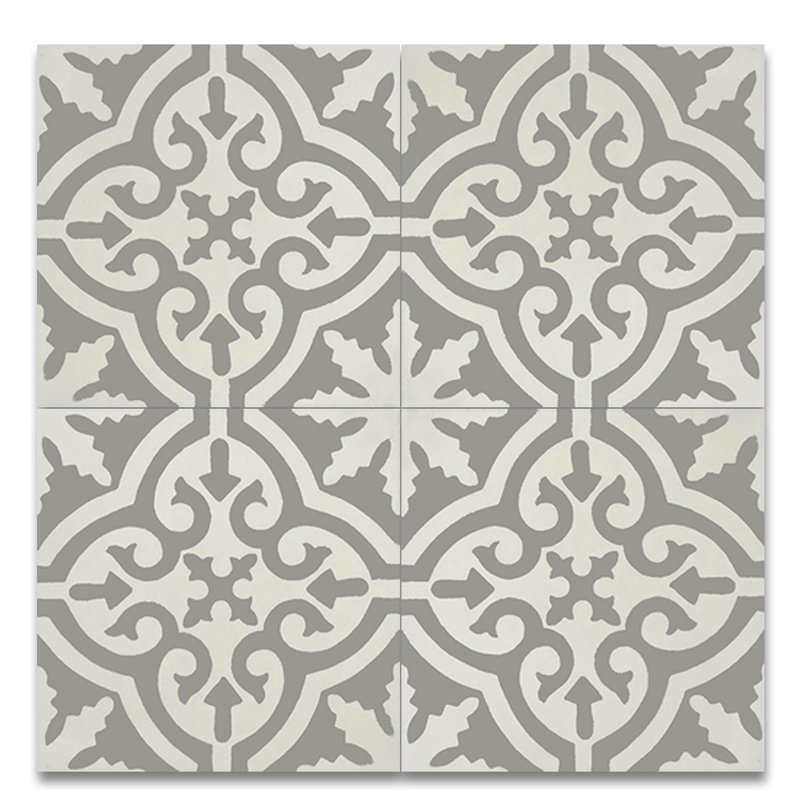 Cement Tile Lookalikes
If you love the look of cement, check out these alternatives. They may be mass produced, but there are lovely low priced options.
Terracotta Tile
If you love Old World style, you probably admire ancient terracotta tile too.
These terracotta hex tiles in the French kitchen below are more than 150 years ago and not original to the home. The new owners found them elsewhere, and what an amazing way to "add" authenticity after the fact!
Faux Cement Stenciled Tiles
Some folks skip demo altogether and paint a tile look over vinyl or even existing tile. While this probably isn't a permanent flooring solution, it can be 1.0 until you're ready for 2.0.
If your floor is hideous and you like DIY, how fun totry out the effect of cement tiles without the mess and expense. Just a few hours and a quality stencil may help you achieve the look!
What may be savvy about stenciling the floor is that even though encaustic tiles have been around since the 1850s, they continue to trend. If the look falls from favor, one could paint over the stenciled wall, floor, or patio.
Here is my favorite stencil which mimics the look of real cement tiles.
Charcoal grey paint to get this effect: RIGHT HERE.
Painted Check Flooring
What if you're inspired by the look of pricey marble, Belgian stone, or even encaustic tile checkered floors, but don't have the patience of budget?
Is a painted checkered floor the most timeless yet whimsical look of all?
Find more checkered floor inspiration in THIS STORY.
Faux Cement Tile Stencil Tutorial
They don't just make it look easy – it truly is as easy as rolling over a stencil with a little bit of paint – matching up registration marks – securing with painters tape – and repeating.
Isn't it a good looking wall which cost next to nothing!?!
More Stencils To Get a Cement Tile Look!
Hello Lovely's Stencil Projects
Need a Louis Ghost Chair or 6? I love them for desk chairs, extra seating, and outdoor entertaining since they are stackable…Find them HERE.
More Script Stencils to Consider
I have stenciled walls for myself and many others since the early 90s, and stencils have come a long way!
Script style stencils remain a favorite, and this example below is one I used in a bedroom.
I have seen all sorts of stenciled pillow covers online, and the effect seems nearly believable on vintage canvas fabric. (You can always add fabric sizing medium to paint on fabric).
This Parisian inspired stencil can be used for a variety of projects – imagine a rustic wood box, a pillow case, a door, or a decorative sign for the wall.
If you have shopped for antique grain sacks from Europe then you know how pricey they are. Here's a low cost alternative to creating something suggestive of an antique. The lettering is so Old World and authentic!
Ever transformed a wall with a stencil? Have experience with cement tiles in any of your spaces?
p.s. Find more inspiration for laundry rooms and mud rooms RIGHT HERE.
I independently selected products in this post—if you buy from one of my links, I may earn a commission.
Peace to you right where you are.
-michele
Thanks for shopping RIGHT HERE to keep decor inspiration flowing on Hello Lovely!
Hello Lovely is a participant in the Amazon Services LLC Associates Program, an affiliate advertising program designed to provide a means for sites to earn fees by linking to Amazon.com and affiliated sites.