No matter your proximity to an ocean, if breezy seaside style is calling, there are creative actionable ways to answer. If you are spring cleaning and organizing your interiors as I am right now, maybe a lightened up, airy, relaxing retreat feels especially enticing. If you know me, then you won't be surprised that I'm about to mention paring down. You may not need to make a coastal shopping list for Homegoods as much as clear the decks! Also, these aren't coastal kitschy ideas with signs pointing to the beach. There may not be a seashell in sight. I hope the decorating ideas expand the possibilities and empower you to believe a soothing retreat is within reach. A Coastal Cottage Bedroom Look with glimpses of beautiful designs and resources await!
Capturing the Look of a Coastal Cottage Bedroom
Our Own Bedroom: Renovation Update
While I have shared some before and during shots of my own bedroom here at the Georgian, I haven't told you the design direction. That's because I haven't really had one. One of the reasons this home has been exceptionally challenging as a project is we have been listening and responding intuitively to each space rather than asserting dominion.
I can say the bedroom is beginning to feel Hamptons coastal cottage, and I can't really take any credit. The house has a strong point of view, and I decided to work with our existing cottage style bedroom furniture:
But since my husband liked the existing wall color (SW Agreeable Gray), I needed to tweak the finish on the furniture (BM Revere Pewter on it nearly matched the walls which made it a complete miss!).
Modifying Existing Coastal Furniture
I also listened to what the space was telling me about our bed, and it did not like the height or ornamentation on the headboard! I decided to peek at the back side of it and lo and behold, the decorative arched section was detachable. Once we unscrewed and removed it, the room sighed with relief. 🙂
If this all sounds like crazy talk from someone nutty enough to yield to a house's wishes, you're not far off. I truly am that odd, and my aim is not to convert followers to a similar path as much as to FREE you to see there isn't a singular way to create beauty.
This week we finished details in the sitting area (on the right, above) which is essentially a turret with seven wall to wall windows. I painted the dark brown trim…not a quick job since all the trim here has required four coats of primer followed by two coats of enamel. But it was all well worth it, and someday soon I'll have a reveal. The bath in our bedroom is also nearly ready for its closeup. It needs finishing touches, and I plan to create art for it. That process can't be rushed and must flow from a peaceful spirit, not a fatigued groaning one. 🙂
With all of this bedroom decorating and renovation work fresh in my mind, let's explore ideas for increasing breezy calm in tranquil cottage bedrooms, shall we?
Choose Sea-Inspired Tranquil Paint Colors & Accents
Maybe you simply need a new color palette. Painting walls can be a gamechanger. Love blue?
Light blue walls can be a challenge for a grown up room. Hence, it is extra helpful when designers and homeowners share their successful projects!
Blue paint colors are tricky though so proceed with caution! Remember if a color is close to what you're after but a little too much, you can have a sample made with a lower saturation. Take the time to arrive at the perfect custom color for YOU.
Also, you may need to look at grey paint colors to get the look you're after since many grays have blue undertones. You can always stick to a neutral shade on the walls and accent with tones that remind you of the beach.
Do you have a board on Pinterest reserved for PAINT COLORS? Create one!
Add Rustic Wood Texture
It was so gratifying to add Hamptons Stikwood to a wall in our former bedroom and in one fell swoop, change the entire mood of the room to be more casual and vacation-like. If you don't have experience with peel and stick wood products, you may be unaware that this particular product is not fake but indeed real reclaimed whitewashed pine wood.
The texture brought just enough quiet contrast with our cottage style bedroom furniture (painted BM Revere Pewter).
Minimal Luxe & European Inspired
Huge fan of Desiree Ashworth's design and Beljar Home style! Something magical happens when you mix European antiques and European country influences for a coastal bedroom feel without the kitschy nautical decor.
Think light-toned wood, lanterns, stained wood trim, scrubbed and raw wood finishes, natural fibers for rugs, woven baskets, driftwood tones, rugged wood beams, antique benches, and vintage lighting and artwork.
California Cozy Coastal Modern
If you're an admirer of relaxed, California cool interiors, check out resources from Jenni Kayne including her amazing books highlighting Pacific Natural vibes!
The woodsy walls paired with nubby texture on that bed!
Traditional & Preppy Coastal Kids Room
See what I mean about widening your coastal imagination? Inspiration from this showhouse kids room may be a reminder that a nostalgic seaside mood can emerge from cheerful colors and classic stripe or gingham patterns.
Aren't the green and pink best friends? And don't you love the idea of a desk between the twin beds as relief from separate bedside tables?
A Rustic Bedroom Can Be Small Yet Mighty
Here's proof you truly can mix multiple design elements successfully even in a small space.
Maybe the trick (besides hiring an experienced, top notch designer!) is striking the proper balance, splurging on quality materials, and highlighting a bedroom's strengths (like ceiling height). Here's another small bedroom where the architecture was celebrated and elevated. Horizontal lines play a starring role along with white!
Those wide and white planked floors make me want to rip out carpet in all my bedrooms here!! Do not tell my husband!
Add the Charm & Personality of Wallpaper
It can seem like quite a lofty commitment, but you could always just start with one wall. Is this Feather Wallpaper calling your name?
Naturally Soothing Color Palettes
This Patina Farm bedroom may be a mountainside retreat rather than an oceanside one, yet it continues to inspire.
It is a celebration of light and unfussy charm. The natural colors echo shells, stone, sand, and sunsets. So luxurious yet livable, yes? Even Brooke and Steve's tattered old chair looks inviting!
Here are a few more peeks from inside my copy of their book:
Pretty Pink Bedroom Accent Wall?
If you're into a tropical oasis, maybe pink could deliver island vibes. For ideas and tips for a pink paint color that won't make you think of tummy medicine (*ahem*), SEE THIS.
Also find lively pink inspiration from THIS story about Summer Thornton's work.
Classic Coastal Blue & White Stripes
So many bedside benches look uncomfortable, fussy, formal, and out of place. What a coup when the bench is this sumptuous and inviting:
Doesn't it lighten the mood with whimsy in a very sophisticated, high style space?
Tranquility Awaits With a Nature Inspired Backdrop
Isn't this Bloomsbury wallcovering (in Sky) inspiring?
We're not all blessed with bedrooms where ocean waves are breaking just beyond the windows or gentle palms are swaying. Sometimes themes suggestive of those sources of natural beauty can be introduced in art and design elements.
Timeless Textured Bedding & Quilts
Will I ever tire of waffle, textured, or pickstitch quilts?
Not likely! Need a paint color idea to emulate the door above?
If you love blue and have used it throughout your home, don't forget you can paint interior doors a different color than trim!
Cozy Up a Corner With a Reading Chair
Just a reminder that you may not even have to wait to save up for the perfect chair for your bedroom. You may not have to fret about backordered furniture that may or may not work with your existing furniture. Check FB Marketplace and don't forget about free items there. With a little paint or new upholstery, a bargain likely awaits.
Psst. While the trim below in this timeless bedroom is a custom mixed grey-green-blue with a sophisticated Gustavian feel, let it inspire you to explore chalky blue-greens and aquatic inspired hues.
I'm also beyond charmed by those relaxed Roman shades!
Bring Nature Inside
A collected conch shell, simple branches from the yard, or sprigs snipped from the landscape often instantly quiet and sweeten the mood inside.
And don't forget if your lamp is not quite the right height on your bedside table, a book or two perched underneath can fix that.
While the amazing poster bed chosen for the designer's cottage bedroom above is discontinued (Universal Furniture Moderne Muse Maison), if you're an experienced DIYer or know your way around a jigsaw, you could possibly create a similar headboard.
This post contains affiliate links which I hope you will use since they won't cost you a penny extra yet may earn this blog a small commission.
Too busy to read this loveliness now? PIN THIS POST to save it for later!
Coastal Cottage Bedroom Décor Ideas: Get the Look
Instantly Set a Tone With a Natural Woven Pendant
Coastal Cottage Bedroom Bedding Ideas
Layer in Neutral Botanicals
Coastal Cottage Style Dressers & Nightstands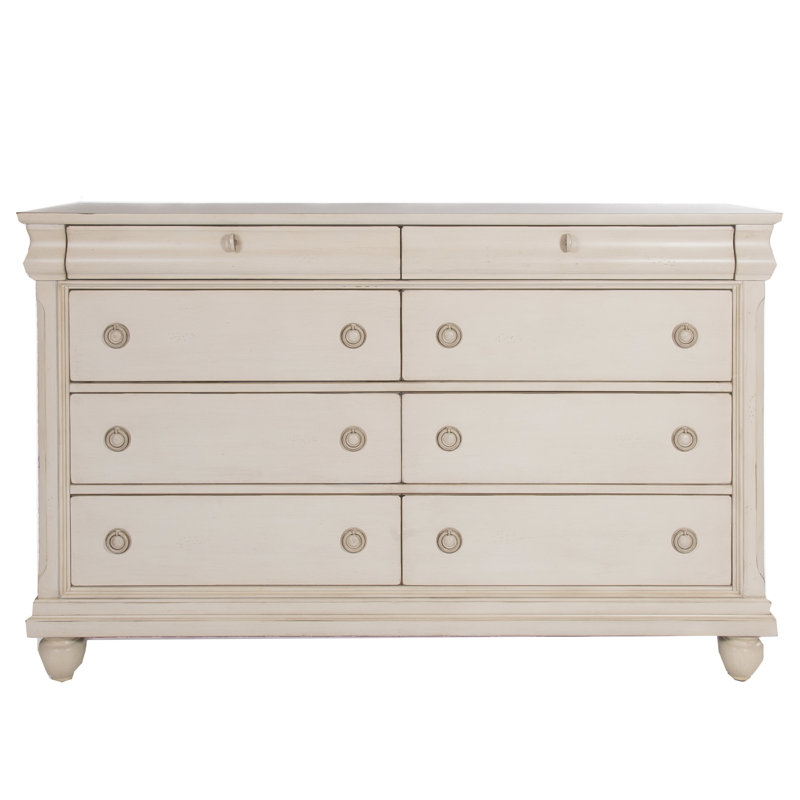 A Glance Back at Décor Ideas From My Last Bedroom
Still adding finishing touches to our current bedroom and gearing up for its closet redo, so let's consider the last one.
Obviously that reclaimed wood accent wall helped establish the coastal mood.
In fact, the name of that particular product is HAMPTONS! 🙂
The rest of the pieces in our bedroom had a European country cottage feel.
While the color palette remained pale and chalky rather than crisp blue, there were other nods to cottage and coastal style.
The knotty alder wood doors, for example.
Another casual element in that coastal bedroom? Mixing metals. Antique brass sconces with bronze lamps and silver leaf accent tables..
Here's a before of the bedroom before we renovated: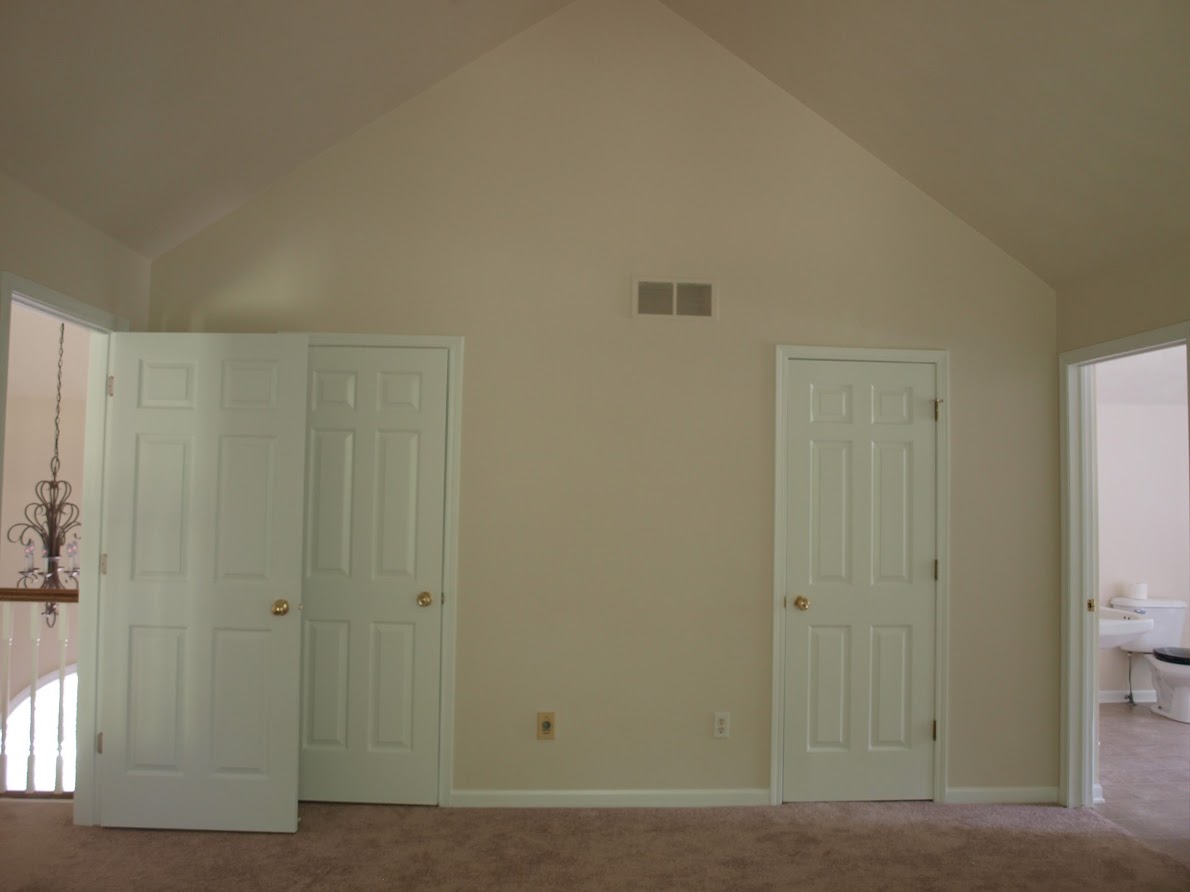 Rustic Wood Interior Doors
Door Hardware
Reclaimed Planked Wood Wall
Pale Color Palette
Accent Chair
The RH Belgian linen slipcovered chair in our bedroom was a desk chair in a former home. We tend to think a chunky, overstuffed club chair or chaise is what is needed in the bedroom, but sometimes a smaller scale chair will do the trick.
Coastal Cottage Resources & Inspo
Light Blue Bedding
Coastal White Bedside Tables
A Swing!
What a dream to have an adjoining patio or porch off the bedroom!
I guess we don't need a porch to swing…how about a swing in lieu of a bedroom chair?
Coastal Style Rattan Pendants
Airy Parsons Style Side Tables
Navy Blue Lamps
Coastal Linen Headboard Ideas
Blue & White Quilt
Obviously, this dreamy hall tree would work beautifully in a mud room too and could be built-in for a more custom look.
For more coastal cottage inspiration see these stories.
Coastal Beach Mini Tour!
What if your coastal dream could come true by thinking SMALLER? Hmmmmmm, see what you think of this sweet beach mini tour!
Here's another cottage in Key West you might like.
I independently selected products in this post—if you buy from one of my links, I may earn a commission.
Peace to you right where you are.
-michele
Shop for items you already intended to buy on Amazon RIGHT HERE, and also find home decor here to keep decor inspiration flowing on Hello Lovely!
Hello Lovely is a participant in the Amazon Services LLC Associates Program, an affiliate advertising program designed to provide a means for sites to earn fees by linking to Amazon.com and affiliated sites.