While my preference for pale tones spanning the rainbow of whites is well established, black paint colors are on the agenda today. There's always a need for black and high contrast design elements. Black frames a view. It can shout "LOOK THIS DIRECTION THIS VERY MOMENT" or tease with an edgy sexy vibe. Black kitchens and cabinets are everywhere! As with white paint colors, there are all sorts of undertones affecting a black shade's quality and effect. I hope the interior design inspiration and help from Best Black Paint Colors (Designer Approved!) will be helpful if you're ready to choose blacks to sample.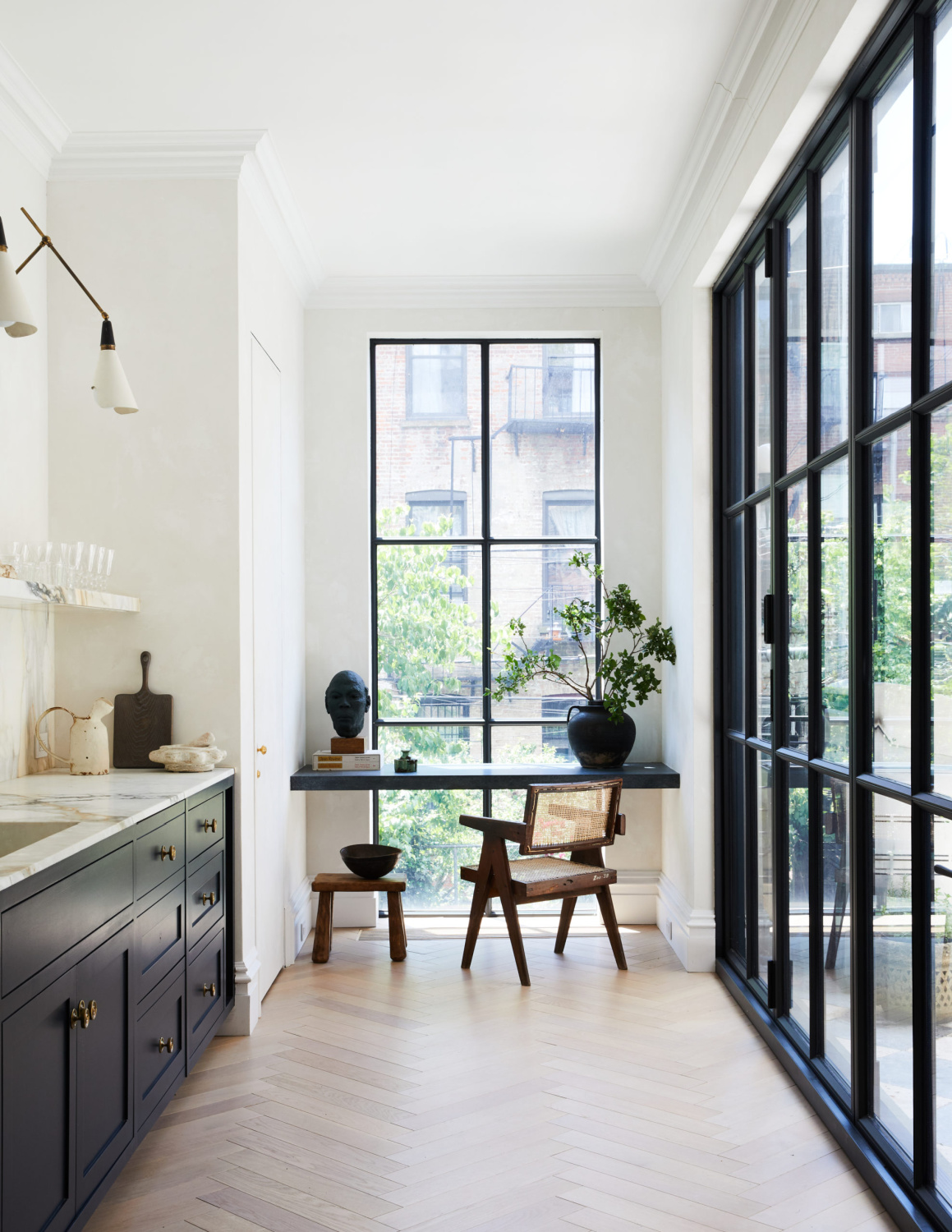 Even when you decide to paint a piece of furniture, a picture frame, a shelf or an accent wall in a black color, there are a myriad of choices. Narrow the list down to a few to sample first.
Best Black Paint Colors (Designer Approved!)
Farrow & Ball RAILINGS No. 31
SAMPLE Railings RIGHT HERE. I love Railings, and I have sampled it when choosing a soft, off-black. The most recent time I sampled it for a stair railing, the blue undertones surprised me a little. It appeared navy at certain times of the day.
That's not a bad thing at all when you're after a cooler look or looking for a very deep blue-black. Remember how Drew used it in his own home including the kitchen?
Get glimpses of the paint color from this (and there may or may not be a scene with Drew in a freestanding tub painted black…):
And yes, you can paint the whole room Railings when you're going for a chic cocoon look:
Black is still a popular color for kitchen islands when you're after some contrast and a two-tone color story:
Alternatively, a wardrobe, kitchen pantry, or dresser is a smart way to use a dark moody color which adds weight and presence:
Sherwin-Williams TRICORN BLACK 6258
SAMPLE Tricorn Black RIGHT HERE. For a truer black, Tricorn Black is a designer favorite.
Lots of front doors and shutters are painted in this shade of black, and it's always a good idea to buy a sample pot and live with it for a few days before going to all the work of painting.
There are so many fresh ways of using black in traditional homes! And I know a bunch of folks think homeowners have no business painting trim or floors in old houses, but I disagree.
Just because a house has had tired stained brown trim or cabinets for decades (and it's in great shape) doesn't mean it should stay that way. Sometimes they didn't get it right in the first place. And sometimes it just pays to be bold so a house becomes a home that feels like you.
This bathroom vanity by Darryl Carter seems reminiscent of Tricorn Black:
Isn't it incredible? Here are other black paints to sample:
Easiest way to see if a color is right? Order samples to be delivered to your door with Samplize (a peel and stick sheet of "paint" to stick on your wall and easily move around to other walls!).
Sherwin-Williams URBANE BRONZE 7048
SAMPLE Urbane Bronze RIGHT HERE. Black paint colors suggestive of warm metals can be so timeless. Here's a great example:
Where could you use it? Home offices are becoming quite important these days.
A powder room might also be an ideal spot to try something moody.
BM Wrought Iron
SAMPLE Wrought Iron RIGHT HERE. Here's another metallic black that would be wonderful to update window trim:
I loved how Sherry Hart used it for a gallery wall in a powder room. So many of us settle for these boring white boxy half-baths when we could be welcoming an art gallery into the home.
Bonus inspiration is how the designer displayed a woven basket with the framed art…
PIN THIS POST to save for future reference!
This Wrought Iron color reminds me of a PPG color Leanne Ford uses called Black Magic:
See more of Leanne Ford's favorites in THIS.
How is Wrought Iron from BM paint color different from Iron Mountain (which designer Sherry Hart has used with great success including her infamous ORC bedroom makeover)?
You can see more brown undertones emerge from Iron Mountain when you compare it to Wrought Iron.
No idea what the exact paint color name is for the home below, but it certainly seems to be in the family of Iron Mountain black-browns:
Slightly darker, yet still very close to Iron Mountain's black-brown color is this one:
More Paint Color Ideas for Soft Black With Brown or Blue Undertones
My own personal favorite which I keep returning to again and again?
Sherwin-Williams Carbonized. I transformed builder-grade kitchen cabinets in a condo we renovated here:
You'll be seeing Carbonized show up in images of our new interiors!
Clare GOODNIGHT MOON
But what if brown-blacks and those muddy grays are not your jam? Maybe a deep blue-black will be:
I'm a fan of the paint colors from CLARE, and even though we're not sure what color this bathroom vanity below as painted, you could approach the look with the color Goodnight Moon.
While I don't know (not yet!) which black paint color was used on this gorgeous exterior by Ladisic Fine Homes, at least in natural light, you can see the blue undertones coming through:
Clare BLACKEST
Why would you want to use a richly dramatic very black paint color? Here's the description of Blackest:
"Chic. Modern. Dramatic. Our blackest black might seem edgy, but when paired with the perfect light, it has the power to make a space pop." – CLARE
Maybe you have a small area where a pop of black makes sense to create high contrast like in this "cloffice" type space: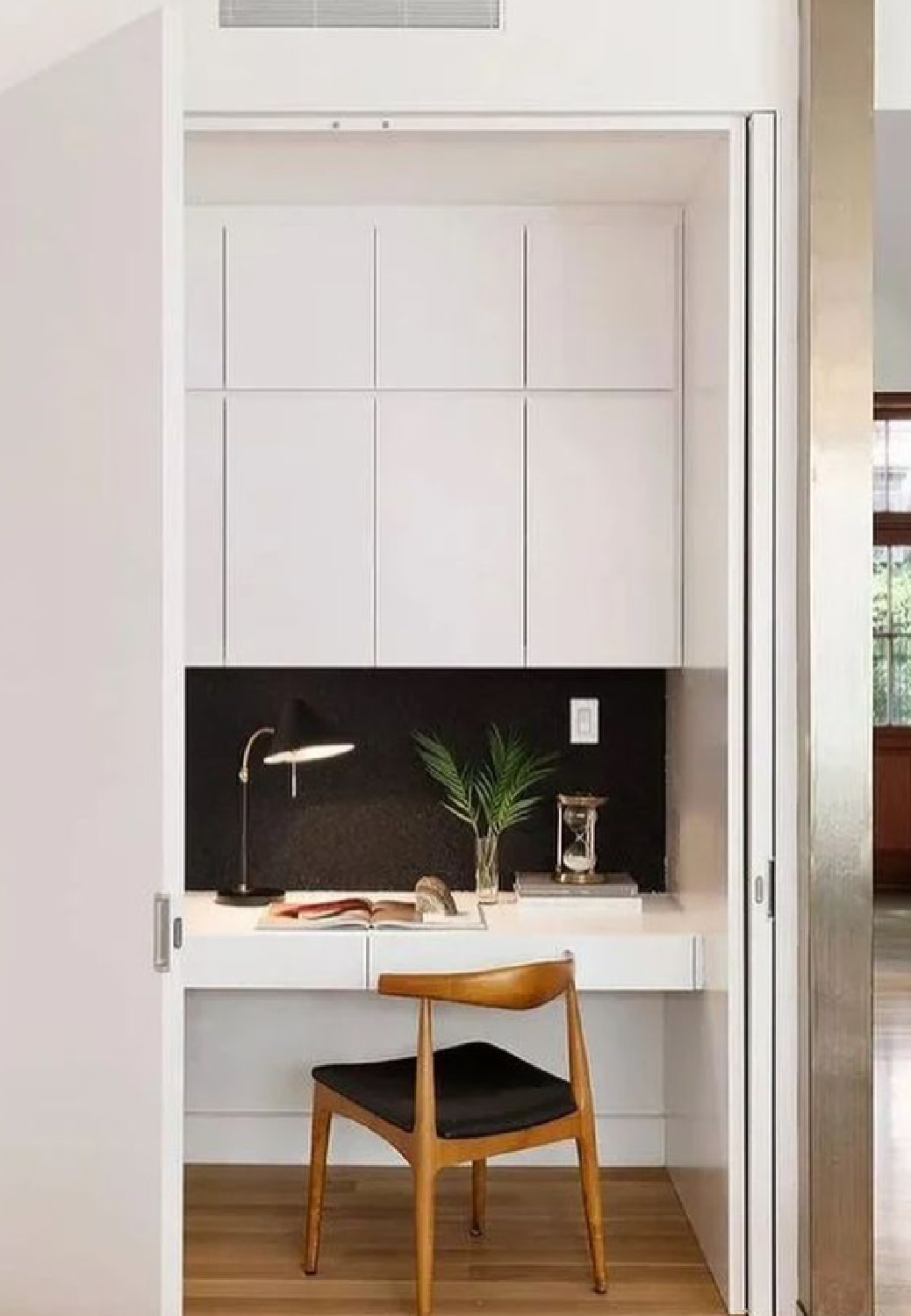 Designer Sherry Hart chose a bold black for a pantry, and this is a brilliant way to try out a color that is scary for you.
After living with the color in a small area, maybe you'll decide to boldly try it in another room. Black can be quite elegant…
I can imagine there are lighting situations where the warmth of the yellow sun may warm a cool, very dark black.
Not yet sure of precise paint colors used for the exteriors above and below, but an argument can be made for how black makes a striking backdrop for the lush foliage: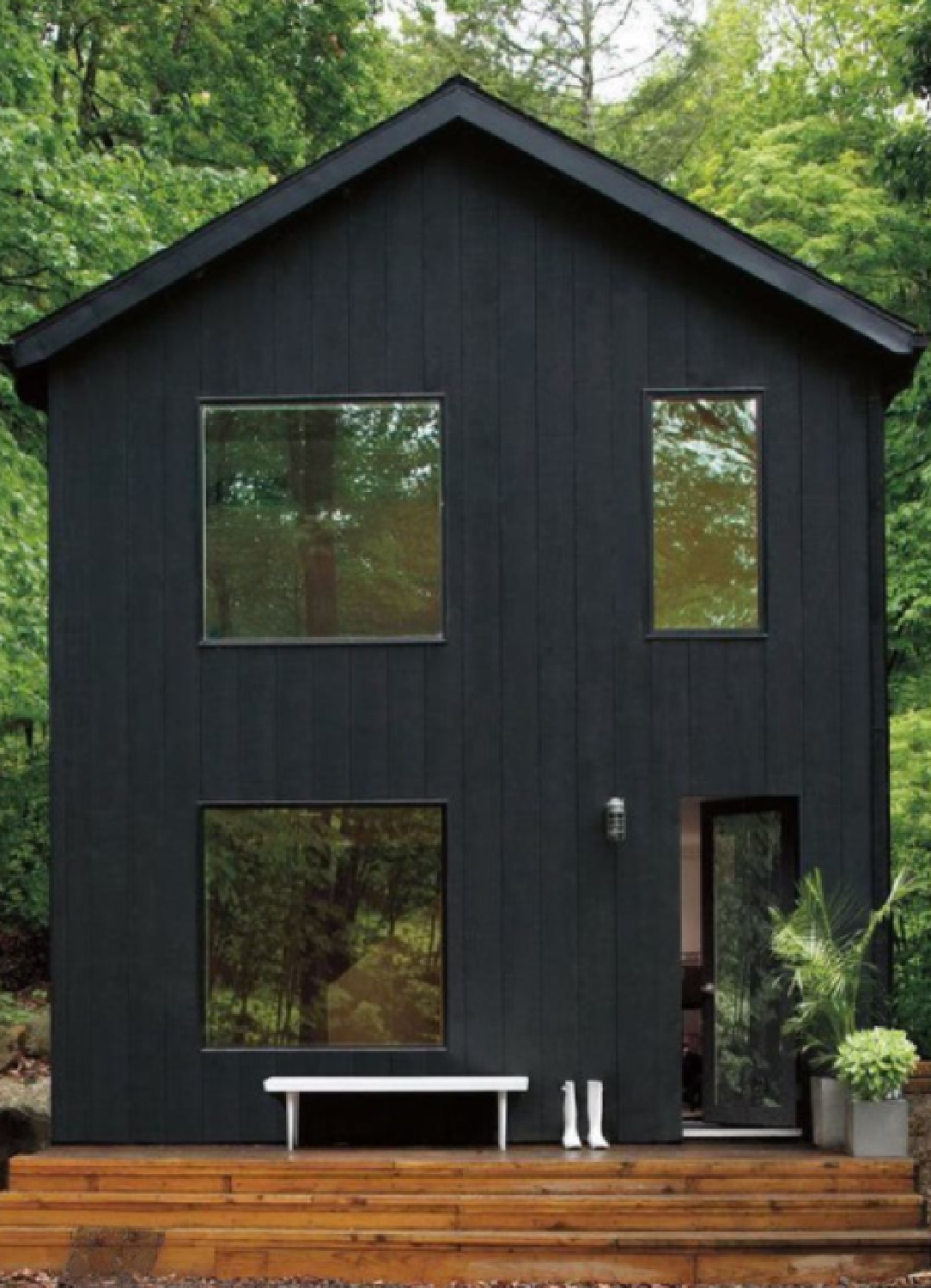 I independently selected products in this post—if you buy from one of my links, I may earn a commission.
Peace to you right where you are.
-michele
Shop for items you already intended to buy on Amazon RIGHT HERE, and also find home decor here to keep decor inspiration flowing on Hello Lovely!
Hello Lovely is a participant in the Amazon Services LLC Associates Program, an affiliate advertising program designed to provide a means for sites to earn fees by linking to Amazon.com and affiliated sites.