Stop the presses. Country yet not European country style today? I guess we're feelin' saucy. Oh that decorating were as simple as buying just the right tile, rug, or chandelier to get the sense of charm or mix or balance we see in photos of beautiful American country spaces. After all, not all of us live in the country, so is it even possible or advisable to lean in a country direction? And when you're after an unfussy, non-contrived, more natural and laid back look, should it be such a fussy, complicated prospect? Let's explore such territory even as we admire a range of beautiful American Country house interiors that may speak to you.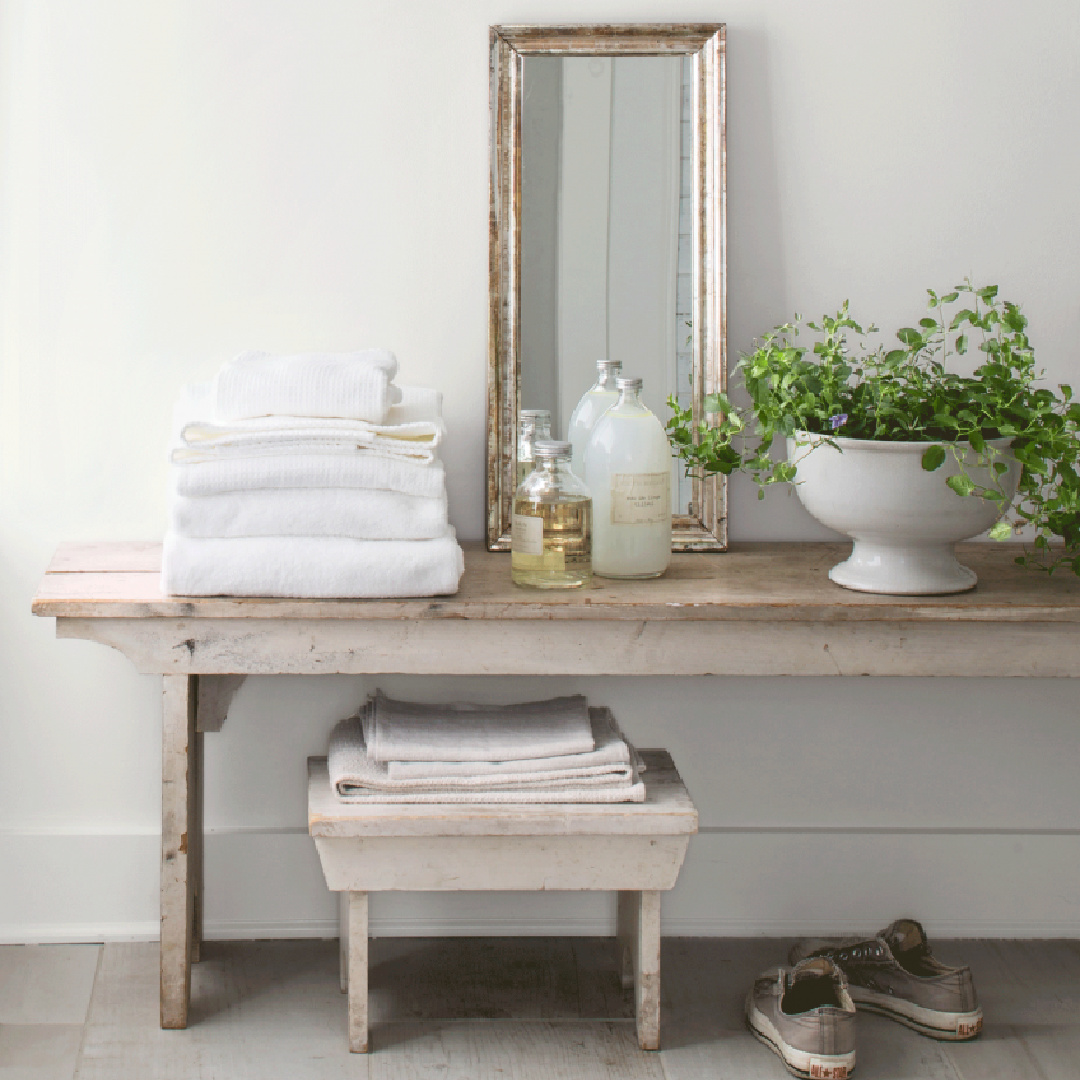 Learn from the Look: American Country House Interiors
1. Don't Underestimate the Power of Wall Texture
Changing a wall's texture can be transformative. Whether it is done simply with tacked up panels of simple beaded board or painstakingly with hand troweled plaster
I have always admired the wall finish the Giannettis chose for their house in the country…Patina Farm. Instead of traditional Old World style plaster walls, the walls were coated with a thin layer of Cal-Kote. While they appear to be painted white, they don't require paint.
Tongue and groove paneling is always a smart way to add age, charm, and texture when you're after a rustic American country look. Isn't this bedroom fresh and natural?
For sage green paint color ideas, SEE THIS.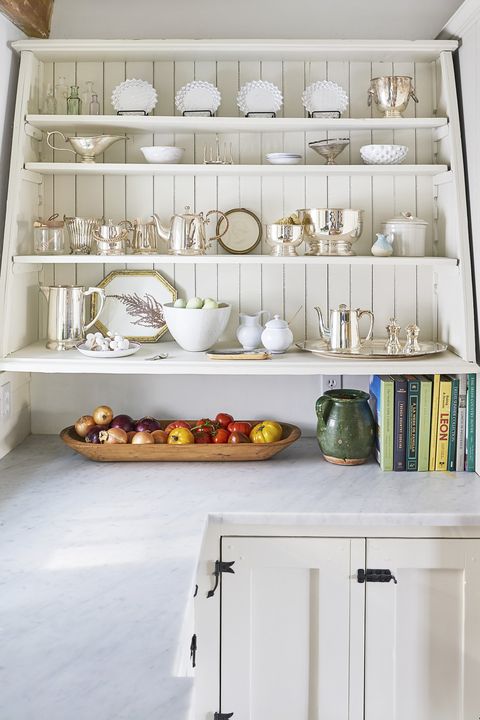 2. Start With a Neutral Backdrop
Sometimes it just gives us extra confidence to choose paint colors experienced designers trust. Nancy Fishelson recommends Benjamin Moore WHITE DOVE for a trusty white paint, and I agree.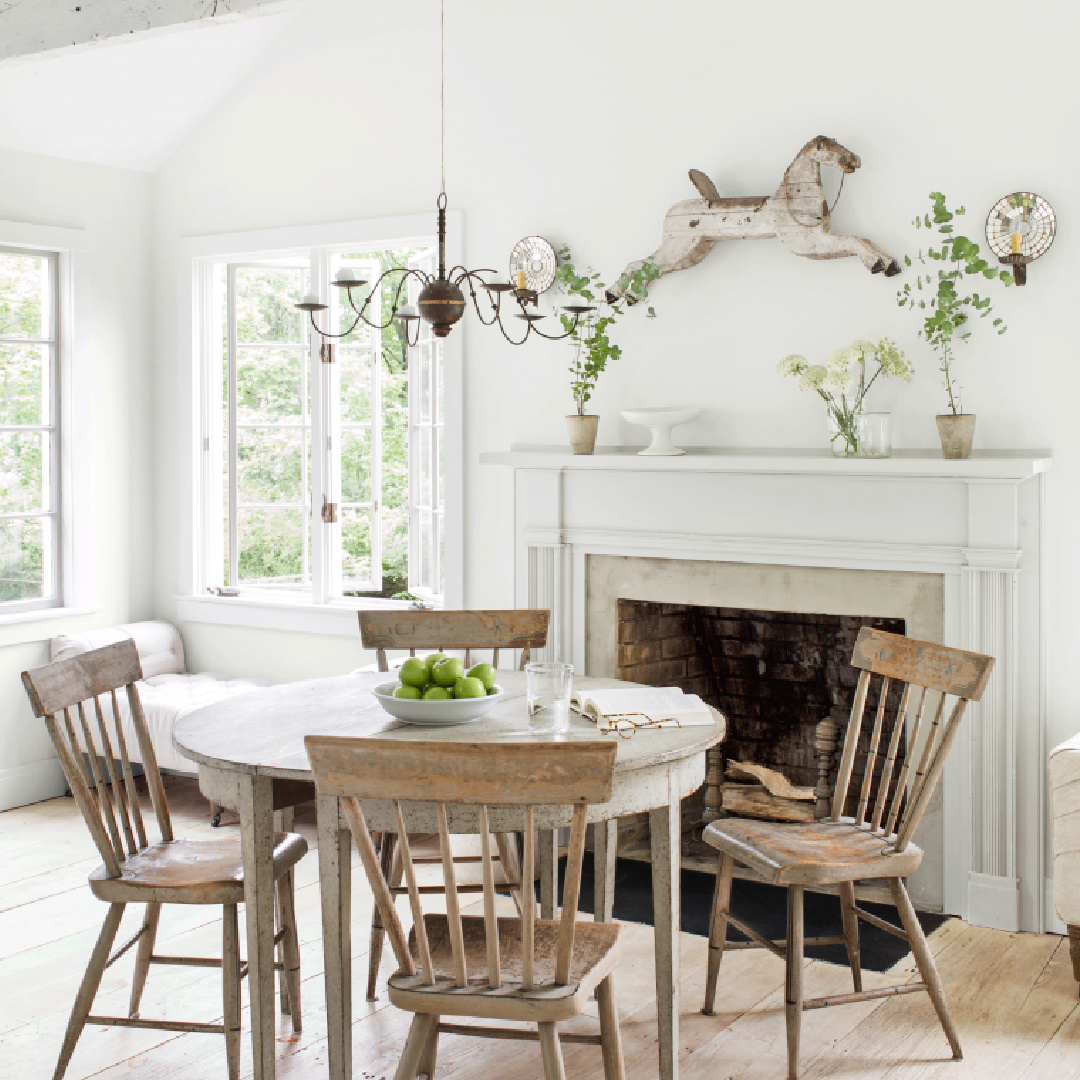 When I am looking to add age or a sense of history, I always think of White Dove.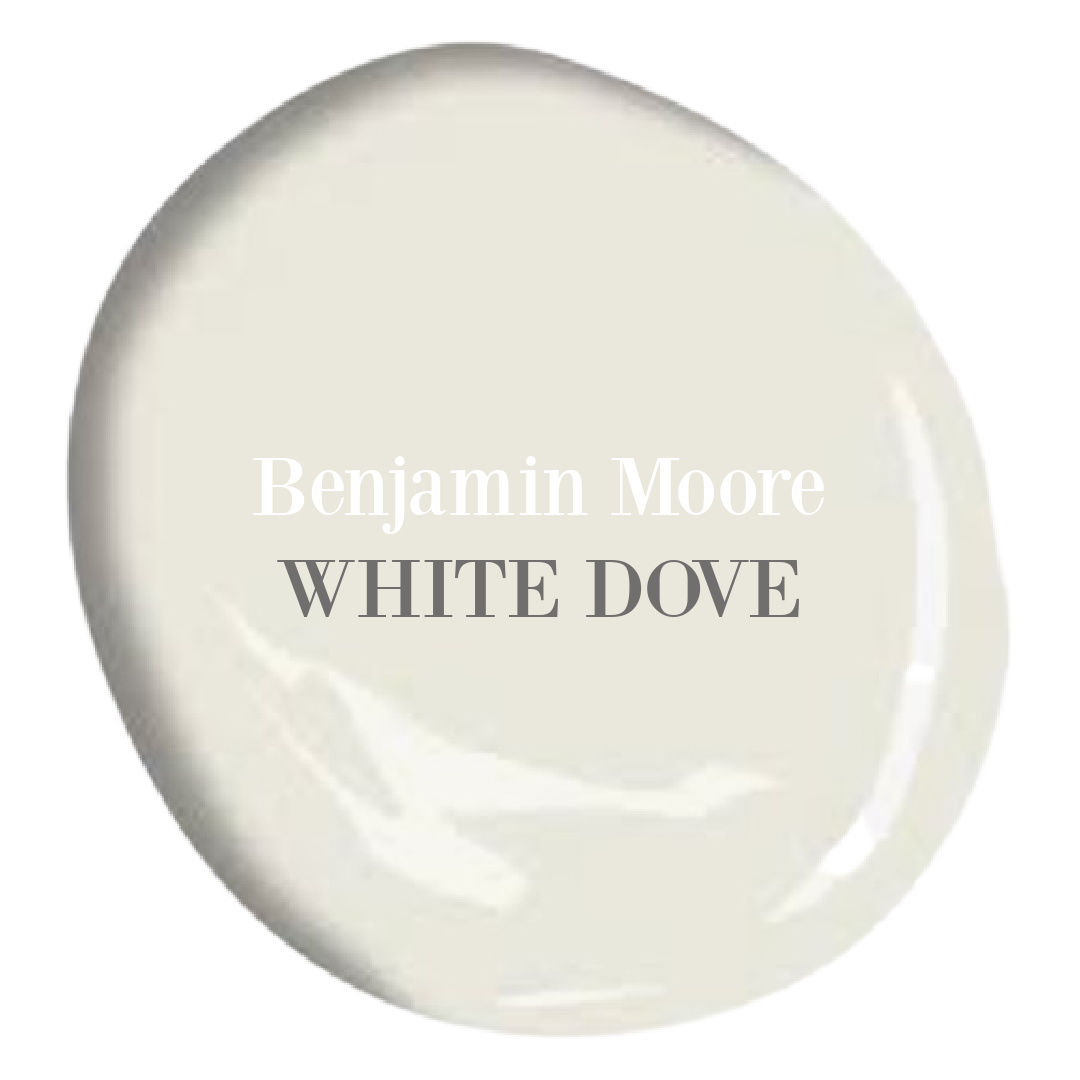 Need more ideas for choosing the right white? See THESE.
The designer and renovator also has a color she recommends for floors: Benjamin Moore THUNDER.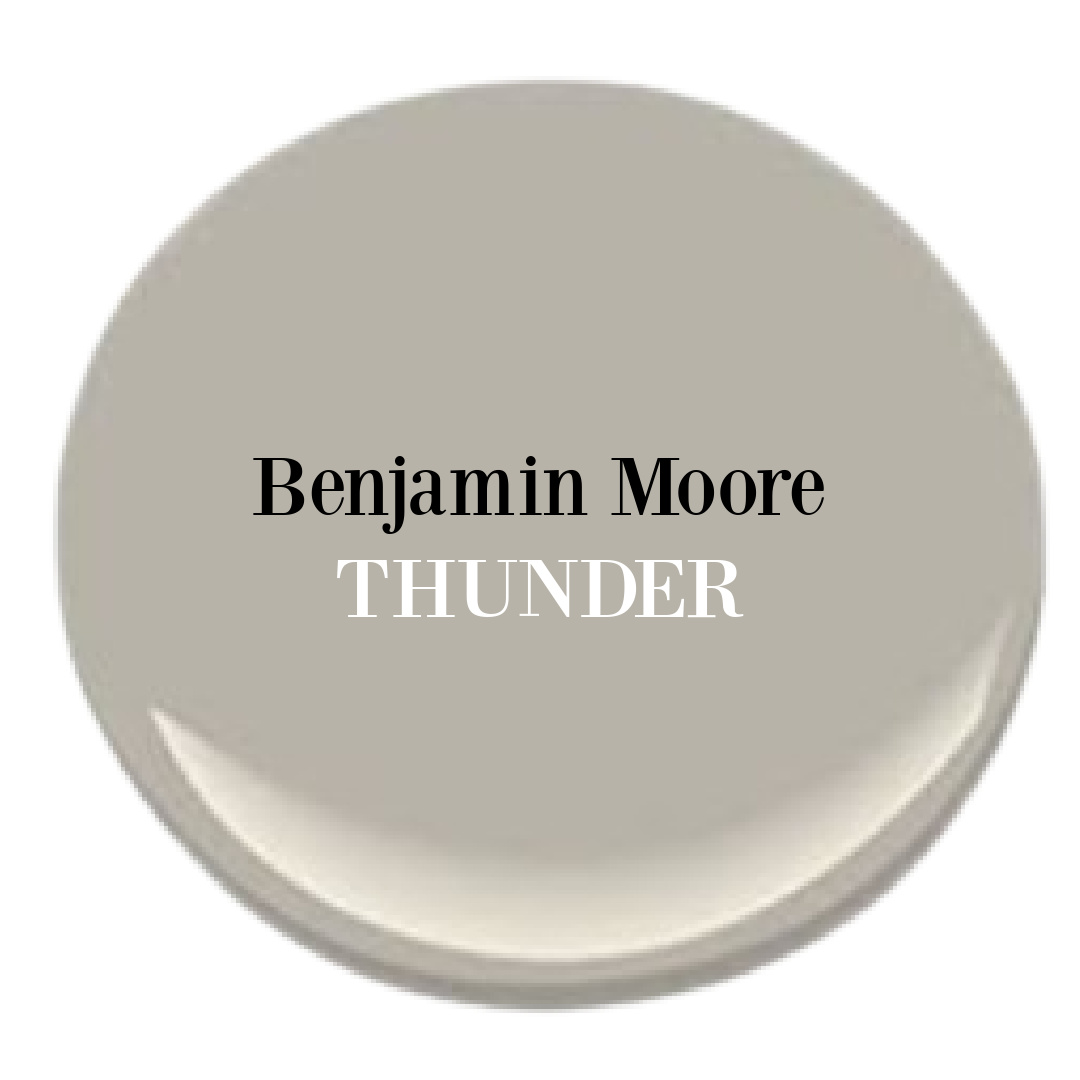 Similar to Thunder, Nancy's favorite gray paint color was Tucker Pale Gray.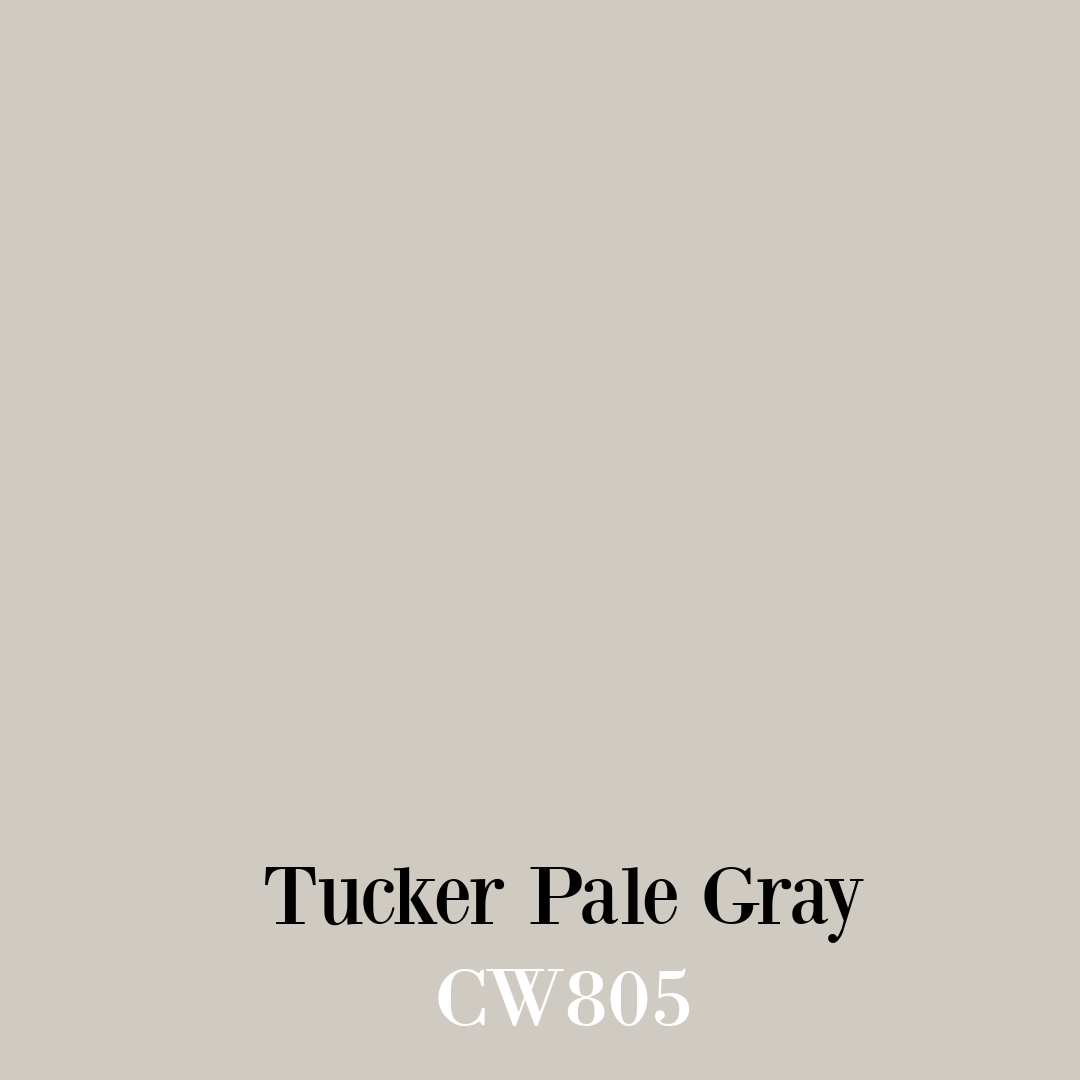 But it is discontinued! However, Benjamin Moore WISH is essentially the same color as Tucker Pale Gray and a gorgeous hue if you're seeking an idea for kitchen cabinets. (You'll also discover lovely putty paint color ideas in THIS STORY.)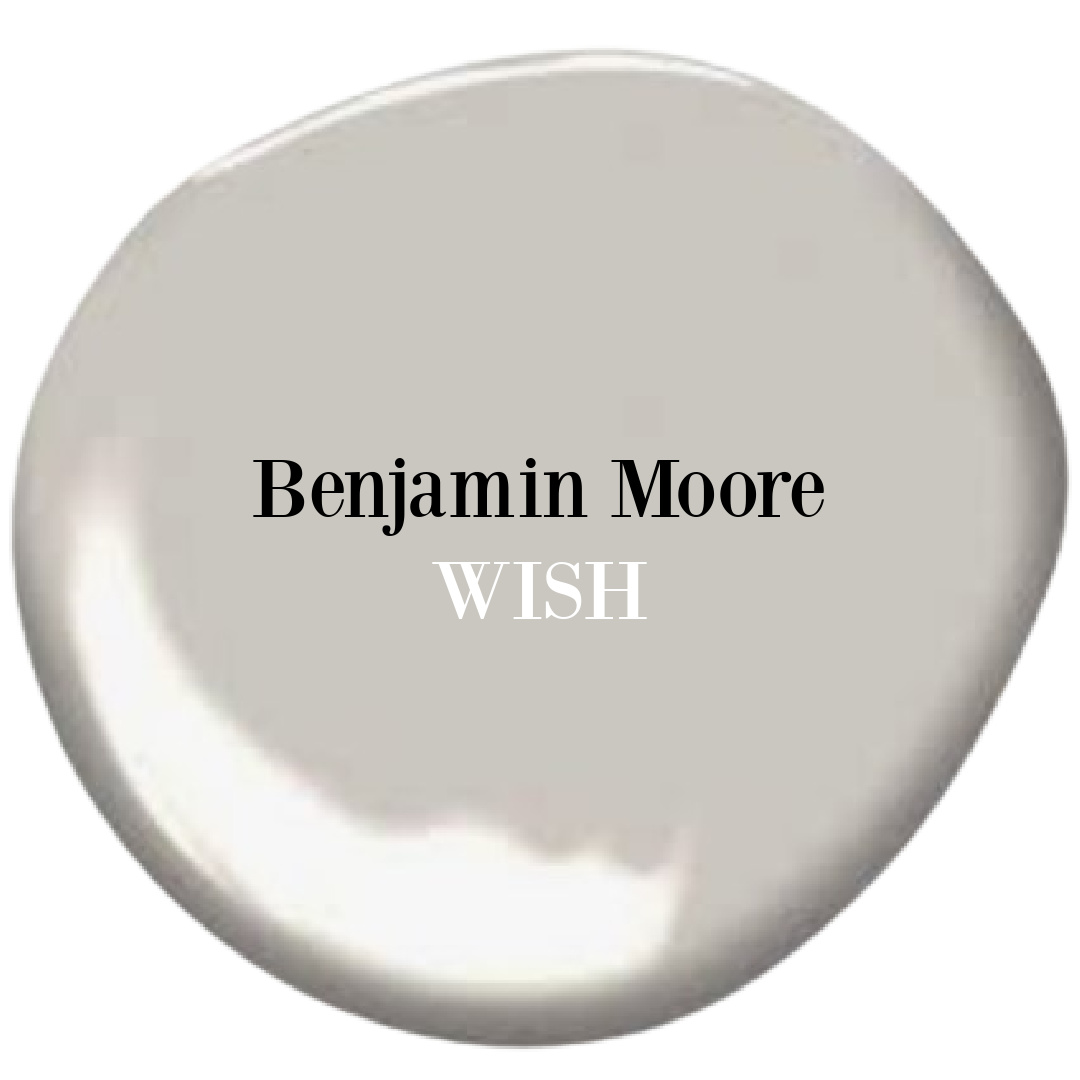 I'm crazy about how Nancy interprets country style without clutter or fuss!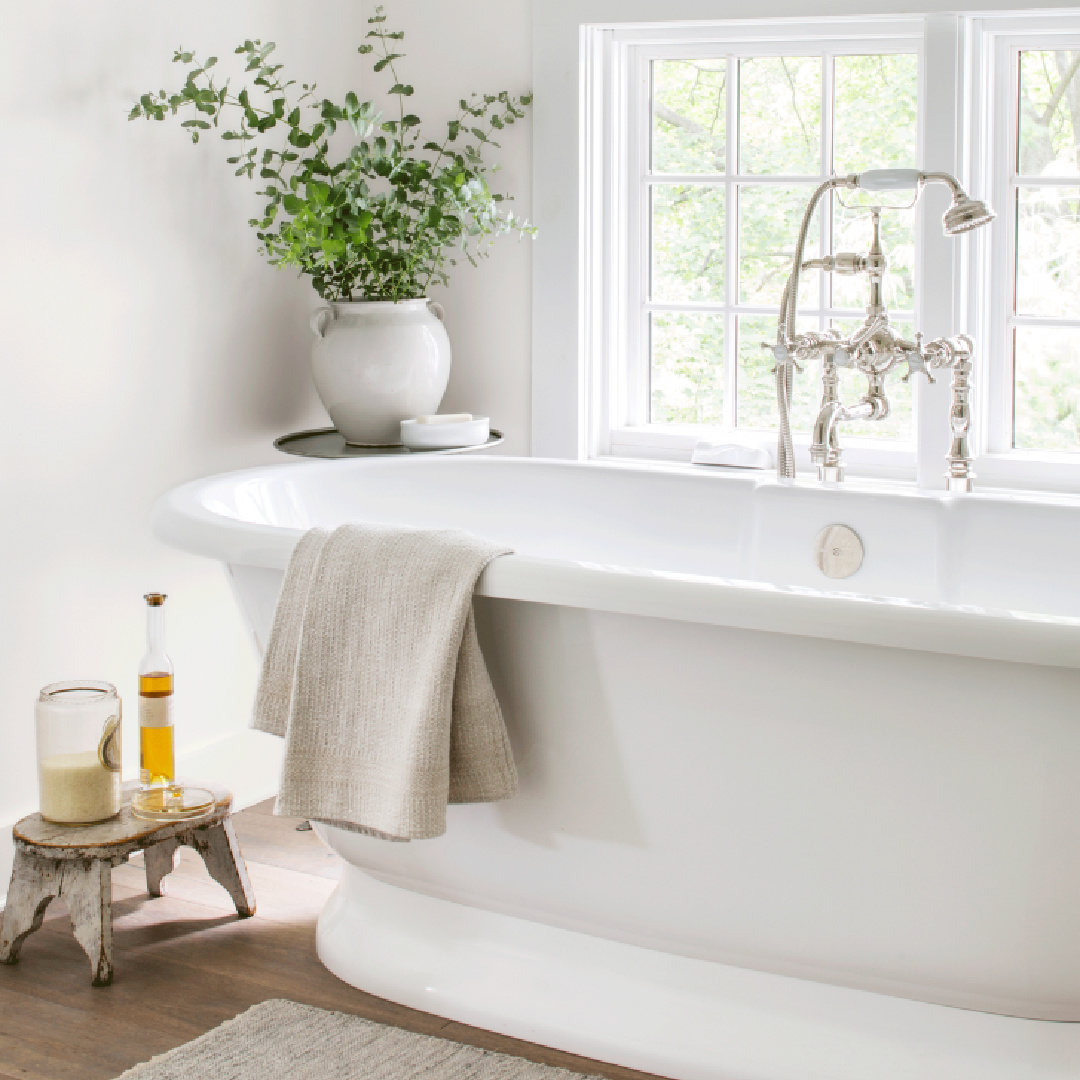 While I'm not including it as an official tip, CHECKERED FLOORS and check prints and gingham everything is totally en vogue at the moment.
3. Check Patterns are Your Friend, Friend!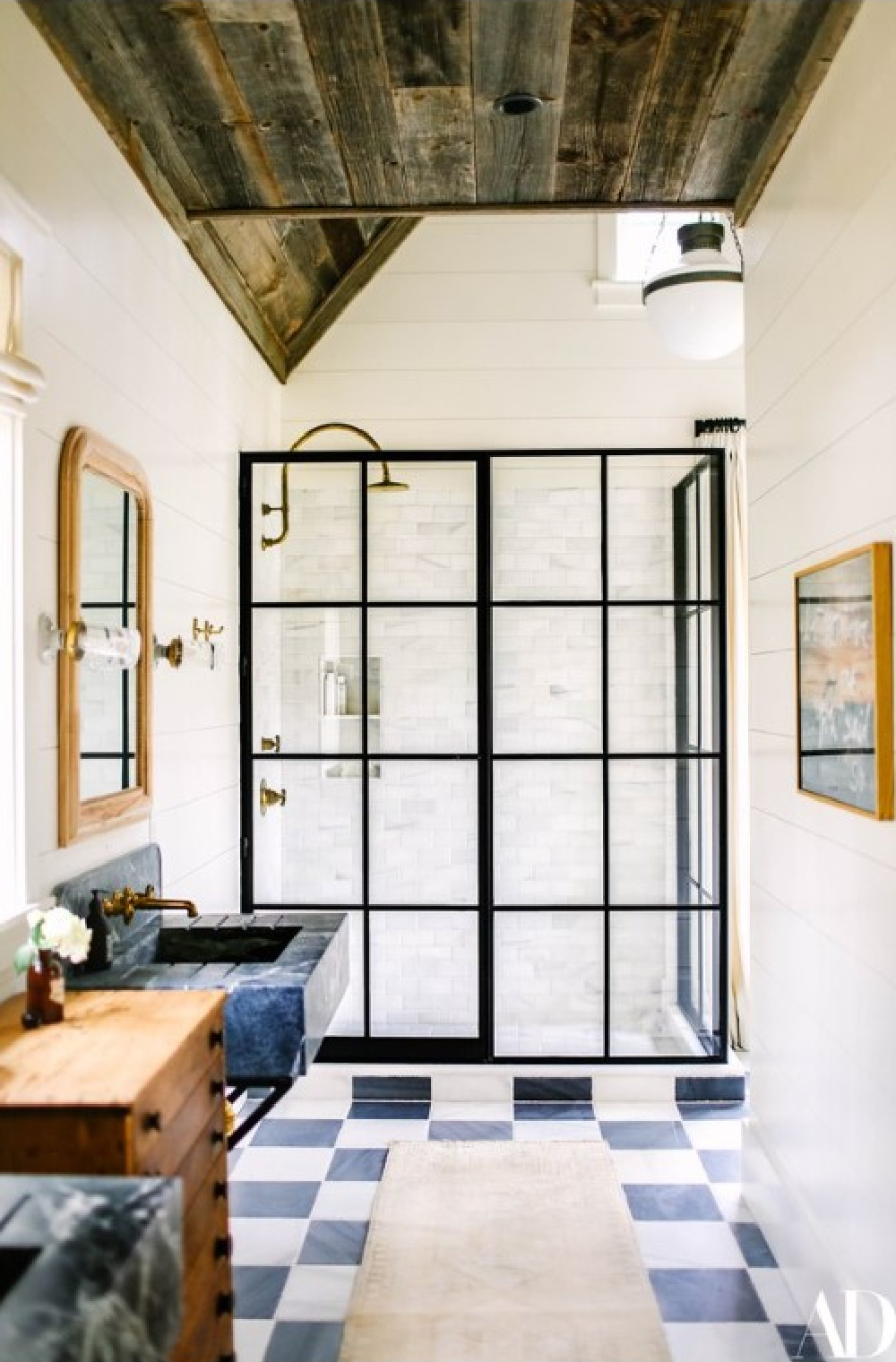 They are everywhere you turn in American country homes and beyond, aren't they? I even devoted an entire post to them HERE after seeing Nate and Jeremiah's floor: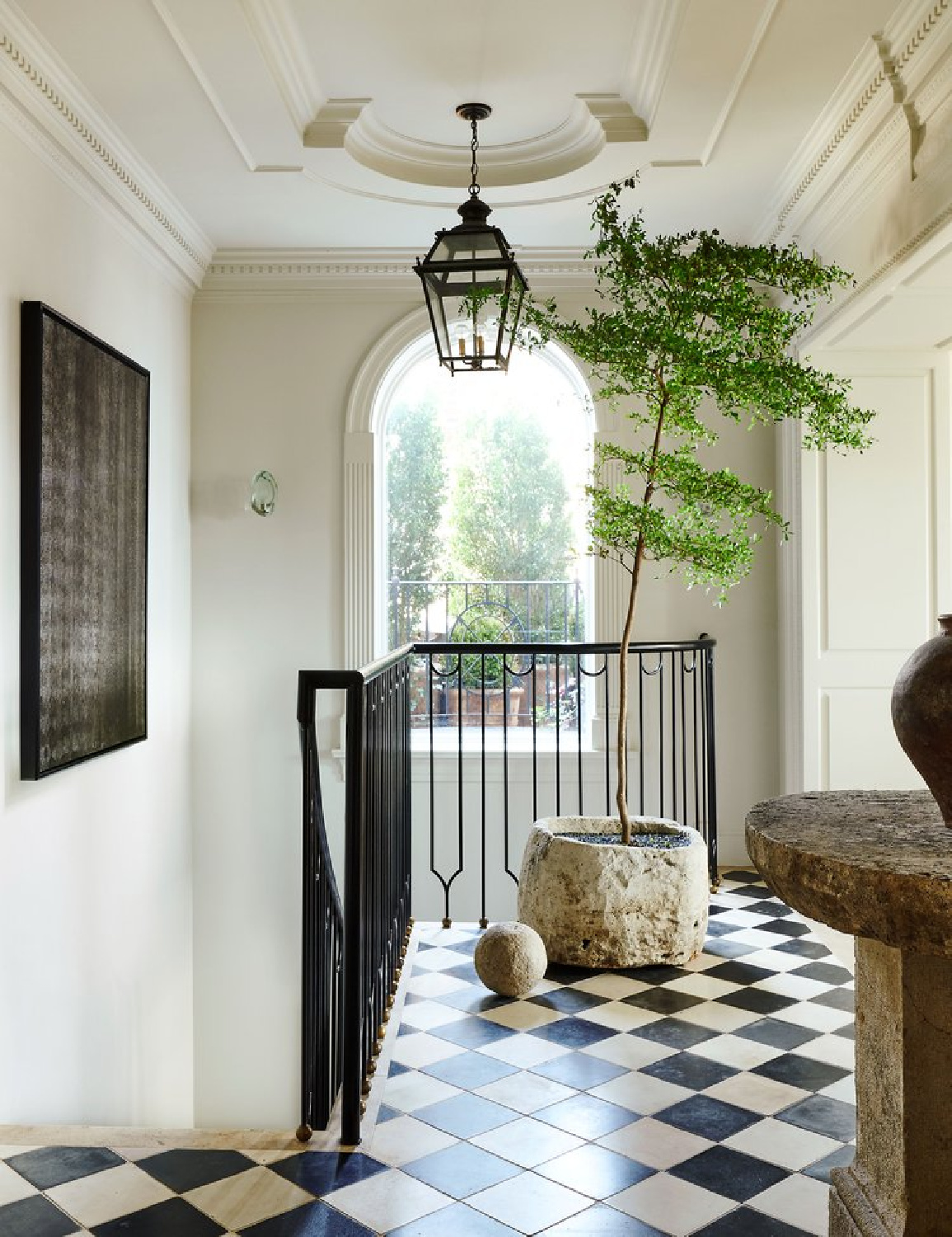 It is amazing how a checkered floor can be humble and folksy…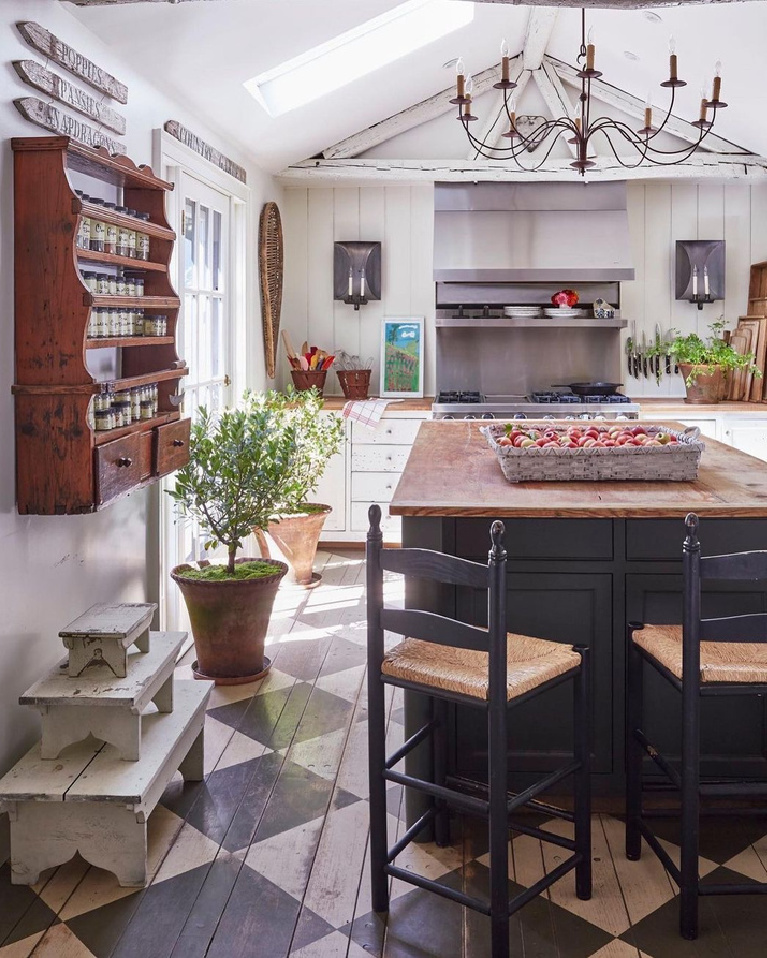 and also so classic.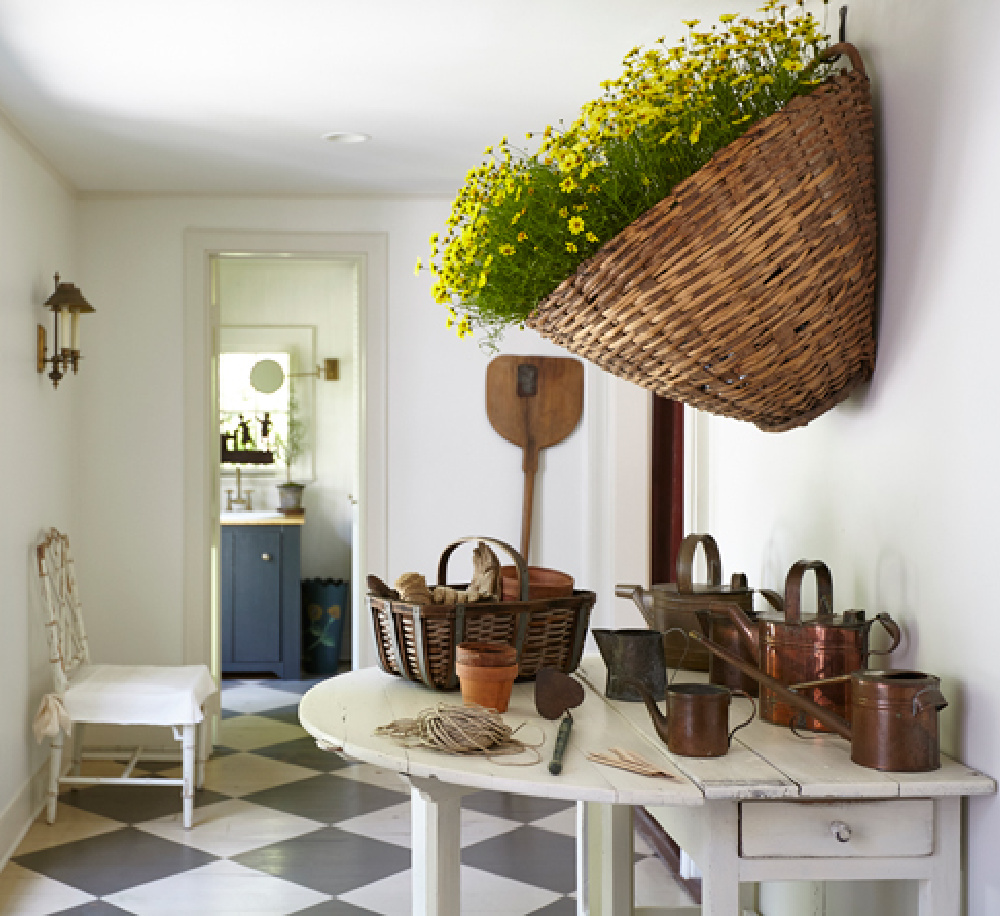 If you need a good primer to get you psyched about American country house interiors, you'll definitely want to buy Nora Murphy's book!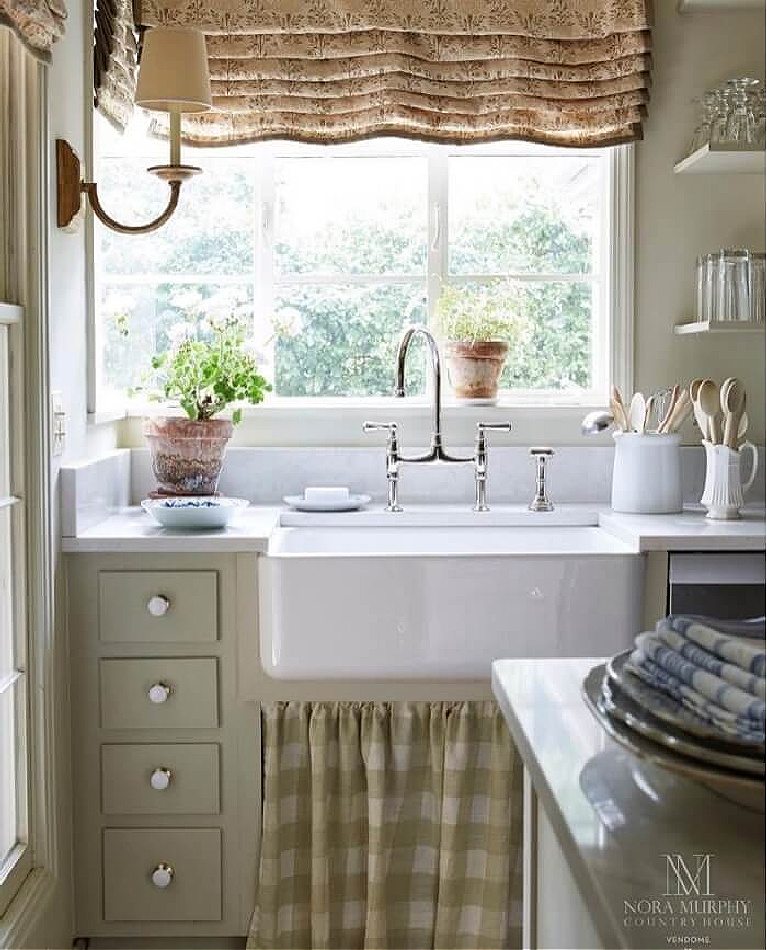 Find it RIGHT HERE.
4. Gather Your Favorite Objects
About the charming entry in Nora Murphy's former home, the author writes,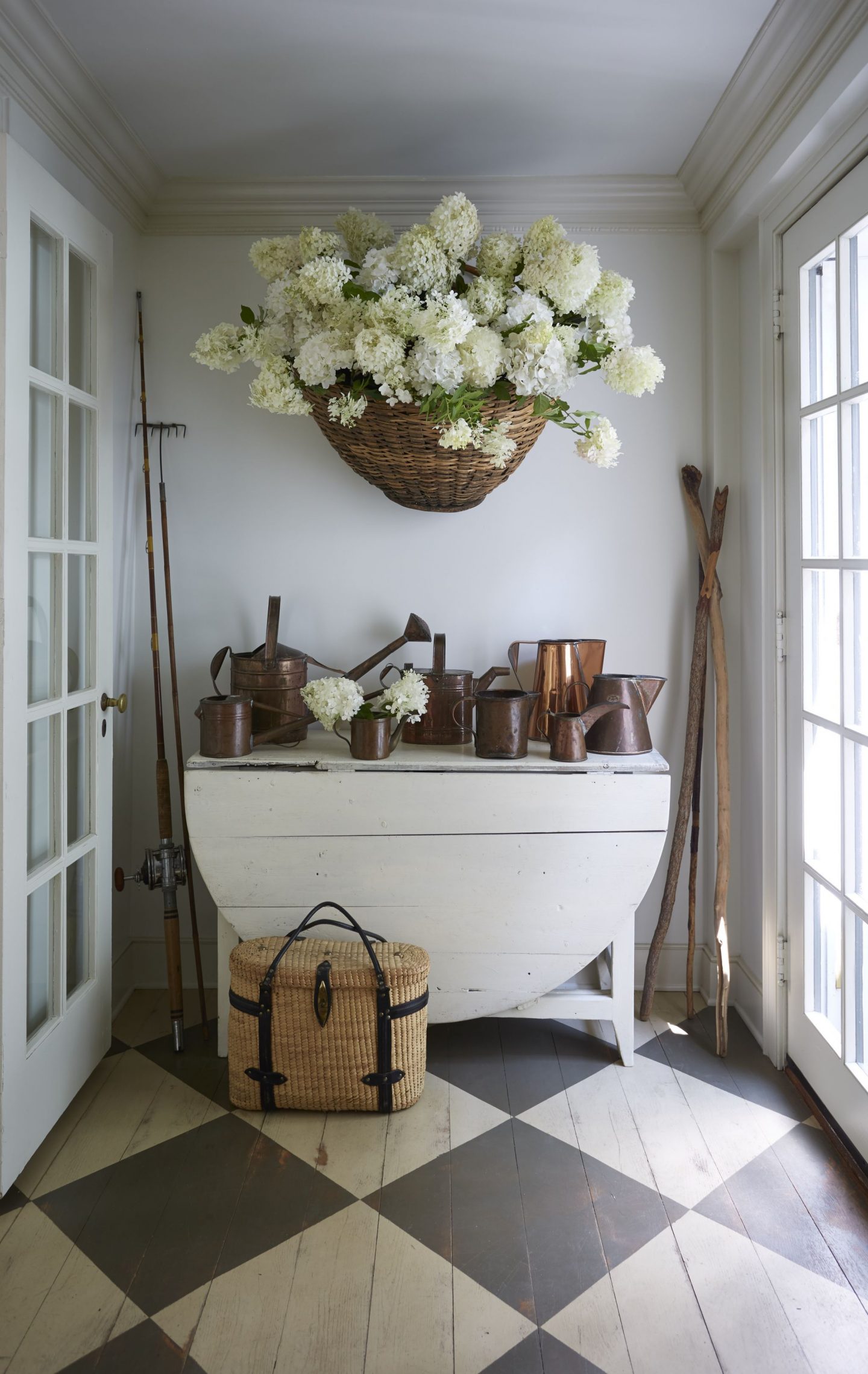 "Everything in this entry represents something dear to us–my love of gardening, Rick's love of fishing, Conor's love of hiking in the woods–it can change with the seasons or the occasion."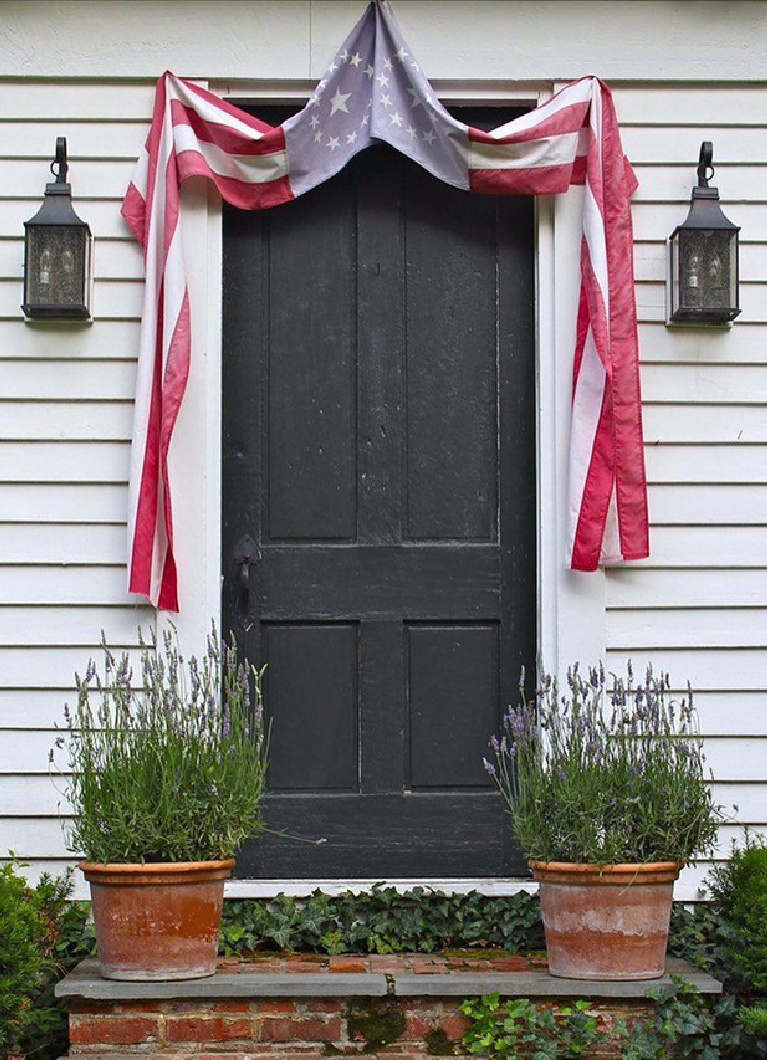 Gathering the collected art and treasured objects saved by a family may be the most important part of completing your American country room.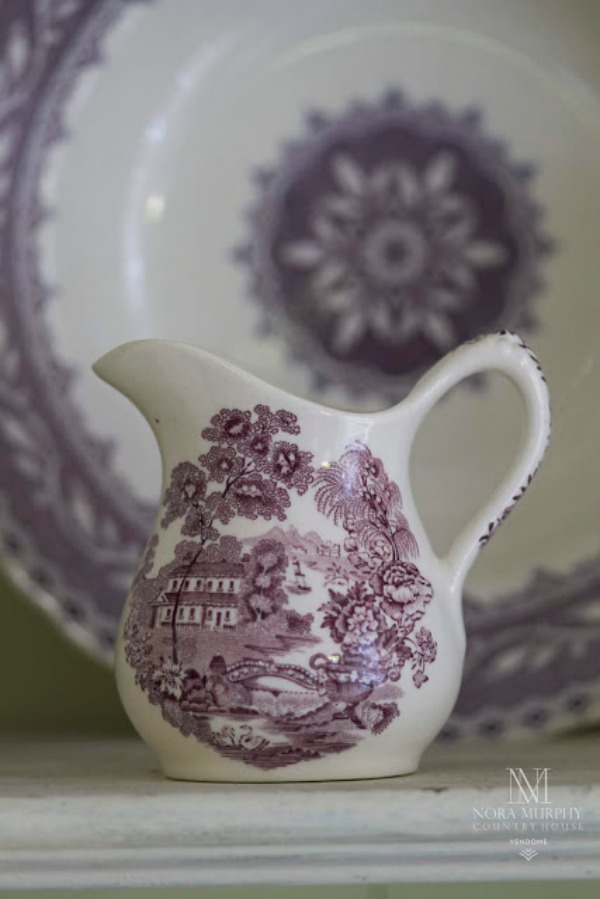 Bonus points when time works its magic on those gathered objects since age, weather, and patina increase their beauty over time!
5. Aim for Authenticity
One of the benefits of studying images on this site and within design books is how helpful it is for studying an authentic look.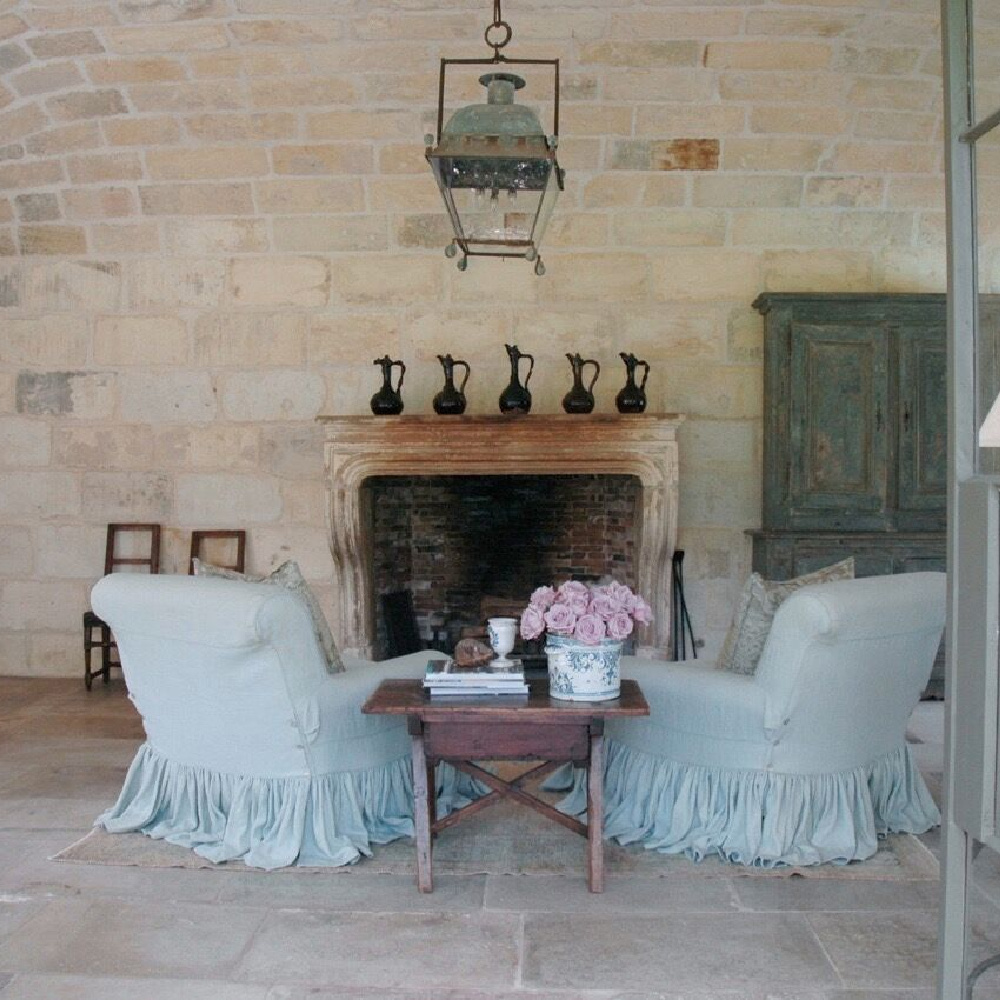 While the home above is located in Texas, the materials used to create it are old reclaimed treasures from Europe. No faux finishes here!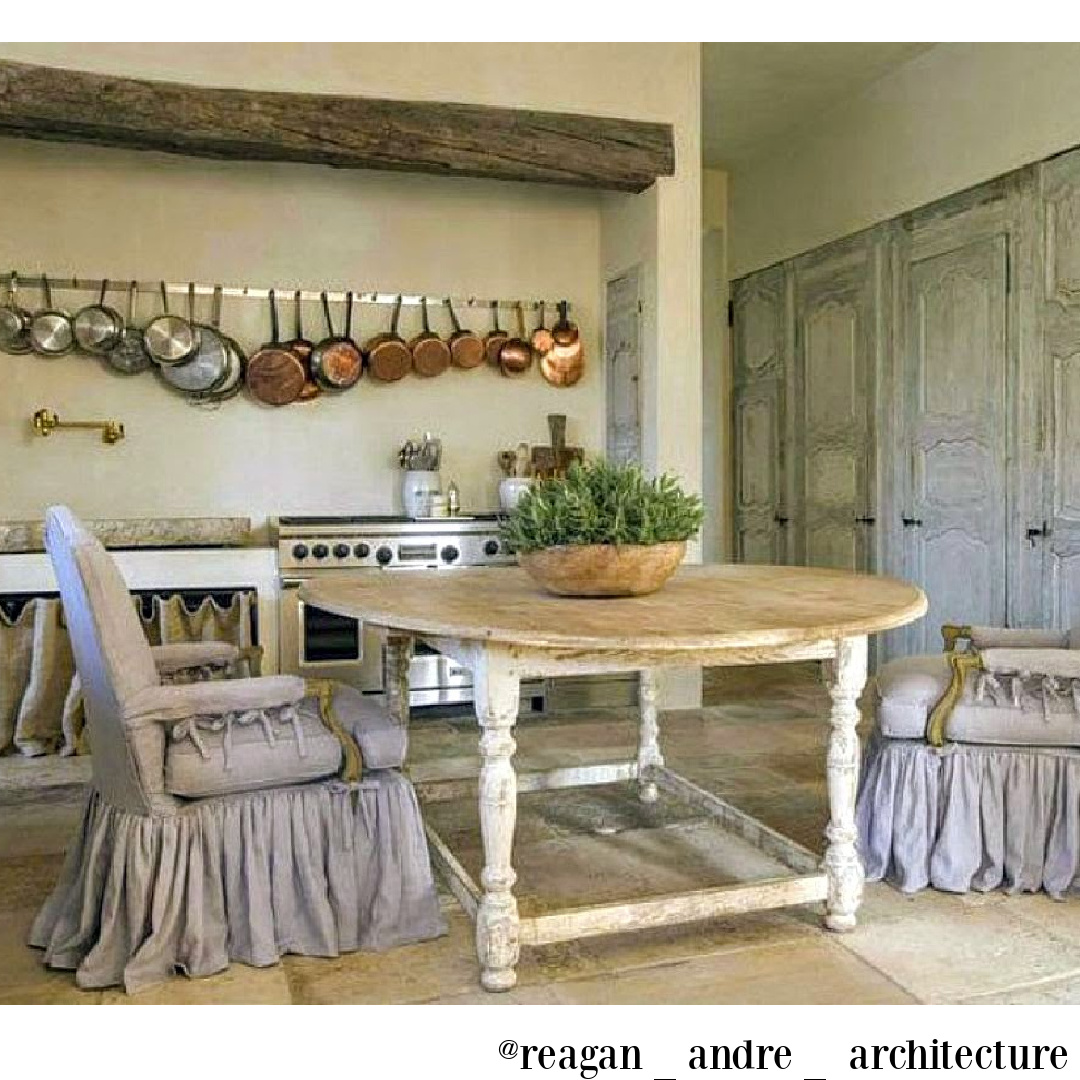 While the look is French inspired rather than classic American style, there are plenty of common denominators. Collected vintage pieces and antiques, distressed finishes, linen, and a relaxed feel.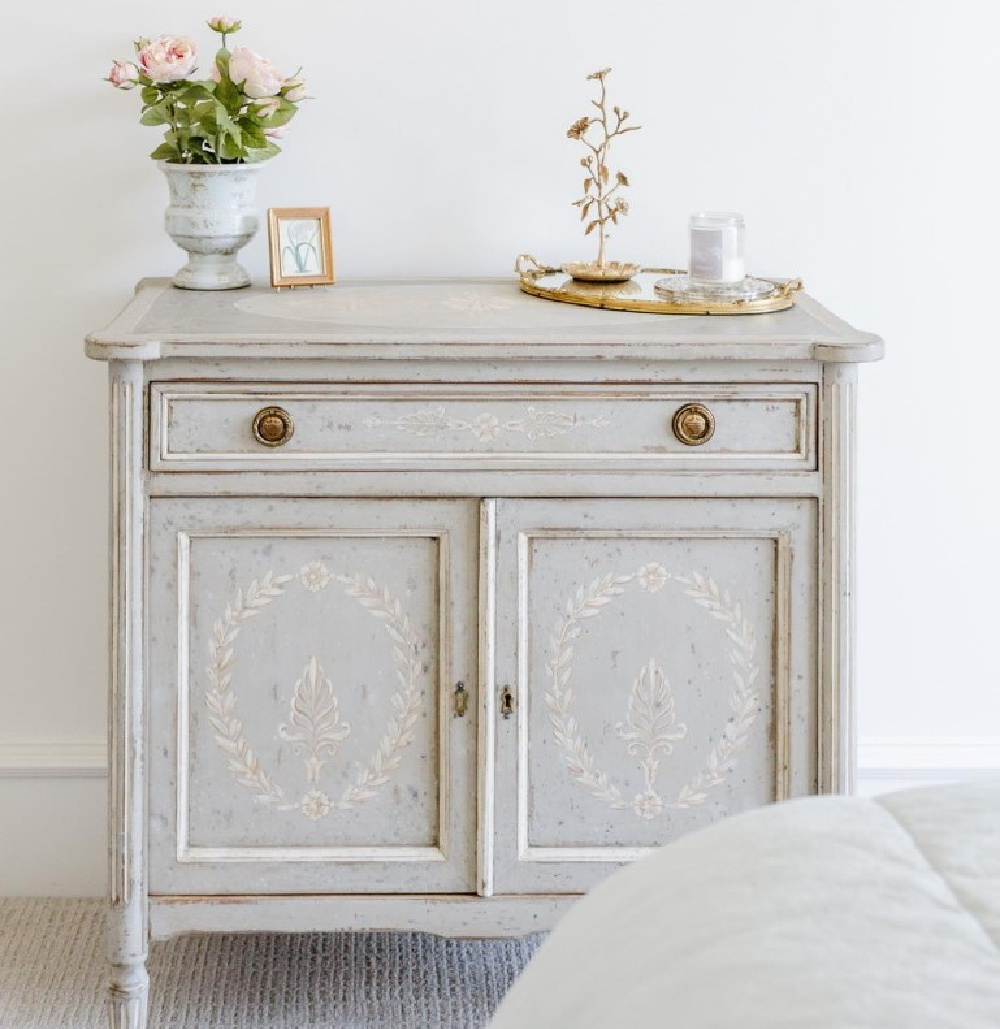 6. Embracing Imperfection's Beauty
When imperfect finishes, objects, and moods are welcomed, a layer of humility and character emerge.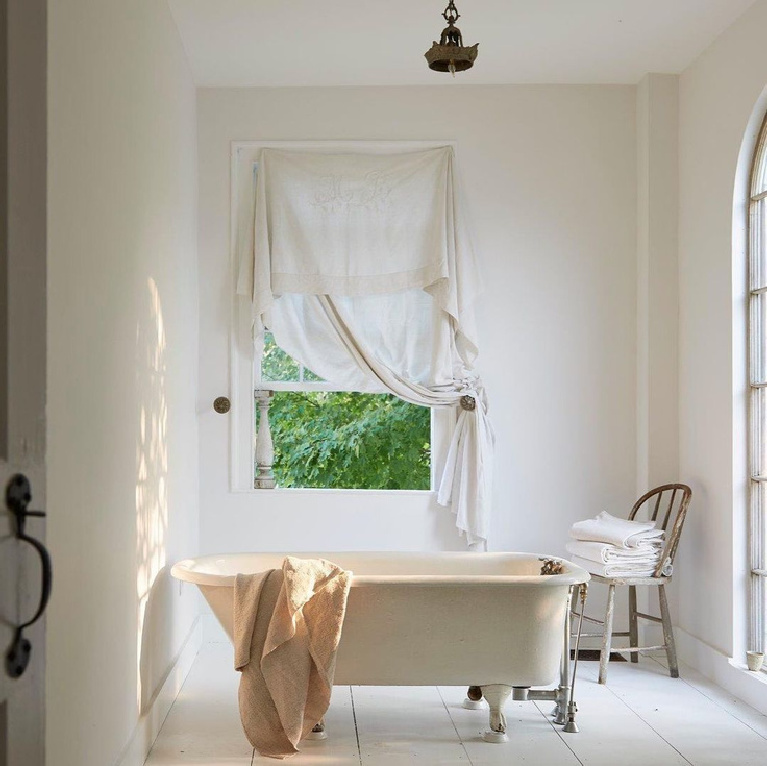 Quirky, one-off, asymmetrical, weathered, and laid back design elements become friendly companions on the journey.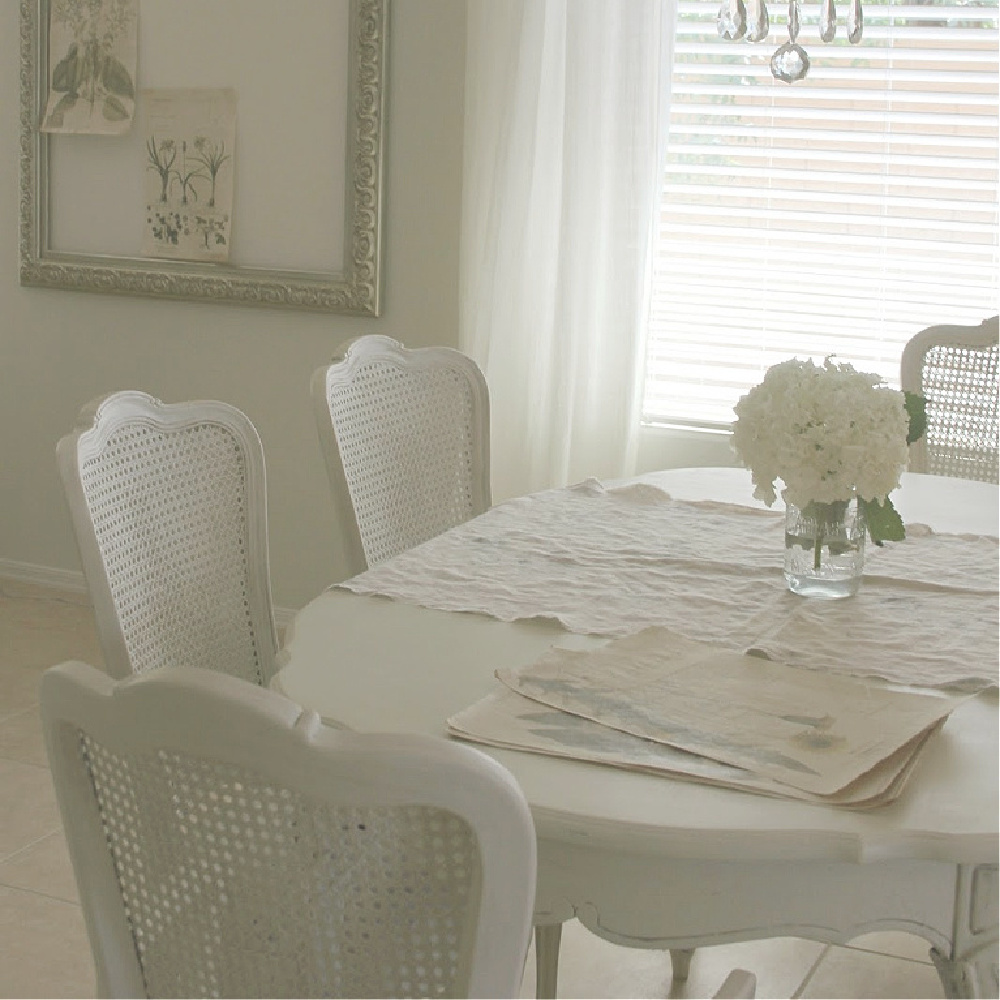 7. Cheerful Blue and White
They just go together like best friends in a country house, and for me, it's so quintessentially American.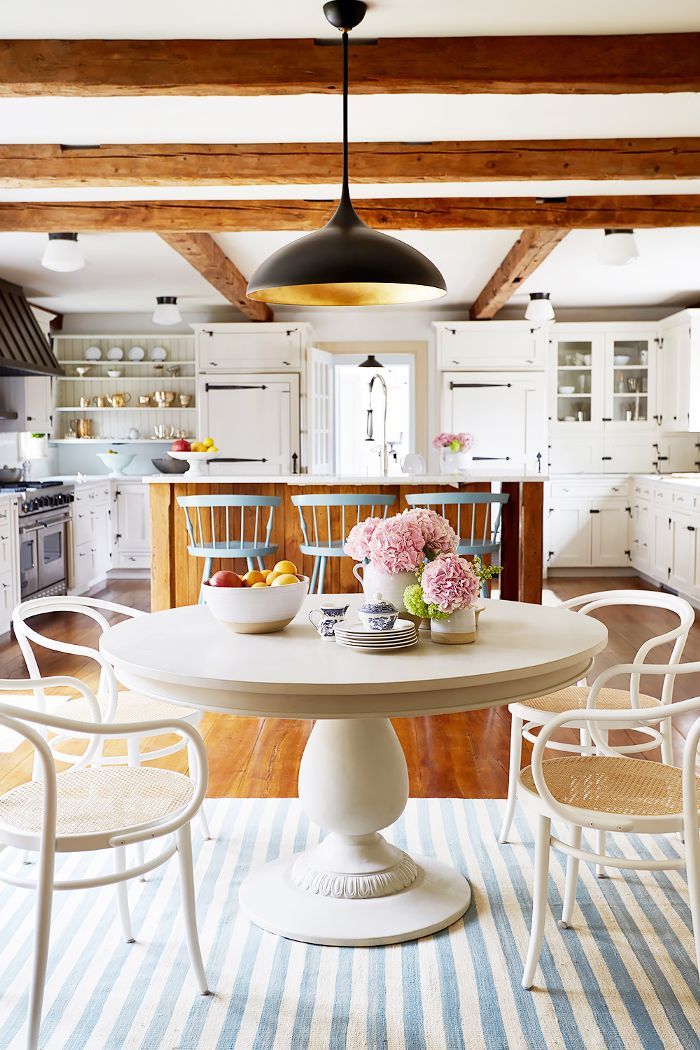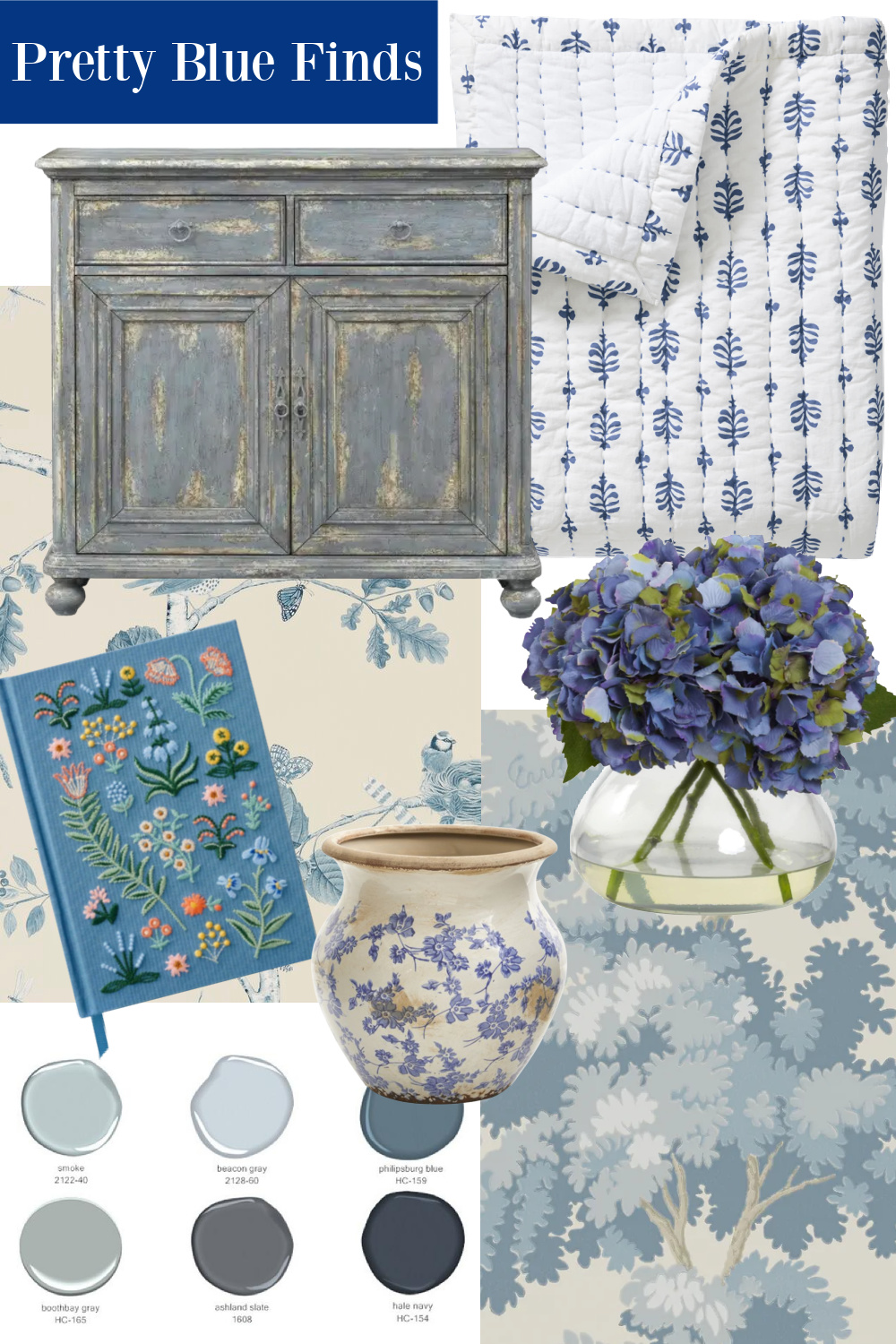 Even painting the ceiling blue can bring unexpected cheer!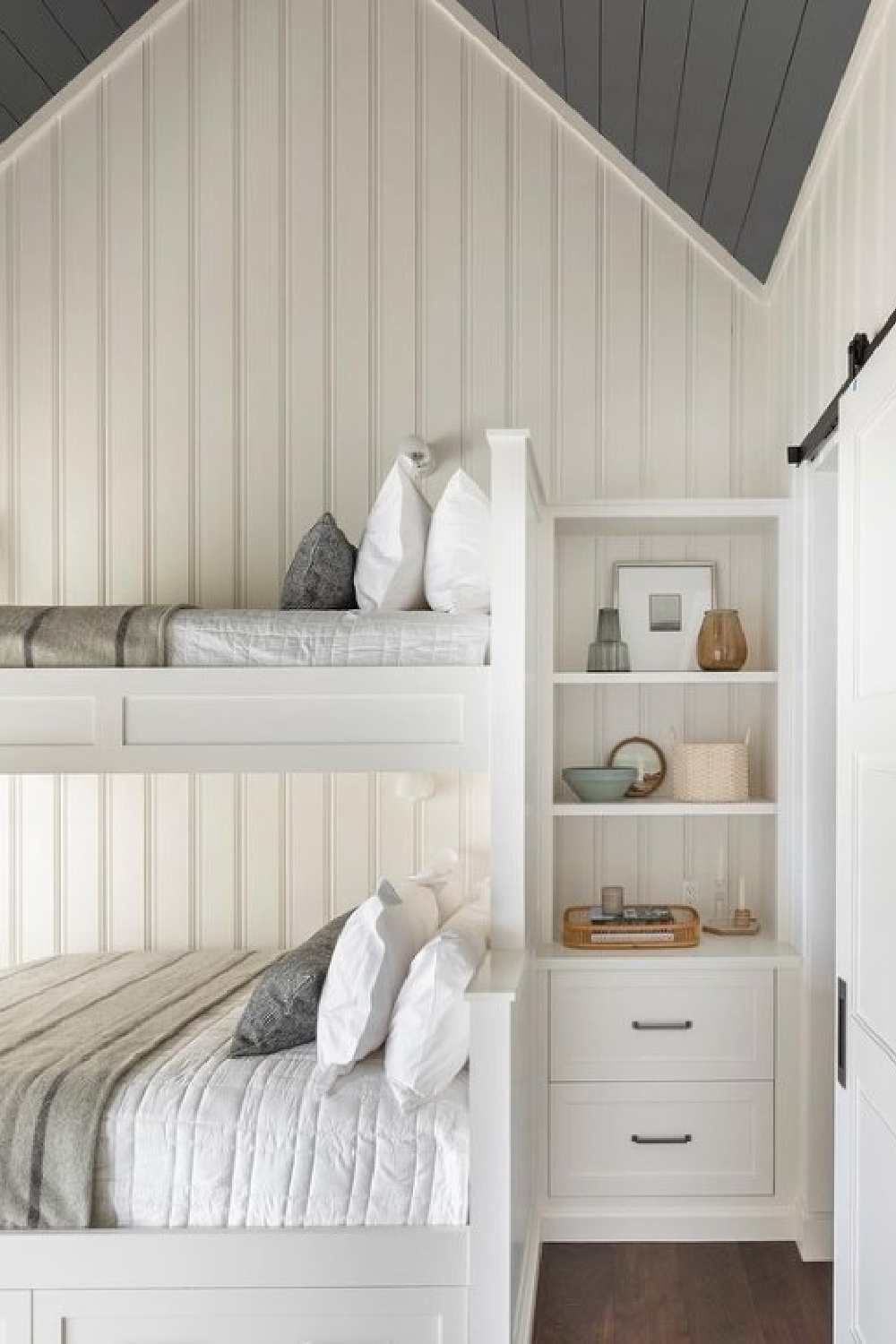 I independently selected products in this post—if you buy from one of my links, I may earn a commission.
Resources for Country House Ideas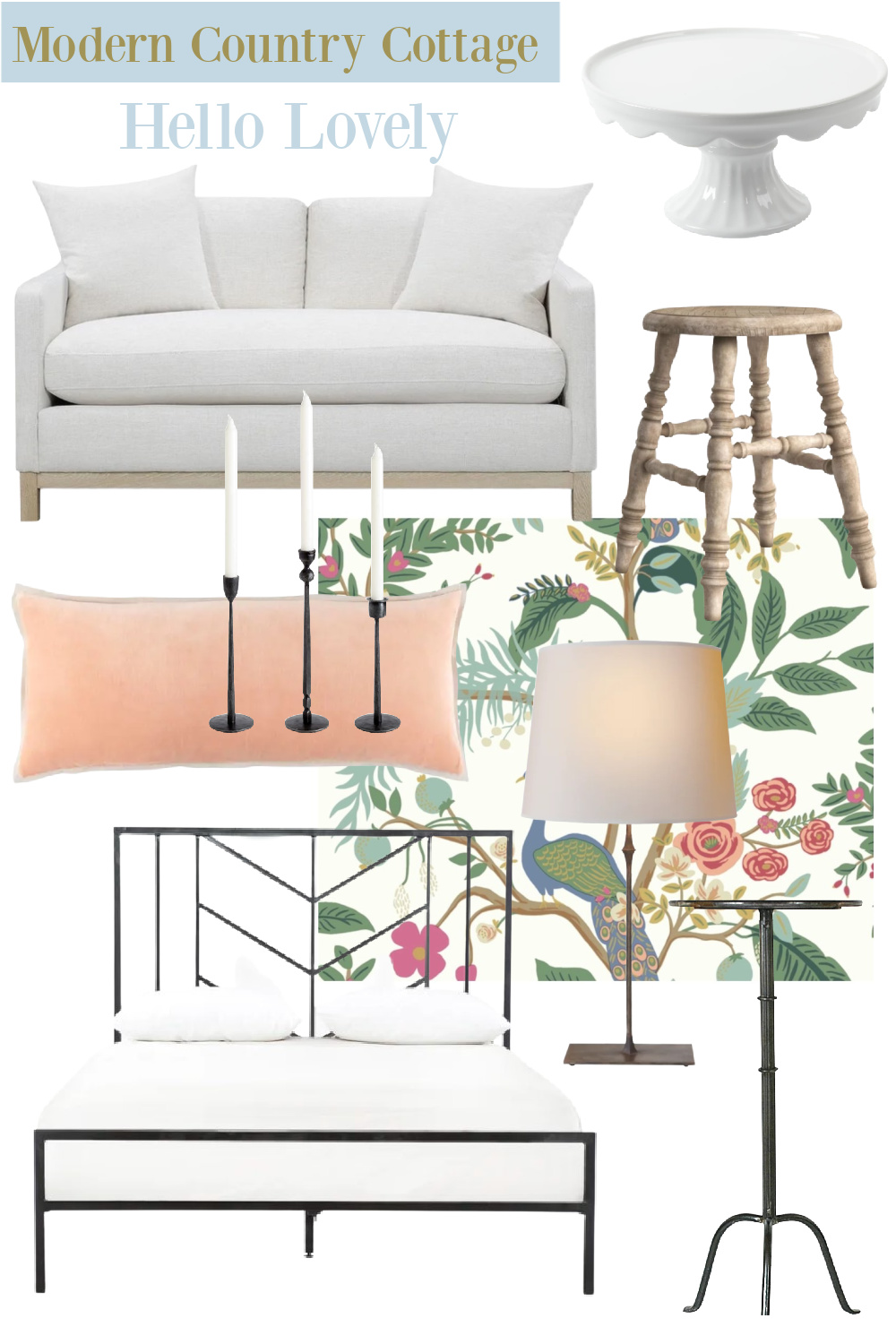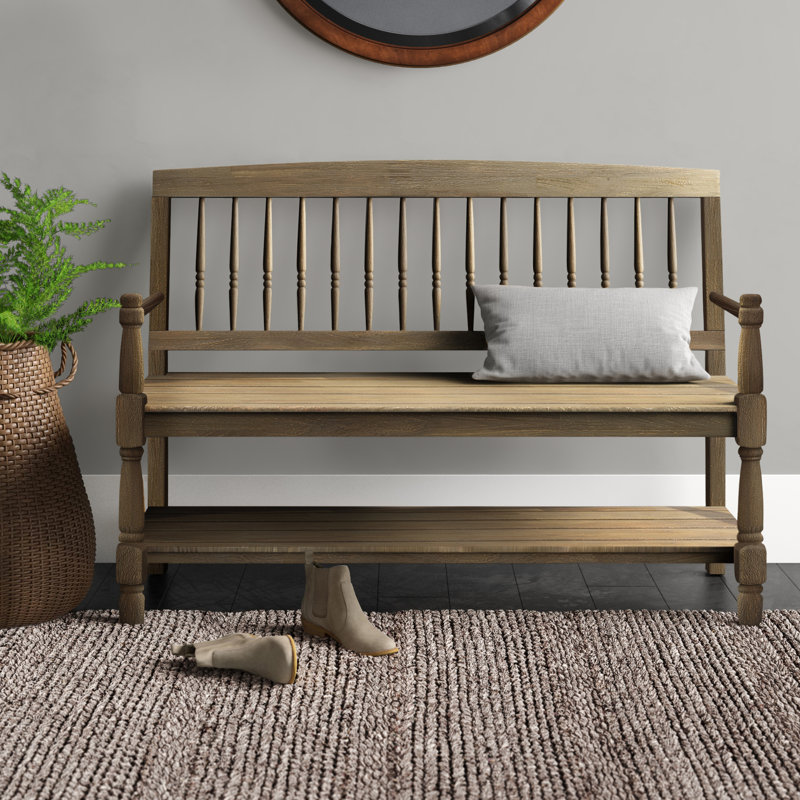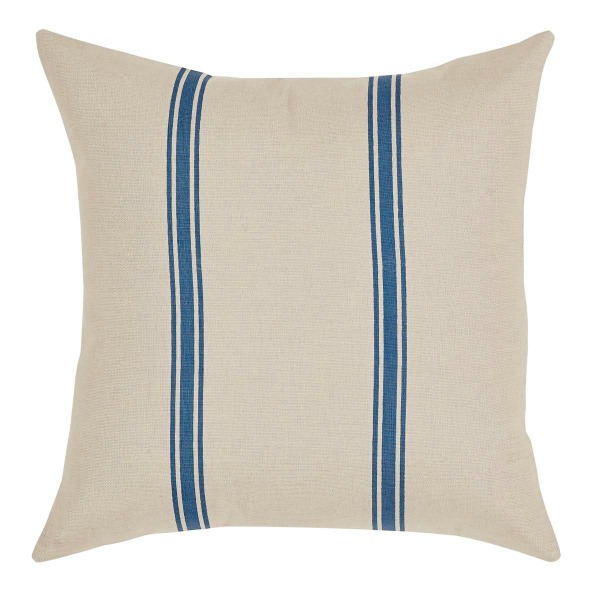 I independently selected products in this post—if you buy from one of my links, I may earn a commission.
Peace to you right where you are.
-michele
Shop for items you already intended to buy on Amazon RIGHT HERE, and also find home decor here to keep decor inspiration flowing on Hello Lovely!
Hello Lovely is a participant in the Amazon Services LLC Associates Program, an affiliate advertising program designed to provide a means for sites to earn fees by linking to Amazon.com and affiliated sites.