It is sort of silly when you think about how many different descriptions of "putty" or "mushroom" or "greige" there are in the design world. When you get right down to it, what most people call plain ol' tan or cream is what I would probably call "natural linen" or "flax." No matter what you call it, a warm white or light taupe shade for kitchen cabinets can yield a sophisticated look. But is it just a trend? We'll discuss. Perfect Putty Paint Colors for Kitchens & Neutral Palettes aims to place inspiring designs on your radar as well as nine paint colors to consider.
Perfect Putty Paint Colors for Kitchens & Neutral Palettes
So many of my favorite design materials boast this understated neutral color! Think about it. Belgian linen, French limestone, driftwood, greyed oak, etc.
And just look how beautifully it marries with crisp, clear, bright whites:
There probably isn't a metal that won't play nice with putty shades. In this next kitchen, you can see how lovely warm gold, copper, and black harmonize.
Contemporary & Traditional Kitchens With Putty
Greige and mushroom-toned kitchen cabinets need not read strictly traditional either. While this next kitchen has a sophisticated, contemporary mood, it also feels timeless and oh so elegant.
I receive so many emails requesting design advice for mixing whites, and it never fails to surprise me that most folks do not believe you can mix whites without matching them. So let's clear that up:
MIX THOSE WHITES WITH ABANDON AND SURPRISE YOURSELF.
If this collection of impeccably designed kitchens proves anything at all, it is that INDEED bright whites and muddy or chalky whites elevate each other! If you have ever paired a natural linen skirt or cardigan with a crisp white shirt or t-shirt then surely you agree!
But are Putty Kitchen Cabinets Simply a Trend?
If you have hung around Hello Lovely for very long, I bet you already anticipated my response:
Nous ne nous soucions pas, kittycats. Round these parts, we don't care if a particular color is having a moment. We are always after timelessness and understated elegance without the fuss. Such a look can be achieved with a flax tone today or a decade from now. We get to choose the palette that brings us the mood we're after (tranquil? energizing? nostalgic? hopeful?).
Neutral Nirvana in the Kitchen
In this English kitchen below with bespoke kitchen cupboards by deVOL, the khaki color of the wall breaks up the marble's alabaster white as well as creamy white stained planks of wood.
How would you describe the color of these cabinets? Oatmeal? Pale linen?
While shop owner and stylist Charlotte Reiss has since painted her kitchen cabinets (they are now Green Smoke), they began with Neptune Kitchen's "Limestone" painted finish.
An Ultimate Tile to Pair With The Hue
Is there a tile which timelessly and effortlessly complements putty kitchen cabinets any better than Zellige? (Don't blame it for being trendy right now!)
Hand-glazed, traditional, and from the Fez region of Morocco, their appeal for me lies in their refusal to be perfect and their sexy texture.
Can You Paint Just the Base Cabinets Putty?
Even when you limit your mushroom or muted taupe to base cabinets in the kitchen, the results can be dazzling.
Also, don't forget "washes" of putty tones or subtle stains and glazes. Glazing can beautifully finish wood furniture. (And sweet cozy Moses on a waffle cone, is "travertine" yet another description of our color du jour?)
Pantry With Putty
I hope these kitchens varied with their design style and mood help you to conceptualize the range of possibilities even when you decide on this colorway.
Perfect Putty Paint Colors: Where to Begin?
The following putty paint colors (both subtle shades and mid-tones) may provide a good place to begin if you're seeking the perfect shade for your own space. Why do you need 9 shades? Because your unique exposure, geographic location, and lighting will impact how these paints will ultimately present in the space.
2. Domingue Architectural Finishes Oyster
3. Sherwin Williams Agreeable Gray
5. Sherwin Williams Repose Gray
6. Farrow & Ball Cornforth White
7. Sherwin Williams Ghost Pines
Easiest way to see if a paint color will work? Order samples with Samplize and have them delivered straight to your door.
Like This Subtle Paint Color on Shutters?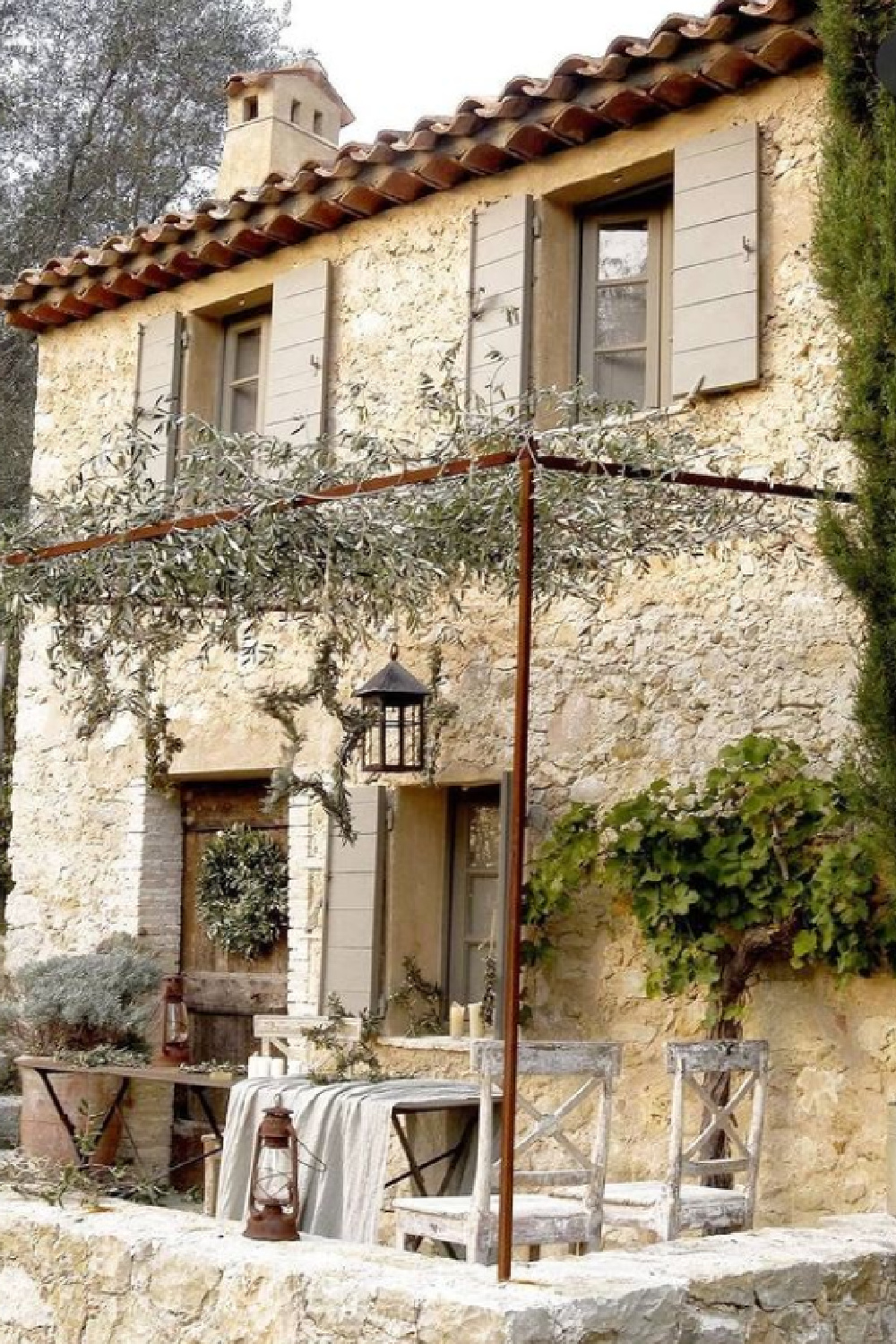 Greige & Putty in My Own Home
Let's face it, I'm an unabashedly passionate cheerleader for this range of neutrals. From the stone color of my fireplace surround to the nubby upholstery of our living room furniture to the color of exterior siding on our home!
For me, there is an irresistible calm that is effortlessly achieved with low contrast, natural neutrals.
Stone & Natural Linen Neutral Color Palettes
Bursts of saturated color can join the mix as you can see in this still from Meryl Streep's character's living room in the Nancy Meyers' film "It's Complicated."
Introduce chalky blue-greys, rustic textures, and collected treasures to the tonal scheme, and the mood can shift into laid back luxe loveliness:
Soothing Shade of Paint for a Bedroom
In my bedroom, a light wash of Benjamin Moore Revere Pewter transformed furniture we lived with for years.
While another set of eyes might simply see a boring beige on beige scheme happening, in person, the mix of textures and hand-painted brushstrokes feels alive and less one note than the photos allow.
One temptation you MUST RESIST when seeking the perfect paint color for your space is becoming put off by the paint color's NAME. The bedroom below is painted Farrow & Ball's Strong White which might suggest a bright strong gallery white when it is essentially a calm greige.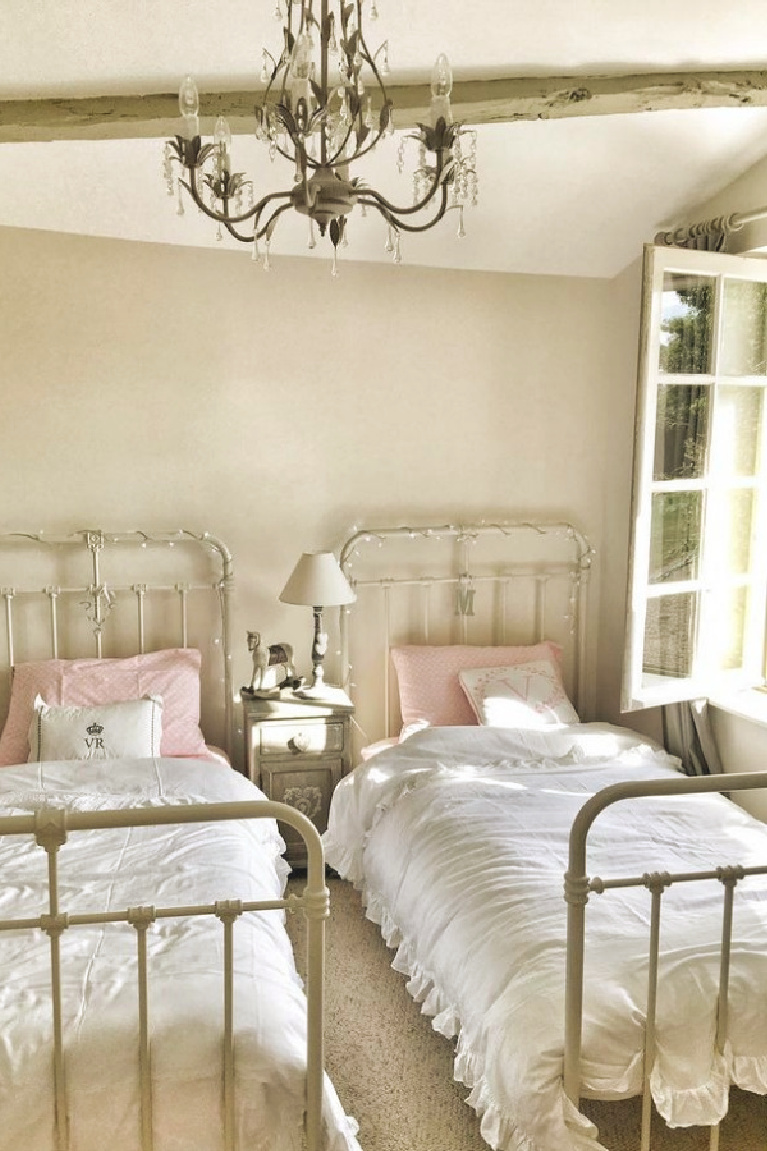 Aged Whites are Perfection
Once I began looking around for pretty examples of stone/putty/linen/greige/mushroom/quiet taupe, I quickly became overwhelmed since they are everywhere!
Aged whites which have mellowed but not yellowed are essentially THE perfect shade!
Let me know if you have a favorite paint color to share!
I independently selected products in this post—if you buy from one of my links, I may earn a commission.
Decor With Putty Power
Cozy Texture
Sofa in a Putty Shade
Tile Ideas
I mentioned Zellige tile earlier, and when it's not in the budget, there are ceramic field tiles which only appear to be handmade. I personally would install this Cloe tile in a straight-stack (or stack-bond) pattern rather than subway or running bond.
Cozy Mushroom Hued Finds
Lord have mercy do the synonyms for greige/putty ever cease? ACORN! Acorn, for corn's sake is yet another name for you to tuck away.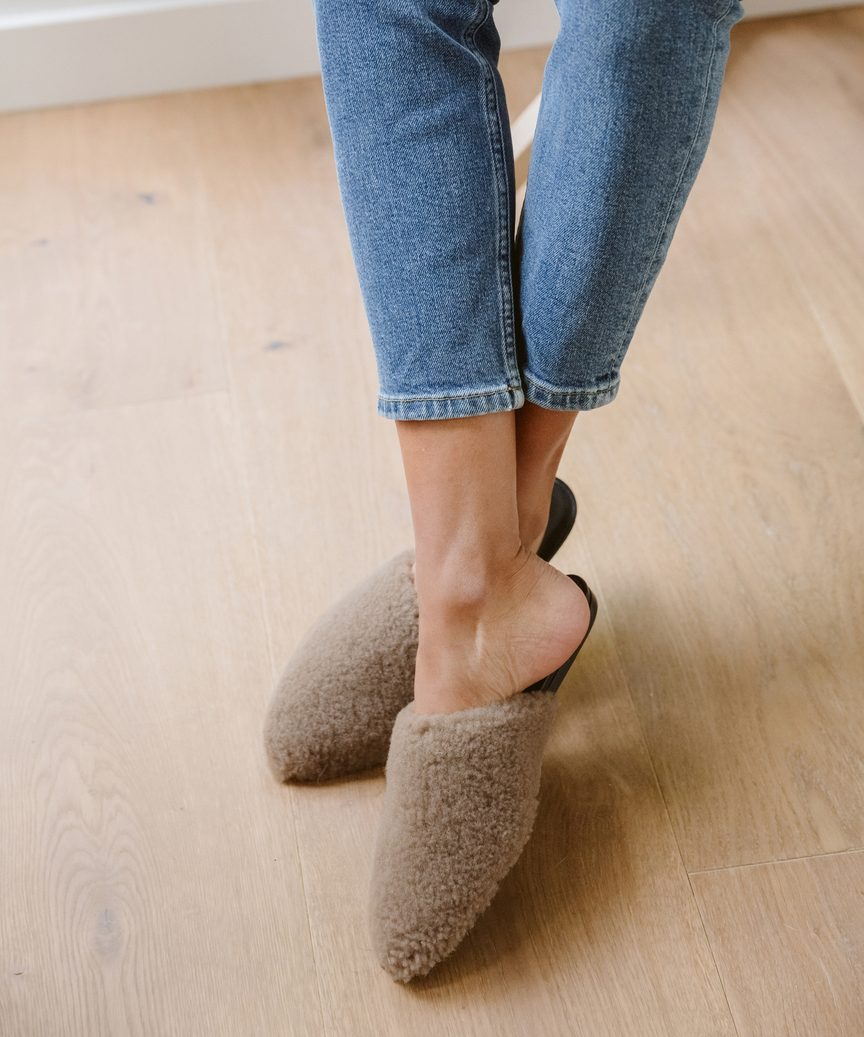 I independently selected products in this post—if you buy from one of my links, I may earn a commission.
Peace to you right where you are.
-michele
Shop for items you already intended to buy on Amazon RIGHT HERE, and also find home decor here to keep decor inspiration flowing on Hello Lovely!
Hello Lovely is a participant in the Amazon Services LLC Associates Program, an affiliate advertising program designed to provide a means for sites to earn fees by linking to Amazon.com and affiliated sites.