It would seem that checkered floors and herringbone floors are more popular than ever. Do you have either pattern in your home? We put carrera marble in a herringbone pattern in our former bath's shower and loved it. That shower floor actually became far more popular than this blog when a photo I posted during construction went viral thanks to This Old House. As I consider ideas and inspiration for our bedroom's bathroom, I am discovering the eclectic range of examples.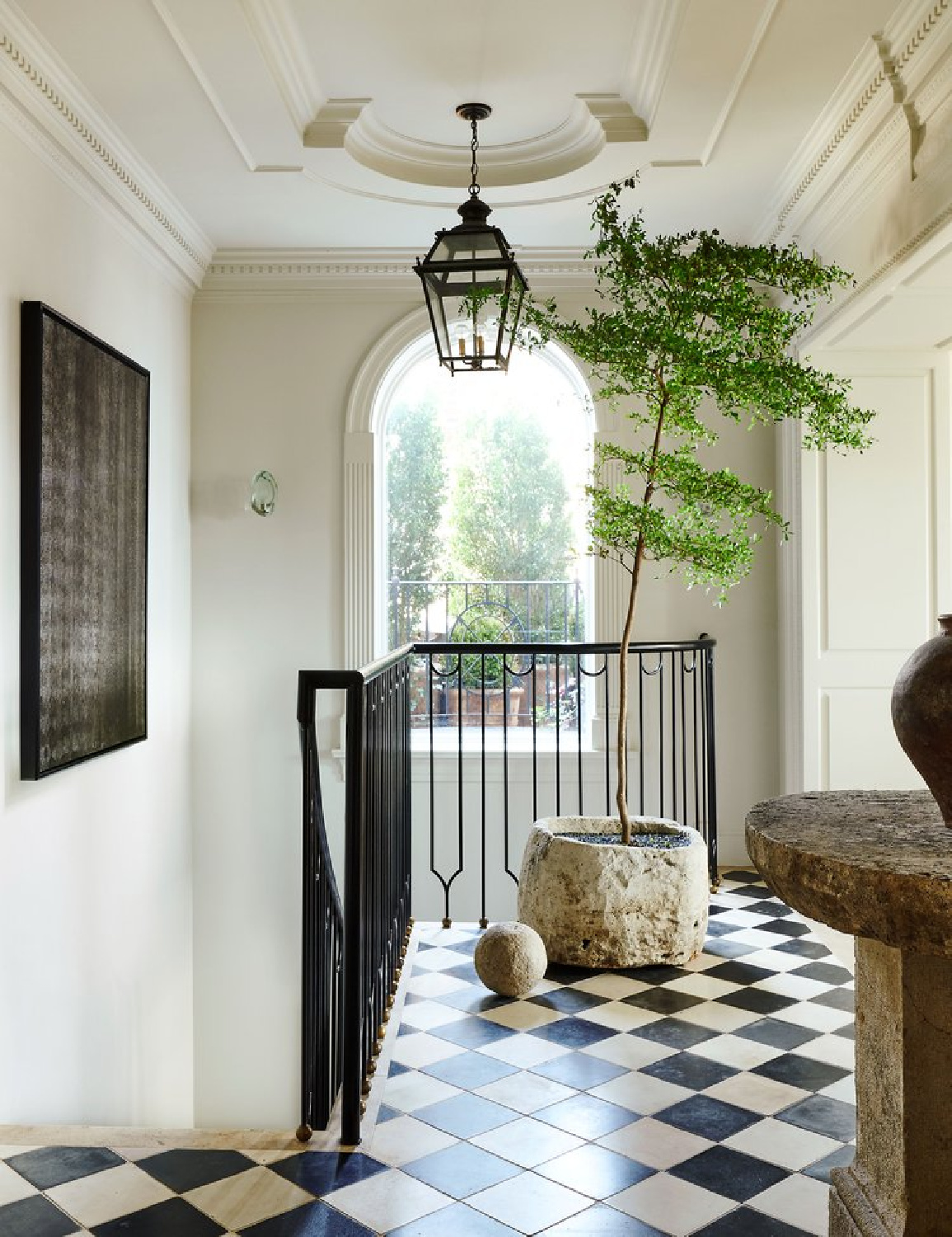 Checkered Floors & Herringbone Floors Inspiration
Did you see how Nate Berkus and Jeremiah Brent updated the Manhattan townhouse? (The townhouse they shared then sold years ago then bought back after a brief stint in LA and missing it terribly!?!)
Dining Area With Herringbone Hardwood Floors
With a neutral color palette, understated elegance, and magnificent architecture, the patterned floors play a starring role.
The gorgeous home featured in AD has both checkered floors and herringbone, and every single room with its traditional with a Paris twist style stops me in my tracks.
Hardwood Floors Painted With a Checkerboard Pattern
You need not buy marble for black and white checkered floors, hardwood can be painted in the pattern too:
Oh that charming Connecticut historic country house Nora Murphy decorated so beautifully. Can you imagine having that huge basket to fill with seasonal blooms?
If you follow Nora's IG, you may know she recently opened a shop where her signature checkered floors play a starring role. But herringbone patterns!
Brooklyn Townhouse With Herringbone Flooring
Who on the planet has not somehow seen Athena Calderone's (Eyeswoon) Brooklyn home with all of its artful touches and neutral chic. Cara Fox and The Fox Group are also fond of herringbone patterned wood floors in their projects.
Unique Large Scale Checkered Linoleum Kitchen Floor
So much texture, charm, and unique features in this European country kitchen with an unforgettable check floor which feels whimsical in its exaggerated scale.
Nate and Jeremiah's New York kitchen is also unique with its jaw dropping greenhouse-like windows, wedding cake like architecture, and dramatic marble. In this case, the herringbone flooring actually feels quiet and timeless.
Bathroom Floor With Marble Check Floor
Who wouldn't smile every time they entered this lovely bath designed by Tom House?
Not sure if this is the same property, but here it is near a kitchen:
Not sure if you have noticed how more folks are opting to choose different flooring materials for each room rather than running a continuous material. One of the effects of such a decision is it feels as though the home's design evolved over time.
The pattern on the hardwood flooring above may be chevron, not herringbone, but oh la la! Here's another similar floor:
A bathroom seems like an excellent place to try this pattern if you dare. Would you go for a checkered tile floor…
or a herringbone tiled floor?
What a happy pattern for a laundry room!
Right? You could paint the cabinetry any color of the rainbow, and it would likely make sense with the black and white check.
Herringbone Tile Pattern in French Country Bathroom
I adore everything designer Jenny Martin did with this incredible French country home, and the bathroom is understated and charming:
The large scale herringbone tile (above) feels modern in combination with the clawfoot tub, yes?
When Chip and Joanna Gaines renovated a Tudor cottage in Waco, the design and materials chosen for the project made the home feel original and so classic. In the kitchen, black and white ceramic tile feel very 1920s:
So which pattern in your favorite?
My tree went up this weekend, but I have no energy left to trim it so it may remain minimal until further notice! Is it time to get your online shopping cart ready for Black Friday? Maybe these recent guides will provide ideas:
I independently selected products in this post—if you buy from one of my links, I may earn a commission.
I independently selected products in this post—if you buy from one of my links, I may earn a commission.
Peace to you right where you are.
-michele
Thanks for shopping RIGHT HERE to keep decor inspiration flowing on Hello Lovely!
Hello Lovely is a participant in the Amazon Services LLC Associates Program, an affiliate advertising program designed to provide a means for sites to earn fees by linking to Amazon.com and affiliated sites.