Even though I wasn't sure any decorations would be brought up from the basement this season (too many renovations demanding my time and energies!), I was curious about the possibilities here at the new house. After all, my Christmas decor has been rustic and unfussy in the last decade, and this Georgian has a strong classic and Parisian point of view. I'll keep tweaking it all through Christmas of course so you are seeing the beginnings. Let's chat in our kitchen, dining room (we use it as a music room), and foyer today where I snapped these photos on Thanksgiving 2022.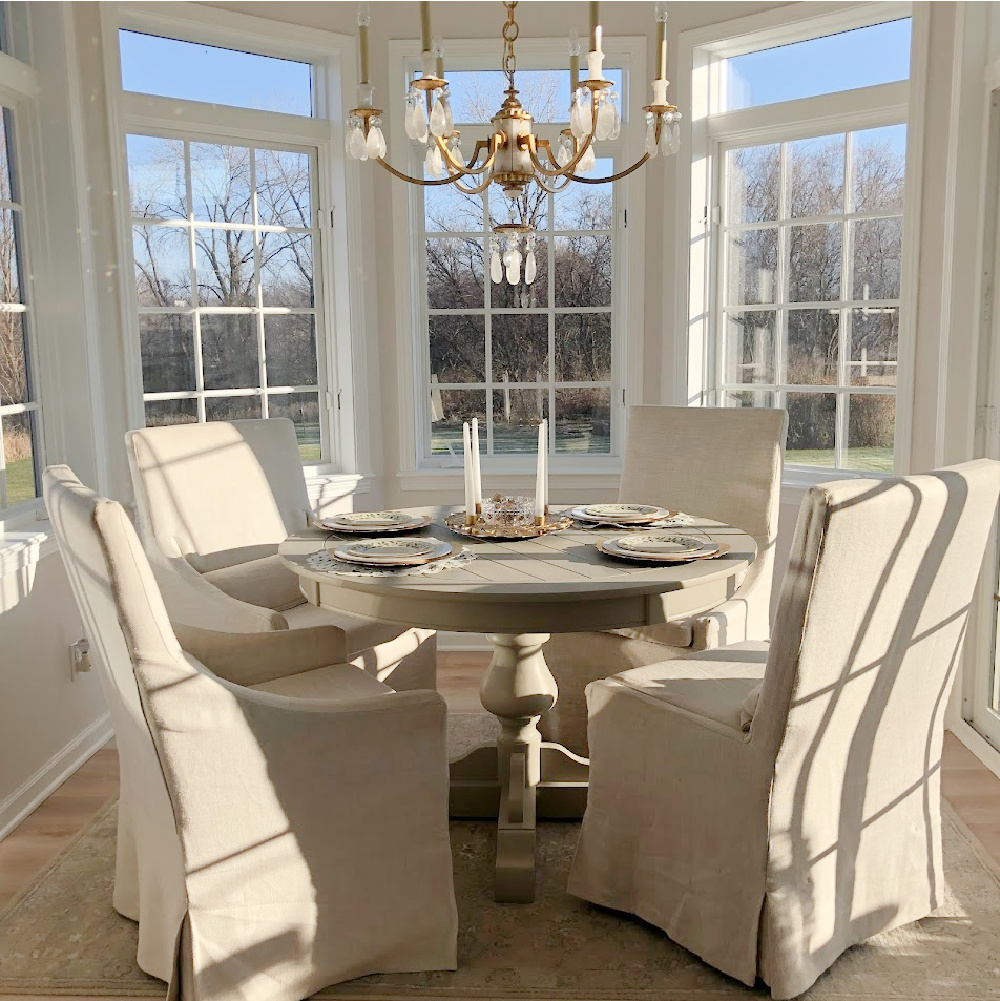 I independently selected products in this post—if you buy from one of my links, I may earn a commission.
Thanksgiving 2022 & Holiday Decorating Begins
I love this Lenox holiday bone china with its 24 karat gold accent. I don't own gold-toned flatware yet so it's on my list for Christmas. The gold chargers add a festive French touch.
I discovered the pattern after receiving a small serving bowl as a wedding gift almost 40 years ago. The bowl has always been brought out at Christmastime, and right now, it's in the foyer filled with little gold bells. It's the perfect size for holding candy or a floating rose or candle:
It's great to snag these pieces while they're on sale so I have dinner plates and festive glassware in my cart this minute:
But if you need a place to start to see if you love the pattern, the small bowl is a great way to begin – I sometimes tuck it in the center of our advent wreath where you see the crystal bowl. It was also a wedding gift that I have moved with us and used in too many homes to name!
The little heart milagro boxes are perfect everywhere for the holidays – it matters not where you decide to drop them. The drinkware is from Williams-Sonoma where you can also find these great napkins: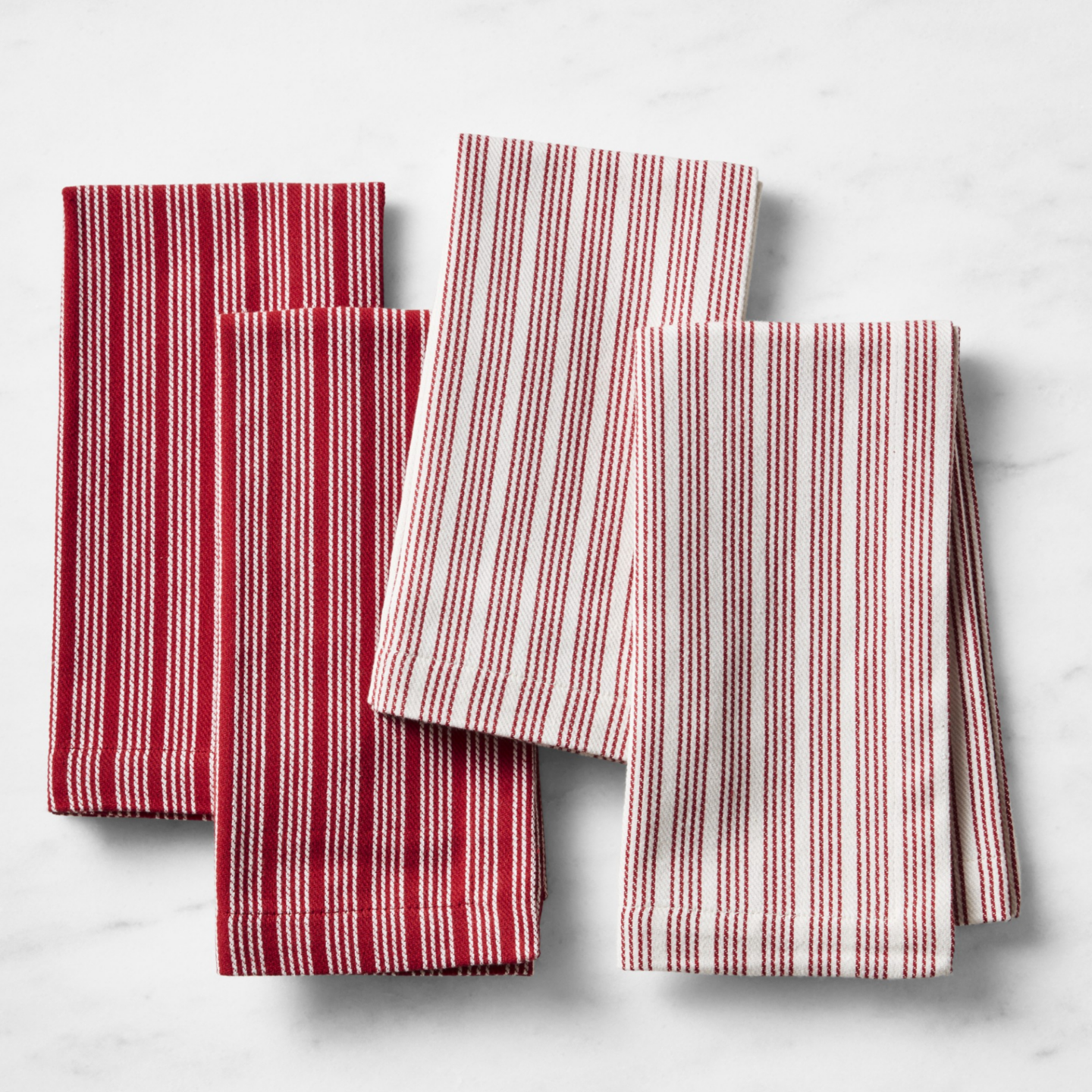 I don't intend to add many decorations to the kitchen, but I did swag my beloved white snowball pom poms on the windows at the sink and also over the entrance to the pantry.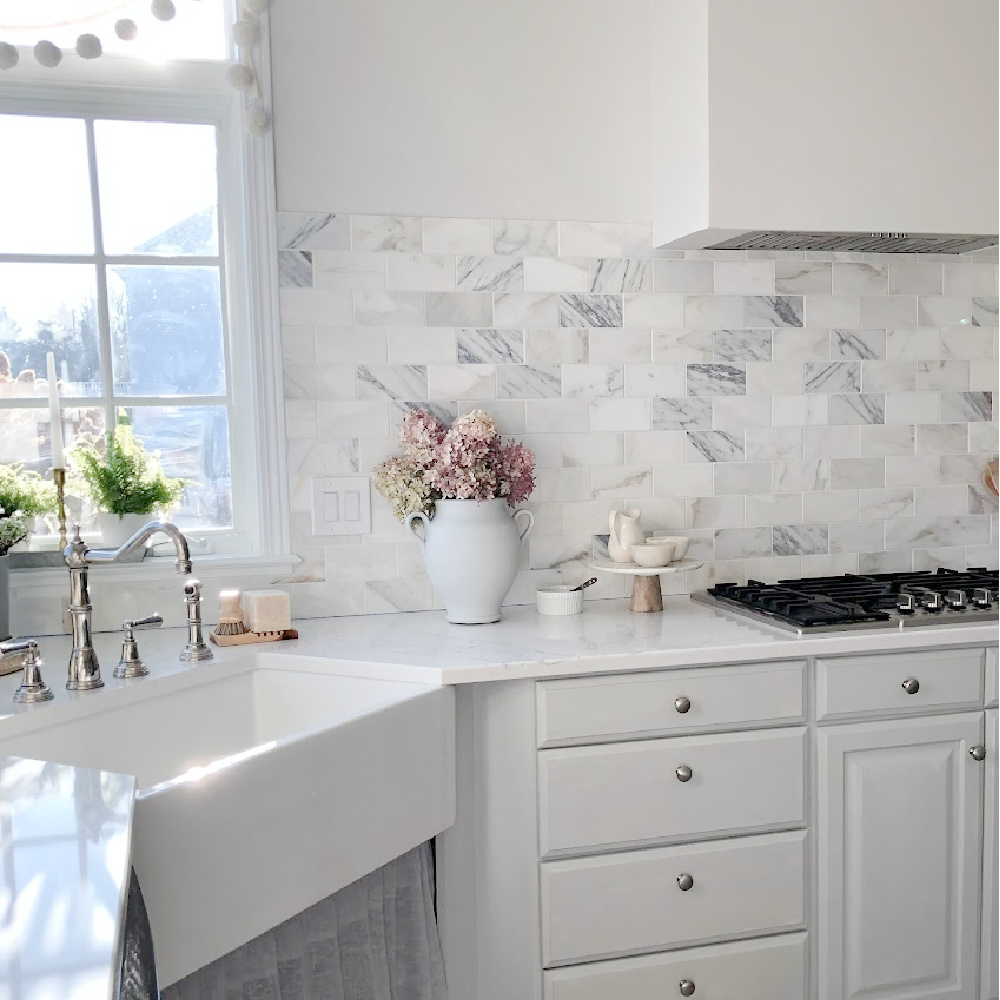 I'll add something decorative to the backsplash behind the cooktop, and I'm crazy about my marble topped pedestal purchased from Minted I told you about recently: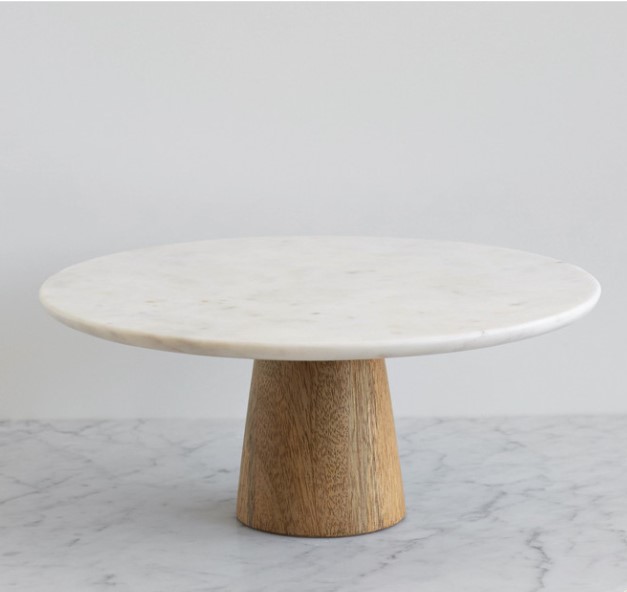 Here's an up close shot near the citrus simmer: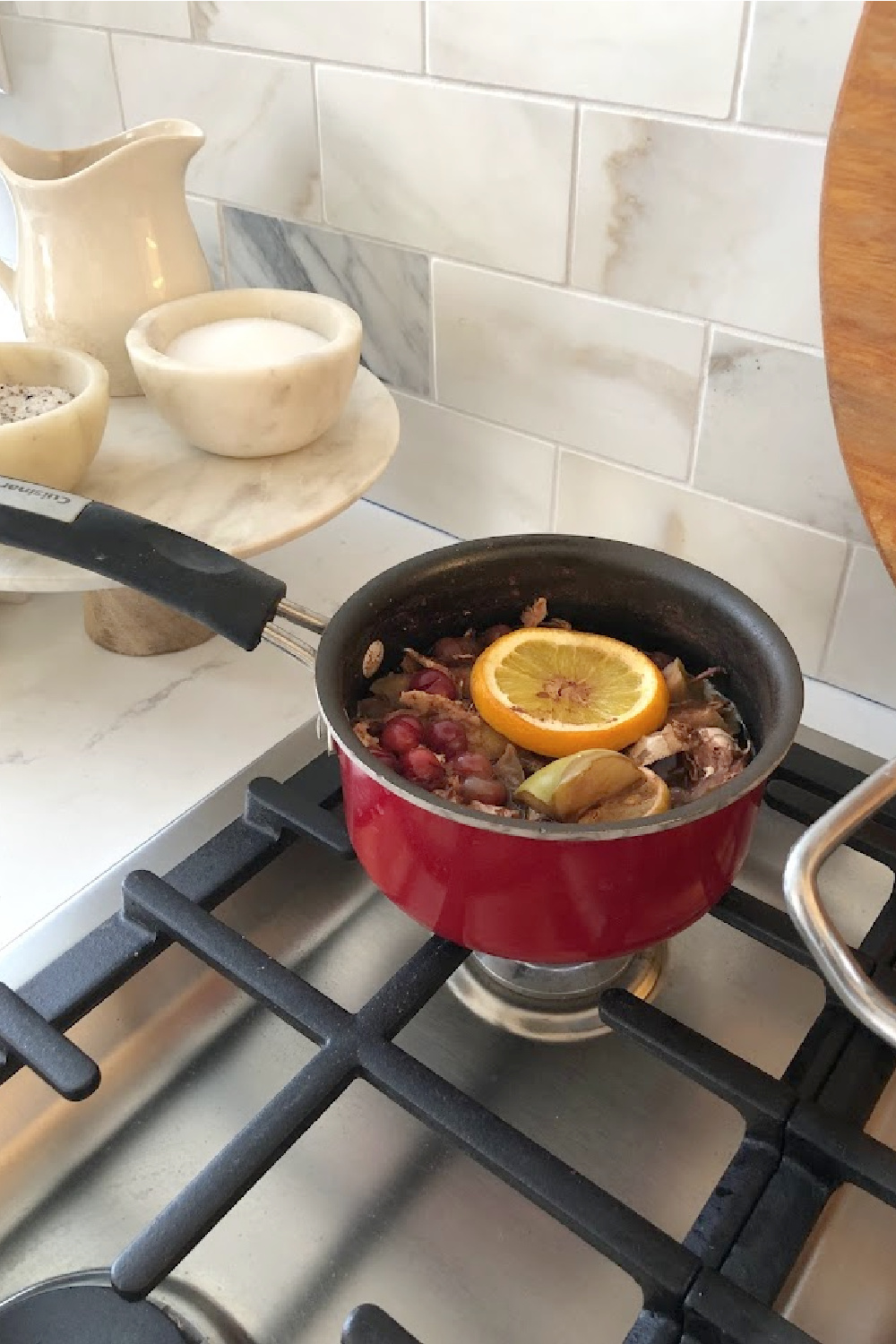 Turns out, it's one of the most versatile pretty serving and everyday pieces I have ever owned, and I may pick up another!
The prelit Belgium Fir tree went up (you can buy it here) in an alcove between a closet and the dining room. The former homeowners had a grandfather clock here, and you get a glimpse of the tree when you enter the front door. My oil portrait is still on the mantel behind the poster that I added for drama and fun.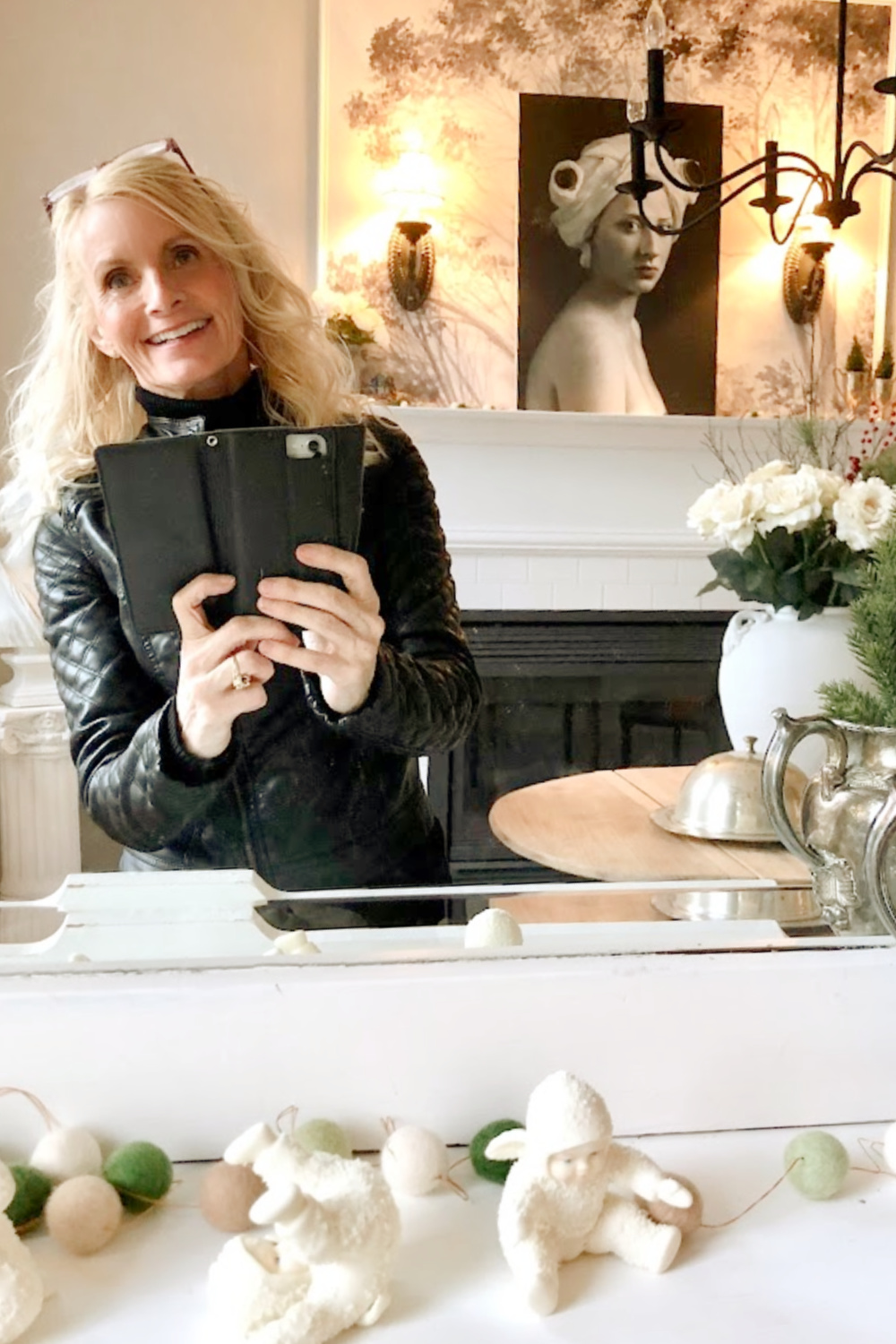 When you first see the art, it appears to be a classic Dutch painting, but it's actually a contemporary photograph in the style of Old World masters but with a whimsical wink…notice what covers her hair. 🙂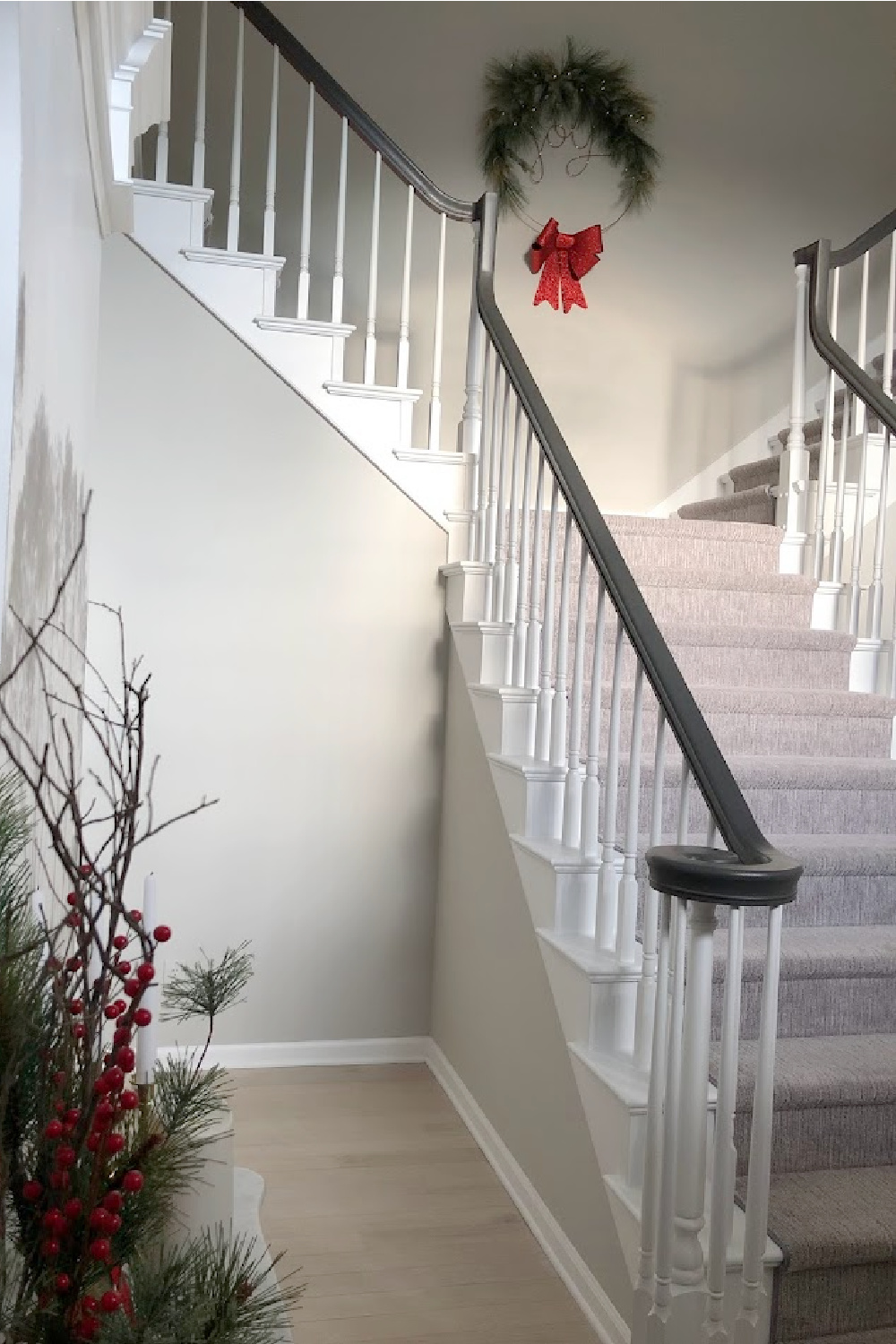 My prelit JOY wreath (battery operated and on timer) looks rather small in the stairway, but it's huge! The smaller 24″ version is RIGHT HERE. I added a sparkly red bow and will keep working on that area.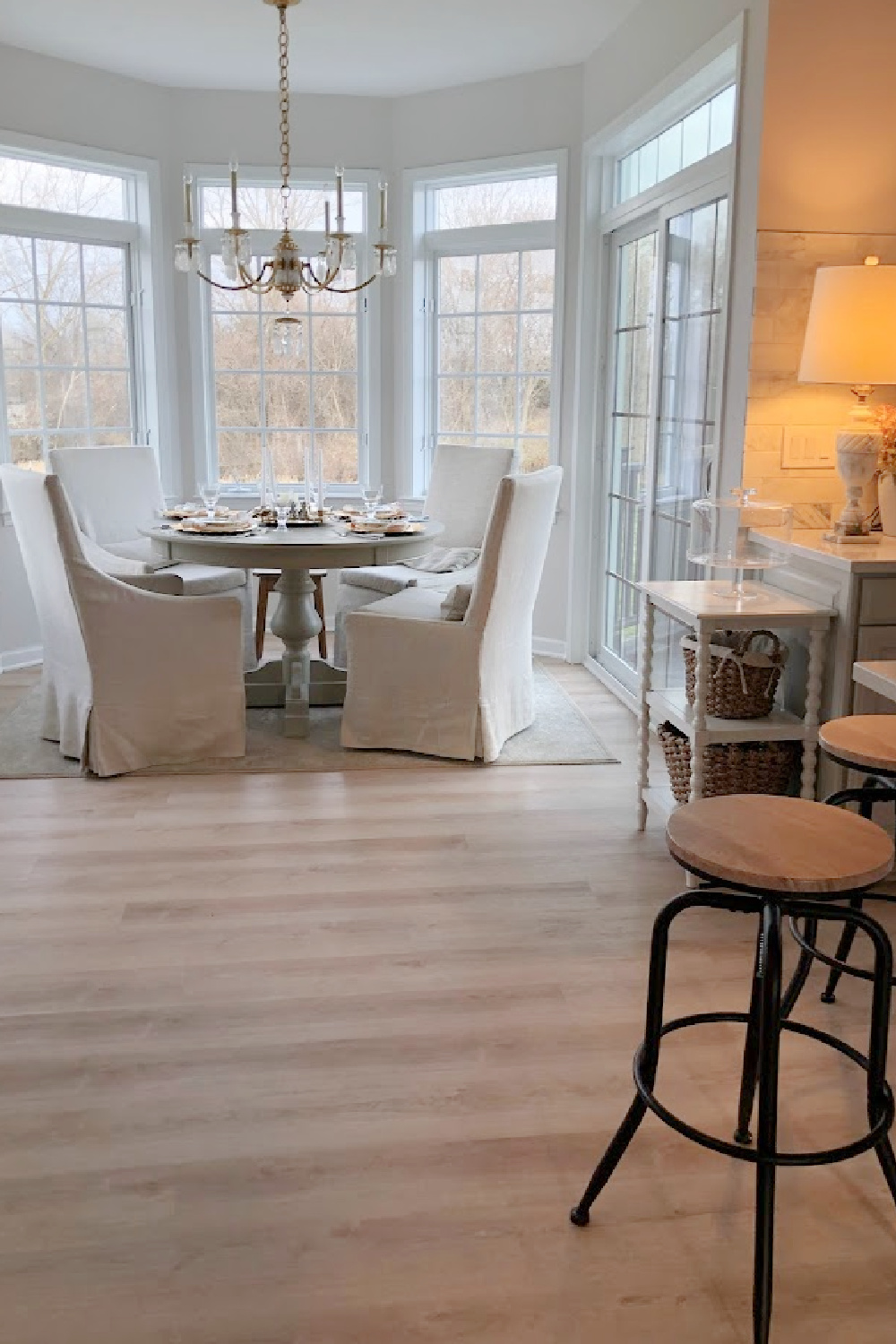 No window treatments yet and very tonal, but at night with candles, so much is forgiven!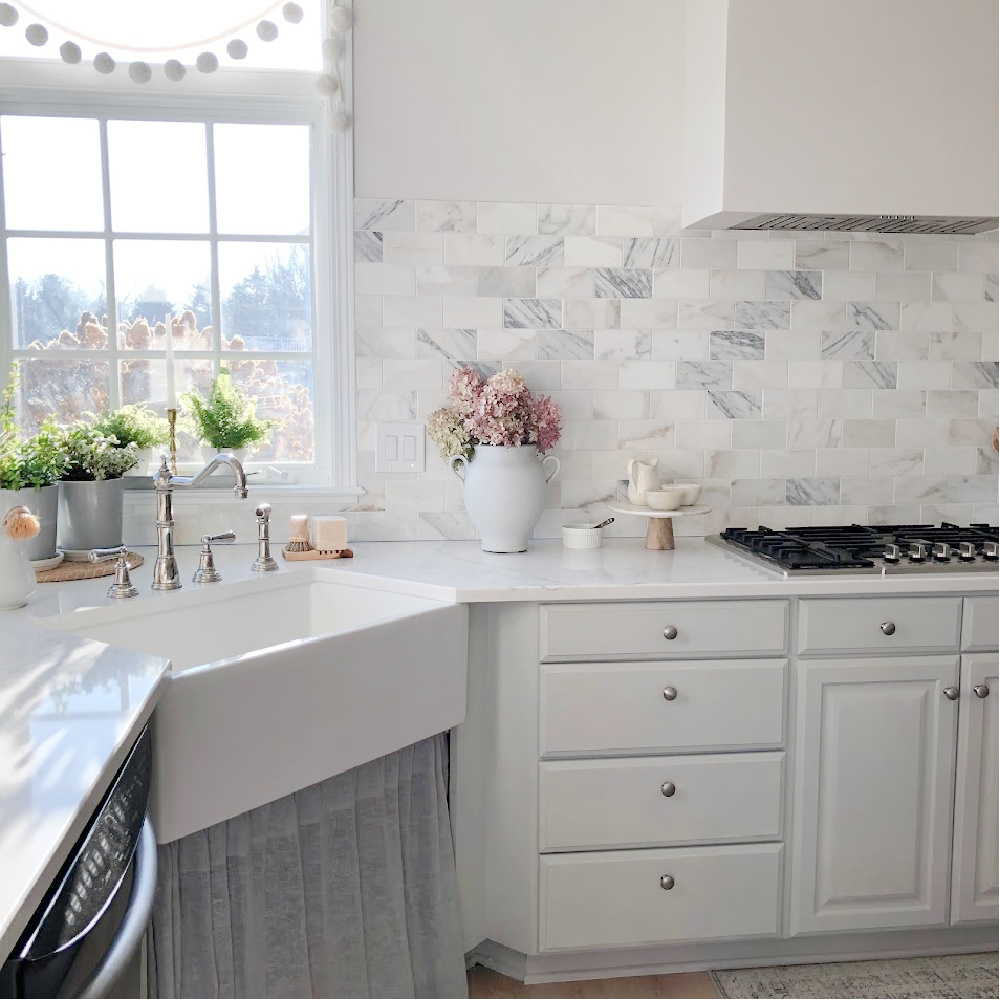 Not sure you can spot the candles I placed in the windows (above), but it's a simple touch that helps create a magical glow when the sun sets.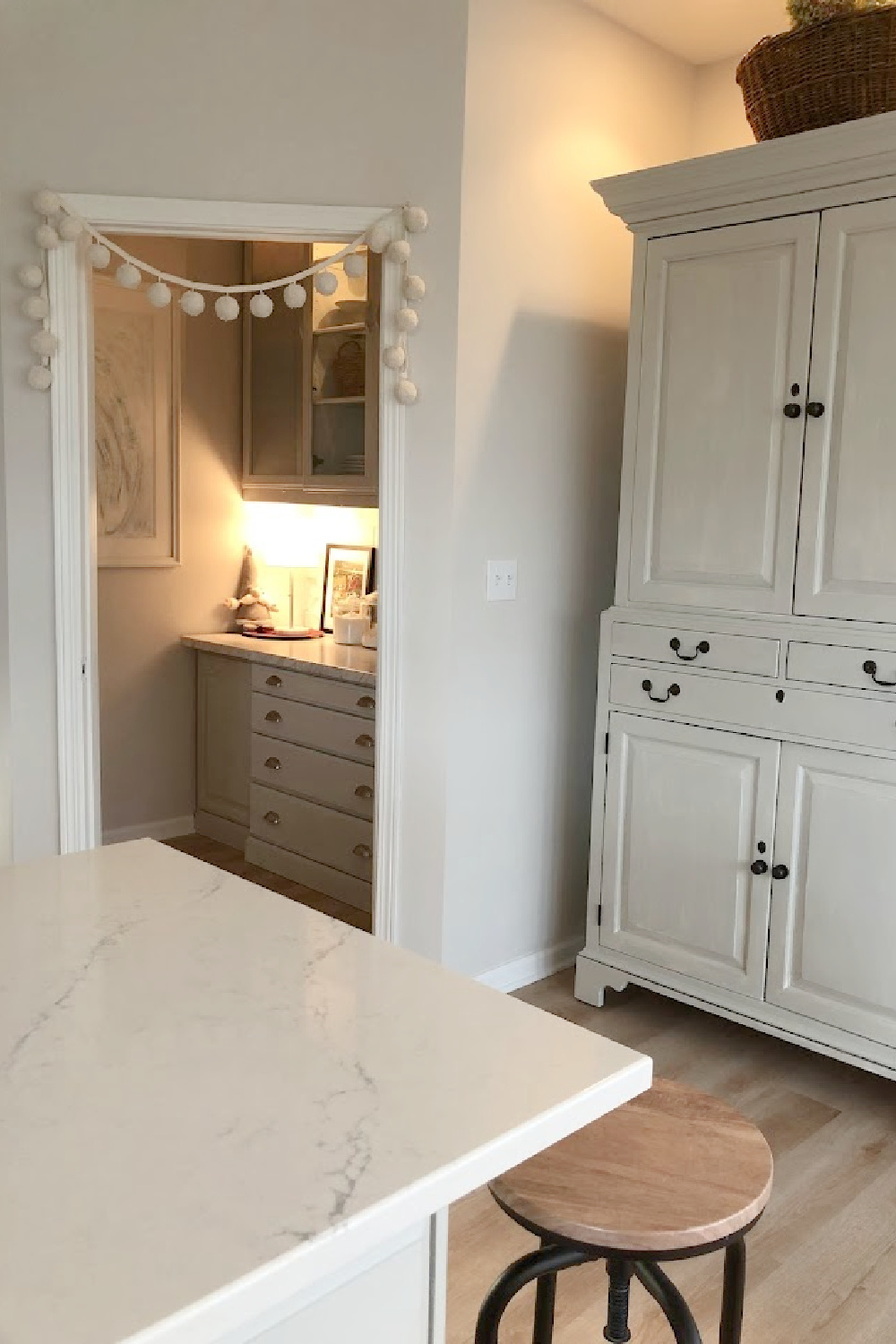 Pom poms greet you at the pantry where a sweet gnome from my mama always adds cheer each year.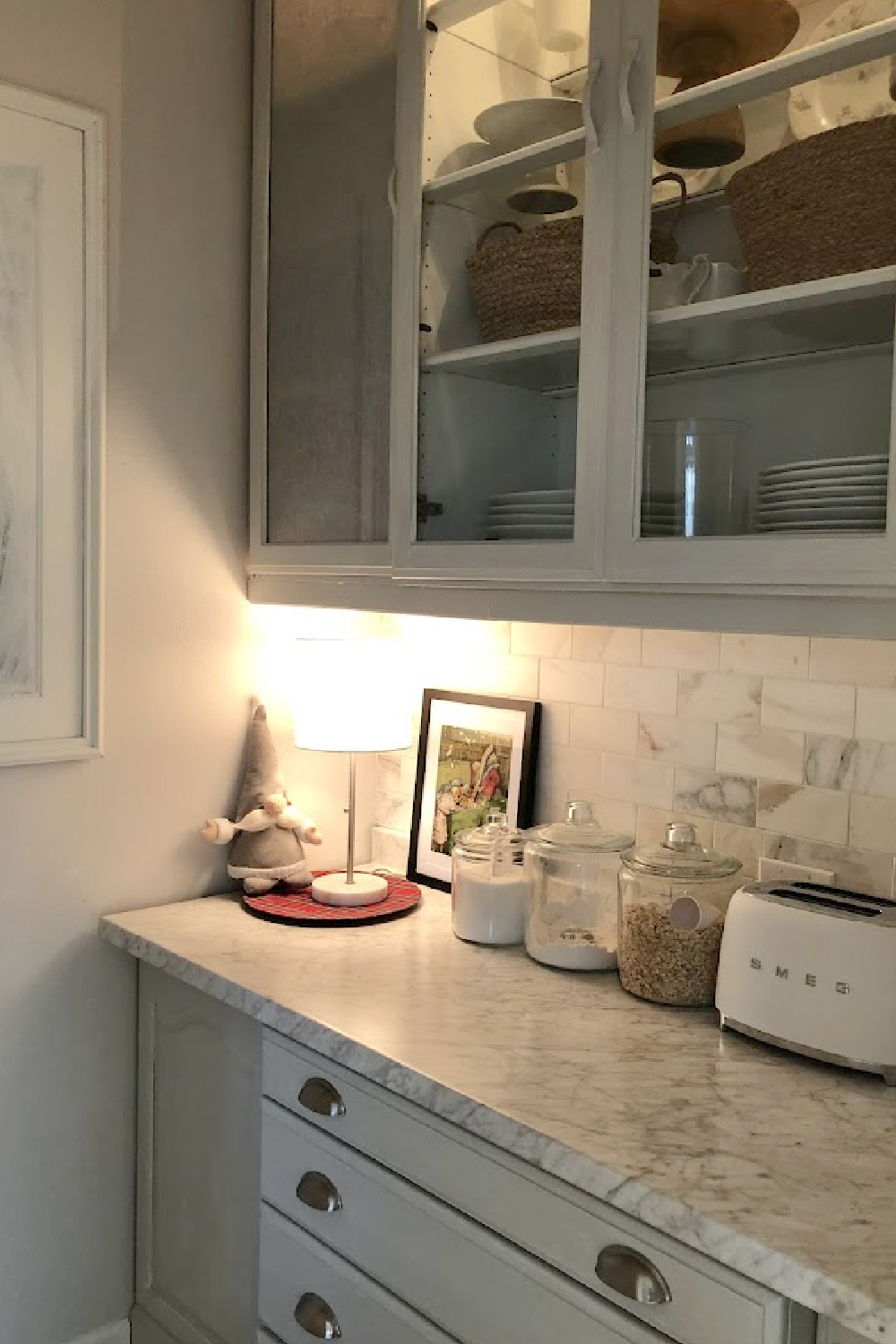 I tucked berries, branches and faux greenery into the arrangement on the dining table.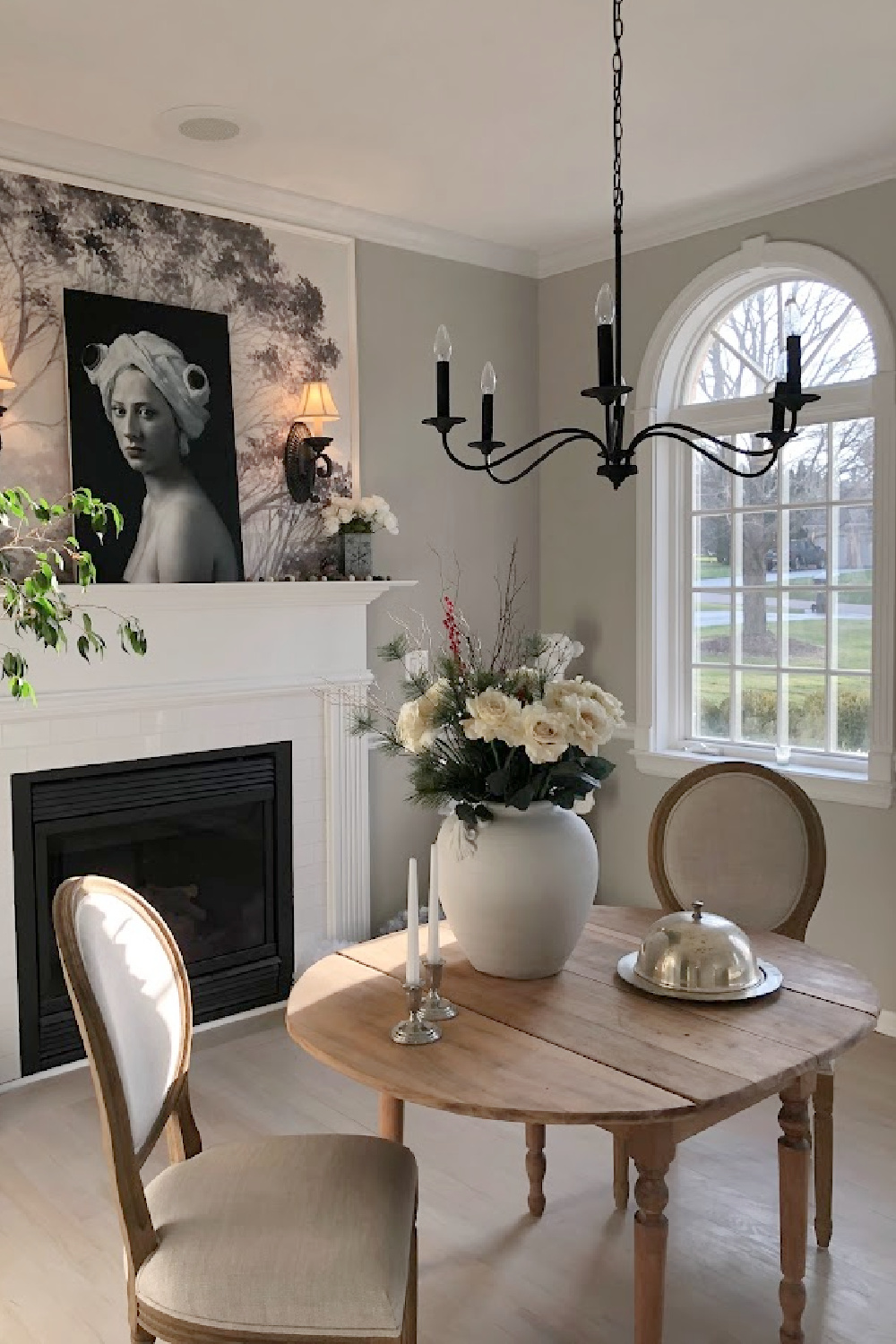 And since I'm short on time these days as far as crafty matters, I purchased these sweet, well-made felted garlands.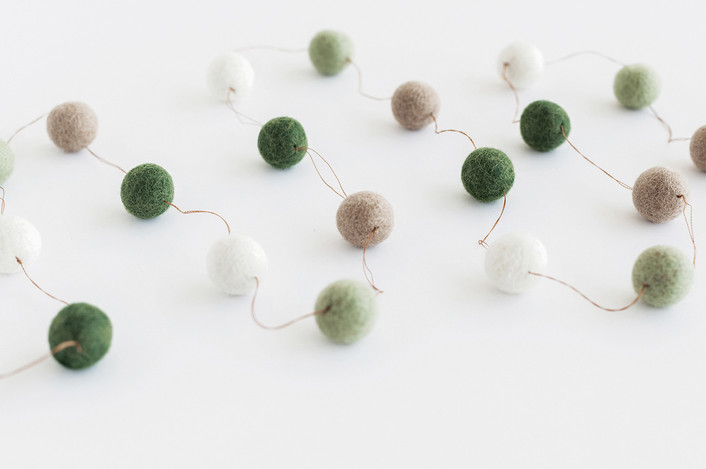 They're a perfect touch on a mantel or mirror, and I used two 6′ garlands on the fireplace mantel, one on the piano top with my vintage Snow Babies, and one on the mirror.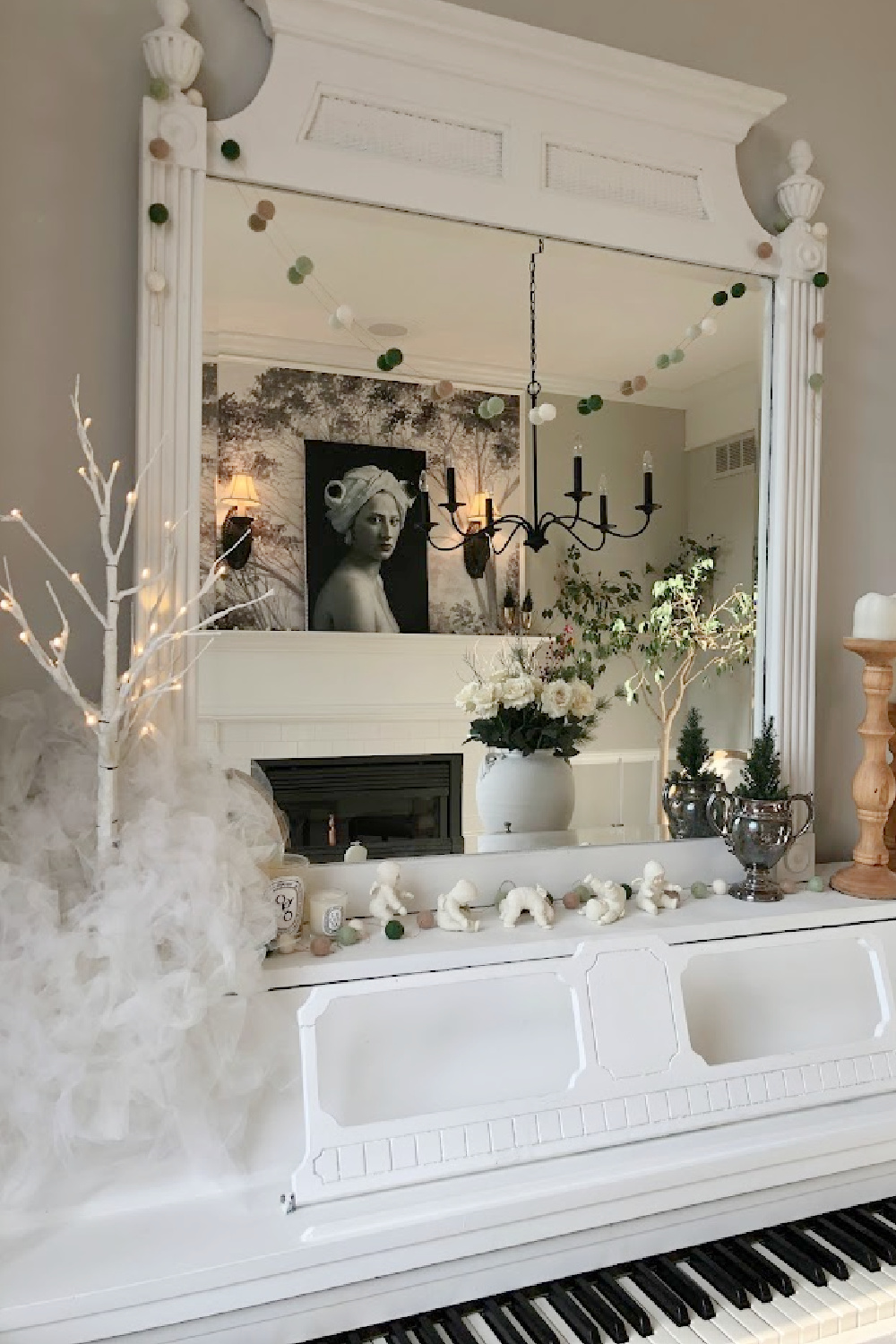 It's relatively easy to find the snowy birch prelit tabletop trees now, and I nestled mine in a tulle tutu I made with my own hands years ago.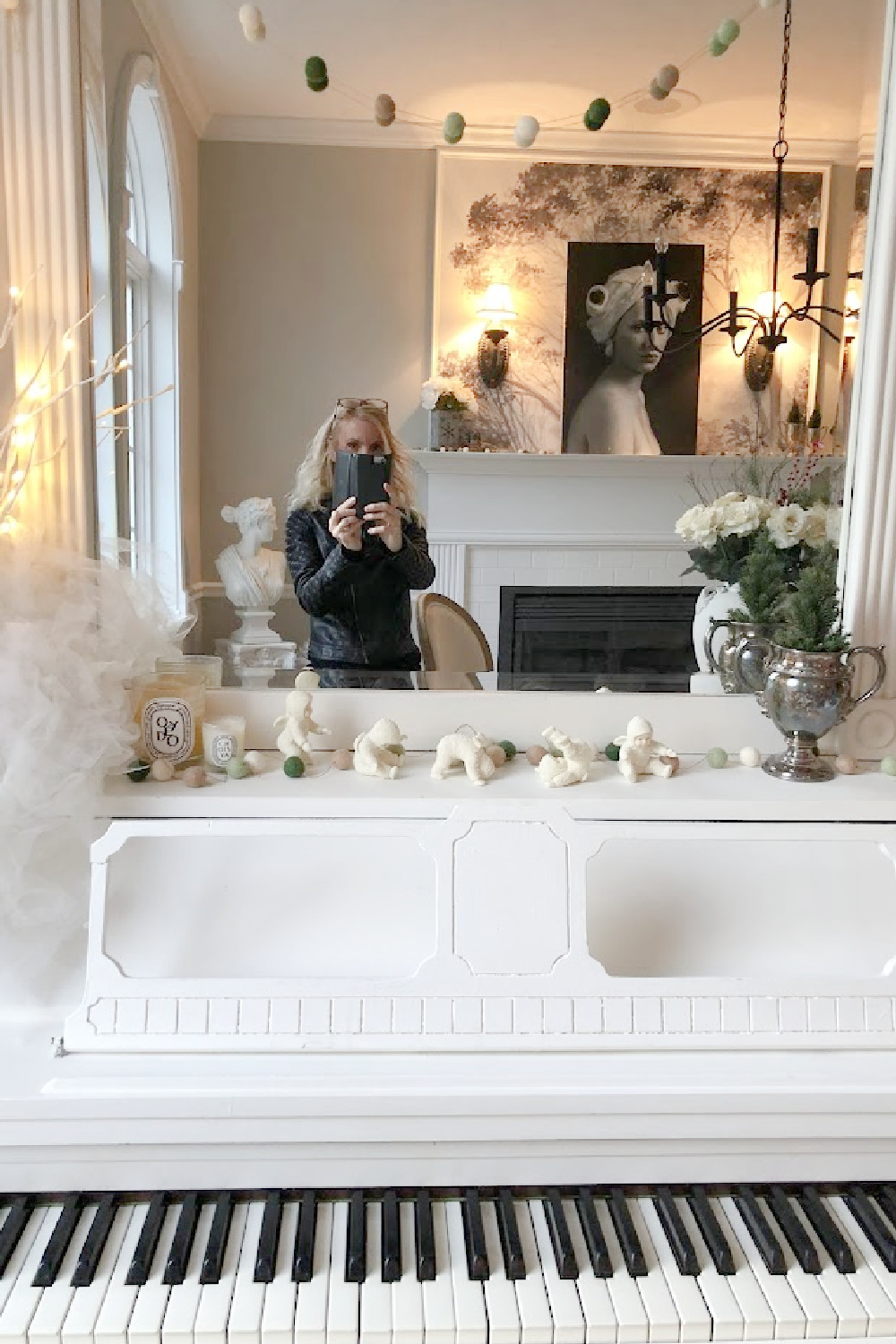 Oh this moto jacket I wore on Thanksgiving. You will get NO LINKS to it ever because it is in the trash now. Goodness gracious, what a comedy. At the end of the night, as we were cleaning up, my husband asked about mysterious black droppings on the floor. I must have rubbed up against something with texture, and the back of the jacket disintegrated and left a confetti trail all over the house! As if there wasn't enough cleanup!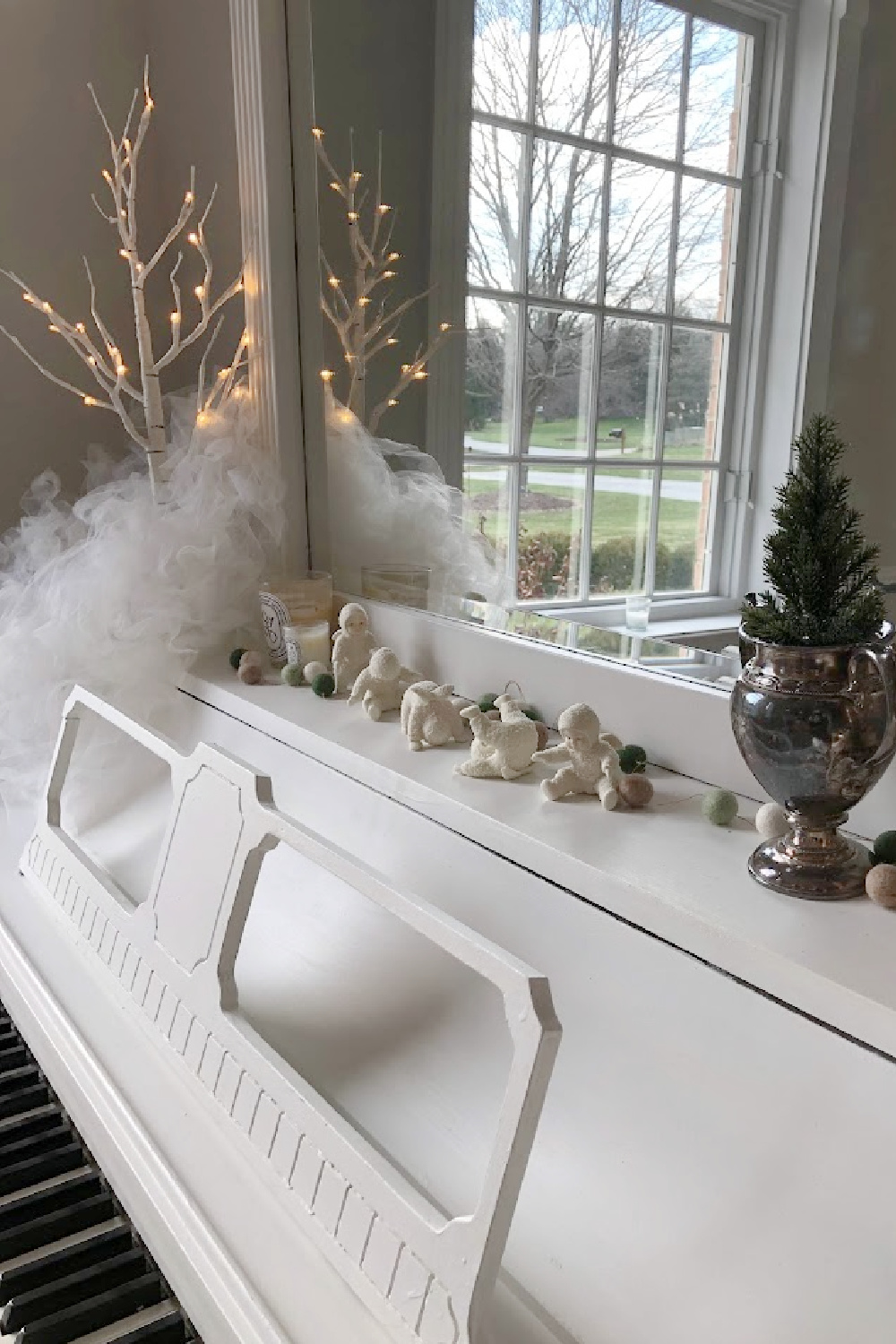 I added a Poinsettia to the table in here, and sorry there isn't a fire going yet!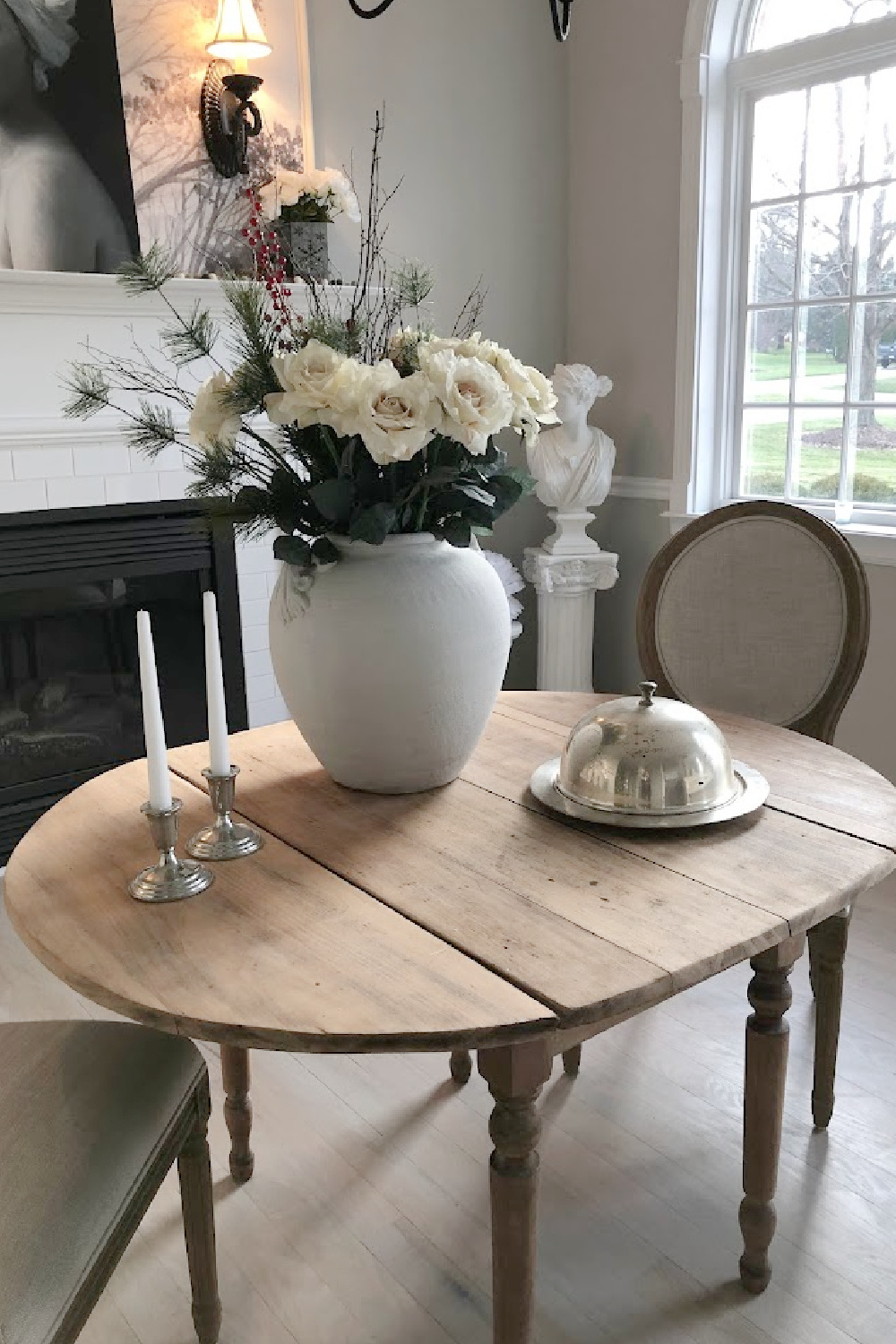 Here's the perspective looking toward the foyer: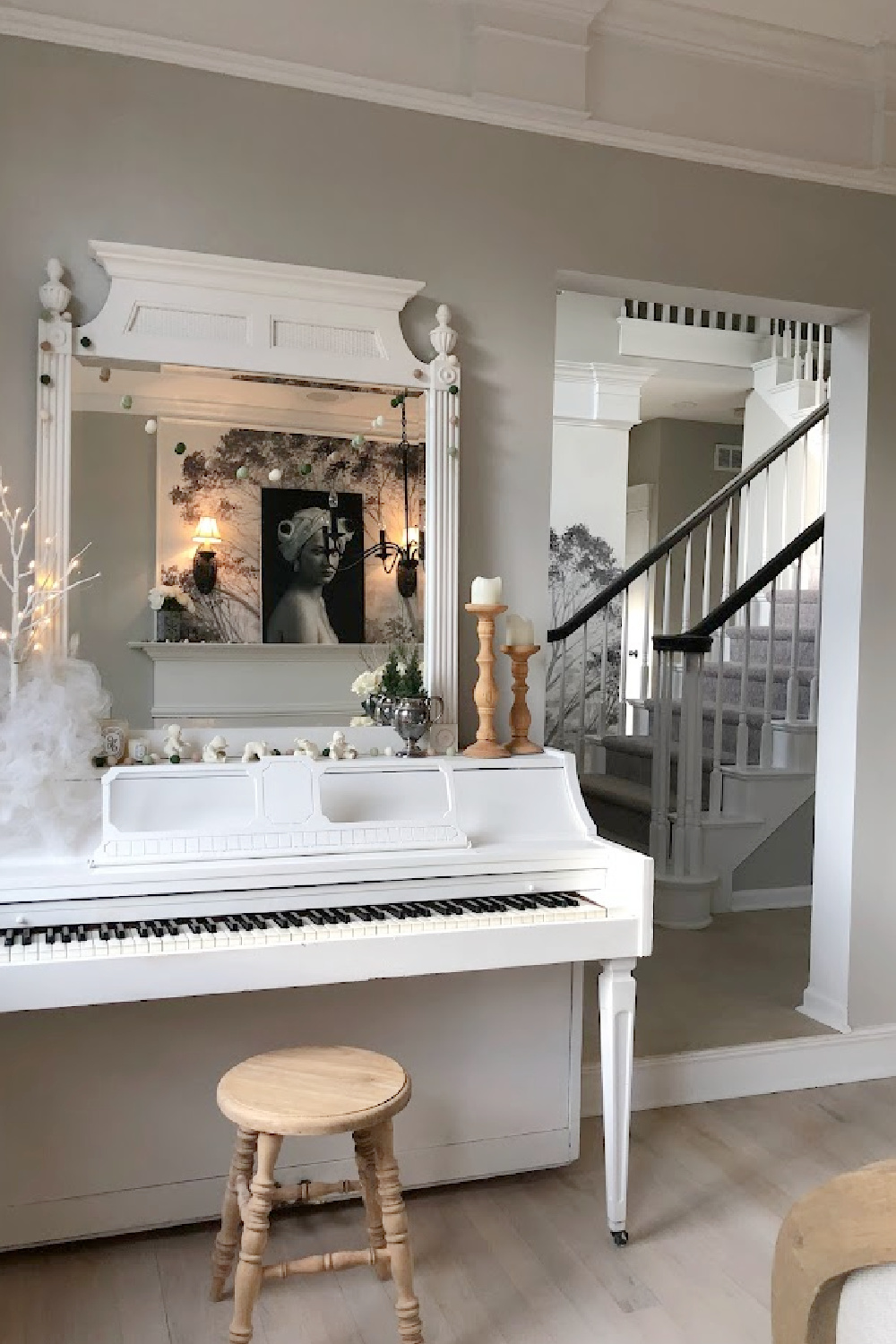 I told you about the vintage deer we picked up in Franklin the other day, and the arrangement is something I threw together with what I had on hand: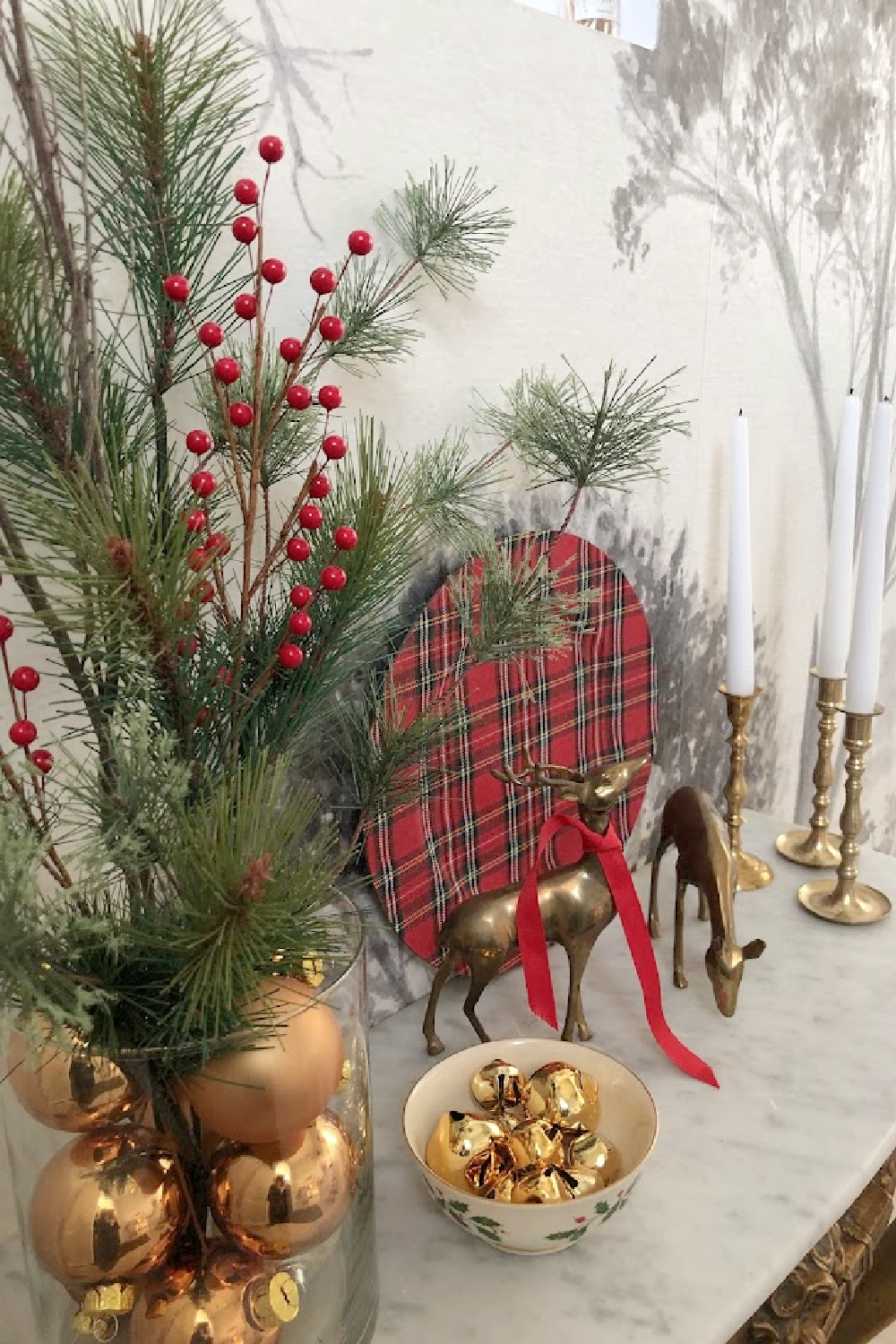 It's a good start just using what we have and spending nothing so far.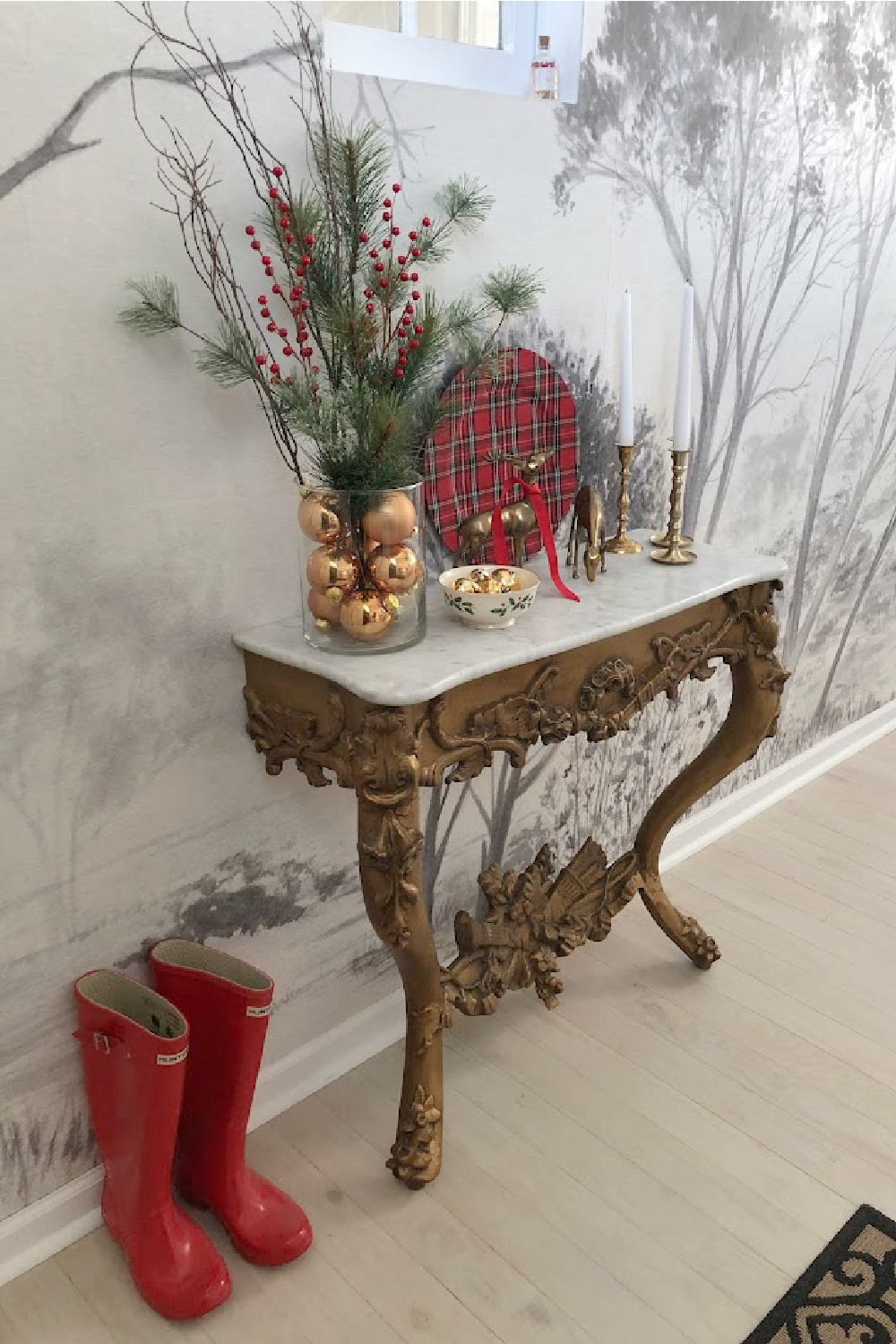 No red at all in the kitchen, but I may add a wreath to the range hood.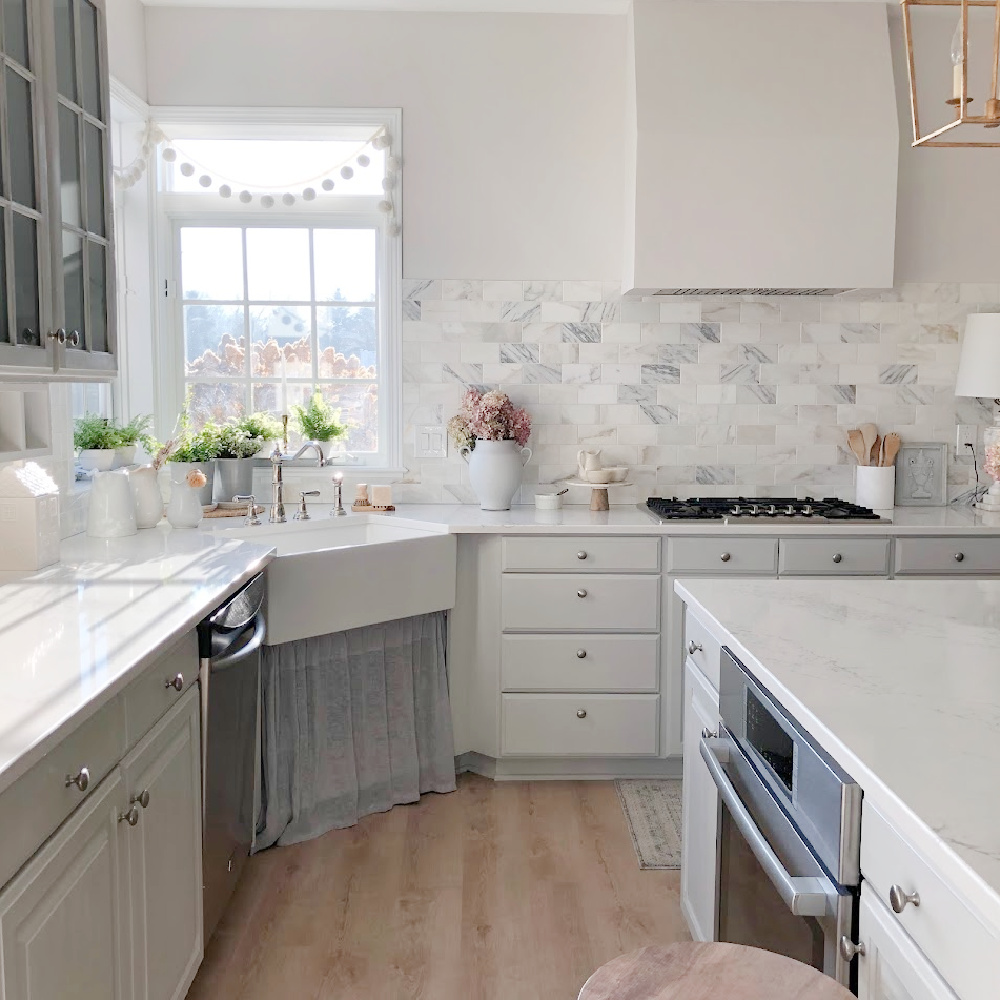 My favorite thing about this Georgian home besides the beautiful countryside is the light that streams in.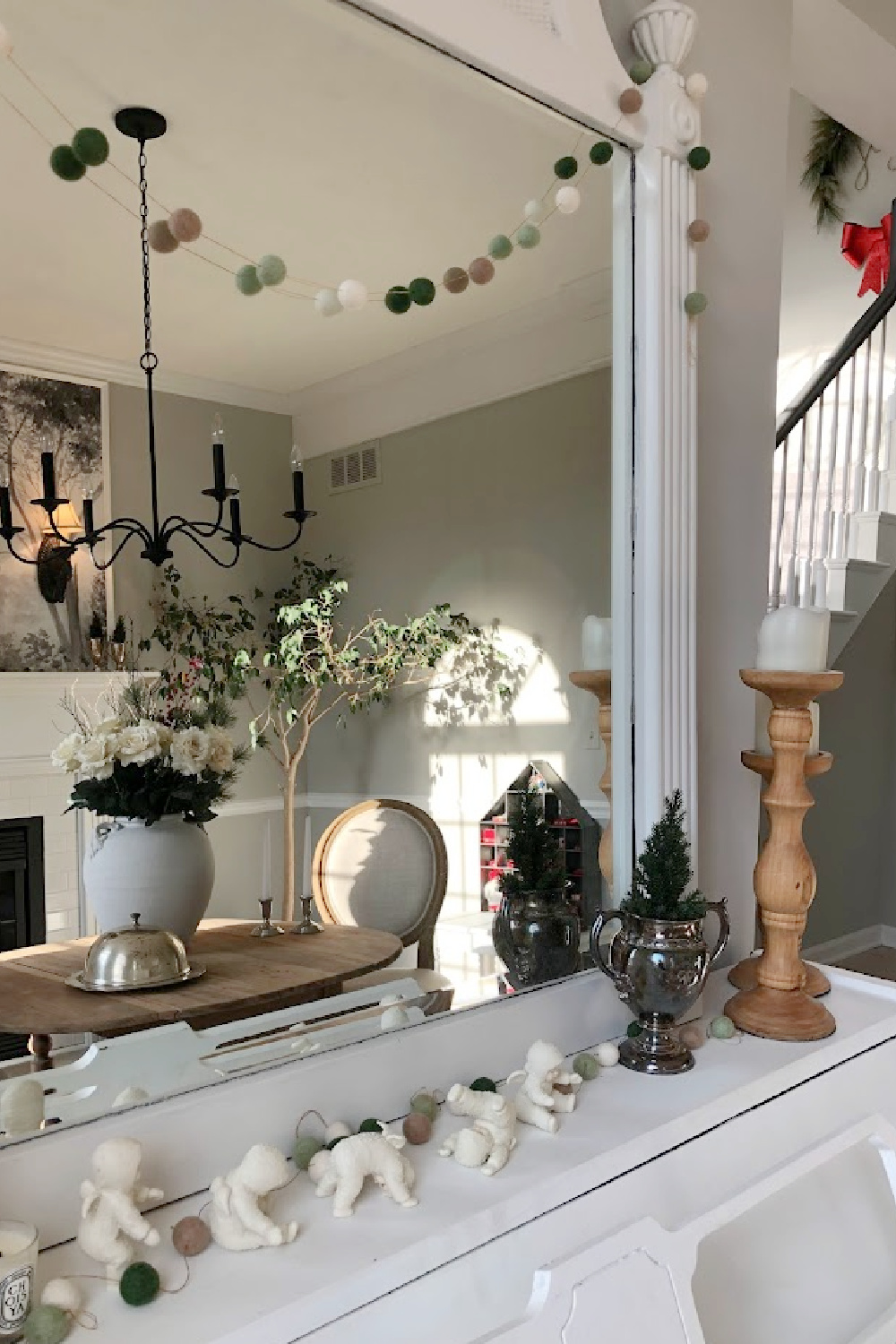 In the afternoon, it puts on quite a show in here:
and mornings are bright and luminous just the way I love them: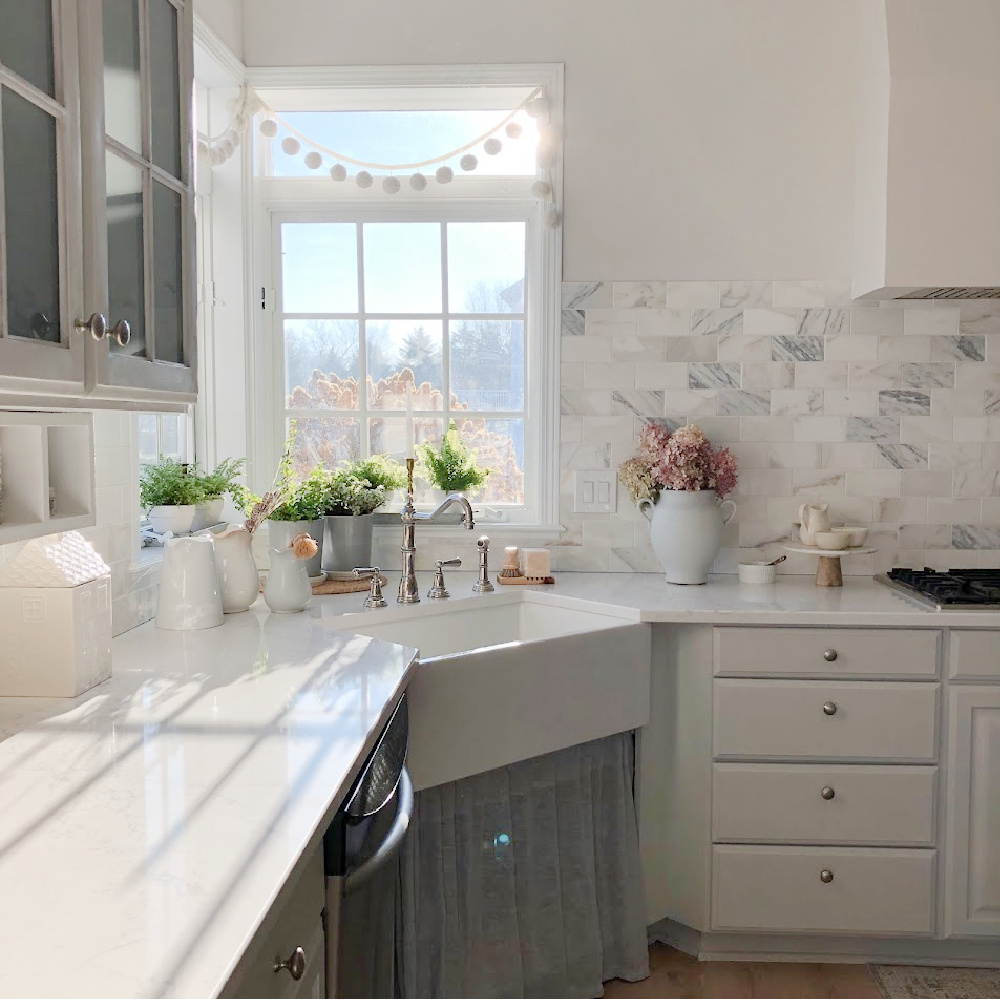 Families of deer prance outside these windows, and my heart swells with the wonder of it all.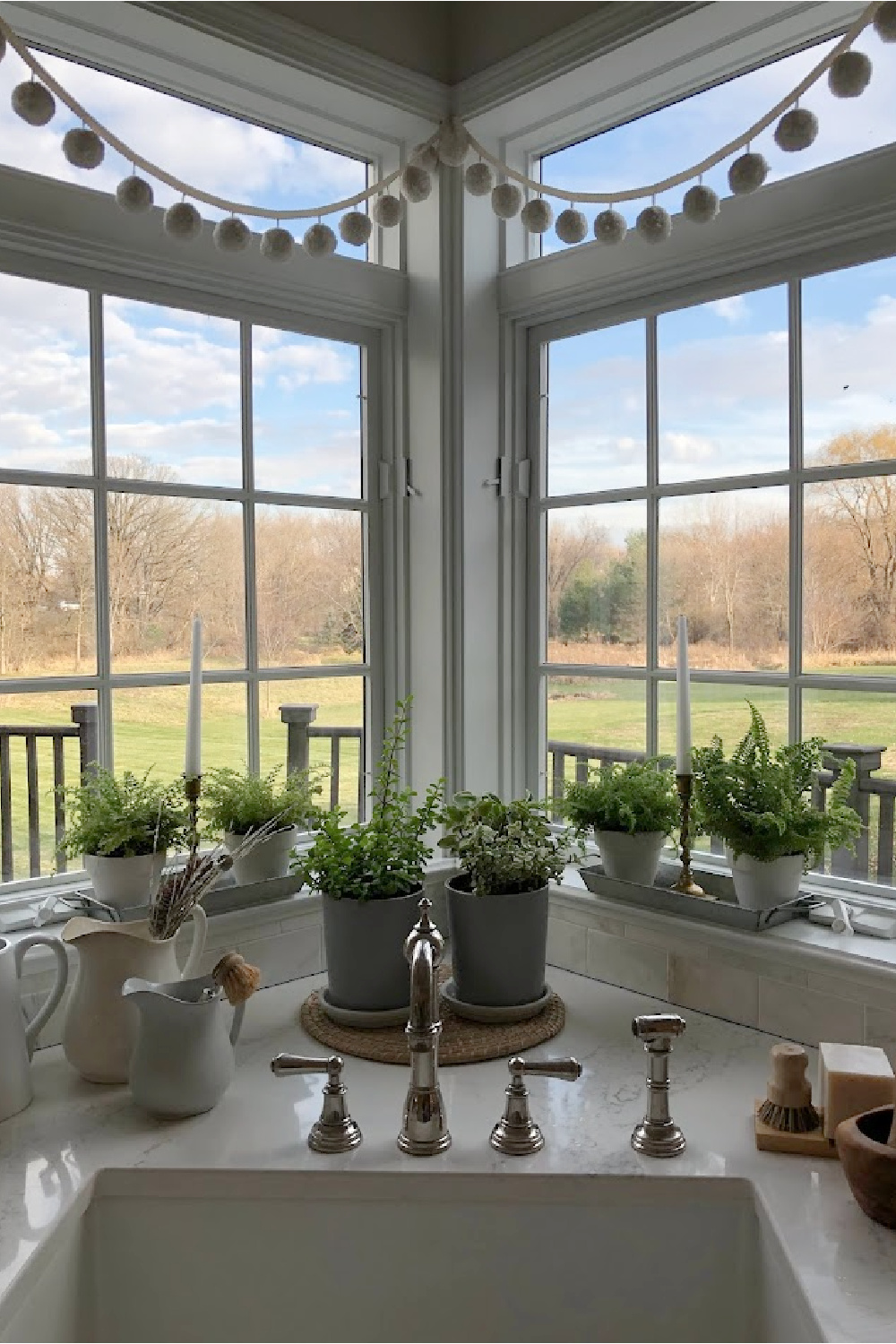 Thanks for chatting with me and peeking at our Thanksgiving. Hope you'll stop by tomorrow when I'm sharing more holiday glimpses at home on a tour of blogger homes.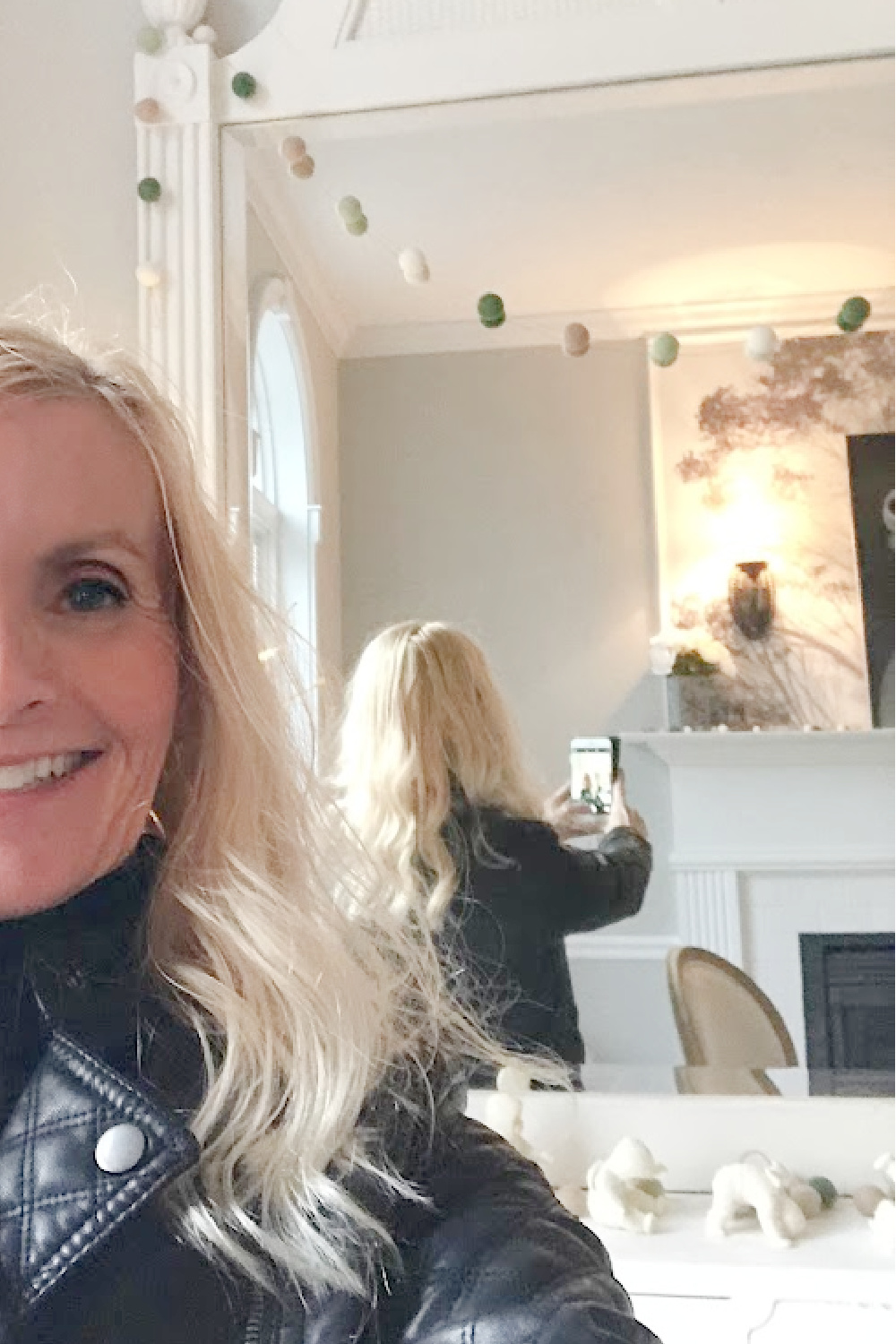 And it's not too late to think about holiday cards. Did you see ours?
I independently selected products in this post—if you buy from one of my links, I may earn a commission.
Peace to you right where you are.
-michele
Thanks for shopping RIGHT HERE to keep decor inspiration flowing on Hello Lovely!
Hello Lovely is a participant in the Amazon Services LLC Associates Program, an affiliate advertising program designed to provide a means for sites to earn fees by linking to Amazon.com and affiliated sites.