Discovered the range of gorgeous designs for darling Christmas cards from Minted? Psst. You don't have to have a family photo for a custom card, doncha know. Simply customizing your name in a font you like on the front or with a particular sentiment feels deeply gratifying. I won't shop for cards beyond Minted because every single gorgeous thing ordered is even better in person. Not a small thing in modern culture! Our Minted Christmas cards last year, with their all-in-one design were even budget-savvy. I chose "Heaven and Nature" for its beyond gorgeous green hue called "Mist." If it's time to order cards, it must also be time to deck halls. But since life continues to be life-y, we shall not panic about decorations and gift giving…we shall keep it simple.
Darling Christmas Cards
What do you do when you find yourself without a cute photo of you on a beach, near the Eiffel Tower, or cradling a new grandchild? Well, first of all, photos often don't reflect what is most real and true in our lives. Social media surely has revealed that to us all by now. It's totally okay if the obligatory family photo for the Christmas card does not exist. Last year, it was nowhere to be found for us…what did we do?
We skipped perfectionistic tendencies and used the self-timer on an iPhone because when you come right down to it, your friends probably prefer to see you in your natural habitat.
Do you love seeing perfectly poised family members on perfect vacations? If I'm honest, I only like the photos when they're my family!
Who wants to make others feel they are missing out on fabulous trips and experiences? Isn't there enough of that cluttering up our social feeds? I think that's why I loved our silly 5-minute photo shoot in the middle of a renovation project – we didn't even change out of our grubby clothes.
Easy Peasy Path to a Photo for Your Card
It took us all of five minutes to snag the photo and another give to upload it for preview on Minted's site. For our card's design, I chose to skip the option of additional photos. The PEACE TO YOU RIGHT WHERE YOU ARE message at the bottom made it very personal to me. Do you have a mantra or scripture verse or quote that is never far from your consciousness? Customize your card with it!
I can imagine customizing a card with a photo of an object or a home exterior…something that reflects a source of joy for you. Our renovation progress was what we were celebrating. Here's what our dining room looked like earlier last year:
Can you even recall where we started?
This was actually not even a very ugly stage. There was a built-in china cabinet before we added the fireplace:
If you have grandchildren or young children involved in sports or the arts, you may have a variety of possibilities for your holiday card.
As emptynesters, our renovation progress was where our hearts were last year.
Resources to Get the Look
I Rely on These Holiday Essentials to Keep it Simple
This week is typically when our Christmas tree goes up, and pre-lit wreaths also emerge from storage in the basement.
Like last year, I won't allow ideas of "blogworthy perfection" or pressures from social media to push me beyond healthy limits.
While I'm all for creating holiday magic for family and friends, I'm also tired. I'd like a turn to enjoy the magic created by others too, s'il vous plait.
My health remains fragile, and I want to lavish my body with kindness not punishment.
(I'm aware I might feel differently about going big for seasonal decorating were I in tip top physical condition or without a full-time job.)
I wonder if other folks in my age group feel a similar ache…Christmas seems to be most enjoyable for the very young and very old. The folks in the middle seem to be the magic makers who feel a bit exhausted by Halloween.
Christmas Decorations That Defy Trends
I rely on these holiday essentials year after year because they are neither trendy nor disposable. If you're frugal and practical as I am, timeless feels right. Decorations that feel traditional, classic, and timeless won't look silly in a decade or in a different home.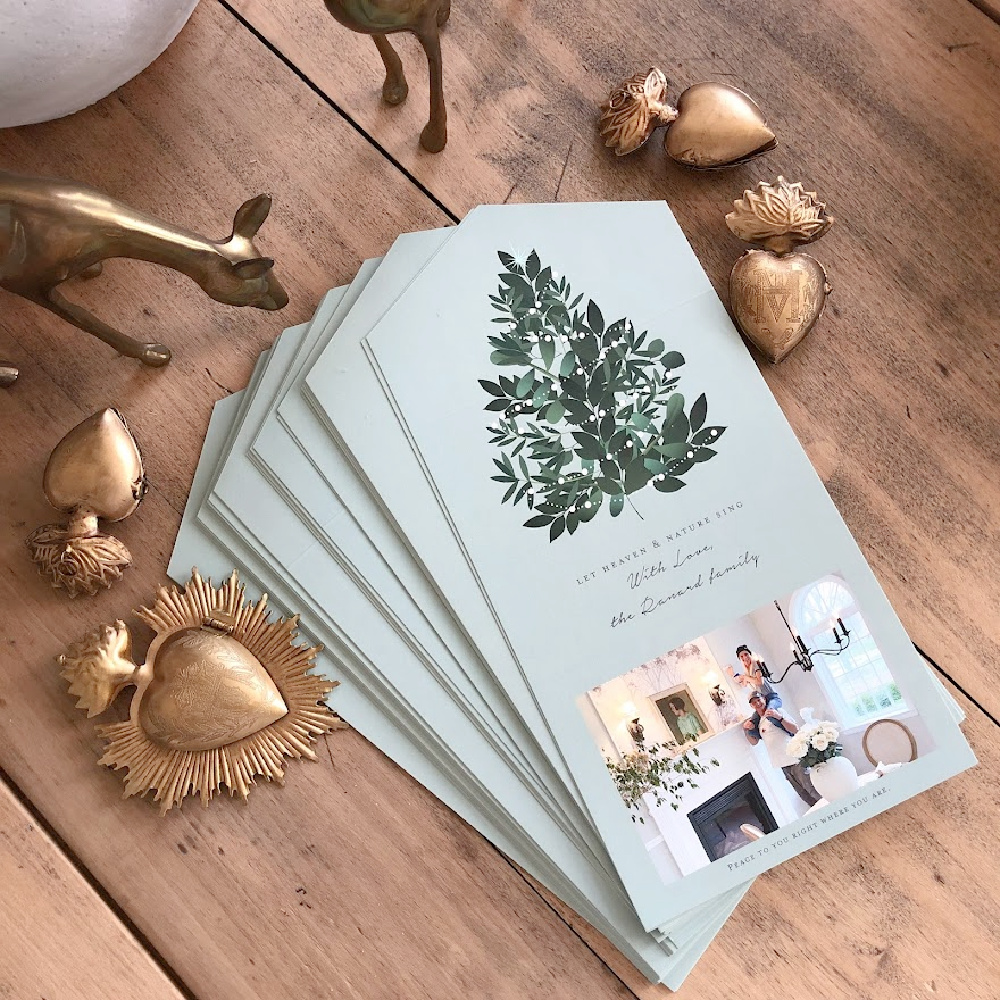 How does one decorate with sacred little gold boxes?
Truly there are endless options. I placed them on a brown transferware china on our entry's console: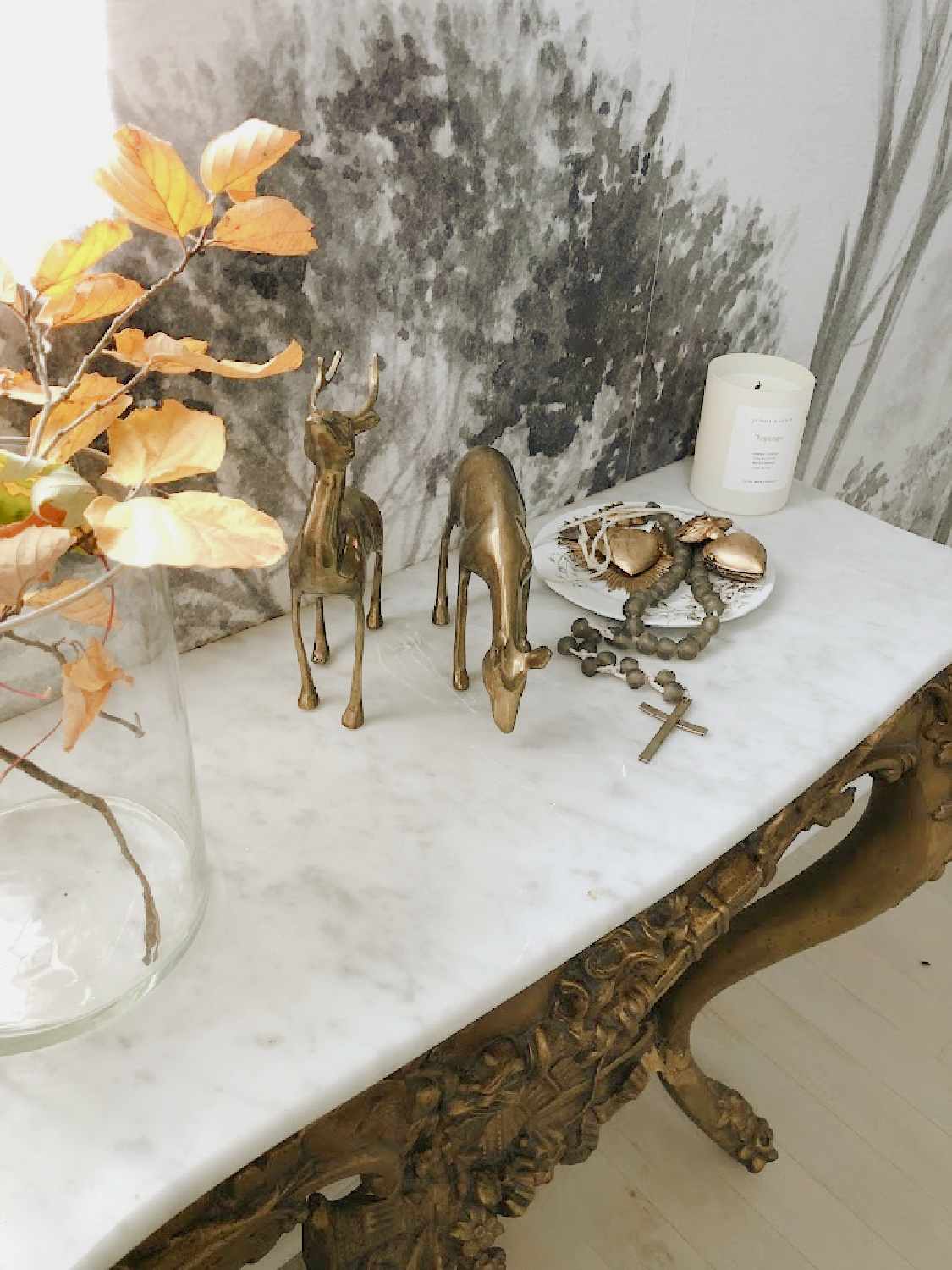 You could also embellish a special gift with a heart. What about threading ribbon through the top for an instant Christmas tree ornament?
I also love the idea of writing a special message inside. Could it be a prayer request if you're keeping the little heart box for yourself? Maybe an affirmation?
Since they are hinged boxes, it's easy to slip photos or love notes inside. Best of all, they don't feel like seasonal decoration. They need not be packed away after Christmas!
Old School Method for Getting Organized
An essential that gets used for the holidays and beyond…this customized journal/notebook from Minted is THE BEST. I have ordered these time and time again. Last year I chose one of our self-timed photos for a cover. For the inside cover…
there is an option at no extra charge to add even more photos so I added some furry favorites. Imagine adding photos of loved ones on this inside cover…instant prayer list or blessing list.
My notebook is for lists which help manage the holiday details of hosting, cooking, baking, and shopping for gifts. Could I just as easily use a Notes app on my phone? Sure. Except.
I am of a certain age. My brain is still wired for pen and paper. It's deeply satisfying to cross off a completed task on the list. Be rad and go old school!
Also, phones run out of charge. A hard copy means I'm not inconvenienced by technology. (And if we're honest, hasn't a lot of technology made life more and not less complicated?)
Even if you're not a list maker, this journal notebook makes an excellent gratitude journal. I jot down inspiring quotes discovered, interesting ideas to consider and google, and bits of poetry.
What About This Year's Card?
I have always loved the Met collection of cards from Minted so maybe this ballerina since I won't need a photo…
But I also love this Garden Peace design:
So I'll keep you posted.
YOU: Is that all you've got today?
ME: Told you it would be easy peasy! A notebook, quality-made custom cards, and small timeless embellishments to display all winter.
If you made it all the way here, thank you for being here in the land of ADS and affiliate links. I know it can be a minefield, and I have begun to dial back the number of ads within posts. (This means essentially taking a huge pay cut.)
With all of the competition online for eyeballs and attention, it is getting trickier to earn income for the many hours of work behind the scenes. Most folks don't realize a blog requires full-time hours and endless pivots as platforms and algorithms constantly change. I am ever grateful for your support pinning images/quotes as well as spending time on these pages.
I independently selected products in this post—if you buy from one of my links, I may earn a commission.
Peace to you right where you are.
-michele
Thanks for shopping RIGHT HERE to keep decor inspiration flowing on Hello Lovely!
Hello Lovely is a participant in the Amazon Services LLC Associates Program, an affiliate advertising program designed to provide a means for sites to earn fees by linking to Amazon.com and affiliated sites.