Sexy, solidly built, and adjustable to suit my mood? Butter my biscuit, this is the best desk I have owned, standing or otherwise. Is it the ease of the pneumatic lift when I prefer to stand? The modern curves and glorious white satin finish on oak? Yes, ohhhhh yes. But the secret sauce just may be its convenience. FREEDOM! I can set up shop anywhere I please. With this chic BDI Soma Lift Desk, I can create a workplace anyplace, and it works as hard as I do.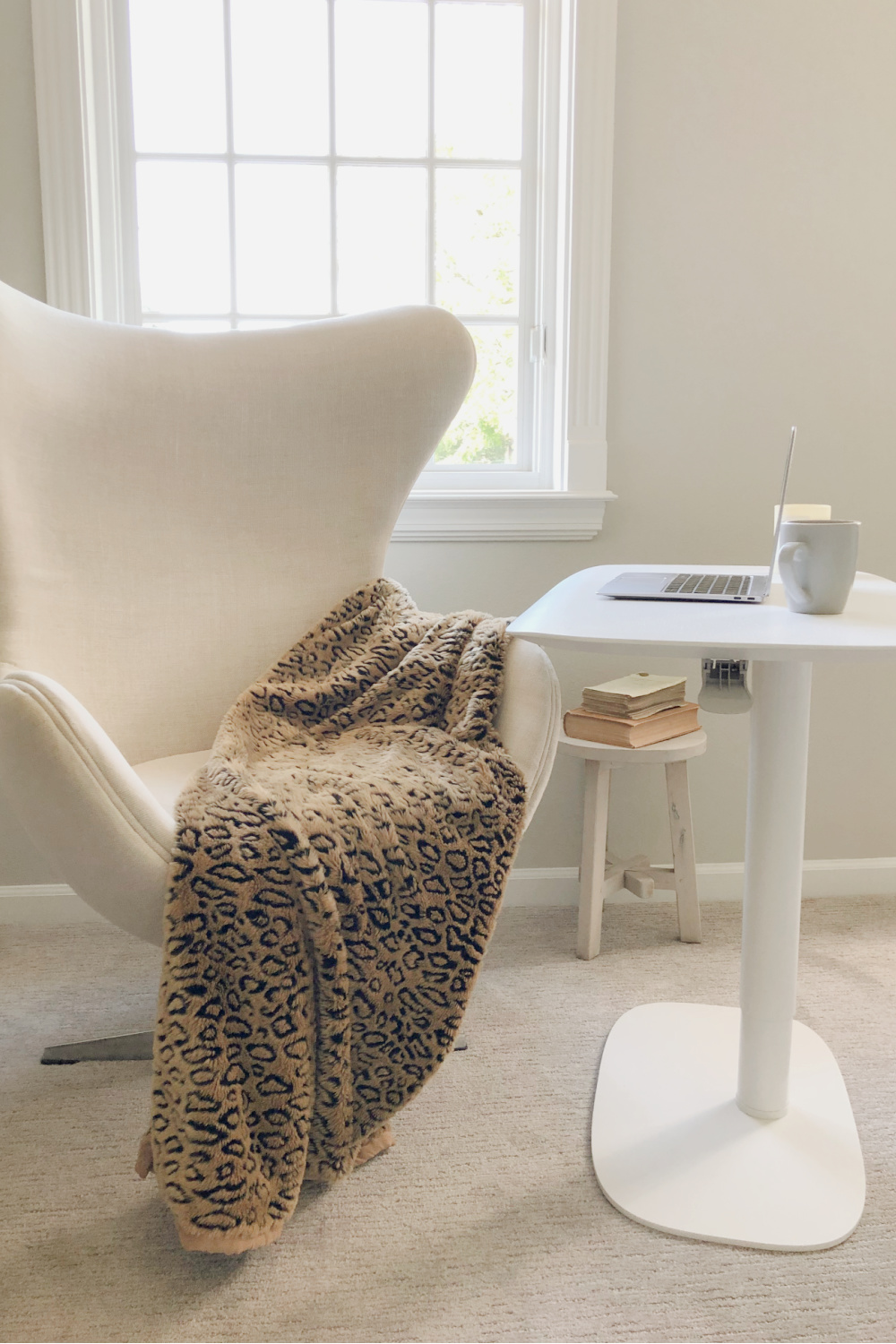 I independently selected products in this post—if you buy from one of my links, I may earn a commission. BDI provided product in exchange for my honest opinion, and here's my honest review.
How BDI's Soma Lift Desk Elevates My Workplace at Home
Find this lovely desk HERE.
What is a Lift Desk?
It's a desk that easily adjusts for sitting or standing. Even better? This Soma lift desk is compact so it can work hard everywhere.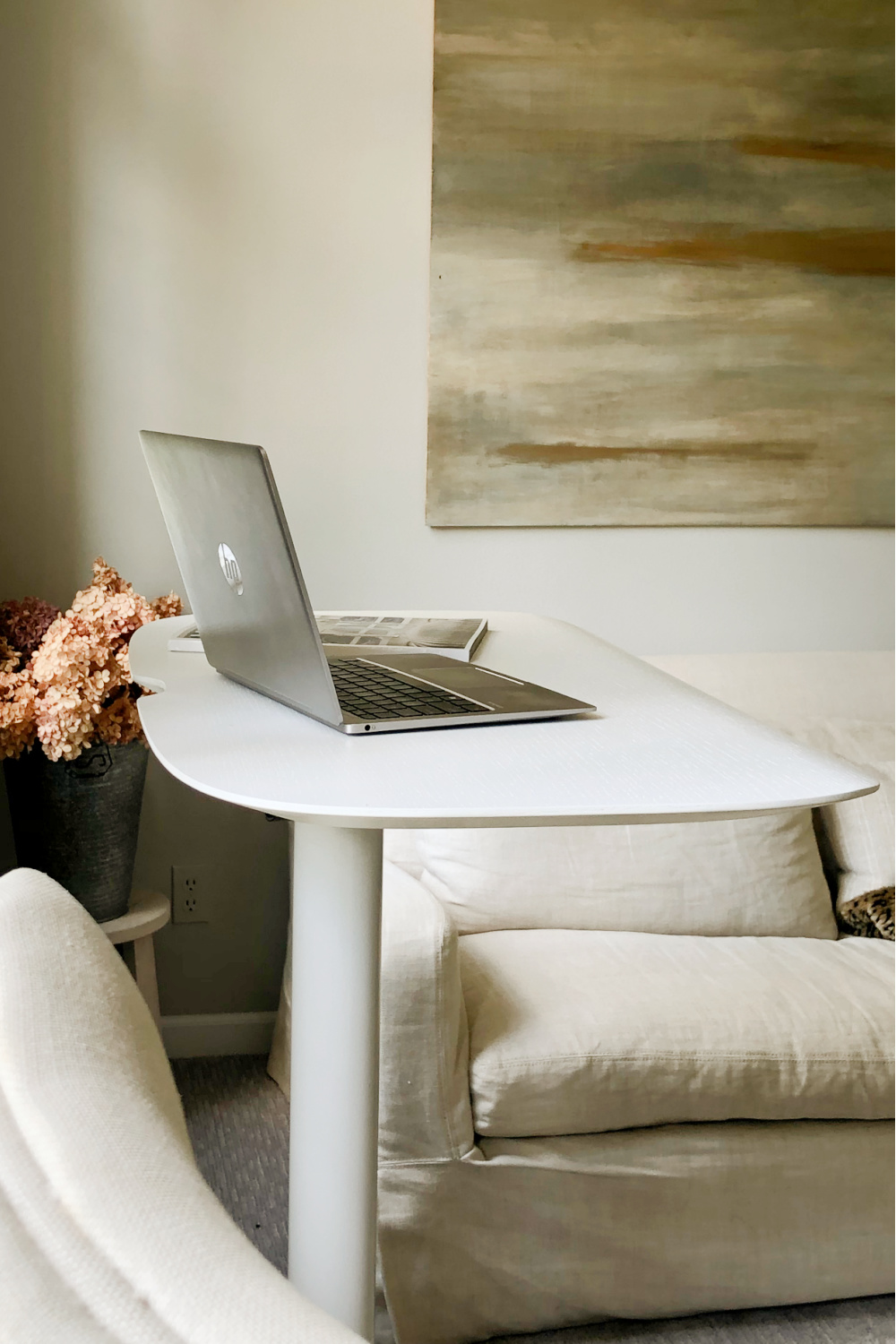 Moving on its pneumatic column, the power-free desk can be placed anywhere.
Does the Pneumatic System Work Well?
Yes, m'am. It HAS to glide easily and smoothly for me to love it (these over-50 muscles are no longer Wonder Woman muscles, doncha know.)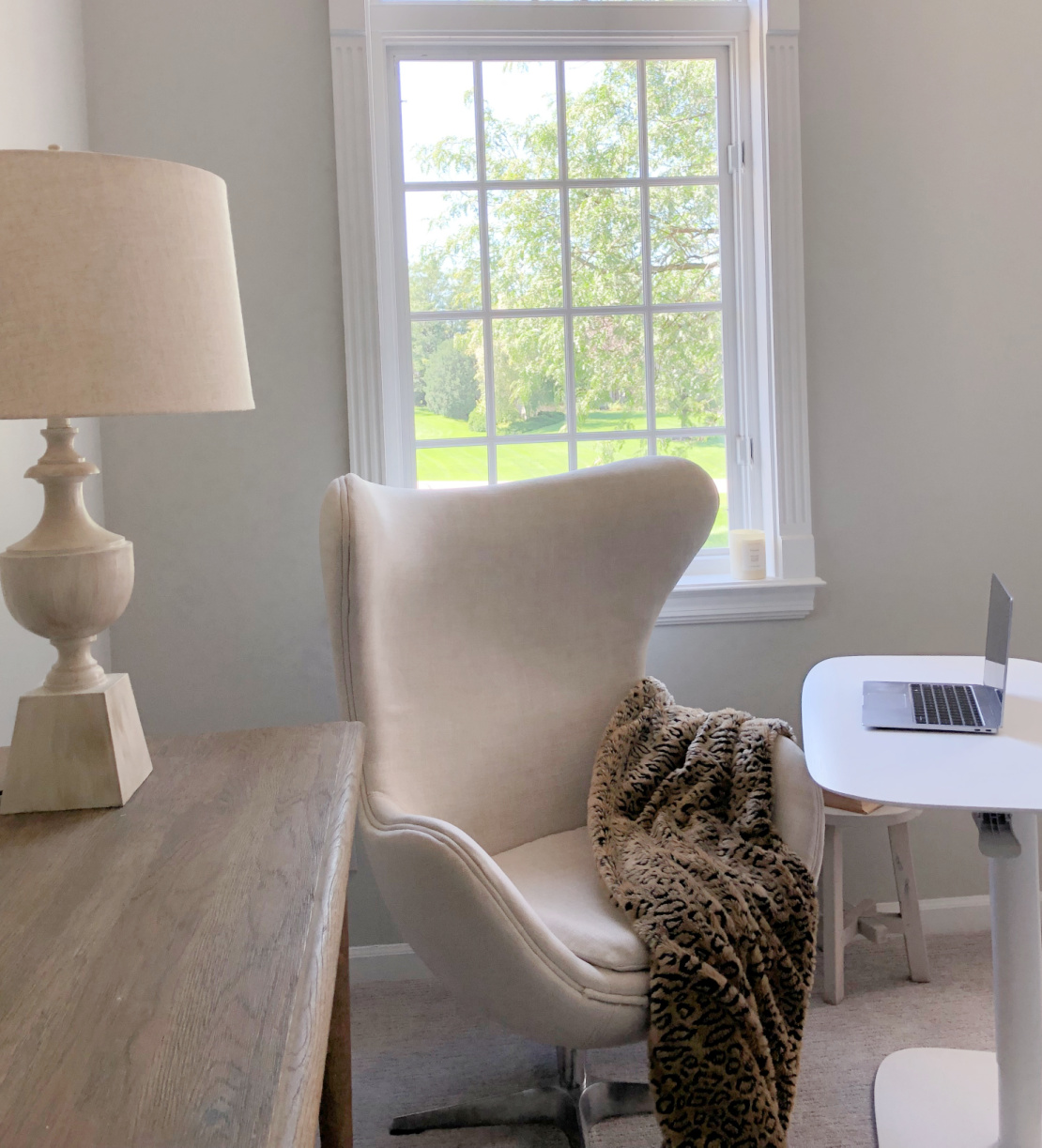 What are Four Benefits of Standing for Work?
Here's what I learned in health research from Harvard:
(1) You'll burn 10% more calories just by standing. (2) After a meal, blood sugar levels return to normal faster with standing rather than sitting.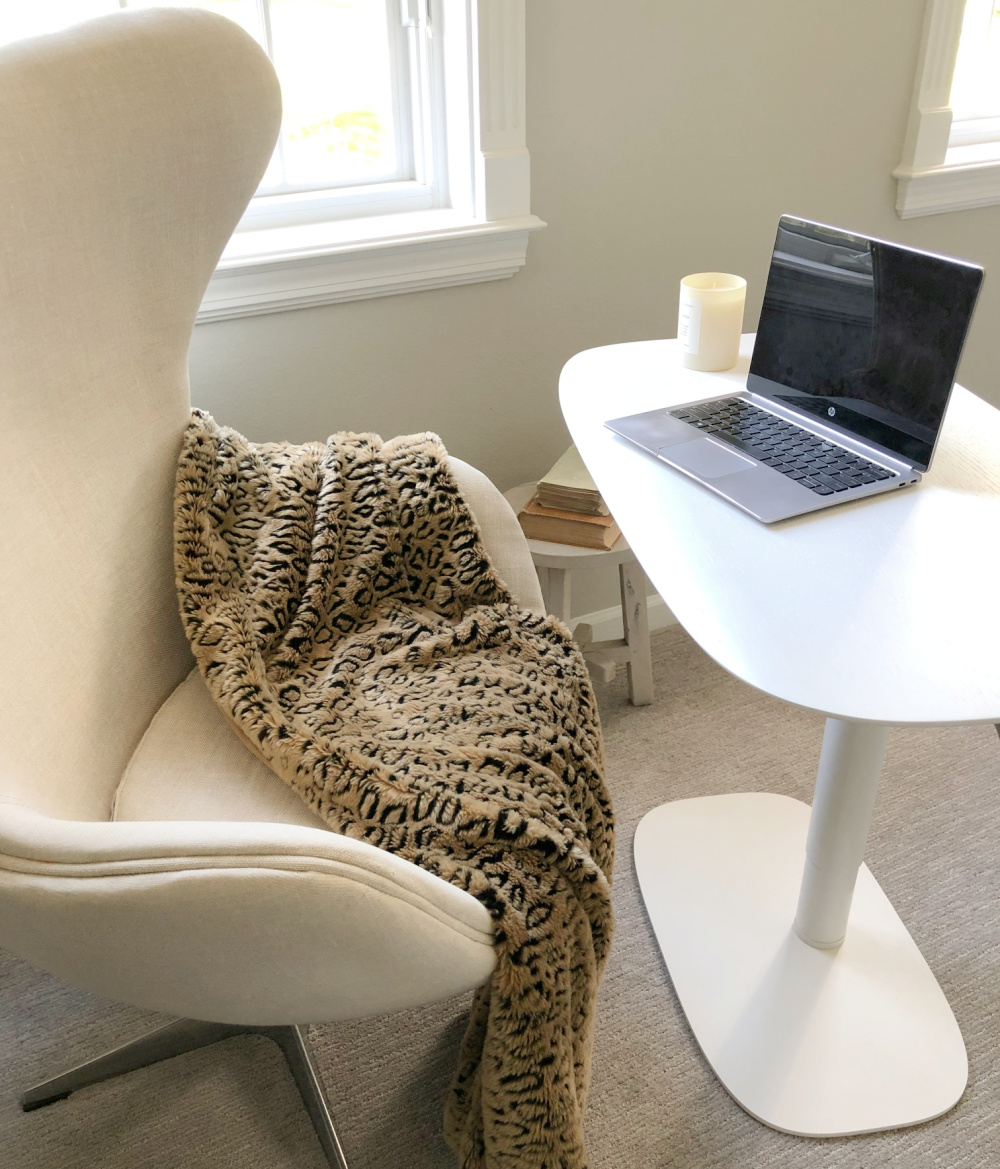 (3) Shoulder and back pain risk may be reduced. (4) Long hours of sitting are associated with nasty health conditions from diabetes to cardiovascular disease to cancers.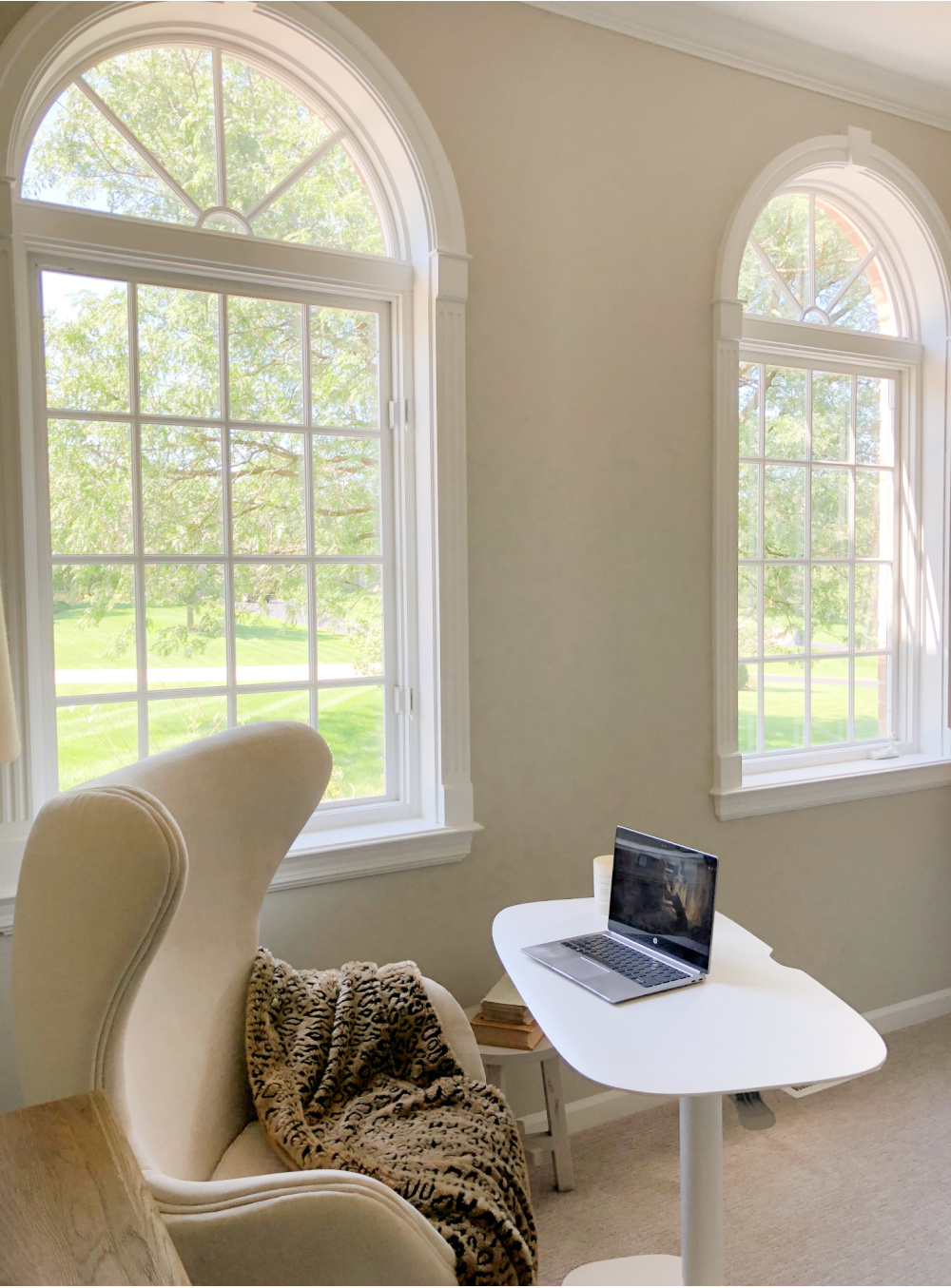 Is the Soma a Good Desk if I Type a Lot?
All the yeps. Good heavens, it's hard to imagine anyone typing more than I do daily as a full-time writer. The desk top has a contoured front edge for ergonomic wrist support. (Something my cute ol' Midcentury Modern desk you saw in this story could never provide!)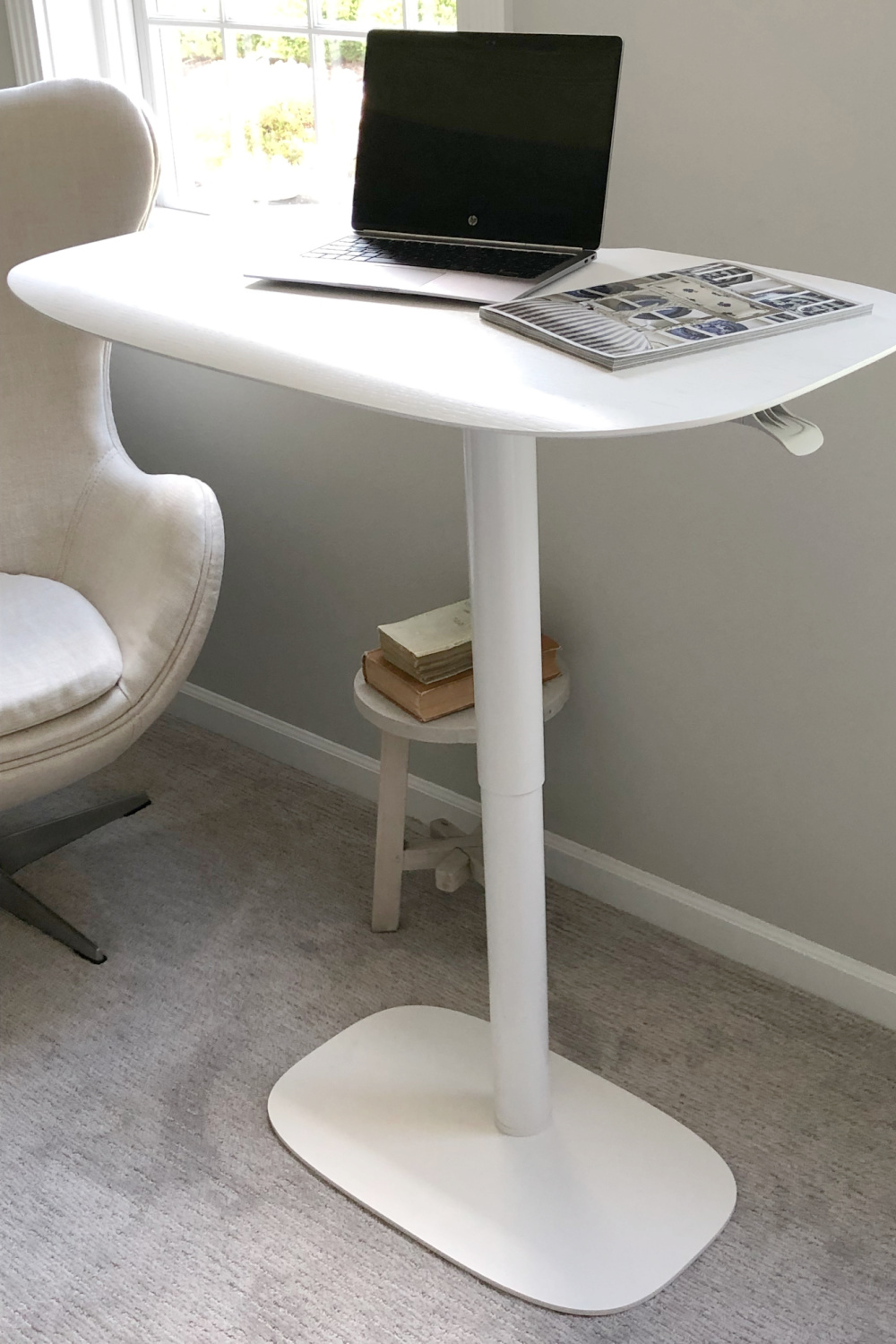 Why is the Desk's Mobility Important?
Sometimes I need a different perspective. For example, before this standing desk came into my life, I showed you the "cloffice" I created in a small spare bedroom.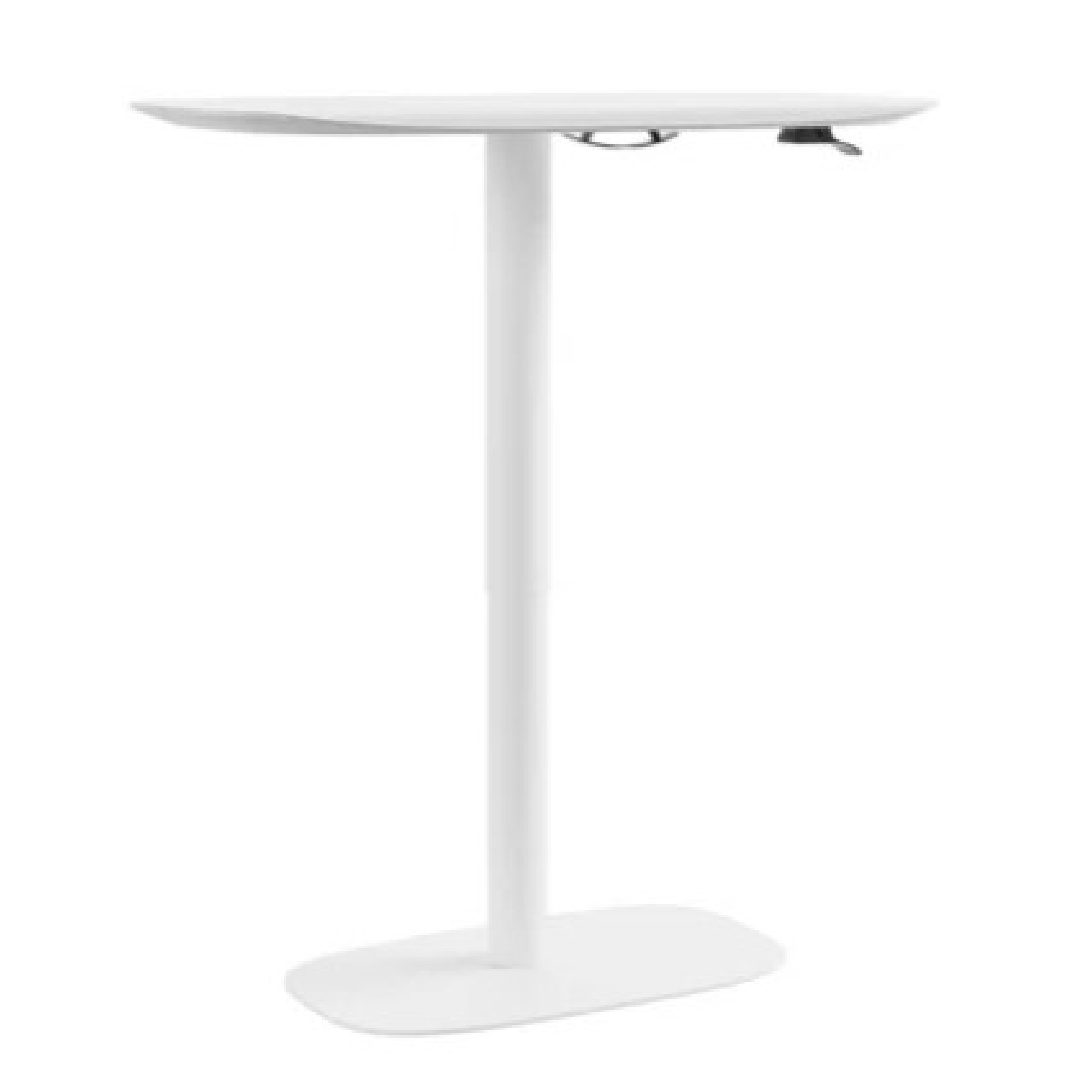 It's utterly peaceful and quiet in that East facing space, yet sometimes a fresh view will work magic.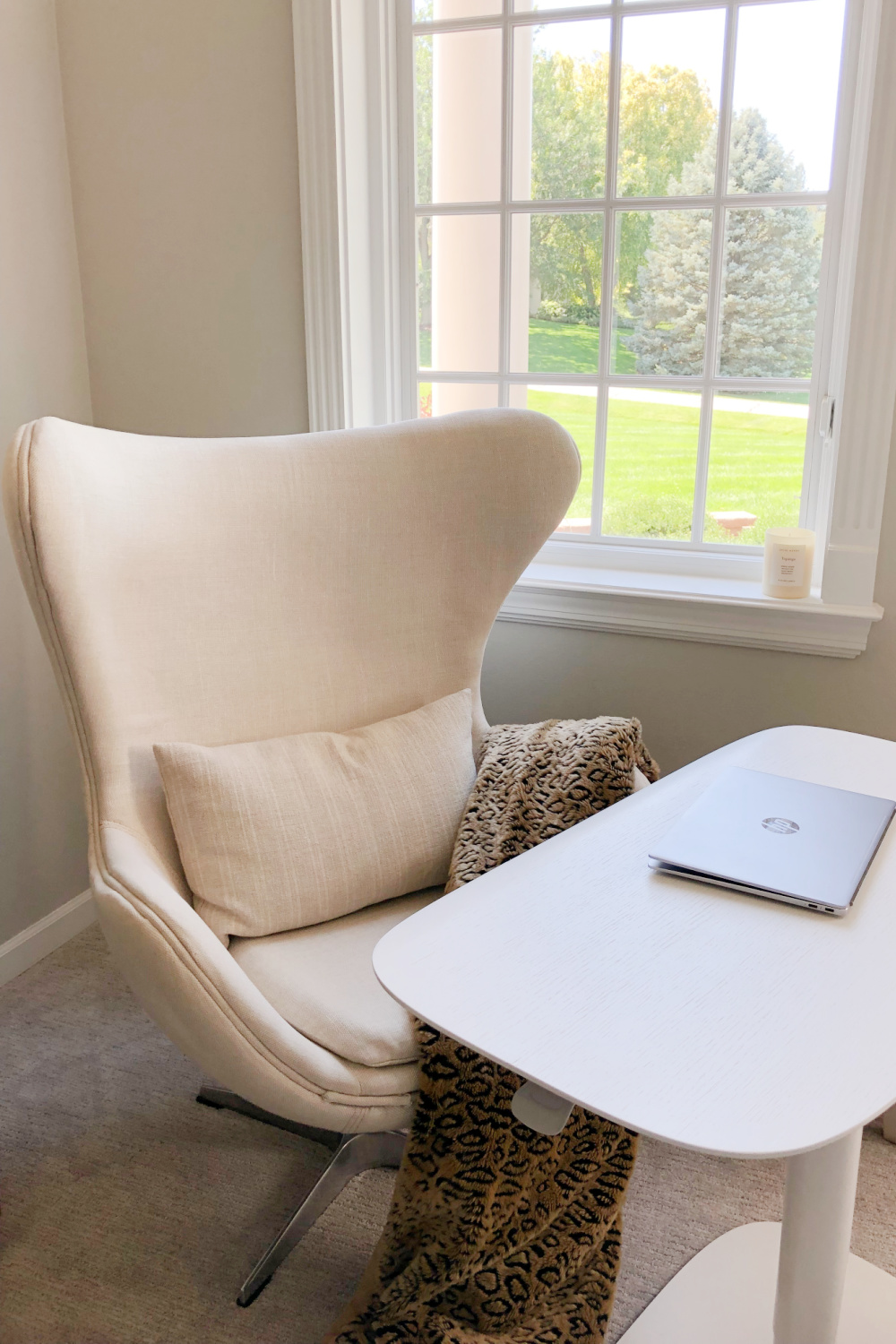 Maybe you can relate…there are just days when work feels less than inspiring. A compact desk like this one means I can work where and how I need to in order to be optimally productive.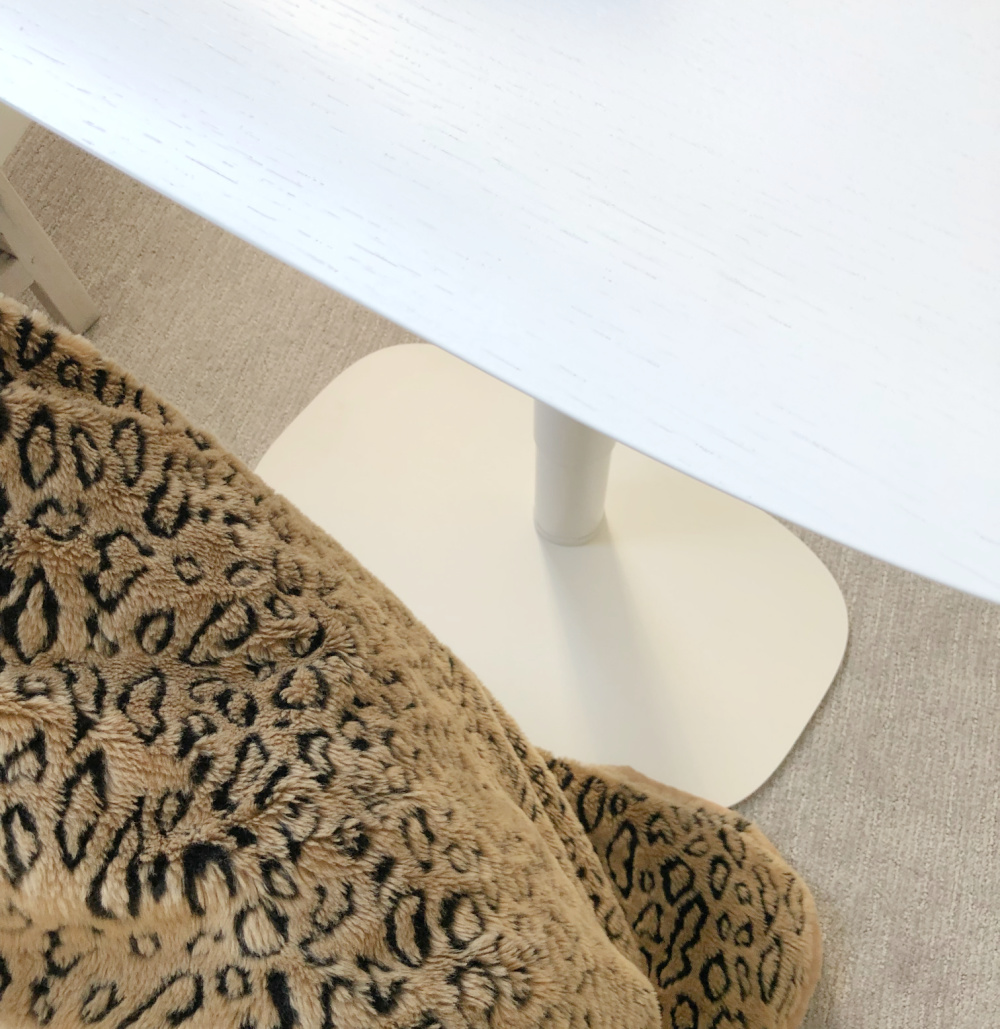 What is Unique About This Standing Desk's Design?
The designer thought of everything. There's a cable routing channel and a nifty little place under the top to manage cords.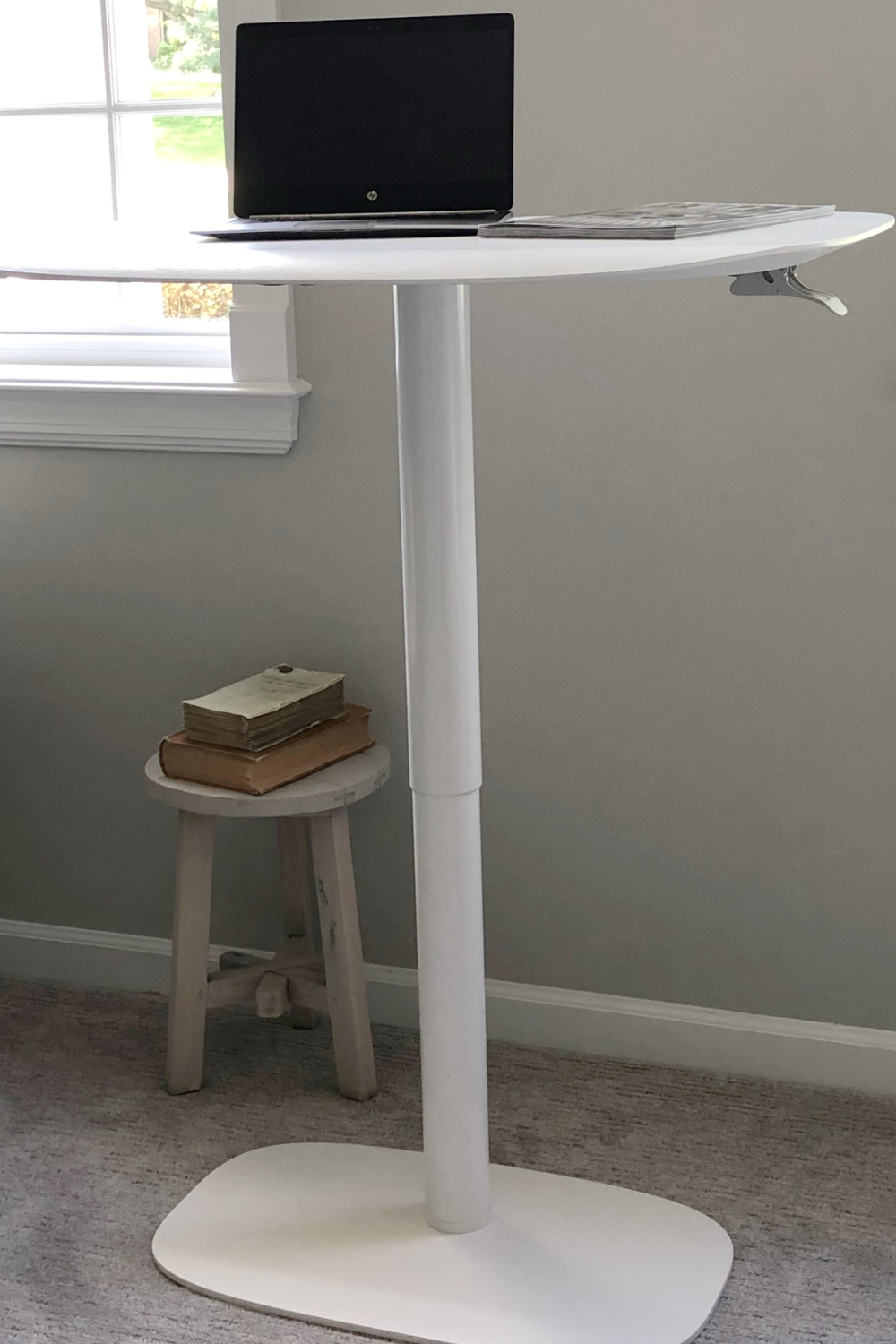 The heavy base means…YAY, I don't have to worry about it tipping over.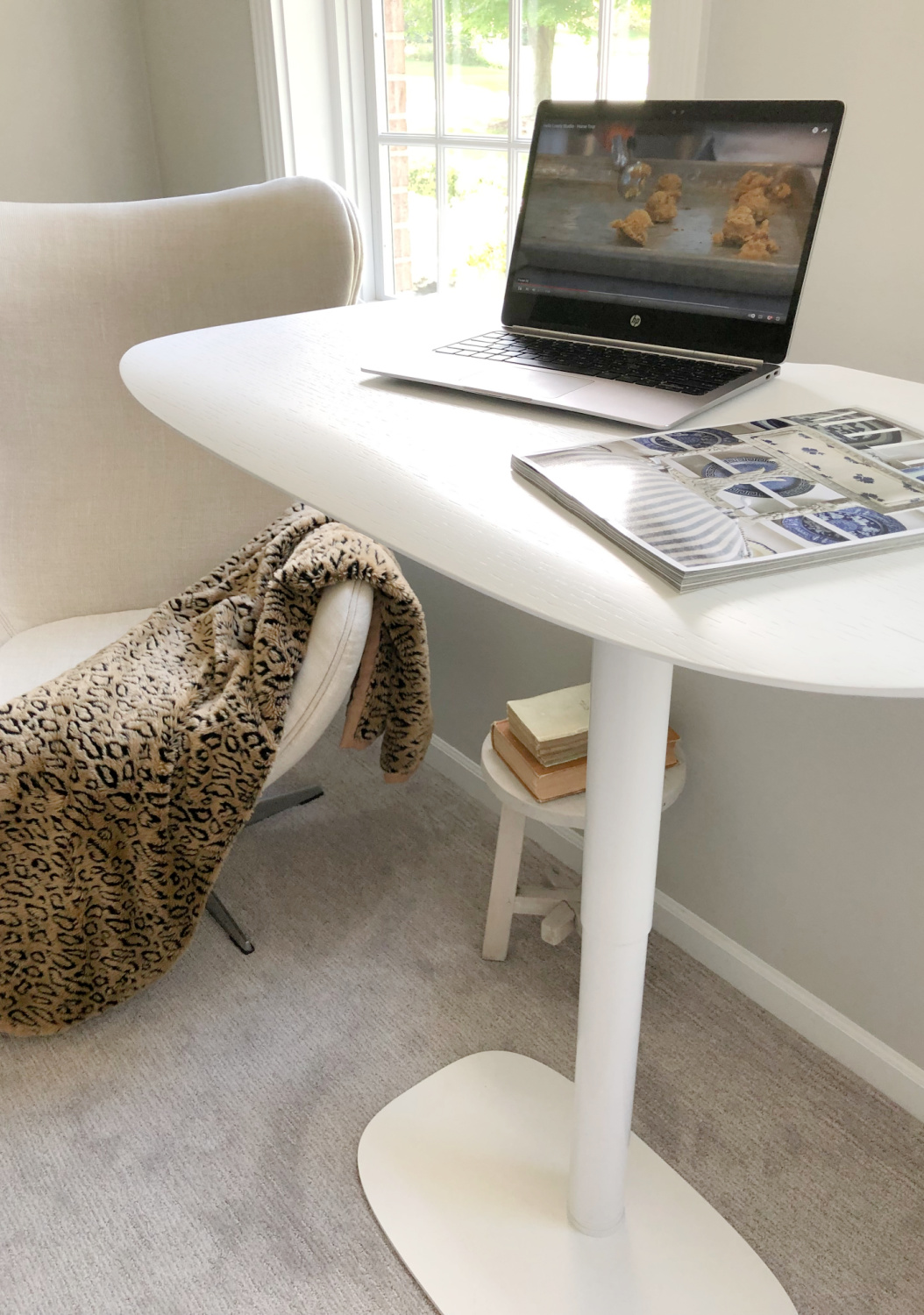 Even the lever to lift the desk is subtle and hardly visible!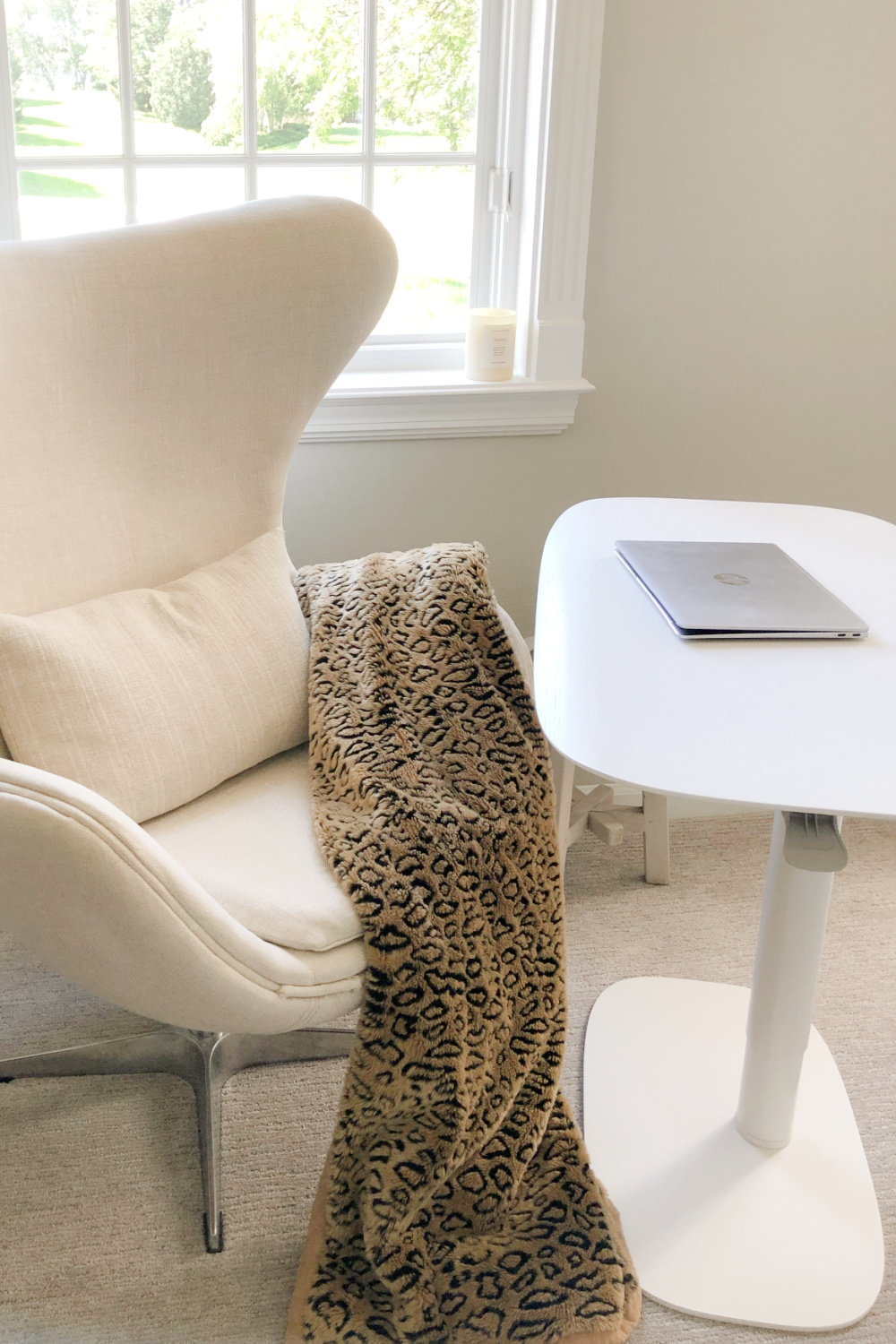 It is also designed with various fine finishes…natural walnut, ebonized, or white like mine.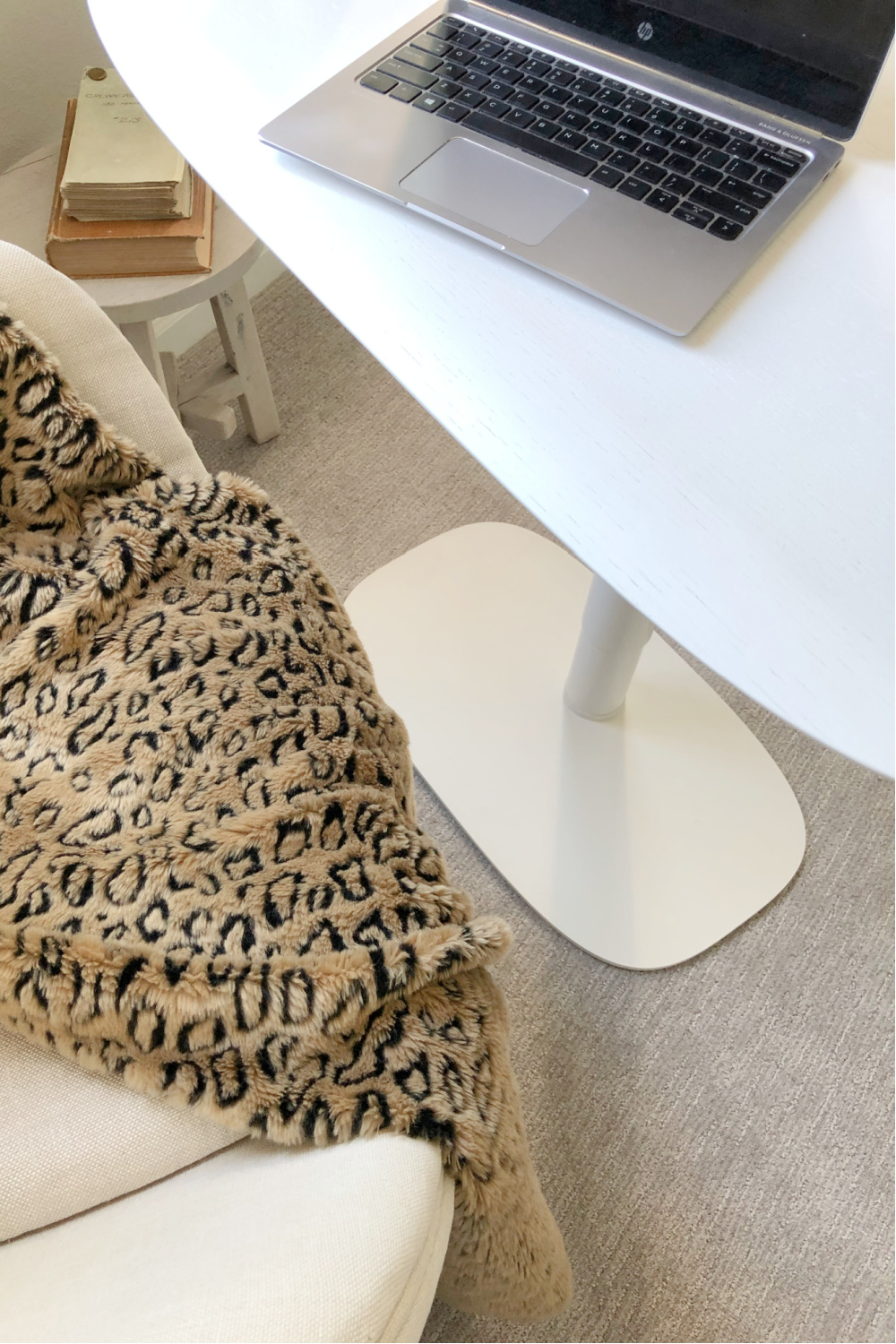 Solid oak, and the grain is visible…just lovely. Here, I'll show you: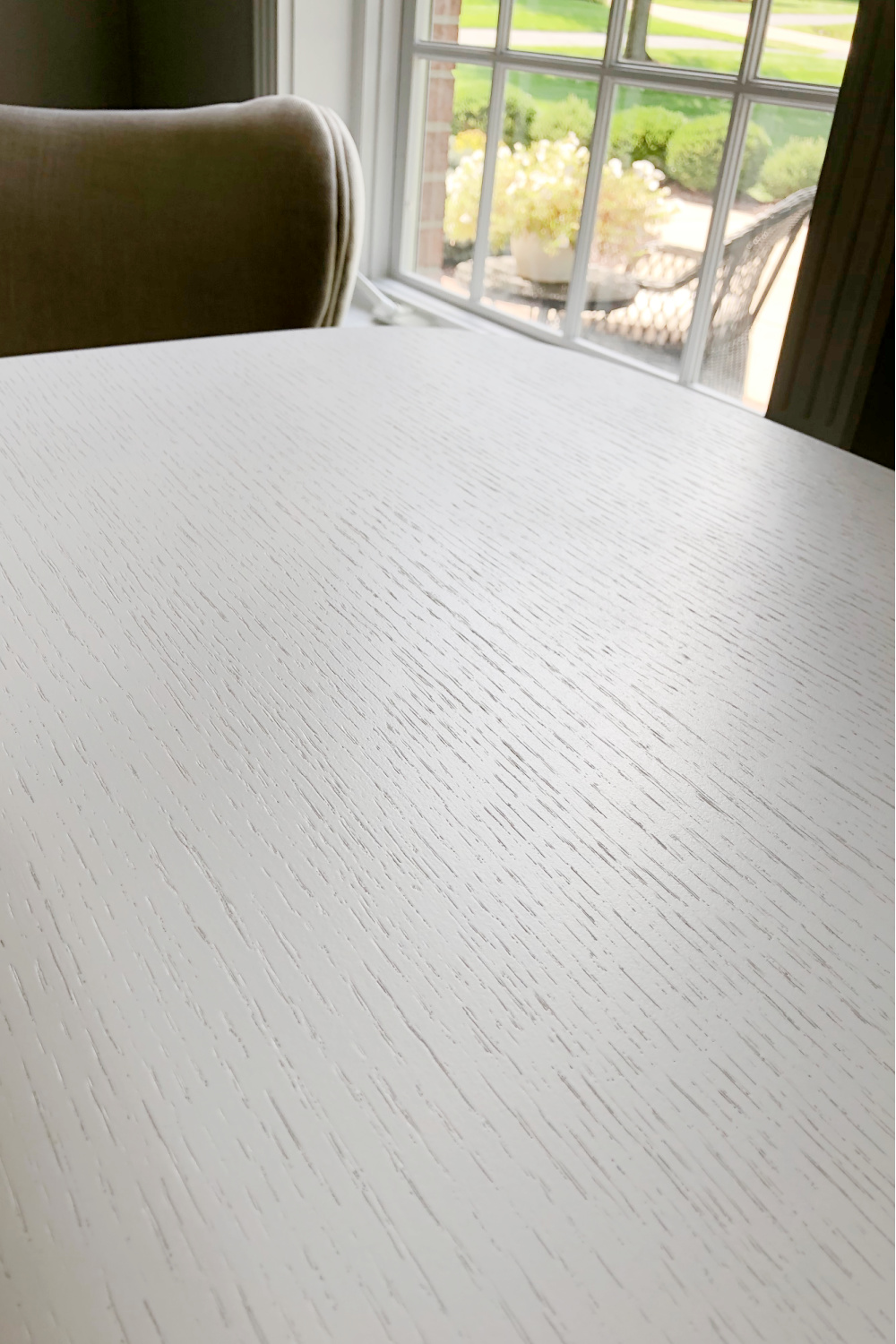 Thinking About an Adjustable Desk?
The thing is, I find it so helpful to see photos from real people before making a major purchase like this.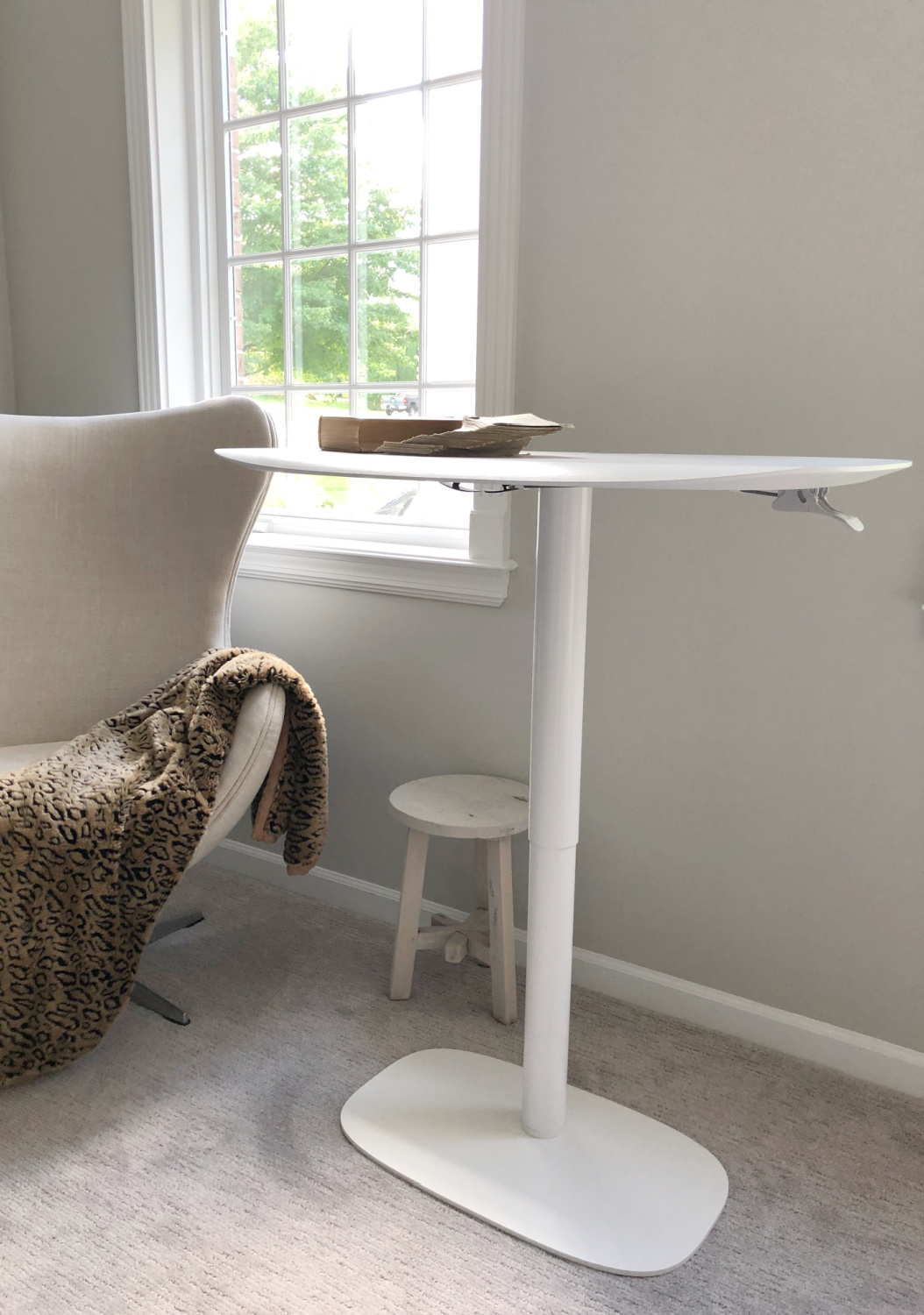 Because shopping online can be tricky. Sometimes you wonder if the professional stock photos are representative of what will be delivered.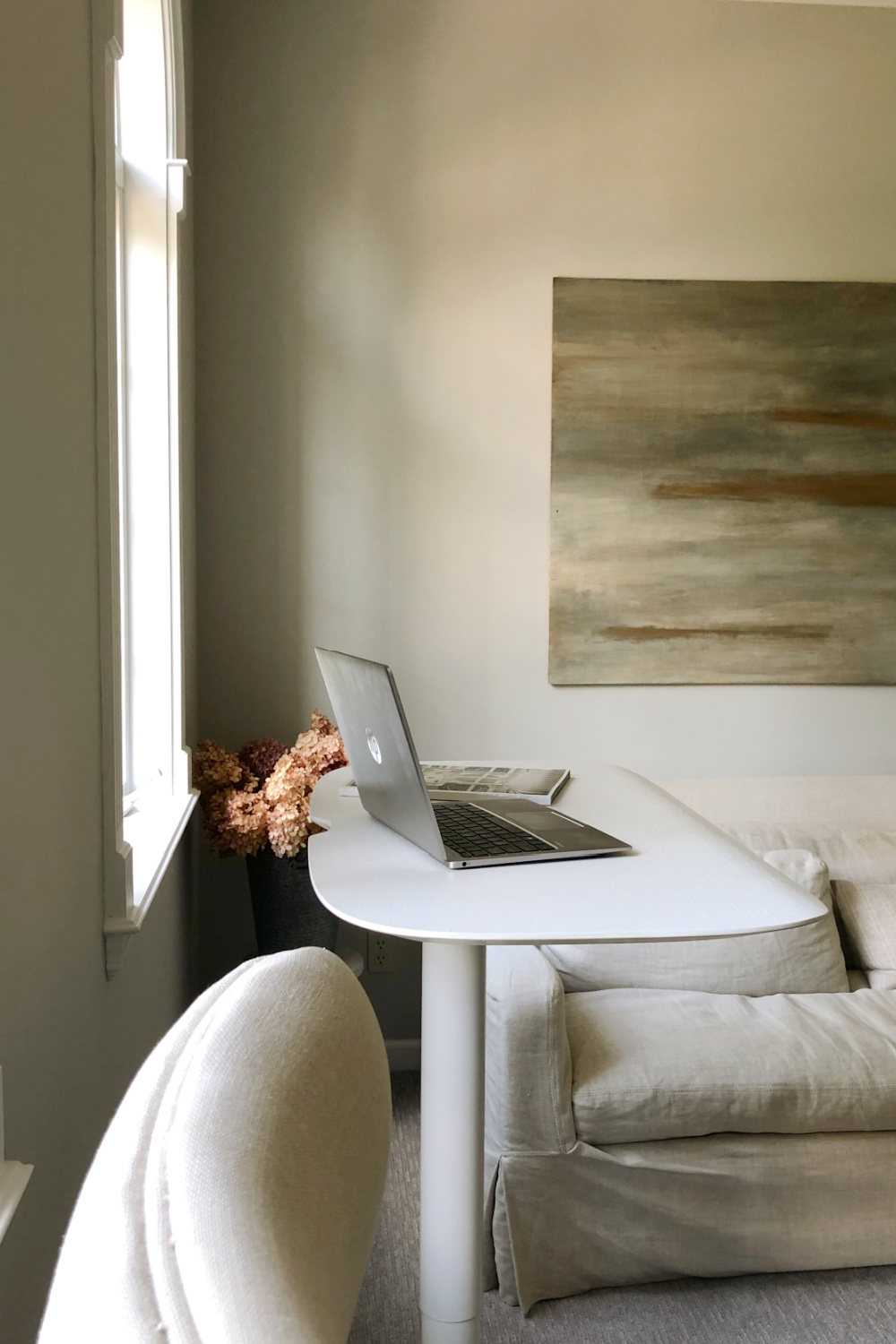 And let's face it, white is not always easy to get right. Even though I knew this desk was exceptionally well made, I hoped it would not have a glossy, plastic look.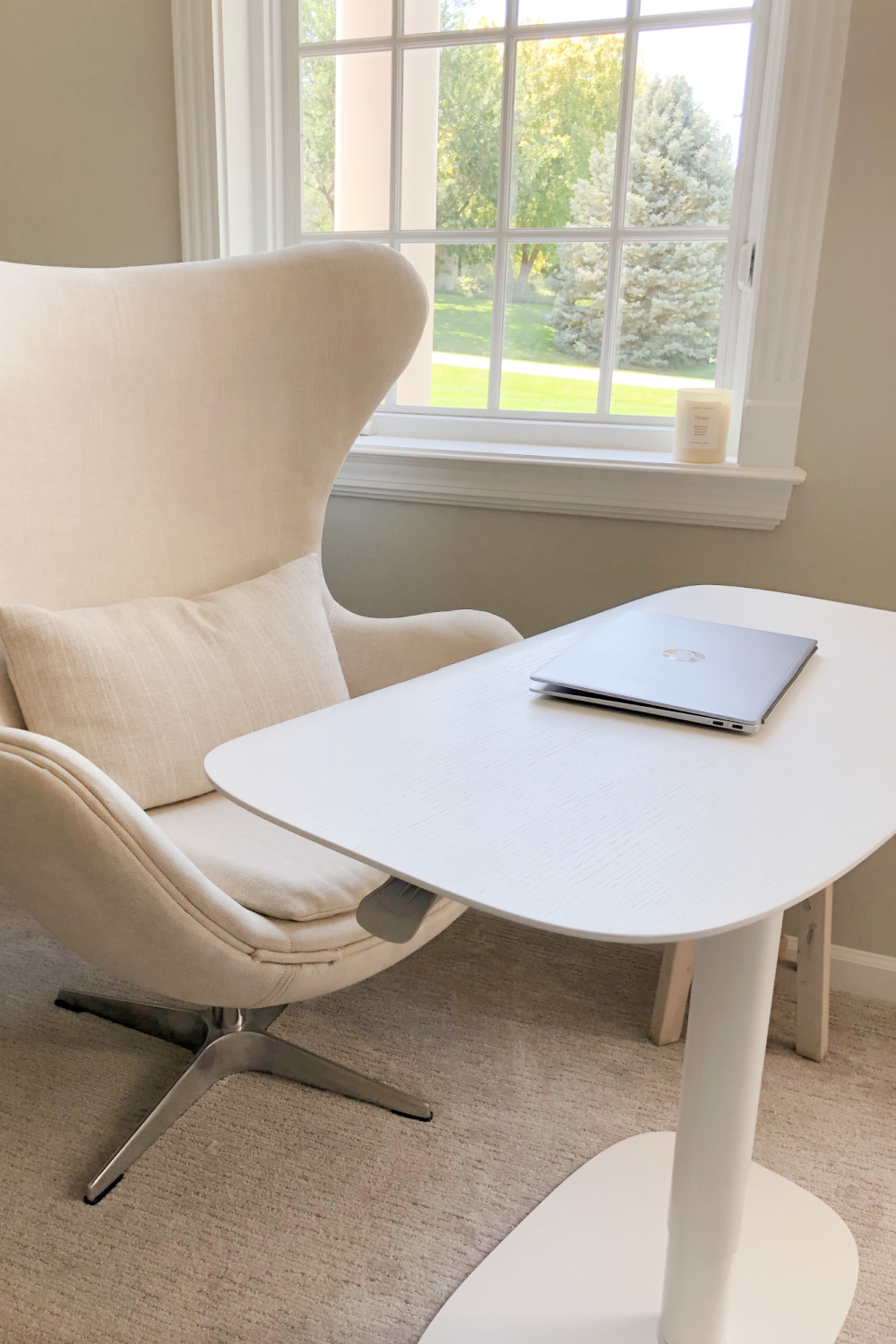 It doesn't!!!!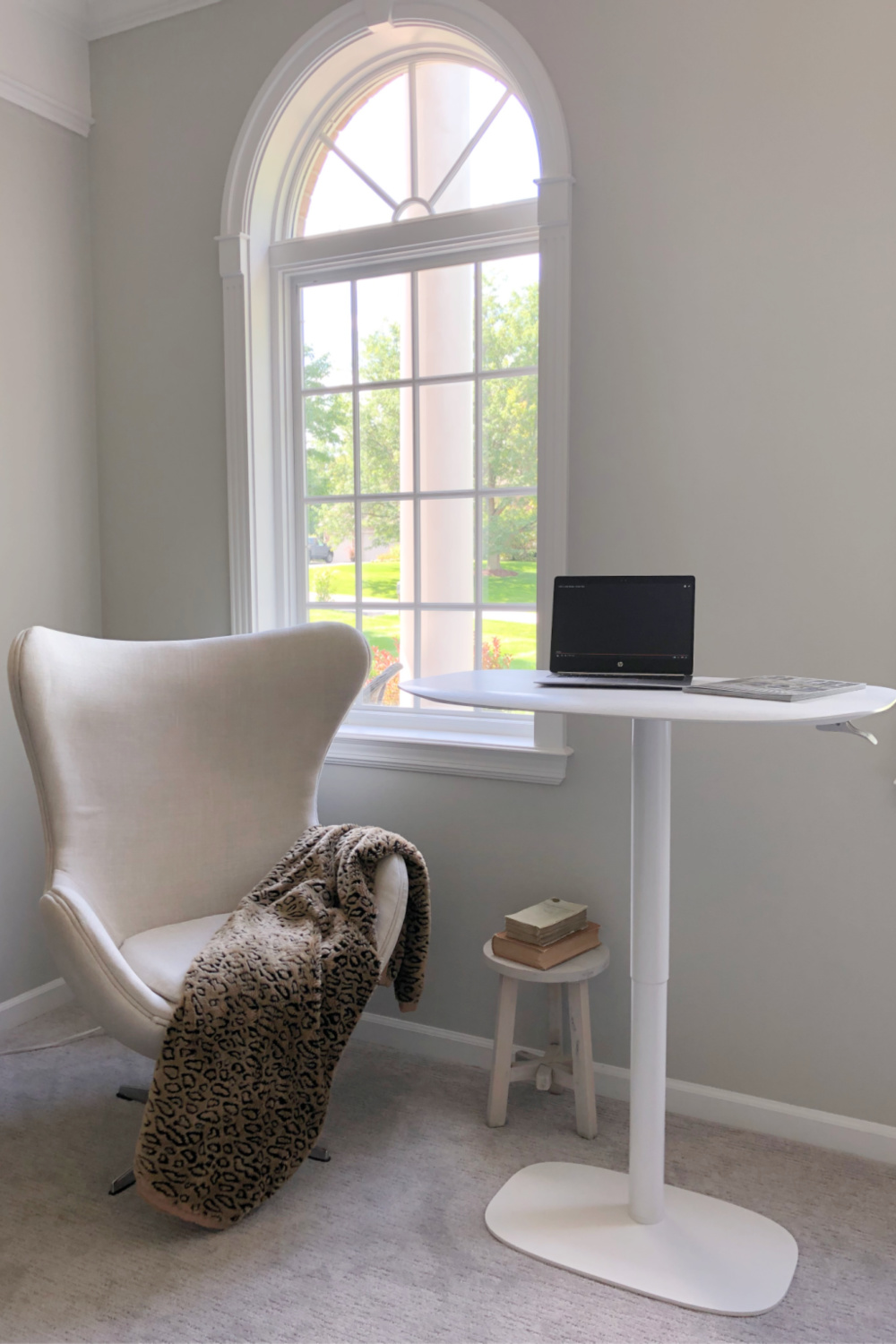 One of my favorite things about my new desk is what it doesn't have.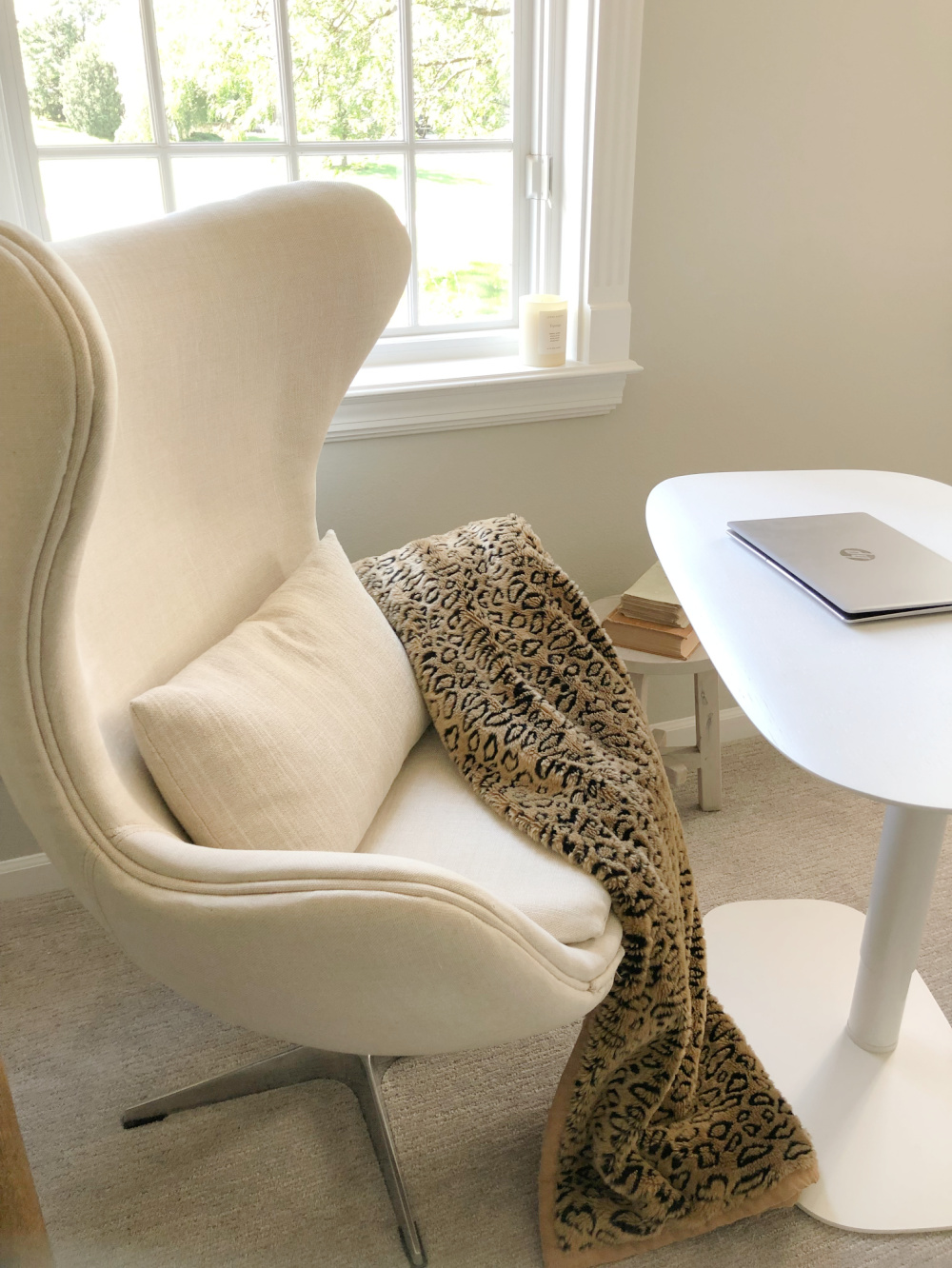 It doesn't have a motor or require any power at all…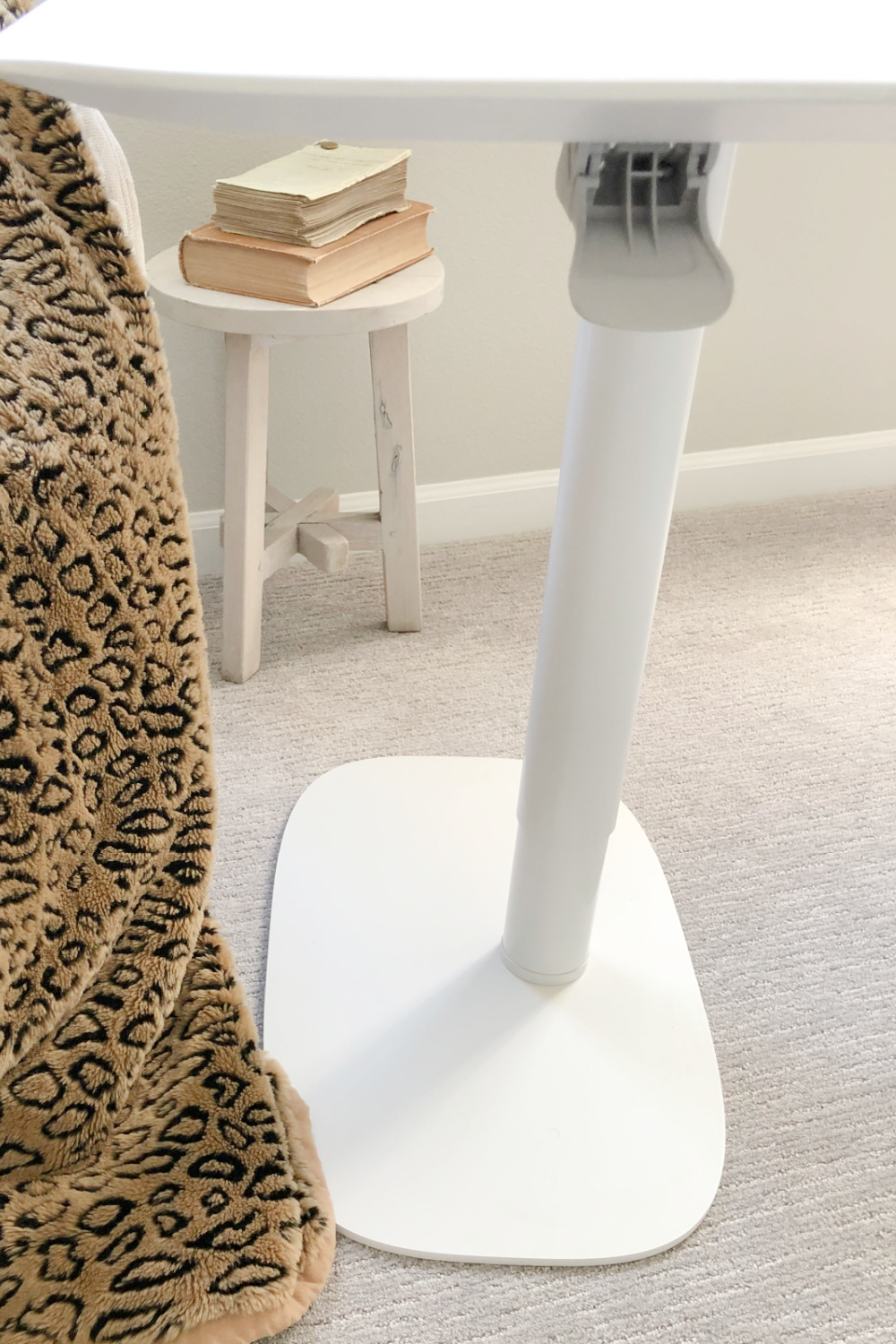 Although it is solid, I'm able to move it where I want to set up shop…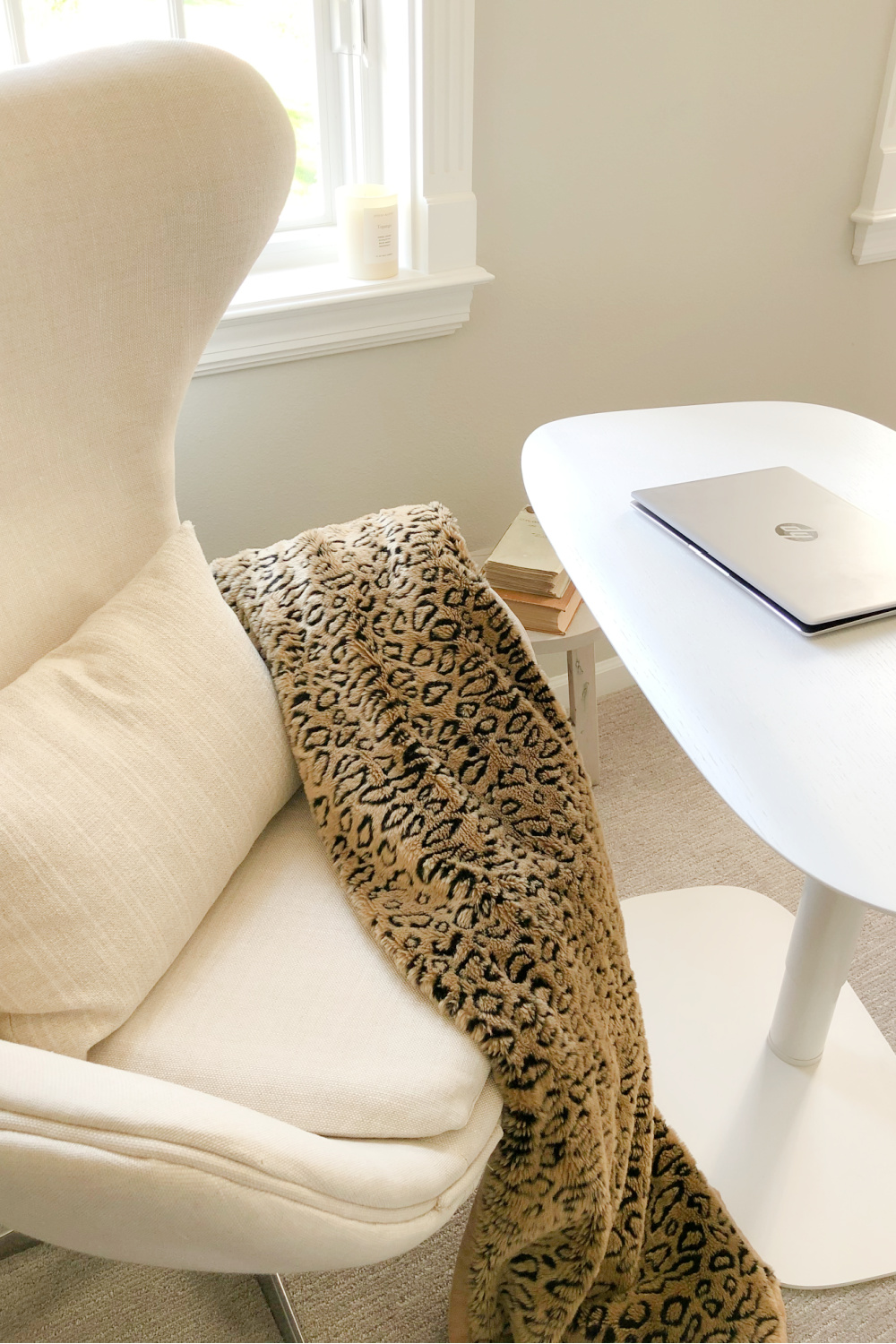 and the minimal modern chic design means it looks good everywhere!
Your desk may as well look sexy if you're working from home! Find the BDI Soma Standing Desk HERE.
Peace to you right where you are.
-michele
Thanks for shopping RIGHT HERE to keep decor inspiration flowing on Hello Lovely!
Hello Lovely is a participant in the Amazon Services LLC Associates Program, an affiliate advertising program designed to provide a means for sites to earn fees by linking to Amazon.com and affiliated sites.