Since I have been a happy customer of theirs for years, I was thrilled Photowall provided wallpaper for a guest bedroom here at the renovation in exchange for my honest opinion. I'll show you how this grisaille wallpaper brought calm and set a tone for the room as well as other changes I made to it. I'll also show you the treasure I found for the entry (it only took a year of hunting!).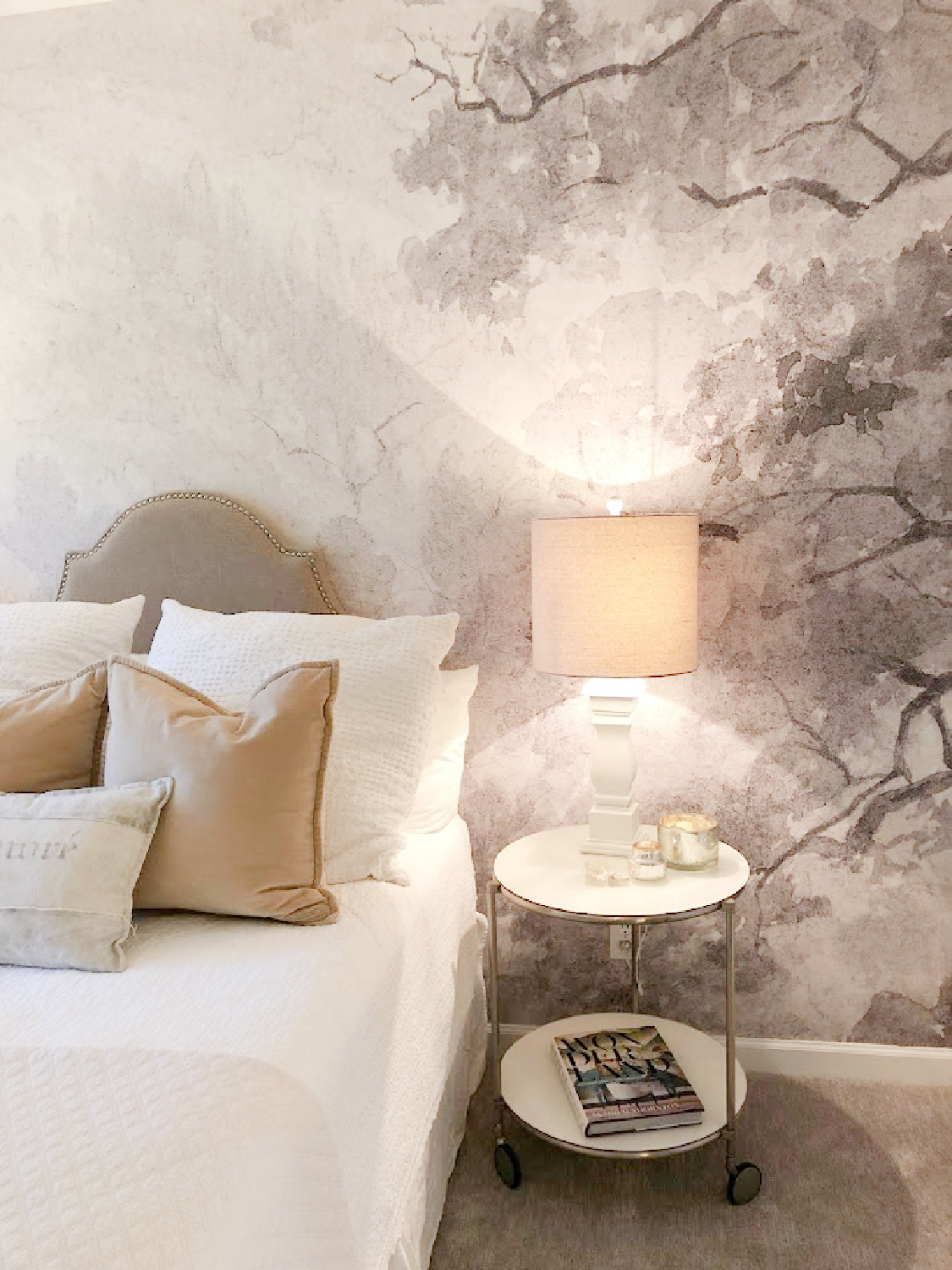 Grisaille Mural Wallpaper from Photowall Calms a Guest Bedroom
This is my all time favorite way to wallpaper!!!! It took us only 2 hours to paper the wall, and there were no surprises or headaches.
My favorite Photowall mural wallpaper designs? The serene scenic ones featuring trees. What is so unique about the online ordering process at Photowall is how you are able to decide the precise portion of the design you like…it's totally custom, yet the cost is only about $3/s.f!!!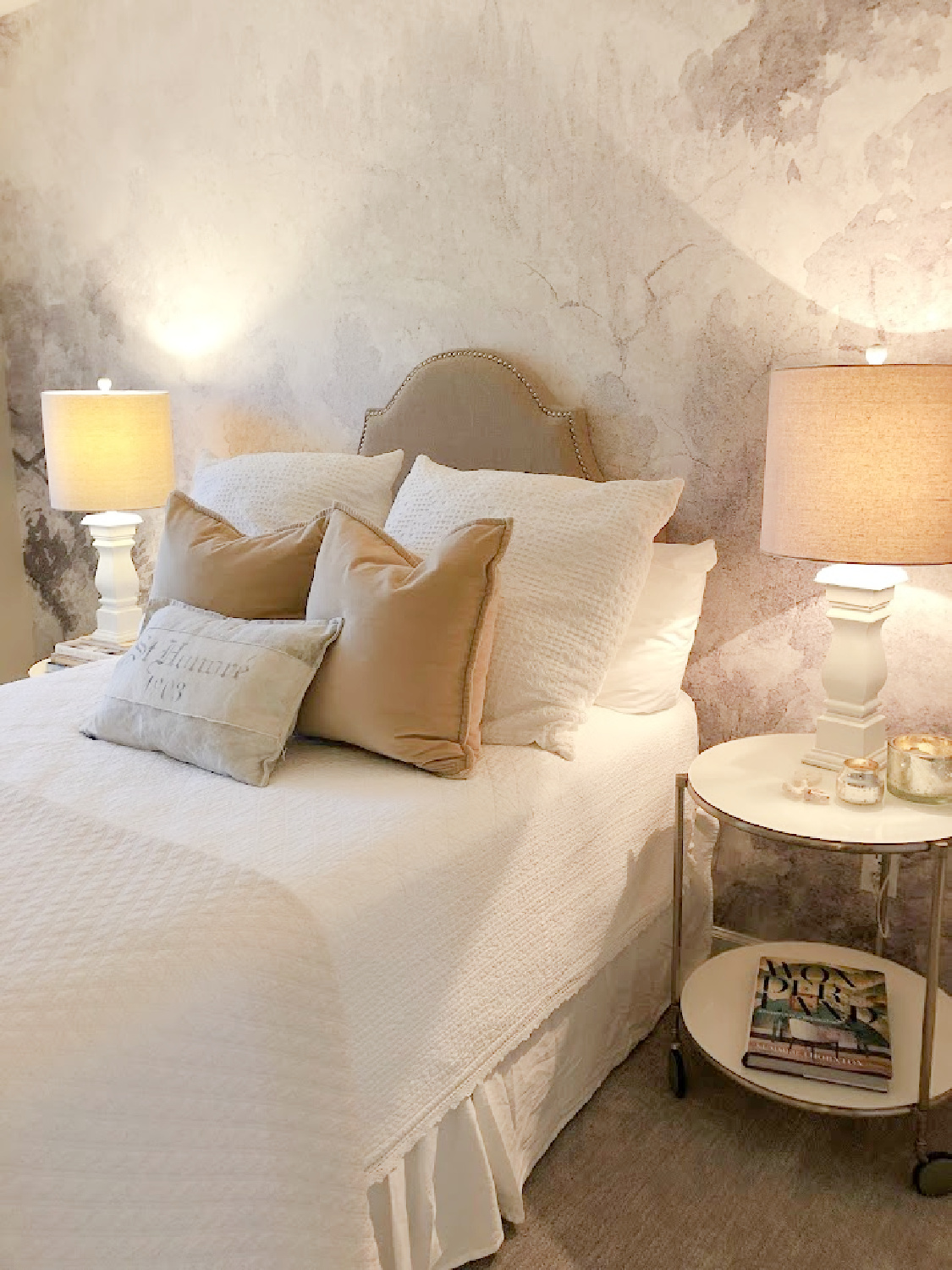 I used this "Beauty Everywhere" design in a bonus room at our former home…remember it in this den with the swing?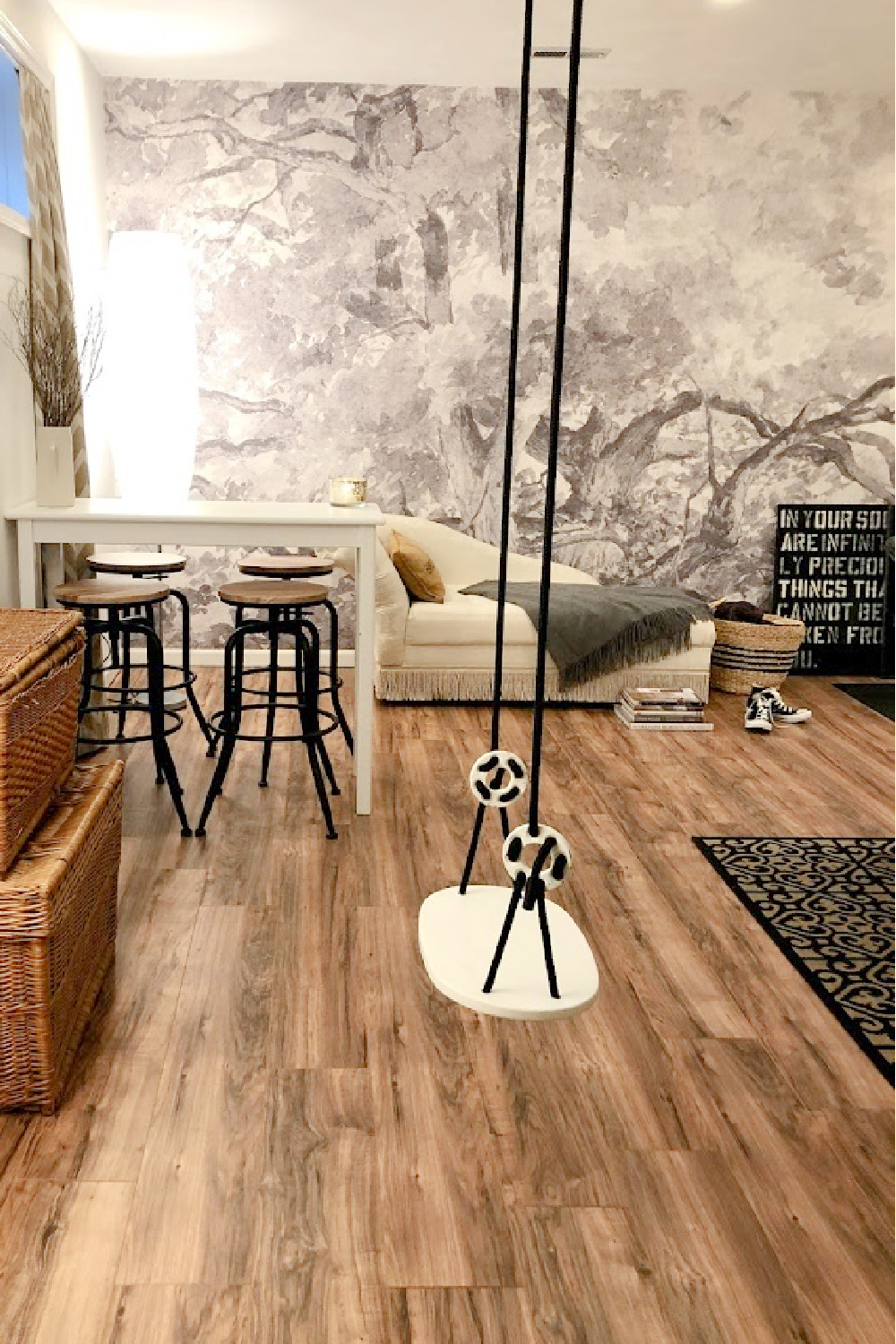 It made a dramatic statement in that basement level room where we wanted to introduce organic elements. Since I was familiar with the gorgeous grey and white color story of this pattern, I knew it would be perfect to help this ho hum bedroom feel more special. Here's where the bedroom started: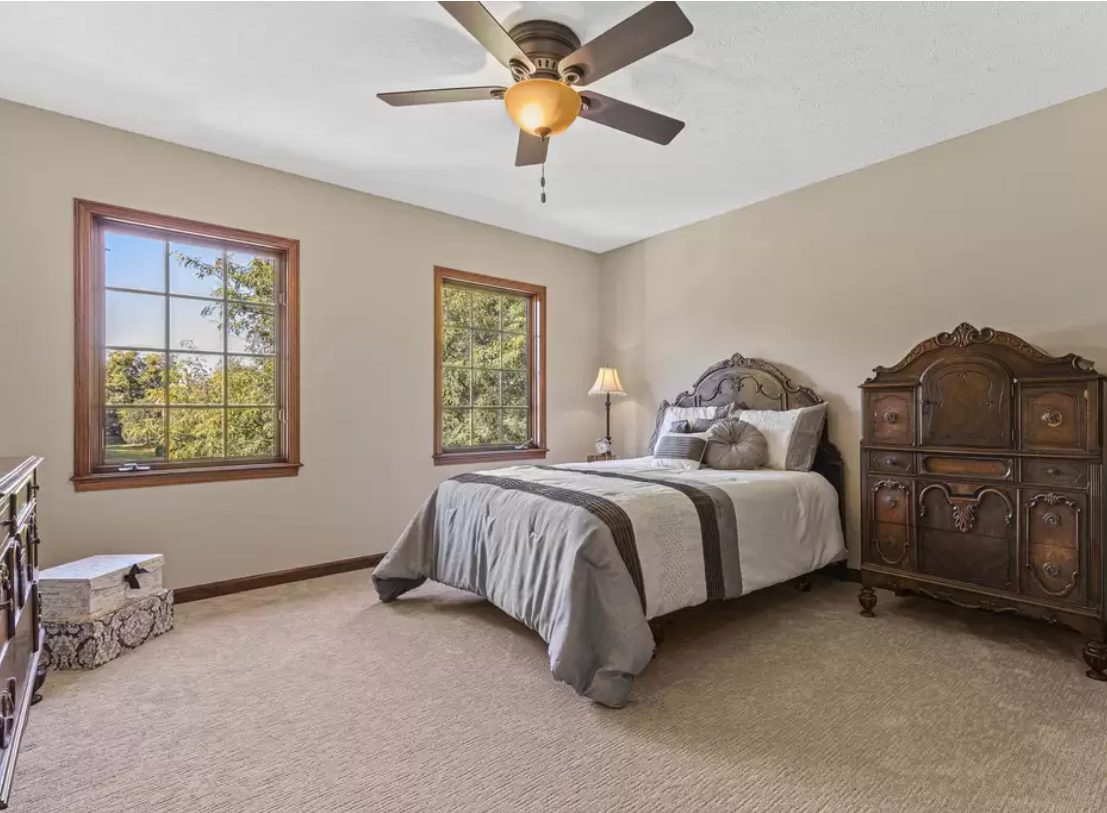 What WAS working for me was the light grey carpet and the wall color (Sherwin-Williams Agreeable Gray) which I knew I could work with: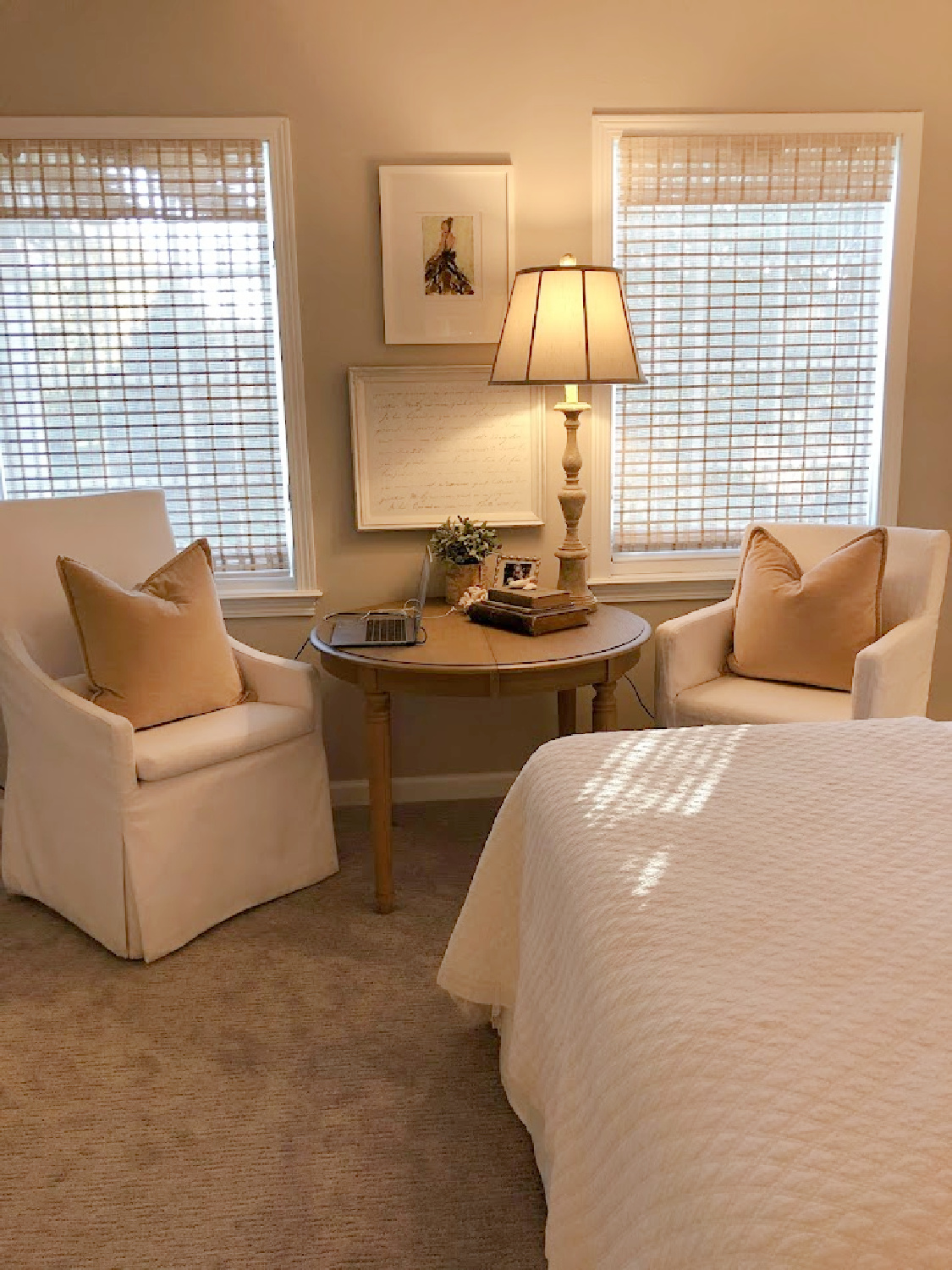 What's Different About This Mural Wallpaper?
I mentioned the ability to easily customize the mural with Photowall, and for the bedroom, I chose a different section of the same "Beauty Everywhere" mural I used at our former home.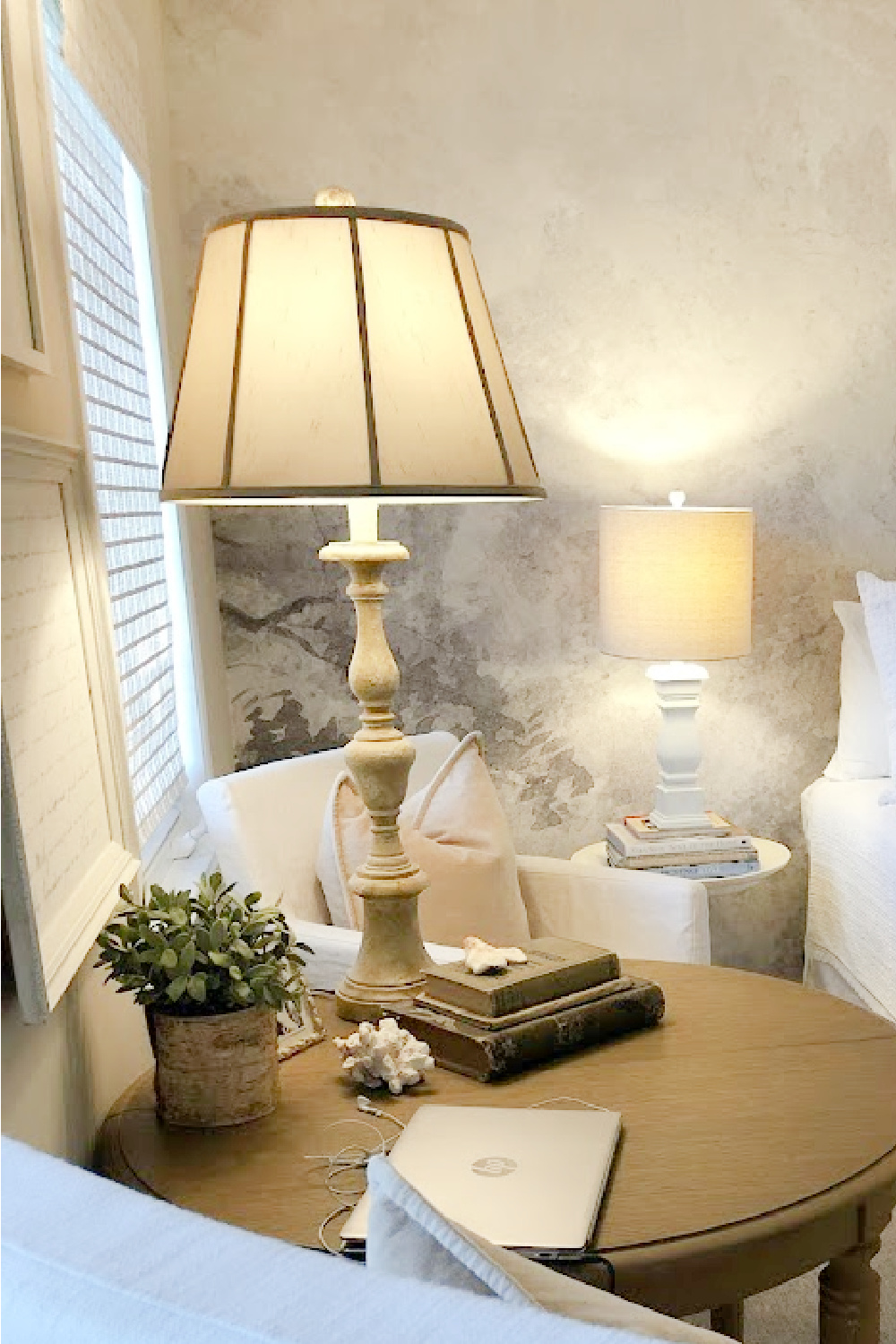 The section of this scenic mural I customized is more abstract with just a few branches at the end. It's really about the calm grisaille mood with all those shades of grey.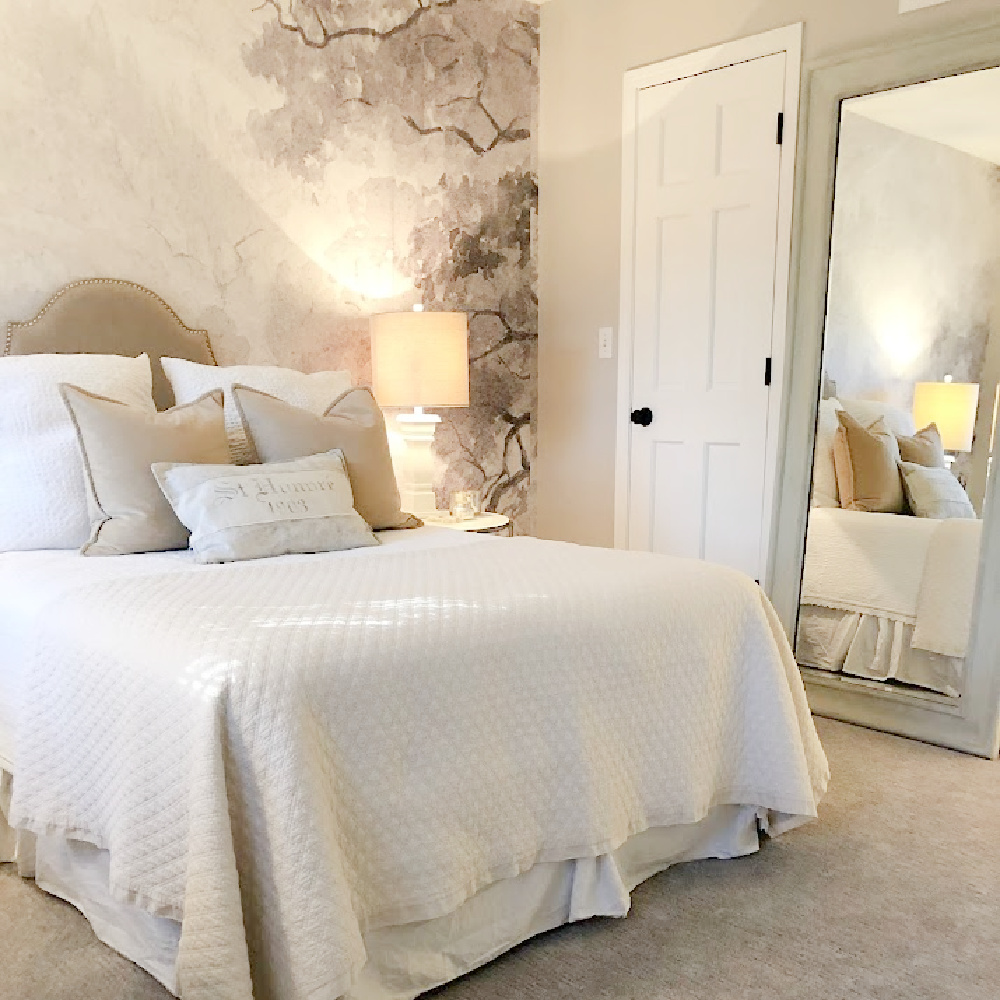 Helpful Tips for Design & Installation from Hello Lovely
Before you start browsing designs on Photowall, decide if you'll paper the whole wall or just the top half. Search online for "wallpaper mural" to get ideas for color or theme.
Be sure to order multiple samples before choosing your favorite. Like choosing paint colors, the lighting in your home is unique so make sure to view samples before placing your order.
Try not to get nervous when your wallpaper arrives and you peek at a single panel. Be confident that the complete look will indeed come together.
I have only installed the wallpaper on flat walls. Should your walls be textured, the panels may not adhere as well so sanding first is highly recommended.
Order installation supplies with the wallpaper – they make the process easier.
The first panel you install is extra important: make sure it is level and straight. That way the remainder of panels will also be right.
Even if you are a seasoned wallpaper-er, the proper way to install the Photowall panels is to brush walls with a liberal amount of paste before placing a panel.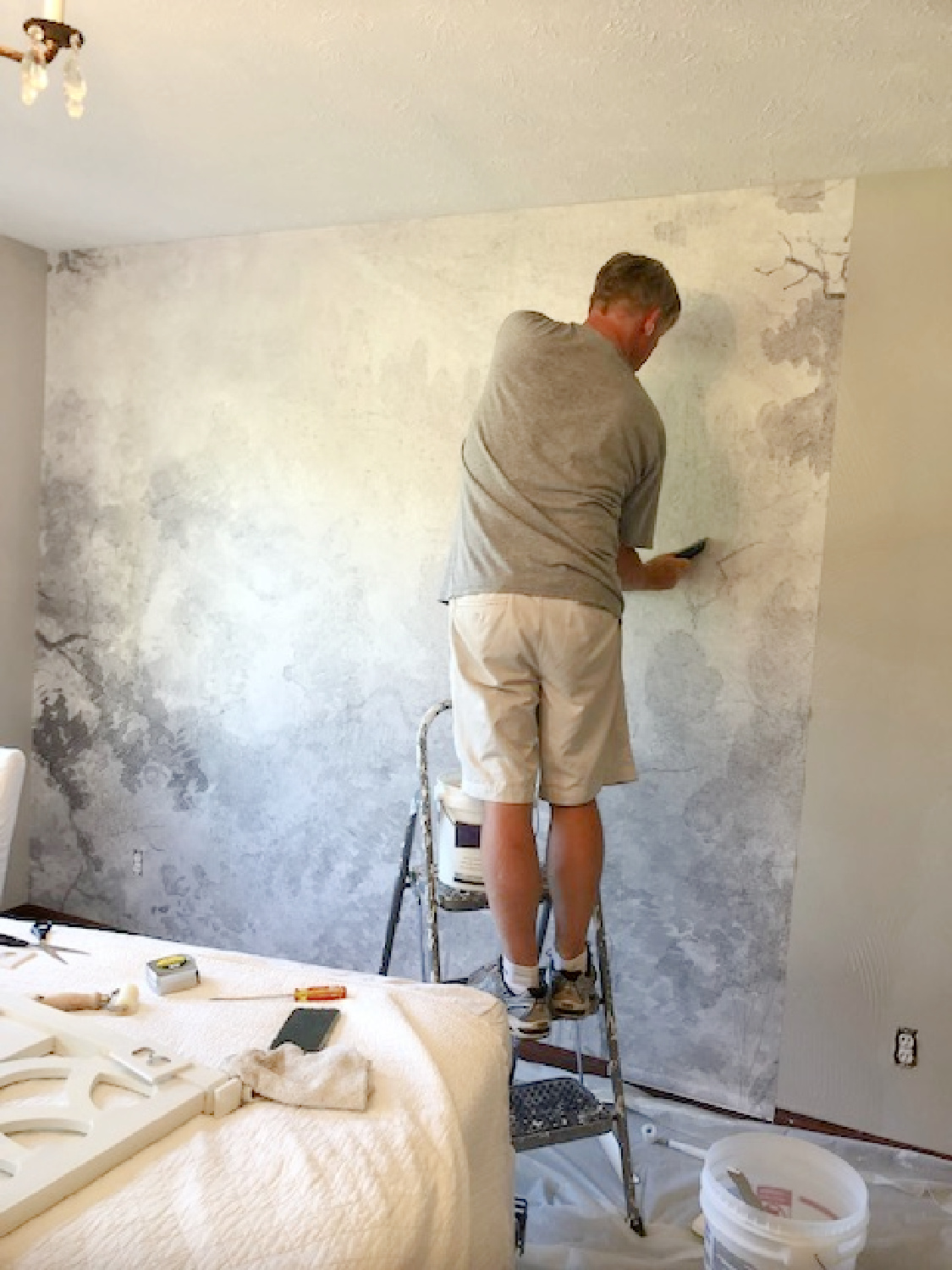 Here's a video that shows you how the panels are easily adhered to the wall. We have been wallpapering since the 80s, and it was never this foolproof!
Should you paper more than one wall?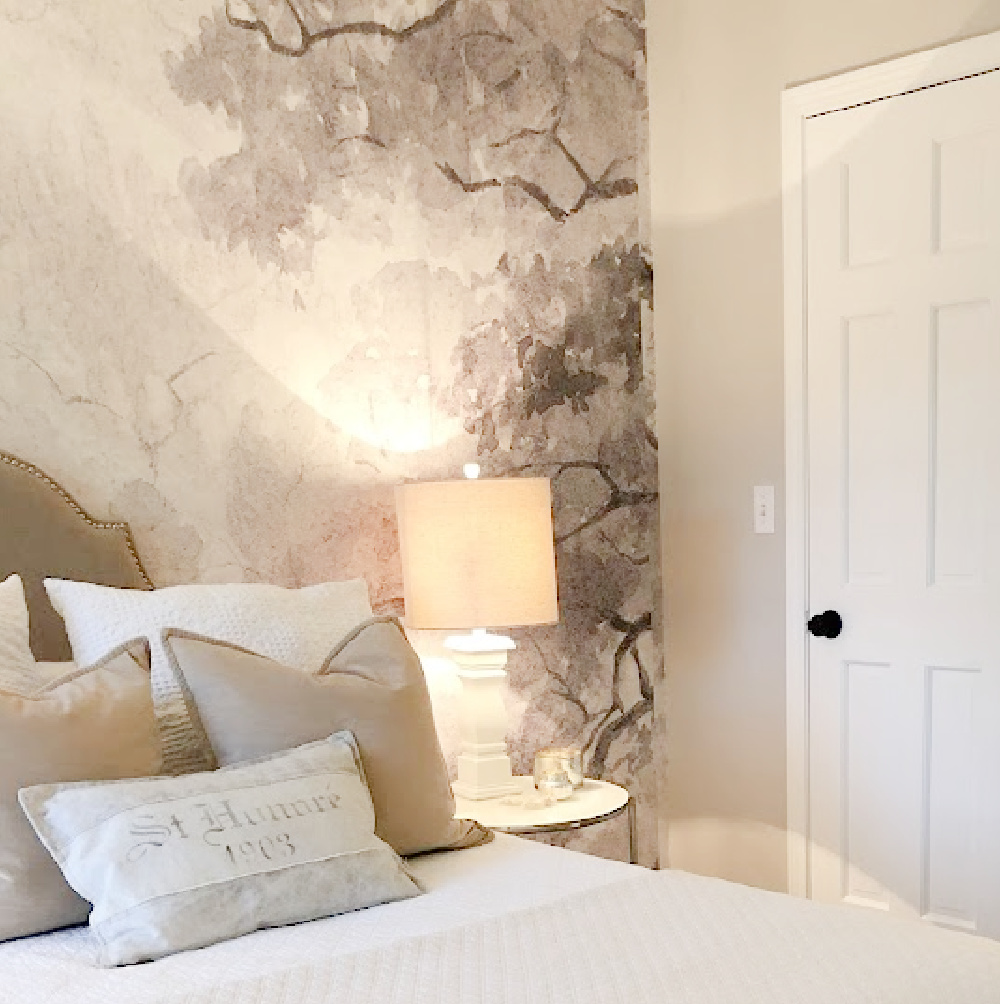 You definitely can! There are no rules or design police.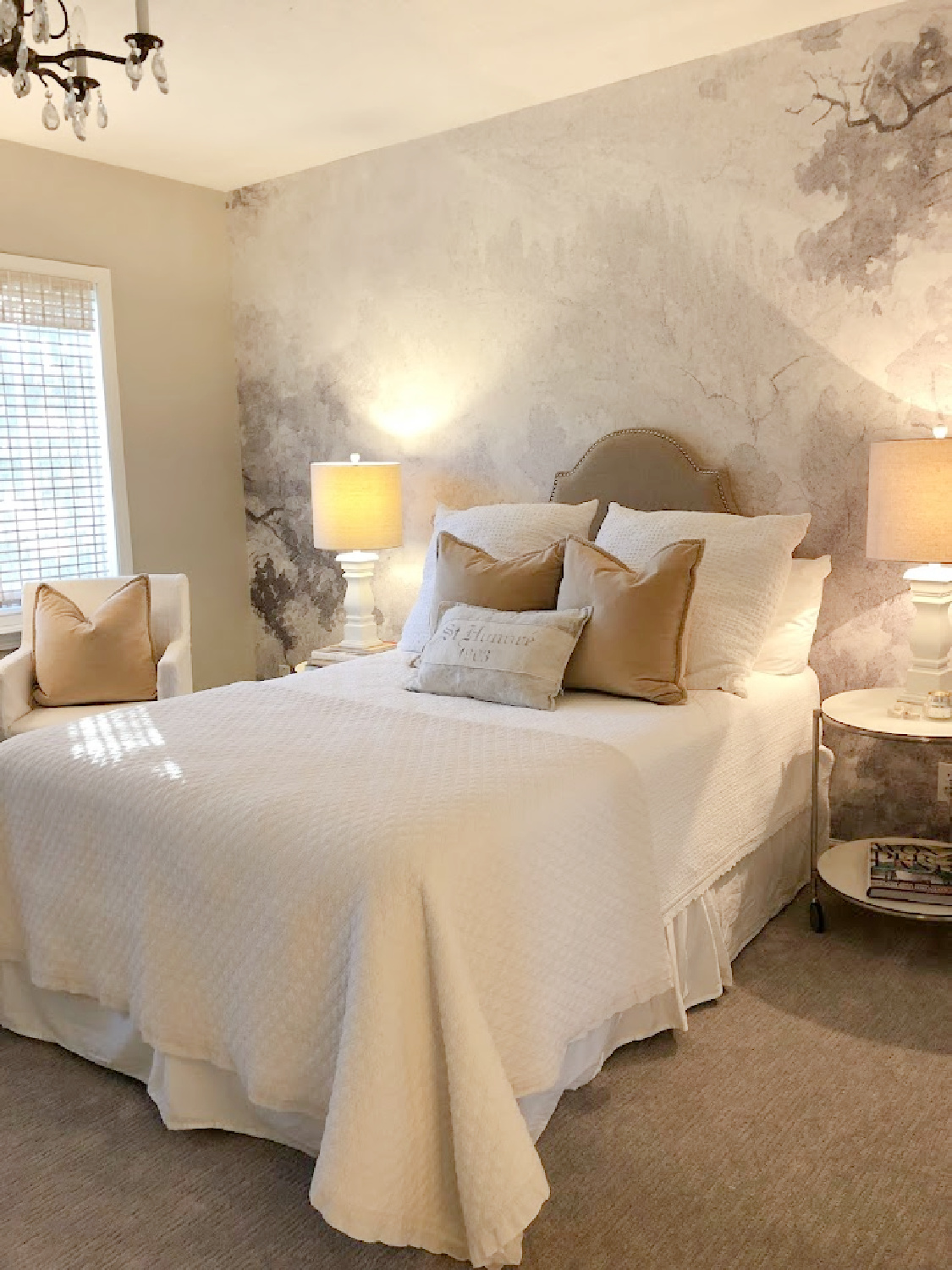 I love my fashionable Holly Irwin painting in here!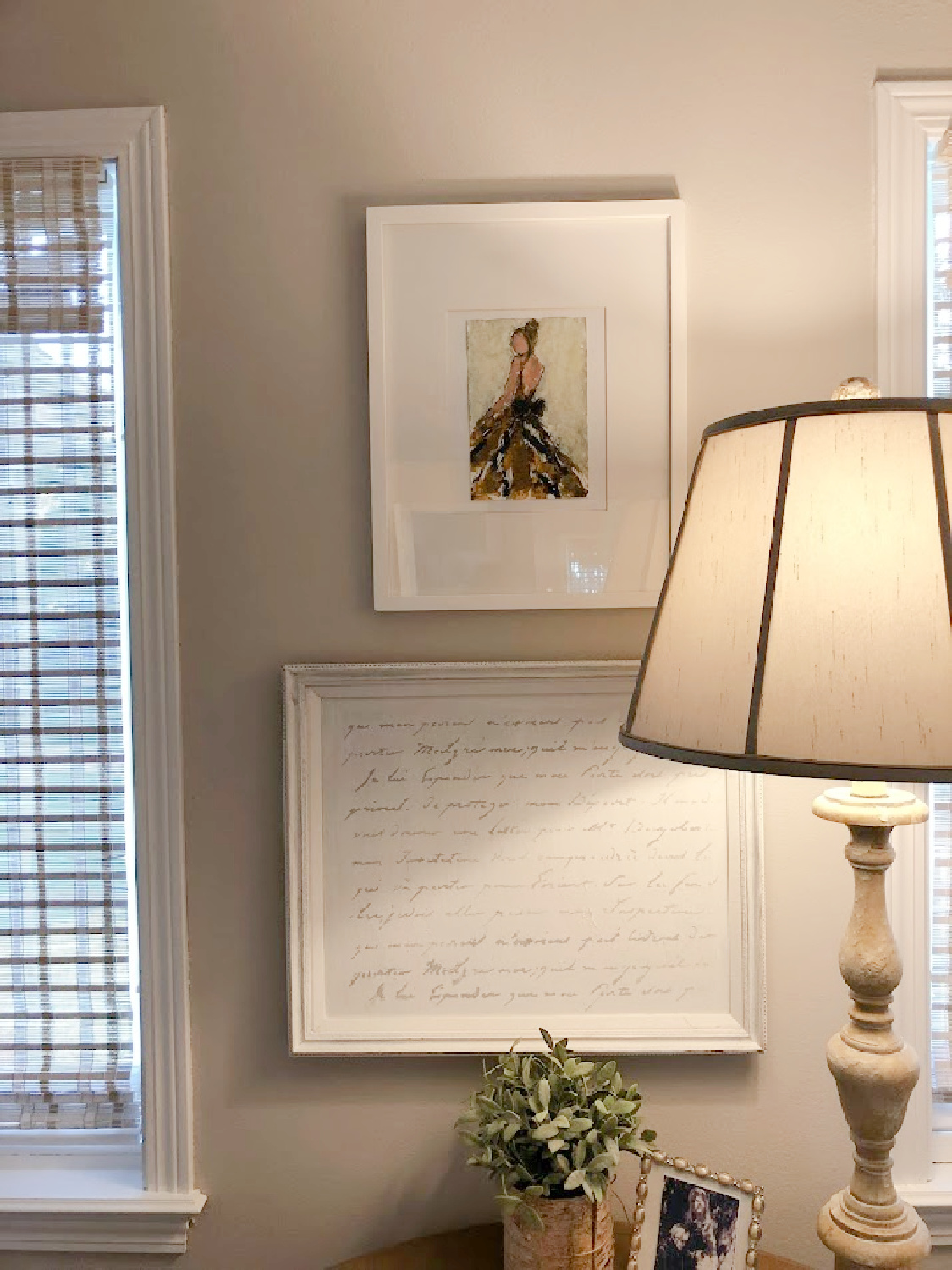 Simple Spruce-ups for The Connecting Bath
This bedroom connects to a Jack and Jill bath which I spruced up with paint for the walls, doors and trim.
The walls in here I painted No Filter (Clare paint) to work with the existing travertine-toned tile.
From this perspective, you can see I took down the ceiling fan and added a 1940's made in Spain brass and crystal chandelier: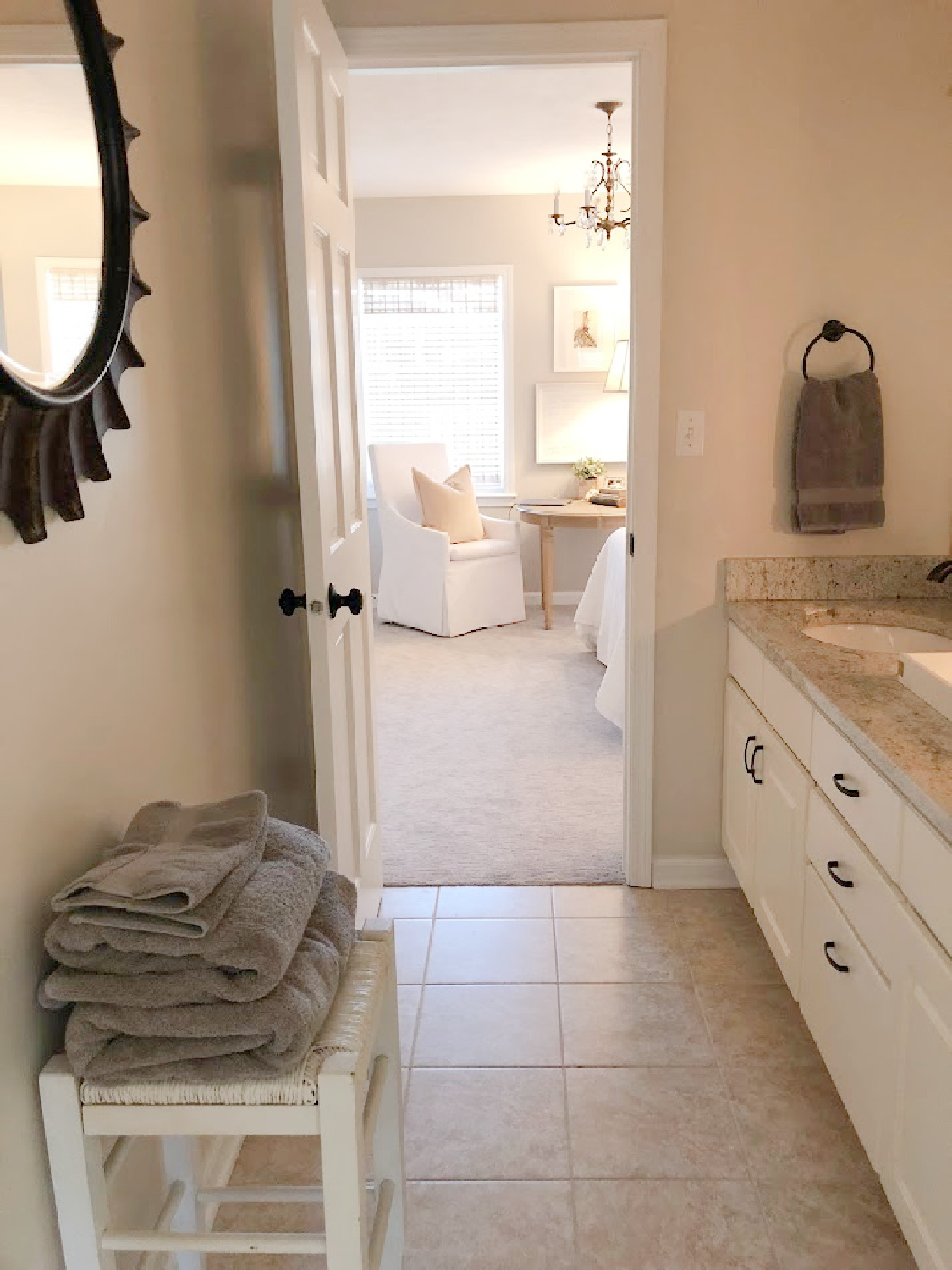 On the other end of the bath is a small bedroom I converted into a dressing room, closet, office. Read about that makeover HERE.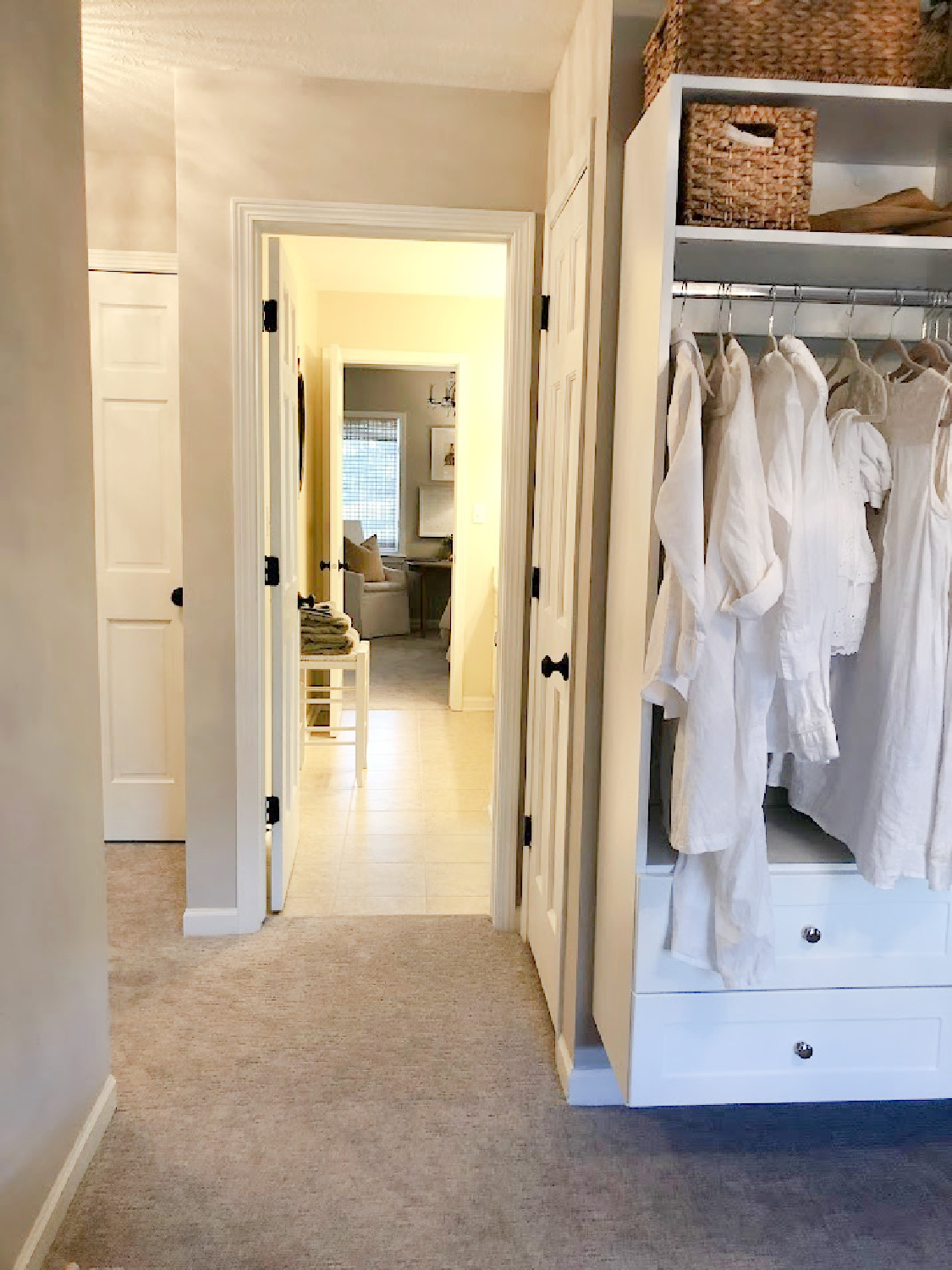 These three spaces make up the North wing upstairs, and it's such a relief that they are done. I designed this closet/office with an eye toward the future. There's still room for a bed even with all the closet built-ins. Wouldn't it be a sweet nursery?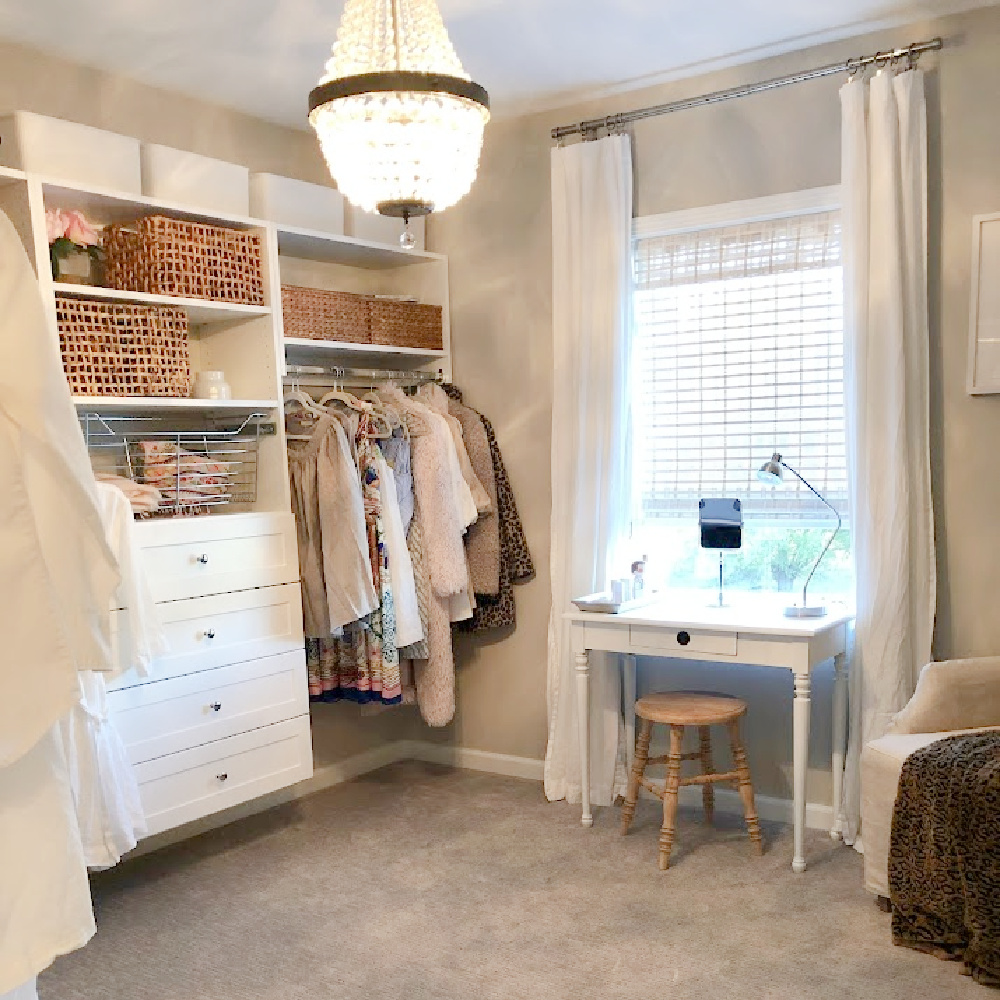 More Scenic Wallpaper Used in Our Home
Here's another way I used wallpaper from Photowall in our dining room above the fireplace. It's called "Trees White" and is RIGHT HERE. Don't hesitate in trying something like this – it's so inexpensive for such a pretty effect!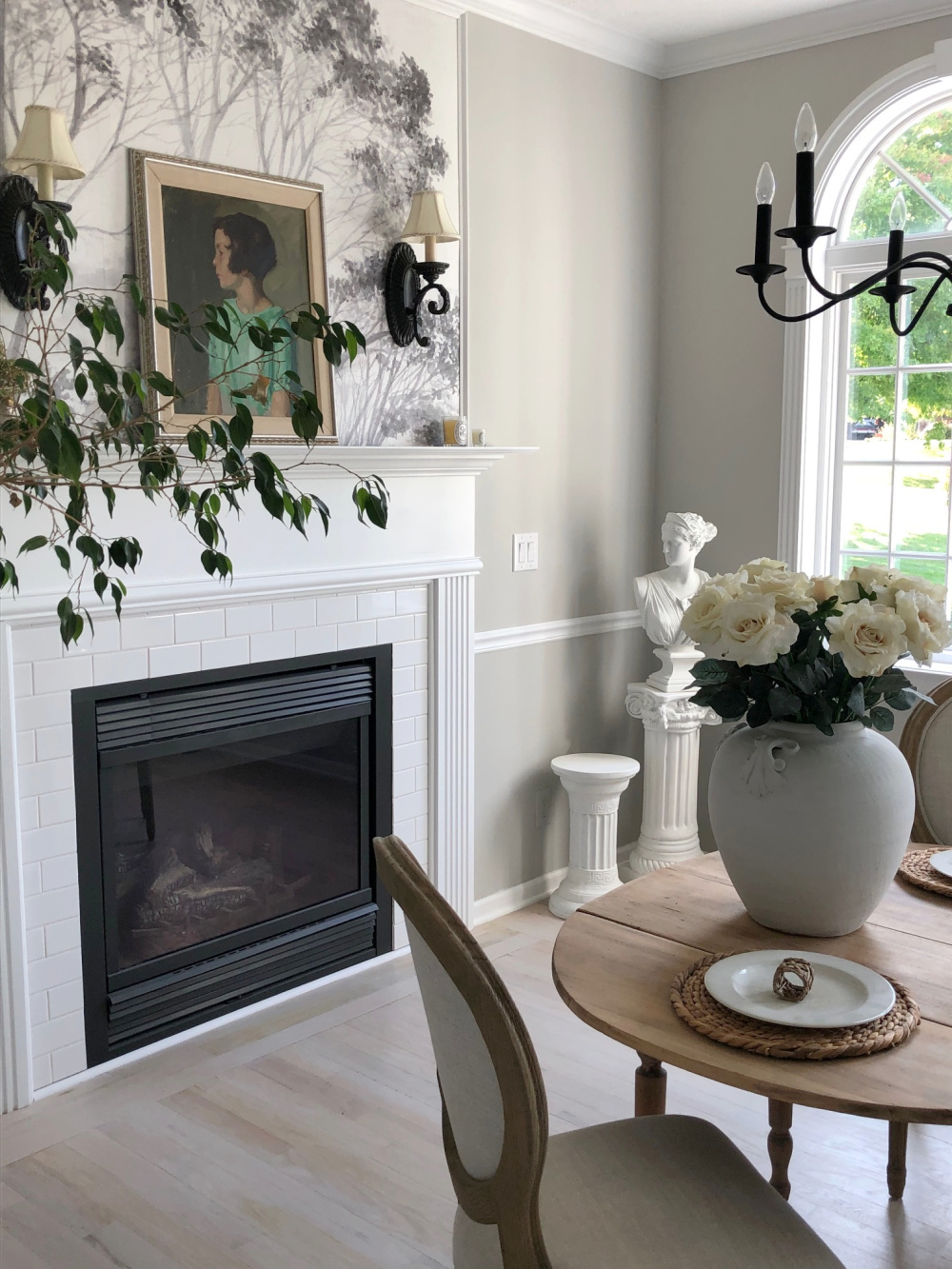 I didn't hesitate buying this mural for the entry (I paid full price, and this was not gifted) because the colors were perfect for a dreamy Parisian-like welcome. If you follow me on IG, you know that I bought this antique chest, but it just wasn't working. Too heavy and too brown!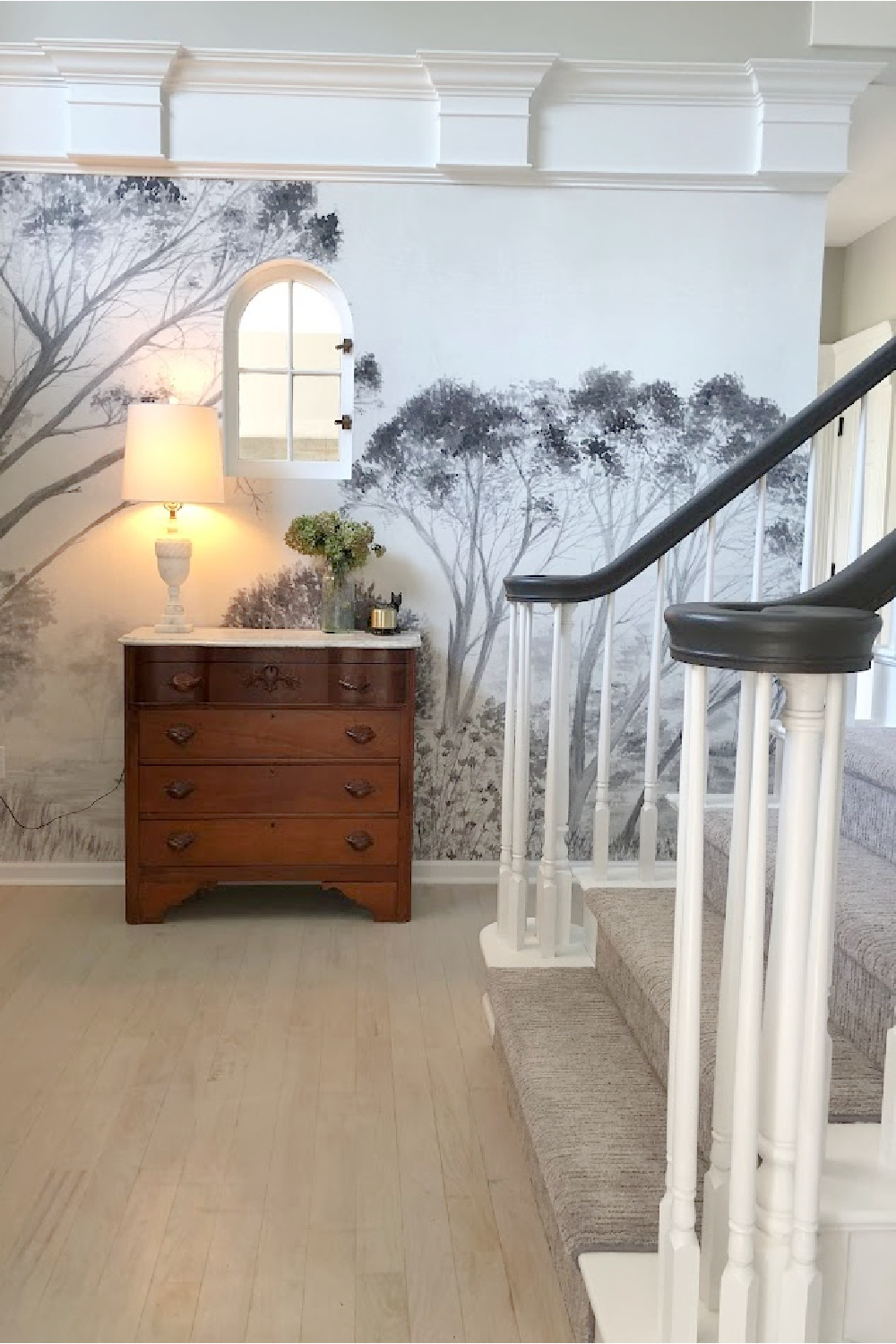 Here is the treasure I finally found for the space under the window! It's an antique marble topped console with carvings from France. The warm gold is much more at home here, and the size could not be better! Since I snapped the photo, I touched up the bottom with gold leaf, and the damage doesn't bother me at all. The damage is likely why the piece didn't sell in Chicago at auction, and I snagged it when it popped up on FB Marketplace.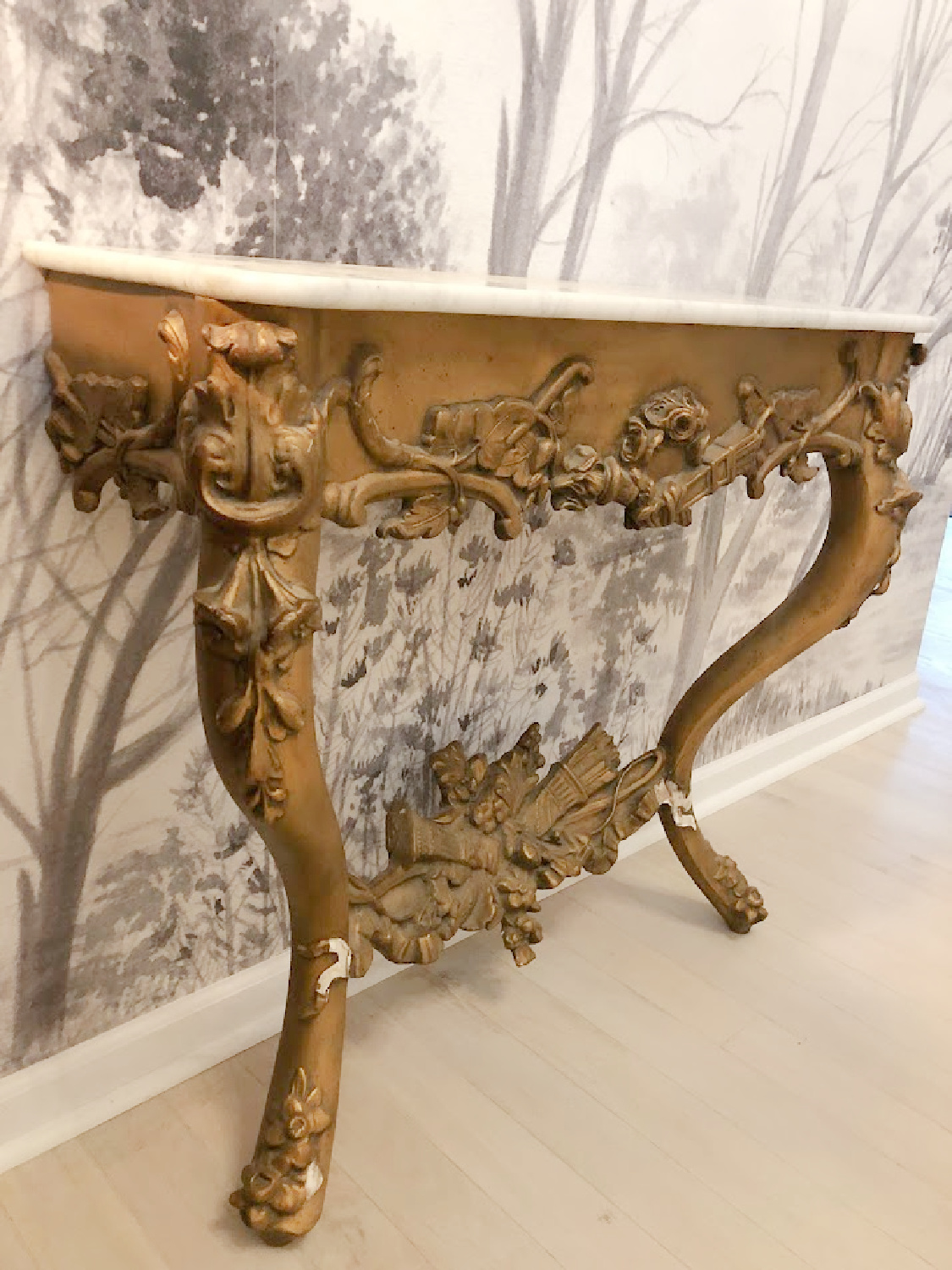 I'll style it soon, but right now I'm sprucing up another bedroom suite! Thanks so much for following along our renovation journey!
I independently selected products in this post—if you buy from one of my links, I may earn a commission.
Peace to you right where you are.
-michele
Shop for items you already intended to buy on Amazon RIGHT HERE, and also find home decor here to keep decor inspiration flowing on Hello Lovely!
Hello Lovely is a participant in the Amazon Services LLC Associates Program, an affiliate advertising program designed to provide a means for sites to earn fees by linking to Amazon.com and affiliated sites.