I am so thrilled with the amazing Christmas Minted holiday Lovelies I Found for gifts and cards to give! For years I have relied on Minted for our holiday cards because of the quality, artistry, and ease of using the site. Last year, I also discovered beautiful personalized gifts my family is destined to treasure. Let's revisit those awesome finds!
I independently selected products in this post—if you buy from one of my links, I may earn a commission.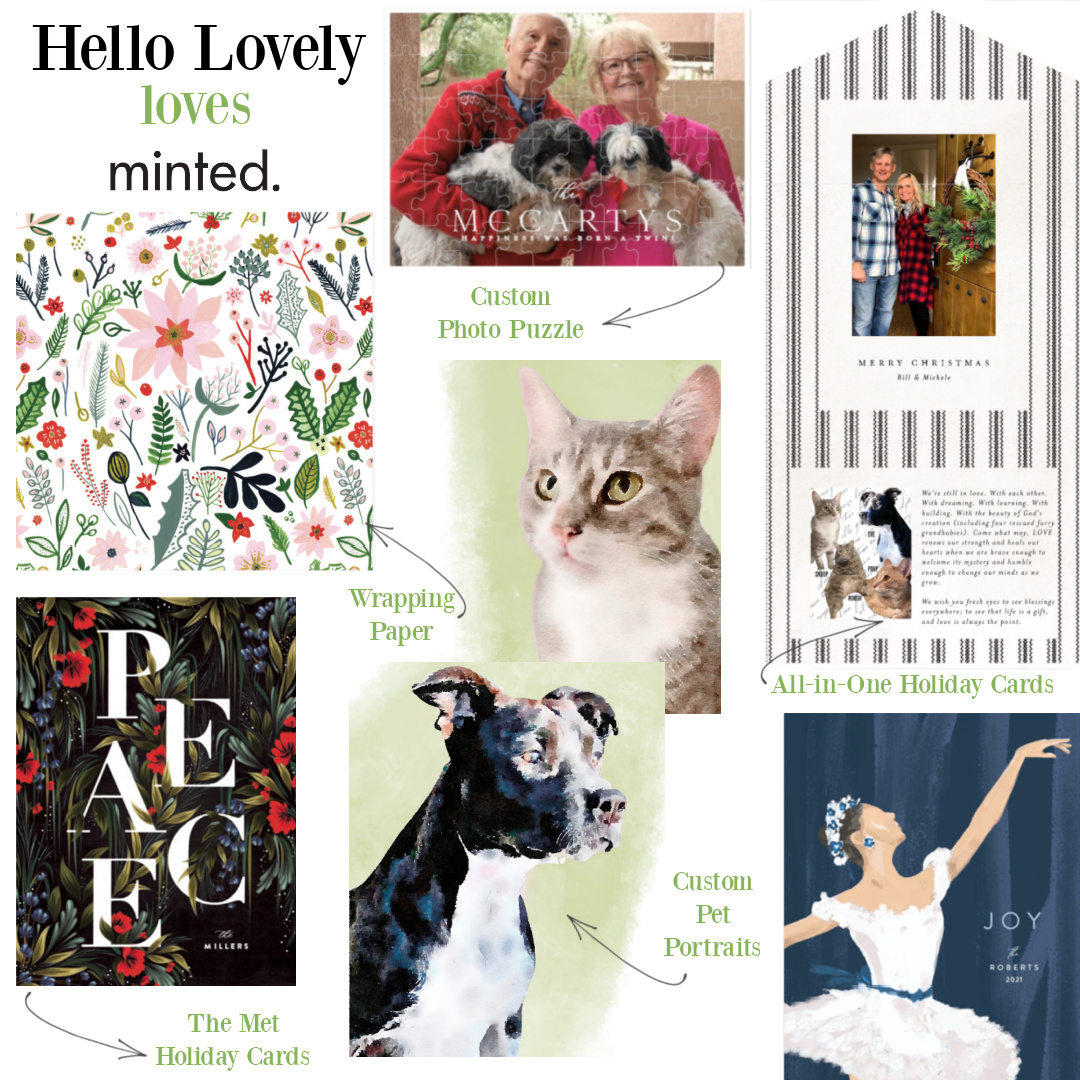 Look at These Amazing Christmas Minted Lovelies I Found!
1. All-in-One Farmhouse Christmas Cards from Minted
I chose this Farmhouse linen ticking stripe all-in-one card last year, and the price is hard to beat. They are even better in person!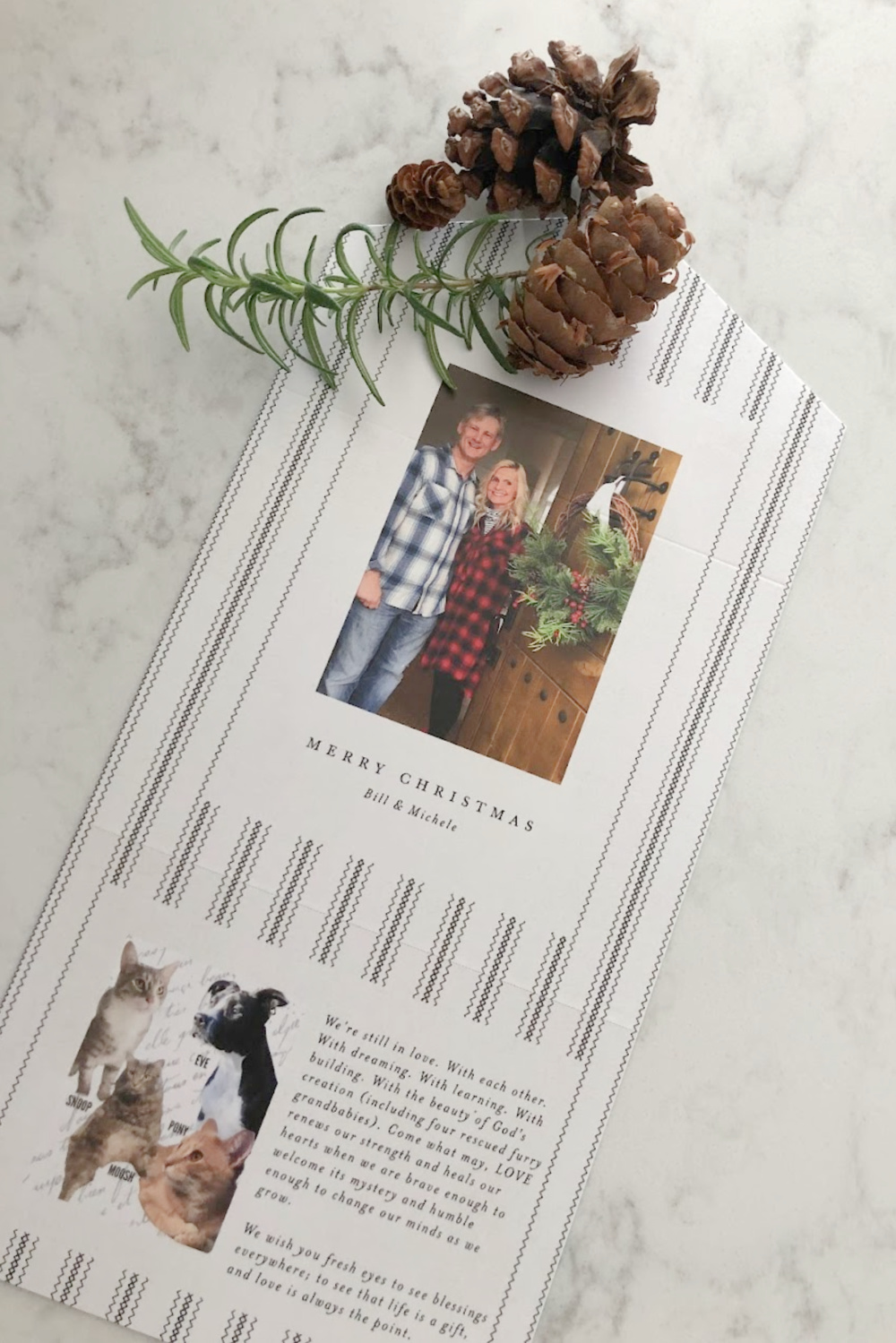 All-in-one means there isn't a separate envelope required since they easily fold as you'll see below: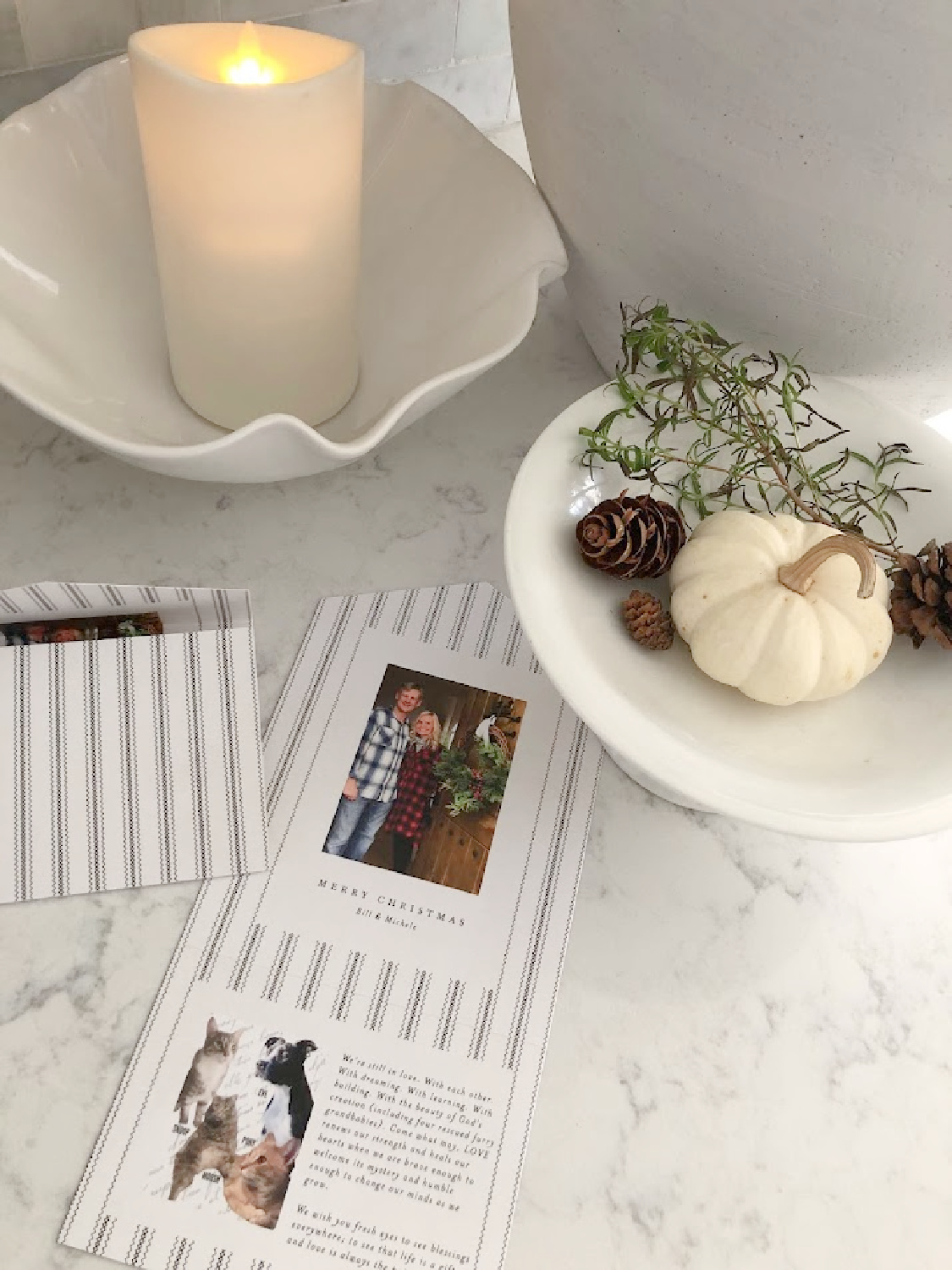 I chose a photo of us at the front door, and then had fun (with the help of PicMonkey) creating a graphic with our four grand-creatures: Snoop, Eve, Moosh, and Pony.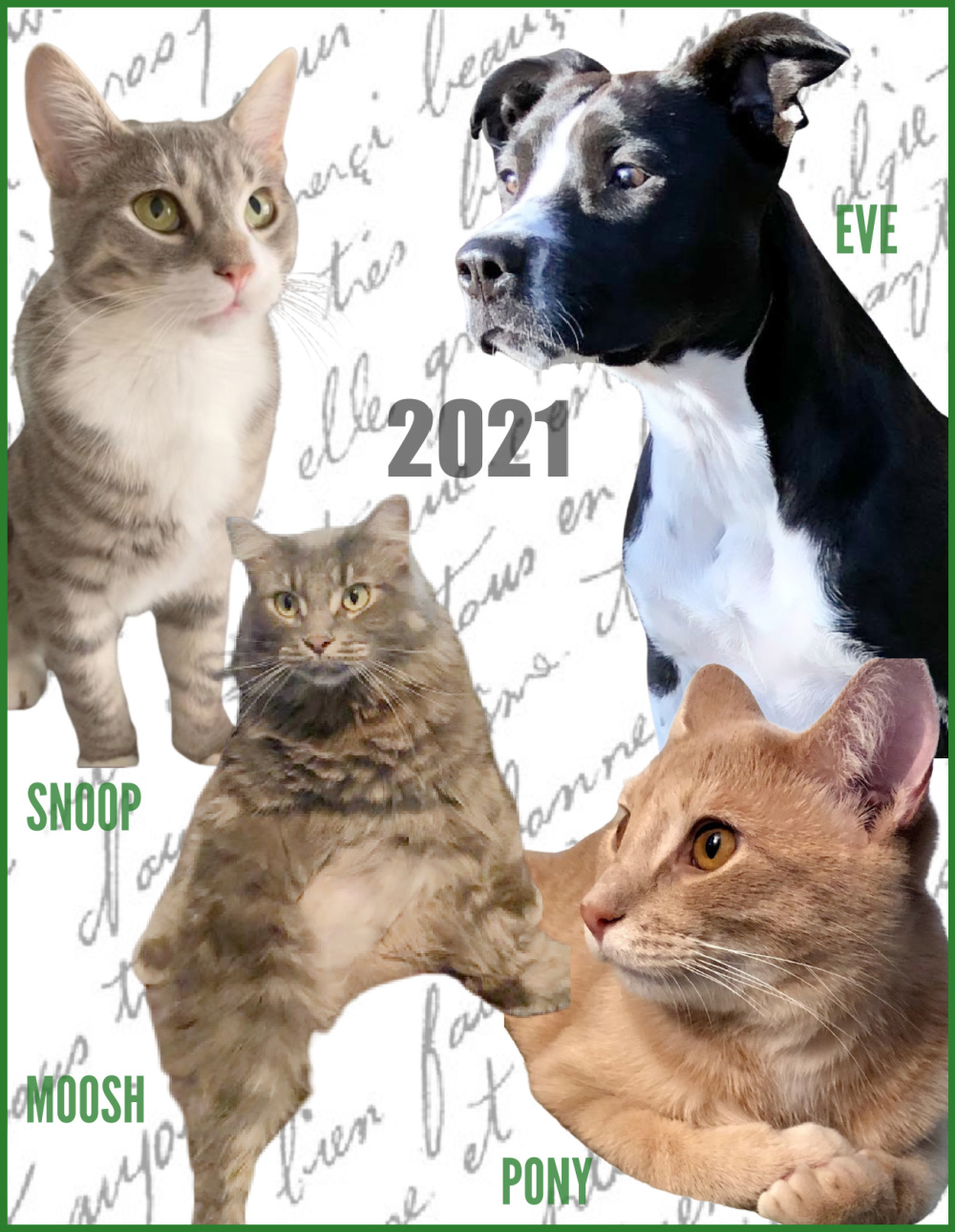 We enjoy being pet grandparents and take care of all of them when our sons travel on trips. Cats are new to us so it's a learning curve!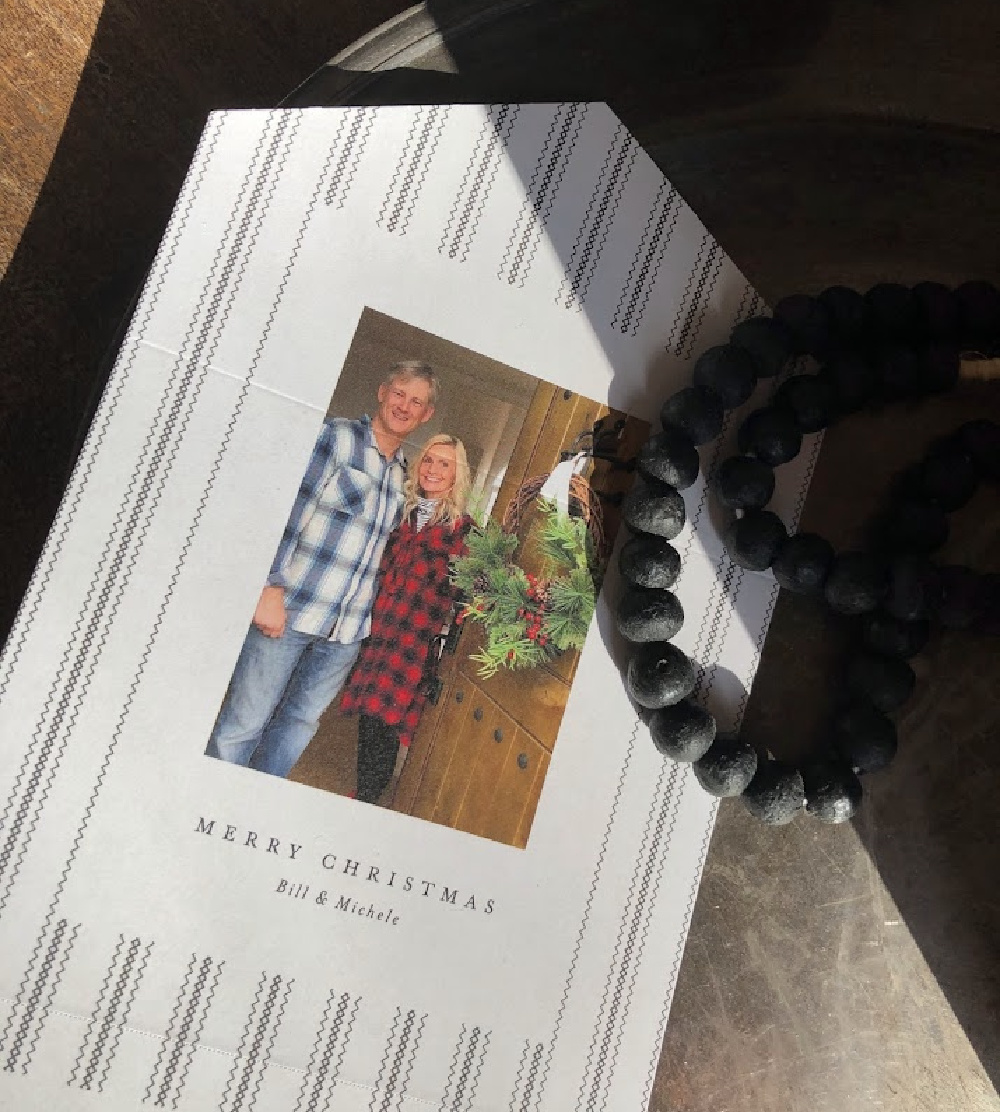 The ticking stripe seems like a very French thing to me, and I have grown fond of sharing just a short thought on our cards rather than a long recap of brags like so many Christmas letters seem to be.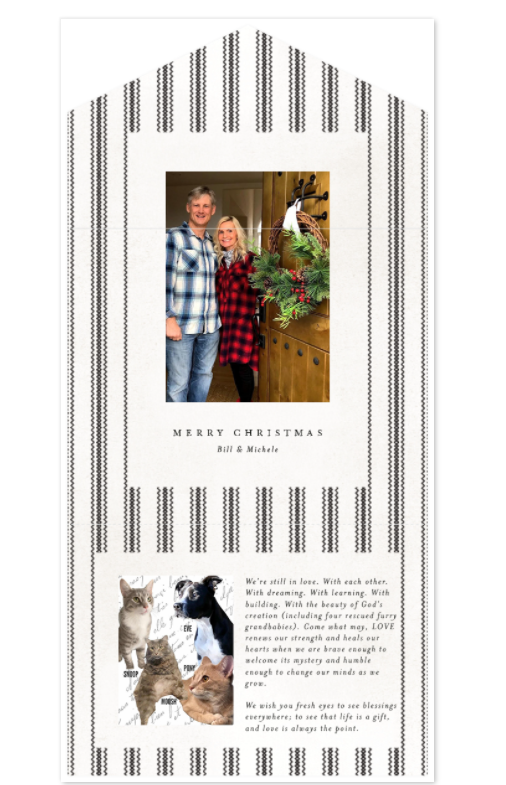 Not that there's anything wrong with being proud of your family's accomplishments; I just think social media offers enough opportunities, and there's far too much comparison happening everywhere.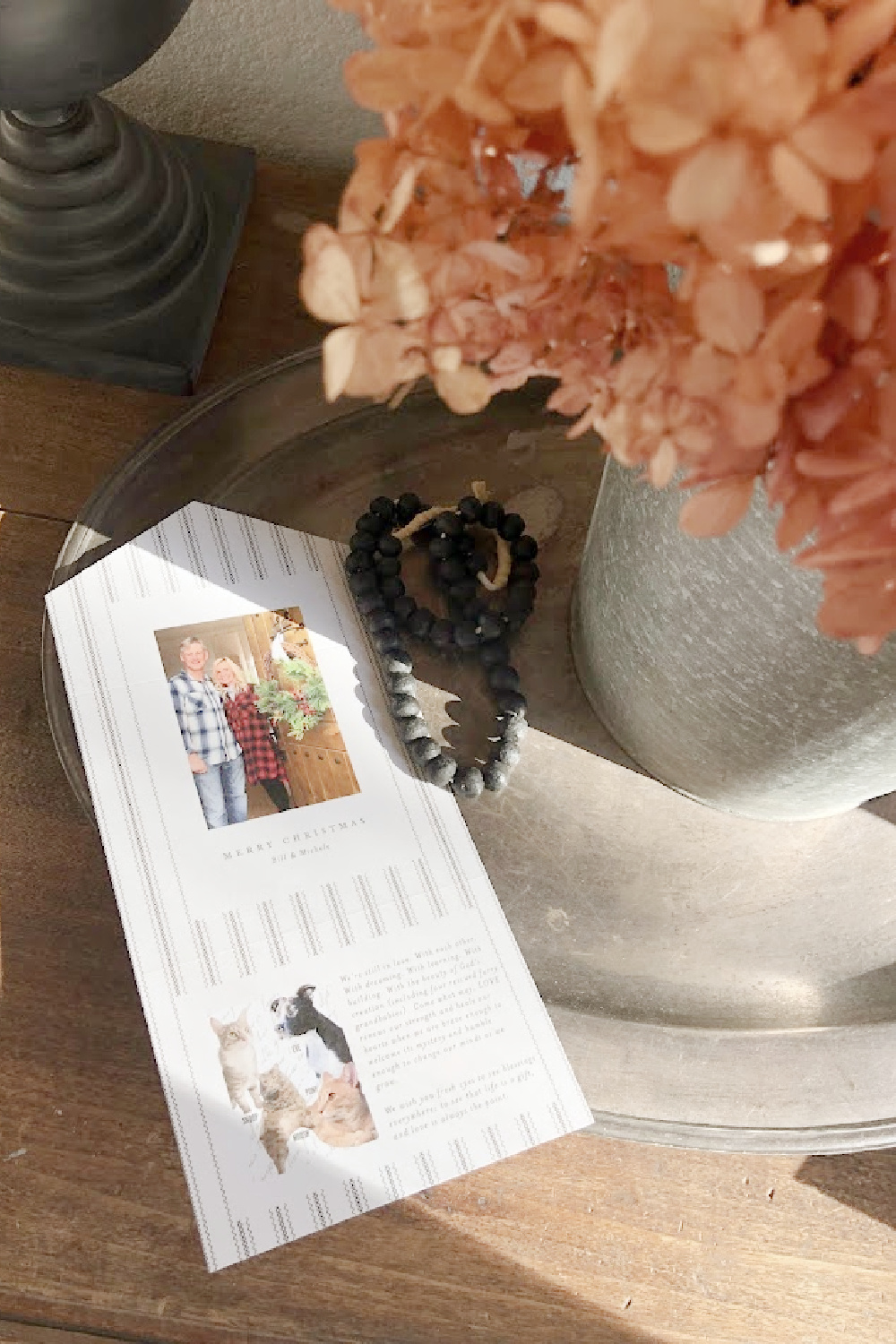 *steps off soap box*
Anyway, I encourage you to send Christmas cards even if you don't think you have a photo that seems worthy for it. It need not be a photo of you. Use your pet or an old pic of your family or a picture of your fireplace or your garden. Feel free to be different, and I share persuasive reasons for going old school with snail mail in THIS!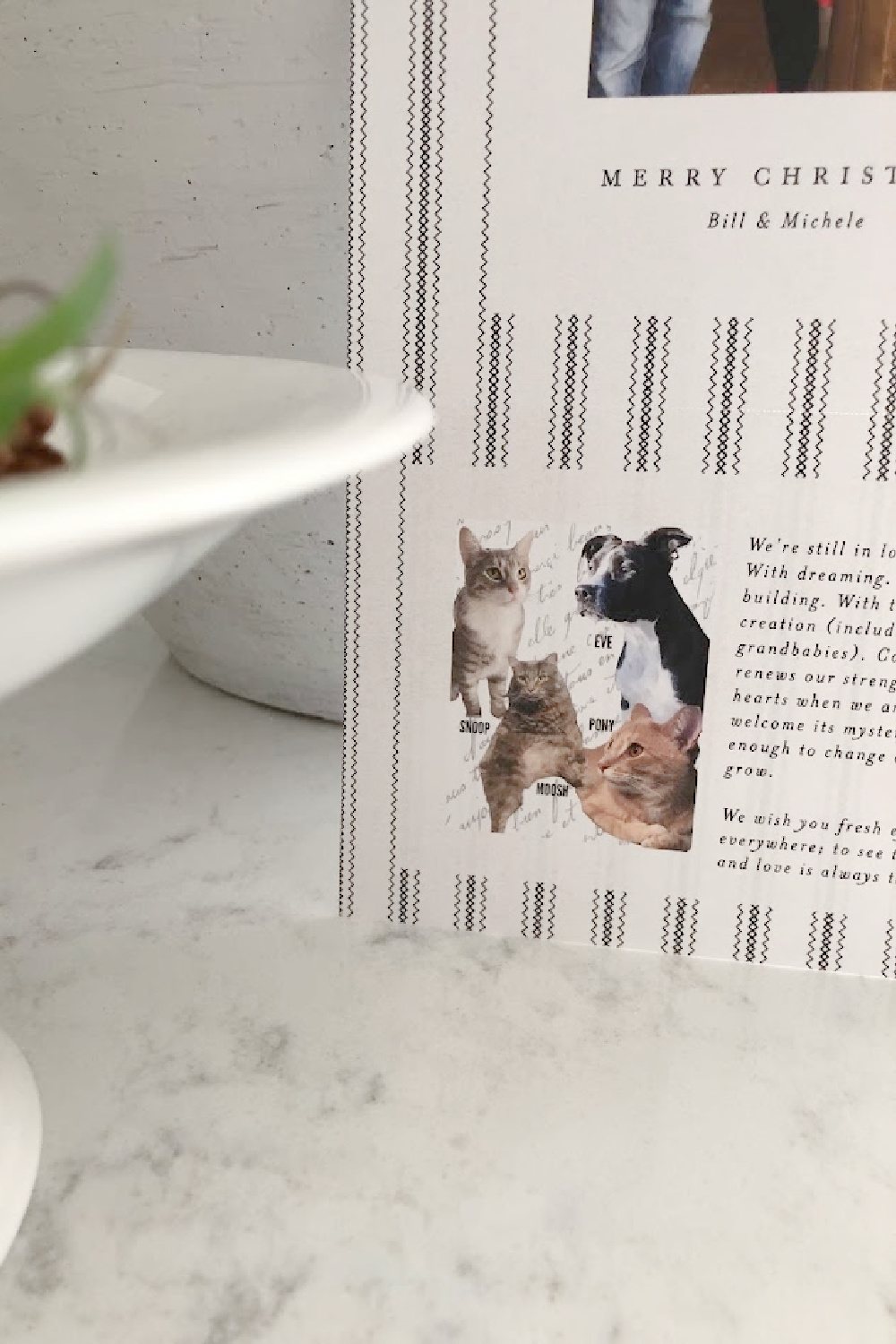 Another thing I love about this particular card is how it is on the petite side. I chose a petite card from Minted in past years as well, and sometimes small is just sweeter.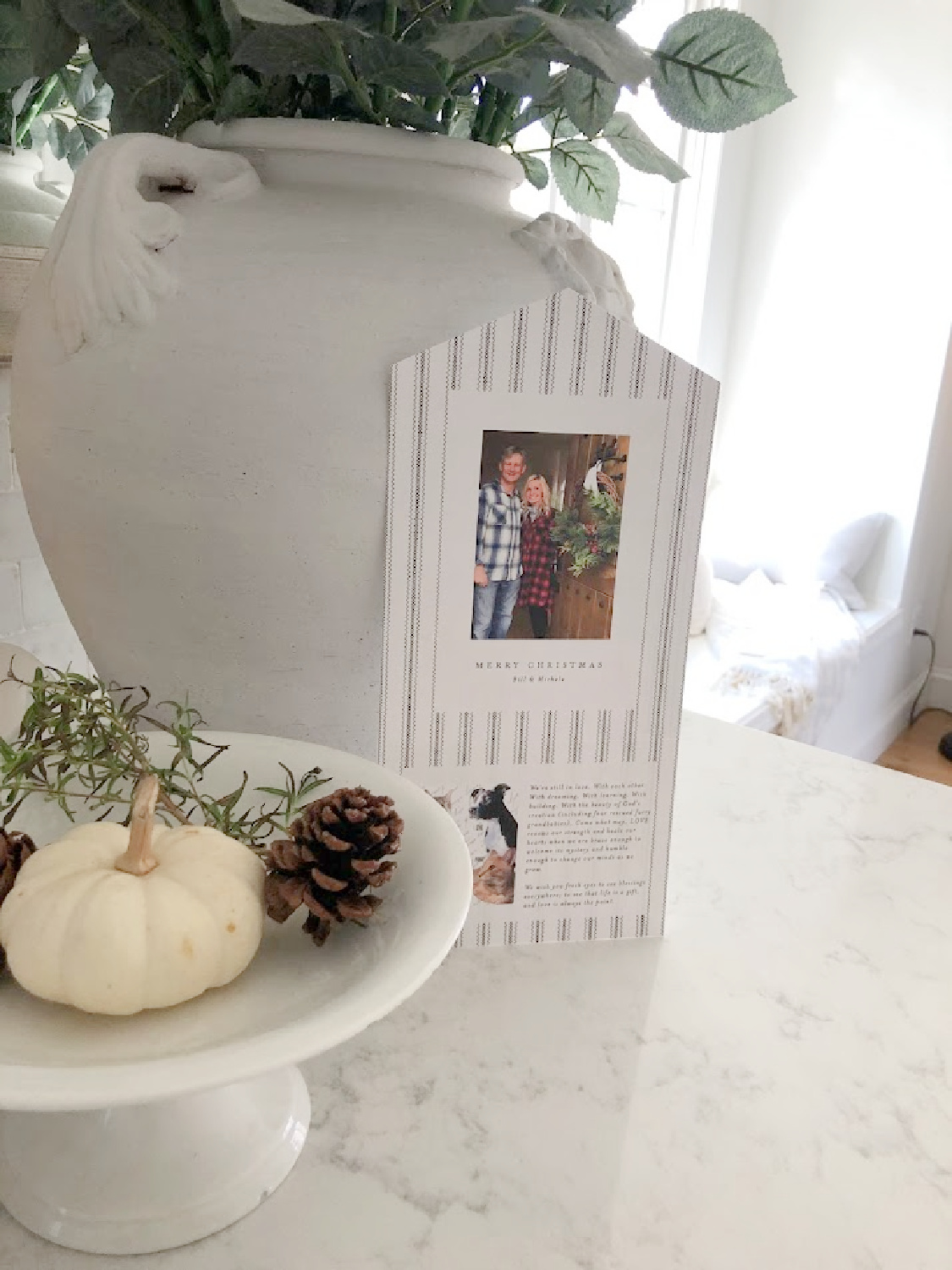 Psst. I was able to put our return address on the cards at no extra cost…bonus!
2. Custom Photo Puzzle: Christmas Minted Lovely Gift Idea
I couldn't wait to receive this custom puzzle in the mail because it's a gift for my folks. This photo of them holding their shih tzus was customized with "happiness was born a twin." It is an excerpt of a Lord Byron poem that they love and just seemed fitting with the photo.
These puzzles are packaged BEAUTIFULLY! The pieces come in a lovely fabric drawstring pouch which is in a gorgeous gift box. So special, and how much fun will they have putting it together!?!
The bonus is my folks have a huge farmhouse table topped with glass, and they put their favorite puzzles under the glass. I bet this one will join the Carl Larsson puzzles under the glass.
3. Gorgeous Gift Wrap
I really struggled to choose holiday wrapping paper because I loved so many of the patterns! You're going to love them too, and even though there are plenty of choices, it's not so many that it becomes overwhelming. BTW, have you seen these gift wrapping hacks?
I think this one with cheerful colors is my favorite, and I love that it doesn't shout "Christmas" even though it features poinsettias.
I also chose this beautiful dot paper which is not limited to the holidays and feels very youthful and innocent to me in a color I adore.
For Nutcracker fans, this one can't be beat. The colors are just. so. good.
And I bought this essential wrap kit because you just can't beat the value for this level of quality. So if you want to experience Minted wrap, here's an awesome option to give it a whirl.
4. Fine Art Print "Paris Dreams"
This fine art print is one I chose for my own collection because I absolutely love the other impeccably framed and signed artwork I own from Minted.
Even though I knew I would love it, it's sooooooo much better in person. Truly. You'll be seeing it on the wall soon when I eventually come up for air…oh, the holidaze!
5. Custom Pet Portraits
Oh, these guys! This is my favorite find this year from Minted, and I cannot recommend them enough. Your friends or family will absolutely love this gift!!!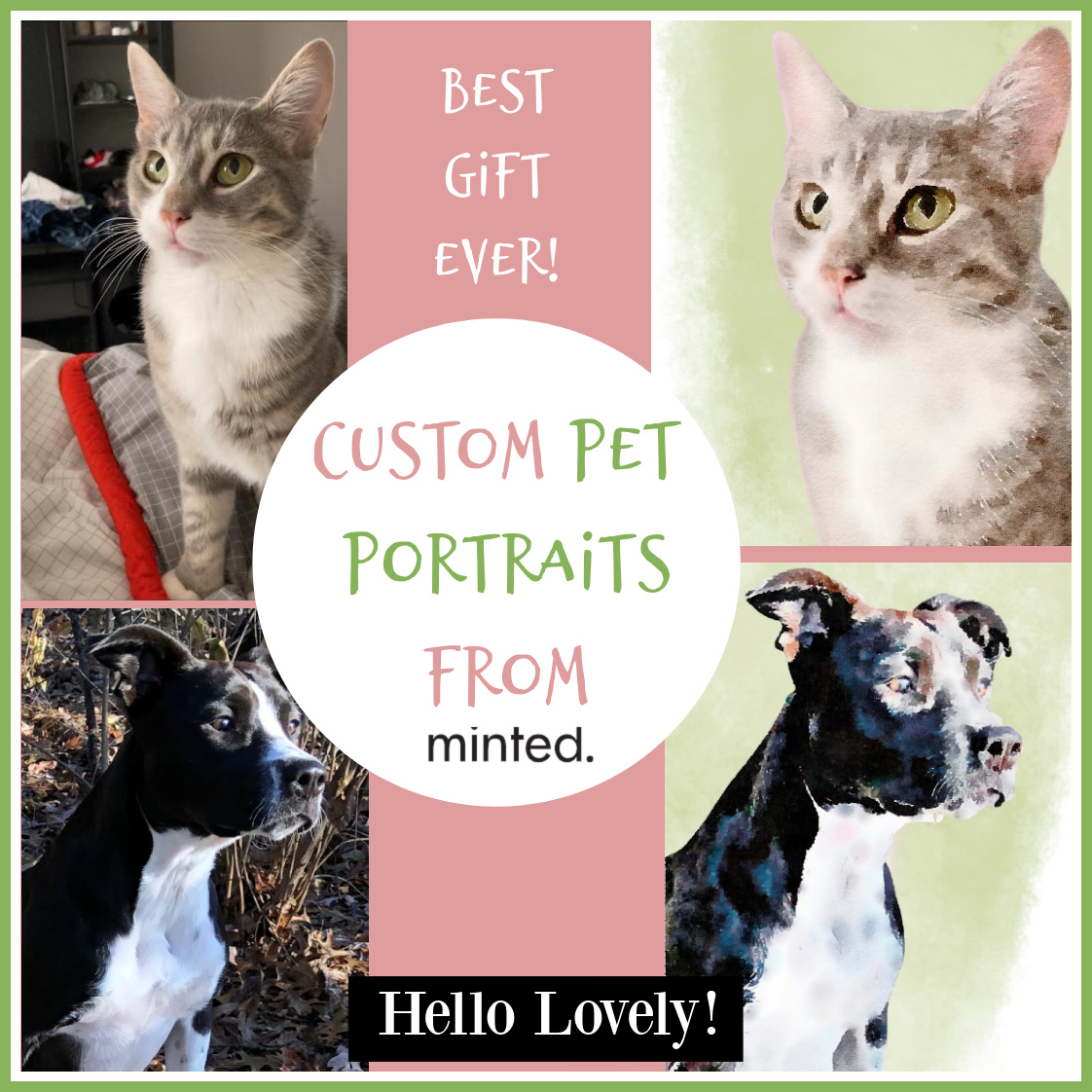 Don't worry about the quality of the photo you have since the talented artists at Minted will turn it into a beautiful watercolor painting. The price is worth every penny and more!
Isn't our blind, rescued grandkitty, Snoop adorable? He couldn't hear a thing when our son first rescued him. But after a round of antibiotics, he regained some hearing, though he remains completely blind. His eyes are so beautiful, and even though he makes us a nervous wreck since he is vulnerable to injuries (the vet bills are going to keep our son in the poor house!), we adore him.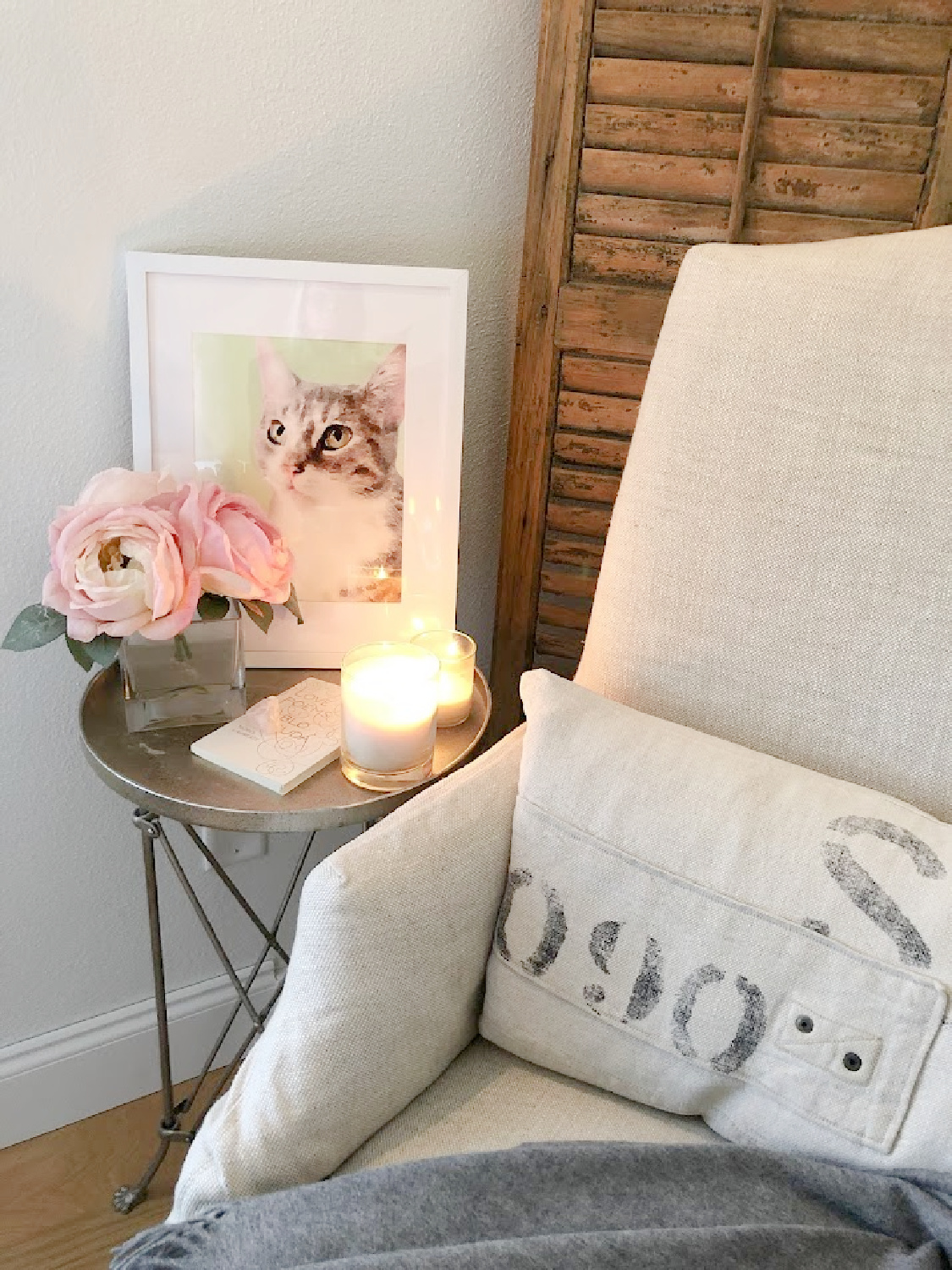 And I have shared our grand-doggie Eve before. A pit bull mix rescue, she is the best dog ever and more affectionate than I can say. She is a dream with her little brother, a blonde kitty who showed up at our younger son's door one night. Although he was a runaway whose family was located (microchip), that family decided he should be adopted by our son!
Our son named him a name I couldn't for the life of me remember so I call him what suits him, and I just can't call him anything other than Pony Boy. I think our son forgives me, and that sweet-natured, purring, pittie-loving cat could care less.
6. Non-Photo Holiday Cards
No need to freak if you can't get organized this year with a photo card. You can still do a personalized card without a photo. I loved Minted's holiday cards inspired by The Met last year, and this year's offerings are just as gorgeous. Look at the colors and style of Peace Garden:
I also love this ballerina! I hope you'll check out Minted for all of your holiday shopping needs, and the discounts right now make it the prime time to cross off those holiday gifts!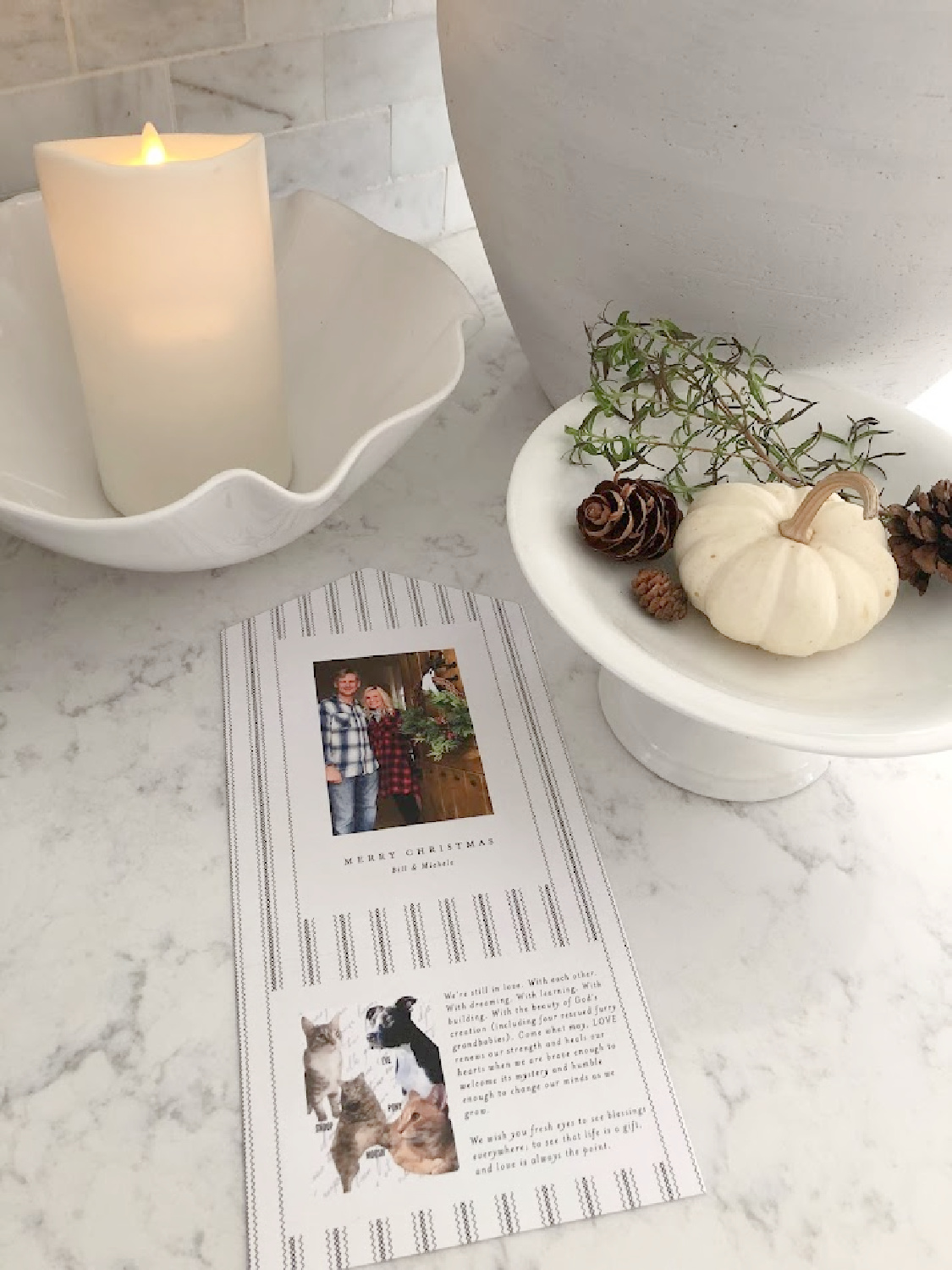 Also see THIS about my 2022 holiday cards (and if you care to feel uplifted about the coming winter, I highly recommend you visit this and pin every encouraging quote!).
I independently selected products in this post—if you buy from one of my links, I may earn a commission.
Peace to you right where you are.
-michele
Shop for items you already intended to buy on Amazon RIGHT HERE, and also find home decor here to keep decor inspiration flowing on Hello Lovely!
Hello Lovely is a participant in the Amazon Services LLC Associates Program, an affiliate advertising program designed to provide a means for sites to earn fees by linking to Amazon.com and affiliated sites.