Not even gonna tease. Sweet Cozy Moses, I think I discovered THE CUTEST GIFT that comes with an affordable price tag. It's a one-size-fits-all, guaranteed to thrill and never to be returned, bespoke cutie. Custom Pet Portraits from Minted will delight every pet owner in your life, and today I'll show you just how lovely, simple to order, and affordable they truly are. Get ready to discover the CUTEST Holiday Gift Idea Ever!
Minted provided product for this post yet all opinions expressed here are honest and my own. I independently selected products in this post—if you buy from one of my links, I may earn a commission.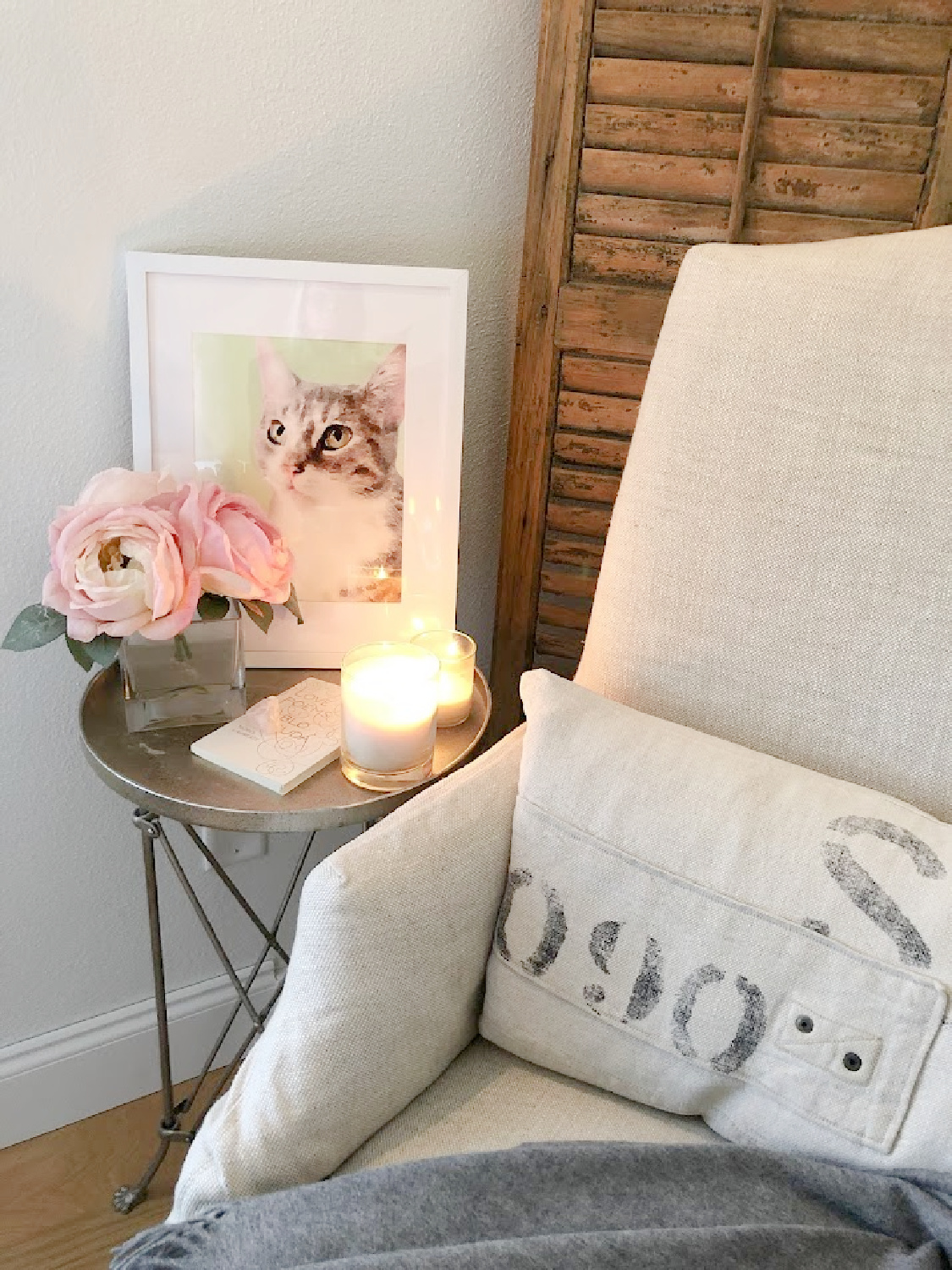 Custom Pet Portraits: Is This the CUTEST Holiday Gift Idea Ever?
Holiday shopping for family can be a daunting task, and I like to simplify it for myself by having a theme each year. It's a streamlined approach and saves lots of time as long as I come up with a great theme.
Because all the folks in my family are pet lovers, this year, the theme is PETS. Here's the thing about commissioning paintings of pets…they can get expensive, and you have to begin the commission process months ahead of time (and cross your fingers as far as shipping and delays!).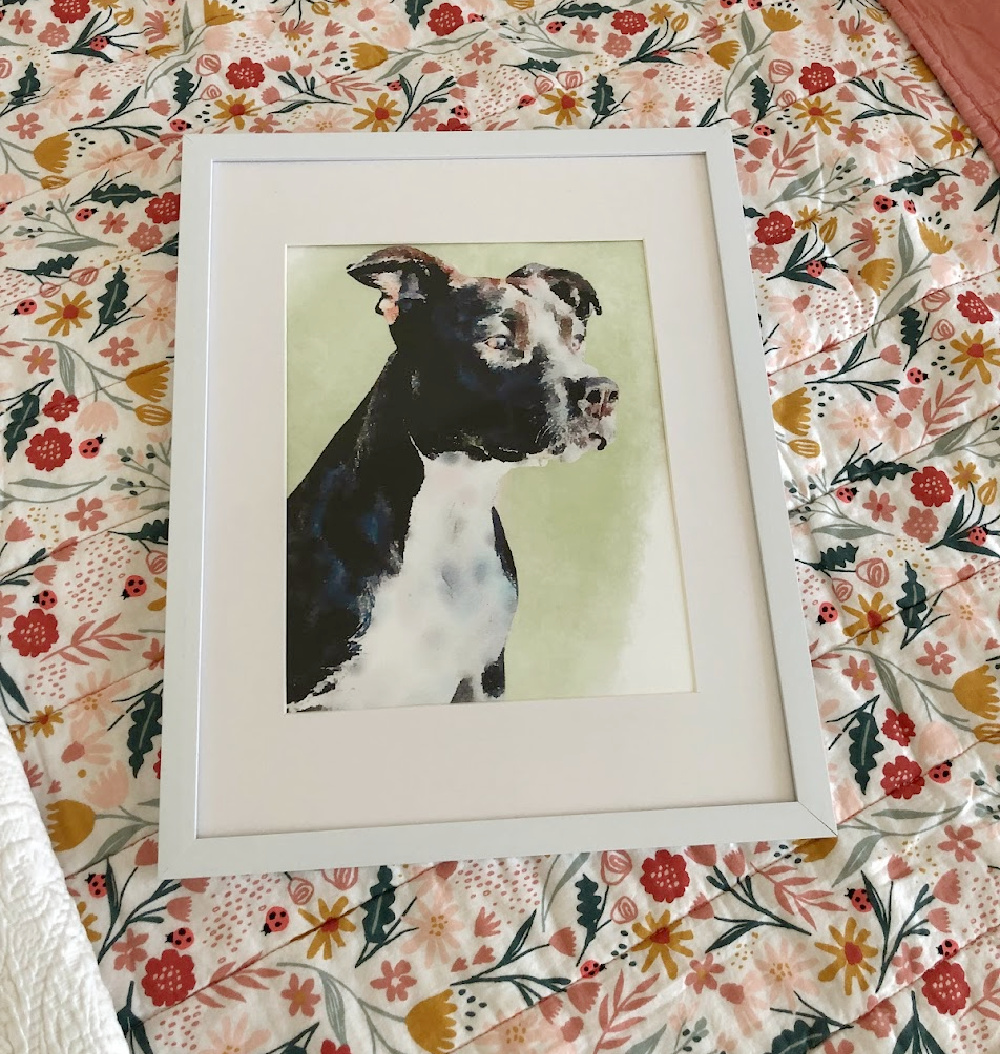 Enter: Minted. I was over the moon when I browsed custom art gifts on Minted and saw CUSTOM PET PORTRAITS with a quick turn around at a friendly price point! All of my holiday shopping stress went out the door.
But would the portraits be as special in person as I had hoped?
I'm absolutely thrilled with the portraits and the whole process. They look amazing, and I couldn't wait to share this stellar idea with you!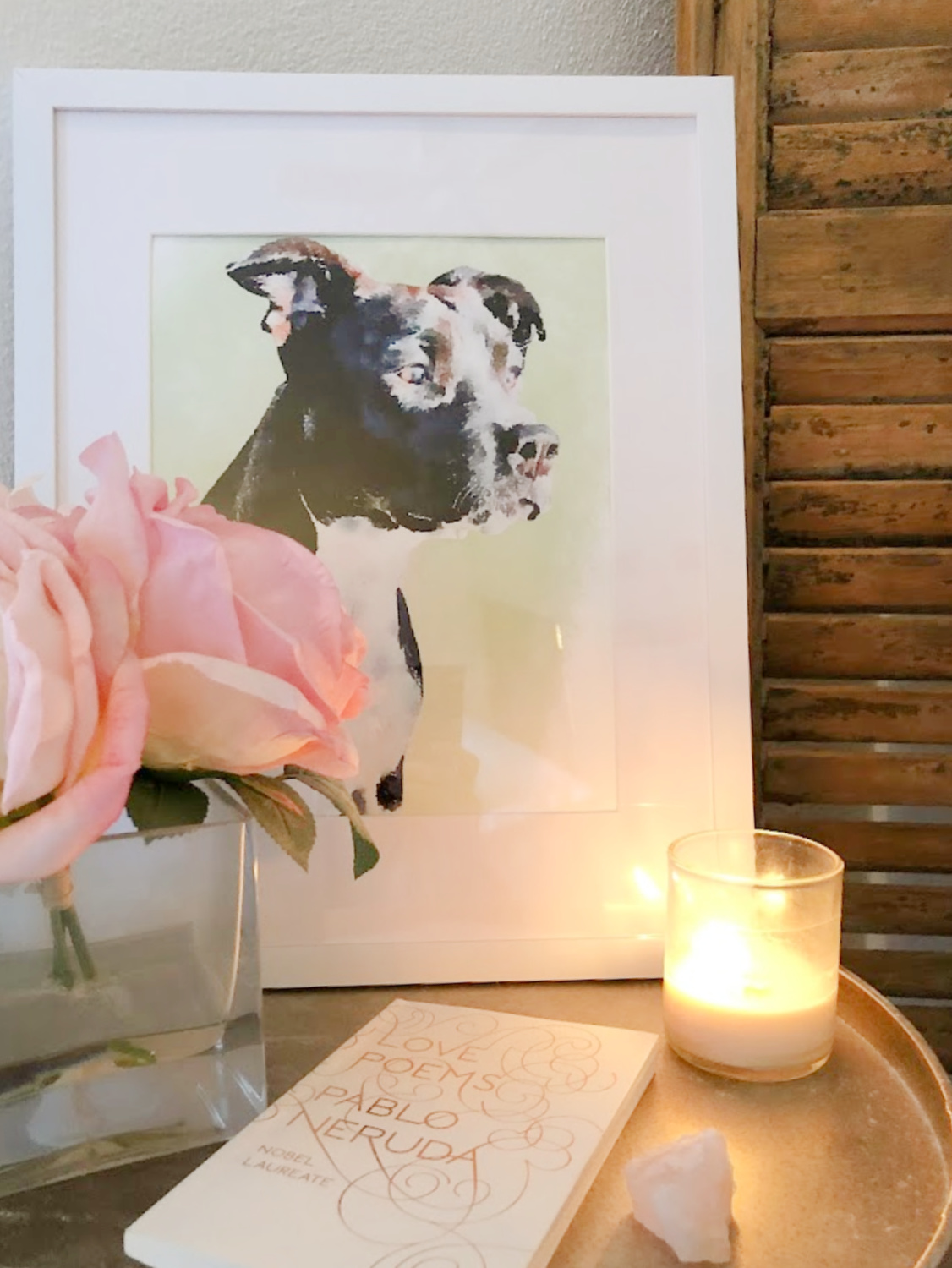 Order custom pet portraits from Minted RIGHT HERE!
Why Are Custom Pet Portraits An Amazing Gift?
The obvious answer is because these keepsakes are beautiful and honor our furry babies! We're devoted to our pets who love us unconditionally and enrich our lives profusely. My own family members snap photos and video of them almost daily. But as the world of photos grows increasingly digital, we're less likely to print hard copies or display images outside of our screens.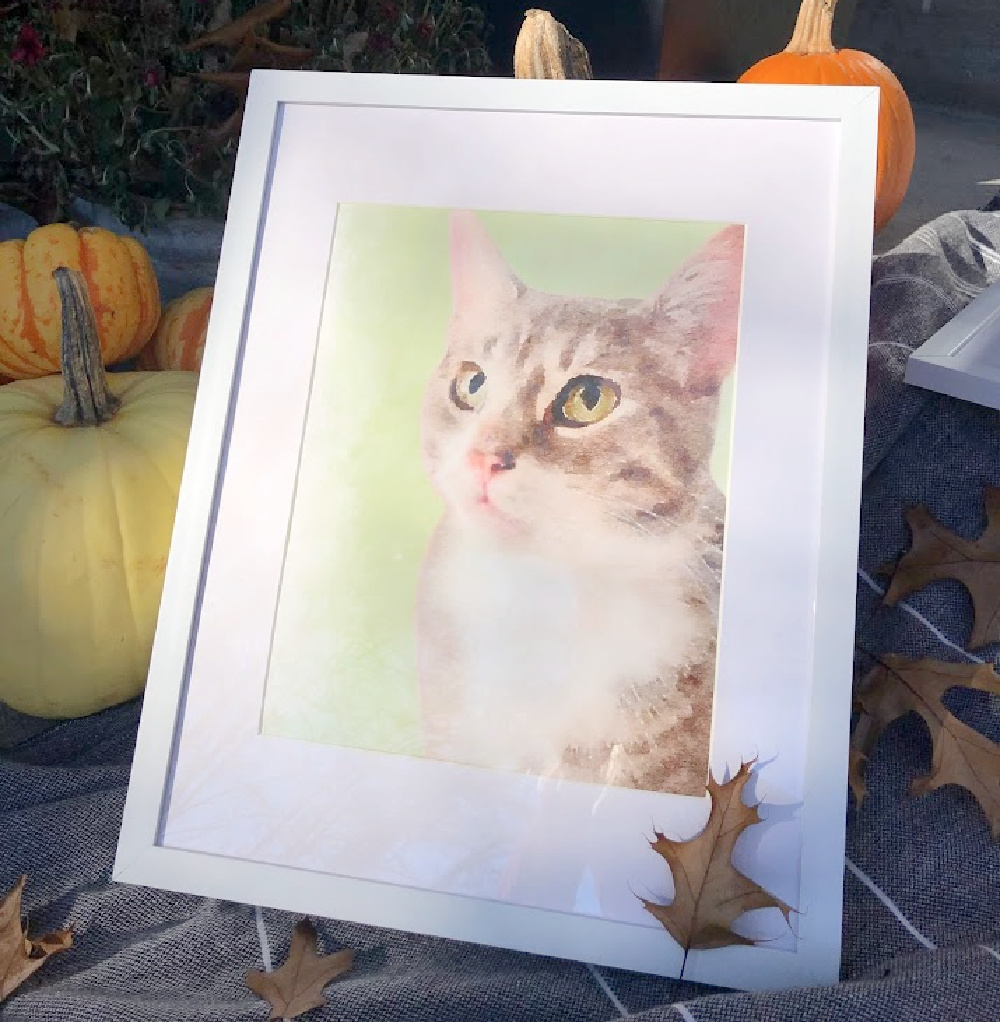 For around $40, you cannot beat the value for the quality and beauty. This is likely to become an heirloom. Whether you decide to frame the portrait yourself or have Minted frame it (still going to be under $70 for a framed 8×10!), it's an affordable gift.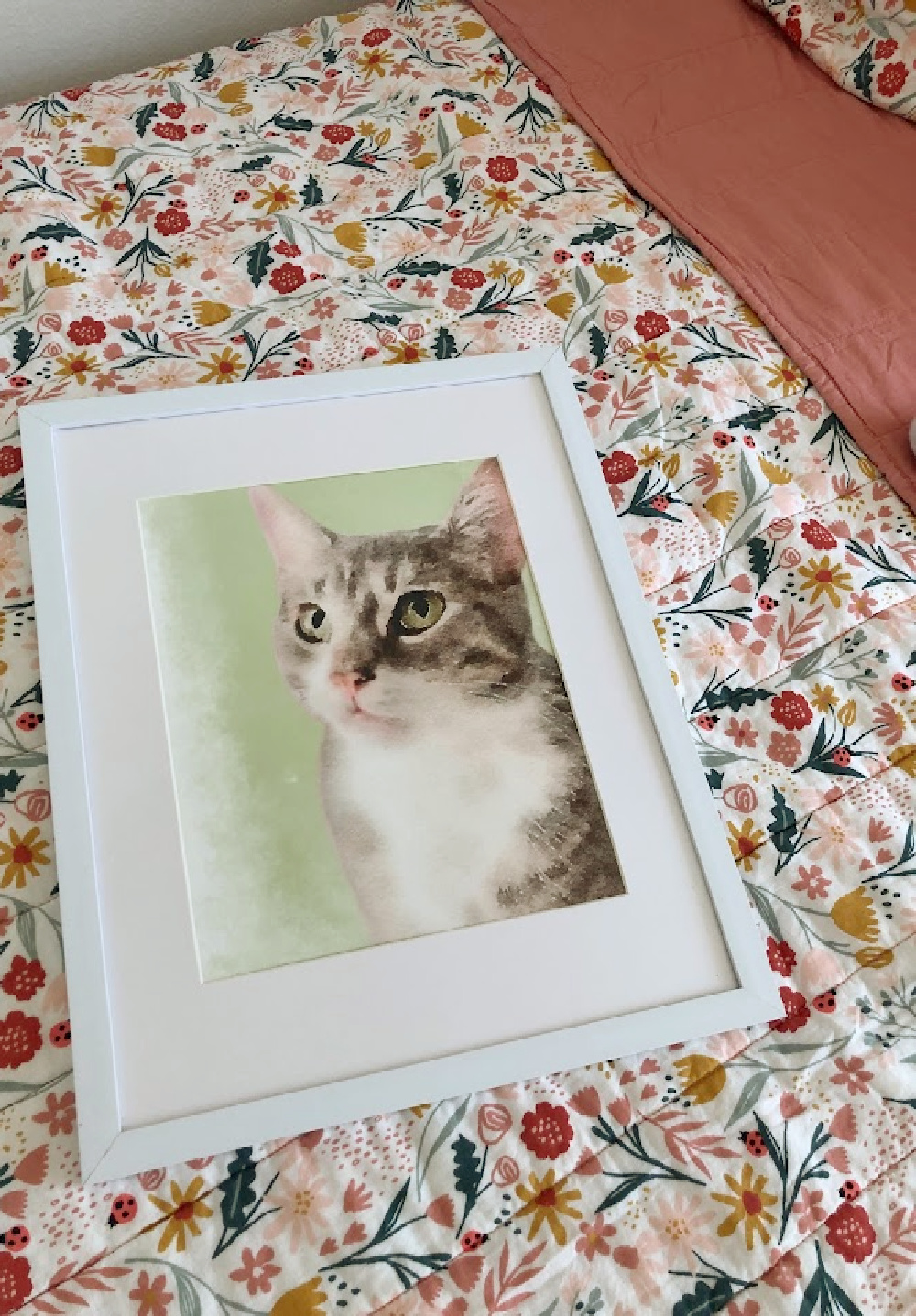 This thoughtful gift is bound to be unexpected and evoke strong emotion. Our pets are our babies, and we adore them. Most folks aren't even aware of what they're missing before they see their pet immortalized in a portrait.
A framed pet portrait on the wall or leaning on a shelf is something they never knew they couldn't live without! These art pieces will bring years of heartwarming joy to family and friends.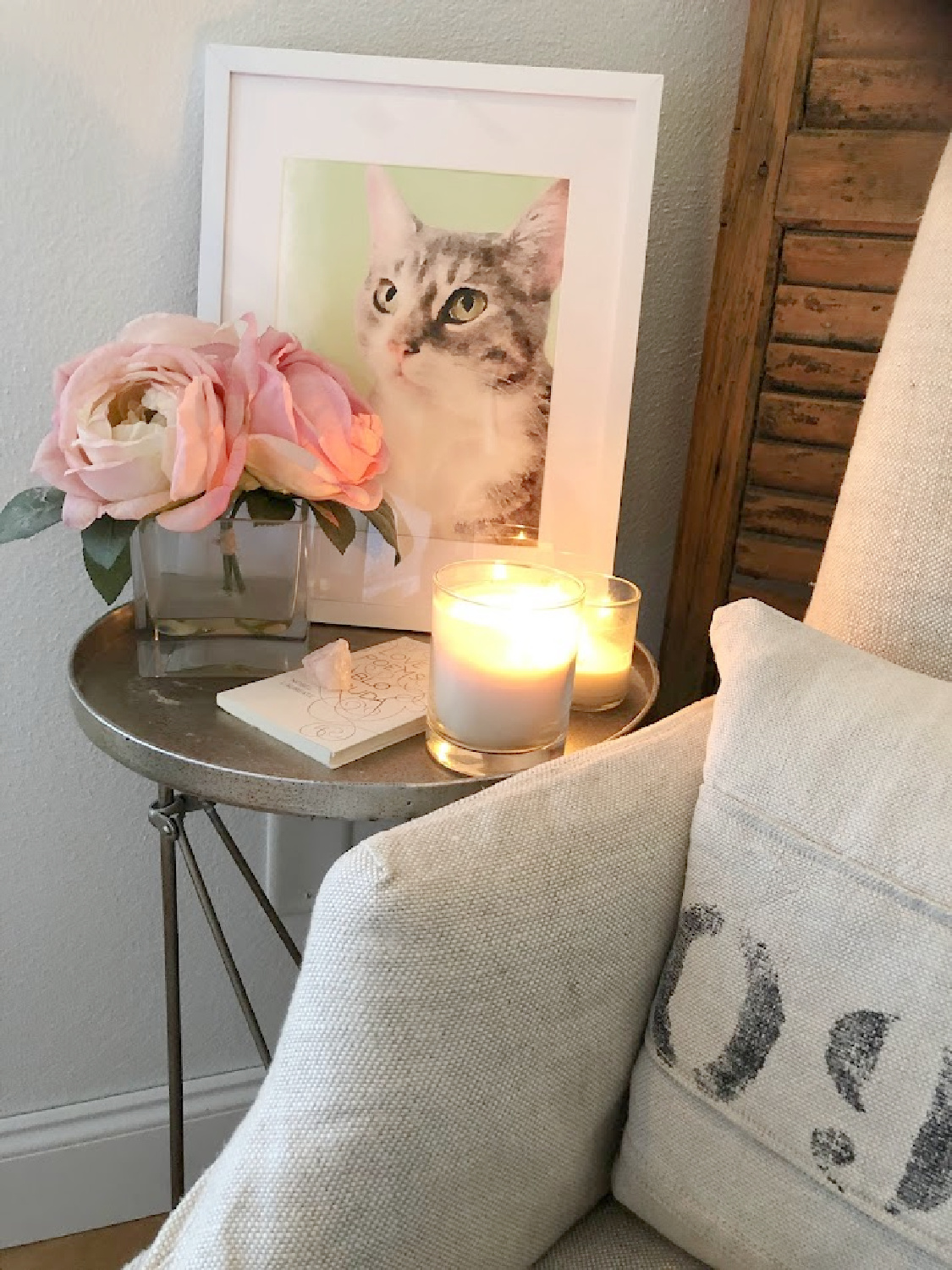 Buy Custom Pet Portraits from Minted RIGHT HERE.
How is a Custom Pet Portrait Different From a Pet Photo?
The portraits look like beautiful paintings, not photos. Because they are created digitally, they pack all sorts of advantages. First, you won't have to worry about an unsavory background in the pet photo. It can be nearly impossible to get a great photo of a pet inside or out since it requires them to sit still.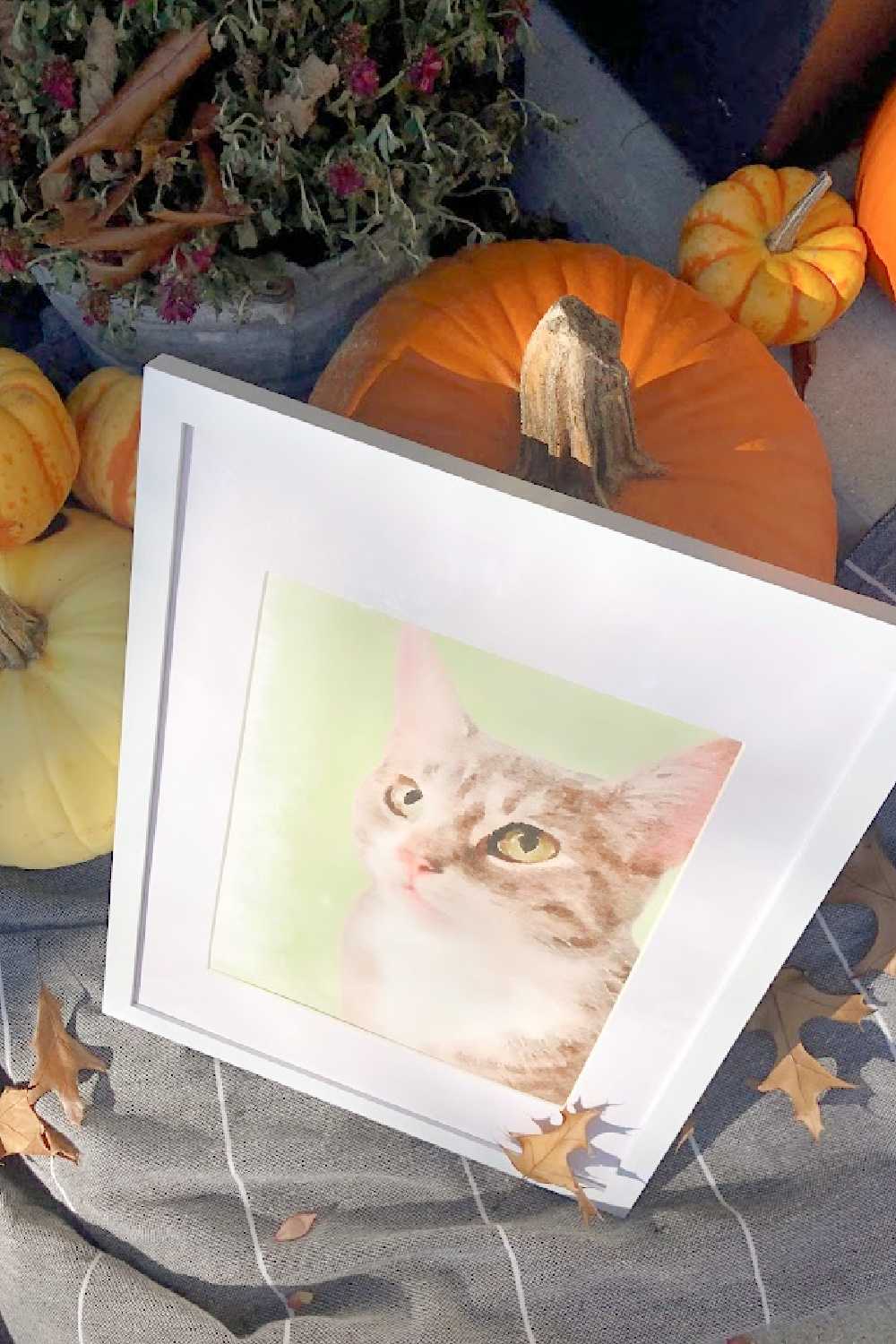 You'll have creative input on the artistry. You'll be given the opportunity to include notes with your order and approve the proof. It's even okay if it takes lots of back and forth with the proof. You'll be hard-pressed to find that sort of collaborative spirit if you commission an original painting somewhere else.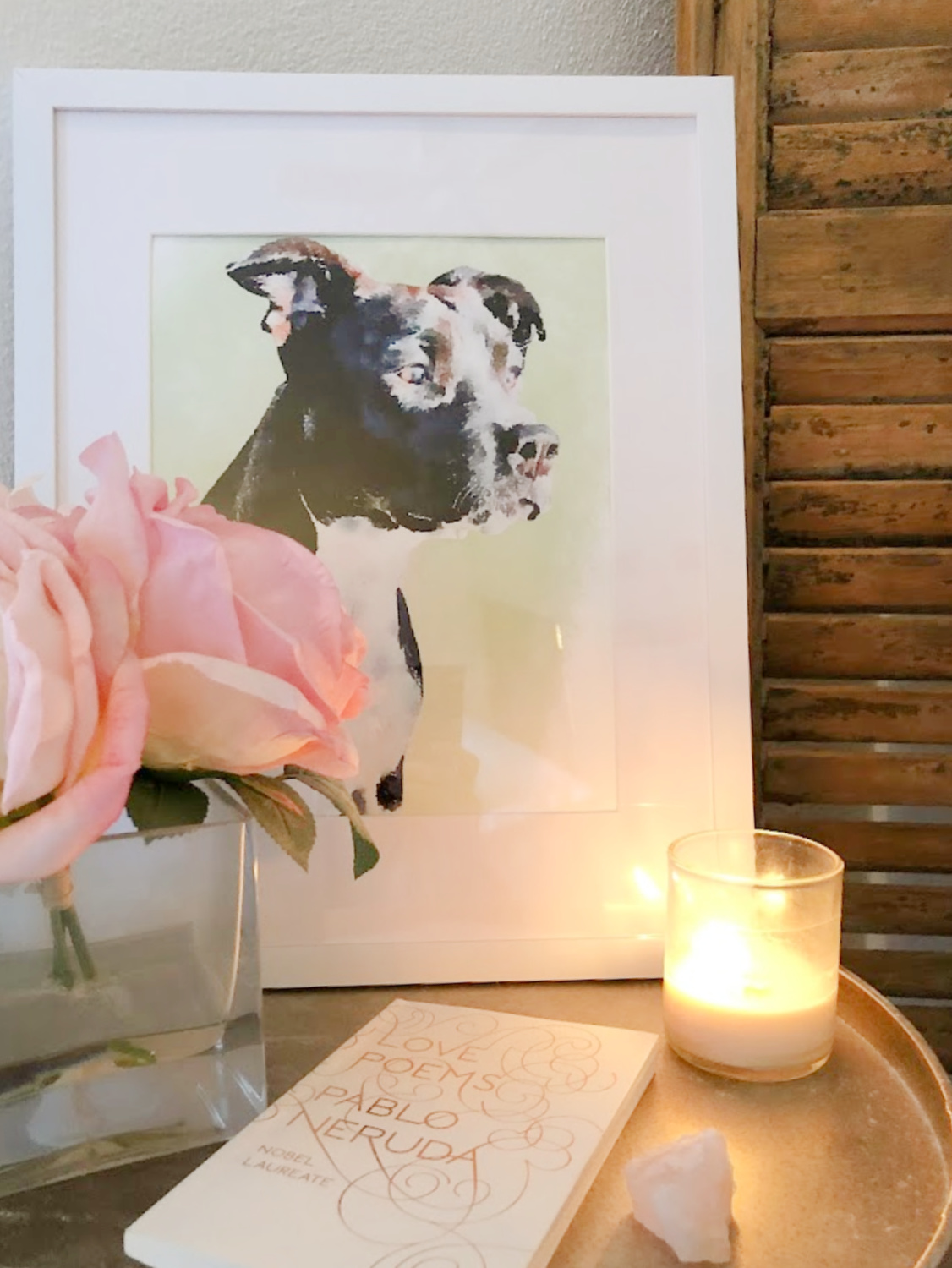 So even if the photo you submit doesn't convey the pet's eye color, you can provide it. You can also indicate what color you would like to see in the background of the watercolor-inspired portrait.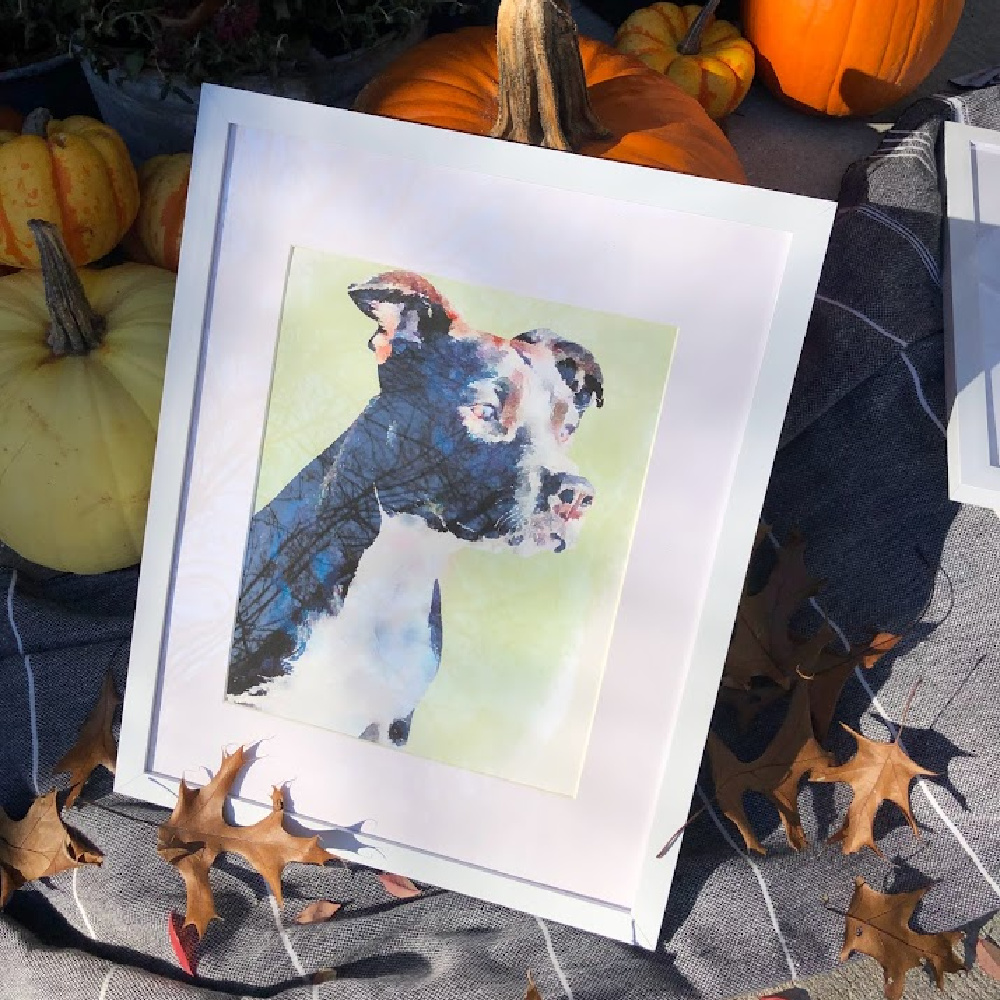 Lighting in photos is not always ideal, but that won't matter! The custom portrait won't rely on things like natural light or how beautiful a given photo is. A watercolor-inspired portrait by the artists at Minted can capture a pet's essence, and you'll be involved in the proofing process.
Beautiful colors, gentle strokes of softness, and a painterly ethereal mood will honor and elevate the pet photo you choose to submit for the portrait.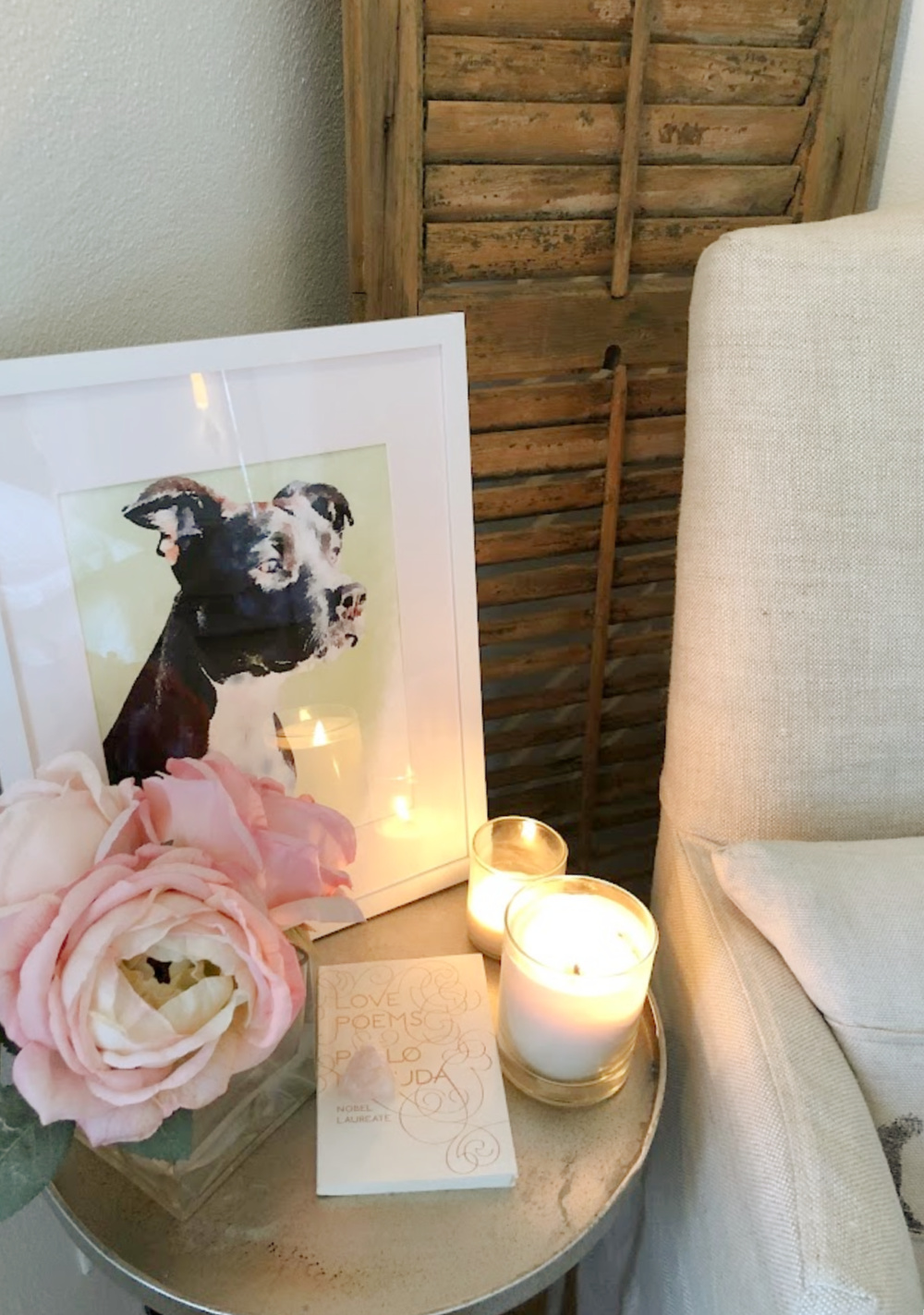 Is it Time Consuming or a Headache to Order a Beautiful Portrait?
Not at all. Here's what I did to score gorgeous Minted custom pet portrait gifs for our sons:
Looked for a close-up photo of each pet on my sons' social media feeds and saved them to my hard drive.
Cropped and re-sized them in PicMonkey (you can edit them however you typically edit photos).
Uploaded the photo and placed the order for 8×10 unframed portraits.
Received an emailed proof within a couple days and made notes for changes I wanted (you simply click on the area of the portrait you wish changed, and indicate your desire). I asked for a sage green background rather than the purple that came in the first proof, I wanted more blush pink on the kitty's ears, and I wanted less blue around the dog's mouth.
Received a new proof the next day, submitted the order, and received the gorgeous portraits within a couple of days.
I already had frames (11×14) and mats for the 8×10 portraits, and they look like a million bucks!
Need inexpensive yet good frames?
These come with a mat for an unbeatable price!
What if I Don't Have an Awesome Photo?
To give you an idea of how the cat watercolor custom pet portrait began with a photo, here's the simple, nothing special iPhone photo of Snoop, my grandkitty (this is the rescue who is blind and partially deaf) I started with: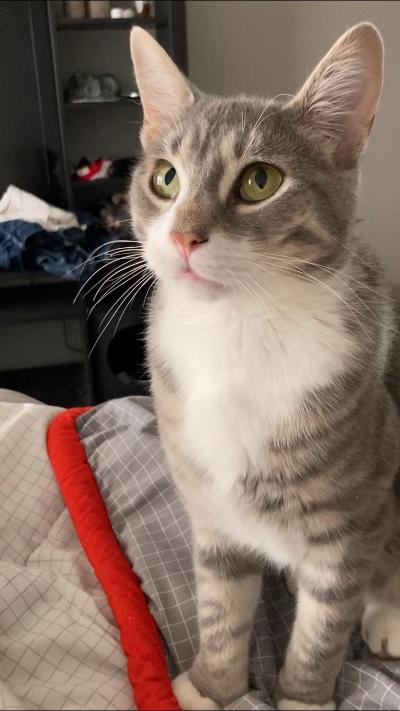 And here's the cutest custom pet portrait created by Minted: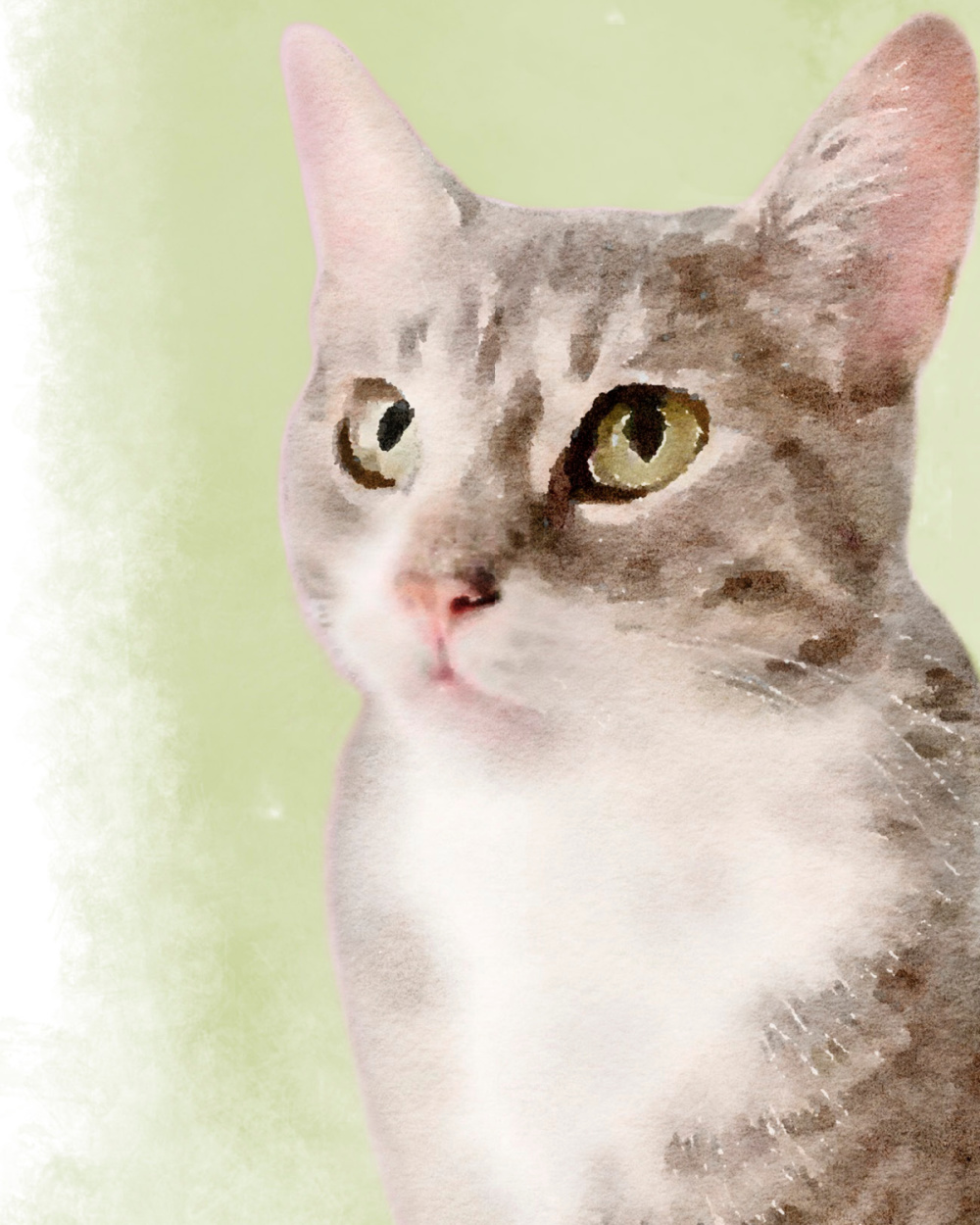 Our sons are going to treasure their custom pet portraits!!!!
Order a Custom Pet Portrait from Minted!
I can't wait to share details about MORE holiday favorite finds (take a peek below) I scored at Minted so stay tuned!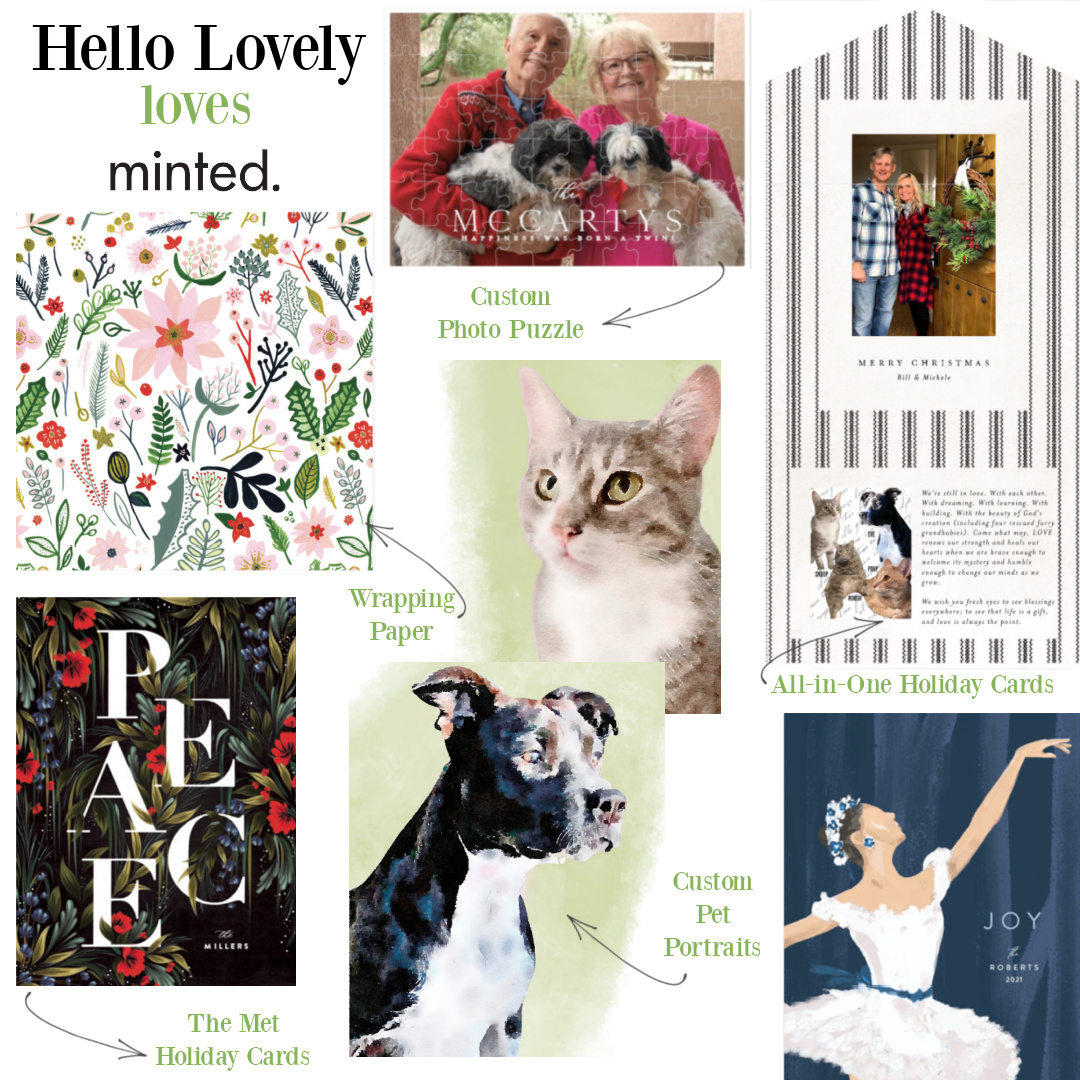 I independently selected products in this post—if you buy from one of my links, I may earn a commission.
Peace to you right where you are.
-michele
Shop for items you already intended to buy on Amazon RIGHT HERE, and also find home decor here to keep decor inspiration flowing on Hello Lovely!
Hello Lovely is a participant in the Amazon Services LLC Associates Program, an affiliate advertising program designed to provide a means for sites to earn fees by linking to Amazon.com and affiliated sites.