Tennessee country is still on my mind! We may visit Franklin for vacation in a few weeks, and I showed you Storybook Cottage in Leiper's Fork where we stayed on our last trip. Leiper's Fork is about to become more famous (Justin Timberlake and Nicole Kidman already have homes here) as the Giannettis' new town! The couple is leaving Ojai's Patina Farm for the fresh adventure of Patina Meadow. I personally fell for Franklin decades ago after a week in Nashville for the Dove Awards at the Opry. One very special night, with my sisters, I was a guest for dinner at this Federal style historic Franklin home known as Meeting of the Waters.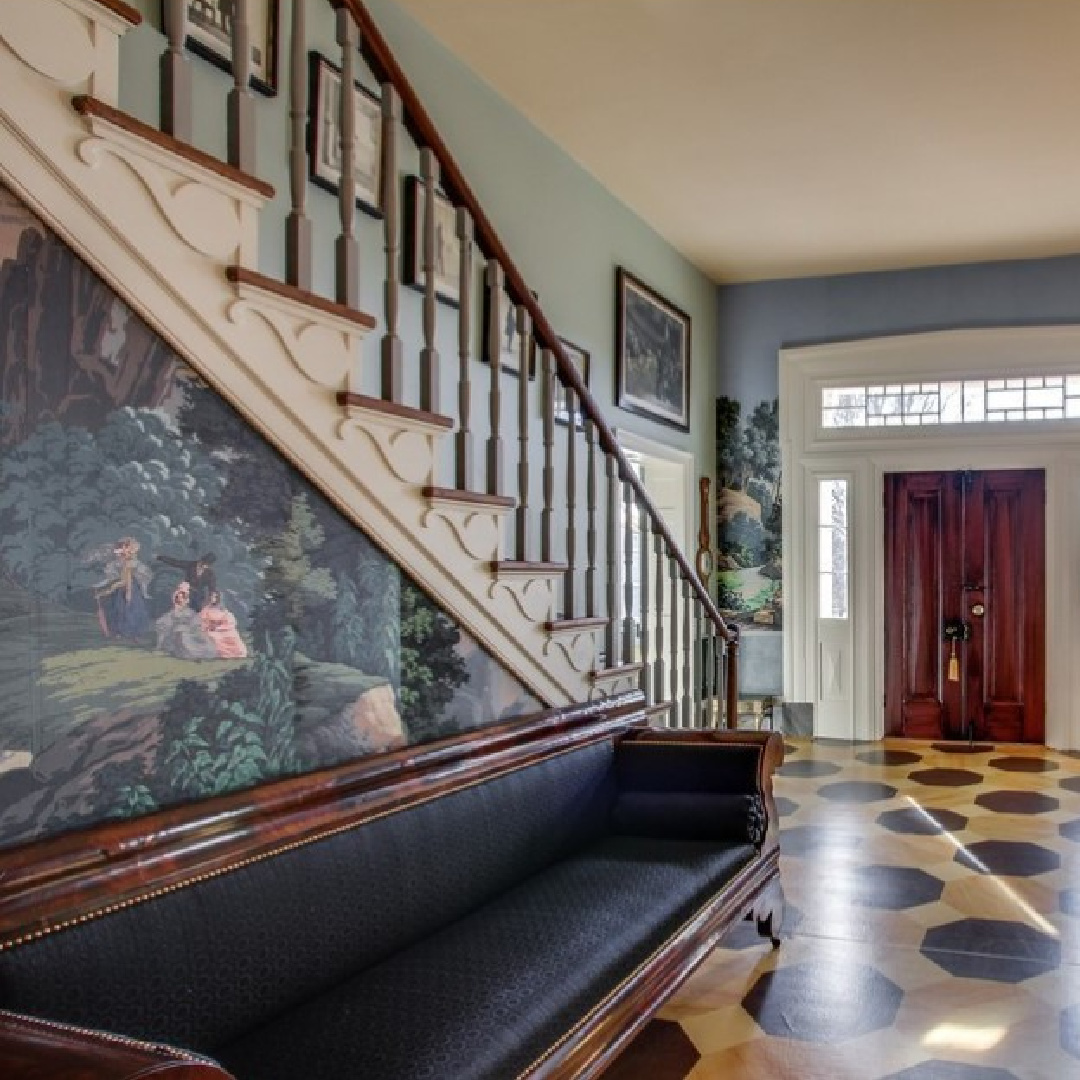 The setting and history of Meeting of the Waters took my breath away. After dinner, we were treated to an unforgettable private concert in the parlor with Michael W. Smith. The entire property has been lovingly restored since that visit, and what a treat to see it in its present glory!
3200 Del Rio Pike in Franklin is known as Meeting of the Waters for its historic location at the union of the Big and West Harpeth Rivers.
Historic Home Tour: Meeting of the Waters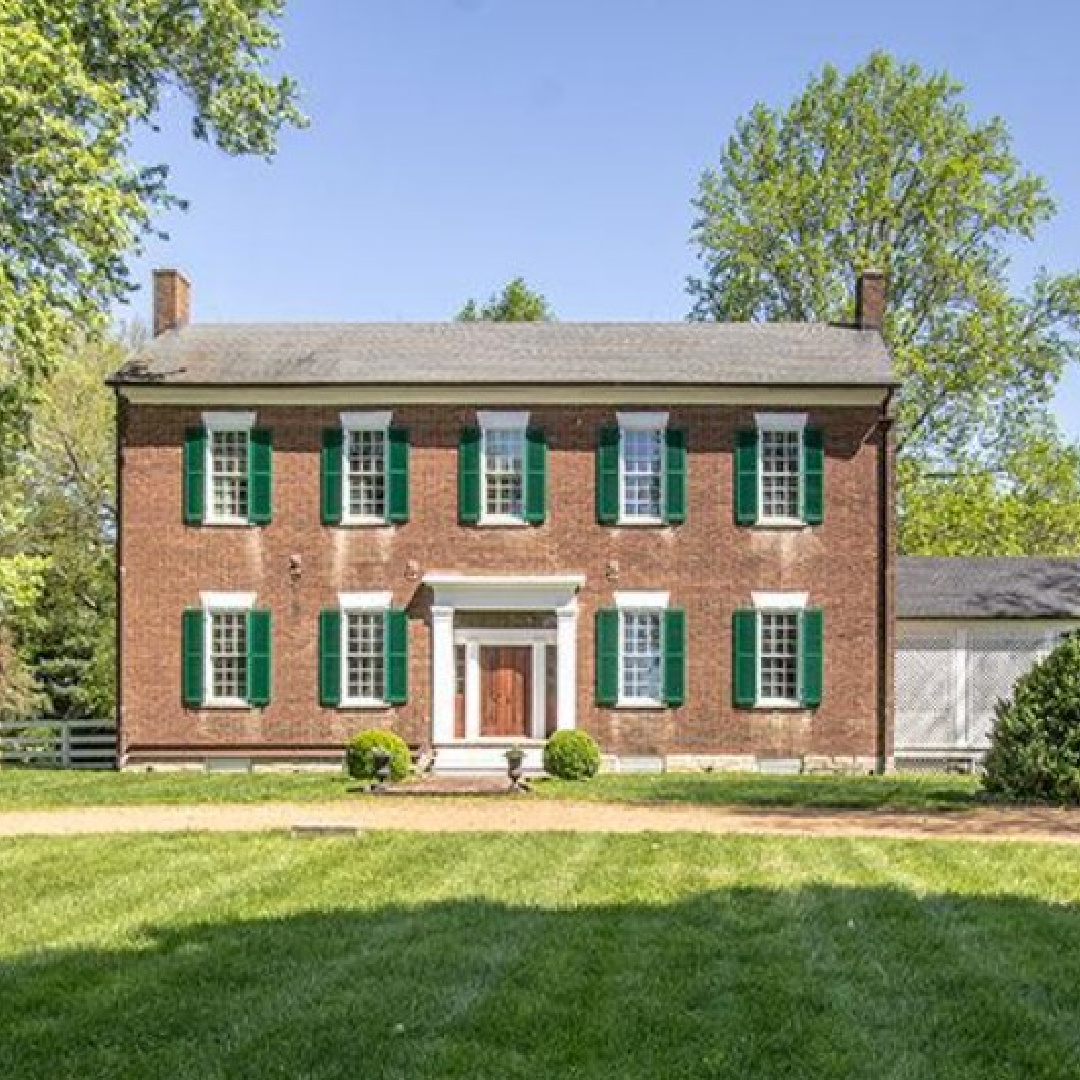 Restored Entry in the 1803 House
What drama everywhere you look when you step through the front door! I don't recall any such drama when I was in the house. Somewhere packed away, I have photos of us in the parlor with Michael W. Smith, and I'll try to find them!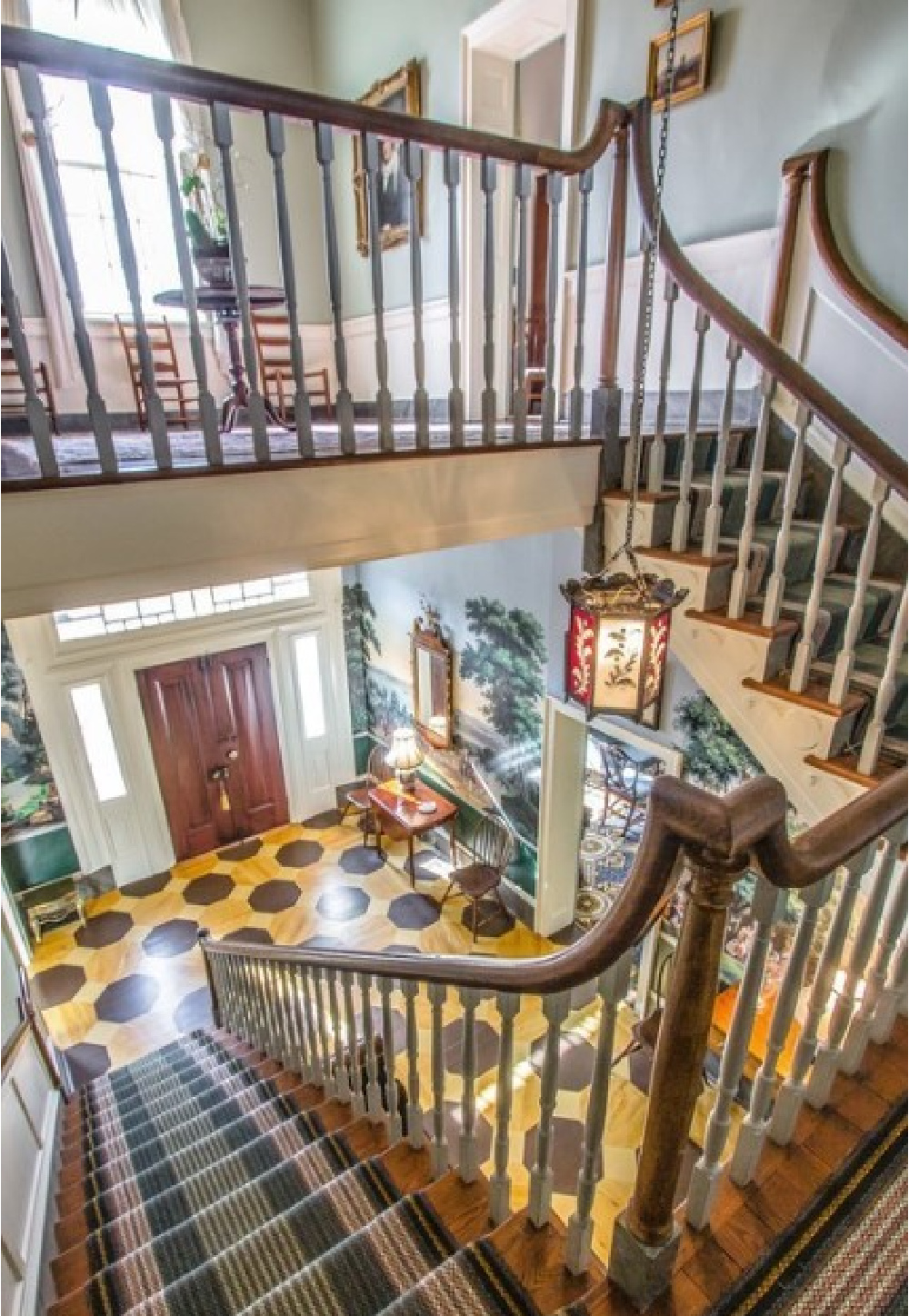 A beautiful blue and green wall covering in the entry is a reproduced design first printed by Jean Zuber et Cie, France in 1834. The rich wallpaper was painstakingly recreated in New York.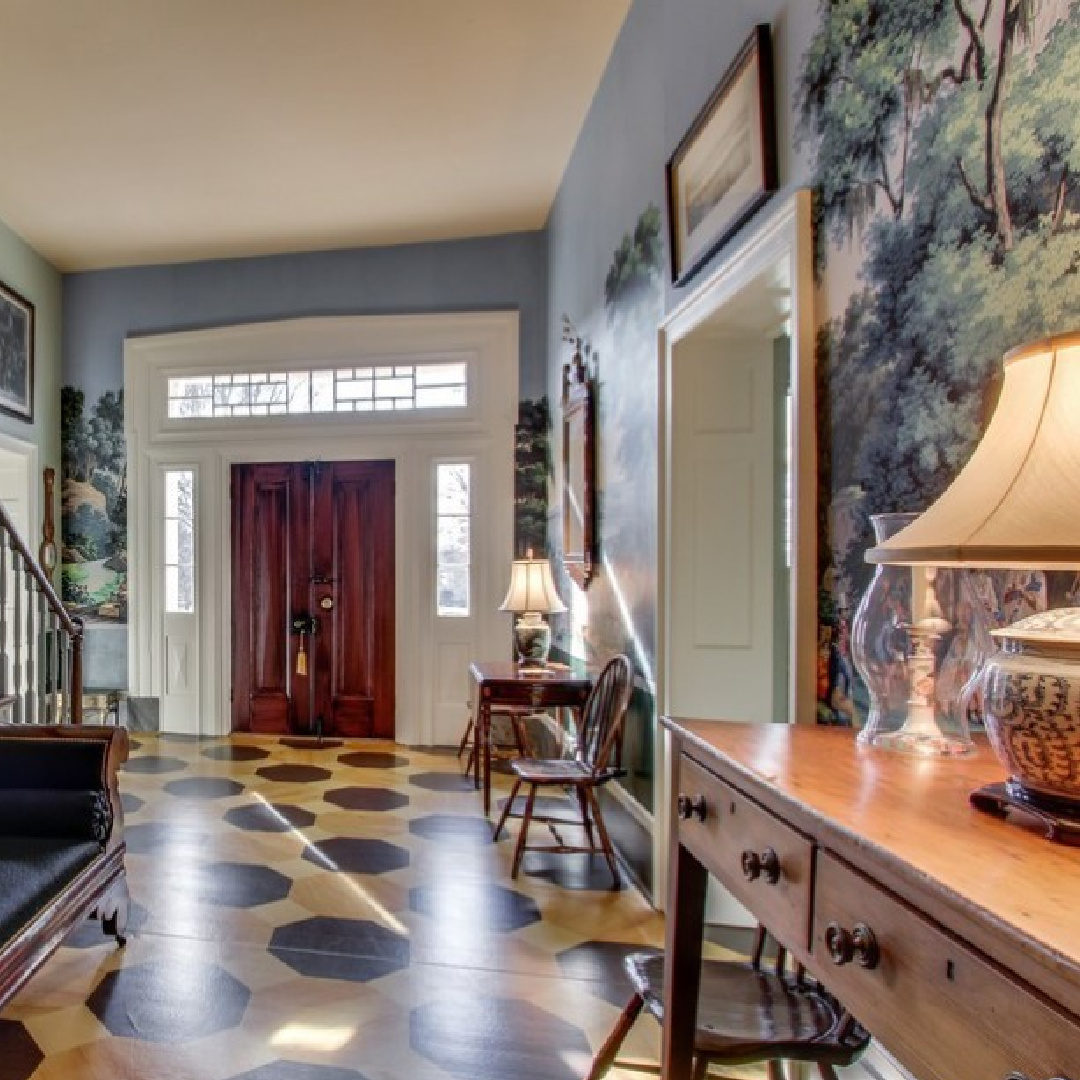 While my research didn't yield any information about the hardwood floor pattern in the entry, maybe you can tell me!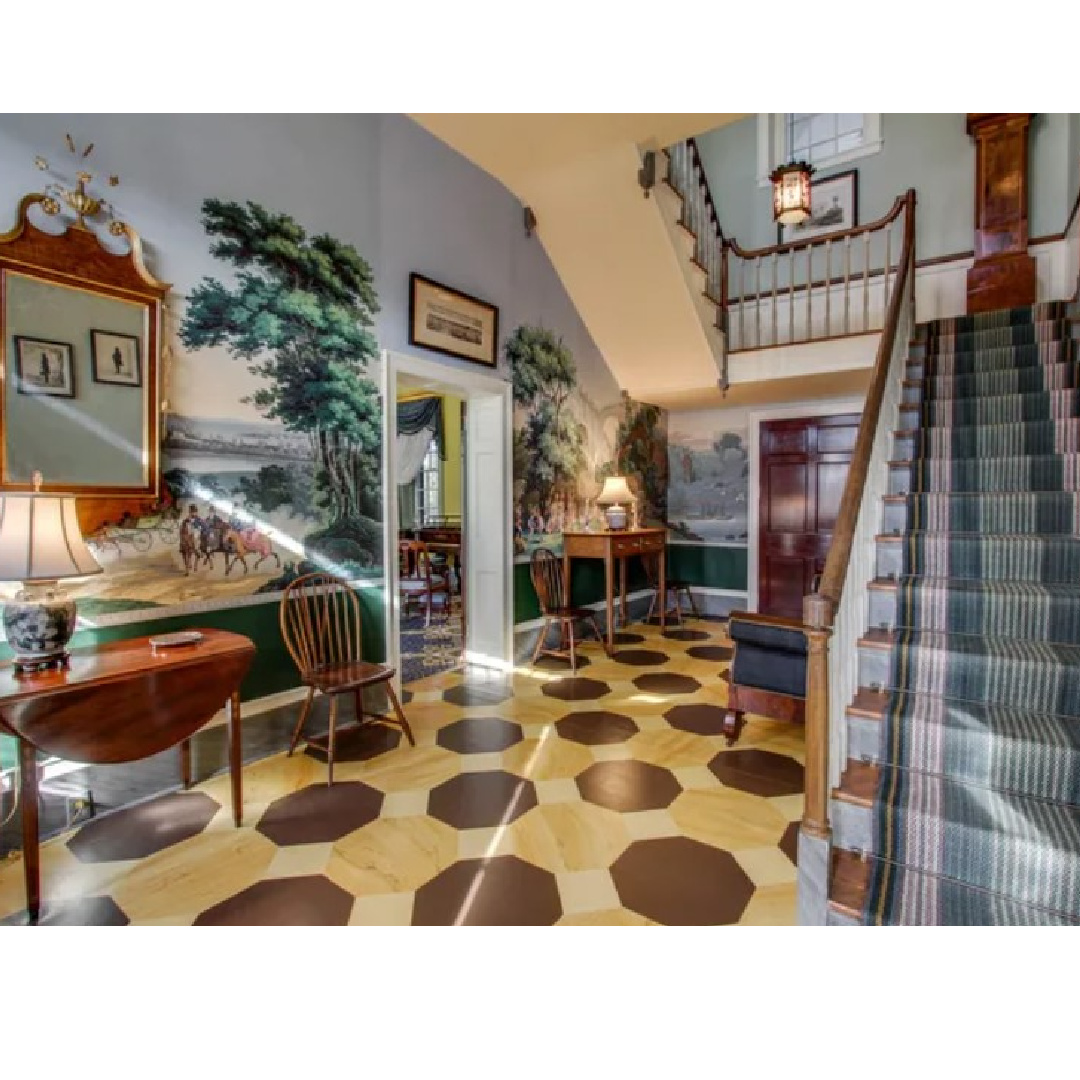 I'm crazy about that stair runner! Isn't it gorgeous? I'm also loving the rich green under the chair rail.
Parlor at Meeting of the Waters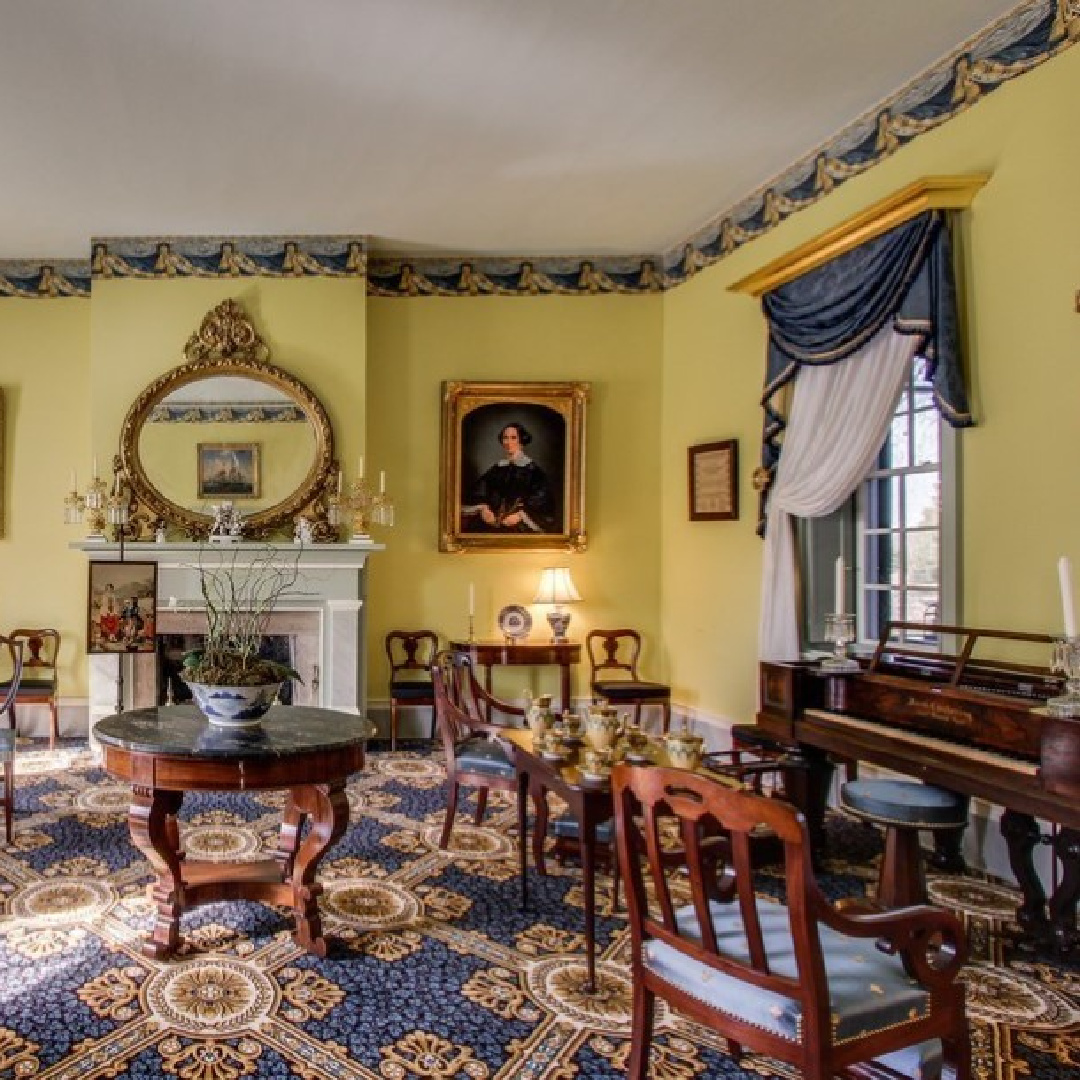 The parlor looked nothing like this when I was in it! I recall simple moldings and a lack of pattern.
In this parlor or formal living room, an original fireplace with wood mantel has a grand mirror above it. The boldly beautiful blue and gold carpet is a recreation of the original.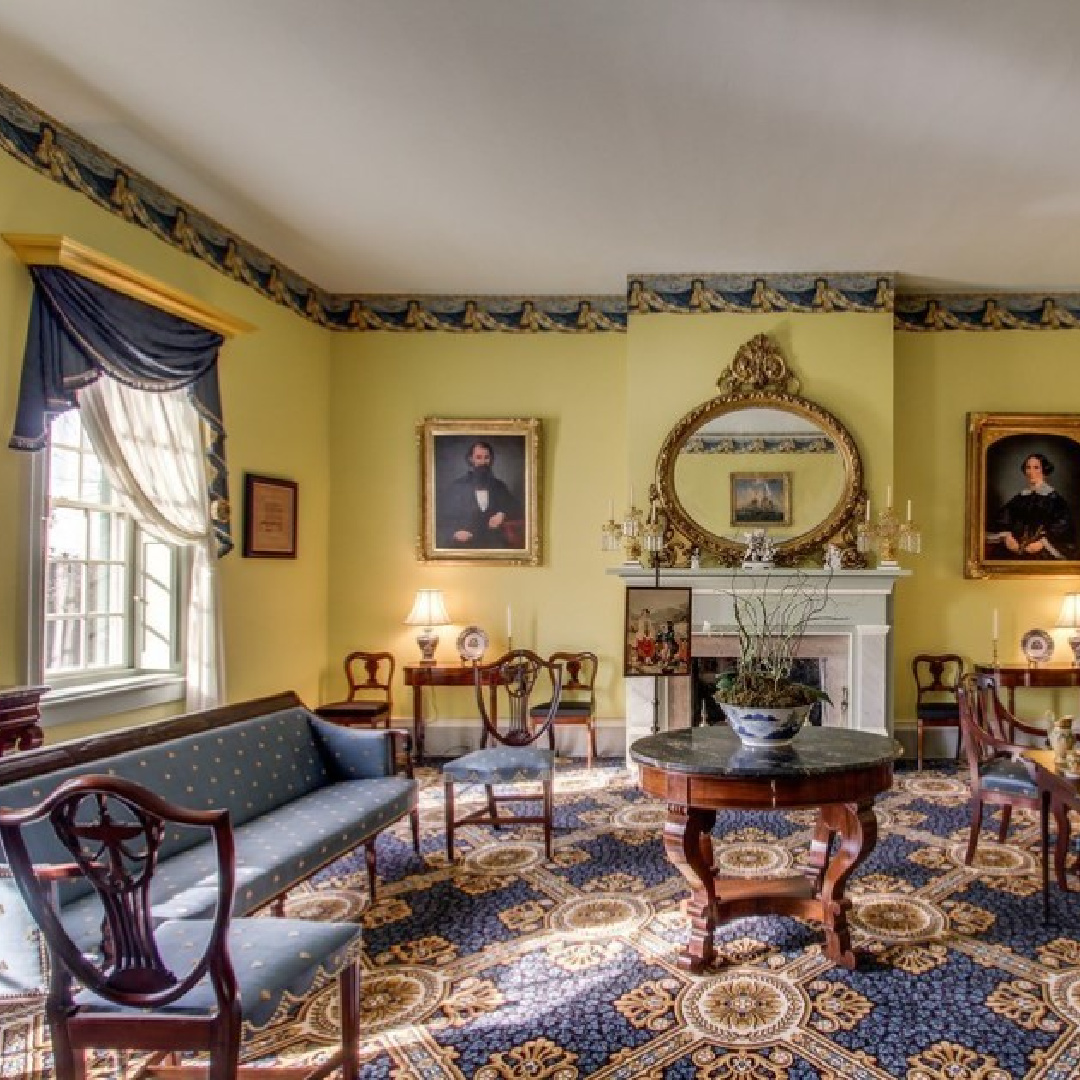 Do the window treatments look extra special? They include 14-carat gold leaf window cornices! Something happened during that private living room concert I mentioned that made the evening even more memorable. An electrical storm knocked out all of the electricity so we had to light candles. And the strange thing is, the power to Michael W. Smith's keyboard kept working so it became this intimate little concert!
Original Early 19th-Century Porch
I recall being knocked out by the porches. We spent time on the back porch, and here's the original porch with its haint blue ceiling.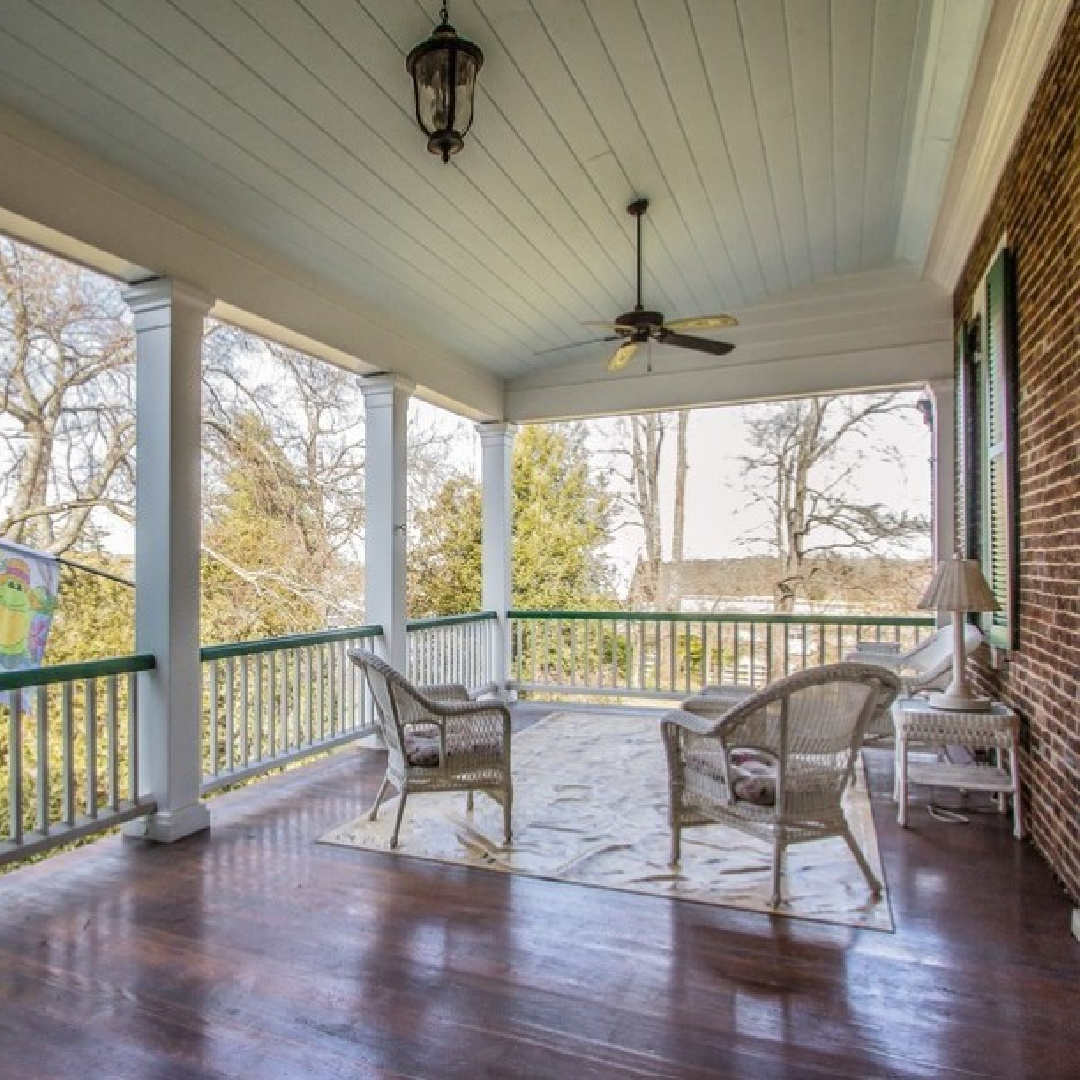 I loved the porches, although I think they have changed!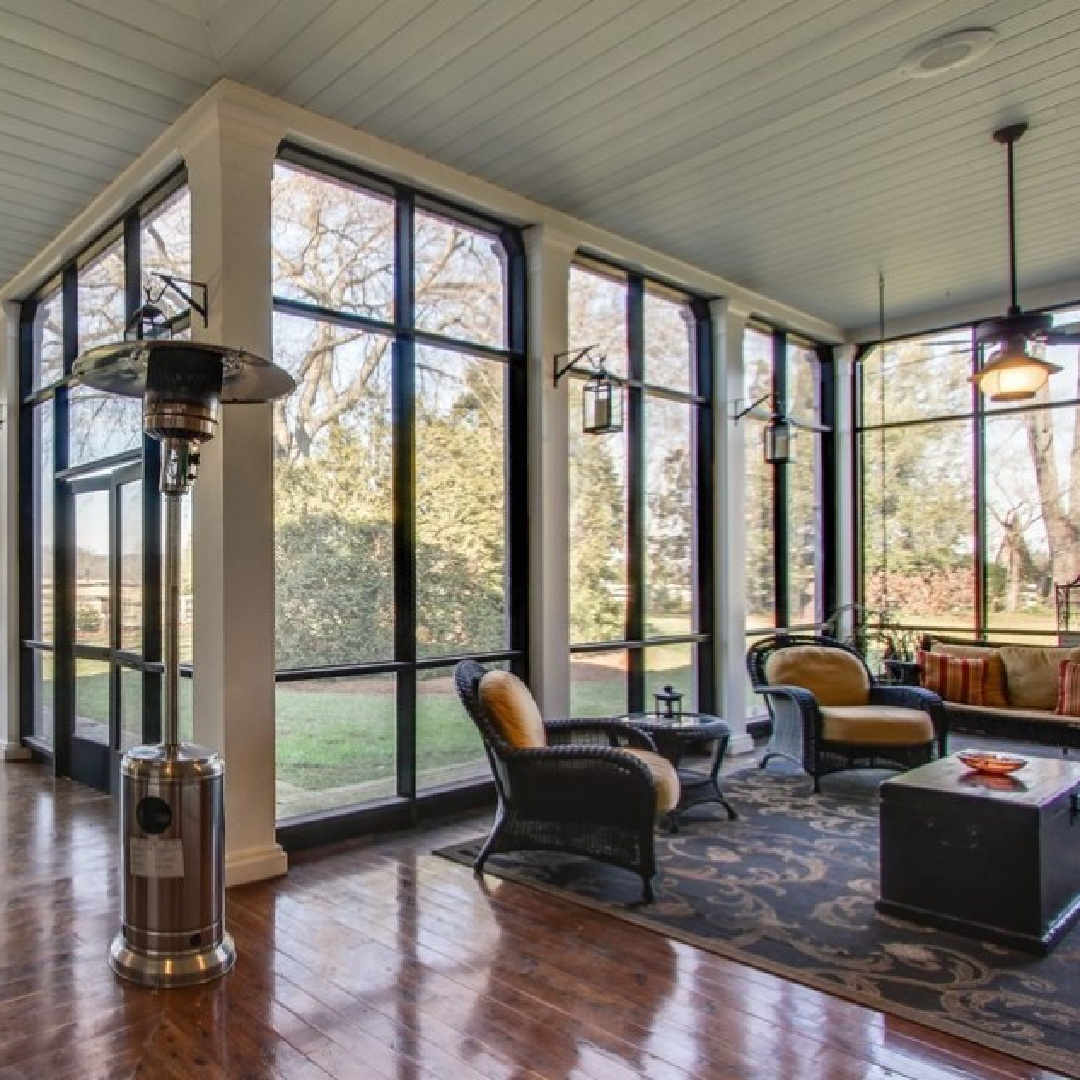 Isn't the ceiling height wonderful?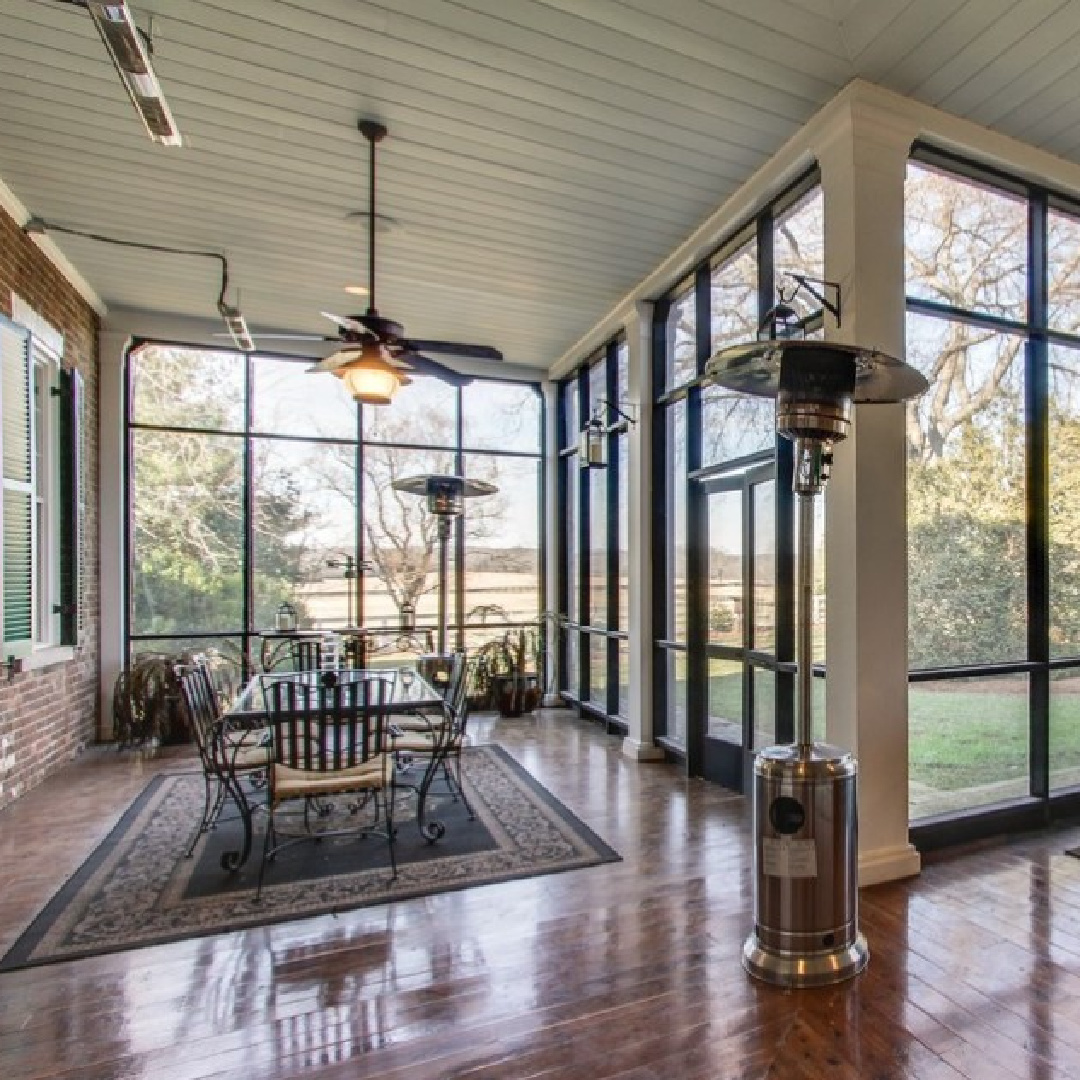 Restored Kitchen in This Historic Franklin Home
The family who restored this home raised children in it so you'll notice the kitchen was designed for modern living.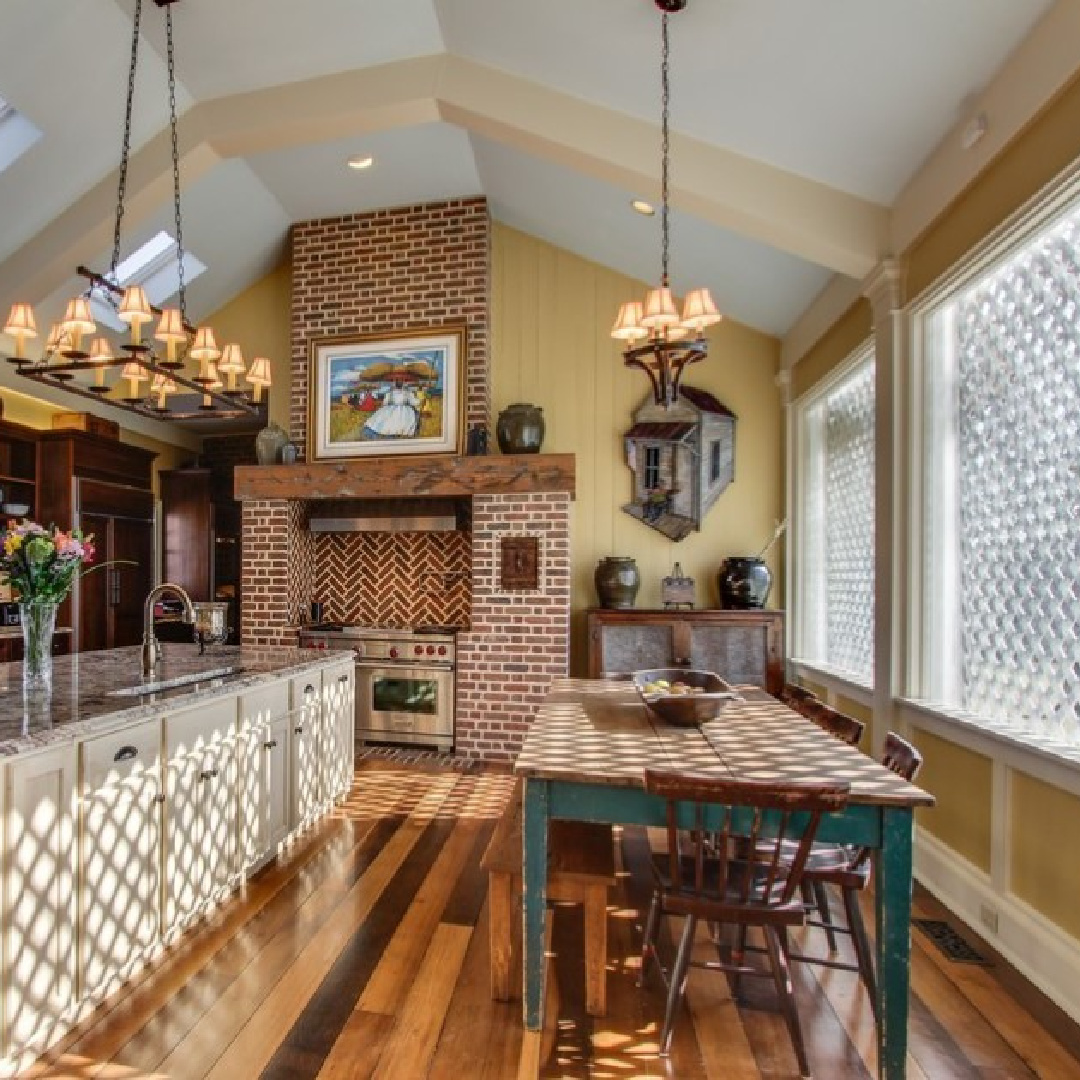 But with antiques and timeless design features, it feels quite fitting. The harvest table looks to be the scale of mine which doesn't fit in our new home!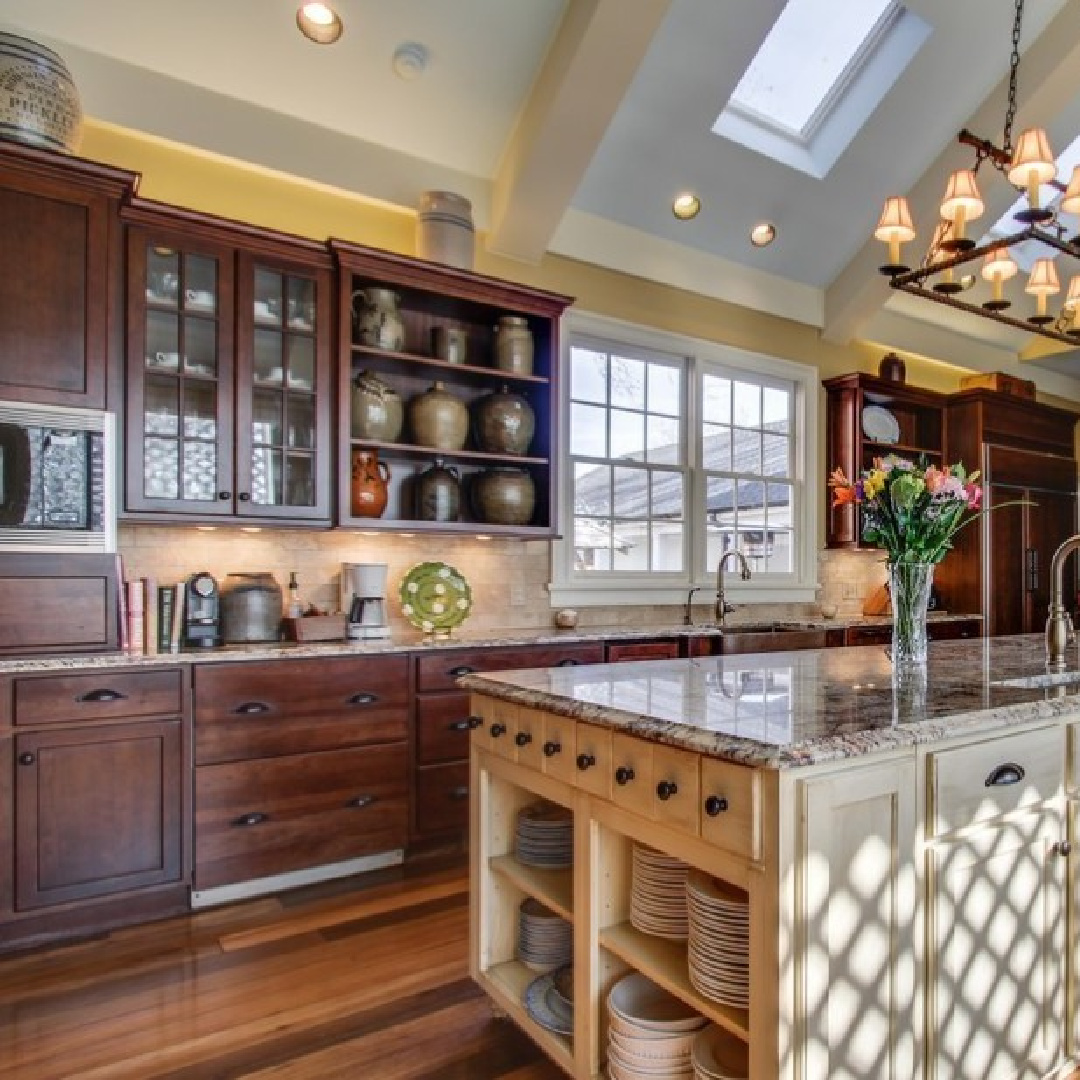 Isn't the detail of open storage for plates on the island's end a great one?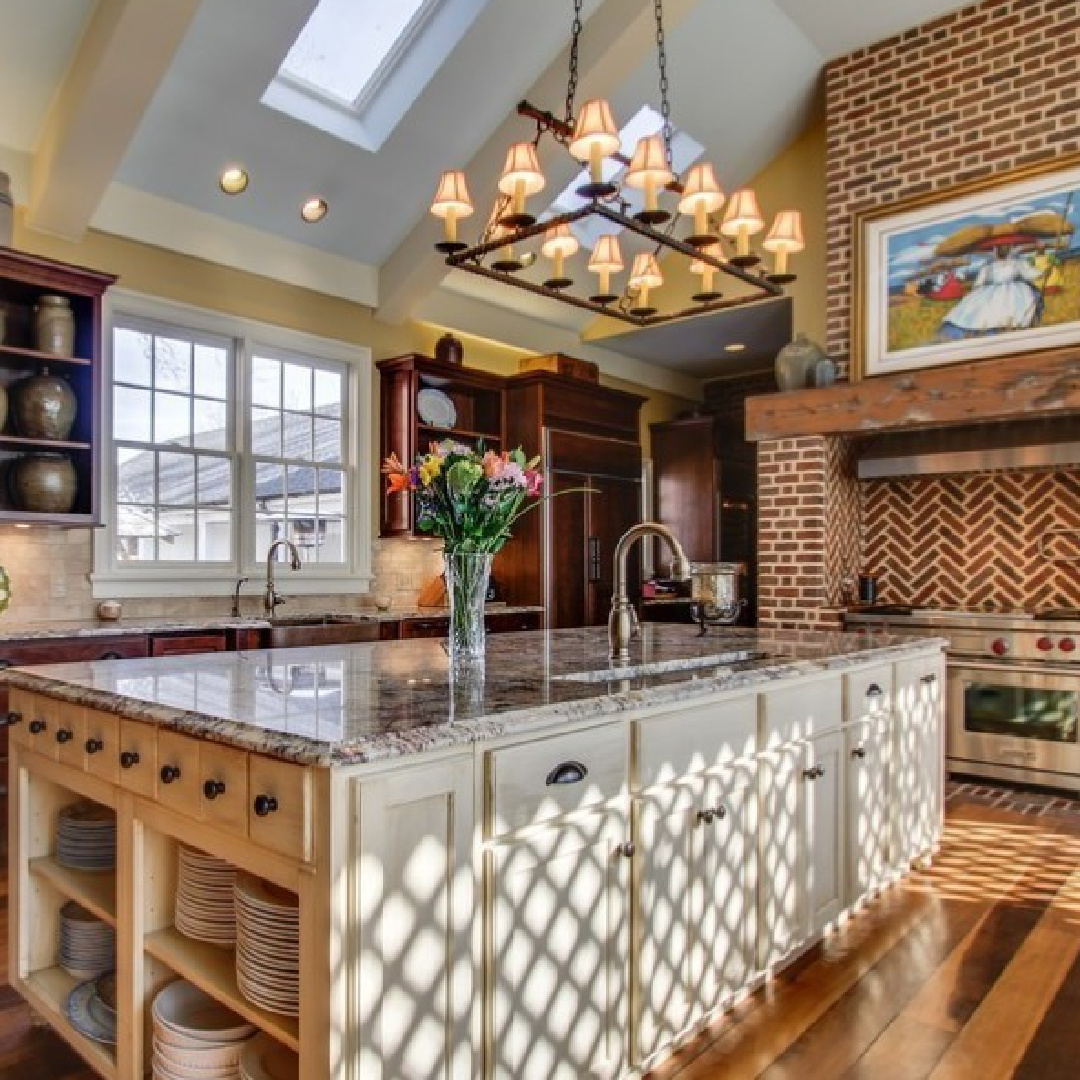 With the mix of painted and stained cabinetry, there's a sense of informality and warmth.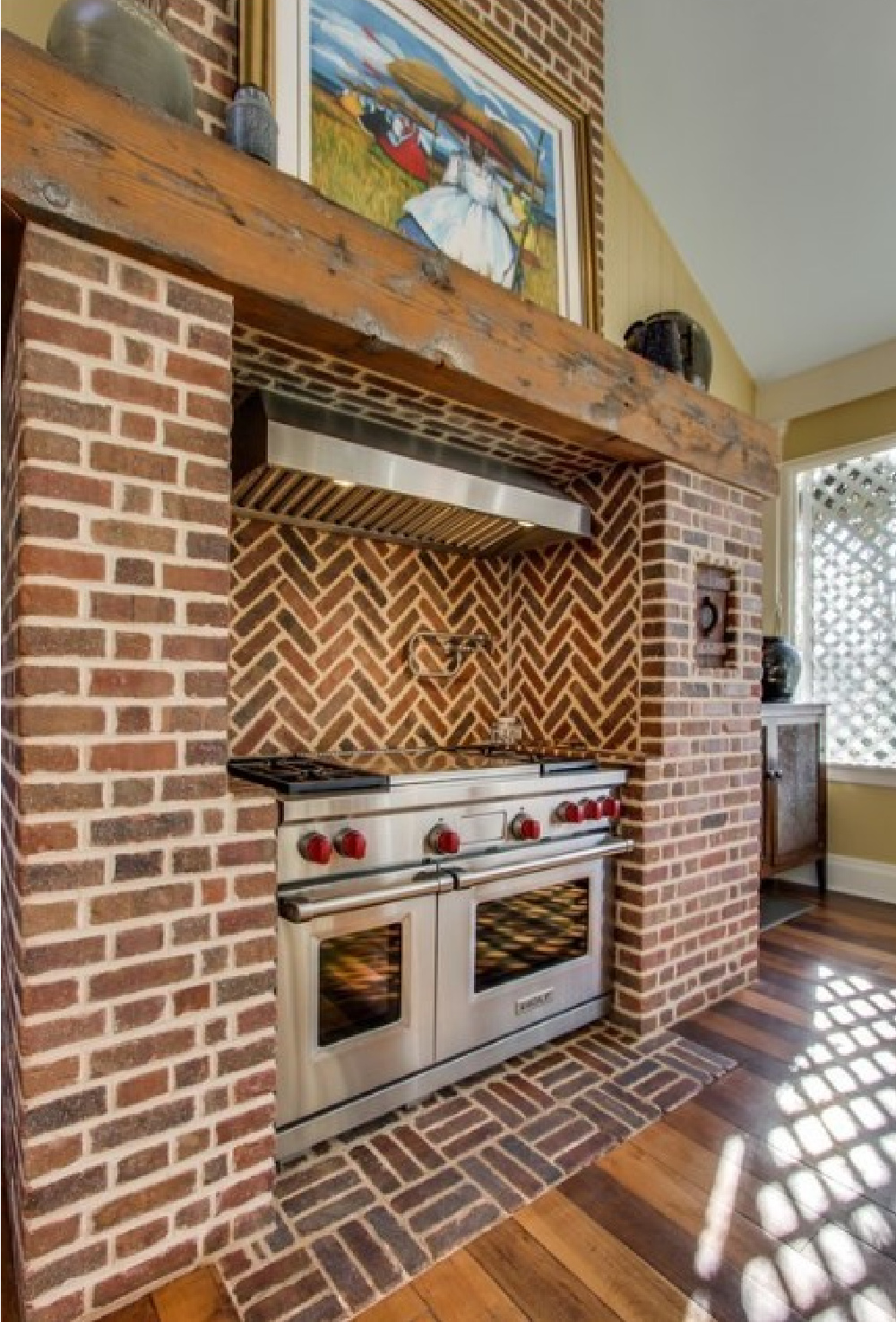 I'm sure there are amazing stories about the materials chosen for the kitchen such as the beam above the range.
Historic Colorful Dining Room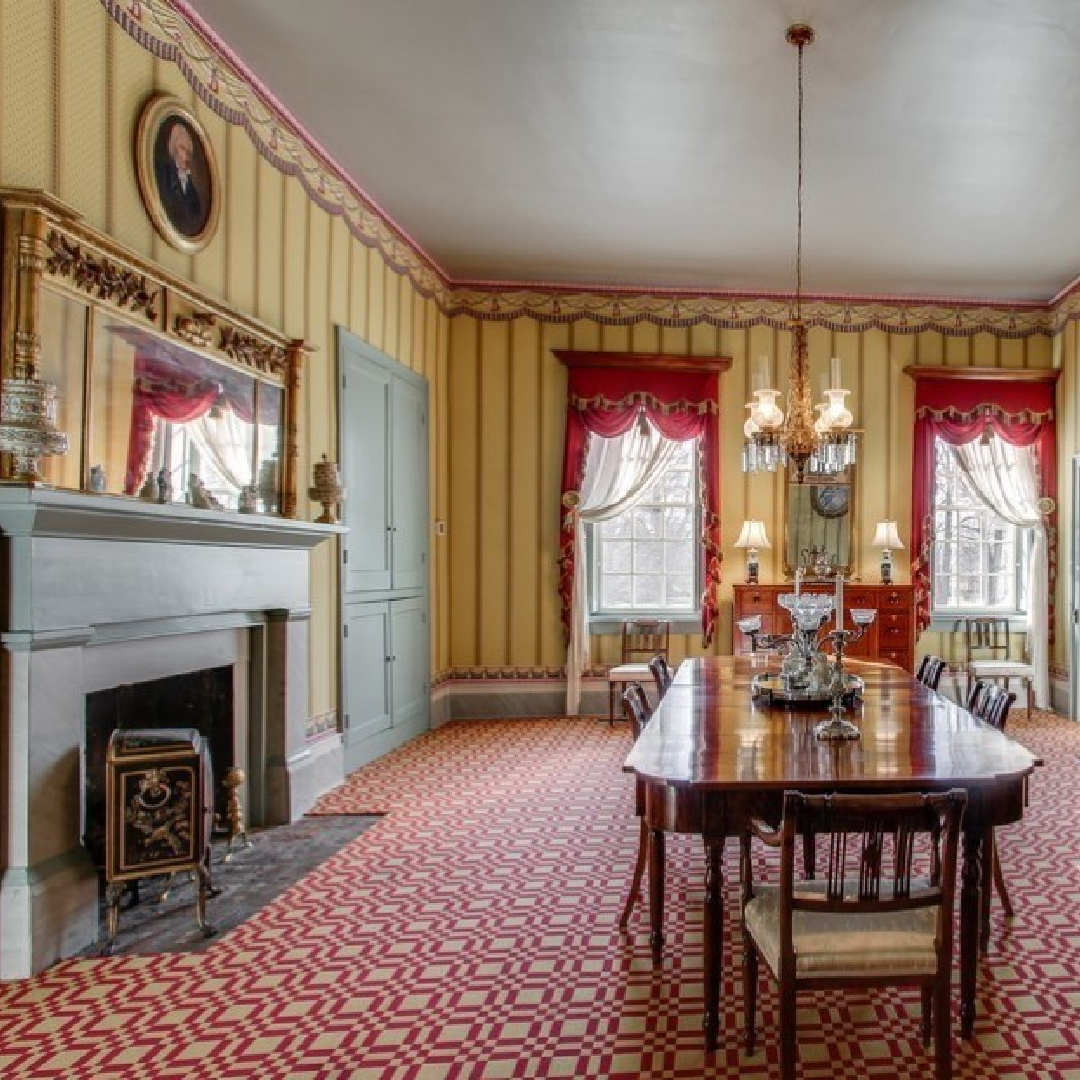 You antique lovers are likely loving this dining room with its bold happy colors and historic details.
I love the yellow inside the blue-green built-in.
Historic Home Tour: Bedrooms
The owners who restored the home met with a local historian to uncover the original paint colors, stencils, and wallpapers for the home.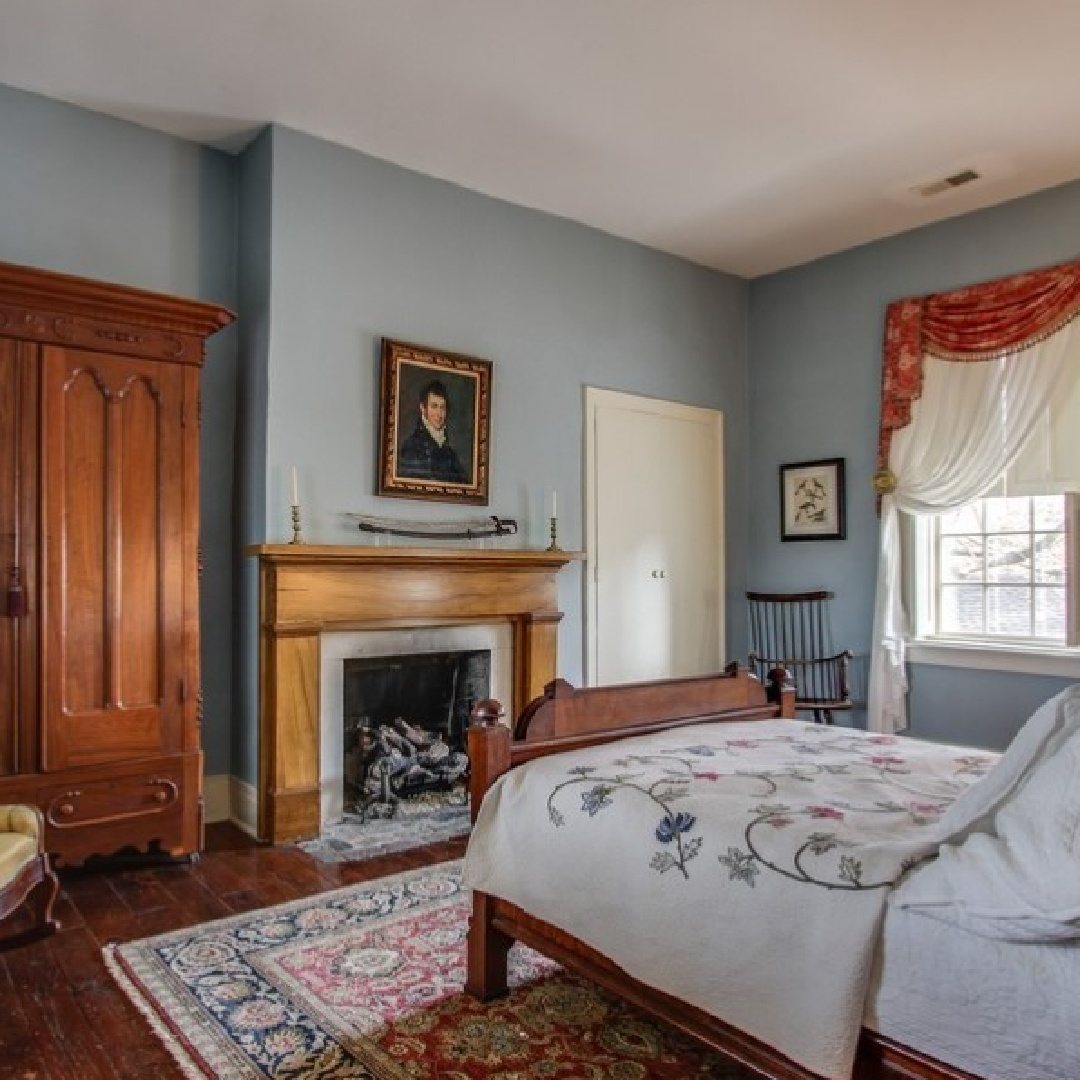 These patterns and colors were recreated for each room.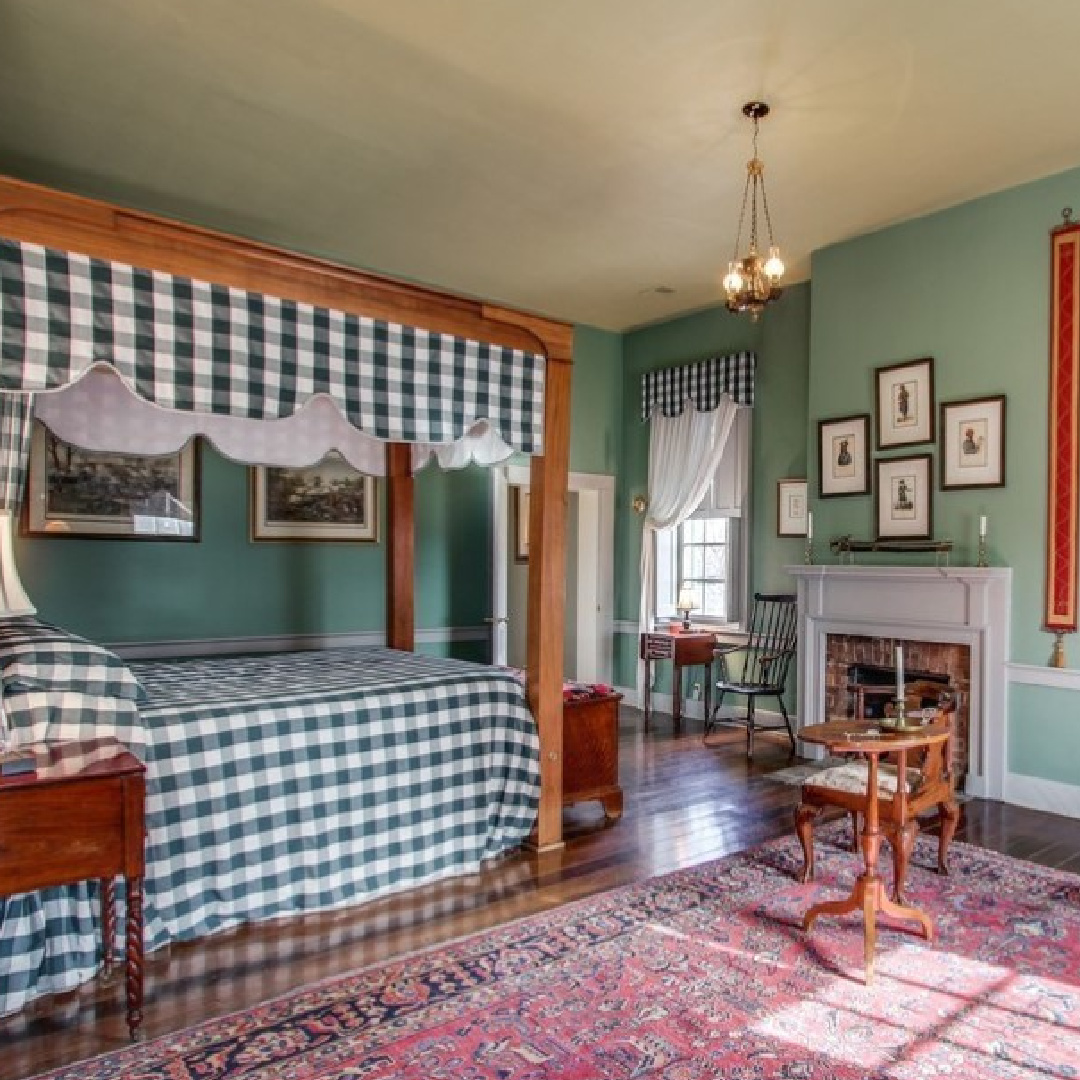 In this pink bedroom below, the ornately dressed bed is thought to be original to the home.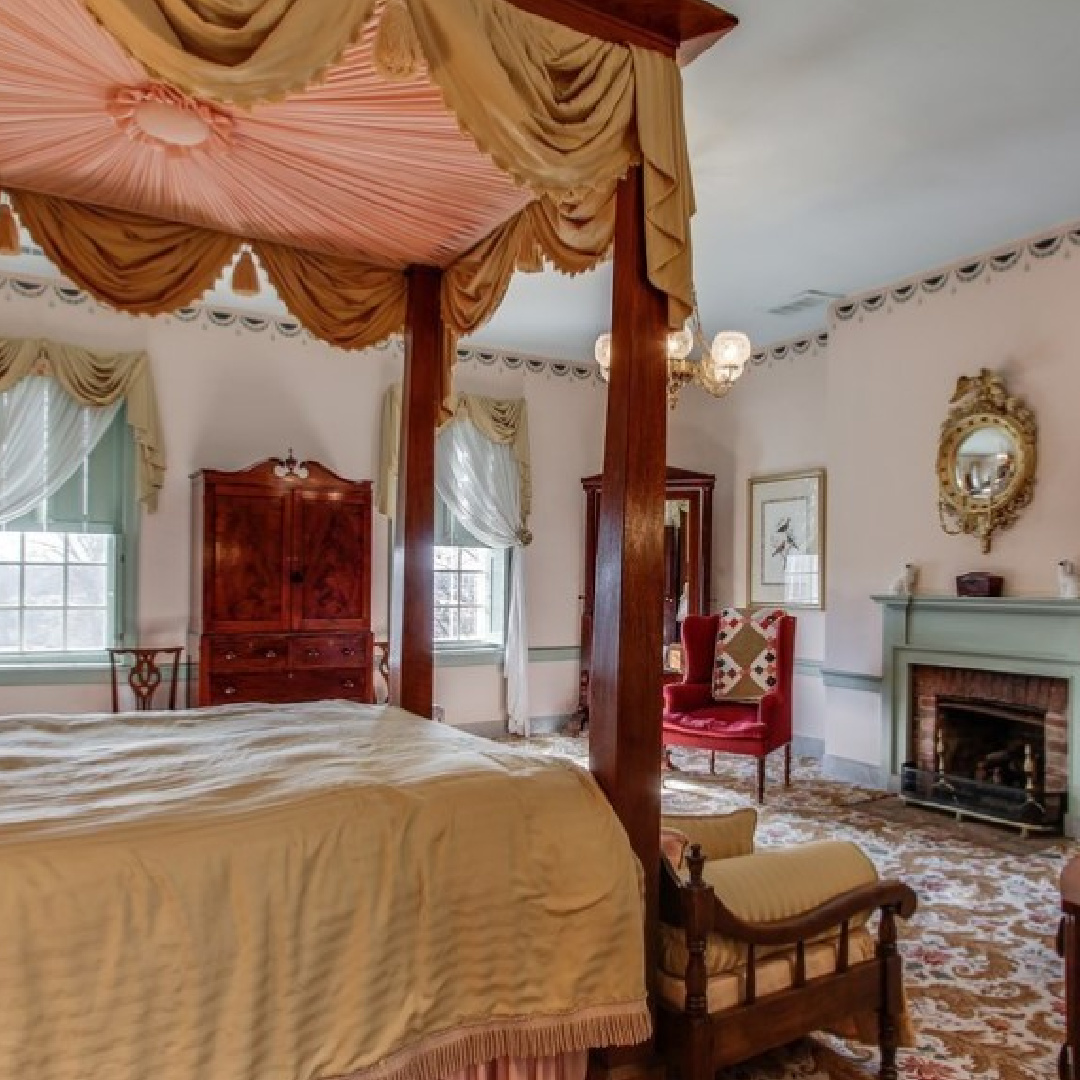 I wonder if the bed remained when the home welcomed new owners?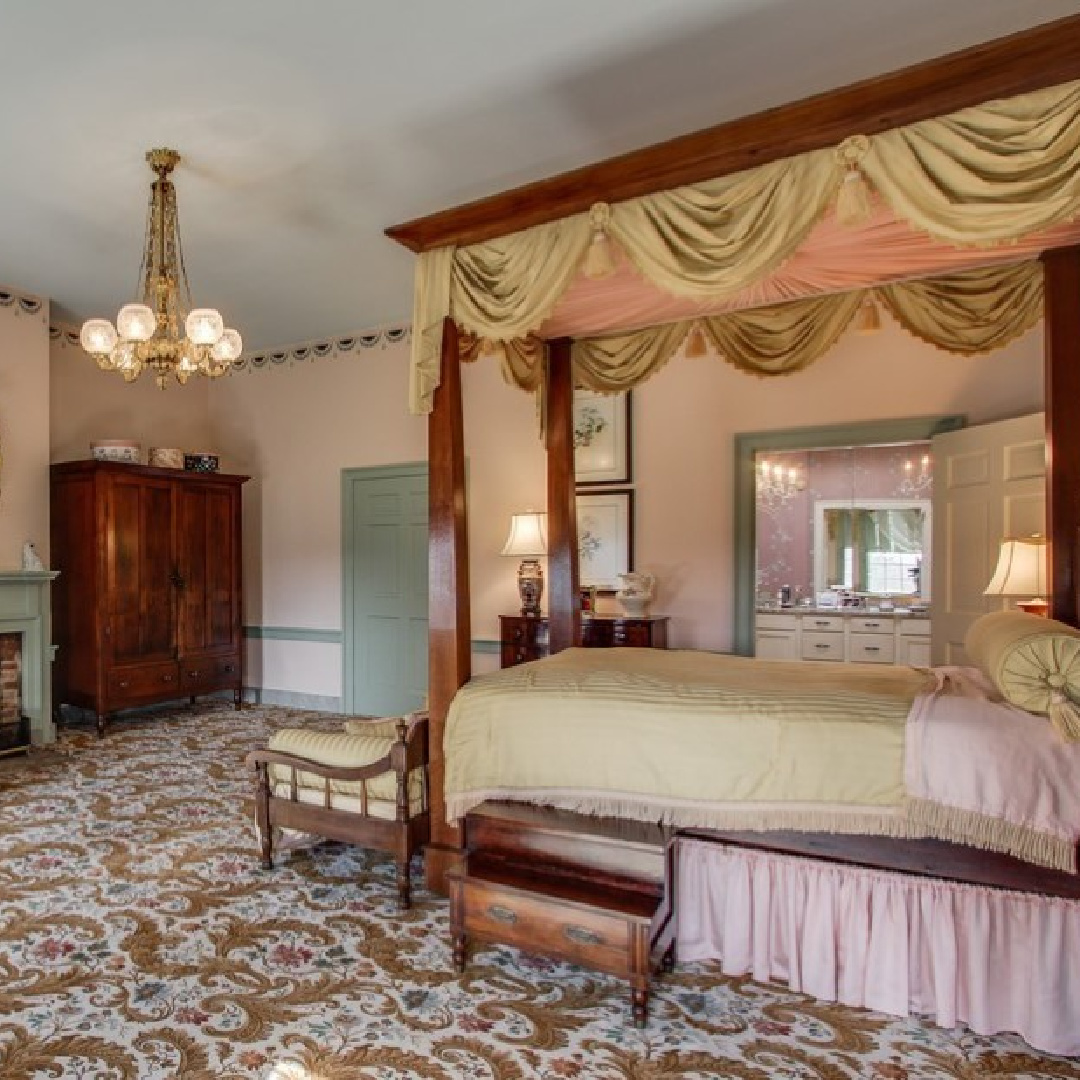 That carpet (above) looks so French, and I can imagine it at the Ritz Paris!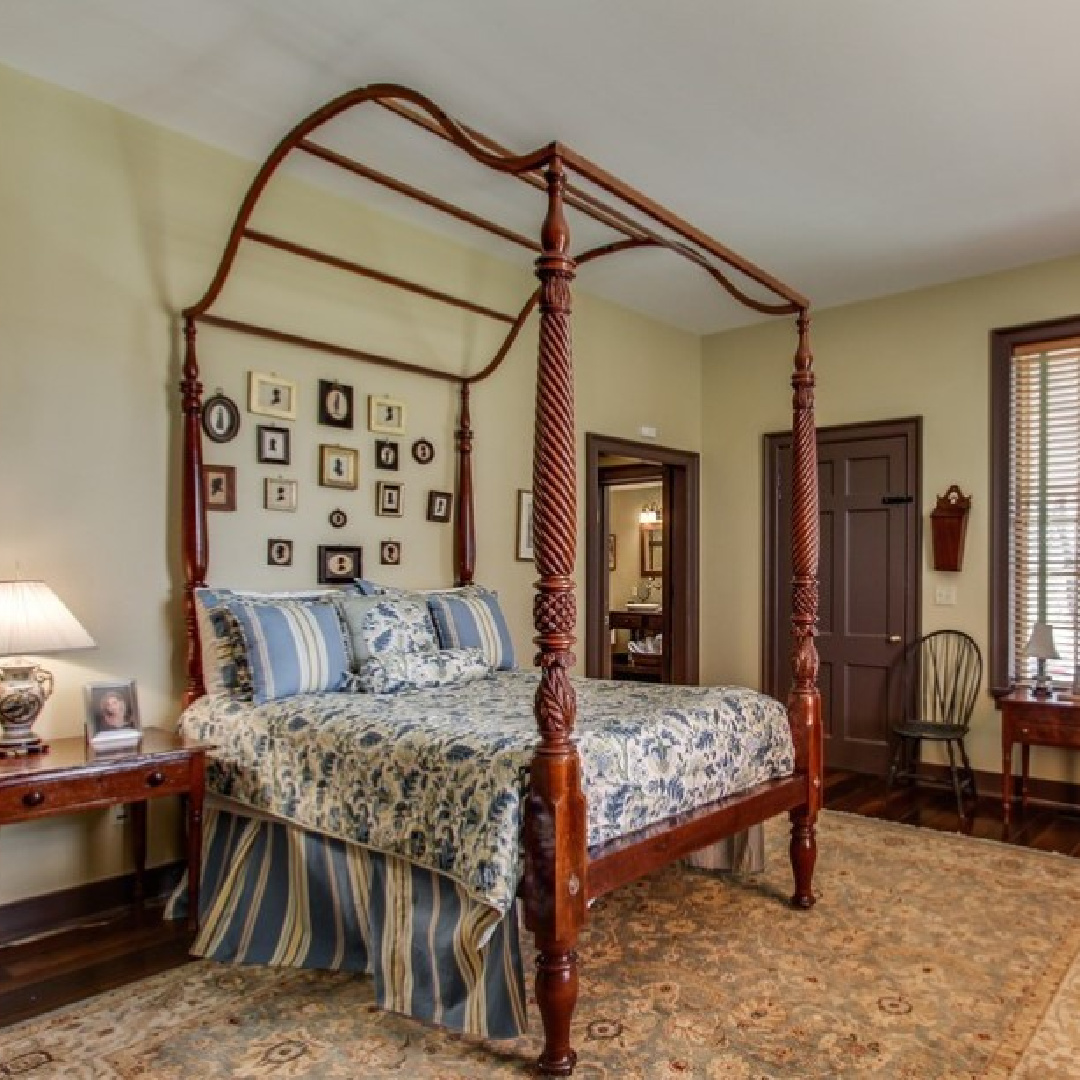 Log Cabin at Meeting of the Waters
Yes, this property (18 acres) includes a log cabin!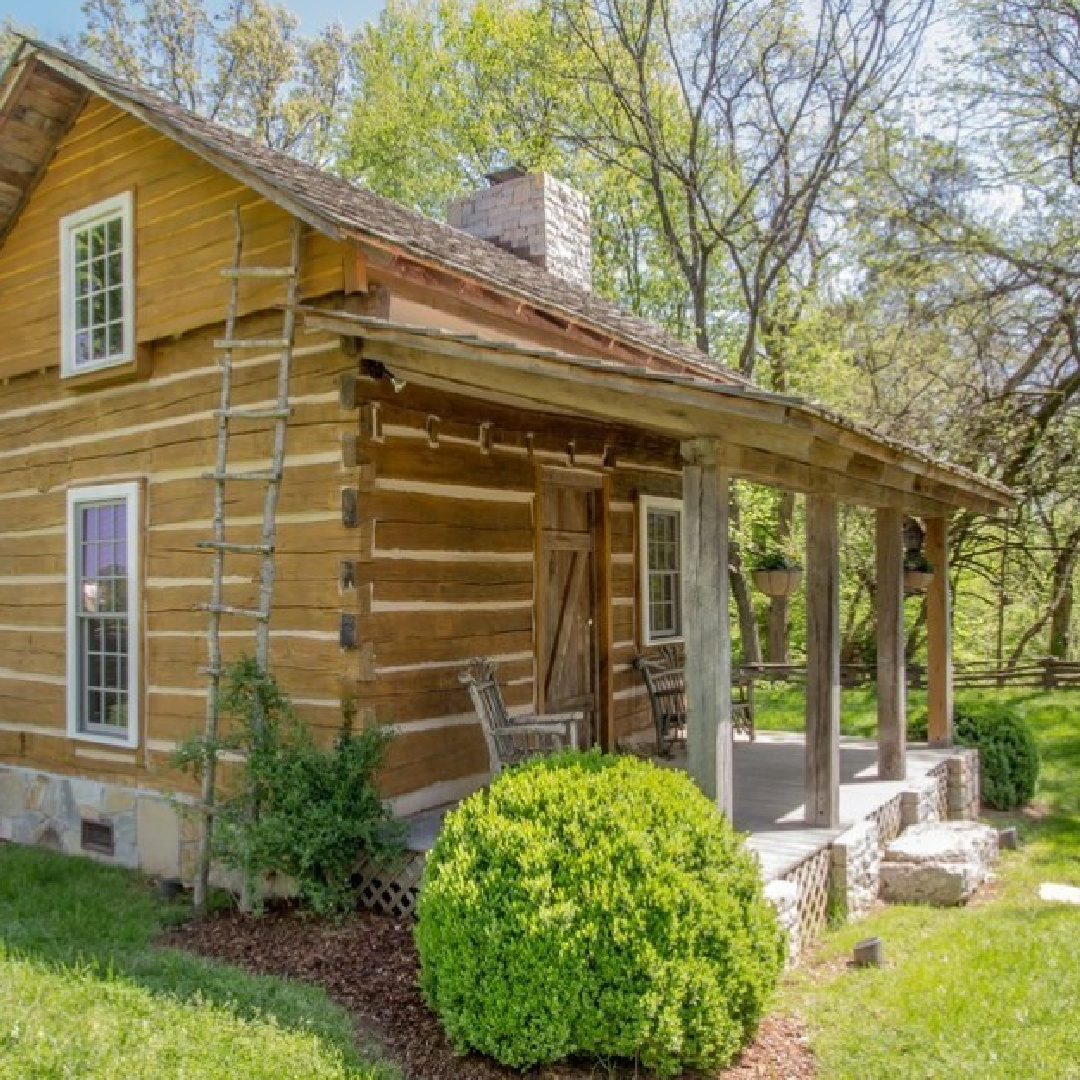 Isn't it stunning?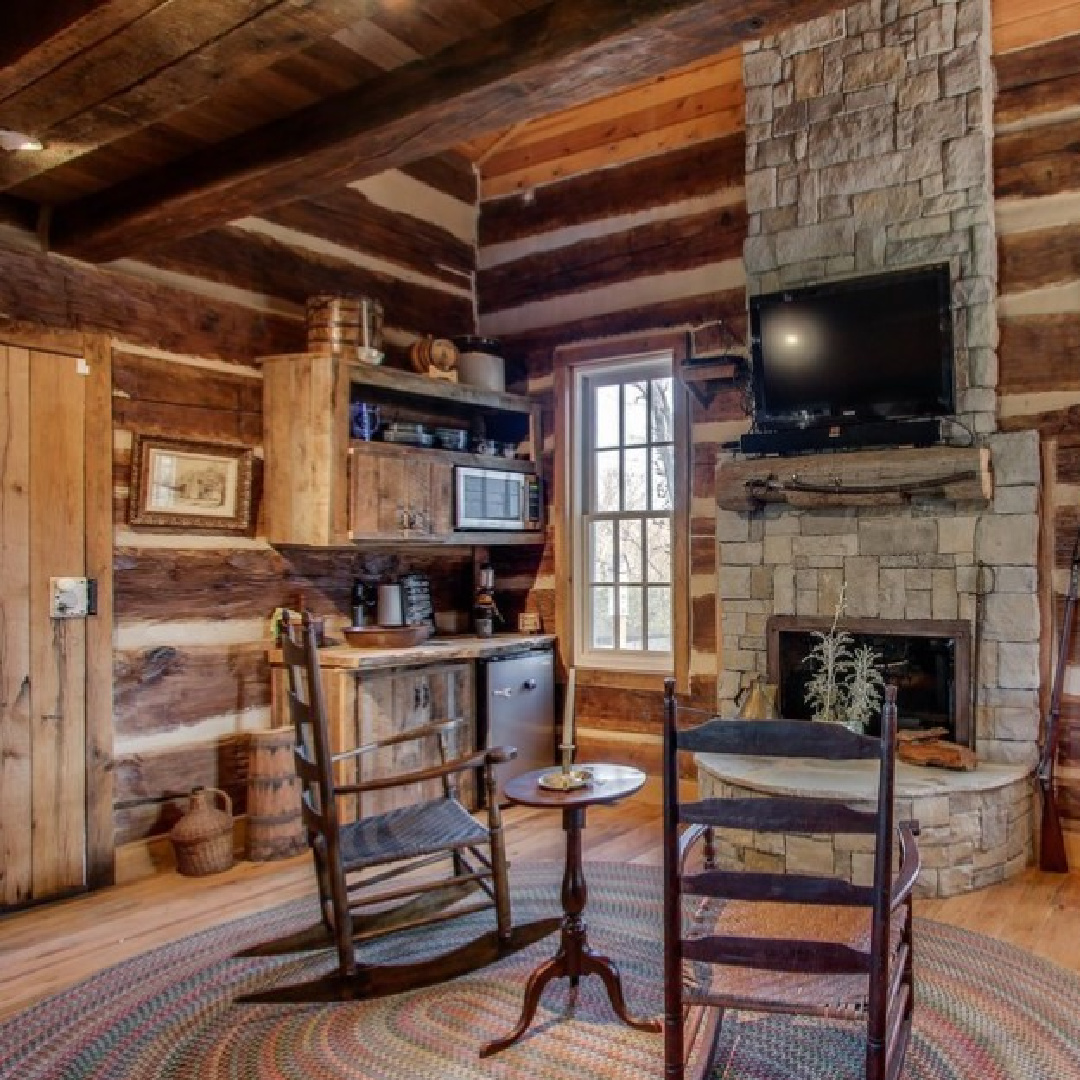 Tour the Gardens at This Historic Home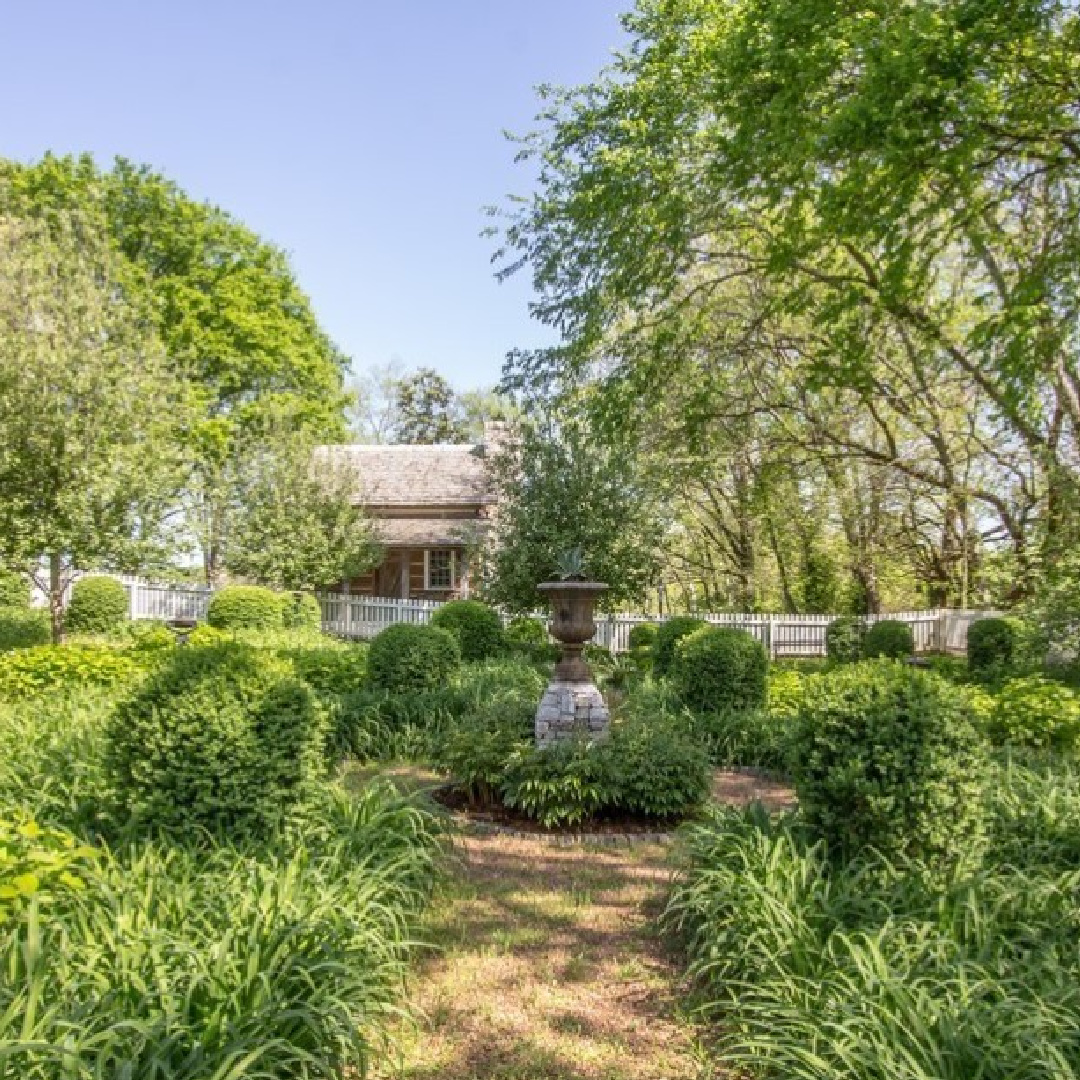 Designed and installed by Williamson Country's Justin Stelter, they are lovely.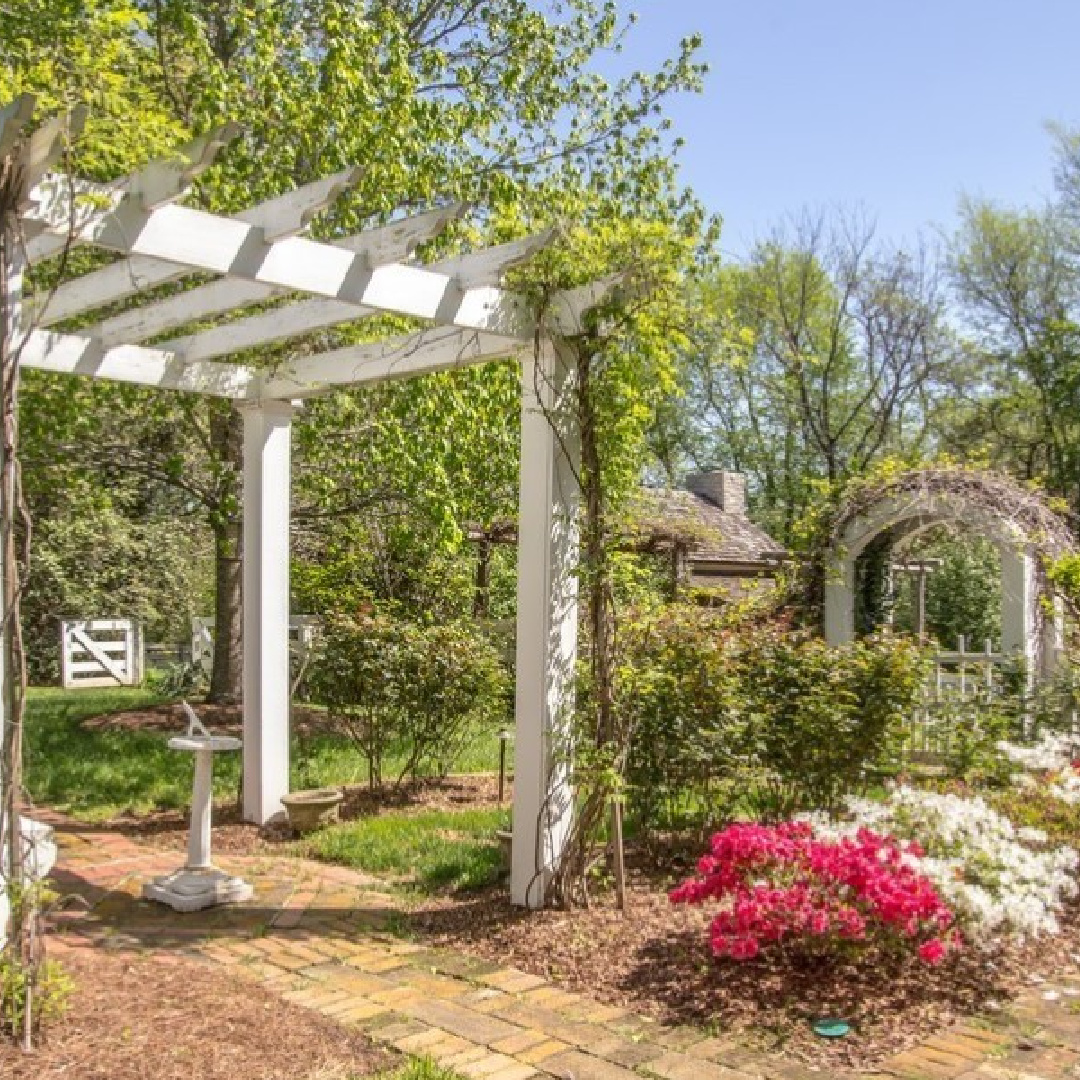 According to Southern Exposure:
"Separated by pea gravel and populated by American Boxwood, the ornamental gardens are filled with a Southern plant palette of camellias, daffodils, daylilies, gardenias, hydrangeas, roses, tulips and vincaminot.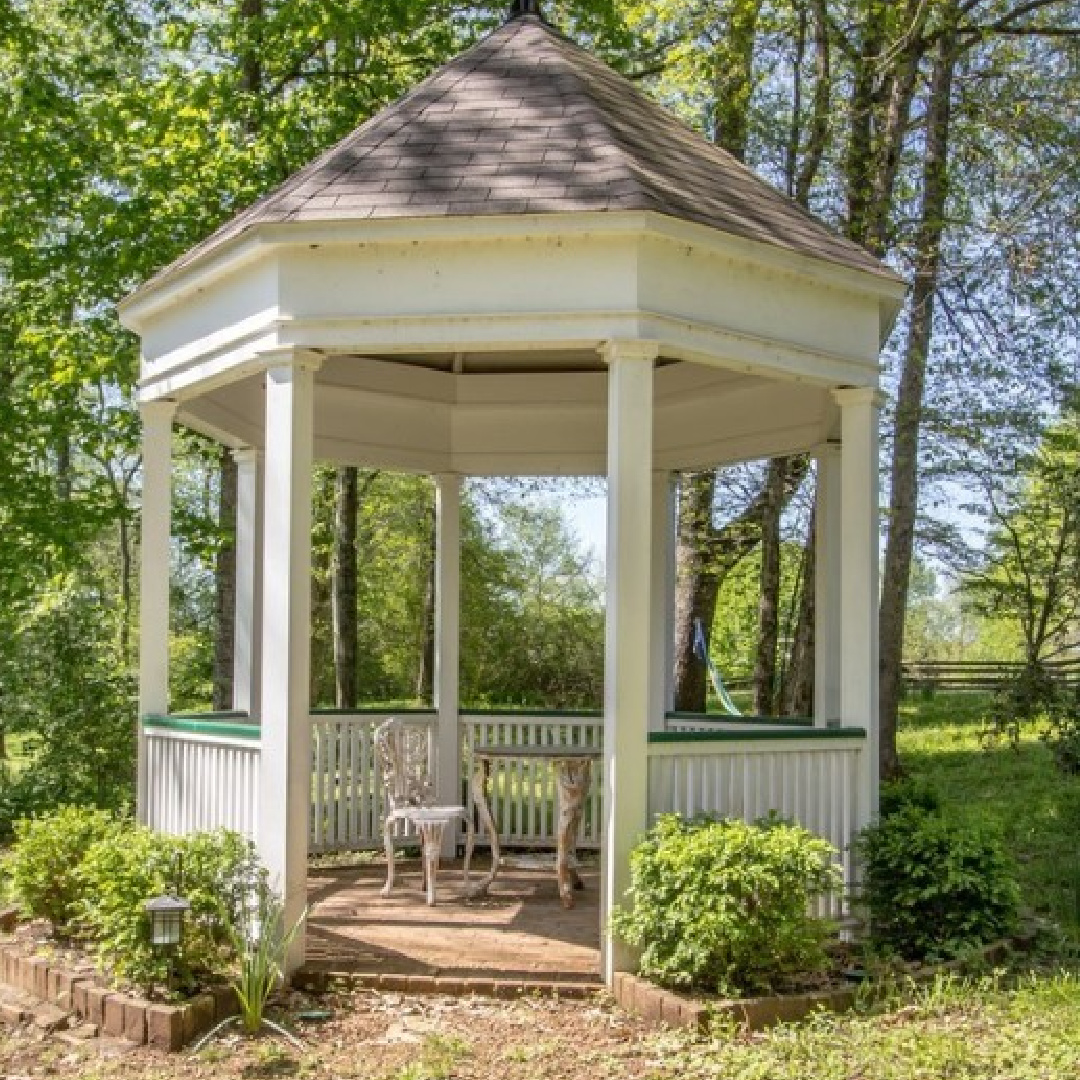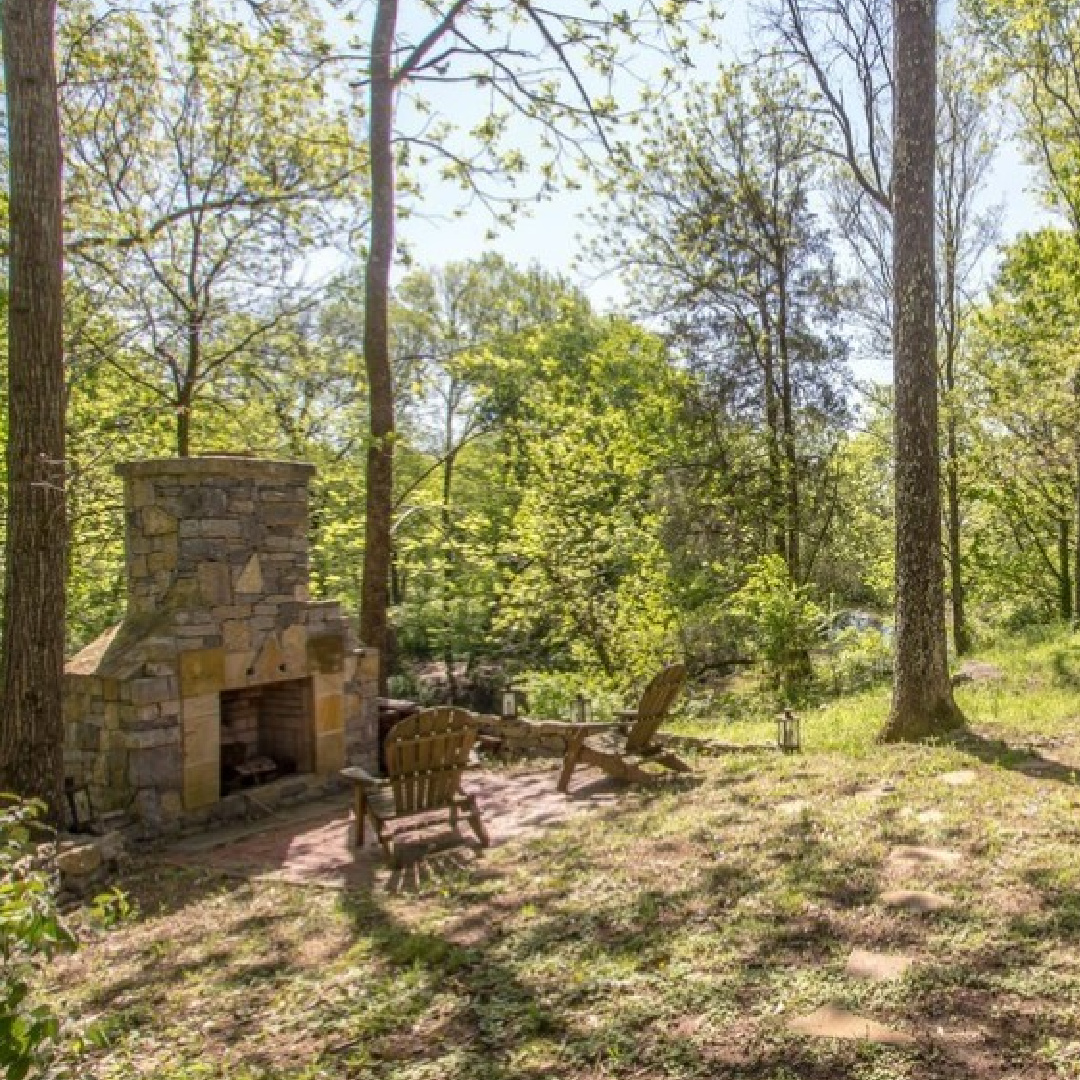 Hope you enjoyed this home tour! It's not often American style and homes are spotlighted on this blog which caters to readers fond of all things European!
Tour another Franklin property, this one a farmhouse on 15 acres here: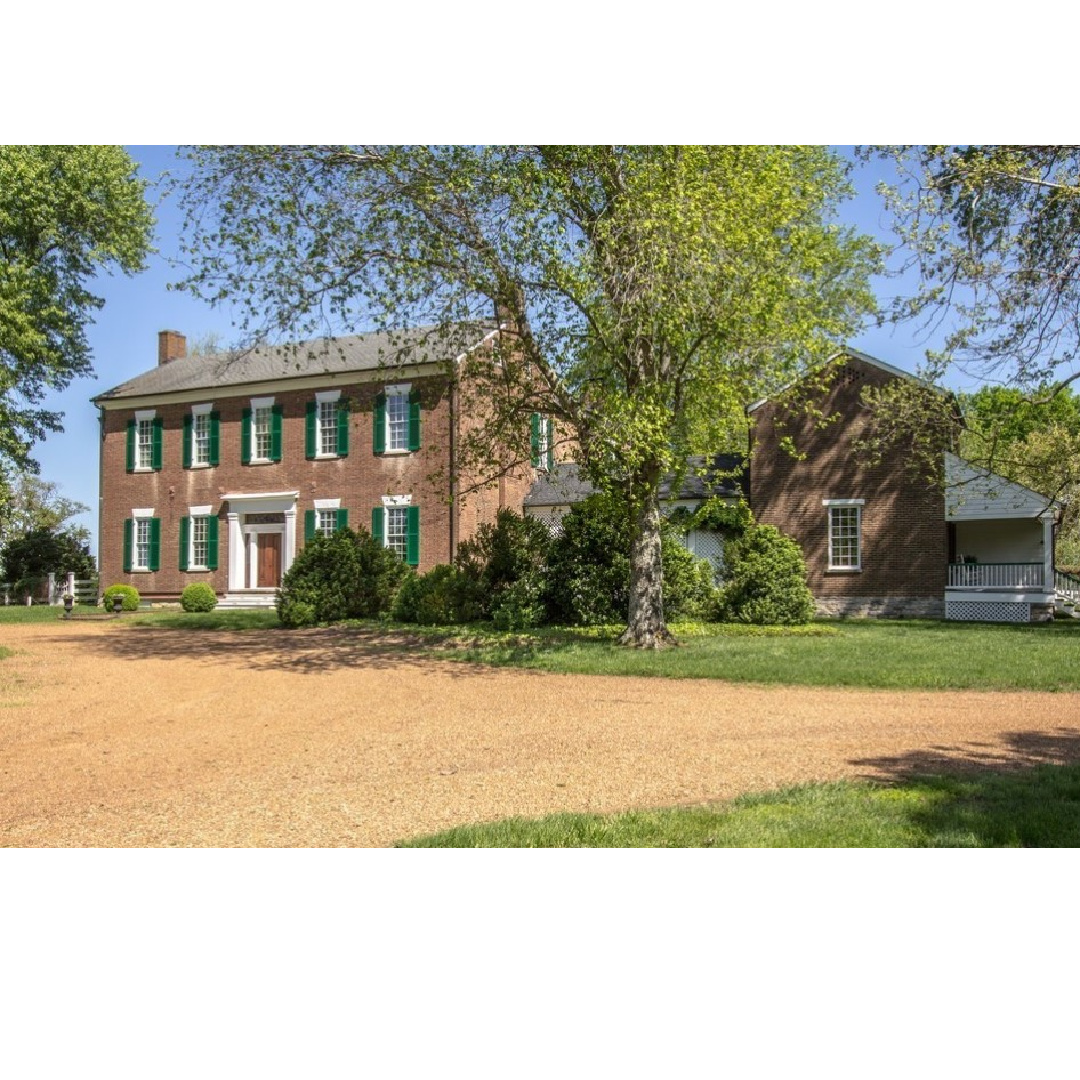 If you love historic home tours, find a beautifully restored Connecticut cottage from the 1700s RIGHT HERE.
I independently selected products in this post—if you buy from one of my links, I may earn a commission.
Peace to you right where you are.
-michele
Thanks for shopping RIGHT HERE to keep decor inspiration flowing on Hello Lovely!
Hello Lovely is a participant in the Amazon Services LLC Associates Program, an affiliate advertising program designed to provide a means for sites to earn fees by linking to Amazon.com and affiliated sites.