It has been raining for days, today feels like Fall, and last night I slept under two quilts. That can only mean one thing. Summer is fading. Here's a restful collection of mostly French-inspired autumnal moments that capture the imagination. Will I have any time this fall for snapping photos of changing leaves or pumpkin patches? With my to-do list and self-care regimen, it's not likely. But will I be in the moment and savor the season? OUI, mes amis.
Feels Like Fall: French-Inspired Autumnal Moments & Finds
A Fall Boho Look in a French Country Home
I love the spirit of this space:
So many simple details to love and also learn from in this living space above, by Lucinda Chambers. Look at those layered rugs…at least four!
An Inspiring Autumn Color Palette
I'm feeling the toasty brown, muddy lavender, and warm mauve (above), but oh my, the slate blue-grey is also calling my name…
French Country Exterior Bliss
What is it about cool blue-greys with sunny warm golds?
Because that combination never fails to calm my senses.
A Favorite Kitchen in Provence
I tried the Farrow & Ball Light Blue paint color you see below in our new kitchen, but with my lighting, it looked too green. I was hoping we would love it so that we could live with the terracotta color tile on the floor, and I would simply think of it as copper like this:
The French blue harmonizes with copper so magnificently…what a collection (from E. Dehllerin in Paris) at Le Mas des Poirers! So just a reminder to not get your heart set on any one color or scheme. Better to take it at a slower pace to get it right.
Country Cottage Charm in France
I would love to add window boxes here eventually to soften the front facade of our home and improve curb appeal. There is something utterly friendly and welcoming when a house is wearing flowers.
Sometimes dinner can be as simple as a bunch of veges, fruit, cheese and cured meats on a board.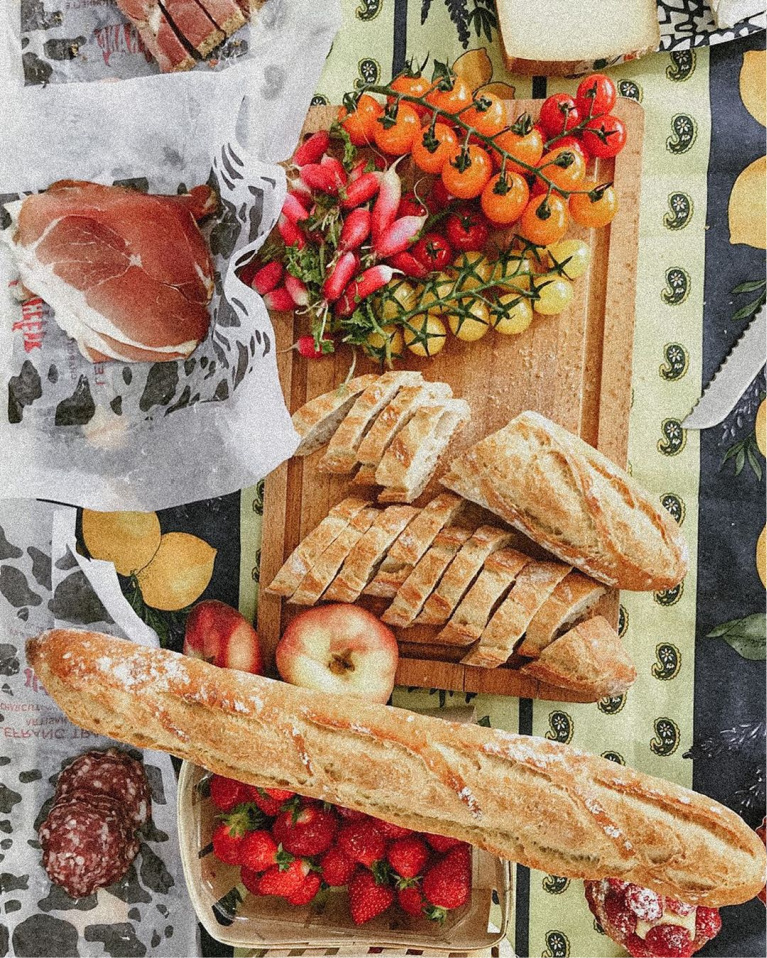 Oh–and a baguette! Did you know I still bake them weekly with my sourdough starter? I am waiting for one of my sons to be inspired to take over the tradition of baking bread, but it's taking some time.
Serene Fall Beauty in a French Chateau Sill
These colors and the quality of the light here just take my breath away.
And the cremone bolt on the window! How can I add those to every window here!?!
South of France View
Copper Pots & Pears
I can smell the lavender right through the screen!
French Cat in a Window Box
Would your cat like to lounge here?
My Home Last Year in Early Fall
I remember taking video of our home a year ago as if it were last week! Where does the time go? In our case in the past year, I think it's good that time moved quickly.
Rustic Cozy in France
I need that mirror in my life!
Does this color pairing inspire you as it does me? Why should orange and red get all the love in fall?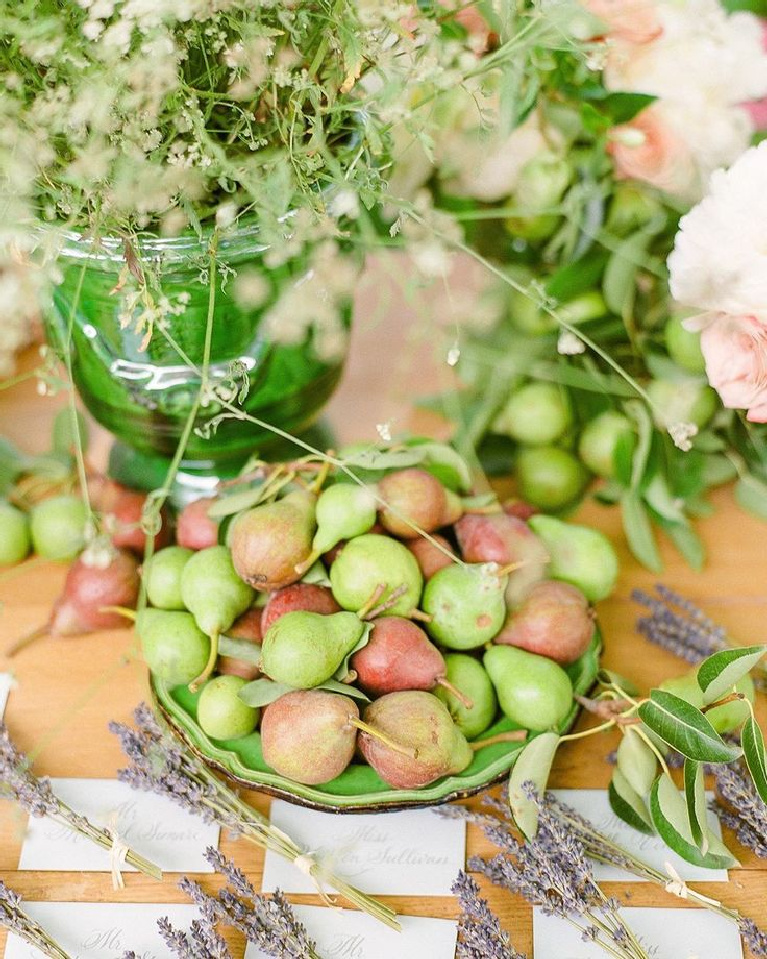 French Climbing Vines
I'll never forget being in Paris in October and being awestruck at some of the vine covered buildings. There were so many moments when my husband wanted to keep walking, and I wanted to stare for long stretches. I don't even have too many photos of the beauty to show for it because I was in the moment. I tend to be either all work or all play. And in Paris? I just wanted to play.
Fallen Leaves at Petit Trianon
Pears and Brown Paper
Colorful Autumn Leaves in Doremy, France
What a transcendent photo by Cassie Berube on a visit to Joan of Arc's birthplace! How I would love to go on one of her splendid retreats for women!
Understated Color in Provence
Oh this image! First of all, it inspires me to unpack boxes to see if I have mismatched plates to use in my own kitchen's breakfast room. And that lantern wall sconce with the art stacked below it. I feel like I need that in my life too. Finally, that bobbin legged console used as a buffet…don't you love how narrow and gorgeous and functional that piece is?
The warmth of wood, plates hung simply on the wall, French fabrics, and gentle blue…it all speaks to my soul and feels like home in any season.
Cozy Comfy Finds for Fall
The Scent I Wear in Fall
Thinking of each of you and so grateful if you made it to the end of this rather random post. Thank you for keeping me company and inspiring me to keep sharing, dreaming, creating, and connecting.
I independently selected products in this post—if you buy from one of my links, I may earn a commission.
Peace to you right where you are.
-michele
Thanks for shopping RIGHT HERE to keep decor inspiration flowing on Hello Lovely!
Hello Lovely is a participant in the Amazon Services LLC Associates Program, an affiliate advertising program designed to provide a means for sites to earn fees by linking to Amazon.com and affiliated sites.