Whenever I post a topic with "French" and "Christmas," I will inevitably hear from someone in Paris who insists, "Michele, we don't decorate for the holidays as Americans do!" And I get it. What we're exploring here is how French country inspired decor sensibilities can be expressed for holiday decor. Pale color palettes, a mix of rustic with elegant, a look that feels less glitzy and more understated, and lots of natural touches suggestive of the countryside. French Country Holiday Home Decorating Inspiration arrives in a fluid spirit of 'how someone living outside of the French countryside might bring Country French, romantic, charming accents to their Christmas schemes.'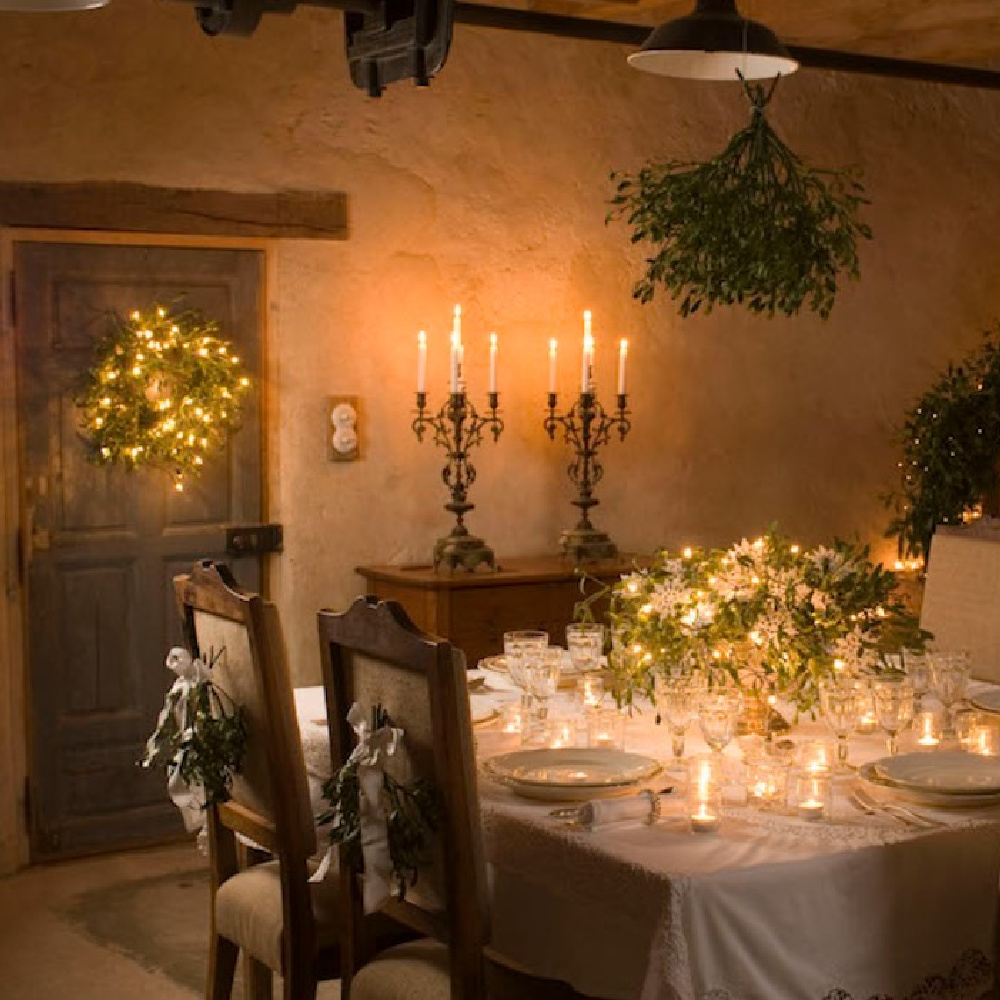 Does it seem dreadfully early to you to even view such inspiration? I do not want to rev up any anxiety about making your list and checking it twice. Spotlighting lots possibilities now may get those wheels turning.
I independently selected products in this post—if you buy from one of my links, I may earn a commission.
French Country Holiday Home Amazing Decor Inspo
There's another reason it seems prudent to entertain holiday themed topics early this year. You may or may not be aware that there are stock issues and shipping problems at the moment which are likely going to get worse in the coming weeks.
Gold bells and fresh (or even everlasting) greenery go together so well! They never go out of style.
I love these milagro heart boxes on a tray, on a tree, suspended from a ribbon, and massed in a bowl. For me, they signify something sacred and spiritual. Can't wait to bring mine out for the holidays and leave them out through January.
Don't you love holiday decor that also works as winter, fall, and summer decor? That's what these lanterns offer to me. BTW, they are even better in person.
Old World style is so welcome to a French country aesthetic, and vintage-y things feel so appropriate. Bottle brush trees always look so old fashioned and wholesome.
French Accents at the Door
I still don't have my fall doormat near the door! At this rate, it would be better to place something that isn't so seasonal such as this Bonjour one!
Real tree or fake? My fake one from Nearly Natural is beautiful, and I'm looking forward to those twinkly white lights.
Isn't the lettering font on this pillow above just perfect? I want to try my hand at handlettering since I'm thinking even a sharpie and a swath of burlap could add up to a rustic banner or pillow cover.
Do you have Christmas china or holiday dishes you dust off once a year? Maybe a new set can become a new tradition…because it's never too late to begin anew.
Oh, it's the simple things! Don't you love the idea of a Christmas Pocket or Pouch with little sprigs of greenery or branches or berries peeking out?
Holiday Decor Inspiration from France
Here are some design details that particularly moved me. Maybe they will also inspire you!
1. Simple French Christmas Star
Whether we make one with twigs from the yard or wire, isn't this beautiful inspiration?
2. Star Motif for a Christmas Table
Any ready-made runner for your dinner table could be customized with simple stars cut from a coordinating fabric.
3. Pink in Lieu of Christmas Red
When the pink is this delicious and appetizing, why not go for a softer, romantic look?
4. Symmetry in Paris
When we visited Paris, we stayed just a few steps away from this Chanel (Park Hyatt Paris Vendome) so I know this spot well! The blue of those spectacular doors is inspiring too.
5. Bûche de Noël
This particular Christmas yule log cake below is a vegan dessert created with raspberry and grapefruit sorbet. What a lovely way to bring France to your table!
6. Skip the Designer Tree
I love how Sarah Silm stays true to her relaxed style for holiday decor within her small chateau in SW France. The family tree is decorated simply with ornaments made by her children and little bits of cheer collected over the years.
7. Galvanized Rustic Romantic Charm
8. Go Big or Go Home!
Isn't the scale of these teddy bears incredibly festive?
9. Collected Milagro Hearts
What a thoughtful collection to deck the halls at Christmas as well as the whole year through.
10. Simple Fresh Greens in the Bedroom
The French are so good at those simple little touches that are just enough!
11. Billowy Soft Accents
When you love a white Christmas and tulle…
12. Christmas Blue
I could stare at this inspiration all day.
13. Humble Charm
14. French Farmhouse Christmas Decor Inspiration
15. Holiday Greenery & Pretty Sweets
Let them have cake…to decorate as well as consume!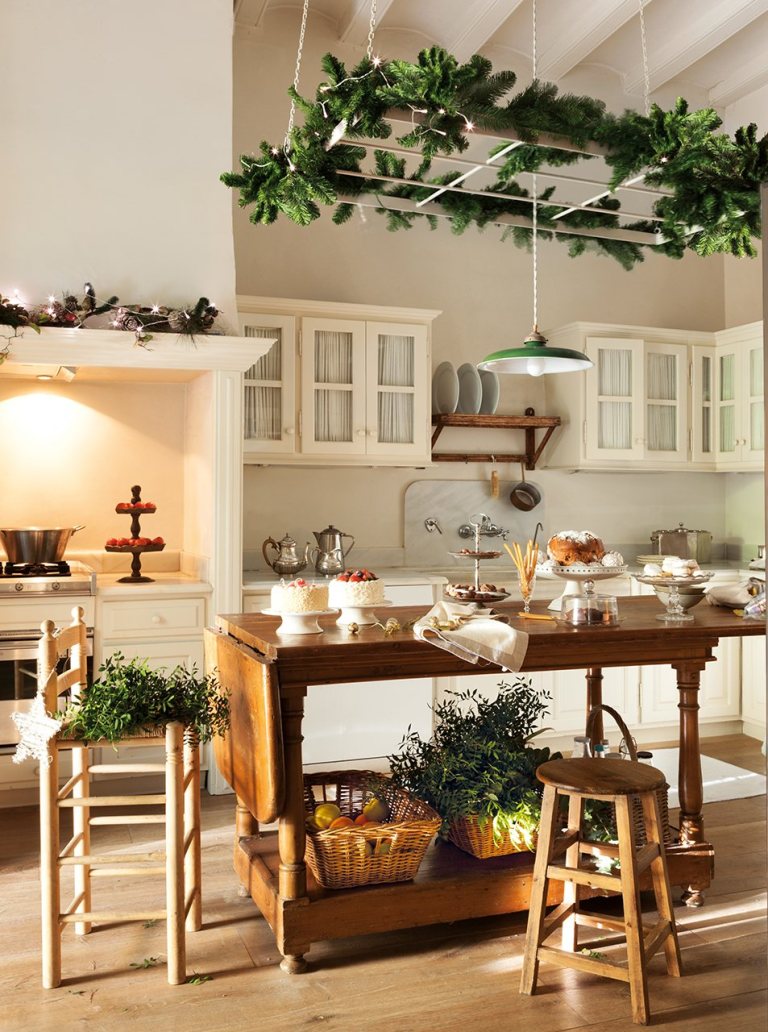 Score French Country Styling Hacks
Tap here to Pin this post for future reference, and do visit THIS and THIS for more Country French holiday inspiration.
I independently selected products in this post—if you buy from one of my links, I may earn a commission.
Peace to you right where you are.
-michele
Thanks for shopping RIGHT HERE to keep decor inspiration flowing on Hello Lovely!
Hello Lovely is a participant in the Amazon Services LLC Associates Program, an affiliate advertising program designed to provide a means for sites to earn fees by linking to Amazon.com and affiliated sites.