We'll take another peek at timeless interiors within an unforgettable designer showhouse in Houston benefiting charity. This time let's gaze as students of design hoping to take away actionable ideas. You can also take a virtual tour of Milieu magazine's showhouse here (with a donation) to benefit Clayton Dabney for Kids With Cancer. Learn from the Look: Timeless Interiors in a Luxurious Showhouse awaits with lessons in beautiful design.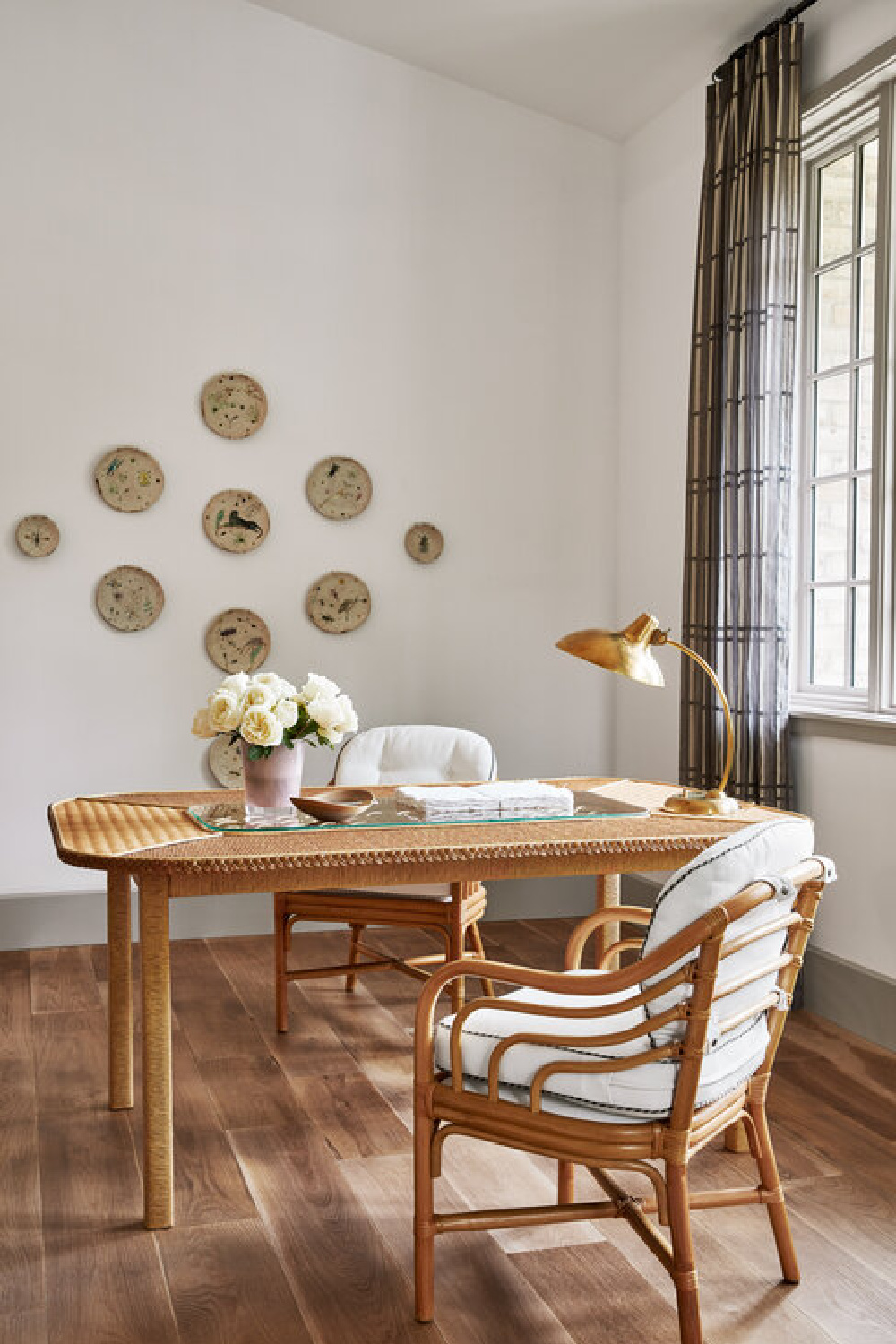 Learn from the Look: MILIEU Showhouse
Am I silly for thinking my peasant self could channel top tier, high end bougie-budgeted designs from fantasy designers in a priceless home and apply them to my own interiors?
Pas du tout.
We need only boldness and IMAGINATION. (Hiring a creative interior designer is also wise!)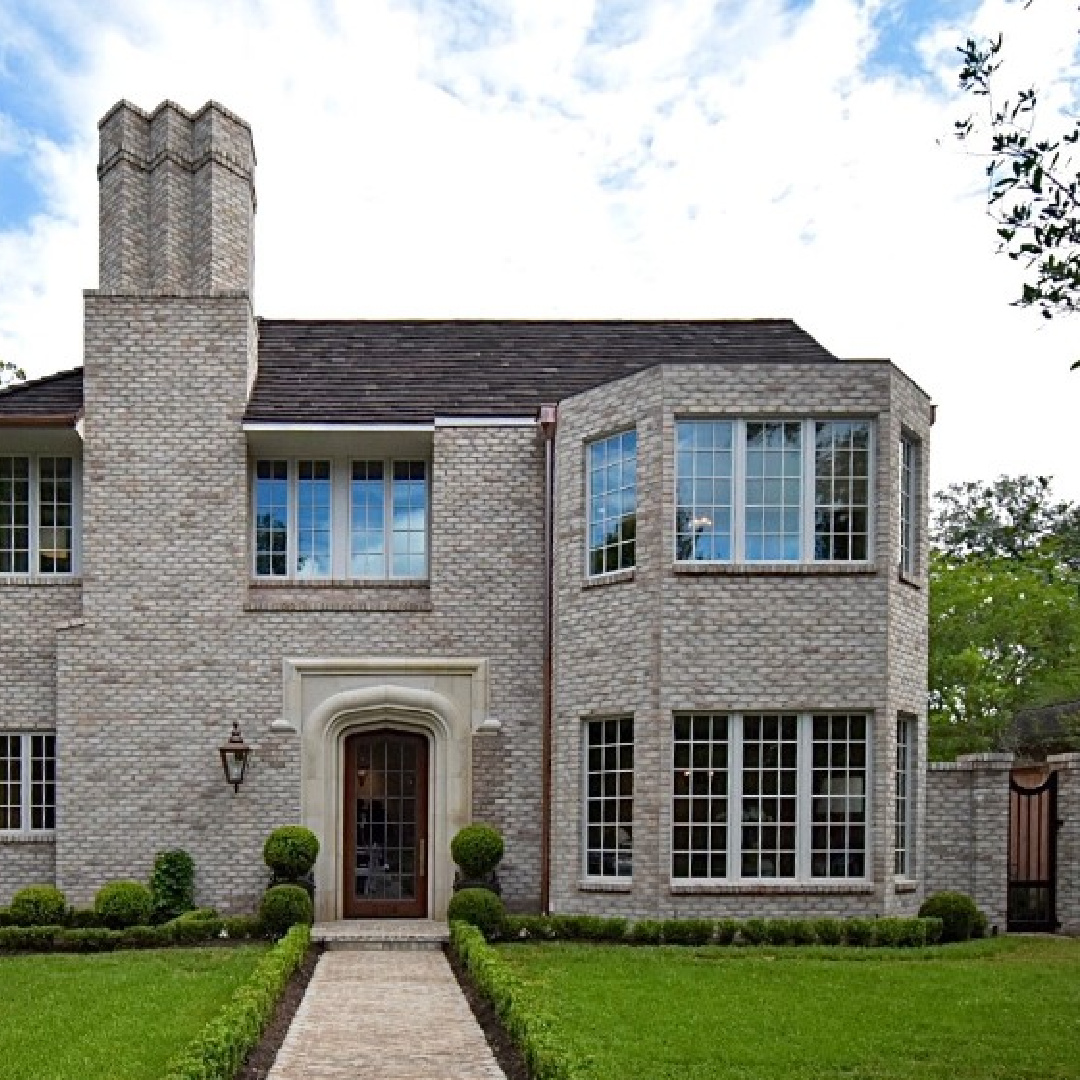 About the Showhouse
Located in Houston's historic River Oaks neighborhood, MILIEU's Showhouse was constructed by custom homebuilder, Jennifer Hamelet of Mirador Builders.
There were so many breathtaking and unexpected design moments I noticed when I saw the images (by photographer Laura Resen) in MILIEU magazine (do subscribe and see what the fuss is about!).
For example, the "formal" dining room is gorgeously understated and luxurious without showing off in its design for everyday comfort and ease: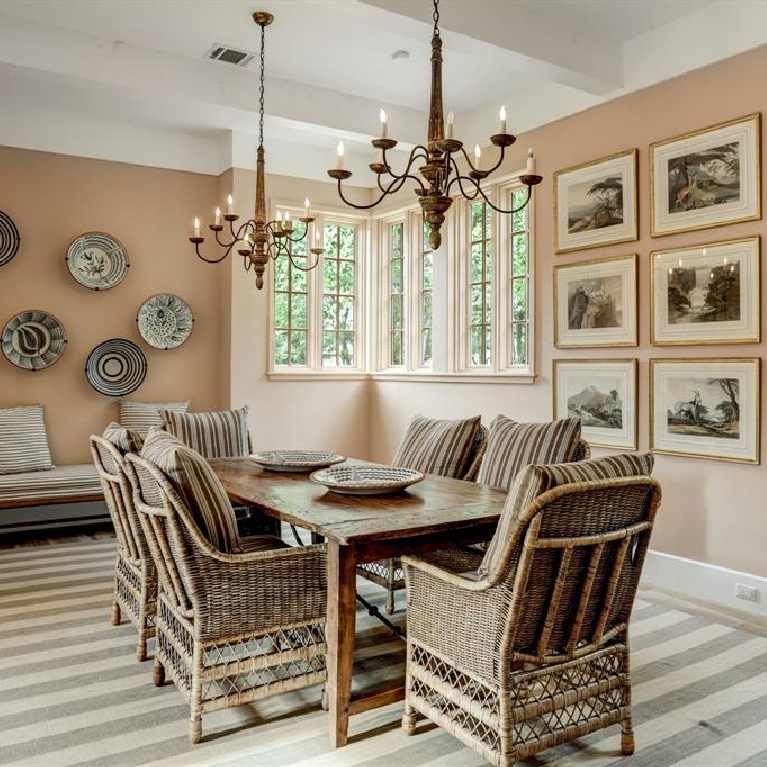 Do we really need a room to store fancy furniture we use solely to celebrate a holiday or two? Have a boring, unused, formal dining room? Why not make it a welcoming space to enjoy? (My dining room is small and pretty, but not fancy. We ripped out a built in formal china cabinet and installed a fireplace. I placed my piano from childhood in here so the room is used daily.)
Who Designed the MILIEU Showhouse Interiors?
Darryl Carter, Kathryn Ireland, Colette Van Den Thillart, Nicky Haslam, Lisa Fine, Eleanor Cummings, Carol Glasser, Becky Cooper, Jennifer Vaughn Miller, Shannon Bowers, and Pamela Pierce.
Things to Learn from the Family Room Design
Antiques and traditional style can feel freshly modern when a minimal aesthetic is at work.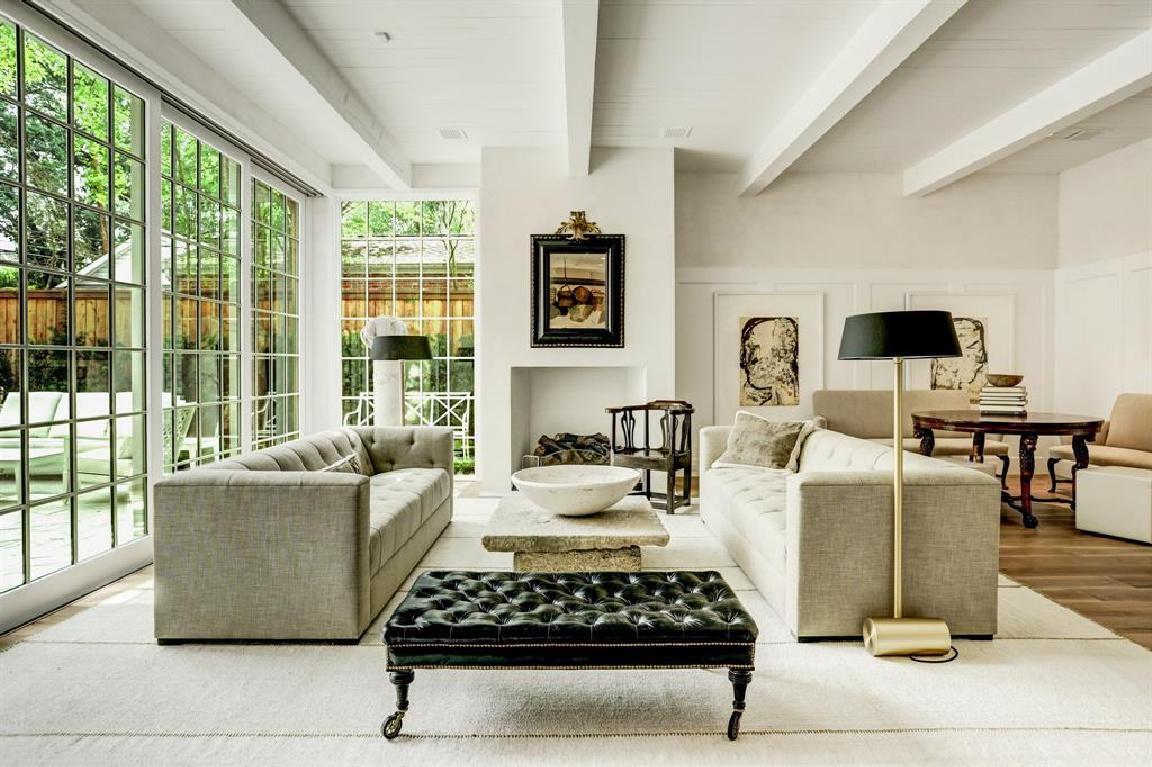 When every single object in a space is special and chosen intentionally, the overall effect will feel elevated and personal to you.
A tufted bench or ottoman? Lovely in lieu of a pair of chairs and will occupy less space.
Idea from the Entry
Drapery panels can provide privacy and soften a beautiful glass entry door.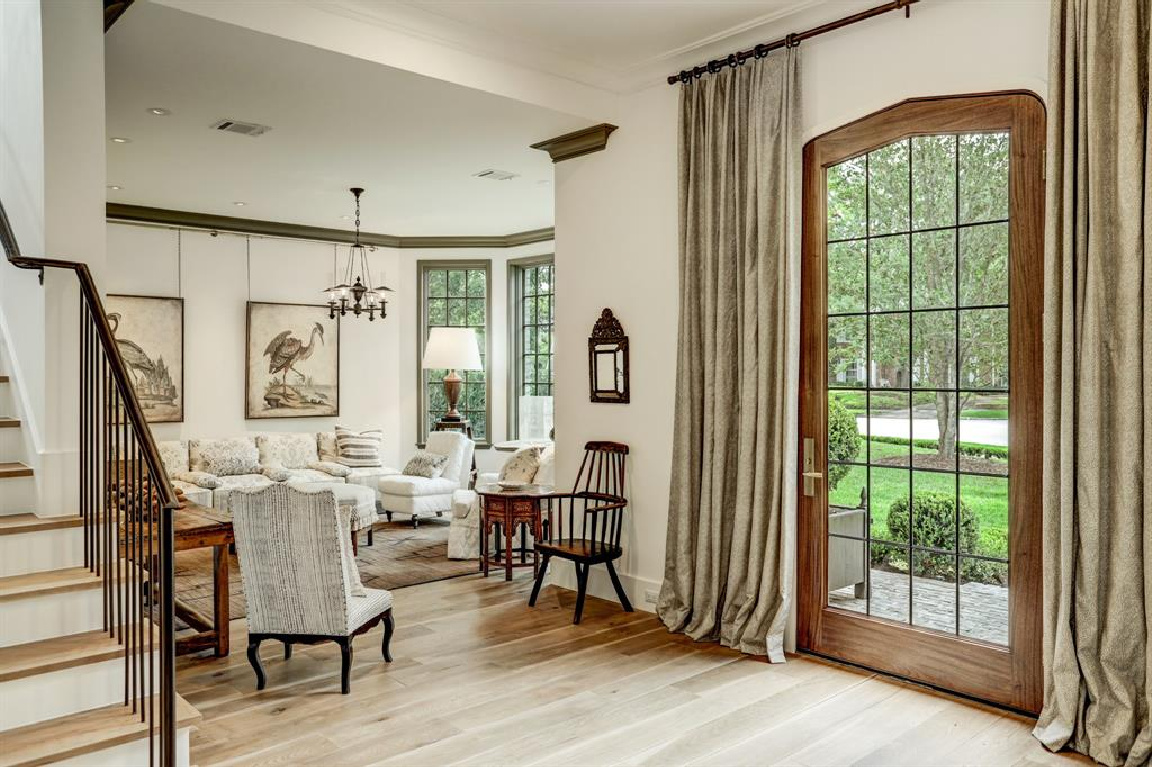 Design Ideas Gleaned from the Master Suite
Oh, this bedroom suite!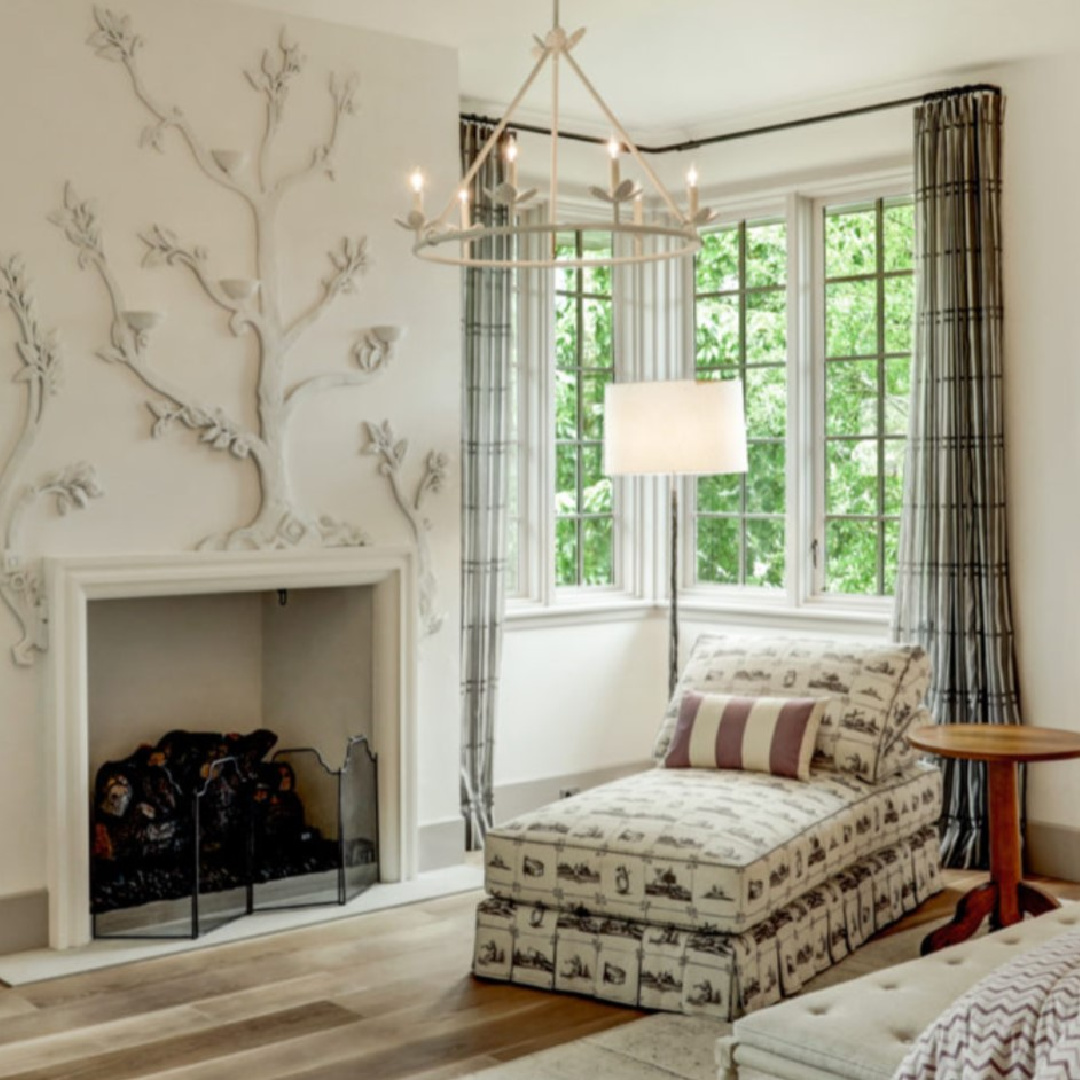 How in the world can a space feel so understated yet dramatic and eclectic?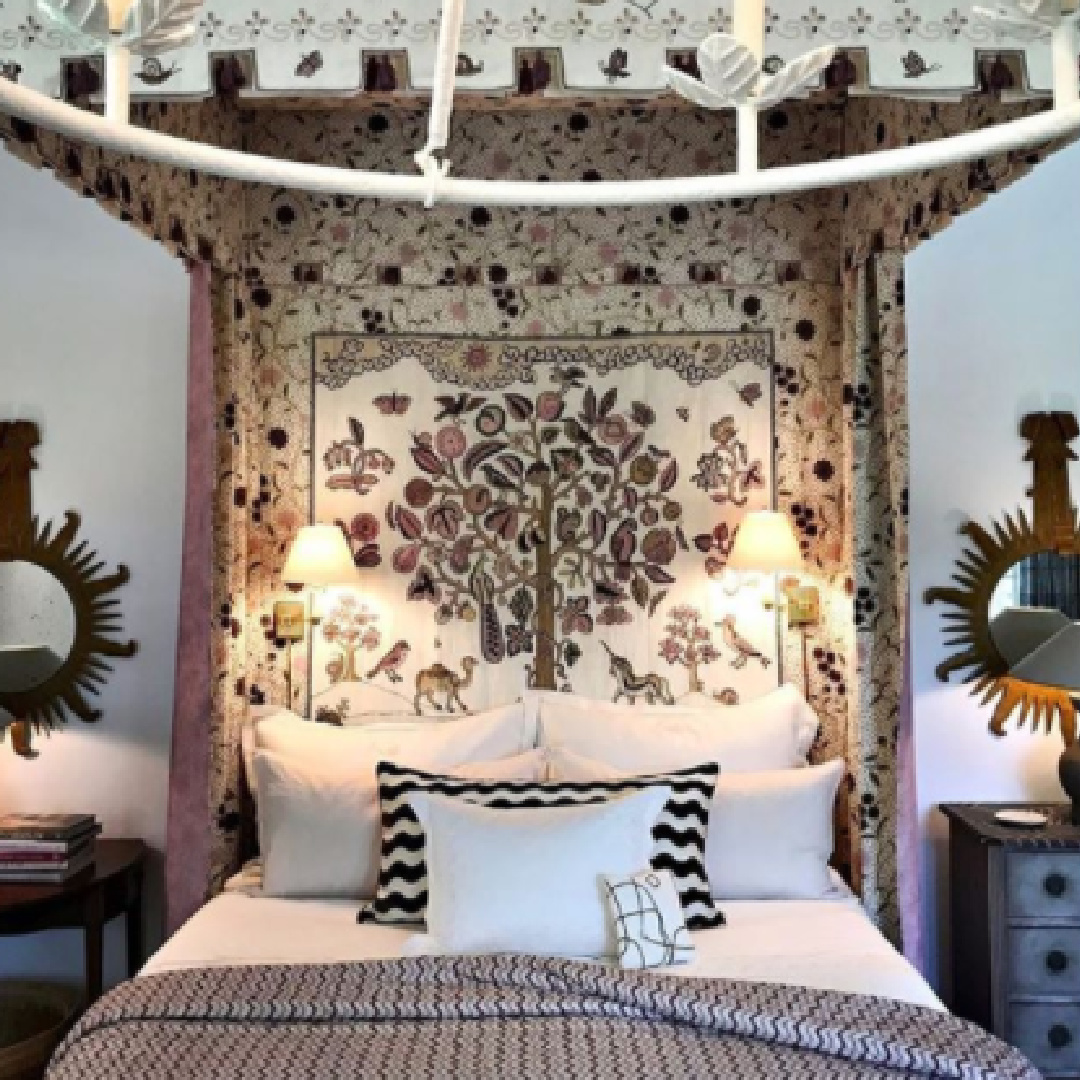 One of my favorite details the gorgeous tree of life fabric rising above the bed (which is infinitely more cozy with those shaded sconces with movable arms for reading!).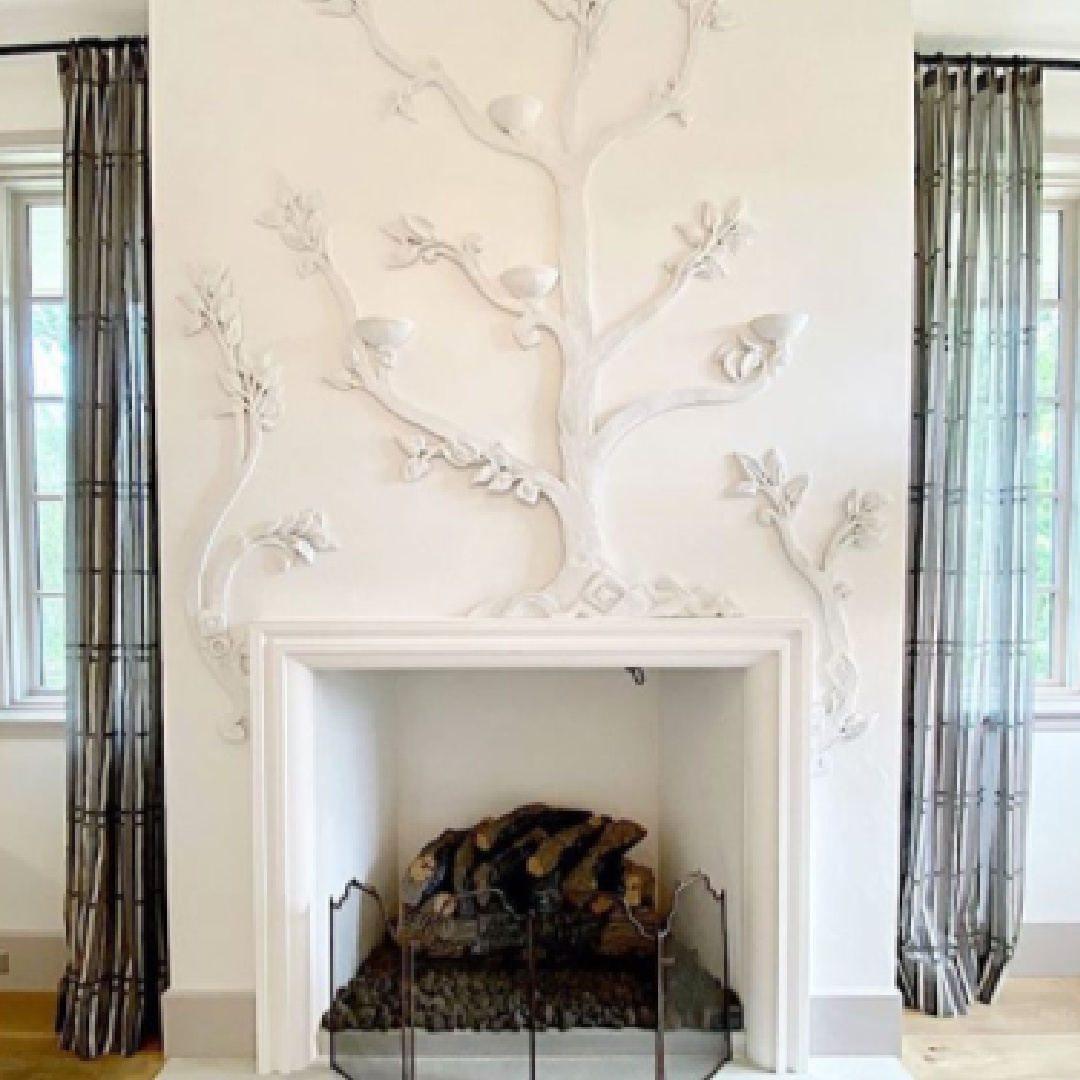 I'm also fond of this plaster relief above the fireplace which feels somehow organic AND otherworldly. My hands are aching to get busy experimenting with a few different relief techniques, and I plan to start small.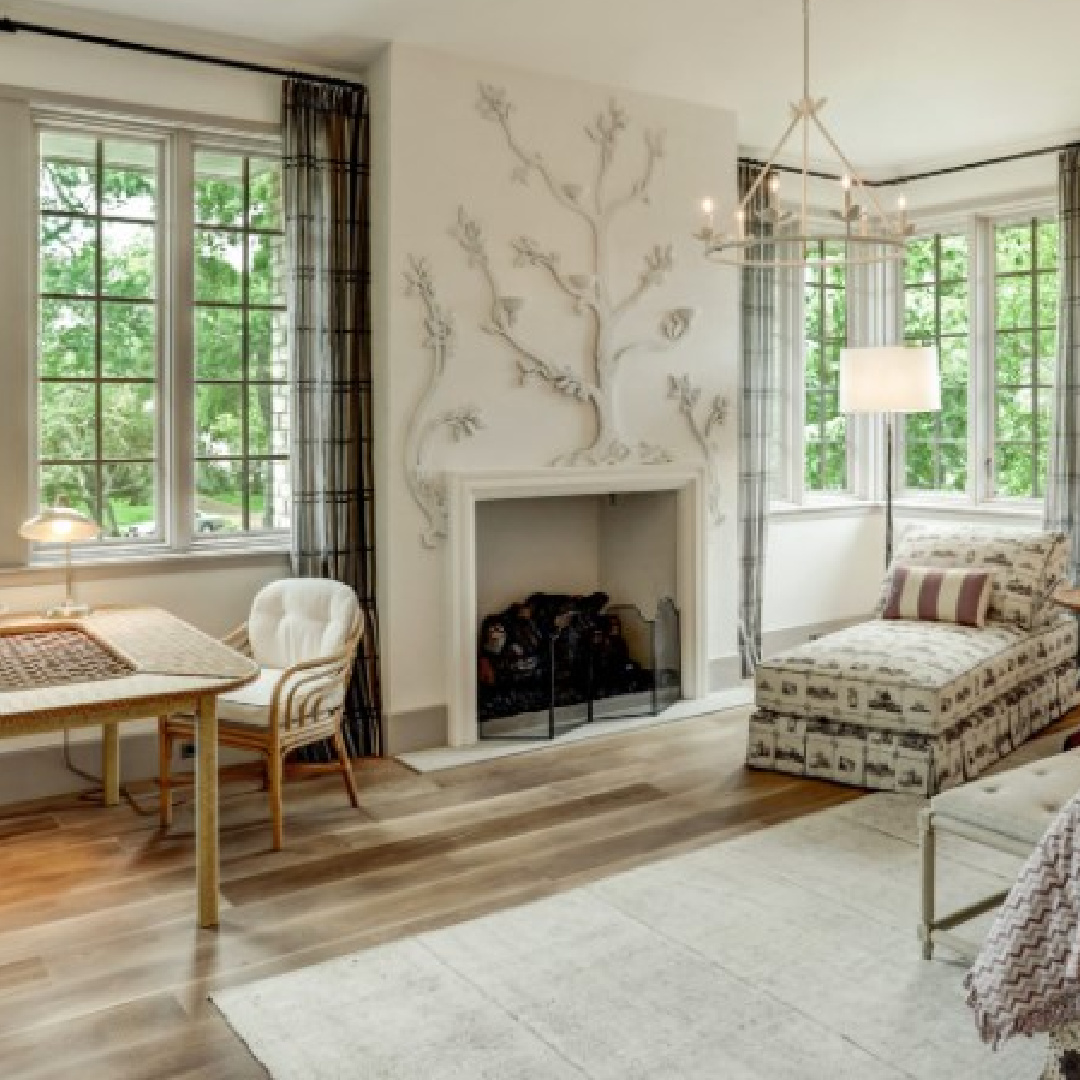 The subtle repetition of round shapes (ring chandelier, sunbursts flanking bed, round side table near chaise) softens the composition.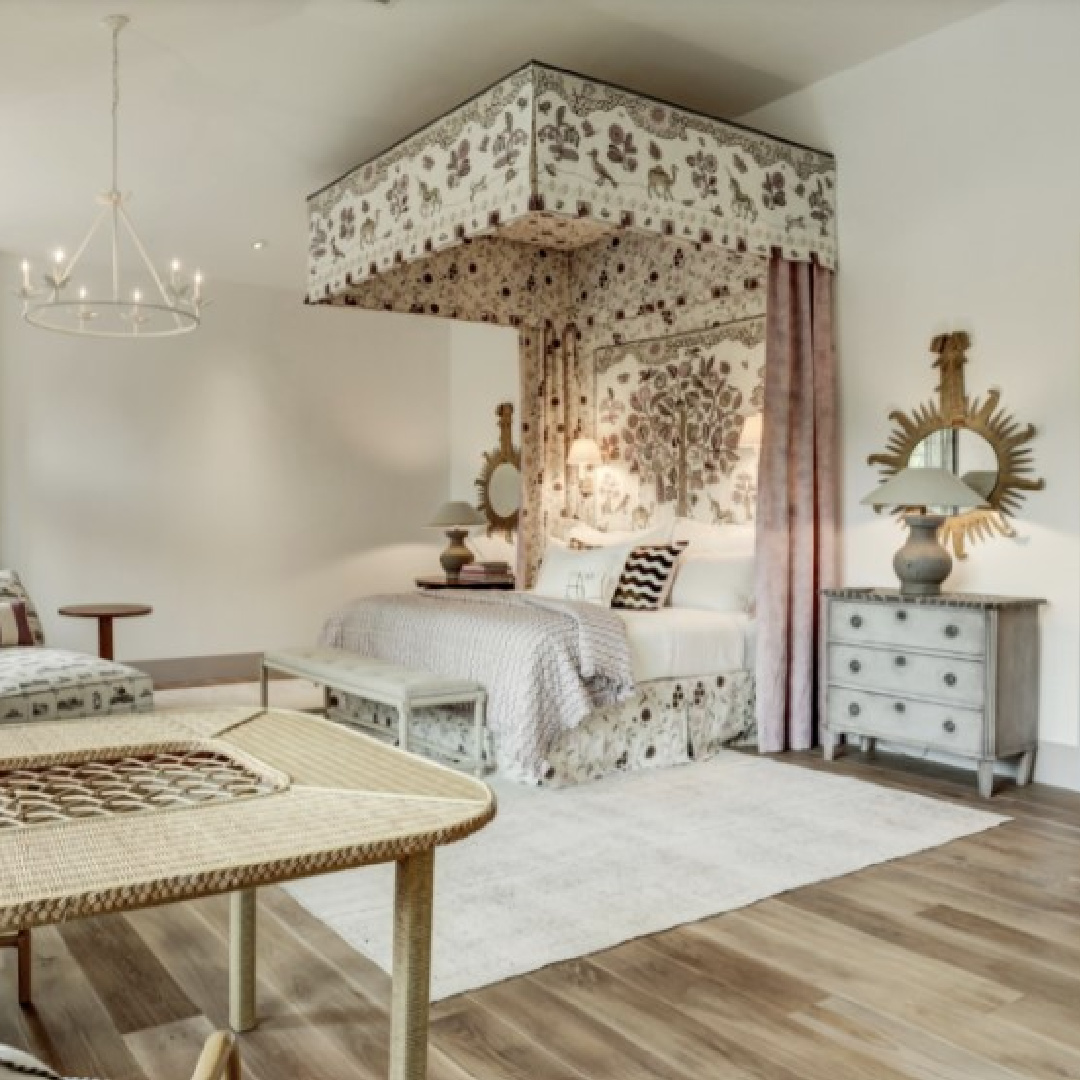 The space feels timeless and also well-traveled – bear in mind your bedroom can be a design departure from the rest of your interiors. Have a favorite hotel? Maybe adopt the style of it for your personal retreat.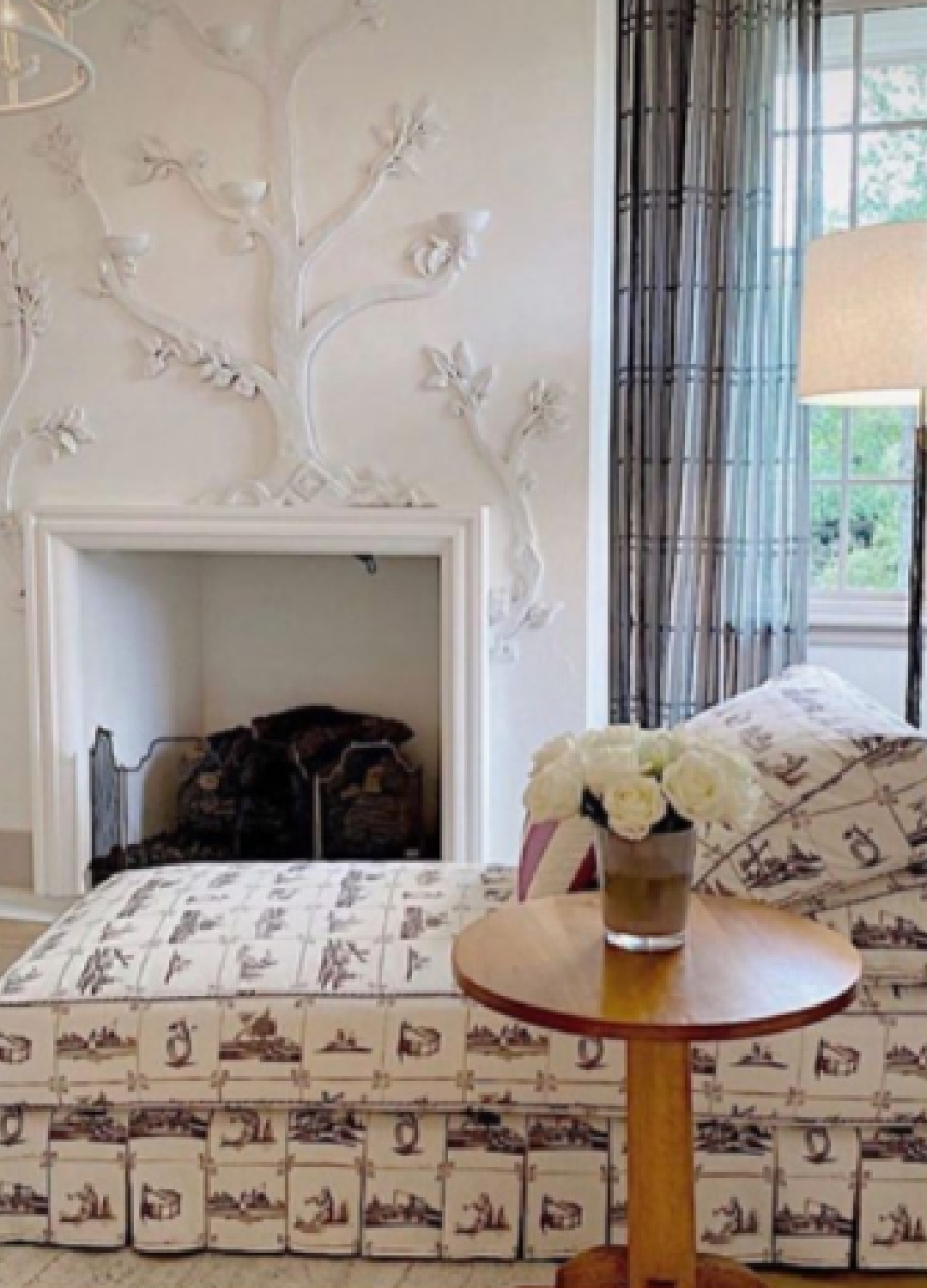 A getaway without ever getting away.
Inspiration from this Stunning Bath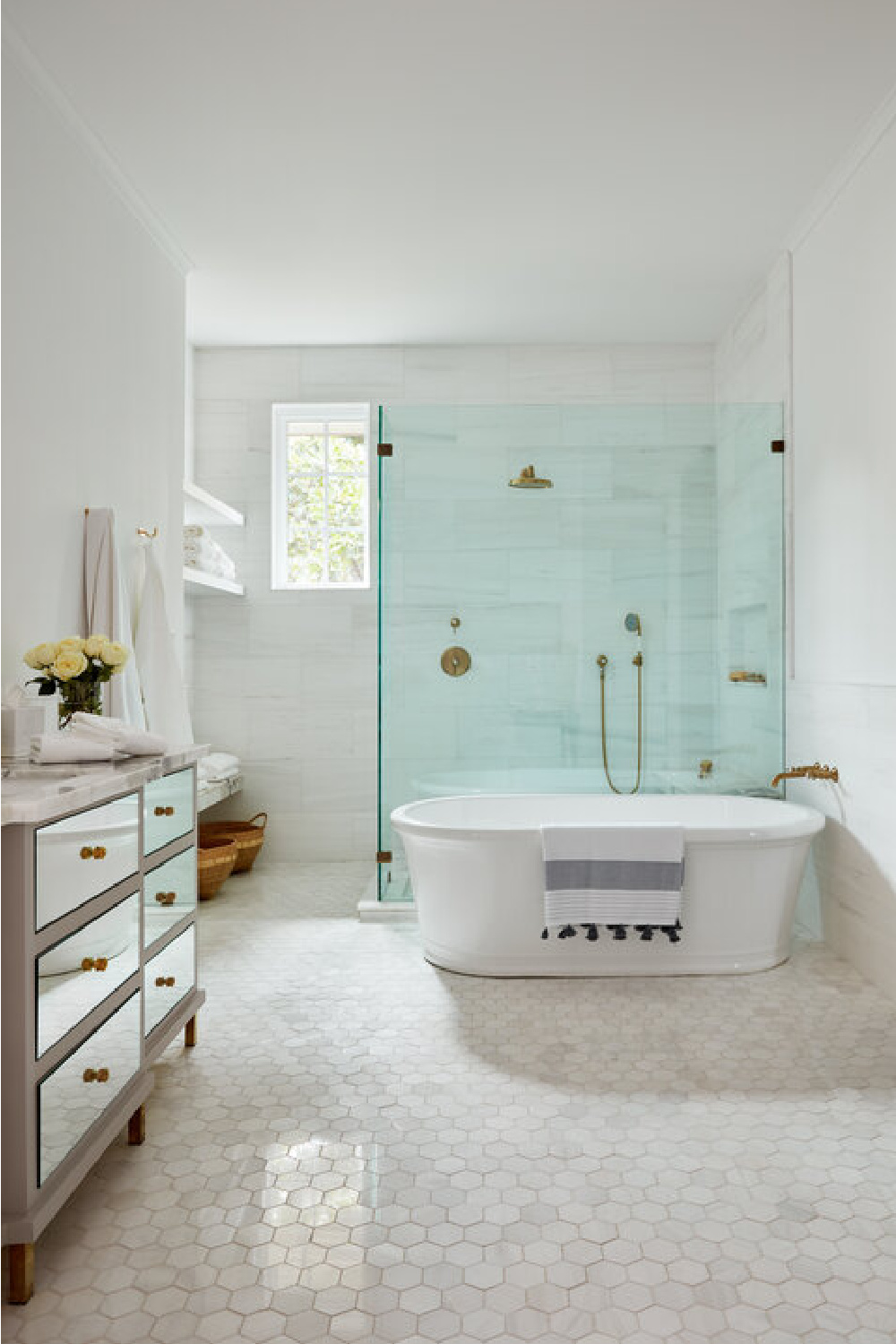 An all white bath is always a bright idea when you're after a serene mood.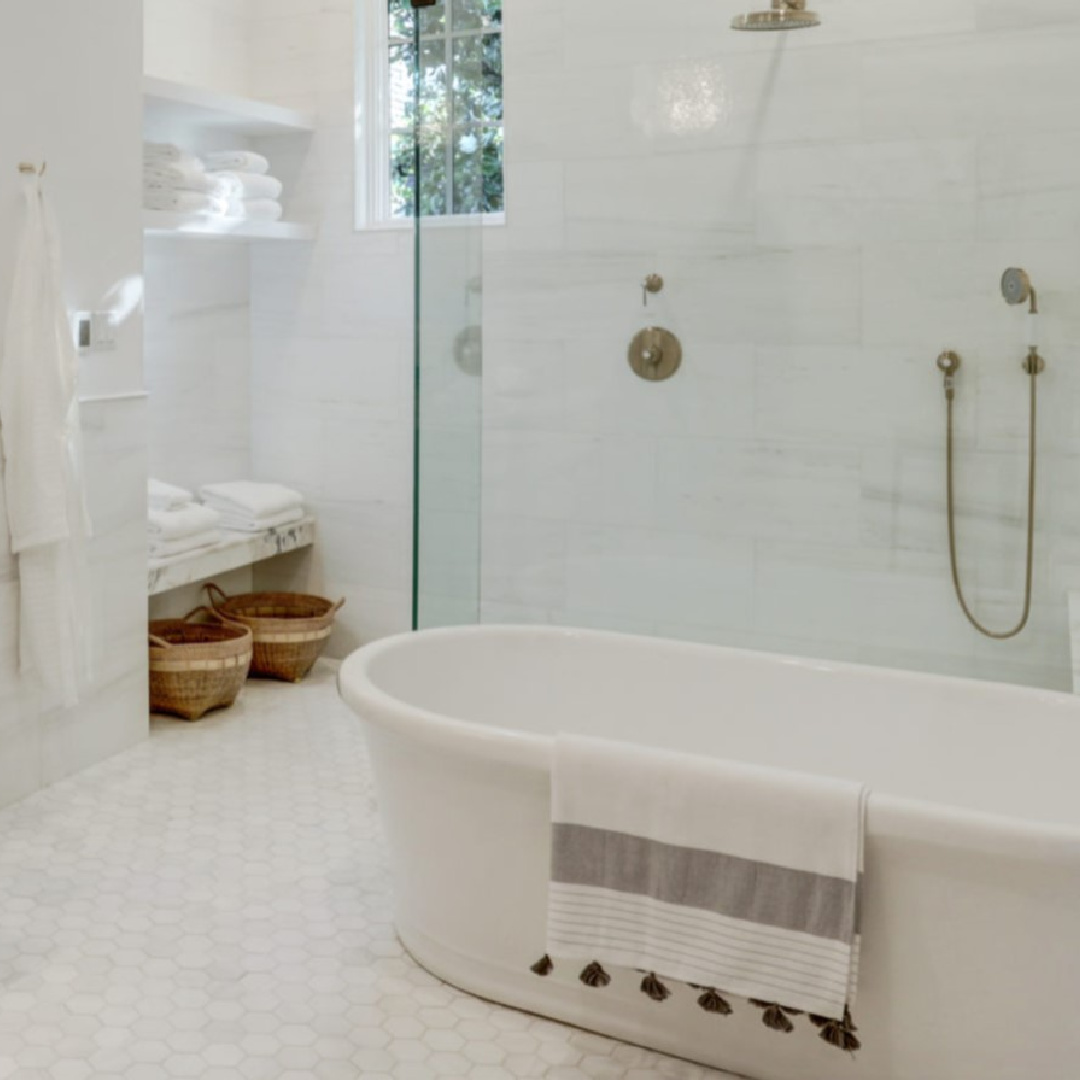 Deep shelves for towels are a savvy spa-like detail to steal along with baskets to hold products.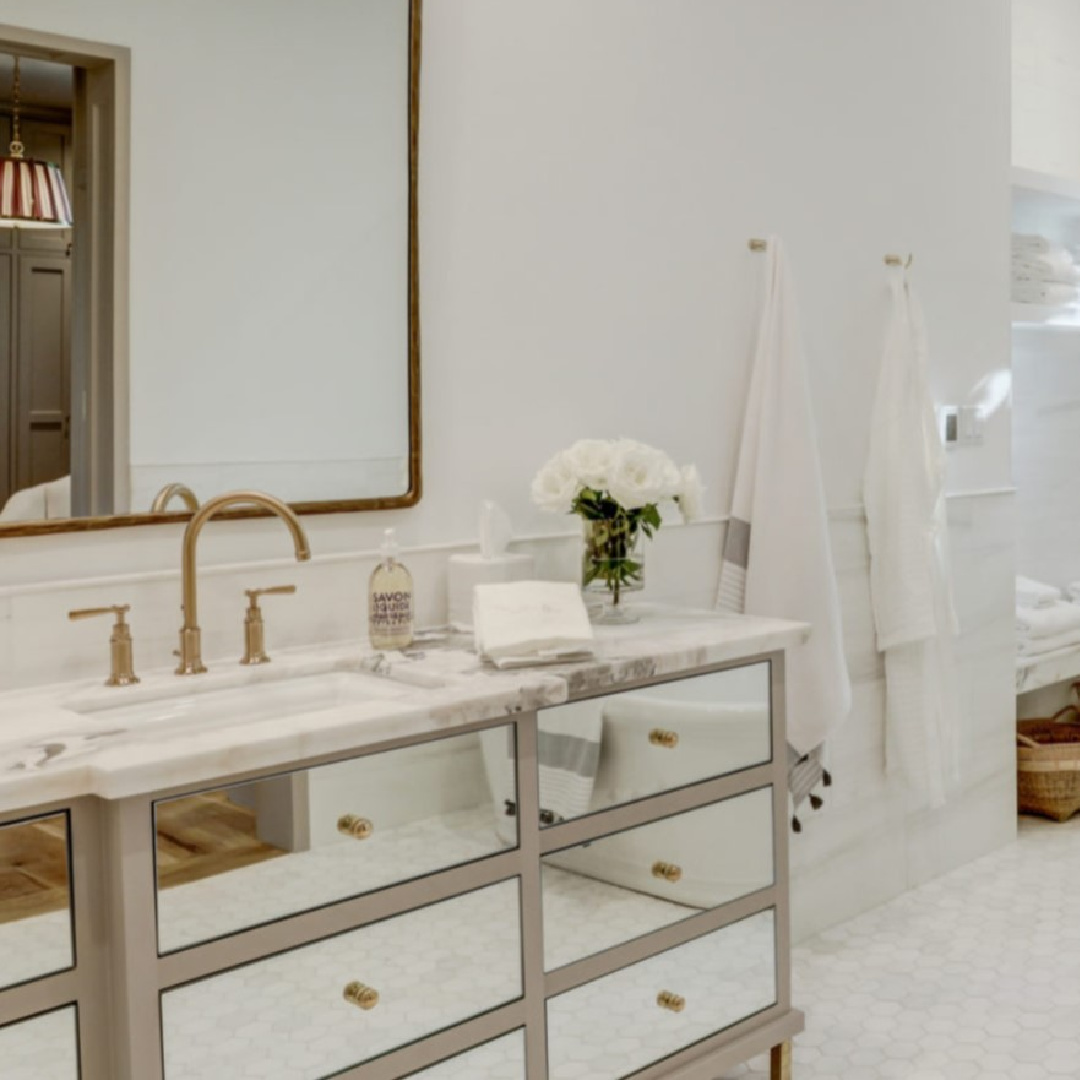 While a custom mirrored vanity may not be in the budget, look at the beautiful hardware in all its refined glory. Don't forget about upgrading hardware for a a dust-free, demo-free DIY.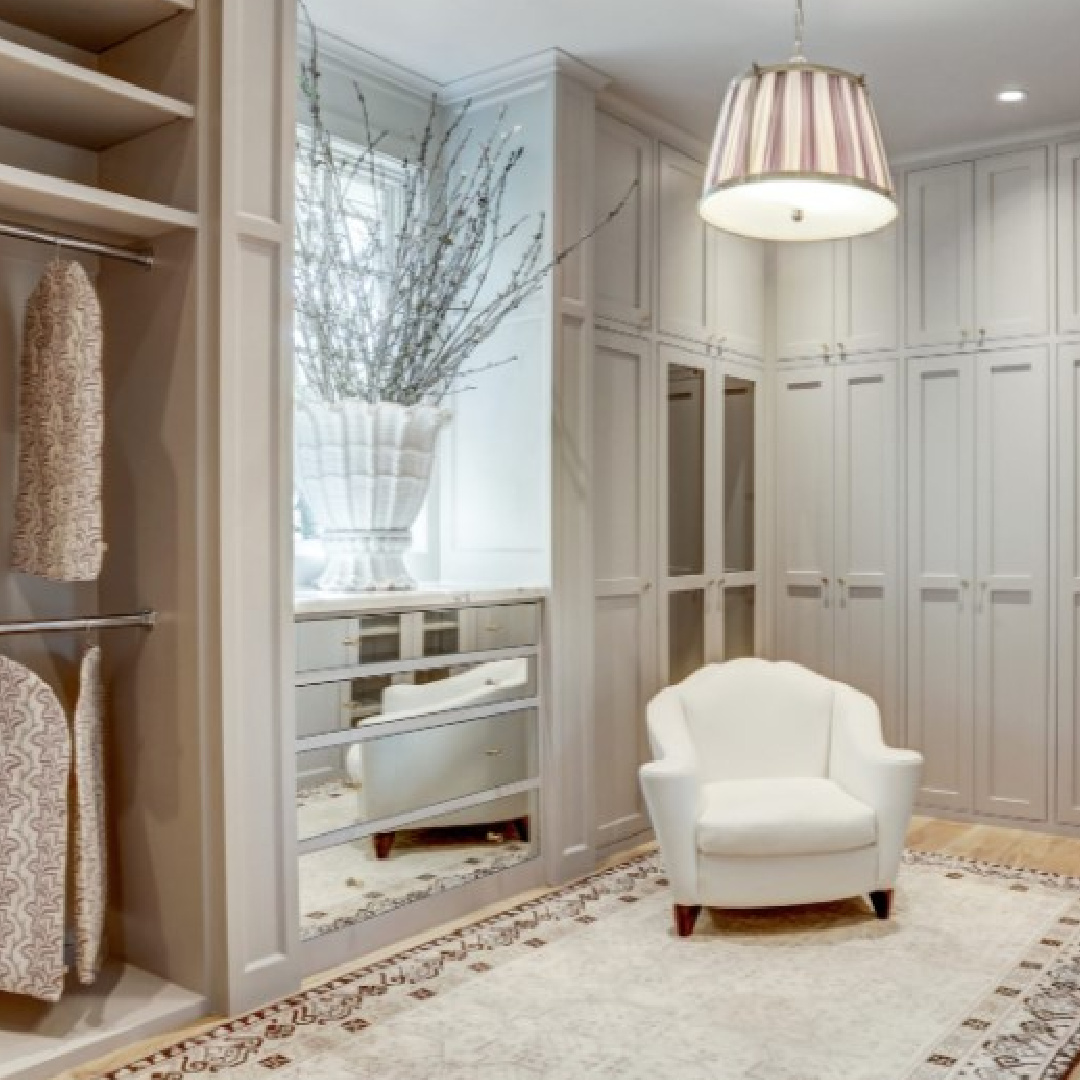 While I may not have quite the fantasy walk-in closet/dressing room above, I'm noticing how the gorgeous painted finish (from Domingue Finishes) adds richness, atmosphere, and quiet. Even for run of the mill, builder's grade clothing closets with a single hanging rod, everything painted a single sophisticated color may unify disparate elements and freshen the look.
Actionable Ideas to Glean from the Game Room
While I don't have a loft or bonus room in our current home, so many contemporary two story homes have them. If yours has no function, why not make it a game room or library? This one designed by Pamela Pierce has my heart for its gentleness.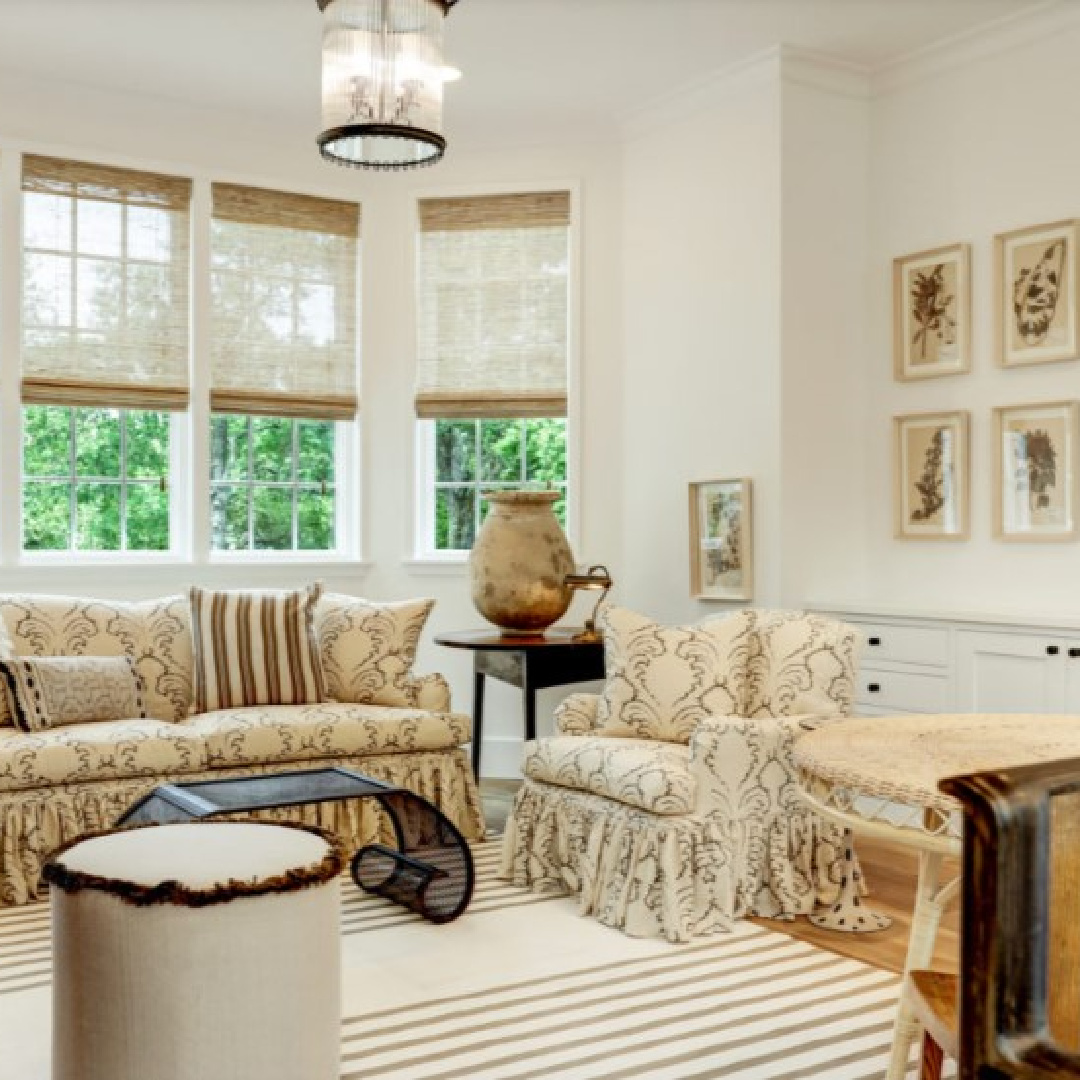 Gentleness matters. Life can be hectic, and your interiors should soothe you. (Psst. Game rooms and libraries need not be uber-masculine or feel like caves.)
Inspiration to Guide Utility Room Design
What a gorgeous space to do laundry!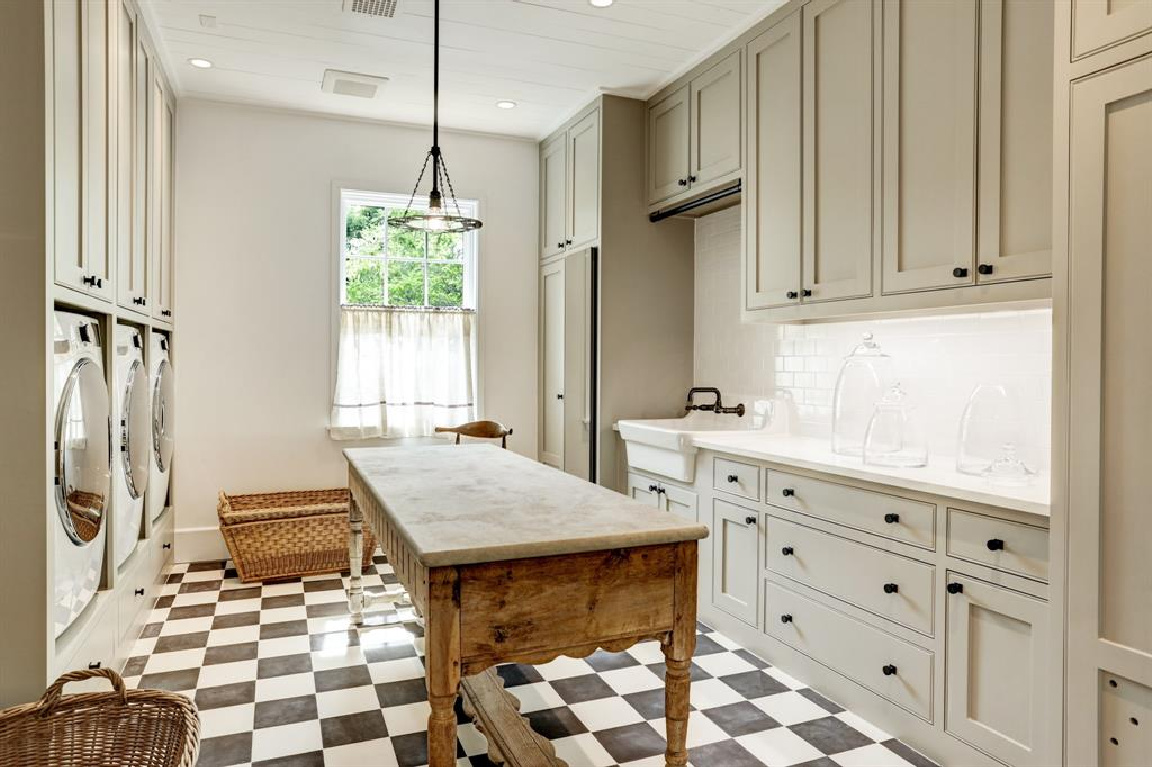 The checkered floor is such a whimsical detail, and vintage baskets are beautiful AND functional.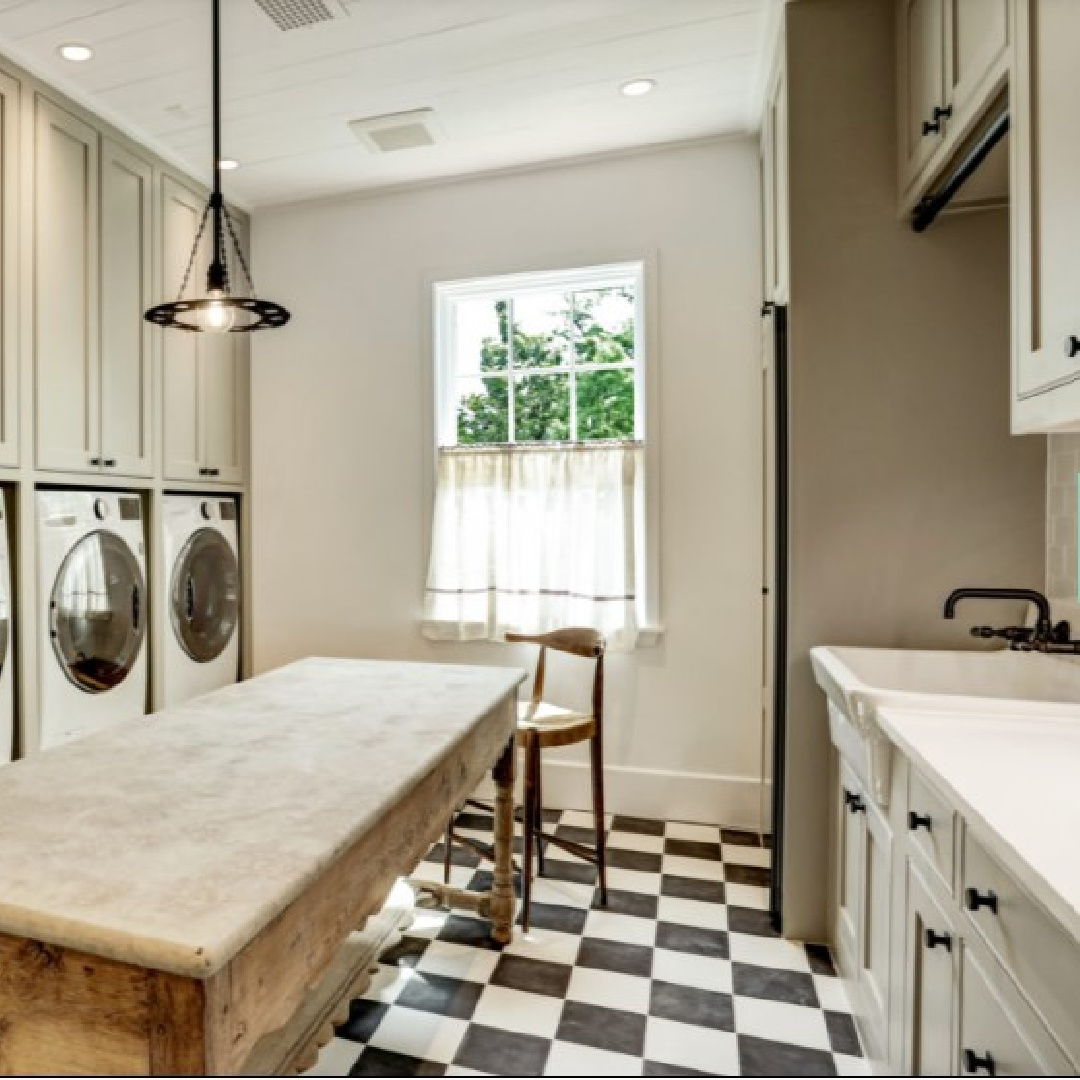 Open shelving is popular for utility rooms, but look at the possibilities when storage is hidden! In my own little laundry area, we added cabinets to hide my paint supplies, cleaning products, candles, and unsightly tools. If your utility space is graced with natural light, lucky you! Mine is not, and I recommend carefully choosing paint colors for walls and cabinetry. The color should brighten the room and feel clean. Add beautiful lighting and ditch the fluorescents!
What We Can Learn from this Bedroom's Floor
Floors are rarely the star of a room so it is worth noting that they certainly hold that potential!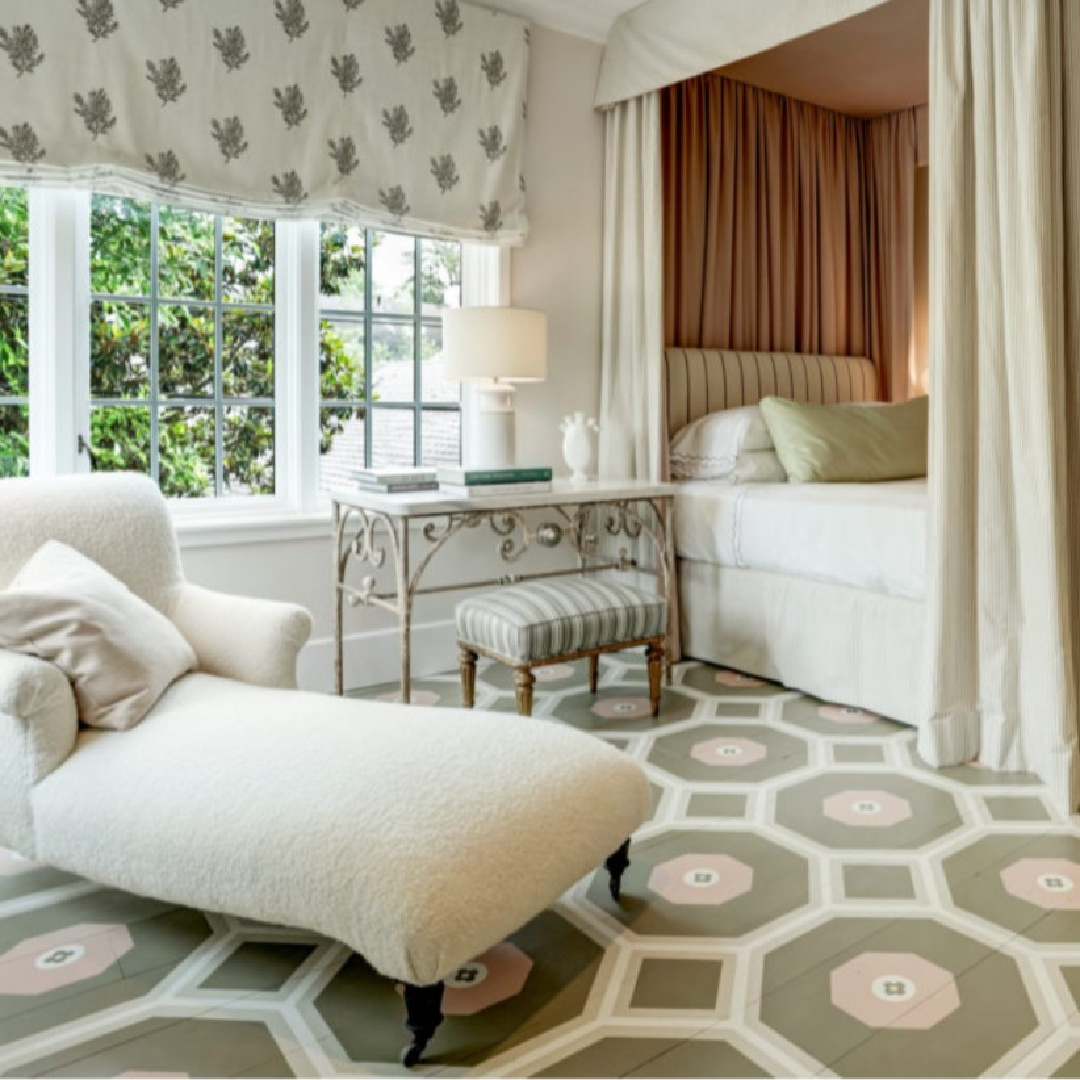 I am also struck by the romance and cocoon factor. From the nubby fabric on the chaise to the cozy panels around the bed to the gentle color story happening, it is a truly a sanctuary-like escape.
More Design Lessons from the Showhouse
There is a common thread of subtlety running through the showhouse. Design elements whisper and support each other rather than compete for attention.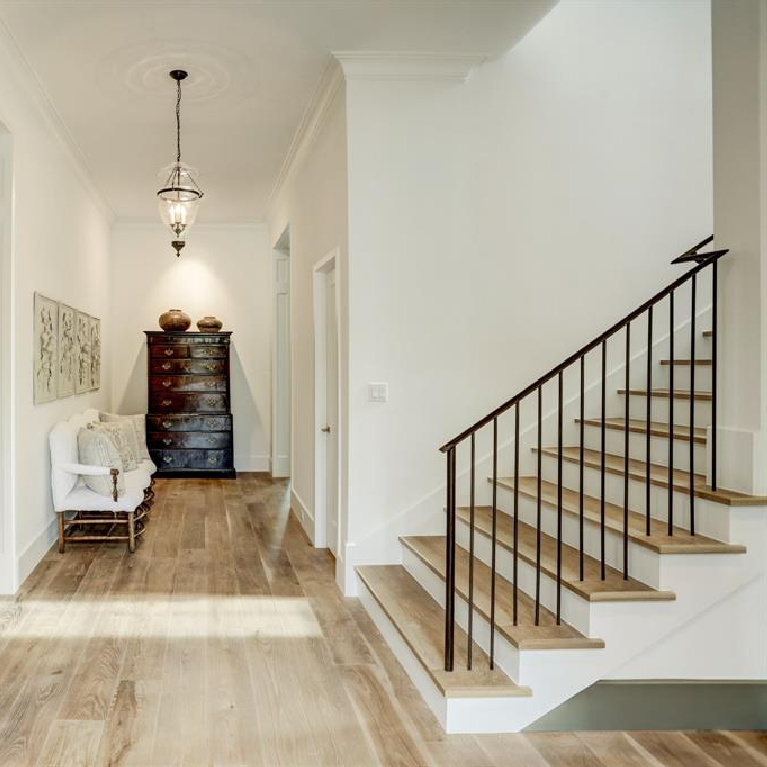 The home appears to be a historic home! How did they achieve this?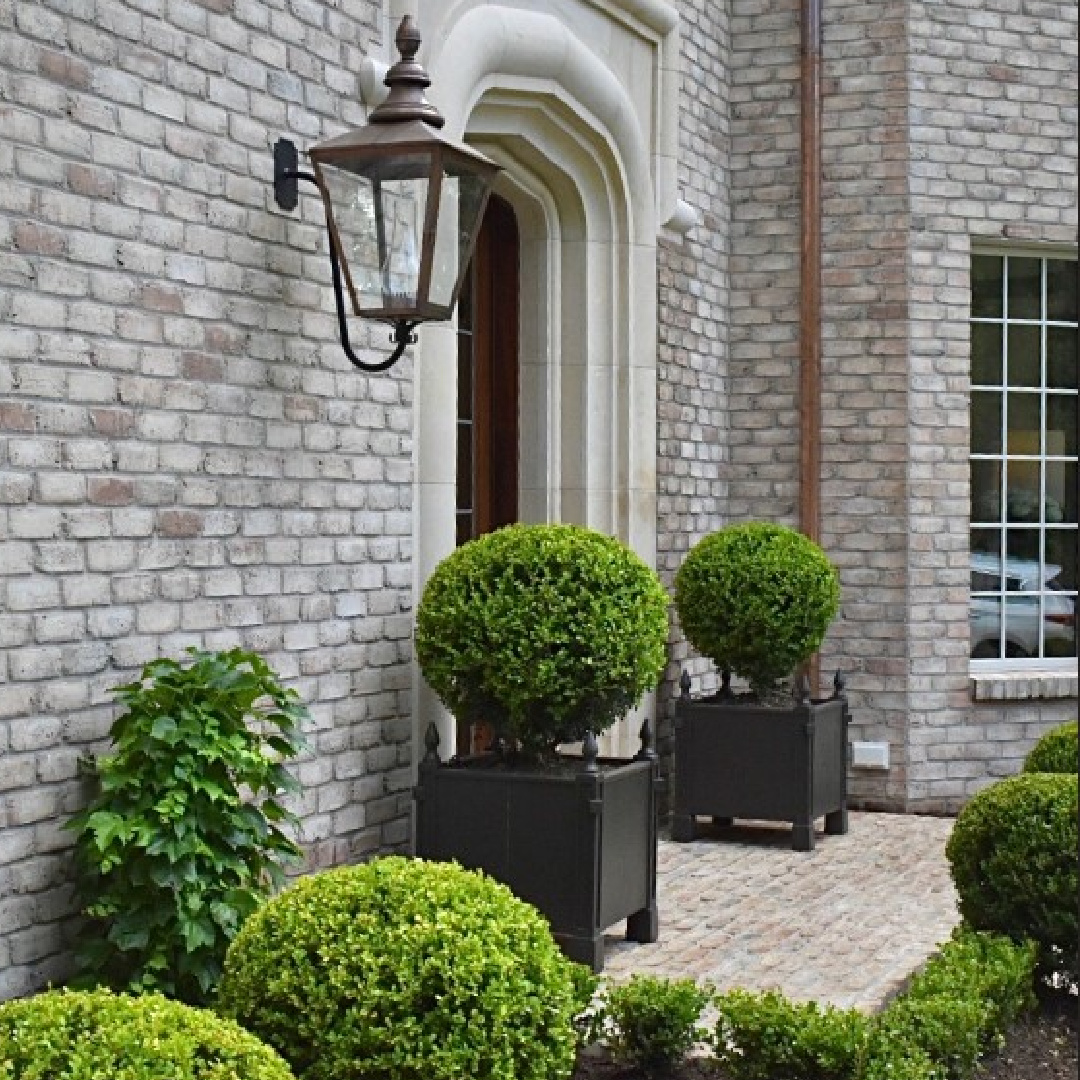 Attention to detail, Old World style, and an exceptional team with vision and experience is a start!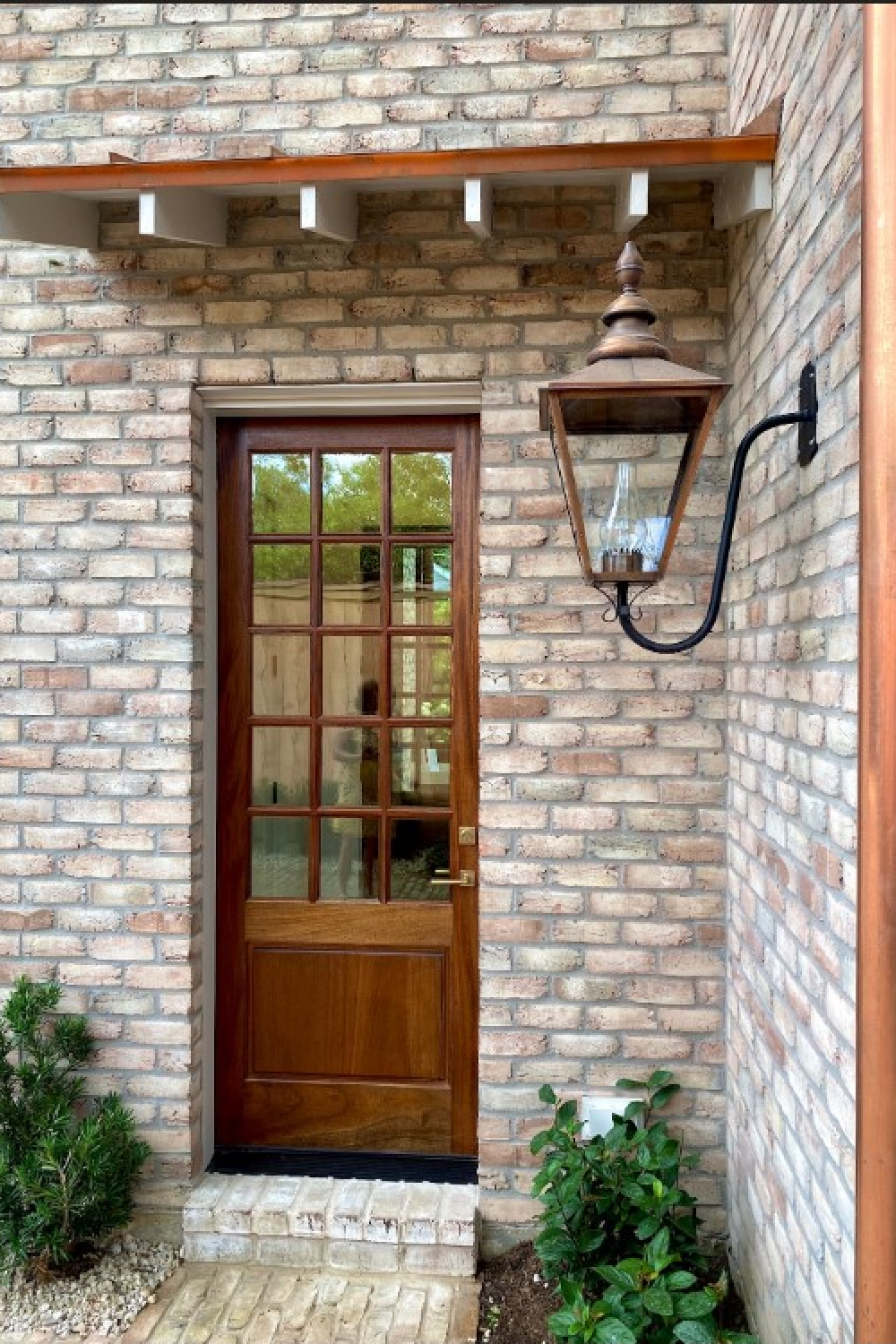 If you have ever built a home, then you know about the endless decisions and details. When you're after a timeless look to stand the test of time, the details multiply.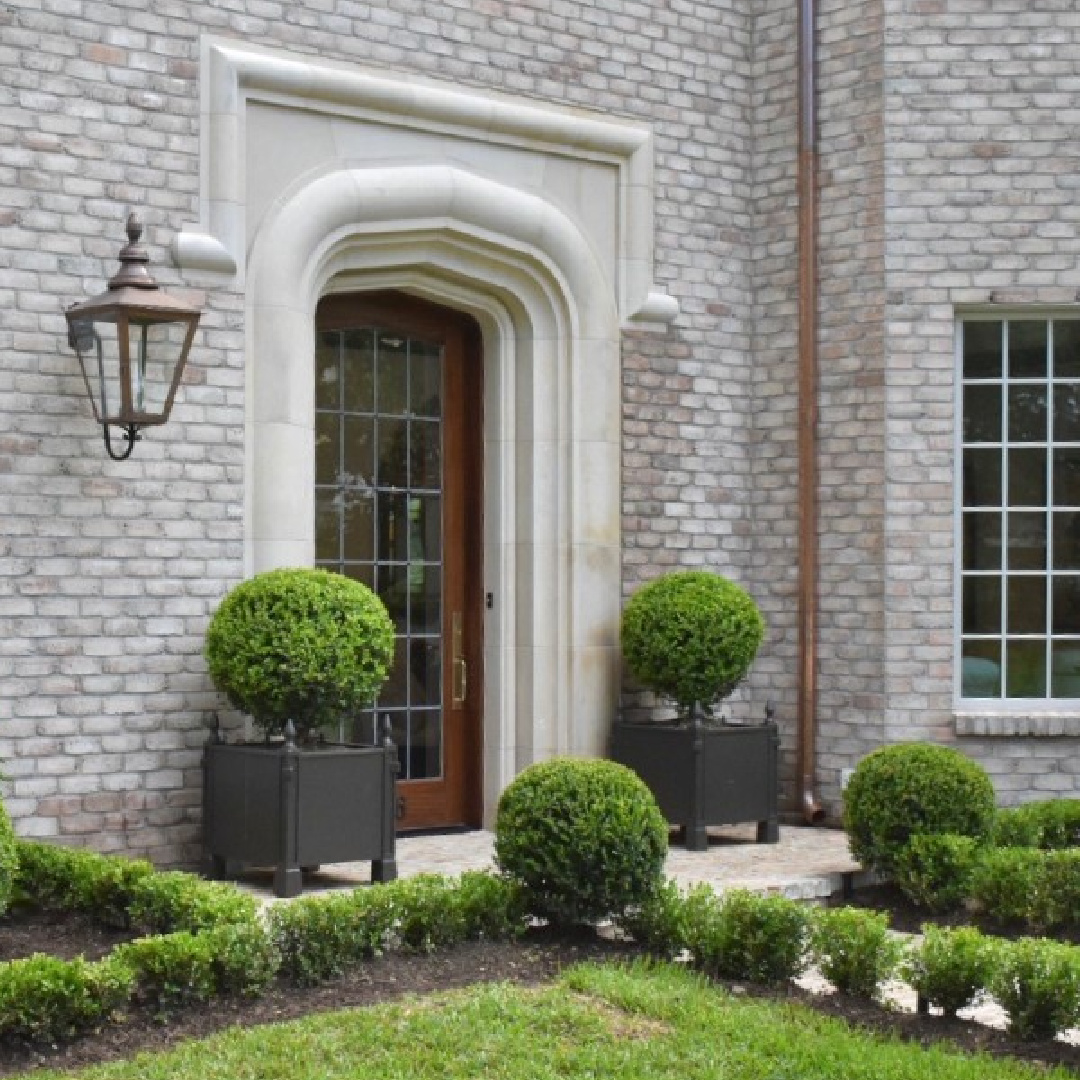 Inside and out, the design details here combine to create what appears to be a historic home.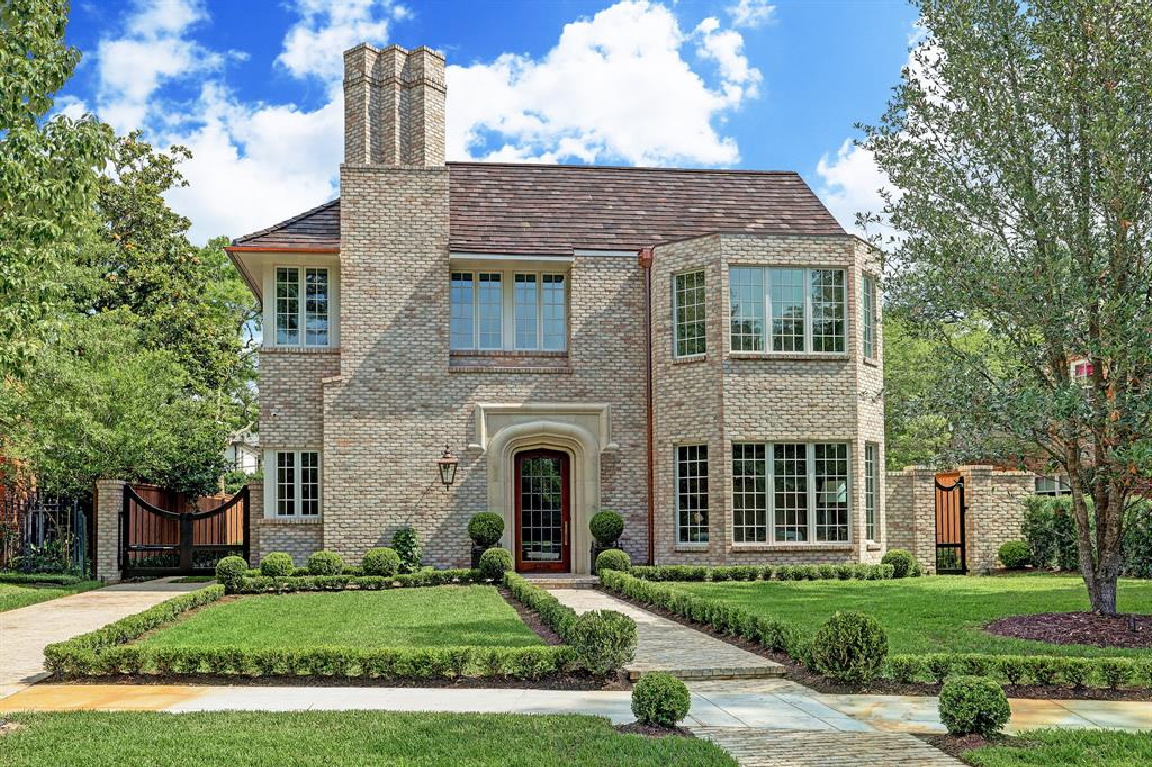 Peacock Pavers custom color and new chevron pattern were chosen for the the lovely Garden Terrace designed by Anne and Will Massie of McKinnon & Harris.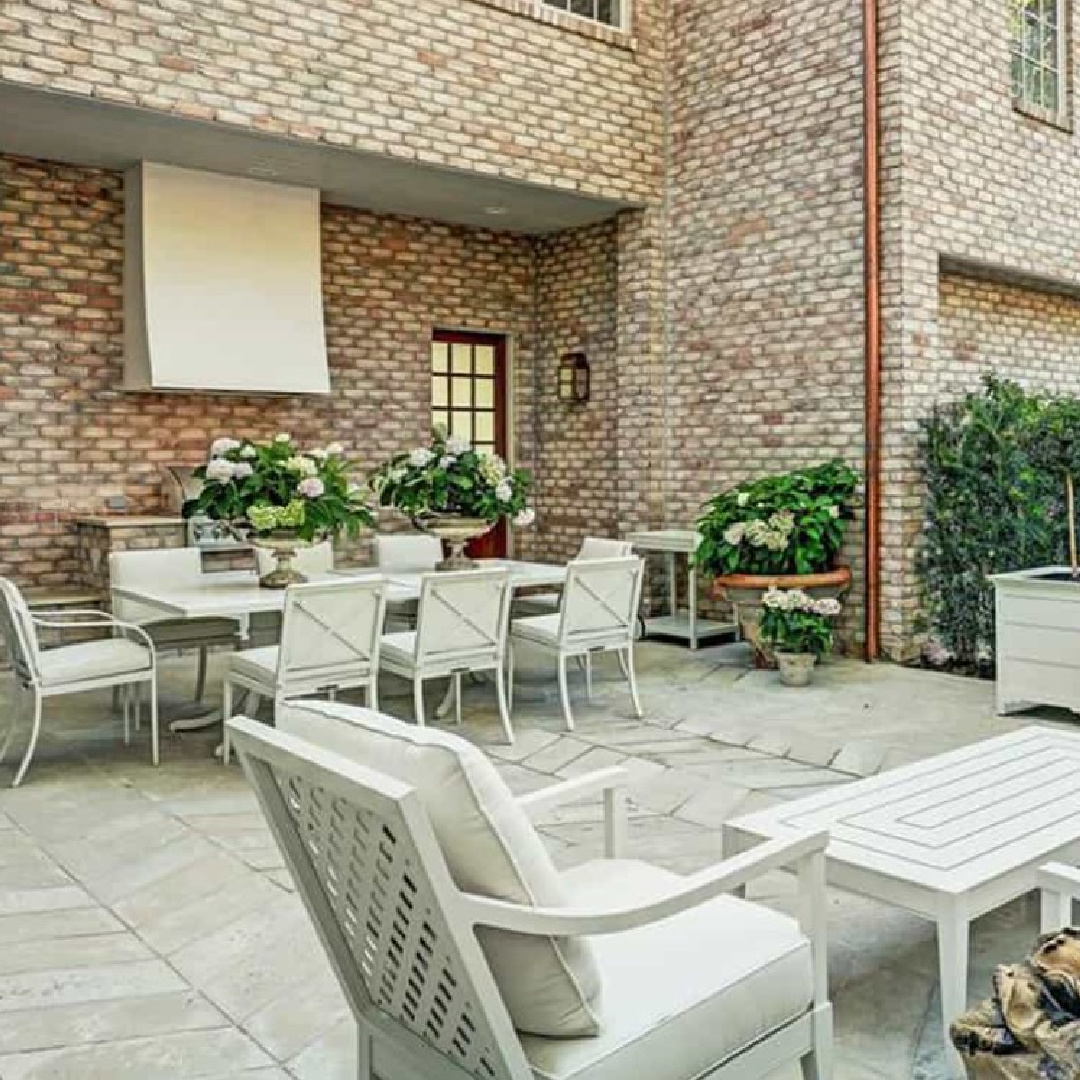 I would spend more time in this part of the garden! (That garden door would be perfect as an entrance to my own home's secret courtyard…I'll show you it one of these days!)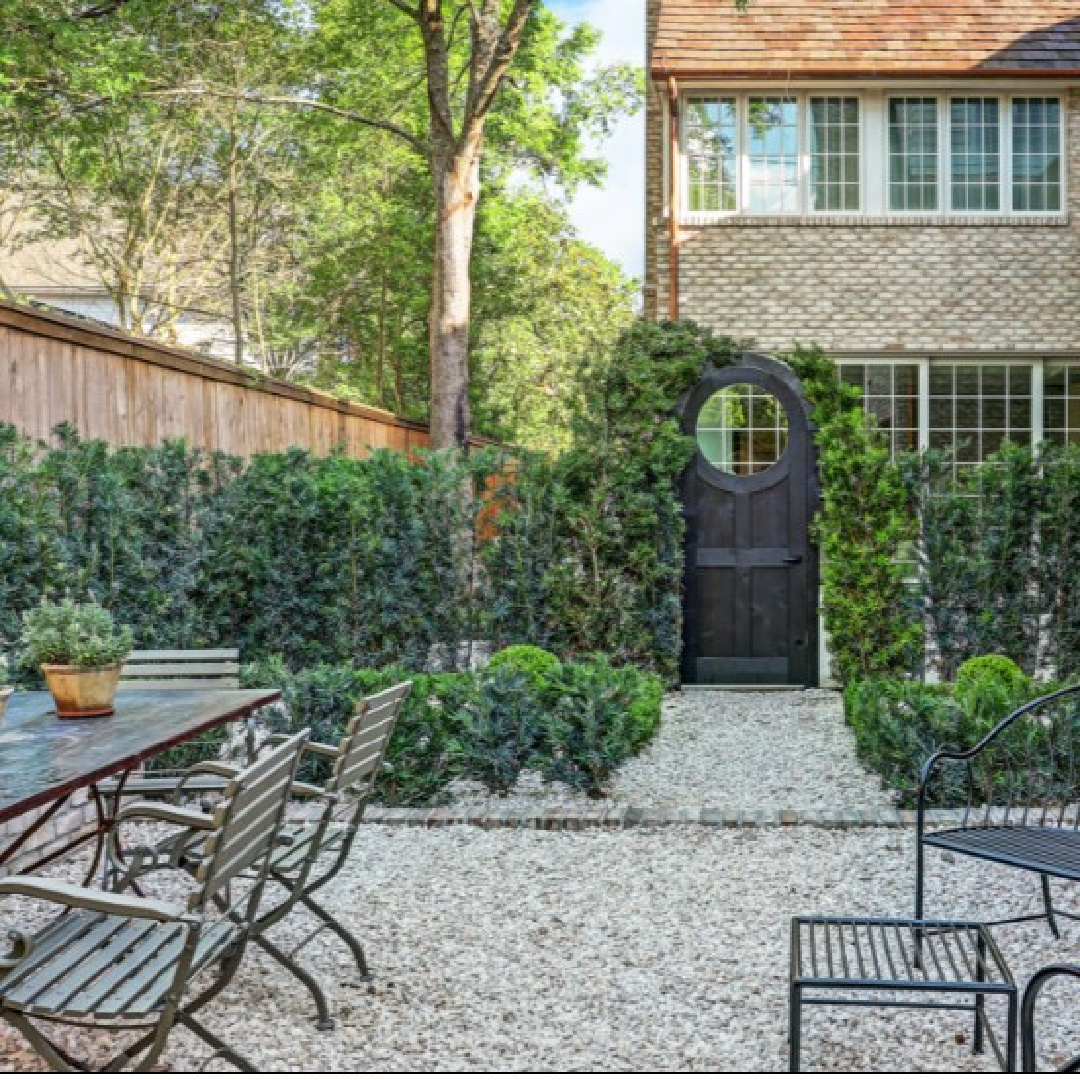 Isn't it stunning!?!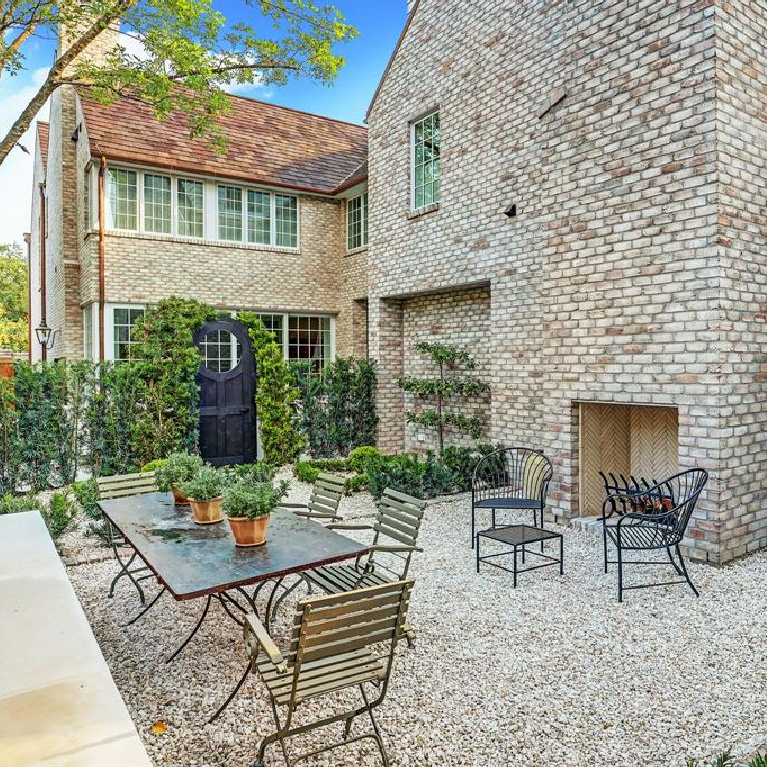 Kitchen Design Ideas from Shannon Bowers
The Chef's Kitchen designed by Shannon Bowers has Lacanche range, but I'm not suggesting the actionable idea here is to spring for a luxury range as the centerpiece for your kitchen.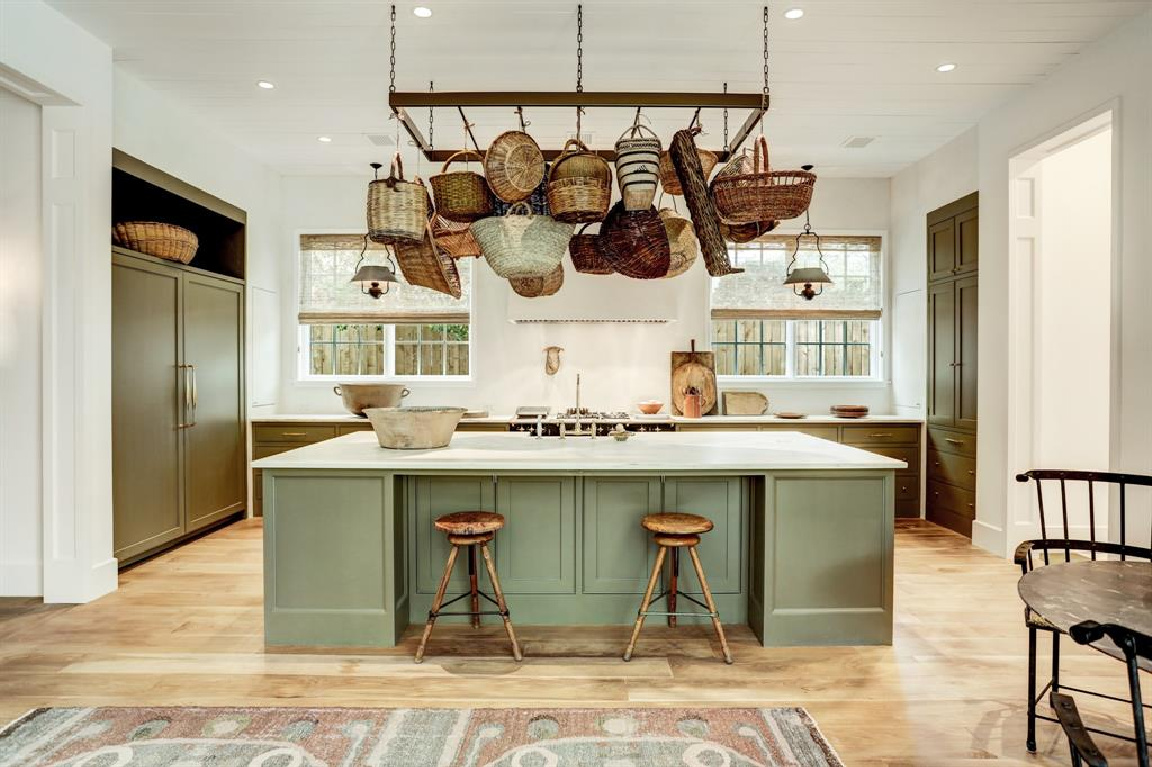 Rather, I find it helpful to turn my attention to the mood of the space.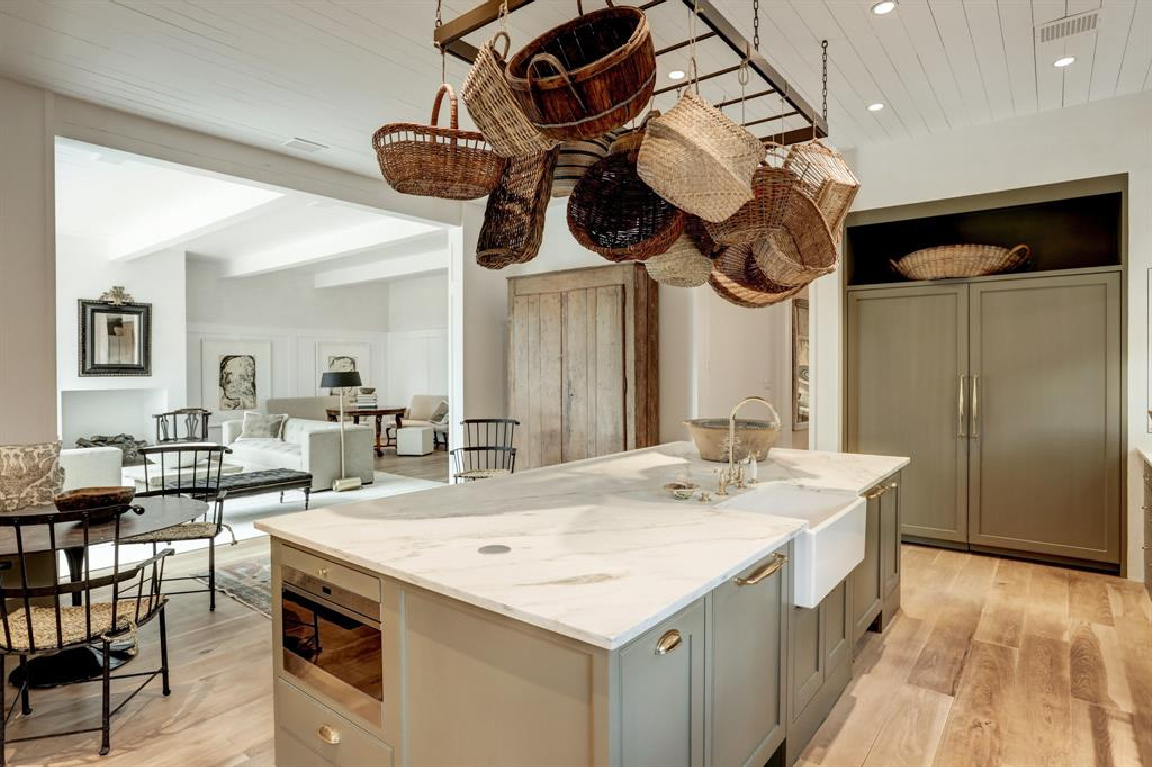 For me, this kitchen feels like a living space–a space where I would feel comfortable spending many hours. The color palette is natural, and the space feels airy without wall to wall upper cabinets.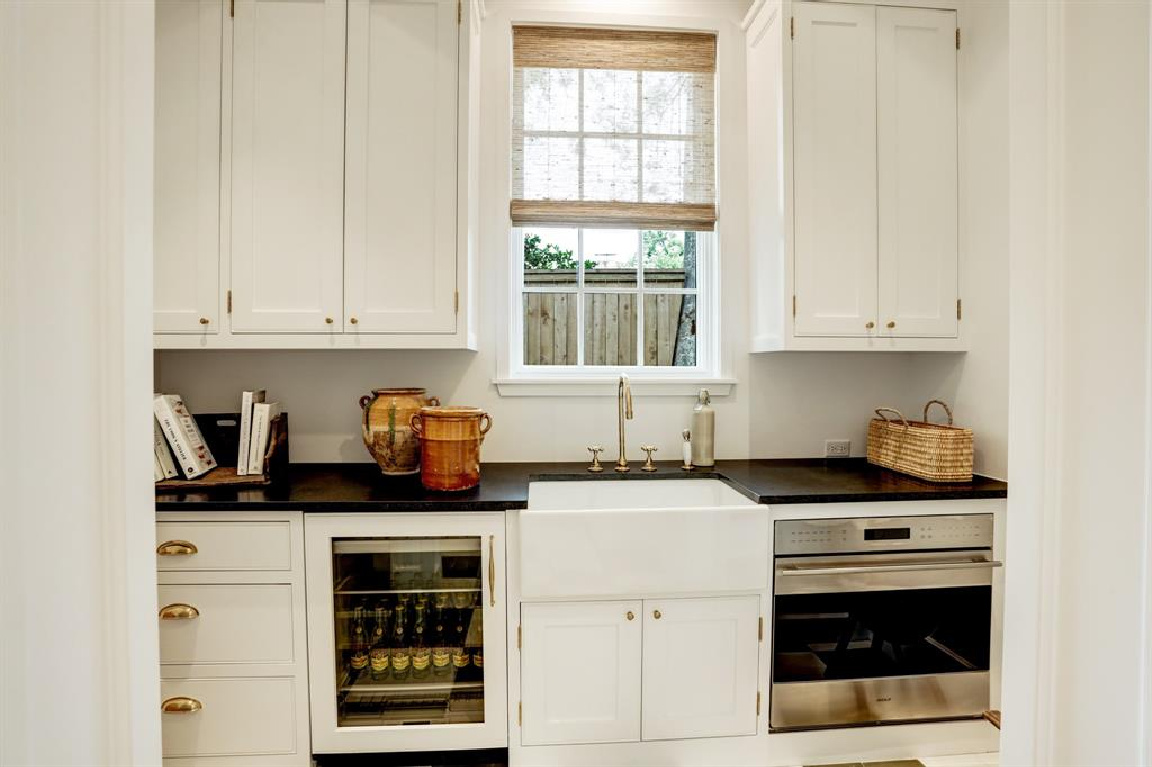 A pantry is the picture of timeless style. Aren't the baskets floating above the island a breath of fresh air!?! If you have a pot rack, maybe there's room for a basket or ten!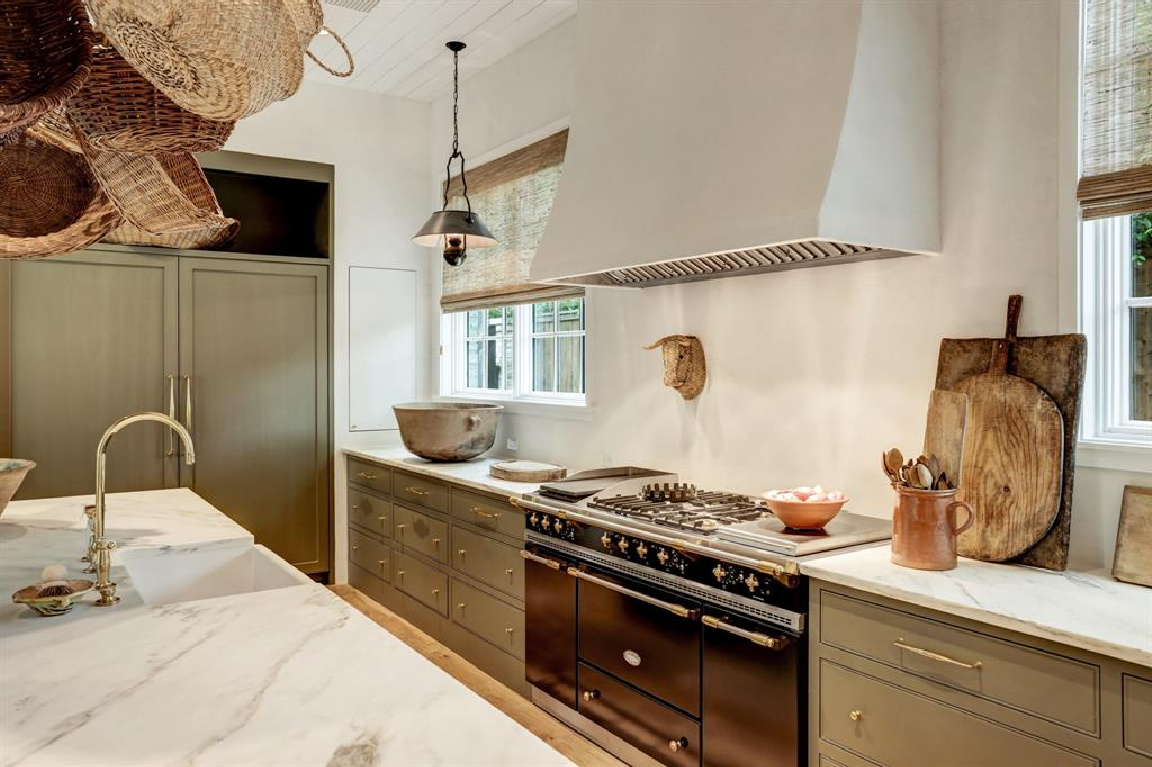 And I love the range hood which feels light and modern (no shiplap, heavy trim, or shiny metal adorning it).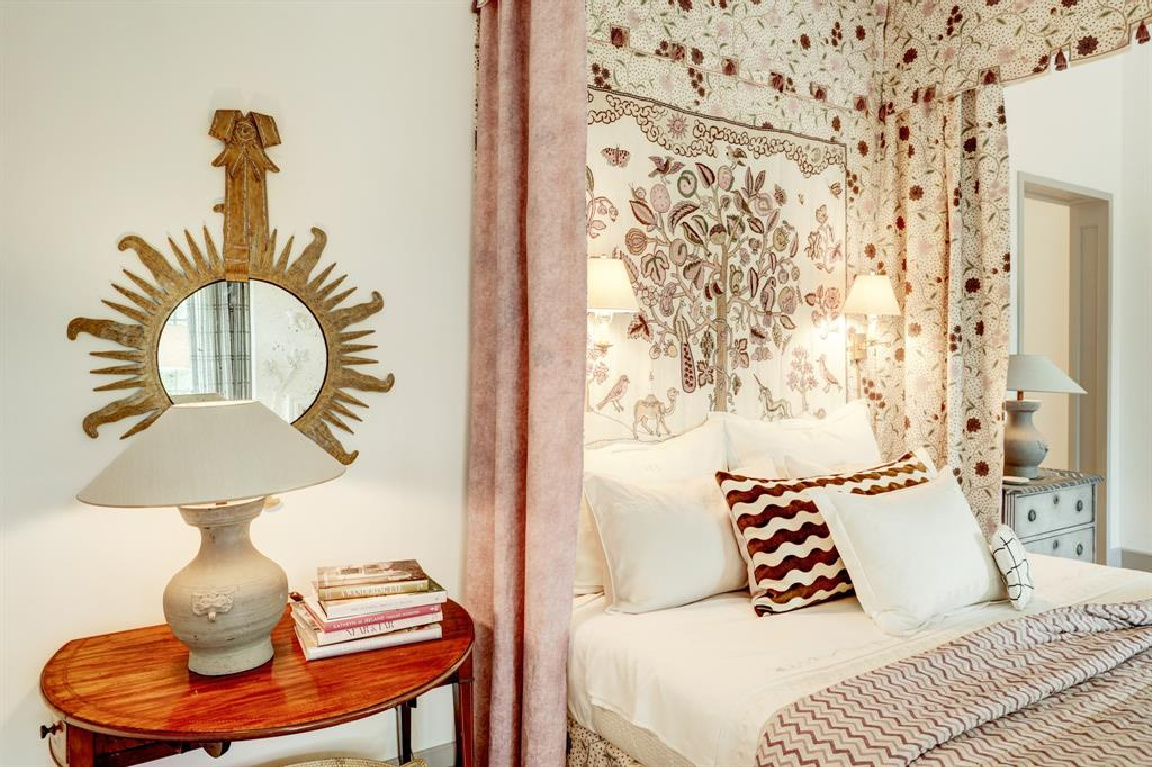 I hope this inspiring charitable project inspired you in a fresh way. Which space was your favorite?
Do you have a TIMELESS board on Pinterest to catalog lovely examples? Create one, and do pin this post to it!
I independently selected products in this post—if you buy from one of my links, I may earn a commission.
Peace to you right where you are.
-michele
Thanks for shopping RIGHT HERE to keep decor inspiration flowing on Hello Lovely!
Hello Lovely is a participant in the Amazon Services LLC Associates Program, an affiliate advertising program designed to provide a means for sites to earn fees by linking to Amazon.com and affiliated sites.