For many folks who lead hectic lifestyles, coming home to white interiors is calming and comforting. But not all white on white color schemes feel warm or inviting. Today we'll explore gentles ones that invite us to relax. Mixing whites is a practice I have played with for decades now, and there is always more to learn. Even at our new place with its varying grey shades and bright white, warm whites also join the mix. Can a White Living Room Feel Cozy? Let's look at a variety of interiors and be inspired.
Warm White Living Rooms With Cozy Unfussy Style
What do I mean by unfussy style? In prior homes (above), "unfussy" for meant plenty of rustic touches so that there was a sense of "ahhhhh, I can flop down in here and not worry about wrecking the place since it's already worn in."
Psst. Are you excited about FALL's arrival? I'm about to add to that excitement…check out this:
I think of mixing metals and finishes so that there isn't a sense of formality where it all looks like it was purchased together rather than collected over time.
If you haven't paired warm whites with grey tones, try it! Pops of black also look right at home.
Bringing live plants and trees into a white space creates magic.
And just imagine the space above without the rug…it would have a devastating effect on the cozy.
Vintage + Scandi White + Natural
Oh, this serene dream of a white interior!
Isn't the delicate silhouette of these lunaria branches heavenly?
And who knew simple taper candles in a jar could feel so sweet?
Minimal Yet Warm White Living Room
My living room in our Arizona house was a mix of high and low. Vintage chairs from the thrift store, a huge frame I found next to a dumpster, and a pharmacy floor lamp mingle with luxurious custom Belgian linen slipcovers on the sofas.
My aunt sewed the pillows I designed with beautiful linen (Shabby Chic Couture) collected fabric.
Fantasy Modern French Warmth
The architecture and scale are out of this world and certainly can't be reproduced, yet notice the simplicity of the decor, how the bright white interacts with the putty tones, and how one can play with geometry.
Ruth Gay's Houston living room whispers tranquility with its sunny golden warmth and tone on tone. (Make sure you check out THIS if you admire French inspired living rooms!)
I'm so fond of the way the ruffles juxtapose with the hard rugged stone everywhere.
Warm White Belgian Linen at Home
It's still the fabric of my life! This chair below is "mama's chair" and placed near the fireplace both in our former home and our current one.
The living room was two-stories and massive in our last home, yet it felt beyond cozy. How?
See more of my home in this story.
Each furniture piece was oversized (massive really), and the color story was kept quiet. Nothing precious lived in here.
The adjacent dining room related to the living space, but the lower ceiling meant it always felt intimate and separate.
A rustic coffee table and sideboard are also huge in scale and contribute to the overall snug factor.
By the way, we have never worried about stains or wear to the Belgian linen upholstery with which we love to live. On pieces that get an exceptional amount of use, the material may thin and wear, and we thoroughly love it! We adore the idea of using things FULLY and WELL and THOROUGHLY. It is just how we want to live our lives too.
Threadbare fabrics and fading colors are some of my favorite things!
Modern Scandi With Black
I have never been able to live with too much black, but I love watching others use it skillfully.
Black adds edge and a chicness.
If you're after a more modern feel, definitely try to bring black into the room's mix.
Glorious Cotswolds Cottage White Living Room
Here's an example of a space where the furniture isn't all matchy matchy. The room doesn't appear decorated at all. But it does seem to invite relaxation.
It feels like a room that gets used and not simply passed by.
Elegant French Whites in a Living Room by Pamela Pierce
This may not be informal, but oh the warm whites and tonal bliss!
Cozy Warm White Living Room With Blue Accents
Who can say why blue brings so much cheer to an all white room?
The warmth of the wood table with its curvy legged base looks right at home in the white sea.
Elegant Country French Whites
Blue greys and muddy aquas with white?
Yes, please.
Greige Walls With Dark Contrast
This dramatic interior by Michael del Piero is inspiring my own plans for our family room.
What do you think about keeping the trim and wall color consistent (but varying the paint's finish)?
Cozy Tonal Decor
Everything Jennifer does at home inspires me.
Warm whites are definitely her thing!
Exotic Chic Warm White Interior Design
In case you need inspiration for dark trim paired with warm white walls…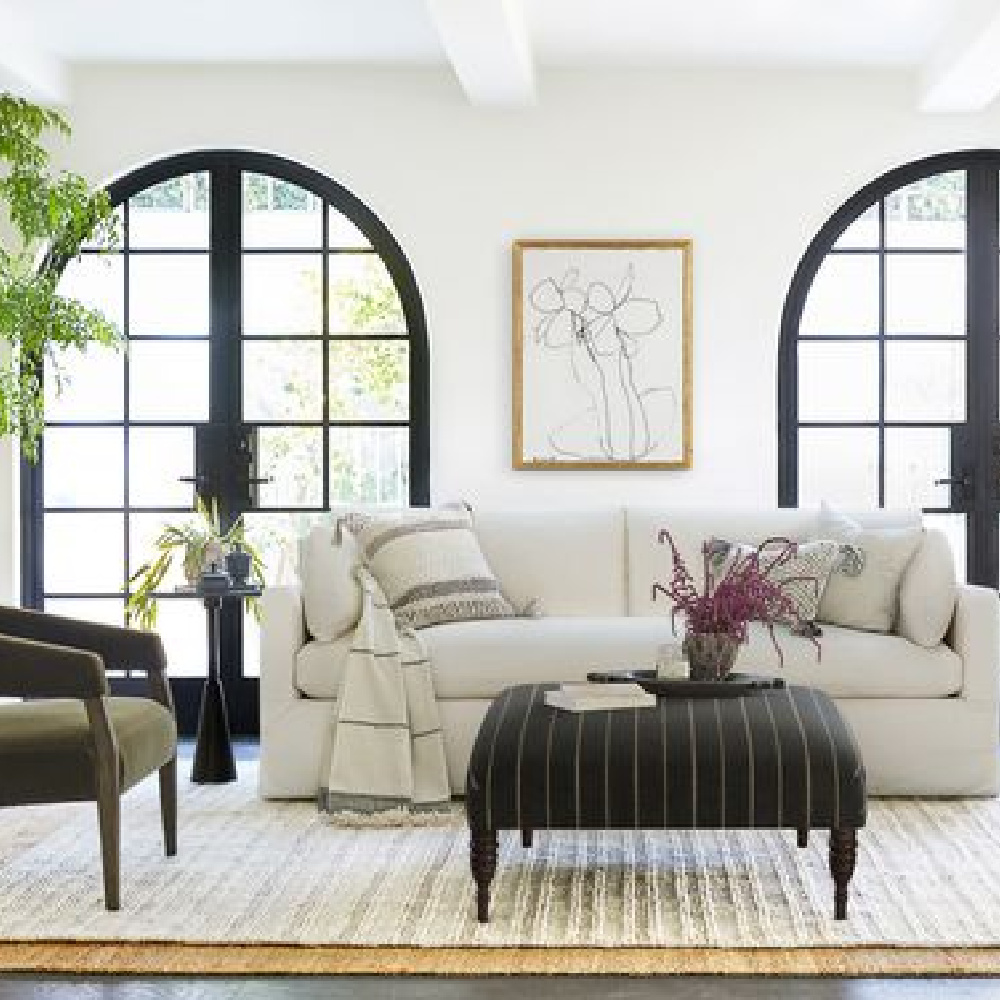 White Modern French Farmhouse Living Room
Too many pretty details to count!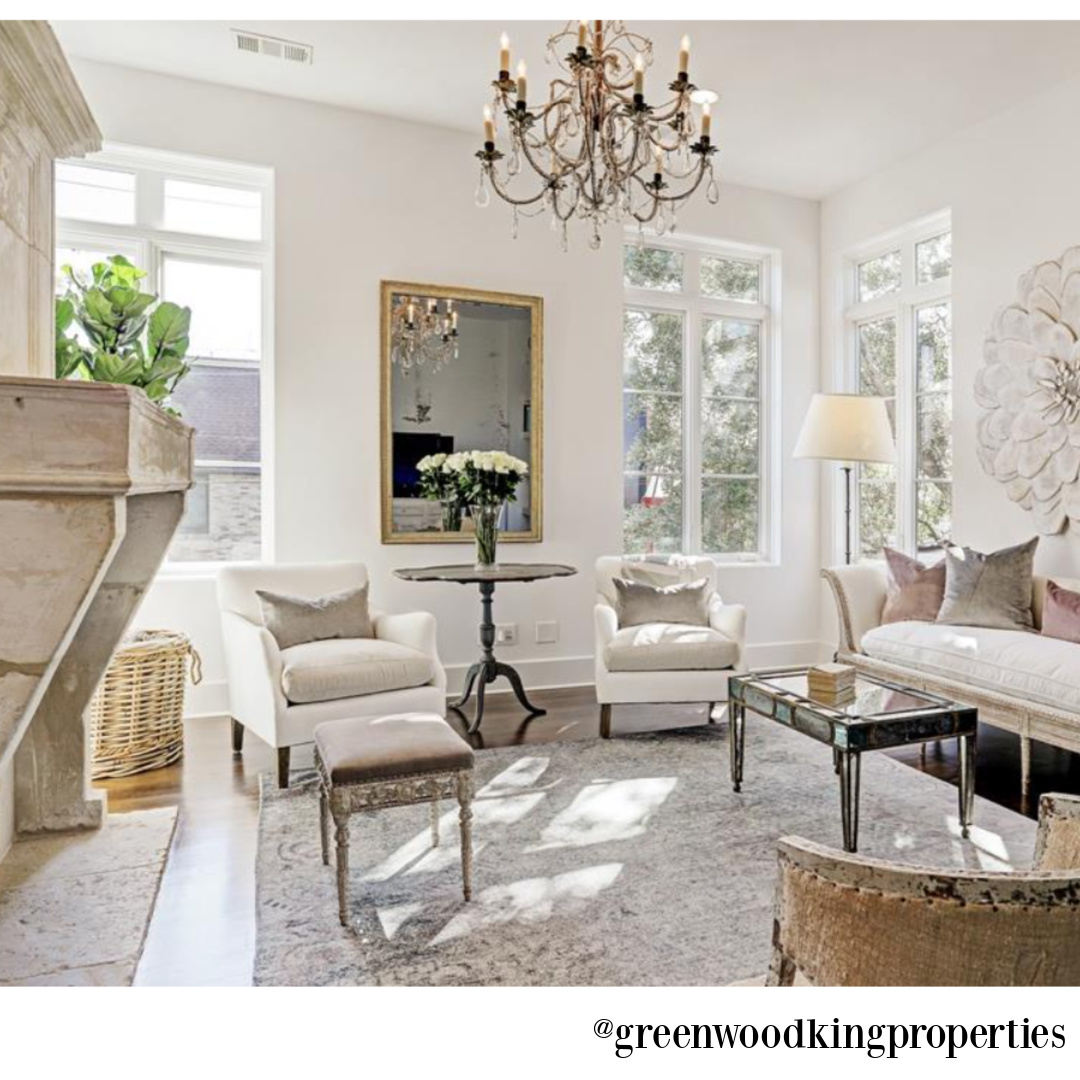 Modern California Farmhouse
Erin Fetherston's modern California farmhouse was painted BM Chantilly Lace throughout. When you live with cool white walls, introducing warm creamy whites keeps it interesting and sophisticated.
I independently selected products in this post—if you buy from one of my links, I may earn a commission.
White Living Room Decor and Furniture
Classic White Living Room With Farrow & Ball All White
White Tufted Ottoman Idea
Coastal Living Room Inspiration
Also, don't miss this post with warm white paint color ideas!
I independently selected products in this post—if you buy from one of my links, I may earn a commission.
Peace to you right where you are.
-michele
Thanks for shopping RIGHT HERE to keep decor inspiration flowing on Hello Lovely!
Hello Lovely is a participant in the Amazon Services LLC Associates Program, an affiliate advertising program designed to provide a means for sites to earn fees by linking to Amazon.com and affiliated sites.