This tour of a lovely Palmetto Bluff home designed by Lisa Furey revisits its lovely coastal cottage style design ingredients. Coastal Cottage Great Room & Paint Colors explores furniture, decor, and lighting ideas as well as paint colors in case you care to get the look. How would you describe this look anyway? A blend of modern farmhouse, classic, and coastal? All I know is I could move right in without changing a thing! Did you see this home's kitchen and entryway?
This post contains affiliate links which I hope you will use since they won't cost you a penny extra yet may earn this blog a small commission.
Board & Batten Coastal Cottage Great Room + Paint Colors
Design: Lisa Furey Interiors; Photography: Lindsey Shorter
But first! I know many of you are spending more hours gardening these days, and you may be surprised to see this very un-American one in Long Island belonging to Vogue's Anna Wintour:
And while a few of you are studying the structure of the garden, I'm sort of crushing on the linen dress Miranda Brooks wears as she gives us the tour. Here's a linen shift with pinstripes I have my eye on:
Blue, pinstripes, pockets, linen…simple and lovely!
Exterior Paint Color of This Coastal Cottage
Curious about the beautiful white paint on this home exterior? It's the same white I used throughout our cottage's interiors:
What is the color like? Cool with minimal undertones and very gallery-like. Benjamin Moore calls it "a classic, all-purpose white that creates a clean canvas in the home."
Even though the white looks warm in the photos, bear in mind that the yellow sun is going to have such an effect on cool white paint colors.
Just another reminder why it is so important to sample a few white colors before deciding on the best white for your home.
Entry + Porch
This shot shows you a close-up of the exterior on the cottage's front porch as well as a peek of the white painted shiplap in the foyer:
Board & Batten Cottage Great Room
Let's explore the ingredients in this beautiful blue and white great room with its simply sophisticated finishes and restrained color palette.
The shiplap paneling on the ceiling is painted white which imparts a very clean and airy mood in the lofty space.
Where can you find the exact indigo blue and white linen pillows on sofas? They are custom Schumacher Andromeda.
Paint color on walls? BENJAMIN MOORE White OC-151. Coffee Table? Oomph Edgartown.
Keep reading for how to get the look of the lighting. Notice how the white painted interior unifies so many design elements which could get busy. The built-ins flanking the fireplace nearly disappear.
Also notice how some windows are left undressed. Why do we think every single window must be covered when the goal is to maximize light? If the bare window doesn't interfere with privacy, TV watching or excessive heat, why not leave it alone?
So much beautiful architecture when you look up, and notice how the range hood design was taken all the way to the peak of the vault.
A large tray top style coffee table brings so much function to the center of the room and provides a surface for books and decor.
Cottage Style Great Room Decor Resources: Lighting
If you need a place to start when you're seeking quality made, beautifully designed lighting, look to Thomas O'Brien. I just bought a chandelier designed by him at our new home, and I can't speak highly enough of the artistry.
Should the aged iron pendants above be discontinued, keep browsing for coastal style lights by Visual Comfort or Thomas O'Brien. Sometimes even when you want a very minimal, simple shaped, unfussy clear glass table lamp, it may be difficult to find.
Here are a few options:
Since I have seen these in person, I can attest they are lovelier than they appear in these photos!
They are so versatile and will work with just about any furniture and style!
Blue & White Throw Pillow Ideas
Exact pillows are custom with an indigo and white linen fabric by Schumacher called Andromeda:
You can buy the exact pillows by tapping the image of the pillow below:
You can also find Andromeda wallpaper:
For a similar look with indigo and white:
If you need the pillows to be more kid or outdoor-proof:
Here's a playful reversible stripe with a more subdued blue chambray that feels timeless and versatile:
and how classic is this coastal Morningside Pillow Cover?
This blue and white pillow features a warmer shade of white:
Serena & Lily's Kemp pillow is so rich looking (make sure to expand the photo when you view it on their site) and bold in the navy colorway:
Schumacher's Betwixt indigo/ivory fabric is also a classic for pillows and curtains which will not fall from favor:
These Ikat pillows will give you a very similar feeling as Andromeda:
White Sofa Ideas
The exact sofa in the great room?
Sullivan sofa is here, and check out THIS POST with more white sofa possibilities.
What's your preference as far as the seat cushions?
Do you like a single bench cushion?
Here's another image of that same sofa:
Or individual cushions?
In my own living room, our long sofa has a single cushion like this: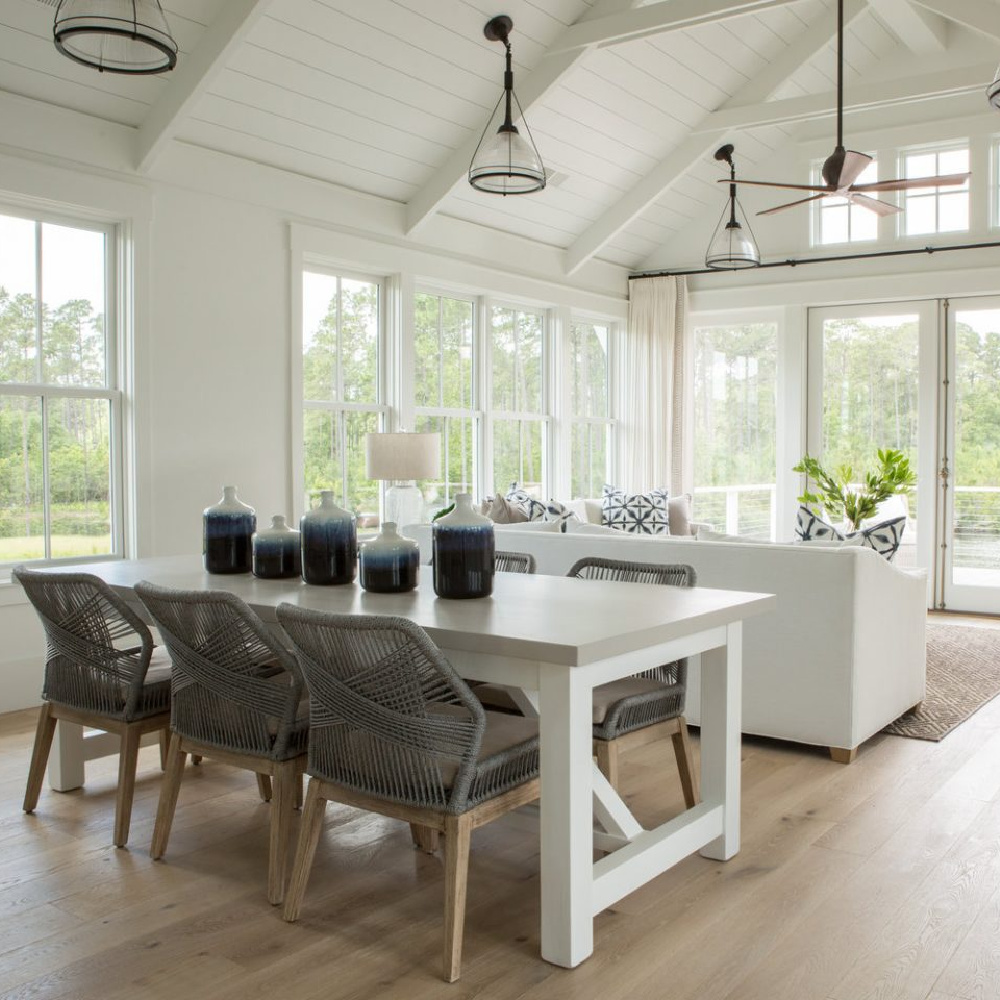 But in our family room, we have 3-seat sofas that are equally as comfortable.
So you certainly don't have to sacrifice comfort, and it is probably more of what your eye is drawn to.
Coffee Table Ideas
The exact coffee table: Oomph Edgartown, and for a similar look see this one:
This one's so chic:
And here's a casual round with island chic that feels modern rustic for a small space:
Here's a budget conscious option that provides plenty of display/storage space:
Natural Fiber Area Rug Ideas
If you live with a jute area rug, than you already know how much ease they are.
The neutral color works with everything, and you can easily layer another rug over it.
So forgiving, they are one of those classic, timeless elements that won't be out of style next season.
But if you're looking for something softer and still neutral, I love this inexpensive beauty:
Neutral enough to still pull in all of those beautiful coastal blues.
White Oak Flooring Resources
So many of us are sold on the beauty of white oak, and there are all sorts of ways to get the look.
You could opt for traditional hardwood or engineered wood flooring. And don't be shy about engineered products. They bring a stability that rivals a wood floor.
And certainly don't shy away from pre-finished hardwoods. If you have lived through jobs where the wood is finished on site in a custom way (as I have multiple times), then you know it's a messy, expensive, labor-intensive prospect!
Another option beyond wood flooring is LVP which so many homeowners with pets swear by. Here's my current favorite which reminds me of white oak. I don't see how you can beat the quality, wide plank ease for the installer, and price!
Staircase in Great Room
What I particularly admire about the staircase in this coastal home is how it is a more refined design. There are big, bulky, newel posts or anything rustic happening. What goes wrong so often in projects where "modern farmhouse" is the dominating theme is overdoing it and dating the house in the process.
Staircase Light Fixture
Coastal Cottage Video
Coastal Cottage Paint Colors
The paint color for interiors and exterior as well as trim, ceilings, and cabinetry? BENJAMIN MOORE White OC-151.
This is the very white we used throughout our home and why this project caught my eye in the first place.
More Tranquil & Lovely Paint Color Ideas from This Coastal Cottage
Master Bathroom Vanity Paint Color: SHERWIN WILLIAMS Tinsmith.
Grey Kitchen Island Paint Color: BENJAMIN MOORE Pashmina AF-100
Blue cabinet in entry: BENJAMIN MOORE Andes Summit.
Coastal Cottage Great Room: Dining Area
The exact ceramic vases are often hard to find and out of stock:
So I suggest peeking at Pottery Barn's Frasier collection in the slate colorway. They are crafted by hand, textured, and look so great on a mantel, console or side table.
The woven rope dining chairs are so well made and gorgeous:
You may be able to snag the look of those arm chairs HERE.
More Coastal Cottage Deck Decor Ideas
Here are some ideas for getting the look of this relaxing patio:
Why not bring that indigo blue from inside outside too?
Look for grey-ed wicker and wood finishes for the cushioned chairs:
You could also go for a classic metal chair design:
No need to keep it matchy-matchy with your blues. This softer blue gingham pillow feels coastal and casual if you want a relief from the indigo and cobalt blue:
Coastal Cottage Blue Accents Throughout Home
Designer Lisa Furey used the blue paint color BENJAMIN MOORE Andes Summit as an accent on a blue cupboard in the main house entry, and it may also be the color used on the door below.
Another coastal blue paint color possibility to capture the spirit is BEHR Deep Azure, similar to Andes Summit above.
Board & Batten Cottage Photos
In case you're curious about the design element on the outside of this property:
The designer and former owner called it a blend of coastal cottage and modern farmhouse, and I might call it modern country coastal.
Isn't the metal roof charming?
And how amazing to have a separate guest house AND a separate studio (above the garage)?
Like your own private kingdom…and who isn't dreaming of such a unique compound in light of the new demands of 2020 living where so many of us work and learn remotely?
This Home's Kitchen is Breathtaking!
Make sure you don't miss the part of this house tour with the coastal cottage kitchen RIGHT HERE!
Enjoy more of this house tour with these stories:
Coastal Cottage Kitchen & Entryway
Coastal Cottage Bedrooms & Bathrooms
And for fans of COASTAL GRANDMOTHER STYLE and more coastal inspiration, take a peek at this!
I independently selected products in this post—if you buy from one of my links, I may earn a commission.
Peace to you right where you are.
-michele
Thanks for shopping RIGHT HERE to keep decor inspiration flowing on Hello Lovely!
Hello Lovely is a participant in the Amazon Services LLC Associates Program, an affiliate advertising program designed to provide a means for sites to earn fees by linking to Amazon.com and affiliated sites.