Get ready for Interior Designer Picks, Unfussy Classic Neutral Decor & Encouraging Quotes. You'll find features lovely ideas for furnishings and accessories spied online that interior designers across the web choose for client projects as well as their own homes.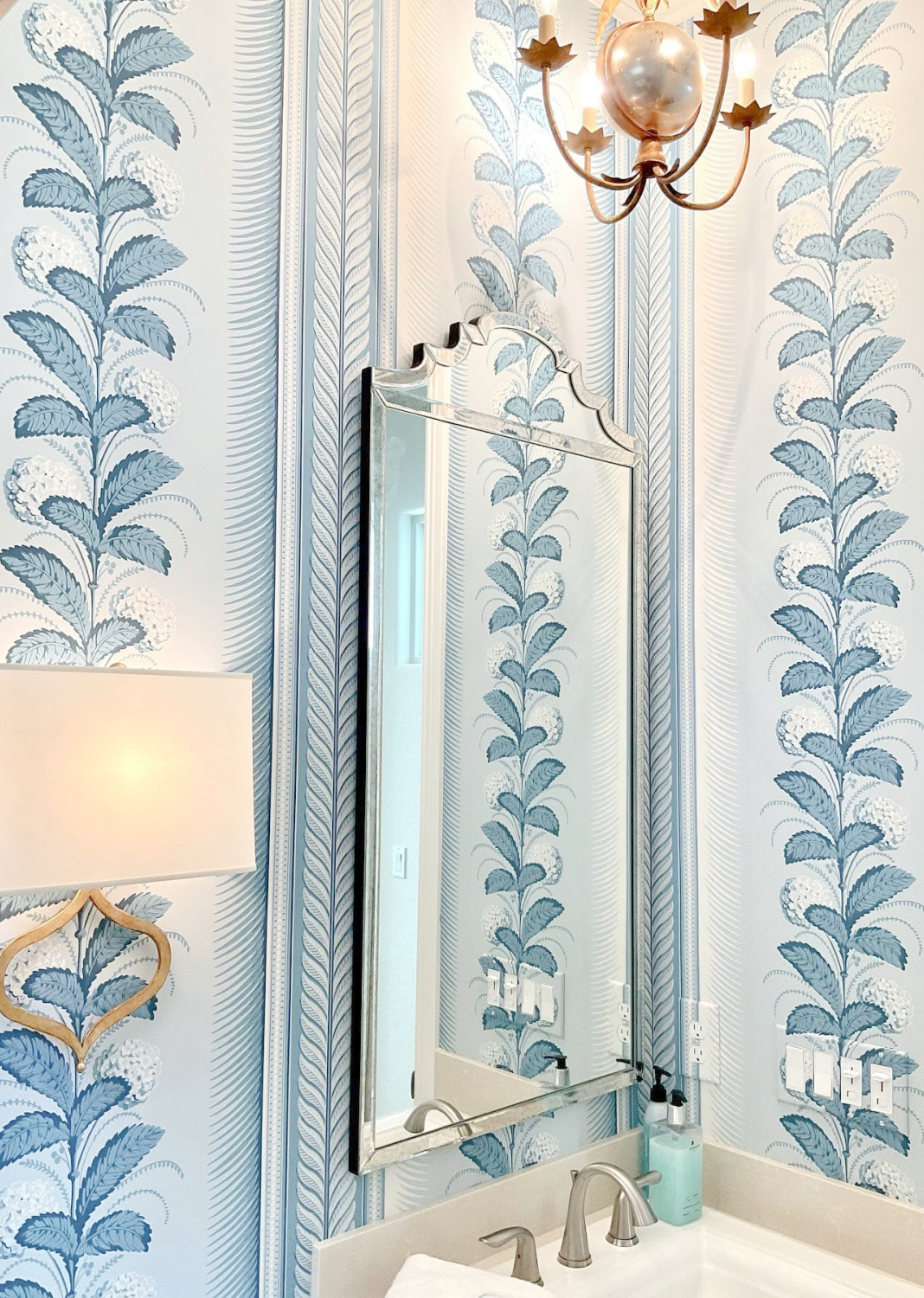 I independently selected products in this post—if you buy from one of my links, I may earn a commission.
Interior Designer Picks & Simple, Classic Neutral Decor Now
She may have retired, but interior designer Kathy Perdue is still actively creating beautiful traditional styled spaces in her home and gardens! Kathy recently added this gorgeous Schumacher wallpaper in a guest bath, and you'll find it with a few of my favorite blue patterns below.
Layer Neutrals at the Front Door
Do you ever feel overwhelmed about where to start even when you decide it's time to spruce up your place?
Me too! So I start at the front door.
Same goes for cleaning my house – sometimes things feel chaotic everywhere, and getting started is tricky because it all seems like too much to tackle.
But this tip always works! I just start at the door, and suddenly when that area improves, it energizes me to keep going.
Inexpensive New Finds (for Houseplants In My Own Home)!
I am looking forward to adding more indoor plants to our new house, and these friendly-priced ideas for displaying them were a great way to get started!
I'll share pics of how they add cozy warmth and interest when the dust settles soon!
Bedroom Essentials for a Range of Casual Design Styles
If you love pared-down classic design pieces, these may just appeal:
While they would easily work with country or mountain lodge style…
they could easily join a Nordic French scheme or a modern rustic interior design plan.
Black and white stripes are so classic and dependable…they are not going to look silly five years from now.
Interior Designer Picks: Round Woven Ottoman
These pieces are so versatile (think coffee or cocktail table), timeless, and wonderful to live with yet seem impossible to find at times!
This open kitchen plan caught my eye with its soothing, neutral color palette and sophisticated simplicity:
Isn't this Limoges pendant stunning in the white/black color story?
And this color for the sofa took my breath away:
Classic Neutral Linen Seating
Interior designers find themselves reviewing lots of upholstery colors and patterns on a daily basis so it isn't surprising so many of them favor neutrals for their own homes.
I have a linen upholstered arm chair in a guest bedroom identical to this one, and there are so many places it looks great:
So don't underestimate the power of a dining room arm chair in spaces outside the dining room.
Track arm or slope arm…which is your fav?
Darlana is a Designer Favorite!
Even if you didn't know the name of this exact lantern style pendant, I bet you have noticed it showing up time after time in shelter magazines!
I love it so much (the gilded iron rather than brass is so luxurious!) that I recently bought a pair to go above the island in our new kitchen's renovation.
Handsome and Ages So Well
For dens, libraries, great rooms, and home offices, handsome leather club chairs work with nearly everything.
Rustic Yet Refined Console Table
This console table is similar to the RH reclaimed wood one in my own home, but the price is much friendlier:
Here's an accessory that would be beautiful on a console:
Another designer favorite?
Gourd lamps are so classic, and this one is a favorite with that stunning base.
Neutral & Rustic Accessories
You probably have at least three places these babies could go!
Chairs for Your Deck, Patio, Piazza or Porch
One of the many advantages of working with an interior designer is the advice you'll receive for choosing investment pieces that will age well with time even as trends come and go.
Designers can often recommend pieces and makers for which they have experience so there's less chance you'll be disappointed.
I finally placed chairs on our front porch, and it was just the thing I needed to feel like I was finally making some progress.
After all, choosing curtains, wall colors, furniture, and decor for a room can take a minute! However, outfitting a porch or patio area can be done in a day!
Pillows are still the easiest refresh of all…
But don't underestimate the power of a lovely vase with a simple branch:
Need This on the Patio? (I do!)
These patio candles are essential where I live when the mosquitoes are brutal.
If your style is more casual and country, these smaller galvanized examples are cute while they do the job of repelling those pests.
Another Interior Designer Favorite!
I mentioned the Darlana pendant earlier, and here's a companion chandelier:
Here's another interior designer/lighting designer whose work shows up in some of the loveliest designer projects:
For Classic Country Kitchens
No matter what headline you see in your social feeds about a certain design style or another being completely over, I can attest modern country styles are still very requested for designers.
While I have yet to live with open shelving, I thought the white oak variety (above) was smart and classic looking.
Don't you love a watering can that looks gorgeous on the counter?
Homeowners cannot get enough indoor plants, and those plants can be elevated with pretty stands.
Bringing the outside in without a green thumb is also possible!
More Picks Spotted Around the Web
Who can resist another candle for the bedside table or on a shelf?
Classic & Preppy Style
20 and 30-somethings have a renewed interest in what's classy or preppy!
There are plenty of ways to enjoy a traditional look in a fresh way.
Is Your Style More Casual and Rustic?
These cross-back chairs show up often in projects where a romantic, laid back look is the goal.
So do natural textures to layer on the table:
Interior Designer Favorite Finds: A Splurge!
If you're familiar with Serena & Lily, then maybe you know what designers know…
you just can't beat this source of coastal classics!
Handmade & Heartfelt
Something magical happens when you incorporate handmade objects into your vignettes.
With so much technology and disposable everything in modern life, objects formed by human hands are all the more set apart.
Three Mindful Decorating Ideas Inspired by Pros
1. Start With Inspo From the Art
When you have established your design style yet are on the fence about color palette, a piece of art can be your inspiration.
The art's subject matter isn't as important as the color story and the emotion it evokes. Additionally, you don't even have to own the art!
Even an image online, a magazine clipping, or a digital photo taken by you (go to your favorite art museum!) can be a guide to color.
Notice the quality of the colors to which you're drawn. Are they pale and chalky? Rich and saturated? Watercolor? What color combinations thrill you?
If you own the art, snap a photo so you can access it easily while shopping online or in person.
2. Find the Perfect Paint Color (With a Temporary Accent Wall)
Not everyone will agree, but this tip has worked for me. Let's say you are on fence about a color for a room and still stuck after buying a sample and painting a good sized swath on the wall. What can you do to get closer to a plan?
Paint the whole wall and live with it so you may watch it as the light changes through the day. Are their undertones coming through that you didn't expect after seeing just a small chip of the paint color?
Even though there is some labor involved with painting a whole wall, it's less work than tackling the whole room!
This tip is particularly sensible when you are seeking the perfect paint color to use throughout your home. Even though the quality of light will vary room to room, painting a whole wall may be just the start you need to proceed confidently.
3. Use an E-Designer for Finishing Touches
There are plenty of design projects where there simply isn't room in the budget to hire an interior designer, but the internet has democratized beautiful design in some lovely ways.
Sometimes what you need is simply a few conversations or mood boards to point you in the design direction that is best for your unique needs.
In other cases, it helps to have a design savvy e-designer help you with accessorizing and placing finishing touches on a space where the anchor pieces are already in place.
Do search my archives HERE for inspiration too.
If you gravitate toward neutral European country inspired interiors like those I favor in my own home, you may like cost conscious pieces curated in my Amazon store RIGHT HERE.
I independently selected products in this post—if you buy from one of my links, I may earn a commission.
Peace to you right where you are.
-michele
Shop for items you already intended to buy on Amazon RIGHT HERE, and also find home decor here to keep decor inspiration flowing on Hello Lovely!
Hello Lovely is a participant in the Amazon Services LLC Associates Program, an affiliate advertising program designed to provide a means for sites to earn fees by linking to Amazon.com and affiliated sites.