You need ideas for the perfect white for your home's exterior, and I've got a bunch of opinions and inspiration to help. I know how important it is to get it right, and I hope your mind will feel eased and your spirit energized by the end of this post. The best exterior white paint for your project? It just may be one of the eight we'll explore today with help from a gallery of gorgeous white homes. Let's dig in!
Best Exterior White Paint for Home…8 Colors Explored!
Choosing interior paint is one thing – it's nerve wracking for sure, but it's a huge bang for the buck and not the end of the world if you have to change a room.
Exterior paint colors? Whole different set of anxiety-provoking concerns right there. Expensive, property value implications, coordinating trim and roof colors, and curb appeal to consider. (Bonus: most whites are going to look swell with your roof color.)
Deep breath and giggle with me about the summer heat:
Feelin' more relaxed? Yay!
We'll explore 8 different white paint color possibilities in this gallery of inspiration. The colors have proven highly successful for builders, designers, homeowners, and color experts.
Smart Process for Getting the Right White
Even when you decide it'll be white, good gracious, there are a ton of choices. And if you're painting over brick!?! You want to get that white soooooo right, am I right? Start by viewing photos online of homes where the color is supplied such as those in my archives.
Probably the most important advice I can leave you with here is to not fall in love with a paint color's name (it can be highly misleading) or a particular exterior color in a photo that charms your pants off.
Why stay open and not choose based on one photo?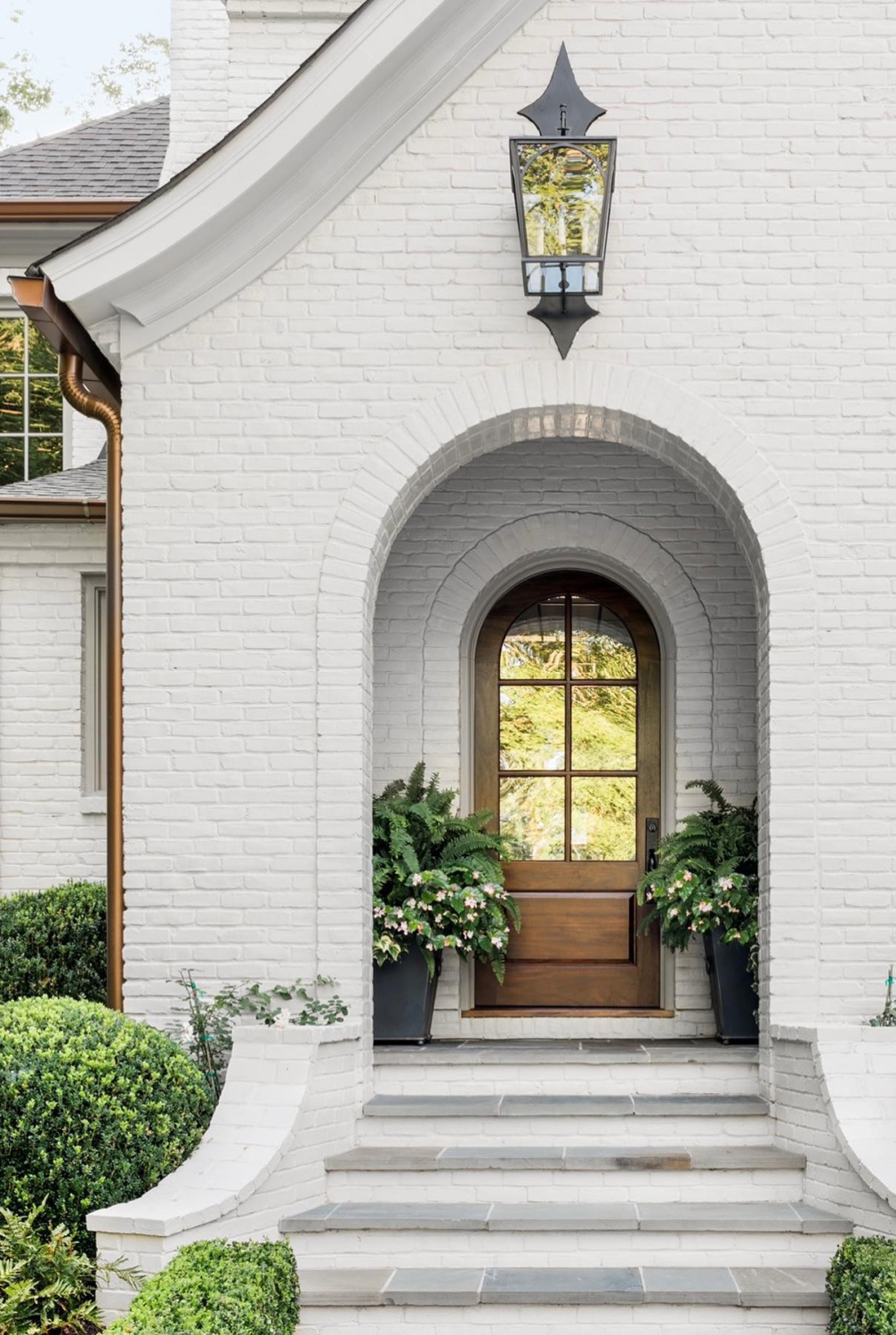 Factors Influencing the Best White Color Choice
Chances are, the right white paint for your project is going to depend on (1) your subjective eye, (2) direction your house faces and the part of the country or continent where you live, and (3) colors of surrounding landscape and structures interacting with the white.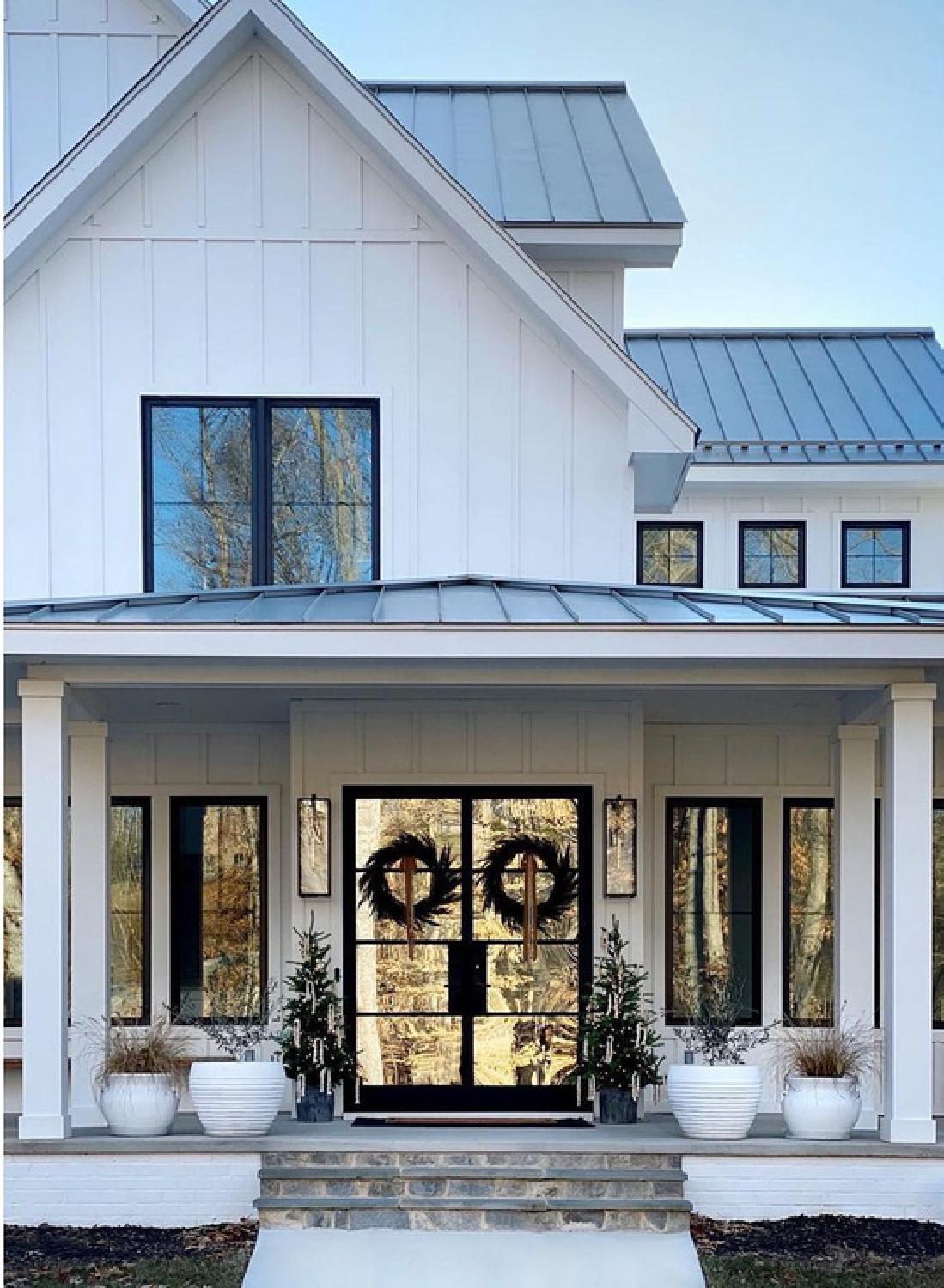 Detecting Undertones
White paint colors, like all paint colors, have undertones that are often only detectable when the color is viewed next to a bright stark white with no undertones. The best way to see those undertones? Get a sample of the paint, paint a piece of cardboard or paper, and when it's dry, hold it up to a plain piece of computer printer paper.
You can also compare it to other white paint samples. You'll be able to see if the white has cool blue or grey undertones or whether it has gold, yellow, or warmer undertones. (The way the sun hits your house is also going to affect how the white painted exterior looks to your eye. A lot of saturated yellow sun is obviously going to warm the white.)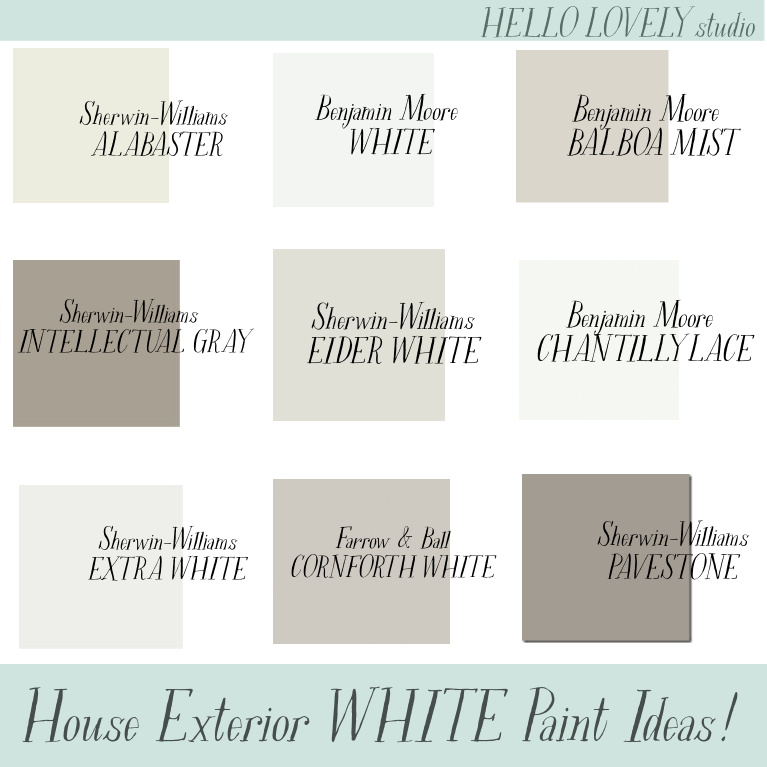 Simplify Your Search for Less Stress
You're going to see LRV mentioned below, and no need to sweat it. Those letters stand for "Light Reflectance Value," and the number is the percentage of light a paint color reflects (higher equals more light reflected). No need to get worked up about LRV or understand much about undertones if you simply take this advice:
START WITH AT LEAST 3 WHITE PAINT COLOR SAMPLES YOU LIKE AND TRY THEM DIRECTLY ON THE HOUSE. SCRUTINIZE THE COLORS AT DIFFERENT TIMES OF DAY. MAYBE THERE WILL BE A CLEAR FRONTRUNNER. IF YOU'RE NOT SOLD, CHOOSE ANOTHER FEW SAMPLES UNTIL YOU ARRIVE AT THE WINNER.
Should you not be able to decide between two whites that appear equally awesome, sometimes the answer is to have them mixed 50/50 for a custom white all your own. I did this for garage doors on our former home. Trying to match the siding, I couldn't decide between Farrow & Ball's Cornforth White and Hardwick White. In the end, I used them 50/50 and the custom shade was just right.
1. PURE WHITE 7005 by Sherwin-Williams
It's a beautifully soft white. I have heard color experts say what makes Pure White soft is its LRV.
Since the LRV is 84 and crisper whites fall within the 90-94 range, this white is more passive.
Pure White also has some warmth, though it's not as warm as SW Alabaster or Benjamin Moore White Dove.
Maybe "passive" is not the ideal descriptor; I mean, look at how clean Pure White is on the brick house above in Tennessee.
Pure White looks calmer and softer as photographed in a different quality of light on the exterior above.
If the homes painted SW Pure White above and below prove anything, it's that natural light will definitely do its thing and cause the same paint to present differently. It reads very clean and crisp on the siding above, while it glows with more warmth with the particular exposure below.
2. Sherwin-Williams SIMPLY WHITE
It's still wildly popular, though not as commonly used as SW Alabaster (it's also reviewed in this post later).
With an LRV of 91, Simply White has high light reflectance and looks clean and creamy in most situations (you gotta sample though – there are no fail-proof whites in this post, doncha know!).
Psst. Easiest way to see if a paint color will work? Order samples with Samplize and have them delivered straight to your door.
To my eye, it is warm with yellow undertones, and the photos of exteriors you see here mystify me a little since they read cooler than what I might expect.
So lovely! What a fabulous tiny house shop (above) Monika Hibbs constructed and painted Simply White! It looks like such a perfect white with that light grey door! (The color reminds me of what we painted the shutters and trim of our own tiny house in 2020…BM Boothbay Gray.)
I love me some Monika Hibbs everything, and here are a few of her favorite greys if you are collecting greys too:
If you are considering painting a brick exterior, you'll find plenty of encouragement and confirmation online! Look at what's possible:
It's also helpful to see inspiring house photos of exteriors beyond brick or vinyl siding. Here's a board and batten beauty with cedar shakes (or are they shingles?) as well:
But before you are sold on Simply White, consider a few more tried and true favs in the design world.
3. Benjamin Moore SWISS COFFEE
You may be familiar with Swiss Coffee for interiors, but it can also be stunning and just right for a home's exterior.
In fact, this color is so often reliable that Benjamin Moore calls it "an essential white with just the right amount of warmth." But how will you know if the amount of warmth is just right for your particular context?
It seems pretty perfect right here:
With an LRV of 81.91, it is much creamier than the other whites we considered above. Will it be too yellow of a white for your own house? Sampling it is the answer.
If you're leaning toward Swiss Coffee, this video below might help since the blogger/homeowner chose it for her interiors so you can get an idea of how she arrived at the perfect white for her own needs.
While I still haven't learned which white paint color was used for this stunning "barn house" in Australia, a good start with samples to emulate it might be SW Simply White, BM Swiss Coffee and BM White Dove.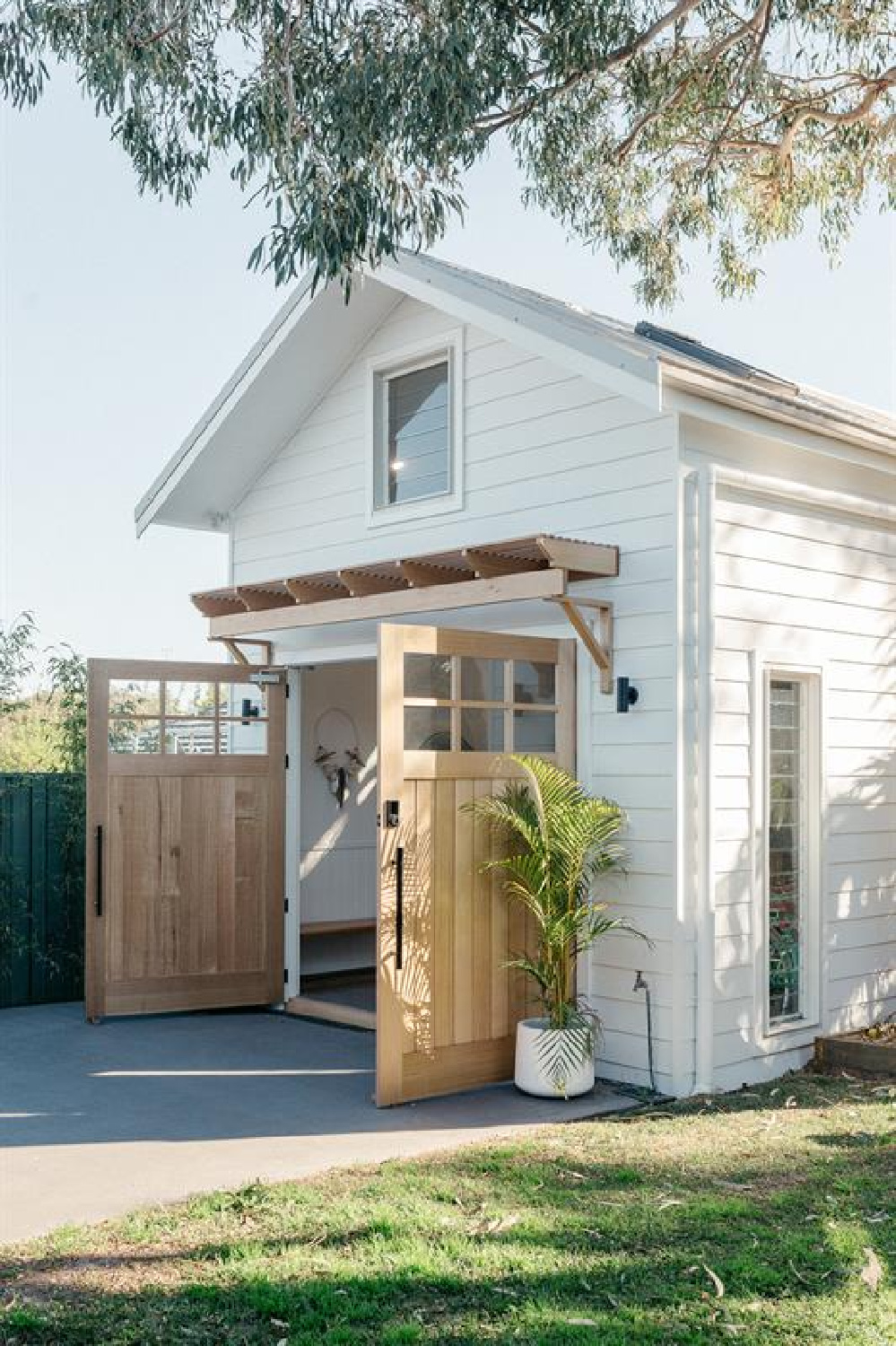 4. WHITE DOVE by Benjamin Moore OC-17
Has there ever been a more tried and true white for interiors and exteriors in the history of paint? Doubt it.
Benjamin Moore claims White Dove is clean and classic with unerring style, and designers swear by it for classic interiors for a soft white that won't change with the changing light of the day.
I love that the homeowner who was seeking the perfect white for her new build (below) sampled a variety of whites and snapped a photo.
She wound up choosing Shoji White over White Dove, and what a help to the folks who need a place to start!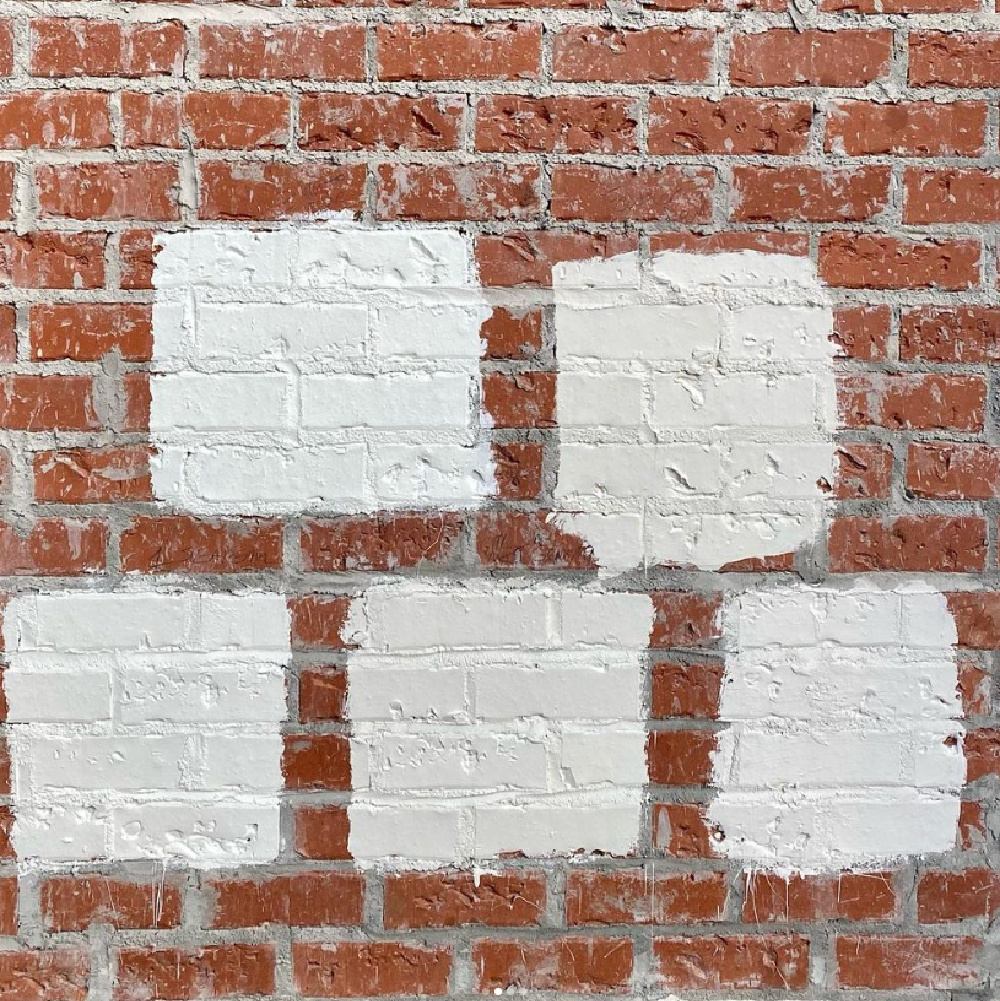 You can clearly see the different undertones coming forward in the white paint colors (above) when they are grouped together like this.
Even though Seapearl is not in today's lineup, I'm reminded of a certain jaw dropping gorgeous showhouse where it played a starring role. How amazing is Seapearl with Pashmina (above)!?!
Back to White Dove's beauty for historical properties and classic charm…It truly is something special, and if I ever get the itch to paint my own red brick home, White Dove is the first paint color sample for which I would reach.
Here it is on a lovely carriage house:
5. Sherwin-Williams OYSTER WHITE 7637
When you're after a much warmer white, take a look at SW Oyster White with an LRV of 72.
Bear in mind that seeing the color swatch online (doesn't it look like khaki?) can be misleading. In fact, plenty of beautiful "white house exteriors" are painted in colors with the word "grey" in them. For this reason, looking at photos online is often a smart place to start because you'll begin to understand that the same paint color can look quite different with varying exposures.
Here's Oyster White on an entirely different style brick home. My parents painted their brick ranch a warm white like Oyster White back in the 80s, and the neighbors were appalled! It was such a helpful transformation for me to see and probably sparked my love of white painted everything.
6. CHANTILLY LACE (Benjamin Moore OC-65)
Benjamin Moore calls Chantilly Lace "a classic go-to white that elicits images of fresh cotton and pure silk." I have to concur.
I'm smitten with this off-white with an LRV of 90.04. That number means it is very reflective, clean, crisp, and pure white.
My favorite use of Chantilly Lace (although truth be told, it's wildly popular in the 2020s) was in Erin Fetherston's laid back luxe California home for her young family.
As I was sampling whites here at our new home, I compared it to White Dove and concluded it really has the power to make a place feel fresh and modern. BM White Dove has always been my go-to for vintage furniture and homes (like our first home…a 1920s Chicago bungalow).
But Chantilly Lace is cooler and feels more chic and young to me.
7. Sherwin-Williams SNOWBOUND 7004
LRV for Snowbound is 83, and isn't soft and billowy?
While I'm not sure of the paint color for the trim below, there's a chance it is SW Colonnade Gray since that is the color Sherwin-Williams recommends as a coordinating hue with Snowbound.
Notice how this warm white works with the roof color above (kind of a pencil lead color) and an entirely different colored roof below (kind of a pencil eraser color!):
I'm noticing just now that warmer whites combined with black is a less common combination and truly creates a different mood than black + cool crisp whites.
8. Sherwin-Williams ALABASTER 7008
If you ever decide to search the internet or Pinterest for interior design where SW Alabaster is involved, do pour yourself a drink and stay hydrated, friend! Because this color gets around (just blogged about it for a tranquil bedroom in THIS).
Alabaster's LRV is 82, and I would expect it to read warmer than what I see below which is proof that you just never know which white is going to suit your own unique home.
When folks consult with me about exterior paint colors and voice concern about not wanting a blinding white, I sometimes suggest a warm white such as Alabaster.
If you like Alabaster, but it's just a little off, you could peek at these similar tones:
SW Cotton, SW Cold Foam, SW Shell White, and SW White Flour.
Do visit my board with white exterior inspiration! Find bright white paint color options for exteriors in THIS. Hang out a little longer if you have a moment and explore more paint colors HERE.
Peace to you right where you are.
-michele
I independently selected products in this post—if you buy from one of my links, I may earn a commission.
Shop for items you already intended to buy on Amazon RIGHT HERE, and also find home decor here to keep decor inspiration flowing on Hello Lovely!
Hello Lovely is a participant in the Amazon Services LLC Associates Program, an affiliate advertising program designed to provide a means for sites to earn fees by linking to Amazon.com and affiliated sites.