Years ago, as proprietor Ruth Gay of Houston-based Chateau Domingue built her amazing Old World style home, securing authentic construction materials and architectural salvage from Europe was a challenge. However, the process was ultimately a fortuitous challenge as she discovered a niche market. A business opportunity (sourcing one of a kind design elements and monumental European antiques) bloomed into Chateau Domingue. Secrets to Capture Rustic Elegance in European Country Interiors tours her unforgettable home and explores European inspired design underpinnings.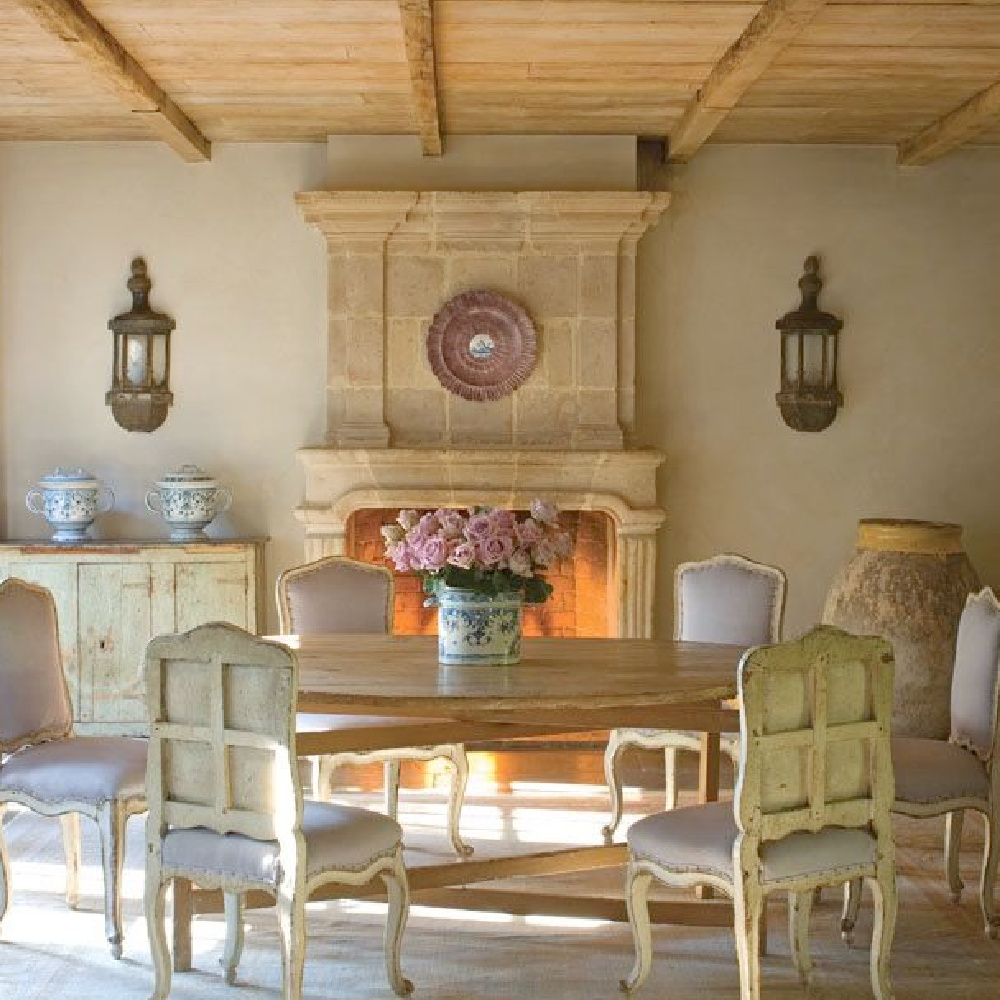 Secrets to Capture Rustic Elegance in European Country Style
Design: Pamela Pierce Source: Chateau Domingue Photos: courtesy of Chateau Domingue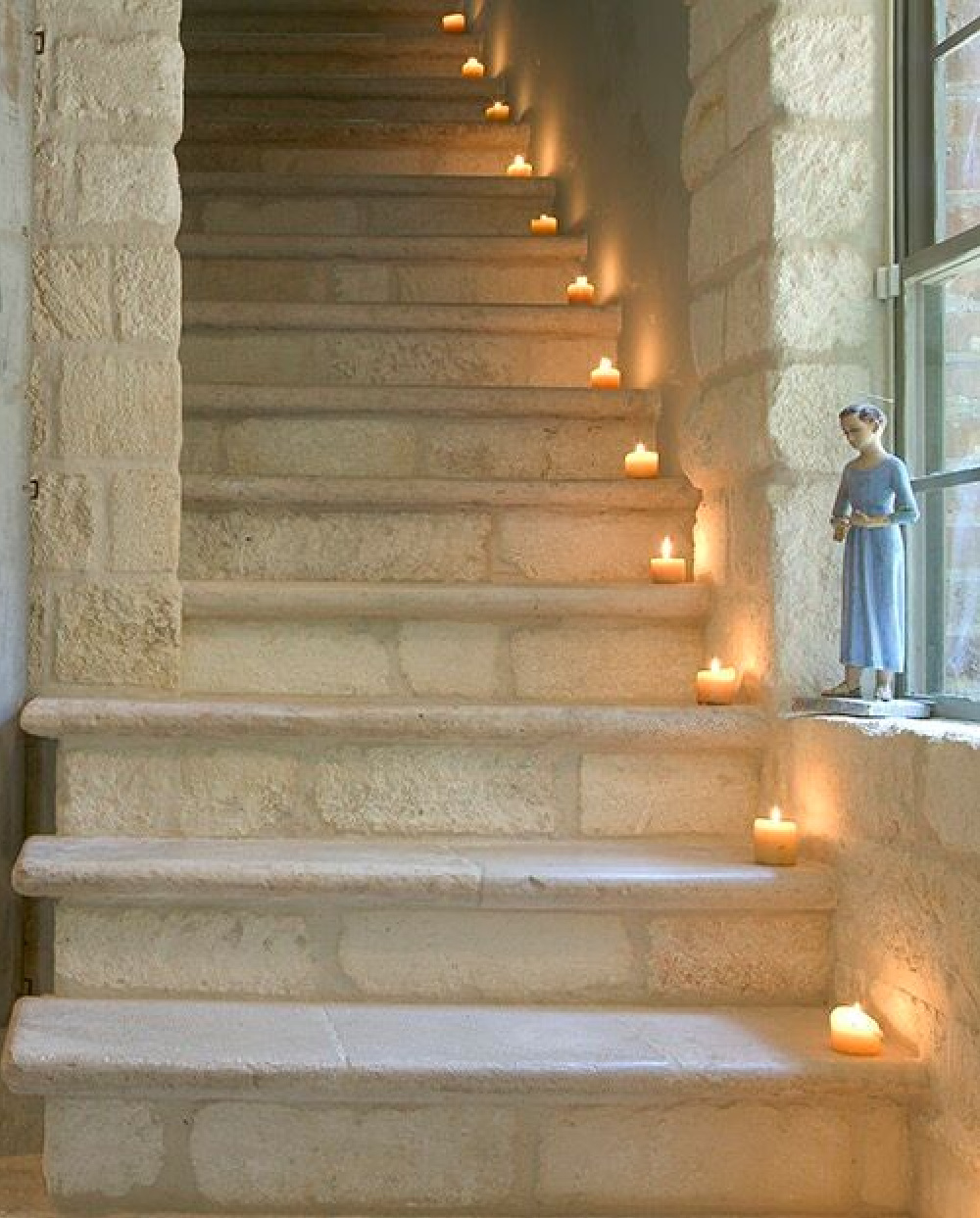 Let's revisit this house tour of Ruth Gay's unforgettable home!
Decorating Ideas for Authentic European Country Interiors
A European country inspired approach may be less concerned with shopping for eye candy as it is with bringing soul to a home with thoughtful, natural, authentic gestures.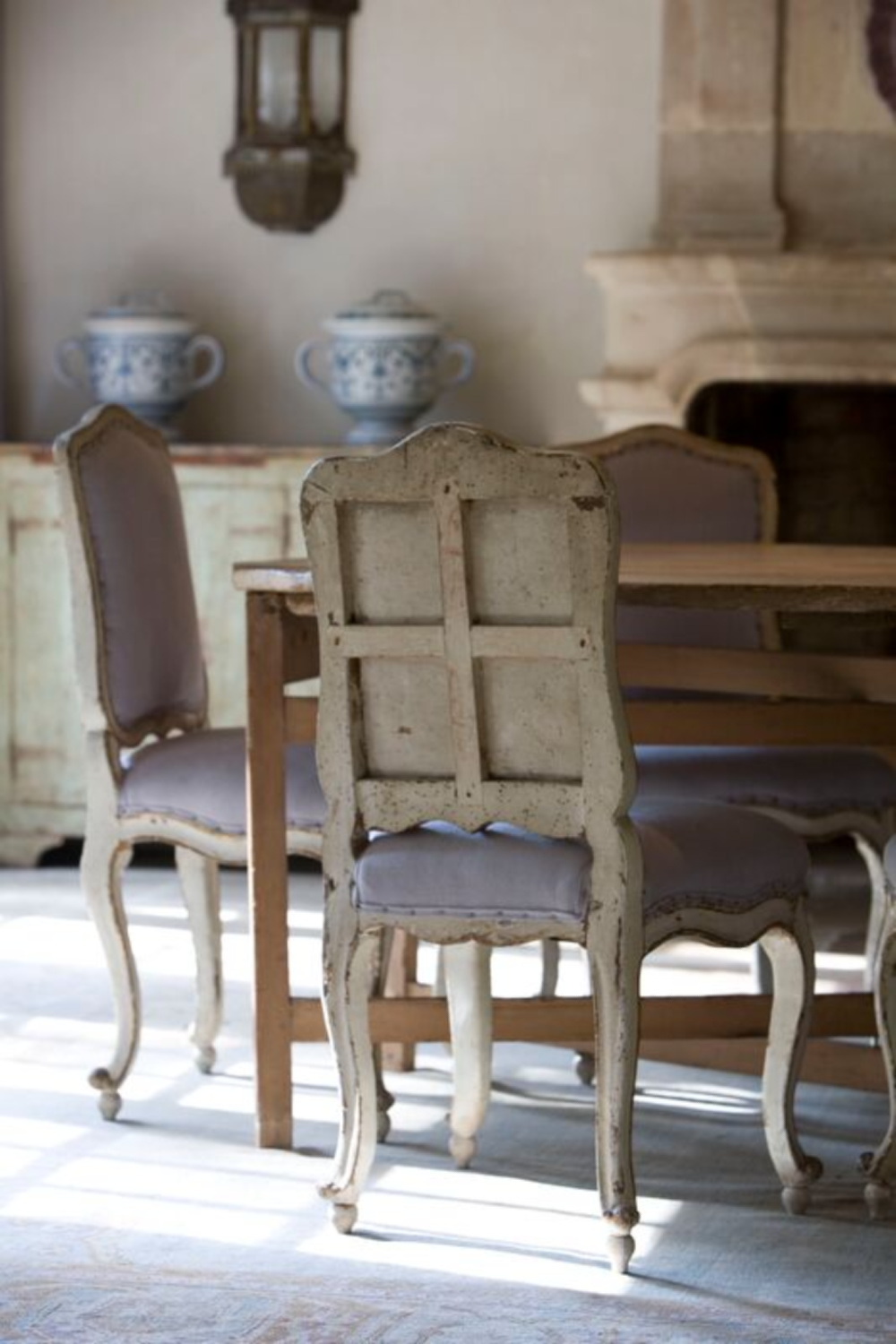 1. Aim High for Authenticity
Notice how her beautiful home is accessorized. One would never guess this home is new construction thanks to authentic antiques, ancient stone, and imported materials.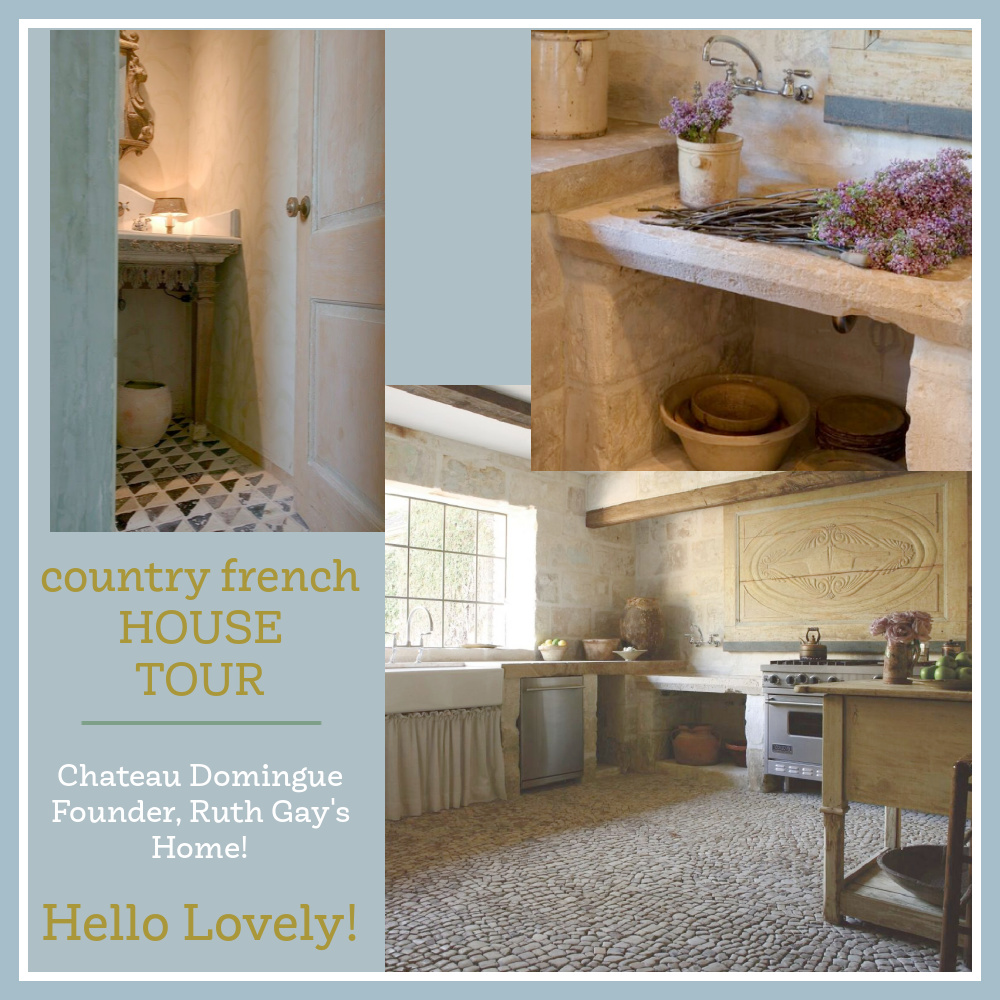 And look closer. The airy ethereal mood also gets help from pale plaster walls, creamy limestone, and muted painted furniture.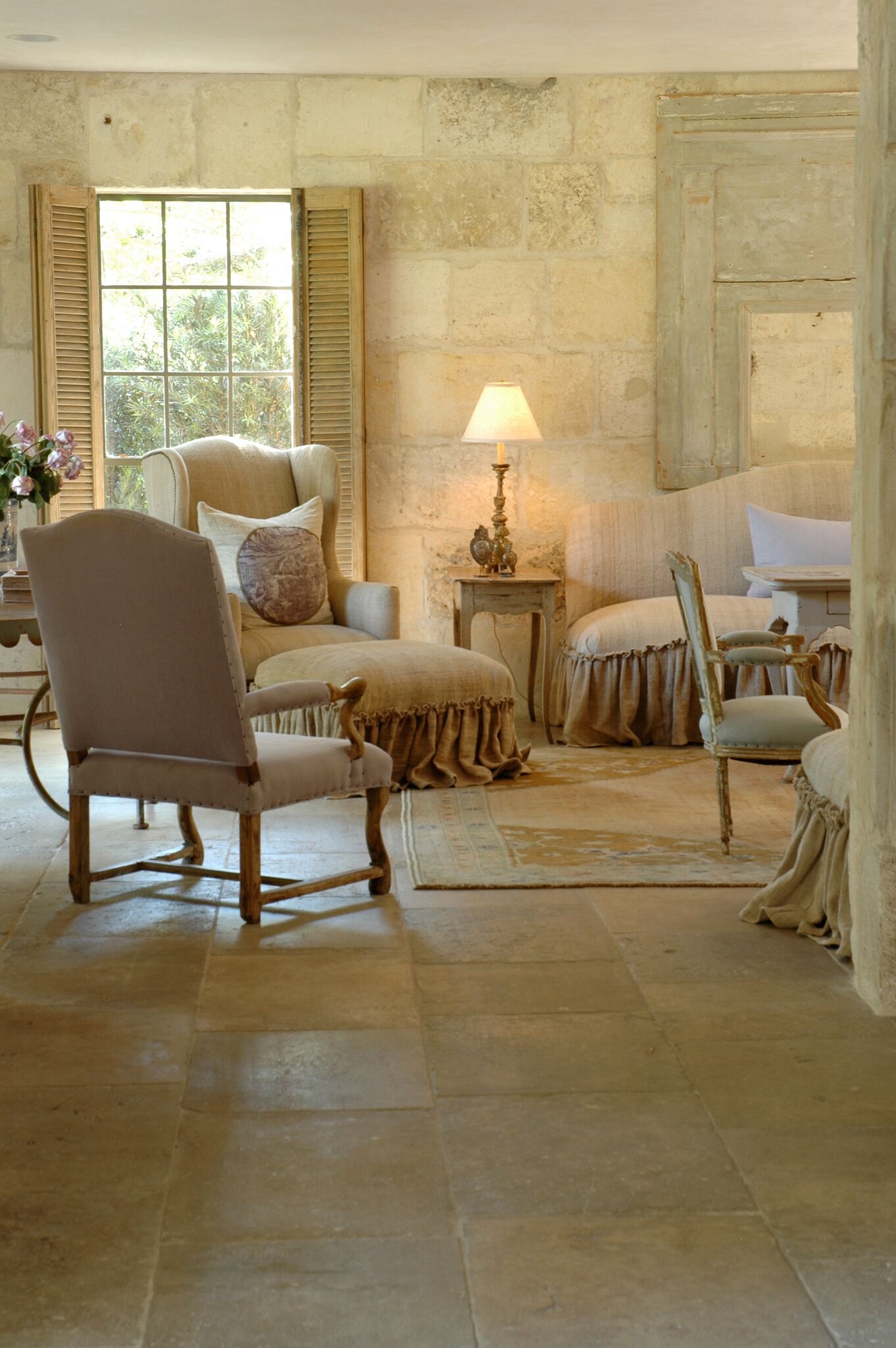 2. Welcome a Wealth of Natural Goodness
Incorporate natural materials whenever possible. Natural materials used in the construction contribute to the character, quality, and mood of the decor as well. Beautiful, well-earned PATINA is everywhere in these interiors–from the wood planked ceilings to the aged stone and furnishings.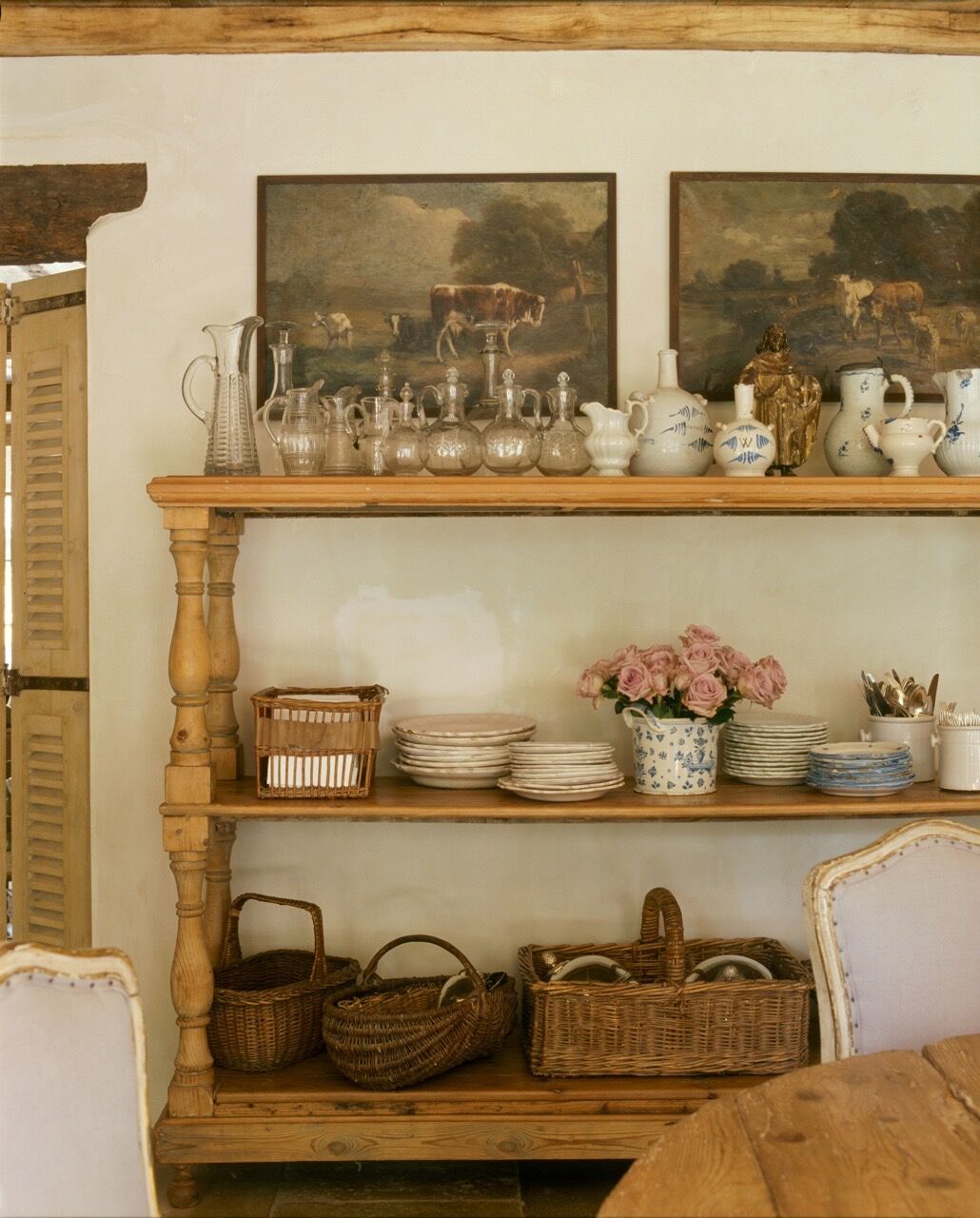 3. Accessories Should Work Hard
Expect more from the accessories in the mix. Many Americans equate "decorating" with the placement of accessories they think will enhance the anchor pieces in a space. However, it's a more European country sensibility to include only pieces with purpose that also happen to be good looking.
Is the accessory useful? Can it be pulled into service? Does the piece have potential to store essentials? Will it stand the test of time? Is it high quality and multi-functional?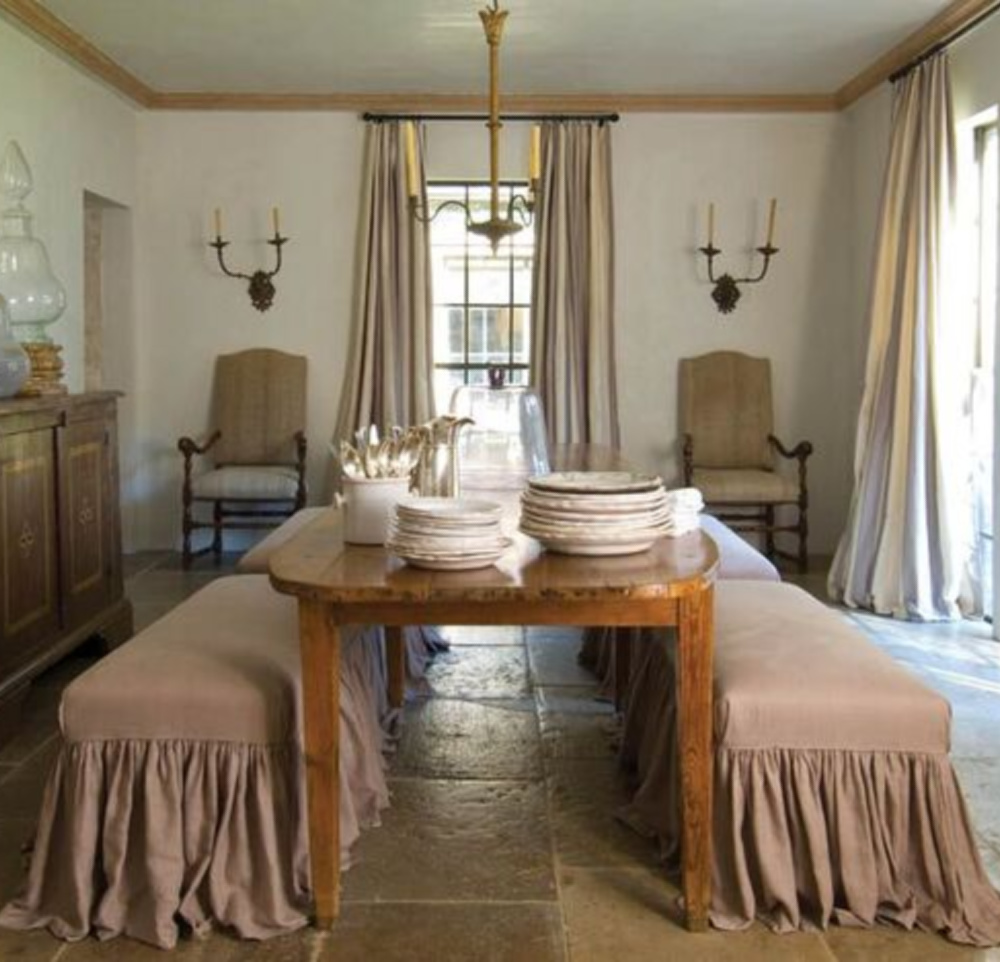 4. Aim for Quality Accessories
If you are accustomed to seasonal decoration, consider a shift toward timeless pieces of high quality. Note the open shelves in Ruth Gay's dining room and the quality of the collected objects upon them.
You'll notice purposeful baskets, dishes, receptacles for flowers, and pitchers. While it could be costly to amass these pieces in one fell swoop, invest in one at a time.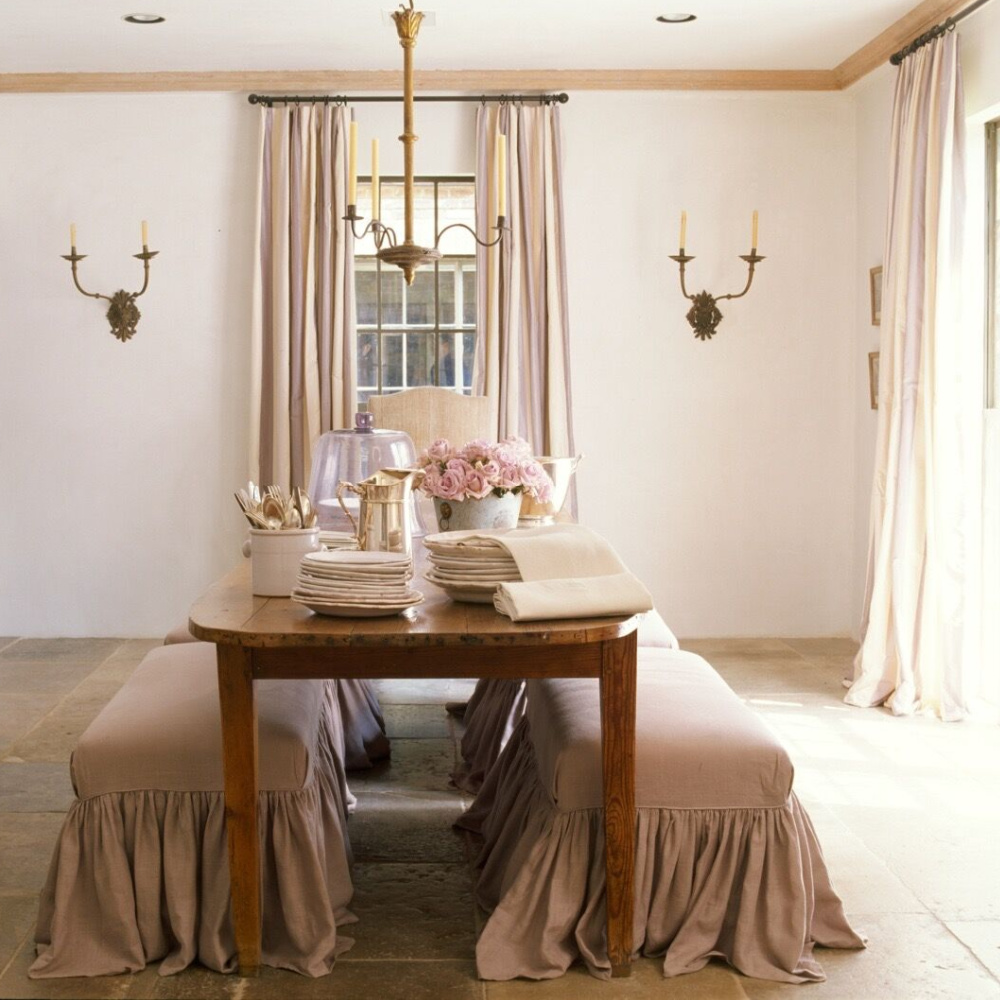 European inspired sensibility eschews mediocrity and aims for high quality. However, that doesn't mean every mediocre decor piece must go! Rather, one can slowly upgrade and delight in having less but better.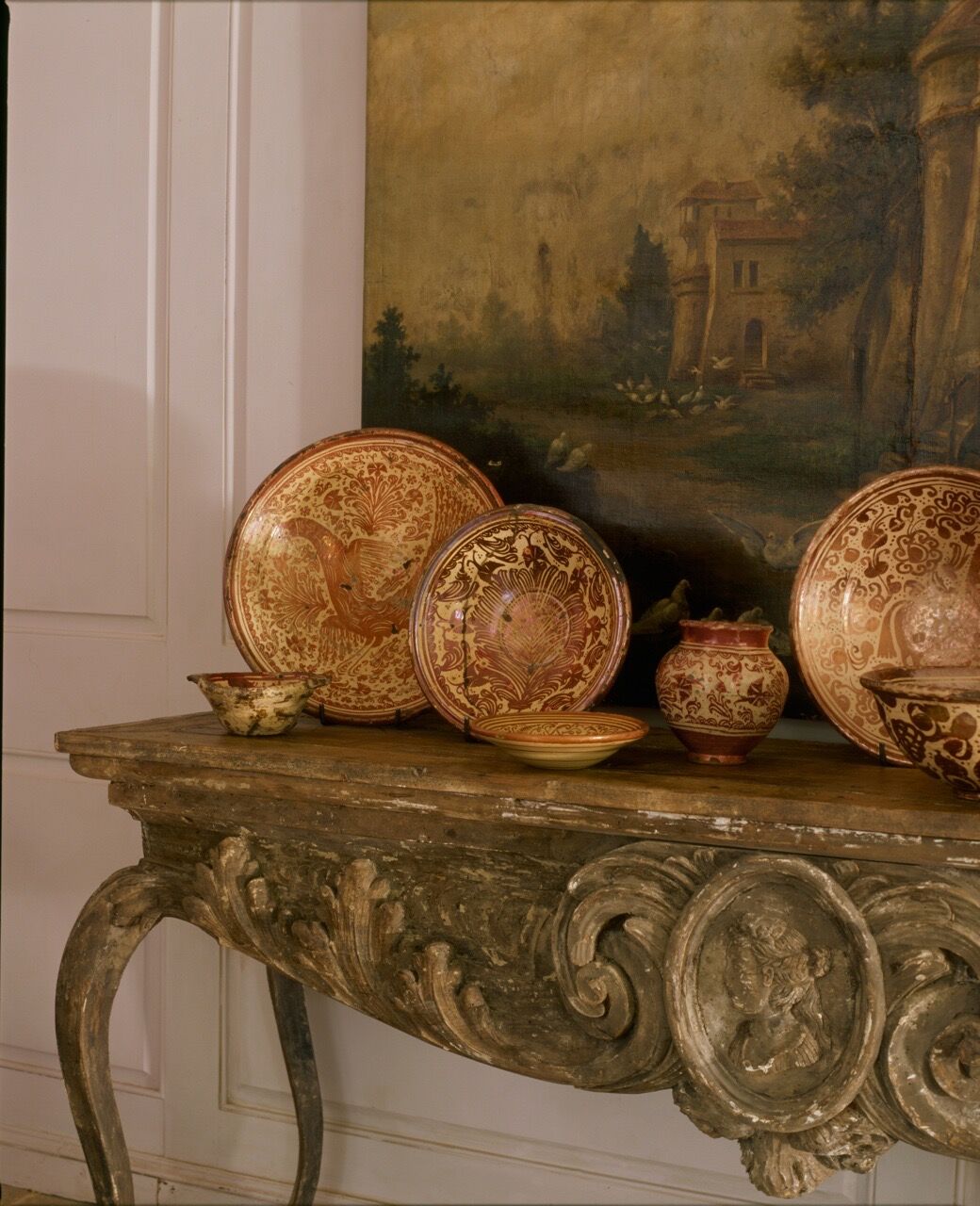 5. Say No to Excessive Filler
Who likes dusting a too-busy shelf? It is one thing to enjoy a collection and quite another to fill every tabletop in the name of "interest." Excessive filler can impart a diluted, mediocre effect which lacks character and quality.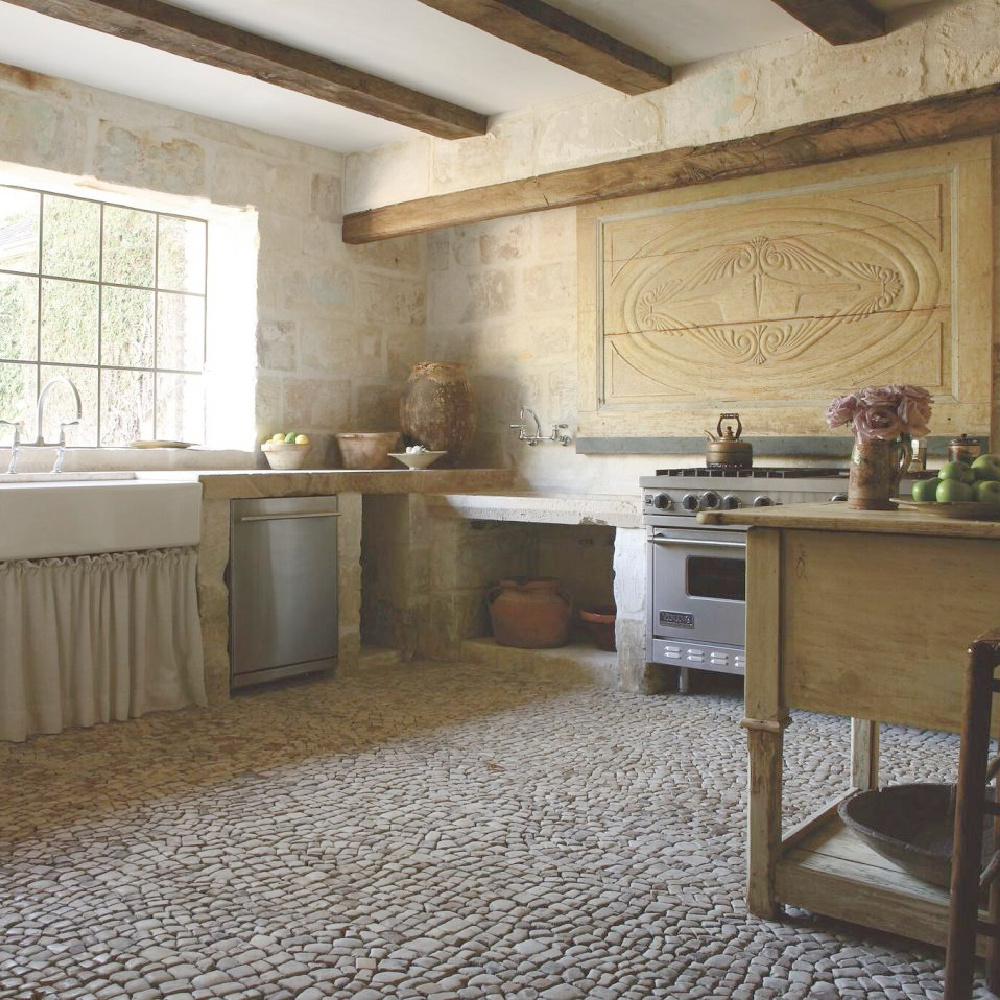 While collections can make a profound impact in a space, they can also create sensory overload. Over-styling that feels contrived seems unnatural whereas "underbaked' (a term learned from Tom Scheerer) can feel just right.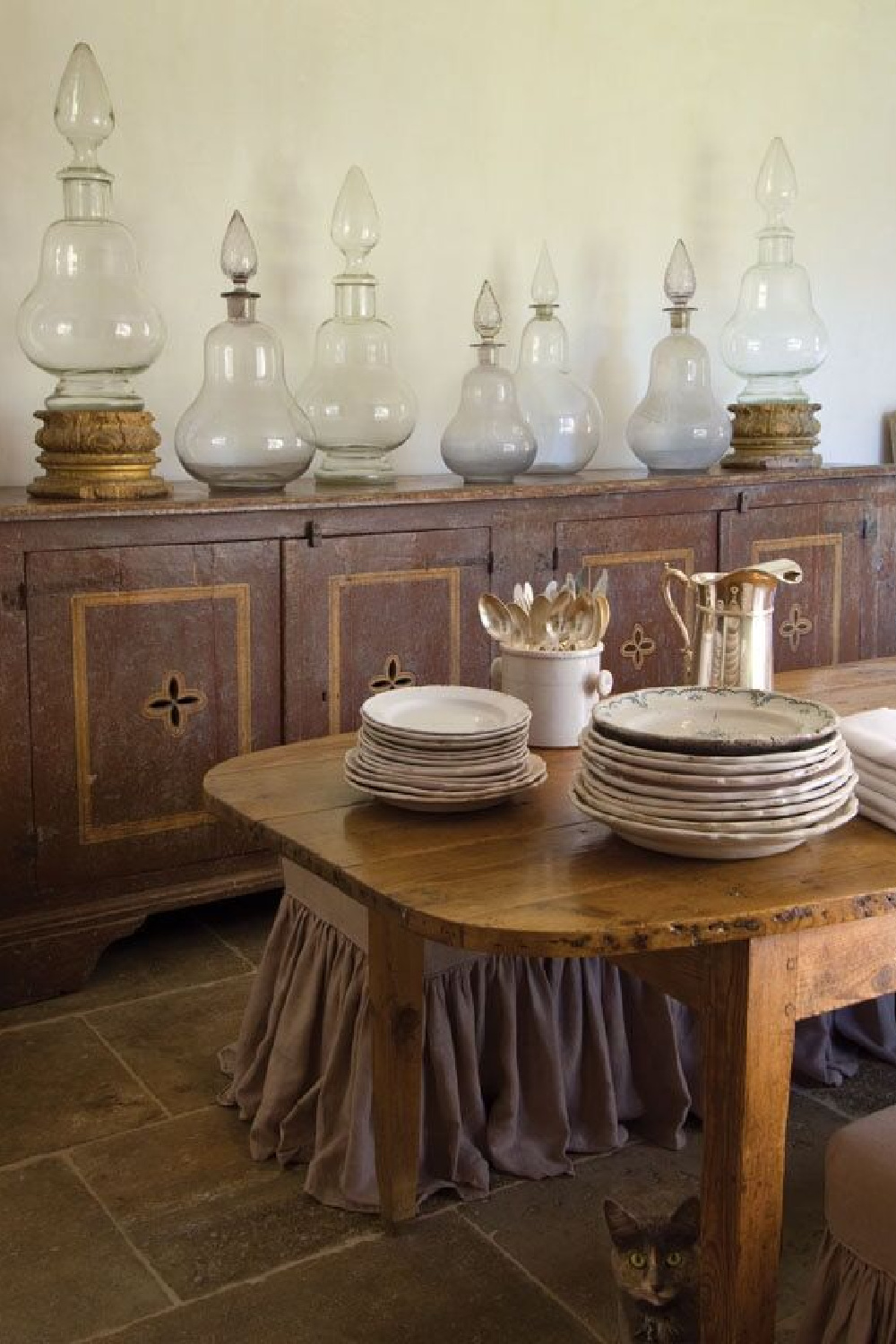 6. Consider Room Dimensions When Building
American homes are typically more spacious than European counterparts. If you're determined to achieve the charm of European country interiors you admire, bear in mind it's trickier within sprawling square footage.
Building a home? Consider room dimensions and ceiling heights and how they might contribute to the intimacy you wish to promote.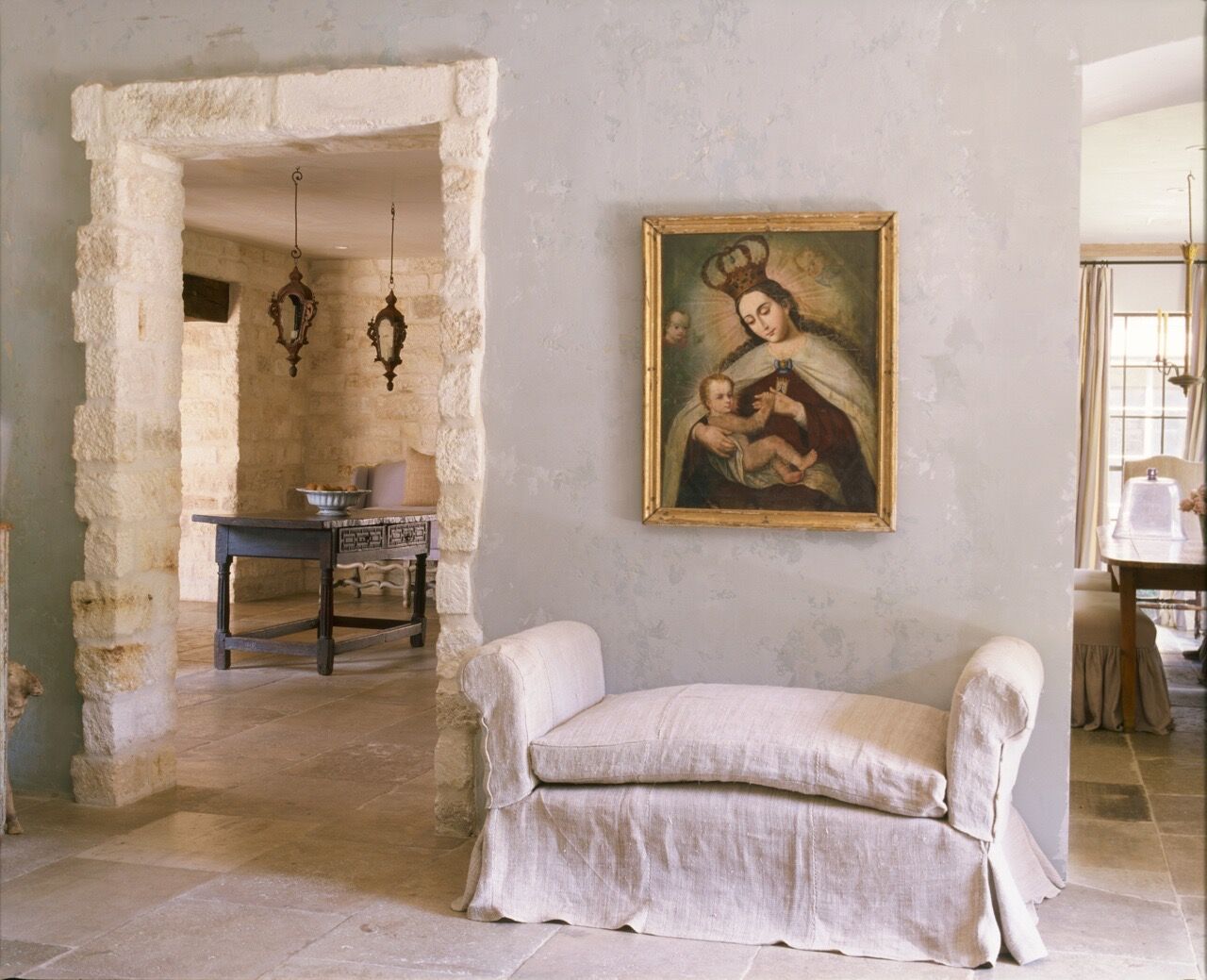 Rustic Yet Refined European Country Inspired Decor Ideas
Guiding Principles…Not Secrets
What is the secret to a rustic yet refined European Country French inspired design plan for your home?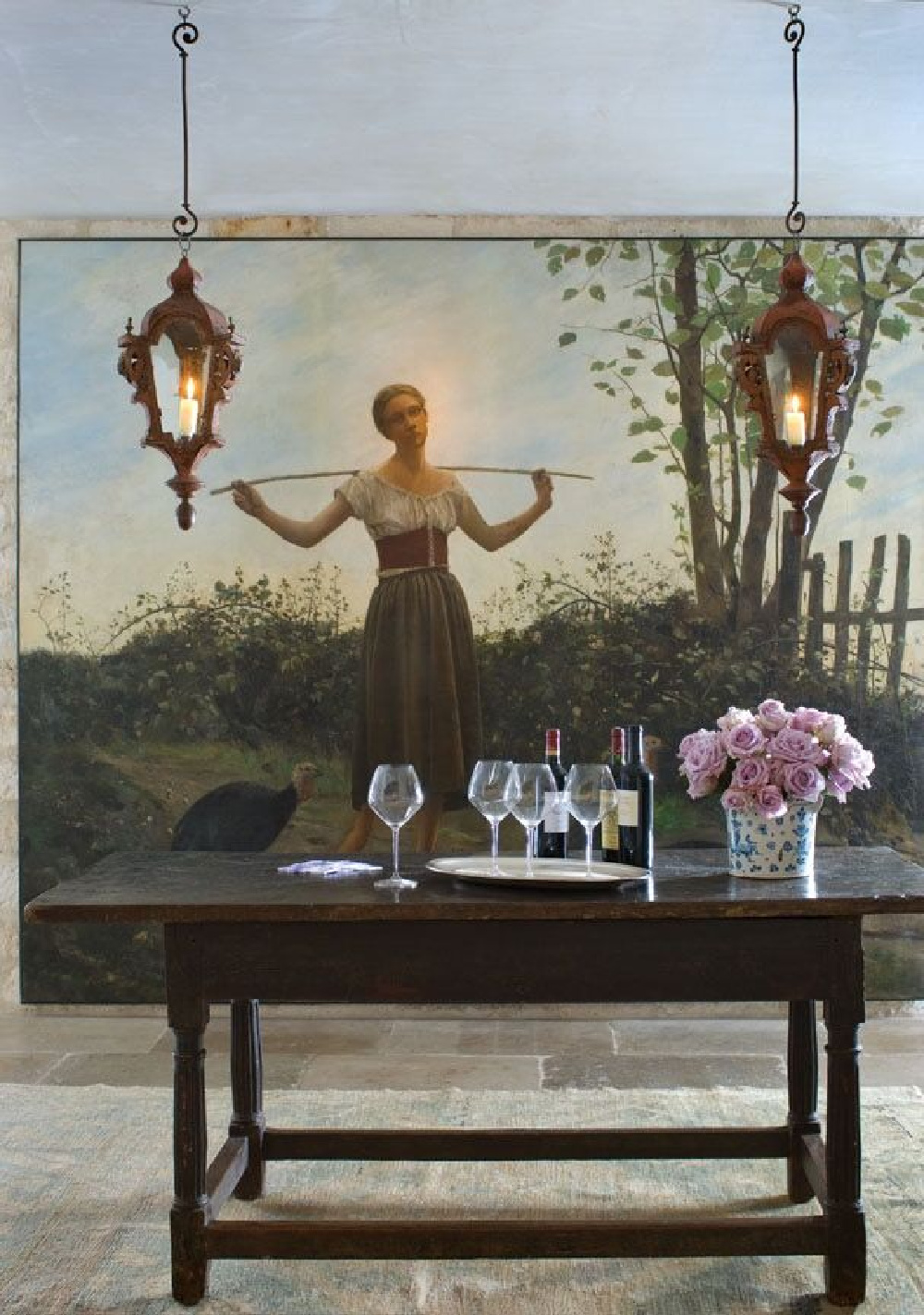 There is no use trying to simplify with the 1-2-3s of French country decor or a quick and dirty guide to score the look. Yet we can study, observe, and learn from the masters to notice guiding principles running like a common thread through beautiful European Country interiors.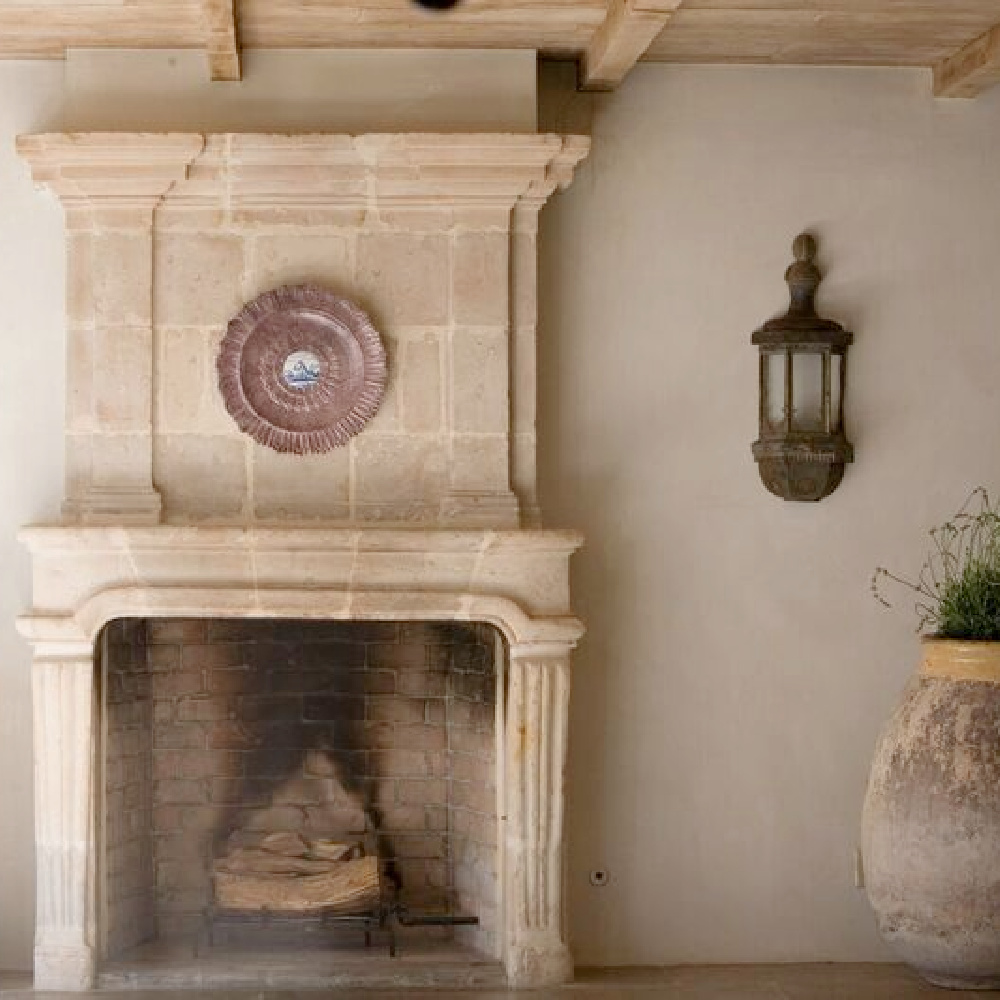 Tour a 16th Century manor house to get a feel for the architecture.
1. Begin With the Bones & Architecture
Hang on to your wallets because I am kicking off this list of principles with the steepest challenge! Beautiful bones are a decidedly tall order…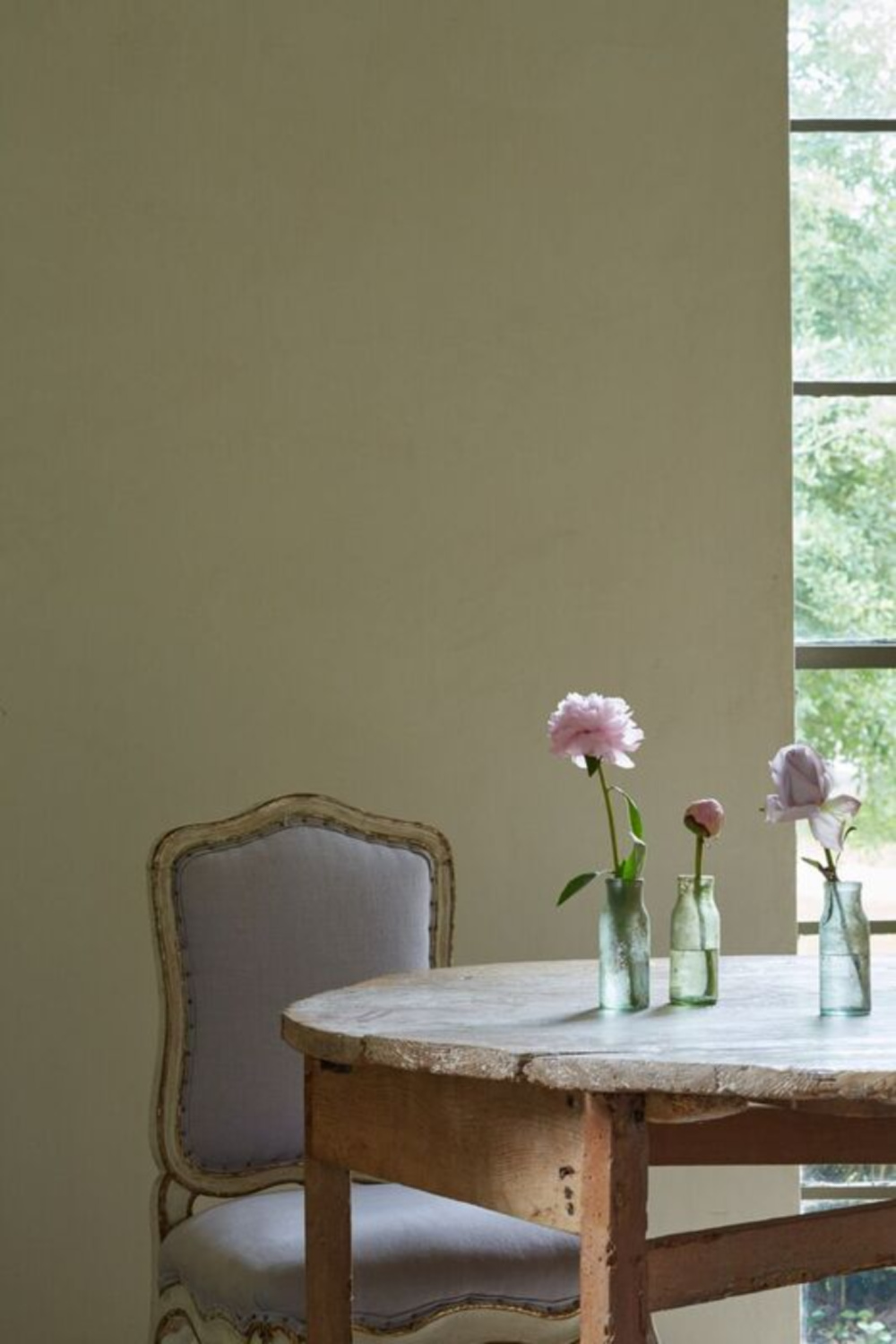 which is why partnering with an expert such as Houston-based Chateau Domingue is a blessed privilege.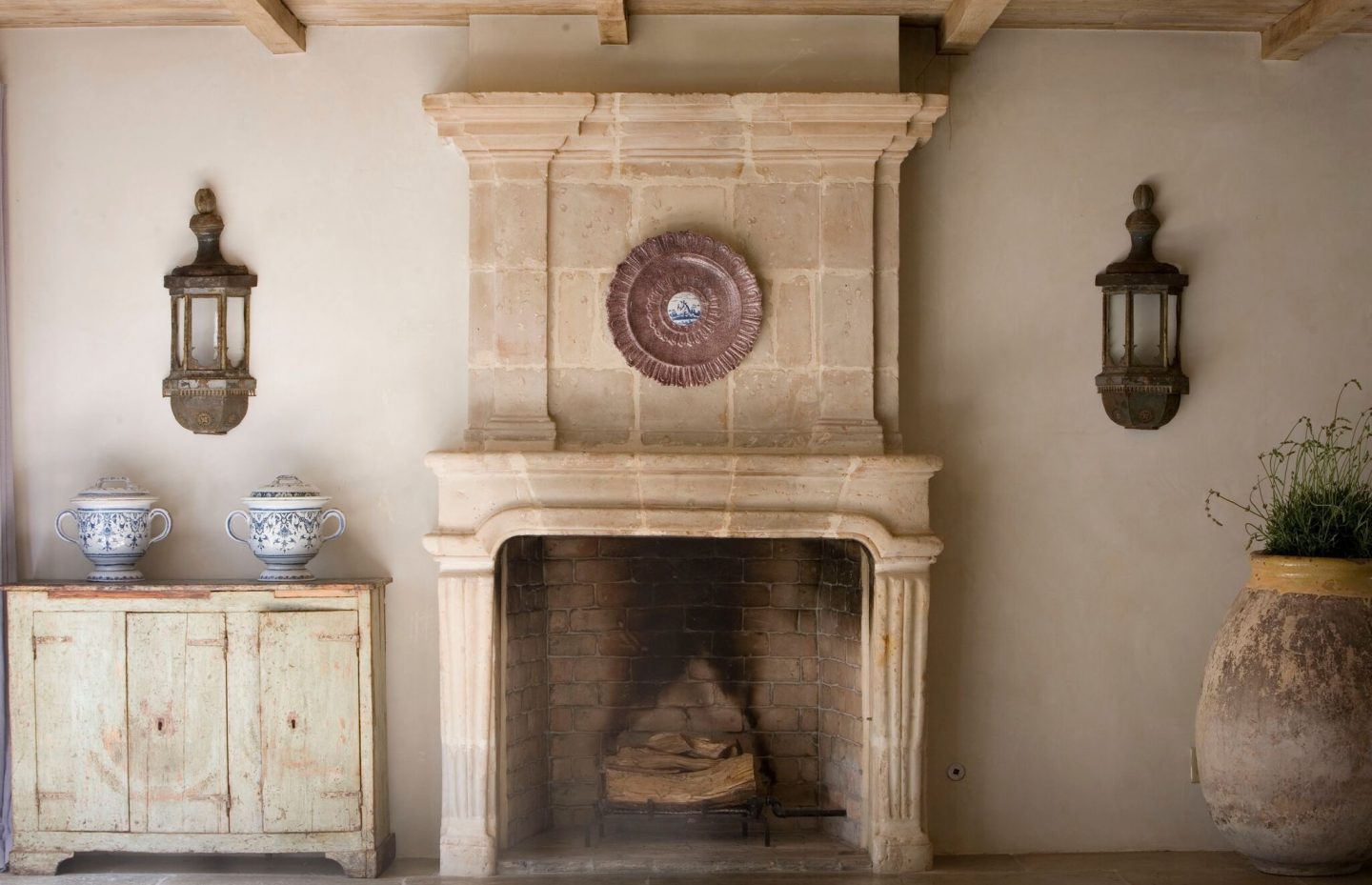 2. Happily Invest in European Antiques
Importing and collecting beautiful pieces, art, and fixtures should not be done in haste. Enjoy the hunt and give yourself time to enjoy the process with travel, collaboration with experts, shopping brocantes, attending auctions, and antique shopping!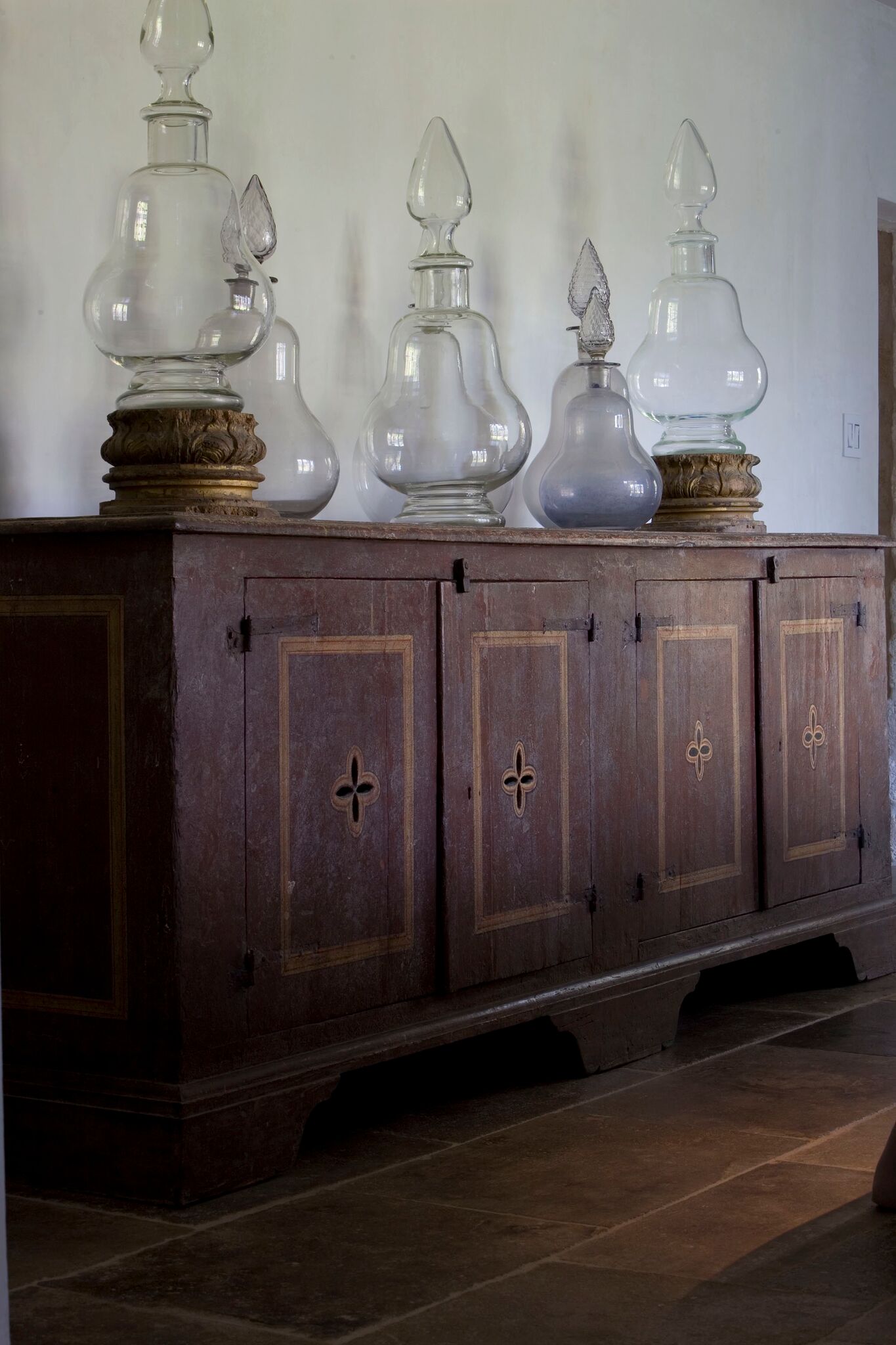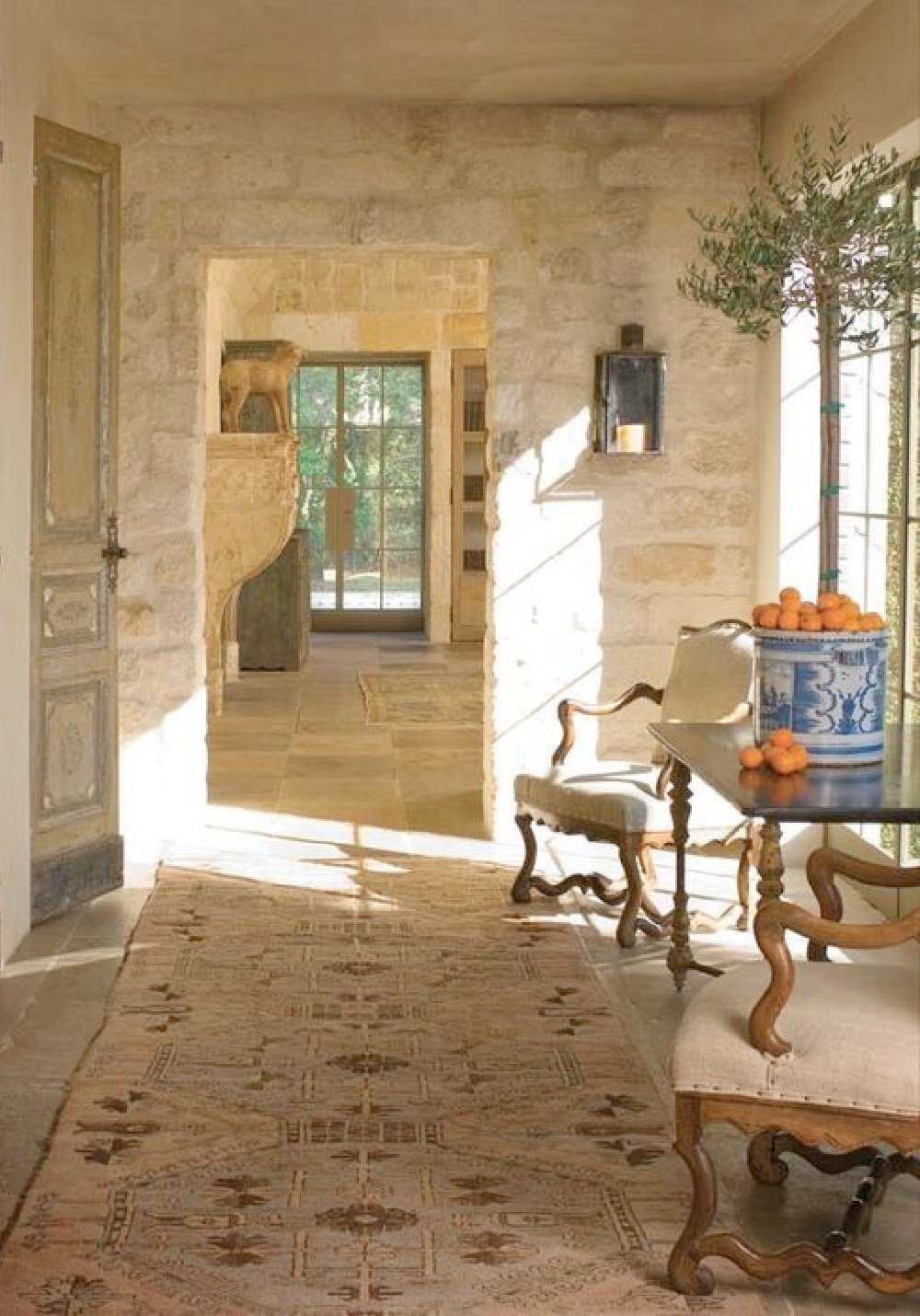 3. Don't Rush It
A rustically elegant, authentically layered, timeless interior design plan takes time and most likely necessitates help from experts and designers.
Americans are prone to feverishly rush and plow ahead, and we're often rewarded for hustling as fast as we can.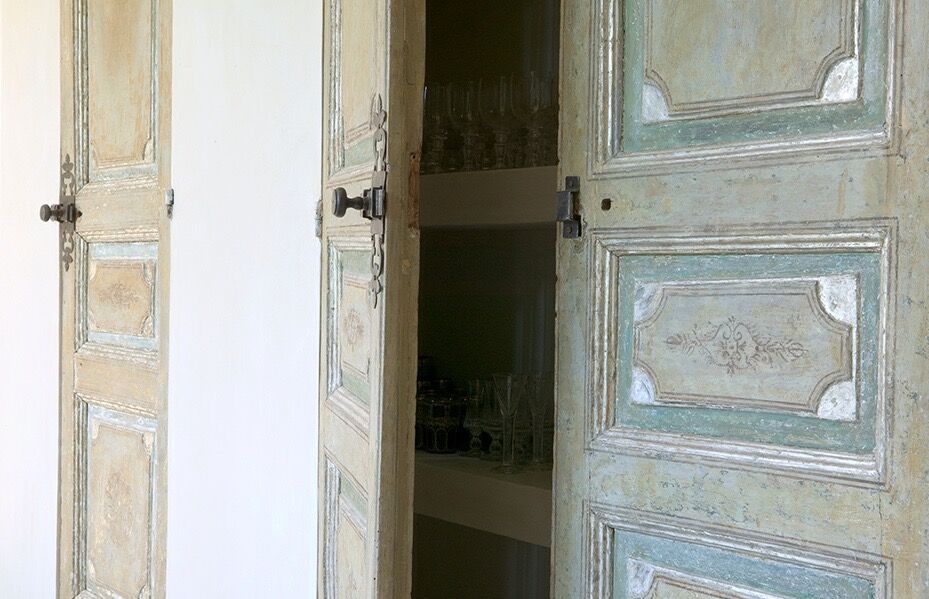 We have much to learn from European and French culture and practices.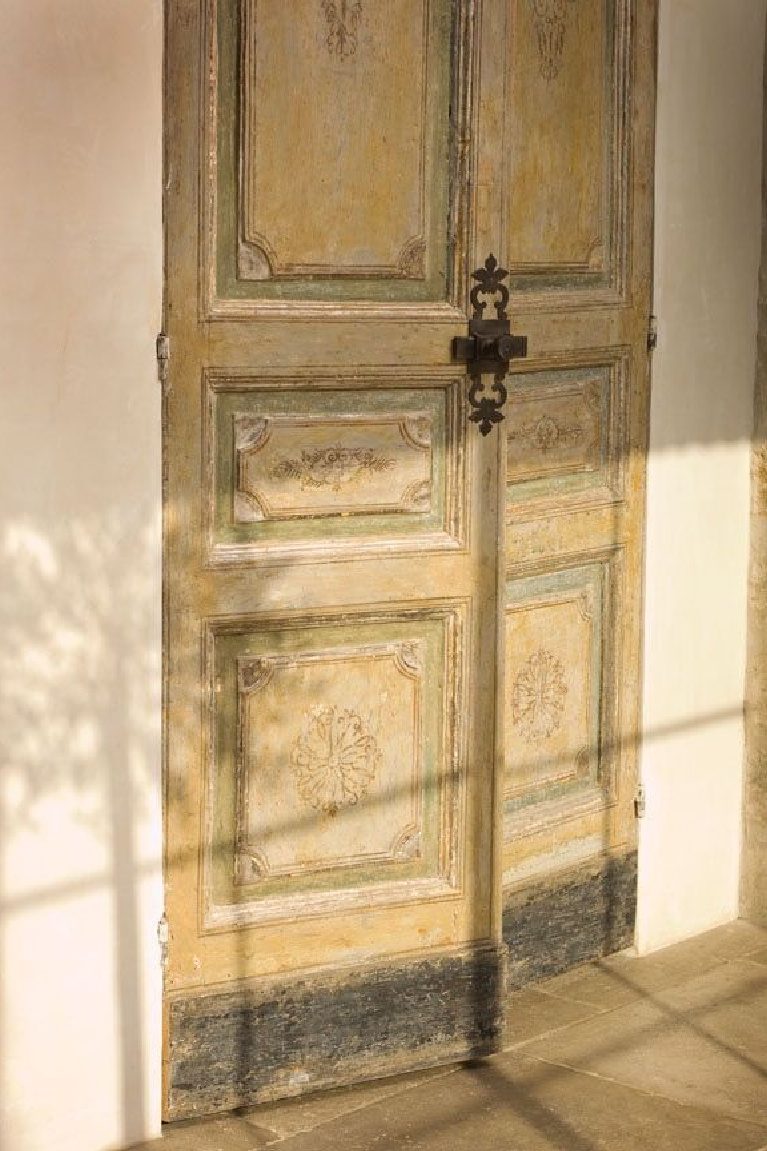 Who knows how we might benefit from incorporating slower European daily rhythms into our daily lives to savor the present and the process.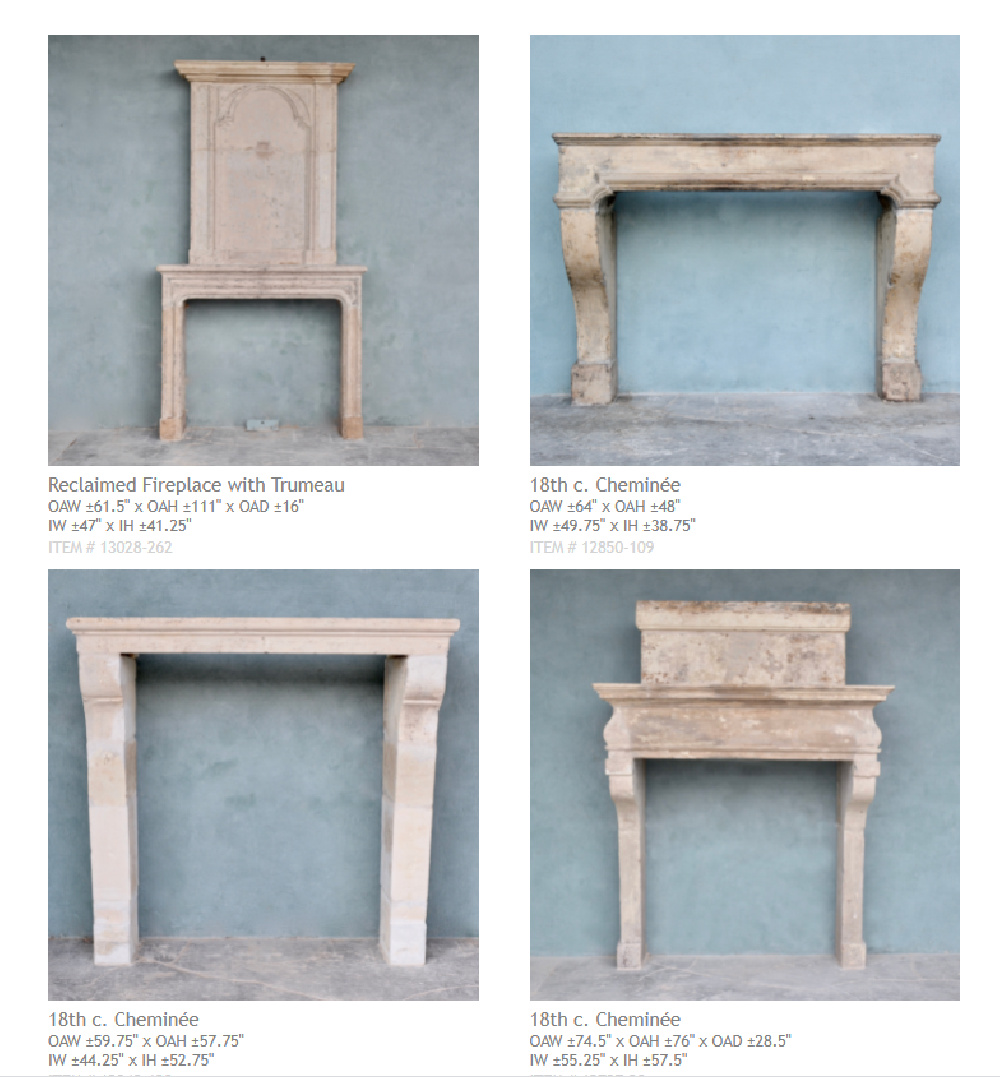 When you are seeking a similar look, antiques and reclaimed authentic materials are your friend!
Tour this 17th Century property in Cologne to get into the spirit!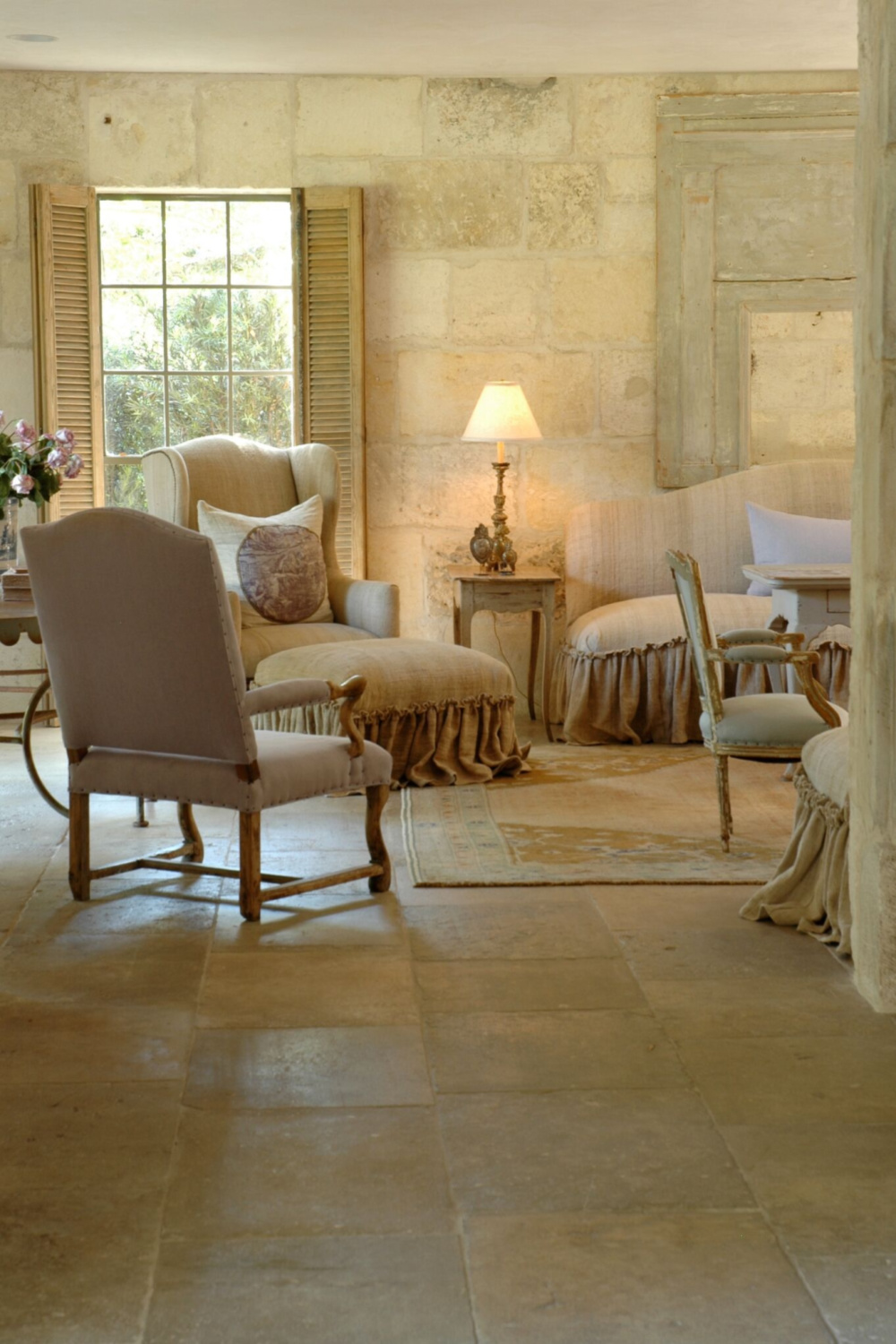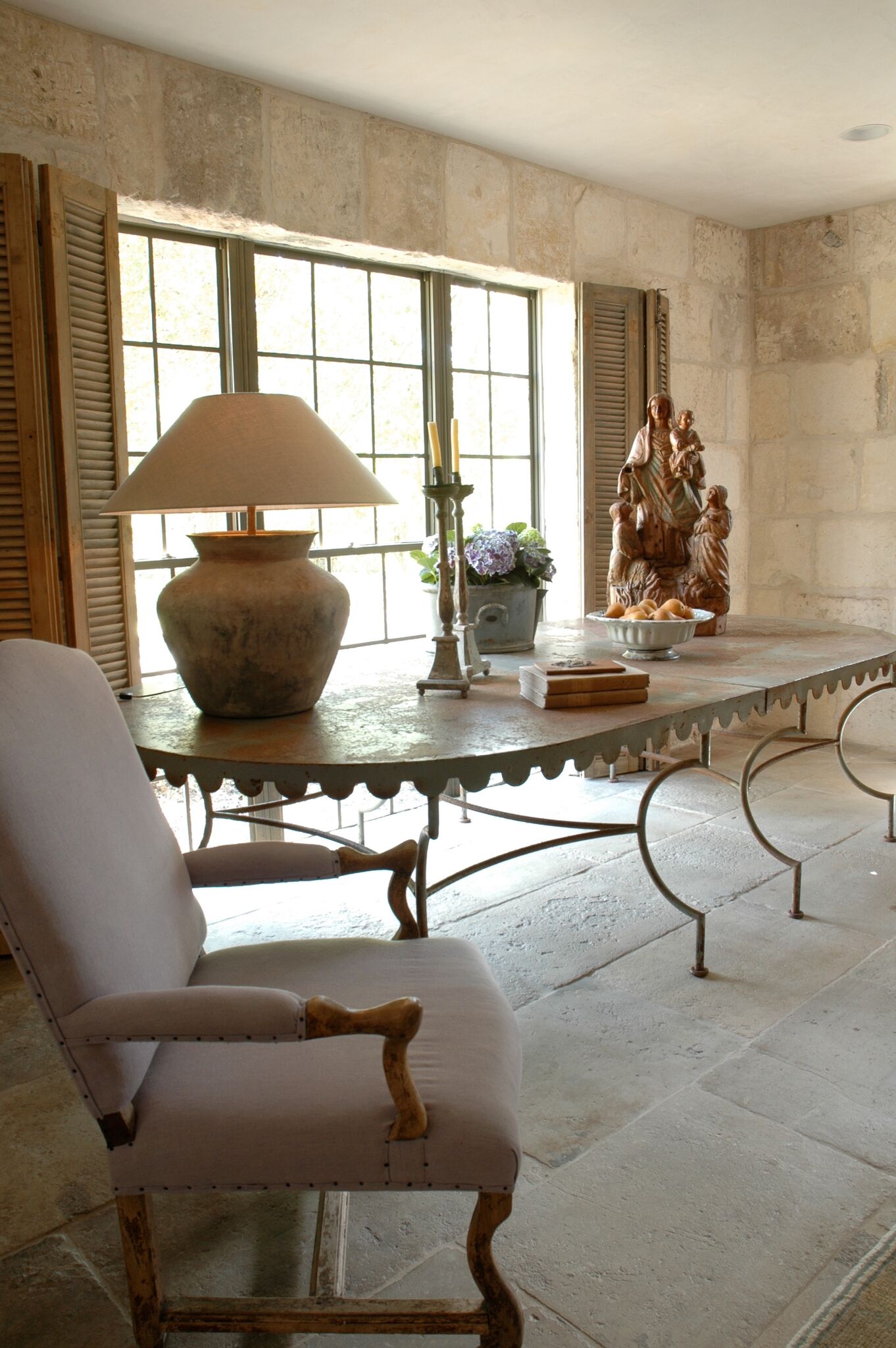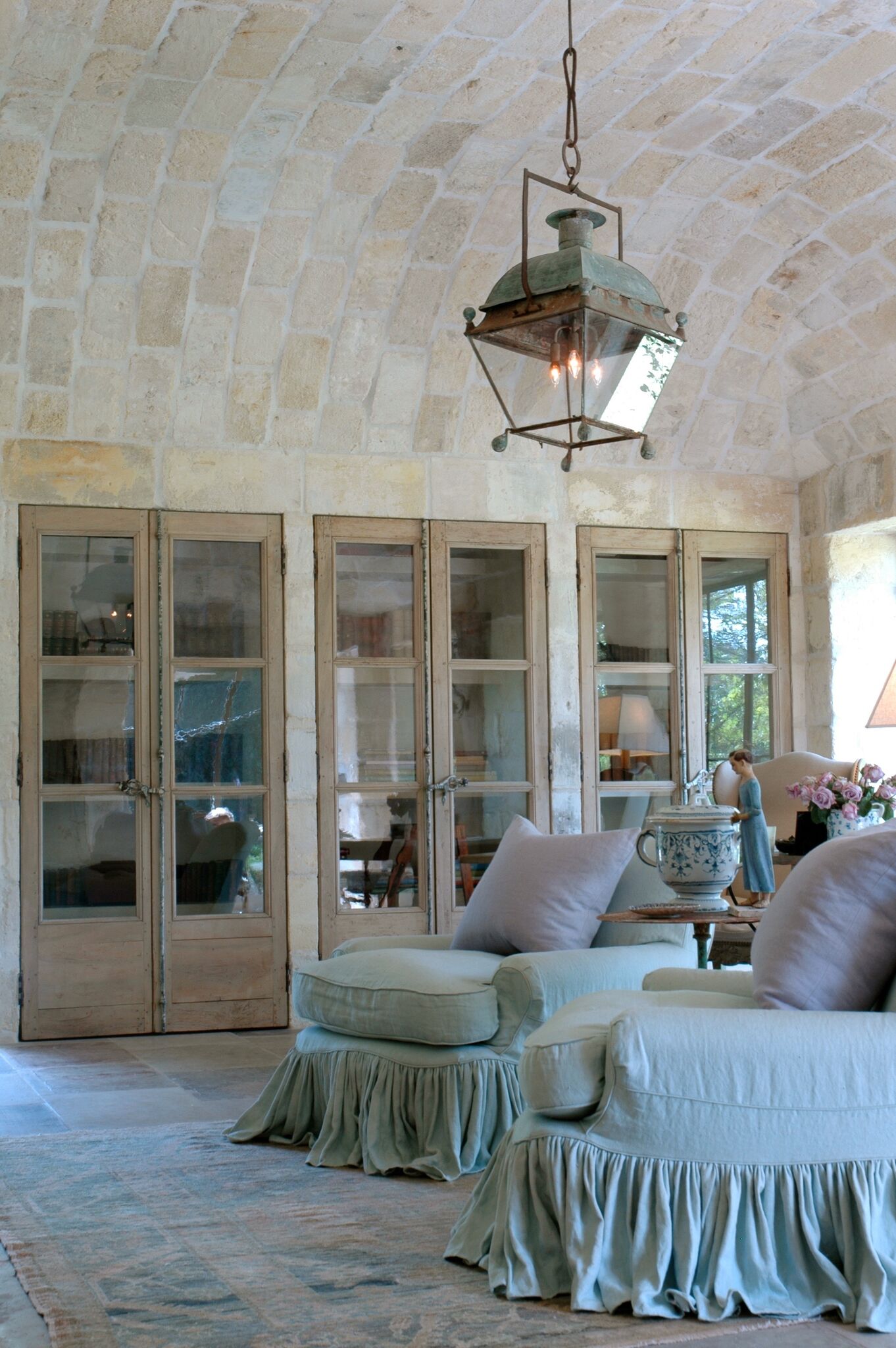 Overview: Chateau Domingue
Chateau Domingue is an invaluable source to create timelessly authentic, European country inspired interiors.
Ruth Gay sources the following 15th to 19th century architectural elements and monumental antiques from Europe: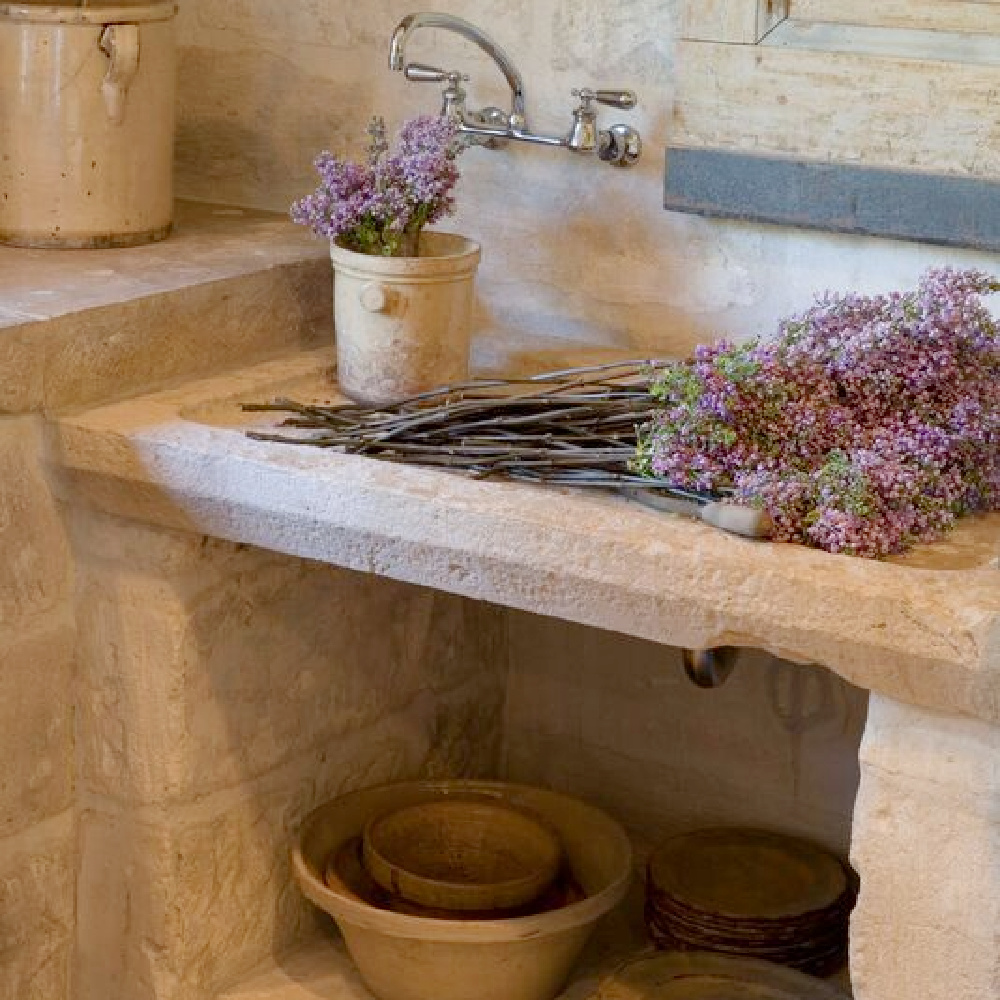 Antique Furniture
Stone surrounds
Mantels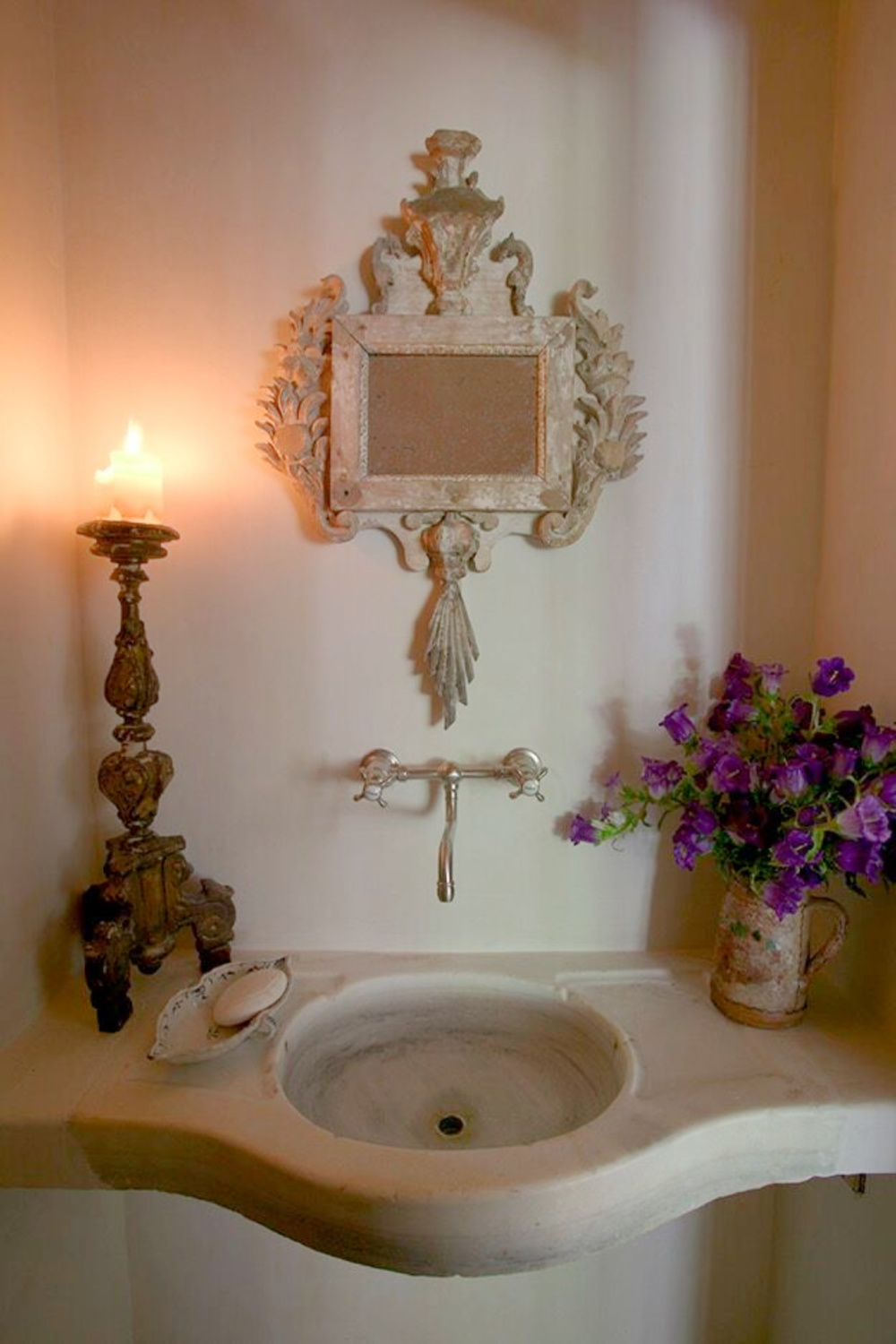 Gates
Fountains
Garden Decor
Doors & Windows
Hardware
Wood Flooring
Tiles
Stone Flooring
Lighting
as well as the unexpected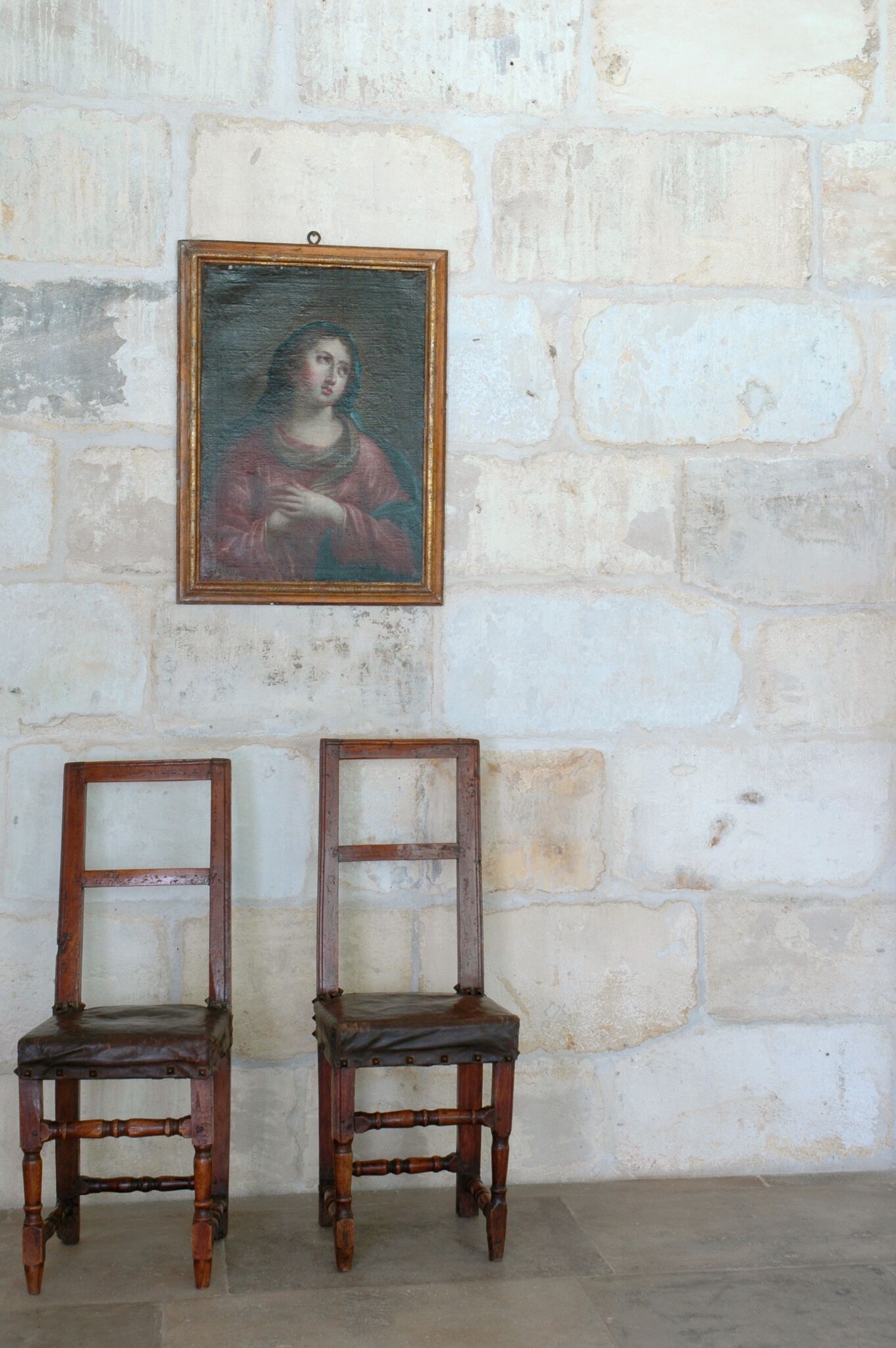 Unexpected? Say your dream is to own an authentic, French stone, petite 15th century chapel…well, I'd bring you good tidings of great joy because
YES, VIRGINIA, THERE IS A SANTA CLAUS CHATEAU DOMINGUE!
This remarkable petite chapel was in stock a few seasons ago: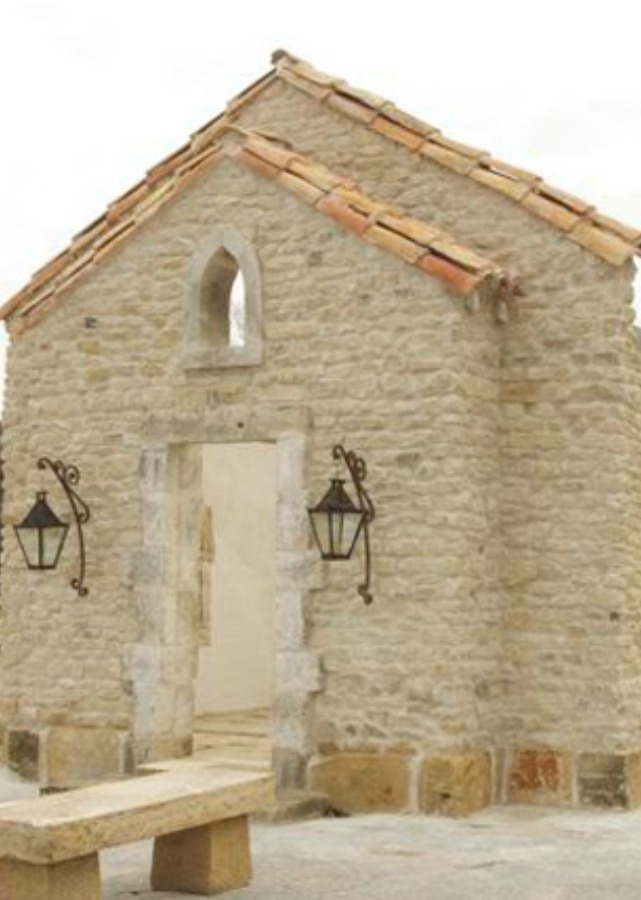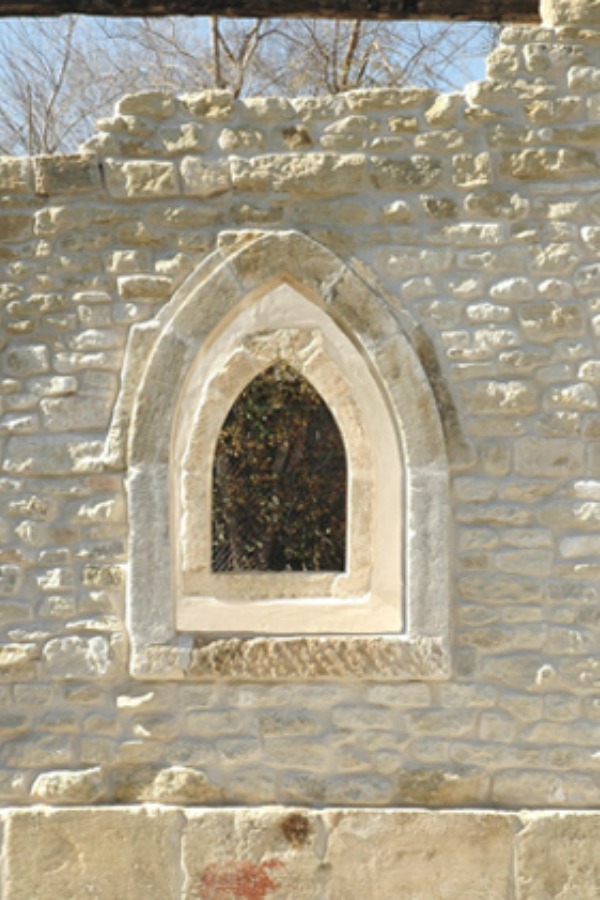 Chateau Domingue Doors
Where else can you find such bespoke treasures!?!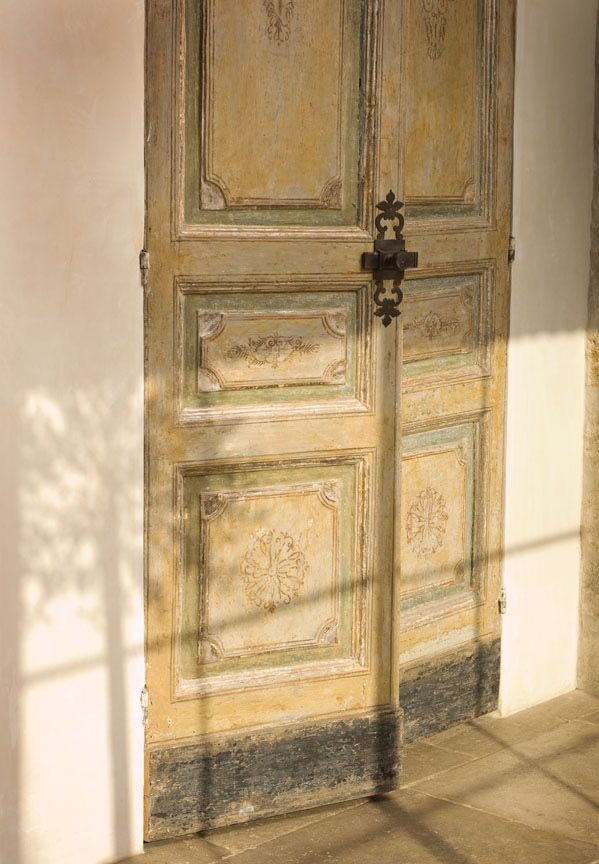 Domingue Architectural Finishes
Creating a timeless look for interiors can often be achieved with beautiful plaster and wall finishes, and Chateau Domingue also offers Domingue Architectural Finishes.
With 140 colors (developed by Eve Ashcraft) for lime wash and mineral paint and 12 shades for plaster, the options for executing a "just right" finish are vast.
My heart is happy and full of gratitude to Chateau Domingue and its lovely curator, Ruth Gay, for sharing her family's home with us. Do pay them a visit:
IN PERSON: 3560 W 12th Street, Houston, Texas 77008 or online.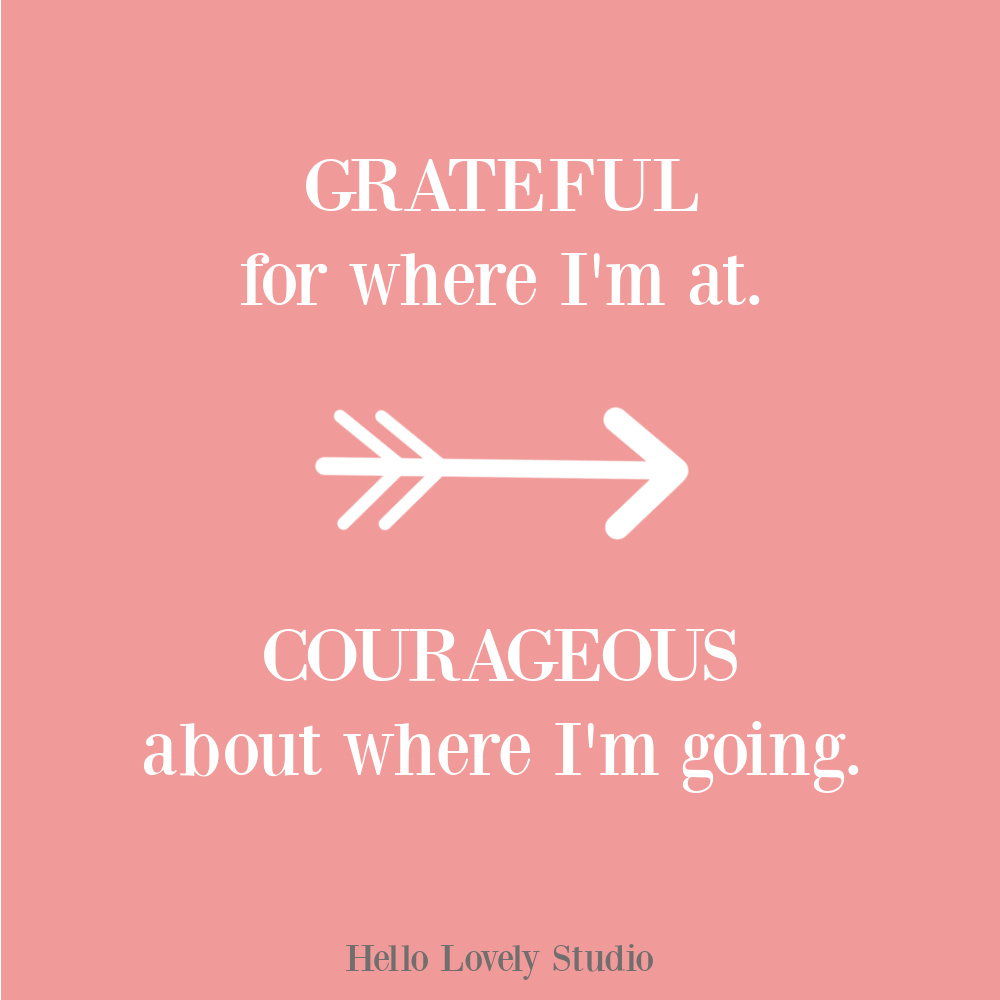 This house tour and discussion continues in the second installment RIGHT HERE. For even more rustic European inspired design inspiration, see this and this house tour.
I independently selected products in this post—if you buy from one of my links, I may earn a commission.
Peace to you right where you are.
-michele
Shop for items you already intended to buy on Amazon RIGHT HERE, and also find home decor here to keep decor inspiration flowing on Hello Lovely!
Hello Lovely is a participant in the Amazon Services LLC Associates Program, an affiliate advertising program designed to provide a means for sites to earn fees by linking to Amazon.com and affiliated sites.