How to Style Your Home With a Rustic White French Farmhouse Look & Timeless French Inspired Decor is for admirers of French inspired country style who wish to apply it at home. You're in good company should you find yourself weak in the knees at the sight of: pale paint colors, old metal lanterns, Louis style furnishings, nubby linen, rustic earthenware, weathered finishes, unfussy antiques, religious art, distressed wood, hand-thrown pottery, original paintings, quirky accessories, curvy mirrors, rugged limestone and romantic chandeliers.
Please do PIN THIS POST to save it for future reference and shopping!
I independently selected products in this post—if you buy from one of my links, I may earn a commission.
How to Style Your Home With a Rustic White French Farmhouse Look & Timeless French Inspired Decor
Let's dig deeper into Rustic White French Farmhouse Style and Timeless French Inspired Beauty…because when you uncover the underlying sensibilities of this design style, you'll be able to interpret it uniquely!
Timeless French Beauty
Have a favorite element of Country French, Rustic White French, or French Farmhouse style? As for me…what I admire most about beauté française intemporelle (timeless French beauty) and French inspired decor can be summed up in the acronym
T I M E L E S S.
Timeless, Intuitive, Mixed, Evocative, Luminous, Earthy, Subtle, and Soulful
Rustic White French Farmhouse & Timeless French Inspired Decor
Timeless. Creating a timeless look almost always includes incorporating collected pieces from the past in your design. The French have a reverence for patina and "benign neglect" so pieces showing their age are revered. Is the rug threadbare and faded from years of use? Lucky you!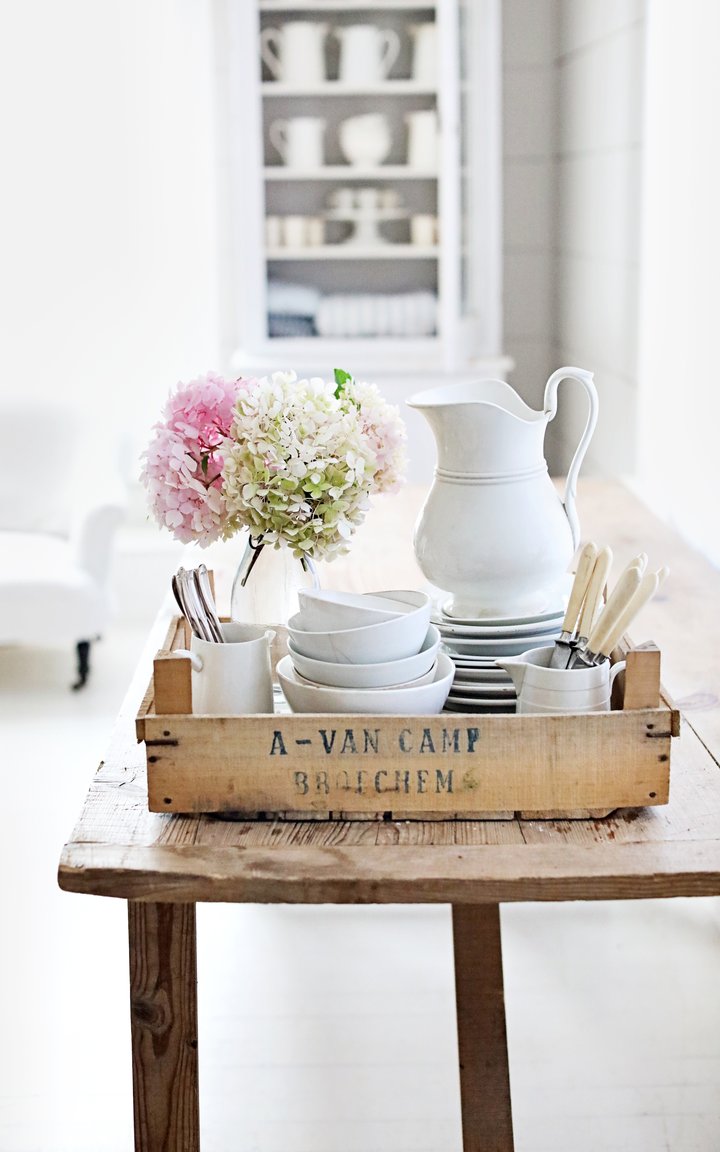 This reverence for aged beauty not only reinforces the unfussy quality of French country decor so many of us admire, it ushers in a layer of rusticity and texture. When timelessness trumps trends, rich character is layered within rooms we want to linger in.
Antiques, vintage pieces, and even not-quite-vintage objects which have perfectly weathered and appear to have naturally aged, look right at home in a timeless mix. Since decor objects in a European country style home must also be functional, those items called regularly into service will gain and show age more quickly than items collecting dust on a shelf…BONUS!
Gentle Intuitive Approach to French Farmhouse
Intuitive. A beautifully decorated French inspired room is especially lovely when it comes together intuitively and possesses a quality of imperfection. It doesn't follow formulas or result from overthinking a juxtaposing strategy. Rather, it's that priceless, intuitive layer of intelligence which guides the curation and placement of art and accessories.
For example, I placed the Diana bust (above) in a corner with an abstract seascape painting by moi, and with the pale white backdrop, I knew instantly more zhushing was required. Leaning a rustic vintage wood shutter (reclaimed from a local homestead) against the wall instantly increased my fondness for the bust AND my painting! For me, zhush factor goes hand in hand with intuition. While it may take a few tweaks, typically a lengthy process of tedious arranging isn't necessary since intuition can be trusted.
French Country Masterful Mixology
Mixed. It's all in le mélange! Rustic with refined. Antiques with modern. A mix of high end with thrift. Masterful juxtapositions. Why does an "all precious" room or a space with "strictly shabby" feel off putting or uninspiring? Because we humans are naturally drawn to contrasts at a very subconscious level. Divergent elements occurring together create a third thing…a pleasant tension wherein our imagination is invited to compare and make connections.
French Inspired Decor's Evocative Nature
Evocative. The French deeply understand SENSUALITY and how to evoke emotion with art, color, and objects in a room's design. Indeed, they appear naturally wired to evoke pleasant moods and feelings of well-being with their adept ability to introduce surprising juxtapositions. It's why we admirers study the work and seek to develop an eye for creating that perfect balance of rustic and refined!
Rustic Finish on Table & Textured Basket
Luminosity & Country French Style
Luminous. My favorite color palette within the realm of French inspired interiors features faded, light-filled, chalky, subdued, bleached, and pale colors that reflect and increase the ambient light in a room. If the word sun-drenched tickles your brain and engages your senses, you know just what I mean.
Rustic Encaustic Tile Floor
Natural Elements & Earthiness
Earthy. Natural materials are everywhere in French country design. Flowers are fresh. Rugs and textiles are woven of materials which grew from the earth. Pottery, earthenware, construction materials, and furnishings are made of wood, stone, and iron…not synthetics or plastic. Additionally, there's a practicality–a down to earth sensibility–in French inspired decorating. Objects are functional AND beautiful; in fact, their functionality only makes them more beautiful.
French Inspired Courtyard's Rustic Garden Decor
A Subtle Approach
Subtle. Whether it's the color palette or lighting, the French know their way around the art of the understated. What strikes me as the most successful use of juxtaposition in French country and French farmhouse style decorating is how the French employ subtlety amid the contrast. I don't enjoy feeling jolted or jarred by a room's design. Rather, I want to feel soothed, seduced, and embraced by its nuanced layers of loveliness.
White, Rustic & Refined
When Interior Design is Soulful
Soulful. It's that ageless element of simplicity, purity, and graceful elegance that simply cannot be ordered online. Soulfulness flows from the spirit of the decorator, from the integrity of objects, from the bones of the shelter, and even from color choices.
Weathered to Perfection
What I'm calling soulful may be known as sensual or even poetic. When you're after an effortless look, you want to avoid overthinking it. So soulfulness involves decorating with ease and a full heart.
Authentic Ancient Construction Materials in New Build
It's that lovely golden thread running through the most satisfying French inspired designs, the "hard to quantify factor" which can be difficult to reduce yet easy to sense.
Rustic Knotty Alder Doors
Here's the thing about my affinity for French inspired decor: there are all sorts of parallels in my daily life. For example, I tend to welcome quiet, wabi sabi beauty into the ordinary rhythms of my day. Also, I feel a harmonious connection to a more relaxed, laid back style of living that need not be perfect.
For me, this resonance with French inspired soulful living is yet another way to greet what life brings with a grateful HELLO, LOVELY. If l dare to cease the overthinking and instead keep my heart peaceful and open to receive the flow, an ocean of beauty may just rush in to meet me.
Pamela Pierce Magic
Green Accents in a French Country Kitchen
8 French Inspired Decor Ideas
1 Basket|2 Chandelier|3 Stool| 4 Mirror|5 Bench|6 Chair|7 Table|8 Vase/Jug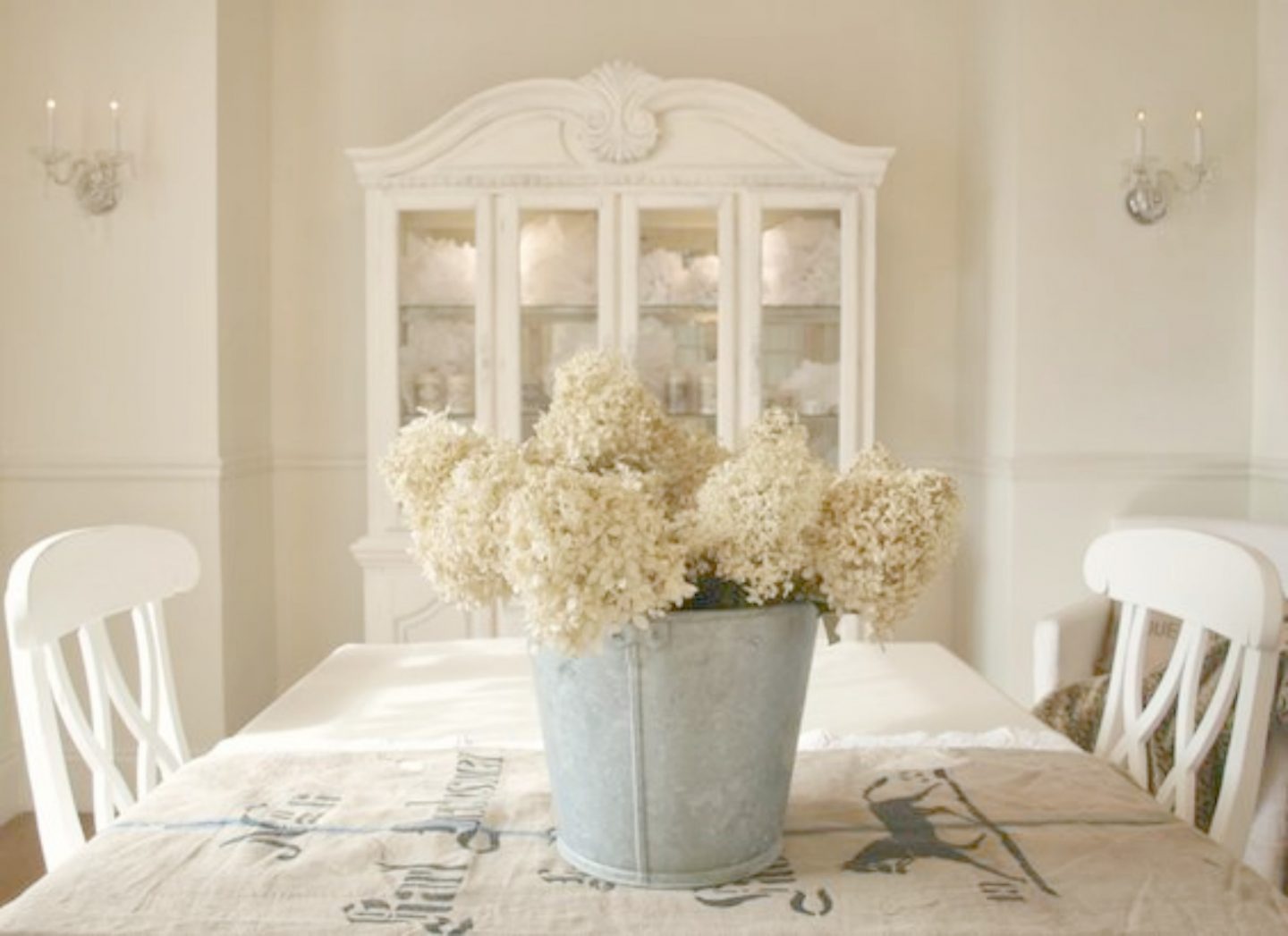 Take a Peek Inside My Home
No. 1: Accessories With Function & French Flair
For more low cost accessory ideas, you'll love THIS and also THIS.
No. 2: French Inspired Lighting
Don't miss this story with heart stopping French inspired sconces and this French country chandelier ditty!
No. 3: Rustic French Inspired Accents
You may want to consider galvanized accessories in this post as well.
Ever considered encaustic tiles for a design project? So charming for a farmhouse style mudroom or laundry room!
No. 4: Romantic French Country Mirrors
I modified a plain ol' salvaged bathroom vanity mirror with a little latex paint and this Springtime in Paris stencil.
No. 5: Rustic French Inspired Benches
Find more ideas for French inspired benches as well as rustic and refined decor here.
Here's a rustic unfinished bench you can customize to your liking:
No. 6: Slipcovered Dining & Accent Chairs
Recently, we considered a host of decidedly lovely linen seating so do see that too.
No. 7: Chic & Rustic Side Tables
So many gorgeous options for chic as well as rustic side tables!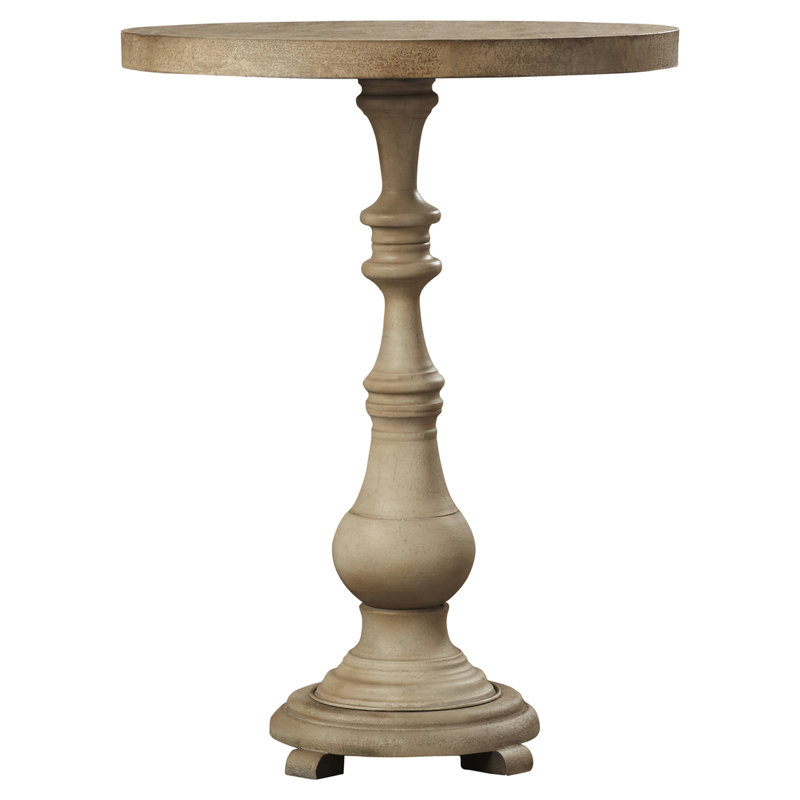 No. 8: Rustic Style Jug/Vase
Shop the Look
Do not miss the inspiration of this authentically constructed French country home and a French farmhouse with a pale palette.
Peace to you right where you are.
-michele
Shopping for items you already intended to buy on Amazon RIGHT HERE (not just items mentioned in posts) keeps decor inspiration flowing on Hello Lovely!
Hello Lovely is a participant in the Amazon Services LLC Associates Program, an affiliate advertising program designed to provide a means for sites to earn fees by linking to Amazon.com and affiliated sites.
Click HERE to discover lovely cost conscious furniture and home decor!