Inexpensive Modern Country Rustic Frugal Finds is for anyone who admires country modern or Country French style yet just isn't feelin' like taking on a second mortgage! Here's what we know: (1) quality and authenticity are pretty much everything, and (2) antiques powerfully provide the soul of a home. We're also aware a mix of high and low heightens interest and helps every budget. Affordable options to explore in this post are not meant to fool anyone into believing they are high end. They also are meant to fill your home with mediocrity. Rather, they just may work for "low" items to balance the high in your space.
I independently selected products in this post—if you buy from one of my links, I may earn a commission.
How to Frugally Decorate With Modern Country Rustic Finds
This neutral sofa (Studio McGee at Target) provides a great foundation for any number of decorating styles including modern country.
Wondering why I even bother to take on the challenge of exploring how to inexpensively collect pieces to get this laid back Euro-country inspired look?
First, the frugal part: seems I have always had an AMAZING knack for stretching a dollar.
1. Rustic Country Rattan Baskets
2. Whimsical Console Table
3. Modern Country Rustic Galvanized Planters
Here's a story about how a $10 steel cart became a staple in our tranquil European inspired kitchen.
4. Coir Doormat
Being thrifty naturally flows from living poor while loving the refined and rustic aspects of designing a room.
5. Functional Country Decor in the Kitchen
There is often a fair amount of patience involved when the budget is tight while you hunt for a particular object or design look.
Yet there is also a need to make quick decisions when something of value catches your attention.
Only Looks Expensive Accessory
Inexpensive Woven Pillow
Scrubbed or Distressed Rustic Decor
Sunny & Gold
Tabletop Pretty Things
Click here to PIN THIS POST to save it for future reference…you know you are going to be searching for it!
Weathered, Chippy& Rustic Home Decor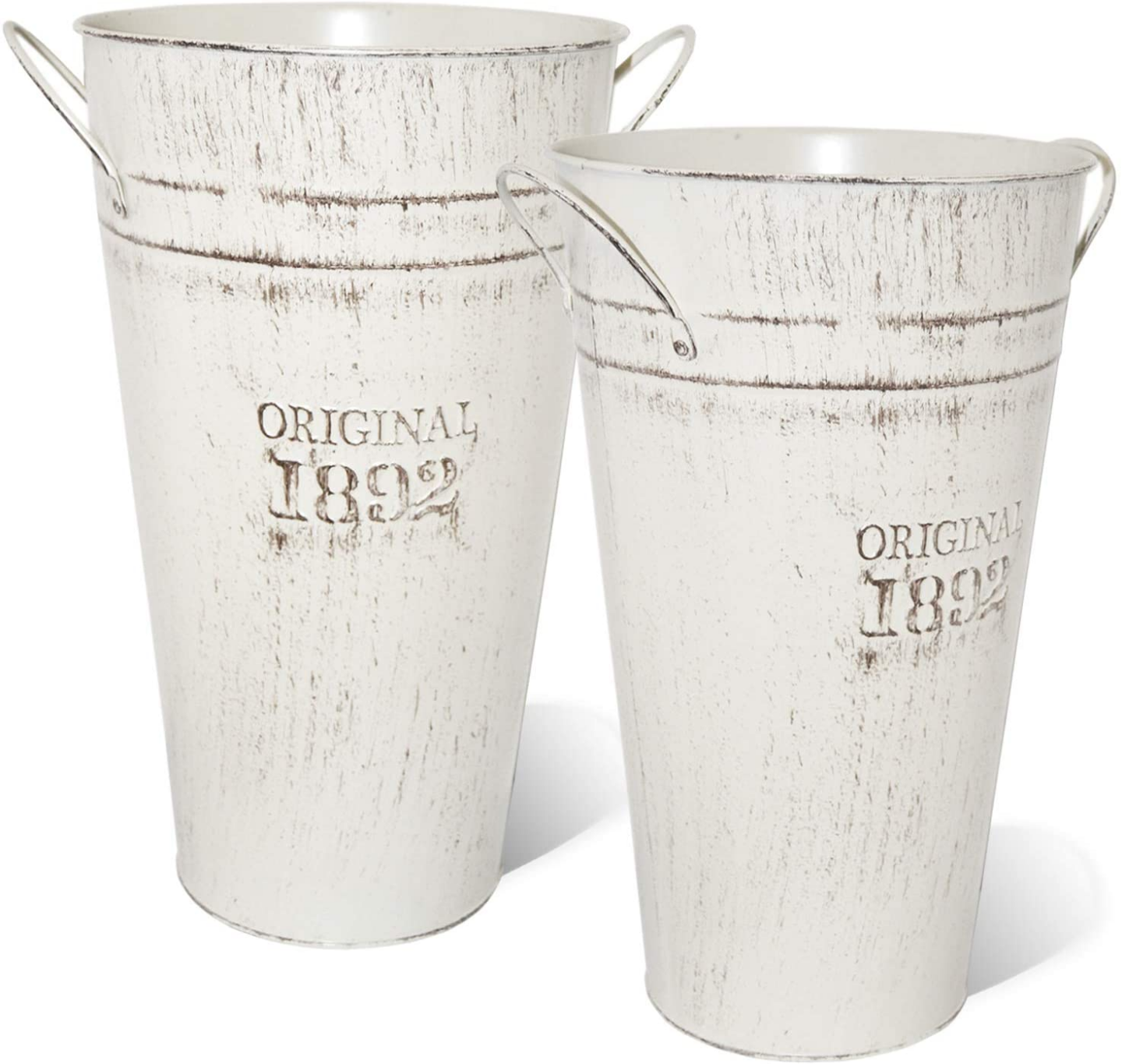 In Case You Love White
Country Decorators Love Their Dogs!
Vintage Style Plus Rustic Charm
Here's one of the most important things I have learned.
It's only decor…it's okay to make mistakes and learn from them.
Stripes & Linen
Sometimes we'll overspend on the wrong thing or pass up a deal that will haunt you forever…let both of those missteps go as soon as possible.
Begin again as a more experienced curator!
French Country Blues & Greens
You have to admit that a limited budget frequently leads to unexpected creative adventures and a more innovative design result.
For example, I would love to cover the walls of my bedroom with a pretty grasscloth covering. But I also have to think about budget and future owners of this home because I don't know if we'll be staying a long time.
The big picture helps us avoid decorating over-expenditures and decisions we'll regret.
A Favorite Thrifty & Slender Side Table
Even though grasscloth would be beautiful, I'm thinking of other options such as a budget friendly statement wall in that bedroom.
I have done my share of budget friendly statement walls! Did you see the uber-frugal French script statement wall I stenciled in a guest bedroom (the stencil and chalk paint probably came to 40 bucks)?
(Someone saw a photo of that wall on FB and alerted me that French script is soooooo five minutes ago. Um. WRONG. Timeless is timeless, and I guess haters gotta hate.)
Rustic Outdoorsy Finds To Bring Inside
Speaking of outdoorsy, I loved this idea of a thrifty DIY outdoor movie theater:
Woven Loveliness for Country Rustic Modern Style
Once you understand more about the spirit, philosophies, and essential underpinnings of French style or European inspired interiors, you develop a sense of what to lean into and what to avoid.
Rustic Galvanized Pedestals
You begin to think more in terms of artful pieces that speak to you and function rather than trappings to simply fill in a blank space.
Topiaries & Boxwood
Many years ago, shortly after moving into our first home I was chatting with a neighbor and mentioned I loved to decorate. She said, "Me too! Every few months, I'll buy another Longaberger basket…"
That was the full extent of decorating to her–buying one basket after the other to fill spaces. I would venture to say that it is collecting objects, but not making a house a home.
In Search of a Pretty Pouf…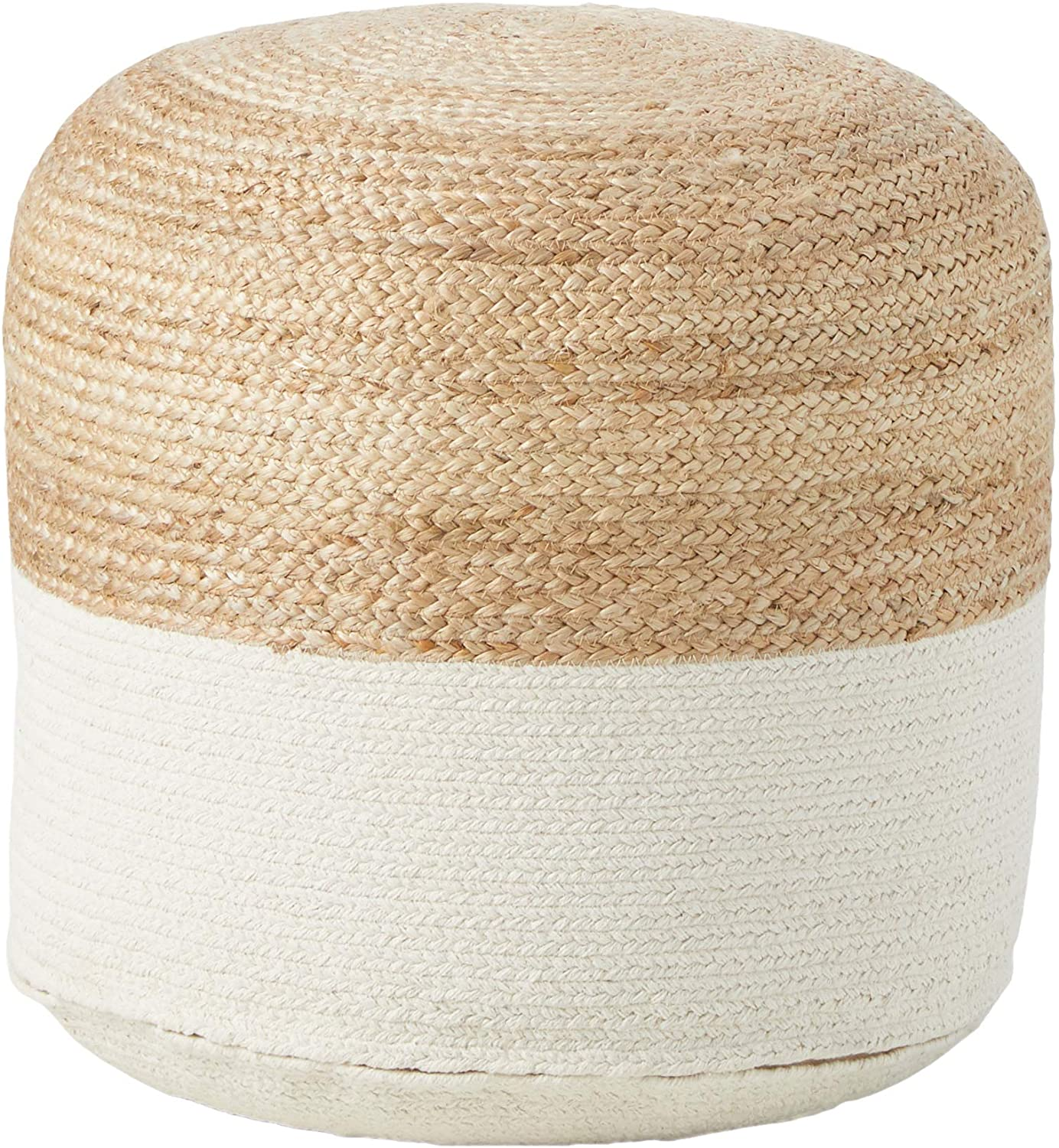 For me, the beauty of the decor is often tied to adjectives such as: understated, quiet, faded, organic, raw, natural and honest.
Is every piece here imbued with those qualities? Nope (especially when the first word in the description is 'faux.')
But occasionally it is okay to begin with inferior pieces to inject a bit of the flavor or color before upgrading later, down the line.
Another option few folks seem to consider is customizing an "almost perfect" find to enhance or correct its color.
If a piece has the simple lines you're after and is the right proportion but comes with a funky finish, consider making it one of a kind with a tweak or two.
Hand-finished pieces are often far more attractive than factory finishes, and the hands finishing a piece can be yours!
Noticed how I still haven't typed a sentence like 'three things you MUST place in a French farmhouse room…?'
Just can't bring myself to go there.
There are exceptionally talented designers who insist every room must have something black in it.
Another expert will say if there's nothing whimsical in a space, you've failed.
French Bee Loveliness
You'll find a range of opinions from decorating pros, and the truth is, I have been in gorgeous homes where black is too austere for the owner so it is absent and it all works.
Let's Get Whimsical
I have also spent time in spaces where there is deep charcoal grey tone-on-tone decor where I felt completely at rest.
I encourage you to take risks and allow yourself time to interpret the decor style you admire in your own imperfect way.
Imperfect interiors are a European inspired thing!
The process will likely involve:
enlisting a pro or a friend,
trial and error,
lots of shopping and returns of items that don't work,
clearing out a room before layering,
and of course,
spending as much time in Hello Lovely's archives as humanly possible (it's still completely free content with zero calories).
Did you miss the story with design inspiration from backyard sheds? It's full of beautiful inspiration to get lost in!
I independently selected products in this post—if you buy from one of my links, I may earn a commission.
Peace to you right where you are.
-michele
Shop for items you already intended to buy on Amazon RIGHT HERE, and also find home decor here to keep decor inspiration flowing on Hello Lovely!
Hello Lovely is a participant in the Amazon Services LLC Associates Program, an affiliate advertising program designed to provide a means for sites to earn fees by linking to Amazon.com and affiliated sites.