Happy Blue Fashion Over 50 Finds, Encouragement Quotes & Life Lately shares glimpses of a pretty things, renovation moments behind the blog, and quotes to pin. Coastal style lovers and #coastalgrandmother fans may be especially moved. If you need comfy outfit suggestions of the variety that can easily be dressed up or down, I've got you. Quotes, humor, and random thoughts will meet you at the finish line.
Happy Blue Fashion Over 50 Finds
These over 50 fashion finds would be just right for a casual brunch, and these snaps were from a delicious gathering at The Hampton Social. I'm not sure we will ever take our social gatherings for granted with the isolation of the past couple of years.
We may reside in the landlocked Midwest, but we do love an atmosphere of laid back coastal chic.
You gotta love a chic banquette blooming with boxwood and blues for selfies and lounging.
I independently selected products in this post—if you buy from one of my links, I may earn a commission.
I never tire of vintage faded denim jackets to dress down midi dresses from Anthropologie and simple statement jewelry.
Here's a similar jacket:
How beautiful is this beaded bracelet which feels gorgeously summer and would go with absolutely everything!?!
Get the Look: Coastal Blues Hampton Social Style
Fashion Over 50: Gold Accessories
While my pretty, ethereal niece rocking trendy quiet neutrals is far from age 50, we can steal a few accessory ideas from her.
If you have never worn hammered gold hoops, you are in for a delight. They will never go out of style, feel light and airy, shimmer in the light, and are 14K lovely.
The addition of silver Thai caviar beads to these hammered hoops makes them even more versatile! Wear them with gold AND silver.
While my own necklace and earrings are vintage, you can still find pieces HERE. I love the turquoise with denim for a dressier beach look.
Psst. This photo (above) was snapped a year ago, and my skin is looking better and more hydrated now that I am taking better care of it. My dry skin is adoring something brand new from Jenni Kayne called Oak Essentials.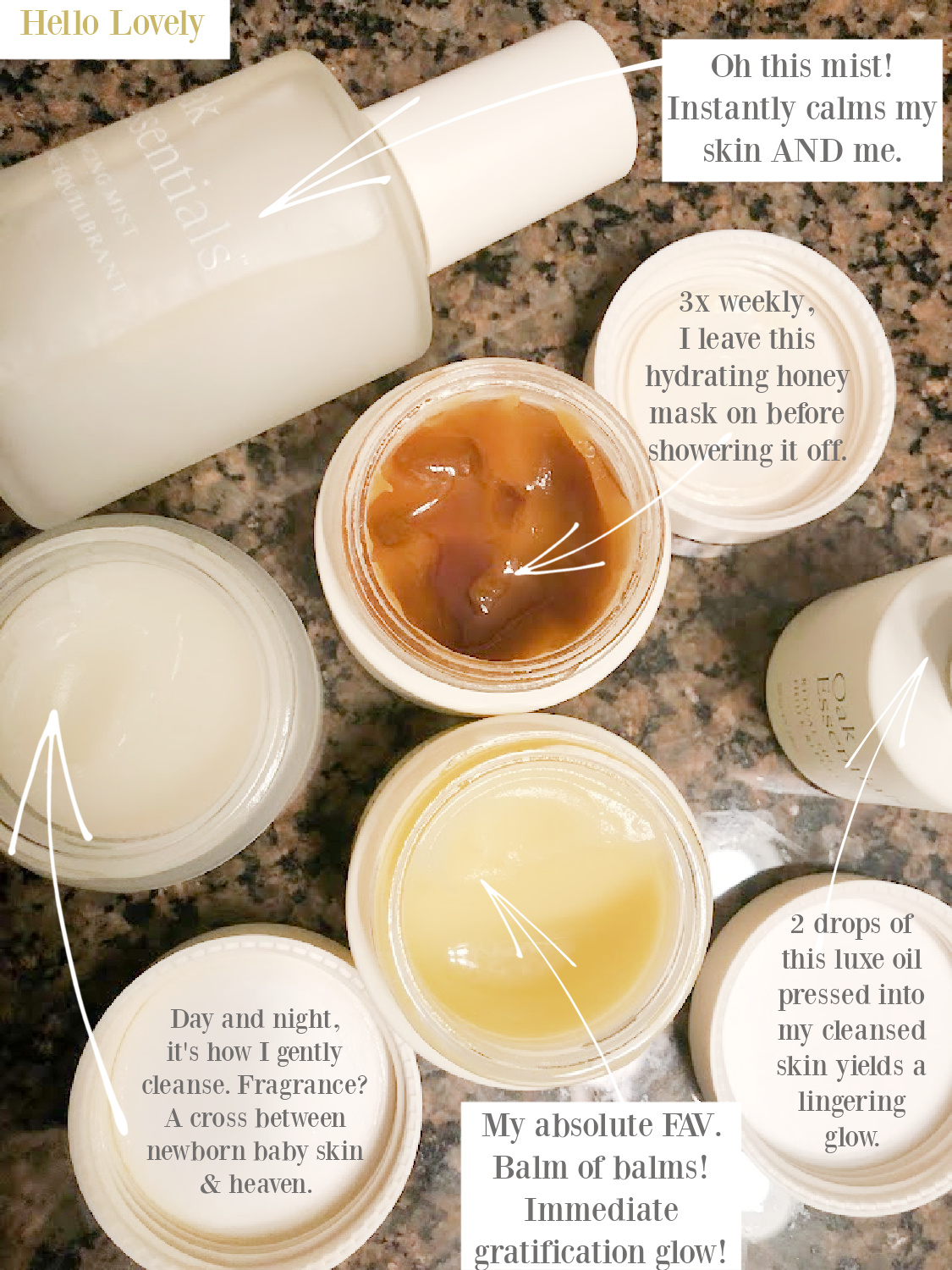 After a month of using Oak Essentials, I feel like I may be able to skip foundation this summer for the first time in…ummmm…forever. If you're like me and prefer to test a single product or two before investing in the whole shebang, you could start with this luscious Restorative Mask like I did. I didn't want to spend the money even though I knew it would be excellent self-care, but I pulled the trigger and fell in love. Then I tried the Ritual Oil which is BLUE gorgeousness to use day and night for moisture and glow. Now I am happily using it all!
I'm loving this smocked beach dress from J. Crew (above), and it would also be cute with a white denim jacket or a crisp white shirt knotted at the waist.
For a goes-with-everything staple, this timeless, well-constructed dress can be paired with sneakers, sandals, or boots across multiple seasons:
This pretty layered trio has a very French look about it, and I love its subtlety and the fact it is handpainted.
What to Make for Dinner
If ever you feel stuck about what to make for dinner, do check out the online menu of your favorite eateries. After seeing this glorious caesar salad and grilled salmon, I whipped up my own last night – so easy and quick as a light dinner.
The fried chicken stack is Jo's favorite at The Hampton Social, and this could also be your brunchy dinner made at home…why not?
I never met a taco or portable taco (like my burrito below) I didn't love.
While my diet won't allow for fried donut bites, they looked yummy, and my companions highly recommend.
Can't wait to return to The Hampton Social!
More Coastal Style Ideas to Get the Look
Clean Beauty Finds: OGEE
I probably geek out about beautiful makeup more than the average over 50 flower child and never tire of trying tools to get my favorite look: dewy and fresh.
While I am too lazy for sculpting/contouring, this gorgeous trio from OGEE simplifies everything. A wee smudge of Copper in cheek hollows and eyelids. Then a gentle schmear of Rose on the apples and under eyes before concealer. Finally, a tender swath of Opal on cheekbones and Cupid's bow…shazam.
Pssst. These aren't affiliate links for the OGEE – just thought you might want an honest review.
What makes OGEE different from other bullet-style makeup sticks I tried? Nourishing oils in the formulas my thirsty, over-50 skin appreciates. Products are not only certified organic and cruelty-free, they are also GMO-free and made in the USA…yay!
Can we dish about the packaging? Heavy, but not too heavy, exquisitely white, and those magnetic lids are a gamechanger, mama.
Life Lately
I am doing better with my health since the weather has warmed. You may remember that just after we bought our new home, Raynaud's Phenomenon was giving me grief. Weather changes are the devil for this issue, and it's serious enough that I'll need to relocate when we are able.
A year ago, we were busy fixing up the interiors of a tiny house (a sweet suburban bungalow under 600 sf investment property our son rents from us). We added a new roof, put in a driveway, painted the exterior, installed shutters and a window flower box, and added lots of beadboard inside. Now we're at work every spare moment tweaking our new Georgian home.
So far, we have addressed the dining room, foyer, stairs, living room, powder room, and 4th bedroom, as well as embarking on the kitchen renovation. You may have seen my spare bedroom to closet/office post HERE. It has been challenging to essentially function without a kitchen for three months now.
We have a pantry I outfitted with a microwave and crockpot, so it's a step up from camping:
Glamorous, oui? Everything about this home reno is more complicated than our prior reno since the house is a well-constructed traditional Georgian with a strong point of view. We're not ripping everything out willy nilly and starting over (despite the fact we did that as you see above–all the wire shelves were too sad for me to look at and had to go!).
Here's a peek at how things get worse before they improve in the kitchen:
While it isn't ready for its close-up, I love the Nantucket Sinks apron front fireclay farm sink. We had to retrofit the existing sink base to make room for it, and I'll be skirting it with a luxurious linen rather than building cabinet doors.
It is neither romantic nor glamorous to live through a renovation. And when you're doing the work yourself and living at the property, there's this extra layer of exhaustion and stress. Above, you can see my husband sanded the dark finish off the hardwoods in the dining room. Wait til you see how gorgeous, unique, and European they look now!
We're delicately working within the footprint, repurposing, and updating intelligently. I'll be sharing before/afters, but it is quite time consuming as real life renovators working in our spare time (husband is still a busy litigator) to both DO the work and post about it. In law school, you won't learn about building walls to sandwich solid columns your designing wife says are too skinny, fussy, and all wrong for furniture placement.
See what I mean now about a verrrrry complicated reno? This is not amateurish DIY home improvement or quick flipping, kittycats. It involves advanced level carpentry and precision.
More evidence: over the weekend, I finished painting 16 windows in the kitchen and breakfast nook (it took weeks) and still have to address doors and trim in there! Each window requires four coats of primer and two coats of enamel.
Painted a window lately? Hope you've got extra reserves of patience, time, and stamina.
I am thankful for Grace, ever present as I continue to struggle, grow, and allow reality to teach me what it means to become the healing I seek. Everything within me wants things to improve and progress quickly, and this is simply not to be. The pace of chrysalis living in an upside down kingdom is slow, and things fall apart before wholeness comes.
Wherever this finds you…fabulous or fretfully forlorn, I hope you feel less alone when you visit this space on the web. I'm still just me, a moody mystic homebody who paints, strings words together and makes a living with a strange small business.
Peace to you right where you are.
-michele
Shop for items you already intended to buy on Amazon RIGHT HERE, and also find home decor here to keep decor inspiration flowing on Hello Lovely!
Hello Lovely is a participant in the Amazon Services LLC Associates Program, an affiliate advertising program designed to provide a means for sites to earn fees by linking to Amazon.com and affiliated sites.