It is still too chilly to believe Spring is here, but that won't stop me from dreaming of milder weather in Northern Illinois! Snowflakes or not, bulbs are popping up everywhere as the ground softens. (Hopefully the ground of our hearts is softening too.) This post will get us pondering outdoor living as we explore special outdoor spots for relaxing, dining, meditating, reading, and gathering. There won't be perfectly manicured lawns, bountiful gardens, or slick pool houses ahead, but rather unfussy rustic yet elegant spaces to breathe deep. The looks are French inspired, but there's so much overlap with country/cottage/modern farmhouse that it's almost silly to put labels on such schemes. Outdoor Oasis Inspiration is comin at ya!
Outdoor Oasis Inspiration: Ideas to Spark Dreaming
Before you go dreaming somethin' cray cray (like yer girlfriend with all her free time and extra wads of cash has created a NEW outdoor oasis to share)…um, in my dreams!
We're still muddling through the hard of tweaking the interiors here and trying to finish one DIY at a time.
As far as the exterior, I did bring the chairs you see above and below out of the basement to try on the front porch. (You may recall I added these beautiful chairs to a pea gravel area near our former front door…)
It's only on television that transformation can happen in a couple of weeks!
On to the inspiration!
Charming French Country Green
Sometimes just the color story from inspiration images can spark your creativity. In this case, the French green, grey stone, and pops of lavender set a glorious tone. See THIS for paint color ideas to approach that lovely French green.
Muted sunny golds and aged terracotta can also be magic with green:
Sometimes you can find that warm sunny stone right here in the USA:
Spare & Soothing
I love Erin Fetherston's style, and her lovely California home's outdoor dining space hits all the right notes in an understated way for me.
Similarly, Jenni Kayne knows her way around beautiful organic simplicity. Here's a taste of what you can expect from her gorgeous book PACIFIC NATURAL:
Shedlicious Getaway
No matter how you feel about shabby chic, there's something enchanting about a backyard storage shed turned potting station or reading nook or hideaway.
See more she sheds in THIS.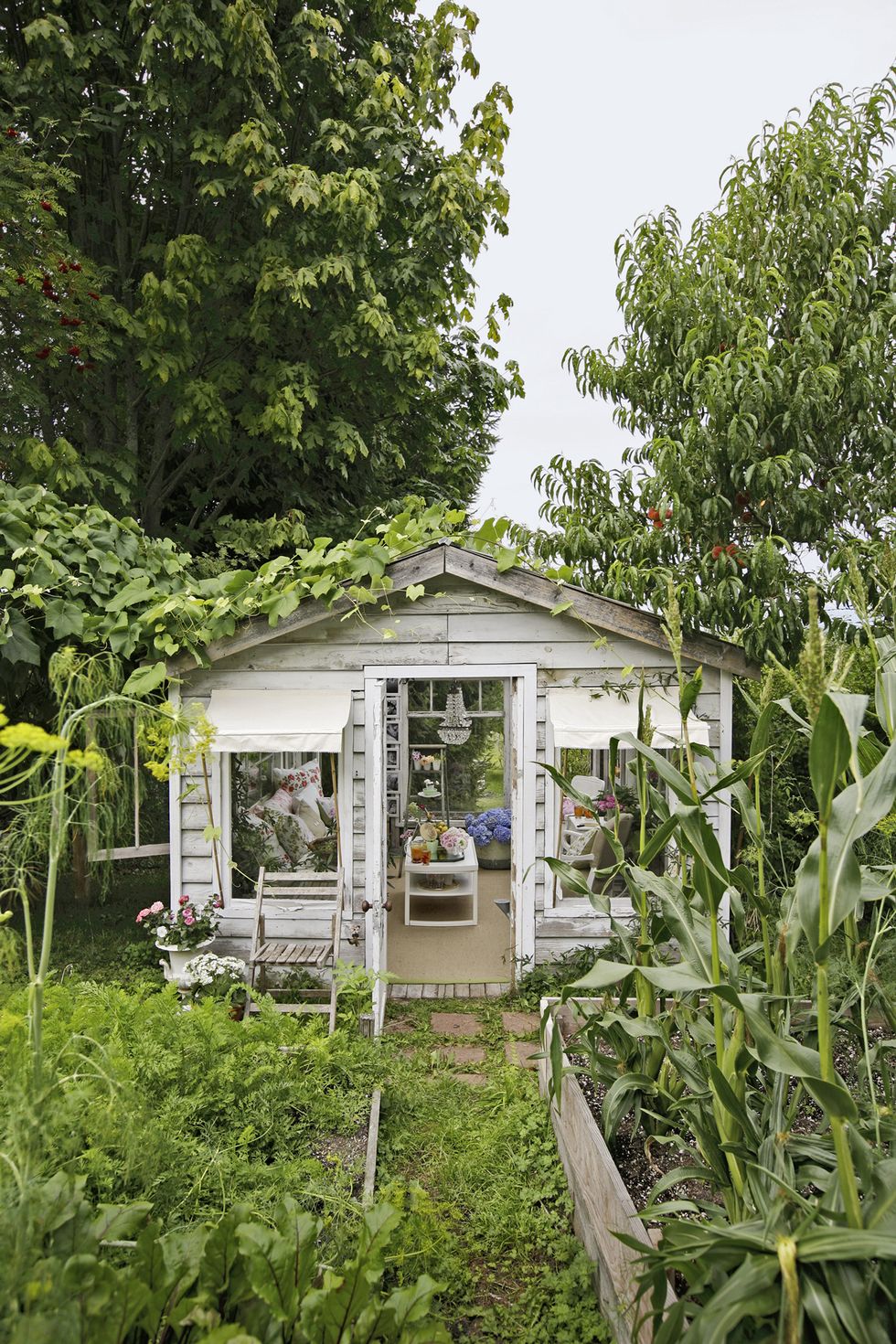 No room for a she shed? Maybe there's a spot for a party maker like this:
Blurring the Boundaries
What a dream to design doors that could open fully like this to connect the inside and out!
Fantasy Oasis for a Bath
If you are familiar with Patina Farm (a dream property imagined and created by Brooke and Steve Giannetti), then you know! Their property has too many outdoor oasis moments to name!
Get their books HERE to learn more.
What If You're New to Outdoor DIY?
I'm still very much a novice when it comes to hardscapes and the outdoors. As an indoorswoman, I am learning s l o w l y how it is a garden can flourish.
I mean I know my way around painting outdoor furniture and tossing a few decorative pillows around.
And I can handle planting boxwood and a few potted herbs. But trimming them? Shaping them? Tending to them?
Someday maybe.
We Often Simply Need a Nudge to Begin
What I do know about the outdoors is it is wise to plant trees and perennials straight away when you move in!
Time flies, and watching them grow is deeply gratifying.
Also, as for outdoor living areas, start with function, find pretty inspiration, and hire someone to help if necessary to get creating!
It is okay to do a little at a time as energy and budget allows.
In our former courtyard, I kept things as simple, quiet, and airy as possible because those qualities contributed to the meditative mood I was after.
Modern French Inspired Ideas for Getting the Look
Below you'll find resources to get a relaxed French-inspired outdoor look for a patio, deck, balcony or lonely corner outside.
A word about budget…ever secured a quote for outdoor design/landscape architecture? MAMA MIA.
The DIY looks below have budget in mind.
I independently selected products in this post—if you buy from one of my links, I may earn a commission.
Outdoor Oasis Look 1: Modern French Bistro
Is it possible to create an oasis moment outside in one fell swoop for under $175. Oui, madame. Imagine yourself bringing Paris to your balcony, terrace, deck, or even indoors.
Here's an idea for a splurge in the dreamiest of blues:
And here's a less pricey option:
Bonus Idea: Modern and Minimal Planter
I love the modern black containers on our front porch which flank the front door and look awesome year-round. Whether its ferns, trailing blooms, or evergreens at Christmas, these planters elevate the ordinary.
Outdoor Oasis Idea 2: Modern Country Patio
Sometimes just a simple addition can get your gears moving. I have seen these distressed rustic barrels styled in countless ways by designers for porches, decks, patios, mud rooms, and beyond.
Here's a simple set which includes cushions and could be customized in any number of ways. I can see it on a deck, in a courtyard, on a screen porch, or on a simple concrete patio.
Bonus Idea for a Modern Country Vibe
These charming handcrafted metal outdoor hurricane lanterns would work in any number of outdoor locations where you care to add some glow. I often put battery operated fairy lights in mine.
If you love minimal design and softer colors, this friendly-priced slightly coastal arrangement may appeal – the aqua stripes are so soothing, and I have the Malta lanterns myself and have purchased them as gifts – folks love em!
Outdoor Oasis Look 3: Modern Rustic Dining
What I admire about modern rustic design is its simplicity with clean lines and minimal fussiness as well as the zen mood it often imparts.
While this dining set mood board above lends itself to a boho rustic farmhouse look, it could also go in a modern luxe minimal or even Parisian romantic direction depending on your choices for dishes, accents, and tablescape!
Bonus Idea: Timeless Rustic Planter
These hand-thrown, handpainted terracotta vases are NEVER going to go out of style. The silhouette is classic, and absolutely anything at all looks good in them!
Thanks so much for taking these ideas for a spin. I'd love to here how you address your outdoor rooms!
View a Lovely Backyard Makeover!
Remember, you don't have to leave comments or questions publicly below…if you subscribe here, posts come to your inbox, and you'll simply hit 'reply' to the email, and it's me (a real person) on the other end, ready to respond.
p.s.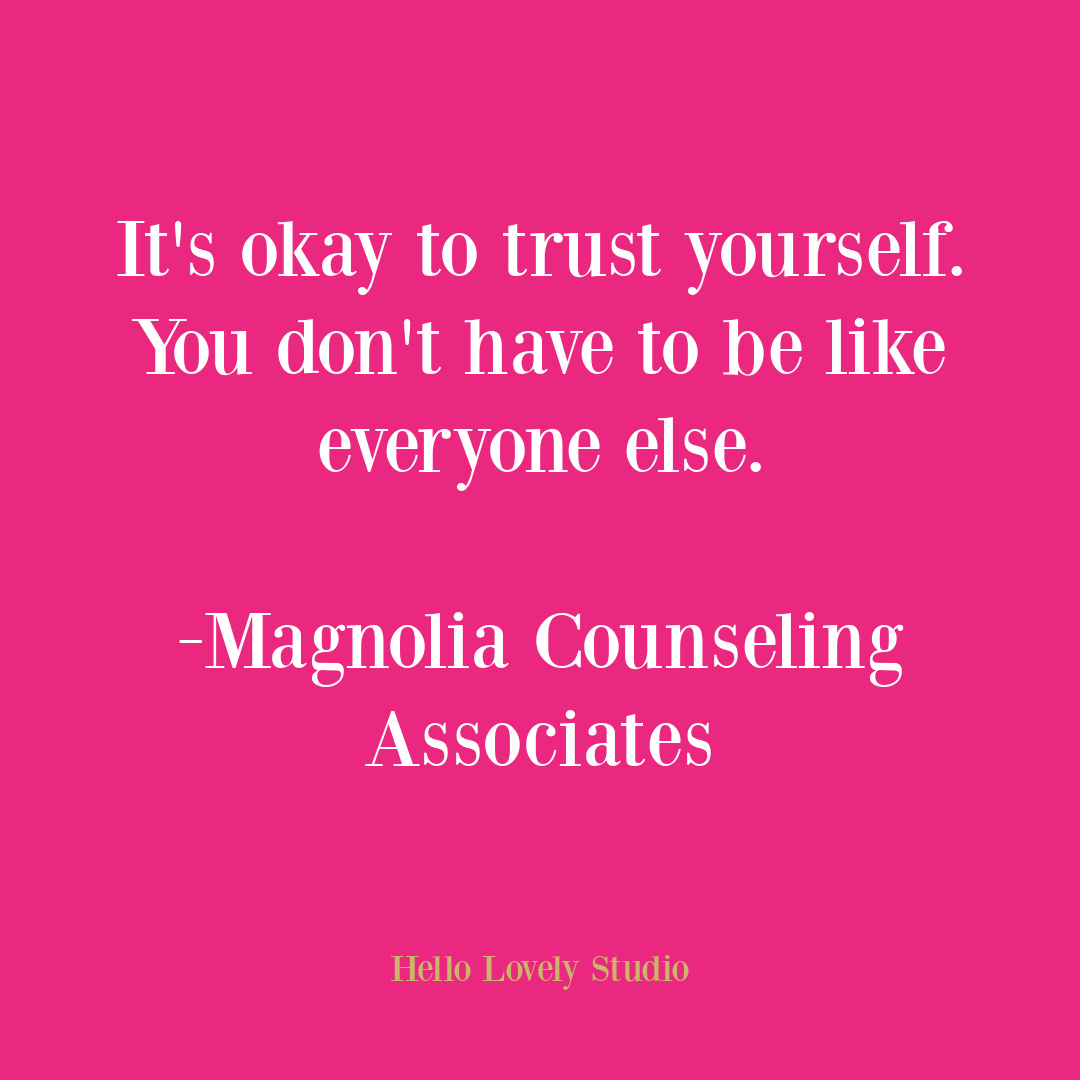 Peace to you right where you are.
-michele
Shop for items you already intended to buy on Amazon RIGHT HERE, and also find home decor here to keep decor inspiration flowing on Hello Lovely!
Hello Lovely is a participant in the Amazon Services LLC Associates Program, an affiliate advertising program designed to provide a means for sites to earn fees by linking to Amazon.com and affiliated sites.