Virtual travel has a freshened appeal just about now, oui? Let's soak up Old World timeless vibes and inspiration from this virtual dream vacay. Our tour of the Beautiful French Country Bastide: Château Mireille began HERE, and the magic continues as we revisit this vacation property (from Haven In). You'll love the chateau's breathtaking French country gardens as well as its Old World interiors with timeless architecture and traditional French elegance.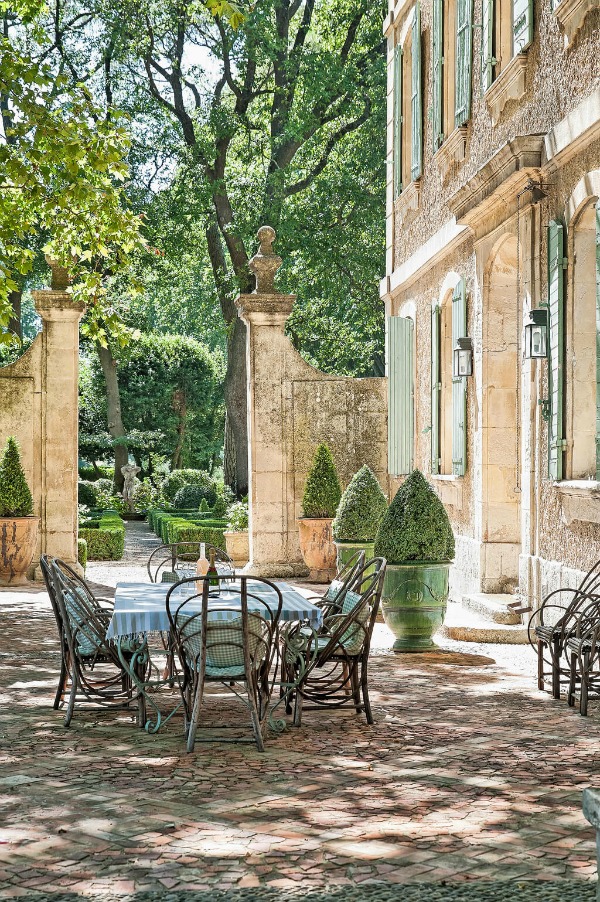 Beautiful French Country Bastide: Château Mireille
This luxurious and elegant 18th-century Provence manor (or bastide) is an authentic luxury villa available to book through Haven In. Just a 10 minute stroll from the charming village of St-Rémy-de-Provence, this historical French chateau will transport you to a different era!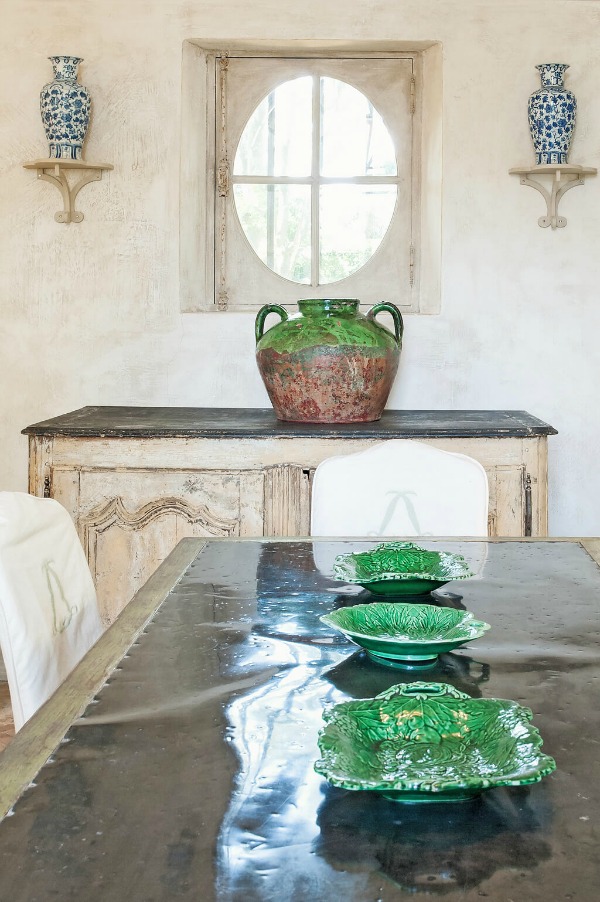 Inside and out, find French tradition and style. With seven breathtaking bedrooms, three floors, extensive grounds, and a live-in housekeeper, Château Mireille is destined to inspire with Old World and timeless Provençal charm in the South of France.
Beautiful French Country Bastide: St-Rémy-de-Provence
This Provençal vacation rental is situated within easy access to St-Rémy-de-Provence, a historic village in the heart of Provence.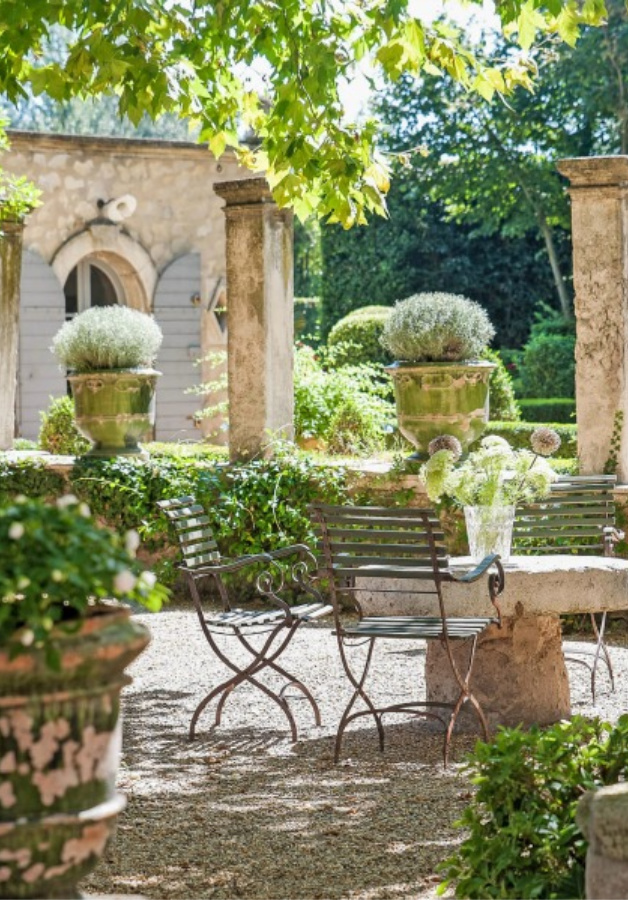 The village offers all of the charm of a typically Provençal way of life with its friendly inhabitants and daily markets as well as its many festivals and celebrations. So easy to fall for this charming town at the foot of the Massif des Alpilles.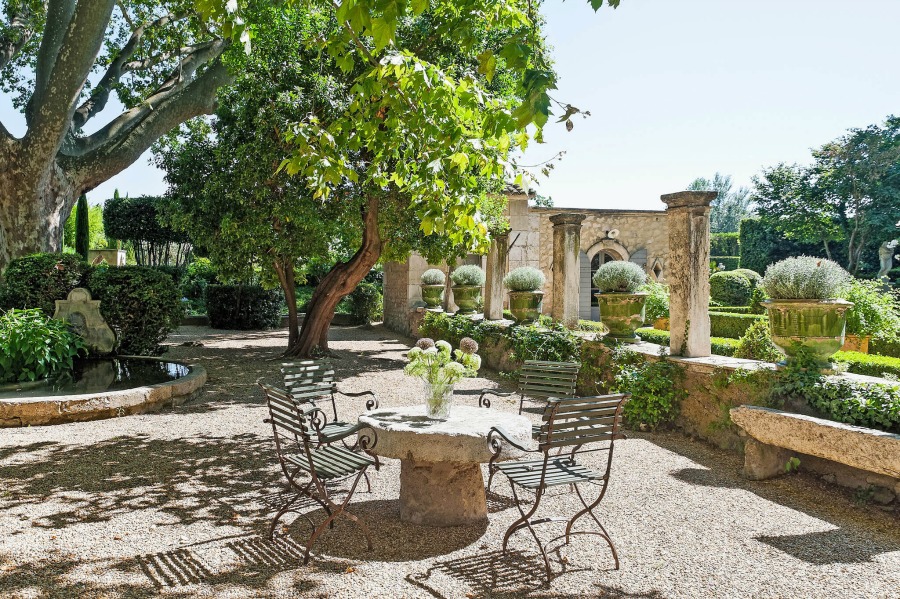 Here's a bonus bit of advice from the author of Taste of France who resides in the South of France: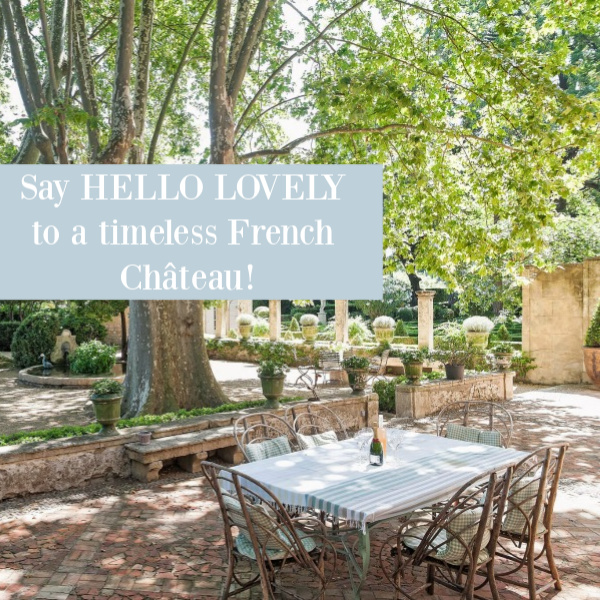 "Saint-Rémy-de-Provence is such a sweet town. If you go, be sure to check out the table d'hôte (so not quite a restaurant–there's no menu to choose from; you take what's served) at a house built into a cave in a former Roman quarry. Just past the asylum where Van Gogh stayed." Read about it RIGHT HERE.
Beautiful French Country Bastide: Treasures Nearby Château Mireille
The area is home to many cafés, restaurants, and historic sites, all within a setting of cobblestone streets and authentic architecture.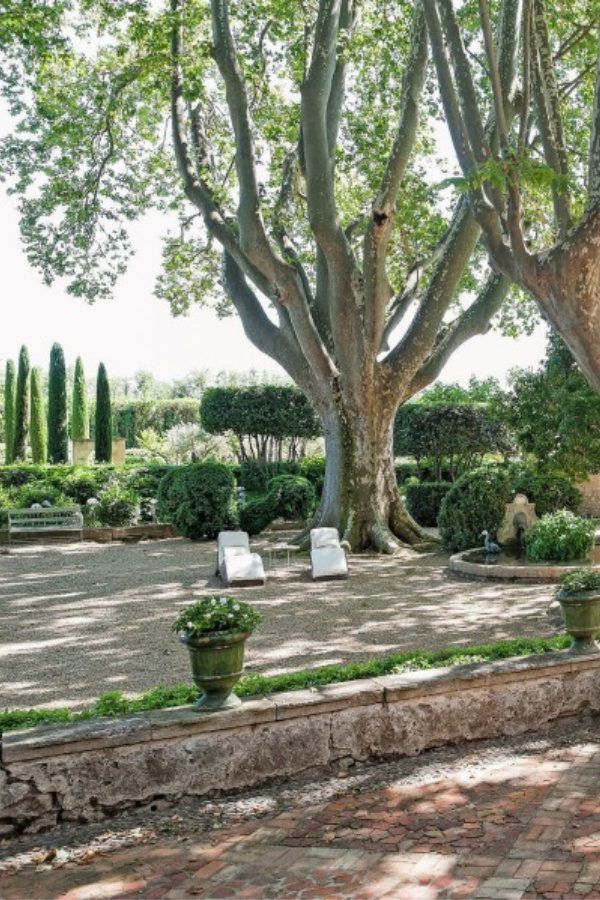 A stay at the Château Mireille makes it possible to explore the magnificent landscape offered by the mountains, now classified as the Parc Naturel Régional des Alpilles (Alpilles Region Natural Park). If French wine is your passion, also rejoice. The chateau's location is near many famed French wine producers.
Elegant French Country Gardens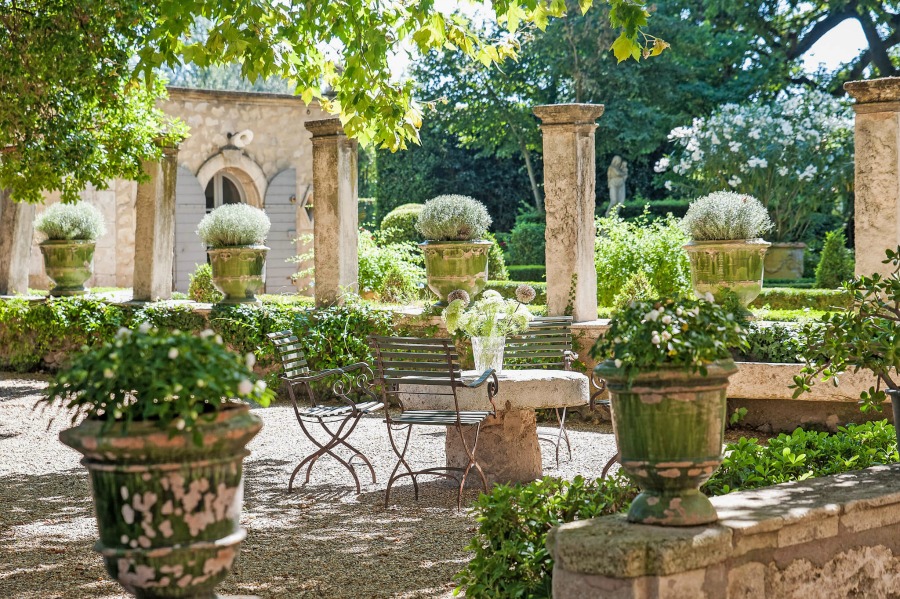 Aren't the old urns incredible?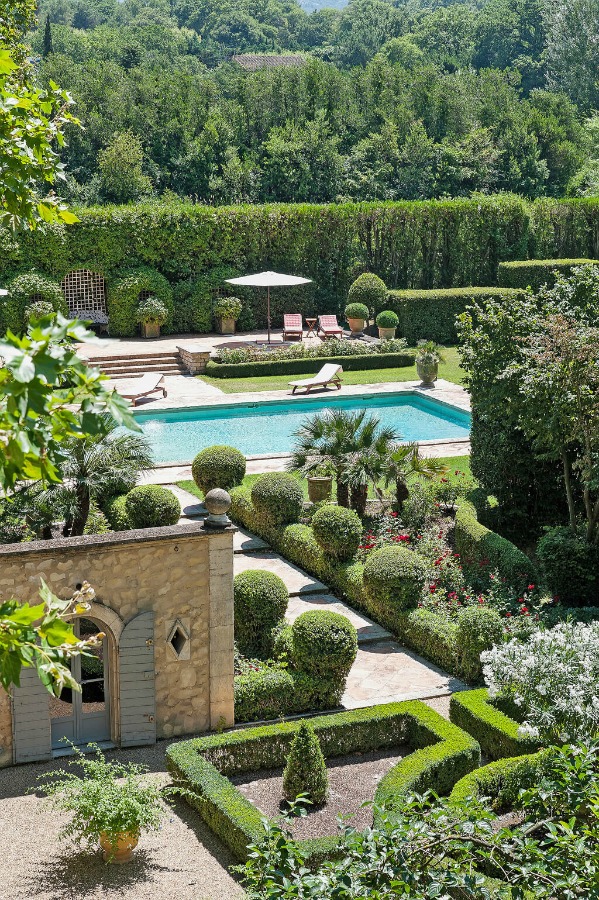 Breathtaking French Gardens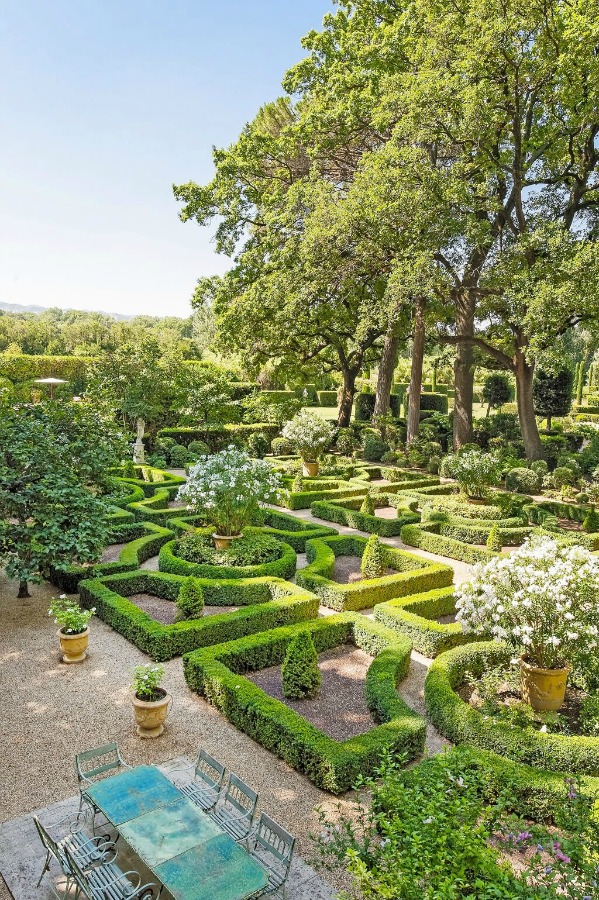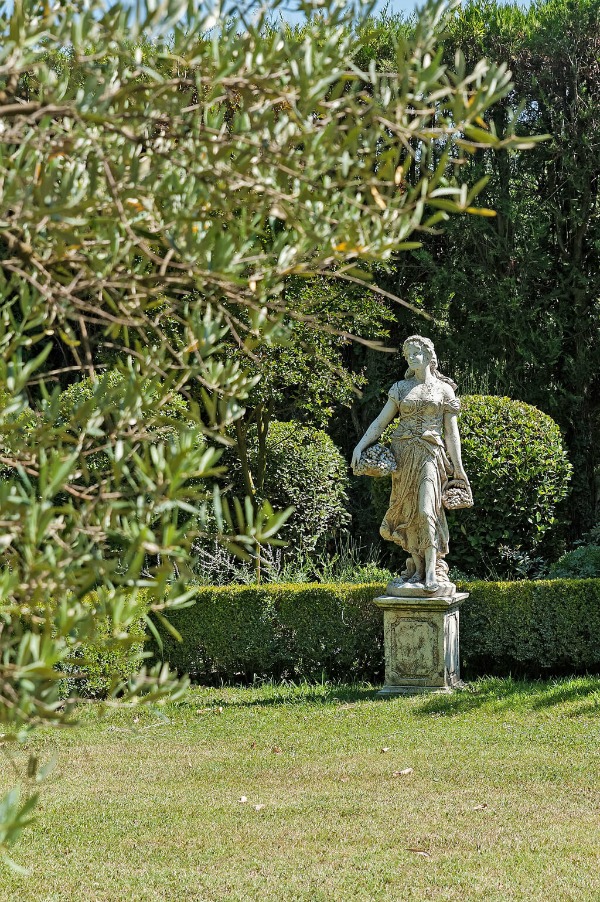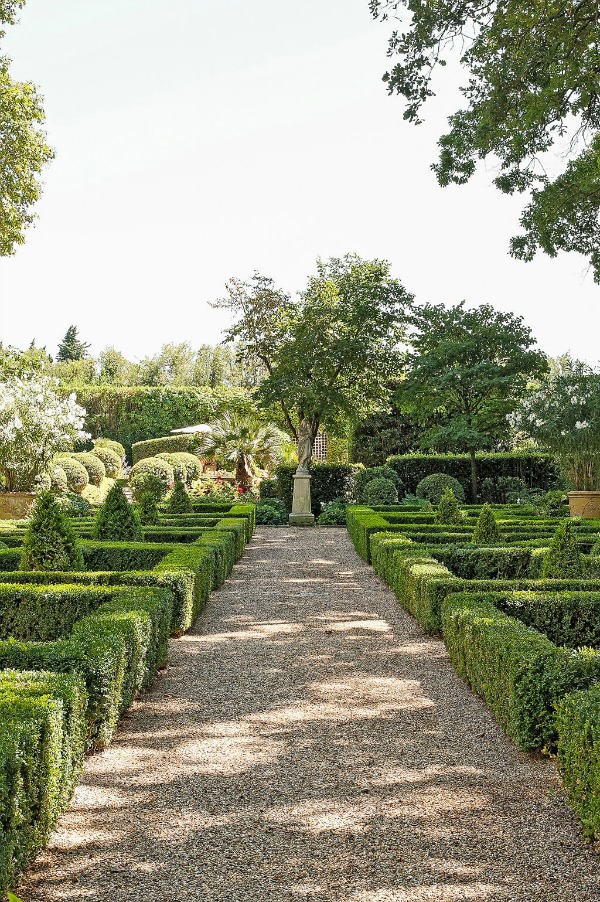 Antique French Fountain & Statuary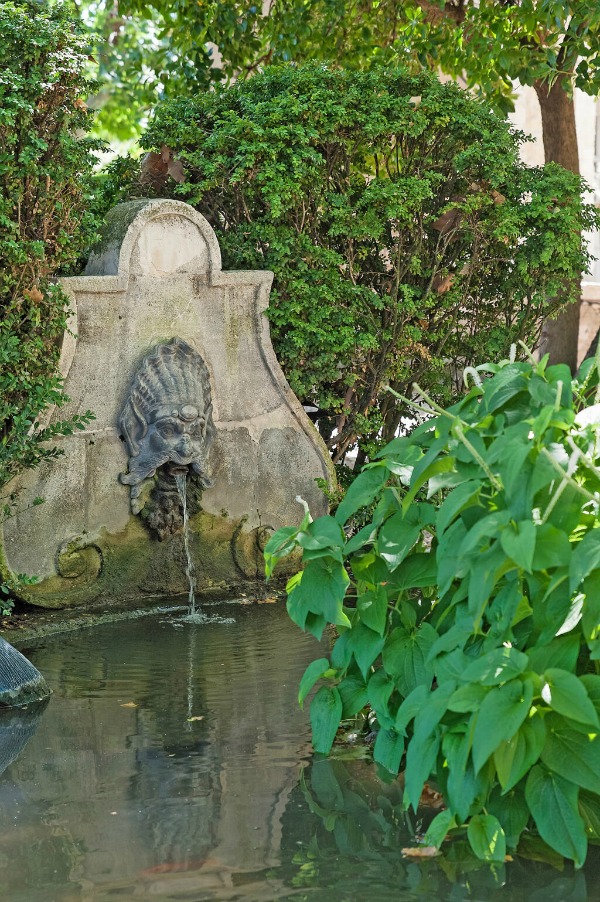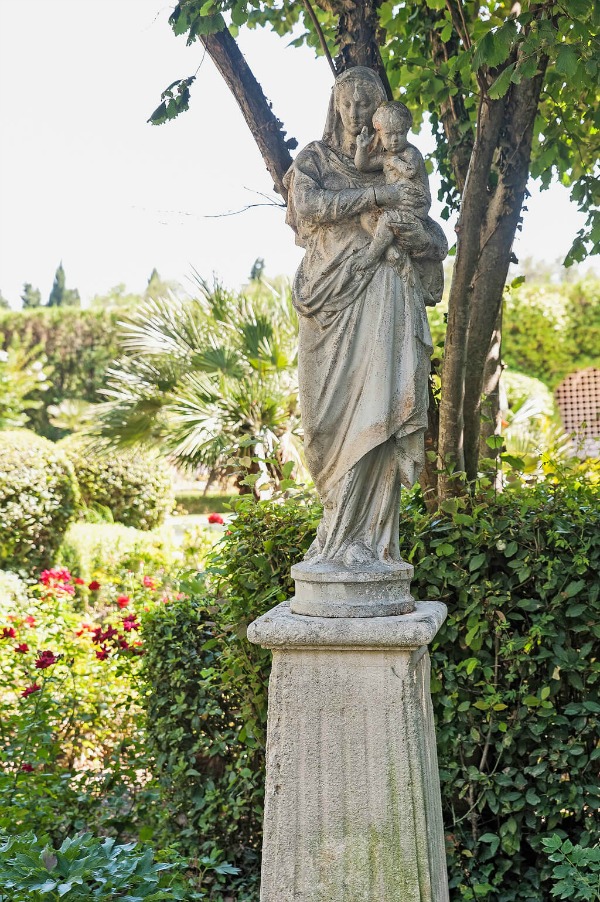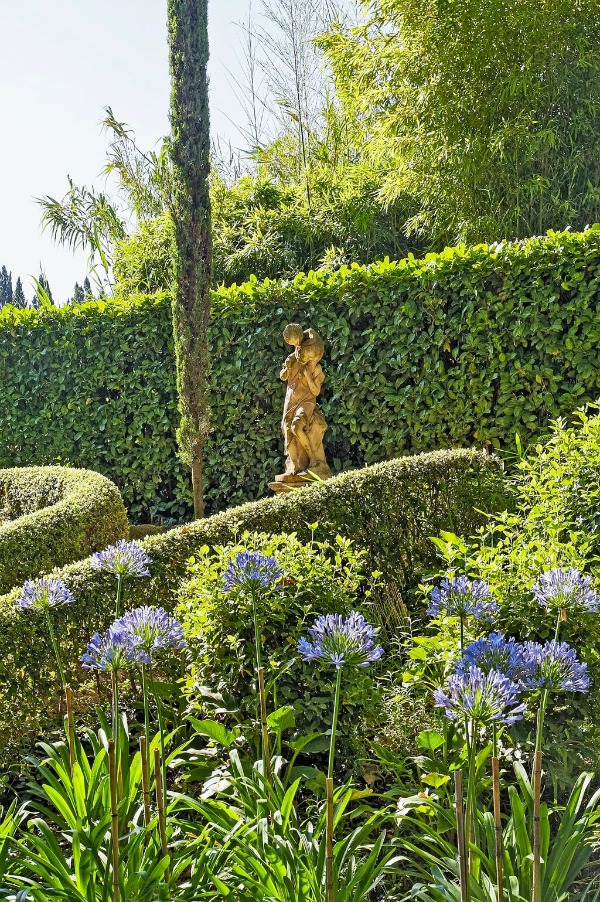 Hello, Lovely Poolside Bliss!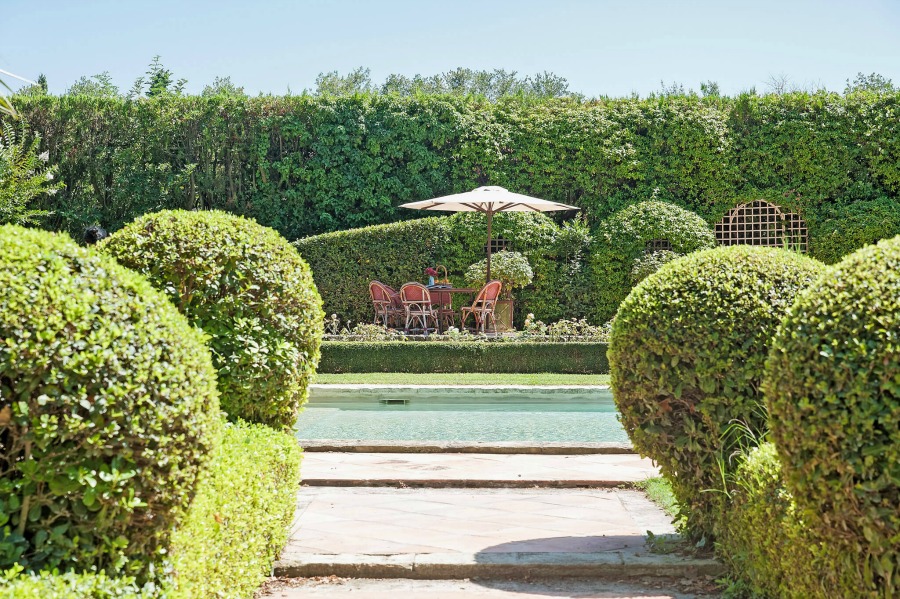 Provence Bastide Tour: Elegant French Country Gardens
Château Mireille has a breathtaking setting with professionally landscaped grounds. Find a formal garden with topiary, a beautiful pool with terrace overlooking the gardens, tennis court, and multiple outdoor seating and dining areas.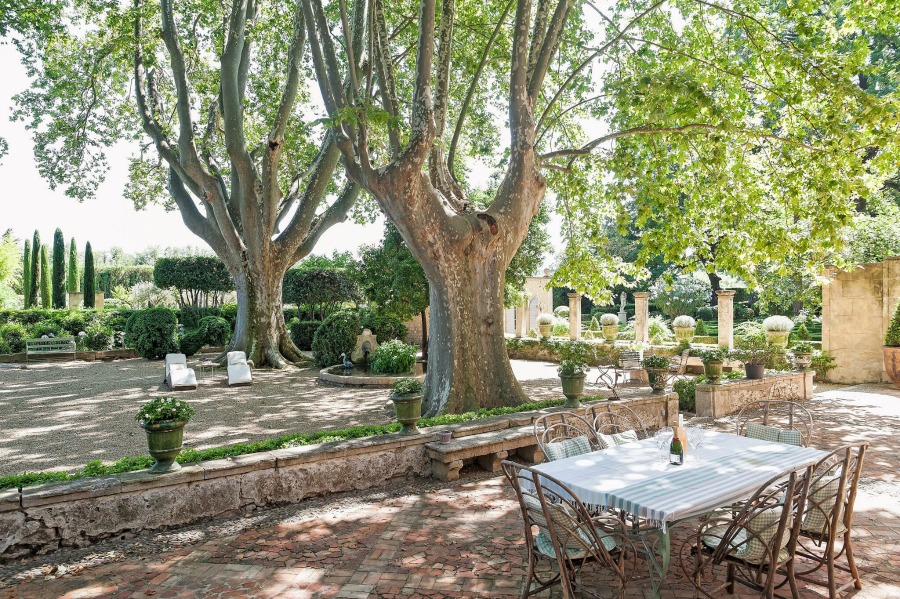 There is also plentiful outdoor space to enjoy the perfect Provençal weather. Just beyond this charming property? French countryside bliss with lavender fields, wineries and rolling hills as well as charming villages.
A Lush French Country Paradise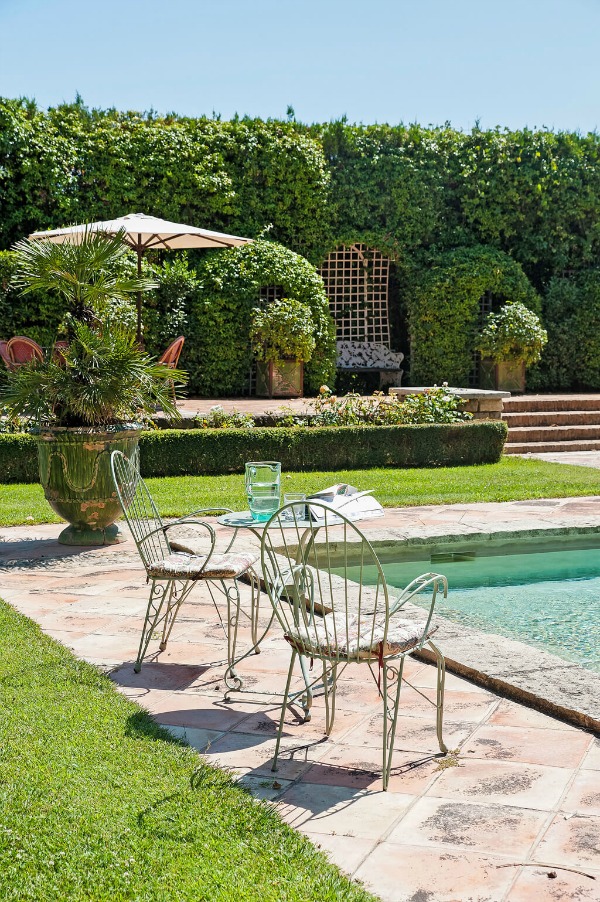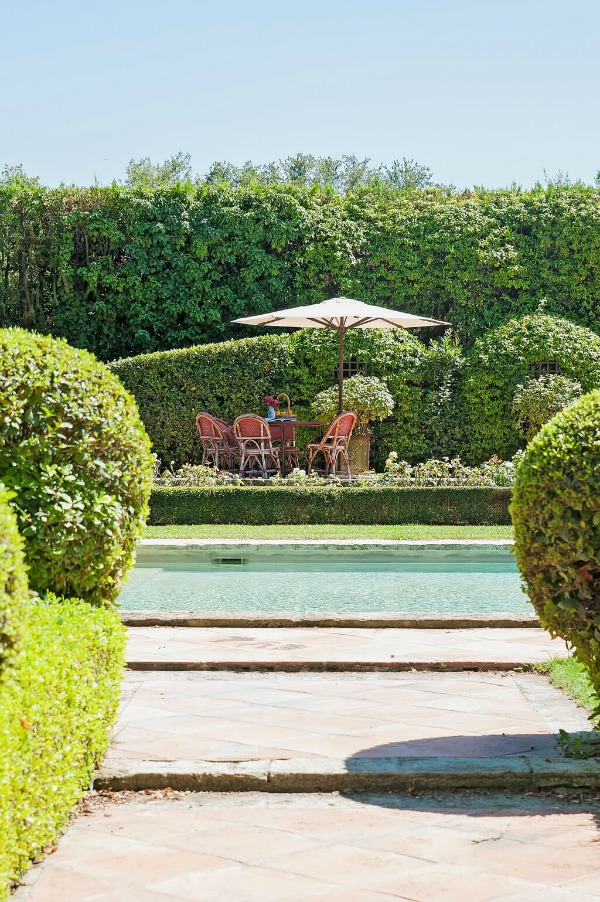 Château Mireille: Old World French Country Dining Room
Each room within Château Mireille is truly one of a kind! Unique antiques, original artwork, and also architectural features and personality you would expect from a historic French country home. Stucco exterior with terracotta tiles, wood beams and floors and crown molding as well as high ceilings.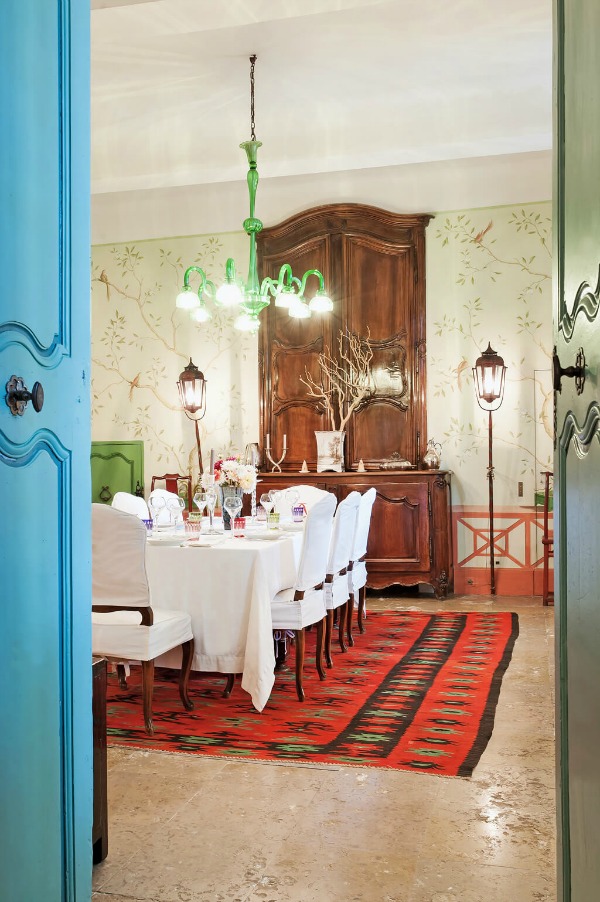 On the ground floor are two comfortable living rooms/seating areas, a fully equipped kitchen with modern appliances (including double ovens), and also a formal dining room with large fireplace. Each morning, the housekeeper prepares breakfast for guests – truly a luxury getaway.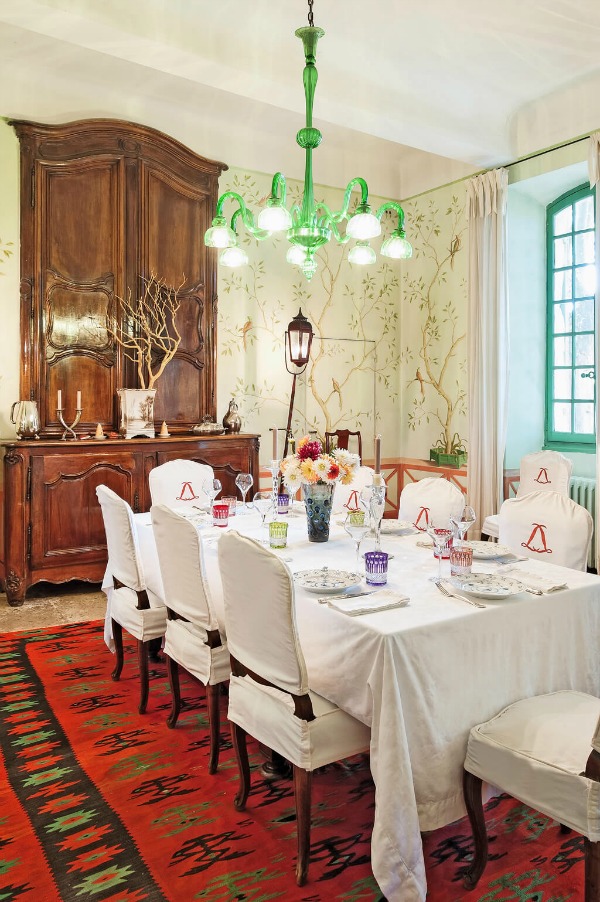 Enchanting Painted Murals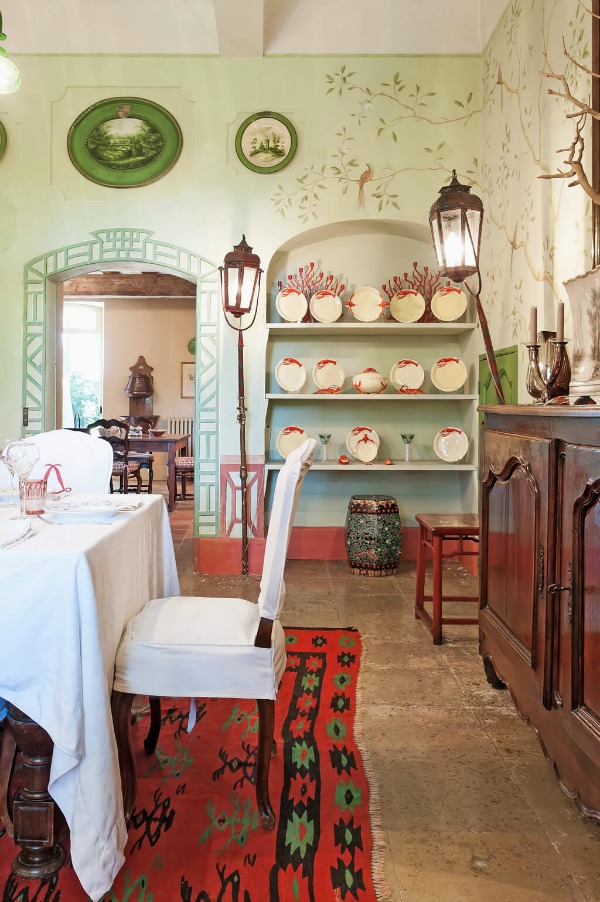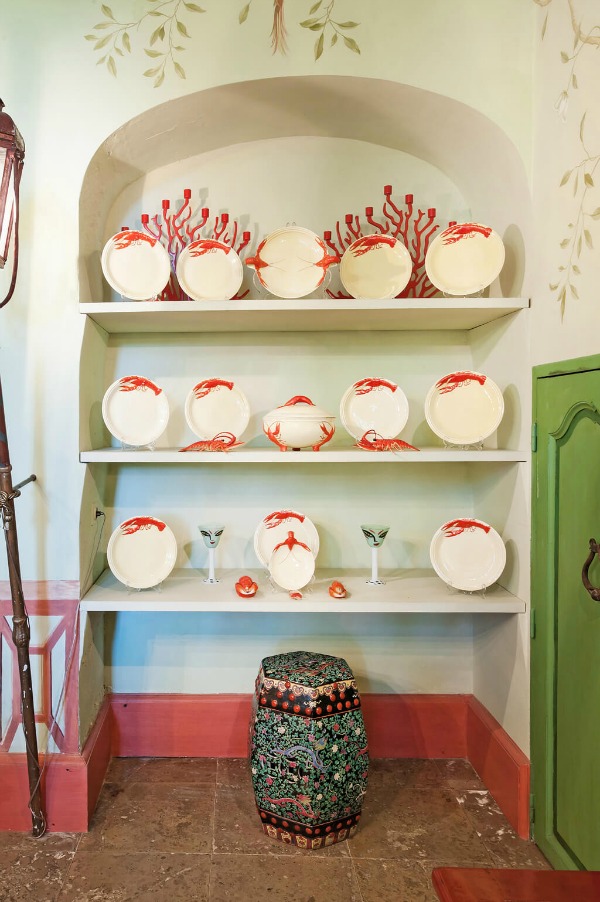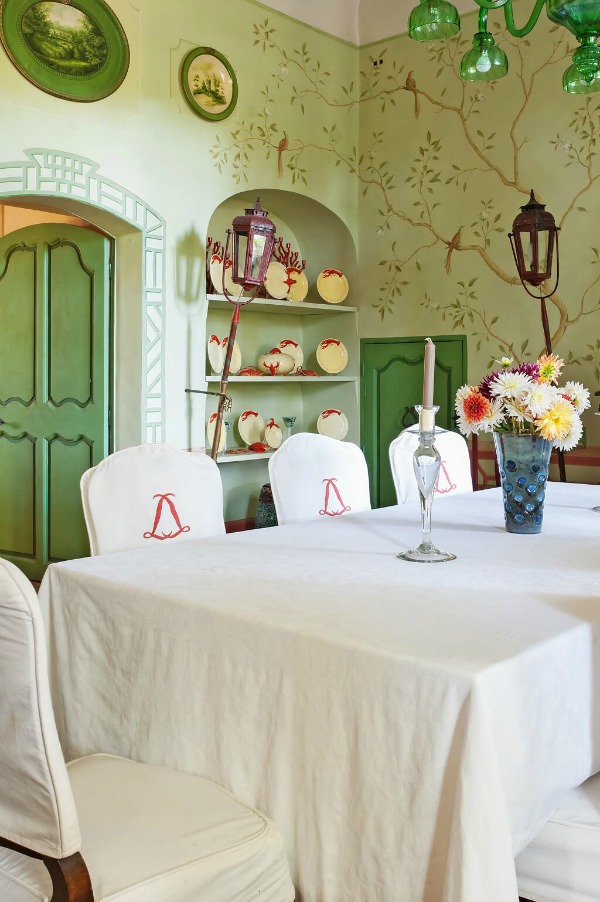 Heavenly Plaster Walls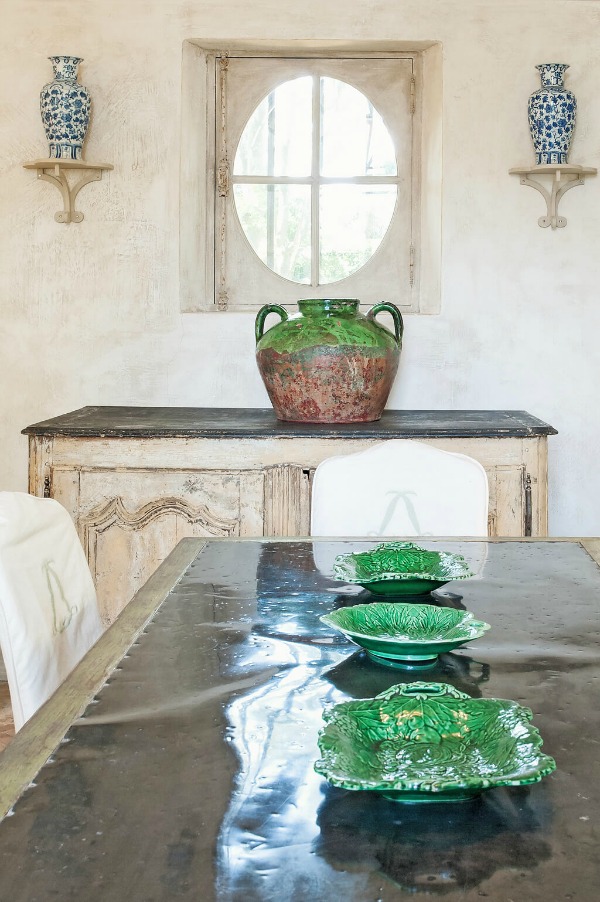 Château Mireille: Old World French Country Kitchen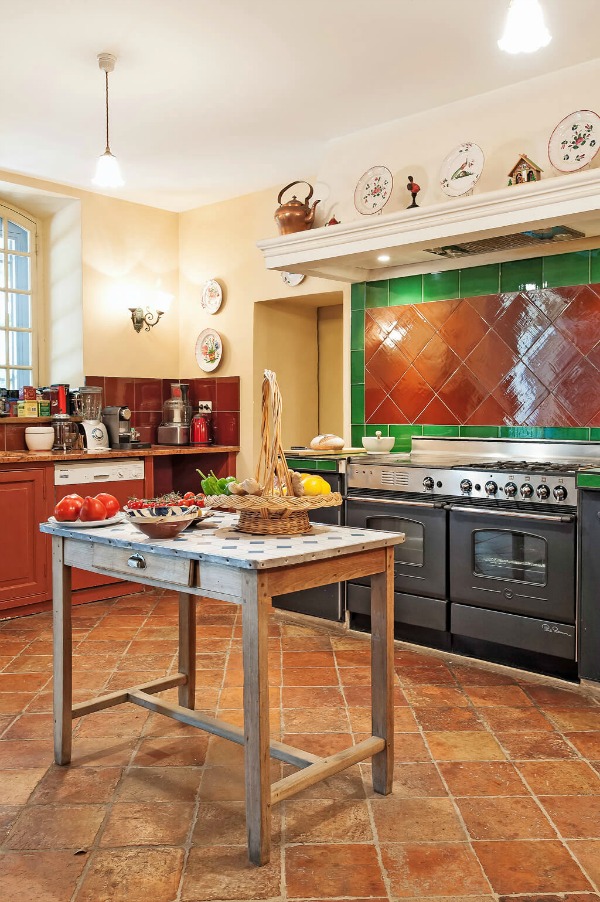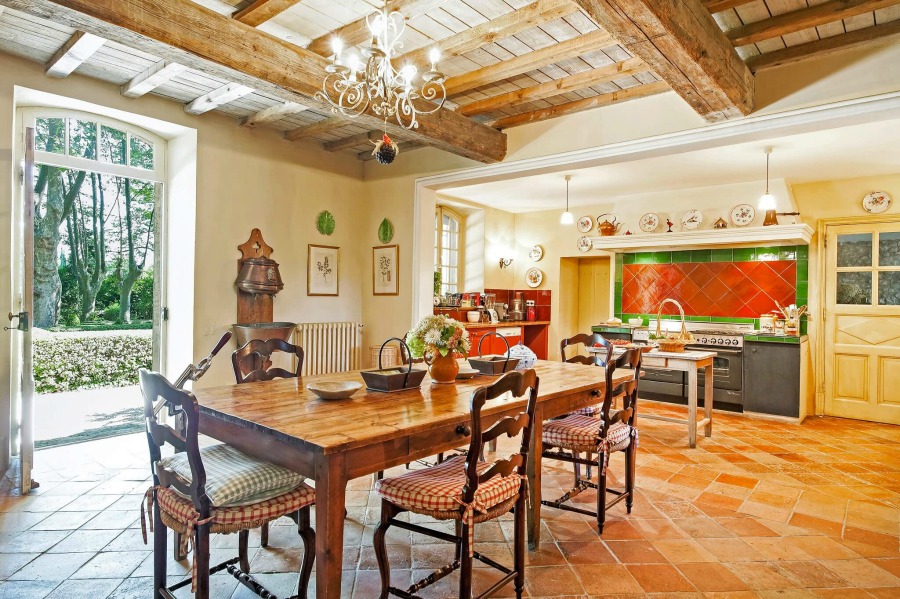 Do visit and follow my FRENCH COUNTRY board HERE!
Old World Terracotta Tiles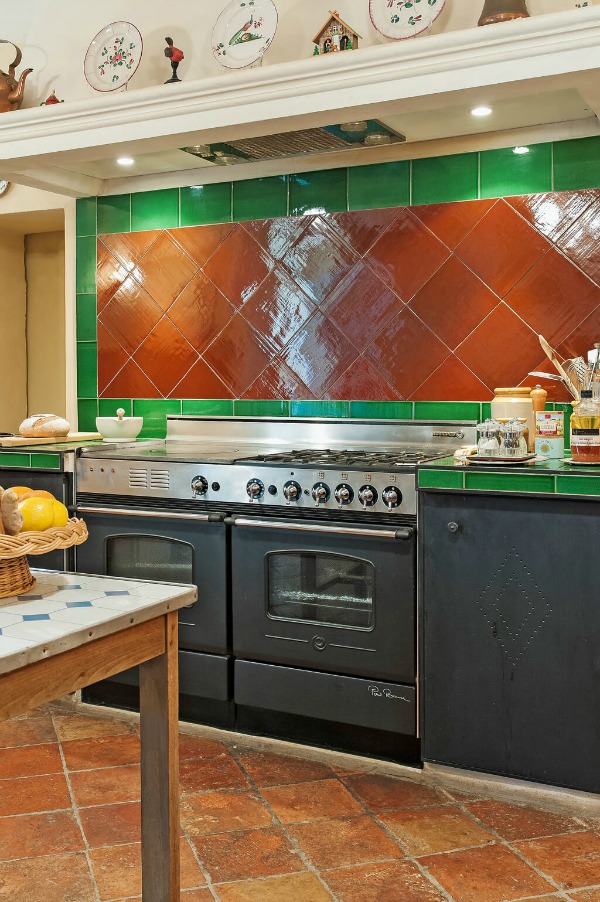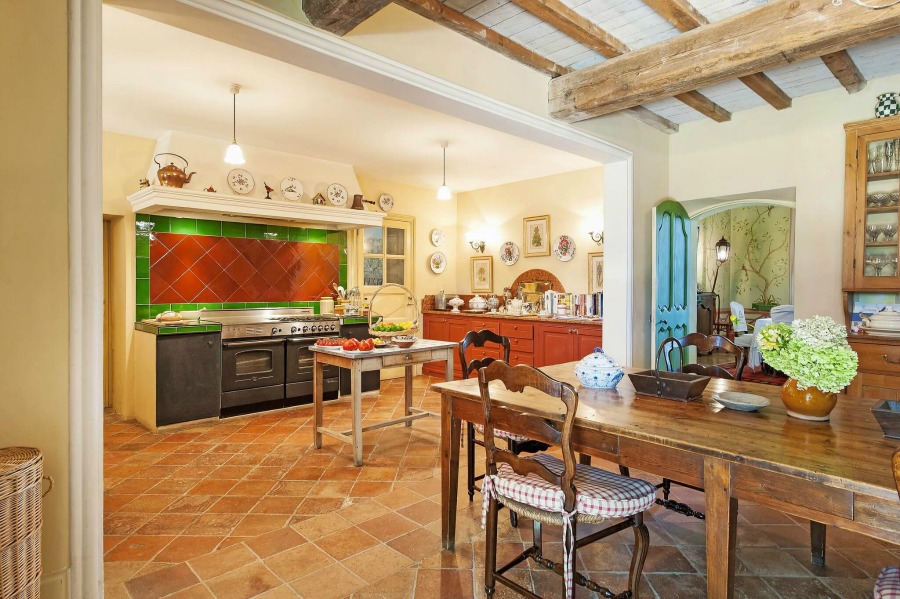 Rustic Elegance & French Inspiration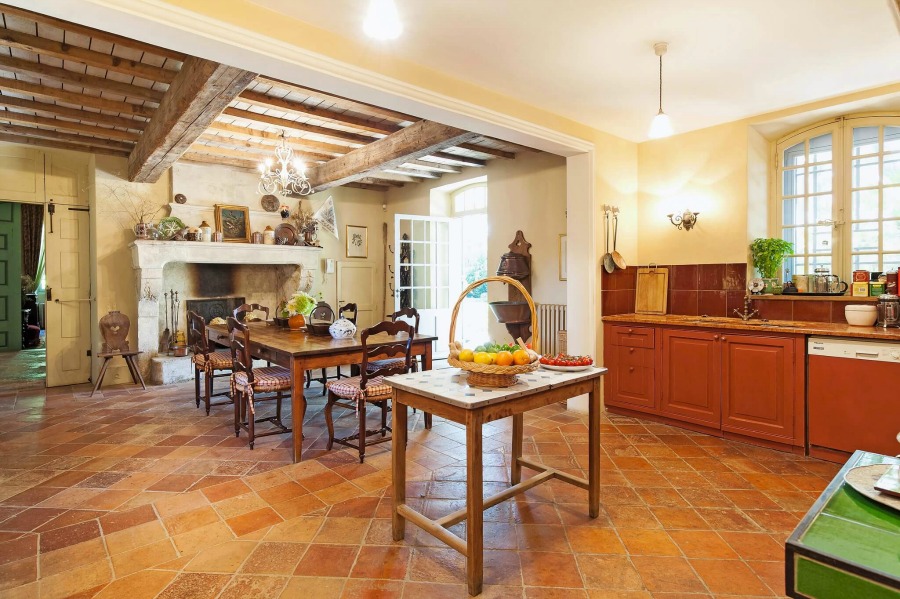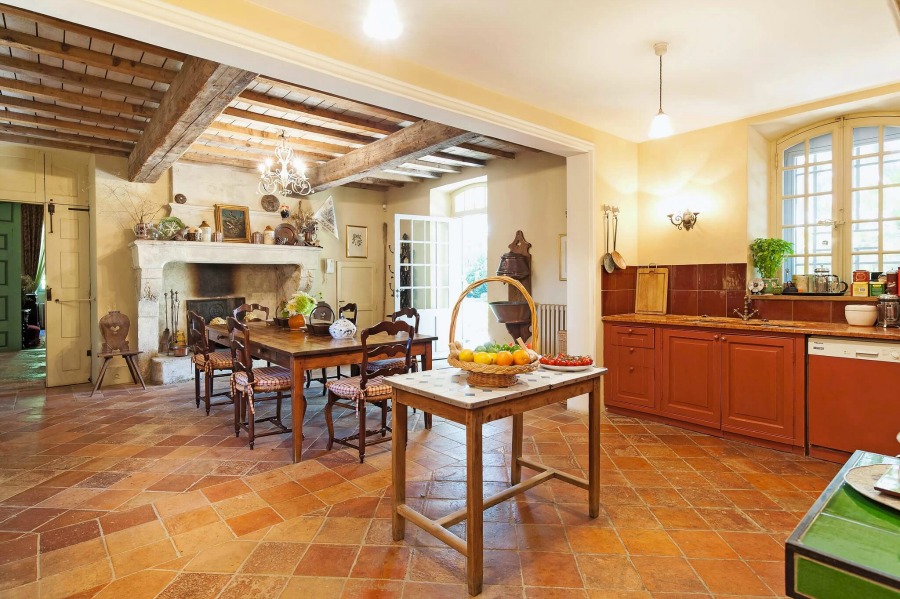 Château Mireille: Old World French Country Bedrooms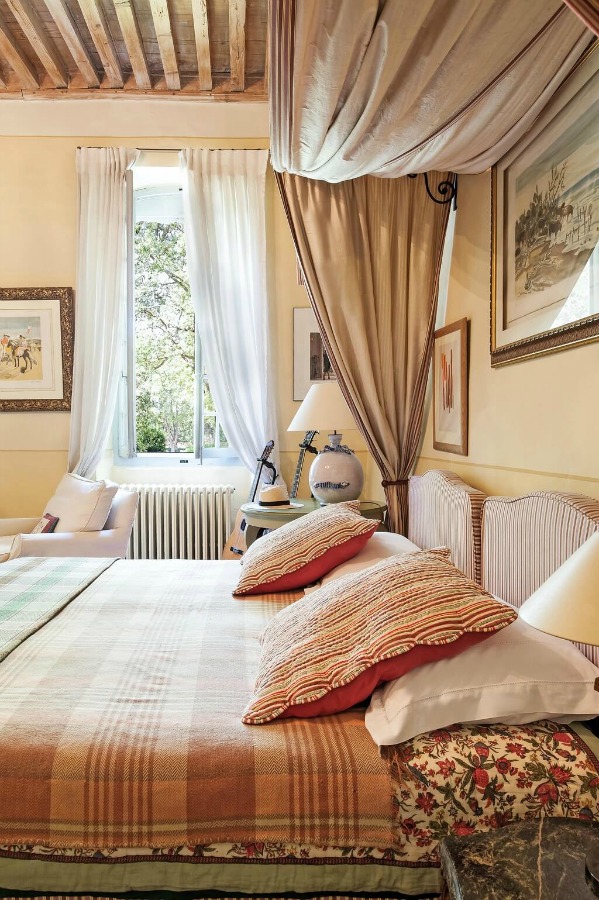 Floorplan Details
On the first floor, find a grand staircase, office, Master Bedroom with its own en suite full bathroom and powder room, and also a spacious guest bedroom. The second floor contains a full bath and is a half floor, accessed through the stairwell. The third floor has five lovely bedrooms with varied bed configurations and a full bathroom available in the hallway. Three bedrooms have their own ensuite full bathroom. All bedrooms offer high quality linens, and all bathrooms were updated to modern standards while retaining historic charm.
Periwinkle Stripes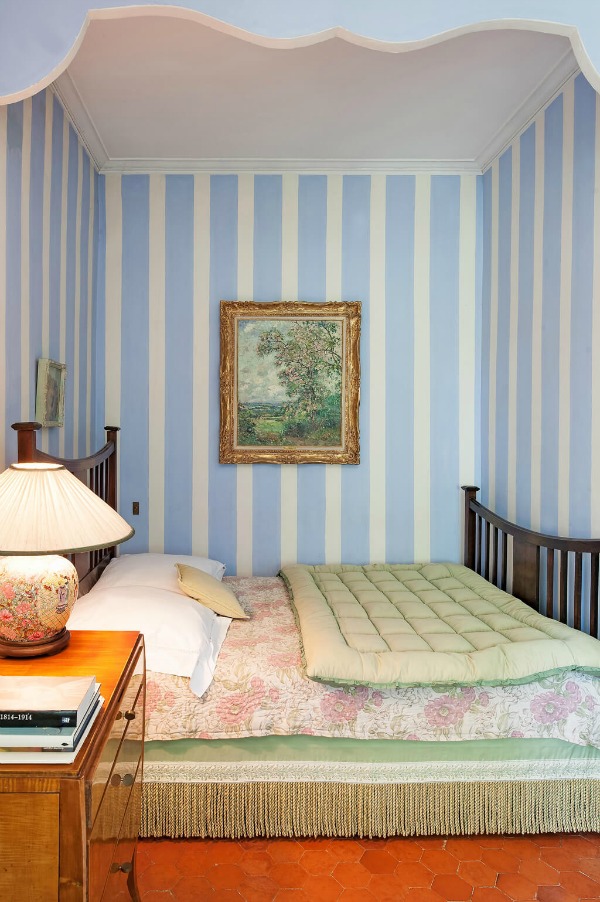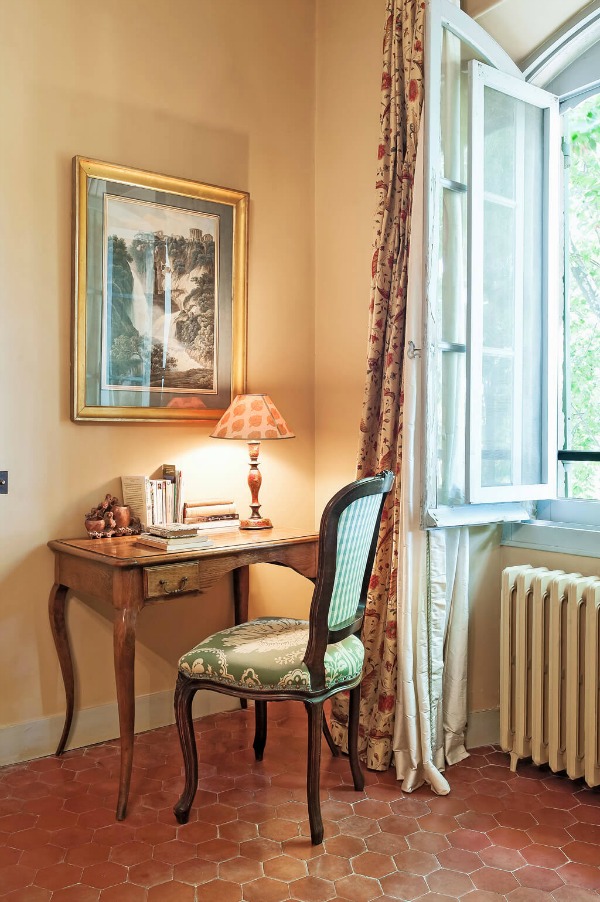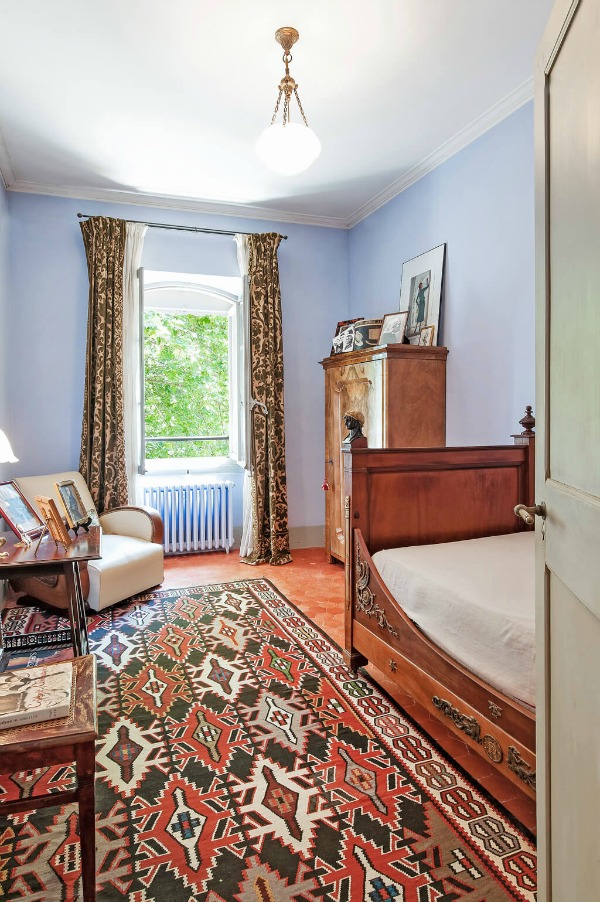 A Grand Master Suite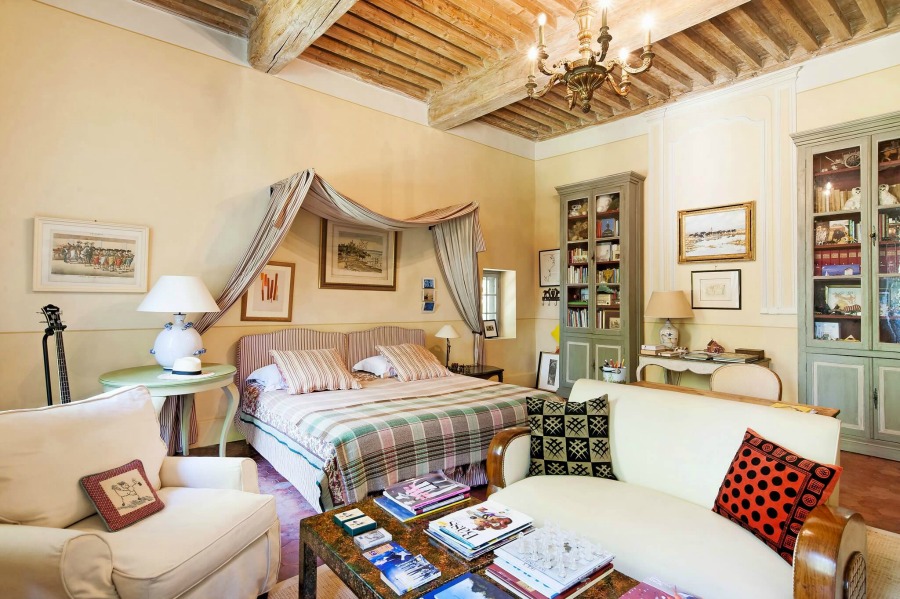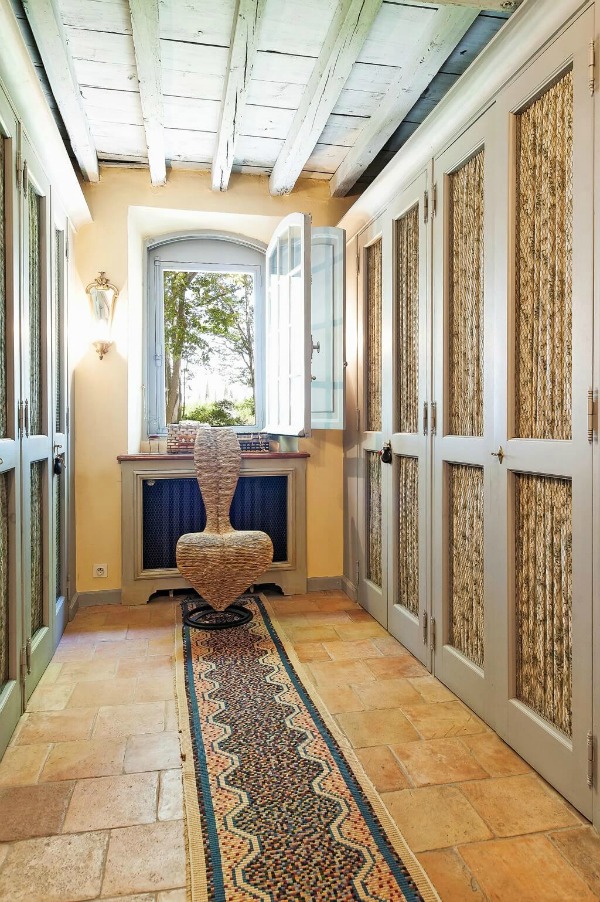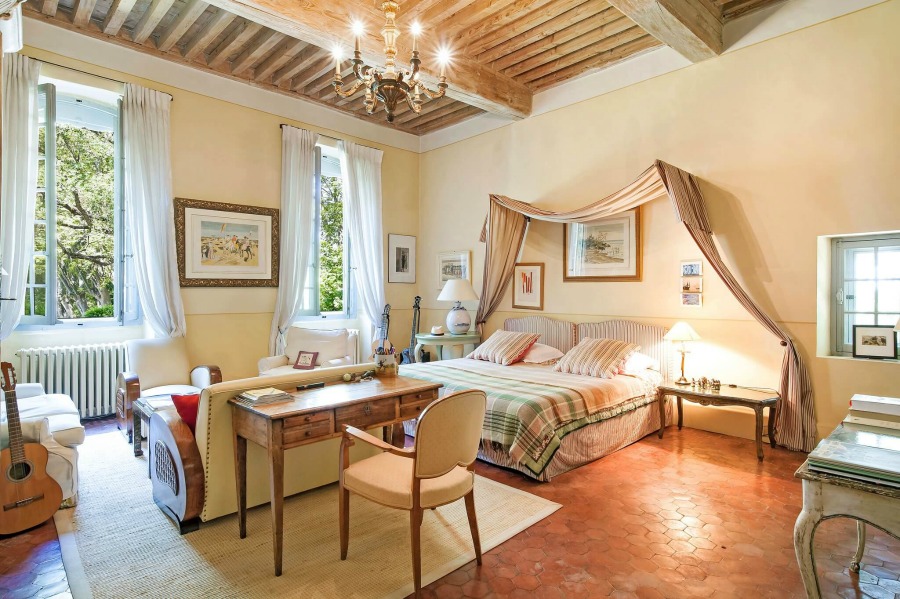 Classic & Traditional French Country Decor Inspiration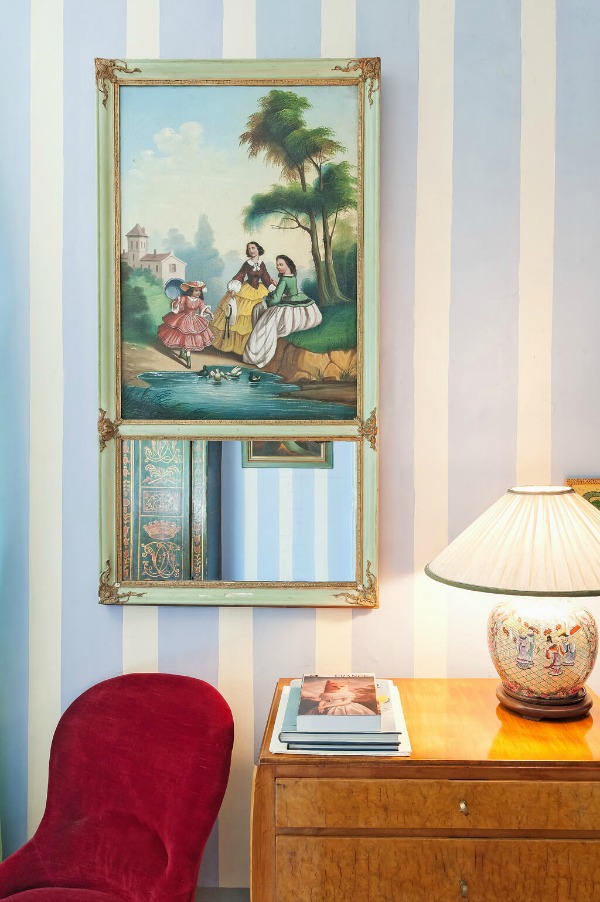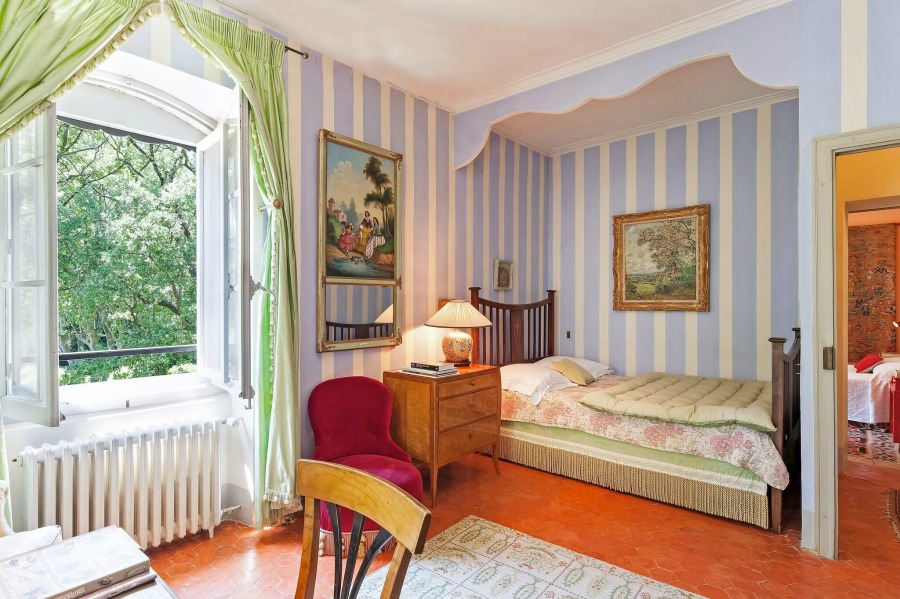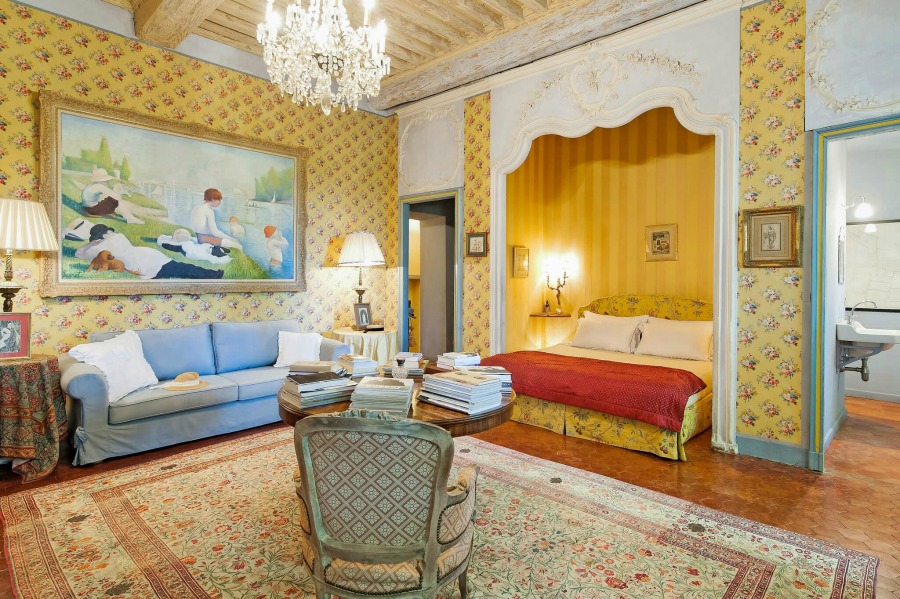 Original Art at the Chateau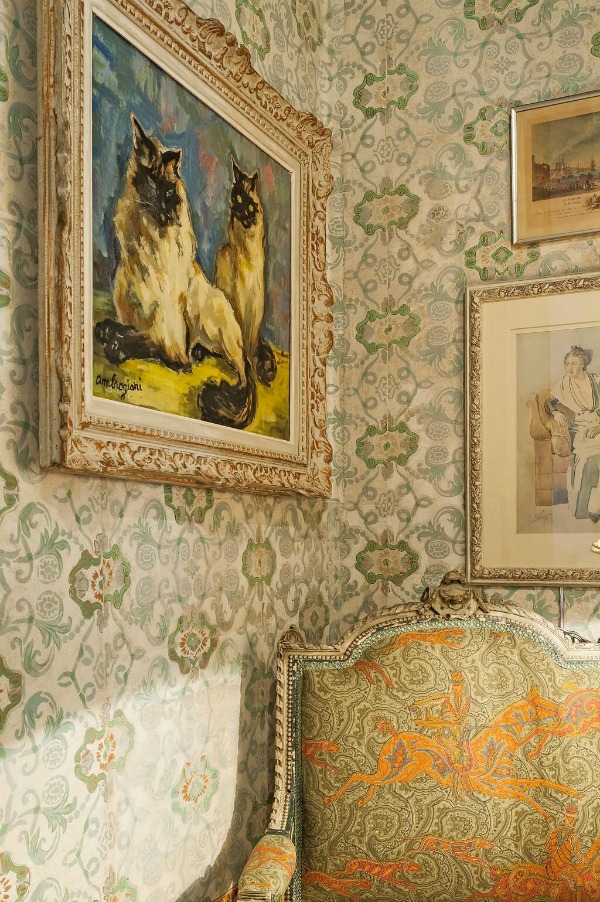 Beautiful French Country Bastide: French Country Bathrooms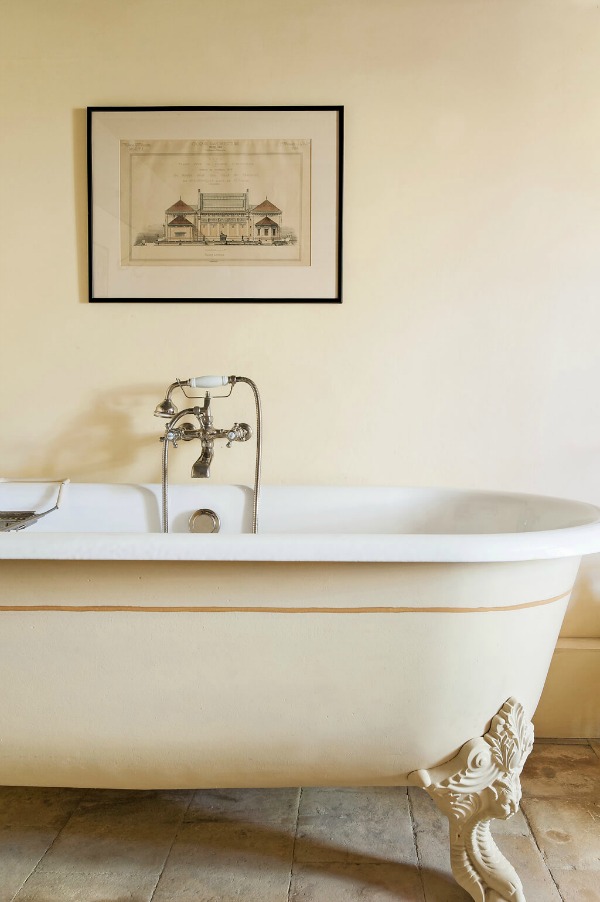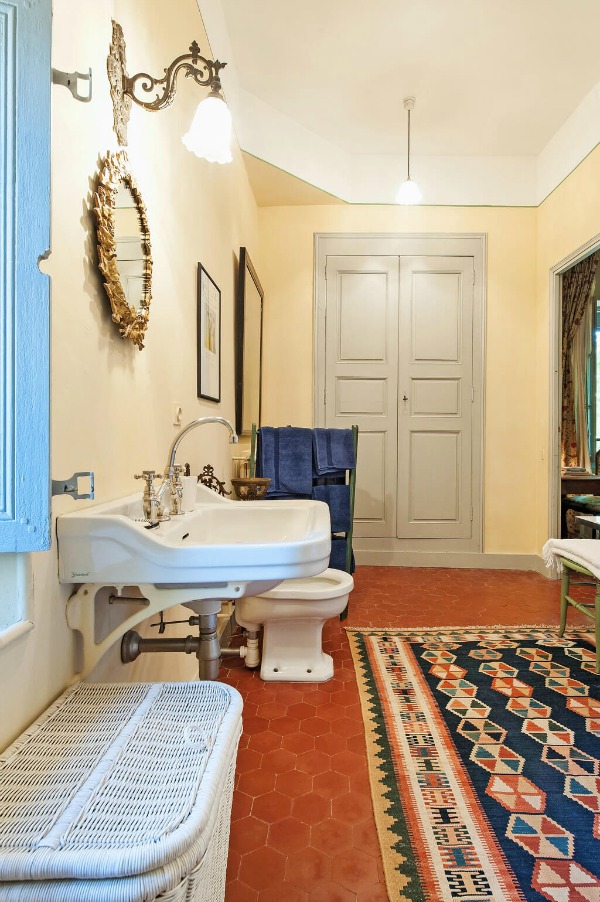 Isn't This Exceptionally Well Done to Preserve Original Charm?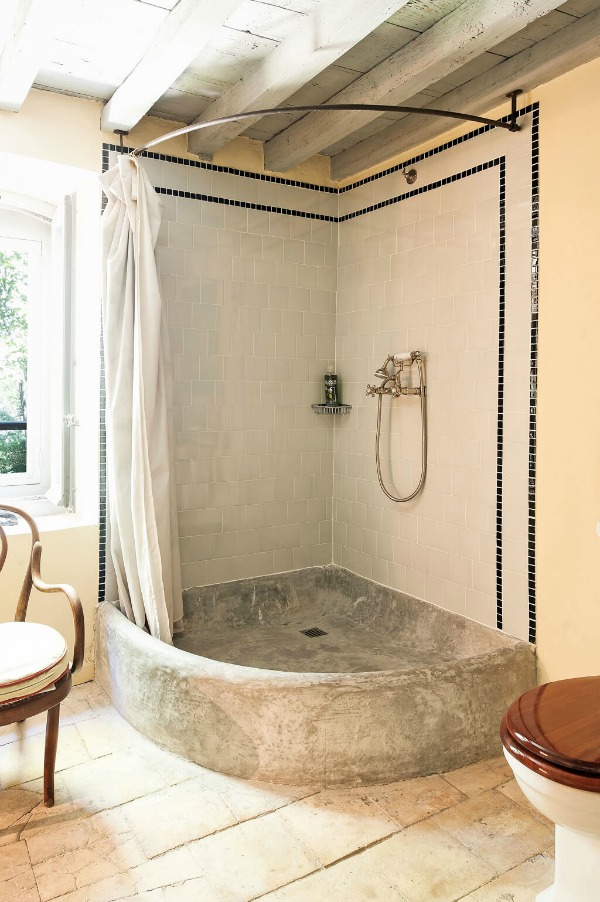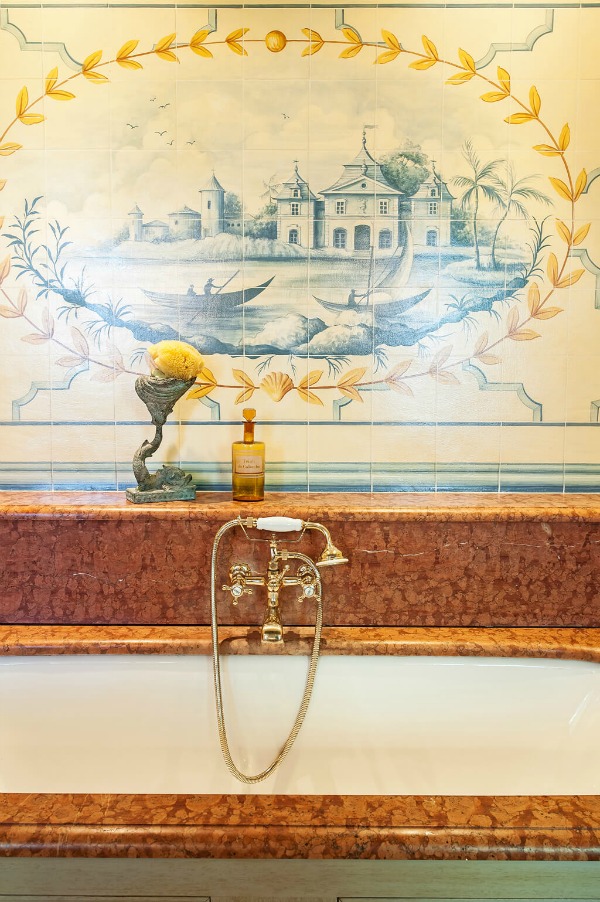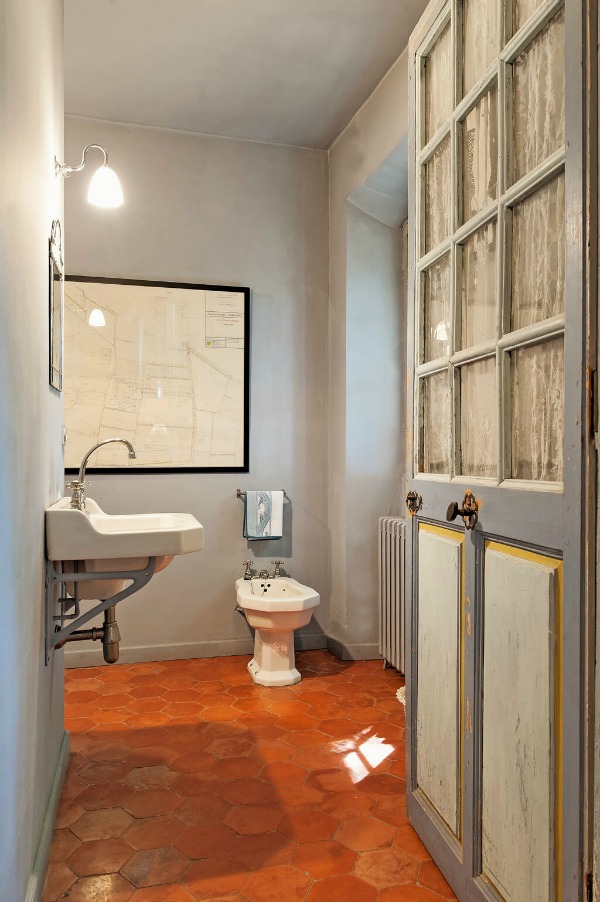 Magnificent and Monastic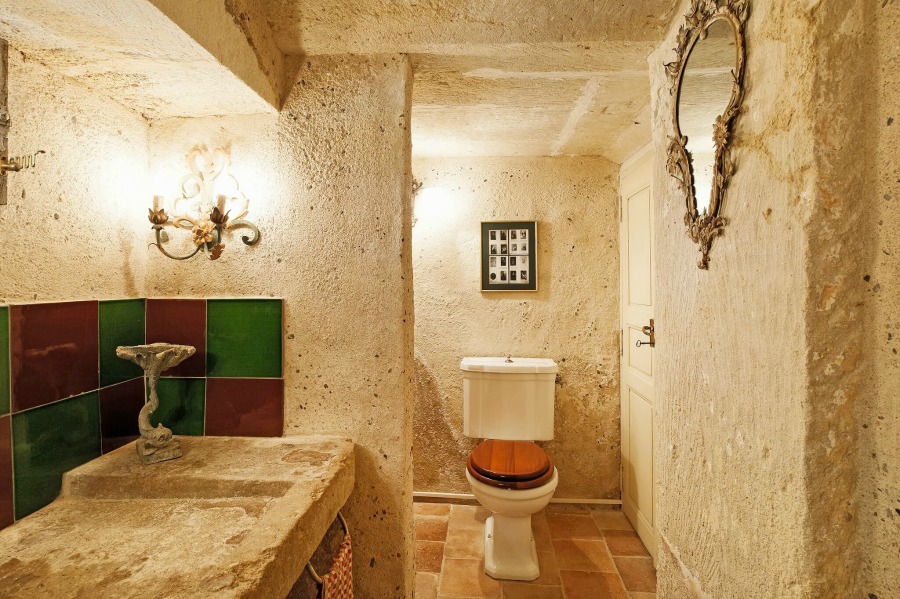 That Shade of Green on the Shutters!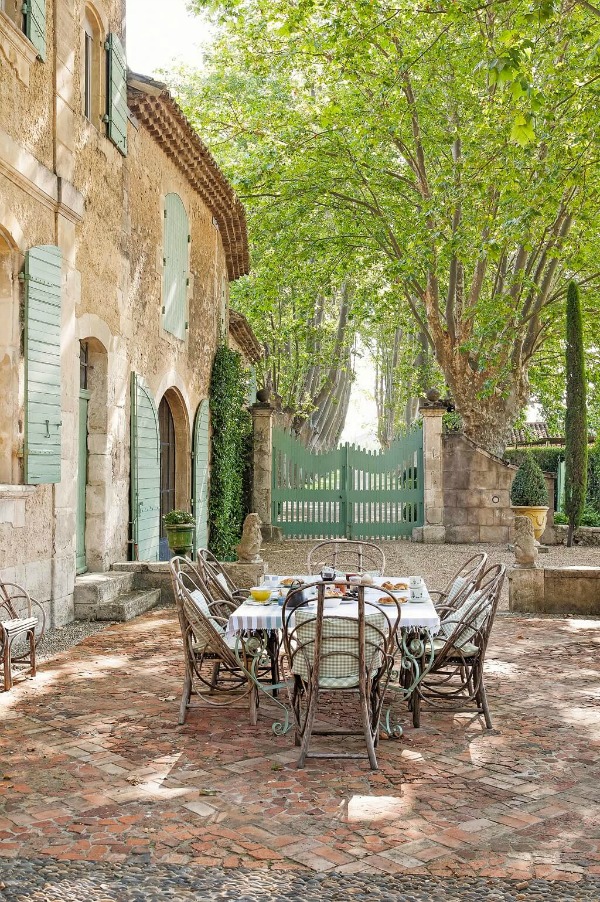 If you are smitten with the shade of green on the chateau's shutters, you are not alone. It can be tricky to try to pin down the exact shade since lighting and photography edits convey the color differently.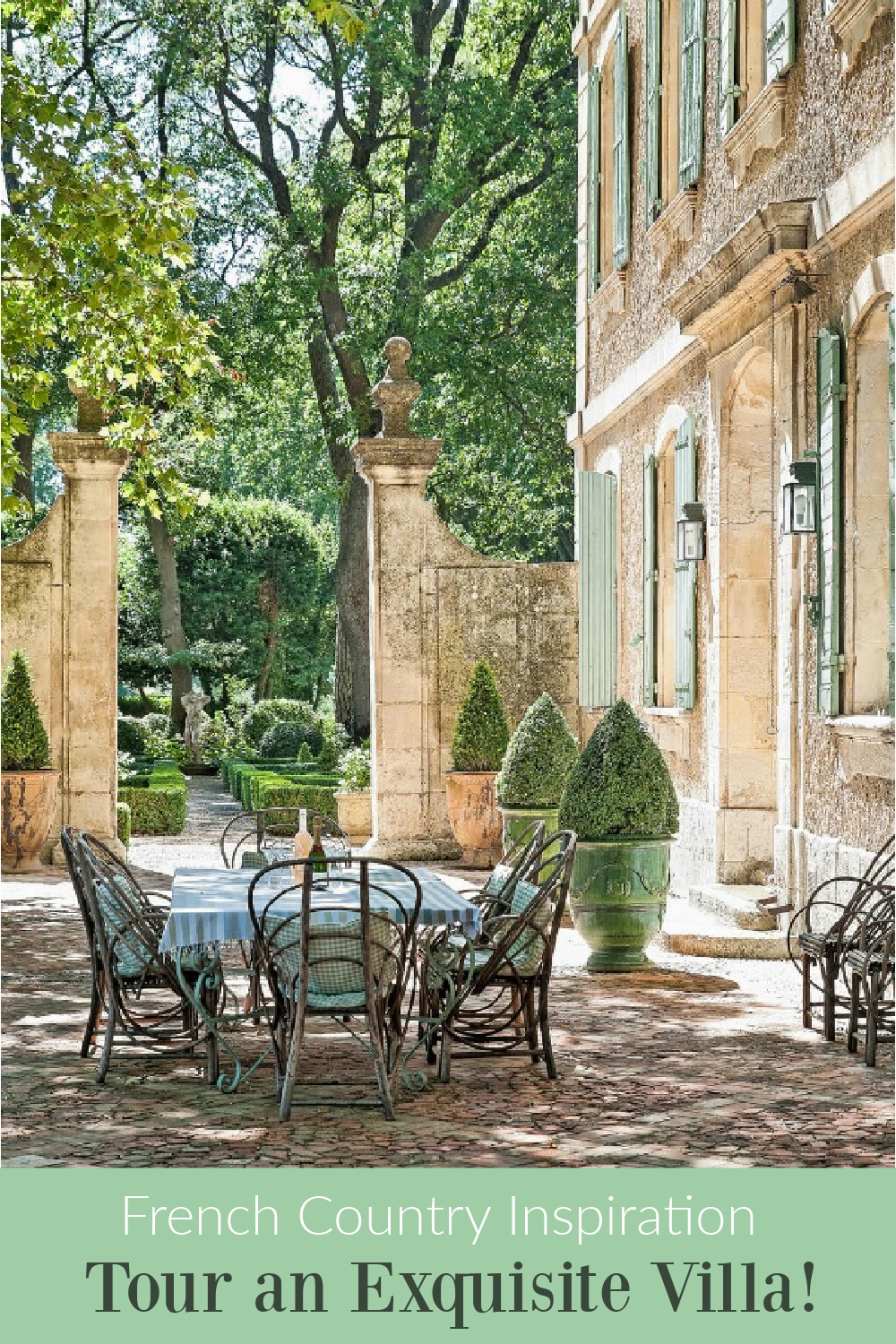 However, on a recent house tour of a French farmhouse near Bordeaux, we learned the homeowner painted her custom shutters a green which is quite popular in France.
The color is:
TOLLENS Vert Olivier (satin) purchased at Castorama.
This traditional French exterior paint color very popular in France, and I wonder if the shutters at Chateau Mireille are a similar green?

More Glimpses of the Shutters!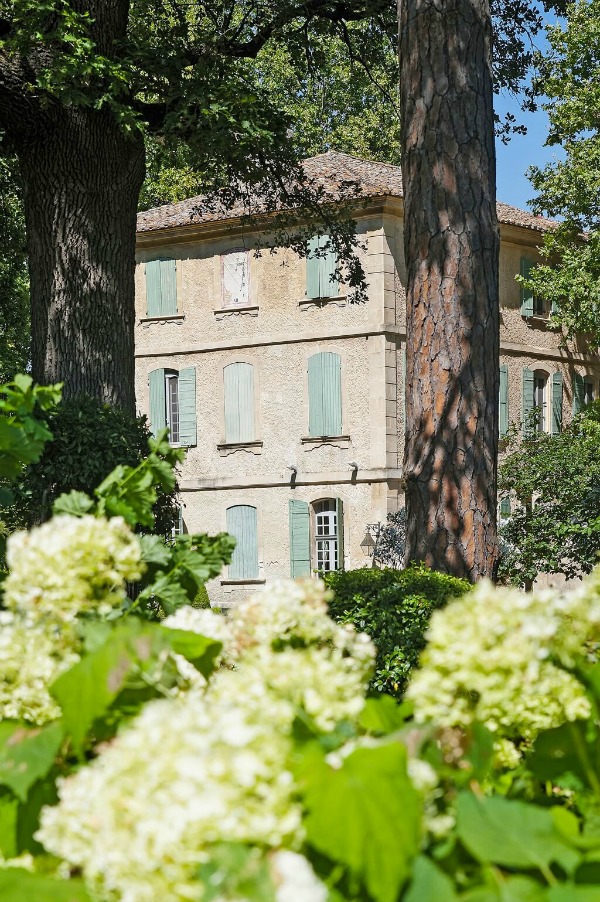 If you have not visited the other half of this bastide tour, do SEE IT HERE.
Also, here's another luxury property offered by Haven In…a restored 19th century mansion in Avignon with artful, modern and also edgy interiors!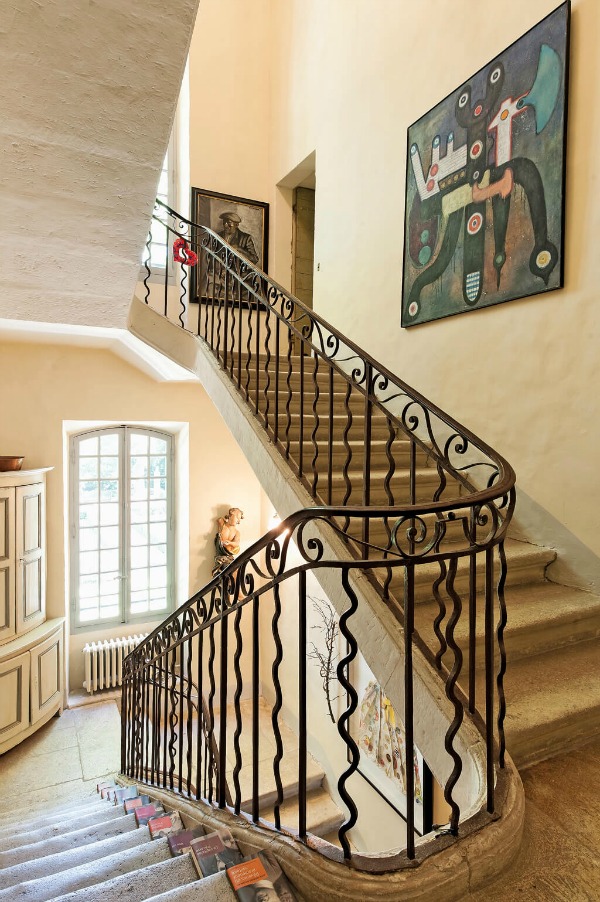 I independently selected products in this post—if you buy from one of my links, I may earn a commission.
Peace to you right where you are.
-michele
Shop for items you already intended to buy on Amazon RIGHT HERE, and also find home decor here to keep decor inspiration flowing on Hello Lovely!
Hello Lovely is a participant in the Amazon Services LLC Associates Program, an affiliate advertising program designed to provide a means for sites to earn fees by linking to Amazon.com and affiliated sites.