Easiest Spring Brunch Idea: Jarcuterie & a Taste of Paris hardly needs recipes or instruction…it's that simple. And a taste of Paris? Well, that's basically the baguette! I do mean easy. My entertaining game has been dialed down big time in recent years. Things have grown more intimate and less fussy for obvious reasons, and I no longer devote three days for food prep and tablescapes! Does this reflect a newfound intentionally lazy (and intelligent!) style? Is it evidence of greater self-love to my aging, creative human self who is already more than enough? Hahaha.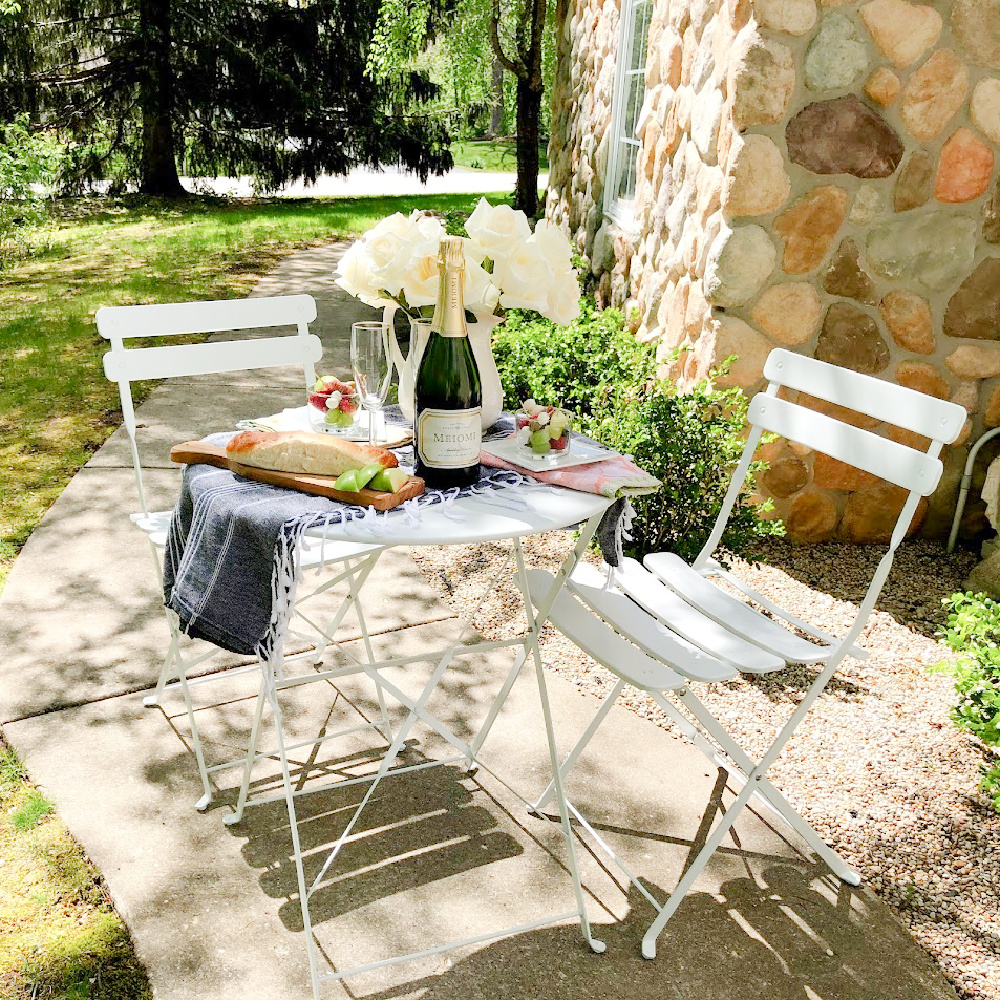 Today I'm joining creative blogger friends at Project Design to deliver SPRINGTIME entertaining ideas to demystify the process as you gather your favorites this spring.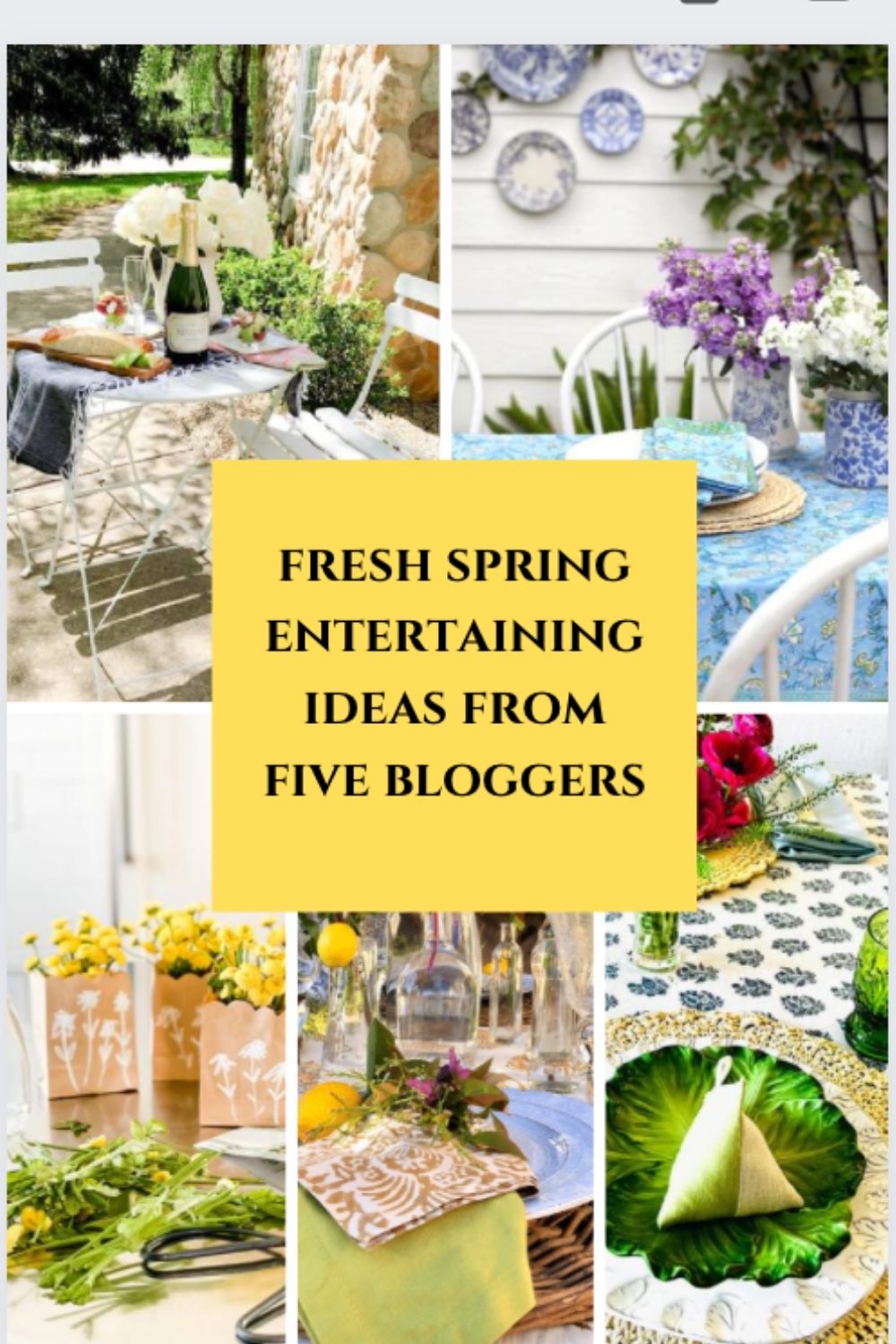 I independently selected products in this post—if you buy from one of my links, I may earn a commission.
Easiest Spring Brunch Idea: Jarcuterie & a Taste of Paris!
If you like the idea of an intimate brunch for two with a charming Parisian café look, I'm sharing resources for that as well. (Here's the white bistro set, and if it's out of stock, this one is nearly identical.)
Obviously these photos were snapped before we moved into the new house in March.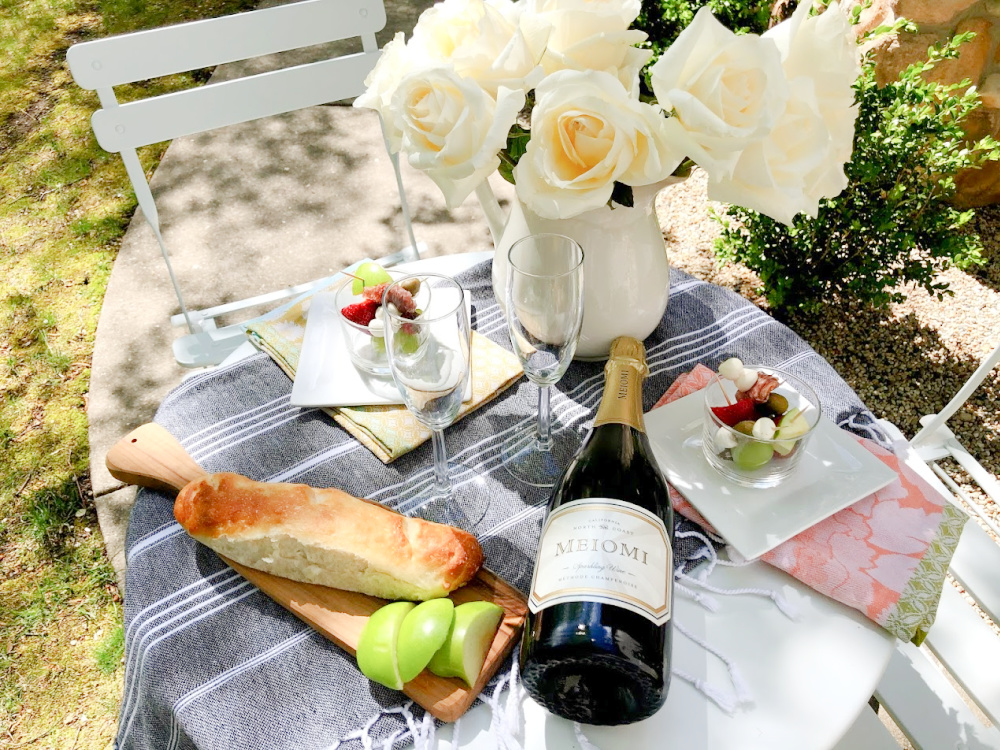 Can't wait to create a new Frenchy courtyard at this beautiful property.
What Makes This a French Inspired Brunch?
While the Parisian style bistro dining set contributes, my homemade baguettes and sparkling wine also help the theme along.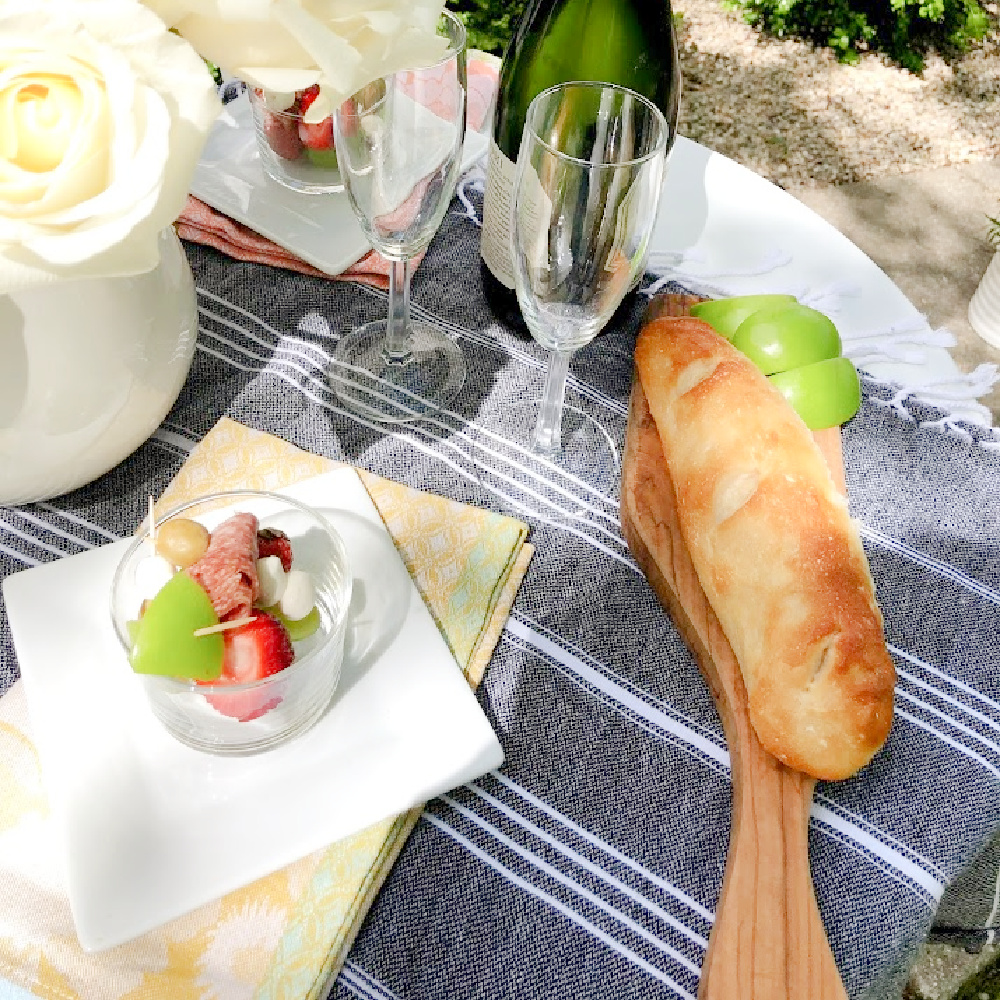 Add a favorite brunch casserole to complete the menu!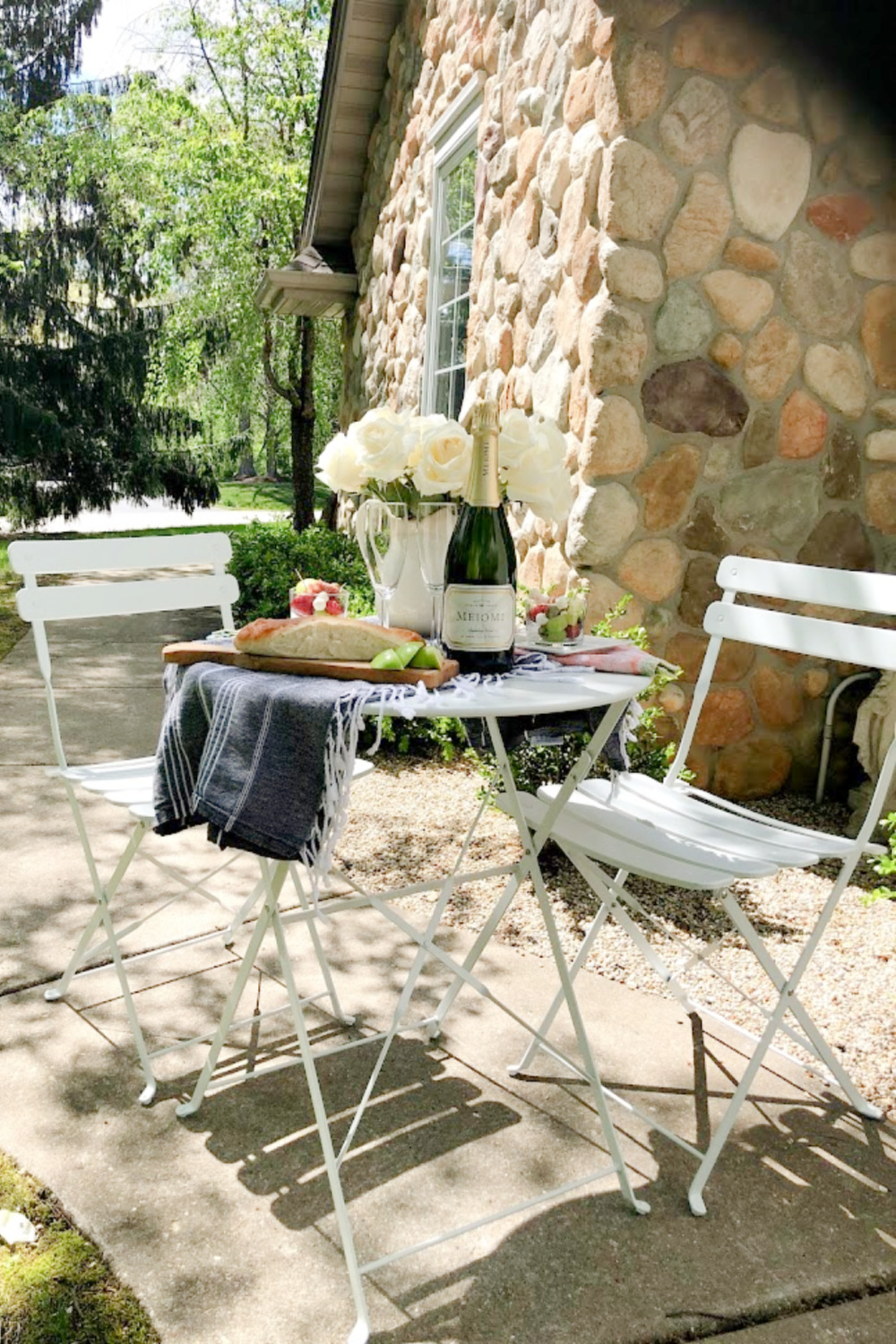 What If You Don't Have a French Courtyard?
Trips to Paris or the French countryside may not be on the calendar, but you don't even need a French garden. I set up this set in a shady spot on the path to the front door.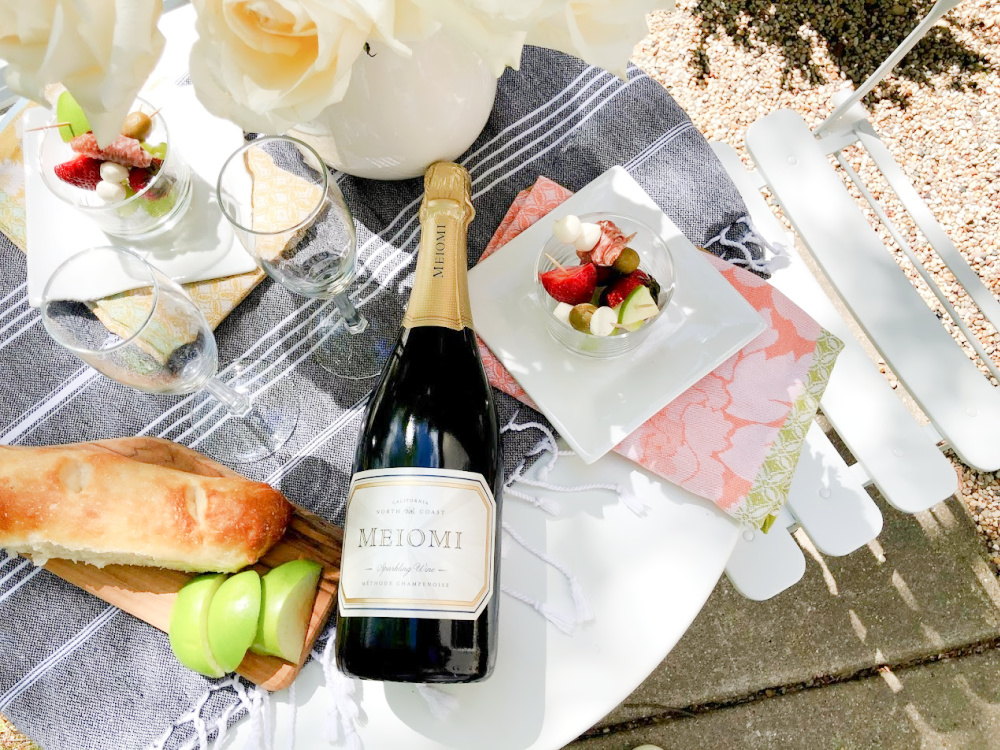 You only need a wee little space to make this work.
Inexpensive Bistro Set Options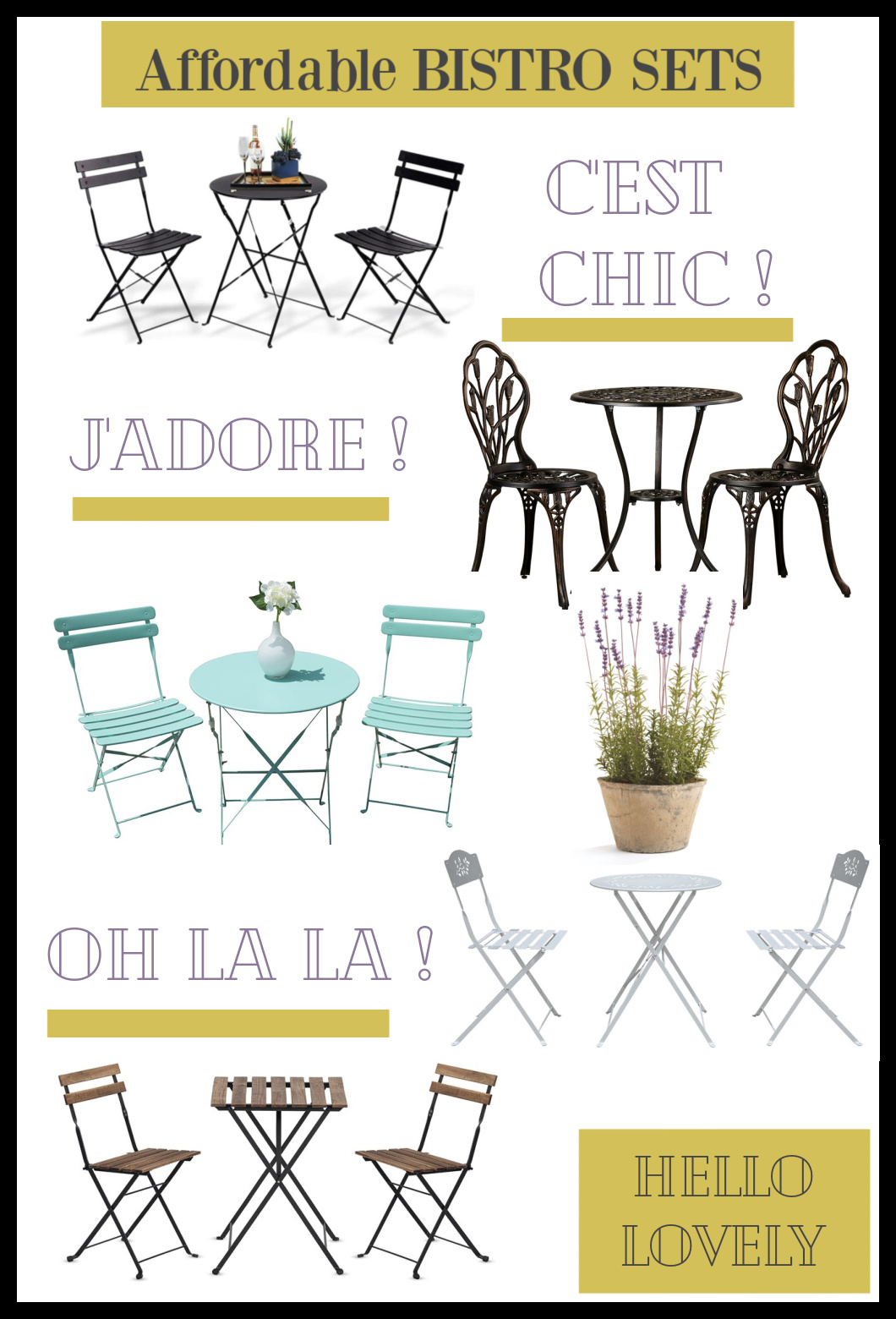 A Pretty French Café Look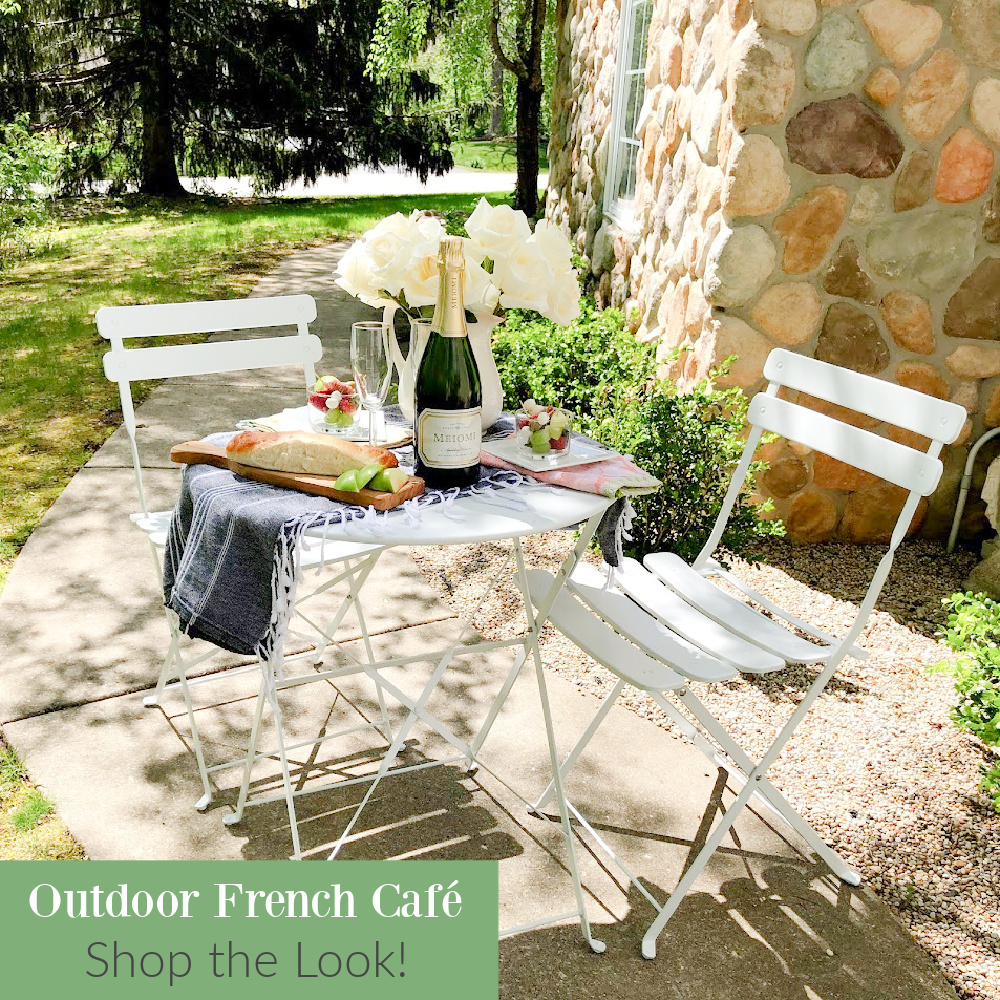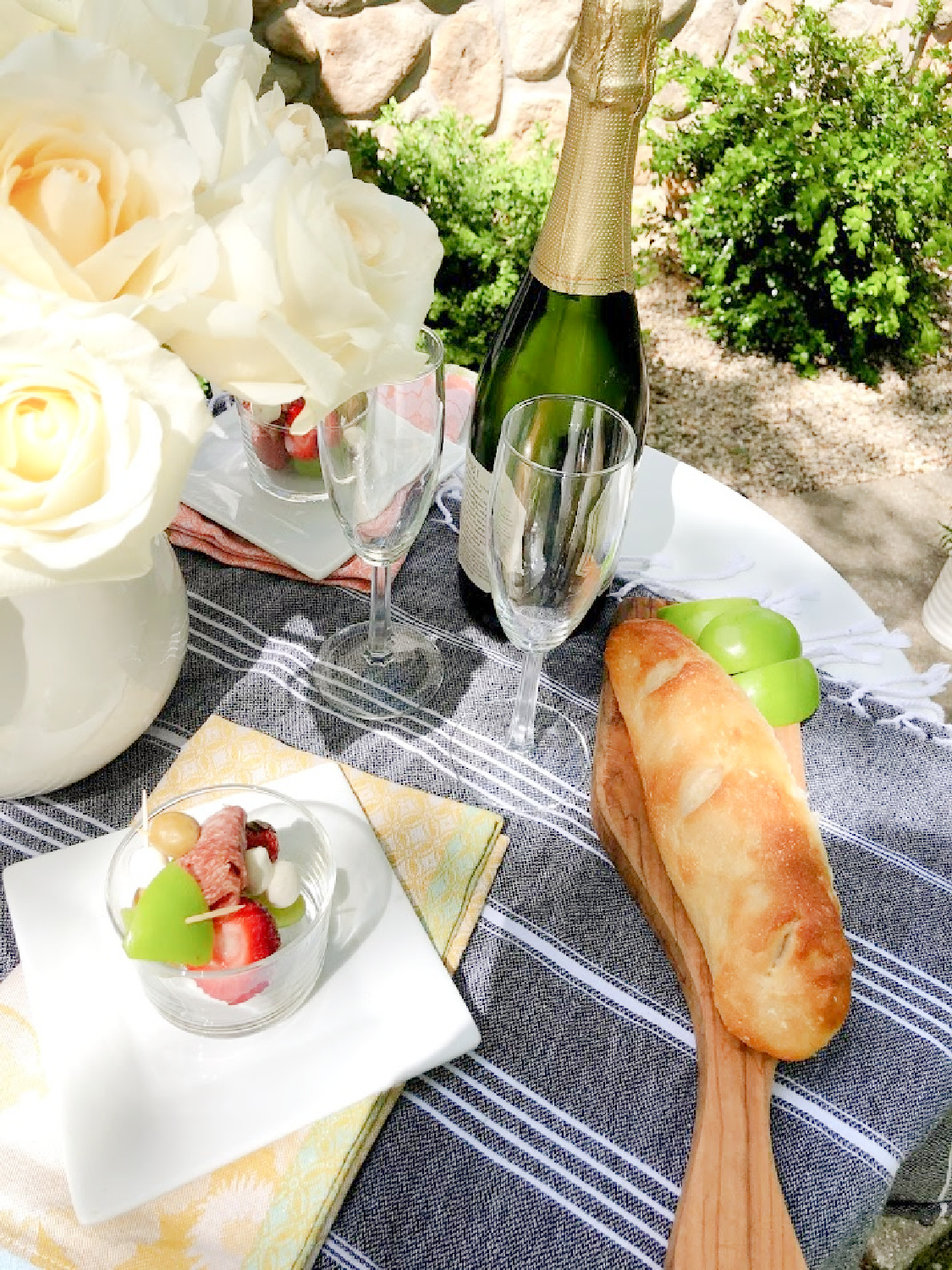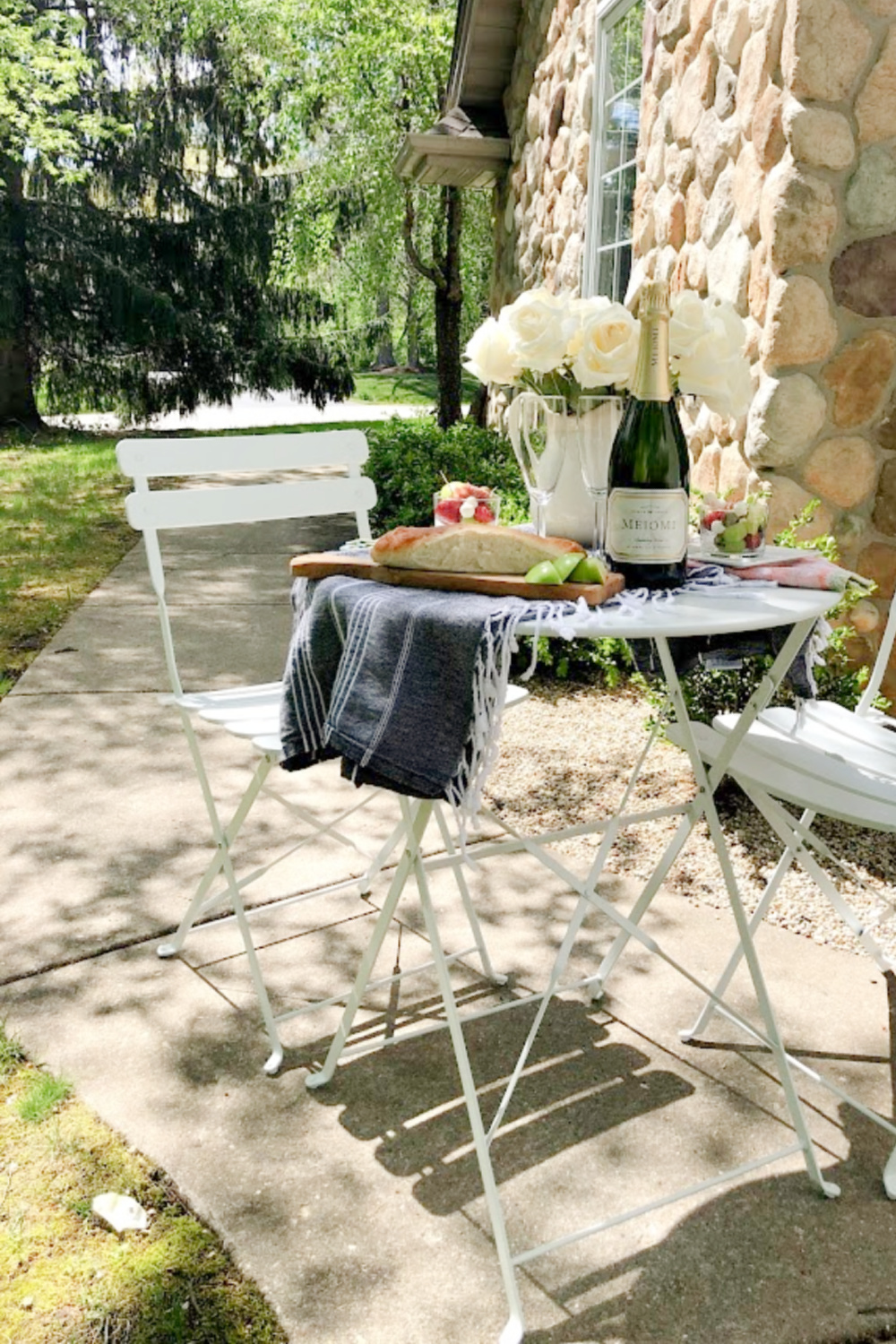 So even a narrow expanse of concrete can become a pocket of sanctuary with a few Frenchie ingredients.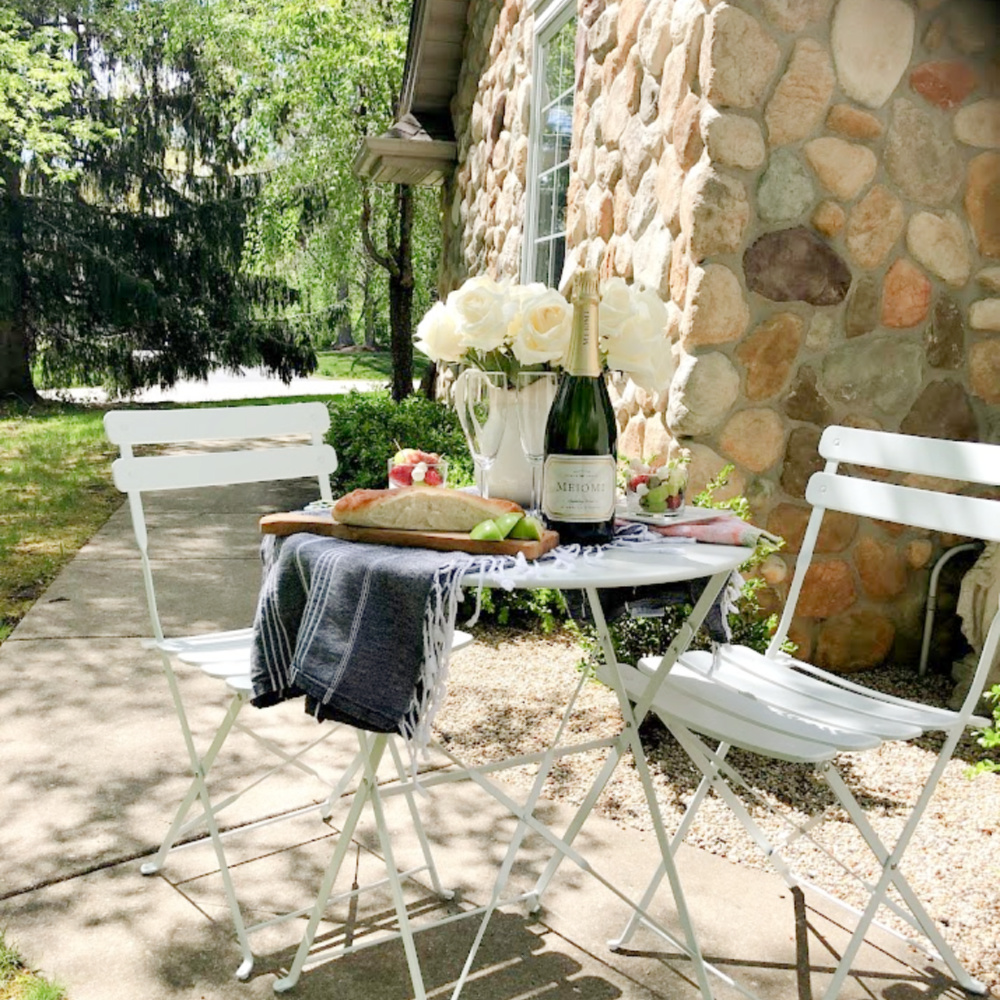 How to Create a Simple Sanctuary for Snacks
It took no time to get this look! Here's what I brought to the mix:
White Bistro Set
Black Turkish Cotton Beach Towel for Table Covering
Vintage Ironstone Pitcher with Garden Roses (in some images, you'll spy a pot of rosemary)
Cloth Napkins
"Jarcuterie" (individual charcuterie jars)
Sparkling wine and baguette (mine's homemade since I bake them weekly)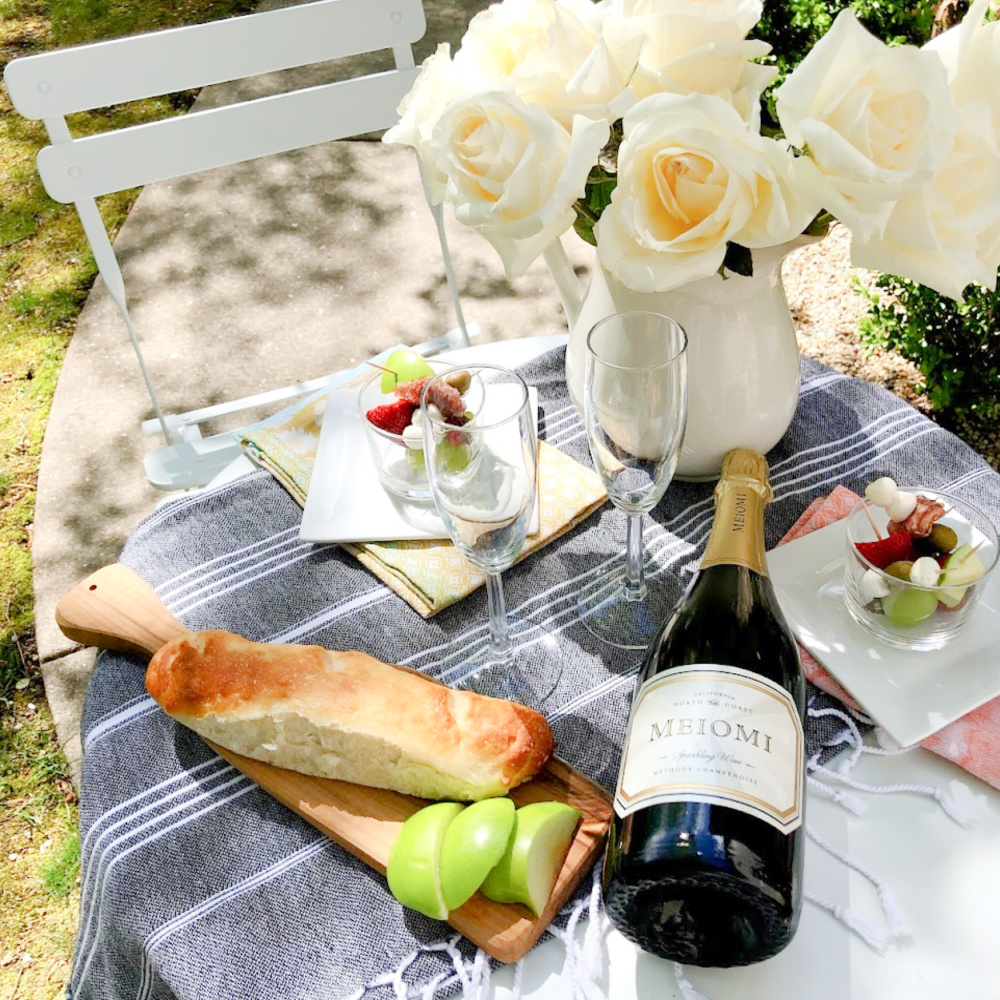 Keep reading for the recipe for the SUPER EASY JARCUTERIE!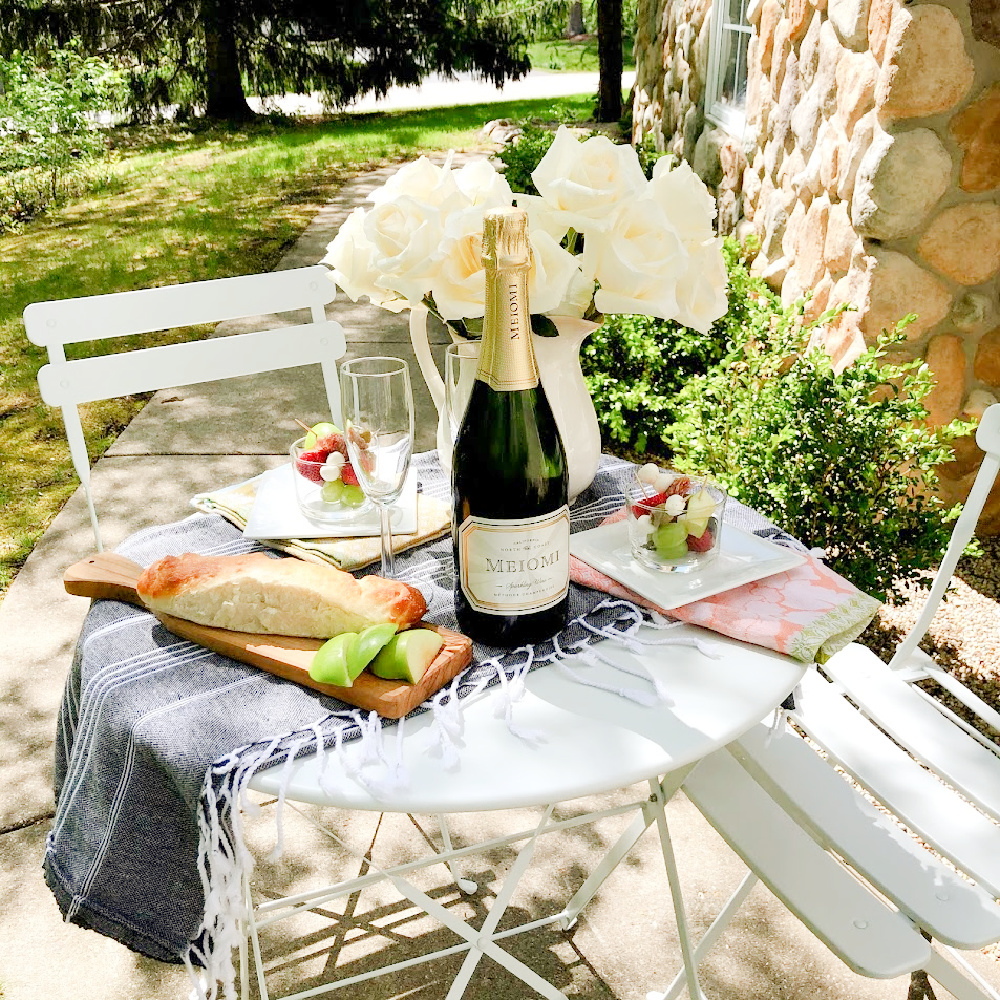 Easy Peasy Jarcuterie (Individual Charcuterie in a Glass Jar!)
Pin this image below so you'll have the idea ready when you need it! The idea is individual cheeseboards without the board and in a jar! I simply layered yummy grazeboard snacks, skewering a few of them with toothpicks for ease and to add interest to the presentation.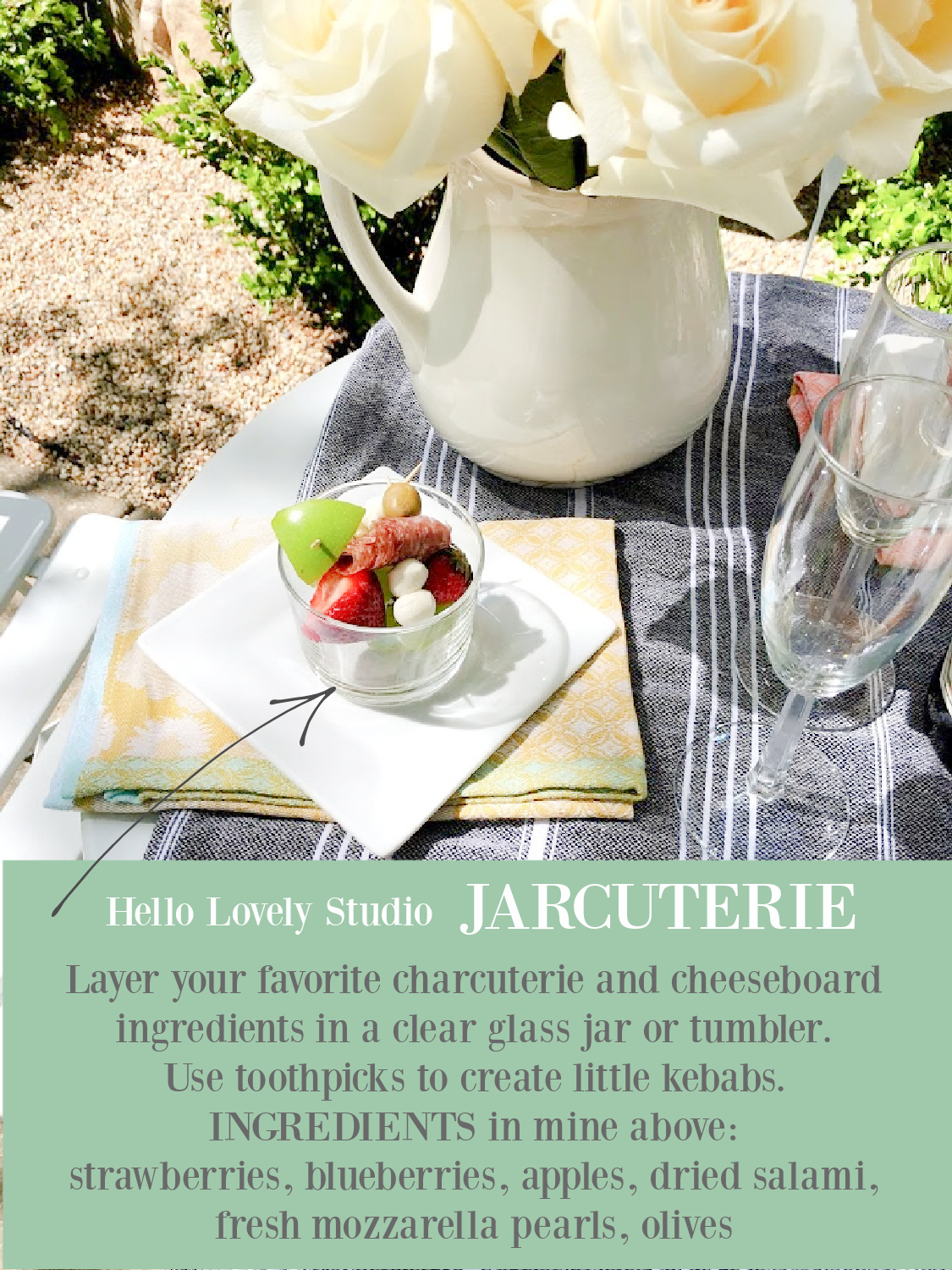 You can use small mason jars, those cute recycled glass French yogurt jars or plain glass wine tumblers like mine HERE.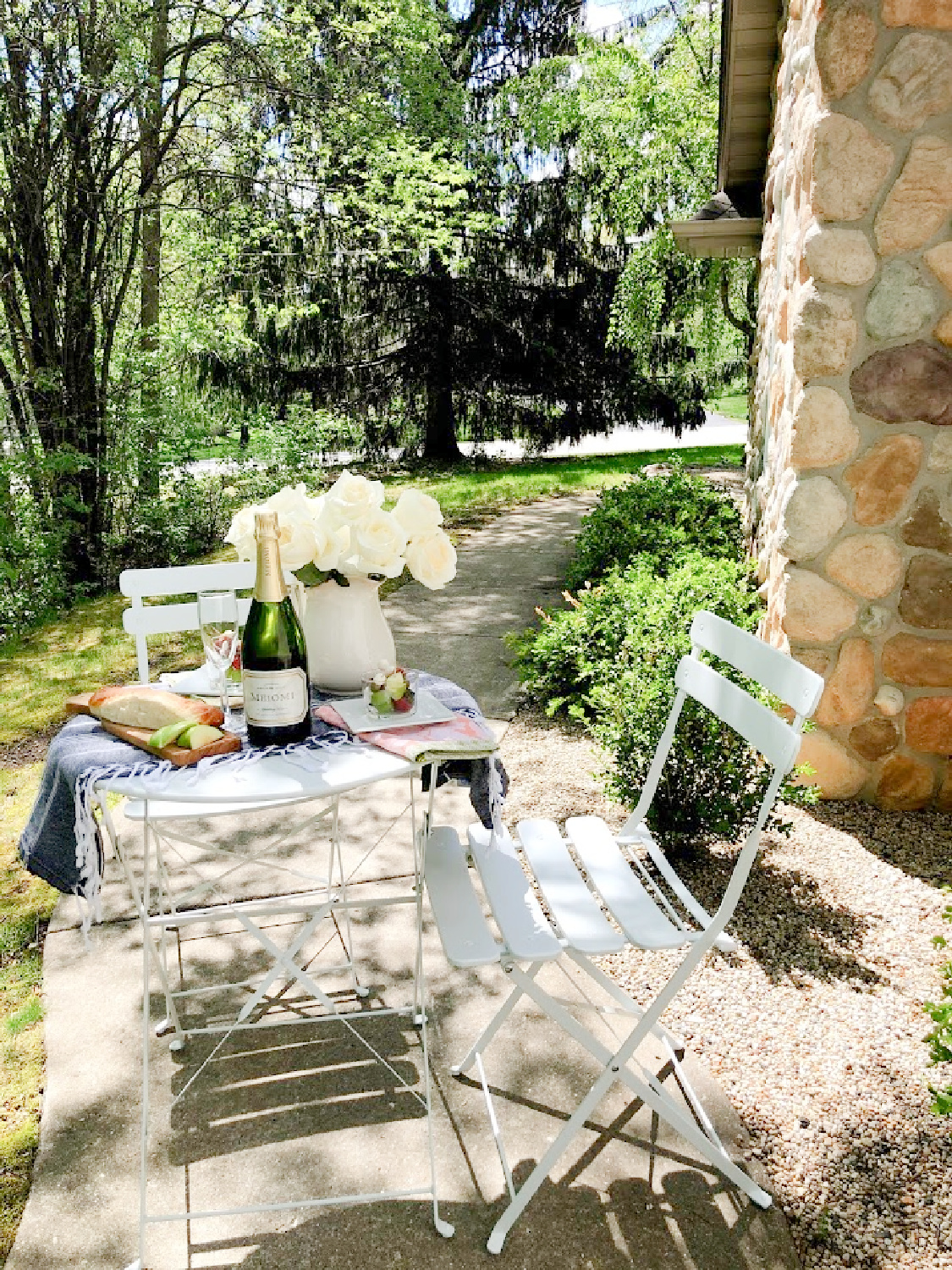 If You Buy the Baguettes…No Baking/Cooking Required!!!
I'm sure you are already brainstorming a hundred ways to expand this menu for brunch! Buy French pastries, whip up omelets or waffles, fry up bacon and sausage…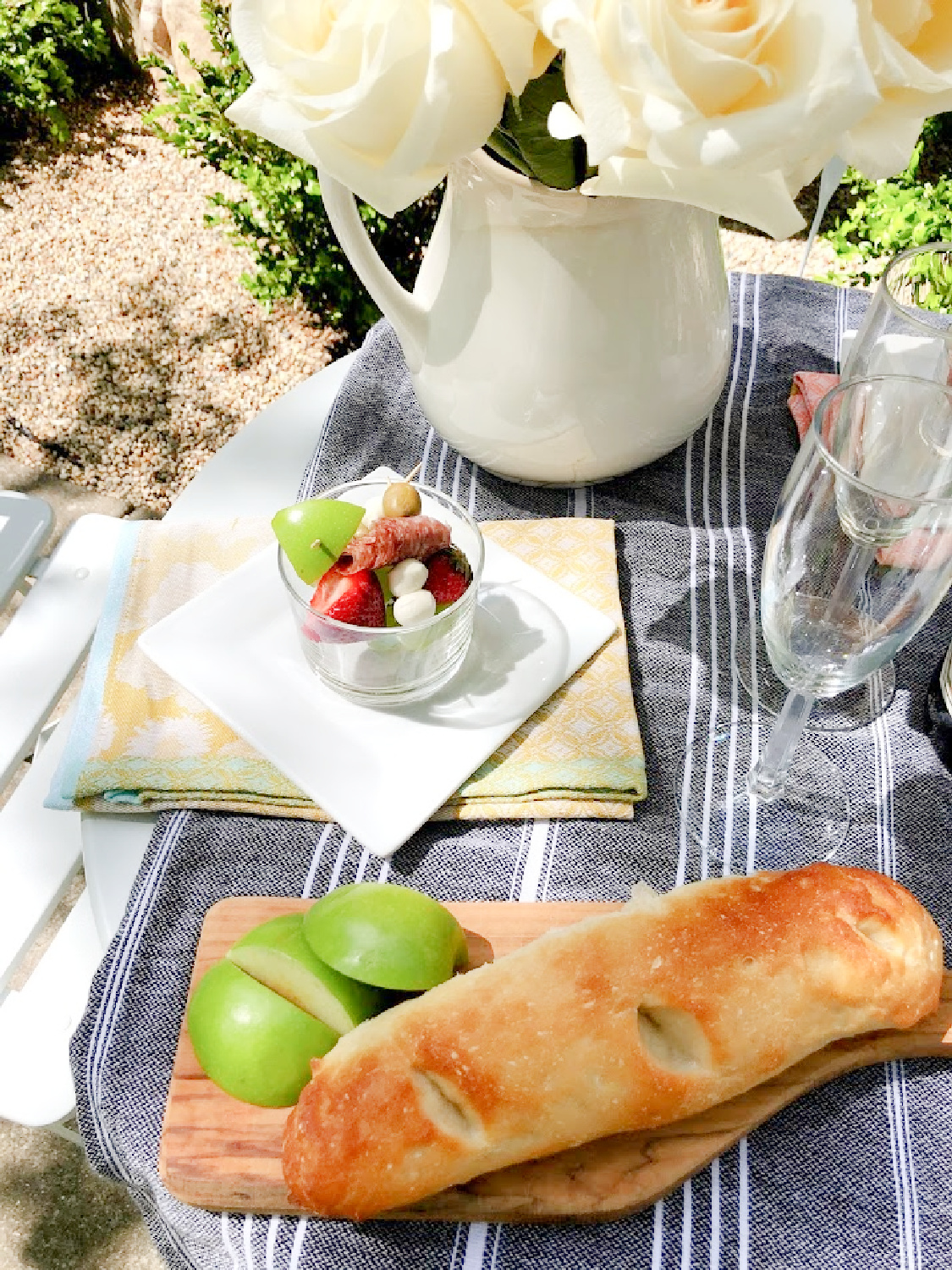 …cater in your favorite roast chicken or onion soup or croque monsieur…serve a delicious tuna Niçoise salad…is your mouth watering!?!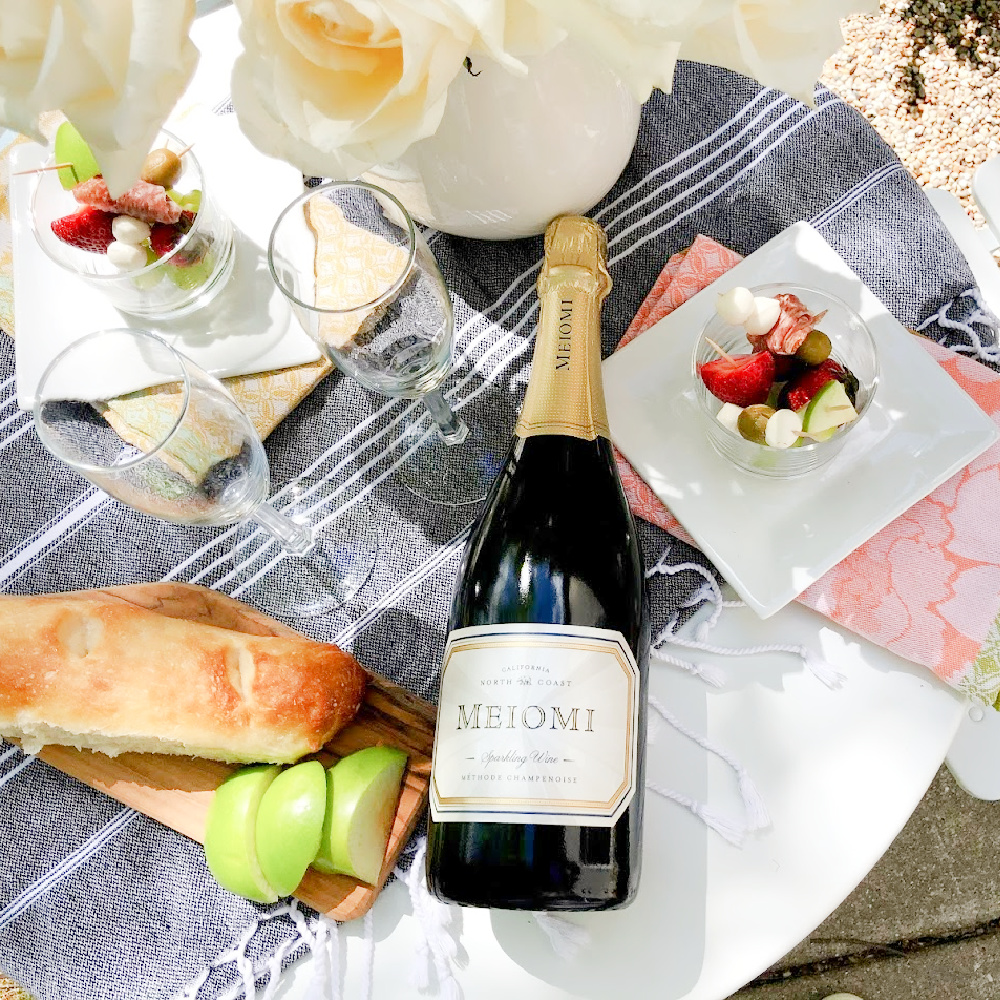 But isn't the jarcuterie a nice start?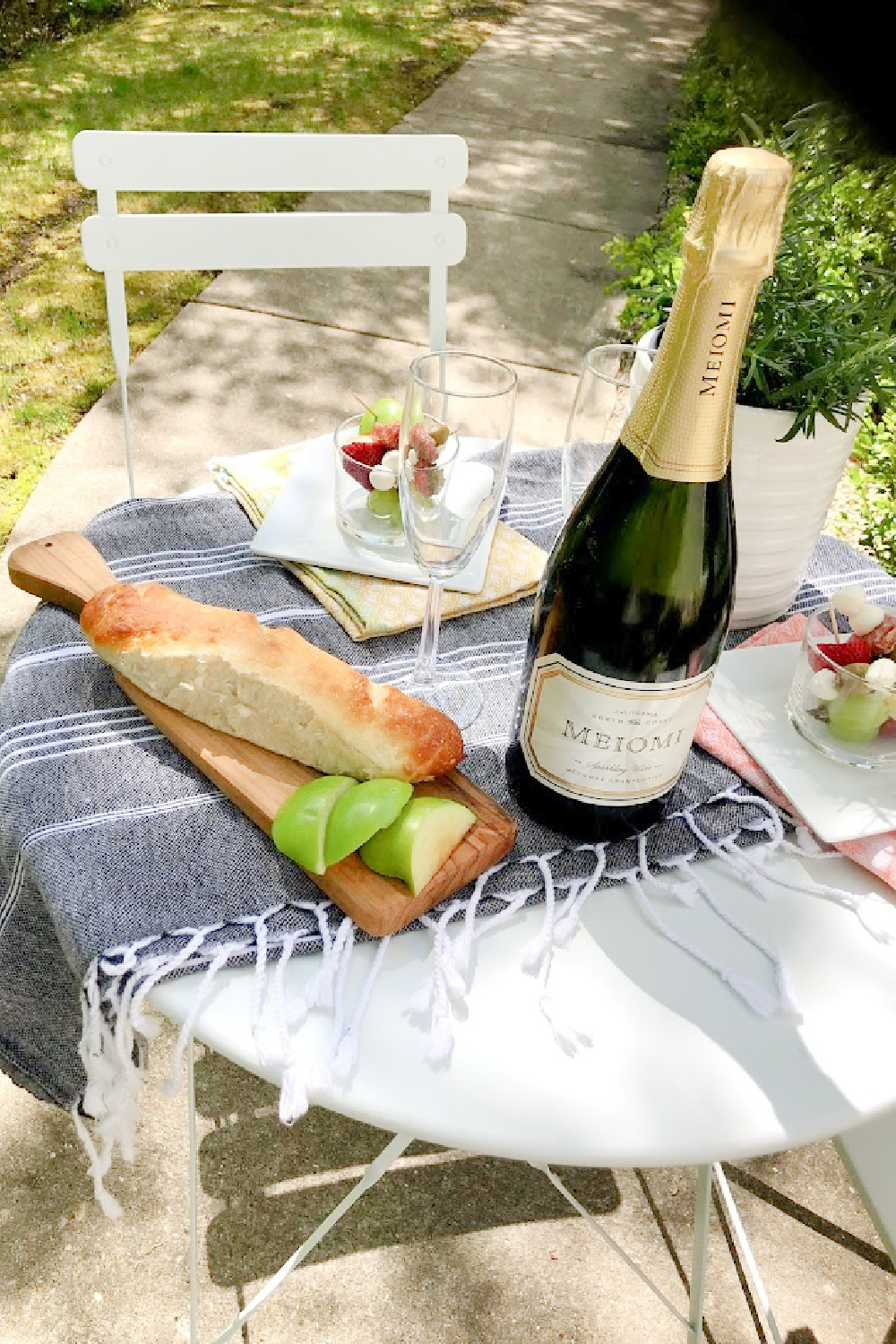 Have a favorite sparkling wine you enjoy? I'd love to hear about it.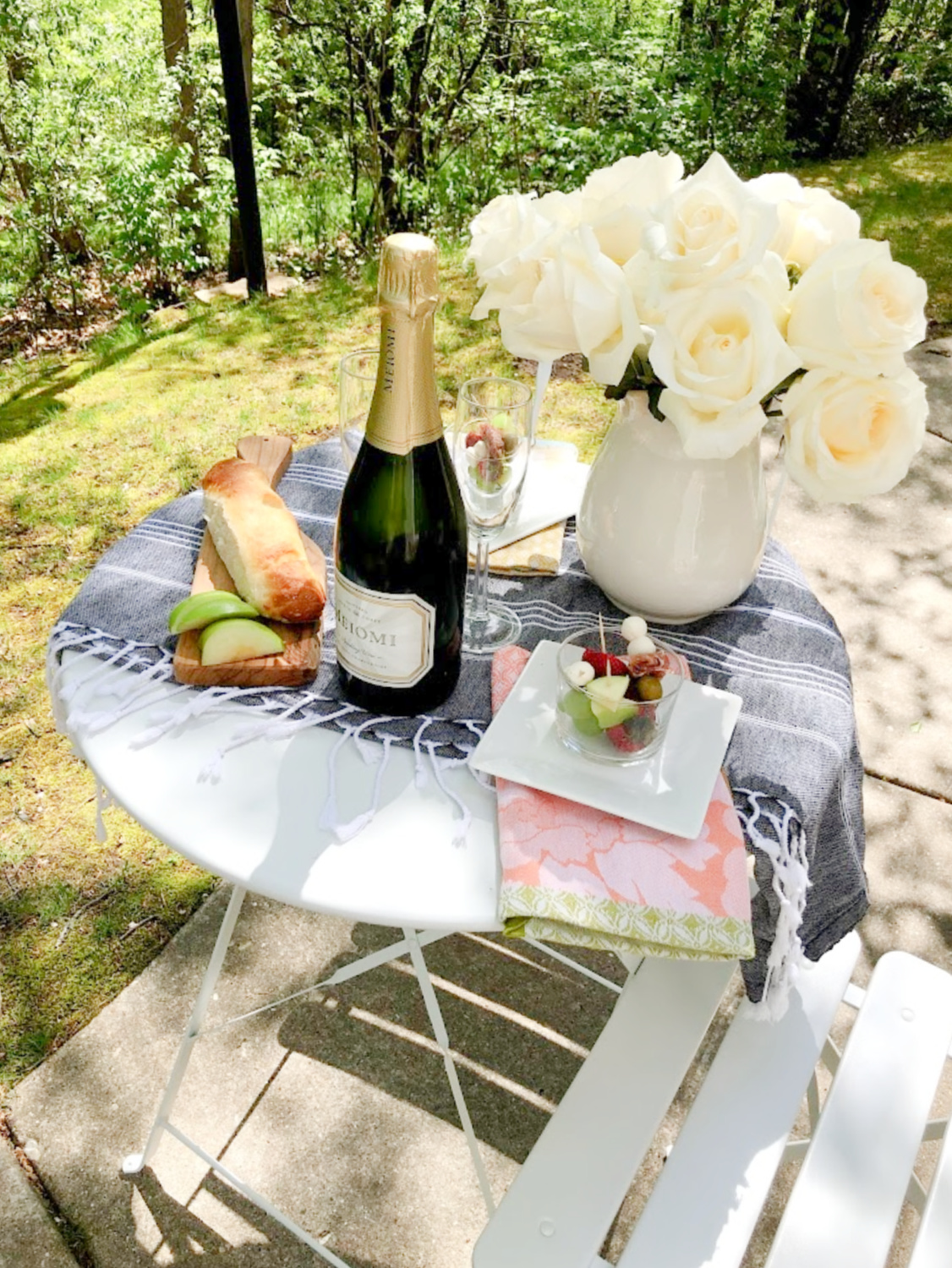 Go for a Simple Unfussy Look for the Table
The French know their way around elegant simplicity so definitely do NOT overthink decorating the table. For this springtime look, a Turkish beach towel contrasts nicely with all the white.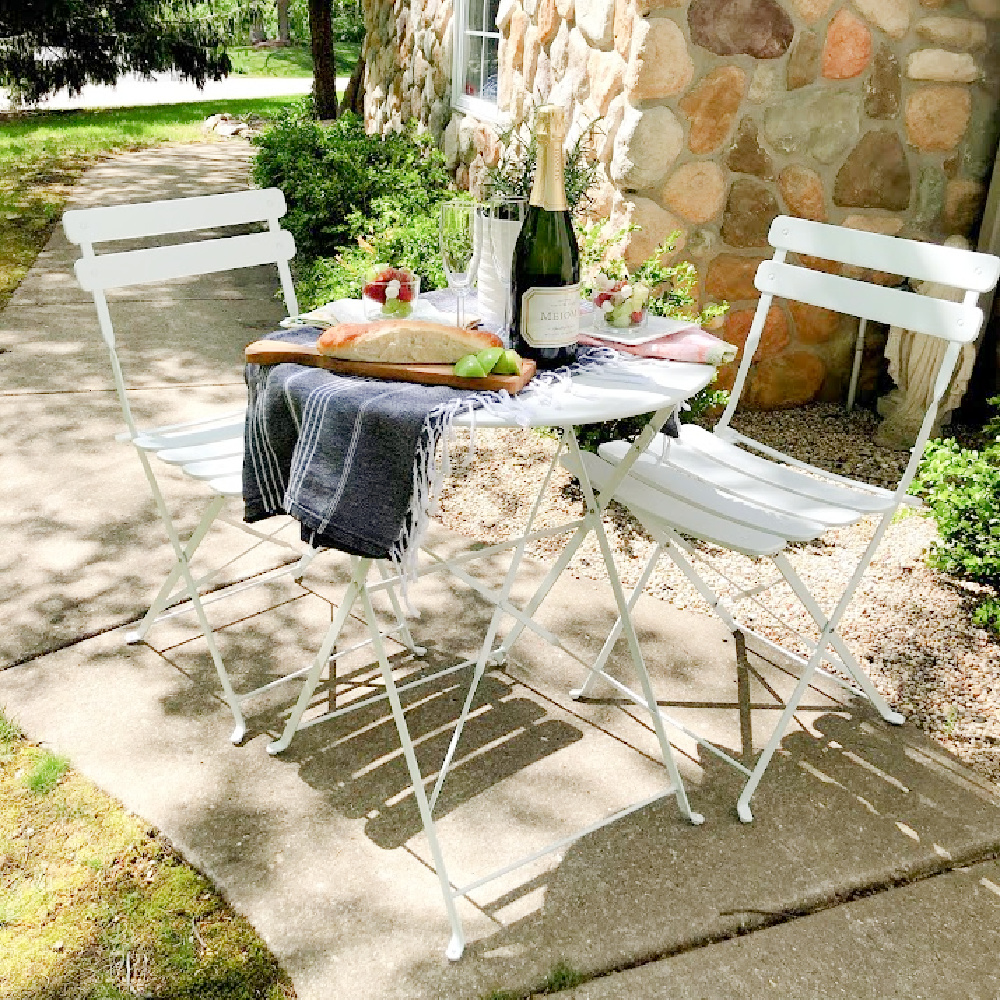 A simple planter can hold potted rosemary, and pastel cloth napkins from Anthropologie are understated and soften the mix. Here are my exact napkins: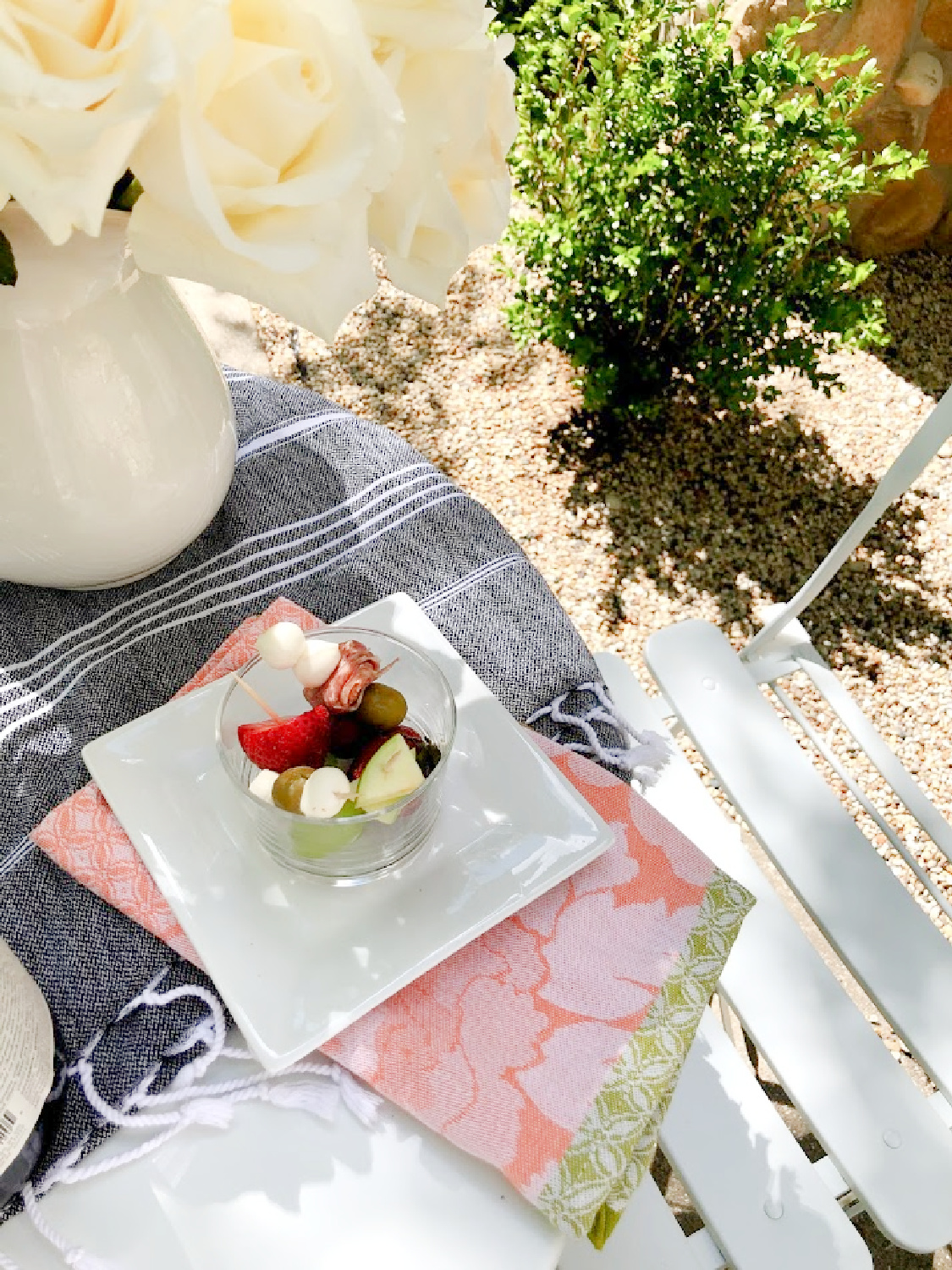 There is something so lovely about simple and fragrant potted rosemary with the simplicity of a menu like this.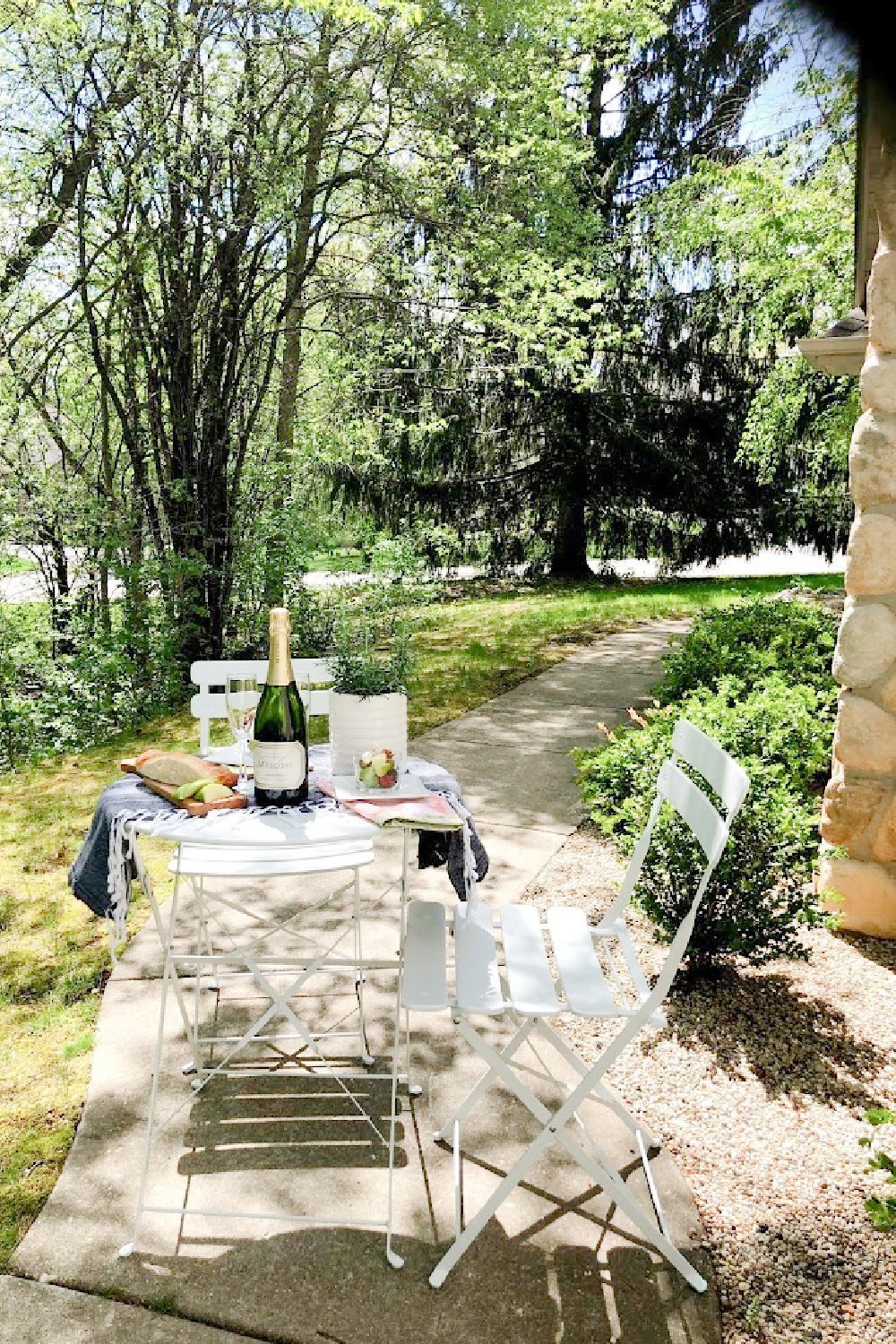 Even the simple fringe on the Turkish towel adds interest to the tablescape.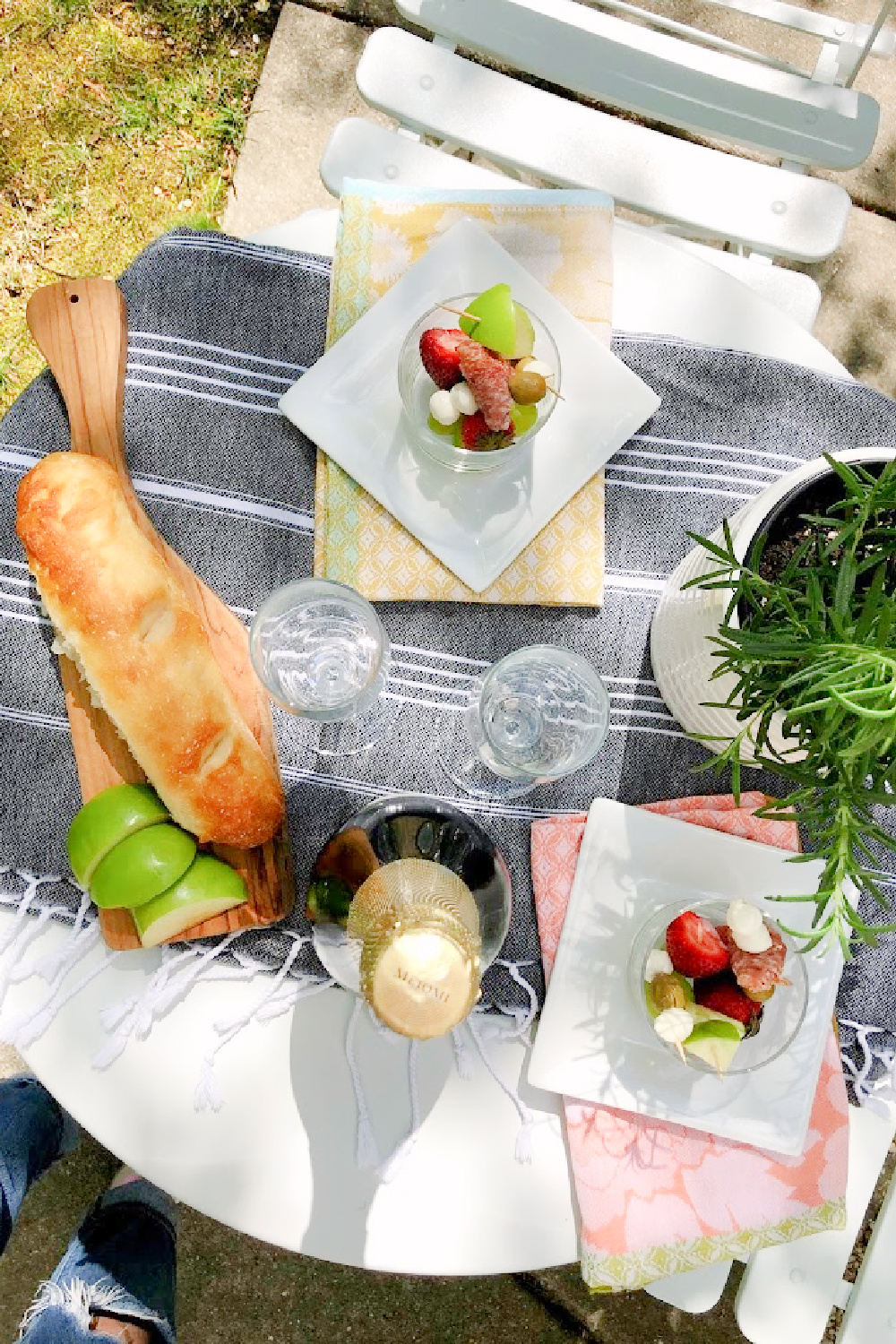 Easily Bring This Charming French Look Inside
After I snapped these photos, I couldn't wait to style my little bistro set inside. It looked adorable in a girly guest bedroom, and I was surprised by how it instantly brought European vibe to the room!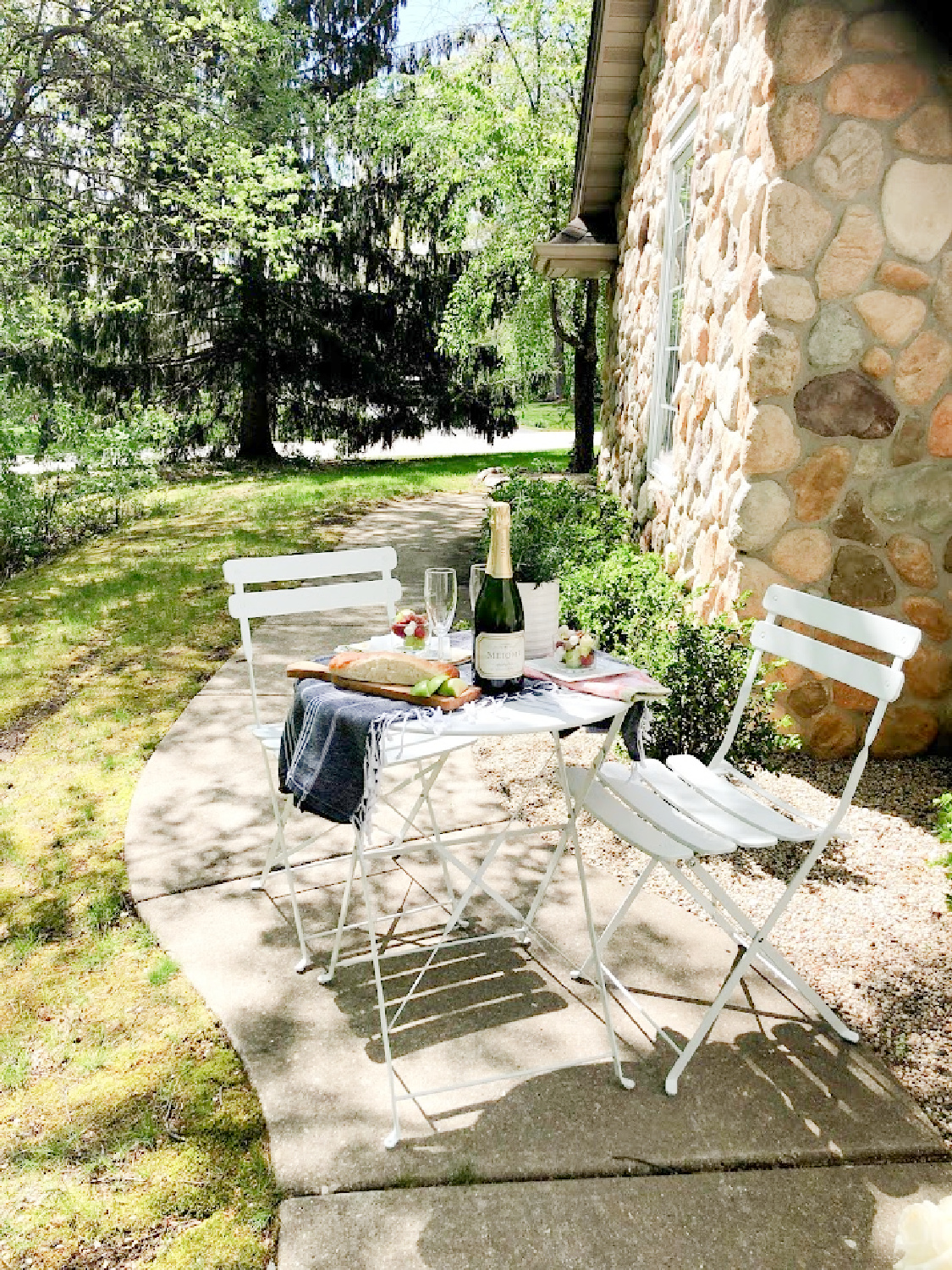 Do you have a kitchen corner or space in a bedroom or office in need of refreshing?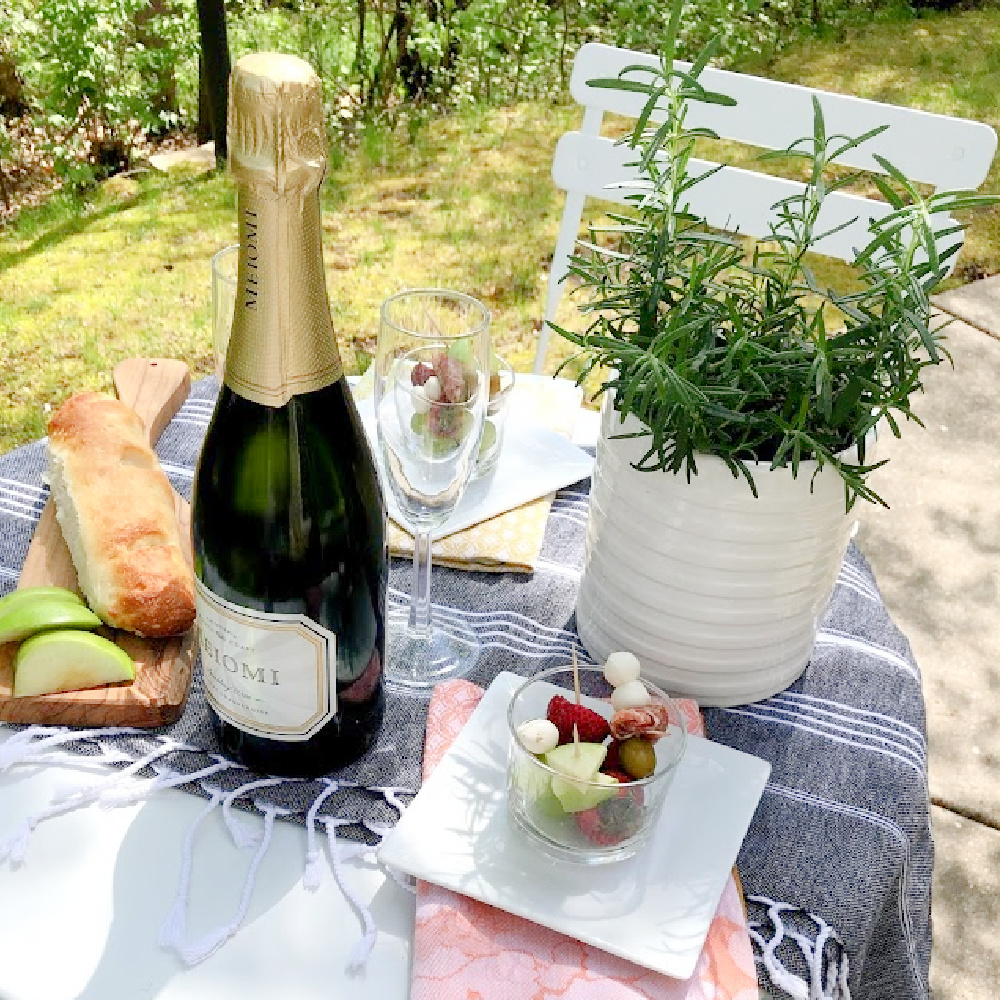 If the snow stops and it begins to look like spring, I intend to see how the little bistro set looks on my front porch.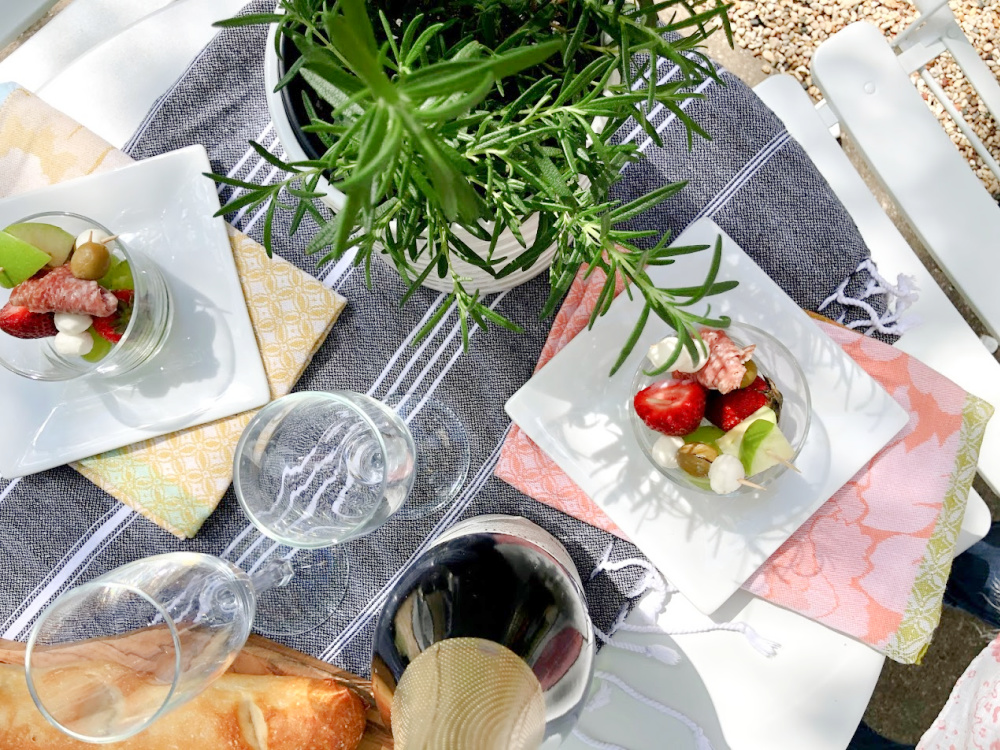 Love French Baguettes?
As I mentioned, I happily bake baguettes weekly…but since I minimize gluten, I gift them.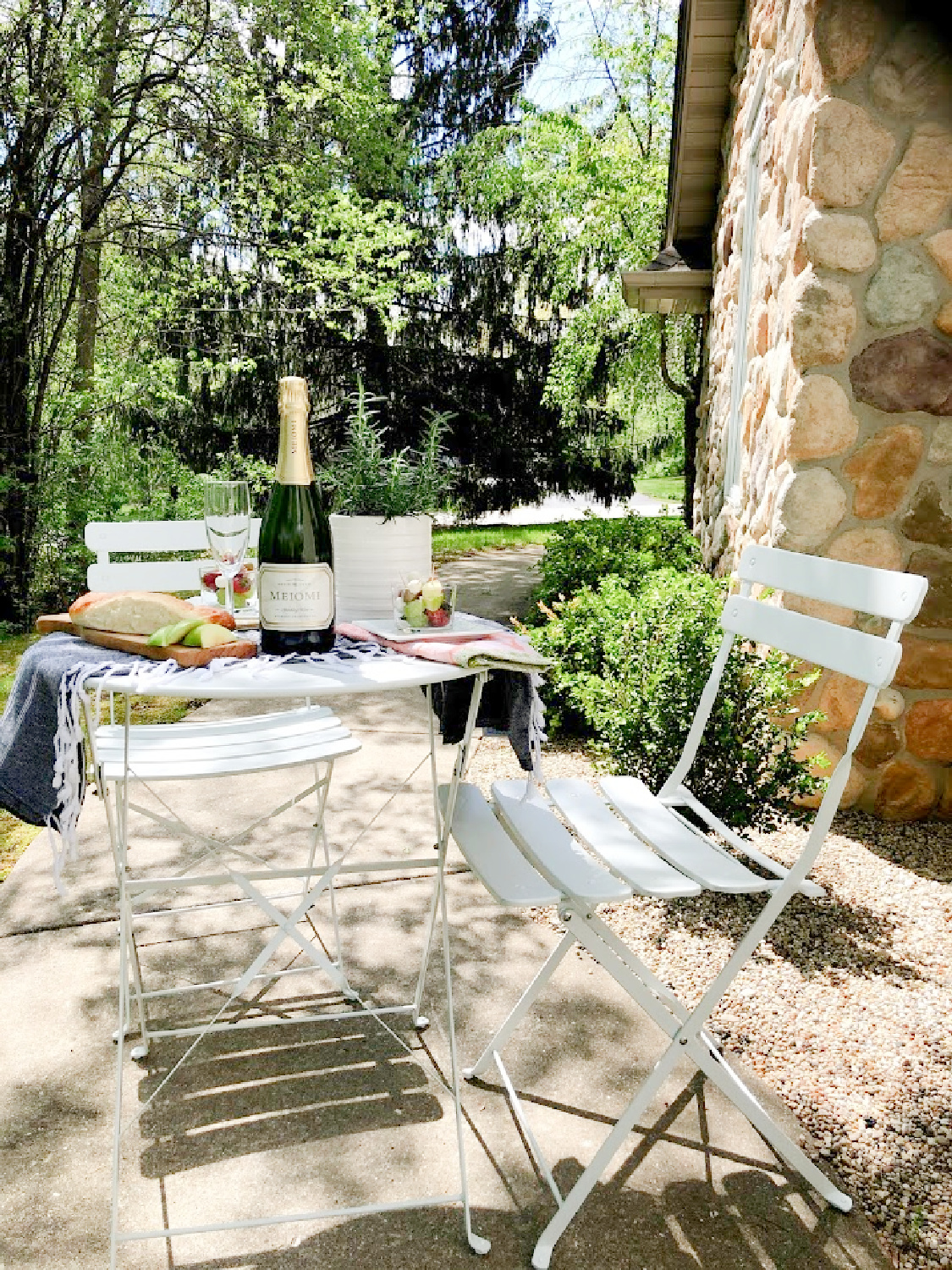 I'm still experimenting with gluten-free bread recipes, but truly there is nothing like a yeasty baguette made from a starter that I have been feeding for decades!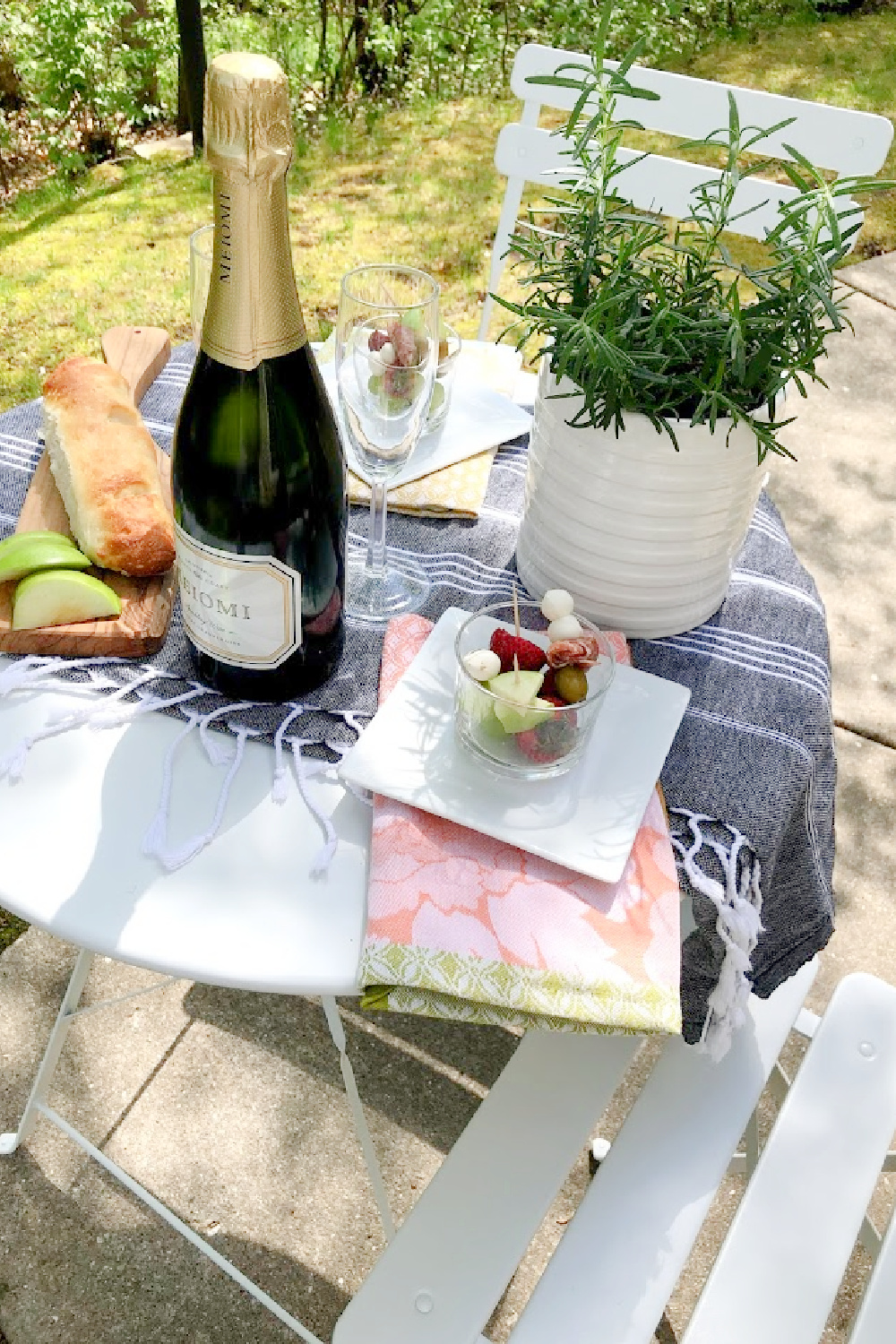 My sons appreciate them so much.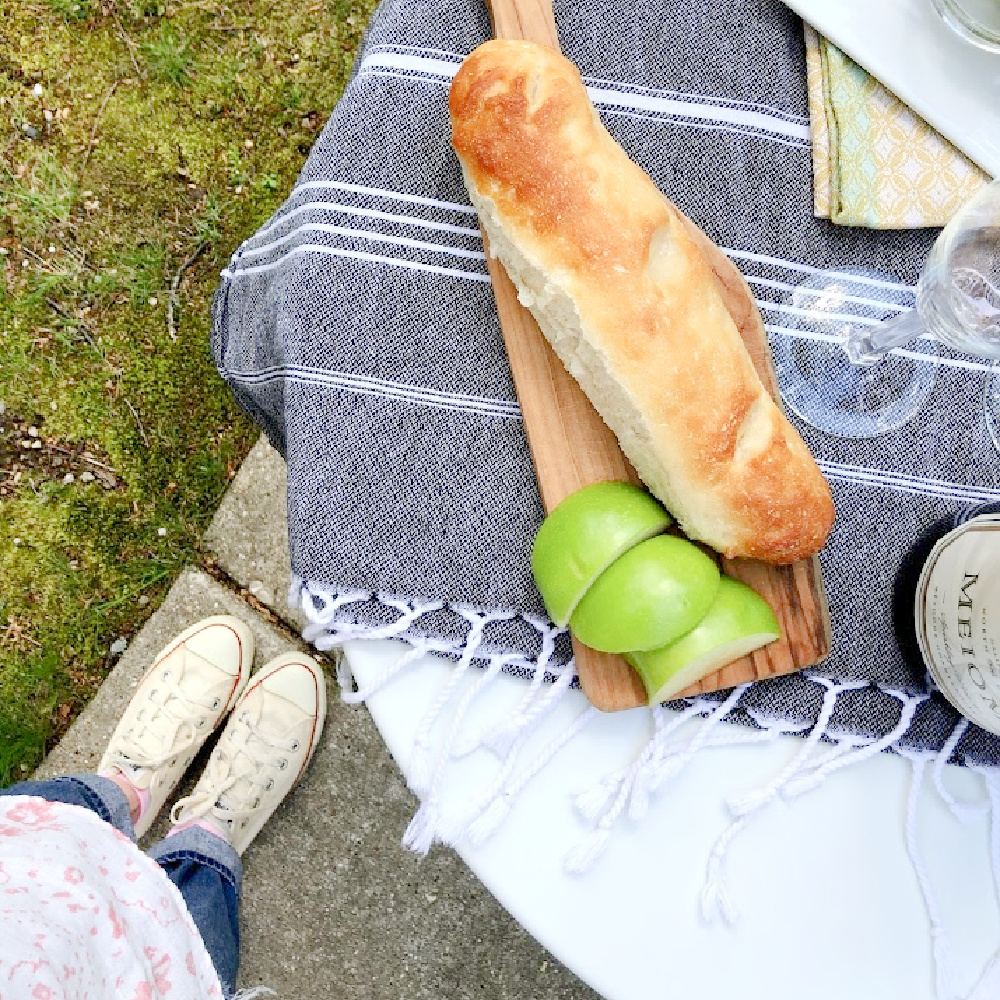 An Outdoor Oasis That Won't Break the Bank
Don't you love it when simple small strokes deliver big style?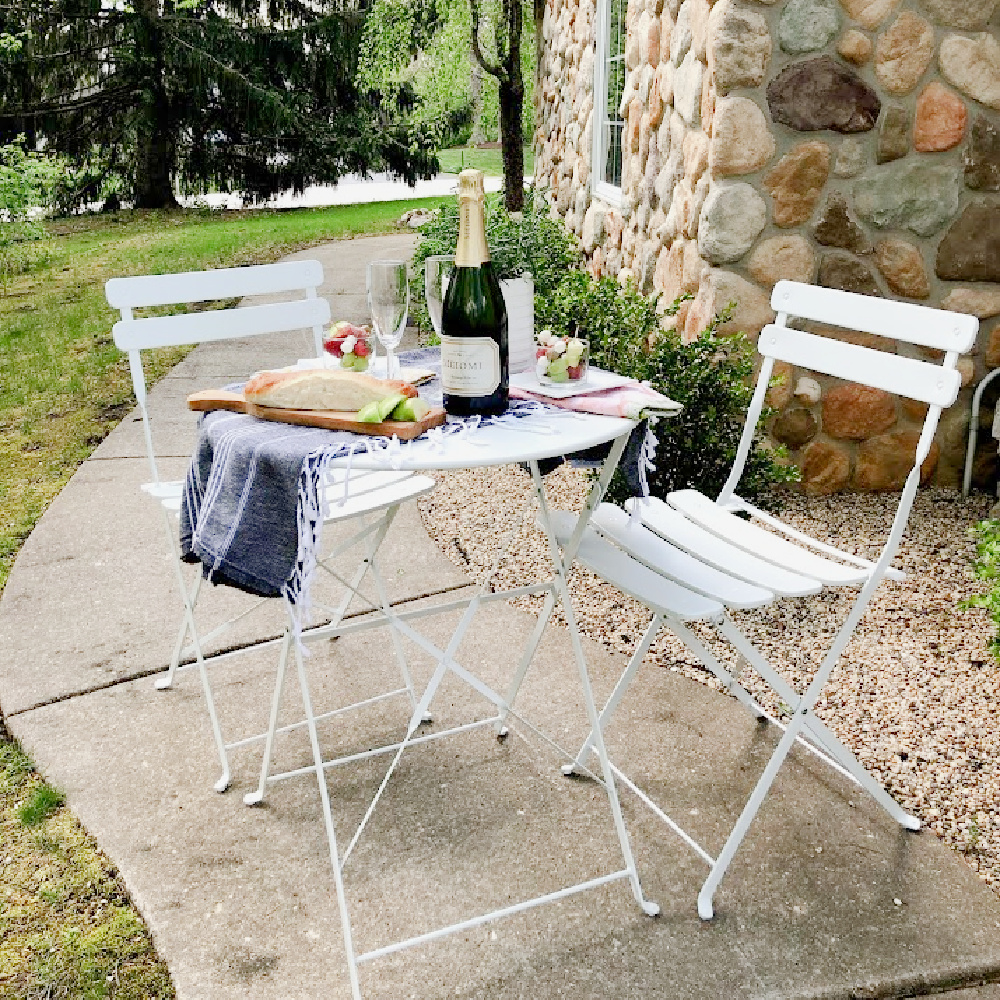 Even easy refreshes and updates can usher in joie de vivre….PIN THIS POST to save for future reference!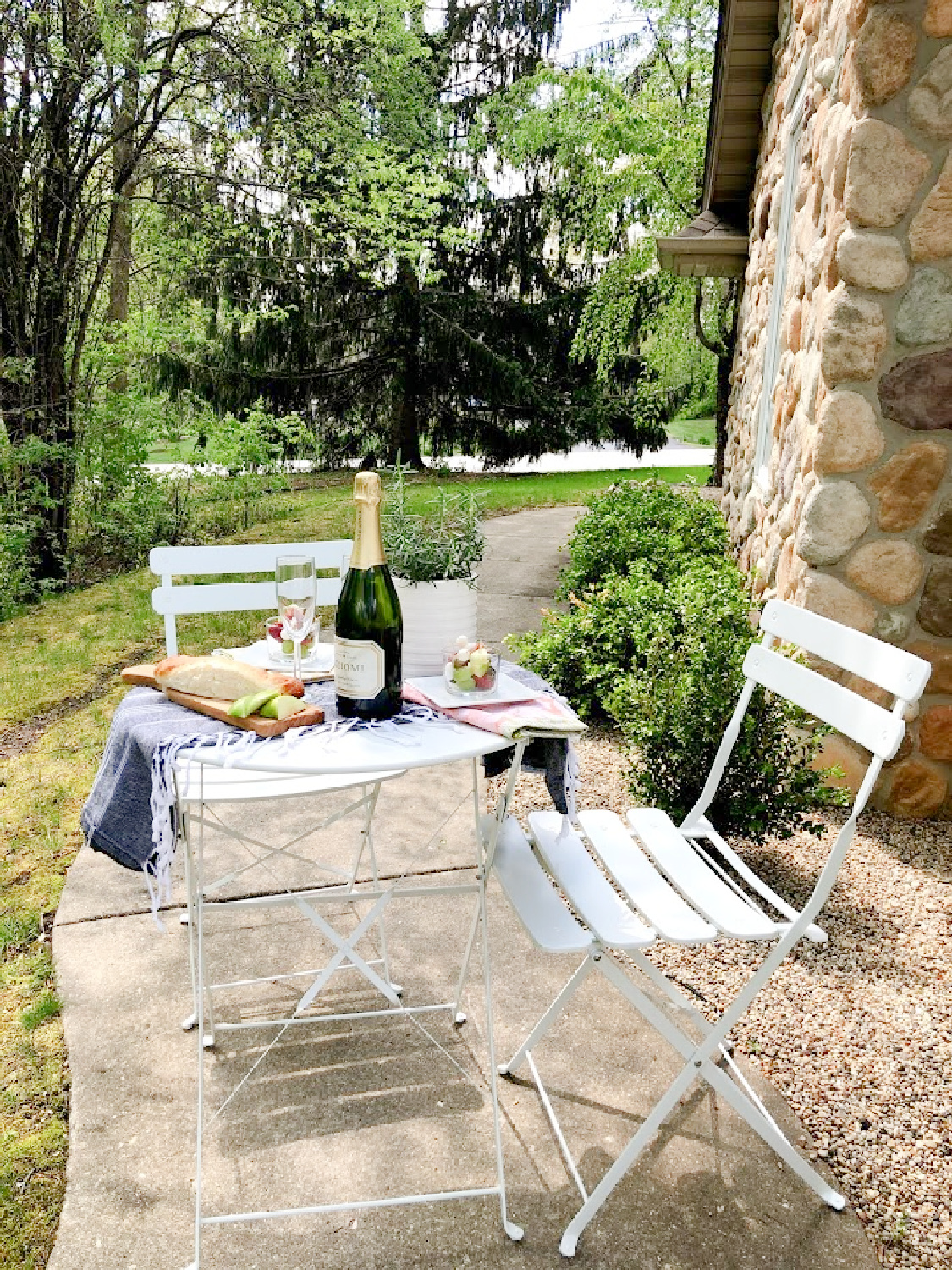 Make sure to visit my talented friends here:
CINDY HATTERSLEY DESIGN
CLASSIC CASUAL HOME
MOST LOVELY THINGS
HELLO LOVELY
CIAO NEWPORT BEACH
Peace to you right where you are.
-michele
Shop for items you already intended to buy on Amazon RIGHT HERE, and also find home decor here to keep decor inspiration flowing on Hello Lovely!
Hello Lovely is a participant in the Amazon Services LLC Associates Program, an affiliate advertising program designed to provide a means for sites to earn fees by linking to Amazon.com and affiliated sites.