Today's post celebrates design inspiration and decor finds for folks who love living with casual style, a neutral palette and contrast. Let's face it, color trends come and go, so why not live with tried and true tones that may not trend yet keep the backdrop livable? Casual Black and White Decor With Natural Wood + Ideas to Get the Look provides plenty of texture and blurs the line between traditional and modern. This winning combo often adds one more quality: CALM.
Casual Black and White Decor With Natural Wood: Get the Look
Crisp White Walls + Black Trim
Ever lived with black doors or trim? It can be a bit daunting to dip the paint brush in black (knowing how hard it will be to go back to a lighter tone!), but worth it if you're going for more of this:
Rustic Light Wood Tones With Black & White
Something magical happens when the edginess of a black and white scheme meets warm wood.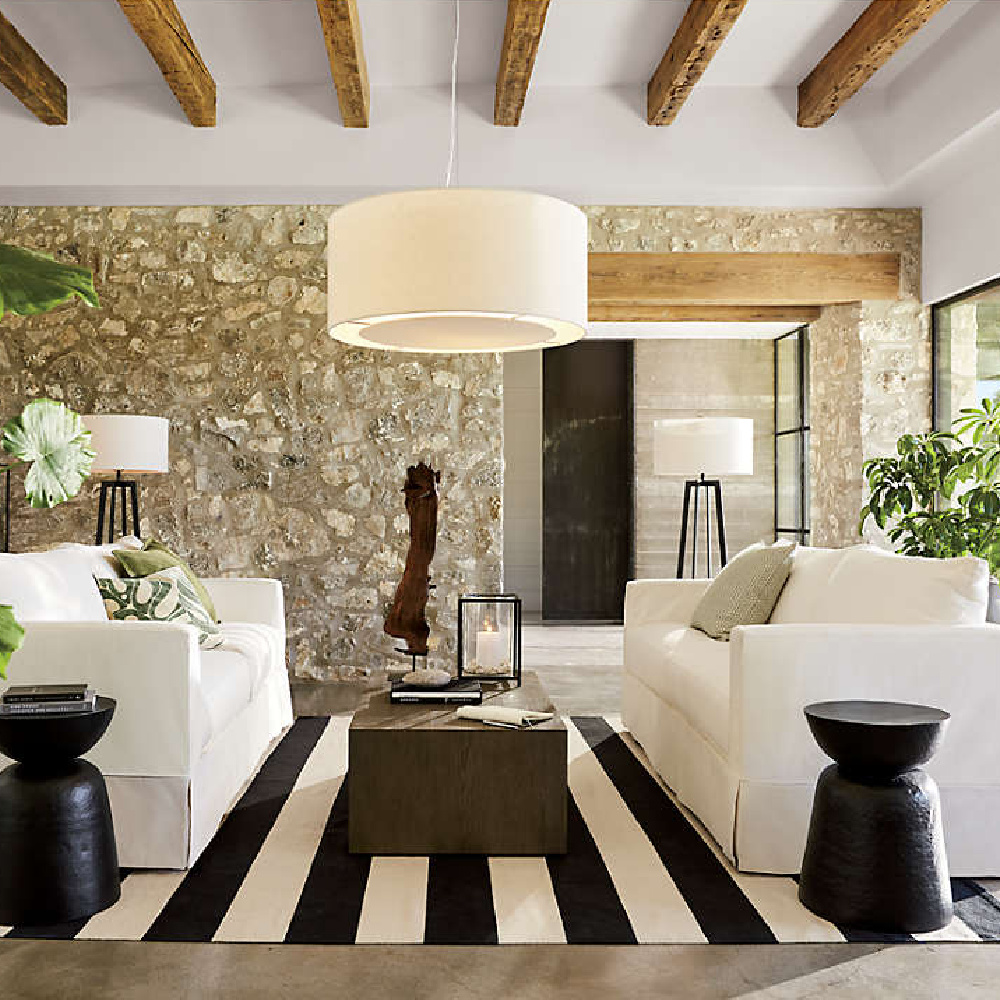 So much texture in one space!
Black & White Checkered Floor
We're still seeing them everywhere, and this classic pattern is not likely to really ever fall from favor since it is so classic. A laundry room is a space where we can take some risks with pattern, yes?
Bathrooms too can be areas we can try a new color combination or level of contrast.
These rooms usher in calm, and calm is oh so welcome in the 2020s, oui!?!
Let's pause for a few wise ideas for calm from Brene Brown's amazing podcast…I found this extremely helpful:
(PUSH PLAY)
But Which Black Paint Color?
Check out THIS POST for paint color ideas.
Will This Color Scheme Work in a Small Space?
Did you see this post which is less about a neutral interior color palette than the wonder of a house under 500 square feet (and designed by Jeffrey Dungan!)?
Modern Rustic Interior Inspiration With Black
Black kitchen cupboards are becoming commonplace, and if you're thinking about the prospect, start with a piece of cast-off furniture first. Live with it and see if it's for you.
Bear in mind there isn't just one black. There's a wide range just like for white paint colors.
We often see dark moody colors in rooms where there is low light (sort of like, why fight it?), but the scheme can work in spaces with abundant natural light as well.
Even a simple pot painted black in a space can make a statement with natural green foliage.
Black Marble With White Bath Fixtures
Would you dare?
Black and white can be both sexy and soothing in a bath.
Black Painted Beams in a Rustic Cabin
It's less common to see black on a ceiling, but if you want to direct the eye up…
All of the light wood accents keep the look casual and less modern.
Classic Family Room With Livable Luxe
This is sort of perfect if you love the combination!
And no one I know does this color story better than designer Sherry Hart:
Do I Live With Much Black & White?
Now that we are in a new home, I am experimenting and stretching so soft black is showing up! I'll be sharing peeks soon.
I independently selected products in this post—if you buy from one of my links, I may earn a commission.
I mean I have happily lived with black bistro sets and Frenchy black stripes:
But since I am always striving for low contrast and gentle interior moments, black has historically been rather absent from my rooms. But white?
Decorating with white is another story!
A handmade sign reminds of trips to come for fresh from the farm goodness. (Here's a wonderful way to support a small business!).
I love that this rustic trunk comes in various sizes…how useful for smart looking storage!
Comfy Neutrals to Wear
Layering Pieces
Black & White Finds
While this next find is neither black or white, it can actually add 'natural' to your makeup routine. (Or is 'makeup routine' just sooooo 2019 you want to smack me?) I especially appreciate how this water-light product evens my complexion!
Also I apply this with my fingers, not a brush, and it stays on all day!
How fast can you pin this next silly pin?
Ha!
Are your closets and pantries and shelves looking more orderly these days? I CANNOT WAIT to someday get to the organizing stage. Right now, it's a lot of renovation chaos.
Let's Keep Encouraging Each Other
Knowing what fresh concerns the 2020s have held, maybe decor is the furthest thing from your mind…or perhaps it brings a little bit of normalcy and pleasure to your days.
In either case, be gentle with yourself. Mixed feelings are completely normal and certainly don't define us.
I Couldn't Resist
These slant jars remind me of the penny candy store we frequented in childhood – I like storing treats like cookies and bars in mine.
Oh, and just a reminder to keep breathing.
Really.
In times of stress and anxiety, we may unconsciously hold the breath. And when I say "we," I mean I tend to do this as a response to tension.
Deep inhales from the belly…exhale all the pessimism and worry if you can.
We're muddling through so much together, and unknown blessings are already on the way.
Peace to you right where you are.
-michele
Shop for items you already intended to buy on Amazon RIGHT HERE, and also find home decor here to keep decor inspiration flowing on Hello Lovely!
Hello Lovely is a participant in the Amazon Services LLC Associates Program, an affiliate advertising program designed to provide a means for sites to earn fees by linking to Amazon.com and affiliated sites.